---

10.20.07 Iran to fire 11,000 rockets in minute if attacked
TEHRAN (AFP) October 20 - Iran warned on Saturday it would fire off 11,000 rockets at enemy bases within the space of a minute if the United States launched military action against the Islamic republic. "In the first minute of an invasion by the enemy, 11,000 rockets and cannons would be fired at enemy bases," said a brigadier general in the elite Revolutionary Guards, Mahmoud Chaharbaghi. "This volume and speed of firing would continue," added Chaharbaghi, who is commander of artillery and missiles of the Guards' ground forces, according to the semi-official Fars news agency.
The United States has never ruled out attacking Iran to end its defiance over the controversial Iranian nuclear programme, which the US alleges is aimed at making nuclear weapons but Iran insists is entirely peaceful. Iran has for its part vowed never to initiate an attack but has also warned of a crushing response to any act of aggression against its soil. [More>>khaleejtimes.com ; See related story, bbc.co.uk, October 20, "Iran's hard-line nuclear reshuffle" : Ali Larijani's resignation is a complete surprise, and very significant. As Iran's chief nuclear negotiator, he has been a key figure in attempts to broker a compromise with the West over Iran's nuclear programme. His departure could be the start of a major shift in policy...
---
10.20.07 Moon orbiter, Chang'e 1, sets to take off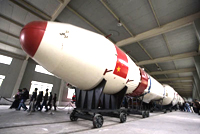 October 20 - Visitors walk past Long March III carrier rocket at the Xichang Satellite Launch Center (XSLC) located in Southwest China's Sichuan Province Oct. 18, 2007. The country's first moon orbiter, Chang'e I, is set to be launched on October 24. (Photo: China Daily; xinhuanet.com)
---
10.20.07 Bus bomb in crowded market kills seven
QUETTA (AFP) October 20 - Seven people were killed and 15 others were injured when a bomb exploded in a market in troubled Baluchistan province in the latest violence to hit Pakistan, police have said. The blast happened as passengers were waiting at a mini-van stand in the main market in Dera Bugti town in the southwestern province, which is in the grip of a low-level insurgency. "There was a bomb explosion in the main bazaar and seven people were killed and six are wounded," local police officer Hazoor Baksh said. [More>>news.com.au ; See related story, nytimes.com, October 20, "Fearing chaos, US officials review stance on Pakistan."]
---
10.20.07 Police question three over Karachi carnage
KARACHI, October 20 - Police took three people in for questioning Saturday over an attack on former premier Benazir Bhutto's homecoming parade that killed 139 people, an investigator said. The men had links to a car from which one of the attackers threw a grenade into the parade in Karachi seconds before a suicide bomber blew himself up, he said. Investigators also quizzed seven militants in jails in Karachi for possible information on Thursday night's blasts, added the investigator. [More>>thenews.com.pk]
---
10.20.07 Burma's 'new life' camps evoke memories of Pol Pot
October 20 - Burma is a "land of prisons" with thousands of human rights activists being sent off to brutal "new life" camps after being arrested during night raids and convicted in secret trials, a senior British diplomatic source has said. Monks who led the pro-democracy campaign are among the disappeared. Some are believed to have been beaten close to death in custody, while the fate of many others remain unknown. Roads to the monasteries have been cut and very few monks are now seen in public.
The account of retribution which has followed last month's violence came from the official who is closely acquainted with the unfolding situation in Burma. The "new life" camps, echoes of "re-education centres" set up by Pol Pot in Cambodia under the Khmer Rouge, are away from the capital, Rangoon, and surrounded by tales of savage punishment, he said. Those considered by the regime to be leaders of the protest are believed to have received sentences of up to 20 years imprisonment. [More>>independent.co.uk]
---
10.20.07 Blair emerges as candidate for 'President of Europe'
October 20 - Tony Blair has emerged as a possible candidate for "President of Europe," a new post created by the treaty approved by EU leaders at their Lisbon summit. The former prime minister's name was put in the frame yesterday by Nicolas Sarkozy, the French President, who described Mr. Blair as "a very remarkable man – the most European of all Britons," He added: "To think of him would be a good idea."
The treaty scraps the current system under which one country holds the EU's rotating presidency for six months. It will be replaced by the appointment of a President, who will chair EU meetings, drive through its agenda and serve for two-and-a-half years. [More>>independent.co.uk]
---
10.20.07 Vatican praises Muslim call for dialogue
PARIS (Reuters) October 19 - The top Vatican official for Islam has praised a novel Muslim call for dialogue but said real theological debate with them was difficult as they saw the Koran as the literal word of God and would not discuss it in depth. Cardinal Jean-Louis Tauran, in an interview on Friday with the French Catholic daily La Croix, also said Christians would have to discuss curbs on building churches in the Islamic world in the dialogue advocated by 138 Muslim scholars in the appeal. [More>>alarabiya.net]
---
10.19.07 Bhutto says she warned of plotting days before attack
KARACHI, October 19 - The Pakistani opposition leader Benazir Bhutto, who narrowly survived a bloody suicide attack Thursday night, said today she had sent a letter to President Pervez Musharraf days ago listing names and other specific information about people in the Pakistani government and security forces who were plotting against her.
She did not expressly blame the government or give the names in a news conference today, less than 24 hours after the attack, in which two explosions killed 134 people and wounded 450. Today, she and the authorities in Karachi blamed Islamist militants. But she said it was suspicious that streetlights failed after sunset Thursday when her convoy was moving through the streets of Karachi, The A.P. reported. "We were scanning the crowd with the floodlights, but it was difficult to scan the crowds because there was so much darkness," she said, according to The A.P.
...At a news conference in Karachi today, the home secretary of Sindh Province, Ghulam Mohatarem, said a single suicide bomber first threw a grenade to disrupt the security cordon around Ms. Bhutto's procession before lunging at the truck and detonating the explosives he was wearing. But Ms. Bhutto said at a later news conference that there had been two attackers, and that her security guards had also found a third man armed with a pistol and a fourth with an undetonated suicide vest, according to The A.P. [Full story>>
nytimes.com
; See related story,
thenews.com.pk, October 19, "Zia remnants responsible for suicide attack on PPP caravan: Benazir."
]
---
10.19.07 Police search for hijacked tanker truck
BALTIMORE, October 19 - Baltimore police are searching for a stolen tanker truck taken at gunpoint from a gas station in the city's Curtis Bay neighborhood. Police spokesman Sterling Clifford said that the driver of a Baltimore Tank Lines truck was fueling the tractor-trailer at about 9 a.m. Friday in the 3100 block of Vera Street, near Interstate 895. Police said that after he got back in the truck, a man in a blue jumpsuit who had been hiding in the sleeper portion of the cab confronted the driver with a semi-automatic handgun and forced him out. Police said that the man drove off with the dark cherry red 1997 Peterbilt truck and silver tanker. Both are clearly marked with Baltimore Tank Lines logos. Officials said the tanker was loaded with about 7,100 gallons of Diesel fuel used for home heating. Clifford said that the tanker was last seen heading toward Interstate 95. The truck's Maryland license plate is 436-F45 and the tanker has Maine license plate 126-8185. Anyone with information is asked to call 911. [>wbaltv.com via cnn.com ; See also abcnews.com]
---
10.19.07 Valerie Plame: Bush didn't keep word
October 18 - In Her First Interview, Former CIA Officer Speaks To Katie Couric. Valerie Plame Wilson chides President Bush for not firing anyone for the leaking of her covert CIA identity, which caused a national scandal and an investigation resulting in a perjury and obstruction of justice conviction against Vice President Richard Cheney's chief of staff.

She also tells Katie Couric that she has learned of the damage that the leaking of her identity caused agents of the clandestine service and it is serious. Wilson speaks to Couric in her first interview for a 60 Minutes report to be broadcast Sunday, Oct. 21, at 7 p.m. ET/PT. [More>>cbsnews.com]
---
10.19.07 Bombers attack pipelines feeding Iraqi refineries
KIRKUK (Reuters) October 19 - Bombers blew up a section of an internal pipeline carrying crude oil to the Baiji refinery in northern Iraq on Friday, the latest in a spate of attacks on oil or gas pipelines in the past month. Police said the pipeline connecting Kirkuk's northern oil fields to the refinery was ruptured by a bomb about 50 km southwest of Kirkuk. A spokesman for Kirkuk's oil company said it would not affect crude oil exports and that there was only minor damage to the pipeline. 
Militants also targeted an oil pipeline near Haswa, 50 km south of Baghdad, causing minor damage that was quickly repaired, the Iraqi army said. The pipeline feeds the Doura oil refinery in Baghdad with crude from Iraq's southern fields. Brigadier-General Imad al-Silawi, head of the Iraqi Army's 4th Brigade, 8th Division, said soldiers were ambushed when they went to the scene of the blast. 
Seven gunmen were killed in ensuing clashes, he said. The patrol was later hit by a roadside bomb that wounded one soldier. Iraq's oil infrastructure, shattered by years of war, poor maintenance and under-investment, is often attacked by militants seeking to disrupt the flow of oil, the lifeblood of Iraq's economy. Pipelines are difficult to protect and easy targets. [More>>thestar.com.my]
---
10.19.07 Turkish PM calls for reconciliation with Armenia
ANKARA (Reuters) October 19 - Turkey's prime minister called for dialogue and reconciliation with Armenia on Friday as the US Congress weighs whether to approve a resolution calling the 1915 massacres of Armenians by Ottoman Turks genocide. "While we search for ways to address this painful issue and develop our relations with Armenia, we cannot live in the past. Our sincere offer for dialogue and reconciliation is on the table," Prime Minister Tayyip Erdogan wrote in an opinion piece published in Friday's Wall Street Journal, European edition. "It is incumbent on Armenia to take the next step," he added.
The US House of Representatives' Foreign Affairs Committee backed the resolution last week proposed by a California Democrat with many Armenian-Americans in his district. It must now decide whether to hold a House vote on the resolution. Turkey has recalled its ambassador to the United States for consultations in response to the vote and has warned that if the non-binding but symbolic resolution is approved by Congress it will inflict great damage on relations between the NATO allies. [More>>washingtonpost.com]
---
10.19.07 Iran, China take 'contract' route into Iraq, US worried
BAGHDAD, October 19 - Iraq has agreed to award $1.1 billion in contracts to Iranian and Chinese companies to build a pair of enormous power plants, the Iraqi electricity minister said on Tuesday. Word of the project prompted serious concerns among American military officials, who fear that Iranian commercial investments can mask military activities at a time of heightened tension with Iran.
The Iraqi electricity minister, Karim Wahid, said that the Iranian project would be built in Sadr City, a Shiite enclave in Baghdad that is controlled by followers of the anti-American cleric Moktada al-Sadr. He added that Iran had also agreed to provide cheap electricity from its own grid to southern Iraq, and to build a large power plant essentially free of charge in an area between the two southern Shiite holy cities of Karbala and Najaf.
The expansion of ties between Iraq and Iran comes as the United States and Iran clash on nuclear issues and about what American officials have repeatedly said is Iranian support for armed groups in Iraq. American officials have charged that Iranians, through the international military wing known as the Quds Force, are particularly active in support of elite elements of the Mahdi Army, a militia largely controlled by Sadr. [More>>indianexpress.com (from nytimes)]
---
10.19.07 Turkish PM demands closure of rebel camps in Iraq
ANKARA (RIA Novosti) October 19 - Turkish Prime Minister Tayyip Erdogan put forward two conditions on Friday that could prevent Ankara from launching a military strike against Kurdish militants in northern Iraq. Turkey's parliament sanctioned on Wednesday military cross-border operations against around 3,500 militants from the Kurdish Workers Party (PKK), believed to be based in Iraq, following a government request earlier this week.
"We have started preparations [for the military operation]," Erdogan told reporters, commenting on the calls from Baghdad to refrain from any military action. "What will satisfy us is the closure of all PKK camps, including their training facilities, and the handover of the terrorist leaders to us," he said. Turkey's National Security Council will discuss on October 24 an "action plan" following parliament's decision, which authorizes a military operation for one year but sets out no specific timetable. [More>>rian.ru]
---
10.19.07 Mall bomb blast kills 8, hurts more than 100
MANILA, Philippines, October 19 - The explosion that ripped through the Glorietta 2 Mall in Makati City early Friday afternoon, killing eight people and wounding more than a hundred others was caused by a "hard explosive," mostly likely TNT or the military ordnance C4, police said. Chief Inspector Raynold Rosero of the Philippine Bomb Data Center said the explosive went off near an escalator and could have been exacerbated by liquefied petroleum gas (LPG) tanks in nearby restaurants.

"We've submitted the evidence to the crime lab for chemical analysis and we saw that near the scene of [the] explosion were establishments with LPG," he said. Rosero said they have yet to determine whether the explosion was set off by a timer or triggered remotely by cellular phone, the signature attack of the Al-Qaeda linked Southeast Asian terror network Jemaah Islamiyah and the local Abu Sayyaf. [More>>newsinfo.inquirer.net]
---
10.19.07 Clinton bucks the trend and rakes in cash from the US weapons industry
WASHINGTON, October 19 - The US arms industry is backing Hillary Clinton for President and has all but abandoned its traditional allies in the Republican party. Mrs. Clinton has also emerged as Wall Street's favorite. Investment bankers have opened their wallets in unprecedented numbers for the New York senator over the past three months and, in the process, dumped their earlier favorite, Barack Obama.
Mrs. Clinton's wooing of the defence industry is all the more remarkable given the frosty relations between Bill Clinton and the military during his presidency. An analysis of campaign contributions shows senior defence industry employees are pouring money into her war chest in the belief that their generosity will be repaid many times over with future defence contracts.
Employees of the top five US arms manufacturers – Lockheed Martin, Boeing, Northrop-Grumman, General Dynamics and Raytheon – gave Democratic presidential candidates $103,900, with only $86,800 going to the Republicans. "The contributions clearly suggest the arms industry has reached the conclusion that Democratic prospects for 2008 are very good indeed," said Thomas Edsall, an academic at Columbia University in New York.
Republican administrations are by tradition much stronger supporters of US armaments programmes and Pentagon spending plans than Democratic governments. Relations between the arms industry and Bill Clinton soured when he slimmed down the military after the end of the Cold War. His wife, however, has been careful not to make the same mistake.
After her election to the Senate, she became the first New York senator on the armed services committee, where she revealed her hawkish tendencies by supporting the invasion of Iraq. Although she now favours a withdrawal of US troops, her position on Iran is among the most warlike of all the candidates – Democrat or Republican. [More>>independent.co.uk]
---
10.19.07 Saddam jailer found guilty in secrets trial
BAGHDAD (Reuters) October 19 - A senior US army officer in Iraq was found guilty on Friday of possessing thousands of secret military documents that the prosecution in his court martial argued could have benefited a foreign power. Lieutenant-Colonel William Steele, 52, was acquitted on the more serious charge of aiding the enemy, which carried a sentence of life imprisonment, for allowing security detainees to use his mobile telephone for unmonitored calls.
He faces up to 10 years' imprisonment on the secret documents charge. He was also found guilty of having an inappropriate relationship with an Iraqi woman interpreter and refusing to obey an order. Steele is the former commander of Camp Cropper, a US detention centre near Baghdad airport where he oversaw the detention of Saddam Hussein in the days leading up to the former Iraqi leader's execution on Dec. 30. Earlier, prosecutor Captain Michael Rizzotti told the court that nearly 12,000 secret documents had also been found in a search of Steele's living quarters in Camp Victory, the main US base in Baghdad. [More>>khaleejtimes.com]
---
10.18.07 Control of oil reserves among Iraq war goals - Putin
MOSCOW (RIA Novosti) October 18 - Russian President Vladimir Putin said on Thursday that the US-led invasion of Iraq was mainly aimed at controlling the Gulf state's oil reserves. During his annual televised question-and-answer session, the president responded to a request for his appraisal of the Iraq war by stating that, "One of the goals, in my opinion, was to establish control over the country's crude reserves."

He also said that the US should fix a date for the withdrawal of its troops from Iraq. "If the Iraqi authorities know the exact US troop withdrawal date, they will work hard and consistently to enhance the country's own armed forces," Putin said, adding that they would otherwise remain inactive, feeling secure and protected "under the US umbrella." On the other hand, the president said he agreed with US President George W. Bush that US forces should remain in Iraq as long as their assistance is needed to ensure security. [More>>rian.ru ; See related story, khaleejtimes.com, October 18, "Iraq shows Russia needs strong army - Putin."]
---
10.18.07 Bhutto makes emotional return to Pakistan
KARACHI (AFP) October 18 - Former Pakistani prime minister Benazir Bhutto returned home Thursday after eight years in exile, defying al-Qaeda death threats to receive a jubilant welcome from hundreds of thousands of supporters. Bhutto sobbed as she descended from her plane in Karachi, coming back to her native country from exile for the second time in a storied political career, as at least a quarter-million people thronged the streets awaiting her return.

The 54-year-old flew home from Dubai, vowing to lead her party in elections aimed at restoring Pakistan to civilian rule, and making no mention of a mooted power-sharing deal with embattled military president Pervez Musharraf. "I am much older, I have learned a lot over the last 20 years, but we are still fighting a dictatorship," Bhutto, the first woman ever to lead an Islamic nation, said when asked to compare with her last homecoming in 1986. [More>>metimes.com]
---
10.18.07 UN stops Somalia food aid after gunmen seize official
October 18 - Dozens of Somali government troops have seized a senior United Nations official in Mogadishu in the latest attack on humanitarian workers in the war-torn Horn of Africa country, prompting the UN food agency to suspend aid distribution in the capital. Idris Osman, the head of the World Food Programme's operations in Mogadishu, was being held in a police cell last night after 50 to 60 heavily armed security officials, including men in uniform, stormed a UN compound and demanded his arrest.
Somali officials refused to give details of why Mr. Osman was arrested. General Mohamed Darwish, the head of the Somali National Security Service, said the UN would be informed of the reasons in an official letter. The WFP said it had not received any explanation for the arrest, which, it said, "violates international law." [More>>independent.co.uk]
---
10.18.07 Sarkozy faces labor and marital crisis
PARIS, October 18 - For President Nicolas Sarkozy, a day does not get much darker than this. On Thursday Mr. Sarkozy, the 52-year-old French leader, faced setbacks on two different domestic fronts: a wave of strikes that swept through France and an official announcement that his 11-year marriage had come to an end.
Shortly after a presidential spokesman, David Martinon, told a hastily called news conference that he had absolutely no comment about his boss's marriage, the Élysée palace dropped the bombshell that Mr. Sarkozy and his wife, Cécilia, "announce their separation by mutual consent." The palace later clarified that the duo had divorced. But Mr. Sarkozy, who was previously married and divorced long before he was elected president of France, is the first to divorce while in office.
Immediately after the news was broadcast on the radio and television, striking protesters in the port city of Le Havre shouted, "Cécilia, we are like you! We are fed up with Nicolas!" [More>>nytimes.com ; See also lefigaro.fr, October 18, "150,000 manifestants en France."]
---
10.18.07 Feds recommend closing Saudi school in Virginia
McLEAN, Virginia (AP) October 18 - A private Islamic school supported by the Saudi government should be shut down until the US government can ensure the school is not fostering radical Islam, a federal panel recommends. In a report released Thursday, the US Commission on International Religious Freedom broadly criticized what it calls a lack of religious freedom in Saudi society and promotion of religious extremism at Saudi schools. Particular criticism is leveled at the Islamic Saudi Academy, a private school serving nearly 1,000 students in grades K-12 at two campuses in northern Virginia's Fairfax County.
The commission's report says the academy hews closely to the curriculum used at Saudi schools, which they criticize for promoting hatred of and intolerance against Jews, Christians and Shiite Muslims. "Significant concerns remain about whether what is being taught at the ISA promotes religious intolerance and may adversely affect the interests of the United States," the report states.
The commission, a creation of Congress, has no power to implement policy on its own. Instead, it makes recommendations to other agencies. The commission does not offer specific criticism of the academy's teachings beyond its concerns that it too closely mimics a typical Saudi education. [More>>washingtonpost.com]
---
10.18.07 Turkish threat lays open Baghdad-Kurd divide
BAGHDAD,October 18 - Mixed Iraqi reactions to the threat of an incursion by Turkey have revealed the conflicting agendas of the central government in Baghdad and the autonomous Kurdish administration in the north. Prime Minister Nuri al-Maliki vowed to Ankara that he would bring an end to the presence in northern Iraq of rebels from the Kurdistan Workers' Party (PKK), who he has labelled "terrorists" several times in recent days. Ahead of Turkey's parliamentary vote Wednesday which authorised military action, Maliki assured Prime Minister Recep Tayyip Erdogan he was "absolutely determined to end the activities and the presence" of the PKK on Iraqi soil.
In one of a flurry of conciliatory statements on Tuesday he called for "urgent negotiations" between Baghdad and Ankara and announced he was sending a high-level delegation to ensure peace was kept with his Turkish neighbors. Compare this with the reaction of Iraqi Kurd leaders who have warned against making any concessions in the face of Ankara's threats. "The Iraqi government is taking a position of giving in to Turkey," senior Kurdish politician Mahmud Othman said in an interview with AFP. "Iraqi-Turkish dialogue without Kurdish representation will not reach a successful conclusion because the issue is about this region," he added.
For all Maliki's talk of action, the situation on the ground means his options are limited: the Iraqi army is not deployed on the Turkish border, nor even in the region, which is controlled by Iraqi Kurdish fighters or peshmergas. Since it was placed under the protection of the United States in 1991, after the Gulf War, the province of Kurdistan has distanced itself more and more from Iraq's central government. [More>>turkishpress.com]
---
10.18.07 Huge stellar black hole bewilders astronnomers
BEIJING, October 18 - Computer models say it's not possible, so astronomers are scratching their heads in bewilderment over a newly discovered stellar black hole that weighs in at 16 solar masses, about six solar masses larger than theory predicts. The newly weighed black hole orbits a companion star in the spiral galaxy Messier 33, located 2.7 million light-years from Earth. Together they make up the system known as M33 X-7. "We're having trouble using standard theories to explain this system because it is so massive," study team member Jerome Orosz of the University of California, San Diego, told SPACE.com.

The black hole in M33 X-7 is also the most distant stellar black hole ever observed. The findings, detailed in the Oct. 17 issue of the journal Nature, could help improve formation models of "binary" systems containing a black hole and a star. It could also help explain one of the brightest star explosions ever observed.... The companion star of M33 X-7 passes directly in front of the black hole as seen from Earth once every three days, completely eclipsing its X-ray emissions. It is the only known binary system in which this occurs, and it was this unusual arrangement that allowed astronomers to calculate the pair's masses very precisely. [Full story>>xinhuanet.com]
---
10.18.07 Six killed in Afghan bomb blasts
KABUL, October 18 - Bomb blasts killed six members of the Afghan security forces Thursday while the US-led coalition said nine of its soldiers were wounded in an ambush in new attacks linked to a Taliban-led insurgency. Four policemen were killed when a remotely detonated bomb blew up their vehicle as they were patrolling a remote area of the eastern province of Khost, police said. Three more policemen were wounded in the blast, police spokesman Wazir Badshah told foreign news agency without saying who might have been behind the attack. [>thenews.com.pk]
---
10.17.07 Turkish parliament authorizes incursion into Iraq
ANKARA (AFP) October 17 - The Turkish parliament Wednesday voted to allow military strikes against Kurdish separatists in northern Iraq, despite stiff US opposition and appeals from Baghdad for time to purge the rebels. A government motion seeking a one-year authorisation for one or more incursions into Iraq was approved with the support of 507 lawmakers in the 550-seat house, with 19 voting against. The motion leaves it up to the government to determine the timing and scope of the operation and the number of troops to be sent. [More>>turkishpess.com ; See related story, metimes.com, October 17, "Syria backs possible Turkish incursion into Iraq."]
---
10.17.07 Putin gave Iran 'special' atomic message - report
TEHRAN (Reuters) October 17 - Russian President Vladimir Putin gave Iran a "special message" on its disputed atomic programme and other issues, Iran's chief nuclear negotiator was quoted as saying on Wednesday, without giving details. Putin's visit to Tehran on Tuesday was watched closely because of Moscow's possible leverage in the Islamic Republic's nuclear row with the West. It was the first time a Kremlin chief went to Iran since Josef Stalin in 1943. [More>>thestar.com.my]
---
10.17.07 Study: Early humans threw clambakes
WASHINGTON (AP) October 17 - In one of the earliest hints of "modern" living, humans 164,000 years ago put on primitive makeup and hit the seashore for steaming mussels, new archaeological finds show...Researchers found three hallmarks of modern life at Pinnacle Point overlooking the Indian Ocean near South Africa's Mossel Bay: harvested and cooked seafood, reddish pigment from ground rocks, and early tiny blade technology. Scientific optical dating techniques show that these hallmarks were from 164,000 years ago, plus or minus 12,000 years.
"Together as a package this looks like the archaeological record of a much later time period," said study author Curtis Marean, professor of anthropology at the Institute of Human Origins at Arizona State University. This means humans were eating seafood about 40,000 years earlier than previously thought. And this is the earliest record of humans eating something other than what they caught or gathered on the land, Marean said. Most of what Marean found were the remnants of brown mussels, but he also found black mussels, small saltwater clams, sea snails and even a barnacle that indicates whale blubber or skin was brought into the cave.
Marean figured the early people, probably women, had to trudge two to three miles to where the mussels, clams and snails were harvested and to bring them back to the cave. Then they put them over hot rocks to cook. When the food was done, the shells popped open in a process similar to modern-day mussel-steaming, but without the pot. [Full story>>cnn.com]
---
10.17.07 Tangerang youth latest bird flu virus fatality
October 17 - Tangerang regency in Banten province has recorded five deaths from bird flu after the latest victim, a 12-year-old boy, died from the virus on Oct. 13. The regency health agency's head of communicable disease prevention, Yuliah Iskandar, told The Jakarta Post on Tuesday the boy, a resident of Ceger village in Sepatan district, had suffered high fever from Sept. 30 but was only admitted to Tangerang General Hospital on Oct. 8.
The boy, identified only as Ir, was then transferred to Persahabatan Hospital on Oct. 9 under suspicions he had contracted bird flu. Ir had shown symptoms of fever, leucopenia (a decrease in the number of white blood cells), thrombositopenia (a decrease in the number of platelets in the blood) and pneumonia (an infection of the lung that causes respiration problems). The Health Ministry's research and development center confirmed a day later the boy had been infected by the H5N1 virus. [More>>thejakartapost.com]
---
10.17.07 Benazir confirms to return home tomorrow
DUBAI, October 17 - Former Pakistani premier and Pakistan Peoples Party chairperson Benazir Bhutto said she wanted to serve people of Pakistan and would return home on Thursday after eight years of self-imposed exile. "Yes, I am going," she told reporters in Dubai when asked if she would fly to Karachi on Thursday as planned. Addressing a press conference, Benazir Bhutto said, "Nobody can keep me away from Pakistan. I have heard this morning that more than a million people are gathering in Karachi to welcome me." [More>>thenews.com.pk]
---
10.17.07 Mexican author with Cannibal instincts devours girlfriend
MEXICO CITY (Reuters) October 15 [posted October 17] - A Mexican writer who practiced witchcraft and was working on a book called Cannibal Instincts fried and ate parts of his ex-girlfriend after strangling her, government prosecutors said on Monday. Police burst into Jose Luis Calva's apartment last week to find a plate of fried human flesh on a dining table set with cutlery. They found more flesh in the refrigerator and a cereal box contained human bones.
The mutilated body of Alejandra Galeana, 32, was in a bedroom closet, Mexico City's chief homicide prosecutor Gustavo Salas told reporters...Prosecutors also suspect Calva of strangling and mutilating two other women in the last two years, Salas said....[Full story>>indianexpress.com]
---
10.16.07 Europe worried as all terror trails lead to Pakistan
October 16 - As al-Qaeda regains strength in the badlands of the Pakistani-Afghan border, an increasing number of militants from mainland Europe are travelling to Pakistan to train and to plot attacks on the West, European and US anti-terror officials say. The emerging route, illuminated by alleged bomb plots dismantled in Germany and Denmark last month, represents a new and dangerous reconfiguration.
In recent years, the global flow of Muslim fighters had shifted to the battlefields of Iraq after the loss of al-Qaeda's Afghan sanctuary in 2001. "There have always been people going to Pakistan, but it is more frequent now," said a senior French intelligence official who, like others interviewed for this report, spoke on condition of anonymity. "There is a return. It is a cycle. And you have the attractive phenomenon that all the big chiefs of al-Qaeda are there."
Unlike Iraq, where foreign fighters plunge quickly into combat, recruits in Pakistan are more likely to be groomed for missions in the West. Aspiring holy warriors drawn to the Pakistani-Afghan border region today include European converts and militants from Arab, Turkish and North African backgrounds, investigators said. [More>>indianexpress.com]
---
10.16.07 6 killed in car bomb blast at army check post in Iraq
BAGHDAD, October 16 - Six people were killed in a car bomb explosion at an army check-post in Baghdad. Dark clouds spread into the sky after the explosion. According to security forces, a vehicle parked near a gas station at Saadoun Street was exploded in a bomb blast. [>thenews.com.pk]
---
10.16.07 Iraq to dispatch special team to Turkey for talks over border crisis
BAGHDAD, October 16 - Iraqi Prime Minister Nuri al-Maliki said on Tuesday that his government would send a high-level political and security team to Turkey to discuss the border tensions between the two nations..Earlier in the day, Maliki's spokesman Ali al-Dabbagh said the government called for urgent negotiations to avoid a possible cross-border military action by Turkey into northern Iraq to fight against the banned Kurdish Workers' Party (PKK). [Full story>>xinhuanet.com]
---
10.16.07 Putin warns against Iran attack on landmark visit
TEHRAN (AFP) October 16 - Russian President Vladimir Putin Tuesday backed Iran's right to nuclear energy and argued against military action, during the first visit to the country by a Kremlin chief since World War II. Putin, attending a summit meeting of Caspian Sea states, arrived in the Iranian capital amid heavy security and secrecy over his travel plans, after reports a squad of suicide bombers planned to kill him. His visit is of major significance for the Islamic republic at a time of mounting tensions with the West over its atomic drive. Putin is also to meet Iranian President Mahmoud Ahmadinejad and Supreme Leader Ayatollah Ali Khamenei.

Along with the four other Caspian Sea states, Putin signed a statement supporting Iran's right to nuclear energy, which the United States claims Tehran only wants as cover for a atomic weapons drive. It backed the right of Non-Proliferation Treaty (NPT) members to "research, produce, and use nuclear energy for peaceful ends, without discrimination, within the framework of this treaty and the mechanisms of the UN nuclear watchdog."

..."The Caspian Sea should unite us rather than divide us," Putin told the summit, which groups the heads of state of Azerbaijan, Iran, Kazakhstan, Russia, and Turkmenistan. [Full story>>metimes.com]
---
10.16.07 China moon probe to launch this month
BEIJING (AFP) October 16 - China will launch its first lunar probe at the end of this month with preparations already in their final stages, a senior official said Tuesday. Pre-launch tests on the Chang'e I rocket and orbiter were nearly complete and they have been transported to the launch site, the official told state news agency Xinhua. China is also planning to land a human on the moon and make a series of robotic missions with a view to building a base there after 2020, officials have said. [More>>khaleejtimes.com]
---
10.16.07 Scientists bring back potentially new species from Philippine waters
MANILA (AP) US and Philippine scientists may have discovered new marine species in the world's most biologically diverse region, their expedition leader said Tuesday. Dr. Larry Madin, who led the Inner Space Speciation Project in the Celebes Sea south of the Philippines, said scientists had been to one of the world's deep ocean basins in search of organisms that may have been isolated there for millions of years.
Madin, of the Massachusetts-based Woods Hole Oceanographic Institution, or WHOI, said the Celebes Sea is at the heart of the "coral triangle" bordered by the Philippines, Malaysia and Indonesia - a region recognized by scientists as having the greatest degree of biological diversity of the coral reef community of fish and other marine life.
The deepest part of the Celebes Sea is 5,000 meters. The team was able to explore to a depth of 2,800 meters using a remotely operated camera...Madin said they had collected about 100 different specimens, including several possibly newly discovered species. One was a sea cucumber that is nearly transparent which could swim by bending its elongated body. Another was an unusually black jellyfish that was found near the bottom of the sea. But the most striking creature they found was a spiny orange-colored worm that had 10 tentacles like a squid, he said. [Full story>>thejakartapost.com]