---
11.15.06 Top Al Qaeda operator 'arrested' in Iraq
BAGHDAD, November 15 – Authorities said US and Iraqi forces have arrested a top operator of Iraq's Al Qaeda group. Interior Ministry spokesman Major General Abdel Karim Khalaf said that US forces parachuted on the Baghdad house of Abdullah Juburi in an overnight operation. "He is one of the dangerous criminals in Al Qaeda," Major General Khalaf said. He said that Iraqi ground forces, including the rapid intervention force, raided Mr. Juburi's house as US troops parachuted into the area, Arab Jubur, on the southern outskirts of Baghdad. "US helicopters and troops backed the Iraqi soldiers in the operation," he said. The US military has not commented on the operation. [>thenews.com.pk]
---
11.15.06 Four rockets hit Ashkelon after deadly Sderot strike
November 15 – Three Qassam rockets slammed into Ashkelon on Wednesday, hours after a 57-year-old woman was killed and a 24-year-old man seriously wounded in a deadly rocket strike on the western Negev town of Sderot. Defense Minister Amir Peretz said Wednesday that Israel Defense Forces would continue its operations in the Gaza Strip "in accordance with Israel's policy and security interests."

Peretz was speaking at a meeting with security officials, including IDF Chief of Staff Dan Halutz, convened in the wake of the strike on Sderot Wednesday morning. The slain woman was later named as Fa'ina Slutzker, a resident of the town. The seriously wounded man, identified as Peretz's body guard, lost both of his legs in the strike. [More>>haaretz.com ; See related stories, haaretz.com, November 15, "Quassam seriously hurts teen in Sderot, hours after deadly strike," and metimes.com, November 15, "Hamas official carrying $2mn blocked at Gaza border" and wnd.com, (via afterdowningstreet.org) November 14, "Fox News reporter freed for $2 million."]
---
11.14.06 Iran plotting to groom bin Laden's successor
November 14 – Western intelligence officials say the Iranians are determined to take advantage of bin Laden's declining health to promote senior officials who are known to be friendly to Teheran. The revelation will deal a major blow to Tony Blair's hopes of establishing a "new partnership" with Teheran. Addressing the Lord Mayor's banquet in London last night — an occasion traditionally used by the Prime Minister to set out the Government's foreign policy — Mr. Blair said he wanted to launch a diplomatic initiative to secure peace in Iraq by establishing dialogue with Iran and ending threats of military force against the regime.

He confirmed that a major rethink of strategy was under way on both sides of the Atlantic as he offered Iran a partnership rather than isolation if it stopped supporting terrorism in Lebanon or Iraq and halted attempts to develop nuclear weapons. With the British and American governments looking for an exit strategy from Iraq, the Prime Minister admitted that they needed Iran's co-operation to prevent the country descending into civil war and to secure an overall Middle East peace settlement.

...But intelligence officials have been most alarmed by reports from Iran that President Mahmoud Ahmadinejad is trying to persuade al-Qa'eda to promote a pro-Iranian activist to a senior position within its leadership. The Iranians want Saif al-Adel, a 46-year-old former colonel in Egypt's special forces, to be the organizations number three. Al-Adel was formerly bin Laden's head of security, and was named on the FBI's 22 most wanted list after September 11 for his alleged involvement in terror attacks against US targets in Somalia and Africa in the 1990s. He has been living in a Revolutionary Guard guest house in Teheran since fleeing from Afghanistan in late 2001...[Full story>>telegraph.co.uk via khaleejtimes.com]
---
11.14.06 Mass kidnapping in Baghdad sparks police chief arrests
BAGHDAD (AFP) November 14 – Armed men in military-style uniforms have kidnapped around 100 people from a ministry in the Iraqi capital, prompting the authorities to arrest five police commanders. Interior ministry spokesman Major General Abdel Karim Khalaf told AFP the five men "should be held responsible" for the mass kidnappings, while state television said a special committee has been set up to find the kidnap victims.

The brazen kidnapping in broad daylight at the higher education ministry's scientific research department was one of the largest such operations in violence-plagued Baghdad. "A large force arrived with many vehicles with tinted windows claiming to be police commandos and they clashed with the guards and then entered the building and snatched all the employees and some visitors," said Higher Education Minister Abed Dhiab al-Ujaili. [More>>turkishpress.com]
---
11.14.06 Saudis pressing ahead with fence on Iraq border
(AFP) November 14 – Saudi Arabia will press ahead with plans to build a massive security fence along its borders with Iraq to prevent infiltration of "terrorists," the interior minister said in an interview published Tuesday. Construction of the double-track barbed fence, which will be fitted with remote sensors and thermal cameras, will begin next year, Prince Nayef Bin Abdel Aziz told Al Anbaa Kuwaiti newspaper. "Authorities in Saudi Arabia have begun the executive measures to build the largest security fence that extends along the 900-kilometer [562-miles] border with Iraq," he said. [More>>metimes.com]
---
11.14.06 Muslim praises Pope's 'thirst' to know Islam
PARIS (Reuters) November 14 – Pope Benedict is no expert on Islam but has a real thirst for understanding the religion and conducting a sincere dialogue with its followers, says a Muslim philosopher who discussed Islam and Christianity with him. Mustapha Cherif, a former Higher Education Minister and Ambassador of his native Algeria, said the Pope showed during in a meeting at the Vatican on Saturday he wanted to understand Muslim views on jihad and the role of reason in faith. The Pope, who sparked Muslim protests in September with a speech hinting Islam was violent and irrational, also wanted to explore how the faiths could work together. He is due to visit predominately Muslim Turkey late this month. "He is a great theologian but not an expert in Islam," Cherif, the first Muslim intellectual received by Benedict since his election in April 2005, said on Monday evening in Paris. [More>>expressindia.com]
---
11.13.06 Iran and Syria urged to help Iraq
November 13 – The ongoing unrest in Iraq has prompted international calls for Syria and Iran to work with Western powers in seeking an end to sectarian violence there. The White House has indicated it will consider talking to both countries. President George W. Bush on Monday met members of an expert panel known as the Iraq Study Group, which has been re-evaluating US strategy in Iraq.

UK Prime Minister Tony Blair is also expected to call for Syria and Iran to cooperate in a speech later on Monday. The UK Foreign Secretary, Margaret Beckett, has already said the two countries should be part of the solution instead of part of the problem. In a keynote speech in London, Mr. Blair is expected to go even further, urging Iran and Syria to play a constructive role in securing a broader Middle East peace settlement. An aide said Mr. Blair would "make clear to Syria and Iran the basis on which they can help the peaceful development of the Middle East rather than hinder it; and the consequences of not doing so." [More>>bbc.co.uk]
---
11.13.06 Update, 11.12.06 Suicide bomber kills 35, Iraq PM eyes reshuffle
BAGHDAD (Reuters) November 12 – A suicide bomber killed 35 people at a police recruiting centre on Sunday as Iraq's prime minister announced a cabinet reshuffle in an apparent response to his government's failure to rein in sectarian violence. The blast, claimed by an al Qaeda-linked Sunni militant group, also wounded 58 people when a bomber wearing an explosive vest walked into a crowd of young men lining up outside a police commando recruiting centre in Baghdad. It was the bloodiest attack in months against recruits hoping to join Iraq's fledgling security forces, a key part of Washington's plan for an eventual withdrawal of its troops.

Prime Minister Nuri al-Maliki, who heads a six-month-old unity government of Shi'ites, Sunnis and ethnic Kurds, told a closed session of parliament he was unhappy about their performance and announced sweeping changes in the cabinet. "The Prime Minister called for a complete ministerial reshuffle in accordance with the current situation," his office said in a statement. News of a cabinet reshuffle, which could include changes in the key Interior and Defence portfolios, comes at a delicate time for Washington, which has 150,000 troops in Iraq. [More>>thestar.com.my : See update, aljazeera.net, November 13, "Fresh Iraq violence claims 135 lives" : New violence in Iraq has claimed the lives of more than 135 people, the country's police force has said. Iraq's security services said that they had found at least 100 bodies dumped in the towns of Baqouba and around Baghdad on Sunday...
---
11.13.06 Indonesian toddler dies of bird flu
JAKARTA (Reuters) November 13 – A 2-1/2-year-old Indonesian boy has died of bird flu, taking the country's human death toll from the virus to 56, a health ministry official said on Monday. The toddler from Karawang regency in West Java province had had contact with fowl, the most common method of transmission of the virus, Ningrum, an official at the health ministry's bird flu centre, told Reuters. Another health ministry official said a 35-year-old woman from a different part of West Java was also being treated for bird flu in a Jakarta hospital, but it was not clear if she had had any contact with fowl. [More>>thestar.com.my]
---
11.12.06 Foreigners among 60 insurgents killed in Afghanistan operation
KABUL (AFP) November 12 – A NATO and Afghan operation that ended Sunday killed more than 60 Taleban-linked rebels over six days, a provincial governor said, adding that Chechen and Arab fighters were among the dead. The operation was near the border with Pakistan in the province of Paktika, which has recently seen significant security force action against militants, some of whom have admitted to infiltrating from across the border.

NATO¹s International Security Assistance Force (ISAF) confirmed it had been involved in the operation in Barmal district of Paktika. While it did not have an assessment of the casualties, it did not dispute the Afghan official¹s figures, spokesman Major Luke Knittig said. Over 60 Taleban have been killed in operations launched six days ago that ended today,¹ Paktika governor Muhammad Akram Khoplwak told AFP. ISAF troops and air power assisted the local forces, he said. [More>>khaleejtimes.com]
---
11.11.06 Al Qaeda may be plotting holiday attacks
LONDON, November 10 – (CBS) This story was written for CBSNews.com by Pakistan-based journalist Farhan Bokhari and CBS News correspondent Sheila MacVicar. Intelligence agencies have been warned that al Qaeda may be planning to attack air and rail travel in Europe in actions that may occur during the busy holiday travel season, CBS News has learned exclusively. In separate interviews with Arab and other intelligence sources, CBS News has been told that the warnings come from interrogations of al Qaeda suspects who recently left Afghanistan and Pakistan.

"One suspect said plans for repeating the Heathrow attempt (a reference to the failed 'liquid bomb' plot interrupted in August) were all prepared. It is now a matter of taking action," said one Arab official who asked not to be named because he is not authorized to speak to the media. "Al Qaeda's strategy appears to be raising the pressure in Europe."

In a move that has been puzzling intelligence agencies, al Qaeda has been withdrawing well-trained Arab fighters from the mountains and battlefields of Afghanistan. In detailed interviews with Arab diplomats, intelligence sources and Pakistani and western officials, Arab members have been leaving Afghanistan for the past six months while handing over its militant activities in Afghanistan to that country's resurgent Taliban movement. [More>>cbsnews.com]
---
11.11.06 Rights group wants Rumsfeld charged
November 11 – A US-based rights group defending Guantanamo Bay detainees is seeking criminal charges against Donald Rumsfeld, the outgoing US defence secretary. The Centre for Constitutional Rights said it would ask German prosecutors to open an investigation and, ultimately, a criminal prosecution that would look into the responsibility of high-ranking US officials for authorising war crimes in the so-called war on terror. The group of lawyers hopes German prosecutors will take up the case under Germany's universal jurisdiction law, which allows them to pursue certain cases originating anywhere in the world, a spokeswoman said on Friday.

The complaint will be brought on behalf of 12 people – 11 Iraqi citizens who were held at Abu Ghraib prison and one Guantanamo detainee – and accuses the US of torture and indefinite detention. Alberto Gonzales, a former White House counsel and current attorney general, George Tenet, the former director of the CIA, and other high-ranking US officials will also be named in the complaint. [More>>aljazeera.net]

Editorial note: Impeachment, an interesting dilemma for Pelosi Criminal charges against Rumsfeld et al. would presumably extend to President George W. Bush. Coupled with this spectre is the problem of impeaching President Bush and Vice-president Cheney, and this defers to the position House Speaker elect Congresswoman Nancy Pelosi (D-Calif.) expressed: (washingtonpost, May 12, 2006) "that impeachment is off the table; she is not interested in pursuing it..." This position was echoed by Rep. John Conyers Jr., (D-Mich.) who is in line to assume the chairmanship of the House Judiciary Committee (See newhousenews.com, November 9, 2006). He was a leader in pursuing impeachment. Why, then, would Conyers reverse his position? Perhaps the answer is in the fact that an impeachment could result in the removal of both President Bush and Vice-president Cheney from office. The Speaker of the House is next in line for the presidency in such an eventuality. Pelosi could thus rise to the office of the US president through the impeachment process.

Mel Copeland
---
11.11.06 Iraq: 18 killed in violence
BAGHDAD, November 11 – Four bombs rocked Baghdad Saturday, as the eyes of Iraq's government and insurgents battling it were turned to Washington, where generals have begun a re-think of strategy in the war-ravaged country. At least 18 people were killed across Iraq, nine of them in the capital. A car bomb and a roadside bomb exploded in a market in Baghdad's Hafidh al-Qadi area, killing six civilians and wounding 32 others, a security source was quoted as saying.

Two more roadside bombs exploded in Baghdad, killing two and wounding five, while three Iraqis were also reported killed in Baquba, northeast of Baghdad. Two policemen, including an intelligence officer were also shot dead, while a Christian translator working for the US forces was abducted. [More>>thenews.com.pk]
---
11.11.06 Chinese bring gifts, risks to African development
BAMAKO, Mali (Reuters) November 11 – A few years ago most motorbikes buzzing round Mali¹s dusty capital Bamako were locally assembled and a bargain at 1.5 million CFA francs ($2,935). Now the same basic model, imported from China, sells for a fifth of that price and has become as ubiquitous as the battered green minivans that serve as the city¹s public transport and the assembly plant has shut.

"It¹s not the same quality. But in Mali people always prefer what is cheaper, even if they have to replace it several times a year and even if it is less comfortable, less reliable," said Finance Minister Abou-Bakar Traore. China has understood that." It is not just the man on the African street that Beijing is trying to woo, undercutting rivals on price and – critics say – on quality.

President Hu Jintao offered $5 billion in loans and credits and a doubling of aid at a China-Africa summit in Beijing a week ago to boost access to Africa¹s oil and mineral wealth. Trade officials say Chinese lending to Africa helps fill a financing gap left by the West. But they also voice concern that such money comes with few strings attached, undermining the efforts of other lenders to root out corruption by attaching conditions to their loans.[More>>khaleejtimes.com]
---
11.11.06 Five dead, 50 wounded in Kashmir mosque blast
SRINAGAR, India (AFP) November 10 – Five people have been killed and at least 50 wounded, including women and children, when suspected Islamic militants hurled a grenade at worshippers in a mosque in revolt-hit Indian Kashmir. Police blamed the attack on the pro-Pakistan Hizbul Mujahedin, the region's leading rebel group fighting to end Indian rule in Kashmir. "Suspected Hizbul Mujahedin militants hurled a grenade towards the Jamia Masjid (grand mosque) when a large number of people were entering the mosque for Friday prayers," a police statement said Friday.

There was no immediate reaction by Hizbul to the allegation. Three girls, aged 10,13 and 17 were among the dead at the mosque in southern Pulwama district's Tahab village, 40 kilometers (25 miles) south of summer capital Srinagar, police said. The attack was the worst since July when suspected militants killed eight tourists and wounded 40 people, most of them tourists, in the state summer capital Srinagar. [More>>turkishpress.com]
---
11.10.06 Looking Saturn in the eye
November 9 – Cassini stares deep into the swirling hurricane-like vortex at Saturn's south pole, where the vertical structure of the clouds is highlighted by shadows. Such a storm, wi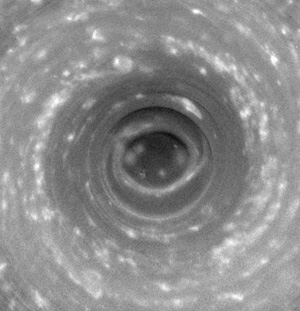 th a well-developed eye ringed by towering clouds, is a phenomenon never before seen on another planet. This 14-frame movie shows a swirling cloud mass centered on the south pole, around which winds blow at 550 kilometers (350 miles) per hour. The frames have been aligned to make the planet appear stationary, while the sun appears to revolve about the pole in a counterclockwise direction. The clouds inside the dark, inner circle are lower than the surrounding clouds, which cast a shadow that follows the sun.

At the beginning of the movie, the sun illuminates directly from the top, and by the end it illuminates from the left. The width of the shadow and the height of the sun above the local horizon yield a crude estimate of the height of the surrounding clouds relative to the clouds in the center. The shadow-casting clouds tower 30 to 75 kilometers (20 to 45 miles) above those in the center. This is two to five times greater than the tallest terrestrial thunderstorms and two to five times the height of clouds surrounding the eye of a terrestrial hurricane. Such a height difference arises because Saturn's hydrogen-helium atmosphere is less dense at comparable pressures than Earth's atmosphere, and is therefore more distended in the vertical dimension.

The south polar storm, which displays two spiral arms of clouds extending from the central ring and spans the dark area inside a thick, brighter ring of clouds, is approximately 8,000 kilometers (5,000 miles) across, which is considerably larger than a terrestrial hurricane. Eye-wall clouds are a distinguishing feature of hurricanes on Earth. They form where moist air flows inward across the ocean's surface, rising vertically and releasing a load of precipitation around an interior circular region of descending air, which is the eye itself.

Though it is uncertain whether moist convection is driving this storm, as is the case with Earthly hurricanes, the dark 'eye' at the pole, the eye-wall clouds and the spiral arms together indicate a hurricane-like system. The distinctive eye-wall clouds especially have not been seen on any planet beyond Earth. Even Jupiter's Great Red Spot, much larger than Saturn's polar storm, has no eye, no eye-wall, and is relatively calm at the center. [More>>saturn.jpl.nasa.gov]
---
11.10.06 Al-Qaeda in Iraq mocks US president
CAIRO, Egypt (AP) November 10 – Al-Qaeda in Iraq claimed in a new audio tape on Friday to have mobilized 12,000 fighters in the war torn country. "The al-Qaeda army has 12,000 fighters in Iraq, and they have vowed to die for God's sake" said Abu Hamza al-Muhajir, in an audio tape made available on militant web sites. Al-Qaeda in Iraq leader al-Muhajir became the leader of al-Qaeda in Iraq after Abu Musab al-Zarqawi was killed by the US military in June. Though the voice on the tape identified itself as al-masri, there were no means to independently verify this. Describing George W. Bush as "the most stupid president" in US history, the al-Qaeda leader reached out to the Muslim world and said his group was winning faster than expected in Iraq. [More>>Jerusalem Post]
---
11.10.06 Up to 150,000 dead in Iraq bloodletting
BAGHDAD (AFP) November 10 – Iraq's health ministry said Friday that up to 150,000 people have died since the 2003 US-led invasion, as outgoing US Defense Secretary Donald Rumsfeld acknowledged the problems in fighting insurgents. While the country's Shiite and Sunni Arabs attended weekly prayers amid a relative lull in violence, clerics from the majority Muslim sect called for the speedy execution of former dictator Saddam Hussein. In violence on the ground, a powerful blast killed an Iraqi army colonel and his five bodyguards in the northern town of Tall Afar. [More>>metimes.com]
---
11.10.06 Vietnam to deport 3 US citizens
HO CHI MINH CITY (Reuters) November 10 – Three Vietnamese-born US citizens were sentenced today to 15 months imprisonment and ordered deported on charges of plotting violence against the communist-run Vietnam Government. The sentences of the three, who have been detained since September last year, included the 14 months already served, so they would expect to be deported to the US in December. Judge Vu Phi Long in Ho Chi Minh City People's Court issued the 15 month sentence and ordered them to be expelled within 10 days of finishing their prison terms.

The one-day trial included a Florida resident, Nguyen Thuong Cuc, 58, whose detention has drawn criticism from her supporters in the US before US President George W. Bush visits Vietnam next week for an Asia-Pacific summit. US embassy officials in Hanoi declined comment. Four other defendants, who include a US resident of Vietnamese descent and three Vietnamese living in Vietnam, received the same sentence and were ordered to be put under house arrest for three years when they complete their sentences. Mr. Cuc, who goes by the name of Thuong Nguyen Foshee in her Orlando, Florida home, has close ties with Bush's Republican Party. [More>>theaustralian.news.com]
---
11.10.06 Bomb kills nine in South Waziristan
SOUTH WAZIRISTAN, Pakistan (AP) November 10 – A roadside bomb planted by militants Friday killed a pro-government tribal elder and eight others in a remote Pakistani tribal area near the Afghan border, officials said. They were travelling in a vehicle which hit the roadside bomb near Shakai town in South Waziristan tribal district, a senior security official said, adding that four people were also injured in the explosion. "Around 13 people were travelling in a vehicle which was targeted by miscreants, nine were killed and four others wounded," the official said. [>thenews.com.pk]
---
11.10.06 Putin, Bush may reach WTO agreement soon – business union chief
MOSCOW (RIA Novosti) November 10 – Russia and the United States may reach an agreement on the former's accession to the World Trade Organization during one of the upcoming meetings of their leaders, the head of Russia's major business union said Friday. Vladimir Putin and George W. Bush are set to meet in Moscow November 15, and in Hanoi November 19 during an Asia-Pacific Economic Cooperation (APEC) summit. "The announcement is highly probable. Everyone has long waited for this political decision, and delegations have done all the necessary work during negotiations. The delegations are to coordinate the final documents during a meeting between the two leaders," said Alexander Shokhin, head of the Russian Union of Industrialists and Entrepreneurs. [More>>rian.ru]
---
11.09.06 Baghdad rocked by wave of bombings
BAGHDAD (AFP) November 9 – A series of concerted bombings ripped through Baghdad markets Thursday as attacks across Iraq killed at least 27 people and left little doubt that a brief respite in the violence earlier in the week was over. Overnight at least a dozen mortar shells crashed down on Sunni neighborhoods in the capital, filling the night with flashes, smoke, and the sound of explosions followed by gunfire. The renewed violence came as Iraqis welcomed the resignation of US Defense Secretary Donald Rumsfeld after midterm elections, even as they wondered what it meant for the future of US troops in the war-torn country.

"The departure of Rumsfeld is not to be regretted and is a small consolation to the injured Iraqi people who have suffered so much from his policies and those of his aides," said a front-page editorial in the international edition of the Sunni-owned Al Zaman newspaper. Elder Sunni politician Adnan Al Dulaimi, however, did not expect any immediate improvement in the situation because of the long-lasting effects of the policies implemented by Rumsfeld. "We think the mistakes that Rumsfeld committed in Iraq cannot be corrected because they are too deep and have left scars on the country," he said.

Embattled Sunnis, in Baghdad especially, have expressed worry that a new Democratic-dominated Congress will force US troop cuts, leaving them more vulnerable to Shiite militias. However, powerful Shiite lawmaker Jalal Al Din Al Saghir, of the Supreme Islamic Council of Islamic Revolution in Iraq, doubted that the Democrats would be able to change US policy on Iraq very much. [More>>metimes.com]
---
11.09.06 NATO raid kills up to 22 Taleban in Afghan south
KANDAHAR, Afghanistan (Reuters) November 9 – NATO forces killed up to 22 Taleban fighters in an air strike in Afghanistan¹s southern province of Kandahar, Afghan and alliance officials said on Thursday. Residents said at least one woman was also killed in the raid on Wednesday evening in Zari district, southwest of the provincial capital, Kandahar city. They said cluster bombs were dropped in the attack on the district, scene of a major NATO offensive in September in which hundreds of Taleban were killed.

A NATO official in Kabul said 20 insurgents were killed in Wednesday¹s raid, but had no further details. District police chief Ghulam Rasool said 22 rebels died. The Taleban said only two guerrillas were killed in the air strike, which they said followed an ambush of NATO vehicles in the province, the birthplace of the radical Islamist movement whose government US-led troops overthrew in 2001. Afghanistan this year is going through its bloodiest phase of violence since the Taleban¹s ouster. More than 3,100 people, about a third of them civilians, have been killed in the Taleban-led insurgency and operations by foreign forces. [More>>khaleejtimes.com ; See related story, thestar.com.my, November 9, "US surprised by strength of Taliban fightback."]
---
11.09.06 Five Pakistanis arrested in Italy
MILAN, November 9 – Italian police arrested on Thursday five Pakistanis including four brothers. The police alleged them of money laundering, smuggling of illegal drugs and giving financial assistance to Al Qaeda. According to police, 2 million euros have been recovered from houses of these arrested Pakistanis. [More>>thenews.com.pk]
---
11.09.06 US was warned of Iraq chaos, says ex-diiplomat
November 9 – A former diplomat has revealed that the British mission to the United Nations opposed the policy of regime change in Iraq but was ordered by London to change its position in the lead-up to war. The disclosure was made to MPs yesterday by Carne Ross, a member of the mission who resigned in protest at the Iraq war. He told the Foreign Affairs Committee that the US government was repeatedly warned by British diplomats that Iraq would fall apart if Saddam Hussein was toppled. But from mid-2002 instructions were received to change that view to fall in with the Bush administration.

Speaking in public for the first time since he left the diplomatic service two years ago, Mr. Ross also confirmed suspicions that the Prime Minister made up his mind months before the Iraq invasion in March 2003 that the war was going to happen and British troops would take part. Mr. Ross said when he was serving in the embassy in Afghanistan, as early as April 2002, British officials there knew troops were being held back in readiness for the Iraq invasion. [More>>independent.co.uk]
---
11.08.06 Meshal: Hamas will retaliate for Gaza deaths 'by deed not words'
November 8 – Hamas political chief in-exile Khaled Meshal said on Wednesday that Hamas will retaliate "by deed, not words" for a botched Israel Defense Forces shelling in northern Gaza, in which 19 Palestinians, mostly women and children, were killed in their homes in the northern Gaza town of Beit Hanun. "The truce [with Israel] ended at the end of 2005," Meshal said. "The armed struggle is free to resume, and the resistance is dictated by local circumstances. There must be a roaring reaction so that we avenge all those victims," Meshal said. Meshal blamed the United States and Arab governments for the Israeli attack, saying the shelling took place "under American cover and aided by a complete Arab silence." He also called for the formation of an international court to try Israeli leaders for war crimes in the Gaza Strip. [More>>haaretz.com]
---
11.08.06 Suicide bomber kills 42 soldiers in Pakistan
ISLAMABAD (Reuters) November 8 – A suicide bomber killed 42 Pakistani soldiers at an army training ground on Wednesday in an attack the military said was linked to a bloody army assault on a militant camp last week. The blast, the most serious militant attack on the Pakistani military since it joined the U.S.-led war on terrorism, took place in the town of Dargai, in North West Frontier Province. It came nine days after security forces attacked a madrasa, or religious school, in a nearby tribal area, killing 80 people, the biggest number of suspected militants killed in an assault.

The bomber wrapped a chadar (cloak) around his body and came running into the training area and exploded himself where recruits had gathered for training,¹ a military official said. The death toll rose to 42 after several wounded men died, said military spokesman Major-General Shaukat Sultan. Pakistan, a major US ally, has been battling militants in its northwest over the past few years. Hundreds of militants and members of the security forces have been killed. [More>>khaleejtimes.com]
---
11.08.06 Thirty-eight killed in Iraq as curfew lifted
BAGHDAD (AFP) November 8 – At least 38 people died in attacks Wednesday as violence returned to Baghdad and other flashpoint regions of Iraq after the lifting of a curfew imposed during the sentencing of ousted dictator Saddam Hussein. The deadliest attack came 30 kilometers (20 miles) south of the capital in Mahmudiyah where a car bomb exploded in the center of a popular market, killing six people and wounding another 26, security sources said.

In nearby Iskandriyah, another bomb exploded in a residential area killing a man and his 13-year-old son. In Baghdad, the weapon of choice was the mortar with attacks all over the city, including one near the health ministry, which is controlled by followers of radical Shiite cleric Moqtada Al Sadr, in which three people were killed and five wounded, a security source said. At nearly the same time, a car bomb exploded near the Nida mosque in the northern Sunni stronghold of Adhamiyah, killing one person...Iraq is riven by sectarian violence that claims around 100 victims a day. [Full story>>metimes.com]
---
11.08.06 Democrats take control of House; Senate hangs on Virginia and Montana
November 8 – With the House of Representatives firmly in Democratic control, the battle for the Senate focused today on Montana and Virginia, where Democrats led but with razor-thin margins that raised the prospect of recounts. In Montana, Senator Conrad Burns, a Republican, trailed his Democratic challenger, Jon Tester, by about 1,500 votes — less than one-half of a percent — with only one precinct¹s results still out. Montana law allows candidates to request a recounts at their own expense if the margin falls between one-quarter and one-half of a percent.

In Virginia, another Republican incumbent, Senator George Allen, trailed Jim Webb, the Democratic candidate, by a margin well below the 1 percent that allows for a losing candidate there to demand that ballots be counted again. Recounts could mean prolonged uncertainty over who will control the Senate. Bowen Greenwood, the communications director for the Montana secretary of state¹s office, said a recount would be ³a procedure of some length² because state law requires that it done by hand. In Virginia, a formal recount request cannot be filed until after the results are officially certified on Nov. 27, according to the state Board of Elections. Last year a recount in the race for attorney general was not resolved until Dec. 21. [More>>nytimes.com ; See related story, abcnews.com, November 8, "Payback time: Who the Democrats will target" : Halliburton, the CIA and big tobacco companies are among the early targets identified by top Democratic staff to ABC News as likely targets for investigation once the Democrats take control of the House at the beginning of next year.

The staffers say Congresswoman Nancy Pelosi (D-Calif.), now expected to become speaker, has told top Democratic donors there is a "100-hour agenda" she wants to push through – taking on the minimum wage, drug and energy prices and corruption. Defense contractors, including Halliburton, the intelligence rationale for the war in Iraq and CIA secret prisons are what one staffer called "uninvestigated scandals."
---
11.07.06 Thousands of stateless in Kuwait cry for mercy
KUWAIT City (AFP) November 7 –Um Anwar, a veiled stateless Arab woman, lost her husband when Saddam Hussein's forces invaded Iraq's tiny Arab neighbor Kuwait August 2, 1990. "He was a soldier in the Kuwaiti army. He was ill at home when he heard of the invasion. He got up, joined the fighting against Saddam's army and was killed on the first day of the invasion," she said.

Like tens of thousands of stateless Arabs known as bidoon, which means "without" in Arabic, the middle-aged widow and her teenage son remain deprived of many basic rights including health services, education, and even obtaining a driver's license. Um Anwar, or "mother of Anwar," who according to Bedouin traditions did not reveal her name, was among several bidoon speakers hosted by the Kuwait Human Rights Association to talk about their suffering Saturday night at the first gathering of its kind held in the emirate.

...Now most of the bidoon, whose number ranges between 70,000 according to a government count and 100,000 according to rights activists, have no right to work, obtain a birth certificate for their babies, or even get their marriage certificate attested.

"No nationality, no passport, and no university education. No marriage contracts, no birth certificates, and no driver's license. There is no justice and humanity. There is no mercy," read a placard carried by the crowd. The government said that the number of bidoon dwindled from 250,000 before the Iraqi occupation to 120,000 after the liberation in 1991 as most fled to Iraq. The number further dropped to about 70,000 after many took third-country citizenships. But leading liberal human rights activist Ghanem Al Najjar told the gathering that he has an official document that shows that their number was 103,000 in June this year.

"The government must be held accountable for this human tragedy ... The problem is becoming more complex and we must apply pressure on the government to resolve it," Najjar said. "Our agriculture authority now issues birth certificates for calves while stateless can't get one," he protested. [Full story>>metimes.com]
---
11.07.06 Saddam calls for Iraq unity two days after death sentence
BAGHDAD (AFP) November 7 – Ousted dictator Saddam Hussein has called on all Iraqis to unite and "forgive" each other as he appeared in court to face genocide charges after being condemned to death in a separate trial. "I call on all Iraqis, Arabs and Kurds, to forgive, reconcile and shake hands," Saddam said Tuesday in the court after he questioned a witness who testified against him in an ongoing genocide trial.

The former president, known for his temper and outbursts, was calm and composed in the dock, as four witnesses testified how his forces massacred relatives and fellow villagers in northern Iraq during the 1988 Anfal campaign. On Sunday, Saddam was sentenced to death by hanging in a separate trial for ordering the killing of 148 Shiite villagers in the village of Dujail where he escaped an assassination attempt in 1982.

Prosecutors say the Anfal campaign was a genocidal massacre of 182,000 Kurdish civilians. Saddam and his alleged henchmen insist it was a legitimate counter-insurgency operation against separatists at a time of war with Iran. Saddam and the six other defendants including his cousin, Ali Hassan al-Majid, known as "Chemical Ali," face the death penalty if convicted in the Anfal trial, which the judge adjourned until Wednesday. But the former leader could go to the gallows within months over the Dujail killings even before the Kurdish case winds up. He and Majid are the only ones facing charges of genocide. [More>>turkishpress.com]
---
11.07.06 Government expected to okay Peres plan for Eilat-Dead Sea canal
November 7 – Vice Premier Shimon Peres will in two weeks present his proposals to the cabinet for the "Peace Valley" program for development of the border region between Israel, Jordan, and Palestinian Authority controlled areas. At the center of Peres' "Peace Valley" plan is the building of the "Red-Dead" canal to run from the Israeli port city of Eilat on the Red Sea, 200 km to the Dead Sea. The canal will drain 650 million cubic meters of water annually, and will serve to replenish the Dead Sea, which has been evaporating rapidly in recent years. [More>>haaretz.com]
---
11.07.06 Update, 11.06.06 Man 'planned massive explosions'
November 6 – A Muslim convert planned to detonate a dirty bomb and launch an attack on London's Tube, a court has been told. Former Hindu Dhiren Barot, 34, from London, plotted "massive explosions" in a synchronized attack in the US and UK. Barot, who last month admitted conspiracy to murder, wanted to pack limousines with gas cylinders and also use a radioactive "dirty" bomb. Lawyers for Barot have insisted that he had neither funding nor bomb-making materials at the time he was caught.

Barot, from Kingsbury in north-west London, described by prosecutors as "a member or close associate" of al-Qaeda is to be sentenced on Tuesday. "The plan was to carry out massive explosions here and in the USA, the principal object being to kill hundreds, if not thousands, of innocent people without warning," prosecutor Edmund Lawson QC told Woolwich Crown Court. "There were plans for the detonation of a radiation dispersal device, more commonly known as a dirty bomb, the use of a petrol tanker to cause an explosion, and an attack on London's rail or Underground network, including the Heathrow Express, of an explosion on a Tube train while in a tunnel under the River Thames." [More>>bbc.co.uk ; See update, timesonline.co.uk, November 7, "Dirty bomb plotter sentended to life."]
---
Copyright © 1981-2006 Maravot. All rights reserved
Copyright © 1981-2006 Mel Copeland. All rights reserved
Painting of Apple by Mel Copeland, early 70's
Background: tile from Cicero's villa (Marcus Tullius Cicero 106 B.C. - 43 B.C.)