The final approval for the security system would come soon, officials said Tuesday, with the multi-million shekel system expected to be in place around the time of the pullout from Gaza. The decision comes in the wake of repeated warnings by Israeli security officials that Jewish extremists could attack the holy site to sabotage the pullout. The threat of an attack by Jewish extremists on the Temple Mount is of great concern to Israeli security officials as Israel prepares to withdraw from Gaza, according to former Shin Bet head Avi Dichter. Security officials refer to the possibility as the "doomsday scenario." [More>>
Editorial note: The Temple Mount is the site of the original Temple of Solomon (~1,000 B.C.) and subsequent Temple of Herod which was destroyed in 70 A.D. during a siege by the Roman emperor Vespasian and his son Titus. The siege was during Passover, during which about 1 million Jews starved to death. The Jewish Governor
It is believed that the mosque of the Dome of the Rock is sitting in the place where the Temple of Herod stood. Many Biblical prophecies predicted the destruction of the temple and the scattering of the Jews to all the nations of the world, then, in a period called the
, the Jews would be redeemed to the Holy Land and the Temple would be restored.
At the time of the redemption of the Jews and restoration of the Temple, a figure mentioned both in the Bible and the Koran, called the Messiah, would appear and restore the Temple. According to tradition the Messiah will proceed to the Temple Mount through the Golden Gate. The Golden Gate has a double entry and was a meeting place where priests and rabbis – including Jesus Christ – often engaged in discussion (called midrash). Beggars would also appear there. In the 16th century Moslems sealed up the Golden Gate to prevent the "Jewish Messiah" from entering the mount. Tradition has it that the Messiah must tear down the Dome of the Rock in order to rebuild the Temple.
The Dome of the Rock is sacred to Islam, since it is believed that the prophet Mohammed left the earth from the peak of the mountain beneath its dome. However, It is unlikely that the peak of the mount preserved under the Dome of the Rock was under the original Temple of Solomon or later "squared" Temple built by Herod.
---
7.27.05 Egypt links Sharm and Taba bombings, clears Pakistanis
CAIRO, July 27 – Egyptian investigators have found connections between the deadly bombings in Sharm el-Sheikh and another wave of attacks last October on Sinai resorts further north, security sources said Wednesday. A senior security official also ruled out any involvement in the triple attacks of six Pakistanis who had been suspected after reports that their forged passports were found in a hotel. "It is very likely that the latest explosions in Sharm el-Sheikh and those in Taba are closely linked," the official informed.

"All clues so far indicate that the group that carried out the Sharm attacks used the same strategy and planning as that adopted by the perpetrators of the first wave of attacks," he said.

According to the health ministry, at least 67 people including 16 foreigners died in Saturday's bombings. At least 34 were killed in October 7 triple bombings on the Sinai resorts of Taba and Nuweiba, further north. [More>>jang.com.pk; See dailystar.com.lb story, "Investigators identify body of suspected suicide bomber in Egypt attacks."
---
7.27.05 Iraq's Al Qaeda says it killed Algerian envoys: website
DUBAI, July 27 – Al Qaeda in Iraq said it killed two kidnapped Algerian envoys on Wednesday because of their governmentıs support for the United States, according to an Internet statement. The statement was posted on a Web site often used by the group led by Abu Musab Al Zarqawi. Its authenticity could not be immediately verified.

³Your brothers in the Al Qaeda Organisation in Iraq ... have killed Ali Belaroussi, the chief of the Algerian mission, and diplomatic attache Azzedine Belkadi,² the statement said. It was not accompanied by a video or pictures. ³It (Algeria) had sent these two apostates as allies to the Jews and Christians in Iraq,² the group said. [More>>khaleejtimes.com]
---
7.27.05 Six hundred detained in Pakistan's week-long militant crackdown
ISLAMABAD, July 27 – Pakistani security forces have rounded up about 600 suspected militants and Muslim clerics in a week-long crackdown against extremism that followed the July 7 London attacks, officials said Wednesday. [jang.com.pk]
---
7.27.05 No drug for disease as death toll hits 24
July 27 – Doctors are yet to find specific drugs to treat the disease that has killed 24 farmers in Southwest China, officials said yesterday. The Ministry of Health has blamed Streptococcus suis, a bacteria carried by pigs, for the disease, which broke out on June 24 in the cities of Ziyang and Neijiang in Sichuan Province. The number of human cases has risen to 117, including 76 confirmed and 41 suspected infections. Among these, 21 patients are in a critical condition.

At the moment doctors are relying on heavy doses of antibiotics to treat patients, but with the death toll mounting it is clear this approach is unsatisfactory. "The Chinese Centre for Disease Control and Prevention is conducting drug sensitivity tests to find a more effective treatment," said Ministry of Health spokesman Mao Qun'an. [More>>chinadaily.com.cn]
---
7.27.05 New Asia-Pacific climate plan
July 27 – Australia has joined the US, China, India and South Korea in a secret regional pact on greenhouse emissions to replace the controversial Kyoto climate protocol. The alliance, which is yet to be announced, will bring together nations that together account for more than 40 per cent of the world's greenhouse gas emissions. To be known as the Asia-Pacific Partnership for Clean Development and Climate, the grouping will aim to use the latest technologies to limit emissions and to make sure the technologies are available in the areas and industries that need them most.

The US and Australia have refused to sign the Kyoto protocol – an international agreement setting greenhouse gas emission targets for developed countries by 2012. China and India are not limited by it because they are considered developing economies.

The US initiative has been discussed between the five nations for five months and is viewed as a practical attempt to rein in greenhouse emissions without harming development or economic growth in the region...In Australia, the CSIRO predicts temperatures could rise between 1C and 6C by 2070. Average global temperatures have already risen 0.6C in the past 100 years as a result of accumulated greenhouse gases. [Full story>>theaustralian.news.com.au]
---
7.26.05 Discovery Space Shuttle lifts off
KENNEDY SPACE CENTER, July 26 – The thunderous sound of applause and rocket engines erupted across Kennedy Space Center, Fla., as Space Shuttle Discovery lifted off from Launch Pad 39B for the first of NASA's two Return to Flight missions.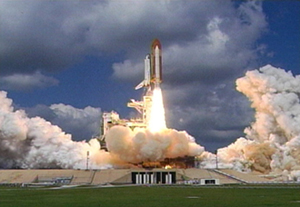 Image above: Space Shuttle Discovery launches from pad 39B at Kennedy Space Center, Fla. Image credit: NASA/KSC
Commanded by Eileen Collins and carrying an international crew of seven astronauts, the Space Shuttle soared over the Atlantic Ocean as it left Florida's eastern shores and climbed into the sky. Discovery is on a 12-day flight to deliver equipment and supplies to the International Space Station. The STS-114 mission comes after a two and a half year initiative to reinforce the orbiters and improve the safety of the Space Shuttle fleet.
With the clearing of the launch pad tower and Discovery in orbit, the vehicle and its crew now begins the two-day chase to rendezvous with the International Space Station. The ascent into space complete and fuel onboard the External Tank exhausted, Discovery jettisoned the orange canister. Following jettison, Discovery used it's new belly-mounted digital camera to take pictures of the tank as it fell back into Earth's atmosphere.
The Space Shuttle goes from standing still on the launch pad to more than 17,000 miles per hour in just over eight minutes. That means the astronauts go 2,000 miles per hour faster every minute. [More>>
nasa.gov
]
---
7.26.05 'At least 40 Taleban' killed
KABUL, July 26 – At least 40 suspected Taleban militants have been killed by US and Afghan forces in central Afghanistan, the local provincial governor unveiled. Governor Jan Mohammad Khan said they were killed in a joint offensive against a rebel camp in Uruzgan province on Monday night. US and Afghan forces say they have captured around 25 suspected Taleban insurgents during the fighting. There has been an increase in violence ahead of elections in September. The US blames most of the violence in Afghanistan on the Taleban, al-Qaeda militants and their allies.

"We have suffered some losses too, but I do not how many," Governor Khan said of the Uruzgan violence. "Between 40 and 50 Taleban men died in the fighting and bombing." None of the figures given by the US and Afghan authorities could be confirmed independently. On Monday, the US military said one American, one Afghan soldier and 11 suspected rebels were killed in fighting in a small village west of Deh Rawod in Uruzgan Province. [jang.com.pk]
---
7.26.05 Pakistan says Al-Qaeda havens overrun
July 26 – Pakistan's president said Al-Qaeda's command and communication system has been eliminated, and that the network could not have orchestrated terrorist attacks in London, Egypt or elsewhere from Pakistan. President General Pervez Musharraf's remarks followed reports that Egyptian police are looking for six Pakistanis as the probe widens into the deadly weekend bombings in Egypt's resort town of Sharm al-Sheikh.

Musharraf told journalists in the eastern city of Lahore that Al-Qaeda "sanctuaries" in Pakistan's rugged tribal regions have been overrun, and that security forces have captured 700 of its fighters. However, Musharraf said small groups of Al-Qaeda militants might still be hiding in the country's rugged North and South Waziristan tribal regions, bordering Afghanistan. Military experts believe Osama bin Laden could be hiding in the area.

"We have shattered and eliminated their command system there," Musharraf said. "We attack them when we see them in the mountains." He said Al-Qaeda's communication system has been reduced to a "courier network," and a message now takes two months to move up or down the network's hierarchy. "Is it possible in this situation that an Al-Qaeda man sitting here, no matter who he is, may control things in London, Sharm al-Sheikh, Istanbul or Africa? This is absolutely wrong," he said. [More>>dailystar.com.lb]
---
7.26.05 Gunmen kill up to 17 in Baghdad bus ambush – police
BAGHDAD (Reuters) July 26 – Gunmen opened fire on a bus carrying employees home from a factory in Abu Ghraib, west of Baghdad, on Tuesday, killing up to 17 people, police and hospital sources said. A source at a Baghdad hospital said it had received the bodies of 17 people killed in the attack. Police sources said 12 people had been killed and nine wounded. The police sources said the al-Faris factory worked on reconstruction projects. Insurgents often target Iraqis seen as working for the US-backed authorities. US and Iraqi forces are battling an insurgency led by Sunni Arabs resentful of the Shi'ite and Kurdish-led government in Baghdad. [thestar.com.my]
---
7.26.05 Arab League head backs disputed UN terror pact plan
UNITED NATIONS (Reuters) July 26 – The head of the 22-nation League of Arab States on Monday endorsed a definition of terrorism opposed by many Arab nations for inclusion in a long-stalled comprehensive UN treaty against terrorism. The proposed definition, put forward by UN Secretary-General Kofi Annan, "could serve as the basis for consensus" in drafting the global pact, Arab League Secretary-General Amr Moussa said. "This is a definition we can agree on," he told reporters during a visit to UN headquarters.

Annan, speaking earlier in the day, said recent bombings in Egypt and Britain should give new life to the UN campaign to adopt the draft "comprehensive convention on international terrorism," which has been stuck in a UN committee since 1996 in a dispute over how to define terrorism and whether it should exclude Palestinian suicide bombings. The umbrella convention would give nations new tools and a strong legal framework to fight terrorism collectively.

The General Assembly's treaty-writing legal committee opened a week of informal negotiations in New York on Monday in its latest bid to move the pact forward. All 191 UN member states have a seat on the committee, which is chaired by Ambassador Mohamed Bennouna of Morocco.

...The drafting dispute has centered primarily on how to classify Palestinian suicide bombings and Israeli military actions in the Palestinian West Bank and Gaza. In the last round of talks, four months ago, Arab delegates continued to resist Annan's proposal as contrary to the right of national liberation movements -- such as the Palestinians' -- to fight foreign occupation, diplomats said. But Moussa said, "Resisting occupation is a different issue altogether." [Full story>>haaretz.com]

---
7.26.05 Shift terrorists' graves, say VHP, Muslims
NEW DELHI, July 26 – The terrorists who attacked the Babri Masjid-Ram Janmabhoomi complex are dead and buried, but both Hindu religious leaders and the Muslim community are now demanding removal of the bodies. The UP Police had quietly buried the bodies of the five Pakistani terrorists at the small Tad Ki Takia graveyard in Faizabad within 18 hours of the attack. Hindu mahants, led by the VHP, are now demanding that the bodies be moved out of the "holy" cities.

And the Muslims donıt want their dead to be buried anywhere near these graves. As The Indian Express had reported on July 7, the burials on the morning of July 6 had been opposed by the community. "Since then, the Muslims have started avoiding the graveyard...at least no one wants to bury their dead anywhere near the graves of the terrorists," Mohammad Sharif, in-charge of burying bodies at the graveyard said over the phone. "If the administration orders, we shall be too happy to shift the graves out of here...I had never given my approval."

The VHP has raised the pitch. "According to Hindu tradition in Ayodhya, the 14-km 'parikrama' (boundary) from the Ram Lalla temple is the most holy area. This includes the Ayodhya and Faizabad towns. Burying the terrorists inside this 'parikrama' area amounts to hurting Hindu sentiments," says senior VHP leader Ram Vilas Vedanti, who is spearheading the Ram temple movement in Ayodhya. "We want immediate removal of these graves from Faizabad. Ask Pakistan to claim the bodies or bury them elsewhere...after all the terrorists have been identified now as Pakistanis," he adds. [More>>expressindia.com]
---
7.26.05 Update, 7.25.05 India or not, Pakistan to go ahead with Iran pipeline
ISLAMABAD (AFP) July 25 – Pakistan said on Monday it would build a gas pipeline from Iran on its own if India refuses to join the project, which is opposed by the United States. Washington objects to plans for the 2,600-kilometre pipeline that would deliver gas to Pakistan and India from Iran. The US accuses Iran of supporting terrorism and trying to build a nuclear bomb. "We would welcome Indian association with this project but if it is not feasible with India, we are going to go ahead with the project in any case," Pakistan's Foreign Ministry spokesman Muhammad Naeem Khan said. "This is a project we need to meet our energy requirements." [More>>hindustantimes.com; See update, dailystar.com.lb, "India to continue Iran pipeline talks."
---
7.25.05 Ishad Manji: 'Sins of scripture' in the Koran, too
July 25 – As a reform-minded Muslim, I've given birth to a twinge of optimism. Nine months ago, I wrote about the need for Muslim leaders to pull their heads out of the sand. I challenged them to recognise that something is askew in Islam. My call for honesty capped a week of back-to-back terrorist atrocities: the slaying of 12 Nepalese cooks and cleaners in Iraq, the double suicide bombings in Israel, the kidnapping of two French journalists and the hijacking of a school in Russia.

In the wake of Thursday's bombings in London, combined with the first wave of explosions 2 1/2 weeks ago, something has changed. As I scour Muslim chat rooms and discussion boards, I see an overwhelming display of heartfelt condolences for the victims and angry condemnation of the criminals.

Last year, the powerless children of Beslan, Russia didn't have nearly such an effect on Muslims worldwide. It is as if London - its pluralism, dynamism, and (we shall whisper this) capitalism - marked the line that dare not be crossed. The International Olympic Committee was vindicated in less than a day.

Yet two myths still rear their heads in this most sympathetic of Muslim responses. First, that Britain courted the attack by joining the US in Iraq. Second, that Islam cannot be held responsible for what a few twisted Muslims choose to do.

Terrorists have never needed an Iraq debacle to justify their violent jihads. What exactly was the Iraq of 1993, when Islamic radicals first tried to blow up New York City's World Trade Centre? Or 2000, when the USS Cole was attacked? Indeed, that assault took place after US military intervention saved thousands of Muslims in Bosnia?

...Which brings me to a second myth: that Islam has nothing to do with these atrocities. You need not live in Britain to cling defensively to that line. Consider a prominent imam in New York City. He is a gentle, decent man; a new generation type who emphasises multi-faith dialogue. To top it off, he just returned from a conference about moderate Islam in Jordan, where he played a key role.

But in his official response to the London bombings, this cleric sanitises the Koran. He says it teaches us - and here is the precise quote - "whoever kills a human being ... it is as if he has killed all humankind". The imam is honest enough to indicate that he has removed a part of the passage but not honest enough to tell us it is a crucial part. The full verse reads: "Whoever kills a human being, except as punishment for murder or other villainy in the land, shall be regarded as having killed all humankind." Militant Muslims easily deploy the clause beginning with "except" to justify their rampages.

It is what Osama bin Laden had in mind when he announced a jihad against the US in the late 1990s. Did economic sanctions on Iraq, imposed by the UN but demanded by Washington, cause the "murder" of half a million children? Bin Laden believes so, oil-for-food scandal or not. Did the boot prints of US troops in the Arabian peninsula, birthplace of the Prophet Mohammed, qualify as "villainy in the land"? To bin Laden, you bet. As for US civilians, can they be innocent of either "murder" or "villainy" when their tax money helps Israel buy tanks to raze Palestinian homes? A no-brainer for bin Laden... [Full editorial>>theaustralian.news.com.au]

Editorial note: There are several verses of the Koran that encourage killing unbelievers:
Koran Repentance 9.20 Those that have embraced the faith and fled their homeland and fought for Allah's cause with their wealth and their persons are held in higher regard by Allah. It is they who shall triumph. Their Lord has promised them joy and mercy, and gardens of eternal bliss where they shall dwell forever. Allah's reward is great indeed.
9.116 ...Allah has purchased of the faithful their lives and worldly goods and in return has promised them the Garden. They will figtht for His cause, slay, and be slain. Such is the true pledge which he has made them in the Torah, the Gospel, and the Koran. And who is more true to his promise than Allah? Rejoice then in the bargain you have made. That is the supreme triumph.

Koran, Women 4.91 Others you will find who seek security from you as well as from their own people. Whenever they are called back to idol-worship they plunge into it headlong. If these do not keep their distance from you, if they neither offer you peace nor cease their hostilities against you, lay hold of them and kill them wherever you find them. Over such men We give you absolute authority.
4.92 It is unlawful for a believer to kill another believer except by accident.
4.98 He that flies his homeland for the cause of Allah shall find numerous places of refuge in the land and great abundance. He that leaves his dwelling to fight for Allah and His apostle and is then overtaken by death, shall be rewarded by Allah.
4.104 Seek out your enemies relentlessly.

The Koran more importantly endorses the Bible, as discussed at Maravot News Trends. This is good news if one considers the opportunity for an interfaith gathering to reconcile and teach how the Bible and the Koran cannot be instruments of terror. Otherwise their message of peace would have no relevance. George W. Bush can be used to illustrate the importance of the message of peace in the context of the Bible. When he has proclaimed many times his "Christian faith" and since the invasion of Iraq his message of spreading freedom throughout the world (his latest justification for invading Iraq) he has not included the word "peace." Peace and freedom go together. Consider, for example, the message of Christ who used the words in tandem and concluded that those who live by the sword will die by the sword:
Matt. 26:51 With that, one of Jesusı companions reached for his sword, drew it out and struck the servant of the high priest, cutting off his ear.
Matt. 26:52 "Put your sword back in its place," Jesus said to him, "for all who draw the sword will die by the sword."
Mel Copeland
---
7.25.05 Egyptian police surround two villages near bombings
CAIRO (Reuters) July 25 – Egyptian police surrounded two Bedouin villages near the Red Sea resort of Sharm el-Sheikh on Monday as part of a hunt for people connected with bombings that killed at least 64 people, a security source said.

Police believe two Pakistanis wanted for questioning may be hiding in the villages, named as el-Ruweisat and Khurum, said the source, who asked not to be named.

Arab satellite channels said Egyptian police were searching for up to nine Pakistanis for questioning about the attacks, which hit hotel and shopping areas in the resort. They said the Pakistanis had been staying in hotels in Sharm el-Sheikh but disappeared after the bombings early on Saturday morning, leaving their passports at reception. [More>>thestar.com.my; See related story, khaleejtimes.com, "Egyptian police clash with gunmen in bomb suspects hunt."
---
7.25.05 Pakistan provides lifeline to Taliban
ISLAMABAD (PTI) July 25 – Afghanistan's Taliban militia is regrouping with backing by some Pakistani religious groups, a top Pakistani army commander said on Monday, amidst efforts by the two governments to sort out differences over the issue. "Taliban have reorganized and have emerged as a force. They will further organize themselves before the September Parliamentary elections (in Afghanistan)," said Corps Commander Lt. Gen. Safdar Hussain, who was in charge of the crackdown against al-Qaeda militants holed up in Waziristan tribal belt in the borders.

His comments came a day after Prime Minister Shuakat Aziz visited Kabul to sort out differences with President Hamid Karzai's government over allegations that Islamabad was helping the militia regroup. Hussain said the Taliban were being backed by some Pakistani religious groups, but declined to name the groups. [More>>expressindia.com]
---
7.25.05 Purported tape by Taliban chief urges Afghan insurgents to unite
KANDAHAR, July 25 – Fugitive Taliban leader Mullah Mohammed Omar has called on supporters to unite and fight Afghan and foreign troops according to an unverified audio tape address to insurgents released Monday. "Get united, put aside your differences, continue jihad (holy war) against the invaders, and you will be victorious," a man purported to be the one-eyed Taliban leader is heard saying on the tape obtained by a foreign media.

If authentic, it would be Omar's first direct audio address to followers since the hardline Islamic regime was ousted in a US-led invasion in late 2001 following the September 11 attacks against New York and Washington. The tape was distributed to major news agencies, but it was unclear if it had been broadcast across Afghanistan. Mullah Omar is high on the US most-wanted list for having sheltered al-Qaeda leader Osama bin Laden, said to be the mastermind of the attacks
against the United States.

... "The tape is to prove that Mullah Omar is alive, unlike the rumors spread by our enemies that he is martyred," self-styled Talbian spokesman Abdul Latif Hakimi told media via satellite phone from an undisclosed location. [Full story>>jang.com.pk]
---
7.25.05 New attacks underscore need for 'good' terrorism definition: Annan
UNITED NATIONS, July 25 – UN Secretary General Kofi Annan said Monday that new bomb attacks around the world underscored the need for countries to agree a "good definition of terrorism" at an upcoming summit here. "I think what has happened in the last few weeks from London to Sharm el-Sheikh gives us one more reason to press ahead and get a good definition of terrorism that we can all live with," the UN chief told reporters here.

"We know them for what they are and a simple clear statement bringing in moral clarity that maiming and killing of civilians is unacceptable regardless of one's cause, I think would satisfy all of us," he added. "We also need to get a comprehensive convention approved. we know what we are living with and I think the whole world is now standing together in the fight against terrorism and the UN and the General Assembly must lead in that fight," he added.

Annan has repeatedly underlined the need to agree on a universal definition of terrorism that could be part of a declaration at a summit of world leaders in September ahead of the UN General Assembly. [turkishpress.com]
---
7.25.05 Failed London bombers named as police step up manhunt

July 25 – Scotland Yard today named two of the four men they are hunting for last week's abortive bombings of three Tube trains and a bus in the capital, as armed officers raided a flat in North London used by at least one of the suspected bombers. Deputy Assistant Commissioner Peter Clarke, head of Scotland Yard's anti-terrorist branch, said that three of the four bombers entered Stockwell Tube station just before 12.25pm on Thursday, two weeks to the day after suicide bombers killed 52 rush hour commuters in four coordinated blasts.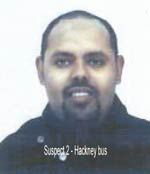 Muktar Said Ibrahim, 27, who is wanted over the failed bombing of a No 26 bus in Hackney, East London [From>>timesonline.co.uk]
One of the group boarded a Northern Line train and tried to set off a bomb between Stockwell and Oval station, where he was chased from the station "by extraordinarily brave members of the public who tried to detain him," Mr. Clarke told a press conference.
The second, named as Muktar Said-Ibrahim or Muktar Mohammed-Said, 27, travelled to the City, where at 12.53pm he took a No 26 bus towards Bethnal Green. "He was carrying a grey and black rucksack and sat on a seat towards the back of the bus with the bag next to him," Mr. Clarke said. "He too tried to set off a bomb." Mr. Said-Ibrahim was associated with, and has recently visited a flat at 58 Curtis House, Ladderswood Way, in Friern Barnet, North London. Police raided that flat today, although no arrests were made.
The third suspect, named as Yasin Hassan Omar, 24, travelled north on the Victoria Line, where he also tried unsuccessfully to detonate a bomb shortly before Warren Street station.
The fourth suspected bomber entered the Underground at Westbourne Park and tried to blow up a Hammersmith and City line train heading towards Shepherd's Bush before escaping through a window of the train. "He then made his way along the track for about two to three hundred yards, before climbing down into back gardens and making good his escape," Mr. Clarke said. "He went along McFarlane Road, past the BBC building in Wood Lane, and was last seen running under the A40."
He added: "I would appeal to anyone who has information about where these men currently are should immediately call 999 for an emergency urgent police response. The public should not approach them." [More>>
timesonline.co.uk
]
7.22.05 Police issue bomb suspect images
July 22 – Police have issued CCTV images of four men they believe tried to detonate bombs on three London Tube trains and a bus on Thursday. Met Assistant Commissioner Andy Hayman said anyone who knew who or where the men were should contact police. The bom bers fled after detonators went off but failed to set off explosives.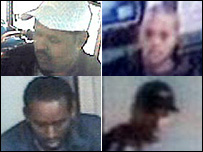 London bomber suspects from CCTV images from bbc.co.uk
The fatal police shooting of a man at Stockwell Tube station on Friday was linked to anti-terrorist operations, Met Police chief Sir Ian Blair said. Scotland Yard urged anyone who knew where the men captured by CCTV were to call 999, or if they could identify any of them to call the anti-terrorist hotline on 0800 789 321.
Officers raided three addresses across the capital on Friday as part of anti-terrorist operations. That included a search of an address in Harrow Road, west London, where area resident Patricia Osbourne said she heard six shots fired. [More.>>
bbc.co.uk
]
---