10.01.06 Why is the national debt out of control?
September 9 (Commentary by John W. Schoen) – With the federal government beginning a new fiscal year Monday, the national debt now stands at about $8.5 trillion — or about $540 billion bigger than it was a year ago. Like a number of readers, Charley in Alabama wants to know: who's to blame for this big pile of debt? And how are we ever going to clean it up?

The Republican Party has been the party of fiscal conservatism. Why now is the Republican administration willing to increase the national debt? Will the national debt eventually have to be paid?
— Charley, Magnolia Springs, Ala.

Yes, just like your credit card, the national debt eventually has to be paid. And, just like your credit card, the interest has to be paid now.

But the blame for this mess is shared by both political parties. Now, with midterm elections approaching, you have an opportunity to fix the problem — by choosing a candidate that supports the tough decision process that a solution will require. (More on how to do that on the next page.) And if you don¹t vote carefully on this issue, you, too, can share the blame for the debt mess.

The problem starts with the government not being able to live within its means — just a like a shopaholic with a shiny new credit card and an untapped credit line. To fund this overspending (aka federal budget deficits), the US Treasury makes up and sells a fresh batch of IOUs every quarter. Then it uses the cash from the sale to pay off old Treasury debt that's come due and keep up on the interest payments on the rest of the paper that's still out there. [More>>msnbc.msn.com ]

Editorial note: See Maravot News National Debt Chart in sidebar. The OMB Budget of the US FY2007 shows receipts at $2.285 Trillion, outlays at $2.709 Trillion, with a deficit for FY2006 of $423 Billion. Interest on the debt for FY 2006 was $385 Billion. Most of the deficit was interest! The Reagan, Bush I and Bush II administrations published propaganda sufficient to produce a common myth expressed by Legislators to the effect that "the debt was being put on our children." Ergo, we don't have to pay for anything. But that myth was not true, since we have been paying interest on the debt each year, and interest on the debt itself adds to the debt (as we see that of the $423 Billion deficit $328 Billion is interest), and the addition is exponential. Also, since interest debt is linked to interest rates, when the Feds increase interest rates "to curb inflation" they also increase the interest on the US National Debt. Reagan and the two Bush presidents have put blinders on the people, causing them to believe that no one has to pay for the National Debt. In fact those presidents believed they could promise the people anything and never have to pay for it.

Mel Copeland
---
10.01.06 Report: Nissan to move production of 2 vehicles to Japan from US
TOKYO, October 1 – Japanese automaker Nissan Motor Co. Ltd. plans to move production of two vehicles to Japan from the United States as a way to save costs on automobiles produced in smaller quantities, a news report said Sunday. Nissan will move production of the Quest minivan and the Infiniti QX56 sports utility vehicle to two factories in Japan from the company's plant in Canton, Mississippi, over 2008-2009, Japan's Nihon Keizai business daily said. The paper did not identify its sources.

Nissan sold about 40,000 Quests and 15,000 QX56s in North America in 2005, it said. The automaker expects to save money overall through a shift in production to Japan, as its domestic plants are better equipped to handle model changes for vehicles produced and sold in relatively small quantities, the paper said. [More>>thestar.com.my]
---
10.01.06 Stung by criticism, Bush calls for offensive 'across the world'
WASHINGTON (AFP) September 30 – US President George W. Bush called for fighting America's enemies "across the world" as he stepped up his counteroffensive following charges that his policies were breeding a new generation of Islamic terrorists. The call, delivered in his weekly radio address, was aimed at countering a rash of accusations that the Bush administration had seriously mishandled the war in Iraq and created fertile ground for Islamic extremism. [More>>turkishpress.com ; See related story, expressindia.com, October 1, "Bush signs a law to take on friends of Iran" : US President George W. Bush has signed into law a new set of sanctions targeting foreign countries that continue nuclear cooperation with Iran and sell it advanced weaponry. Yesterday's new sanctions, passed earlier by the Senate after clearing the House of Representatives a day earlier, came as Iran and the European Union are engaged in delicate negotiations designed to persuade Iran to halt its enrichment work and avoid a major international showdown.

"I applaud Congress for demonstrating its bipartisan commitment to confronting the Iranian regime's repressive and destabilizing activities by passing the Iran Freedom Support Act," Bush said in a statement. "This legislation will codify US sanctions on Iran while providing my administration with flexibility to tailor those sanctions in appropriate circumstances and impose sanctions upon entities that aid the Iranian regime's development of nuclear weapons," he said...
---
10.01.06 Forces kill two top al-Qaeda fugitives
SANAA, Yemen (Reuters) October 1 – Yemeni forces killed two al-Qaeda fugitives who had been sentenced to death for an attack on the French oil tanker Limburg in 2002, officials said. They said forces killed Fawaz al-Rabe'ie and Mohamed Daylami who were two of 13 al-Qaeda militants who escaped their Yemeni jail last February. Forces raided a building in the capital Sanaa where Rabe'ie was holed up and killed him. They also killed Daylami who was hiding in another building and arrested Rabe'ie's aide. Several fugitives who fled the jail have since surrendered to authorities or were captured by police.

The jailbreak embarrassed Yemen's government, which is battling Islamist militants, and raised questions about the Arab state's security measures among its Western allies. The Government has offered a $US25,500 ($34,111) reward for information leading to the arrest of any of the fugitives. [>theaustralian.news.com.au ; See more details and photos at aljazeera.net and related story, thenews.com.pk, October 1, "Capture of Iraq Al-Qaeda leader imminent: gov't"]
---
10.01.06 IDF completes withdrawal of troops from Lebanon
October 1 – The leader of the UN peacekeeping force in Lebanon hailed as "significant progress" the pullout of Israeli forces from southern Lebanon on Sunday, but said the pullout would not be complete until Israeli soldiers left one remaining divided border village. "Significant progress has been achieved today," Maj. Gen. Alain Pellegrini, commander of the United Nations Interim Force in Lebanon, said in a statement. He said the Israeli army had withdrawn its troops from the south except for the area of Ghajar. "I expect that they will leave this area in the course of the week, thus completing the withdrawal in line with the (UN) resolution 1701," he said. [More>>Jerusalem Post ; See related story, metimes.com, October 1, "Israel warns Hezbollah after pullout."]
---
10.01.06 The laughing 9/11 bombers
October 1 – Film of the ringleader of the September 11 hijackers reading his ³martyrdom² will inside Afghanistan at Osama Bin Laden¹s headquarters has emerged five years after the Al-Qaeda outrage. It is the first time that a videotape has appeared of Mohammed Atta — who flew an American Airlines plane into the north tower of the World Trade Center — at a training camp in Afghanistan. It fills in a significant gap in the timing of the build-up to the attacks on the United States.

Dates on the tape show Atta was filmed on January 18, 2000, together with Ziad Jarrah, the pilot of United Airlines flight 93, which crashed in Pennsylvania after the passengers apparently stormed the flight deck. The Sunday Times has obtained a copy of the video through a previously tested channel. The tape has no soundtrack and a US source said lip readers had tried without success to decipher what was being said. [More>>timesonline.co.uk, including videotape]
---
10.01.06 US kept spying data from Blair
October 1 – Tony Blair was angered by America¹s refusal to share intelligence on Iraq with Britain, according to a revealing new book by Bob Woodward, the veteran journalist who exposed the Watergate scandal. The prime minister protested to President George W. Bush about the way intelligence was routinely marked NOFORN (no foreigners), denying access to the US¹s closest ally. In State of Denial, published tomorrow, Woodward reveals that raw intelligence gathered by British operatives in Iraq and fused with the Americans¹ own data was stored on the classified Secret Internet Protocol Router Network (SIPRNET).

"The British couldn¹t see it, let alone get a copy, because it was marked NOFORN," Woodward writes. British pilots flying American warplanes such as F-117 Nighthawks and F015E Strike Eagles were even denied access to classified pilot manuals for the same reason. [More>>timesonline.co.uk ; See related story, washingtonpost.com, October 1, "Secret reports dispute White House optimism" (by Bob Woodward) : On May 22, 2006, President Bush spoke in Chicago and gave a characteristically upbeat forecast: "Years from now, people will look back on the formation of a unity government in Iraq as a decisive moment in the story of liberty, a moment when freedom gained a firm foothold in the Middle East and the forces of terror began their long retreat."

Two days later, the intelligence division of the Joint Chiefs of Staff circulated a secret intelligence assessment to the White House that contradicted the president's forecast. Instead of a "long retreat," the report forecast a more violent 2007: "Insurgents and terrorists retain the resources and capabilities to sustain and even increase current level of violence through the next year."

A graph included in the assessment measured attacks from May 2003 to May 2006. It showed some significant dips, but the current number of attacks against US-led coalition forces and Iraqi authorities was as high as it had ever been – exceeding 3,500 a month. [In July the number would be over 4,500.] The assessment also included a pessimistic report on crude oil production, the delivery of electricity and political progress...
---
9.30.06 Detainee bill shifts power to president
WASHINGTON, September 30 – With the final passage through Congress of the detainee treatment bill, President Bush on Friday achieved a signal victory, shoring up with legislation his determined conduct of the campaign against terrorism in the face of challenges from critics and the courts. Rather than reining in the formidable presidential powers Mr. Bush and Vice President Dick Cheney have asserted since Sept. 11, 2001, the law gives some of those powers a solid statutory foundation. In effect it allows the president to identify enemies, imprison them indefinitely and interrogate them — albeit with a ban on the harshest treatment — beyond the reach of the full court reviews traditionally afforded criminal defendants and ordinary prisoners.

Taken as a whole, the law will give the president more power over terrorism suspects than he had before the Supreme Court decision this summer in Hamdan v. Rumsfeld that undercut more than four years of White House policy. It does, however, grant detainees brought before military commissions limited protections initially opposed by the White House. The bill, which cleared a final procedural hurdle in the House on Friday and is likely to be signed into law next week by Mr. Bush, does not just allow the president to determine the meaning and application of the Geneva Conventions; it also strips the courts of jurisdiction to hear challenges to his interpretation. [More>>nytimes.com]
---
9.30.06 New bird flu cluster found in Surabaya
September 30 – The 21-year-old sister of a boy who died of bird flu earlier this month also has contracted the disease, a Health Ministry official said Friday. Meanwhile, another person suspected of having bird flu was admitted to a hospital in Bandung, West Java, where two brothers died this week. The head of the ministry's bird flu information center, Runizar Ruesin, said the sister, currently being treated at Dr. Soetomo Hospital in Surabaya, East Java, had contact with sick and dead fowl, as did her 11-year-old brother. He died on Sept. 18. [More>>thejakartapost.com]
---
9.30.06 Oil minister: Venezuela to cut oil production by 50,000 barrels a day
CARACAS, Venezuela (AP) September 30 – Venezuela said Friday it will cut oil production by 50,000 barrels a day to try and stem the recent fall in crude prices, while President Hugo Chavez said an "appropriate'' price for oil was US$50 to US$60 a barrel. There was no significant response on world oil markets, however, and analysts said the decision was unlikely to have much impact because the quantity is small and Venezuela is already believed to be under producing.

Oil Minister Rafael Ramirez has informed the Organization of Petroleum Exporting Countries of Venezuela's decision to cut back, which will take effect Sunday, his office said in a statement. Venezuela "will stop producing 50,000 barrels a day with the intention of mitigating the fall that oil prices have shown in the past weeks," the statement said.

Light sweet crude for November delivery rose 15 cents to settle at US$62.91 a barrel on the New York Mercantile Exchange, where prices have fallen 20 percent since mid-July. Supplies are generally believed to be ample, and the amount of crude Venezuela said it would remove from the market is equal to less than one-tenth of 1 percent of global demand. [More>>thestar.com.my]
---
9.30.06 Suicide bomber kills 12, injures 42 near Afghan Interior Ministry
KABUL, Afghanistan (AP) September 30 – A suicide bomber killed at least 12 people and wounded more than 40, many just arriving for work, in a busy pedestrian alley next to Afghanistan¹s Interior Ministry on Saturday, officials said. The blast was the second major suicide attack in Kabul this month, underscoring the dangers creeping into the once relatively calm capital as militants step up attacks across the country. Interior Ministry spokesman Zemeri Bashary said the bombing killed 12 people, including two women and a child, and wounded 42. Dr. Salam Jalali, a Public Health Ministry official, said 54 had been hurt. He said the wounded had been taken to six different Kabul hospitals, complicating officials¹ efforts to keep track of the casualties. [More>>khaleejtimes.com]
---
9.30.06 Khomeini letter written in 1988 describes Iran's nuclear plans
September 30 – Ayatollah Ruhollah Khomeini, former Supreme Leader of Iran, wrote in 1988 that Iranian military leaders were seeking nuclear weapons, according to a letter released Saturday by former Iranian President Hashemi Rafsanjani. Khomeini reportedly sent the letter to political leaders during the Iran-Iraq War. In it, he describes why he was forced to agree to a cease-fire which, as he described it, was like "drinking poison."

In the letter, he quotes military leaders who had urged him to stop the war unless the army was equipped with advanced weapons systems including fighter planes, helicopters, and laser-guided missiles. The officers also told him, he wrote, that if Iran wished to win the war and not reach a cease-fire, it should obtain nuclear weapons, a process which could take five years. [More>>haaretz.com]
---
9.30.06 Baghdad shut down for the day
September 30 – Cars and pedestrians have been ordered off the streets of Baghdad after the Iraqi government announced a day-long curfew. "We received intelligence tips about car bombs and suicide bombers entering Baghdad and trying to make attacks today and we are targeting them now," Brigadier Qassim Mussawi, military spokesman for the prime minister's office, said. "What happened today is a precautionary measure to prevent harm to civilians and to prevent terrorists from targeting them. Security forces are restoring their control over Baghdad and all the provinces," he said. Civilian flights to and from Baghdad airport have also been stopped during the curfew which will last until 6am on Sunday. [More>>aljazeera.net]
---
9.30.06 India accuses Pakistan for Mumbai blasts
MUMBAI, India, September 30 – Indian police said on Saturday they had found evidence that Pakistan-based Islamist militant group Lashkar-e-Taiba carried out the July 11 serial blasts in Mumbai and Pakistan's military spy agency was behind the plot. "We have solved the July 11 bombings case. The whole attack was planned by Pakistan's ISI and carried out by Lashkar-e-Taiba and their operatives in India," A.N. Roy, Mumbai¹s police chief, told a news conference. He said 15 to 20 kilograms (33 to 44 pounds) of the explosive RDX "was brought (into India) by a Pakistani man." The bombs were "kept in bags and then camouflaged by newspapers and umbrellas" in the trains, he said. Roy said that Indian police had found no evidence that Al-Qaeda was involved in the explosions. [More>>thenews.com.pk ; See also turkishpress.com, September 30, "Pakistan rejects Indian claim on bombings."]
---
9.29.06 Al-Qaeda and Iraq prompted Madrid bombings
September 29 – The war in Iraq and al-Qaeda provided the stimulus for the March 11, 2004 terrorist attacks in Madrid which left 191 dead and 1900 injured, according to a Spanish secret police report quoted today by El Pais. "The thinking" behind the Madrid attacks "is the same as that followed by the al-Qaeda strategists and those behind the war in Iraq," the 443-page report from the intelligence agency said. The report recalled the threats made by "al-Qaeda leaders like (Osama bin Laden's right-hand man Ayman) al-Zawahiri'' in 2003 against the countries which, like Spain, were taking part in the international military coalition led by the United States in Iraq. [More>>theaustralian.news.com.au]
---
9.29.06 Iraqi gunmen murder relatives of Saddam trial judge
BAGHDAD (AFP) September 29 – Gunmen murdered two relatives of the judge in Saddam Hussein's genocide trial, officials said Friday, as Al Qaeda threatened to plunge Iraq into even greater bloodshed. A spokesman for the Iraqi government said that an unidentified gang had opened fire late Thursday on a car carrying members of the judge's family in a flashpoint district of western Baghdad. It was not immediately clear whether the relatives fell victim to a targeted assassination designed to intimidate Judge Mohammed Al Oreibi Al Khalifa or simply to a bitter civil conflict that claims around 100 lives per day. [More>>metimes.com]
---
9.29.06 Breast cancer cases rise 80% since Seventies
September 29 – It is the disease women fear more than any other, and its incidence is soaring. Breast cancer cases have hit a new record, official figures show, and the increase shows no sign of slowing. A total of 36,939 women were diagnosed in England in 2004, an 81 per cent increase in incidence of the cancer since 1971, after statistical adjustment for the ageing of the population. Over the year, 41,000 cases were diagnosed in the UK.

Breast cancer is the commonest cancer in the UK, even though it principally affects only one gender (there are a few hundred cases each year in men). Lung cancer, the next most common which affects both sexes, was diagnosed in 30,408 individuals in 2004. The relentless upward trend in breast cancer is driven by increasing prosperity and modern lifestyles, experts say. It accounts for one in three of all newly diagnosed cases of cancer in females. [More>>independent.co.uk]
---
9.29.06 Report: Abramoff team had 485 contacts with White House
WASHINGTON (AP) September 29 – Jack Abramoff had hundreds of contacts with White House officials, but they brought mixed results for the convicted lobbyist's clients, according to a congressional report. The draft report of the House Government Reform Committee said the documents – largely Abramoff's billing records and e-mails – listed 485 lobbying contacts with White House officials over three years, including 10 with top Bush aide Karl Rove.

Abramoff and associates were successful in getting appropriations for some of their Indian clients, but efforts to influence presidential appointments and nominations "were often not successful," according to the report, obtained Thursday. (Read complete final report – PDF)

The report indicated that Abramoff and associates lobbied on behalf of 19 individuals for administration jobs and only was successful once. Another time the lobbyist, who received lucrative payments from Indian tribal clients, was infuriated that some White House officials said they could work with Indian tribes directly without the need for lobbyists. [More>>cnn.com]
---
9.29.06 US congressmen accuse UN agency of sponsoring terrorists
September 29 – Two United States congressman on Thursday accused a United Nations agency that gives relief to Palestinians of allegedly distributing funds to members of terrorist organizations. Representatives Steve Rothman (D-NJ) and Mark Kirk (R-IL) lambasted the United Nations Relief Works Agency for allegedly appropriating money to employ members of Hamas and for distributing funds to Palestinian refugees with connections to terrorist groups.

In a letter to Secretary of State Condoleezza Rice, the congressman called for "stricter oversight" of the more than $100 million in US foreign aid provided to United Nations humanitarian programs each year. "We know that Hamas supports the indiscriminate killing of civilians. We know that UNRWA cannot account for large amounts of money it has spent. And we know that UNRWA does not check Palestinian beneficiaries against a list of known terrorists," said Rothman. "With all of this information known, the United States must find out what is unknown: Are US tax dollars funding terrorists through UNRWA?" [More>>haaretz.com]
---
9.28.06 Jets to be sold to Mexico, Brazil, pilots trained in Venezuela
BUENOS-AIRES (RIA Novosti) September 28 – Russia's state-owned arms exporter said Thursday it will soon sign deals to export Sukhoi warplanes to Mexico and Brazil, and will open helicopter maintenance and pilot training centers in Venezuela. Rosoboronexport's regional department head, Sergei Ladygin, said: "We hope that Sukhoi planes will soon appear in Latin American countries."

Speaking on the sidelines of a military exhibition in Argentina, SINPRODE-2006, Ladygin said Rosoboronexport will also offer a modernized version of the Mig-29 Fulcrum fighter to Mexico and Brazil. The official said the company will also continue to cooperate with Venezuela by building helicopter maintenance and pilot training centers in the country. [More>>rian.ru ; See related story, thestar.com.my (Reuters) September 28, "Russia hands over powerful warship to China" : ...The warship was the fourth Project 956E 'Sovremenny' (Modern) class destroyer built at the Northern Shipyard in Russia's second city St. Petersburg and sold to China under a 2002 deal through Russia's state arms trader Rosoboronexport

..."Concern about these ships in both Taipei and Washington is justified by the fact that Taiwan and perhaps even the US Navy lacks an effective defence against the ship's SS-N-22 Sunburn (3M-80E Moskit) supersonic anti-ship missile," Washington-based think-tank the International Assessment and Strategy Center said on its Internet site www.strategycenter.net.

"This missile travels at about three times the speed of sound and can perform violent manoeuvres that can defeat most defences designed to ward off subsonic anti-ship missiles." Apart from anti-aircraft missiles, the destroyer also carries a Ka-28 helicopter armed with rocket-propelled antisubmarine torpedoes...
---
9.28.06 Forty tortured bodies found in Baghdad
BAGHDAD (Xinhua) September 28 – The Iraqi police found at least 40 bodies in different neighborhoods of Baghdad during the past 24 hours, a well-known police source said on Thursday. "Our patrols found up to 40 bodies during the past 24 hours in different parts of Baghdad," the source told Xinhua on condition of anonymity. The bodies were blindfolded, bound and showing signs of torture with bullet holes on different parts of their bodies, the source said. The almost daily gruesome body findings, assassinations and explosions in Baghdad and other Iraqi cities were seen as a major setback for the Iraqi government's efforts to stem violence and achieve national reconciliation. [>xinhuanet.com ; See also:

metimes.com (AFP) September 28, Violence returns to 'secure' Baghdad neighborhoods.

khaleejtimes.com (Reuters) September 28, "Quarter million Iraqis fled homes, data shows."

nytimes, September 28, "Cleric said to lose reins of parts of Iraqi militia" : BAGHDAD – The radical Shiite cleric Moktada al-Sadr has lost control of portions of his Mahdi Army militia that are splintering off into freelance death squads and criminal gangs, a senior coalition intelligence official said Wednesday...

cnn.com, September 28, "Purported al Qaeda in Iraq tape calls for abducting foreigners": BAGHDAD – An audiotape purportedly from the leader of al Qaeda in Iraq called for more violence, including kidnapping foreign hostages, in postings on Islamic Web sites Thursday. CNN has not been able to confirm that the message is from Abu Hamza al-Muhajer. The tape also demanded the release of radical Egyptian cleric Sheik Omar Abdel Rahman, who is serving a life sentence in the United States for inspiring the 1993 World Trade Center attack and a thwarted plot to attack landmark buildings, bridges and tunnels. Al-Muhajer succeeded Abu Musab al-Zarqawi as the head of al Qaeda in Iraq after al-Zarqawi died in a US airstrike in June.

In Baghdad on Thursday, police found 60 bodies – all showing signs of torture – dumped around the capital in a 24-hour period ending Thursday morning, pushing the number of bodies discovered so far this week to 122...
---
9.27.06 Saudis plan 560-mile fence across border with Iraq
DUBAI (AP) September 27 – In a sign of regional concern over terrorism, Saudi Arabia is pushing ahead with plans to build a fence along its entire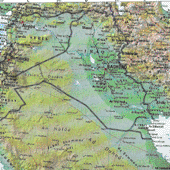 900 kilometer (560 mile) border with Iraq to prevent terrorists from entering the kingdom from the chaotic north. The barrier, which will likely take five to six years to complete, is part of a US$12 billion package of measures including electronic sensors, bases and physical barriers to protect the oil-rich kingdom from external threats, said Nawaf Obaid, head of the Saudi National Security Assessment Project, an independent research institute that provides security advice to the Saudi government.

The ambitious project reflects not only concern over terrorism but also growing alarm over the situation in Iraq, where US forces are struggling to prevent Sunni-Shiite violence from escalating to full-scale civil war. All of Iraq¹s neighbors, including the Saudis, fear that violence could spill over the borders and threaten their own security. For the Saudis, those threats could come from Saudi militants returning home to continue the struggle against the pro-US monarchy or from Shiite extremists seeking to stir up trouble among the country¹s Shiite minority. [More>>khaleejtimes.com]
---
9.27.06 US operation kills Iraq terror suspects, women
BAQUBA, Iraq (AFP) September 27 – A US military operation targeting a group linked to Al Qaeda north of Baghdad killed four suspects as well as four civilians Wednesday, while another 12 people died elsewhere in the country. The strike north of the capital happened in the early hours of the morning in the city of Baquba, the military said in a statement. "Coalition forces killed four suspected terrorists and wounded two others during a raid ... targeting a terrorist tied to extremist leaders of Al Qaeda in Iraq in ... Diyala and Salaheddin provinces," it said. In the course of the raid, US forces came under heavy fire and aircraft "fired multiple rounds" to neutralize the threat, it said. "Upon a search of the objective buildings ... they also found four women killed and another wounded as a result of the airstrike." [More>>metimes.com]
---
9.27.06 Sobering conclusions on why Jihad has spread
September 27 – In announcing yesterday that he would release the key judgments of a controversial National Intelligence Estimate, President Bush said he agreed with the document's conclusion "that because of our successes against the leadership of al-Qaeda, the enemy is becoming more diffuse and independent." But the estimate itself posits no such cause and effect. Instead, while it notes that counterterrorism efforts have seriously damaged and disrupted al-Qaeda's leadership, it describes the spreading "global jihadist movement" as fueled largely by forces that al-Qaeda exploits but is not actively directing. They include Iraq, corrupt and unjust governments in Muslim-majority countries, and "pervasive anti-US sentiment among most Muslims."

The overall estimate is bleak, with minor notes of optimism. It depicts a movement that is likely to grow more quickly than the West's ability to counter it over the next five years, as the Iraq war continues to breed "deep resentment" throughout the Muslim world, shaping a new generation of terrorist leaders and cultivating new supporters for their ideology. In describing Iraq as "the 'cause celebre' for jihadists," the document judges that real and perceived insurgent successes there will "inspire more fighters to continue the struggle elsewhere," while losses would have the opposite effect. [More>>washingtonpost.com] ; See also ajazeera.net]
---
9.26.06 Eighteen killed in Afghanistan suicide attack
(AP) September 26 – At least 18 people were killed today when a suicide bomber struck outside the compound of a southern Afghan provincial governor. The dead included several Muslim pilgrims seeking paperwork to travel to Mecca. The attacker was stopped by Afghan soldiers at the compound's security gate in Lashkar Gah where the bomber detonated his suicide vest, said Ghulam Muhiddin, spokesman for the Helmand provincial governor. Nine Afghan soldiers and nine civilians were killed, said Rahmatullah Mohammdi, director of the hospital in Lashkar Gah. Seventeen people were wounded, he said. [More>>independent.co.uk ; See other details, aljazeera.net]
---
9.26.06 Bird flu deaths reach new high of 51
September 26 – More possible cases of bird flu have been identified in families in West Java and North Sumatra, triggering fears of new disease clusters, as the national death toll hit a record of 51 Monday. A 23-year-old male resident of Bandung died Sunday afternoon. His 20-year-old brother is in critical condition in an isolation room at Hasan Sadikin General Hospital. "Based on the symptoms, we suspect they are a new cluster," said Fatimah Resmiati, the head of the environmental health department at the West Java health office, Monday. Fatimah added that the elder brother died before he could be taken to a hospital for testing. [More>>thejakartapost.com]
---
9.25.06 Islamic Jihad in French
September 25 – Haganah.org posted a link to a jihadist blog in French. For those of you who can read French the site may be of interest to you. Hopefully there are personnel in the US government who can read French. The site may be relevant because the last Al Qaeda tape threatened France and France has the largest population of Muslims in Europe. The site is: minbar-sos.
---
9.25.06 Catastrophic mudslide could last 100 years, say scientists
September 26 – Mud, gas and boiling water that have been gushing out of the ground in East Java since May, submerging half a dozen villages and 20 factories, could continue for a century with "catastrophic consequences," European experts said yesterday. Efforts to seal the channels through which the mud is escaping are unlikely to succeed, and it is impossible to tell how much fluid remains underground, according to a University of Oslo geology team. "It's unlikely to stop permanently for a long time," Adriano Mazzini told a press conference in Jakarta. "It's hard to say when the overpressure will have been fully released. It could be one, 10 or 100 years. But to seal it will be very, very difficult." According to Mr. Mazzini, unless the flow stops soon, the affected land, which has already starting sinking, could subside significantly. "It will be catastrophic," he said.

The mud started flowing on May 29, a couple of hundred metres from where the gas company PT Lapindo Brantas was drilling an exploratory well nearly two miles deep. It has been gushing up to 50,000 cubic metres a day – or two large bathsfull a second – ever since. [More>>guardian.co.uk ]
---
9.25.06 Terrorist who escaped US custody reported killed in Iraq
BAGHDAD (AP) September 25 – British forces said they killed a top terrorist leader Monday, identified by Iraqi officials as an al Qaeda leader who had escaped from a U.S. prison in Afghanistan and returned to Iraq. Omar Farouq was killed in a pre-dawn raid by 250 British troops from the Princess of Wales Royal Regiment on his home in Basra, 340 miles southeast of Baghdad, British forces spokesman Maj. Charlie Burbridge said. Farouq was killed after he opened fire on British soldiers entering his home, Burbridge said. "We had information that a terrorist of considerable significance was hiding in Basra; as a result of that information we conducted an operation in an attempt to arrest him," Burbridge told The Associated Press by telephone from southern Iraq.
"During the attempted arrest Omar Farouq was killed, which is regrettable because we wanted to arrest him." [More>>cnn.com]
---
9.25.06 Afghan woman activist shot dead
September 25 – A senior Afghan women's affairs official has been shot dead in an attack in Kandahar that was claimed by the Taliban. Safia Ana Jan, head of the women's affairs department in the province of Kandahar, was killed by armed men on motorbikes as she got into her car outside her home on Monday, her nephew said.

A Taliban commander, Mullah Hayat Khan, said Ama Jan was killed because she worked for the government. "We have told people time and time again that anyone working for the government – including women – will be killed," Khan said by telephone from an undisclosed location. Ama Jan had served as the head of the province's women's affairs department since 2002, and was well known as a teacher and women's rights activist. [More>>aljazeera.net]
---
9.24.06 Karazi says US underfunding Afghanistan
NEW YORK, September 24 – The $300 billion the United States has spent prosecuting the war in Iraq could have been better used stabilizing Afghanistan against the resurgence of the Taliban, Afghan President Hamid Karzai said in an interview broadcast Sunday. "Three hundred billion dollars? You give that to Afghanistan and we will be heaven in less than a year," Karzai said on NBC¹s "Meet the Press."

The interview, which was taped Tuesday for broadcast Sunday, signaled Karzai¹s growing frustration with the administration that helped put him into power, just two days before he is scheduled to meet with President Bush in Washington. At the same time that they are struggling with the insurgency in Iraq, the United States and its allies also face a renewed threat from the militant Islamist Taliban in Afghanistan, nearly five years after U.S. forces ousted the government that sheltered al-Qaida leader Osama bin Laden, mastermind of the Sept. 11, 2001, terrorist attacks in New York and Washington.

More than 2,000 people, most of them militants, along with hundreds of civilians, aid workers and Afghan security personnel, have been killed so far this year in Afghanistan, while more than 100 foreign troops have died. [More>>msnbc.msn.com]
---
9.24.06 Spy agencies say Iraq War worsens terror threat
WASHINGTON, September 24 – A stark assessment of terrorism trends by American intelligence agencies has found that the American invasion and occupation of Iraq has helped spawn a new generation of Islamic radicalism and that the overall terrorist threat has grown since the Sept. 11 attacks. The classified National Intelligence Estimate attributes a more direct role to the Iraq war in fueling radicalism than that presented either in recent White House documents or in a report released Wednesday by the House Intelligence Committee, according to several officials in Washington involved in preparing the assessment or who have read the final document.

The intelligence estimate, completed in April, is the first formal appraisal of global terrorism by United States intelligence agencies since the Iraq war began, and represents a consensus view of the 16 disparate spy services inside government. Titled "Trends in Global Terrorism: Implications for the United States," it asserts that Islamic radicalism, rather than being in retreat, has metastasized and spread across the globe. An opening section of the report, "indicators of the Spread of the Global Jihadist Movement," cites the Iraq war as a reason for the diffusion of jihad ideology.

The report "says that the Iraq war has made the overall terrorism problem worse," said one American intelligence official.

More than a dozen United States government officials and outside experts were interviewed for this article, and all spoke only on condition of anonymity because they were discussing a classified intelligence document. The officials included employees of several government agencies, and both supporters and critics of the Bush administration. All of those interviewed had either seen the final version of the document or participated in the creation of earlier drafts. These officials discussed some of the document¹s general conclusions but not details, which remain highly classified. [More>>nytimes.com See also abcnews.go.com, September 24, "Frist rebuts report that claims Iraq war fuels terror" : Senate Majority Leader Bill Frist, R-Tenn., said he had not seen the classified National Intelligence Estimate that reportedly alleges that the Iraq war has worsened the problem of terrorism throughout the world, but suggested terrorism is a problem that transcends the Iraq war...
---
9.24.06 Assad: I want peace with Israel, but failure may lead to war
September 24 – Syrian President Bashar Assad said in an interview published Sunday that he hopes to achieve peace with Israel, but cautioned that a Middle East deadlocked in conflict could end up in war. Asked what he thought of Iranian President Mahmoud Ahmadinejad's call for Israel to wiped off the map, Assad said Syria wanted peace with Israel, not to see it destroyed. "But my personal opinion, my hopes for peace, could one day change. And if this hope disappears, then war may really be the only solution," Assad told German magazine Der Spiegel. [More>>haaretz.com ; See also SPIEGEL Interview with Syrian President Bashar Assad: spiegel.de, September 24, "America must listen."]
September 24 – Former president Bill Clinton angrily defended his administration's counterterrorism record during a Fox News interview to be aired today, while accusing "President Bush's neocons" and other Republicans of ignoring Osama bin Laden until the attacks of Sept. 11, 2001. Clinton had planned to discuss his climate change initiative during his appearance on "Fox News Sunday," but he turned combative after host Chris Wallace asked why he hadn't "put bin Laden and al-Qaeda out of business." Clinton shot back that "all the conservative Republicans" who now criticize him for inattention to bin Laden used to criticize him for over-attention to bin Laden.

Clinton said he authorized the CIA to kill bin Laden, and even "contracted with people to kill him." He also said he had a plan to attack Afghanistan, overthrow the Taliban and hunt for bin Laden after the attack on the USS Cole, but the CIA and FBI refused to certify that bin Laden was responsible, and Uzbekistan refused to allow the United States to set up a base. By contrast, Clinton said the Bush administration's neoconservatives "had no meetings on bin Laden for nine months," believing he had been "too obsessed with bin Laden." [More>>washingtonpost.com]
KABUL, Afghanistan (AP) September 24 – NATO aircraft have killed more than 60 suspected insurgents over the last several days in an increasingly volatile southern Afghan province, the military alliance said Sunday. Afghanistan's Ministry of Defense said 40 Taliban fighters were killed by NATO airstrikes in Helmand that "completely destroyed" a militant base in the district of Grishk on Saturday. Maj. Luke Knittig, a NATO spokesman, said the alliance also estimated that about 40 fighters were killed. [More>>foxnews.com]
DAMASCUS (AFP) September 24 – Archaeologists said Sunday they had uncovered decorated human skulls dating back as long as 9,500 years ago from a burial site near the Syrian capital Damascus. "The human skulls date back between 9,500 and 9,000 years ago, (on which) lifelike faces were modelled with clay earth ... then colored to accentuate the features," said Danielle Stordeur, head of the joint French-Syrian archaeological mission behind the discovery.

Located at a burial site near a prehistoric village, the five skulls were found earlier this month in a pit resting against one another, underneath the remains of an infant, said Stordeur. The French archaeologist described as ³extraordinary² the find at the Neolithic site of Tell Aswad, at Jaidet Al Khass village, 35 kilometres (22 miles) from Damascus. [More>>khaleejtimes.com]