News Headlines & Trends
12.30.07 Bilawal Bhutto Zardari named as Chairman of PPP
NAUDERO, Pakistan, December 30 - Pakistan Peoples Party (PPP), the party of Pakistan's murdered opposition leader Benazir Bhutto called for a United Nations probe into the circumstances of Benazir slaying in a gun and suicide bomb attack Thursday. PPP named her 19-year-old son Bilawal Bhutto Zardari as its new leader Sunday and announced it would contest upcoming general elections.

Bilawal Bhutto, a student at Britain's Oxford University, was named party chairman at an emergency meeting, taking the reins of the party formerly led by his mother and grandfather, both of whom met violent deaths.

The party also appointed Bhutto's husband Asif Ali Zardari as cochairman. "Democracy is the best revenge," Bilawal Bhutto Zardari told a chaotic news conference in the Bhutto family's ancestral home here, vowing the party's "long and historic struggle for democracy will continue with a new vigor." Zardari said the Pakistan People's Party would take part in the scheduled January 8 parliamentary elections, seen as a key step in Pakistan's transition to civilian democracy. "We will go to elections," he told reporters. [More>>thenews.com.pk; See also:

khaleejtimes.com, December 30, "Two suicide bombers die in botched Pakistan attack" :...Police said they believed Mohammad Ejaz-ul-Haq, a former religious affairs minister in President Pervez Musharraf's government who had earlier been staying at a house 200 metres (yards) away from the site of the blast, was the intended target...Haq is the son of late former military ruler General Mohammad Zia-ul-Haq, who executed Bhutto's father, former prime minister Zulfikar Ali Bhutto, in 1979...

metimes.com, December 30, "Pakistani suspects galore" : ...Two of Pakistan's four provinces – Baluchistan and the North-West Frontier province – are governed by a coalition of six politico-religious extremist parties (known as MMA) whose leaders are admirers of bin Laden and Taliban leader Mullah Omar. Any number of their adherents would volunteer for a suicide mission against Bhutto. Democracy, as Pakistani extremists see it, is a Western plot to weaken Islam with permissive behavior.

In the past year the Taliban and al-Qaeda have recovered their privileged sanctuaries in the FATAs – the Federally Administered Tribal Areas – that straddle the unmarked 1,300-mile border between Pakistan and Afghanistan. In two of the seven FATAs, North and South Waziristan, the Pakistani army in the past two years sustained more than 1,000 killed and 3,000 injured fighting Taliban guerrillas and their al-Qaeda allies – only to be fought to a standstill.

...Pakistan's all-powerful Inter-Services Intelligence agency is bound to be fingered – not its leadership, but veterans of a service that nurtured and supported the creation of the Taliban in Afghanistan and its gradual conquest of the country between 1992 and 1996. Gen. Hamid Gul, a former ISI chief and now "strategic adviser" to the MMA coalition, was a sworn enemy of Bhutto.

Bhutto's rival in the elections originally scheduled for Jan. 8 is Nawaz Sharif, who was forced into exile in 1999 after he tried to crash Army Chief of Staff Musharraf's aircraft returning from a conference in Sri Lanka.

...For half of its 60-year, blood-soaked history, Pakistan has been under military dictatorship. Bhutto is the fourth Pakistani leader to have met a violent end. Her father was the first to say publicly that Pakistan needed nuclear weapons. That came in 1971, after Pakistan had lost half its country, known as East Pakistan (now Bangladesh), to a military offensive ordered by Indian Prime Minister Indira Gandhi, who was assassinated in 1984. Bhutto was executed by Zia, who had seized power in 1977. The two leaders disagreed on how the country should be run. Zia himself was killed in a mysterious plane crash in 1988...
---
12.30.07 Basra police chief survives bombing
December 30 - The police chief of Basra, Iraq's second-largest city, has survived a roadside bomb attack, the first attempt on his life since British forces handed the city to Iraqi control, police said. Abdul-Jalil Khalaf was not hurt when two bombs exploded near the police chief's convoy in the northern part of the city on Sunday. One of his bodyguard's was wounded, police said. Khalaf, who has already survived six assassination attempts since his appointment in June, was put in control of Basra on December 18 and ordered to battle Shia fighters in the area. [More>>aljazeera.net]
---
12.29.07 Al-Qaeda denies link to Bhutto murder
ISLAMABAD (AP) December 29 - Islamic militants said Saturday they had no link to Benazir Bhutto's assassination, dismissing government claims that a leader of pro-Taliban forces in Pakistan orchestrated the suicide attack on the opposition leader. Bhutto's aides also said they doubted that militant commander Baitullah Mehsud was behind the attack, and accused the government of a cover-up.
The dispute, along with conflicting reports about Bhutto's exact cause of death, were expected to further inflame the violence wracking this nuclear-armed nation two days after the popular former prime minister was killed in a suicide attack. With Bhutto's supporters rampaging across the country, Pakistan's election commission called an emergency meeting Monday to discuss the impact on upcoming parliamentary elections.
...Meanwhile, mass rioting following Bhutto's assassination led to the deaths of 38 people and caused tens of millions of dollars in damage, the government said. Rioters destroyed 176 banks, 72 train cars and 18 rail stations, said Interior Ministry spokesman Javed Iqbal Cheema. At least 100 prisoners were sprung from jails, he said. Speaking at a news conference, Cheema reiterated the government's claim that Islamic militant leader Baitullah Mehsud was behind Bhutto's killing, despite Mehsud's denials. [Full story>>jpost.com ; See also washingtonpost.com, December 29, "US fears greater turmoil in region."]
---
12.29.07 Five al-Qaeda militants killed, 14 held
MUQDADIYAH, Iraq (UPI) December 28 - Operations led by coalition forces targeting al-Qaeda in Iraq Friday resulted in the death of five suspected terrorist and the apprehension of 14 militants. Officials say troops operating on intelligence in the northeast region of the Diyala River Valley north of Muqdadiyah, Iraq, killed four terrorist operatives and detained six suspects while targeting an al-Qaeda network, the American Press Forces Press reported. [More>>metimes.com]
---
12.28.07 Malaysian Christians object to ban on word "Allah"
KUALA LUMPUR (Reuters) December 28 - A Malaysian Catholic newspaper and church groups cried foul on Friday over a government move to forbid non-Muslims from using the word Allah. The row could further strain race and religious relations in the country, where many non-Muslims believe their rights are being trampled by the Muslim majority. The dispute came out in the open after Malaysia's internal security ministry ruled recently the term Allah -- long used by Christians in Malaysia to refer to God -- could no longer be used by non-Muslims.

"Malaysia is probably the only nation where the term Allah by Christians to refer to God is prohibited," parliamentary opposition leader Lim Kit Siang said in a statement, adding that the term was never banned even in the Middle East. "The term Allah was used to refer to God by Arabic-speaking Christians before Arabic-speaking Muslims existed," he said...Separately, another church group, the Evangelical Church of Borneo in the eastern Malaysian state of Sabah, has filed a suit against the ministry's move to stop it from importing Christian books which contain the word Allah. [Full story>>alarabiya.net]
---
12.28.07 Indian state receives terror e-mail
NEW DELHI (UPI) December 28 - Police in the Indian state of Meghalaya say they received an e-mail message from a rebel group threatening to blow up key installations. A state police spokesman said the e-mail to blow up facilities in the state capital of Shillong at the end of the month came from Balwinder Singh, the regional commander of Babbar Khalsa International, a Sikh separatist group that India says is backed by Pakistan. [More>>metimes.com]
---
12.28.07 Pakistan: Al-Qaeda, Taliban behind Bhutto killing
ISLAMABAD, December 28 - Pakistan has "intelligence intercepts" indicating that al-Qaeda and Taliban was behind the killing of opposition leader Benazir Bhutto and another key opposition leader Nawaz Sharif is also under threat of militant attack, the Interior Ministry said on Friday. "We have intelligence intercepts indicating that al-Qaeda leader Baitullah Mehsud is behind her assassination," ministry spokesman Javed Iqbal Cheema told a news conference. Mehsud is one of Pakistan's most wanted militant leaders and is based in the South Waziristan region on the Afghan border. [More>>alarabiya.net ; See also nytimes.com, December 28, "Bhutto buried as government orders virtual lockdown."]
---
12.28.07 New-home sales plunge by 9 percent
December 28 - New-home sales in November dropped 9 percent from the previous month, and were down 34 percent from a year earlier, more dismal figures for an industry facing bloated inventory, declining prices and mortgage woes. "Things remain pretty weak," said Keith Gumbinger, vice president of HSH Associates, a financial publishing group based in New Jersey. "We are still stumbling along in a rough patch. Inventory has to be cleared out."
The Commerce Department today reported that sales of new single-family houses in November declined to a seasonally adjusted annual rate of 647,000, compared with 711,000 in October and 987,000 in November 2006. The rate was the lowest since 1995. [More>>washingtonpost.com]
---
12.27.07 Bird flu makes human-to-human jump
GENEVA (Reuters) December 27 - The World Health Organization (WHO) confirmed on Thursday a single case of human-to-human transmission of the H5N1 bird flu virus in a family in Pakistan but said there was no apparent risk of it spreading wider. A statement from the UN agency said tests in its special laboratories in Cairo and London had established the "human infection" through presence of the virus "collected from one case in an affected family." [More>>abcnews.go.com]
---
12.27.07 30 killed including Ms. Bhutto in suicide attack
RAWALPINDI, December 27 - Thirty persons including [the] Chairperson [of the] Pakistan Peoples Party, Ms. Benazir Bhutto, were killed and several others injured in an attack here outside Liaquat Bagh, Rawaplpindi on Thursday. According to [the] rescue team more than 30 persons were dead in the suicide bomb attack occurred after the public meeting of PPP here at Liaquat Bagh. Earlier, Asif Zardari, husband of Ms. Benazir Bhutto,said that she had sustained serious injuries and was given medical treatment at a hospital.

Benazir Bhutto addressed a public meeting in Liaquat Bagh and soon after she went out, a suicide bomb blast occurred outside the venue. At least 20 persons have been confirmed to have been killed in the incident, including policemen. Body parts of a number of people scattered around after the power blast. Police have described the blast a suicide attack. Leader of PPP, Farhatullah Babur said sound of a powerful blast was heard when the vehicle of Benazir Bhutto was moving past the gate of the bagh. [More>>thenews.com.pk ; See also turkishpress.com, December 27, Former premier Benazir Bhutto assasinated in Pakistan and cnn.com, December 27, Benazir Bhutto assassinated."]
---
12.27.07 Hindus, Christians clash in India
NEW DELHI (AP) December 27 - Hindu extremists torched nearly a dozen churches and the home of a Christian leader Thursday, defying a curfew imposed to quell three days of religious violence in eastern India. Christians retaliated by setting fire to several homes belonging to Hindus. Local police have been unsuccessful in halting the attacks and the federal government announced it was sending in a paramilitary force.
About 19 churches, most of them small mud and thatch buildings, have been razed since violence broke out on Christmas Eve when long-standing tensions between the Hindu majority and the small Christian community erupted over conversions to Christianity. Hindu groups have long charged Christian missionaries with trying to lure the poor and those who occupy the lowest rungs of Hinduism's complex caste-system away with promises of money and jobs. [More>>indianexpress.com: hosted.ap.org ; See earlier story December 26.]
---
12.27.07 Dozens of priests in wild Bethlehem brawl
BETHLEHEM (AFP) December 28 - Seven people were injured when Greek Orthodox and Armenian priests came to blows in a dispute over how to clean the Church of the Nativity in Bethlehem. Following the Christmas celebrations, Greek Orthodox priests set up ladders to clean the walls and ceilings of their part of the church, which is built over the site where Jesus Christ is believed to have been born. But the ladders encroached on space controlled by Armenian priests, according to photographers who said angry words ensued and blows quickly followed.
For a quarter of an hour, bearded and robed priests laid into each other with fists, brooms and iron rods while the photographers who had come to take pictures of the annual cleaning ceremony recorded the whole event. A dozen unarmed Palestinian policemen were sent to try to separate the priests, but two of them were also injured in the unholy melee. [More>>news.com.au]
---
12.27.07 Retired general says Soviet incursion of Afghanistan justified
KABUL (RIA Novosti) December 27 - The invasion by Soviet troops of Afghanistan on December 25, 1979 was fully justified, a retired Afghan army general said on Thursday. "The deployment of Soviet troops was an effective response to our request to the Soviet leadership due to the growing manifestation of terrorism and external threats to Afghanistan," said Maj. Gen. Hamid (Ret.), a former member of the Central Committee of the People's Democratic Party of Afghanistan (PDPA).

He said today terrorists "are having a field day" in Afghanistan, blaming the United States. "The US established such organizations in Afghanistan like al-Qaeda, and it was the US that created Osama bin Laden, who is now terrorizing the entire world," he said. The general said the U.S.S.R. had made a significant contribution to Afghanistan's economic development, helping build 73 large industrial plants, many of which were still working today.
The war in Afghanistan was a nine-year conflict involving Soviet forces supporting the Marxist (PDPA) government against the largely Islamic fundamentalist Mujahideen insurgents. It began on December 25, 1979 and around 26,000 Soviet troops died in the conflict, over a million Afghan civilians are reported to have been killed in the war. The war had a profound impact on the Soviet Union, and has been cited as one of the key factors in the collapse of the Soviet Union in 1991.
US President Jimmy Carter indicated that the Soviet incursion was "the most serious threat to peace since the Second World War." Carter later placed a trade embargo against the Soviet Union on shipments of food products such as grain. The international diplomatic response was severe, ranging from stern warnings to a boycott of the 1980 Summer Olympics in Moscow. [>rian.ru]
---
12.26.07 Russia to sell advanced air defense systems to Iran
TEHRAN (RIA Novosti) December 26 – Iran signed a contract with Russia on Tuesday for the delivery of advanced S-300 air defense missile systems to the Islamic Republic, an Iranian news agency reported on Wednesday. An advanced version of the S-300 missile system, called S-300PMU1 (SA-20 Gargoyle), has a range of over 150 kilometers (about 100 miles) and can intercept ballistic missiles and aircraft at low and high altitudes, making this system an effective tool for warding off possible air strikes on Iran.

...The closest western equivalent of the S-300 is the US MIM-104 Patriot system or the US Navy RIM-66 Standard Missile 2 (SM-2). US. authorities have repeatedly called on Russia to stop arms deliveries to countries whose political regimes Washington disapproves of, including Iran. However, Russian President Vladimir Putin said in October that Russia would not take into consideration attempts to impose arms deal restrictions "based on unilateral and politicized assessments." [Full story>>rian.ru]
---
12.26.07 German chicken test positive for H5N1 flu strain
BERLIN (Reuters) December 26 - A third case of a chicken testing positive for the deadly H5N1 bird flu virus in the northeast German state of Brandenburg was confirmed by state authorities on Wednesday. A police spokesman in Neuruppin, north of Berlin, confirmed that a chicken on a small farm in the town of Blumenthal in the Ostprignitz-Ruppin district had tested positive for the virus. All 31 birds in the village were culled. It was the third case in 10 days in Brandenburg, a rural state that surrounds Berlin and is on the border with Poland. There have been eight cases of the H5N1 bird flu virus in Poland this month. [More>>khaleejtimes.com ; See related bird flu story, alarabiya.net, December 26, "Egypt reports 16th bird flu death."]
---
12.26.07 Hindus attack churches on Christmas
NEW DELHI (AP) December 26 - Hindu extremists ransacked and burned eight rural churches in eastern India, marring Christmas celebrations in a corner of the country with a history of violence against Christians, officials said Wednesday. One person was killed in the violence. Authorities deployed 450 police and imposed a curfew to quell the violence in the remote district of Orissa state where the churches - most nothing more than mud-and-thatch houses - were attacked, said Bahugrahi Mahapatra, a government official. Six of the village churches were torched on Christmas day, and two more were attacked Wednesday along with 10 houses belonging to Christians, Mahapatra said.

...Orissa has one of the worst histories of anti-Christian violence. In one of the most brutal incidents, an Australian missionary and his two sons, 8 and 10, where burned to death in their car following a Bible study class in 1999. Orissa is also the only Indian state that has a law requiring people to obtain police permission before they change their religion. The law was intended to counter missionary work. [Full story>>indianexpress.com:hosted.ap.org]
---
12.26.07 Bodies of 17 men found north of Baghdad
BAGHDAD (Reuters) December 26 - The decomposed bodies of 17 men have been found in Iraq's restive Diyala province northeast of Baghdad, the Iraqi army said on Wednesday. The bodies were found in a town near the provincial capital of Baquba, 65 km (40 miles) north of Baghdad, in the past two days. All had gunshot wounds in the head.
They were among 60 bodies found in Diyala over the past month, said army sergeant Nassir Al Dulaimi, one of the soldiers who found them. Diyala and nearby northern provinces have become the most violent parts of Iraq in recent months as the level of violence in the country at large has fallen. US commanders say al-Qaeda Sunni Arab militants have regrouped there after being pushed out of other parts of Iraq. Militants have frequently clashed with neighbourhood patrols set up by US forces. [>
khaleejtimes.com
]
---
12.26.07 16-year-old bomber stopped at Bhutto rally
December 26 Police in Pakistan have stopped a 15-year-old boy they say was carrying a bomb made of dynamite and nails from getting into a rally by opposition leader Benazir Bhutto. The boy got past the first of four security checkpoints set up outside the rally in the northwestern city of Peshawar but was caught at the second, said police officer Rahim Shah, according to the Associated Press. In October, suicide bombers struck a parade celebrating Ms Bhutto's return from exile, killing more than 140 people in the southern city of Karachi. [>news.com.au ; See also thenews.com.pk, December 26, "Teen arrested with explosives at Benazir's rally."]
---
12.26.07 Suicide bomb targets Sunnis allied to US
December 26 - A suicide car bomb killed at least 25 people and wounded 80 in Baiji, an oil refinery town in northern Iraqi, in an attack which targeted Sunni militias who have joined US forces in the fight against al-Qaeda. The two bombers detonated their explosives when Iraqi police and members of a volunteer security force prevented their vehicle from entering the gate of a residential compound belonging to the state-run North Oil Company. Most of the dead were civilians, including four children, according to police. Beiji's police chief, Saad al-Nafous, was fired, and a curfew was clamped on the city – which is home to Iraq's largest oil refinery – until further notice.
The attack coincided with a suicide bomb in Baquba, 35 miles north-east of Baghdad, which killed 10 people and wounded five others, raising the death toll in Iraq to its highest level after two weeks of relative calm. The second attack by a bomber wearing an explosives vest targeted a funeral procession for two volunteers of the anti al-Qaeda militias. The two members of the "Awakening Council," a father and son, had been accidentally killed by US troops. [More>>independent.co.uk ; See related story, thenews.com.pk, December 26, "US forces kill al-Qaeda leader."]
---
12.26.07 Urgent talks on Afghan expulsions
December 26 - Diplomatic efforts are continuing in Afghanistan to try to prevent the expulsion from the country of two senior foreign officials. The men, based in Kabul, are accused of posing a threat to national security. One is a high-ranking UN employee, Briton Mervyn Patterson, the other is acting head of the EU mission in Afghanistan, Irishman Michael Semple.
The expulsion order follows claims that the men had held talks with the Taleban in Helmand province in the south. The Afghan government has said the pair must leave by Thursday, and the UN has reportedly booked a flight. Homayun Hamidzada, spokesman for Afghan President Hamid Karzai, said Afghan colleagues of the men had been arrested and are being investigated. [More>>bbc.co.uk]
---
12.26.07 Jewish-Iranian leader questions aliya
December 26 - A top Iranian Jewish community leader on Wednesday described the recent immigration of 40 Iranian Jews to Israel as a "misinformation campaign" and insisted that Jews living in the Islamic Republic were not in danger under the hard-line policies of President Mahmoud Ahmadinejad. Forty Iranians landed in Israel on Tuesday after a secret journey to the Jewish state. No details about their route of exit from Iran were given, but it was assumed they came through a third country.

...A joint statement signed by Morsathegh and Morris Motamed, the only Jewish lawmaker in the Iranian parliament, also said the Iranian Jews have never been part of any "organized immigration" to Israel. The operation to Israel was sponsored by the International Fellowship of Christians and Jews, a charity that funnels millions of dollars from evangelical donors each year. [Full story>>jpost.com]
---
---
*Visitor statistics on maravot.com from 1&1. com. 46,153 page views in May 2007; 41,657 in Nov. 2007.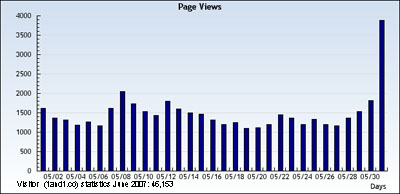 Privacy Policy: We do not store any personal data from you. We have no way of knowing any vital information about you – not even your name. Third-party distribution: We do not distribute information about your site usage to any third party. We are not responsible for the content of links from our site. Usage data: supplied by our Web Hosting service, 1and1.com, which consists of usage reports, such as page views / impressions and web pages visited, visitors' servers and geographical data (ISP's and country of origin).

---
Launched: 10.25.04 / 11.02.04 –
Updated: 12.26.07; 12.27.07; 12.28.07; 12.29.07; 12.30.07
Copyright © 1981-2008 Maravot. All rights reserved
Copyright © 1981-2008 Mel Copeland. All rights reserved
Background: tile from Cicero's villa (Marcus Tullius Cicero 106 B.C. - 43 B.C.)