News Headlines & Trends
---
9.19.08 DKRP starts work to restore Yongbyon nuclear facilities
PYONGYANG, North Korea (Xinhua) September 19 - The Democratic People's Republic of Korea (DPRK) has begun the work to restore its nuclear facilities in Yongbyon "to their original state," a Foreign Ministry spokesman said Friday. It was a "counter-measure" against the United States for not sticking to its promise of delisting the DPRK from a "state sponsor of terrorism" blacklist, the official KCNA news agency quoted the spokesman as saying. [More>>xinhuanet.com]
---
9.19.08 Stocks surge as US acts to shore up money funds and limits short selling
September 19 - Realizing that its case-by-case approach was not enough, the federal government started to put in place on Friday a sweeping plan to restore confidence in the financial markets. Markets around the world reacted by shooting up, with the Dow Jones industrial average up more than 390 points. The actions began to get under way on Thursday with discussions between the Treasury, Federal Reserve and Congressional leaders on what could become the biggest bailout in United States history, a plan likely to authorize the government to buy distressed mortgages at deep discounts from banks and other institutions.
"The federal government must implement a program to remove these illiquid assets that are weighing down our financial institutions and threatening our economy," Henry M. Paulson Jr., the Treasury secretary, said Friday. "This troubled asset relief program must be properly designed and sufficiently large to have maximum impact."
In a move against traders who have sought to profit from the financial crisis by betting against bank shares, the Securities and Exchange Commission issued a temporary ban on short sales of 799 financial stocks, following similar action in Britain on Thursday. And the Treasury, moving to restore confidence in another financial bedrock, said that it would guarantee, at least temporarily, money market funds up to an amount of $50 billion to ensure their solvency, a startling intervention into what had been considered among the safest investments. [More>>nytimes.com; See also:

independent.co.uk, September 19, Britain and US creack down on hedge funds blamed for crisis." and

dw-world.de, September 19, "German banks admit fallout from US financial storm.": ...The disclosure Friday that public banks Bayern LB and NRW Bank were exposed by the collapse this week of US investment bank Lehman Brothers came a day after a federally controlled German bank, KfW, said its exposure to Lehman's failure totalled 536 million euros ($772 million). In a letter to staff, Munich-based Bayern LB, which is controlled by Bavaria state, put its risk at up to 300 million euros. All three banks had placed funds with Lehman...
---
9.19.08 Riot police stand by for 'Anti-Islamisation Conference'
September 19 - Thousands of extra riot police were drafted into Cologne today to cope with expected violence between militant right and left-wing protesters as a bitterly contested pan-European "Anti-Islamisation Conference" got underway in the German cathedral city. The three-day event is being staged by the city's far right "Pro Cologne" organization which is campaigning to stop the construction of a mosque in a suburb and claims that Germany has fallen victim to creeping "Islamisation." The group has recently won seats on the city council. Police were deploying extra riot control units, equipped with water canon and tear gas, from throughout the region in the city following reports that some 40,000 demonstrators, including trade union and radical left wing groups, were due to descend on Cologne to protest against the conference.

..Pro Cologne claimed on its web site that at least 1,500 supporters from throughout Europe would attend the conference and that guest speakers would include French "Front National" leader Jean-Marie Le Pen and Heinz-Christan Strache, the leader of Austria's right-wing Freedom Party. "If Germany does not react soon then the Sharia will end up replacing our basic law," complained Markus Beisicht, Pro Cologne's chairman, "Mosques are shooting out of the ground like mushrooms and head scarves are flooding our streets," he added. [Full story>>independent.co.uk]
---
9.19.08 Germany arrests two suspected of failed terror plot
September 19 - German prosecutors said two men had been arrested on suspicion of links with the Pakistan-based Islamic Jihad Union (IJU), a group seen as a modern successor to al-Qaeda. Omid S, 27, an Afghan-born German national, and Huseyin O, also 27, a Turkish national, were taken into custody by federal police on Thursday, Sept. 18, in the Frankfurt area. Both were accused of travelling to an IJU camp in the Afghan-Pakistan border area last year and taking supplies including binoculars, torches, and MP3 players to the remote camps.
A statement said they were associates of Adem Y, who was recently indicted for plotting car bomb attacks in Germany. Police arrested Yilmaz and two alleged coconspirators last year before any attack occurred. All the men were described as associates of the Islamist IJU, a shadowy Sunni Muslim group that is said to mimic the organization of al-Qaeda a decade ago and which has been the main recent focus of German anti-terrorism inquiries. [More>>dw-world.de]
---
9.19.08 10,000 children trafficked into NE annually from B'desh, Nepal
SHILLONG, India, September 19 - Not less than 10,000 people, mostly children, are trafficked into the Northeast with a good number smuggled in from Bangladesh, Nepal and other South East Asian countries, surveys by NGOs reveal. Most of those trafficked are then engaged as cheap labour in coal mines of Meghalaya, tea gardens in Assam and prostitution.

"The region, besides being a transit point of human trafficking, has also emerged as a destination point. We have rescued a number of children hailing from Nepal and Bangladesh in Assam and Meghalaya who were trafficked and to work as cheap labour," says Hasina Kharbhih, Team Leader of Impulse NGO. "Cross border trafficking is very much relevant in NE, with the region sharing borders with five countries. Some large international trafficking gangs are operation in the region," she says. [More>>timesofindia.indiatimes.com]
---
9.19.08 US air strike kills eight family members in Iraq
TIKRIT, Iraq (AFP) September 19 - A US air strike killed eight family members, three of them women, near executed Iraqi president Saddam Hussein's central hometown of Tikrit on Friday, police and witnesses said. The American military confirmed the bombing, but said the target was an al-Qaeda operative and not the women inside. The US military placed the death toll at seven, one less than the number given by local authorities.

US troops surrounded the house in the village of Al-Dawr, where Saddam was captured by US forces in December 2003, and ordered its occupants to come out but they did not respond, the Americans said in a statement. It said an armed man emerged after a one-hour standoff and the troops killed him and ordered the air strike. "An armed man appeared in the doorway and coalition forces, perceiving hostile intent based on the man's actions, engaged him,"  the statement said. "Later he was determined to be the suspected terrorist." [More>>khaleejtimes.com]
---
9.19.08 Top terrorist suspected of India bombings killed by police
NEW DELHI (DPA) September 19 - A key leader of the terrorist group Indian Mujahideen who was suspected of being behind bombings in Indian cities that claimed more than 140 lives was killed Friday by police in New Delhi, officials said. The man, identified only as Atif, alias Bashir, died in a gunbattle that erupted after suspected militants holed up inside a flat in the Muslim-dominated Jamia Nagar area in southern New Delhi fired on a police team conducting searches in connection with the blasts.
"Atif, alias Bashir, a main leader of the Indian Mujahideen and another terrorist, Sajid, were killed during the hour-long encounter with the special cell of the Delhi police," Police Commissioner YS Dadwal told reporters. "Atif, who was behind the manufacture of bombs and planning, played a key role in bombings in the country, including the Delhi, Ahmedabad and Jaipur blasts," he said at a press conference in Delhi.
Another militant, whose name was given as Mohammed Saif, was arrested while two other rebels escaped. Two police officers were injured in the shootout and were moved to hospitals, Dadwal said. The shootout took place six days after five synchronized blasts ripped through markets in the city, killing 24 people and wounding 100. [>khaleejtimes.com]
---
9.19.08 Russia says does not want to be behind Iron Curtain again
MOSCOW (RIA Novosti) September 19 - President Dmitry Medvedev said Friday that tensions with the West over the Georgia conflict do not mean Russia wants to isolate itself behind a new Iron Curtain. The statement came after US Secretary of State Condoleezza Rice said Thursday that Russia's "aggression" against Georgia last month had put the country on a path of "self-imposed isolation and international irrelevance," and urged Western states to stand up to Russia's bullying behavior.
"All the time they are saying 'Finally they [Russian authorities] showed their true face ... the hawks have taken the upper hand,' " Medvedev said. "In actual fact they push us down that path of development, which is not based on full-fledged, civilized cooperation with other countries, but on autonomous development behind thick walls, behind an Iron Curtain," Medvedev said at a meeting with civil society organizations in the Kremlin. "This is not our path," he said. "There is no point in returning to the past, we have made our choice." [More>>en.rian.ru]
---
9.19.08 5 students killed, 10 injured in Quetta blast
QUETTA, Pakistan, September 19 - Five students were killed and 10 others injured in a blast in a Madressa in Buleli area here on Friday. A powerful blast occurred in Waliullah Shah Madressa located in a suburban area of Quetta city, leaving five students killed and 10 others wounded, Edhi Welfare Trust sources said. However, the official sources have confirmed only one death. According to the Madressa administration, two persons on a motor cycle came and threw something inside the Madressa. The injured are being rushed to Bolan Medical Hospital. [>thenews.com.pk; See also more details:

alarabiya.net, September 19, "Pakistan blast kills 5 students, wounds 11 others" :... "The witnesses say that someone threw explosives into the school, but we are investigating," a police official told reporters. However, another police official said the blast took place inside a room of the school and its walls had fallen outwardly, suggesting there could be some explosives inside the room. "We are looking into all possibilities including the one that whether they were preparing some explosives."
---
9.18.08 First stocks. Now Money Markets?
September 18 - All investors know they are taking a chance when buying stocks or mutual funds, but now one money market — the safest of all stock investments — has done something once unthinkable and actually lost money. The Reserve Fund's Primary Fund, the very first money market mutual fund ever established, had its value fall below $1 this week, thanks to investments in now-bankrupt Lehman Brothers. Investors who put money there as a safe haven from the market's turmoil are now realizing a 3 percent loss.
The shortfall is nothing compared to the double-digit plunges many stocks have taken this year, but the whole idea behind money markets is that they should never lose money and fall below $1 a share. Falling below $1 is called "breaking the buck." Unlike bank accounts, money market investments are not insured by the Federal Deposit Insurance Corporation or any other agency. Brokerages have always said that they carry risk but a widely held understanding is that they will not lose value. [>abcnews.go.com; See related story:

foxbusiness.com, September 18, "Morgan Stanley reportedly in talks as fear grips financials" : HONG KONG/LONDON (Reuters) September 18 - Morgan Stanley topped the list of major financial firms scrambling to find a buyer, while central banks rushed in $180 billion of extra liquidity to bring some calm to panicked stock and money markets. Morgan Stanley was discussing a deal with U.S. regional banking powerhouse Wachovia, according to a source familiar with the matter, while CNBC said HSBC Holdings and China's CITIC Group were also eyeing Wall Street's second-largest investment bank.
Morgan Stanley (MS: 17.03, -4.72, -21.70%) shares were up 5% in trading before the New York Stock Exchange opened. British bank Lloyds TSB took advantage of the market turmoil to achieve a long-held ambition by scooping up the country's biggest mortgage lender HBOS in a $22 billion all-share deal to end a slump in HBOS shares prompted by fears about its funding. HBOS stock soared 49%, while the UK government promised to rewrite competition laws to let the deal go through. As Morgan Stanley cast around for a lifeline, the Government of Singapore Investment Corp (GIC: 9.00, +1.30, +16.88%) said it would consider all possibilities, including taking a stake if approached...
---
9.18.08 Iran aims to surpass Saudi oil refining
September 18 - Iran plans to become the most productive oil refiner in the Gulf region by 2012, the director of the Refinery and Oil Products Distribution Company, Aminollah Eskandar, was quoted as saying Thursday by the Teheran Times. According to the plan, Iran will surpass Saudi Arabia's current capabilities at 2.1 million barrels per day once the new plan has been implemented, boosting the country's capacity to 3.3 million, said Eskandar, adding that only by 2015 would Saudi Arabia reach 3 million.
The plan is estimated to cost $22 billion. While being one of the most oil-rich countries in the world, second only to Saudi Arabia, Iran has suffered widespread poverty due to its lack of refineries, which has forced it to export crude oil, which fetches a much lower price on world markets than refined products such as gas, which has to be imported. [>jpost.com; See also tehrantimes.com]
---
9.18.08 Ships hijacked off Somalia coast
September 18 - Pirates from Somalia have hijacked a Greek ship and another from Hong Kong, each carrying 25 crew, a Kenyan maritime official has said. Andrew Mwangura of the East African seafarers' assistance programme said the Greek ship, the Centauri, was heading for Kenya when it was seized on Wednesday off southern Somalia. He said that gunmen captured the Great Creation, owned by Hong Kong's Sinotrans, early on Thursday.
Heavily-armed Somali pirates have hijacked more that 30 vessels off the Horn of Africa country this year, making its waters the most dangerous in the world. Mwangura said the Centauri was now being taken towards Eyl, a lawless former fishing outpost on the Somali coast where gangs are holding several ships for ransom. [More>>aljazeera.net]
---
9.18.08 Nations should respect sovereignty of each other: FM
ISLAMABAD, September 18 - Foreign Minister Makhdoom Shah Mehmood Qureshi Thursday terming the US incursions into Pakistan "unproductive", warned that these could destabilize the situation. Addressing a press conference here at the Foreign Office, a day after talks between Prime Minister Syed Yousuf Raza Gilani and the US Chairman Joint Chiefs of Staff Committee Admiral Michael Mullen, Qureshi stressed that the nations should respect the sovereignty of each other. He said Pakistan too has a responsibility to ensure that there was no incident from the Pakistan side that violates the territory of others or impacts their sovereignty.

The Foreign Minister called for a long-term strategy to address the situation and said the "internal realities and compulsions" have to be kept in view. He was critical of those political elements that were voicing opposition to the government and said it was criticism just for the sake of criticism. "We do need to increase the number of friends for Pakistan and not create more enemies," Qureshi said. "We have to protect our interests and protect our sovereignty and understand the given situation." The Foreign Minister said it was agreed between the two countries that US would not violate Pakistan integrity. [More>>thenews.com.pk]
---
9.18.08 Yemen arrests 30 people over US embassy attack
DUBAI (Reuters) September 18 - Yemeni authorities have arrested 30 people suspected of belonging to al-Qaeda following an attack on the heavily fortified US embassy in Sanaa, a security source said on Thursday. Two suicide car bombs set off a series of explosions outside the US embassy in the Yemeni capital Sanaa on Wednesday, killing 16 people including six attackers and six Yemeni soldiers. No US citizens were hurt. Yemeni security sources said the attackers were disguised in military uniforms and had made their cars look like those driven by Yemen's security forces. [More>>alarabiya.net; ; See also khaleejtimes.com]

---
9.18.08 Afghan chief shot in NATO 'mistake'
September 18 - An Afghan district governor and two of his bodyguards have been killed by mistake in a NATO raid on a house in Uruzgan province, police say. Hamid Karzai, the Afghan president, expressed sorrow over the killing, which he called a "misunderstanding," and said the district chief, Rozi Khan, was his close associate. Khan was allegedly killed on Wednesday when he went to the aid of a friend who had called for help believing the Taliban had surrounded his home, Uruzgan police chief, Gulab Khan, said. The forces outside the man's home were however international troops, who in turn mistook the governor and his men for Taliban fighters, Gulab Khan said. [More>>aljazeera.net]
---
9.18.08 Russia may give more missiles to Iran
CAPE TOWN, September 18 - : Russia is negotiating the delivery of more air defence systems to Iran despite Western demands for a halt in sales to Tehran over its refusal to stop uranium enrichment. "Contacts between the two countries (on delivery of air defence systems) are continuing and we do not see any reason to suspend them," Russian arms exporter Rosoboronexport chief Anatoly Isaikin told reporters Thursday at the Africa Aerospace and Defence-2008 (AAD-2008) exhibition near Cape Town in South Africa. Isaikin said deliveries of Russian anti-aircraft weaponry to Iran were aimed exclusively at increasing its air defence capability and were not subject to international restrictions.

Iran recently took delivery of 29 Russian-made Tor-M1 air defence missile systems under a $700-million contract signed in late 2005. Russia has also trained Iranian Tor-M1 specialists, including radar operators and crew commanders. The US and Israel, which say they have kept open the military option against Iran, were alarmed by media reports, which started circulating as early as 2005, on the possible delivery of the state-of-the-art S-300 surface-to-air missiles to Iran. The advance version of the S-300 missile system, called S-300PMU1 (SA-20 Gargoyle), has a range of over 150 km and can intercept ballistic missiles and aircraft at low and high altitudes. [More>>timesofindia.indiatimes.com; See related stories,

timesonline.co.uk, September 18, "Russia ratchets up US tensions with arms sales to Iran and Venezuela" :Russia snubbed its nose at the United States today by announcing plans to sell military equipment to both Iran and Venezuela. The head of the state arms exporter said that Russia was negotiating to sell new anti-aircraft systems to Iran despite American objections.

..Ruslan Pukhov, director of the Centre for Analysis of Strategies and Technologies in Moscow, said that it was logical to conclude a lucrative contract with Iran "in the current situation, when the US and the West in general are stubbornly gearing toward a confrontation with Russia." Russia has already delivered 29 Tor-M1 missile systems under a $700 million deal with Iran in 2005. Sergei Chemezov, the head of state-owned Russian Technologies, also disclosed that Venezuela's leader Hugo Chavez wanted to buy anti-aircraft systems, armored personnel carriers, and new SU-35 fighter jets when they come into production in 2010...
alarabiya.net, September 18, "US imposes sanctions on Iranian military firms."

washingtonpost.com, September 18, " Secretary Rice to sharply criticize Russia's recent actions" :Secretary of State Condoleezza Rice is stepping up US criticism of Russia today, saying its invasion of neighboring Georgia last month failed to achieve Moscow's objectives and has put Russia on a path to "self-imposed isolation and international irrelevance."
In a speech she is scheduled to deliver this afternoon, Rice says the United States and Europe must stand up to what she described as Russia's bullying behavior, and she railed against "anachronistic Russian displays of military power" in Latin America. She referred to the arrival of two Russian Tupolev Tu-160 "Blackjack" strategic bombers in Venezuela last week for training flights at the invitation of Venezuela's anti-American president, Hugo Chavez.
But Rice says the United States will not let differences with the Russian government "obstruct a deepening relationship between our societies" and will continue to "support all Russians who want a future of liberty for their great nation."...
---
9.18.08 Hundreds of new species found on Australia reefs
SYDNEY (Reuters) September 18 - Australian scientists have discovered hundreds of new coral and marine species on the Great Barrier Reef and Ningaloo Reef which they say will improve monitoring reef biodiversity and the impact of climate change. Three expeditions to the reefs over four years to collect the first inventory of soft corals found 300, of which 130 were new species, said a report released on Friday. Dozens of new marine species were found, such as shrimp-like animals with claws longer than their bodies, along with already known animals like a tongue-eating isopod parasite that eats a fish's tongue and then resides in its mouth.
"We were all surprised and excited to find such a large variety of marine life never before described, most notably soft coral, isopods, tanaid (small, bottom-dwelling) crustaceans and worms, and in waters that divers access easily and regularly," said Julian Caley, research scientist at the Australian Institute of Marine Science (AIMS). [More>>thestar.com; See also coml.org project map]
---
9.17.08 Wall Street still unnerved despite rescue of big insurer
NEW YORK (Reuters) September 17 - One of the most stunning government bailouts in American history failed on Wednesday to stem the runaway fears engulfing the global financial system. Investors embarked on a frenzied flight to safety on Wednesday, just hours after the Federal Reserve and the Treasury Department propped up American International Group, the ailing insurance giant, with an $85 billion loan. And many wondered which once-proud institution would be the next to fail. "There's a growing sense that there's no end to this in sight," the investment strategist, Edward Yardeni, said.
Investors, seeking security in a market that has so far refused to stabilize, poured money on Wednesday into ultra-safe government notes, driving the yield on short-term Treasury bills to the lowest levels in 50 years. Stocks around the world plummeted. The Dow Jones industrial average lost more than 200 points, despite the federal government's efforts to prop up A.I.G. The move avoided a potentially devastating collapse of the company, but investors appeared already to have shifted their attention elsewhere. "The positive impact of these government fixes, rescues and bailouts clearly are wearing off," Mr. Yardeni said. "There's no novelty in it any more."
The broad Standard & Poor's 500-stock index traded down about 2.2 percent. In London, the benchmark FTSE 100 index closed down 2.26 percent, and indexes in Paris and Frankfurt fell more than 2 percent. In Asia, investors were starting to show hesitation even before the financial earthquake of the last week. Now — from central banks to industrial corporations, from hedge funds to the individuals who lined up here to withdraw money from American International Group on Wednesday — a wariness toward the United States is setting in that is unprecedented in recent memory. [More>>nytimes.com; See related stories

nytimes.com, September 17, "Shares of big brokerages in free fall." and

washingtonpost.com, September 17, "Fed asks Treasury Dept. for funds to backstop intervention efforts" : The Federal Reserve has requested that the Treasury Department deposit $40 billion with the central bank in an effort to help the Fed continue to stabilize the financial markets and address concerns about whether it is overstretched. The Fed's extraordinary series of efforts to pump extra funds into the financial system and bail out such firms as American International Group and Bear Stearns with mammoth loans has depleted its store of Treasury bonds. The central bank will use the funds to offset the amount of money it has injected into the markets in its rescue efforts. "By over-funding itself and placing those funds at the Fed, the Treasury is expanding the Fed's balance sheet in a way that will give the Fed the ability to conduct further operations to support the financial market functioning, should the need arise," said Michael Feroli, an economist with J.P. Morgan Chase.
---
9.17.08 Ike death toll rises as does victims' pain
GALVESTON, Texas (CBS/AP) September 17 -  Hurricane Ike's death toll in the US is up to 50 as authorities on the Texas coast provided more details on fatalities from the storm. Galveston County Medical Examiner Stephen Pustilnik said Wednesday that crews have found the first five victims on Galveston Island and another in Brazoria County. Authorities have said they expected to find bodies in Galveston. Two of the victims in Galveston were people who needed dialysis treatment but did not leave the island. Another was a woman with cancer whose breathing machine lost power in the storm.

Pustilnik said search teams found another victim drowned in a truck and a fifth was found in a hotel. Most people in the fourth-largest US city of Houston remained without power, making it tough to track the latest information on where to pick up supplies. For most, the electricity wasn't expected back on for at least another week...Things were far worse on the island of Galveston and other Gulfside communities that were torn apart by Hurricane Ike. Those who stayed through the storm's arrival last weekend have few neighbors, almost no services and little sense of when that might change. [Full story>.cbsnews.com; See also abcnews.go.com slides of Galveston, before and after]
---
9.17.08 Seven killed in US missile strike in South Waziristan
WANA, Pakistan, September 17 - Suspected US drones fired four missiles Wednesday in a northwestern Pakistani tribal area near the Afghan border killing 7 people while 3 others were injured, officials said. "Four missiles were fired by suspected US drones in Baghar Cheena area in the restive South Waziristan on Wednesday evening," a senior security official told a foreign news agency.

Meanwhile, the Pentagon has claimed that US led coalition forces carried out drone strike on an ammunition storage facility of Taliban, in which one al-Qaeda member and 3 Taliban militants were killed. The US authorities said they shared the news with Pakistani officials after conducting the strike. US operated spy planes continued their flights in Wana and other territories.

The missile strike came hours after US military chief Admiral Michael Mullen reiterated Washington's respect for the sovereignty of Pakistan. Mullen, who flew to Islamabad on an unannounced trip late Tuesday, met General Ashfaq Parvez Kayani and Prime Minister Syed Yousuf Raza Gilani amid tensions over US raids on tribal areas bordering Afghanistan. "There are a few militant training camps in the area and no civilian population around the site of strikes," another official added. [>thenews.com.pk]

---
Editorial note: If Pakistani officials have been aware of militant training camps, one may ask why the Pakistani government had permitted them to operate, launching attacks into Afghanistan. According to an interview of Parvez Musharraf regarding the North West Tribal Territories, no government, including the British, has been able to govern the North West Tribal Terrorities, since the days of Alexandar the Great. If Pakistan is not able to exercise its sovereignty over the area, then the issues Afghanistan and the US have with regard to attacks in Afghanistan being launched from that area has little to do with Pakistan.

Mel Copeland
---
9.17.08 Nigerian militants threaten oil war
PORT HARCOURT, Nigeria (Reuters) September 17 - Nigerian militants threatened to broaden their "oil war" to offshore oilfields, after attacking another Shell-operated oil flow station in the Niger Delta. The Movement for the Emancipation of the Niger Delta (MEND), responsible for attacks that have cut a fifth of OPEC member Nigeria's oil output, said it would launch attacks outside Rivers state for the first time since clashes began on Saturday. The heaviest fighting between militants and security forces in more than two years has spread to about 10 villages, but have remained in Rivers state, home to oil city Port Harcourt.
"After Rivers, the hurricane will be heading to the neighboring states in the Niger Delta," the group said in an emailed statement. Some security forces in the oil industry estimate more than 100 people may have been killed in recent clashes. Militants have bombed pipelines, platforms, gas plants and oilfields, halting up to 115,000 barrels per day of oil production in the last five days, government officials said. Nigeria's oil is popular in the United States and Europe because it is easily refined into gasoline, diesel and other crude products.
...MEND launched its most daring strike in June against Shell's $3.6 billion Bonga oilfield, which lies some 120 km (75 miles) from the coast, forcing the company to shut down the 220,000 bpd operation for several days. MEND's other target, Chevron's Agbami oilfield, is Nigeria's newest oilfield. The facility, which started production in late July, is expected to pump about 100,000 bpd by February. [Full story>>news.com.au]
---
9.17.08 Car bombs at US embassy in Yemen kill 16
SANAA, Yemen (Reuters) September 17 - Two suicide car bombs set off a series of explosions outside the heavily fortified US embassy in Yemen on Wednesday, killing 16 people including six attackers, a Yemeni Interior Ministry official said. The US State Department said the bombings bore "all the hallmarks" of an al-Qaeda attack but the United States had not yet concluded who was to blame.
Islamic Jihad in Yemen, which is unrelated to the Palestinian group with a similar name, claimed responsibility and threatened attacks on other embassies including those of Britain, Saudi Arabia, and the United Arab Emirates. It had threatened in a previous statement on Tuesday to launch a series of attacks unless the Yemeni government met its demands for the release of several members from jail. [More>>thestar.com.my]
---
9.17.08 Arctic resources central to Russia's energy security - Medvedev -2
MOSCOW (RIA Novosti) September 17 - The Russian president said Wednesday that the use of Arctic resources was central to the country's energy security.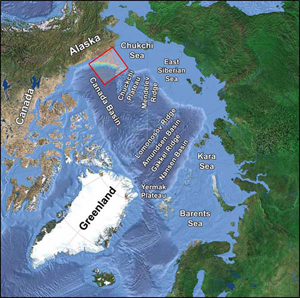 Arctic map of the Lomonosov Ridge courtesy Arctic Archive for Geophysical Research
(AAGRUK)
via ens-newswire.com.
"According to estimates by experts, the Arctic shelf may have about one-fourth of the world's shelf hydrocarbon reserves, and the use of these reserves is a guarantee of Russia's overall energy security," Dmitry Medvedev said at a Russian Security Council session. He also said Russia's competitiveness on global markets depended on Arctic resources, stressing the need to adopt a law establishing the frontiers of Russia's Arctic zone.
"We need a firm normative-legal base regulating Russia's activity in the Arctic. First of all the federal law on the southern border of Russia's arctic zone should be completed and adopted," he said. Medvedev also said that Russia would next look to establish "the external frontier of the continental shelf." "This is a very important task," he said. The Russian leader said about 20% of Russia's GDP and 22% of national exports were produced in the Arctic. [More>>en.rian.ru ; See related story, ens-newswire.com, August 2, 2007, "Russian Arctic underwater oil expedition reaches North Pole."]
---
9.17.08 'France, Russia will give fuel if US doesn't'
NEW DELHI (PTI) September 17 - A top nuclear scientist has said that France and Russia will ensure uninterrupted fuel supply to Indian reactors in the event of America snapping nuclear cooperation. Former Chairman of the Atomic Energy Commission M R Srinivasan said the member countries of the Nuclear Suppliers Group have their own laws and could go by their rules and regulations. "France and Russia have their own rules. They do not require any such stoppage of supply in that contingency," he said when asked what will be the future of nuclear cooperation with India if it conducts a test.

Srinivasan said American laws allow that country's President to ask India to return all supplied fuel and equipment if New Delhi conducts a test. "Therefore, there is a distinction between America and others specially France and Russia," he said. His remarks come in the midst of controversy over US President George W. Bush's contention that the fuel supply assurances are "not legally binding" for America. [More>>timesofindia.indiatimes.com]
---
9.17.08 Food prices help tip 75 million into hunger in 2007
ROME (Reuters) September 17 - Rising food prices are partly to blame for adding 75 million more people to the ranks of the world's hungry in 2007 and lifting the global figure to roughly 925 million, the UN's food agency said on Wednesday. Jacques Diouf, head of the UN Food and Agriculture Organization (FAO), presented the figure to Italy's parliament ahead of the release of an official report on Thursday. The latest data further distances the international community from reaching UN Millennium Development Goals that include halving hunger and poverty by 2015.
Diouf estimated that 850 million people were hungry before the 2007-2008 spike in food prices, which sparked widespread protests and even riots in the most affected nations. The FAO hosted a food crisis summit in Rome in June to discuss ways to combat high food prices, blamed on poor harvests, high oil costs, biofuels and rising demand for basic staple crops, especially from fast-growing Asian countries. [More>>khaleejtimes.com]
---
9.17.08 China's cabinet orders inspections, reform of dairy industry
BEIJING, September 17 - An executive meeting of the State Council (cabinet), presided over by Premier Wen Jiabao, on Wednesday decided to launch national comprehensive tests of dairy products and reform the dairy industry. According to the meeting, the incident involving the tainted Sanlu milk powder reflected chaotic industry conditions, as well as loopholes in the supervision and management of the industry.

It is necessary to learn lessons, properly deal with the incident, improve the inspection and supervision system and strengthen the management of the dairy industry, the meeting said. The meeting also reached six other decisions and ordered governments at all levels to implement them. These decisions...Three infants have died so far. There are at least 6,244 infant victims of the contaminated milk powder, of whom 158, or 2.5 percent, have acute kidney failure, the Ministry of Health said on Wednesday. [Full story>>xinhuanet.com]
---
9.17.08 More die in Baghdad violence
September 17 - At least 10 people have been killed and more than 30 wounded in a series of attacks in Baghdad, including a twin car bombing in a business district,  security sources said. Eight people were killed and 25 wounded on Wednesday when two bombs exploded minutes apart in the Harfiyeh neighbourhood of west Baghdad, an interior ministry official said. Earlier, two people were killed and 13 wounded, six of them policeman, when three makeshift mines went off in east Baghdad....Outside the capital, three people were killed and one wounded when armed men opened fire near the northern oil city of Kirkuk, police Lieutenant Abdullah al-Obeidi said. [Full story>>aljazeera.net]
---
9.16.08 Iran claims it can control the gulf
TEHRAN (AFP) September 16 - Iran has the power to control the Gulf as no vessel can cross the vital seaway without coming in range of its sophisticated weaponry, a top aide to supreme leader Ayatollah Ali Khamenei said on Tuesday. The comments from General Rahim Yahya Safavi came a day after the International Atomic Energy Agency accused Iran of stalling its investigation into the country's nuclear drive. "Responsibility for defending the Persian Gulf has been handed over to the naval forces of the Islamic Revolution Guards Corps," Yahya Safavi was quoted as saying by the official news agency IRNA.

Their missiles can cover the entire width of the Gulf and "no ship can cross it without being within range," the former commander-in-chief of the Guards told IRNA. "Our armed forces with their defence equipment including missile, air, naval and torpedo capabilities are able to control the Strait of Hormuz." An estimated 40 percent of the world's oil passes through the narrow channel between Iran and Oman and Iran has warned in the past it could block the waterway if it comes under attack over its nuclear programme. [More>>timesofindia.indiatimes.com]
---
9.16.08 Wall Street holds steady: Fed to meet
September 16 - Stocks broke through into positive territory on Tuesday morning before falling back as investors warily made their way back into the market a day after the worst session in seven years. Investors are still wondering if the Federal Reserve will reverse course and lower interest rates at its meeting this afternoon, in a move to shore up confidence after a nearly unprecedented shake-up of the financial landscape. And concerns still haunt the American International Group, the big insurer, which is desperately seeking capital to make it through the week.
But after a drop at the start, stocks moved higher, with the Dow Jones industrials opening up a gain of almost 100 points before retreating. Shares of financial firms, which had their worst day in at least two decades on Monday, were leading the gains, with Bank of America and Merrill Lynch both in the black. The Standard & Poor's 500-stock index was down 1.2 percent at 12:10 while the Dow was down 0.15 percent. The relatively mild opening contrasted with the major Asian exchanges, which plummeted overnight, and modest declines in the European benchmark indexes. [More>>nytimes.com; See also:

news.com.au, September 16, "Panic as Russian market suspended" : Russia's main stock market suspended trading today after plummeting more than 11 per cent, having lost more than half its value since May, as failing Wall Street banks caused panic on global markets. The benchmark RTS index halted trade after a fall of 11.47 left it 54 per cent below its record close on May 19. The ruble-denominated Micex was also suspended for an hour after dropping 16.6 per cent.

"Panic has gripped the Russian stock market," read a headline on the Interfax news agency. Those hardest hit on the RTS were energy companies, with state-controlled gas giant Gazprom falling 17.2 per cent and oil firm Rosneft losing 19.12 per cent...

bbc.co.uk, September 16, "Global market turmoil continues" : Stock markets have continued to fall after the collapse of fourth-largest US investment bank, Lehman Brothers, which has filed for bankruptcy protection. Wall Street fell back in early trading while European stocks slipped further — the UK's FTSE 100 shedding 3.2%...Banking stocks were particularly hard hit, with HBOS shares 35% lower at one point...
Japan's benchmark Nikkei 225 index dropped 5% to a three-year low, shares in South Korea and Hong Kong shed almost 6% and Shanghai's index fell by about 3%. Markets in Taipei and Singapore were also sharply down, and the pattern was repeated in Australia and New Zealand, although the falls were smaller. Central banks around the world carried out emergency measures on Tuesday to keep markets liquid. The extra funding came as the interest rates at which banks lend to each other rocketed - as they did at the start of the credit crunch. This is seen as a sign of falling confidence between the banks...

xinhuanet.com, September 16, "Asia-Pacific stocks slide on US financial woes" : HONG KONG, September. 16 (Xinhua) - Asia's main stock markets plummeted Tuesday, with Hong Kong, Tokyo, Shanghai and Taipei stocks down around 5 percent, as part of the reaction to the latest US financial crisis triggered by the collapse of investment bank Lehman Brothers. After Lehman Brothers filed for bankruptcy and Merrill Lynch agreed to be taken over by Bank of America, the Dow Jones Industrial Average tumbled 4.42 percent, the steepest drop since the Sept. 11, 2001 attacks.

Tokyo stocks nose-dived 605.04 points on Tuesday, or 4.95 percent, to 11,609.72 points, its lowest closing level in more than three years. Japan's central bank injected 2.5 trillion yen (23.65 billion dollars) on Tuesday into money markets to ease the impact of the failure of the Lehman Brothers. But Japan's Finance Minister Bunmei Ibuki reassured investors that the Lehman bankruptcy will not seriously damage the Japanese financial system...

cnn.com, September 16, "AIG needs cash now" : NEW YORK, September 16, Shares of American International Group tumbled Tuesday as the company scrambled to raise as much as $75 billion to keep itself afloat. The pressure on the nation's largest insurer reached fevered pitch on Monday night as the troubled insurer was hit by a series of credit rating downgrades. The cuts could prove deadly to AIG (AIG, Fortune 500), forcing it to post more than $13 billion in additional collateral. Shares were down 42% in early morning trading, after falling more than 70% in early morning trading and losing 61% of their value the day before.

..."Management needs to address investor concerns now before the market sell-off becomes a self-fulfilling prophecy," said Rob Haines, analyst at CreditSights. If AIG were to fail, the global ripple effects would be unprecedented, said Robert Bolton, managing director at Mendon Capital Advisors Corp. It has $1 trillion in assets and operates in 130 countries. AIG is a major player in the credit default swaps market, an insurance-like contracts that guarantee against a company defaulting on its debt. Also, it is a huge provider of life insurance, property and casualty insurance and annuities... [See also aig.com/us-member-companies]
---
9.16.08 Pakistan aircraft bomb militants; US drones prowl
KHAR, Pakistan (Reuters) September 16 - Pakistani aircraft bombed militant strongholds in a northwestern region on Tuesday while US drones prowled the sky over another militant sanctuary on the Afghan border, a military official and residents said. Pakistani forces launched offensives against al-Qaeda and Taliban militants in the northwest in August and the government says hundreds of militants have been killed.
But at the same time, US forces have stepped up strikes on militants on the Pakistani side of the border, angering Islamabad and straining relations between the allies. Pakistani aircraft bombed three areas of Bajaur on Tuesday as ground troops searched house-to-house for militants, a military spokesman said. [More>>khaleejtimes.com; See also:

thenews.com.pk, September 16, "10 more militants killed in Bajaur" : ...Sources said that security forces pounded militants positions with gunship helicopters and jet planes in Loisam, Tangkhata and Shakai area of Bajaur Agency, killing at least 10 militants...

nytimes.com, September 16, "Pakistan would fire on intruders" : The Pakistani military said on Tuesday its troops would fire on foreign forces if they crossed the country's borders but denied that this was a change of policy...
---
9.16.08 US officials say al-Qaeda 'imploding,' unpopular
WASHINGTON, September 16 - Top US counterterrorism officials Monday said al-Qaeda is imploding and that its violent tactics have turned Muslims worldwide against the organization. "Absolutely it's imploding. It's imploding because it's not a message that resonates with a lot of Muslims," said Dell Dailey, the State Department's coordinator for counterterrorism. Of more concern are organizations like Lebanese Hezbollah and Hamas, which combine social services, local governance, national politics with extremist attacks, said Undersecretary of State James Glassman.

"These are models that have a lot more popular appeal than al-Qaeda, that has almost no popular appeal," he said. Vastly more Muslims than Westerners are killed by al-Qaeda car and suicide bombs, particularly in Iraq, where local tribes have largely turned against al-Qaeda in Iraq in the last two years. Extremist violence claimed more than 9,500 civilian victims in Muslim countries in 2007. [More>>japantoday.com]
---
9.15.08 Stocks gyrate as 2 Wall St. banks falter
September 15 - Nervous investors tried to make sense of a rapidly changing financial landscape on Monday as the Bank of America began the task of assimilating Merrill Lynch, and Lehman Brothers started its journey into bankruptcy. The Dow Jones industrial average dropped more than 270 points at mid-day, following the major European stock exchanges, which fell more than 4 percent, in the first wave of investor reaction to some of the most dramatic developments in the history of high finance.
Lehman Brothers, the 158-year-old investment bank, is in liquidation; Merrill Lynch, the premier brokerage, has agreed to be subsumed into Bank of America. And one of the world's largest insurance companies, American International Group, is in a dash to shore up confidence after its stock price dropped 50 percent just after the open.
The broader Standard & Poor's 500-stock index was down 2.4 percent at midday. Lehman shares lost 95 percent of their value in the first trading session after the firm declared bankruptcy. Benchmark indexes in London, Berlin, and Paris were off about 4 percent. In Washington, President Bush tried to calm nervous investors. [More>>nytimes.com; See related stories;

xinhaunet.com, September 15, "China's central bank reduces credit interest rate, reserve requirement ration" : :BEIJING, September 15 - China's central bank said on Monday it would reduce the benchmark loan interest rate and the reserve requirement ratio for commercial banks to ensure a steady and rapid economic growth. The benchmark interest rate for one year yuan denominated loans will be adjusted down 0.27 percentage points from Tuesday, its first downward movement since October 2004.

In addition, the ratio of deposit lenders are required to set aside will be down 1 percentage point from Sept. 25, the People's Bank of China said. However, the country's major lenders will be exempt from the reserve requirement ratio adjustment. They include the Industrial and Commercial Bank of China, the Agricultural Bank of China, the Bank of China, the China Construction Bank, the Bank of Communications and the Postal Savings Bank of China...

independent.co.uk, September 15, "HBOS shares plunge in Lehman crisis" : UK shares continued to tumble this afternoon after the credit crunch claimed one of the world's biggest investment banks - with Britain's biggest mortgage lender the worst affected. Lehman Brothers, which has been hit by billions of dollars-worth of sub-prime mortgage losses, announced overnight that it was planning to file for Chapter 11 bankruptcy. Rival Merrill Lynch - another casualty of the sub-prime crisis during the past year - also took shelter in a takeover by the Bank of America.

Some analysts were forecasting that today would go down as 'Black Monday' in the financial annals - with the credit crunch entering a new phase one year on from its start. In London, the FTSE 100 Index was down nearly 5 per cent by 2pm amid the fresh turmoil, although it recovered to just over a 3 per cent fall on the day as the afternoon progressed. Shares in HBOS, Britain's biggest mortgage lender and owner of the Halifax, had fallen 25 per cent, but also recovered a little over the afternoon. Friends Provident, Royal Bank of Scotland and Barclays also saw big falls.

The losses were despite action from the Bank of England, which pumped an extra £5bn into money markets in an attempt to calm anxieties. The European Central Bank also made undisclosed funds available to financial institutions...
---
9.15.08 Russian strategic bombers patrol Caribbean - 2
MOSCOW (RIA Novosti) September 15 - Two Russian Tu-160 Blackjack strategic bombers that landed in Venezuela last week will carry out a patrol mission over the Caribbean on Monday, a Russian Air Force spokesman said. (Russian strategic bombers - Image gallery) The bombers landed at Venezuela's Libertador airfield on September 10 and were accompanied by NATO fighters during the 13-hour flight from their home base in central Russia.
"The current patrol mission will be conducted over neutral waters in the Caribbean," Lt. Col. Vladimir Drik said. "The aircraft will take off from Libertador airbase and spend about six hours in the air." The Tu-160 Blackjack is a supersonic, variable-geometry heavy bomber (INFOgraphics , VIDEO),  designed to strike strategic targets with nuclear and conventional weapons deep in continental theaters of operation. According to the spokesman, the bombers are carrying dummy missiles without warheads and will practice patrol sorties in a tropical climate. [More>>en.rian.ru; See related story, en.rian.ru, September 15, "Russia eyes Mediterranean as alternative to Sevastopol naval base."]
---
9.15.08 Turkmenistan not to bypass Russia on oil and gas exports: Russian official
July 12, 2008 - President Medvedev visited the major Caspian oil-and-gas-producing states of Azerbaijan, Turkmenistan and Kazakhstan before the meeting of the G8, RIA Novosti reported, offering Azerbaijan as well as Turkmenistan a larger purchase of gas at market rates; however he was unable to reach a price agreement. "It is important for Russia to acquire Turkmen gas to compete with the alternative European Nabucco pipeline project," RIA Novosti analyst Andrei Vavra wrote. RIA Novosti quoted Russian presidential aide Sergei Prikhodko as saying that Turkmenistan will not take part in Nabucco's construction. "Judging by events, Russia has prevailed over its European rivals in the struggle for Turkmen gas." Vavra commented. "It is now clear that oil and gas from these energy-rich countries will not bypass Russia." [>gundogar.org]

---
Editorial note: I discovered this article when checking out the gundogar.org website, as a follow-up to the "Turkmenistan battles drug gang" article. The Nabucco pipeline project was conceived as another pipeline that could supply the European Union through Georgia and Turkey. This article appeared before Georgia's invasion of South Ossetia and the military response by Russia. This information adds a larger scope to the Maravot News assessment on the relationship of the Russian invasion of Georgia. We anticipated that Russia's purpose was to obtain control of the Baku-Cayhan pipeline serving the EU through Turkey, in addition to the protection of Russian citizens in South Ossetia and Abkhazia. This article on the Nabucco pipeline suggests an attempt by Russia to control the other pipeline intended to serve the EU through Turkey. We find it hard to believe that one of the largest exporters of oil (Russia) would need additional supplies from Turkmenistan's Caspian Sea source. The Caspian Sea oil production is divided between the four countries that border it: Azerbaijan (its port being Baku, the source of the Baku-Cayhan pipeline), Russia, Kazakhstan, Turkmenistan and Iran.

"The issue that brought to a head the new "Cold War" was, of course, Georgia. The EU interest in Georgia is foremost with respect to the oil pipeline that flows through it to Turkey's Cayhan port on the Mediterranean. The pipeline was developed by the EU to obtain oil supplies from the Caspian Sea (Azerbaijan) that did not pass through Russia. Russia controls the other pipelines that directly serve the EU (through the Ukraine and Baltic). In controversies involving transit fees through Ukraine Russia cut off the supply, even in the winter, prompting the EU to seek a more secure supply of oil. Because of Russia's invasion of Georgia another pipeline intended to bypass Russia has been put on the backburner." (from Maravot News 9.13.08, "Editorial note to 9.13.08 article "Many versions of 'Bush Doctrine' ")

While nations may attempt to negotiate treaties and relationships to secure their financial and political security, an attempt by Russia to dominate all oil supplies serving Europe would be a cause of concern to the West. The issue of oil production and delivery is going to dominate the economic and political futures of the West for many years. Heretofore the West has been subjected to OPEC's unreasonable control of their supply of oil; Russia's control of EU sources in addition to OPEC sources reduces to two devils controlling the world economy and security.

Mel Copeland
---
9.15.08 Saakashvili 'planned S. Ossetia invasion': ex-minister
PARIS (AP) September 14 - Georgian President Mikheil Saakashvili had long planned a military strike to seize back the breakaway region of South Ossetia but executed it poorly, making it easy for Russia to retaliate, Saakashvili's former defence minister said. Irakly Okruashvili, Georgia's leading political exile, said in a weekend interview in Paris that the United States was partly to blame for the war, having failed to check the ambitions of what he called a man with democratic failings. Saakashvili's days as president were now numbered, he said.
The former defence minister's remarks are significant because Saakashvili has always maintained Russia started the war by invading his country. The Georgian president said he handed EU leaders last week "very strong proof" that Moscow was to blame, though he did not give details. But Okruashvili, a close Saakashvili ally who served as defence minister from 2004 to 2006, said he and the president worked together on military plans to invade South Ossetia and a second breakaway region on the Black Sea coast, Abkhazia.
"Abkhazia was our strategic priority, but we drew up military plans in 2005 for taking both Abkhazia and South Ossetia as well," Okruashvili said. There was no immediate reaction from Saakashvili's officials to his remarks. While in office, Okruashvili was an outspoken hawk, overseeing a military buildup and calling for Georgia to take back South Ossetia — his birthplace — by force. [More>>khaleejtimes.com]
---
9.15.08 Six guilty in Australia's biggest terror trial
September 15 - Muslim cleric Abdul Nacer Benbrika has become Australia's first convicted terrorist leader after a marathon trial was told of his plans to cause mass casualties at landmark Melbourne sites. Five followers have also been convicted of being members of his terrorist cell, which discussed bombing the Melbourne Cricket Ground on AFL grand final day and killing women and children in their pursuit of violent jihad.

Another four alleged members of the group were found not guilty and walked free from court today. Benbrika, 48, displayed no emotion as a Victorian Supreme Court jury found him guilty of intentionally directing the activities of a terrorist organization and of being a member of a terrorist organization. The jury also found five of his followers — Aimen Joud, 23, of Hoppers Crossing, Fadl Sayadi, 28, of Coburg, Abdullah Merhi, 22, of Fawkner, Ezzit Raad, 26, of Preston, and Ahmed Raad, 24, also of Fawkner — guilty of being members of a terrorist organization.

The four cleared men — Hany Taha, 33, of Hadfield, Bassam Raad, 26, of Brunswick, Majed Raad, 23, of Coburg, and Shoue Hammoud, 28, of Hadfield — made no comment as they walked free from court in central Melbourne, flanked by their lawyers...The jury heard that Benbrika, of the Melbourne suburb of Dallas, had told his followers it was "permissible to kill women, children and the aged" and that the group needed to kill at least 1000 non-believers to make the Australian Government withdraw troops from Iraq and Afghanistan. [More>>news.com.au]
---
9.15.08 Al-Qaeda threatens to kill Egyptian analyst
CAIRO, September 15 - Activists from the terrorist group al-Qaeda posted a harsh warning to Egyptian political analyst Diaa Rashwan in which they threatened to kill him if he does not stop his criticism of al-Qaeda. According to the statement, published in the Egyptian independent daily al-Badeel, the group warned on its website that the expert on militant Islam at the Al-Ahram Centre for Political and Strategic Studies to keep silent and stop writing analyses "against Islam and Muslims" and "fighting God and His prophet."

..."This is not the first time I receive death threats from al-Qaeda activists via their website, but it was never that explicit. The title of the statement was 'A message to Diaa Rashwan' and was written by someone with leverage on al-Qaeda online forums," he added..."I never talked about religious beliefs and never made permissible anything that is religiously prohibited. I am surprised about this kind of thought that easily allows killing people," said Rashwan. "This shows how unaware they are of true religion." .."What is very ironic is that in Egypt I am considered a supporter of the Muslim brotherhood, while for al-Qaeda I am a mercenary of the regime." [Full story>>alarabiya.net]
---
9.15.08 Pakistan troops open fire on US military helicopters
ISLAMABAD, Pakistan (Reuters) September 15 - Firing by Pakistani troops forced US military helicopters to turn back to Afghanistan after they crossed into Pakistani territory in the early hours of Monday, Pakistani security officials said. ( Watch )The incident took place near Angor Adda, a village in the tribal region of South Waziristan where US commandos in helicopters raided a suspected al-Qaeda and Taliban camp earlier this month.

"The US choppers came into Pakistan by just 100 to 150 metres at Angor Adda. Even then our troops did not spare them, opened fire on them and they turned away," said one security official. Pakistan is a crucial US ally in its war on terrorism, and its support is key to the success of Western forces trying to stabilise Afghanistan. [More>>timesofindia.indiatimes.com; See related story, alarabiya.net, September 14, "Islamic militants seize Pakistan government building."]
---
9.15.08 15 militants, 5 civilians killed in Bajaur operation
KHAR, Pakistan, September 15 - Security forces continued to pound militants' bases with the help of air planes, helicopters and heavy artillery in Bajuar Agency on Monday, killing 15 militants and 5 civilians. According to sources, jet planes were bombarding Kaman Gara, Anzari, Lowi Sam and other areas while helicopters were also shelling the area. The bombardment left 15 militants killed and 5 civilians injured. According to Sources, helicopters and Jet planes attacked militants' hideouts in Tang, Shekai, Cheena Bai and other areas, destroying several bases. Meanwhile, Security forces have started patrolling militants' strongholds in Lowi Joor, Tangi and Chaarmang areas. [>thenews.com.pk]
---
9.15.08 India suggests Pakistani hand in New Delhi blasts
NEW DELHI (AP) September 15 - India's defense minister suggested Monday that archrival Pakistan may have aided the people responsible for a series of explosions in the capital over the weekend that killed 21 people. "Militants are getting support from across the border and it is a fact," Defense Minister A.K. Antony told reporters in New Delhi, responding to a question about possible Pakistani involvement in the blasts. "It is a matter of serious concern."
India has routinely accused Pakistan of aiding groups believed to be behind dozens of attacks in India in the last three years. New Delhi also accused Pakistani intelligence agents of involvement in a suicide bombing at the Indian Embassy in Afghanistan, but has offered little proof to back up those charges. Pakistan has denied the accusations and issued a strong statement condemning the New Delhi attacks. [More>>khaleejtimes.com]
---
9.15.08 IAEA: Teheran blocking weapons probe
(AP) September 15 - Iran is still blocking attempts to investigate allegations that Teheran carried out research and experiments linked to a nuclear weapons program, said a report released Monday by the UN nuclear agency. The International Atomic Energy Agency's report is being sent to the UN Security Council. It also said Teheran was continuing to expand its capabilities to enrich uranium.
The report was posted on the IAEA's internal Web site Monday but was made available to The Associated Press. Iran has said it wants to enrich only to create nuclear fuel, but the process could also be used to create the fissile core of nuclear warheads. Fears that Iran wants to create nuclear weapons have led to three sets of UN sanctions. [More>>jpost.com]
---
9.15.08 Israel slated to buy US smart bombs
September 14 - The US Department of Defense has notified Congress of a potential sale to Israel of 1,000 smart bombs capable of penetrating underground bunkers, which would likely be used in the event of a military strike on Iran's nuclear facilities. The notification to Congress was made over the weekend by the Defense Security Cooperation Agency, the branch of the Pentagon responsible for evaluating foreign military sales. Congress has 30 days to object to the deal. The deal is valued at $77 million and the principal contractor would be Boeing Integrated Defense Systems.
The bomb Israel wants is the GBU-39, developed in recent years by the US as a small-diameter bomb for low-cost, high-precision and low-collateral damage strikes. Israel has also asked for 150 mounting carriages, 30 guided test vehicles and two instructors to train the air force in loading the bombs on its aircraft.
The GPS-guided GBU-39 is said to be one of the most accurate bombs in the world. The 113 kg. bomb has the same penetration capabilities as a normal 900 kg. bomb, although it has only 22.7 kg. of explosives. At just 1.75 meters long, its small size increases the number of bombs an aircraft can carry and the number of targets it can attack in a sortie. Tests conducted in the US have proven that the bomb is capable of penetrating at least 90 cm. of steel-reinforced concrete. The GBU-39 can be used in adverse weather conditions and has a standoff range of more than 110 km. due to pop-out wings. [More>>jpost.com]
---
9.15.08 Militants free 25 Pakistani soldiers and police
ISLAMABAD, Pakistan (Reuters) September 15 - Militants in Pakistan's northwestern Swat Valley freed 25 soldiers and police on Monday, more than a month after they were taken captive, a spokesman for the militant group, Tehrik-e-Taliban in Swat, said. Muslim Khan told Reuters soldiers and police, part of a larger group of 39 taken hostage from checkpoints in the valley, were being freed as a gesture of goodwill during the Muslim fasting month of Ramadan...Two Chinese telecommunication engineers and one Pakistani driver and guard, kidnapped late August, were still being held, and Khan said no decision about their release had been made. [Full story>>khaleejtimes.com]
---
9.15.08 Tunisian convert refused Muslim burial
DUBAI, September 15 - Officials in the city of Sfax, southeast of Tunis, refused to burry a Muslim convert in the Muslim cemetery because she did not have a Muslim Arab surname. The decision by to bury the woman in the foreigners' cemetery stirred a legal and religious debate among city residents and is expected to extend to the whole country. The tribunal was to hold an emergency meeting Sunday to consider the case brought by the family, London-based Asharq al-Awsat reported on Sunday.

Relatives of the deceased insisted on suing the municipality to reverse its decision and allow her to be buried in the Muslim cemetery. The woman converted to Islam on August 2, 1955 with Ministry of Justice decree no. 5318 but was refused burial in the Muslim cemetery following her death on Sept. 6. Born in Sfax in 1918 to Christian parents, the deceased woman converted to Islam in 1955 under the guidance of the city's mufti, Sheikh Mohamed al-Moheiri. She adopted the name Asia. Asia's religion was also recorded in her marriage contract when she married a Muslim man in 1980.

When Asia's family attempted to complete the paperwork required for burial, the Sfax municipality obituaries department insisted on directing the body to the foreigners' cemetery because Asia's surname was not a Muslim-Arab name, although her first name was. [More>>alarabiya.net]
---
9.15.08 Turkmenistan 'battles drug gang'
September 14 - Authorities in Turkmenistan say that a gang of drug traffickers has been "neutralized" after gun battles were reported in the capital Ashgabat. Witnesses in the northern suburbs of the city said that armored personnel carriers were deployed on the streets and heavy gun fire had been heard during the security operation on Saturday.

..Initial reports from independent media and diplomatic sources had suggested that security forces were battling "a religious group, possibly radical Islamists". "Witnesses said that 20 police were killed and their bodies were taken in secret to an Ashgabat hospital," the www.gundogar.org website, which is not accessible in Turkmenistan, also reported on Saturday...The Central Asian nation, bordering Iran and Afghanistan, has a predominantly Muslim population and large oil and gas reserves. It is used as a route for the global heroin trade. [Full story>>aljazeera.net]
---
EDITORIALS
09.11.05 When a nation lacks a competent leader it invites disaster – the legacy of Bush
08.13.05 "Using force the George W. Bush way – Bush's crusade"
11.25.04 Why the Crusade & Jihad?
---
*Visitor statistics on maravot.com from 1&1. com. 46,153 page views in May 2007; monthly visitors in 2008 range between 40,000-45,0000..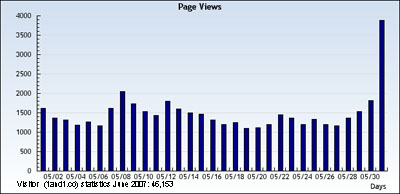 Privacy Policy: We do not store any personal data from you. We have no way of knowing any vital information about you – not even your name. Third-party distribution: We do not distribute information about your site usage to any third party. We are not responsible for the content of links from our site. Usage data: supplied by our Web Hosting service, 1and1.com, which consists of usage reports, such as page views / impressions and web pages visited, visitors' servers and geographical data (ISP's and country of origin).

---
Launched: 10.25.04 / 11.02.04 – | — |
Updated: 9.15.08; 9.16.08; 9.17.08; 9.18.08; 9.19.08
Copyright © 1981-2008 Maravot. All rights reserved
Copyright © 1981-2008 Mel Copeland. All rights reserved
Background: tile from Cicero's villa (Marcus Tullius Cicero 106 B.C. - 43 B.C.)