---
9.01.08
Dollar posts biggest rise versus euro
BEIJING, Sept 1 - The United States dollar has posted its biggest monthly advance against the euro since the European currency's 1999 debut on evidence economic weakness that began in the US spread and as crude oil prices declined. The greenback increased against all of the other major currencies in August, climbing for a fifth straight month versus the yen. The pound depreciated the most against the US dollar since 1992, when financier George Soros made 1 billion US dollars breaking the Bank of England's defense of the British currency.

|"The situation in the rest of the world is deteriorating much faster than the market was expecting," said Matthew Strauss, a senior currency strategist in Toronto at RBC Capital Markets Inc, a unit of Canada's biggest bank by assets, in an interview on Bloomberg Television. "The gains in the US dollar were more by default." The US dollar climbed 6.3 percent to 1.4673 dollars per euro on Friday, from 1.5603 dollars on July 31. It touched 1.4571 dollars last Tuesday, the strongest level since February 14. The US currency added 0.8 percent to 108.80 yen, from 107.91, in the longest stretch of monthly gains since January 2002. The euro fell 5.2 percent to 159.40 yen, from 168.39, the biggest monthly drop since March 2004. [More>>xinhuanet.com ; See related stories,

koreaherald.co.kr, Korean stocks drop 4%, won falls below 1,100." and

timesonline.co.uk, September 1, "Pound makes record fall on Darling blunder" : The pound fell today to its lowest level against the euro since the single currency was introduced in 1999, as the currency markets digested comments by Alistair Darling that Britain was facing its worst economic downturn for 60 years. Sterling also weakened ahead of this month's interest rate decision on Thursday when the Bank of England's Monetary Policy Committee (MPC) may decide to cut borrowing costs in the face of the slowdown and the latest evidence of a stalled housing market...
---
9.01.08 Pro-al-Qaeda fighters train in Gaza Strip
GAZA, September 1 - Hamas allows sympathetic group to operate. The masked gunmen threw themselves to the ground, rolled over and came up firing their assault rifles at an imaginary target. Jaysh al-Ummah, or the Army of the Nation, a Palestinian Islamist group modeled on the ideology of Osama bin Laden's al-Qaeda, was training for battle with Israel. "We are coming, Jews," read graffiti daubed on a wall inside its private training base in the Gaza Strip, where Reuters journalists were allowed rare access.

"Run, run, take the ground, shoot," Abu Hafss, Jaysh al-Ummah's leader, cried as some 25 gunmen, all clad in black, performed drills. Jaysh al-Ummah refuses to say how many members it has in the Gaza Strip, territory seized by Hamas Islamists from the largely secular Fatah faction in June 2007. Hamas allows it to operate, with the unwritten understanding that it stays out of internal Palestinian politics and does not use force to implement its beliefs on the people of Gaza. [More>>alarabiya.net]
---
9.01.08 Egypt police find huge weapons cache in Sinai
CAIRO (AFP) September 1 - Egyptian police on Monday found a large cache of weapons in the Sinai desert during a routine patrol of the area, a security official said. Police found "171 mortar shells, anti-tank and anti-personnel grenades, 29 shells, 212 anti-tank projectiles as well as a number of detonators," the official told AFP. Weapons and explosives found in Sinai are generally believed to be destined for the neighboring Hamas-run Gaza Strip.
Last week, Israeli Defence Minister Ehud Barak hailed Egyptian efforts to stem the flow of weapons into Gaza, saying they had been "visibly effective" but that more effort was still needed. Israel and the United States have repeatedly accused Cairo of not doing enough about the problem of underground tunnels linking Gaza and Egypt used to smuggle weapons, food, fuel and cigarettes into the impoverished territory. [>khaleejtimes.com]
---
9.01.08 US says 220 Taliban killed in Afghanistan's south
KABUL (Reuters), September 1 - US-led coalition and Afghan troops killed more than 220 suspected Taliban militants in strikes in southern Afghanistan last week, the US military said on Monday, the biggest insurgent toll reported in recent weeks. But several residents and a lawmaker said scores of civilians had died in the operation in the Sangin district of Helmand province, the latest allegation of civilian deaths as fighting intensifies across the nation this summer.
"There is basically no Taliban (killed). The Taliban fire and then escape and then these people (foreign troops) come and bombard. Three hundred people have been killed and wounded," said lawmaker Dad Mohammad Khan, who is also a former provincial intelligence chief. Several residents rang a Reuters reporter to say that more than 70 civilians were killed in air strikes by foreign forces in Sangin. US military spokesman Nathan Perry said he was not aware of any civilian deaths. [More>>khaleejtimes.com ; See related story, indianexpress.com, September 1, "Killings of 5 Afghan children inflame tensions."]
---
9.01.08 US hands back a quieter Anbar
RAMADI, Iraq, September 1 - The American military handed over responsibility for the security of the western province of Anbar, once a stronghold of the Sunni insurgency and one of the most violent regions in Iraq, to the Iraqi government on Monday, a long-delayed milestone. The transfer was made possible, Iraqi and American officials said, by an increase in Iraqi security forces and a reduction of violence largely attributed to the local forces known as Awakening Councils. It is the first handover of a province bordering Baghdad, where there has been intense sectarian conflict. Other provinces that have been shifted to Iraqi control have been in the less troublesome south and in the northern Kurdish region. [More>>nytimes.com]
---
9.01.08 Gulf Coast feeling the effects of Hurricane Gustav
NEW ORLEANS, September 1 - Hurricane Gustav weakened to a Category 2 storm as it lashed the coast of Louisiana Monday, but federal officials warned it continues to pack a dangerous storm surge that is raising concerns — mixed with considerable uncertainty — about new flooding in New Orleans three years after the devastation of Hurricane Katrina. The center of the hurricane made landfall near Cocodrie, La., the National Hurricane Center reported at 10 a.m. Central time (11 a.m. EST). It said the eye of the storm hit the coast about 70 miles southwest of New Orleans and was moving toward the northwest at about 15 mph, with maximum sustained winds near 110 mph.
As Gustav unleashed its winds and torrential rains over a broad swath of coastline, a storm surge moved up with Mississippi River from the Gulf of Mexico and caused waves of water to wash over the Industrial Canal levee on the eastern side of New Orleans. There were no immediate reports of the kind of catastrophic levee failures that inundated the city in 2005, and federal and local officials expressed confidence that the structures — reinforced since Katrina struck — would hold this time. But there was also concern about pressure building up on the levees from the sustained pounding, which was expected to continue for at least several more hours. [More>>washingtonpost.com]
---
9.01.08 Russia calls for international police presence in S. Ossetia
MOSCOW (RIA Novosti) September 1 - Russia believes an international police force should be deployed in South Ossetia to prevent further Georgian attacks, the Foreign Ministry said on Monday. "It would make sense to deploy an international police presence in the security zone," ministry spokesman Andrei Nesterenko said. "This could be done under an OSCE mandate and based on European Union capabilities, given that EU states have expressed an interest in this." Nesterenko said Russia is ready to discuss its own participation in an international police force in the province, which Moscow recognized as an independent state last week, along with another breakaway Georgian region, Abkhazia. [More>>en.rian.ru]
---
9.01.08 Philippines bus blast kills six
(Reuters) September 1 - A powerful blast has ripped through a bus at a terminal in the troubled southern Philippines, killing six people and injuring 27 others, army and police said. Cesario Darantinan, police chief in Davao del Sur province on Mindanao, said the bus was waiting for passengers at a terminal in the town of Digos when an explosive device went off inside the vehicle. "It could have been a crude bomb that was set off remotely," Mr Darantinan said. "The explosion was so powerful that the bus was almost broken into two." [More>>independent.co.uk]
---
8.31.08 Death toll in Kurram clashes climbs to 61
PARACHINAR, Pakistan, August 31 - At least 61 people have been killed while 130 others injured in fresh clashes between warring tribes in Kurram Agency during the last 24 hours. According to sources, the fierce clashes have been going on for 19 days between the rival Turi and Bangash tribes in Kurram Agency. Bangash tribe has the support of local militants, sources say, adding fresh fighting has left at least 61 militants killed including 45 militants while 130 others were injured. Injured persons have been shifted to hospitals of Kotal, Hangu, Sadda and Parachinar. Turi tribes are reported to have occupied Bugzai headquarter of their opponents. On the other hand, area residents were facing shortage of food items and medicine due to closure of [the] central highway. [>thenews.com.pk; See related story, khaleejtimes.com (Reuters) August 31, "Pakistani Taliban vow to strike during Ramadan."]
---
8.31.08 Anti-Qaeda fighter shot dead in Iraq
BAGHDAD, August 30 - Gunmen shot dead an anti-Qaeda fighter and his family in a village in Iraq's Diyala province, a provincial police source said on Saturday. "Salah al-Zeidi, his wife, and two sons were killed late on Friday when unknown gunmen stormed their house in the al-Wathba village, south of the provincial capital Baquba, some 65 km northeast of Baghdad," the source told Xinhua on condition of anonymity. Two months ago, Zeidi has joined the Awakening Council group who fight al-Qaeda militants in the village, the source said. [More>>xinhuanet.com]
---
8.31.08 Police accidentally shoot dead owner of banned N. Caucasus website - 2
MOSCOW (RIA Novosti) August 31 - The owner of a banned website in the Russian North Caucasus republic of Ingushetia died of gunshot wounds sustained while riding in a police car on Sunday. Magomed Yevloev died in hospital in the republic's largest city of Nazran. A source in the republic's Interior Ministry told RIA Novosti that Yevloev's death had come about after he was detained by police at Magas Airport. Police officers then put him in a police car to take him to Nazran to give testimony regarding "a criminal case."

"Preliminary reports say that as the vehicle that Yevloev and the police officers were in was moving, one of the police officers' guns accidentally went off, and a bullet hit Yevloev in the head," the source said. "He was shot straight in the temple," said Magomed Khazbiyev, Yevloev's official representative, adding that doctors had done all they could to save his life.
Investigators from the local prosecutor's office announced on Sunday that a probe into the circumstances surrounding Yevloev's death would be carried out. Yevloev's website was closed down earlier this year after being labeled extremist. Local authorities said that the website had called on people to take part in unsanctioned demonstrations in January. The protests against the local administration were banned over public safety fears. The decision to close the website was approved by a Moscow court earlier in August. [>en.rian.ru; See also news.com.au, August 31, "Kremlin critic found dead."]
---
8.31.08 More than 100,000 Mexicans protest crime wave
MEXICO CITY, August 31 - More than 100,000 frustrated Mexicans, many carrying pictures of kidnapped loved ones, marched across the country Saturday to demand government action against a relentless tide of killings, abductions and shootouts. The mass candlelight protests were a challenge to the government of President Felipe Calderon, who has made fighting crime a priority and deployed more than 25,000 soldiers and federal police to wrest territory from powerful drug cartels.

...Homicides have surged as drug cartels battle each other for control of trafficking routes and stage vicious attacks against police nearly each day. In the gang-plagued border state of Chihuahua alone, there have been more than 800 killings this year, double the number during the same period last year. This week, a dozen headless bodies were found in the Yucatan Peninsula, home to Mexico's most popular beach resort, Cancun. [Full story>>japantoday.com]
---
8.31.08 Thousands flee New Orleans ahead of hurricane
NEW ORLEANS, August 31 - Tens of thousands of residents streamed out of New Orleans on Sunday after heeding orders from officials to evacuate the city — the first mandatory evacuation since Hurricane Katrina flooded the city three years ago — as Hurricane Gustav grew into what the city's mayor called "the storm of the century" and moved toward the Louisiana coast.
Mayor C. Ray Nagin said Hurricane Gustav was larger and more dangerous than Hurricane Katrina, and he pleaded with residents to get out or face flooding and life-threatening winds. "We should start to see tornado threats starting tonight and in the morning," he said at a news briefing late Sunday morning. "This is still a big, ugly storm. It's still strong and I strongly encourage everyone to leave." [More>>nytimes.com]
---
8.29.08 McCain chooses Palin as running mate
DAYTON, Ohio, August 29 - In a surprise move, Senator John McCain announced here on Friday that he chose Gov. Sarah Palin of Alaska as his running mate, shaking up the political world at a time when his campaign has been trying to attract women, especially disaffected supporters of Senator Hillary Rodham Clinton. "I've looked for the best to help me shake up Washington," Mr. McCain said in announcing that he had chosen Ms. Palin, a mother of five, to be his running mate. In choosing Ms. Palin — a 44-year-old conservative and self-described "hockey mom" who has been governor for less than two years — the McCain campaign reached far outside the Washington Beltway in an election in which the Democratic presidential nominee, Senator Barack Obama, is running on a platform of change. Ms. Palin, a former mayor of the small town of Wasilla, an Anchorage suburb, and one-time beauty pageant queen, first rose to prominence as a whistle-blower uncovering ethical misconduct in state government.
The selection amounted to a gamble that an infusion of new leadership — and the novelty of the Republican Party's first female candidate for vice president — would more than compensate for the risk that Ms. Palin could undercut one of the McCain campaign's central arguments, its claim that Mr. Obama is too inexperienced to be president. The choice of Ms. Palin stands in sharp contrast to the selection of the Democratic vice presidential nominee, Senator Joseph R. Biden Jr. of Delaware, a veteran lawmaker and chairman of Foreign Relations Committee. But Ms. Palin ran as a change agent when she was elected as governor of Alaska in 2006, and in a move that might have appealed to Mr. McCain, she took intense criticism from members of her own party for turning the spotlight on the failures of Alaska Republicans, some of whom had been beset by corruption scandals. [More>>nytimes.com]
---
8.29.08 Obama, accepting nomination, draws sharp contrast with McCain
DENVER, August 28 - Sen. Barack Obama, the first African American to lead a major-party ticket, accepted the Democratic nomination for president Thursday night, sharply criticizing Republican John McCain and casting the election as "our chance to keep, in the 21st century, the American promise alive." "America, we cannot turn back, not with so much work to be done, not with so many children to educate and so many veterans to care for, not with an economy to fix and cities to rebuild and farms to save, not with so many families to protect and so many lives to mend," Obama told a roaring throng of more than 84,000 packed in the Invesco Field at Mile High football stadium on a temperate summer evening. "America, we cannot turn back."
In a speech filled with policy specifics and some of the toughest swipes he has taken at his opponent in the campaign, Obama took on the sharp criticisms the GOP has leveled against him in recent months and at the same time exhorted the nation to look beyond politics as usual. "If you don't have a record to run on, then you paint your opponent as someone people should run from," he said of his rival. "You make big elections about small things."

...Obama's speech, nearly 45 minutes long, was the culmination of a four-day Democratic convention designed to unite his party, put more detail behind the slogan of "hope" and regain the momentum of a campaign slowed by sustained fire from his foes. He accepted the nomination on the 45th anniversary of the Rev. Martin Luther King Jr.'s "I Have a Dream" speech, and his campaign played to the historic moment. The promise of America, that hard work, equality and freedom can lead to boundless opportunities, "brought Americans from every corner of this land to stand together on a Mall in Washington, before Lincoln's memorial, and hear a young preacher from Georgia speak of his dream," Obama intoned. [More>>washingtonpost.com; See nytimes.com for full text of Barack Obama's acceptance speech.
---
8.29.08 Rosneft nearly trebles US GAAP net profit for 1H08
MOSCOW (RIA Novosti) August 29 - Russia's largest oil company, Rosneft, said Friday its U.S. GAAP net profit for the first half of 2008 was $6.876 billion, a year-on-year increase of 187%. In the state-run company's consolidated financial results, revenue for the same period rose 97.3% to $37.5 billion. Earnings before interest, taxes, depreciation and amortization, or EBITDA, totaled $11.75 billion, up 121% compared with January-June 2007.
In the second quarter of 2008, Rosneft's EBITDA nearly doubled to a new record of $7.052 billion, from $3.581 billion in April-June 2007, and grew 50% quarter-on-quarter from $4.698 billion in January-March 2008. Net income increased 153% in the second quarter year-on-year to $4.312 billion, and by 68% quarter-on-quarter on January-March. [More>>en.rian.ru]
---
8.29.08 Iraqi girl tells of ordeal as suicide bomber
BAGHDAD (Reuters) August 29 - Rania is only 15-years old, but in the past week the softly spoken Iraqi girl has been drugged, strapped with explosives, arrested by men she nearly blew up and then shoved into a detention centre. Now she finds herself at the heart of a propaganda war being waged by the Iraqi security forces against the same al-Qaeda militants who tried to use her as a remote-controlled bomb. Police arrested the teenage Iraqi girl on Sunday in Iraq's violent Diyala province, where the Sunni Arab militants are waging a bitter campaign against US and Iraqi forces. She was caught with a vest packed with explosives by a local neighbourhood patrol in the provincial capital, Baquba. Initial reports said she had turned herself in, although police later said she was searched and they found the vest.

...Analysts say many female suicide bombers are motivated by a thirst for revenge for family members killed. But Rania says she never wanted to be a martyr. Then, staring blankly into the distance, she recounts how she was nearly blown to pieces. "My husband took me to see some of his relatives I'd not seen before. I stayed the night...Then, in the morning, they brought me breakfast with apricot juice. It tasted funny, so I asked what was in it. They told me 'nothing, just drink.' "Police said when they arrested her, she seemed drugged by a sedative, though it was not clear..After breakfast, an older woman who claimed to be a cousin of her husband started to put the vest on her, Rania said. She protested, but they told her not to worry. She must just go to a busy local market, where they would meet her. She was suspicious but they were older and very persuasive. [Full story>>thestar.com.my]
---
8.29.08 'Israel decides to stop nuclear Iran'
August 29 - Israel will not agree to allow Iran to achieve nuclear weapons and if time begins running out, Jerusalem will not hesitate to take whatever means necessary to prevent Iran from achieving its nuclear goals, the government has recently decided in a special discussion. According to the Israeli daily Ma'ariv, whether the United States and Western countries will succeed in toppling the ayatollah regime diplomatically, through sanctions, or whether an American strike on Iran will eventually be decided upon, Jerusalem has put preparations for a separate, independent military strike by Israel in high gear
So far, Israel has not received American authorization to use US-controlled Iraqi airspace, nor has the defense establishment been successful in securing the purchase of advanced US-made warplanes which could facilitate an Israeli strike. The Americans have offered Israel permission to use a global early warning radar system, implying that the US is pushing Israel to settle for defensive measures only. [More>>jpost.com; See related story, khaleejtimes.com, August 29, "Iran to install 54,000 centrifuges."]
---
8.29.08 Indian villagers desperate as floods spead
August 29 - It is a landscape of despair. The carcasses of dead animals lie adrift in the flood water, rotting and stinking. Entire villages in one of India's poorest states have been washed away and millions of people have been forced from their homes by the worst flooding in the region for 50 years. One aerial photograph showed a train station - seemingly the only piece of land above water for miles in all directions - onto which countless people were crowded.
India's prime minister flew over the disaster zone in the eastern state of Bihar on Thursday and has declared the situation, a "national calamity" He has ordered £100m in emergency relief. The official death toll stood tonight at 55 but that number is expected to rise sharply as aid workers reach all the affected areas. One aid group believes that the death toll could reach 2,000. An estimated 2 million people have already been forced from their homes. Troops dispatched to the worst hit areas have already helped more than 120,000 people evacuate to emergency camps as fears grow that swollen rivers will continue to overflow. [More>>independent.co.uk]
---
8.29.08 Five dead in suicide attacks at security checkpost in Kohat
PESHAWAR, Pakistan, August 29 - Suicide attacks at a camp of security forces killed five persons including himself and injured 37 including a security officer here in Darra Adam Khel on Friday. The attackers riding in three explosives-laden vehicles attempted to target a security checkpost near Kohat tunnel. The first vehicle entering the checkpost blew up with the firing of the security personnel.

The second vehicle exploded after hitting the boundary wall while the driver of the third escaped after leaving the vehicle outside the gate of the checkpost. Five persons were killed and 36 security personnel injured besides Inspector William Johnson. The wounded were brought to CMH hospital. Earlier, miscreants destroyed with explosives two important bridges at Indus Highway, suspending the traffic moving from Karachi to Peshawar. [>thenews.com.pk]
---
8.29.08 US: More than 24 militants killed in Afghanistan
KABUL, Afghanistan (AP) August 29 - More than 24 militants were killed in two separate battles with U.S.-led coalition troops in Afghanistan, the coalition said Friday. More than a dozen militants were killed after they attacked a coalition base in Shaheed Hasas district of the southern Uruzgan province on Thursday, the coalition said. Two Afghan guards also died during the attack. Coalition troops responded with small arms fire, mortars and airstrikes, killing the militants, the coalition said.
Separately, about a dozen militants were killed during a raid by coalition troops in eastern Paktika province, also on Thursday, the coalition said. The forces were searching compounds in Paktika's Bermel district for a militant responsible for "the movement of foreign fighters from Pakistan into Afghanistan," according to the coalition. Militants fired on them during the sweep and they responded with gunfire, killing the militants. More than 3,700 people — mostly militants — have died in insurgency related violence in Afghanistan this year. [>indianexpress.com: hosted.ap.org; See related story, aljazeera.net, August 29, "US: '100 Taliban killed' in Helmand."]
---
8.28.08 China agrees $3bn Iraq oil deal
August 28 - Iraq and China have agreed the terms of a $3 billion oil service contract, Iraq's oil minister says, announcing the first major oil contract with a foreign firm since the fall of Saddam Hussein. The deal means China has taken the first opening since the US-led invasion for work on the world's third-largest reserves. Hussain al-Shahristani, Iraq's oil minister, warned that time was running out for big Western oil firms, which have jostled for years for Iraqi contracts, to seal even the short-term deals that were expected to mark their return to the country. Iraq and China's state-oil firm CNPC agreed the renegotiated terms of an old deal signed in 1997 to pump oil from the Adhab oilfield, Shahristani said. CNPC is Asia's biggest oil and gas company. [More>>aljazeera.net]
---
8.28.08 Top Iraqi official detained at Baghdad airport
BAGHDAD (AP) August 28 - US forces arrested a top Shiite official in Iraq's government as he stepped off a plane in Baghdad, a political ally said Thursday, and a US military intelligence official linked the man to a June bombing that killed four Americans and six Iraqis. Ali al-Lami's arrest raised fresh concerns about Iranian and Shiite militia influence in the top ranks of Iraq's leadership.
Without naming al-Lami, the US military in Iraq said the suspect arrested Wednesday evening is believed to be a senior leader of "special groups" — Iranian-backed militiamen in Iraq. Al-Lami's detention could also further discredit attempts by the Shiite-led government to keep top supporters of Saddam Hussein out of senior government jobs. Al-Lami was in charge of that task, as head of a committee that screens former Baath party members. [More>>indianexpress.com: hosted.ap.org]
---
8.28.08 More than 100 Talibn killed in Afghanistan
KABUL (Reuters) August 28 - Afghan and US-led coalition forces have killed more than 100 Taliban in the southern Afghan province of Helmand during three days of fighting, the US military said on Thursday. Violence has surged in Afghanistan with more than 2,500 people, including 1,000 civilians, killed in the conflict in the first six months of this year, according to aid agencies.
"Afghan National Security Forces (ANSF) and coalition forces killed over 100 insurgents during combat operations in Helmand province August 25-28," the US military said in a statement. "ANSF and coalition forces were conducting security patrols in the province when they were attacked multiple times by insurgents using small arms, rocket-propelled grenade and mortar fire, sparking numerous engagements," it said. The patrols returned fire and called in close-air support. [More>>khaleejtimes.com]
---
8.28.08 EU leaders considering sanctions against Russia -2
MOSCOW / PARIS (RIA Novosti) August 28 - EU countries are considering imposing sanctions on Russia over the Georgia crisis, the French foreign minister said on Thursday. "Sanctions are being considered, as are many other measures," Bernard Kouchner said. He had earlier said that sanctions against Moscow were not on the agenda. France, which holds the EU rotating presidency, has called an emergency EU summit on Monday to review relations with Russia.
Russia officially recognized South Ossetia and Abkhazia on Tuesday despite Western warnings, saying the move was needed to protect the regions following Georgia's August 8 attack on South Ossetia. Kouchner gave no details of any possible sanctions, however. Russian Foreign Minister Sergei Lavrov commented that the Russian authorities had heard nothing about any EU sanctions against Russia. [More>>en.rian.ru]
---
8.28.08 Iraq's Sadr suspends militia activity indefinitely
NAJAF, Iraq (AFP) August 28 - Iraqi Shiite radical leader Moqtada al-Sadr said on Thursday that he has suspended indefinitely the activity of his feared 60,000 strong militia, the Mahdi Army. "The Mahdi Army suspension will be valid indefinitely and anyone who does not follow this order will not be considered a member of this group," said a statement issued by Sadr in the Shiite shrine city of Najaf. "We have set a cultural programme for the Madhi Army and we have named it Al-Mumahidun (Supporters of the Mahdi), and everybody should abide by it and whoever does not agree with it will be expelled from the army." [More>>khaleejtimes.com]
---
8.28.08 Attack on police bus kills 6 in Pakistan
ISLAMABAD, Pakistan, August 28 - A car bomb apparently planted by Taliban insurgents blew up a police bus in northwest Pakistan on Thursday, killing more than 10 people, security officials said. The bombing followed a recent pattern of Taliban attacks against government security installations in retaliation for a fierce Pakistani military campaign, including air strikes, in the tribal area of Bajaur. The continuing campaign has inflicted heavy casualties on the Islamic militants.
Amid the growing militant threat, the chairman of the Joint Chiefs of Staff, Adm. Mike Mullen, secretly convened a highly unusual meeting of senior American and Pakistani commanders, including Gen. Ashfaq Parvez Kayani, chief of staff of the Pakistani Army, on an aircraft carrier in the Indian Ocean on Tuesday to discuss how to combat the escalating violence along the border between Pakistan and Afghanistan. In the attack on Thursday, the car bomb exploded as the police bus was passing it on a crowded bridge in the town of Bannu, additional superintendent of police, Waqas Hassan, said in a telephone interview from Bannu. [More>>nytimes.com]
---
8.28.08 'Hizbullah tightens hold on Venezuela'
August 28 - Agents of Hizbullah and Iran's Revolutionary Guard have deployed special forces in Venezuela intended to kidnap Jewish businessmen and smuggle them to Lebanon, Israel Radio reported Thursday. An expert on counter-terrorism warned in an interview with The Los Angeles Times that Iranian-backed agents have managed to recruit collaborators among Venezuelan citizens living in the capital Caracas. The collaborators are supposed to observe traffic at the Caracas airport and around it in order to collect information on Jewish travelers there. Hizbullah has strengthened its grasp of Venezuela following the warm relationship that grew between Venezuela and Iran. Experts quoted by the Times warned that Venezuela might become a base out of which Hizbullah could carry out terror attacks. [>jpost.com]
---
8.28.08 UK - Nationwide says house prices falling fastest in 18 years
August 28 - Prime properties in the heart of rural England have finally been drawn into Britain's sliding housing market, it emerged today, as Nationwide Building Society reported that prices are falling at their fastest annual rate in almost 18 years. Savills, the UK property agency that specializes in the high end of the property market, said that deals involving country piles worth up to £5 million are declining, following a 45 per cent fall in transactions in Central London where prices fell by 7 per cent.
The company said: "Prime country property was initially less affected than London but is now following suit." The company confirmed that it will cut jobs as a result of the dire market conditions but declined to comment on how many staff will lose jobs. In the UK alone, Savills employs 3,000 people. [More>>timesonline.co.uk]
---
8.28.08 US - Economic growth stronger than expected
August 28 - The economy expanded faster from April to June than originally thought, the government said on Thursday, catching many economists off-guard and cheering investors on Wall Street. Gross domestic product rose at a 3.3 percent clip in the second quarter, the Commerce Department said, a significant jump over the original estimate of 1.9 percent growth. G.D.P., the broadest measure of the nation's economic activity, is considered a good barometer of America's economic health. On Wall Street, the markets opened higher on the strength of the report. In early trading, the Dow Jones industrial average was up more than 130 points, or 1.14 percent, and the broader Standard & Poor's 500-stock index was up 0.62 percent. [More>>nytimes.com]
---
8.27.08 Ice cold sunrise on Mars
August 27 - From the location of NASA's Phoenix Mars Lander, above the Martian arctic circle, the sun doe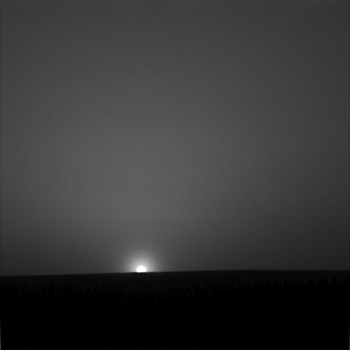 s not set during the peak of the Martian summer. This period of maximum solar energy is past — on Sol 86, the 86th Martian day after the Phoenix landing, the sun fully set behind a slight rise to the north for about half an hour. This red-filter image taken by the lander's Surface Stereo Imager, shows the sun rising on the morning of sol 90, Aug. 25, 2008, the last day of the Phoenix nominal mission.

The image was taken at 51 minutes past midnight local solar time during the slow sunrise that followed a 75 minute "night."The skylight in the image is light scattered off atmospheric dust particles and ice crystals. The setting sun does not mean the end of the mission. In late July, the Phoenix Mission was extended through September, rather than the 90-sol duration originally planned as the prime mission.

The mission is led by the University of Arizona, Tucson, on behalf of NASA. Project management of the mission is by NASA's Jet Propulsion Laboratory, Pasadena, Calif. Spacecraft development is by Lockheed Martin Space Systems, Denver. Image credit: NASA/JPL-Caltech/University of Arizona/Texas A&M University [nasa.gov]
---
8.27.08 Fighting flares along Pakistan border belt
ISLAMABAD (AP) August 27 - Security forces clashed with militants across Pakistan's wild tribal belt Wednesday, killing as many as 49 insurgents, the army said, a week after US ally Pervez Musharraf resigned as president. In the most serious incident, troops rained fire from guns and artillery on militants holed up in a health center in the Bajur region, killing 30 and wounding many more, said military spokesman Maj. Murad Khan. Security forces assessed the toll with the help of intercepted radio traffic among the insurgents, he said, but spokesmen for the militants could not be reached to confirm the report.

..Officials say hundreds of militants have died in the weeks-old operation, while residents say civilians have also been killed in incidents including mortar strikes on their homes. An estimated 200,000 people have fled to safer areas. [Full story>>khaleejtimes.com; Related stories:

thenews.com.pk, August 27, "Security forces kill 26 militants in Bajaur" : BAJAUR: Twenty-six militants were killed in a clash with the security forces in Bajaur Agency. Forces are using gunship helicopters and jet fighters to relentlessly pound militant positions in the battle-torn agency.The ISPR says that top militant commanders of Tehreek-i-Talilban Pakistan are among the dead. (end)

indianexpress.com: hosted.ap.org, August 27, "49 killed in fighting along Pakistan border belt" : ISLAMABAD, Pakistan (AP) - Security forces clashed with militants across Pakistan's wild tribal belt Wednesday, trading fire with insurgents in a health center and repelling a major assault on an outpost in a region known as an al-Qaeda safe haven. As many as 49 insurgents died, officials claimed. Troops are engaged in bloody offensives against violent Islamic extremists in the northern Swat valley and in Bajur, a region considered a launchpad for Taliban operations into neighboring Afghanistan and a possible hideaway for Osama bin Laden...
---
8.27.08 Militants kill four near Jammu, two terrorists gunned down
JAMMU, August 27 -  Terror struck Jammu on Wednesday when militants suspected to have infiltrated from Pakistan just Tuesday killed four persons including an army officer and took seven persons including four young children from one family as hostages in a house. In a day-long gun battle that stretched till the night except, the security forces killed two of the three militants holed up in the residential building in Chinore in a crowded area on the city's outskirts, 20 kms from the international border. The children are aged between three and nine years while the other three hostages were women that included their mother, police said.

..All the hostages are believed to be safe and Security forces are working out strategies to neutralise the third militant holed up and rescue the hostages without any threat to their lives...The militants, who were suspected by police to be the same people who had infiltrated across the border under a cover of firing by Pakistani forces, first came in a goods carrier and attacked an army checkpost in the Domana-Mishriwala area on Jammu-Akhnoor-Poonch highway on Wednesday morning. [Full story>>indianexpress.com]
---
8.27.08 Hindu-Christian clashes kill 11 in eastern India
BHUBANESHWAR, India (AP) August 27 - Security forces were ordered Wednesday to shoot on sight protesters defying a curfew meant to end clashes between Christians and Hindus that have left 11 people dead in eastern India over the past three days. Violence has rocked Orissa state since Monday when Hindu hard-liners set ablaze a Christian orphanage, killing a Christian woman and seriously injuring a priest, and has spread to include mob attacks on churches, shops and homes.
Pope Benedict XVI condemned the violence. During his weekly audience Wednesday in the Vatican City, the pope said he was "profoundly saddened" by news of the attacks on Christian communities in eastern India and was against "any attack on human life." The pope also said the killing of a Hindu leader and four others in Orissa state on Saturday was "deplorable." Police have blamed Maoist rebels for the attack, but Subhash Chauhan, a World Hindu Organization leader, said "Christian militants" were responsible. [More>>khaleejtimes.com]
---
8.27.08 Korea maps out plan for post-fossil fuel era
August 27 - The [Korean] government yesterday set out a plan to significantly reduce the nation's dependency on fossil fuels and more than quadruple the use of renewable energy by 2030. It also plans to build 10 more nuclear power plants and improve energy efficiency by 46 percent over the next two decades to cope with rising oil prices and the impacts of global warming. The Ministry of Knowledge Economy presented the comprehensive program to the National Energy Committee presided over by President Lee Myung-bak. [More>>koreaherald.co.kr]
---
8.27.08 Bank of China denies aiding terrorists
August 27 - A major state-owned Chinese bank on Wednesday denied accusations in a lawsuit filed in Los Angeles that it transferred money to terrorist groups and said it would fight the case. "The accusation is absolutely groundless," Bank of China Ltd. said in a statement. "Bank of China is prepared to fight the suit." The lawsuit filed last Thursday by victims of terrorism in Israel accused the bank of putting through dozens of wire transfers totaling several million dollars to Hamas and Islamic Jihad and ignoring Israeli demands to stop the practice. The lawsuit said the money helped to finance attacks between 2004 and 2007. The Beijing-based bank "knowingly assisted Hamas and the Islamic Jihad," the lawsuit alleged.

Bank of China, the country's third-largest commercial lender by assets, said it adheres to UN requirements on anti-money laundering and anti-terrorism financing. It said the bank's own policies forbid providing financial services to terrorist groups. The US lawsuit says Israeli officials met with Chinese police and central bank officials in 2005 seeking action to prevent Bank of China from making more transfers but the practice continued. Transfers for Hamas and Islamic Jihad were initiated in the Middle East, sent to branches in the US, then to an account at a bank branch in Guanzhou, China, the suit said. It said the money was then wired to group leaders in Israel, the West Bank and Gaza Strip.

China's first anti-money laundering law took effect in 2007 and requires banks and other companies to keep a database of clients' background information and to report large and suspicious transactions. A total of 1,239 cases involving 387.1 billion Yuan (US$56.5 billion) were reported to police by the end of 2006, according to the Web site of the central bank's China Anti-Money Laundering Monitoring and Analysis Center. It gave no details of whether any cases resulted in criminal penalties. [>thejakartapost.com]
---
8.27.08 Soldiers 'executed Iraqis on riverbank'
WASHINGTON (Reuters) August 27 - Three US soldiers killed four handcuffed and blindfolded Iraqi prisoners with pistol shots on the bank of a Baghdad canal last year, according to a New York Times report. Sergeant First Class Joseph P. Mayo, the platoon sergeant, and Sergeant Michael P. Leahy Jr., Company D's senior medic and an acting squad leader, made sworn statements in January to Army investigators in Schweinfurt, Germany probing the incident, the newspaper reported on its website.

The men each described killing one of the Iraqi detainees, as directed by First Sergeant John E Hatley, according to the statements. Hatley shot two other detainees with a pistol in the back of the head, Mayo and Leahy told investigators. US soldiers cannot harm enemy combatants once they are disarmed and in custody. [More>>news.com.au]
---
8.27.08 Iranian cleric blasts Ahmadinejad
(Reuters) August 27 - An Iranian cleric accused President Mahmoud Ahmadinejad of betraying the people and called on reformers to unite to defeat him in next year's elections, according to an interview in a German newspaper quoted by Reuters, Wednesday. "Ahmadinejad is not complying with the will of the people," The Financial Times Deutschland quoted Grand Ayatollah Bajat Sanjani as saying. "This is a major threat, a big danger," the cleric added in an unusually direct personal attack.
The newspaper also said Sanjani accused Ahmadinejad's government of breaking the law, seriously violating personal freedom and illegally empowering the Revolutionary Guard. Ahmadinejad is expected to run for a second term in Iran's next presidential election, slated to take place early in 2009. His reformist rivals are expected to attack him especially on his economic policies. [More>>jpost.com]
---
8.26.08 Russian relations with West reach new low
TBLISI, Georgia, August 26 - Russia's relations with the West have plunged to a new low after President Dmitry Medvedev signed a decree officially recognising two breakaway territories in Georgia as independent states. "We are not afraid of anything, including the prospect of a new Cold War," said Mr Medvedev, after signing the decree in defiance of the US and Europe. The decision, marking a U-turn for Russian policy, was swiftly condemned by Western leaders who urged Russia to reverse the "highly provocative" decree which violates international law.
The foreign secretary, David Miliband, who is flying to Kiev today (wed) to demonstrate the West's solidarity with Ukraine — which like Georgia has been invited to become an eventual NATO member — said he was consulting partners to ensure "the widest possible coalition against Russian aggression on Georgia." Although aides would not speculate on possible sanctions against Moscow, Mr Miliband is expected to argue in a speech today that Russia will be judged by its actions and "there will be consequences," said one. [More>>independent.co.uk; See related story, en.rian.ru, August 26, "Russia to support Abkhazia, S. Ossetia if they are attacked."]
---
8.26.08 US diplomat attacked in Peshawar
ISLAMABAD, Pakistan, August 26 - Three gunmen who attacked the vehicle carrying the chief American diplomat in the northern city of Peshawar on Tuesday morning were armed with assault rifles and wore long hair and beards like the Taliban, the provincial police chief said. The bulletproof Land Cruiser carrying the diplomat, Lynne Tracy, the principal officer at the United States consulate, was stopped by the three men who got out of an S.U.V. and fired, according to the police official, Naveed Khan, inspector general of police in the North West Frontier Province.
Ms. Tracy, who was on her way to work at the consulate from her home about a mile away, was unharmed, he said. The attack came as the Taliban, in virtual control of the tribal areas adjacent to Peshawar, press in on the city, conducting suicide bomb attacks and kidnappings of civilians. The attack occurred in a district of the city known as University Town, considered one of the more secure areas with large houses protected by high walls and security guards. [More>>nytimes.com]
---
8.26.08 A day of Chaos as PAD launches decisive act to topple the government
BANGKOK, Thailand, August 26 - In what was seen as a final act of "do or die," the anti-government People's Alliance for Democracy this morning seized the national television station, laid siege to the Government House and some ministries on the Rajdamnoen Road and blocked major road arteries in the North, Northeast and the South.
NBT further reported that thousands of PAD supporters are now surrounding Government House, forcing the meeting venue to be shifted to the Armed Forces HQ. It was reported that Prime Minister Samak Sundaravej has not yet ordered a cancellation of the cabinet meeting. [More>>bangkokpost.net]
---
8.26.08 UN accuses US-led troops in deaths of Afghans
KABUL, Afghanistan (AP) August 26 - The United Nations said Tuesday it has found "convincing evidence" that US coalition troops and Afghan forces killed some 90 civilians, including 60 children, in airstrikes in western Afghanistan. The UN said it based its findings solely on the testimony of villagers and meetings with Afghan officials, and did not provide photos or evidence that its investigators saw any graves.
President Hamid Karzai's government, in a harshly worded statement, ordered its ministries of foreign affairs and defense to regulate the presence of foreign troops and try to negotiate an end to "airstrikes on civilian targets, uncoordinated house searches and illegal detention of Afghan civilians." The US coalition has said it killed 25 militants and five civilians in an operation in Shindand district of Herat province on Friday. [More>>indianexpress.com: hosted.ap.org]
---
8.26.08 Maids in Lebanon die every week: HRW
BEIRUT, Lebanon (Reuters) August 26 - Lebanon must improve working conditions for migrant domestic workers, who often commit suicide or die while trying to escape from their employers, a US-based rights group said on Tuesday. Human Rights Watch said there were an estimated 200,000 such workers in Lebanon, including those with illegal status, mostly from Sri Lanka, the Philippines and Ethiopia.

Out of about 95 foreign housemaids who died in Lebanon since Jan. 2007, 40 deaths were classified by their embassies as suicides and 24 as workers falling from high buildings, often trying to escape their employers, it said in a statement. "Domestic workers are dying in Lebanon at a rate of more than one per week," said Nadim Houry, senior researcher at Human Rights Watch...The rights group said interviews with embassy officials and friends of domestic workers who committed suicide suggested that "forced confinement, excessive work demands, employer abuse and financial pressures are key factors pushing these women to kill themselves or risk their lives." [Full story & blogs>>alarabiya.net; See HRW report, hrw.org, August 26, "Lebanon: Migrant domestic workers dying every week."]
---
8.26.08 FTSE falls as sterling slumps to two-year low
LONDON, August 26 - London's leading shares today tumbled by 134.1 points as the pound slid to its lowest level against the dollar since July 2006 and fears rose another Wall Street bank is close to collapse. The FTSE 100 index of blue chip stocks fell to 5,373.4 points in early trading, after investors were also spooked by a warning from the Bank of England's Deputy Governor, Charles Bean, that the current slowdown will continue for a "considerable time." The index was dragged down by mining companies after the price of copper in China slumped while the dollar strengthened against sterling, sending the pound down to a two-year low at $1.84. Today's fall in the FTSE follows a torrid day in the US yesterday when the Dow Jones industrial average closed 2 per cent lower, on speculation that another investment bank is set to follow in Bear Stearns footsteps, and seek a bail-out to stop it from going under. [More>>timesonline.co.uk; See related stories:

koreaherald.co.kr, August 26, "Won continues to slide amid strong dollar." and

nytimes.com, August 26, "Home prices continue decline."
---
8.26.08 Israel 'doubling' settlement growth
August 26 - Israel has nearly doubled settlement construction activity in the occupied West Bank since 2007, a report by the rights group Peace Now says. The report on settlement expansion coincided with the 18th visit by Condoleezza Rice, the US secretary of state, to the Middle East, on Tuesday. Rice urged Israel to stop expanding settlements, deemed illegal under international law, arguing that they were not helpful to the peace process. [More>>aljazeera.net]
---
8.26.08 At least 35 killed in suicide attack in Diyala province
BAGHDAD (DPA) August 26 - At least 35 people were killed and 47 were injured on Tuesday in a suicide attack in front of a police station in Iraq's Diyala province, medical and witnesses said. An attacker got out of a car and detonated himself amid a crowd of volunteers who were standing in front of the police building in the town of Djalula, 60 kilometers north-east of the Iraqi capital Baghdad, witnesses told Deutsche Presse-Agentur dpa. Seconds after the man detonated his vest, the car loaded with explosives blew up.
Ambulances were still moving the injured to hospitals, medical sources said. Most of them are in critical condition. In a separate attack also taking place in Diyala, four family members were killed and a fifth member was injured when a bomb exploded near their car in the town of Balad Rus. Diyala province, north-east of Baghdad, is considered a bastion for al-Qaeda terrorists in Iraq. [>khaleejtimes.com; See more details, indianexpress.com: hosted.ap.org]
---
8.26.08 North Korea halts nuclear disablement process
August 26 - North Korea yesterday announced that it has suspended its nuclear facilities disablement process, in protest against the United States' delay in removing Pyongyang from its list of states which sponsor terrorism. In a Foreign Ministry statement, the North said the process was halted on Aug. 14. Washington was initially expected to lift the sanction by Aug. 11, but did not do so because the North refused to accept the US proposal regarding a verification mechanism. The North's halt of the disablement process appears to be in line with its demand that the sanction be lifted once it made its declaration of its nuclear programs, back in June. [More>>koreaherald.co.kr]
---
8.25.08 Medvedev says Russia ready to cut ties with NATO
SOCHI (RIA Novosti) August 25 - President Dmitry Medvedev warned on Monday that Russia could sever all ties with NATO amid a standoff over Russia's response to Georgia's offensive in breakaway South Ossetia. NATO suspended cooperation with Russia last week, and said "business as usual" could not resume until the country withdraws all troops from Georgia. If NATO is not willing to cooperate with Moscow, "we will take any decision, up to terminating relations entirely," Medvedev told Russia's envoy to the alliance, Dmitry Rogozin. [More>>en.rian.ru; See related stories,

en.rian.ru, August 25, "Russian military concerned by larger NATO presence in Black Sea.": Russia has to be concerned that NATO is continuing to get a stronger foothold in the Black Sea, the deputy chief of General Staff said Monday. "NATO's naval deployments in the Black Sea, where nine foreign vessels have already been sent, cannot but provoke concern," Col. Gen. Anatoly Nogovitsyn said. According to a Russian military intelligence source, the NATO warships that have entered the Black Sea carry over 100 Tomahawk cruise missiles and Harpoon anti-ship missiles between them...

independent.co.uk, August 25, "Russian MPs raise stakes by backing Georgian rebels."
---
8.25.08 Swat valley raid targets politician
August 25 - Suspected pro-Taliban fighters have attacked the home of a regional senator in Pakistan's Swat valley, killing at least three members of his family and seven guards, police say. The rocket attack on the house of the brother of Waqar Ahmed Khan, a provincial ruling party member, killed the brother, two nephews and five others, Rahim Badshah, a police official, said on Monday.
"Taliban militants attacked the house of the brother of a ruling party MP with rockets," he said. "Eight people have been killed and four others are injured." Khan, a member of the Awami National Party, confirmed the casualties. He was not in Swat valley at the time. Pakistani troops killed up to 35 rebels in valley over the weekend after a suicide bombing and other attacks left seven people dead, including three policemen. Last year, Maulana Fazlullah, pro-Taliban leader, launched a campaign to ensure the implementation of Islamic law in the region. Since then, there has been heavy fighting in the region. Meanwhile, the Pakistan government has decided to ban the so-called Pakistani Taliban after the group claimed responsibility for an attack on an arms factory that killed scores of people. [More>>aljazeera.net; See related stories,

thenews.com.pk, August 25, "Nawaz Sharif, PML-N, parts ways with ruling coalition." and

alarabiya.net, August 25, "Pakistan bans main Taliban militant group."
---
8.25.08 Abbas: No peace until all Palestinian prisioners released
August 25 - Palestinian President Mahmoud Abbas asserted on Monday that there would not be peace with Israel until all Palestinian prisoners were freed, speaking shortly after Israel released 199 jailed Palestinians. "There is no doubt that we seek peace and we are trying to seek our goals — and there won't be peace without the release of all prisoners," Abbas said during a welcome ceremony at the Palestinian Authority Muqata compound in the West Bank town of Ramallah. Cheering crowds waved Palestinian flags and danced in the street to welcome the prisoners, who were freed by Israel as a gesture of good will to the Palestinian President. [More>>haaretz.com]
---
8.25.08 Iraq PM agreement reached with US on exiting in 2011
BAGHDAD (Reuters) August 25 - Iraqi Prime Minister Prime Nuri al-Maliki said on Monday that an agreement had been reached in negotiations on a security pact with the United States to end any foreign military presence in Iraq by the end of 2011. "There is an agreement actually reached, reached between the two parties on a fixed date which is the end of 2011 to end any foreign presence on Iraqi soil," Maliki said in a speech to tribal leaders in the Baghdad's heavily fortified Green Zone.
"Yes, there is major progress on the issue of the negotiations on the security deal," Maliki said. The Iraqi government has said it is proposing US troops end patrols of Iraqi towns and villages by the middle of next year and US combat troops leave Iraq by 2011. But US Secretary of State Condoleezza Rice said in a visit to Baghdad last week that no final agreement had been reached. The Bush administration has sought to steer clear of fixed timetables in negotiating the agreement. [>khaleejtimes.com]
---
8.25.08 Flying IED is latest weapon targeting US troops in Iraq
BAGHDAD, August 25 - A relatively new weapon has appeared on the streets of Baghdad and earned itself an acronym in the language for destruction. The weapon is the IRAM, an Improvised Rocket Assisted Mortar. It is technologically crude; its aiming is inaccurate; and the number of times it has been used by Shiite extremists against US forces in the Baghdad area have been few, but its potential for death and destruction is so great that soldiers at many combat operations posts (COPs) around the capital now conduct a number of patrols daily to specifically try to disrupt any attempt to maneuver the device into launching position and fire them. [More>>metimes.com; See related story, japantoday.com, August 24, "Suicide bomber kills 21 at Iraq banquet."]
---
8.25.08 Suspected Hindus kill nun in eastern India
(AP) August 25 - Suspected Hindu hard-liners set an orphanage run by Christian missionaries on fire in eastern India on Monday, killing one nun and seriously injuring a priest, police said. The attack occurred in Khuntapali, a village in Orissa state, during a strike called by the World Hindu Council to protest Saturday's killing of a Hindu religious leader and four others by suspected communist rebels in another district of the state, Ashok Biswal, superintendent of police, told The Associated Press. Khuntapali is nearly 250 miles (400 kilometers) west of Bhubaneshwar, the capital of Orissa state.

In the past Hindu extremists in Orissa state have attacked Christian missionaries. In 1999 an Australian missionary, Graham Staines, and his two sons were killed by a Hindu mob that set their car on fire. On Monday, a group of Hindu hard-liners converged on the orphanage and asked nearly 20 residents to leave the complex, Biswal said. They then set the orphanage on fire with the nun and the priest locked inside, the police officer said. [More>>thejakartapost.com]