News Headlines & Trends
---
8.13.08
Internet giants in Indian gender dispute
NEW DELHI (AFP) August 13 - India's top court on Wednesday asked Google, Microsoft and Yahoo to respond to charges that they illegally advertise gender selection products, an activist and a lawyer said. India bans tests that allow people to know the gender of unborn children — a law designed to tackle widespread abortion of female foetuses. "These companies are making a lot of money by doing highly targeted and selective advertising of these products." said Sabu George, an activist leading the campaign. "Our petition seeks to block these advertisements." Most Indians prefer sons because they can earn more money in the workplace, while girls are seen as a financial burden because of the matrimonial dowry demanded by a groom's family. [More>>khaleejtimes.com]
---
8.13.08 Abkhazian fighters plant flag inside Georgia
GANMUKHURI, Georgia (AP) August 13 - An AP reporter says a few dozen fighters from the separatist region of Abkhazia have moved into Georgian territory, planting their flag on a bridge over the Inguri River. "This is Abkhazian land," one proclaimed. They say they are laying claim to what has historically been Abkhazian territory and that Georgian troops left without challenging them. The fighters had moved across a thin slice of land dotted with Georgian villages. "The border has been along this river for 1,000 years," separatist official Ruslan Kishmaria told AP on Wednesday. He said Georgia would have to accept the new border and taunted the departed Georgian forces by saying they had received "American training in running away." [>indianexpress.com: hosted.ap.org; See related stories:

independent.co.uk, August 13, "ossetian militias 'looting Georgian villages.' " : Human Rights Watch says it has witnessed South Ossetian fighters looting ethnic Georgians' houses and has recorded multiple accounts of Georgian militias intimidating ethnic Ossetians. The report today by the respected international rights group is important independent confirmation of the claims by each side in the Russia-Georgia conflict. Both have accused the other of committing actions that could be counted as war crimes. Meanwhile witnesses said today that Russian troops have set up at least two checkpoints on the outskirts of the Georgian town of Gori, in what Georgia said was a breach of a ceasefire...
aljazeera.net, August 13, "Russian forces sink Georgian ships" : Russian forces have sunk several vessels in Georgia's military port of Poti, Al Jazeera's Hoda Abel has reported from the scene. The attack on Wednesday follows a day of dramatic developments in the Russia-Georgia conflict amid what appears to be an escalation of military action on the ground. Abdel said: "Russia is clearly on the offensive. We have seen more and more Russian troops coming into the area all day — a continuous build up of forces including columns of tanks and truck all along the roads here..." Al Jazeera's Jonah Hull said: "Poti is one of the most important ports in the Black Sea. The offensive means that the ceasefire is dead — back to ground zero." ...

bbc.co.uk, August 13, "US forces to deliver Georgia aid" : President George W. Bush has said the US will use military aircraft and naval forces to deliver aid to Georgia following its conflict with Russia. He also urged Russia to respect a ceasefire agreement with Georgia. President Bush said the US was concerned about reports of continuing Russian military action in Georgia...
---
8.13.08 Police ordered to shoot protesters in Kashmir
SRINAGAR, August 13 - Indian police say they have issued orders to shoot protesters defying a curfew in Indian-controlled Kashmir. Senior police official Hemant Lohia said the order was given Wednesday following widespread curfew violations the day before in which 15 people were martyred including APHC leader, Shaikh Abdul Aziz. Violence has roiled the Himalayan region since June 23 when Muslims and Hindus began tit-for-tat protests over a government proposal to transfer land to a Hindu shrine in India's only Muslim-majority state. "Curfew has to be implemented fully and we've ordered shoot at sight to discourage protests," says Lohia. "This last option becomes the first in order not to let the situation go out of hand." [>thenews.com.pk]
---
8.13.08 Briton among three female aid workers killed in Afghanistan
August 13 - A young British woman was among three female aid workers in Afghanistan who were killed in an ambush by Taleban gunmen in one of the worst attacks on foreign civilians in the country in recent years. The bodies of the three women, as well as their Afghan driver, were found riddled with bullets in the province of Logar, not far from Kabul. They had been travelling in two vehicles from the eastern city of Gardez to Kabul when they were attacked by five gunmen on a road near the town of Pul-i-Alam, about 30 miles south of the Afghan capital. A second driver was critically wounded but survived.
Zabihullah Mujahed, a spokesman for the Taleban, admitted responsibility for the attack but claimed that the vehicle was carrying military personnel, "most of them female." President Karzai condemned the killings as "unforgiveable." The three women, who worked for the New York-based International Rescue Committee (IRC) which helps refugees in Afghanistan, were passengers in a Toyota Land Cruiser. The vehicle was clearly marked with IRC stickers on the doors. Their attackers drove a vehicle in front of them to cut them off and then opened fire with assault rifles. There was evidence that the gunmen had broken the windows of the vehicle and fired at the passengers and drivers at close range. [More>>timesonline.co.uk]
---
8.13.08 Fierce clashes in Bunair, leave six dead, scores injured
BUNAIR, Pakistan, August 13 - A fierce clash between locals of Zilla Bunair and the Taliban left six militants dead and scores injured. Curfew was lifted from district Malakand, whereas upon information about presence of the militants in the hills of Bandi Darra, an exchange of fire took place between the locals and the militants, leaving six militants dead and scores injured. Among the militants who died, four belonged to Waziristan, one to Mardan while one was local. Exchange of fire from both sides injured many locals. Meanwhile, the Army helicopter's shelling in Seer Tiligram area of Swat destroyed a Medrassah but no casualty was reported. Militants destroyed a connecting bridge in Allahbad area of Chaar Bagh, resulting in the suspension of traffic. [>thenews.com.pk See also:

aljazeera.net, August 13, "Attack 'destroys Pakistan bases' " : At least 24 people were killed in northwestern Pakistan when four missiles or bombs hit two compounds used by armed groups operating along the Afghanistan border, local sources have told Al Jazeera. Pakistani, Arabs and Turkmen fighters were said to be among the casualties in the attack in South Waziristan late on Tuesday. It was not immediately clear who carried out the attack, but several unconfirmed reports blamed US or NATO-led forces deployed in Afghanistan. "This is their work," a senior security official told the AFP news agency, referring to those foreign forces operating across the border. However, US military officials in the Afghan capital Kabul denied that the missiles were fired by either NATO's International Security Assistance Force (ISAF) or the US-led coalition...

arabtimesonline.com, August 13, "Leader of banned Pakistani group shot dead" : PESHAWAR, Pakistan (AP) - Unidentified gunmen shot dead the leader of an outlawed Pakistani militant group in the country's volatile northwest on Wednesday, his spokesman said. The attackers burst into the headquarters of the Vice and Virtue Movement in the Khyber tribal region on Wednesday morning and shot its leader Haji Namdar. Namdar died of his wounds after he was shifted to a local hospital from the shooting in Barqambarkhel, about seven miles (12 kilometers) from the region's main town of Bara, the spokesman Munsaf Khan said...
---
8.13.08 UAE makes 'largest-ever' drug bust in the region
DUBAI (AP) August 13 - Seizes 200 kilos of heroin from Afghan ring. Police in Sharjah, a member of the United Arab Emirates, said on Tuesday they have busted an Afghan drug trafficking gang in possession of 202 kilograms (445pounds) of pure heroin. Colonel Abdullah al-Dukhan, deputy chief of Sharjah police, said the drugs were the "largest-ever consignment to be seized in the region", valuing it at 11 million dollars, according to WAM state news agency. "The UAE will not allow itself to become a transit point for drug smugglers," Dukhan was quoted by daily Gulf News as saying...[More>>alarabiya.net; See details, gulfnews.com, August 13, "Sharjah police arrest 18 expatriates for smuggling in and selling 202kg drugs."
---
8.13.08 Al-Qaeda leader killed in Yemen
SANA'A, Yemen, August 13 - Sana'a: One of the three Al-Qaeda leaders in Yemen was killed with four other operatives during a security operation in Sayoun in eastern Yemen, official sources said on Tuesday. Hamzah Salem Omar Al Quayti, mastermind of almost all terrorist acts in Hadramout, was killed along with Al Hussain Ba Zarah (Abu Waleed); Mabarak Bin Hawl, Abdullah Ali Saleh Batais, and Hamoud Al Nahdi.
Two more of the seven-member group — Ali Mohsin Saleh Al Akbari and Mohammad Saeed Ba Owaidhan — were injured and arrested after the clash, the sources said. The militants who were hiding in a house stormed by security forces had formed a cell which planned to execute terror attacks and bombings in Yemen and abroad, they said. [More>>gulfnews.com]
---
8.13.08 Suleiman in Syria as Lebanon blast kills 18
DAMASCUS, August 13 - Visit to redefine ties between Beirut and Damascus. Lebanese President Michel Suleiman arrived in Syria on Wednesday for landmark talks with his counterpart Bashar al-Assad hours after a bomb in northern Lebanon left 18 people dead. Lebanese parliament speaker Nabih Berri, a stalwart of the Syrian-backed opposition in Beirut, said the timing of the bombing reflects efforts "to prevent the improvement of Lebanese-Syrian relations."

Syria and Lebanon have not had diplomatic ties since independence from French colonial power 60 years ago. Assad and Suleiman agreed to establish them during talks last month in Paris. Former army chief Suleiman is the first Lebanese president to visit Damascus since Syria withdrew its troops from Lebanon in April 2005 ending almost three decades of military domination of its "sister" nation. [More>>alarabiya.net; See related story,

haaretz.com, August 13, "Syria taking preventive steps. fearing Israeli strike" : Syria's leadership fears that a drill conducted Tuesday by the Israel Defense Forces in the Golan Heights may develop into a military offensive against Damascus, the Kuwaiti newspaper al-Watan reported Wednesday. Syrian sources told the daily that Damascus has taken several preventive measures against a possible Israeli strike. The sources added that the IDF drill in the north is increasing tensions in the region and is not in line with recent peace initiatives...
---
8.13.08 Gaza's underground business booming
RAFAH, Gaza, August 13 - Gaza's underground smuggling business is booming. Ever since Israel and Egypt, in conjunction with the international community enforced an economic embargo on the Gaza Strip in June last year, preventing the export or import of most commodities, apart from a trickle of humanitarian goods, Gaza's business has been forced underground, literally. A few weeks ago Egyptian soldiers discovered a 2,400-foot underground pipeline used to smuggle fuel into Gaza. Black market fuel has now become a lucrative business due to the closure of the coastal territory. This followed a senior Egyptian security official reporting that Egyptian police had recently uncovered 20 underground tunnels and seized thousands of gallons of fuel being smuggled under the border. During the discovery four smugglers were arrested after a heavy exchange of gunfire.
At the beginning of this month, five smugglers were killed when Egypt blew up another tunnel exit, suffocating them inside. The Egyptian authorities claim they destroy on average one tunnel a day, but the smugglers contend that the destruction might delay shipments but won't halt them as they can quickly dig new tunnel entrances by branching out from the main passages which have been blown up. Israel assesses there to be more than 100 underground tunnels importing everything from automatic weapons, contraband drugs, clothing and laptop computers to animals and even humans. [More>>metimes.com]
---
8.13.08 Palestinians reject Olmert's '93 percent' proposal
RAMALLAH, West Bank (Reuters) August 13 - Palestinian President Mahmoud Abbas has rejected an Israeli peace proposal because it does not provide for a contiguous Palestinian state with Jerusalem as its capital, Abbas's office said on Tuesday. Nabil Abu Rdainah, Abbas's spokesman, told the official WAFA news agency Israeli Prime Minister Ehud Olmert's plan showed a "lack of seriousness." Olmert's proposal does not offer a solution to competing claims to the holy city of Jerusalem, and would only be implemented once Abbas reined in militants and re-established control of the Gaza Strip, which Hamas seized a year ago. [More>>alarabiya.net]

---
Editorial note: There are several commentaries in Maravot News on the legal status of Jerusalem (Who actually has the legal right to claim it?). The fact is Israel was created by United Nations Resolution 29 November 1947, "Future Government of Palestine," and in that resolution the United Nations set aside a territory, the "Corpus Separatum of Jerusalem," as its own territory, to be governed by the United Nations. See Maravot News article 12.01.07 "Abbas repeats rejection of 'Jewish state' demand" for details of this UN contract with Israel which Israel has to acknowledge. These details and more are also in "Phylistia triumph thou because of me..." (which also includes the Biblical agreements upon which the UN Resolution November 1947 was based).

Mel Copeland
---
8.13.08 Nepal looks for girl to serve as new 'living goddess'
KATHMANDU (Reuters) August 13 - Religious authorities in Nepal have begun the search for a girl who could be as young as three or four to serve as the new Kumari, or the virgin 'living goddess', in a centuries-old tradition. Astrologers were consulting horoscopes of candidates from Buddhist Shakya families to replace the current Kumari, Preeti Shakya, who is 11 and should retire during the annual Hindu festival of Dasain in October, temple officials said. "If we don't change her now, we'll have to wait until next year which could be late," said Deepak Bahadur Pandey, a senior official of the state-run Trust Corporation that oversees the country's cultural matters.
"If the girl starts menstruating while serving as Kumari, it is considered inauspicious," Pandey told Reuters on Tuesday. Under the Kumari tradition, a girl selected from a Buddhist Newar family goes through a rigorous cultural process and becomes the "living goddess." She is considered by many as an incarnation of the powerful deity Kali and is revered until she menstruates, after which she must return to the family and a new one is chosen. [More>>khaleejtimes.com; See related story:

[because of drought and soaring food prices], japantoday.com, "2.5 million Nepalese need immediate food assistance."]
---
8.13.08 Every day there are more and more kidnappings
MEXICO CITY, Mexico, August 13 - Pedro Galindo says when his kidnappers chopped off one of his fingers the pain was excruciating -- that he felt every second of the process. "They injected an anesthetic but didn't wait long enough for it to take effect," he says. "The next week, their boss came to me and said, 'Your family still doesn't want to pay ransom, so we have to send them another one.' " Pedro's wife, Maria Elena Morera, still shudders when she recalls being told where she could find her husband's severed finger. She was told to pick it up on the side of the road in an envelope. "I felt my heart just ripped open," she says. "I can't describe the anguish I felt imagining Pedro's suffering."
Pedro was rescued by federal agent from his kidnappers after 29 days, but not before three more fingers were chopped off at the knuckles. Seven years later, he and his wife devote their time to Mexicans United Against Crime, a citizen's group that tries to pressure the Mexican government into doing more to stop kidnappings. The group organized a march of tens of thousands of people in Mexico City in 2004 to protest the lack of security and is leading the charge again this year. It also provides moral support and advice to families whose loved ones have been kidnapped.
Mexico has seen an unprecedented level of kidnappings this year, prompting outrage among residents and demands for the government to crack down, even if it means going after police thought to be carrying out some of the kidnappings. According to the Mexico City prosecutor's office, kidnappings rose 76 percent in the first four months of the year compared to last year. Mexicans United Against Crime, citing police figures, says there were 789 kidnappings in 2007. Authorities think the real figures may be even greater because victims won't report crimes to a police force they don't trust. Experts say the rise is also a result of the perceived sense that crimes go unpunished here. [More>>cnn.com]
---
8.13.08 Stocks tumble on retail sales report, rise in oil
NEW YORK (AP) August 13 - Wall Street tumbled for a second session Wednesday after a government report on retail sales and a jump in oil prices raised investors' concerns about consumers' ability to spend and feed economic growth. The Dow Jones industrial average fell about 175 points, bringing its two-day decline to more than 300. The Commerce Department said retail sales slipped 0.1 percent as rising prices helped offset the effect of economic stimulus payments to US households. Excluding a big drop in sales of automobiles, retail sales rose 0.4 percent. But even on that basis it was the weakest showing in five months. Wall Street had expected sales to remain flat after a minor increase in June. The report followed a warning from department store bellwether Macy's Inc. that its full-year profits would fall short of expectations because of slower sales. [More>>washingtonpost.com]
---
8.13.08 Day 5: Phelps becomes leading Olympic gold winner as world records keep tumbling
BEIJING, August 13 - Michael Phelps has become the most successful athlete ever after collecting his 10th and 11th Olympic gold medal on Wednesday as world record-breaking performances were seen in swimming and weightlifting at the Beijing Games. At the end of Day Five, China has reached 17 gold medals, a mark which took more than a week in Athens four years ago, after picking up one in diving, weightlifting, shooting and gymnastics apiece. The United States stays in second spot in the medals table with 10 golds, followed by South Korea with six golds. [More>>xinhuanet.com]
---
8.12.08 Russia, France agree on 6 principles to resolve S. Ossetia crisis
MOSCOW (RIA Novosti) August 12 - The presidents of Russia and France agreed Tuesday on six principles to resolve the situation in the Georgian breakaway republic of South Ossetia. "The first is not to resort to the use of force. The second is to halt all military action. The third is free access to humanitarian aid. The fourth is that Georgian Armed Forces should return to their bases. The fifth is that Russian Armed Forces should pull back to their positions prior to combat." Russian President Dmitry Medvedev told a news conference with his French counterpart, Nicolas Sarkozy. "The sixth is the beginning of international discussions on the future status of South Ossetia and Abkhazia and on ways to ensure their security," he added.
Medvedev also said that Georgia's August 8 attack on Tskhinvali, the capital of South Ossetia, should be taken into account when deciding the future status of both South Ossetia and Abkhazia, another breakaway Georgian republic. He made reference to the "precedent" of Kosovo's unilateral declaration of independence in February, and its subsequent recognition by the United States and the majority of EU countries. The Russian president added that the residents of the two rebel regions should be consulted on whether they wanted to be part of Georgia.

...Medvedev also commented that Russia's offensive against Georgia was the only possible response to Tbilisi's attack on South Ossetia. "If Russia had had another way to react to Georgia's aggression against South Ossetia, we would have done this. There was no other way to respond." Medvedev said...Russia has said that some 1,600 people were killed in Friday's attack on Tskhinvali by Georgian forces. Russia has accused Georgian troops of atrocities, including the burning alive of women and children...Sarkozy said at the news conference that Europe was ready to join peacekeeping operations in South Ossetia...South Ossetia and Abkhazia broke away from Georgia after the collapse of the Soviet Union in 1991. Both republics fought vicious wars with Tbilisi that eventually ended in the retreat of Georgian troops and the regions gaining de facto independence. [Full story>>en.rian.ru]
---
8.12.08 NASA abandons plan to fly new spaceships by 2013
CAPE CANAVERAL (Reuters) August 12 - NASA has abandoned plans to get its replacement for the retiring US space shuttles into service by 2013 because of a lack of additional funds and technical issues, officials said on Monday. The US space agency had hoped to fly astronauts to the International Space Station aboard a new spaceship called Orion as early as September 2013, well before its formal deadline or goal of March 2015.
"The window of opportunity for us to accelerate Orion has closed," program manager Jeff Hanley at NASA's Johnson Space Center in Houston told reporters during a conference call. The United States will be without a means to transport people to and from space after the shuttle fleet is retired in 2010 until the new ships are ready to fly. It intends to rely on Russia to ferry crews to the space station and on private companies to deliver cargo during the gap. [More>>khaleejtimes.com]
---
8.12.08 US imposes sanctions on 5 Iran firms
TEHRAN (AP) August 12 - The Bush administration has imposed economic sanctions on five Iranian companies that it has accused of helping Iran pursue what the United States considers the Islamic Republic's ambitions to develop a nuclear weapon. The sanctions came as Iranian state radio quoted the country's defense minister as saying that Iran's military capabilities had "increased remarkably" after the construction of a new submarine. The US Treasury Department announced Tuesday that it was freezing any assets the five companies might have in the United States and prohibiting American individuals and companies from having dealings with the five. [More>>jpost.com]
---
8.12.08 Most companies pay no federal income tax
WASHINGTON (AP) August 12 - Two-thirds of US corporations paid no federal income taxes between 1998 and 2005, according to a new report from Congress. The study by the Government Accountability Office, expected to be released Tuesday, said about 68 percent of foreign companies doing business in the US avoided corporate taxes over the same period. Collectively, the companies reported trillions of dollars in sales, according to GAO's estimate. "It's shameful that so many corporations make big profits and pay nothing to support our country," said Sen. Byron Dorgan, D-N.D., who asked for the GAO study with Sen. Carl Levin, D-Mich.

...More than 38,000 foreign corporations had no tax liability in 2005 and 1.2 million US companies paid no income tax, the GAO said. Combined, the companies had $2.5 trillion in sales. About 25 percent of the U.S. corporations not paying corporate taxes were considered large corporations, meaning they had at least $250 million in assets or $50 million in receipts. [Full story>>cbsnews.com]
---
8.12.08 China arrests 90 Uighurs after bombs
KUQA, China, August 12 - A campaigner for independence in China's heavily Muslim far west said Tuesday that police have arrested 90 people and were torturing some following a series of bombings that left a dozen people dead — allegations a government official immediately denied. In the second attack in the restive region of Xinjiang in a week, bombers hit 17 sites — including a police station, government building, bank and shops — in the mostly Muslim city of Kuqa early Sunday. Dilxat Raxit, a spokesman for the Germany-based, pro-independence World Uighur Congress, said ethnic Muslim Uighurs in Kuqa have called with reports of police torturing detainees. He claimed in an e-mail that more than 90 people have been detained, with others arrested in surrounding areas. [More>>japantoday.com; See related story, cbsnews.com, August 12, "3 guards stabbed to death in China."]
---
8.12.08 10 police officers killed in bomb blast
PESHAWAR, Pakistan, August 12 - At least 10 people were killed and 11 others were injured today when a bomb targeting a Pakistan air force bus exploded in the northwestern city of Peshawar. The blast happened as the bus passed over a bridge on the outski."]rts of the city, security officials said. "Ten dead bodies and 11 injured have been brought here" said Khan Abbas, a police official sent to the city's main Lady Reading hospital. Pakistani forces are engaged in major battles against Taliban militants in a tribal area near Peshawar but it was not immediately clear if the attack was linked. [>news.com.au; See also aljazeera.net, August 12, "Bomb kills Pakistan airforce staff.'

Related story, thenews.com.pk, August 12, "Senior al-Qaeda leader killed on Pak-Afghan border" : Senior al-Qaeda commander Abu Saeed al-Masri has been killed in recent clashes with Pakistani forces in a Pakistani region near the Afghan border, a security official said on Tuesday. "He was believed to be among the top leadership of al-Qaeda," the senior security official said on condition of anonymity. Al-Masri, which means Egyptian, was the most senior al-Qaeda operative to have been killed in Pakistan's tribal belt since the death of his compatriot, Abu Khabab al-Masri, an al-Qaeda chemical and biological weapons expert, last month.
---
8.12.08 Yemen says leading al-Qaeda fugitive killed
SANAA, Yemen, August 12 - Yemen said on Tuesday that a prominent fugitive member of the local branch of al-Qaeda was killed in a shootout when police stormed a house in the eastern province of Hadramaut. Hamza al-Quayti, one of 23 al-Qaeda militants who broke out of jail in February 2006, was killed along with four other fighters in Monday's clash in the town of Tarim, the defense ministry website September 26 said. Two policemen were killed and three others wounded, while two militants were wounded and captured, it added. [More>>alarabiya.net]
---
8.12.08 Palestinians offered 93 percent of W. Bank: report
JERUSALEM (AFP) August 12 - Israeli offer only valid if Abbas retakes Gaza from Hamas. Israeli Prime Minister Ehud Olmert has offered the Palestinians a peace plan giving them 93 percent of the occupied West Bank, the Haaretz newspaper reported on Tuesday. But the Palestinians denied the report. The proposed border is at the heart of a broader plan that would compensate the Palestinians with the equivalent of 5.5 percent of the West Bank adjacent to the Gaza Strip and a route connecting Gaza to the West Bank itself. However, Palestinian president Mahmoud Abbas would only receive the land and the overland connection once his forces retake the Gaza Strip from the Islamist Hamas movement, which seized power in the coastal territory in June 2007, the newspaper said. [More>>alarabiya.net]
---
8.12.08 Binladin Group may invest $4.3 billion on rice in Papua
August 12 - Saudi-based investment firm Binladin Group is mulling at investing on agriculture projects here worth an estimated US$4.3 billion, which will be spent within the course of 15 years, says an official. Indonesia's special envoy for the Middle East Alwi Shihab told reporters in Jakarta on Tuesday that the group was looking at acquiring at least 500,000 hectares of land in Merauke regency, Papua Province.
"Every 5,000 hectares would require about $43 million in investment," Shihab estimated after meeting officials from the group. Also speaking to reporters that day, Binladin Group board member and executive managing editor Abu Bakar S. Al-Hamed confirmed that the firm would focus on rice and other commodities and that more studies were required prior to making final decision about the investment. [>thejakartapost.com]
---
8.11.08 Pakistani spies helping Taliban - NATO
KABUL (AFP) August 11 - Pakistan's intelligence agency is helping the Taliban pursue an insurgency in Afghanistan that has increased attacks in some areas, the NATO commander in Kabul says. The number of foreign fighters, including Europeans, was also increasing while NATO's International Security Assistance Force (ISAF) still lacked the soldiers it needed, US General David McKiernan said at the weekend. "There certainly is a level of ISI complicity in the militant areas in Pakistan and organizations such as the Taliban," the four-star general said, echoing allegations by Afghan President Hamid Karzai and others.
"I can't say to what level of leadership that goes to but there are indications of complicity on the part of ISI... to the extent that they are facilitating these militant groups that come out of the tribal areas in Pakistan." Karzai has directly accused the ISI of fuelling the unrest in Afghanistan, which has near daily militant attacks, but Pakistan has rejected the claim. General McKiernan, who took command of the 53,000-strong ISAF force in June and who led US troops into Iraq in 2003, said the increase in unrest in Afghanistan was in part because Afghan and international troops had pushed into new areas. Insurgents had also changed their tactics to operate in smaller groups carrying out more attacks while militant sanctuaries in Pakistan had been allowed to grow and were sending more fighters across the porous border. [More>>news.com.au]
---
8.11.08 Special Report: Kuwait readying for war in Gulf?
August 11 - The small oil-rich emirate of Kuwait – situated between Iraq, Iran and an unenviable geographic hard place on the northern end of the Persian Gulf – has reportedly activated its "Emergency War Plan" as a massive US and European armada is reported heading for the region. Coming on the heels of Operation Brimstone just a week ago that saw US, British and French naval forces participate in war games in the Atlantic Ocean, the object of which was to practice enforcing an eventual blockade on Iran, the joint task force is now headed for the Gulf and what could easily turn into a major confrontation with Iran. The naval force comprises a US Navy super carrier battle group and is accompanied by an expeditionary carrier battle group, a British Royal Navy carrier battle group and a French nuclear hunter-killer submarine.
Leading the pack is the nuclear-powered carrier, the USS Theodore Roosevelt and its Carrier Strike Group Two; besides its 80-plus combat planes the Roosevelt normally transports, it is carrying an additional load of French Naval Rafale fighter jets from the French carrier Charles de Gaulle, currently in dry dock. Also reported heading toward Iran is another nuclear-powered carrier, the USS Ronald Reagan and its Carrier Strike Group Seven; the USS Iwo Jima, the Royal Navy aircraft carrier HMS Ark Royal and a number of French warships, including the nuclear hunter-killer submarine Amethyste.

Once the naval force arrives in the Gulf region it will be joining two other US naval battle groups already on site: the USS Abraham Lincoln and the USS Peleliu; the Lincoln with its carrier strike group and the latter with an expeditionary strike group. Telephone calls to the Pentagon were not returned by publication time. This deployment is the largest naval task force from the United States and allied countries to assemble in the strategic waters of the Persian Gulf since the two Gulf wars. The object of the naval deployment would be to enforce an eventual blockade on Iran, if as expected by many observers, current negotiations with the Islamic republic over its insistence to pursue enrichment of uranium, allowing it, eventually, to produce nuclear weapons yields no results.

Adding to the volatility is the presence of a major Russian navy deployment affected earlier this year to the eastern Mediterranean comprising the jewel of the Russian fleet, the aircraft carrier Admiral Kuznetsov with approximately 50 Su-33 warplanes that have the capacity for mid-air refueling. This means the Russian warplanes could reach the Gulf from the Mediterranean, a distance of some 850 miles and would be forced to fly over Syria (not a problem) but Iraq as well, where the skies are controlled by the U.S. military, and the guided missile heavy cruiser Moskva. The Russian task force is believed to be composed of no less than a dozen warships as well as several submarines. [More>>metimes.com]
---
8.11.08 Russian troops 'open second front'
August 11 - Russia opened a second front of fighting in Georgia today, sending armored vehicles beyond two breakaway provinces and seizing a military base in the country's west, officials said. The development indicates that Russian troops have invaded Georgia proper from the separatist province of Abkhazia while most Georgian forces are locked up in fighting around South Ossetia. Russian armored personnel carriers rolled into the base in Senaki, a town in Western Georgia about 20 miles inland from the Black Sea port of Poti, Georgian Security Council secretary Alexander Lomaia said.
Russian forces also moved into the town of Zugdidi where they seized police stations, Georgian Interior Ministry spokesman Shota Utiashvili said. Abkhazian forces took control of the nearby village of Kurga, he said. Earlier, Russia had warned Georgian forces west of Abkhazia they faced Russian military action if they did not lay down their weapons. Senaki is located about 30 miles east of the Inguri River, which divides Abkhazia from the rest of Georgia. In Moscow, a government official who spoke on condition of anonymity because he wasn't authorized to give his name, confirmed that the Russian military moved into Senaki as part of efforts to end Georgian resistance in the area around South Ossetia. [More>>independent.co.uk]
---
8.11.08 Malaysia warns Christian paper to avoid politics
KUALA LUMPUR, (AP) August 11 - Muslim-majority Malaysia's government has accused a Christian newspaper of breaking publication rules by running articles deemed political and insulting to Islam, and warned it of stern action, officials said Monday. The reprimand underscores the tenuous position of minority religions in multi ethnic Malaysia amid a growing number of interfaith disputes. Christians, Buddhists and Hindus complain that their rights are being undermined by government efforts to bolster the status of Islam, the country's official religion.
The Home Ministry sent a letter to the Herald's publishers warning that its editions in June had "committed offenses" by highlighting Malaysian politics and current affairs instead of Christian issues for which it has been given a license. All publications and other media outlets in Malaysia are required to possess government licenses that must be renewed every year. The letter, a copy of which was obtained by The Associated Press, accused the Herald of carrying an article that "could threaten public peace and national security" because it allegedly "denigrated Islamic teachings."
The Rev. Lawrence Andrew, editor of the Herald, the Roman Catholic Church's main publication in Malaysia, denied the newspaper had overstepped its boundaries. "We comment on issues. The Pope comments on issues. It's normal for us to have an ethical interpretation" of current events and politics, Andrew said. "I don't think we were in any way going against the type of content we have chosen." He also denied that an article titled "America and Jihad - Where do they stand?" had mocked Islam, saying it was an analysis of circumstances following the Sept. 11, 2001, attacks in the United States. [More>>thejakartapost.com]

---
Editorial note: There are several records in Maravot News that show a growing conflict between Islam and other faiths. Before 9/11, in 2000 al-Qaeda held its Summit in Malaysia, where no doubt 9/11 and al-Qaeda's grand strategy was planned. Recently Malaysia banned the Catholic church from using the word "Allah" in its publications. The premise used by Malaysia is ridiculous, since the Koran repeatedly refers to the scriptures of the Bible as its authority, how the Koran confirms those scriptures. (Old testament and Gospel). Iraq is another country, among many, that has been persecuting Christians. See Maravot News 7.25.08 "Pope tells Iraqi leader Christians need protection" and associated links that reflect the Koran's endorsement of persecution of non-Islamic faiths and its instructions to murder unbelievers. Coptic Christians in Egypt have also seen increasing persecution. See Maravot News article 7.07.08 "Egypt's Coptic Christians are choosing isolation."

The opportunity to bring the legal complaint against Islam's persecution of other faiths appears to be centered in Malaysia and in Malaysia's legally unsound ban against the use of the word "Allah" by other faiths when describing the name of God. Recently the Sikhs complained against Malaysia's ban. See Maravot News 7.04.08 "Sikh group joins protest against ban on use of word "Allah" in Malaysia." For Malaysia's ban against the use of the word "Allah" see Maravot News 12.21.07 Malaysian Catholic weekly told to drop use of 'Allah.'

Mel Copeland
---
8.11.08 Refugee exodus grows in Southern Philippines
MANILA, August 11 - The number of Filipinos displaced from their homes since fighting began late last week between government forces and Islamic separatists in the southern Philippines reached 130,000 on Monday, officials said. The military and the police sent more troops to fight the rebels. Social welfare officials warned of a potential humanitarian disaster as the fighting between troops and elements of the Moro Islamic Liberation Front, which had been confined to two provinces, threatened to spill over to other areas. The Moro Islamic Liberation Front is a separatist group that has been fighting for an Islamic state in the southern province of Mindanao for decades.
Local media reported that thousands of residents, the majority of them Muslims, had been fleeing their homes since Friday, many in carts pulled by water buffalos. Thousands of refugees had been housed in more than 40 refugee centers, officials said, but most of them had chosen to leave their communities and seek shelter with relatives in other provinces. As of Monday, officials said two soldiers and at least 15 rebels had been killed in the fighting, which erupted on Thursday after separatist forces refused to vacate nine villages in North Cotabato Province. [More>>nytimes.com; See also newsinfo.inquirer.net, August 11, "North Cotabato fighting toll now 8 dead, 12 wounded."]
---
8.11.08 Gold medalists on day 3 of Beijing Olympics
— The United States swimmers shattered their own 4X100 freestyle relay world record again in the most intense race so far at the Beijing Olympic Games on Monday.
— Japanese Kosuke Kitajima successfully defended his Olympic crown with a new world record of 58.91 seconds in the men's 100m breaststroke at the Beijing Olympic Games here on Monday.
— Australia's golden girl Libby Trickett won a heated race in the women's 100-meter butterfly on Monday, snatching her first individual Olympic gold.
— The gold quest of US swimmer Katie Hoff in Beijing met another setback Monday morning as Britain's Rebecca Adlington touched the wall first at the last moment, snatching the gold of women's 400-meter freestyle.
— Indian shooter Abhinav Bindra totaled 700.5 points to win the men's 10-meter air rifle title after a hot chase in the final on Monday, winning India's first gold medal at the Beijing Games, and also its first individual title in Olympic history.
— Satu Makela-Nummela, a shooter from Finland, won the Olympic gold medal of women's trap with 91 hits at the Beijing Shooting Range on Tuesday.
— Chinese teenager divers Lin Yue and Huo Liang clinched the gold of the men's 10m platform synchronized at the Beijing Olympic Games here on Monday.
— Chen Yanqing has become the first strongwoman in the world to successfully defend her Olympic title since the women's weightlifting entered summer Olympics in 2000 Sydney.
— Chinese Zhang Xiangxiang totaled 319 kilograms to win the men's 62kg class weightlifting gold medal at the Olympic Games here on Monday.
— South Korea scored an new 24-arrow Olympic record of 227, brushing aside Italy to win the men's team title at the Olympic archery field on Monday.
— Giulia Quintavalle outpowered Dutch Deborah Gravenstijn to take the women's 57kg gold medal at the Beijing Olympic Games here on Monday.
— Elnur Mammadli of Azerbaijan beat South Korean Wang Kichun by ippon to take the men's 73kg judo gold medal at the Beijing Olympic Games here on Monday.
Maria Valentina Vezzali of Italy outpointed South Korea Nam Hyunhee 6-5 to take the women's individual foil gold medal at the Beijing Olympic Games on Monday. [Full story>>xinhuanet.com]
---
8.11.08 Eight terrorists killed, two blow themselves up in Xinjjiang
KUQA, Xinjiang, China, August 10 - Police in northwest China's Xinjiang Uygur Autonomous Region said eight terrorists who carried out a series of explosions early Sunday were shot dead and two others blew themselves up dead. The serial explosions occurred in the early hours on Sunday in some supermarkets, hotels and government buildings in Kuqa County, killing a security guard and injuring two policemen, two civilians and a security guard, the Xinjiang Public Security Department said.

Eight terrorists were shot dead by police while two others killed themselves by suicidal bombings, the department said. Police have arrested two terrorists and are searching three others still at large. Thirteen civilians were rescued and dozens of bomb devices yet to blow up were seized. Buildings or houses in many sites were damaged in the bombings. [More>>xinhuanet.com]
---
8.11.08 Kabul bomb kills 3 civilians, wounds NATO soldiers
KABUL, Afghanistan (AP) August 11 - A suicide bomber rammed his car into a NATO convoy in Kabul on Monday, killing three civilians and wounding at least a dozen, officials said. Clashes and an airstrike in the south killed 25 militants and eight civilians held hostage by insurgents. Another bomb attack against a NATO convoy in the country's northwest killed one soldier and wounded several other people, including civilians. The Kabul suicide bomber targeted a NATO convoy on the main road in the city's eastern outskirts, killing three civilians and wounding 12 others, said Ayub Salangi, the provincial police chief. The blast also wounded some NATO soldiers, NATO's press office in Kabul said. An eyewitness who was traveling ahead of the convoy when the blast happened said the troops were British. [More>>indianexpress.com: hosted.ap.org]
---
8.11.08 Police fire to stop Kashmiris from going to Pakistan
SRINAGAR, India (Reuters) August 11 - Thousands of Muslim traders clashed with police stopping them from crossing into Pakistan on Monday to protest what they said was an economic blockade of the region by Hindus over a land row, officials said. The land dispute has polarized Indian Kashmir, split between the Muslim-majority Kashmir valley and the Hindu-dominated region around Jammu city, severely curbing trade between the two areas. As a result, traders are trying to sell their goods in neighboring Pakistan.
One person was killed and more than 100 others wounded as police fired at protesters and also closed a highway to Pakistan which the traders tried to use to ferry farm products they said were rotting because of the disruption to trade with the rest of India. Police deflated tires of trucks carrying apples and pears, shut down fruit markets and detained 100 fruit growers as a precaution, a senior police officer said. Hindus in Kashmir's winter capital of Jammu, demanding the state government transfer forest land to a Hindu shrine trust, have attacked lorries carrying supplies to the Kashmir valley. [More>>khaleejtimes.com; See also aljazeera.net, August 11, "Kashmiri separatist leader killed."]
---
8.11.08 Qaeda no. 2 Zawahiri releases English video
WASHINGTON (AFP) August 11 - Ayman al-Zawahiri, the second-in-command to al-Qaeda chief Osama bin Laden, has released his first English-language video call for jihad in Pakistan, the US-based IntelCenter said Sunday. The message was aired on Pakistan's ARY television network, IntelCenter said in a statement, adding that it marked "the first official message ever ... in which he speaks English."

Zawahiri "calls for the people to support jihad in Pakistan and lists a litany of grievances against the Pakistani government and US involvement there," said Intel Center, which monitors extremist websites and communications. "He also relates his own personal experiences having lived in Pakistan in an apparent attempt to build a stronger connection with the Pakistani people," it said in a statement...The Egyptian-born Zawahiri says he picked English because he "wants to speak directly to the Pakistani people and chose English because he cannot speak Urdu." [Full story>>alarabiya.net]
---
8.11.08 Poof! Scientists closer to invisibility cloak
WASHINGTON (AP) August 10 - Scientists say they are a step closer to developing materials that could render people and objects invisible. Researchers have demonstrated for the first time they were able to cloak three-dimensional objects using artificially engineered materials that redirect light around the objects. Previously, they only have been able to cloak very thin two-dimensional objects.
The findings, by scientists at the University of California, Berkeley, led by Xiang Zhang, are to be released later this week in the journals Nature and Science. The new work moves scientists a step closer to hiding people and objects from visible light, which could have broad applications, including military ones. [More>>abcnews.go.com]
---
8.10.08 Diggers deal blow to Taliban with capture
(AAP) August 10 - Australian special forces have caught a Taliban leader behind a host of bomb attacks in Afghanistan's Oruzgan province, potentially dealing a blow to future terrorist assaults. The Defence Department today revealed that the elite Australian troops last week captured Mullah Bari Ghul, whom coalition forces believe was a key figure behind extremist operations in the province. Details of the capture were not immediately available.
Defence described Bari Ghul as a key figure in providing equipment, money and foreign fighters to extremist operations in Oruzgan province. They also believe him to be involved in coordinating the actions of individual insurgent cells...According to Defence, Bari Ghul carried out the role of a  "shadow governor," responsible for authorizing bomb attacks across the province. [Full story>>
news.com.au
; See related story,
khallejtimes.com, August 10, "Karzai urges world to target militants in Pakistan"
: ...Karzai said since the overthrow of the Taliban, he had repeatedly told Western nations with troops in Afghanistan that the danger against his country and the foreign troops was in Pakistan....
---
8.10.08 Deaths in Algeria suicide blast
August 10 - At least eight people have been killed in a suicide bombing in Algeria, local radio has reported. Nineteen people were also injured in the blast, when a bomber rammed a van full of explosives into a police station in the northern part of the country on Saturday night. The attack happened at Zemmouri el-Bahri, a popular beach with holidaymakers, near Boumerdes, east of the capital Algiers. An officer fired on the vehicle as it was approaching the police station causing the car to explode before it hit the building, the local radio said citing security officials. It was not immediately clear who was behind the attack. A bombing last week at a police station in another northern city injured more than 20 people. Al-Qaeda in the Islamic Maghreb, an al-Qaeda-linked group, claimed responsibility for that attack, and said it had been a suicide car bombing. [>aljazeera.net]
---
8.10.08 Zardari accuses Musharraf of misappropriating US aid
ISLAMABAD, August 10 - Cochairman Pakistan People's Party, Asif Ali Zardari has disclosed that President Pervez Musharraf attempted to sabotage the present set up due to which the government was forced to take an extreme measure of his impeachment. In his interview to a UK based newspaper, he also disclosed that his government would investigate the appropriation of American aid given for supporting the war on terror. Zardari said the Army was only receiving about a quarter of the $1 billion annual funds from the US.

He said the army was only getting 250-300 million dollars and that the loss of the remaining 700 million dollars was not something to be taken lightly. He added that the official explanation was that the money had gone towards budget support. He asserted that his party was actively looking for the money. When questioned about the new drive towards impeachment, Zarari says he offered Musharraf an honourable exit that the latter had refused. Zardari claims he was left with no choice but to go along with Nawaz Sharif's more aggressive approach. [>thenews.com.pk]
---
8.10.08 Iraq demands "very clear" US troop timeline
BAGHDAD (Reuters) August 10 - Iraq insists the United States provide a "very clear timeline" for withdrawing its troops as part of an agreement allowing them to stay on beyond this year, Foreign Minister Hoshiyar Zebari said on Sunday. Asked if Iraq would accept a document that did not include dates for a withdrawal, Zebari told Reuters: "No, no. Definitely there has to be a very clear timeline." Zebari said the agreement, including the timeline, was "very close" and would probably be presented to the Iraqi parliament in early September. It was the strongest public assertion yet that Iraq is demanding a fixed timetable. [More>>alarabiya.net]
---
8.10.08 Gold medalists on day 2 of Beijing Olympics
— US swimmer Michael Phelps Sunday defended his Olympic title in the men's 400 meters individual medley with a new world record. 
— South Korean swimming prodigy Park Taehwan realized his dream to win the men's 400m freestyle gold medal at the Olympics here on Sunday.
— Australia's Olympic debutante Stephanie Rice beat top favorite US swimmer Katie Hoff in the women's 400 meter individual medley, pocketing her first Olympic gold Sunday with an astonishing new world record.
— The Ducth quartet of Inge Dekker, Ranomi Kromowidjojo, Femke Heemskerk and Marleen Veldhuis lit the pool on fire in Bejing on Sunday and won the gold in the women's 4X100 meters freestyle relay.
— Chinese Guo Wenjun won the women's air pistol gold medal with 492.3 points at the Olympic Games, a new Olympic record, on Sunday.
— Chinese world and Olympic champion Guo Jingjing took the limelight of the Water Cube, together with her partner Wu Minxia, as they retained the women's three-meter springboard synchronized gold at the Beijing Olympics on Sunday.
— Czech shooter David Kostelecky downed all 25 birds in the final of men's trap despite heavy rain at the Beijing Shooting Range, presenting his country a second shooting gold with 146 hits on Sunday.
— Prapawadee Jaroenrattanatarak of Thailand claimed the title in the women's 53kg category weightlifting at Beijing Olympics on Sunday, setting a new Olympic record in clean and jerk.
— Britain's Nicole Cooke won gold in the women's cycling road race at the Beijing Olympics in Beijing on Sunday. [Full story>>xinhuanet.com]
---
8.10.08 New deadly bomb attacks rock China's Muslim west
BEIJING (AFP) August 10 - A series of bomb blasts followed by gunfire rocked a town in China's mainly Muslim northwestern region of Xinjiang Sunday leaving at least two people dead, state media said. The explosions shook the town of Kuqa between 3:20am (1920 GMT Saturday) and 4:00 am (2000 GMT), Xinhua news agency said. It said two people were killed but that the death toll could rise. A separate Xinhua report said police were hunting for suspects, and that at least four or five suspects had been killed or injured. It was not clear whether these deaths were included in the previous toll.
The report did not say who was responsible, but the attack follows repeated threats by Muslim militants in Xinjiang to disrupt the Beijing Olympic Games and comes after an attack in the region last week left 16 police officers dead...Uighur separatists in Xinjiang have released two video statements threatening to attack the Olympics and Chinese authorities have also warned that "terrorists" from home and abroad pose a threat to the Games. In one of the deadliest attacks in China in years, a group police officers out jogging in the town of Kashgar were attacked on August 4 by alleged Muslim militants using explosives and knifes, leaving 16 dead and 16 wounded. [Full story>>turkishpress.com]
---
8.10.08 Kuwait says Iran nuclear dispute hurts neighbors
KUWAIT (Reuters) August 10 - Kuwait says it will not allow the US to launch an attack on Iran from its soil. US-allied Kuwait urged Iran on Saturday to resolve tensions with the West over its nuclear program, saying the dispute undermined the interests of Gulf states with which it shares a vital oil export route. "This basin (the Gulf) we all share. Talk of closing the Strait of Hormuz has a great impact on us," official news agency KUNA quoted Foreign Affairs Minister Sheikh Mohammad al-Salem al-Sabah as saying in a television interview.

KUNA quoted him as saying Kuwait would not allow the United States to launch an attack on Iran from its soil. About 40 percent of global oil exports leave the Gulf via the Strait of Hormuz, off Iran's southern coast. Tehran has said it will impose shipping controls there if it is attacked, and has warned Gulf neighbors of reprisals should they take part in any attack. [More>>alarabiya.net]
---
8.10.08 US soldier killed, two dozen wounded in attack
BAGHDAD, August 10 - Five people, including a US soldier, were killed and 24 people were wounded Sunday in an attack north of Baghdad, a military spokesman said. A suicide bomber targeted a group in Tarmiyah, a district about 30 miles (50 kilometer) north of Baghdad, Maj. John Hall said. Four Iraqis were also killed, Hall said. Two US soldiers were among the 24 people wounded in the attack, Hall said. [>cnn.com]
---
8.10.08 Bajaur operation: 100 militants, 9 security forces personnel killed
BAJAUR AGENCY, Pakistan, August 10 - Security forces bombed dozens of militant hideouts in Bajaur Agency near the Afghan border on Sunday, officials said, amid reports that days of clashes have killed at least 100 militants and nine paramilitary troops. According to sources, two spells of aerial bombing destroyed militants' hideouts in several villages. Sources said bombs also struck a school occupied by Taliban fighters in Loi Sam, a village that has been a key focus of the fighting and Banda area.

Meanwhile, military jets and helicopters dropped bombs and shells, apparently on suspected Taliban positions. A paramilitary Frontier Corps statement said nine troops and at least 100 militants were killed in the last four days. Maulvi Umar, a Pakistani Taliban spokesman, claimed the militants had handed over 22 bodies belonging to security forces in the last three days after pleas from tribal elders. [>thenews.com.pk; See also:
aljazeera.net, August 10, "Fighters kiled in Pakistan attack." and
indianexpress.com: hosted.ap.org, August 10, "Al-Qaeda said to lose key WMD operative."
---
8.10.08 On the border: Georgian troops retreat, civilians flee as Red Army advances
August 10 - Georgian troops were retreating under shellfire here today as the Russian military continued to press forward and take full control of South Ossetia Clouds of smoke rose up as artillery fire exploded in fields less than half a mile from the bridge marking South Ossetia's border with Georgia. A group of Georgian soldiers hastily abandoned their truck after its wheels were shot out by a sniper and crossed the border on foot.
At a base next to the bridge, Russian peacekeepers appeared confident that they would soon be joined by comrades from the regular army advancing through South Ossetia from the north. "The Georgians have left already and we are expecting the Russian side to come down the road soon. We are operating normally, nobody has disturbed us at all," said Sadiq Narsudinov, one of the peacekeeping contingent. A Russian flag fluttered over the compound.
Georgian soldiers looked disheartened as they regrouped around tank lines about two kilometres from the border. Many said that they had been fighting in Tskhinvali, the capital of South Ossetia, until the early hours when they were suddenly ordered to withdraw from the breakaway region. "They told us to come out, I don't know why. But some of our guys are still out there in the fields," one soldier, Gakha Atsiauri, told The Times. [More>>timesonline.co.uk; See also abcnews.go.com, August 10, "Georgian troops retreat from breakaway province."]
---
8.10.08 Sorry about your phone records: FBI to newspapers
WASHINGTON (AP) August 10 - FBI Director Robert Mueller has apologized to the editors of The Washington Post and The New York Times for improperly obtaining phone records of the newspapers' reporters while investigating terrorism four years ago. Mueller called Post Executive Editor Leonard Downie Jr. and Times Executive Editor Bill Keller on Friday to express regret that agents did not follow proper procedures in 2004 when they obtained the phone records of a Post reporter and a researcher and two Times reporters. All four were working in Indonesia and writing about Islamic terrorism at the time.
Mueller and other FBI officials told the newspapers that agents obtained the records under a process that allowed them to bypass a grand jury review in emergency cases. The incident came
to light through a review by the Justice Department's inspector general of bureau procedures that enabled the FBI to obtain thousands of records from phone companies after the Sept. 11 terror attacks.
In the case of the newspaper reporters, agents obtained toll phone records — records of incoming and outgoing calls, but not details of conversations — using what are known as "exigent circumstances" letters...Because of possible First Amendment violations, requests for reporters' phone records are supposed to receive an even higher level scrutiny before they can be approved — usually requiring the approval of the attorney general or other high-ranking Justice Department official. [Full story>>thejakartapost.com]
---
8.10.08 Malaysia spat erupts over curbing religious debate
KUALA LUMPUR, Malaysia (AP) August 10 - Malaysian politicians wrangled on Sunday about whether to curb sensitive debates on religious disputes in this Muslim-majority nation after protests halted a conference on Islamic conversions. Police told the Bar Council association of lawyers to abort the forum Saturday after more than 300 demonstrators rallied outside the conference hall and threatened to storm the event. The forum was supposed to be a rare public platform to examine how Malaysian families are caught in legal conflicts if one spouse in a marriage converts to Islam. The protesters claimed it reflected unfair demands by non-Muslim minorities for religious equality.
Government leaders insisted that Malaysia was not ready for freewheeling dialogues about religion that could undermine multicultural tolerance and social peace. Home Minister Syed Hamid Albar said "There are certain things that are out of bounds for public discussion, even if held in a private place." Education Minister Hishammuddin Hussein urged Malaysians "not to think that openness is an absolute right." However, some non-Muslim politicians called the protest a setback to hopes of resolving disputes in a young nation with a history of ethnic tensions. [More>>khaleejtimes.com; See Maravot News, article 7.04.08 "Sikh group joins protest against ban on use of word 'Allah' in Malaysia" and Maravot News 12.21.07 Malaysian Catholic weekly told to drop use of 'Allah.' for an interesting record of the Malaysian Court's ban against the Catholic use of the word "Allah" in its publications. This ban also affects others, such as the Sikhs. The ban is being contested in court by affected parties.]
---
8.10.08 Bats blamed for rabies deaths
August 9 - Experts suspect an outbreak of rabies spread by vampire bats has killed at least 38 people in Venezuela. Laboratory investigations have yet to confirm the cause of death, but the symptoms point to rabies, according to University of California researchers. Husband-and-wife team Charles Briggs and Dr. Clara Mantini-Briggs said the symptoms include fever, body pains, tingling in the feet followed by progressive paralysis and an extreme fear of water. Victims tend to have convulsions and grow rigid before death.

...Outbreaks of rabies spread by vampire bats are a problem in various tropical areas of South America, including Brazil and Peru, Dr. Rupprecht said. He said researchers suspect that in some cases environmental degradation - including mining, logging or dam construction projects — may also be contributing to rabies outbreaks. Dr. Rupprecht said: "Vampire bats are very adaptable and when their roosts are disrupted or their normal prey grows scarce, Homo Sapiens are a pretty easy meal." At least 38 Warao Indians have died since June 2007 — at least 16 since the start of June 2008, according to a report by the researchers. [Full story>>sky.com]
---
8.10.08 Whole Foods recalls beef processed at plant long at odds with USDA
August 10 - Whole Foods Market pulled fresh ground beef from all of its stores Friday, becoming the latest retailer affected by an E. coli outbreak traced to Nebraska Beef, one of the nation's largest meatpackers. It's the second outbreak linked to the processor in as many months. The meat Whole Foods recalled came from Coleman Natural Foods, which unbeknownst to Whole Foods had processed it at Nebraska Beef, an Omaha meatpacker with a history of food-safety and other violations.

Nebraska Beef last month recalled more than 5 million pounds of beef produced in May and June after its meat was blamed for another E. coli outbreak in seven states. On Friday it recalled an additional 1.2 million pounds of beef produced on June 17, June 24 and July 8, which included products eventually sold to Whole Foods. The recall is not related to the recent spate of E. coli illnesses among Boy Scouts at a gathering in Goshen, Va. Whole Foods officials are investigating why they were not aware that Coleman was using Nebraska Beef as a processor, spokeswoman Libba Letton said. [More>>washingtonpost.com]
---
*Visitor statistics on maravot.com from 1&1. com. 46,153 page views in May 2007; monthly visitors in 2008 range between 40,000-45,0000..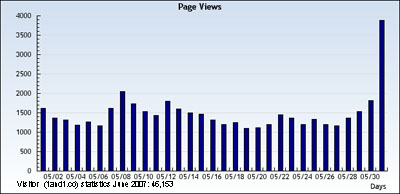 Privacy Policy: We do not store any personal data from you. We have no way of knowing any vital information about you – not even your name. Third-party distribution: We do not distribute information about your site usage to any third party. We are not responsible for the content of links from our site. Usage data: supplied by our Web Hosting service, 1and1.com, which consists of usage reports, such as page views / impressions and web pages visited, visitors' servers and geographical data (ISP's and country of origin).

---
Launched: 10.25.04 / 11.02.04 – | — |
Updated: 8.10.08; 8.11.08; 8.12.08; 8.13.08
Copyright © 1981-2008 Maravot. All rights reserved
Copyright © 1981-2008 Mel Copeland. All rights reserved
Background: tile from Cicero's villa (Marcus Tullius Cicero 106 B.C. - 43 B.C.)