News Headlines & Trends
---
8.18.08
Musharraf resigns as Pakistan president
ISLAMABAD, Pakistan (AFP) August 18 - Pakistan President Pervez Musharraf resigned on Monday, bringing down the curtain on a turbulent nine years in power to avoid the first impeachment in the nuclear-armed nation's history. The key US ally, who seized power in a 1999 coup, announced the move in a lengthy televised address, rejecting the charges against him but saying he wanted to spare Pakistan a damaging battle with the ruling coalition.
The departure of the former general set off wild celebrations at home, yet it was far from certain what would come next for a nation whose role in the "war on terror" has been increasingly questioned by Washington. "After viewing the situation and consulting legal advisers and political allies, with their advice I have decided to resign," Musharraf, wearing a sober suit and tie, said near the end of his one-hour address. [More>>turkishpress.com; See related story, nytimes.com, August 18, Musharraf walked a tightrope."]
---
8.18.08 Italy imam held on Moroccan terror charges
ROME (Reuters) August 18 - Italian police have arrested a Muslim cleric for extradition to his native Morocco to face terrorism charges linked to suicide bombings in Casablanca in 2003. Police said in a statement that Abdelmajid Zergout, imam of a mosque in Varese, was arrested on Saturday at his home in the northern city. Zergout, aged 43 and also known as Abou Al Bara, had already been arrested in Italy in 2005, along with two other Moroccans, on suspicion of raising funds and recruiting for the Moroccan Islamic Combatant Group. The group was blamed for the 2003 Casablanca attacks in which 45 people were killed, including 12 suicide bombers. [More>>alarabiya.net]
---
8.18.08 Britain's youngest terrorist, Hammaad Munshi, faces jail after guilty verdict
August 18 - Britain's youngest terrorist was behind bars today after a guide to death and explosives was found in his home. Hammaad Munshi, just 16 and taking his GCSEs when arrested, was part of a cell of cyber groomers which set out to brainwash the vulnerable to kill "non-believers."
For nearly a year the teenager, whose grandfather is a leading Islamic scholar, led a double life. By day he attended lessons at the local comprehensive and did as he was told. But in the evening he spent hours surfing jihadist sites and distributing material to others as part of what the Crown branded a "worldwide conspiracy" to "wipe out" non-Muslims. [More>>timesonline.co.uk]
---
8.18.08 Shia cleric killed, 17 wounded in Baghdad violence
BAGHDAD (AFP) August 18 - A Shia cleric was shot dead and 17 people, mostly Iraqi policemen, were injured in a wave of bombings in Baghdad on Monday, security sources said. Sheikh Jaber Fares Dhaher was killed when insurgents attacked his car in the southern Baghdad neighbourhood of Zafaraniyah, interior ministry sources said. His wife and daughter were also wounded. Three separate bomb attacks targeting US and Iraqi forces also wounded 17 people in Baghdad, the sources added.
...Monday's rash of violence followed an attack Sunday night by a suicide bomber who blew himself up near a mosque in a Sunni Arab district of Baghdad, Adhamiyah, killing at least 15 people and wounding 30. The dead included Faruq al-Obeidi, a local leader of a group fighting the al-Qaeda network in Iraq The US military said it believes eight people were killed and 12 wounded in the incident. [Full story>>khaleejtimes.com]
---
8.18.08 Missile launchers tighten Russia's grip on Georgia
WASHINGTON, Ausut 18 - Even as Russia pledged to begin withdrawing its forces from neighboring Georgia on Monday, American officials said the Russian military had been moving launchers for short-range ballistic missiles into South Ossetia, a step that appeared intended to tighten its hold on the breakaway territory. The Russian military deployed several SS-21 missile launchers and supply vehicles to South Ossetia on Friday, according to American officials familiar with intelligence reports. From the new launching positions north of Tskhinvali, the South Ossetian capital, the missiles can reach much of Georgia, including Tbilisi, the capital.
The Kremlin announced Sunday that Russia's president, Dmitri A. Medvedev, had promised to begin the troop withdrawal in a conversation with President Nicolas Sarkozy of France, who negotiated a six-point cease-fire agreement. Mr. Medvedev did not specify the pace or scope of the withdrawal, saying only that troops would withdraw to South Ossetia and a so-called security zone on its periphery. [More>>nytimes.com]
---
8.18.08 The Afghan women jailed for being victims of rape
August 18 - In Lashkar Gah, the majority of female prisoners are serving 20-year sentences for being forced to have sex. Terri Judd visited them and heard their extraordinary stories. Beneath the anonymity of the sky-blue burqa, Saliha's slender frame and voice betray her young age. Asked why she was serving seven years in jail alongside hardened insurgents and criminals, the 15-year-old giggled and buried her head in her friend's shoulder. "She is shy," apologized fellow inmate Zirdana, explaining that the teenager had been married at a young age to an abusive husband and ran away with a boy from her neighbourhood.
Asked whether she had loved the boy, Saliha squirmed with childish embarrassment as her friend replied: "Yes." Ostracized from her family and village, Saliha was convicted of escaping from home and illegal sexual relations. The first carries a maximum penalty of 10 years, the second 20. These are two of the most common accusations facing female prisoners in Afghanistan. [More>>independent.co.uk; See related article:

(posted in) raquelevita.wordpress.com, "When did Egyptian women become candy, and when did Egyptian men turn into flies" In Egypt, a billboard reads, "a veil to protect or eyes will molest." ...There is no law criminalizing sexual harassment in Egypt, and police often refuse to report women's complaints. And when it is the police themselves who are harassing women, then clearly women's safety is far from a priority in Egypt.
The State itself taught Egyptians a most spectacular lesson in institutionalized patriarchy when security forces and government-hired thugs sexually assaulted demonstrators, especially women, during an anti-regime protest in 2005, giving a green light to harassers. So there was little surprise that during a religious festival in 2006, a mob of men went on a rampage in downtown Cairo, sexually assaulting any woman they came across as police watched and did nothing.
It was only when bloggers broke the news that the media reported the assaults. Still, the Egyptian regime has never acknowledged it happened. At a demonstration against sexual harassment that I attended in Cairo a few days later, there were nearly more riot police than protestors....
---
8.18.08 9 killed in suicide attack in Afghanistan
KABUL, Afghanistan, August 18 - At least nine people were killed and more than a dozen wounded in a suicide attack Monday outside a US military base in Afghanistan's eastern province of Khost, the province's governor said.The attacker detonated an explosives-packed vehicle just outside the gates of the US base, Khost Gov. Arsallah Jamal said. He said the victims were all construction workers working at the base. Thirteen people were wounded, the governor said, adding that US soldiers did not suffer any casualties [>japantoday.com; See more details, aljazeera.net, August 18, "Blast mars Afghan independence day.']
---
8.18.08 Iran: We will help friendly Muslim nations launch satellites
August 18 - Iran is prepared to help friendly Muslim nations launch satellites into outer space, Iranian Space Agency head Reza Taghipour said Monday. "I declare that that Iran is ready to help friendly Muslim nations, Taghipour said in an announcement aired on Iranian television. We are working on the satellites and gradually they will be carried into orbit."
The announcement came a day after Iran claimed that it had successfully test-launched a rocket capable of carrying a satellite into outer space and that it planned to use the rocket to carry a research satellite into orbit. [More>jpost.com]
---
8.18.08 Mini-subs end first stage of Lake Baikal research after 26 dives
NOVOSIBIRSK, Russia (RIA Novost, August 18 - Two mini-submarines made 26 dives to the floor of Siberia's Lake Baikal to complete the first stage of a two-year scientific expedition, a spokesman for the Baikal preservation foundation said Monday. Over the course of the expedition, which started in late July, scientists will conduct around 160 dives in various areas of the lake. Research will include gathering information on tectonic plates and a search for archeological artifacts. Arnold Tulokhonov, director of the Baikal Institute of Nature Management at the Russian Academy of Sciences said "the deepest dive made by the Mir-1 and Mir-2 has so far been 1,608 meters."
There is no precise information about the deepest point of Baikal, which is accepted to be the world's deepest freshwater lake. Two sources most popular among scientists offer 1,637 and 1,642 meters as the deepest point...The first stage of the expedition, which finished Sunday, focused on the middle of the lake, where scientists took samples of organisms and sediments, and discovered cracks in the bedrock from which crude oil seeps into the lake...The lake has been the focus of major environmental scares in recent years, with a last-minute change to an oil pipeline route that was set to pass near Baikal's shores, and environmental regulators' claims against a pulp mill accused of pumping large volumes of toxic waste into the lake. [Full story>>en.rian.ru]
---
8.18.08 Stark warning on Britain's shrinking coast
August 18 - Stretches of Britain's coastline are doomed and plans will soon have to be drawn up to evacuate people from the most threatened areas, the new head of the Environment Agency warns today. In his first interview since taking office, Lord Smith of Finsbury says Britain faces hard choices over which areas of our coast to defend and which to allow the sea to reclaim. He said detailed work was already far advanced on identifying areas of the east and south coasts which were most vulnerable to erosion, and called on ministers to give emergency help to families whose homes will be lost. [More>>independent.co.uk]
---
8.18.08 Rebels in deadly Philippine rampage
August 18 - Renegade forces of a separatist group have attacked several southern coastal townships in the Philippines, officials say. Houses were burned and a local official was among more than a dozen killed in a sharp escalation of fighting amid uncertainty over a fragile peace process. The AFP news agency reported that at least 16 civilians were found dead on Monday, many with their bodies hacked by machetes.
Major Armand Rico, a regional military spokesman, said the towns of Kulambugan and Kauswagan in Lanao del Norte province came under attack early on Monday from renegade forces of the Moro Islamic Liberation Front (MILF). He said the separatists executed the leader of Libertad village in Kauswagan town and added that there were reports that the attackers took a number of civilians hostage. [More>>aljazeera.net]
---
8.17.08 Russia to start troops' pullout from Georgia August 18 - Medvedev
MOSCOW (RIA Novosti) August 17 - Russian President Dmitry Medvedev said on Sunday during a telephone conversation with his French counterpart Nicolas Sarkozy that Russian troops would start their pullout from Georgia on August 18. Georgia launched a major ground and air offensive to seize control of the breakaway republic of South Ossetia on August 8, prompting Russia to send in tanks and thousands of troops. Russia concluded its operation to force Georgia to accept peace on August 12. Medvedev signed on Saturday a French-brokered plan on resolving conflicts in Georgia, aggravated following Tbilisi's assault on its breakaway South Ossetia on August 8. [More>en.rian.ru; See also thenews.com.pk, August 17, "France warns Russia of 'consequences' if Georgia deal not respected."]
---
8.17.08 Blast hits Azerbaijan mosque
August 17 - Two people have been killed and up to eight others wounded in a grenade attack on a mosque in Azerbaijan's capital of Baku. Police said a hand grenade was thrown into the mosque during evening prayers on Sunday. More than 100 worshippers had gathered in the Abu-Bekr mosque for evening prayers when the explosion occurred, an official said. Ehsan Zahidov, an interior ministry spokesman, said seven or eight people were hospitalized after the blast. Azerbaijan's population are mostly Muslim, but the government of the former Soviet republic is secular. [More>>aljazeera.net]

Editorial note: The pipeline that runs through Georgia and Turkey comes from neighboring Azerbaijan.
---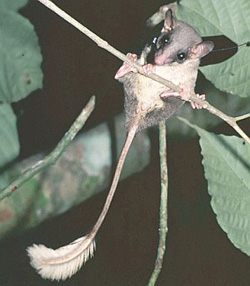 The Malaysian press may be fixated on politics in recent weeks but it was the humble Malaysian tree shrew that grabbed the headlines in major newspapers and websites throughout the world. A research has revealed that the pen-tailed tree shrew (Ptilocercus lowii), commonly referred to as tupai ekor kembang, can drink the equivalent of a case of 3.8% beer every night but does not get drunk. [More & image>>
thestar.com.my
;]
8.17.08 Red Bull: It promises energy, but doesn't mention sticky blood..
August 17 - Australian researchers have found that the sugar-free version of Red Bull may increase the danger of blood clots, and creates "sticky" blood, raising the risk of heart attack or stroke. How this affects the sales of Red Bull — last year 3.5 billion cans were sold in 143 countries — is yet to be seen. [More>>independent.co.uk]

Editorial note: The independent.co.uk article has a bulleted list showing the history of Red Bull but no infornation on the Australian research. See theaustralian.news.com.au, August 16, "Red Bull may boost heart disease risk." for the real story.

Mel Copeland
---
8.17.08 Iraqi police: Bomber kills US-allied Sunni leader
BAGHDAD (AP) August 17 - A suicide bomber dressed in a woman's robe detonated explosives Sunday in a heavily guarded Sunni area of Baghdad, killing the deputy leader of the neighborhood's US-backed security volunteers who had turned against al-Qaeda, Iraqi officials said. Six bodyguards of Farooq al-Obeidi, deputy leader of the "awakening council" in Baghdad's Azamiyah district, also died in the blast.
The explosion occurred as they were seated on chairs near a checkpoint near the Abu Hanifa mosque in the former insurgent stronghold, police and Iraqi army officials said. The assailant, wearing a black abaya robe, walked up to al-Obeidi's party and detonated the explosives, the officials said on condition of anonymity because they were not supposed to talk to media. [More>>indianexpress.com: hosted.ap.org]
---
8.17.08 More than 60 killed in Afghan violence: officials
KANDAHAR (AFP) August 17 - Violence raged across southern Afghanistan with about 60 people killed in a series of bombings and clashes, authorities said Sunday as the country prepared to celebrate independence day. In the capital Kabul, about 7,000 police launched a major security operation on Sunday, conducting stepped-up searches and patrols one day after the Afghan education minister escaped unharmed from a roadside bomb attack.
Authorities have already announced they would hold a more low-key commemoration of Independence Day on Monday, rather than the traditional high-profile event, amid the surge in violence. In the deadliest weekend incident, Afghan security forces killed at least 28 Taleban-linked rebels who attacked a convoy that was delivering supplies to international troops in southern Afghanistan, the defence ministry said. [More>>khaleejtimes.com]
---
8.17.08 Sunni-Shiite clashes kill dozens in Pakistan
PESHAWAR, Pakistan (AFP) August 17 - Al-Qaeda joins the fighting. Almost 200 people have died in nearly two weeks of fierce sectarian clashes between Sunni and Shiite Muslims in a remote Pakistani tribal region, officials said Sunday. The toll rose after 23 people were killed in fresh fighting overnight in the Kurram tribal region bordering Afghanistan, which has historically experienced tensions between the two sides, they said. Local newspapers said that Taliban militants from the neighboring North Waziristan tribal zone had entered Kurram to back the Sunni tribes involved in the fighting, now in its 12th day. Residents said Sunni tribesmen torched three villages belonging to Shiite tribes and both sides used rockets, heavy machine guns and mortars in the fierce clashes. [More>>alarabiya.net; See related story:

theaustraliannews.com.au, August 18, "300,000 flee as jihadis attacked" : ISLAMABAD: A human tide of more than 300,000 civilians has fled the al-Qaeda badlands, amid indications that the fighting there has reached unprecedented levels, with the Pakistani army using massive firepower to attack jihadi militant strongholds. Helicopter gunships, fixed-wing strike aircraft, tanks and heavy artillery have been used in the onslaught that followed the visit last month by Prime Minister Yousuf Raza Gilani to Washington, where he was berated for Pakistan's failure to wipe out the militants. The offensive runs counter to perceptions that Pakistan's new civilian Government is "soft" on Islamic extremism.
This will reassure Washington, whose ally in the war in terror for the past nine years, President Pervez Musharraf, was given by the Coalition Government until midnight last night (4am today AEST) to resign or face impeachment proceedings beginning tonight in the National Assembly. Pakistani television showed thousands of civilians caught in the crossfire streaming out of the Bajaur, Mohmand and Kurrum agencies during the fighting estimated to have killed more than 500 militants. Tens of thousands of people are camping on the perimeter of Peshawar, the capital of the North West Frontier Province, and some have reached Rawalpindi, the garrison city adjoining Islamabad...
---
8.17.08 37 Gold medalists on day 9 of Beijing Olympics
August 16 - American Michael Phelps became the first ever athlete to win eight gold medals at one Olympic Games here on Sunday as his teammates didn't let him down in the men's 4x100-meter medley relay final at the Beijing Olympics...Britta Steffen of Germany won the women's 50m freestyle gold medal at the Beijing Olympic Games here on Sunday...Romanian runner Constantina Tomescu added her country Sunday morning a gold medal at the Beijing Olympics while Chinese Zhou Chunxiu created her country's Olympic best by getting a bronze in women's marathon...Britta Steffen of Germany won the women's 50m freestyle gold medal at the Beijing Olympic Games here on Sunday...Australia broke the world record to win the women's 4x100m medley relay gold medal at the Beijing Olympic Games on Sunday...Unstoppable Spaniard Rafael Nadal beat Chilean 12th seed Fernando Gonzalez in the men's singles final of the Beijing Olympic tennis tournament on Sunday. [Full story>>xianhuanet.com]
---
8.16.08 Russian president signs Georgia peace plan-2
SOCHI (RIA Novosti) August 16 - Russian President Dmitry Medvedev signed on Saturday a French-brokered plan on resolving conflicts in Georgia, aggravated following Tbilisi's assault on its breakaway South Ossetia on August 8. "The Georgian-South Ossetian conflict issue was considered during a meeting of the [Russian] Security Council, and the president informed those attending that he had just signed the plan based on the six principles," a presidential press secretary, Natalya Timakova, said.
The plan contains the main principles to resolve the conflict in South Ossetia, worked out at the August 12 meeting between Russian President Dmitry Medvedev and French President Nicolas Sarkozy. These are renouncing the use of force, halting all military action, providing free access to humanitarian aid, the return of Georgian Armed Forces to their bases, the return of Russia's Armed Forces to their positions prior to combat and the start of international discussions on the future status of South Ossetia and Abkhazia and on ways to ensure their security. [More>>en.rian.ru; See also other details, khaleejtimes.com, August 16, "Russia signs Georgia deal, withdrawal to take time."]
---
8.16.08 Ukraine to open defences to West
August 16 - Ukraine is prepared to open its missile defence network to cooperation with European and other foreign powers, the ex-Soviet republic's foreign ministry has said. The ministry said on Saturday, that the demise of a bilateral Russian-Ukrainian defence agreement earlier this year "allows Ukraine to establish active cooperation with European countries."
The offer came as Poland finalized an agreement to host elements of a US missile defence shield that Moscow describes as a threat to its national security. Ukraine's foreign ministry said Kiev could invite European partners to integrate their early warning systems against missile attacks. [More>>aljazeera.net]
---
8.16.08 Bombing on houses kills 3, injures 20 in Swat
SWAT, August 16 - An operation of the Pakistan Army is underway in Swat to flush out militants from the valley on Saturday. Three people died and 20 injured when mortar shells landed on houses. [A] Curfew has been imposed in Tehsil Kabal in a bid to carry out search operation against militants In today's operation the army pounded the hideouts of the militants in Dulai, Hazara, Dirai and Kozaah areas of the Tehsil. Gunship helicopters and tanks were used in the operation. [>thenews.com.pk; See also:

thenews.com.pk, August 16, for other battles, "Armed men set 3 villages on fire in Kurram Agency":...Sources said that the skirmishes in different areas of the Kurram Agency continued unabated, in which, heavy and automatic weapons were used. Fresh fighting left 27 people dead including 11 extremists, while 32 others were injured, who were shifted to Alizai, Sadda, Shishu and Parachinar. The fighting is spreading in more and more areas, source said...
---
8.16.08 Bombers strike Iraq pilgrims for 3rd straight day
BAGHDAD (AP) August 16 - Bombers struck Shiite pilgrims Saturday for a third consecutive day, killing six people in the latest in a series of attacks apparently aimed at stoking sectarian tension. The attacks have targeted pilgrims headed for the Shiite city of Karbala, where hundreds of thousands of people have gathered for festivities that culminate Sunday morning. No group has claimed responsibility, but assaults on Shiite civilians have been carried out for years by Sunni extremists such as al-Qaeda in Iraq. The latest attack occurred about 9am Saturday when a car bomb exploded in the north Baghdad neighborhood of Shaab as pilgrims were boarding minibuses bound for Karbala, 50 miles to the south.
On Friday, a passenger van packed with explosives blew up at a bus station in Balad, north of Baghdad. The Balad hospital director, Qassim Hatam al-Qaisi, said nine people were killed and 40 were wounded. A woman suicide bomber killed 18 pilgrims Thursday when she detonated explosives resting by the side of a road in Latifiyah, 20 miles south of the capital. [More>>indianexpress.com: hosted.ap.org]
---
8.16.08 Nigerian navy 'repels delta attack'
August 16 - The Nigerian navy has killed at least 12 armed men in fighting near a natural gas plant in the oil-rich Niger delta, according to the military and security sources. Lieutenant Colonel Sagir Musa, spokesman for the military task force in southern Rivers state, said the armed men ambushed two navy gunboats while on patrol on Friday.
"This evening our men of the [Joint Task Force] came under attack around Alakiri on the Port Harcourt-Bonny sea route," Musa said. "We responded and exchanged fire and we killed several of the militants." Another military official said that the unidentified assailants made their attack in a number of speedboats...Nigeria's oil facilities frequently come under attack from armed groups. About one fifth of the country's oil production has been shut down in the last two years. Until recently Nigeria was Africa's leading oil exporter but the security situation has now pushed it into second place behind Angola. [Full story>>aljazeera.net]
---
8.16.08 India arrests ten suspects faulted with series of bombings
NEW DELHI, August 16 - Indian police officials said Saturday that they have arrested 10 suspects in the series of bomb blasts that killed 56 people in the city of Ahmedabad last month. Senior police officials in the western state of Gujarat, where Ahmedabad is located, said the accused are associated with a banned group, Students Islamic Movement of India. "Arrests have been made under the charges of waging war against the state and also for murder, both unbailable offenses," said P.C. Pande, director general of police in Gujarat.

Pande said the Indian Mujahideen, a little-known group that earlier asserted responsibility for the attacks, was another name for the banned student group. Two of the people who were arrested, Mufti Abu Bashir and an unnamed employee of a software company, had "masterminded" the plans to carry out the blasts, Pande said. [More>>washingtonpost.com; See more details, indianexpress.com, August 16, "Ahmedabad blasts: Mastermind Bashir arrested, say police."]
---
8.16.08 Sterling's decline against dollar hits run not suffered since 1975
LONDON, August 16 - Sterling fell against the dollar for the eleventh day in a row yesterday, its longest consecutive decline since 1975, as concerns mounted over Britain's faltering economy. The pound hit a more than two-year low of $1.8514 — a level not seen since July 2006 — further extending a seismic shift in currency markets in recent days as interest rate expectations for big economies change.
This latest fall came only days after the Bank of England struck a doveish note in its quarterly Inflation Report, leading analysts to believe that the door may be open for rate cuts once spiralling inflation starts to fall. Investors are fleeing to the dollar after reassessing the merits of the US economy against those of the UK and the eurozone. They are betting increasingly that the US Federal Reserve's next move will be to raise interest rates, while gloomy data from the UK and the eurozone this week suggested that rate cuts could be on the cards. Analysts say that sterling's fall is not over yet. [More>>timesonline.co.uk]
---
8.16.08 S. Korea: LPG conversions gain momentum
SEOUL, Sout Korea,August 16 - More companies are preparing to jump into the automobile engine conversion business, as high prices of diesel prompt drivers to change the engine of their diesel-powered cars to run on cheaper liquefied petroleum gas. According to industry data, over 100,000 diesel-driven automobiles were converted to run on liquefied petroleum gas in July and the number is projected to rise further in the coming months. At present, four companies — all of them small companies — are providing the diesel-to-LPG engine conversion services, with the approval of the Ministry of Environment.

...Diesel vehicles are converted to LPG cars by replacing the diesel engine's fuel injector with spark igniters and reducing its piston compression ratio to levels suitable for LPG combustion. The government provides partial subsidies — about 4 million won — for the diesel-LPG conversions as part of a campaign to reduce air pollution in Seoul and surrounding regions. Although diesel vehicles are more fuel efficient than gasoline or LPG vehicles, their exhaust contains more pollutants. [Full story>>koreaherald.co.kr]

---
Editorial note: According to articles on the internet, LPG-gasoline conversions, with vehicles having both LPG and gasoline tanks, can flip a switch on the dashboard when the LPG is running low to allow the vehicle to continue on gasoline. The downside of the conversion is that LPG gets substantially less milage than gasoline (some estimates show 1/3 less). The upside, besides environmental benefits, is that the US has an abundance of LPG. Hyundai may have come up with the best solution for new hybrids, to get countries off the dangerous petroleum diet. According to its advertising:

"Hyundai adds its first LPG–electric hybrid vehicle in July 2009. To be sold initially in the Korean domestic market under the Avante badge, the Elantra LPI Hybrid Electric Vehicle (HEV) is the world´s first hybrid vehicle to be powered by liquid petroleum gas (LPG) and the first to adopt advanced Lithium Polymer (Li–Poly) batteries. Powered by a Liquefied Petroleum Injected (LPI) Gamma engine displacing 1.6 litres, a 15kW electric motor and a continuously variable transmission, the Elantra LPI HEV is a mild–type hybrid capable of delivering a competitive fuel economy rating." [See digiads.com.au; article found through motorpulse.com]

Imagine a world where it is illegal to burn oil and gasoline...

Mel Copeland
---
8.16.08 Update, 8.15.08 UAE protests to Iran over facilities on disputed island
ABU DHABI, August 15 - United Arab Emirates demands that Iran dismantles two facilities on Abu Musa island. The United Arab Emirates said on Thursday it has protested to Iran about the setting up of two
facilities on one of three disputed Gulf islands and demanded they be dismantled. Iran's charge d'affaires in Abu Dhabi was "summoned to the foreign ministry today and handed ... a protest note over the Iranian measure" on Abu Musa island, a foreign ministry official was quoted by the state WAM news agency as saying.
WAM said the move followed a report broadcast on Iran's state television saying Tehran had established a maritime rescue office and a ship registration office on Abu Musa...Iran took possession of Greater and Lesser Tunbs, while Abu Musa — the only inhabited island — was placed under joint administration under a deal with Sharjah, now part of the UAE. But since then, the UAE says, the Iranians have taken control of all access to the island, installed an airport and military base there, as well as encouraged settlers to move in to change its demographic make-up. [Full story>>middle-east-online.com; 8.16.08 Update: See alarabiya.net, August 16, "GCC chides Iran over facilities on Gulf island.": Oil-rich Arab monarchies in the Gulf chided Iran on Saturday for setting up facilities on an island claimed by the United Arab Emirates, two days after Abu Dhabi protested to Tehran over the move. Gulf Cooperation Council secretary general Abdurrahman al-Attiyah "strongly denounced Iran's opening of two administrative offices on Abu Musa island, which belongs to the UAE and is occupied by Iran," a GCC statement said. The Riyadh-based GCC includes Bahrain, Kuwait, Oman, Qatar and Saudi Arabia and the UAE...

---
Editorial note: The disputed islands are just off the coast, near the peninsula of the UAE that juts into the Strait of Hormuz. This is the narrowest part of the strait through which ships carry about half the world's supply of oil. Iran has threatened to close the strait, sink the tankers, etc., in the event it is attacked. The US and France are reported to have sent more "battle groups," including aircraft carriers, into the area, to guard the oil lane. See Maravot News 8.13.08, story, 8.11.08 "Special Report: Kuwait readying for war in Gulf?"

Mel Copeland
---
8.15.08 US: Quds, Hezbollah training hit squads in Iran
WASHINGTON (AP) August 15 - Iraqi Shiite assassination teams are being trained in at least four locations in Iran by Tehran's elite Quds force and Lebanese Hezbollah and are planning to return to Iraq in the next few months to kill specific Iraqi officials as well as US and Iraqi troops, according to intelligence gleaned from captured militia fighters and other sources in Iraq. A senior US military intelligence officer in Baghdad described the information Thursday in an interview with The Associated Press. He spoke on condition of anonymity to discuss sensitive intelligence.
The officer on Wednesday provided Iraq's national security adviser with several lists of the assassination teams' expected targets. He said the targets include many judges but would not otherwise identify them. Iraq's intelligence service is preparing operations to determine where and when the special group fighters will enter the country and is to provide an assessment to Prime Minister Nouri al-Maliki. The US official acknowledged disclosing the information in an attempt to pressure Iran to suspend the training and prevent the militia fighters from returning to Iraq. The US military also wants the Iraqi government to take steps to protect the targets. "Wanted" posters picturing men believed to be heading the special groups are being posted around Baghdad, the military officer said. [More>>indianexpress.com: hosted.ap.org]
---
8.15.08 Russian general says Poland open to nuclear strike
August 15 - A senior Russian general warned Poland today that it was leaving itself open to retaliation - and possibly even a nuclear strike — by agreeing to host a US missile base. General Anatoly Nogovitsyn, the Russian armed forces' deputy chief of staff, issued the extraordinary threat in an interview with Interfax, a Russian news agency. "Poland, by deploying [the system] is exposing itself to a strike — 100 per cent," he was quoted as saying, before explaining that Russian military doctrine sanctioned the use of nuclear weapons "against the allies of countries having nuclear weapons if they in some way help them." The bleak warning comes as tensions between Moscow and the West reached their worst state since the end of the Cold War. [More>>timesonline.co.uk]
---
8.15.08 Russia rejoins the game of nations
August 15 - (Middle East Times editorial) The short, sharp lesson that Russian tanks handed to the Georgians this week will have serious consequences in the Middle East. First, it means that the Russians are back as pivotal players in the region, with the political will and the military capability to play once more in the game of nations south of the Caucasus mountain chain. That in turn means that Azerbaijan and Armenia, as well as Georgia, are at immediate risk of becoming client states...And the former Soviet republics of Central Asia would be advised to take the fate of Georgia as a warning to those who think the Kremlin can be defied with impunity.

Second, it means that Russia is once more within striking distance of controlling all the export routes for the oil and gas of the Caspian basin. That was the monopoly (that at times felt more like a stranglehold) that the Georgia-Turkey pipeline, carrying Azerbaijani oil from Baku to Ceyhan in Turkey, was intended to break. The ability of the Georgians to protect and secure that pipeline is now clearly in question, and proposals to extend and increase the capacity of the pipeline will now have to be reconsidered.

This in turn increases Russia's importance, already huge, in the world's energy markets, and thus in the eyes of the Organization of Petroleum Exporting Countries (OPEC). Russia has already floated the idea of an OPEC-type organization for natural gas exporters, and consumer countries will now be watching nervously for any sign of agreement between Russia and OPEC to limit supplies in order to keep prices high. [Full story>>metimes.com]
---
8.15.08 War casts cloud over pipeline route
August 14 - Any plans to use Georgia as a bridge for more energy supplies to Europe are likely set to gather dust now that the tiny country's fierce armed conflict with Russia has exposed the insecurity of the route, analysts said. Georgia has been a key conduit of oil and gas from Central Asia to the West that bypasses Russia, and Europe has been hoping to build another pipeline to bring more gas from the area. That pipeline project, called Nabucco, has long been on the drawing board, but potential investors had trouble contracting enough gas for it from Azerbaijan or Turkmenistan.

Shipping the gas from Turkmenistan would require building a separate pipeline across the Caspian Sea bed, which has yet to be divided by the sea's five littoral states, Russia, Azerbaijan, Kazakhstan, Turkmenistan and Iran. Now, Georgia's vulnerability may have dealt a lethal blow to Nabucco and plans for a trans-Caspian pipeline.

"A trans-Caspian gas pipeline can be considered a forever buried chimera," said Pavel Baev, an energy expert at the International Peace Research Institute in Oslo. "It became clear for all the participants of these energy games that nothing will go through the Caspian Sea." Europe was "shocked" by the instability and realized that "hardly anyone would invest money in new projects" associated with Georgia, said Konstantin Simonov, director of the Fund for National Energy Security. [More>>themoscowtimes.com]
---
8.15.08 Bush, decrying 'bullying,' calls for Russia to leave Georgia
TIBLISI, Georgia, August 15 - Secretary of State Condoleezza Rice arrived here Friday to show support for Georgia and to step up pressure on Russia to withdraw its forces from the country, as President Bush condemned what he described as Russia's "bullying and intimidation." But on a day when tensions between the major powers sharpened, Russia continued to occupy swaths of Georgia and moved an armored column within about 15 miles of the capital here, and senior Russian officials lashed out at Washington over the agreement it secured on Thursday night for an anti-missile defense system on Polish soil. They said Poland was at risk of making itself a target of the Russian military.
Ms. Rice held a lengthy afternoon meeting with the Georgian president, Mikheil Saakashvili, and gave him assurances of American support that appeared to persuade him to sign a framework for a cease-fire that was negotiated on Wednesday by the French president, Nicholas Sarkozy. [More>>nytimes.com]
---
8.15.08 Iraq heightens pilgrimage security as bombers strike
KERBALA, Iraq (Reuters) August 15 - A roadside bomb struck a minibus packed with pilgrims bound for the holy Shi'ite city of Kerbala on Friday even as Iraqi authorities deployed over 40,000 police and soldiers to avert new violence in the annual rite. Police said one pilgrim was killed and nine were wounded in eastern Baghdad in the attack, which came as thousands make their way, some walking for days, to Kerbala to mark the birth of Imam al-Mehdi, a revered figure in Shi'ite Islam. Near the town of Iskandariya, bloody mattresses and a heap of shoes lay by the roadside where 19 people were killed and 75 wounded overnight by a female suicide bomber, who detonated an explosive vest among pilgrims stopped for their evening meal. Pilgrims had piled nearby the black abayas belonging to women who were slain.
Iraqi security forces, backed by helicopters and hundreds of snipers perched on rooftops, say they will search pilgrims and use bomb-sniffing dogs to ferret out explosives as part of an effort to avoid the bloodshed that continues to mar such religious events even as overall violence in Iraq drops sharply. "We have set up scores of watch towers, and have cameras placed in open areas, crossroads and major entrances," said Kerbala police chief Major-General Raad Shakir.
The pilgrimage is one of several annual events that have become shows of force for Iraq's Shi'ite majority since the fall of Sunni Arab leader Saddam Hussein, who restricted Shi'ite religious practice. Sunni Arab militants often strike them. Suicide attacks in Baghdad and Kerbala during a 2004 pilgrimage killed 171 people. In the war's deadliest incident, more than 1,000 pilgrims were killed in 2005 during a stampede on a bridge triggered by a rumor of a bomber in their midst. [More>>khaleejtimes.com]
---
8.15.08 Musharraf in secret resignation talks
August 15 - The people of Pakistan - for so long bystanders to the political turmoil that routinely sweeps their country - are preparing for more dramatic change as the nation's controversial head of state appears poised to leave office. Eight-and-a-half years after he seized power in a military coup, Pervez Musharraf is involved in secret negotiations that will allow him to stand down and avoid a humiliating battle to fight off impeachment. Senior government sources involved in the talks believe Mr. Musharraf is ready to resign and avoid an unseemly struggle providing he can secure immunity against prosecution and a favorable "safe exit" deal.

At the same time, wishing to keep his options option in case a deal is not forthcoming, the president has ordered his lawyers to prepare a strident defence against the charges that he is guilty of "subverting the constitution" and economic mismanagement. The president's senior lawyer, Abdul Hafeez Pirzada said: "We are preparing his defence. They don't know what they are getting into. They have pushed him into a corner. Maybe before, he might have thought about stepping down but not now."

The uncertainty that currently hangs over Pakistan is the last thing the country needs or that its ordinary citizens can afford. As the politicians manoeuvre and position themselves in Islamabad in an endless series of self-serving parlour-games, the masses face an inflation rate of 25 percent, their currency at a record low against the dollar, failing electricity and - in the north-west of the country at least - the everyday threat of militant violence. Ordinary people say they have no idea whether Mr. Musharraf will stay or go but it seems they are faced with so many economic challenges, the issue appears not to be a priority. [More>>independent.co.uk; Note related story:

thenews.com.pk, August 15, "Saudi intelligence chief holds key talks in Pakistan." : ISLAMABAD: Saudi intelligence chief, Prince Muqrin bin Abdul aziz Al Saud has held key meetings in Pakistan. According to sources, Prince Muqrin conveyed an important message of King Abdullah to President Pervez Musharraf. Apart from having an important meeting with President Musharraf, the Saudi intelligence chief also met PML-Q President Chaudhry Shujaat Hussain, PML-N Chief Mian Nawaz Sharif and other important personalities. According to sources, in his meetings with these leaders, [the] matter of giving safe passage to President Musharraf also came under consideration. [end]
---
8.15.08 Britain: Airport arrests in terror probe
LONDON, August 15 - Three men have been arrested on suspicion of terror charges, two at Manchester Airport, Lancashire police said. The third man was arrested in the Accrington area and police were last night searching the men's homes in Blackburn. All three men are reported to be in their 20s. Locals said the searches had been carried out in the Whalley Road area of the town...
It's not the first time Blackburn has been linked to alleged terror plots. Junade Feroze, 31, of Malham Gardens, Blackburn, was imprisoned for 22 years in 2007 for helping alQaeda operative Dhiren Barot pave the way for bomb plots in the UK and America. And Sajid Badat, 24, who conspired with shoe bomber Richard Reid, had studied at the College of Islamic Knowledge and Guidance in Blackburn. [Full story>>independent.co.uk]
---
8.15.08 US denies sending letter over Hezbollah TV
JAKARTA, August 15 - The United States government has denied sending a letter requesting the government to force the country's satellite service provider PT Indosat from broadcasting Hezbollah's TV station Al-Manar as reported by a local newspaper. "No such letter was sent. The US Embassy has, however, shared its concerns regarding Al-Manar's continued broadcasts in Indonesia," US Embassy assistant press attaché Stafford Ward told The Jakarta Post on Friday.

Kontan daily newspaper reported on Wednesday that the US had sent letters to the ministry's office and the Indonesian Broadcasting Commission urging the government to terminate the broadcast of the Lebanon-based Shi'a Islamic political and paramilitary organization. The US government, Ward said, would continue to express its concerns over Hezbollah and Al-Manar television worldwide. [More>>thejakartapost.com]
---
8.15.08 US missile shield in Europe targets Russia - Medvedev
SOCHI, August 15 - Russian President Dmitry Medvedev said on Friday he has no doubt that a planned US missile defense shield for Central Europe is aimed against Russia, but Moscow is ready to continue talks with all parties concerned. "The deployment of new missile-defense elements in Europe has the Russian Federation as its aim," Medvedev said at a press conference with German Chancellor Angela Merkel in the Black Sea resort town of Sochi.
The United States and Poland signed an agreement on Thursday to deploy 10 US interceptor missiles in the former Communist-bloc country. The news comes amid a military crisis in Georgia that has provoked strong criticism of Russia by the United States and other Western countries. Commenting on the move, Medvedev said: "We will continue working on this issue. We are ready to continue discussing these issues with all the parties." Moscow's NATO ambassador said earlier on Friday that by signing a missile defense agreement with the United States, Poland has effectively confirmed that the missile shield is aimed against Russia. [More>>en.rian.ru]

---
Editorial note: Russia has stepped up military operations on all fronts since the Bush administration pulled out of the ABM treaty in 2002. In addition, as part of its apparent strategy Russia has laid claim to the oil reserves from the Russian mainland to the North Pole, even having planted a Russian flag on the ocean bottom at the North Pole. Its posturing seems to point to the control of oil petroleum assets to the world. For instance, Russia initially placed pipelines running through Ukraine to serve Europe. Over the years Russia and Ukraine have had disputes on the transit fees and cost of fuel to Ukraine, to the extent that during the winter Russia has stopped the flow of fuel through Ukraine.

Since installation of the Ukraine pipeline Russia has developed other pipelines serving Europe, with one pipeline flowing through the North Sea, serving northern European countries (See current status, kommersant.com, August 15, article "Poland bent North the gas pipeline of Russia."). Another pipeline in work is that which will cross Siberia to serve China and the Far East (See article, energytribune.com, April s6, 2008, "unprofitable East-Siberian pipeline."). The pipeline flowing through Georgia and Turkey from Azerbaijan and the Caspian, the "Baku-Tbilisi-Ceyhan (BTC) oil pipeline," runs through South Ossetia. If controlled by Russia, the pipeline could produce a Russian stranglehold on Europe. This is the same pipeline that was recently attacked by the Kurds, and thus the pipeline is vulnerable from many points of view. The Georgia story appears to be central to Russia's strategy and dominance. See Maravot News article and editorial note, below, 8.14.08 "Gates: Russia must step back from 'aggressive posture.' "

Mel Copeland
---
8.15.08 Excavations show a lush life in the Sahara
August 15 - The archaeological site at Gobero in the Eastern Sahara is not going to rewrite the history of Stone Age man, or even the history of settlement in North Africa, where desert and lake have played tag with each other for eons. But it does illustrate how much amazing stuff is still out there in plain view on our planet's surface, waiting for the patient and the lucky to find it. An international team of archaeologists yesterday unveiled findings from graveyards and settlements occupied at different times over a 5,000-year period by two groups of people. "Part of discovery is finding things that you least expect," Paul C. Sereno, a paleontologist at the University of Chicago, said at a news conference at the National Geographic Society. "When you come across something like this, it sends a tingle up your spine."
The site, which contains at least 200 burials, was found by chance in 2000 while Sereno was looking for dinosaur bones. The encounter, in an unusually remote section of central Niger, lasted less than an hour. It would be three years before Sereno could survey the discovery, let alone dig into it. Three expeditions later, his team of American, African, French and Italian researchers has uncovered one of the larger Neolithic sites in Africa and one with an unusually rich collection of artifacts and animal, plant and human remains. They are starting to sketch a picture of Gobero's ancient environment and inhabitants. [More>>washingtonpost.com]

---
Editorial note: Radar mapping over the Sahara showed canyons formed by rivers beneath the dunes. (See, for instance, an article from time.com, December 8, 1982, "The Saraha's buried rivers." ) Coupled with these images are paleolithic drawings on rocks in desert areas that depict animals that inhabited moist areas. See, for instance, hp.uab.edu, Archaic art of northern Africa."

Mel Copeland
---
8.14.08 Russian armor massed near Zugdidi - Reuters witness
ZUGDIDI, Georgia (Reuters) August 14 - More than 100 Russian armored vehicles were massed two km (1.5 miles) from the centre of Zugdidi, a major town in western Georgia, a Reuters witness said. "I counted 104 Russian army vehicles, including 40 armored vehicles, most of which are tanks," Reuters staff photographer Umit Bektas said by telephone from the city. Bektas said their purpose was unclear. He said the convoy included weapons such as rocket propelled grenades and was carrying Russian flags.[>thestar.com.my]
---
8.14.08 Leaders of Abkhazia, S. Ossetia sign Georgia peace plan
MOSCOW (RIA Novosti) August 14 - The leaders of South Ossetia and Abkhazia signed on Thursday a peace plan to resolve their conflict with Georgia at a meeting in Moscow with Russian President Dmitry Medvedev. The peace plan was drawn up Tuesday during a meeting between Medvedev and his French counterpart Nicolas Sarkozy. Georgia has also accepted the plan. It bans the use of force and any military action, and envisages free access to humanitarian aid. Under the agreement, Georgian Armed Forces should return to their bases, and Russian Armed Forces should pull back to their positions prior to combat.
Medvedev also told his South Ossetian and Abkhazian counterparts, Eduard Kokoity and Sergei Bagapsh, respectively, that it would be necessary to draft a legally-binding comprehensive ceasefire deal that should include guarantees from Russia, the EU and the OSCE. Medvedev assured the two separatist leaders that Russia's stance on the two Georgian breakaway republics remained unchanged and that Moscow would support any decision made by the people of the rebel regions. [More>>en.rian.ru]
---
8.14.08 Russian FM: Forget about Georgian territorial integrity
GORI, Georgia (AP) August 14 - Russia's foreign minister said the question of Georgia's territorial integrity is a dead issue, a clear sign that Moscow is giving full backing to two separate regions in the wake of recent fighting and could absorb them.
Foreign Minister Sergey Lavrov made the statement Thursday simultaneously with the announcement that Russian President Dmitry Medvedev was meeting in the Kremlin with the separatist regions' leaders. "One can forget about any talk about Georgia's territorial integrity because, I believe, it is impossible to persuade South Ossetia and Abkhazia to agree with the logic that they can be forced back into the Georgian state," Lavrov told reporters. [More>>jpost.com]
---
8.14.08 Gates: Russia must step back from 'aggressive posture'
WASHINGTON, August 14 - Defense Secretary Robert Gates said Thursday that if Russia doesn't step back from its "aggressive posture" it will adversely affect U.S.-Russian relations for years. However, Gates said he did not "see any prospect for the use of military force" by the United States in the Georgian conflict. The US military has sent humanitarian relief to Georgia for residents displaced by the fighting. In addition to a flight that landed Wednesday evening, another C-17 flight of relief supplies arrived in Georgia on Thursday. No additional flights are immediately scheduled until a U.S. military assessment team reports on what is needed...US officials also said that Russia has moved about 5,000 additional troops into Georgia since the fighting began, bringing its total force in the country to around 15,000 troops. [Full story>>cnn.com]

---
Editorial note: Much of this renewed "Cold War" began when George W. Bush announced that the US would withdraw from the ABM treaty (withdrew in 2002) (See bbc.co.uk story, December 12, 2001, "US to withdraw from ABM treaty") and then Bush's attempts to install an anti-missile defense system in Czechoslovakia and Poland to counter Iran's missiles and missiles from "rogue" states. Georgia was one of the earlier sites for the anti-missile defense system, as I recall, and I believe the story is somewhere in the Maravot News record. Maravot News 11.19.04 records several stories precedent to the US missile shield discussions, such as

11.18.04 "Secretary of State Powell believes Iran seeks nuclear missiles,"
11.18.04 Russia stepping up its military
11.17.04 Russia tightening its air borders
11.17.04 Russia to acquire cutting edge nuclear weapon systems

Subsequent developments are recorded in Maravot News 5.27.06:

5.24.06 Ballistic missiles in E. Europe threaten Russia – chief of staff

The deployment of ballistic missiles in eastern Europe poses a threat to Russia, the chief of the country's General Staff said Wednesday. General Yury Baluyevsky said U.S. plans to deploy ballistic missiles in eastern Europe, possibly in Poland and Romania, as part of its missile shield presented a certain danger to Russia. "The very fact of the deployment of the first-line missile defenses in this region is unequivocally intended to neutralize Russia's strategic potential," he said. Baluyevsky said Russia did not need a new round of the arms race, adding that President Vladimir Putin had also addressed this issue in his May 10 state of the nation address.

"In the next five years, we must significantly increase the procurement of modern aircraft, submarines and strategic missiles for the Armed Forces," Putin said. He said current research was focused on the development of unique high-precision weapons and warheads "whose trajectory could not be predicted by a potential enemy." The new weaponry will allow the country to maintain the strategic balance of forces in the world, Putin said. [rian.ru]

independent.co.uk, May 24, "Moscow angered by US plan for 'star wars' bases in Europe to counter threat of Iran."]
The Czech missile shield became a turning point in the Cold War rhetoric. Maravot News 7.18.08 records:
7.09.08 "US, Czechs sign missile deal, upsetting Moscow" and associated article:
"Russia must punish states hosting US missile shield.- analyst."

Maravot News 7.08.08 recorded a story from Russia reporting the beginning of the Georgia conflict. Georgia appears to have initiated the conflict and it appears that the US position is on the side of the aggressor in this case. Russia claimes that the situation involving the breakaway regions is the same as that involving Bosnia's breakaway from Serbia.

7.07.08 "Georgia's rebel region urges international groups to prevent terrorism" The foreign ministry of Georgia's breakaway province of Abkhazia urged the international community to help in the fight against terrorism in the region on Monday following the death of four people in a blast. Abkhazia is claiming that Georgia is responsible for a series of explosions that have rocked the self-proclaimed region since June 30..
Earlier still Maravot News 6.24.08 recorded a report from Moscow:

6.18.08 US 'plans to neutralize Russian nuclear weapons by 2012-2015' : The US-proposed European missile shield will eventually spread along Russia's borders and may neutralize Russia's nuclear potential by 2012-2015, a Russian political analyst said on Wednesday. Commenting on reports that the United States and Lithuania were formally discussing deploying elements of the US missile shield in the ex-Soviet Baltic state should Warsaw reject Washington's plans to station 10 interceptor missiles in Poland, Leonid Ivashov, the head of the Moscow-based Academy of Geopolitical Sciences, said: "We should expect that elements of a US missile shield will be placed not only in Lithuania, but also in all territories bordering Russia and controlled by NATO."...He said Ukraine's and Georgia's possible accession to NATO would have dire consequences for Russia's defense capability...
Also part of the discussion is Russia's sale of a state-of-the-art S-300 "anti-missile" system to Iran, presently being protested by Israel. See Maravot News 8.09.08 - ' 'We'll neutralize S-300 if sold to Iran'." (Jerusalem Post article 8.09.08: jpost.com). In the balance are plans to run an oil pipeline to Israel, from Turkey or Iraq.

Mel Copeland
---
8.14.08 Polish FM: New US missile offer closer to Poland's demands
WARSAW, August 13 - Poland has already received a new offer from the United States during their latest round of missile talks, Polish Foreign Minister Radoslaw Sikorski said Wednesday. The new offer brought to Warsaw by US Assistant State Secretary John Rood is much closer to what Poland has demanded in return for hosting part of a planned US missile shield, Polish news agency PAP quoted Sikorski as saying. The two sides will begin the second phase of missile talks Thursday morning, said the foreign minister, who is also Poland's top negotiator on the issue. A deal is quite possible, he added.

The United States plans to install a base for 10 interceptor missiles in northern Poland to protect itself and Europe in the event of attacks from what it calls "rogue" states. Warsaw has been lobbying Washington to provide a THAAD or Patriot-type air defense system in exchange for a Polish green light to hosting the silos. Russia opposes the anti-missile shield plan as a threat to its national security. Moscow has warned it will target its missiles at the system if it is deployed in Poland.[>xinhuanet.com]
---
8.14.08 Four killed, six hurt in Iraq suicide blast
BAGHDAD, August 14 - At least four people have died in a suicide car bomb attack targeting a police convoy in central Baghdad. At least 10 more people, including two policemen, were also hurt when the bomber rammed his car into the convoy. The attack took place in front of the concrete blast walls surrounding the former ministry of education. The latest outbreak of violence, which has led to more than 400 deaths, began after Iraq's new government was announced on 18 April. [>thenews.com.pk; See related story,

indianexpress.com: hosted.ap.org, August 14, "Bombs target Shiite pilgrims, police in Baghdad" : BAGHDAD (AP) -Two roadside bombs went off Thursday in separate Baghdad locations, killing one policeman and wounding 17 people, including 14 Shiite pilgrims headed on foot to the holy city of Karbala for a major religious festival, police said. The first bomb, in the southeastern district of Zafaraniyah, killed the policeman and wounded nine others - six pilgrims and three policemen, a police official said. The second, in the central Alwiya district, wounded eight pilgrims, all males in their late teens and early 20s, another police official said...
---
8.14.08 Indonesia rejects US pressure over Hezbollah TV
JAKARTA, Indonesia (AFP) August 14 - Indonesia has rejected US pressure to stop a Lebanese Hezbollah militia television channel airing its programmes in the country, a minister said Thursday. Information and Communications Minister Muhammad Nuh said Indonesia saw no reason to block broadcasts by the Islamic militant group which is on a US State Department list of terrorist organizations. "We can't stop anyone here as long as they aren't violating our regulations," he said.

...Indonesia is the world's largest Muslim nation. Most of its 230 million people follow a moderate form of Islam but it is also troubled by Islamist extremists inspired by al-Qaeda. A spokesman for the US embassy said the United States opposed Hezbollah and "all its constituent arms" wherever they appeared around the world. "Al Manar, its parent and affiliates form a recognized arm of Hezbollah, a designated terrorist organization under multiple counterterrorism authorities," he said. [Full story>>khaleejtimes.com]
---
8.14.08 Europe teeters on the brink of recession
August 14 - Europe today edged closer to recession for the first time since the single currency was introduced in 1999, after the economy shrank by 0.2 per cent during the second quarter. Output in the 15-nation eurozone during the three months to June fell from a 0.7 per cent increase in the first quarter. Overall, annual growth in Europe slowed from 2.1 per cent to 1.5 percent. It also emerged that European inflation remained at a record high of 4 per cent in July.
Last month's inflation figure was revised down from an initial estimate of 4.1 percent, but remains at double the European Central Bank's target of close to 2 percent. Eurozone GDP was dragged down by the three biggest economies, Germany, France and Italy, which all contracted in the second quarter. If GDP shrinks again between July and September, it will mean that Europe is in a recession. The technical definition of a full-blown slowdown is two consecutive quarters of contraction. [More>>timesonline.co.uk; See related stories,

independent.co.uk, August 14, "Bank of England: Britian is heading for recession." and
nytimes.com, August 14, "[US] Inflation hits annual pace not seen since 1991."

A similar crisis is going on in Asia. See Maravot News 7.23.08 story "Inflation may hit 6% in Korea: experts"

Mel Copeland
---
8.14.08 Court: Saudi Arabia not liable in Sept. 11 attacks
NEW YORK (AP) August 14 - A federal appeals court has ruled that Saudi Arabia and four of its princes cannot be held liable in the Sept. 11 attacks. The appeals court issued the ruling Thursday, saying the Saudi defendants are protected by sovereign immunity. It also agreed with a lower court that a Saudi banker and a charitable organization cannot be held liable. The Saudi defendants were among hundreds of other defendants sued by victims of the attacks, including the families of those who died. Other defendants in the case include foreign governments, charities and individuals alleged to have provided financial and logistical support to al-Qaeda. [>washingtonpost.com]

Editorial question - I was under the impression that in terms of the International Court's actions, no leader can hide behind its country or its laws to escape "war crimes" charges. Doesn't the issue of "sovereign immunity" conflict with the International Court's judgments?

Mel Copeland
---
*Visitor statistics on maravot.com from 1&1. com. 46,153 page views in May 2007; monthly visitors in 2008 range between 40,000-45,0000..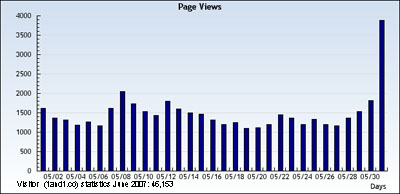 Privacy Policy: We do not store any personal data from you. We have no way of knowing any vital information about you – not even your name. Third-party distribution: We do not distribute information about your site usage to any third party. We are not responsible for the content of links from our site. Usage data: supplied by our Web Hosting service, 1and1.com, which consists of usage reports, such as page views / impressions and web pages visited, visitors' servers and geographical data (ISP's and country of origin).

---
Launched: 10.25.04 / 11.02.04 – | — |
Updated: 8.14.08; 8.15.08; 8.16.08; 8.17.08; 8.18.08
Copyright © 1981-2008 Maravot. All rights reserved
Copyright © 1981-2008 Mel Copeland. All rights reserved
Background: tile from Cicero's villa (Marcus Tullius Cicero 106 B.C. - 43 B.C.)