8.04.05 Astronauts see deeper environmental destruction on earth
HOUSTON, August 4 – Commander Eileen Collins said astronauts on shuttle Discovery had seen widespread environmental destruction on Earth and warned on Thursday that greater care was needed to protect natural resources. Her comments came as NASA pondered whether to send astronauts out on an extra spacewalk to repair additional heat-protection damage on the first shuttle mission since the 2003 Columbia disaster.. "Sometimes you can see how there is erosion, and you can see how there is deforestation. It's very widespread in some parts of the world," Collins said in a conversation from space with Japanese officials in Tokyo, including Prime Minister Junichiro Koizumi. [Full story>>jang.com.pk]
---
8.04.05 July 7 bombs used hair dye, say NYPD
August 4 – The July 7 attackers used hair bleach and citric acid to prepare the explosives that killed 52 innocent people in London four weeks ago and set off their bombs with mobile phones, according to the New York Police Department. Precise details about the composition of the bombs and their method of detonation were made public yesterday at a conference in New York for business leaders and transport police at Police Plaza in Lower Manhattan.

Ray Kelly, the New York Police Commissioner, told a mixed audience of police and private security officials from New York's banks, hotels and storage facilities that the explosives used on July 7 were not military grade, as was originally thought, but were made of products that can be bought on any high street. "Initially it was thought that perhaps the materials were high-end military explosives that were smuggled, but it turns out not to be the case," said Commissioner Kelly. "Itıs more like these terrorists went to a hardware store or some beauty supply store."

According to NYPD investigators, some of whom flew to London within hours of the attacks on July 7, the three bombs that exploded within seconds of each other on the Underground system were probably detonated by mobile phones with their alarms set for 8.50am. In an unusually detailed briefing, officials from the NYPD's large anti-terrorism department, said that the bombs used a peroxide-based explosive called HMDT, or hexamethylene triperoxide diamine. HMDT can be mixed from mundane ingredients such as hydrogen peroxide (hair bleach). [More>>timesonline.co.uk]
---
8.04.05 Midnight blast kills two, injures four in Istanbul
ISTANBUL, August 4 – Two women were killed and four other people injured when a blast -- possibly caused by a bomb -- shook a residential neighborhood in Turkey's biggest city Istanbul early Thursday, police and media reports said. The blast ripped through a roadside garbage container in the district of Pendik, on Istanbul's Asian side, shattering windows of nearby buildings, damaging cars and sending panicked residents into the streets shortly after midnight.

"There are allegations that it was a bomb but the teams working on the site have not reached a definite conclusion yet," an official from Istanbul police's anti-terror department told AFP on condition of anonymity. He confirmed that the blast, which followed a string of similar explosions in other parts of Turkey, occurred in a garbage container. "It might have also been a gas build-up or something else," he said. [More>>turkishpress.com]
---
8.04.05 Jordan uncovers al Qaeda plot to attack US troops
AMMAN, Jordan, August 4 – Jordan has arrested 17 militants linked to the al Qaeda network in Iraq and an affiliated Saudi group who were plotting to attack U.S. military personnel in the kingdom, security sources said on Thursday. They said interrogations of the suspects revealed six of them had ties to Jordanian militant Abu Musab al-Zarqawi, head of the al Qaeda network in Iraq, while the others belonged to an underground Saudi group known as the Brigades of the Holy Shrines. "They were planning attacks on foreign officers in the kingdom," said one security source, referring to a plot to attack U.S. military personnel who frequent five-star hotels while on leave from duty in neighboring Iraq.

The arrests came after an investigation that used informers to hunt Jordanian militants allied to Zarqawi who help recruit Arab militants to fight against U.S. troops. "The interrogations revealed their membership of these underground groups. They were recruiting terrorists for al Qaeda in Iraq and collecting donations for the organization," said another security source. [More>>jang.com.pk]
---
8.04.05 US, China show new partnership while North Korea stalls
BEIJING, August 4 – North Korea stalled the six-party talks as they entered a record 10th day yesterday by refusing the final draft, but two other two key players, the United States and China, boasted about their unprecedented collaboration. Emphasizing repeatedly that North Korea had taken a lone stand in the negotiations, the United States left to China the job of cajoling the isolationist state to accept the draft on a joint statement on nuclear dismantlement. The Chinese willingly took on the role. All the other members, including South Korea, Japan and Russia, followed the United States in leaving China to make a last-ditch attempt to persuade North Korea. All six delegations gathered at Daioyutai State Guest house in the morning, but there was no word about their discussions before the time of going to press.

Although the success of China's efforts, flamboyantly supported by Washington, remained to be seen, it clearly indicated the closer relationship between the governments of the two global power players. Left out in this power game was South Korea, feeling bombarded by the twin obligation to solve North Korea's nuclear problem and maintain its intricate relationship with the North. [More>>koreaherald.co.kr]
---
8.04.05 Bird flu may reach Europe but threat limited
PARIS (Reuters) August 4 – David Evans reports: The discovery of bird flu in Siberia means migratory wildfowl may now carry the deadly virus to Europe, but the region is well set to limit the threat, the world animal health body said on Thursday. Authorities in Siberia say they have detected the same H5N1 strain of the bird flu virus that has swept large parts of Asia, killing more than 50 people in the region, mostly in Vietnam.

The Paris-based OIE, which draws up global animal health guidelines, has been notified of the presence of an H5 type virus in Siberia by the Russian authorities. Experts believe migratory wild birds such as geese and ducks may have carried the virus from infected Asian countries to Siberia. Now it could be Europe's turn.

"The disease probably arrived in Siberia from Asia through wild birds and there's no doubt that birds from there fly to Europe," OIE Director-General Bernard Vallat told Reuters.

H5N1 is a particularly virulent strain of avian influenza, of which there are many types. It has led to the death of 140 million birds in Asia at a cost running to billions of dollars. But farm structures are far different in Europe. "It's not definite that even if infected birds arrived in Europe that they would pass the virus onto farm animals, the probability of contact is much less than in Asia," Vallat said. [More>>thestar.com.my]
---
8.04.05 Zawahri says British policy to bring more destruction: Al Jazeera
DUBAI (Reuters) August 4 – Al Qaedaıs second in command Ayman Al Zawahri warned Britons in a video aired on Thursday that Prime Minister Tony Blairıs policies will bring more destruction to London. He also warned the United States that Al Qaeda will continue to launch deadly attacks until US troops quit all Muslim countries.

³Blairıs policies brought you destruction in central London and will bring you more destructionŠ² Zawahri, Osama bin Ladenıs deputy, said in a tape aired by Al Jazeera television.

³What you have seen in New York, Washington and Afghanistan, are only the initial losses and if you (United States) continue the same hostile policies you will see what will make you forget those horrors,² he said in reference to the Sept. 11 attacks. He said bin Laden had offered a truce to Western countries asking them to pull out their armies from Iraq and Afghanistan in order to live in peace.

³To the people of the crusader coalition ... our blessed Sheikh Osama has offered you a truce so that you leave Muslim land. As he said you will not dream of security until we live it as a reality in Palestine and until all your infidel armies leave Prophet Mohammadıs lands,² he said. ³Our message to you is clear, strong and final: There will be no salvation until you withdraw from our land, stop stealing our oil and resources and end support for infidel rulers,² Zawahri added. [khaleejtimes.com; more details>>Jerusalem Post and aljazeera.net]

Editorial note: Al Jazeera has been the source of Al-Qaeda tapes broadcasted to the world. That the courriers delivering such tapes can do so without detection, or revelation by Al-Jazeera, that Al-Jazeera is giving support to the terrorists is clear. This should be reviewed by the International Court. The world media need clear guidelines, in the context of the precedents set in the Nuremberg trial of Julius Streicher, as to the promotion of terrorists.
Mel Copeland
---
8.04.05 British man found with 452 fake passports
August 4 – A British national of Algerian descent was arrested yesterday at Don Muang airport with 452 fake passports. Pol Maj-Gen Suwat Thamrongsrisakul, the acting Immigration Police chief, said Mahieddine Daikh, 35, was nabbed at the departure lounge of the airport at 1am while he was about to board a flight for Amsterdam. Found in his possession were 452 passports for Spain, Belgium, Portugal and France _ 138 in one suitcase and 314 in another. Mr. Daikh said he bought the 138 fake passports for 3,000 (220,000 baht) from a Pakistani man at Koh Samui in Surat Thani and planned to sell them in London. He denied knowing anything about the 314 others, saying the Pakistani told him the suitcase contained 100 pairs of jeans. The man was initially charged with forgery. Police are looking for the Pakistani man mentioned by him. [Story & photo>>bangkokpost.net]
---
8.03.05 Evolution row reaches new heights as Bush backs 'intelligent design'
August 3 – Geneviève Roberts reports on an interesting comment given by George W. Bush to Texas newspapers with regard to the ongoing controversy in the teaching of evolution in US schools. Conservatives on the one hand believe that all life was created by intelligent design, and on the other end of the spectrum there are those who follow a thesis that life is accidental, through natural selection, evolving as appropriate to meet the changing environment. Somewhere in the middle of the argument we can place certain viruses that respond to vaccines so quickly they can mutate before the intelligent doctors contriving vaccines against them can complete their designs. The question we need to keep before us is whether God would subscribe to teaching the Bush concept of intelligent design, whether God would bless those who bring contempt upon his creation [Enoch 52.6]. That is to say, the Bible is about a creation that evolves and polluting the creation is one of the concerns of its creator. George W. Bush has perhaps done more to aid in the pollution of that creation than any other man who has walked this earth. Bush certainly never hoped in Genesis 2.15: "And the LORD God took the man, and put him into the garden of Eden to dress it and to keep it."

In the following article one must wonder what George W. Bush considers to be of intelligent design.
Mel Copeland

Roberts' article begins: The evolution versus creationism debate in the United States has escalated after President George Bush said the theory of "intelligent design" should be taught alongside evolution in public schools. Then, "people can understand what the debate is about," he said. "First of all, that decision should be made [by] local school districts, but I felt like both sides ought to be properly taught," Mr. Bush said in an interview with five Texas newspapers. "I think that part of education is to expose people to different schools of thought. You're asking me whether or not people ought to be exposed to different ideas, and the answer is yes."

Intelligent design, advanced by a group of academics and some biblical creationists, disputes the idea that natural selection fully explains the complexity of life. Intelligent design proponents say life is so intricate that only a powerful guiding force, or intelligent designer, could have created it. [More>>independent.co.uk]
---
8.03.05 Europe expels imams preaching hatred
August 4 – European countries have stepped up the expulsion of Muslim prayer leaders who preach hatred, since last month's deadly bombings in London. France has expelled two extremist Muslim prayer leaders and it plans to ship home eight others while Italian authorities have deported eight Palestinian imams for not holding the proper residency papers. Shaken by new attacks on European soil, the authorities have stepped up a policy of deporting Islamic clerics accused of whipping up hatred and violence in vulnerable, disenfranchised pockets of the continent's mostly moderate Muslim community. [More>>aljazeera.net]
---
8.03.05 Forty representatives blitz House for hearings: whether US President misled nation to war
SAN FRANCISCO (Maravot News, Mel Copeland) August 3 – There may be no vacation break for Congress during the hot month of August. The heat is on the House of Representatives to judge whether the President misled the American people and the UN with regard to the invasion of Iraq. All of the warnings President Bush gave to Saddam Hussein – along with representations to the UN and American people – may have been staged: lies disguising the administration's previous decision to invade Iraq and depose Saddam Hussein. There is evidence in the Downing Street Memos that Representative Barbara Lee and 39 other representatives believe demands a Congressional hearing. A House Resolution, H.RES.375, signed by the concerned representatives, requests the President and directs the Secretary of State "to transmit to the House of Representatives all information in the possession of the President and Secretary of State relating to communication with officials of the United Kingdom between January 1, 2002, and October 16, 2002, relating to the policy of the United States with respect to Iraq." The period listed has to do with the time of the Downing Street documents.

Says David Swanson of AfterDowningStreet.org, "Both progressives and moderates are among the 40 already cosponsoring. Many more congress members will cosponsor if a group of their constituents schedules a meeting with them at their district office, while they're home for the month of August, and asks them."

The following is a list and links filed at thomas.loc.gov, of the original 39 who signed H.RES.375 with Representative Lee.

Rep Baldwin, Tammy [WI-2]
Rep Brown, Sherrod [OH-13]
Rep Clay, Wm. Lacy [MO-1]
Rep Conyers, John, Jr. [MI-14]
Rep Crowley, Joseph [NY-7]
Rep Davis, Danny K. [IL-7]
Rep Delahunt, William D. [MA-10]
Rep Evans, Lane [IL-17]
Rep Farr, Sam [CA-17]
Rep Grijalva, Raul M. [AZ-7]
Rep Gutierrez, Luis V. [IL-4]
Rep Hinchey, Maurice D. [NY-22]
Rep Honda, Michael M. [CA-15]
Rep Israel, Steve [NY-2]
Rep Jackson-Lee, Sheila [TX-18]
Rep Jones, Stephanie Tubbs
Rep Israel, Steve [NY-2]
Rep Jackson-Lee, Sheila [TX-18]
Rep Jones, Stephanie Tubbs [OH-11]
Rep Kaptur, Marcy [OH-9]
Rep Kilpatrick, Carolyn C. [MI-13]
Rep Kucinich, Dennis J. [OH-10]


Rep Lewis, John [GA-5]
Rep McDermott, Jim [WA-7]
Rep Honda, Michael M. [CA-15]
Rep Miller, George [CA-7]
Rep Oberstar, James L. [MN-8]
Rep Olver, John W. [MA-1]
Rep Owens, Major R. [NY-11]
Rep Pallone, Frank, Jr. [NJ-6]
Rep Payne, Donald M. [NJ-10]
Rep Rangel, Charles B. [NY-15]
Rep Sanders, Bernard [VT]
Rep Schakowsky, Janice D. [IL-9]
Rep Serrano, Jose E. [NY-16]
Rep Stark, Fortney Pete [CA-13]
Rep Thompson, Bennie G. [MS-2]
Rep Towns, Edolphus [NY-10]
Rep Waters, Maxine [CA-35]
Rep Watson, Diane E. [CA-33]
Rep Wexler, Robert [FL-19]
Rep Woolsey, Lynn C. [CA-6]
Rep Wu, David [OR-1]
---
8.03.05 Weather a likely factor in Air France accident
August 3 – Investigators said Wednesday that a heavy rainstorm accompanied by lightning and strong winds may have played a factor in an Air France jetliner's skidding off the runway and bursting into flames in Toronto on Tuesday. But the officials, who gathered at a press conference at Toronto's Lester B. Pearson International Airport, were not ruling out other factors either, saying the outcome of the accident ³defies belief.² All 309 passengers and crew members escaped within two minutes without serious injury. ³I'm afraid it's way too early to speculate, and anything like that would be a straightforward guess,² Steve Shaw, vice-president of the Greater Toronto Airport Authority, said. ³We look for several things. We're not going to rule out anything.² [More>>theglobeandmail.com]
---
8.03.05 Astronaut removes dangling cloth from Shuttle's belly
NASA, August 3 – STS-114ıs third spacewalk is now in the history books. The excursion featured the first-ever on-orbit repair of a Space Shuttleıs heat shield and attachment of a stowage platform onto the Station. The orbital excursion began at 4:48 a.m. EDT and concluded at 10:49 a.m. EDT.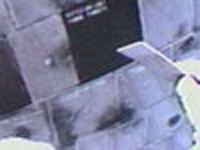 Robinson removes dangling cloth from Shuttle. Image NASA video
The heat shield repair efforts occurred quickly and just as planned on Space Shuttle Discoveryıs underbelly. STS-114 Mission Specialist Steve Robinson removed gap fillers that were protruding from two areas between heat-shielding tiles on Discovery. Robinson gently tugged the gap fillers until they came out. After he removed the second protrusion, Robinson declared, "It looks like this big patient is cured." [More and video>>
nasa.gov
]
---
8.03.05 The cause of terrorism by Muslims

August 3 – A presentation to educate 50 US government officials from the Department of Defense, Department of State and other agencies inquires into the causes of terrorism by Muslims. The paper was prepared by Kamal Nawash and senior Islamic scholar, Dr. Ahmed Mansour of the Free Muslims Coalition (FMC). The paper argues that governments founded on restrictive, ideological laws tend to fail because of their need to restrict those who do not subscribe to their ideology. Such governments tend to be closed, exclusive to those who support the ideology, and they avoid other points of view. To maintain their power over the people governments limit the power of the people, and from the limitations comes dissent. To counter the dissent governments can become tyrants, and even the majority of the people may agree with the tyranny. After about 70 years, time begins to feast on regimes and they begin to fail. The great Islamic scholar Ibn Khaldûn (1332-1406 C.E.) referred to the Ottomans in this context and reminds us that King David's regime lasted only 70 years (the Soviet Union also lasted only 70 years). So "Time gets the upper hand over the original group in power. Their prowess disappears as the result of senility. The duties of the dynasty saps their energy. Time feasts on them...' [The Muqaddimah, Ibn Khaldûn]. We are reminded of the old adage, "The plowman plows over great cities." Where great statesmen from around the world would congregate in the end, as in the Roman forum, the cowherd took over.

The majority can be wrong and through their ignorance can promote evil. Says John Stuart Mill, "The tyranny of the majority is now generally included among the evils against which society requires to be on its guard." [On Liberty 1.1333]. Keeping in mind that the majority may support a tyranny (we have Nazi Germany among many governments to illustrate this) one can reflect on Nawash and Mansour's argument, how ideologies can spawn terrorism, another form of tyranny. They bring to mind a foundation of Mill's argument, "that those who desire to suppress it [the truth] of course deny its truth; but they are not infallible. They have no authority to decide the question for all mankind, and exclude every other person from the means of judging. To refuse a hearing to an opinion, because they are sure that it is false, is to assume that their certainty is the same thing as absolute certainty." [ibid. 2.50].

We know that no person can be the stronghold of absolute certainty, and we have seen in the example of our own President where his profession of absolute certainty may, before all is said and done, have been substantially flawed. While I am not in favor of instituting the laws of the Locrians (5) so to ensure the enactment of just societies and laws, we need to find new ways in which to deal with those leaders who mislead us, causing the innocent to fall into their terrifying pits.
Mel Copeland


The Future of the Middle East by Kamal Nawash and Dr. Ahmed Mansour

.."'Islamic" terrorism is the result of an ideology called "Political Islam." Political Islam is an ideology that totally rejects the separation of religion and state and instead seeks to create theocratic "Islamic States" based on the delusion that Muslims are not sufficiently religious and that if they were to return to a strict interpretation of Godıs "laws" that the problems in the Muslim world would be solved. The problem with governments that chose to enforce "Godıs laws" is that they donıt work. Every modern example of an "Islamic State" has been a total failure. Iran, Afghanistan and the Sudan all failed to deliver the prosperity they envisioned or promised their followers.

Unfortunately, the failures of Iran, Afghanistan and Sudan have not quelled the desire to create theocratic Islamic states. Instead, those who call for theocratic Islamic states continue to argue that theocracies are the best governments but that Iran, Afghanistan and Sudan "did not implement the system correctly."

Ironically, the explanation that those governments that tried theocracies and failed "did not implement it correctly" is the same explanation given by the various communist states during the communist era. This is why there were various versions of communism including, Marxism, Leninism, Stalinism, and Maoism. They all said that communism works but that others did it incorrectly. At the end they all failed because communism was an inherently flawed system.

It is important to keep in mind that Islamic theocracies are not the only theocracies that fail. Christian theocracies failed just as miserably. In fact, it was only after Europe finally rejected the theocratic model that Europe experienced a renaissance and prospered.

More importantly than being inherently flawed, political Islam will almost definitely lead to terrorism and extremism. Because political Islam is based on the desire to enforce Godıs laws, it leads to religious absolutism. Religious absolutism results from a belief that a particular faith represents the absolute truth and therefore must be accepted by everyone else without question. Such an absolutist ideology encourages bigotry of the highest order and promotes extreme hatred of other faiths.

Since intellectual enlightenment respects diversity and rejects bigotry, religious absolutists, as a matter of faith tend to be anti-intellectual. That is why absolutists are by nature, fundamentalists. They preach literalist philosophies and demonstrate an intrinsic repulsion for modernity. Political Islam, as was the case with political Christianity, abhors open societies and works to destroy any system that promotes tolerance and advances the cause of democracy...the war on terrorism has to be more than a military battle. It must also be an ideological battle and only Muslims can defeat the ideology of hate caused by political Islam.

To prove that political Islam leads to terrorism, consider that the phenomenon of Islamic terrorism is about 25 years old. This is about the same time of the Islamic revolution in Iran which ignited political Islam throughout the Muslim world. There is a direct relationship between the rise of political Islam and the rise of Islamic terrorism. [Full article>>freemuslims.org]
---
8.03.05 Zambia will deport terror suspect to UK
August 3 – Zambia has agreed to deport to the UK a British terror suspect whose name was circulated to foreign security services after the July 7 suicide blasts that killed 52 London commuters. President Levy Mwanawasa said today that both Britain and the US had asked for the extradition of Haroon Rashid Aswat, a 31-year-old from Dewsbury in Yorkshire. Mr. Aswat is wanted by the United States for allegedly trying to organize an al-Qaeda training camp in Oregon in 1999. [More>>timesonline.co.uk]
---
8.03.05 Insurgents using more powerful bombs: US general
WASHINGTON (AFP) August 3 – Insurgents are using more powerful, armor penetrating bombs in attacks like those this week that killed 21 US marines in western Iraq, a top general said Wednesday. "We are seeing larger amounts of explosives," said Brigadier General Carter Ham of the US Joint Staff. "We are seeing different techniques that are being used in an effort to counter the efforts of coalition and Iraqi security forces to protect folks while they are moving – different types of penetrators, different techniques of triggering the events." [More>>turkishpress.com]
---
8.03.05 Mauritanian president deposed in coup
August 3 – A group of army officers in Mauritania has announced the overthrow of President Maaouya Ould Sid'Ahmed Taya. The group identified itself as the Military Council for Justice and Democracy and announced the coup in a statement run by the state news agency on Wednesday. ³The armed forces and security forces have unanimously decided to put an end to the totalitarian practices of the deposed regime under which our people have suffered much over the last several years,² the statement said. The group said it would exercise power for two years to allow time to put in place democratic institutions. [More>>aljazeera.net]
---
8.03.05 Islamic Jihad head: We may recognize the State of Israel
August 3 – An Islamic Jihad leader in the West Bank, Abdel Halim Izzedine, known as Abu Qassam, has told Haaretz that his organization supports the hudna – temporary cease-fire – but is forced to respond to Israeli provocations. "Israel forces us to react. If Israel stops the assassinations and arrests, we will observe the hudna," he said, adding that if a young Palestinian were to approach him and tell him he was on his way to carry out a suicide attack, he would try to dissuade him. In his first interview with an Israeli news outlet, Abu Qassam said his organization might recognize the State of Israel.

"If Islamic Jihad participates in the Palestinian Authority, and the PA reaches a settlement with Israel, this will be recognition on our part. Not official recognition, but recognition," he said. Abu Qassam further says that an irreconcilable chasm separates his movement's ideology from Zionist ideology. However, just as Zionist ideology is beginning to give up parts of the Land of Israel, so his organization would be willing to give up parts of its ideology calling for an Islamic state from the river to the sea. [More>>haaretzdaily.com]
---
8.03.05 Fourteen US marines, reporter killed in Iraq
BASRA, Iraq, August 3 – Fourteen US marines were killed in a rebel attack in western Iraq on Wednesday following the death of a US freelance journalist who was gunned down in a relatively calm part of the country. The attacks came as Iraqi politicians debated thorny issues in the draft constitution which must be put to parliament on August 15. The marines, along with an interpreter, were killed when their armored vehicle was hit by a roadside bomb during combat operations near Haditha, 260 kilometers (160 miles) northwest of Baghdad, the US military said. One other marine was wounded.

The latest deaths bring the number of US military personnel killed in Iraq since the March 2003 invasion to 1,811, according to AFP tally based on Pentagon figures. Since Monday a total of 21 marines have been killed in western Iraqıs Al-Anbar province. Twenty of them died near Haditha, while one was killed near the town of Hit, 170 kilometers (105 miles) west of Baghdad.

Ansar al-Sunna, an extremist group linked with the Al Qaeda network, said in an Internet statement that it had killed eight US marines and captured a ninth in western Iraq. Ansar al-Sunna said it had killed some of the marines on Monday by ³slitting their throats,² while others were shot. The statement could not be verified. It also said its fighters had captured a ninth US marine ³who was wounded in an ambush... near Haditha.² [More>>khaleejtimes.com]
---
8.03.05 Basra blogger is abducted and murdered
August 3 – A freelance American journalist who wrote about alleged corruption and lawlessness in the Iraqi city of Basra has been abducted at gunpoint and shot dead. Steven Vincent's body was recovered at the side of a road south of Basra late last night, several hours after he and his female translator were kidnapped as they left a currency exchange shop, within sight of a British military checkpoint. He had been shot three times in the chest. Nouriya Itais, the translator, who was also his fiancee, was shot four times and seriously wounded, according to a nurse in a Basra hospital. The news broke hours before 14 US Marines and an Iraqi interpreter were killed in lawless Anbar province in western Iraq. There is speculation that Mr. Vincent, who received death threats, was murdered in an attempt to silence him.

...In his final blog, he wrote: "The British stand above the growing turmoil, refusing to challenge the Islamistsı claim on the hearts and minds of police officers." Quoting an unnamed Iraqi police lieutenant, Vincent wrote: "He told me that there is even a sort of 'death car': a white Toyota Mark II that glides through the city streets, carrying off-duty police officers in the pay of extremist religious groups to their next assignment," he wrote. [Full story>>timesonline.co.uk]
---
8.02.05 Whirlwind viewed by Mars Rover Spirit
August 2 – Several images of wind gusts and whirlwinds were recorded May 25-31, 2005. This movie clip shows a dust devil growing in size and blowing across the plain inside Mars' Gusev Crater.

Image credit: NASA/JPL/Texas A&M
The clip consists of frames taken by the navigation camera on NASA's Mars Exploration Rover Spirit during the morning of the rover's 496th martian day, or sol (May 26, 2005). Contrast has been enhanced for anything in the images that changes from frame to frame, that is, for the dust moved by wind.
To view this and several other movie clips >>
marsrovers.jpl.nasa.gov
]
---
8.02.05 Car bomb targets US convoy in Baghdad
August 2 – At least 13 people have been reported killed in attacks in Iraq including a car bomb that exploded near a US military convoy in Baghdad. Police said five people were shot dead early on Tuesday when attackers opened fire as the victims left a city hospital where they had been to see the body of a Sunni cleric who was killed on Monday night. Late on Monday, Shaikh Akil al-Mahadidi, a cleric from al-Muhajirin mosque, and his brother were shot dead in the west of Baghdad. An Iraqi police colonel was killed in a drive-by shooting, and two employees of the Finance Ministry were shot dead on their way to work in Baghdad, an Interior Ministry official said. [More>>aljazeera.net]
---
8.02.05 Blasts rip through Turkish resort
August 2 – Two explosions tore through rubbish bins and wounded six people overnight in the southern Turkish city of Antalya, a popular tourist resort, news reports said. It was not immediately clear what caused the blasts, which occurred within minutes of each other in the bins in separate locations in central Antalya, Turkey's fourth-largest city, the state-run Anatolian news agency said. Three cleaners were slightly wounded while emptying the first bin. In the second blast, another three people, including one tourist whose nationality was not known, were wounded, Anatolian said, quoting police sources. [More>>theaustralian.news.com.au]
---
8.02.05 Call it Bush's war, not a war on terror
August 2 – (Letter to the editor, timesunion.com, by Anton G. Hardy) It is time we stopped calling the war in Iraq a "war on terror." We know too much now to keep going along with this deceit. We know that Saddam was not behind the 9/11 attacks...We know Bush and others in his administration were planning to invade Iraq well before 9/11. We know Bush used every means he could, including misrepresentation, to induce us into going into this war. So why don't we call it what is is, "Bush's war"? This is surely how history, looking back on these eight years, will regard it. [Full comment >>timesunion.com via saudipost.com]
---
8.02.05 What stands behind Uzbekistan's demand to withdraw US base?
MOSCOW (Alexei Makarkin for RIA Novosti) August 2 – The Big Game for control over Central Asia has been going on for centuries. The US replaced Britain after it lost its imperial ambitions, and countries that appeared on the world map only in the 20th century have become independent players in this game.

The recent events in the region – the summit of the Shanghai Cooperation Organization (SCO) in Astana, the regional tour by US Defense Secretary Donald Rumsfeld, and Uzbekistan's demand to pull out the American base within six months – marked a new stage in the Big Game where every player has his own interests.

The US wants to preserve its military-political presence in the region after "appeasing" Afghanistan. The first reason for this is that the regime of President Hamid Karzai will hardly be strengthened by the parliamentary election set for the coming fall, and the US will want to have a transport infrastructure for delivering troops to Afghanistan. Another reason is a desire to reinforce its standing in the region, pushing back Russia, whose traditional sphere of influence includes Afghanistan, and China, which has interests in Central Asia.

Rumsfeld came to the region to prop up Washington's positions in Kyrgyzstan and, if possible, in Uzbekistan, shaken by the SCO's recommendation to the US to set the deadline for its military bases in the region.

The Pentagon chief was assured that the US would remain in Kyrgyzstan. But the attempt to keep the base in Uzbekistan was complicated by Washington's desire to force Islam Karimov to promote democracy in his country. As a result, Karimov demanded an unexpectedly quick pullout of the base.

The US is now expected to shift its attention to the base in Kyrgyzstan, which entails a complication, as planes flying from it to Afghanistan will have to refuel in the air. The Americans may therefore try to create one more base in a former Soviet state, possibly in Azerbaijan, under the pretext of ensuring the security of the Baku-Ceyhan oil pipeline. [More>>rian.ru]
---
8.01.05 Afghan troops unearth weapons cache as Tashkent tells US to leave airfield
August 1 – Afghan security forces have seized thousands of missiles, mortar rounds and artillery shells in their biggest weapons haul in months, the Defense Ministry said. The suspected Taliban ammunition cache was found in the Khogyani district of central Ghazni Province, said Defense Ministry spokesman General Mohammad Zahir Azimi. The weapons dump included 2,000 surface-to-surface missiles, 3,000 mortar rounds, 500 artillery shells and 150 boxes of anti-aircraft ammunition, he said. "We suspect that the weapons were stored to be used during the elections," he said. On September 18 voters are set to elect a Parliament and provincial councils.

The Taliban, who were ousted in a US-led invasion in late 2001, continue to stage frequent attacks on officials and on the 19,000-strong coalition force, mostly in the south and east of Afghanistan. As American-led forces continued a hunt for Taliban insurgents in Afghanistan, the US State Department confirmed neighboring Uzbekistan formally served the United States an eviction notice, asking it to leave a military base that has served as a hub for its combat operations in Afghanistan. [More.>dailystar.com.lb]