---
08.31.05 Martial law declared in New Orleans
August 31, Update 8:04pm CDT – Disgusted and furious with the lawlessness of looters who have put fear into citizens, New Orleans Mayor Ray Nagin declared Martial Law in the city and directed the city's 1,500 person police force to do "whatever it takes" to regain control of the city. Nagin said that Martial Law means that officers don't have to worry about civil rights and Miranda rights in stopping the looters.

Amid the chaos Wednesday, thieves commandeered a forklift and used it to push up the storm shutters and break the glass of a pharmacy. The crowd stormed the store, carrying out so much ice, water and food that it dropped from their arms as they ran. The street was littered with packages of ramen noodles and other items.

Looters also chased down a state police truck full of food. The New Orleans police chief ran off looters while city officials themselves were commandeering equipment from a looted Office Depot. During a state of emergency, authorities have broad powers to take private supplies and buildings for their use. Managers at a nursing home were prepared to cope with the power outages and had enough food for days, but then the looting began. The Covenant Home's bus driver surrendered the vehicle to carjackers after being threatened.

Bands of people drove by the nursing home, shouting to residents, "Get out!" On Wednesday, 80 residents, most of them in wheelchairs, were being evacuated to other nursing homes in the state. [More>>wwltv.com]


Editorial note: Maravot News contacted the Audobon Center Zoo and Park on Magazine Street in New Orleans, having seen a dead sea lion in the street on television news this pm. The zoo – whose animals (tigers, sharks, alligators, elephants, etc. and insects) could be a problem to the safety of people – appears to be located in the flood zone.

Background: 10:25am ET – This morning in an ABC television "Good Morning America " interview by Charles Gibson, Governor Kathleen Blanco said that all of New Orleans will be evacuated due to rising flood waters. She indicated that it could be several weeks before the rising flood waters could be brought under control. While there is some high ground left in New Orleans even that will be covered by the rising waters.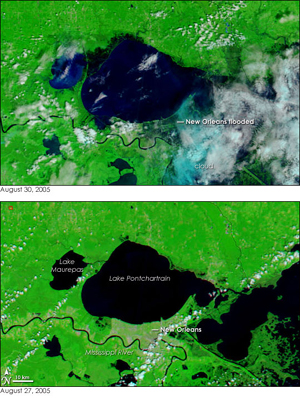 New Orleans before and after Hurricane Katrina caused levees to break. Photos courtesy
earthobservatory.nasa.gov/
. For larger image click on photo.
And the governor indicated that there are unknown numbers who are still in New Orleans who are trapped, causing even greater challenges for the evacuation. The water level is expected to rise to the level of Lake Ponchartrain said Mayor Nagin. For resource information / for missing persons postings go to
nola.com
(Source for Times-Picayune news).
National Geographic reports: ...The Federal Emergency Management Administration's regional office in Houston is coordinating the rescue effort for New Orleans. But a FEMA employee in Houston refused to answer questions this morning about the agency's response and hung up without giving her name.
New Orleans is below sea level and is crisscrossed by canals connecting Lake Pontchartrain, the Mississippi River, and the Gulf of Mexico. Levees were built around the canals to protect the city from flooding when surrounding water levels rise.
Hurricane Katrina's 140-mile-an-hour (225-kilometer-an-hour) winds pushed a 20-foot (6-meter) storm surge onto the Louisiana coastline. The storm's powerful winds continued to force raging waters against the city's levees as Katrina roared northward into neighboring Mississippi.
The levees initially held, but gave way Tuesday.
The Times-Picayune reported that a 200-foot (61-meter) break opened in the levee on the 17th Street Canal in the western part of the city.
On the eastern side of town, two breaks opened in the levee on the Industrial Canal, the newspaper reported. The combined length of the breaks in the Industrial Canal is about 500 feet (152 meters), and more fractures are expected.
The US Army Corps of Engineers is working to close the breaches, the Times-Picayune said. In the meantime, life in New Orleans will be dangerous and uncomfortable.
"The significant problems they're facing are having (drinkable) water, clean food, a way to dispose of human waste, and shelter," said Bernard H. Eichold, the public health officer for nearby Mobile County, Alabama.
"Those are essential items, along with health care," he said. "They have none of those in New Orleans." [More>>
National Geographic
.]
See article,
reuters.com, Oil firms take stock of Katrina damage"
: ... In the aftermath of Katrina, some 95 percent of U.S. oil and natural gas production in the Gulf of Mexico and nine refineries along the coast remained shut down. Several crude pipelines on the Gulf Coast also remained out of service due to power outages, damage and flooding, creating further headaches for an industry that has been badly strained by the storm. What's more, the Energy Department said Port Fourchon in Louisiana, which handles a large share of U.S. crude oil and natural gas imports, was severely damaged by Hurricane Katrina and is cut off by floodwaters:
Port Fourchon is considered the linchpin in oil production and delivery in the US. Port Fourchon, which supports 75 percent of all the deepwater oil and gas production in the Gulf...The Port also is the site of the booster pumps that carry crude oil from the Louisiana Offshore Oil Port (LOOP) to underground salt dome storage areas in Galliano, along Highway 1. [
More>>aapg.org
]
EMERGENCY PHONE NUMBERS FOR PEOPLE IN DISTRESS
The Coast Guard strongly urges people in distress in the New Orleans area contact the search and rescue emergency line for the State Office of Emergency Preparedness in Baton Rouge , La. The emergency numbers are as follows:
(225) 925-7708
(225) 925-7709
(225) 925-3511
(225) 925-7412
To inquire about family and friends that did not evacuate the Greater New Orleans area contact the American Red Cross at the following number:
(866) 438-4636
[From
US Coast Guard site
.]
What to do if you are a victim or want to help a victim, go to Hurricane Katrina Recovery on FirstGov.gov.

Photo gallery August 31,2005 from ap.wwltv.com.

US Army Corps of Engineers page.
---
08.31.05 Officials see up to 1,000 Iraqis dead in stampede
BAGHDAD, August 31 – Up to 1,000 Iraqi Shias might have died in a stampede on a Tigris River bridge in Baghdad on Wednesday, panicked by rumours a suicide bomber was about to blow himself up, government officials told Reuters. Most of the victims were women and children who ³died by drowning or being trampled² after panic swept a throng of thousands as they headed to a religious ceremony, an Interior Ministry official said. ³An hour ago the death toll was 695 killed, but we expect it to hit 1,000,² said Dr Jaseb Latif Ali, a general manager at Iraqıs Health Ministry.

Interior Minister Bayan Jabor and two top Shia officials blamed insurgents for the stampede, saying a terrorist spread a rumour there was a suicide bomber in the crowd. [More>>khaleejtimes.com]
---
08.30.05 New Orleans escapes direct hit, but most of city is inundated
NEW ORLEANS, August 30 – With parts of this city under 20 feet of water and a death toll in the region that is reported at 55 and certain to climb, the Gulf Coast began today to confront the aftermath of one of the most devastating storms ever to hit the United States. Floodwaters from a canal that leads to Lake Ponchartrain were sending more water into already flooded areas of New Orleans, and Mayor C. Ray Nagin said in a television interview that the city was 80 percent under water, with some of it 20 feet deep.

Hundreds of residents have been rescued from rooftops, and as dawn broke rescuers in boats and helicopters searched for more survivors. The death toll in just one Mississippi county could be as high as 80, Gov. Haley Barbour said. Preliminary reports on Monday put the toll at 55. "The devastation down there is just enormous," Mr. Barbour said on NBC's "Today" show. "I hate to say it, but it looks like it is a very bad disaster in terms of human life," he added, referring to Harrison County, which includes Gulfport and Biloxi. "This is our tsunami," Mayor A. J. Holloway of Biloxi, Miss., told The Biloxi Sun Herald. [More>>nytimes.com; See also bbc.co.uk, "Up to 80 dead in US hurricane"; update on the situation 12:50 ET, washingtonpost.com, "New Orleans filling with floodwaters due to breached levee."]
---
08.30.05 US bombs western Iraq, Sunnis warn constitution to fail
BAGHDAD (Reuters) August 30 – US forces said they had killed a known al Qaeda militant in western Iraq on Tuesday in air strikes which a hospital official said had killed 47 people. US warplanes launched three waves of strikes near the town of Qaim, on the Syrian border, in a remote area Washington has long said is a route into Iraq for foreign Islamist fighters allied to the insurgency among Iraq's Sunni Arab minority. "Intelligence leads Coalition forces to believe that Abu Islam and several of his associates were killed in the air strike," a U.S. military spokeswoman said in Baghdad.

A hospital official in Qaim, Mohammed al-Aani, told Reuters 35 people had died in a strike on one house and another 12 in a second house. It was not immediately clear how many of the 47 might have been militants. The US military said in a statement it had carried out three separate strikes, initially dropping four bombs on a house in Qusayba, near Qaim, referred to by the military as Husayba.

... US and Iraqi forces are battling a Sunni Arab insurgency against the Shi'ite and Kurdish-led government in Baghdad. These three main Iraqi groups have been wrangling over the draft constitution, which has proved highly divisive in recent weeks, and one of Iraq's top Sunni political leaders, Adnan Dulaimi, said he would work hard for its rejection. "We will do our best to make sure this draft fails at the referendum," he told a joint news conference with the US ambassador, referring to a nationwide vote on the text due by October 15. [Full story>>reuters.com]
---
08.30.05 Iraqi Sunnis seek anti-charter Shia ties
August 30 – Iraq's disenchanted Sunni Arabs have reached out across the sectarian divide to seek alliances with any ethnic or religious groups opposed to the newly drafted constitution. After staging demonstrations on Monday, Sunni leaders said they were opening talks with the movement of Shia cleric Muqtada al-Sadr and preparing a national conference to generate public support for defeating the charter at a mid-October referendum.

"We would like to cooperate with Muqtada al-Sadr and very soon we will start negotiations with him," said Salih al-Mutlaq, a top Sunni negotiator. Al-Sadr, who rejects any constitution drafted while US-led forces remain in the country, enjoys widespread support among the poor urban Shias, and his fighters led one of post-war Iraq's fiercest uprisings against US-led forces last year. [More>>aljazeera.net]
---
08.30.05 US denies reports that Osama bin Laden has been wounded
KABUL (AFP) August 30 – The US military and NATO peacekeeping forces are dismissing reports carried on Islamic Web sites that Osama bin Laden had been wounded in western Afghanistan. US spokesman Colonel James Yonts said that his military had checked claims that the Al-Qaeda leader had been wounded by Spanish troops based in the western province of Herat. "When we looked into that report - you know any allegation such as this, we take it very seriously - we found no proof," U.S. military spokesman Colonel James Yonts told reporters in Kabul.

The bin Laden claim first surfaced on August 24 in a story on Italian news Web site Adnkronos International. It quoted two messages carried by "various Islamic Web sites," the first of which said bin Laden had been wounded in a clash with the Spaniards while the second message gave details including that the injury was to his left leg.

In May, Islamic Web sites were used to give the news that Abu Musab al-Zarqawi, Al-Qaeda's point man in Iraq, had been wounded. An audio message confirming the injury was later attributed to Zarqawi himself.

The NATO-led peacekeeping force in Afghanistan, which has hundreds of Spanish troops based in Herat, also ruled out that any of its troops had wounded bin Laden, who has a $50 million U.S. bounty on his head. [More>>dailystar.com.lb]
---
08.30.05 Netanyahu announces run for premiership
August 30 – In a direct challenge to Prime Minister Ariel Sharon, MK Benjamin Netanyahu declared his candidacy Tuesday for chairmanship of the Likud and as the party's candidate for the premiership. Netanyahu painted Sharon as a prime minister who had veered sharply to the political left, abandoning his own party in the process. "The Likud today needs a leader who can unify the ranks, rehabilitate the ruins, and lead the Likud to victory, and who will then lead the state in the spirit of our principles, and believe that I can do that," Netanyahu said during a news conference in Tel Aviv. "Therefore, I today announce my candidacy for the leadership of the Likud, and for the premiership."

The move could set in motion an eventual split in the party, with Sharon bolting the Likud and starting a splinter faction of his own. Netanyahu said Sharon, who founded the party in the early 1970s, had abandoned the path of the Likud, and had adopted the way of the Israeli left. "The man who got the votes turned his shoulder. He abandoned the principles of the Likud. He chose a different path, the path of the left," he told a mixed audience of reporters, supporters and a few vocal opponents. [More>>haaretz.com]
---
08.30.05 Bird flu spreads to another district in Urals
TYUMEN (RIA Novosti) August 30 – Bird flu has hit another district in the Tyumen region, the Urals, the region's chief veterinarian Sergei Derkach said. Fifty-seven infected birds were slaughtered in the village of Sladkovo, Derkach said, adding that measures were being taken to stop the spread of the disease. The first cases of death were reported in the region on July 26. Quarantine was imposed on August 1 when lab tests conducted in Novosibirsk, a large Siberian city, confirmed bird flu. About 30,500 infected birds have been slaughtered in the region so far. Bird flu was earlier reported in seven settlements in the region's three districts. Regional authorities have allocated 6.2 million rubles (about $218,000) to curb the spread of the virus. [rian.ru]
---
08.30.05 Hariri probe makes first arrests
BEIRUT, August 30 – Three former pro-Syrian Lebanese security chiefs have been arrested over the death of ex-premier Rafiq Hariri, the first major breakthrough in the probe six months after the bomb attack that sent shock waves through the nation. The head of the presidential guard Mustafa Hamdan also turned himself in to UN investigators after Lebanon issued an arrest warrant against him, security sources said. The three arrested men – former general security chief Jamil al-Sayed, ex-military intelligence boss Raymond Azar, and former internal security head Ali al-Hage – were also taken before the UN commission. "These officials will be interrogated as suspects," Lebanese Prime Minister Fuad Siniora said in a statement he read on television. Justice Minister Charles Rizk said the arrests were made at the request of the international commission investigating the Beirut bomb blast that killed Mr. Hariri on February 14. [theaustralian.news.com; See also dailystar.com.lb, "Lebanon arrests ex-security chiefs over Hariri murder."]
---
08.30.05 More TV means less Koran, say Muslims
BAN SAWO HILIR, Thailand (Reuters) August 30 – In the wilds of southern Thailand, where people believe Islam first took root in Southeast Asia, plans to dish out cable TV with free English soccer to quell ethnic Malay unrest have not gone down well. "The kids will just watch TV and leave the Koran and their school books behind," said Haji Mustafa Bin Haji Abdul Latif of Ban Sawo Hilir in Narathiwat, one of three provinces rocked by 20 months of violence in which more than 800 people have died.

"I don't think it's a good idea," he says, taking a long drag on a hand-rolled cigarette at his run-down tea-shop in the exclusively Muslim village deep in the jungle. Around him, a handful of customers give similar verdicts on the proposals by Interior Minister Kongsak Wantana to use Thai TV, karaoke stars and European soccer to wean Muslim youths away from violence. [More>>expressindia.com; See another story, khaleejtimes.com, "Bangladesh asks television channels not to air 'indecent' adverts."]
---
08.29.05 Katrina flooding now the worry
(CBS / AP) August 29 – Flooding became the focus along the Gulf of Mexico coast Monday afternoon, after Hurricane Katrina made landfall just east of New Orleans earlier in the day. The president of the New Orleans city council estimated that more than 100 people in the city are stranded on their rooftops or in their attics, because they have up to 14 feet of floodwaters in and around their homes, reports Dave Cohen of CBS radio affiliate WWL. Until the winds die down and rescue crews can safely get out, those people are stranded where they are. Katrina weakened overnight to a Category 4 storm and made a slight turn to the right before hitting land at 6:10 a.m. CDT near the bayou town of Buras with 145 mph winds. Katrina was downgraded to a Category 3 hurricane at 11:00 a.m. EDT.

While it spared the Crescent City its full fury, its winds peeled away part of the Superdome, where thousands of people had taken shelter. National Hurricane Center Director Max Mayfield warned that New Orleans would be pounded throughout the day and that Katrina's potential 15-foot storm surge, down from a feared 28 feet, was still enough to cause extensive flooding.

On the south shore of Lake Pontchartrain, entire neighborhoods of one-story, shotgun-style homes were flooded up to the rooflines. The Interstate 10 off-ramps nearby looked like boat ramps amid the white-capped waves. Garbage cans and tires bobbed in the water. [More>>cbsnews.com]
---
08.29.05 Sunni party might back Iraq charter
August 29 – One of Iraq's biggest Arab Sunni parties has said it might back the country's constitution, despite calling for changes to a text agreed by the Shia-dominated parliament. The Iraqi Islamic Party, seen as moderate Islamist and opposed to violence, said on Monday that there was still room for negotiation on the constitution. "We have not signed the constitution and we still have the time starting from now until the referendum comes.

"[But]we might say yes to the constitution if the disputed points are resolved," party general-secretary Tariq al-Hashmi told a news conference.

The text read to parliament failed to overcome objections by Sunnis, who lost their political dominance with the fall of Saddam Hussein, despite US efforts to broker a compromise between Iraq's divided ethnic and religious groups. Earlier, hundreds of people marched in the city of Tikrit to protest against the constitution, witnesses said. They carried photographs of the former president Hussein and held up banners saying "No to the Zionist-American-Iranian constitution". Some Iraqis say the Shia-led government is too close to Iran. [More>>aljazeera.net]
---
08.29.05 Bush suffers ratings tumble as Sunnis reject Iraq charter
NEW YORK, August 29 – President George Bush's exit strategy from Iraq suffered a severe setback yesterday when Sunni negotiators rejected a new constitution, increasing the chances of outright civil war. After a series of delays and missed deadlines, the negotiating committee delivered the completed draft constitution to the Iraqi parliament, but the assembly failed to vote on the text after the 15 Sunni members - a minority of the committee - rejected the draft because of continuing disagreement on federalism.

Mr. Bush and Tony Blair, in separate statements, urged Iraqis to unite behind the project despite the disagreements. But the prospect of more violence will only make it more difficult for the Americans to withdraw from Iraq. Mr. Bush's approval ratings have sunk to 36 per cent - the lowest level of his presidency. As the number of US troops killed there has risen to 1,900, domestic opposition to the war is on the rise. Mr. Bush acknowledged the strength of the opposition from Iraq's Sunni community, which is spearheading the insurgency, when he spoke to reporters at his Texas ranch. [More>>independent.co.uk]
---
08.28.05 Iraq assembly gets charter but no vote
August 28 – Iraq's parliament has ended a special session on its constitution without a vote after being presented the final version of the draft, signed by a majority of the negotiating panel. "The constitution is a gift to the Iraqi people," Deputy Parliament Speaker Hussein al-Shahristani said after the entire text of the charter was read. He added that the assembly would meet on Monday to discuss the electoral law.

The draft was presented in parliament by Shaikh Humam Hammudi, the head of the constitution drafting panel after which a panel member began reading out its contents. Munther al-Fadhal, a Kurdish-allied panelist said an overwhelming majority had signed the draft constitution. "A few amendments have been done," he added.

Speaking in front of parliament, Hammudi, a Shia, congratulated the Iraqi people for "this constitution that was written by Iraqi hands". However, two Sunni Arab negotiators said they would oppose the final text, insisting more should have been done to meet the minority's concerns. [More>>aljazeera.net; See also independent.co.uk article, "Civil war looms in Iraq as constitution talks end in disarray." and AP article, "Bush: US will help assure Iraq's success" : CRAWFORD, Texas – President Bush on Sunday dismissed the rejection of Iraq's new draft constitution by Sunni negotiators as the opinion of a few, expressing confidence that the failure to secure backing from all the country's ethnic and political groups won't derail a transition to democracy.

Bush also predicted an increase in insurgent attacks that will be "more desperate, more despicable and more vicious" leading up to the Oct. 15 referendum in which Iraqis will vote on whether to accept or reject the document. He said the United States would help assure success for the Iraqis, but didn't say precisely how. "We are determined to see the Iraqis fully secure their democratic gains," Bush told reporters in a brief statement delivered in a helicopter hangar on his ranch. "This course is going to be difficult, largely because the terrorists have chosen to wage war against a future of freedom." and nytimes.com, "War demonstrations hit Texas."]
---
08.28.05 Iraqi activist taken up by Bush recants her views
August 28 – She was the Iraqi activist who became a symbol of the possibility of a brighter future for Iraq. Back in February, with blue ink on her finger symbolising the recent Iraqi election in which she had just voted, Safia Taleb al-Souhail was invited to sit with the first lady, Laura Bush, and listen to the President claim in his state of the union address that success was being achieved in Iraq. Her picture went round the world after she turned to hug Janet Norwood, a Texas woman whose son had been killed in Iraq.

But now it appears Ms Souhail, an anti-Saddam activist who became Iraq's ambassador to Egypt, may be having second thoughts about the "success" she celebrated with a two-fingered victory sign.

Having seen the negotiations for the country's constitution fall into disarray and the prospect of a secular constitution severely undermined, she expressed her concerns last week. "When we came back from exile, we thought we were going to improve rights and the position of women. But look what has happened: we have lost all the gains we made over the past 30 years. It's a big disappointment. Human rights should not be linked to Islamic sharia law at all. They should be listed separately in the constitution." [More>>independent.co.uk ; See also "Rights group condemns caning of two women in Aceh for violating Islamic Law.", related stories to the trend in the conflict of Islamic Law with National Laws and Maravot News.08.o5 story, " "Iraqi women demand rights in country's new constitution" ]
---
08.28.05 Warning of 'Iraq extremism link'
August 28 – The [British] government was warned over a year ago by its most senior Foreign Office official that the Iraq war was fuelling UK Muslim extremism, it has emerged. Foreign Office Permanent Secretary Michael Jay issued the warning in a May 2004 letter, leaked to the Observer. The letter to Cabinet Secretary Sir Andrew Turnbull said British foreign policy was a "key driver" behind recruitment by extremist Muslim groups. The Foreign Office said it did not comment on leaked documents.


The letter said a "recurring theme" among the underlying causes of extremism in the Muslim community was "the issue of British foreign policy, especially in the context of the middle east peace process and Iraq". It added: "British foreign policy and the perception of its negative effect on Muslims globally plays a significant role in creating a feeling of anger and impotence among especially the younger generation of British Muslims." [More>>bbc.co.uk]
---
08.28.05 Reuters soundman shot dead in Baghdad
August 28 – A Reuters Television sound man has been shot dead in Baghdad and a cameraman with him was wounded and then detained by US soldiers. Iraqi police said they had been shot on Sunday by US forces. A US military spokesman said the incident was being investigated. Waleed Khaled, 35, was hit by a shot to the face and at least four to the chest as he drove to check a report from police sources of an incident involving police and armed men in the Hay al-Adil district, in the west of the city.

"A team from Reuters news agency was on assignment to cover the killing of two policemen in Hay al-Adil; US forces opened fire on the team from Reuters and killed Waleed Khaled, who was shot in the head, and wounded Haider Kadhem," an Interior Ministry official quoted the police incident report as saying. [More>>aljazeera.net]
---
08.28.05 Muslim teacher shot dead
YALA, August 28 – Suspected Islamic militants have shot dead a second Muslim religious teacher in four days in the latest violence in Thailand's restive south, police said overnight. Abdulmana Jaesaw, 34, was shot by two gunmen on a motorcycle as he stood in front of an arts workshop he owned in Yala town of Yala province. "He was shot once in the head and died at the scene," Police Lieutenant Colonel Somsak Napadol said.

He said the killing was "likely linked with the violence" in the southernmost provinces bordering Malaysia because Mr Abdulmana's shop had also printed campaign banners for the government's southern peacekeeping command. Anonymous handwritten leaflets have recently threatened death or maiming for owners of businesses that remain open on Thursdays and Fridays, while others have warned residents not to help the government or work for it. [More>>theaustralian.news.com.au]
---
08.28.05 Suicide blast punctures Mideast peace hopes after Gaza pullout
BEERSHEVA, Israel (AFP) August 28 – Five people were wounded on Sunday in the first Palestinian suicide bombing since the evacuation of settlers from the Gaza Strip, puncturing hopes that the historic pullout would break the cycle of Middle East violence. Two of those who were wounded in Beersheva were in a serious condition but more serious carnage appeared to have been averted after security at the station prevented the attacker from boarding a bus. Police and witnesses said that the attacker had blown up himself after being challenged by two security guards and a bus driver. [More>>khaleejtimes.com; See also haaretzdaily.com, "Abbas condemns Beersheva bombing as terrorist attack." and Maravot News 8.20.05, "Jerusalem Post article, "Hamas: the struggle is just beginning."]
---
08.28.05 Iran judges to carry guns after spate of attacks
TEHRAN (Reuters) August 28 – Iranian judges are to carry handguns from Monday after a judge was seriously wounded on Sunday in the fourth attack on a judiciary official in the last four weeks, officials said. Tehran's criminal prosecutor Fakhroldin Jaffarzadeh said the latest shooting meant judges would have to be armed. "All judges from prosecutors' offices will carry firearms from tomorrow and, in case they feel in danger, they are licensed to shoot," he told the ISNA students news agency.

Judge Mohammad Reza Aghazadeh was fighting for his life after he was shot in the eye outside his Tehran home on Sunday morning, Justice Minister Jamal Karimirad said. "I hope God helps us keep him alive," he said.

The motive for the shooting was not immediately clear, but the IRNA official news agency said Aghazadeh had been presiding over a major land transaction near the industrial city of Karaj, just west of Tehran. It was also not clear whether the shooting was linked in any way to attacks on three other judges. [More>>thestar.com.my]
---
08.28.05 Venezuela seeks cooperation with Korea in energy sector
August 28 – A visiting Venezuelan diplomat said here he hopes for wider cooperation with South Korea in the energy industry, combining Korea's sophisticated technology and the Latin American country's huge natural resources.

William Irazza, vice foreign minister of Venezuela, was in Seoul for four days until the weekend to bolster two countries' 40-year friendship and met high-level officials and key enterprises to discuss a progressive approach and deepening political, economic and cultural relationships. "We have the natural resources. Korea has the technology," said Irazza, whose country is the world's fifth-largest oil exporter. "Although Korea does not have much energy resources on land, especially no oil production, it has the skill to dig up oil and manage the production. We need to get that." South Korea, the seventh largest oil consumer and fifth largest net oil importer in the world, has 17 overseas exploration and production projects in 13 countries, including Venezuela. [More>>koreaherald.co.kr ; See also Maravot News 7.20.05, "Oil manoeuvres by China, India, challenge US."]
---
08.28.05 'Insurgents using pornography to raise funds'
GUWAHATI (Reuters) August 28 – Insurgents in north-east forced their cadre to perform in pornographic films to fund their insurgency, police said on Sunday, but insurgents said authorities were trying to malign them. Police said surrendered militants of the National Liberation Front of Tripura (NLFT) confessed that such films were sold in India, and neighboring Bangladesh and Myanmar. "We have many pornographic CDs with young women and men featuring in these movies which were handed over to us by some surrendered NLFT cadres," Ghanshyam Murari Srivastava, the police chief Tripura said. However, the militants denied this. [More>>expressindia.com]
---
08.28.05 Train derails after explosion in Daghestan
MAKHACHKALA (RIA Novosti), August 28 – An explosion occurred on board the Astrakhan-Makhachkala train in the Khasavuyrt district of Daghestan (Northern Caucasus) late night Saturday, a Daghestani interior ministry official said. No casualties have been reported so far. An explosive device was set up at the rail tracks and exploded under the passing train. As a result, the locomotive derailed. [rian.ru]
---
08.28.05 Taliban kill election candidate in sourthern Afghanistan
KABUL, August 28 – Taliban insurgents have killed a parliamentary election candidate in the southern Afghan province of Uruzgan in the latest attack aimed at disrupting the elections, an official said Sunday. Hadji Hatiqullah was ambushed 32 south of the provincial capital Tirin Kot, Uruzgan governor Jan Mohammed Khan told a western news agency. He was attacked by Taliban while travelling in his car with two other people who were wounded in the attack, he said. [jang.com.pk]
---
08.28.05 Rights group condemns caning of two women in Aceh for violating Islamic Law
JAKARTA (AP) August 28 – A leading human rights group on Sunday condemned as "insane" an Islamic court's caning of two unmarried couples in Aceh province for drinking alcohol and being alone together after dark. They were the latest Aceh residents to fall foul of new regulations that give the staunchly Muslim province the right to impose a version of Islamic Shariah law. The women fainted after being beaten 40 times on Friday outside a mosque in central Aceh, witnesses said. They were taken to a hospital, but had no serious injuries.

"We protest this insane sentence, and it should be reviewed by the Supreme Court," said Ifdhal Kasim of the rights organization ELSHAM. "It violates Indonesia's constitution that outlaws corporal punishment, torture and humiliation (of prisoners)."

The four were arrested late at night last month and found guilty by an Islamic court of violating laws prohibiting the consumption of alcohol and unmarried couples being together in private places. It was not clear where they were detained. The latter law is aimed at preventing premarital sex, seen as sin in Islam. Aceh is the only province Indonesia that has implemented Shariah. The first caning in Aceh occurred in June, with the flogging of 15 men convicted of gambling. [thejakartapost.com; See also Trends in the conflict of Islamic Law with National Laws: Maravot News report, "Woman's marriage dissolves if raped by husband's blood relative – Islamic Court." and Maravot News 8.18.05 report, "Islamic fatwa: [India] ..only veiled women can contest elections."]
---
08.28.05 Malaysia to keep close eye on ex-Pakistan madrassa students: report
KUALA LUMPPUR (AFP) August 28 – About 200 Malaysian students ordered out of Pakistan's madrassas, or Islamic seminaries, in July will be watched by police in case they have been exposed to militant activities, local media said on Sunday. The Malay Mail tabloid, citing an unnamed source, said authorities feared a backlash after foreign students were ordered to leave by Pakistan's President Pervez Musharraf, a key Western ally, shortly after the London bombings. "They may perceive the move as anti-Islam by Westerners to curb them from furthering their education in the religion," said the source. Thirteen Malaysian and six Indonesian students studying in madrassas in Pakistan were arrested in 2003 with suspected links to the Jamaah Islamiyah (JI) terror group, and authorities were wary of similar developments, said the source. [More>>thejakartapost.com; See earlier Maravot News report, "Pakistan to send foreign madrasa students home."]
---
08.28.05 Update Texas skirmishes bring the war home to Bush
George W. Bush's home town of Crawford, Texas has a population of 700, but thousands were temporarily added to the total yesterday as supporters and opponents of the Iraq war held rival demonstrations in the sleepy backwater. Amid growing concern that America is once again dividing over a difficult foreign war, hundreds of the presidentıs supporters poured into the town to confront peace protesters led by Cindy Sheehan, the mother of a US soldier whose death in Iraq has become the catalyst for a Vietnam-style anti-war movement.
The last week of the presidentıs month-long holiday in Texas is threatening to become a painful confrontation over patriotism, peace and spreading American doubts about Bushıs handling of the war. Despite attempts by his right-wing allies to portray Sheehan as a hysterical extremist undermining the US military effort — and who claimed last week to be supported by ³tens of thousands of angels² — new polls showed overwhelming support for her right to oppose the war. [More.>
timesonline.co.uk
]
Sheehan and her group have been complaining about Bush ignoring the question she and the people at Camp Casey have been asking, "What is the noble cause..."
A background on the movement is at
Maravot News 8.20.05
, "Camp Casey residents continue to ask Mr. Bush, 'What exactly is this noble cause?'" and "Sheehan leaves antiwar camp." Her initial comments from Camp Casey are at
Maravot News 8.08.05, where she complained, "...since this war is based on horrendous lies and deceptions."
She had demanded that the troops be brought home immediately in that statement, and this is the part of the statement that Bush answered, saying it would "weaken US power in Iraq and the Middle East to bring home our troops..."
The Camp Casey movement plans a march on Washington D.C. September 24-26. More alliances are being formed and the latest effort is a petition,
"A people's petition for an Iraq Peace Process."
Continuing updates on Camp Casey are available through
AfterDowningStreet.org
.
Congresswoman Lynn Woolsey has for months requested official bipartisan hearings on an exit strategy for Iraq, but has been blocked by Republican committee chairs. This week she announced unofficial hearings to be held on Capitol Hill on September 15.
The After Downing Street Coalition, Democrats.com, Progressive Democrats of America, Peace Action, and Code Pink will sponsor a rally in Lafayette Square Park, across from the White House, at 5 p.m. ET on September 15. Members of Gold Star Families for Peace, Military Families Speak Out, Veterans for Peace, and Iraq Veterans Against the War have been invited to speak.
Mel Copeland
---