---
08.08.05 Update, 08.07.05 Anti-Iraq war protest at Bush ranch in Texas
CRAWFORD, Texas, August 6 – Several dozen demonstrators protested against the Iraq war outside US President George W. Bush's Texas ranch, calling for the United States to withdraw its troops from Iraq.
Under a blistering sun, some 50 anti-war activists chanted "Bush, liar" and "How do you ask a soldier to be the last person to die for a lie?" outside the gates of the sprawling Prairie Chapel ranch near Crawford where the president is spending a month's vacation. The protestors were forced by police to stand in a ditch and stay off the otherwise deserted road as they yelled boos at the occasional car entering the ranch. [More>>
turkishpress.com
; See also
AfterDowningStreet.org
for more articles on the event; update 8.08.09 television reports quote Sheehan as saying that the group was initially intimidated by the President's security force and their tents were in a ditch and they had no toilet facilities; but Sheehan would stay until the President talks with her or the end of August.]
---
08.07.05 Terrorists turn to the web as base of operations
August 7 – Steve Coll and Susan B. Glasser prepared a report that is a 'must read article' for those concerned about the shifting tactics of terrorists : In the snow-draped mountains near Jalalabad in November 2001, as the Taliban collapsed and al Qaeda lost its Afghan sanctuary, Osama bin Laden biographer Hamid Mir watched "every second al Qaeda member carrying a laptop computer along with a Kalashnikov" as they prepared to scatter into hiding and exile. On the screens were photographs of Sept. 11 hijacker Mohamed Atta. Nearly four years later, al Qaeda has become the first guerrilla movement in history to migrate from physical space to cyberspace. With laptops and DVDs, in secret hideouts and at neighborhood Internet cafes, young code-writing jihadists have sought to replicate the training, communication, planning and preaching facilities they lost in Afghanistan with countless new locations on the Internet.

Al Qaeda suicide bombers and ambush units in Iraq routinely depend on the Web for training and tactical support, relying on the Internet's anonymity and flexibility to operate with near impunity in cyberspace. In Qatar, Egypt and Europe, cells affiliated with al Qaeda that have recently carried out or seriously planned bombings have relied heavily on the Internet. [More>>washingtonpost.com; See also "Destroying the ability of terrorists to communicate: From The Art of War."

---
08.08.05 Update, 08.07.05 UK to deport 500 Muslim extremists
LONDON (PTI) August 7 – In a massive crackdown on extremists following the London terror attacks, British authorities will deport in phases as many as 500 radical Muslims, out of which a dozen clerics will be sent to their homelands over the next two weeks. The move follows Prime Minister Tony Blair's announcement last week of a purge on terrorists and extremists.

Immigration officials have already been given a list of names, compiled by MI5, and told to begin proceedings. Among the first to be deported will be a dozen radical clerics. But hundreds of other foreign extremists, including some Islamic bookshop owners, writers, teachers and website operators will also go, the News of the World newspaper reported. [More>>expressindia.com; 8.08.05 Update, see sky.news.com, "Treason for militants idea;" timesonline.co.uk, (re: New York Times article), "Diary of British jihadi' unearthed in Pakistan,": ...the diary wonders how Muslims can live in London, the "vital organ of the minions of the devil," now that the "kufr," or unbelievers, have transformed the world into "a battlefield for the Muslims;" expressindia.com article, "Britain plans to rename minorites."
---
08.07.05 Inside the sect that loves terror
August 7 – An undercover investigation has caught leaders of a radical Islamic group inciting young British Muslims to become terrorists and praising the Tube bombers as "the fantastic four."

A Sunday Times reporter spent two months as a recruit inside the Saviour Sect to reveal for the first time how the extremist group promotes hatred of "non-believers" and encourages its followers to commit acts of violence including suicide bombings.

The reporter witnessed one of the sectıs leading figures, Sheikh Omar Brooks, telling a young audience, including children, that it was the duty of Muslims to be terrorists and boasting, just days before the July 7 attacks, that he wanted to die as a suicide bomber.

After the attacks that claimed 52 lives, another key figure, Zachariah, justified them by saying that the victims were not "innocent" people because they did not abide by strict Islamic laws. In the immediate aftermath the sectıs leader, Omar Bakri Mohammed, said: "For the past 48 hours Iım very happy." Two weeks later he referred to the bombers as the "fantastic four."

...In public interviews Bakri condemned the killing of all innocent civilians. Later when he addressed his own followers he explained that he had in fact been referring only to Muslims as only they were innocent: "Yes I condemn killing any innocent people, but not any kuffar." [More>>timesonline.co.uk]

Editorial note: An interesting site by an Islamic scholar defines what "kuffar" (disbelievers) means. His site, renaissance.com.pk – Arguments and Rational – details the Koran's verses and traditional and modern applications of the verses dealing with disbelievers: identifying them, punishing them, preaching to them and "'displaced directives." His argument refers heavily to Old Testament verses that set the foundation for verses of the Koran involving the punishment of disbelievers. The site (Punishing the Disbelievers) says, "In other words, what authorizes a Messenger to punish the Kuffar is that it can be ascertained in this very world that they are guilty of denying the basic truths in spite of being convinced about them. Good and evil are elucidated with ultimate clarity and people who accept evil do so not because of any confusion but because of their own stubbornness.

So it can be concluded that since a Messenger reveals the basic truths in their ultimate form and those who deny it do so because of their stubbornness and even confess their sins, a Messenger has the perfect justification to punish his people after they have denied him." But in other places says, (Misplaced Directives) "In other words, what is construed from this Hadith is that a Muslim will be rewarded with Paradise if he kills a non-Muslim. Consequently, Imam Abu Daıud, the celebrated Muslim scholar and compiler of Hadith has placed this Hadith in a chapter entitled: (bab fi fadli man qatala kafiran: Chapter on the Reward of a Muslim who Kills a Kafir). Again, it needs to be appreciated that these words relate to the Idolaters of the Prophetıs times who had lost their right to live after they had deliberately rejected the truth. These words are not related to later Muslims."

It is worthwhile for those who are trying to defeat Muslim terrorists to read the arguments listed in renaissance.com.pk.
Mel Copeland
---
08.06.05 US Presbyterian Church targets five companies with Israel links
August 6 – A Presbyterian committee accused five companies of contributing to "ongoing violence that plagues Israel and Palestine" and pledged to use the church's multimillion-dollar stock holdings in the businesses to pressure them to stop.

The move Friday follows a vote last year by leaders of the Presbyterian Church (U.S.A.) to put economic pressure on companies that profit from Israeli policy in the West Bank and Gaza.

The Church said the companies were selected based on its own developed criteria, namely companies which "support and maintain the occupation; establish, expand, or maintain Israeli settlements; support or facilitate violent acts by Israelis or Palestinians against innocent civilians; and support or facilitate the construction of the Separation Barrier." The group named heavy equipment manufacturer Caterpillar, communications giant Motorola, military contractor United Technologies, and electronics manufacturer ITT Industries – all of which are firms who have been contracted to supply the Israel Defense Forces.

The Church also listed international banking conglomerate Citigroup, which was cited in April by The Wall Street Journal for "having moved substantial funds from charities later seen to be fronts funneling money to terrorist organizations," including "funds [which] ended up as payments to the families of Palestinian suicide bombers." [More>>haaretzdaily.com]
---
08.06.05 London bomb suspect 'was reported to the police two years ago'
August 6 – Police were warned that Osman Hussain, the bombing suspect arrested in Rome, was a dangerous extremist at least two years before the attempted attacks on London, it was claimed last night. Hussain, who is wanted for questioning in connection with the failed attack on Shepherd's Bush station, is said to have been brought to the attention of the Metropolitan Police by the trustees of Stockwell Mosque, in south London.

The trustees allege the 27-year-old Ethiopian was among a group who were trying to take over the management of the mosque by convincing attendees that it was not being run in accordance with Islamic law, Channel 4 News reported. The news came as Hussain's lawyer was reported as saying that detectives from Scotland Yard are to fly to Rome to interrogate the suspect over his role in the July 21 bombings, ahead of his extradition hearing, due to be held on 17 August. [More>>independent.co.uk]
---
08.06.05 Key Iraq charter meeting delayed as rebels kill 10
BAGHDAD (AFP) August 6 – A crucial meeting on Iraq's constitutional stalemate was put off yesterday by an emergency session of the Kurdish autonomous Parliament as sustained rebel attacks left 10 people dead. The two-day delay came against a backdrop of relentless violence that has seen at least 40 US troops die in the past 10 days, putting the overall death toll for US troops at 1,818 since the March 2003 invasion of Iraq.

US military spokesman Brigade General Donald Alston said US military operations in Anbar Province, which includes the area where the Marines died, have had some success in disrupting insurgent activities.

"We still have deaths. We still have suicide car bombs," he said. "But the numbers we see indicate [the insurgents] can't generate the same tempo, and I think that's because we've had some degree of effect in interdicting these forces."

US President George W. Bush vowed to "stay the course" in Iraq despite the killings and a new Al-Qaeda tape Thursday warning the US and Britain of more death and destruction. [More>>dailystar.com.lb]
---
08.06.05 Alleged letter to Zarqawi suggests dissent in Iraq Al Qaeda ranks
BAGHDAD, August 6 – A letter allegedly written by a member of Al Qaeda in Iraq to its country head Abu Mosab Al Zarqawi suggests that there was dissent in the ranks of fighters operating out of Mosul, according to excerpts provided in a statement by the US military on Saturday. In the letter that the US says it discovered July 27 during a raid on a home in the northern Iraqi city of Mosul, the author ³Abu Zayd² complained of poor local leadership in the organization and the mistreatment of foreign fighters. ³This is a clarification of what has become of the situation in Mosul, and it is no secret to you the noticeable decrease in the attacks carried out by the mujahideen from not long ago when Mosul was in the hands of the mujahideen,² wrote Abu Zayd.

The most recent wave of bloody attacks in the city occurred in late June.

Among the charges Abu Zayd levels at the leadership, according to the summary provided by the statement, are the incompetence of the Mosul leadership, disobedience of troops and the squandering of funds. His woes include the ³deplorable² conditions suffered by non-Iraqi fighters including bad pay, housing problems and marginalization within the organisation. The statement did not give Abu Zaydıs nationality. [More>>khaleejtimes.com]
---
08.06.05 Iraqi Kurds reject 'Islamic Iraq' as US hunts rebels
BAGHDAD (AFP) August 6 – Iraqi Kurds on Saturday rejected suggestions the country should be proclaimed an Islamic state as the northern regionıs autonomous parliament debated the countryıs draft constitution ahead of a national conference on the issue on Sunday. Massud Barzani, the president of Iraqıs autonomous Kurdistan, said the Kurds would not compromise on their demands that include a federal Iraq and the incorporation of the northern oil centre of Kirkuk in their autonomous region. ³We will not accept that Iraqıs identity is Islamic,² Barzani told an emergency session of the autonomous Kurdistan parliament. He also rejected suggestions that Iraq be termed an Arab nation. ²Let Arab Iraq be part of the Arab nation – we are not,² the Kurdish leader said. [More>>khaleejtimes.com; See also separate story, dailystar.com.lb, "Iraqi women mobilize against imposition of Islamic law" : WASHINGTON: With less than two weeks to the announcement of the Iraqi constitution draft, women activists brought their battle to Washington in a bid to preserve their rights, perceived to be under threat by conservative groups wanting to impose Islamic Sharia as the constitution's sole source. "Islam is a great religion and respects women," said Basima Fakhri, President of the Baghdad-based Women's Alliance for a Democratic Iraq (WAFDI), during a news conference at the National Press Club. Yet she argued that the constitution draft was "a case for alarm and a call for action."

According to the draft released by Iraq's daily Assabah on July 26, the new constitution will stipulate that the state "guarantees the basic rights of women and their equality with men at all levels in accordance with the Islamic Sharia." However, it also states that Islam should be its sole source.

An earlier article, Middle East Times, August 2, 2005, "Iraqi women demand rights in country's new constitution" : BAGHDAD -- Women from different Iraqi rights groups met here on Monday to issue a list of demands that they believe would guarantee women's rights in the country's new constitution. The informal group issued a statement demanding that Islamic law, or Sharia, not be one of the sources of the constitution; that Iraq should abide by all international rights treaties and that all Iraqi men and women have equal legal rights. It also called for female representation "in the three branches of government and in other decision-making positions [to] be no less than 25 percent."]

Editorial note: The Kurds rejected the new constitution, the Sunnis oppose it and the women are rising up against the issue of Sharia law and Shiite Iran (whose law of the land is Sharia law) is accused of exporting more sophisticated bombs to insurgents in Iraq. It is apparent that George W. Bush was poorly learned in history and doubtfully has ever read the Koran, and now this modern Caesar is trying to impose his laws on Iraq. There may be some coincidence between Bush's view of justice and the American Constitution, but history has recorded that Bush's law is clouded with episodes of circumnavigating the law, beginning with his own Presidential election (forcing the election to be determined by the Supreme Court, not the electorate, who were demanding a recount in Florida because of Florida voting irregularities).

America's history of establishing democracies in captured territories is not that great. It seems that nations adopt their own version of what they feel is freedom. The Philippines is the classic example of how American democracy can be adopted, as its government had (and may still be) one of the most corrupt governments in the world, most notably being that of the Marcos administration. Philippine President Arroyo is accused of corruption as well in inq7.net article, "The President's disregard for institutions."

Some Caesars were enlightened, such as Caesar Augustus and Marcus Aurelius. But there were several following Julius Caesar (Augustus was his nephew) that still live in infamy, such as Caligula, Nero and Domitian. I have noted – and sincerely believe – that George W. Bush compares mostly to Domitian. Based upon what is happening in Iraq the American people have gotten themselves into a grim mess that history will not fondly remember.
Mel Copeland
---
08.06.05 Rescuers lifting submersible to let divers work
MOSCOW (RIA Novosti) August 6, 18:00 – Rescuers are trying to lift the stricken submersible to the depth of 30-50 meters to let divers work, Russian Navy Deputy Commander-in-chief Igor Dygalo said.

"An MB-105 sea tug and a KIL-168 vessel have brought a loop under the bottom of the construction holding the AS-28 deep-sea vessel," he said. "Tows will lift the construction to 50-30 meters to let divers work." [rian.ru; earlier the newspaper reported that dragging the submarine about 100 meters had freed the two concrete anchors that had been holding the net and submarine to the bottom]
---
08.06.05 Indian team to visit China for oil talks
(AFP) August 6 – An Indian delegation will head to China next week to explore ways to cooperate in acquiring foreign energy assets to meet the soaring fuel needs of their fast-growing economies, a report said. A senior Indian diplomat attached to the oil ministry will lead the delegation to discuss opportunities for the two countries to cooperate in obtaining oil and gas assets, Hindu Businessline said on Saturday. The focus for cooperation by the world's two most populous countries would include Central Asia, Africa and Latin America.

The Indian diplomat, Talmiz Ahmad, said both India and China were concerned with achieving energy security, the newspaper quoted him as saying. "We see in this similarity of approach possibilities of bilateral cooperation," Ahmad said." Both countries have been rushing to acquire energy assets abroad and are often seen as rivals. But energy analysts say it might make more sense for them to cooperate to gain economies of scale and negotiating muscle. [More>>chinadaily.com.cn]
---
08.06.05 Some bombs used in Iraq are made in Iran , US says
WASHINGTON, August 5 – Eric Schmidt reports: Many of the new, more sophisticated roadside bombs used to attack American and government forces in Iraq have been designed in Iran and shipped in from there, United States military and intelligence officials said Friday, raising the prospect of increased foreign help for Iraqi insurgents. American commanders say the deadlier bombs could become more common as insurgent bomb makers learn the techniques to make the weapons themselves in Iraq.

But just as troubling is that the spread of the new weapons seems to suggest a new and unusual area of cooperation between Iranian Shiites and Iraqi Sunnis to drive American forces out – a possibility that the commanders said they could make little sense of given the increasing violence between the sects in Iraq.

Unlike the improvised explosive devices devised from Iraq's vast stockpiles of missiles, artillery shells and other arms, the new weapons are specially designed to destroy armored vehicles, military bomb experts say. The bombs feature shaped charges, which penetrate armor by focusing explosive power in a single direction and by firing a metal projectile embedded in the device into the target at high speed. The design is crude but effective if the vehicle's armor plating is struck at the correct angle, the experts said...they first began appearing about two months ago...[Full story>>nytimes.com via (Reuters) expressindia.com]
---
08.05.05 Many organizations to confront George W. Bush at Crawford ranch –'War based on horrendous lies'
August 5 – Saturday, August 6, the President will be confronted by several groups protesting the war in Iraq. Leading the protestors will be Cindy Sheehan, Co-Founder of Gold Star Families for Peace, and mother of a soldier killed in action in Iraq.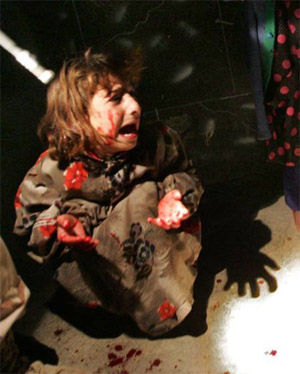 A child in Iraq at the time of George W. Bush's inauguration. From an article by Joan Chittister published Friday, January 28, 2005 by the National Catholic Reporter, "What the rest of the world watched on Inauguration Day." Article was republished by gsfp.org.
Chittister's article is about this photo that appeared in many newspapers in Europe on Inauguration Day and begins:
Dublin, on U.S. Inauguration Day, didn't seem to notice. Oh, they played a few clips that night of the American president saying, "The survival of liberty in our land increasingly depends on the success of liberty in other lands." But that was not their lead story.
The picture on the front page of
The Irish Times
was a large four-color picture of a small Iraqi girl. Her little body was a coil of steel. She sat knees up, cowering, screaming madly into the dark night. Her white clothes and spread hands and small tight face were blood-spattered. The blood was the blood of her father and mother, shot through the car window in Tal Afar by American soldiers while she sat beside her parents in the car, her four brothers and sisters in the back seat.
A series of pictures of the incident played on the inside page, as well. A 12-year-old brother, wounded in the fray, falls face down out of the car when the car door opens, the pictures show. In another, a soldier decked out in battle gear, holds a large automatic weapon on the four children, all potential enemies, all possible suicide bombers, apparently, as they cling traumatized to one another in the back seat and the child on the ground goes on screaming in her parents' blood.
No promise of "freedom" rings in the cutline on this picture. No joy of liberty underlies the terror on these faces here.
I found myself closing my eyes over and over again as I stared at the story, maybe to crush the tears forming there, maybe in the hope that the whole scene would simply disappear..." [More>>(gsfp.org)
Gold Star Families for Peace
]
---
Sheehan and others feel that the killing of American sons and daughters and those in Iraq needs to stop. A Benedictine Sister of Erie, Sister Joan Chittister is a best-selling author and well-known international lecturer.

She plans to confront President Bush with questions at his Crawford ranch on Saturday morning, August 6, 11 a.m. CT. Accompanying Sheehan will be members of Veteran's for Peace (VFP), Military Families Speak Out (MFSO), Iraq Veterans Against the War (IVAW), CODE PINK, and Crawford Peace House, all members or allies of the
AfterDowningStreet.org
Coalition.
On Wednesday, Bush said (speaking about the dreadful loss of life in Iraq in August): "We have to honor the sacrifices of the fallen by completing the mission" and "The families of the fallen can be assured that they died for a noble cause."
In response, Sheehan wrote:
"We want our loved ones' sacrifices to be honored by bringing our nation's sons and daughters home from the travesty that is Iraq IMMEDIATELY, since this war is based on horrendous lies and deceptions. Just because our children are dead, why would we want any more families to suffer the same pain and devastation that we are? We would like for him to explain this 'noble cause' to us, and plan to ask him why Jenna and Barbara are not in harm's way, if the cause is so noble. If he is not ready to send the twins, then he should bring our troops home immediately. We will demand a speedy withdrawal."

Sheehan said today that she plans to stay "until we are arrested or satisfied with the answers."

Sheehan will be carrying with her a collection of signatures on a petition asking that the troops be brought home, including 25,000 signatures collected at OutOfIraq.org.

Below are statements from participants in tomorrow's events, as released August 5 by the Institute for Public Accuracy:

DIANE WILSON, WilsonAlamobay@aol.com, Co-founder of the women's peace group CodePink, Wilson is a Texan now on her way to Crawford. She said today: "I totally sympathize with Cindy. The Army tried to recruit my autistic son. They tried to get my daughter to join too, they led her to believe she would be joining the Coast Guard when it was actually the Army. My daughter was needing money, we make our living fishing and have trouble making ends meet, so the military can be tempting. If George Bush really thinks this is such an honorable battle, let me send his twins over there." Wilson wrote the just-released book "An Unreasonable Woman: A True Story of Shrimpers, Politicos, Polluters, and the Fight for Seadrift, Texas."

HADI JAWAD, shadijawad@aol.com, Jawad is spokesperson for the Crawford Peace House and will be accompanying Sheehan from Dallas to Crawford on Saturday.

To contact the Institute for Public Accuracy call Sam Husseini, (202) 347-0020; or David Zupan, (541) 484-9167. [More>>afterdowningstreet.org]

Editorial note: Seeking a photo of the protest's organizers for this article, I visited the Gold Star Families for Peace site and realized that no photo represents what the protest is about better than this child.
Mel Copeland
---
08.05.05 Thirty one Muslim groups support MUI fatwas
JAKARTA, August 5 – Thousands of people grouped in the Islam Followers Forum, representing 31 Muslim organizations, gathered at Al-Azhar Mosque here on Friday to voice support for the controversial fatwas recently issued by the Indonesian Ulema Council (MUI). Mashadi, the forum's chairman, said the group felt it was necessary to show its support in response to the growing criticism of the edicts and the MUI. "We want to express our concern over the condemnation of the fatwas and of the religious figures who try to distort the fatwas to make them look as if they do not acknowledge (religious) tolerance," Mashadi said.

The edicts issued by the MUI include a ban on liberal Islamic thought, which is defined as interpreting religious texts using pure rationale, and a prohibition of secularism and pluralism, which consider all religions as being equally valid and having relative truths. [More>>thejakartapost.com]
---
08.05.05 Cassini captures Saturn's auroras
August 4 – The Cassini spacecraft has obtained new images of Saturn's auroral emissions, which are similar to Earth's Northern Lights. Images taken on June 21, 2005, with Cassini's ultraviolet imaging spectrograph are the first from the mission to capture the entire "oval" of the auroral emissions at Saturn's south pole.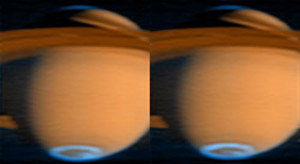 Aurora like the Earths Northern Lights on Saturn. Image: Cassini, saturn.jpl.nasa.gov
In the side-by-side, false-color images, blue represents aurora emissions from hydrogen gas excited by electron bombardment, while red-orange represents reflected sunlight. The images show that the aurora lights at the polar regions respond rapidly to changes in the solar wind.
Previous images have been taken closer to the equator, making it difficult to see the polar regions. Changes in the emissions inside the Saturn south-pole aurora are visible by comparing the two images, taken about one hour apart. The brightest spot in the left aurora fades, and a bright spot appears in the middle of the aurora in the second image.
Made by slowly scanning the ultraviolet imaging spectrograph instrument across the planet, the images contain more than 2,000 wavelengths of spectral information within each picture, which helps researchers study Saturn's auroras, gases, hazes and their changing distributions. Like Earth's aurora, those on Saturn form in an oval at high latitudes around each pole, along with associated spots and streaks. The ultraviolet imaging spectrograph data shows that the Saturn aurora lasts at least one hour, but small changes are visible in that time between the two images.
The same process produces auroras on both planets: variations in the plasma environment release trapped electrons, which stream along the magnetic field lines into the upper atmosphere. There, they collide with atoms and molecules, exciting them to higher energies. The atoms and molecules release this added energy by radiating light at particular characteristic colors and wavelengths. On Earth, this light is mostly from oxygen atoms and nitrogen molecules. On Saturn, it is from emissions of molecular and atomic hydrogen. [More>>
saturn.jpl.nasa.gov
]
---
08.05.05 Islamic leaders in the south of Thailand ask for Shariah court
August 5 – Islamic leaders in the far South have urged Deputy Prime Minister and Justice Minister Chidchai Wannasathit to support the setting up of a Muslim, or Shariah, court in the three southernmost provinces of Yala, Pattani and Narathiwat.

Abdullahman Abdulsomat, chairman of the Narathiwat Islamic Committee, yesterday led Muslim leaders from the deep South to meet Gen. Chidchai at Government House to discuss measures to tackle southern problems and the Islamic court. Gen. Chidchai promised to consider the proposal, and urged Muslim leaders to help persuade rebels to surrender to the authorities.

The minister said the government would provide financial support for the translation of the Koran from Arabic into Thai. Copies of the translated version of the Koran would be distributed to local Buddhists and Muslims so they would have a better understanding of Islamic teachings which did not support the use of violence or promote separatism.

Gen. Chidchai wanted Thai national flags and signboards written in Thai language to be erected at mosques and Islamic religious schools in the deep South to instill in locals a sense of being Thai. During the meeting, the Muslim leaders proposed that the Executive Decree on Public Administration in Emergency Situations be translated from Thai into Malayu or Arabic. Many Muslims viewed the decree as being tougher than martial law.

The Muslim leaders called on Gen. Chidchai to apply ''the Islamic middle path'' in the deep South. The middle path, which was used in Malaysia, focused on the principle of peace in social and economic development. Gen. Chidchai asked the Muslim leaders to seek details of the Islamic middle path from Malaysia and then submit their proposal to him. [bangkokpost.net]

Editorial note: A Shariah court would be a court that uses the Koran as the foundation for court judgments. Such a court (the All India Muslim Personal Law Board) ordered a woman raped by her father-in-law to separate from her husband and marry the rapist. See Maravot News 7.02.05 : 'Woman's marriage dissolves if raped by husband's blood relative' – Islamic Court.
---
08.05.05 Fears grow for air supply of Russia mini-sub crew
MOSCOW (Reuters) August 5 – Seven Russian sailors were trapped on board a stranded military mini-submarine 600 feet down on the sea floor of the Russian Pacific on Friday with enough air to last only 24 hours, officials said. The AS-28 mini-submarine, itself a rescue vessel, ran into trouble on Thursday when its propeller got entangled in fishing nets during a military exercise off the Kamchatka peninsula.

As a big rescue operation, involving Russian and Japanese ships, got under way to bring the crew up, naval officials suddenly revised their earlier assertions that the crew had enough air to last them several days. "After additional calculations by fleet specialists and after talks with the crew, it has been established that there was only a 24 hours supply of air on the AS-28," chief naval spokesman Alexander Dygalo was quoted as saying by Interfax news agency. [More>>thestar.com.my]
---
08.05.05 Talks deadlocked; DPRK wish for peaceful nuke activities
August 5 – Talks on North Korean nuclear disarmament were deadlocked when the United States and North Korea could not agree on the latter's nuclear programs for peaceful purposes -- the key stumbling block in negotiations, reports said. North Korean chief delegate Kim Kye-gwan insisted that his country should enjoy the right for peaceful nuclear activities, AFP reported. The U.S. was the only country opposed to its use of nuclear energy for civilian purposes, such as nuclear power plants, Kim said, but he believed Washington would ultimately be persuaded into supporting Pyongyang position. [More>>chinadaily.com.cn]

Editorial note: It is odd that the US is willing to help India in the development of peaceful nuclear energy plants but opposes others. The US opposition to Iran is the same as with its opposition to Korean (Bush's Axis of Evil, minus Iraq) and the issue seems to come down to being a member of the nuclear [arms] club. If you already have nuclear arms, you can have nuclear power plants, it seems, according to the Bush scheme of things.
Mel Copeland
---
08.05.05 Iraqi rebel gives televised account of beheadings
MOSUL, Iraq, August 5 – Armed with a long-bladed commando knife, an Iraqi rebel has gone on prime time television to describe how he trussed up his victims and slit their throats, slicing downward until their heads fell off.

Mohammed Fadhel, a car park owner from the northern Iraqi town of Mosul and sometime executioner for a local insurgent cell linked to Al-Qaeda, appeared on Al-Iraqia television this week as part of a government campaign to highlight police success stories and the dark deeds of the insurgency. [This story is grim – comparing the slaughter of humans to sheep – to read more>>jang.com.pk]
---
08.05.05 Blair announces sweeping new anti-terrorism measures
LONDON (AFP) August 5 – Prime Minister Tony Blair announced on Friday a sweeping range of new powers to combat terrorism following the London bombings, warning hardline clerics in the country that ³the rules of the game are changing." A combative Blair also responded furiously to an Al Qaeda statement justifying the attacks, the first of which killed 56 people, as a response to the conflicts in Iraq and Afghanistan, labelling this argument an ³obscenity."

Speaking at his final Downing Street press conference before an imminent summer break, Blair unveiled around a dozen proposals to crack down on radical Muslim clerics who advocate terrorism or foment hatred.

³Let no one be in any doubt that the rules of the game are changing,² a stern Blair warned. ³Coming to Britain is not a right and even when people have come here, staying here carries with it a duty. That duty is to share and support the values that sustain the British way of life,² he said.

Among potentially controversial moves is a possible review of the 1998 Human Rights Act, which incorporates the European Convention on Human Rights into British law, to see if it might have to be circumvented to speed up the deportation of foreign nationals linked to terror. A section of the convention preventing deportation if the detained person fears torture on their return home might be challenged, Blair said. Additionally, Britainıs obligations under international asylum rules would be altered, the prime minister said.

³Anyone who has participated in terrorism or has anything to do with it, anywhere, will automatically be refused asylum in our country,² he said.

...Other changes would involve increasing court capacity to speed up deportations, banning hardline groups such as Al Muhajiroun -- a British-based group that cheered the September 11 attacks in the United States, whose members say it has disbanded -- and setting a maximum time limit on extradition cases. Additionally, powers would be extended allowing the government to strip citizenship from people with British or dual nationality who ³act in a way that is contrary to the interest of this country², Blair said.

For British nationals, the government would extend the use of so-called ³control orders², which currently allow measures such as limited house arrest for foreign nationals suspected of terrorism...[Full story>>khaleejtimes.com]
---
08.05.05 'Garang crash may not have been an accident'
YEI, Sudan (AFP) August 5 – Ugandan President Yoweri Museveni said on Friday that the helicopter crash that killed Sudanese vice president and ex-rebel leader John Garang may not have been an accident, contrary to official explanations. ³Some people say accident, it may be an accident, it may be something else,² Museveni said, suggesting for the first time that the July 31 crash of his presidential chopper in which Garang was riding may have been the result of foul play. ³I am looking (at) all options,² he told a crowd of thousands of mourning southern Sudanese in Yei where Garangıs body was brought as part of a funeral procession before his Saturday burial in the town of Juba. [More>>khaleejtimes.com]
---
08.05.05 Sharon calls for recognizing Shfaram shooting as terror attack
August 5 – Prime Minister Ariel Sharon instructed the National Insurance Institute on Friday to recognize Thursday's shooting attack in Shfaram, in which a Jewish gunman killed four Arab citizens, as a terror attack. Such a move would grant the families of those killed, as well as those wounded in the shooting, funds allocated to terror victims. The law grants families of those killed in terror attack monthly allowances for the rest of their lives.

When Baruch Goldstein killed 29 worshippers at the Tomb of the Patriarchs in 1994, none of the victims were recognized as victims of terror, because they were not Israeli citizens. In response to Sharon's decision, the NII said that the legal aspects of recognizing the shooting as a terror attack must be checked, because according to law, a terror attack is conducted by a hostile entity.

At this stage, the NII will provide services to the families of those killed and wounded as if the shooting has already been recognized as a terror attack. [More>>haaretzdaily.com; See also related story, haaretzdaily.com, "Three friends of Shfaram gunman arrested at West Bank settlement of Tapuah" : Three teenage friends of IDF deserter Eden Natan-Zada were arrested early hours Friday morning, hours after he shot four dead Israeli Arabs on a bus in Shfaram. The three were detained on suspicion that they knew of Natan-Zada's plan to attack Arabs.

Aljazeera.net gives the story a different twist: "Israel on high alert after bus killings" : Israel has gone on alert for a possible wave of unrest after a Jewish militant shot dead four Israeli Arabs. Prime Minister Ariel Sharon has condemned the gunman, who was beaten to death after the attack by residents in the Arab town of Shfaram, as a "bloodthirsty terrorist." And he vowed that Israel would begin pulling its settlers and forces out of the occupied Gaza Strip as planned on 17 August, no matter what attempts were made to thwart it. Thousands of Israeli police have been re-deployed to Arab areas of northern Israel, where Thursday's attack aboard a bus occurred, to preempt potential riots before or after funerals for the four dead. Another feared hotspot is Jerusalem's al-Aqsa mosque, where Friday prayers were scheduled. The main Palestinian resistance faction Hamas, which with other armed groups adopted a defacto ceasefire with Israel in February, has threatened reprisals for the bus shooting.]
---
08.05.05 Destroying the ability of terrorists to communicate: From 'The Art of War'
August 5 (Maravot News, Mel Copeland, editorial) – It is curious that al-Jazeera media can accommodate the terrorist organization al-Qaida so easily without being questioned on the legal problem of aiding the terrorists through assisting them in the continuous dissemination of al-Qaida propaganda. al-Qaida issued a statement that requires "crusaders" to leave Muslim lands. Al-Qaida does not, of course, occupy any land (legitimately), and where their base appears to be presently located is along the Afghanistan-Pakistan border. On March 27, 2004 (aljazeera.net) President Pervez Musharraf of Pakistan vowed to eliminate al-Qaida, however. How can al-Qaida speak for the governments of Muslim nations? And how is it that al-Jazeera gives so much credibility to al-Qaida that they break al-Qaida propaganda into component, explanatory parts? The August 4, 2005 edition of aljazeerra.net published [a list of] several articles, the segments of which are now scattered but can be found at the following links: aljazerra.net, "Al-Zawahri warns UK of more attacks" ; aljazeera.net, Feb. 2, 2005, "Al-Qaida blasts US notion of 'freedom'" ; aljazeera.net, Oct. 2, 2004, "Al-Zawahri: Resist crusaders" ; aljazeera.net, 10 Sept. 2004, "Al-Qaida: US facing twin defeats" ; and last but not least the apparently sympathetic profile by aljazeera.net, "Profile: Ayman al-Zawahri."

All media, whether they be newspapers, television or the internet, have to edit the news they offer to their readership. Part of the editing involves determining which stories to publish and how to publish them. This process is a discipline of self-censorship. The BBC does not cover all stories, for instance, because of the limitation of time and space for the daily media. Thus, to get a good grasp of what is happening around the world one may have to read many newspapers around the world, and each paper or news organization may carry a different slant on a particular story. And often a national newspaper may not carry a story that is posted in a foreign press. Thus, self-censorship occurs on many levels and for many reasons.

The trial of Julius Streicher established a universal criteria of self-censorship, decrying that publishing hate propaganda is an international crime, subject to the death penalty, depending upon the extent of the crime. His execution by the Nuremberg Court established a precedent for future generations of publishers. That criteria has yet to be applied to certain media that do not seem to be aware of the consequences of aiding terrorist organizations.

The modern art of war against terrorists can be guided by some old criteria established ~ 500 B.C. by Sun-tzu who wrote a treatise, "The Art of War." George W. Bush may not be familiar with the precepts, since he violated most of the "do nots" discerned by Sun-tzu, when invading Iraq. Two "do nots" were: "Do not conduct a prolonged war. The army gets fatigued, the weapons get dull..." and "Do not engage the enemy in "fatal territory." Fatal territory is where an army is deep within the territory of the enemy, without local support, like being caught in a dead-end canyon with the enemy perched above, with no escape. Another criteria – being critical to the art of war – is cutting off the communication resources of the enemy. If an army cannot communicate with its various units, it is at a disadvantage. The art of war necessitates always putting the enemy at a disadvantage. An enemy having to defend many fronts, for instance, is at a disadvantage; an enemy that cannot communicate with its generals and is cut off from developing sympathizers is at a disadvantage.

The war against terrorism is not unlike a war against organized crime or gangs. Insurgents, however, localize and politicize their issues and may or may not gain support from foreign governments to assist them in their cause of "liberation."

Al-Qaida is not an insurgency, it is not localized to any nation and it does not hope to liberate anyone but rather to dominate and eliminate citizens that do not subscribe to al-Qaida views. It hopes to destroy Western Civilization and replace it with its own barbaric ways. Since it has no place from which to legally operate and is being hunted down, it depends foremost on communication in order to gain sympathy and support, through which it extends its terror around the globe. Who has helped al-Qaida in this regard is Al-Jazeera. And the nation that allows al-Jazeera to broadcast within its borders the propaganda of the terrorists shares in the crime of aiding and abetting the mass murder of people around the world.

Al-Jazeera has always had the ability to "self-censor" stories. We can wonder what the fate of al-Qaida might have been, being deprived of its base of operation in Afghanistan, had no news media published their propaganda. The terrorists might have disintegrated.

The collapse of al-Qaida will come when its means of communication is destroyed. Al-Jazeera could do itself and the world a favor by turning in the couriers of al-Qaida (at least on the next delivery) and turning over the tape propaganda (without publication) to the governments seeking the arrest of al-Qaida operatives. Al-Jazeera could give the international governments seeking al-Qaida operatives the right to determine whether a tape propaganda should be published. Finally, we can reflect on another aspect of earning [advertising] money through the publication of hate propaganda: It's blood money – from the blood of thousands murdered by the terrorists – isn't it?

An excellent copy of Sun-tzu's "The Art of War" is at chinapage.com, in both English and Chinese. Another text, with introduction and notes, is at http://www.kimsoft.com/polwar.htm.
---