News Headlines & Trends
---
08.27.05 Israel urges PA to crack down on Hamas after video release
GAZA CITY, Gaza Strip (AP) August 27 – Hamas on Saturday released a rare videotape of a man it said is the bomb maker pursued by Israeli security forces for more than a decade. The man, identifying himself as Israel's most-wanted terrorist, Muhammad Deif, described Israel's withdrawal from the Gaza Strip as a victory for armed resistance, rejected calls for his group to disarm, and vowed to continue attacks on Israel until the Jewish state is erased from the map.

"You are leaving Gaza today in shame," he said. "Today you are leaving hell. But we promise you that tomorrow all Palestine will be hell for you, God willing." [More>>Jerusalem Post]
---
08.27.05 Chirac insists Turkey's unchanged stance on Cyprus not in EU spirit
August 27 – Turkey's declaration that its signing of a key European Union protocol did not change its stance on Cyprus was not "in the spirit" of a country trying to join the EU, French President Jacques Chirac said. Chirac's spokesman said the president told EU Commission President Jose Manuel Barroso during talks in Paris that this declaration "poses political and legal problems and that it's not in the spirit of what one expects from a candidate to join the Union."

"That's why we want to discuss this with our partners" at the next EU foreign ministers' meeting on September 1-2" in Wales, he said.

Chirac told Barroso that France "had questions over the interpretative declaration Turkey added to its protocol of adhesion." Turkey on July 29 signed an accord extending a custom's agreement to the newest EU members, including Cyprus, but declared in an annex that this did not amount to recognition of the Greek Cypriot government. [More>>dailystar.com.lb]
---
08.27.05 US military frees 1,000 Iraq detainees amid charter talks
BAGHDAD (AFP) August 27 – The US military announced on Saturday that it had released around 1,000 prisoners from the infamous Abu Ghraib prison over the past three days amid efforts to win Sunni Arab endorsement for a new Iraqi constitution. A statement confirmed that most of those freed were Sunnis although it added that they represented different Iraqi communities and stressed that none were suspected of serious acts of violence. It was the largest single release from the jail since the US military took it over as a detention facility in the aftermath of the March 2003 invasion. [More>>khaleejtimes.com]
---
08.27.05 Al-Qaeda targeting US, Australia: South Korea intelligence
SEOUL, August 27 – Al-Qaeda has listed the United States and Australia as prime targets for attacks this year along with Britain, South Korea's spy agency has reported, according to a lawmaker on Saturday. South Korea, Japan and the Philippines are secondary targets, South Korea's National Intelligence Service (NIS) told parliament this week, quoting a "senior" Al-Qaeda member arrested last month. "According to NIS, this terrorist testified that South Korea, Japan and the Philippines are secondary targets, while the United States, Britain and Australia are the prime targets for this year," a lawmaker told media. [jang.com.pk]
---
08.27.05 Bush's popularity hits all time low
WASHINGTON (PTI) August 27 – US President George W. Bush's popularity rating has plunged to an all time low since he assumed office four and a half years ago, a survey has found. Continuing its downward slide, the President's approval rating in the month of August dipped by four per cent to touch the lowest level of 40 per cent, according to the Gallup poll.

While he managed to garner the approval of 40 per cent of Americans, a staggering 56 per cent of the respondents opined that his performance in the White House was not satisfactory. [More>>indiaexpress.com; See also Chinadaily.com.cn, etc.]
---
08.27.05 Sunni infighting involving Al-Qaeda erupts in Iraq
RAMADI, Iraq (Reuters) August 27 – Two Sunni Arab tribes, one loyal to al Qaeda and the other to the government, clashed in western Iraq, killing at least 20 people and wounding scores, clerics and hospital officials in the town said on Saturday. The tribes fought months ago and violent confrontations erupted again on Friday and Saturday near Qaim, where US Marines launched several offensives to root out insurgents from May to July. Clerics in the town say members of the Karabilah tribe – allied to Al-Qaeda – attacked homes of the rival Albu-Mehel tribe – many of whom are members of Iraq's new security forces in their province of Anbar. Witnesses from the town said the tribes were involved in intense fire fights and mortar attacks in the streets. The US military confirmed that two tribes were fighting but had no information on casualties. ..Hospital officials say they have received 20 bodies in the past day but that the death toll is likely to be much higher as tribes often perform quick burials and the hospital is in the control of Al-Qaeda – leaving Albu-Mehel to send their casualties elsewhere. [Full story>>thestar.com.my]
---
08.27.05 Scientists: Possible medicine found for SARS treatment
GUANGHOU, August 27 – Scientists announced a possible breakthrough in the treatment of severe acute respiratory syndrome (SARS) on Friday. According to their report in Guangzhou, South China's Guangdong Province, small interfering Ribonucleic Acid (siRNA), able to target specific genes, is showing efficiency in combating the disease.

SARS, first recognized in 2002, killed 774 people worldwide before it was brought under control by quarantine, isolating patients and restricting travel. Since then, researchers led by Zhong Nanshan, director of the Guangzhou Institute of Respiratory Diseases, have been working to find drugs and vaccines to prevent another outbreak. [More>>chinadaily.com.cn]
---
08.27.05 Teikoku Oil to drill despite risk of Chinese interruption
TOKYO, August 27 – Teikoku Oil Co President Masatoshi Sugioka on Friday indicated the company's readiness to conduct test drilling in prospective East China Sea gas fields despite the risk of Chinese interruption. The Japanese government licensed Teikoku Oil in July to conduct test drilling in the East China Sea close to natural gas fields China is developing. China criticized Japan's action. [japantoday.com]
---
08.27.05 Firms sign deals to co-develop Venezuela oilfields
August 27 – State oil companies from China, the world's second-largest oil importer, and fifth-largest exporter Venezuela are strengthening their partnership by co-investing in oil fields in the South American country. China National Petroleum Corp. (CNPC), the parent company of the nation's largest oil producer listed in Hong Kong, PetroChina, on Thursday signed an initial agreement with Venezuela's state oil company, Petroleos de Venezuela SA (PDVSA), to develop and manage Venezuela's Zumano oil fields in the eastern part of the country, PDVSA said in a statement on its website. [More>>chinadaily.com.cn]
---
08.26.05 Sheehan to follow Bush to Washington D.C. – "to give him his performance review"
August 26 – Perhaps the only thing worse for President Bush would be to have a mad dog biting at his leg, unable to shake it off. Sheehan refuses to let him leave her behind in Crawford, Texas. From a news conference today David Swanson of afterdowningstreet.com reports:
...Next to speak was Cindy who announced that a bus tour will travel from here to Washington, D.C., leaving here on the 31st and arriving there by September 24, the day of the massive anti-war demonstration. Cindy said that she would be on the bus tour for the first two days, but that after that she had other engagements that had been scheduled before Camp Casey began. But, she said that she would join everyone in DC on the 24th.
Tomorrow, Cindy said, a huge crowd is expected at Camp Casey. And pro-war demonstrators are expected too. Cindy said that she and those with her are not looking for any trouble and are here in peace and are cooperating with the sheriff's department and the Secret Service...When asked what she thought of the counter demonstrators, Cindy said that it was their right to demonstrate. She said that she actually preferred the current situation to the one of apathy that existed some months back. "Those who have been on the fence – at least most of us have fallen off on one side. People are putting their money where their mouths areŠ.Democracy only works if people participate."
Another reporter asked "Do you think the President should be influenced by protests or should make his own judgment?"
"No," said Cindy, "I think the President works for us." This remark was followed by laughter and cheers. Cindy went on to point out that polls show a majority of the country agreeing with those at Camp Casey.
"What I wanted when I came out here," she said, eliciting more laughter from the press, "was just a performance review for the president."
...The last question asked was what Cindy would say to Iraqis who want the US in Iraq. Cindy replied that we did not need the military presence.
---
08.26.05 Trends in coalition casualties in Iraq
August 26 – To get a good, historical view of casualties from the Iraq war go to icasualties.org. Two lmaps on their site: The US Fatalities City Map & Coalition Fatalities by location across time.
---
08.26.05 Washington to be sued over global warming
WASHINGTON, August 26 – In a landmark judgment, a court in California has allowed a coalition of environmental groups to sue the US government over global warming - the first time a court has recognized the potentially disastrous impact of climate change. A judge in San Francisco gave permission for the two groups, along with four US cities, to sue two federal development agencies that provide billions of dollars in loans to fund projects overseas. Some of the projects are power plants that emit greenhouse gases while others include pipeline projects that allow the transfer of oil.

"This is the first time a US court has given a plaintiff the right to go to court solely on the global warming issue," Geoff Hand, a Vermont-based lawyer in the case, told The Independent. "It's a great advance."

Mr. Hand said the case would not strictly be an examination of global warming science, but he added: "We have dealt with the jurisdiction issues - the case will now go on to the merits. It essentially puts the onus on to the government and means they have to show global warming is not happening. It will have to provide evidence to say it is not happening." [More>>independent.co.uk]
---
08.26.05 Korea to press Japan on legal responsibility for acts of war
August 26 – The Korean government will keep pressing for diplomatic measures against Japan's past illegal and inhumane crimes against Koreans during its 1910-45 colonial rule because the Japanese government still carries legal responsibility, the Prime Minister's Office said yesterday. The government concluded that Korea-Japan negotiations between 1951 and 1965 were about settling claims deriving from the colonial period and were not about compensation for its illegal human rights violations and damages.

The Japanese government thus still carries legal obligations to compensate for its past government's "atrocious actions" such as taking away Korean women to serve as sex slaves for the Japanese military, the government here said.

The declaration coincided with the full disclosure by the Foreign Ministry here of classified diplomatic documents detailing 14 years of behind-the-scenes dealings between Korea and Japan over reparations to be paid by Japan before normalizing bilateral ties in 1965. It was the second disclosure of documents, totaling 35,354 pages of 156 books containing letters, memorandums and other material written by the Korean Foreign Ministry and exchanged with its Japanese counterpart from October 1951 to June 1965. [More>>koreaherald.co.kr]

Editorial note: When a country invades another and occupies it there is an assumption of responsibility for the consequences on the part of the invading nation and its citizens – for future generations, as seen in this issue involving Japan's invasion of Korea –until a settlement is attained. Thus, the invasion of Iraq by George W. Bush may have continuing adverse consequences for generations of American citizens. The Iraq War was declared "illegal" by Secretary General of the United Nations Kofi Annan, and this is a foundation, together with opposing complaints by member UN nations, for future claims against the United States. Had Bush obtained UN support – conducting the war as a UN operation – the consequences of the invasion and occupation would have rested upon the Iraqi people.
Mel Copeland
---
08.26.05 With Bush's man installed, is this the end of diplomacy?
August 26 – Anne Penketh, Diplomatic Editor, The Independent, provides a critique on UN Ambassador Bolton's performance: ...prime real estate land on Manhattan's East River became international territory to house the UN headquarters, thanks to a unanimous invitation from the representatives of the US Congress. The chief architect was an American, and the money to build the 39-storey tower was an interest-free US loan of $65m.

How things have changed. With the arrival of the hawkish Mr. Bolton to do the bidding of George Bush at the UN, relations between the US and the UN have never looked so bad. UN insiders say the US hostility against Kofi Annan, the secretary general, is much worse than during the time of his Egyptian predecessor, Boutros Boutros-Ghali, who failed to win a second term after being dumped by the Clinton administration.

...During the Cold War, the UN was stalemated, because the Soviet Union and the US systematically used their Security Council vetoes against each other to paralyze UN action. The institution's glory years came in the early 1990s, after the Americans managed to win UN approval in 1991 to roll back the Iraqi invasion of Kuwait.

...As Ronald Reagan's radical Republicans took power in the White House and in Congress, the first major budget headaches began for the UN, as Washington began withholding the dues that keep it afloat.

Despite the lip service paid by the Clinton administration, the country that foots a quarter of the UN's budget has consistently dragged its heels in paying its dues. Congress, Republican-dominated, is now talking about withholding half of the US contribution unless US-backed changes are implemented.

Enter John Bolton. His nomination was so controversial the President failed to win cross-party backing and he was appointed in a so-called "recess appointment" valid only until the new Congress in January 2007. But judging from his few weeks in New York, Mr. Bolton is not at the UN to negotiate. [Full story>>independent.co.uk]
---
08.26.05 Gaza status change to be opposed
August 26 – ...The minister charged with liaison with Israel over the pullout, Mohammed Dahlan, echoed Qidwa's comments. "Gaza will remain under the control of the occupier, who will continue to weigh heavily on our lives through control of border crossings, air space and territorial waters," he said. Israeli Foreign Minister Silvan Shalom told a Kuwaiti daily last week that he planned to ask the Security Council to declare the occupation of Gaza over and Prime Minister Ariel Sharon is to address the UN General Assembly next month as part of Israeli efforts to improve its standing with the world body.

Any move to change Gaza's status would be a sharp shift away from the provisions of the 1993 Oslo accords which foresaw the Palestinian territories' occupied status being maintained right up to a full peace treaty. [Full story>>aljazeera.net]
---
08.26.05 Bird flu detected at another Ibaraki farm
TOKYO, August 26 – Chickens at a farm in Ogawa, Ibaraki Prefecture, have tested positive for the H5 strain of the bird flu virus, said the farm ministry and government Thursday. Monday the government reported that another farm in the prefecture had been infected with the H5 virus. [japantoday.com; See separate article, chinadaily.com.cn, "Experts: bird flu bigger threat than SARS." : ..The main reason, they said, was that humans had learned how to effectively control the spread of SARS, but had not done the same for bird flu, which can be spread by wild birds. Bird flu has killed 62 people in Asia since 2003 and forced the slaughter of millions of fowl. The World Health Organisation has warned that bird flu has the potential to trigger a global pandemic if the virus mutates and becomes easily transmittable between humans.]
---
08.26.05 Saddam supporters protest new Iraq constitution
BAQUBA, Iraq (AFP) August 26 – Hundreds of supporters of ousted president Saddam Hussein demonstrated on Friday against Iraq¹s draft constitution, which brands his outlawed Baath party as a terrorist group. Protests were held in the restive town of Baquba, just north of the capital, as well as the ethnically divided northern oil centre of Kirkuk.

Some 500 demonstrators from the disenchanted Sunni Arab former elite, which dominated Saddam¹s regime and all previous Iraqi governments, took to the street in Baquba, carrying posters of the former dictator, along with banners saluting him and his Baath party. ³The Baath remains steadfast...Your constitution has no support,² said one banner. ³We sacrifice our souls and blood for you, Saddam,² said another, taking up a refrain common under the personality cult of the old regime. [More>>khaleejtimes.com; See also lattimes.com, "Hussein supporters rally against Constitution."
---
08.26.05 Al-Qaeda 'preparing to attack' Asian city
PARIS, August 26 – Al-Qaeda is preparing an attack on a big financial centre in Asia, such as Tokyo, Sydney or Singapore, to undermine investor confidence in the region, France's top terrorist investigator warned yesterday. Jean-Louis Bruguière told the Financial Times yesterday that several Asian countries were less prepared than the US or Europe for such an attack. ³We are somewhat neglecting the capacity or desire of the al-Qaeda organisation to destabilize the south-east Asia region,² said the respected judge, who has orchestrated the arrests of hundreds of terrorist suspects in the past 20 years.

³We have several elements of information that make us think that countries in this region, especially Japan, could have been targeted,² said Mr. Bruguière. He appears eager to raise public awareness of the growing threat to Asia, which is understood to have emerged from recent intelligence findings.

He argues that some Asian countries have less experience of Islamic terrorists than the US or Europe, making them more complacent about the risk of attack. An attack on an Asian financial centre, such as Tokyo or Sydney, would be symbolically important for al-Qaeda, he said, and designed to throw the region's recent economic boom into doubt. [More>>Financial Times via japantoday.com]
---
08.25.05 The photos Washington doesn't want you to see
August 25 – Gary Kamiya offers a report everyone concerned about the cost of Iraq should examine : The grim reality of Iraq rarely appears in the American press. A photo gallery reveals the war's horrible human toll. This is a war the Bush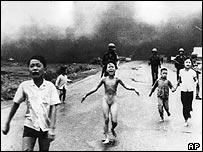 administration does not want Americans to see. From the beginning, the U.S. government has attempted to censor information about the Iraq war, prohibiting photographs of the coffins of U.S. troops returning home and refusing as a matter of policy to keep track of the number of Iraqis who have been killed. President Bush has yet to attend a single funeral of a soldier killed in Iraq. Click here on a disturbing photo gallery, salon.com via spiegel.de; you may wish to compare these photos to this or this: the photo of a girl running from a napalm attack in Vietnam (from bbc.co.uk). The photo from the Vietnam era is of "Kim, her skin is burned so badly..."
---
08.25.05 Chávez taunts US with oil offer
August 25 – President Hugo Chávez of Venezuela hit back vigorously at calls by an ally of President George Bush for his assassination by offering cheap petrol to the poor of the US at a time of soaring fuel prices.

In a typically robust response to remarks by the US televangelist Pat Robertson, Mr Chávez compared his detractors to the "rather mad dogs with rabies" from Cervantes' Don Quixote, and unveiled his plans to use Venezuela's energy reserves as a political tool. "We want to sell gasoline and heating fuel directly to poor communities in the United States," he said. [More>>guardian.co.uk]
---
08.25.05 Iraq watching US anti-war feeling closely – Zebari
ROME (Reuters) August 26 – Iraqi leaders are closely watching the growth of the anti-war movement in the United States and understand that Americans will become frustrated without more progress, Foreign Minister Hoshiyar Zebari said on Thursday. Zebari, on a two-day trip to Italy, also said the next few months would "make or break" Iraq but that allies should stick together and not send what he called mixed or confused signals. He said he sympathized with anti-war protester Cindy Sheehan and others who have lost loved ones in Iraq but that it would be "disastrous" if the protests led to any cracks in the coalition or premature withdrawal.

"I fully understand the feelings of this lady and how she feels about the loss of her son and we sympathize with her and our prayers go to her and to all those who have fallen," Zebari said of Sheehan, who has been camping out at President George W. Bush's Texas ranch. "But these times, these remaining months, are really the make or break of Iraq. These months are critical to the success or failure of this project of democratization, of regime change, whether for the United States, its allies or for us," he said. [More>>thestar.com.my]
---
08.25.05 Israel seizes Palestinian land for barrier
August 25 – PA officials condemn move and urge international community to intervene. Israel has issued orders to seize Palestinian-owned land to build a section of its separation barrier around the largest Jewish settlement in the West Bank, the Justice Ministry said. Palestinians condemned the construction of the barrier around Maaleh Adumim and accused Israel of quietly issuing the land-confiscation order while the world's attention was focused on the Israeli withdrawal from the Gaza Strip. Israel says the barrier is needed to keep suicide bombers from entering the country. The Palestinians accuse Israel of imposing a border that will swallow up chunks of territory they claim for a future independent state. When complete, the 680-kilometer wall is expected to include about 8 percent of the West Bank. [More>>dailystar.com.lb; See also haaretzdaily.com]

Editorial note: A map of the barrier is in the Maravot News sidebar. Click on the photo of the barrier for background information. The barrier is planned to extend through the sea, around the Gaza Strip.
---
08.25.05 Thai violence claims more lives
August 25 – Three Thai Muslims, including a former local religious teacher, have been shot dead in the latest violence in Thailand's south, police said. Wahama Ratoo, 44, the religious teacher turned farmer, was shot by a sniper around 4.15 pm (local time) on Thursday while tending to his herd in a jungle near his house in Sakhon district of Narathiwat province, police said. Police said they were investigating suspects and a motive for the attack, but believed Wahama died instantly after being shot several times. Teacher Salaema Dauwa, 61, from Narathiwat province was shot dead in his car on Wednesday evening along with his driver, 24-year-old Adisorn Dala, police said. [More>>aljazeera.net]
---
08.25.05 Iraq police say find 36 boies of shooting victims
BAGHDAD, August 25 – Iraqi police said on Thursday they have discovered the bodies of 36 people shot dead and dumped in a shallow river south of Baghdad. Police said the victims were men left in their underwear, each with a single bullet wound to the head. The bodies were found in the Shi'ite province of Wasit, between the towns of al-Dibouni and al-Jafan. [jang.com.pk]
---
08.25.05 Ten dead in round of Pakistan polls
ISLAMABAD, August 25 – Clashes between rival political gangs in Pakistan left 10 people dead and dozens more injured Thursday as voters cast their ballots in the second round of key local elections. Tens of thousands of troops and police were deployed in "sensitive" areas across the Islamic republic of 150 million people after the first phase of the polls a week ago were marred by violence and claims of rigging. "We will ensure law and order during polling," Information Minister Sheikh Rashid told media earlier. "Large scale security deployments and adequate measures have been put in place."

Although the polls are officially being held on a non-party basis to prevent violent incidents, in practice political groups have been open in their support for candidates. "So far we have reports of 10 people killed in election-related violence," a senior security official in Islamabad told media.

Eight died in Punjab, the most populous of Pakistan's four provinces – two in the central city of Jhang, three in the town of Jaranwala and one each in the provincial capital Lahore and in the towns of Muridke and Jhelum. Another two people died in Kohistan, a remote mountainous district in North West Frontier Province, he added. [jang.com.pk; See also Khaleejtimes.com]
---
08.25.05 Media groups demand release of Reuters cameraman
LONDON (Reuters) August 25 – Media rights groups demanded on Thursday that US forces immediately release a Reuters journalist held in Abu Ghraib prison in Iraq unless they could explain why he is being held without charge.

Reporters Without Borders, a Paris-based organisation that campaigns to protect journalists detained or threatened because of their work, said it had written to top US Middle East commander General John Abizaid to demand the release of 36-year-old Ali Omar Abrahem al-Mashhadani. It also accused U.S. forces of carrying out summary arrests of journalists in Iraq without providing any justification. "We point out that the decision to arrest a journalist should only be taken on an absolutely exceptional basis," the organisation said.

"Journalists, especially Iraqi journalists, are already running very great risks to go into the field. More than 60 have already lost their lives in this country in two years. It is shocking that they are also being mistreated by the US army." The New York-based Committee to Protect Journalists also urged the release of Mashhadani, unless the US military could offer an explanation for his detention. [More>>thestar.com.my]
---
08.25.05 Vaccination against influenza A may prevent bird flu in humans
ST. PETERSBURG, Russia (RIA Novosti, Olga Vtorova) August 25 – Vaccination against the influenza A virus may help preclude bird flu from spreading among people, a research expert said Thursday. Oleg Kiselyov, director of the Influenza Research Institute, said, "The less we come down with the flu, the less possibility there is that the bird flu 'humanizes'," Kiselyov said. "Of course, there is the problem of cross-immunity but vaccination is necessary," the director said. He said the World Health Organization (WHO) and Russia's Health and Social Development Ministry had decided to develop and test a vaccine against bird flu. "This vaccine is a reserve one to be used in the case of a sudden change of the epidemiological situation," Kiselyov said. He said a program to test the bird flu vaccine would be considered in September. [rian.ru; See separate story, timesonline.co.uk, "Spread of bird flu virus is a 'national emergency ' : Veterinary experts from across Europe are meeting today to develop a strategy to stop the spread of a deadly strain of avian flu, which one British scientist has declared a national emergency. Scientists from the other 24 member states are expected to dismiss the drastic measure adopted by the Dutch of locking up all free-range poultry, instead demanding increased surveillance of migratory birds and insisting on extra vigilance among farmers. The EU's response to the H5N1 strain of the virus, which claimed 57 lives as it swept rapidly west across South-East Asia and has now been detected on Europe's doorstep in Siberia, has so far been fragmented;

See also, sky.com, "EU plays down flu risk."]
---
08.25.05 Protected forests in Riau on the brink of total destruction
PEKANBARU, Riau, Indonesia, August 25 – The Riau Natural Resource Conservation Group disclosed on Thursday that protected forests in Riau were feared to be totally destroyed due to rampant tree felling activities and encroachment for the expansion of agricultural lands and plantation areas. "The protected forests in Riau are no longer equipped with name boards and clear-cut borders as they are located adjacent to residential areas," Bismark Tampubolon, chairman of the group, said.

Without disclosing the number of the conserved forests and their total acreage, Bismark said that the protected forest seemed to have been neglected and was not guarded, thereby accelerating encroachment activities. "Unluckily, even heads and other officials of nearby village offices do not have any maps of conservation forests in their areas and are not aware of their existence," he said. [More>>thejakartapost.com]
---
08.25.05 Camp Casey, Texas – Sheehan's debate over the war with Bush continues
The movement begun by Cindy Sheehan's establishment of Camp Casey, neighboring the Bush ranch in Crawford, Texas, is at a new crossroad and may get bogged down in exchanges from the President in replying with his own answers and ignoring the questions being presented to him. After she returned to Camp Casey, Sheehan said on Fox News TV that she never said that she and her organization, Gold Star Families for Peace, represented all of the mothers of US troops who have died in Iraq, "but I know many of us do." She also complained about Bush ignoring the question she and the people at Camp Casey have been asking, "What is the noble cause..."
A background on the movement is at
Maravot News 8.20.05
, "Camp Casey residents continue to ask Mr. Bush, 'What exactly is this noble cause?'" and "Sheehan leaves antiwar camp." Her initial comments from Camp Casey are at
Maravot News 8.08.05, where she complained, "...since this war is based on horrendous lies and deceptions."
She had demanded that the troops be brought home immediately in that statement, and this is the part of the statement that Bush answered, saying it would "weaken US power in Iraq and the Middle East to bring home our troops..."
The Camp Casey movement plans a march on Washington D.C. September 24-26. More alliances are being formed and the latest effort is a petition,
"A people's petition for an Iraq Peace Process."
Continuing updates on Camp Casey are available through
AfterDowningStreet.org
.
Congresswoman Lynn Woolsey has for months requested official bipartisan hearings on an exit strategy for Iraq, but has been blocked by Republican committee chairs. This week she announced unofficial hearings to be held on Capitol Hill on September 15.
The After Downing Street Coalition, Democrats.com, Progressive Democrats of America, Peace Action, and Code Pink will sponsor a rally in Lafayette Square Park, across from the White House, at 5 p.m. ET on September 15. Members of Gold Star Families for Peace, Military Families Speak Out, Veterans for Peace, and Iraq Veterans Against the War have been invited to speak.
Mel Copeland
---
08.25.05 Six-nation talks to restart in Beijing Sept. 2: report
August 25 – With the six-nation talks on the North Korean nuclear standoff apparently set to resume Sept. 2, U.S. and North Korean officials held a fourth series of discussions through the informal New York diplomatic channel. China is considering restarting the six-party talks, which have been in recess since Aug. 7, Japan's Kyodo News agency quoted Chinese Vice Foreign Minister Wu Dawei as saying yesterday. Wu, China's top negotiator for the Beijing talks, made the comment in Tokyo talks with Japan's Social Democratic Party, Kyodo said. [More>>koreaherald.co.uk]
---
08.25.05 Iraq cleric urges followers to end clashes
(AP) August 25 – A radical Shiite cleric called on his followers Thursday to end clashes with Shiite rivals so that stalled talks on a new constitution can proceed. Fighting continued for a second day after the cleric's office in Najaf was burned and four of his supporters were killed. Following the appeal by cleric Muqtada al-Sadr, leaders of the country's political factions met to try to reach an agreement on the draft constitution. Thursday was the final day of a 72-hour extension granted Monday night by parliament after Sunni Arabs blocked a vote on the charter, which was accepted by Shiite and Kurdish negotiators.

After meeting with 15 Sunni members of the constitution drafting committee, Iraq's President Jalal Talabani said consensus on the new constitution could be reached soon. It was unclear whether parliament would meet Thursday to vote on the draft. Mahmoud Othman, a Kurdish member of the drafting committee, said lawmakers were supposed to meet later to ratify it. [More>>chinadaily.com.cn; See also khaleejtimes.com, "Shia clashes, Iraq assembly to vote on charter" : Several Iraqis died overnight in Shia clashes in the south, apparently triggered by differences over a constitution draft that parliament was meant to back on Thursday. Supporters of Shia cleric Moqtada Al Sadr, who has denounced the draft, clashed with pro-government police and rival Shia militias in the holy city of Najaf and other southern towns...The Shia-dominated parliament was due to sit on Thursday to back the charter that has already provoked warnings of civil war from Sunnis.

See aljazeera.net, "No deal yet on Iraq constitution" : The Iraqi Parliament has announced it had no plans to meet on Thursday night and no date for a future session, signalling Iraqi factions were failing to reach agreement on a new constitution before a self-imposed midnight target. The statement on Thursday evening from National Assembly's top spokesman, Bishro Ibrahim, came as negotiators struggled for consensus on a draft by the close of a 72-hour extension granted on Monday night by parliament, after Sunni Arabs blocked a vote on a charter accepted by Shia and Kurdish negotiators.]
---
08.25.05 US wants changes in UN Agreement
UNITED NATIONS, August 24 – Less than a month before world leaders arrive in New York for a world summit on poverty and U.N. reform, the Bush administration has thrown the proceedings in turmoil with a call for drastic renegotiation of a draft agreement to be signed by presidents and prime ministers attending the event.

The United States has only recently introduced more than 750 amendments that would eliminate new pledges of foreign aid to impoverished nations, scrap provisions that call for action to halt climate change and urge nuclear powers to make greater progress in dismantling their nuclear arms. At the same time, the administration is urging members of the United Nations to strengthen language in the 29-page document that would underscore the importance of taking tougher action against terrorism, promoting human rights and democracy, and halting the spread of the world's deadliest weapons. [More>>washingtonpost.com]
---
08.25.05 Iran calls for other countries to join nuclear talks
TEHRAN, Iran (AP) August 25 – Iran's top nuclear negotiator called for more countries to join the three European states engaged in talks about Tehran's contentious nuclear program, state-run television reported Thursday. Ali Larijani, secretary of Iran's Supreme National Security Council, said he welcomed negotiations with all members of the board of governors of the U.N. nuclear watchdog agency, plus countries from the 116-member Non-Aligned Movement. "There is a serious question in Iran that asks why nuclear negotiations should be limited to just three European countries,'' state TV quoted Larijani as saying. [More>>nytimes.com; See also iranmainia.com, "Iran questions EU-3 role in nuclear negotiations."]
---
08.25.05 John F. Kennedy had threatened to nuke China if it attacked India
BOSTON (Agencies) August 25 – Top advisers to President John F. Kennedy warned him in 1963 that if he pledged to defend India against any attack by Communist China, the United States would likely have to use nuclear weapons to enforce the commitment, according to a newly declassified tape recording...The recording, released by John F Kennedy Presidential Library- the official repository of Kennedy Administration documents, runs 165 minutes, of which 33 are devoted to the National Security meeting. The tape also includes meetings about civil rights issues and NATO issues. [Full story>>expressindia.com]
---
08.25.05 EU, China begin talks on textile row
(AFP / Xinhua) August 25 – China and the European Union began talks on textile products blocked at Customs of EU countries Thursday afternoon, the Xinhua News Agency reported. The EU is under fierce pressure from fashion importers to review quotas agreed with China in June after six out of 10 textile categories covered by the import restrictions were filled, according to AFP.

Millions of clothing items shipped to Europe in excess of their quotas have been blocked by customs officials -- to the anger of European retailers anxious to fill their shelves ahead of the winter season. This includes some 48 million sweaters, 17 million pairs of trousers and nearly 500,000 blouses, according to the latest figures cited by the French trade ministry. In addition to this, 1.6 million T-shirts, 3.4 million bras and 1,470 tones of flax yarn are also being kept back because they exceed the quotas. [More>>chinadaily.com.cn; See also timesonline.co.uk, "Ports in chaos over Chinese textiles".]
---
LISBON, May 21 – Adam Porter reports: Labour politician and former UK environment minister Michael Meacher has slammed Prime Minister Tony Blair and US President George Bush for starting a war, he says, to secure oil interests.

Speaking on Friday on the sidelines of the fourth International Workshop on Oil and Gas Depletion in Lisbon, Portugal, Meacher, a member of the British parliament, said: "The reason they attacked Iraq is nothing to do with weapons of mass destruction, it was nothing to do with democracy in Iraq, it was nothing to do with the human rights abuses of Saddam Hussein."
..."It was principally, totally and comprehensively to do with oil," Meacher continued. "This was about assuming control over the Middle East and over Iraq, the second largest producer and also over Saudi Arabia next door.

"It was about securing as much as possible of the remaining supplies of oil and also over the Caspian basin, which of course is Afghanistan." [More>>aljazeera.net; See also gregpalast.com, article March 17, 2005, "Secret US plans for Iraq's oil."

Editorial note: For articles relating to Bush's lying to Congress and the American people with regard to his war on Iraq and other complaints that relate to his abuse of power see:

---
08.09.05 Understanding terrorists' use of the Koran – what constitutes extremist activity
August 9 – (Maravot News, Mel Copeland) A trend in combatting terrorism has to do with what constitute's extremist activity, including teachings by immams, publication of books and retail book stores, etc. Statements like (8.09.05) Bakri Mohammed's, "...it would be 'against Islam' for him to inform the police of any terrorist attacks that he knew were being planned in Britain..." are better understood through an examination of modern scholastic trends in reinterpreting the Koran. See:
08.07.05 Inside the sect that loves terror with Editorial note: An interesting site by an Islamic scholar defines what "kuffar" (disbelievers) means. His site, renaissance.com.pk – Arguments and Rational – details the Koran's verses and traditional and modern applications of the verses dealing with disbelievers: identifying them, punishing them, preaching to them and "'displaced directives." His argument refers heavily to Old Testament verses that set the foundation for verses of the Koran involving the punishment of disbelievers...
08.07.05 UK to deport 500 Muslim extremists and article, "Diary of British jihadi unearthed in Pakistan," ...the diary wonders how Muslims can live in London, the "vital organ of the minions of the devil," now that the "kufr," or unbelievers, have transformed the world into "a battlefield for the Muslims."
---
6.17-05 Federal Debt not a concern of the press
SAN FRANCISCO, June 17 Update. While the Federal Reserve continues to increase interest rates, the Exponentially rising Federal Debt is not being reported. What is not being reported is the fact that interest rates are tied to the US National Debt. This year the deficit is expected to exceed $420 billion, and interest on the debt which exceeds $8.2 trillion, is about $1 billion per day. Because the annual deficits are financed via the bond market, and because the amount of the bonds being sold exceeds demand, it is necessary to raise interest rates to attract investors in the US bonds financing the US debt. This routine of increasing debt on an exponential scale was experienced under the administration of George H. W. Bush. I predicted increasing interest rates "to sell bonds" in my conversation with Wm. F. Buckley Jr. at that time, in 1993, and I have repeated the prediction with regard to the current Bush administration's excesses and need to sell more bonds to finance the extraordinary deficits. The rate increases will continue in order to sell the overabundant US bonds. In a few words, George Bush's debt is causing your mortgage rates to increase, and they will continue to increase until the US assumes fiscal responsibility. Click here for details on this trend.

Postscript: If the EU adopts the practice of allowing large budget deficits, the consequence places a strain on the world bond market, since that market is already flooded with US bonds to the tune of some $9 trillion. Those who are allowing budget deficits also own some of the US debt. It's not a good situation, heralding a world economic collapse. That Greenspan has not reigned in the Bush administration on the US debt is a travesty.

Rising interest rates began with a Federal Reserve declaration of the "fear of inflation": WASHINGTON, March 22 – The Federal Reserve raised new worries about inflation on Tuesday, setting off alarms in the stock and bond markets that the central bank might drive up interest rates faster than investors had been expecting. The Fed nudged up short-term interest rates for the seventh time in the last year, raising the federal funds rate on overnight loans between banks to 2.75 percent from 2.5 percent. It restated its intention to keep raising them at a "measured" pace in the months ahead.

But in a departure from previous declarations, the central bank said there were rising inflationary pressures beyond those tied directly to the recent jumps in oil prices. [More>>nytimes.com]

Mel Copeland
---
(2) The name, Allah, in Arabic is an expression of surprise. It is not unusual for the God of the Bible to be known by many names. Jewish Midrash quotes passages in the Old Testament (Torah) that cite as many as seventy names of God (and more). But they can all be reduced down to one name.
(5) The Law of the Locrians: "In the legislation of the Locrians, the proposer of a new law, with a halter round his neck, to be instantly tightened if the public assembly did not, on hearing his reasons, then and there adopt his proposition." [Mill, On Liberty, 2.475].
---
Launched: 10.25.04 / 11.02.04
Updated: 8.23.05; 8.24.05; 8.25.05; 8.26.05; 8.27.05
Visitors since 4.19.05; 5,000 from 11.02.04 to 4.19.05

Copyright © 1981-2005 Maravot. All rights reserved
Copyright © 1981-2005 Mel Copeland. All rights reserved
Painting of Apple by Mel Copeland, early 70's
Background: tile from Cicero's villa (Marcus Tullius Cicero 106 B.C. - 43 B.C.)