---
1.12.08 Troops uncover weapons cache in school
BAGRAM, Afghanistan (UPI) January 11 - Following a day long battle in Afghanistan's Uruzgan province, Afghan police and coalition forces uncovered a munitions cache in a school. Officials say Afghan police and coalition forces were acting on intelligence that militants were operating in the Deh Rawood district of Uruzgan province when a firefight began a day long battle with insurgents. The militants fired on troops from positions on a hillside with small-arms and rocket-propelled-grenade fire, the Combined Joint Force-82 reported..."Hiding weapons in a school is a clear indication the insurgents have no concern for the citizens of Afghanistan," Army Maj. Chris Belcher, a Combined Joint Task Force-82 spokesman, said in a statement. [Full story>>metimes.com]
---
1.12.08 Mauretanians arrested for killing French tourists
BISSAU (AFP) January 12 - Authorities in Guinea-Bissau arrested Friday two of three Mauritanian suspects wanted for the December murders of four French tourists in Mauritania, police chief Lucinda Barboza Ahukarie said. "The two Mauritanians my officers arrested this morning are called Mohamed Ould Sidi Chabarnou, alias Abou Mouslim or Abou Soulema, and Sidi Ould Sidna, alias Abou Jendel," she told AFP. Ahukarie added that "all the indications" were that the men were linked to al-Qaeda. Both had previously been arrested in connection with the extremist Salafist Group for Preaching and Combat (GSPC), which in January 2007 affiliated itself with al-Qaeda. [More>>alarabiya.net]
---
1.12.08 Over 50 militants killed near Afghan border: officials
ISLAMABAD, January 12 - Pakistani troops killed more than 50 Taliban militants after fighting off an attack on a military fort in a tribal region bordering Afghanistan, security officials said Saturday. The clash occurred on the night between Wednesday and Thursday near the town of Ladha in the South Waziristan tribal district, where thousands of Pakistani troops are deployed to fight al-Qaeda and Taliban militants. [More>>thenews.com.pk]
---
1.12.08 UN Indonesia records 117th case of bird flu
GENEVA (AP) January 13 - Indonesia has recorded another human case of the H5N1 strain of bird flu, raising its world-leading total to 117 cases, according to the World Health Organization. The agency said Friday night that the Indonesian Health Ministry had reported that a 16-year-old girl from West Java Province has been hospitalized since Jan. 4 with symptoms of the disease. It said the strain had been confirmed as H5N1. WHO said investigations found that there had been a number of chickens dying in the girl's neighborhood in the two weeks before she came down with symptoms, suggesting the case followed the pattern of infection when humans have been in close contact with infected poultry. [More>>thejakartapost.com ; See related story, independent.co.uk, January 12, "Bird flu tests on two more swans."]
---
1.12.08 Syria rebuilds on site destroyed by Israeli bombs
January 12 - The puzzling site in Syria that Israeli jets bombed in September grew more curious on Friday with the release of a satellite photograph showing new construction there that resembles the site's former main building. Israel's air attack was directed against what Israeli and American intelligence analysts had judged to be a partly constructed nuclear reactor. The Syrians vigorously denied the atomic claim.
Before the attack, satellite imagery showed a tall, square building there measuring about 150 feet long per side. After the attack, the Syrians wiped the area clean, with some analysis calling the speed of the cleanup a tacit admission of guilt. The barren site is on the eastern bank of the Euphrates, 90 miles north of the Iraqi border. [More>>nytimes.com ; See also jpost.com and haaretz.com]
---
1.11.08 Bush's vision squeezes Palestinians
January 11 - US President George W. Bush concluded his visit to Israel and the West Bank Friday, with a vision for a Palestinian-Israeli peace deal this year that brushes aside historically intractable issues and raises Arab fears of a hasty solution that overlooks the roots of the conflict. Before heading to Kuwait at the start of his tour to allied Arab Gulf states to seek support against Iran, Bush on Thursday delivered a statement that has brought back memories of a similar declaration that represents the start of the Middle East conflict: the Balfour Declaration of 1917 that promised a homeland for the Jewish people in Palestine. By describing Israel as a "homeland for the Jewish people" critics say, Washington is threatening the status of some 1.5 million Muslim and Christian Arab Israelis, who make up 20 percent of the state's population.
...This description, along with the call to adjust the 1949 "green line" that allows swapping territories when drawing up the borders, and compensating refugees, predetermines the outcome of the US-sponsored negotiations, the critics say. While the Palestinian Authority, led by President Mahmoud Abbas, has not officially reacted to Bush's declaration, it has previously assured skeptical Palestinians it would stick to its demands for an Israeli withdrawal from the territories it occupied on June 5, 1967; the establishment of a Palestinian state there with East Jerusalem as its capital; a commitment to UN Resolution 194 that calls for the right of Palestinian refugees to return to their original homes they were forced to flee in 1948; and refused to negotiate on the basis of Israel as a "Jewish homeland."

Analysts say that Bush's outline for a solution, however, effectively means the Palestinians are asked to swap lands that would accept giving up to Israel large parts of the West Bank and East Jerusalem where enormous Jewish settlements have been built; to make the future of a small Palestinian state home to some 5 million refugees who are scattered in camps in neighboring Arab countries; and to possibly ask the Arabs of Israel to give up their lands. [Full story>>metimes.com]
---
1.11.08 Commanders tout success of Iraq strikes
BAGHDAD (AP) January 11 - One of the largest bombing campaigns of the war destroyed extremists' "defensive belts" south of Baghdad, allowing American soldiers to push into areas where they have not been in years, a top commander said Friday. The day before, two B1-B bombers and four F-16 fighter jets dropped 48 precision-guided bombs on 47 targets, US Air Force Col. Peter Donnelly, commander of the 18th Expeditionary Air Support Operations Group, told reporters in Baghdad.
The targets consisted mainly of weapons caches and powerful roadside bombs buried deep underground - key defensive elements for al-Qaeda in Iraq insurgents, said Donnelly and Army Col. Terry Ferrell, commander of the 2nd Brigade Combat Team, 3rd Infantry Division. Extremists were believed to have controlled Arab Jabour, a Sunni district lined with citrus groves, but Ferrell said "the predominant number" have now fled to the southwest since his troops' operations began Jan. 1.

...Mustapha Kamil Shibeeb al-Jibouri, leader of Arab Jabour's Awakening Council, said the airstrikes killed at least 21 al-Qaeda militants including a group leader. "Their bodies are still in the area. They have not been evacuated yet," he told The Associated Press. After Thursday's fierce airstrikes, soldiers discovered two houses used to torture kidnap victims and arrested at least 12 suspected insurgents, according to an Iraqi officer. [More>>indianexpress.com: hosted.ap.org]
---
1.11.08 China's 2007 trade surplus hits record
BEIJING (Xinhua) January 11 - China's trade surplus surged 47.7 percent over a year earlier to reach a record 262.2 billion US dollars in 2007, the General Administration of Customs said Friday. The administration also pointed out the country's soaring trade surplus eased a bit in the fourth quarter last year, with imports catching up and exports slowing down.
The trade surplus growth was 69.4 percent for the first three quarters of this year and up to 75 percent in 2006. In 2007, export rose 25.7 percent to 1.22 trillion US dollars, and imports climbed 20.8 percent to 955.8 billion US dollars, the administration said. The export growth was 1.5 percentage points lower than in 2006, while the import growth posted a gain of 0.9 percentage points. [More>>xinhuanet.com]
---
1.11.08 Regional trade deficit doubles, may worsen
JAKARTA, January 12 - Having trade deficits with certain partners is natural, but not when the number of partners keeps growing and the total deficits jumping exponentially. The situation is true for Indonesia, at least with its neighbors in Southeast Asia, as shown by the latest records from the Central Statistics Agency (BPS) on real trade transactions from January until September.
The latest to topple the biggest democracy in the region is Malaysia, with whom the country suffered a total deficit of US$662 million during the Jan-Sept period, a free fall from a surplus of $1 billion in the same period in 2006, mostly due to rising oil and refined oil imports.
With the deficit with Malaysia, Indonesia's total trade with main regional trade partners including Singapore, Thailand, Philippines, Brunei Darussalam and Vietnam fell to a total deficit of $1 billion or an increase of 128.3 percent from the $445.33 million in deficit in the same period in 2006. [More>>thejakartapost.com]
---
1.11.08 World warming despite cool Pacific, Baghdad snow
OSLO (Reuters) January 11 Climate change is still nudging up temperatures in the long term even though the warmest year was back in 1998 and 2008 has begun with unusual weather such as a cool Pacific and Baghdad's first snow in memory, experts said. "Global warming has not stopped," said Amir Delju, senior scientific coordinator of the World Meteorological Organization's (WMO) climate programme. Last year was among the six warmest years since records began in the 1850s and the British Met Office said last week that 2008 will be the coolest year since 2000, partly because of a La Nina event that cuts water temperatures in the Pacific. [More>>thestar.com.my]
---
1.11.08 Militant threat on Eiffel Tower intercepted
PARIS (Reuters) January 11 - French intelligence services are tracking the authors of a message apparently describing a militant threat against the Eiffel Tower, the daily Le Monde said on Friday. The newspaper said Portuguese air traffic authorities had intercepted a "vague and confused" short wave radio message apparently describing a threat on Thursday, but were not "panicked" by the message, according to a police source. The French capital is already at its second highest security alert level and further public security measures would serve little purpose, Le Monde quoted police as saying. [More>>khaleejtimes.com]
---
1.11.08 Bank of America to buy Countrywide for $4B in stock
January 11 - Bank of America has agreed to buy troubled Countrywide Financial Corp. for $4 billion, rescuing the nation's largest mortgage lender from possible bankruptcy and adding to a financial industry shakeout that has rattled global markets. The all-stock deal, announced on Friday morning, melds two institutions that sit on opposite ends of the recent crisis in subprime mortgages – a bank that stopped making risky home loans before many other institutions and a once high-flying lender whose loose practices added to a global problem. [More>>washingtonpost.com]
---
1.10.08 US president sets out blueprint for Palestinian state
January 10 - Employing unprecedentedly forthright language after two days of talks with Israeli and Palestinian leaders, US President George W. Bush on Thursday set out a clear blueprint for a Palestinian state, specifying the need for modifications to the 1967 lines and indicating a rejection of the Palestinian demand for a "right of return" for refugees.
The president said he believed the agreement should and could be signed by the end of the year, and National Security Adviser Stephen Hadley said Bush would be returning to the region "at least once and maybe more" before the end of his term to push his program forward.
Speaking in Jerusalem, Bush stressed that a final agreement would not be implemented until both sides fulfilled their road map obligations. At a press conference in Ramallah after meeting PA President Mahmoud Abbas, Bush announced the appointment of Lt.-Gen. William Fraser III, assistant to the chairman of the Joint Chiefs of Staff, as the individual who will monitor each side's implementation of the road map obligations. [More>>jpost.com ; See related story, aljazeera.net, January 10, Gaffe overshadows Bush visit."]
---
1.10.08 US planes rain bombs on al-Qaeda in Iraq
BAGHDAD (AFP) January 10 - American warplanes rained bombs on a rural area just south of Baghdad on Thursday, destroying in a 10-minute blitz what the US military said were "safe havens" of al-Qaeda in Iraq. The massive air raid, one of the biggest in Iraq in recent months, unleashed 40,000 pounds (18,000 kilos) of explosives on Arab Jabour village just south of the capital, a US military statement said. The attack by B-1 bombers and F-16 fighter-bombers was part of a nationwide operation against al-Qaeda codenamed Phantom Phoenix, launched by US and Iraqi forces on Tuesday, the statement said.
"Thirty-eight bombs were dropped within the first 10 minutes, with a total tonnage of 40,000 pounds," it said. "More than 40 targets were hit after precision air strikes destroyed reported al-Qaeda safe havens in Arab Jabour." The statement gave no details of casualties in the farmland area dominated by date palms and citrus groves. [More>>khaleejtimes.com]
---
1.10.08 Suicide bombing kills 24 in Pakistan
LAHORE, Pakistan (AP) January 10 - A suspected Islamic militant walked into a crowd of police guarding a courthouse and blew himself up Thursday, killing 24 others and wounding dozens in the first major attack in Pakistan since the assassination of Benazir Bhutto. The blast at Lahore High Court, minutes before a planned anti-government rally by lawyers, was a bloody reminder of the security threats facing this key US ally ahead of Feb. 18 parliamentary elections.
Echoing an extremist tactic in Iraq, suicide attacks have become as commonplace in Pakistan as in neighboring Afghanistan, adding to rising pressures on President Pervez Musharraf as he struggles to stay in office eight years after seizing power in military coup. At least 20 suicide bombers have struck the past three months in attacks that killed 400 people, many of them from the security forces - the most intense period of terror strikes here since Pakistan allied with the US in its war against al-Qaeda and other extremist groups in 2001. [More>>indianexpress.com: hosted.ap.org ; See also thenews.com.pk]
---
1.10.08 Australia to end plastic bags in supermarkets
SYDNEY (Reuters) January 10 - Australia has followed China in announcing it plans to end plastic bag use in supermarkets, with its new environment minister saying on Thursday he wants a phase-out to start by the end of 2008. "There are some 4 billion of these plastic bags floating around the place, getting into landfill, ending up affecting our wildlife, and showing up on our beaches while we are on holidays," Environment Minister Peter Garrett said on Thursday.
"I think most Australians would like to see them rid. We think it's absolutely critical that we get cracking on it," Garrett, once president of the Australian Conservation Foundation, told local media. "We'd like to see a phase-out implemented by 2008," he said. China launched a crackdown on plastic bags on Tuesday, banning production of ultra-thin bags and forbidding their use in supermarkets and shops from June 1, 2008. [More>>khaleejtimes.com]
---
1.10.08 US Treasury accuses Iran, Syria
JANUARY 10 - The U.S. Department of the Treasury on Wednesday designated four individuals and one entity under Executive Order 13438 for threatening the peace and stability of Iraq and the government of Iraq.
A statement from the Treasury said the individuals and entity "commit, direct, support, or pose a significant risk of committing acts of violence against Iraqi citizens, Iraqi government officials, and coalition Forces." It went on to accuse the Islamic Republic of Iran and Syria. "Iran trains, funds, and provides weapons to violent Shia extremist groups, while Syria provides safe-haven to Sunni insurgents and financiers," said Stuart Levey, under secretary for Terrorism and Financial Intelligence.

The communiqué went on to say: "By committing, directing, and supporting violent attacks in Iraq, these extremists threaten peace and stability and undermine efforts to promote economic reconstruction in Iraq."

"This is a significant blow to Tehran's nefarious destabilizing campaign in Iraq," Alireza Jafarzadeh, author of "The Iran Threat" told the Middle East Times. [More>>metimes.com]
---
1.10.08 Columbian rebels free 2 hostages
CARACAS, Venezuela, January 10 - President Hugo Chávez of Venezuela announced Thursday morning that Colombian guerrillas had freed two high-profile hostages from captivity in jungle camps in southeastern Colombia. The captives, two women who had been held for years by Colombia's largest rebel group, were now en route by helicopter to neighboring Venezuela, Mr. Chávez said.
The rescue mission, coordinated by Mr. Chávez, follows weeks of delays and snafus in which the three-year-old son of one of the captives, Clara Rojas, was found to be living in foster care in Bogotá and not with the guerrillas. [More>>nytimes.com]
---
1.10.08 Protection zone set up as deadly bird flu found at swan reserve
January 10 - Three dead swans that were found in a bird sanctuary in Dorset had the deadly avian flu virus H5N1, it was confirmed yesterday. The virus had been circulating in British birds for more than two weeks and may already be endemic in the wild bird population, experts have said. Tests are under way at the Veterinary Laboratories Agency in Weybridge, Surrey, to establish just how long the virus has been present in the mute swans from Abbotsbury.

The Times has learnt that one of the birds that was submitted to the agency by the swannery for routine testing was found dead on December 27, just over two weeks ago. The bird was put into cold storage. A second bird was found injured on December 30 and was also placed in storage. A third swan was found on January 4, but it was not until Monday that they were sent for testing. [More>>timesonline.co.uk]
---
1.10.08 Bahrain king issues human trafficking law
MANAMA (Reuters) January 10 - Bahrain's King Hamad bin Isa al-Khalifa has issued a law to combat human trafficking, the kingdom's state news agency said on Wednesday. "The law stipulates that the penalty for a human trafficking crime would be prison and a fine ranging from 2,000 Bahrain dinars ($5,319) to 10,000 dinars," the Bahrain News Agency (BNA) said on its website. The law also calls for the formation of a committee to combat human trafficking. The BNA did not say whether the law was now in effect.

Like other Gulf Arab states, Bahrain relies heavily on expatriate labor -- about a third of the island's population of 743,000 people are foreign workers -- and has been criticized by rights groups for not doing enough to protect them. The majority of Bahrain's immigrant workers are from South Asia, and are often lured to the island kingdom with promises of wages or working conditions that are not honored on arrival -- something that would qualify as human trafficking under the new law.

In November, the United Arab Emirates enacted a law to make human trafficking punishable by life imprisonment, and has set up a state body to combat the transfer of people for work by force or under false pretences. Human trafficking affects virtually every region in the world and U.N. estimates say the trade could be worth some $32 billion in both "sales" of individuals and the value of their exploited labor. [>alarabiya.net]
---
1.09.08 Radar images Titan's south pole
January 8 - This synthetic aperture radar image was obtained by the Cassini spacecraft on its recent pass by Titan's south pole on Dec. 20, 2007. This portion of the (T39) swath is of the region extending from about 84 degrees south to the south pole, with a length of approximately 760 kilometers (470 miles) and width of 150 to 170 kilometers (90 to 100 miles). The polar projection of this image is at 128 pixels pe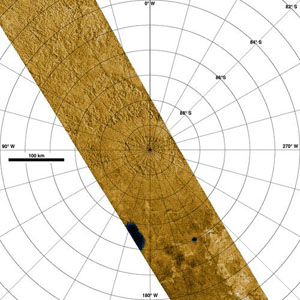 r degree, or approximately 351 meters per pixel (1,150 feet per pixel), and the radar illumination is from the lower left with incidence angles from about 22 to 38 degrees.
This image covers the south pole of Titan, which can be seen as a region of broad smooth valleys surrounded by rugged terrain. Also seen in this image are two features interpreted as lakes, the larger of which may correspond to dark features first identified by the imaging science subsystem in June 2005 (See Land of Lakes?). Their very dark appearance in the radar image indicates that they are probably filled with liquid methane. Other apparently empty lake basins are seen elsewhere in the radar swath. Based on this swath, there appear to be fewer lakes near the south pole than seen in a typical region near the north pole (for example, see Titan's North Polar Region). Since Titan is currently in its late summer season in the southern hemisphere, this interpretation is consistent with a previously proposed theory that methane fills the lakes during the winter and evaporates during the summer, leaving them dry until the next fall. [More>>saturn.jpl.nasa.gov]
---
1.09.08 Car bombs explode outside Christian buildings
KIRKUK (Reuters) January 10 - Two car bombs exploded outside two churches in the volatile northern city of Kirkuk - the latest in a wave of attacks on Christian targets in Iraq this week. Police said three people were wounded in the attacks on the churches in central and northern Kirkuk, a multi-ethnic oil-producing city 250km north of Baghdad. The buildings also suffered minor damage.
The spiritual leader of Iraq's Catholics said yesterday that a recent wave of bomb attacks on churches in Baghdad and the northern city of Mosul was aimed at showing Iraq was not at peace, rather than singling out Christians for persecution. Iraq's Christians make up about three per cent of the country's 27 million, mostly Muslim, population. A number of Christian clerics have been kidnapped or killed in Iraq and Christians forced to flee their homes.
In a single hour on Sunday, attackers bombed two churches, a convent and a church-run orphanage in the northern city of Mosul and three churches and a convent in Baghdad, said the Chaldean patriarch of Baghdad, Emmanuel III Delly. Prime Minister Nouri al-Maliki told the Vatican's ambassador that his government was doing its best to protect Iraq's Christians and that all Iraq's religious sects were equally affected by violence. [>news.com.au]
---
1.09.08 Gazans stage anti-Bush protests
January 9 - Thousands of Palestinians in Gaza staged protests against George W. Bush on Wednesday, burning Bush in effigy and underscoring the deep political split with West Bank moderates who welcomed the visit of the US president as an important gesture to the Palestinians. Supporters of Hamas chanted "Death to America," and burned US and Israeli flags. A shadowy al-Qaeda-inspired group appeared in public for the first time with rifles and rocket-propelled grenade launchers, and uttered vague threats against US targets.
Bush arrived in Israel on Wednesday for a three-day visit that also includes a meeting in the West Bank on Thursday with Palestinian Authority President Mahmoud Abbas, as well as a pilgrimage to Jesus's traditional birth grotto in biblical Bethlehem. A senior Abbas aide, Yasser Abed Rabbo, said the Bush visit was an important opportunity for the Palestinians to make their demands heard. "By receiving Bush, we are not conceding our rights," Abed Rabbo said, addressing critics at home. "We are focusing on our rights before the entire world, and we will say there will be no peace in the region, and no peace in the world without people obtaining these rights."
However, polls indicate that the vast majority of Palestinians are either indifferent to US peace promises or deeply skeptical a deal with Israel can be negotiated. The US administration is widely perceived in the Palestinian territories as a friend and ally of Israel, at the expense of the Palestinians. In an arrival ceremony at Israel's Ben Gurion International Airport, Bush appeared to confirm such perceptions, emphasizing an US-Israel alliance that he said "helps guarantee Israel's security as a Jewish state." The Palestinians have balked at Israel's demand that they recognize Israel as a Jewish state, amid concerns that this would block future negotiations on the fate of Palestinian refugees who lost their homes in the war that surrounded Israel's establishment in 1948. [More>>jpost.com ; See related story,. metimes.com, January 9, "Suspicious Arab eyes on Bush tour."]
---
1.09.08 Iran accuses US of faking Persian Gulf video
TEHRAN, January 9 - Iran's Revolutionary Guard accused the United States on Wednesday of fabricating video showing Iranian speedboats confronting United States Navy warships in the Persian Gulf over the weekend, according to a report carried by the semi-official Fars news agency as well as state-run television. "Images released by the US Department of Defense about the navy vessels are from archive, and sounds on it are fabricated," an unnamed Revolutionary Guard official said, according to Fars. The news agency has close links to the Revolutionary Guard. It was the first time Iran had commented on a video the Pentagon released Tuesday.

The Pentagon immediately dismissed the assertion. Bryan Whitman, a Pentagon spokesman, told correspondents that Iran's "allegation is absurd, factually incorrect and reflects the lack of seriousness with which they take this serious incident." President Bush chastised Iran on Tuesday for committing a "provocative act." On Wednesday, Stephen J. Hadley, Mr. Bush's national security adviser, again warned Iran, saying at the start of a trip with Mr. Bush to the Middle East, that Iran has "to be very careful about this, because if it happens again, they are going to bear the consequences of that incident." [More>>nytimes.com ; See also aljazeera.net]
---
1.09.08 Terror bloggers claim Paris attack plan
LONDON, January 9 - Forum Regularly Used By al-Qaeda Sees Wave Of Chatter Over Strike Against French Capital. Recent postings on a Web forum commonly used by al-Qaeda and its worldwide supporters threaten a terrorist attack on Paris, a European capital that has so far avoided the ire of radical Islamic fundamentalists. CBSNews.com, which monitors jihadist Internet forums and chat rooms on a regular basis, first noted several postings on the al-Ekhlhaas forum on Jan. 4, 2008 calling for militant action against France's capital and leaders.

Authorities in Paris contacted by CBSNews.com would not comment on the specifics of the latest Web threats, but said they "constantly renew calls for vigilance by police out on beats." One posting in particular, by a forum member using the name "Murabit Mowahed," was written as a plea for Muslims in France to take up arms against the country, and offered justification for doing so. Mowahed's posting, titled, "Striking Against the French Capital, Goals and Benefits," names the country's relatively new president Nicolas Sarkozy, and his policies, as the motivation for attack. [More>>cbsnnews.com]
---
1.09.08 US plans new sanctions on Iranian, Iraqis
WASHINGTON (Reuters) January 9 - The United States plans, most likely this week, to impose sanctions on an Iranian Qods force member for stoking violence in Iraq as well as on several Iraqi exiles in Syria and Iran, US officials said on Wednesday. The new sanctions, which could be announced as soon as Wednesday, come amid fresh tensions this week between Tehran and Washington after Iranian speedboats confronted three US Navy ships in the Strait of Hormuz, actions US President George W. Bush called "provocative." A senior Bush administration official said the sanctions were being imposed on the Iranian and exiled Iraqis because "they are basically supporting the insurgency in various ways in Iraq." [More>>khaleejtimes.com ; See also cnn.com, January 9, "Bush calls Iran 'threat to world peace.' "]
---
1.09.08 Dead man wheeled through NYC streets to cash check
BEIJING (Xinhuanet) January 9 - Two men wheeled a dead man through the streets of New York City in an office chair to a check-cashing store Tuesday and attempted to cash his Social Security check before being arrested on fraud charges, police said. David J. Dalaia and James O'Hare pushed Virgilio Cintron's body from the Manhattan apartment that O'Hare and Cintron shared to Pay-O-Matic, about a block away, spokesman Paul Browne said witnesses told police.

"The witnesses saw the two pushing the chair with Cintron flopping from side to side and the two individuals propping him up and keeping him from flopping from side to side," Browne said. The men left Cintron's body outside the store, went inside and tried to cash his 355 US dollar check, Browne said. The store's clerk, who knew Cintron, asked the men where he was, and O'Hare told the clerk they would go and get him, Browne said.

A police detective who was having lunch at a restaurant next to the check-cashing store noticed a crowd forming around Cintron's body, and "it's immediately apparent to him that Cintron is dead," Browne said. The detective called uniformed New York Police Department officers at a nearby precinct. Emergency medical technicians arrived as O'Hare and Dalaia were preparing to wheel Cintron's body into the check-cashing store, Browne said. Police arrested Dalaia and O'Hare there, he said.

Cintron's body was taken to a hospital morgue. The medical examiner's office told police it appeared Cintron, 66, had died of natural causes within the previous 24 hours, Browne said. "He was deceased in the apartment when he was removed by these two," Browne said. Dalaia and O'Hare, both 65, were being held by police and faced check fraud charges, Browne said. [>xinhanet.com]
---
1.09.08 Egyptian dad sought in Texas honor killings
DUBAI, January 9 - Friends and family buried two Texas teenaged sisters whose Egyptian-born father is thought to have shot them to death on New Year's Day in an apparent honor killing, press reports said on Sunday. As the bodies of Sarah and Amina Yaser Said were laid to rest, the girls' American mother and brother pleaded for help in finding their father, 50-year-old cabdriver Yaser Abdel Said who is still on the run, The Dallas Morning News reported. Amina, 18, and Sarah, 17, both high school students, were found shot to death in a taxi outside a motel in Irving, Texas, on Jan. 1. Police believe their father killed them. The sisters' great-aunt Gail Gartrell said Said had physically abused the two girls for years. She said the girls' mother had fled around Christmas because of Said's threats to kill the girls after he learned they had boyfriends, she told the paper. [More>>alarabiya.net ; See related story, independent.co.uk, January 9, "Girl who fled arranged marriage 'was smothered or strangled.' "]
---
1.09.08 Central government: China to limit use of plastic bags from June 1
BEIJING (Xinhua) January 9 - The government will impose limits on the use of plastic bags starting on June 1, as part of its dual campaign to protect the environment and save energy. In a circular posted on the central government's Web site (www.gov.cn) on Tuesday, the General Office of the State Council ordered a ban on the production, sale and use of ultra-thin bags (defined as less than 0.025 mm thick) as of June 1. Further, supermarkets and shops will be banned from giving free plastic bags to customers as of that date. China thus joins many governments that have moved to limit the manufacture, sale and use of plastic bags, according to the circular. [More>>xinhuanet.com]
---
1.09.08 Detentions follow Chinese protest
BEIJING (AP) January 9 - Chinese officials detained four people over the beating death of a man who had filmed a clash between villagers and authorities, state media said Wednesday. The killing touched off protests that underscored public anger over abusive treatment by government employees. The swift action by officials reflected concerns that such incidents could spill over into larger protests against authorities, whose heavy-handed manner of dealing with civil disputes frequently arouses resentment. Residents angrily marched Tuesday in front of Tianmen city hall in central China, demanding redress for the death of Wei Wenhua, a 41-year-old construction company executive, said Chen Junling, Wei's brother-in-law.

...On Monday, Wei had stopped while driving when he saw local villagers squaring off against 50 urban administrative inspectors in Wanba, a village on the outskirts of Tianmen in Hubei province, his family and state media said. The villagers were arguing with authorities over the dumping of garbage by city trucks near their homes. The dispute evolved into a scuffle when residents tried to prevent the trucks from unloading, which Wei captured on his phone, Xinhua said.
After Wei took out his cell phone to record the demonstration, officials turned on him, punching and attacking him for five minutes, Xinhua said. Wei was dead on arrival at a Tianmen hospital, the report said. An autopsy was being conducted. [Full story>>indianexpress.com: hosted.ap.org]
---
1.09.08 18 militants, bulk of weapons taken into custody in Swat
SWAT, January 9 - Security Forces arrested 18 militants in search operations in Swat and seized a large cache of arms and ammunition. Media Information Centre Mengora in a statement said security forces carried out a search operation in Grama, Tehsil Kabal, and arrested 18 militants along with arms. The government statement said the arrested had links with Maulvi Fazlullah and were wanted by Swat police in different cases. Security forces also launched [an] offensive on the hideouts of militants in Byochar and Tolanoband. However, no report of casualties was received. [>thenews.com.pk]
---
1.09.08 Russian doomsday sect ignores bitter cold, stays put
MOSCOW (Ria Novosti) January 9 - Members of a Russian sect holed up in a cave in the Penza Region since last fall are reported to be healthy despite above-ground temperatures plummeting to -19 degrees C (-2.2 Fahrenheit). "According to our information, all those below ground are in good health. The situation remains unchanged. They have heating supplies and they would appear to be heating up the cave," said a member of the group negotiating with the sect.
The sect went underground in November 2007 in order to "save themselves during the time of the apocalypse," which they say will come in May 2008. They have threatened to set fire to themselves if any attempt is made to force them to come to the surface. According to the source, the 35 sect members, including four children believed to be between 18 months and 14 years old, have not requested any assistance, despite the bitter cold. [>rian.ru]
---
1.08.08 Revealed: a new bank rip-off
January 8 - Some of Britain's biggest banks have unscrupulously exploited last month's base rate cut by failing to pass on the benefits to mortgage holders, yet at the same time imposing even bigger cuts on interest accruing to savings accounts. The double whammy means banks are squeezing their customers tighter than ever this winter, as they fight to protect their dwindling profits from the credit crunch and potential legal action over bank charges.
New figures from the financial advisers Chase de Vere reveal that 18 banks and building societies – including high street names such as Alliance & Leicester, Halifax, Lloyds TSB and NatWest – have within the past month cut the rate on one or more of their savings accounts by more than December's 0.25 per cent cut in the Bank of England base rate. Over the same period, 14 lenders also failed to reduce their standard variable mortgage rates by the full 0.25 per cent, according to comparison service Moneyfacts, including Egg and, once again, Alliance & Leicester.
Meanwhile, banks have been busy raising their charges and fees, as they desperately try to recoup the income they are losing as a result of the credit crunch. Most of the big banks have restructured their overdraft charges in the past few months, introducing an ever-more complex web of fees designed to catch out consumers. [More>>independent.co.uk]