News Headlines & Trends
---

Editorial note: This edition concludes a four-year chronicle of world news trends, called "The awful years," from November 2004 through January 20, 2009. The world has witnessed the inauguration of President Barack Obama — our 44th president — and a 230 year process in the peaceful transition of power. The new president's inauguration was marked by a pervasive good-will among the [near] 2 million people gathered between the Lincoln monument and the dome of Congress. The world seems to have bought into the president's spirit and hope for change, away from the devastating policies of the Bush administration. And while there are sceptics waiting to see his works match his words, we are reminded of the focus of his speech: of working together, each having a responsibly in the challenges ahead.

Mel Copeland
---
01.20.09 President Obama promises 'hope over fear'
WASHINGTON, January 20 - First black leader makes history at crucial time for his nation. Barack Obama became the 44th president of the United States on Tuesday afternoon, banishing forever more than 200 years of history during which the office passed from white hands to white hands and promising a new era of "hope over fear, unity of purpose over conflict and discord." Under the Constitution, Obama became president at noon ET, even though he had not formally been sworn in with the inaugural ceremonies running behind schedule. Using his full name, Barack Hussein Obama, the new president took the oath of office at 12:05 p.m. from Supreme Court Chief Justice John Roberts, whose nomination to the court he opposed as the junior Democratic senator from Illinois.
Roberts, who used no notes, stumbled at one point, appearing to forget the opening words. Obama, a former constitutional law professor, made sure to insert the crucial phrase "that I will faithfully execute the office of president to the United States." Then, clasping hands with his wife, Michelle, Obama smiled and waved to the crowd of as many as 2 million people who jammed the National Mall. As the crowd chanted, "Obama, Obama," the president thanked his predecessor, George W. Bush, and said he was "humbled by the task before us, grateful for the trust you have bestowed, mindful of the sacrifices borne by our ancestors." Obama acknowledged that "we are in the midst of crisis." [More>>msnbc.msn.com; See text of the Obama 2009 Inaguaral Address, nytimes.com]
---
01.20.09 IAF strike Kassam launchers in Gaza
January 20 - IAF planes struck a Kassam rocket launcher in the Gaza Strip on Tuesday evening, hours after two incidents of gunfire and mortar shell fire were reported against IDF troops in the area. The strike was the first of the kind since Israel unilaterally implement a cease-fire at 2:00 a.m. on Sunday. Earlier in the day, Gaza gunmen fired at IDF patrols in two separate incidents that marked the first violations of the cease-fire declared Sunday by Hamas. No one was wounded and no damage was reported in the two incidents, which took place near the Kissufim border crossing, in central Gaza, and in southern Gaza. [More>>jpost.com]
---
01.20.09 China to expand its military reach
January 20 - China has said it plans to step up the modernisation of its armed forces, expanding the military's global reach, but at the same time calling on the incoming US administration to improve military relations between the two countries. A government policy report, released on Tuesday, said China's overall security situation had improved but that China's armed forces needed to improve to protect Chinese economic interests around the world. Looking further to the future, the report said China needed to be prepared for conflicts brought about by increased competition for energy and food.

But the white paper also pointed to three major threats it said China faces now - from separatist movements in Tibet and Xinjiang; and from US arms sale to Taiwan, the self-ruled island which Beijing regards as Chinese territory. It said the three issues "pose threats to China's unity and security." [More>>aljazeera.net]
---
01.20.09 Black Death kills 40 al-Qaeda fighters in Algeria
CAIRO, January 20 - Experts fears the killer bug could be used as bio weapon. At least 40 al-Qaeda operatives in Algeria died last week of the plague, the killer bug commonly known as the Black Death, prompting experts to speculate that al-Qaeda was developing the plague into a biological weapon to attack Western cities, according to press reports. The body of one al-Qaeda fighter was found by the roadside on Monday, Algiers-based Anahar al-Jadeed reported. The victim allegedly belonged to the al-Qaeda network al-Qaeda in the Land of the Islamic Maghreb (AQLIM), which operates several training camps in a forest in Algeria.

Joint forces found several decomposed bodies of the gunmen infected with the plague in cave hideouts in the mountainous provinces of Tizi Ouzou, 100 km (62 miles) east of the capital Algiers, and Bejaia, 181 km (112 miles) from Algiers. Local sources speculated that tribes in the surrounding area also died following the outbreak in the al-Qaeda camps. A dead rat appeared to be behind the transmission of the disease. But claims that the al-Qaeda cell in Algeria was developing the disease as a weapon to use against western cities emerged after the news of the death, the Telegraph reported. [More>>alarabiya.net]
---
01.20.09 Five policeman, 22 militants killed in Afghanistan
KABUL, January 20 - Suspected insurgents killed five Afghan policemen, said officials on Tuesday, as the US-led coalition announced its forces had killed 22 militants in operations against extremist networks. Explosives mounted on a bicycle blew up Tuesday in the centre of the southern city of Kandahar as a police vehicle passed by, witnesses said. "Two policemen were killed, one policeman and a civilian have been wounded," said the provincial government spokesman, Zalmai Ayobi. There was no claim of responsibility. The city has previously come under attack by Taliban insurgents, who swept into government in 1996 before being ousted five years later by the 2001 US-led invasion.

Three more policemen were killed in remote northwestern Afghanistan when the Taliban stormed a police post late Monday, officials said. Another eight policemen were kidnapped in the attack, Badghis province deputy governor Abdul Ghani Sabir told a foreign news agency. He had no information about casualties among the attackers. The US-led coalition, which is helping the Afghan government fight insurgents, said its soldiers had killed 22 militants, including two Taliban commanders, in various operations on Monday. In the deadliest incident, 18 militants were killed with a Taliban commander in Kapisa province's Tagab Valley around 50 kilometres (30 miles) north of Kabul, it said in a statement. The US-led military called in air strikes after ground forces exchanged fire with militants, it said. [>thenews.com.pk]
---
01.20.09 6 Pakistanis arrested in Spain
MADRID (AP) January 20 - Spanish police say they have arrested six Pakistanis on suspicion of tax fraud and are investigating whether they diverted funds to Islamic terror groups. Police say the six men were arrested on Tuesday in Barcelona on orders from Judge Baltasar Garzon, who often investigates Islamic terrorism. The Civil Guard says in a statement the alleged fraud was carried out through telecommunications companies and officials are investigating whether any money went to "armed groups." A Civil Guard official told The Associated Press separately that that meant possible financing of Islamic extremist groups. The official spoke on condition of anonymity in line with department rules. [>timesofindia.indiatimes.com]
---
01.19.09 On the money trail: Inauguration perks go to the rich
January 19 - VIP-seating at the "We Are One" Concert Among the Benefits for Big Donors. President-elect Barack Obama billed his inauguration an event "for all Americans." But in the nation's capital this long weekend, wealthy visitors are finding themselves a bit more equal — and warmer — than others. Most Americans here to see President-elect Obama make history crammed onto buses and trains, slept on floors and fought crowds and cold. But the wealthiest Americans coming to see the event are enjoying all the perks their money and power ever warranted.

For CEOs and stars arriving by private jet, local airports have shut down entire runways to serve as parking lots for their planes. Officials are prepared to handle hundreds of private aircraft for the long weekend. Limousine companies have been busily shuttling the somebodies around town in style. Shirlington Limousine's Chris Baker says he has seen a spike in business for this inauguration, as he has for the past five. (Democrats seem to be more last-minute than Republicans, he said. "The GOP has much more advance, prior planning.") [>abcnews.go.com; See related stories:

cbsnews.com, January 19, "Inauguration events absorb King holiday", January 19 - Celebrations of famed civil rights leader's life consumed by upcoming inauguration. :With the nation's attention turned to President-elect Barack Obama's anticipated inauguration Tuesday, the celebration of Dr. Martin Luther King, Jr. Day may have gotten lost in the shuffle in parts of the country. In Hempstead, NY, the annual parade marking the birthday of the famed civil rights leader was canceled as too many dignitaries were off in Washington, D.C., to take part in another pivotal moment in the history of race relations in America — the swearing in of the first African-American president, just across the National Mall from the spot where King delivered his famous "I Have A Dream" speech in 1963. Mr. Obama has recalled King's legacy frequently during the ramp-up to Tuesday's ceremonies, spending part of Monday challenging Americans to public service as he visited an emergency homeless shelter for teenagers in the nation's capital...

nytimes.com, January 19, "Obama celebrates holiday with service" : WASHINGTON - Barack Obama rolled up his sleeves on Monday and helped out at a homeless center, devoting much of his last full day as president-elect to paying tribute to Martin Luther King Jr. and to the spirit of volunteerism and public service he said Mr. King represented...
---
01.19.09 New British bailout adds $147 billion
January 19 - The government of Prime Minister Gordon Brown announced on Monday a new bailout for the British financial system that increases its control over lenders, saying it would offer banks insurance on troubled assets and take other measures to restore credit and support the foundering economy. The government also said it was revising the terms of its bailout of Royal Bank of Scotland, raising its shareholding in the institution from about 58 percent to about 70 percent. Speaking at the prime minister's 10 Downing Street residence in London, Mr. Brown placed the blame for the financial crisis on "irresponsible lending" by the banks and said institutions that took advantage of the new measures would have to sign a legally binding agreement with the government to provide more credit to consumers and businesses. [More>>nytimes.com; See related stories:

timesonline.co.uk, January 19, "Britain's economy in even worse state than government thinks, says EC report" : Britain's economic performance this year will be much worse than the government has predicted, the European Commission said today, with the economy due to contract by 2.8 per cent — the worst performance since 1946. Unemployment will rise to 8.2 per cent with exports too weak to stop output plummeting, according to Brussels, but it is the forecast of such deep recession that is the most worrying. One of the biggest drops in the European Union, it compares to the Government's own forecast of negative growth of between 0.75 per cent and 1.25 per cent...

independent.co.uk, January 19, "RBS shares collapse after record losses" : Shares in Royal Bank of Scotland collapsed today in the wake of the Government's latest rescue bid and news that the bank is facing the worst loss in UK corporate history. The NatWest parent company's market value slumped below £5 billion after shares plunged by as much as 70 per cent at one stage. RBS estimated bad debts and write-downs on the value of past acquisitions could leave it as much as £28 billion in the red for 2008 - higher than the current record of £15 billion set by mobile phone group Vodafone in 2006...
---
01.19.09 Arab leaders work to mend fences, pledge Gaza aid
KUWAIT CITY (AFP) January 19 - Arab leaders meeting in Kuwait on Monday appeared to have healed a rift in ties exposed by Israel's deadly offensive on the Gaza Strip as they pledged aid to the war-battered territory. A reconciliation has been achieved between Egypt, Qatar, Saudi Arabia and Syria, Qatari Prime Minister Sheikh Hamad bin Jassem al-Thani told the Doha-based satellite television Al-Jazeera. He gave no details of the deal. Leaders of the four states and host country Kuwait held a meeting at the residence of Saudi King Abdullah following the opening session of the Arab summit in Kuwait City. The efforts to heal a rift shown up by Israel's offensive in Gaza were launched by Kuwait with the help of other Arab nations in the Gulf, a Kuwaiti source said.

King Abdullah called in a speech at Monday's summit for an end to Arab differences. "We have to overcome Arab political differences that led to a division in Arab ranks which can be exploited by those who want to achieve their regional ambitions," he said. The split was highlighted after Qatar hosted an Arab summit on Friday from which the leaders of Egypt and Saudi Arabia stayed away. The apparent reconciliation also came after Syrian President Bashar al-Assad and his Egyptian counterpart Hosni Mubarak expressed contradictory stands at the opening session of the two-day summit. [More>>khaleejtimes.com]
---
01.19.09 Saudi activists liken child marriages to slavery
DUBAI, January 19 - Call for criminalizing woman and child abuse. The controversy over legalizing a minimum age for marriage in Saudi Arabia continued as members of parliament and human rights activists likened marrying minor girls to the slave trade, local press reported Sunday. Activists in the Saudi parliament and the Human Rights Association lashed out at the idea that minor girls should be permitted to marry following comments by Saudi's highest religious authority Sheikh Abdul-Aziz Al-Sheikh that 10-year-old girls should be permitted to marry.

Marriage and other personal status issues are not legislated in Saudi Arabia and some other Gulf countries, but rather governed by sharia courts, which are based on interpretations of Islamic law. Marriage in these countries typically refers to the signing of a contract, which may stipulate an age at which the marriage can be consummated. [More>>alarabiya.net]
---
01.19.09 Oil falls towards $34 on gas deal, Gaza ceasefire
LONDON, January 19 - Oil fell more than $2 towards $34 a barrel on Monday as signs of a resolution of a gas row between Russia and Ukraine and after a ceasefire between Israel and Hamas in Gaza eased supply concerns. The market remained under pressure from expectations the weakening global economy would erode oil demand. The International Energy Agency and other forecasters cut their 2009 demand forecasts last week. "Right now the economy is dominating," said Harry Tchilinguirian, analyst at BNP Paribas. "The market is very volatile and the signs are that demand is weakening." [More>>gulfnews.com]
---
01.19.09 Militants bomb 5 schools in northwest Pakistan
ISLAMABAD, Pakistan (AP) January 19 - Suspected Taliban militants bombed five schools in Pakistan's Swat valley on Monday as part of a campaign against girls' education in the country's lawless northwest. Militants, who have blown up or burned down more than 170 schools in their campaign, had ordered all girls' schools in the area closed by Jan. 15. The school attacks are a throwback to conditions in Afghanistan under Taliban rule, when education for girls was banned and most women forced to stay home.

The attacks early Monday morning came hours after government spokeswoman Sherry Rehman vowed that all schools in the area would reopen by the end of the school holidays in March. Schools in the Swat valley, including some 1,600 government-run establishments with a quarter-million students, are closed for the winter vacation until the end of February. But an association representing 400 private schools for boys and girls in the valley said last week that all of its schools would remain closed after the winter break because of the threat from militants. [More>>timesofindia.indiatimes.com; See an interesting Taliban link to al-Qaeda claimed by an al-Qaeda operative: Maravot News (below) 01.18.09 Al-Qaeda threatens German soldiers in web video.
---
01.19.09 Teen ill with bird flu
BEIJING (AFP) January 20 - A teenager has been diagnosed with bird flu in China and is in a critical condition, the Health Ministry said, bringing to two the number of seriously ill days after a woman died from the disease. The boy, a 16-year-old student surnamed Wu, fell ill in the southwestern province of Guizhou on January 8, the ministry said on its website today. Wu was transferred to a city in the neighboring Hunan province on January 16 when his condition worsened, and tests conducted the next day concluded he had the deadly H5N1 strain of bird flu, the ministry said. "The patient is in critical condition, and is actively being treated." The news comes just two days after a 27-year-old woman died from bird flu in the eastern province of Shandong, nearly two weeks after falling ill. [More>>news.com.au; See related story,

thenews.com.pk, January 19, "Bird flu outbreak reported in eastern India" : NEW DELHI: Health authorities in the eastern Indian state of Sikkim on Monday confirmed a new outbreak of bird flu and said thousands of poultry would be killed to control its spread....
---
01.18.09 Russia, Ukraine to sign gas deal Monday - Gazprom
MOSCOW (RIA Novosti) January 18 - Gazprom is preparing documents on gas supplies to Ukraine and gas transit to Europe for signing on Monday, the Russian energy giant said on Sunday. "We are working to ensure that the documents are signed on Monday," Gazprom spokesman Sergei Kupriyanov said...Putin said after the talks that Ukraine will pay the European price for Russian natural gas with a 20% discount this year while Kiev will not increase the current transit fees it receives for Russian gas.

From 2010, Ukraine will pay the full market price for Russian natural gas while Russia will pay European market pries for transit, Putin said. Ukraine paid $179.5 per 1,000 cubic meters for Russian natural gas in 2008, which is less than half the price paid by European consumers. The European price for natural gas in the first quarter of this year stands at about $450 per 1,000 cu m but is expected to fall significantly later this year to reflect the decrease in world oil prices. [Full story>>en.rian.ru]
---
01.18.09 IDF begins Gaza troop withdrawal, hours after ending 3-week offensive
January 18 - The Israel Defense Forces began a partial withdrawal of ground troops from the Gaza Strip on Sunday evening, hours after ending a three-week offensive on the Hamas-ruled coastal territory. The move also came shortly after Gaza's Hamas rulers announced a one-week cease-fire, despite continuing rocket fire on southern Israel. The IDF would not say how many troops it is pulling out, but Channel 10showed tanks rolling out and smiling infantry soldiers walking toward the border. Some ground forces remained at key points in Gaza amid the withdrawal.

"I can confirm that a gradual withdrawal of our forces is under way," a military source said, refusing to elaborate on when the pullback might be completed. Israel declared a truce early on Sunday that was matched hours later by Gaza's Hamas leaders. Shortly after it announced a unilateral cease-fire in Gaza, Israel said on Sunday it would not consider a timetable for withdrawing all of its forces from the Gaza Strip until Hamas and other militant groups halt their attacks. [More>>haaretz.com]
---
01.18.09 NATO chief faults Afghan leaders
January 18 - NATO's secretary general has said corrupt and inefficient government in Afghanistan is as much to blame as insurgents for the chronic instability. In the Washington Post newspaper, Jaap de Hoop Scheffer said the international community had paid enough, in blood and money, to demand government action. He said Afghans needed a government that deserved their loyalty and trust.

An Afghan government spokesman conceded corruption was a problem, calling for a "shared approach" in tackling it. Jaap de Hoop Scheffer's comments, in an opinion piece for the US newspaper, were an unusually strong expression of NATO's dissatisfaction with the government of Afghan President Hamid Karzai, correspondents say. "The basic problem in Afghanistan is not too much Taleban; it's too little good governance," Mr. de Hoop Scheffer wrote. [More>>bbc.co.uk]
---
01.18.09 Al-Qaeda threatens German soldiers in web video
BERLIN (Reuters) January 18 - Al-Qaeda issued an Internet threat against German soldiers at the weekend, citing their involvement in fighting the Taliban in Afghanistan. "Your soldiers are safe nowhere," said a masked man dressed in a black turban in a video message posted on the Internet. The video, which appeared late on Saturday, was titled "The rescue package for Germany" and bore the logo of As-Sahab, which is al-Qaeda's specialist media arm.

Germany is part of NATO's peacekeeping force in Afghanistan and has a mandate to send 4,500 troops there. "If Germans ... naively believe they will get away with it, then the politicians are unfortunately out of their element," said the man. A sign behind his head identified him as "Abu Talha the German" and he spoke in German, with a slight foreign accent. Whoever tried to make a distinction between al-Qaeda and the Taliban had not understood his enemy, he added. [More>>khaleejtimes.com]
---
01.18.09 All culprits behind 26/11 'must be apprehended' : Pakistan
ISLAMABAD, January 18 - Asserting that all the 'culprits' behind the Mumbai attacks 'must be apprehended', Pakistan on Sunday said Indian investigators will 'be more than welcomed' to help in its probe into the Terror strikes. Interior Ministry chief Rehman Malik also said anyone found to be involved in the 'heinous' attacks would be prosecuted under the country's anti-terror laws. Malik's comments came a day after he acknowledged that the evidence about Mumbai terror attacks given to Pakistan by India contained 'leads and good clues'....He said no assistance would be sought from foreign countries though Indian investigators will 'be more than welcomed' to help in the probe. [Full story>>indianexpress.com]
---
01.18.09 Tensions rise on Korean peninsula
SEOUL, South Korea, January 18 - South Korea placed more soldiers at frontier guard posts and told its fishermen to refrain from sailing near North Korean waters on Sunday, a day after the North Korean military declared an "all-out confrontational posture" against the South and threatened a naval clash. The North Korean threat on Saturday came in the same day when an American scholar said North Korean officials told him that they had "weaponized" enough plutonium for roughly four or five nuclear bombs.

Also Saturday, North Korea's Foreign Ministry said the country would maintain its "status as a nuclear weapons state" as long as it perceived a nuclear threat from the United States. American intelligence officials have previously estimated that the North had harvested enough fuel for six or more bombs, although it has never been clear whether the North constructed the weapons. The scholar, Selig S. Harrison, said the officials had not defined what "weaponized" meant, but the implication was that they had built nuclear arms. The North conducted a test of a nuclear device in 2006, but it appeared to result in a fizzle and experts concluded the explosion was relatively small. [More>>nytimes.com]
---
01.18.09 Roadside bomb kills US soldier in Iraq
BAGHDAD, January 18 - The US military says a roadside bomb has killed a US soldier in Iraq. A statement says the explosion occurred at about 11 a.m. Sunday in eastern Baghdad. The military has not given more details pending notification of the soldier's relatives. [>thenews.com.pk]
---
01.18.09 China reports two new cases of bird flu, one dead
BEIJING (Reuters) January 18 - A woman in eastern China has died and a two year-old girl is critically ill in northern China after becoming infected with bird flu, state media said on Sunday. The 27-year-old woman from Jinan, capital of China's Shandong province, died on Saturday after falling ill on Jan. 5, Xinhua said, citing an unnamed official with the provincial health department. It gave her surname as Zhang. The two-year-old girl, surnamed Peng, was found ill on Jan. 7 in central Hunan Province and taken to a hospital in her home province of Shanxi on Jan. 11, Xinhua news agency said, citing an unnamed official with the provincial health department. After not reporting a single human infection in almost a year, China has now confirmed three cases in two weeks. Health authorities said earlier this month a woman infected with bird flu had died in Beijing after buying ducks at a market in Hebei province, which surrounds the Chinese capital, sparking emergency checks of local poultry markets. [More>>thestar.com.my]
---
01.17.09 Obama makes his way by train to Washington
PHILADELPHIA, Janaury 17 - President-elect Barack Obama stepped onto a vintage train car, built at a time when a black man's ascendancy to the presidency was impossible in America, and traveled to Washington on Saturday in a three-day prelude to his inauguration as the country's 44th president. As he did throughout his campaign, Mr. Obama evoked imagery of Abraham Lincoln, in word and deed, as he embarked on an abridged version of Lincoln's journey by rail to the capital before his own inaugural festivities in 1861. The trip offered Mr. Obama, who on Tuesday will be sworn in as the first African-American president, a segue from celebrating his victory to confronting the daunting challenges that await him in office.
"While our problems may be new, what is required to overcome them is not," Mr. Obama said. "What is required is the same perseverance and idealism that our founders displayed. What is required is a new declaration of independence, not just in our nation, but in our own lives — from ideology and small thinking, prejudice and bigotry — an appeal not to our easy instincts but to our better angels." Mr. Obama opened his inauguration celebration at 30th Street Station in Philadelphia, where supporters gathered to send him off. He was joined on stage by his wife, Michelle, their two daughters, Malia and Sasha, and a contingent of friends from Chicago and beyond who have been by the Obamas' side throughout their two-year odyssey to the White House. [More>>nytimes.com]
---
01.17.09 Economy keeps taking hits; Bush team sees 2010 rebound
January 17 - Employers slashed thousands of jobs yesterday, and new data showed the nation's manufacturers are curtailing production, while the Bush administration forecast that the economy would start growing strongly next year. In the administration's final Economic Report of the President, White House economics advisers forecast that the unemployment rate will average 7.7 percent in 2009 and that gross domestic product will grow by a feeble 0.6 percent. They forecast a "vigorous" expansion in 2010 and 2011, including 5 percent annual growth in gross domestic product, and an unemployment rate that falls to 5 percent. As has frequently been the case over the past eight years, the White House forecast was more optimistic than those of most private economists. For example, in a survey of bank economists by the American Bankers Association released yesterday, the consensus projection was that the unemployment rate will average 8.1 percent in 2009 and that the economy will shrink 0.6 percent.
The reason for economists' pessimism was clear yesterday as a host of large companies announced layoffs. Advanced Micro Devices said it would cut 1,100 jobs, which represents 9 percent of its workforce; WellPoint, the health insurer, said it would cut 1,500; Pfizer, the pharmaceutical company, was reported to be cutting about 2,400. And in the biggest loss of jobs, Circuit City said it would liquidate, costing more than 30,000 people their jobs. In another sign of the economy's weakness, the nation's factories produced fewer cars, appliances and electronics last month, driving industrial production down 2 percent in December, twice as much as expected. For all of 2008, production was down 7.8 percent, according to a report yesterday from the Federal Reserve. [More>>washingtonpost.com; See related stories,

nytimes.com, January 17, "Bailout is a windfall to bankers, if not to borrowers" : At the Palm Beach Ritz-Carlton last November, John C. Hope III, the chairman of Whitney National Bank in New Orleans, stood before a ballroom full of Wall Street analysts and explained how his bank intended to use its $300 million in federal bailout money. "Make more loans?" Mr. Hope said. "We're not going to change our business model or our credit policies to accommodate the needs of the public sector as they see it to have us make more loans."

As the incoming Obama administration decides how to fix the economy, the troubles of the banking system have become particularly vexing. Congress approved the $700 billion rescue plan with the idea that banks would help struggling borrowers and increase lending to stimulate the economy, and many lawmakers want to know how the first half of that money has been spent before approving the second half. But many banks that have received bailout money so far are reluctant to lend, worrying that if new loans go bad, they will be in worse shape if the economy deteriorates...

xinhuanet.com, January 17, UNDP: China to slow to 8.4 percent, but remains engine for global growth" : BEIJING - China's gross domestic product (GDP) is expected to drop to 8.4 percent this year from last year's 9.1 percent, but the country remains an engine for East Asia and even for global growth, according to a forecast report released by United Nations Development Programme (UNDP) on Friday in Beijing. The report also made an optimistic forecast of 8.9 percent and a worst-case 7 percent. UN economists said China's economy might slow to 7 percent if the global credit crisis continued to linger, the recession in Europe and the United States deepened and fiscal responses delayed...
---
01.17.09 Senior official: Israel to announce unilateral cease-fire
JERUSALEM, January 17 - Prime Minister Ehud Olmert is expected to announce a unilateral cease-fire Saturday evening, according to a senior Israeli official. Israel will retain the right to respond to any rocket fire, the official said. Olmert and Defense Minister Ehud Barak are expected to announce the cease-fire during a news conference after a security Cabinet meeting, the official said. The senior official says he expects Olmert to announce a "cessation of military operations because we have achieved our goals both militarily on the ground and with our international partners."
"Hamas' military machine has been substantially destroyed," the official added. "They have been given a sufficient deterrence that they will think twice before attacking again." Saturday's security Cabinet meeting was meant to vote on the basics of a plan that could end the fighting in Gaza. It came a day after Israeli and US diplomats signed an agreement designed to stop arms smuggling into the Palestinian territory through tunnels. Earlier Saturday, Barak had called on the Israel Defense Forces (IDF) to "continue their operational activity," adding that Israel is "very close to achieving the goals and completing them with diplomatic agreements," according to a written statement issued by the defense minister's office. [More>>cnn.com]
---
01.17.09 US imposes sanctions against son of Osama bin Laden
WASHINGTON, January 16 - The United States on Friday imposed financial sanctions on Sa'ad bin Laden, a son of Osama bin Laden, and three other members of al-Qaeda thought to be operating in Iran. "It is important that Iran give a public accounting of how it is meeting its international obligations to constrain al-Qaeda," said Stuart Levey, US undersecretary of the treasury for terrorism and financial intelligence. Osama bin Laden is leader of al-Qaeda which was responsible for"9/11" terror attacks in the United States in 2001. Under US law, any banks accounts or other financial assets belonging to those targeted found in the United States must be frozen. Americans also are forbidden from doing business with them. Apart from bin Laden's son, of the three other alleged al-Qaeda terrorist operatives, two are Egyptians and one is Yemeni. [>xinhuanet.com; See related story,
timesofindia.indiatimes.com, January 17, "Bin Laden's son probably in Pakistan: US intelligence" : WASHINGTON - A son of al-Qaeda supremo Osama bin Laden, believed to be an operative of the terror network, is probably hiding in Pakistan, the chief of intelligence officer of the United States has said. US Intelligence officials consider Saad bin Laden to be a mid-level al-Qaeda operative who fled to Iran after the US invasion of Afghanistan in 2001. Two years later, Iran's government placed him under what US officials call "permissive" house arrest.

Director of National Intelligence Michael McConnell told reporters on Friday that Saad departed Iran in September and is probably hiding in Pakistan, where his father is also believed to be, the CNN reported. McConnell did not say whether the younger bin Laden escaped detention or was allowed to leave Iran. He indicated that he was not troubled by the move, suggesting the United States has a better chance of getting rid of Saad if he is in Pakistan, the report said...
---
01.17.09 Iranian cleric calls for shooting Israeli FM
CAIRO (AP) January 17 - A high-level Iranian cleric called for the shooting of the Israeli foreign minister in a speech before worshippers. Ayatollah Ahmad Jannati said during Friday prayers that he wanted someone to shoot Israeli Foreign Minister Tzipi Livni and denounced President-elect Barack Obama's search for a family pet. "Every time the picture of this woman is shown, I really wish that somebody would expend a bullet on her," he said according to a recording of the sermon obtained by the Associated Press. [More>>thejakartapost.com]
---
01.17.09 Indian evidence gives 'good clues' : Pakistan
ISLAMABAD, January 17 - Pakistan finally found merit in the evidence about Mumbai Terror attacks given to it by India, saying that it contained "leads and good clues" and promised to file criminal cases if prima facie evidence is found. "Quite a lot of material" was provided by India and the Pakistani investigators will work to convert this into "evidence that can stand up to judicial scrutiny," Pakistan's Interior Ministry chief Rahman Malik told a press conference. He said the three-member counter-terror team, investigating the Mumbai attack and examining the Indian dossier, has been directed to submit its preliminary findings within 10 days. [More>>indianexpress.com]
---
01.17.09 UK offers naval help to monitor Gaza
LONDON (AP) January 17 - British Prime Minister Gordon Brown said Saturday that Britain had offered naval resources that could be used to help prevent arms smuggling into Gaza as part of an arrangement to end the fighting there. Brown told reporters that France and Germany had made similar offers in a bid to curtail the bloodshed. "The Israelis, Egyptians and Palestinian Authority know this offer is available," he said. "I think this may make it easier for people to come to a cease-fire." Brown said that if a cease-fire is reached, Britain has people ready to enter Gaza to provide humanitarian aid to help relieve the obvious suffering. [More>>jpost.com]
---
01.17.09 Syria ready to cooperate with US: Report
BERLIN (AP) January 17 - Syria's President Bashar Assad has signaled his readiness to cooperate with the new US administration, but also indicated that his country won't give up good relations with Iran, a German magazine reported Saturday. Barack Obama's election has raised hopes for better ties between Syria and the US after years of strained ties under outgoing President George W. Bush. Damascus has close ties with Iran, which the West suspects of seeking a nuclear bomb.

"We would gladly contribute to stabilizing the region," Assad was quoted as saying in an interview with German weekly Der Spiegel, in response to a suggestion that Obama might seek Syria's help in curbing Iran's nuclear ambitions. "But we must be included and not, as up to now, isolated." "We are ready for any form of cooperation that is also helpful for America's relations with other countries," he said, according to the report. However, "we are independent — no one can dictate to us what we have to do; our actions are determined by our interests alone," Assad was quoted as saying. "Good relations with Washington must not mean bad relations with Tehran." [More>>khaleejtimes.com]
---
01.17.09 Bomber strikes in heart of Kabul
January 17 - At least three Afghan civilians have been killed in a suicide bomb attack close to the German embassy and a US military base in the capital of Afghanistan. The US military said six US troops were among the wounded in the attack on Saturday morning in Kabul. An earlier military statement saying two US soldiers had died was later retracted as an error.

In a separate attack, a suicide bomber in a minivan charged a NATO and Afghan police convoy in eastern Nangarhar province, killing at least one civilian, officials said. Three civilians and three police were also wounded in the strike in Chaparhar district, but NATO said no soldiers were injured. [More>>aljazeera.net]
---
01.17.09 Christians growing tense in Iraq
MOSUL (UPI) January 16 - A member of the Christian church was killed execution-style in the northern Iraqi city of Mosul, prompting renewed concern over targeted killings, sources say. Police discovered the body of a 36-year-old male with multiple bullet wounds to the head Thursday in Mosul, creating tension in the Christian community in the north of Iraq, Christian news agency AsiaNews reported Friday. Sources to the news organization say a Christian male was kidnapped Jan. 1 in Mosul and was tortured by his captors for four days before his release on a $50,000 ransom. Members of the Christian community in Iraq witnessed a spate of targeted killings beginning in October 2008. UN and international aid groups said the violence forced roughly half of the Christian population in the north to flee the area. [More>>metimes.com]
---
01.17.09 Awake after 3 years
January 18 - A man whose family was told he would die without waking has spoken his first words after almost three years in a coma. "I am better," Ilija Marinovic told his wife, Margaret. Mrs. Marinovic said: "I didn't believe it because all the doctors said it would never happen." While Mr. Marinovic has been "away," his daughter has celebrated her 18th birthday, his son has had a second child, his sister has died and the whole world has changed. The 57-year-old was unaware his only son, Dinko, flew from Croatia twice to see him — once expecting to collect his body.

"Family is very important to us and Ilija has missed his second grandson's birth in May 2007, my nephew's wedding in January last year and seeing his youngest daughter go to university," Mrs. Marinovic said. Her husband fell and hit his head on October 26, 2006, and had part of his skull removed to relieve pressure on the brain. Doctors told the Preston family that when he was taken off life support in November 2006, he would die. He didn't. The family was then told Mr. Marinovic was in a vegetative state and would never recover. [More>>news.com.au]
---
*Visitor statistics on maravot.com from 1&1. com. 46,153 page views in May 2007; monthly visitors in 2008 range between 40,000-45,0000..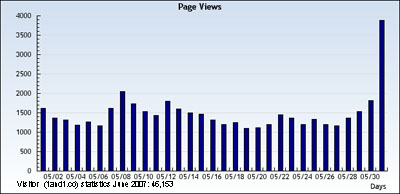 Privacy Policy: We do not store any personal data from you. We have no way of knowing any vital information about you — not even your name. Third-party distribution: We do not distribute information about your site usage to any third party. We are not responsible for the content of links from our site. Usage data: supplied by our Web Hosting service, 1and1.com, which consists of usage reports, such as page views / impressions and web pages visited, visitors' servers and geographical data (ISP's and country of origin).

---
Launched: 10.25.04 / 11.02.04 – | — |
Updated: 1.17.09; 1.18.09; 1.19.09; 1.20.09
Copyright © 1981-2009 Maravot. All rights reserved
Copyright © 1981-2009 Mel Copeland. All rights reserved
Background: tile from Cicero's villa (Marcus Tullius Cicero 106 B.C. - 43 B.C.)