---
02.26.07 'Exodus' of Iraq's ancient minorities
February 26 – Iraq's minorities, some of the oldest communities in the world, are being driven from the country by a wave of violence against them because they are identified with the occupation and easy targets for kidnappers and death squads. A "huge exodus" is now taking place, according to a report by Minority Rights Group International. The UN High Commissioner for Refugees says 30 percent of the 1.8 million Iraqis who have fled to Jordan, Syria and elsewhere come from the minorities.

The Christians, who have lived in Iraq for 2,000 years, survived the Muslim invasion in the 7th century and the Mongol onslaught in the 13th but are now being eradicated as their churches are bombed and members of their faith hunted down and killed along with other minority faiths.

The report, Assimilation, Exodus, Eradication: Iraq's minority communities since 2003, written by Preti Taneja, says that half of the minority communities in Iraq, once 10 percent of the total population, have fled. They include Mandaeans, whose main prophet is John the Baptist and Yazidis whose religion is an offshoot of Zoroastrianism and may be 4,000 years old. Other minorities who were persecuted under Saddam Hussein are under attack again. The so-called Faili, or Shia Kurds, who were stripped of their belongings under the old regime and expelled to Iran are now being forced to run again – forced out of Shia areas such as Sadr City because they are Kurds and Sunni cities such as Baquba, because they are Shia. [More>>independent.co.uk]
---
02.26.07 Baghdad ministry blast kills 4, officials unhurt
BAGHDAD (Reuters) February 26 – A blast at an Iraqi ministry during a ceremony attended by Vice President Adel Abdul-Mahdi killed four people on Monday but the vice president was unhurt, an employee at the ministry told Reuters. The employee said by telephone it appeared a mortar round had hit the Public Works Ministry building. The employee said he had thrown himself on top of the minister at the time of the blast. The minister was also unhurt. [More>>khaleejtimes.com]
---
02.25.07 Suicide bomber kills 40 at Baghdad college
BAGHDAD (Reuters) February 25 – A suicide bomber wearing a vest packed with explosives killed 40 people in a Baghdad college on Sunday, a day after Prime Minister Nuri al-Maliki expressed optimism about a security crackdown in the capital. Guards stopped the bomber in the reception lobby of the Baghdad Economy and Administration College but the man managed to blow himself up, police said...Among the attacks on Sunday, rockets and mortar bombs crashed into a market in a Shi'ite area in southern Baghdad and there were conflicting reports about casualties, police said. One police source said 10 people were killed in the attack in the Abu Dsher area of Doura neighbourhood. Two other police sources said no more than three people had been wounded. [More>>thestar.com.my ; See also, metimes (AFP) February 25, "Insurgent bombers blitz Baghdad." and turkishpress.com (AFP) February 24, "US bombards southeast Baghdad."]
---
02.25.07 Somalia pirates hijack UN ship
February 25 – Pirates have hijacked a cargo ship delivering UN food aid to northeastern Somalia. The ship, NV Rozen, had just delivered 900 tonnes of food aid to the semi-autonomous region of Puntland when the pirates attacked, said Stephanie Savariaud, a spokeswoman for the UN's World Food Programme. "We know it has been hijacked by pirates but we do not know how many pirates there are," Savariaud said. The ship was contracted by the WFP to deliver food aid to Somalia. [More>>aljazeera.net]
---
02.25.07 Iran launches space missile: state TV
TEHRAN (Reuters) February 25 – Iran has launched a missile capable of reaching space, Iran's state television Web site reported on Sunday, quoting an Iranian aerospace official. "Iran has successfully launched its first space missile made by Iranian scientists," the head of Iran's aerospace research center, Mohsen Bahrami, was quoted as saying. On Saturday, Defense Minister Mostafa Mohammad Najjar said Iran was planning to build a satellite and launcher. Iranian advances in building missiles capable of reaching space are watched closely by the West because the same technology could be used to build intercontinental ballistic missiles. [More>>iranfocus.com]
---
02.24.07 British U-turn brings global ban on deadly cluster bombs a step closer
February 24 – Forty-six countries have taken a giant step towards a landmark treaty banning cluster bombs after Britain swung support behind the drive to outlaw the weapons that have killed and maimed children from Lebanon to Afghanistan. At the end of a two-day meeting in Oslo, Britain shifted dramatically its position and supported a declaration committing governments to "conclude by 2008 a legally binding international instrument" to ban cluster bombs.

The munitions are notorious because they continue to kill and maim long after conflicts have ended, and particularly harm children, who are attracted by the bright colors and small size of unexploded bomblets. Thousands of the munitions are still littered across Lebanon after an estimated 4 million were dropped by Israel during the war last summer. As many as 40 per cent of the munitions can fail to explode on impact. Activists said Britain's sudden switch in position would create an unstoppable impetus towards a treaty, despite key cluster bomb producing states such as the US, Israel, China and Russia remaining outside the process. [More>>independent.co.uk]
---
02.24.07 Dozens of insurgents killed in Iraq
BAGHDAD (Xinhua) February 24 – Iraqi troops backed by U.S. aircraft on Saturday destroyed an insurgent base, killing dozens of insurgents and detaining their leader, an Interior Ministry spokesman said. Iraqi forces clashed with a group of gunmen early at dawn at an insurgent base in the area of Mashahda, 30 km north of Baghdad, killing dozens and detaining Saad Akram Khalifa, leader of the base, Brigadier Abdul Kareem Khalaf said. "Dozens of militants were killed in the attack and their base was completely destroyed," he said. The base belongs to the Islamic Army in Iraq, one of the largest Sunni insurgent groups. [>xinhuanet.com]
---
02.24.07 Blast in Pakistan kills 3 as bombers' bike hits bump
CHICHAWATNI, Pakistan (Reuters) February 24 – Three suspected Pakistani militants were blown to pieces by their explosives on Saturday when they rode over a bump on a bicycle outside a town in the central province of Punjab, police said. "The head of one man has been blown off," Deputy Superintendent Bashir Ahmed told Reuters from Chichawatni, a town some 120 km (75 miles) north of Multan, the main city in southern Punjab. Another of the dead men had his legs blown off, while the third had his stomach ripped open and died later in hospital, police said.

At least two of the dead men were students at a nearby madrassa, suspected of having links to Sipah-e-Sahaba Pakistan, a banned Sunni Muslim sectarian group, according to Ahmed. Pakistan is in the grip of a nationwide security scare having suffered a series of suicide bomb attacks in recent weeks, and police have also arrested several would-be suicide bombers. [More>>khaleejtimes.com]
---
02.24.07 Israeli occupation has 'apartheid aspects' says UN
JERUSALEM (AFP) February 23 – Elements of Israel's four-decade occupation of the Palestinians are akin to forms of apartheid, according to a recent UN report on the human rights situation in the Gaza Strip and West Bank. John Dugard, the special rapporteur on human rights for the Palestinian territories, said the international community has identified the regimes of colonialism, apartheid, and foreign occupation as inimical to human rights.

"Israel is clearly in military occupation of the occupied Palestinian territories. At the same time elements of the occupation constitute forms of colonialism and of apartheid, which are contrary to international law," said the report obtained by Agence France Presse Friday...Palestinians require permits where Israelis do not, house demolitions in the West Bank and east Jerusalem discriminate against Palestinians, and Jewish settlers are given preferential treatment over Palestinians, the report said. [Full story>>metimes.com]
---
02.24.07 American armada prepares to take on Iran
February 24 – (By Damien McElroy aboard USS Eisenhower) It is four and a half acres of American power in the middle of the Arabian Sea but the influence of USS Dwight D Eisenhower stretches for hundreds of miles. The aircraft carrier, backed by its sister vessel, a handful of destroyers and a shoal of support ships, has placed a maritime ring of steel around an increasingly unstable region.

While the Eisenhower is ostensibly assisting US operations in Afghanistan and Iraq, it is the looming threat of Iran that increasingly occupies its attention. Recent tensions between America and Iran over Teheran's attempts to develop a nuclear weapon have raised the prospect of its third regional war in a decade. The addition of a second aircraft carrier to its strike groups has fuelled the belief that America is gearing up for a fight with Iran. Not since the Iraq war in 2003 has America amassed so much fire power around the Gulf.

...Iran's belligerent posture has increased the challenges facing the Eisenhower since it deployed to the Middle East last October. Vice Admiral Patrick Walsh, the commander of the Fifth Fleet, issued a stark warning that Iran risks triggering an "accidental war" during aggressive military maneuvers. During the Great Prophet 2 missile test in November, the Islamic Republic fired a Shabab missile into the six mile corridor of shipping lanes in the Straits of Hormuz. In such a constricted corridor, the results could have been disastrous. With Teheran's real strategic intentions unclear, the US takes the threats it has made very seriously. "They threaten to use oil as a weapon. They threaten to close the Strait of Hormuz," Adml Walsh said. "And so it is the combination of the rhetoric, the tone, and the aggressive exercises in very constrained waters that gives us concern." [Full story>>iranfocus.com ; See related story, haaretz.com, February 24, "Israel in talks with US on 'air corridor' over Iraq to iran."]
---
02.23.07 Cheney hints at Iran strike
February 24 – US Vice-President Dick Cheney has raised the possibility of military action to stop Iran acquiring nuclear weapons. He has endorsed Republican senator John McCain's proposition that the only thing worse than a military confrontation with Iran would be a nuclear-armed Iran. In an exclusive interview with The Weekend Australian, Mr. Cheney said: "I would guess that John McCain and I are pretty close to agreement."

The visiting Vice-President said that he had no doubt Iran was striving to enrich uranium to the point where they could make nuclear weapons. He accused Iranian President Mahmoud Ahmadinejad of espousing an "apocalyptic philosophy" and making "threatening noises about Israel and the US and others." He also said Iran was a sponsor of terrorism, especially through Hezbollah. However, the US did not believe Iran possessed any nuclear weapons as yet.

"You get various estimates of where the point of no return is," Mr. Cheney said, identifying nuclear terrorism as the greatest threat to the world. "Is it when they possess weapons or does it come sooner, when they have mastered the technology but perhaps not yet produced fissile material for weapons?" Mr. Cheney also condemned Kevin Rudd's plan to withdraw all Australian combat troops from Iraq. Although he did not mention the Opposition Leader by name, Mr. Cheney said the withdrawal of Australian troops "would clearly be a disappointment from our standpoint." [More>>theaustralian.news.com.au ; See also nytimes.com, February 23, "Cheney criticizes China's arms buildup." and washingtonpost.com, February 23, "Cheney reiterates cticisim of House Speaker Pelosi" : Vice President Cheney today repeated his charge that House Speaker Nancy Pelosi's approach toward the Iraq war would benefit al-Qaeda, saying that he was not trying to impugn the speaker's patriotism but instead hold her accountable for the consequences of her policies. Continuing a feud that broke out earlier in the week, Cheney said that Democratic proposals to restrict some Iraq war funding – what he dubbed the "Pelosi policy" – would amount to a broad validation of al-Qaeda efforts to undermine America's will to fight...
---
02.23.07 President, Premier of Pakistan congratulate on successful missile test
ISLAMABAD, Pakistan, February 23 – President General Pervez Musharraf and Prime Minister Shaukat Aziz have congratulated the technical team on a successful test of Hataf-VI Shaheen-II missile. Pakistan on Friday successfully test-fired surface-to-surface ballistic missile Hataf-VI Shaheen –II missile. The ballistic Shaheen missile has a range of 2,000 kilometers and capable of carrying all types of warheads. It is a two-stage solid fuel missile, which can carry nuclear and conventional warheads with high accuracy. [More>>thenews.com.pk]
---
02.23.07 Thousands gather to support Aghan warlords
KABUL, Afghanistan (AFP) February 23 – Around 25,000 supporters of former Afghan warlords crowded a Kabul stadium Friday in a noisy show of support for a controversial bill that would give their leaders amnesty for war crimes. Men from around the country held up posters of leaders of the resistance to the 1980s Soviet occupation and chanted "Long live the mujahideen [holy fighters]" and "God is great." Mujahideen leaders were to address the crowd, which included men disabled in Afghanistan's nearly three decades of war, with hundreds of police on hand.

The stadium which holds at least 25,000 people was filled to near capacity. Rights groups have called for the trial of some of these men for war crimes, including in the 1992-96 civil war when mujahideen factions turned on each other after defeating the Soviets. Parliament this week passed a bill ruling out such trials but it has to be approved by President Hamid Karzai to become law, a step that officials say is unlikely. "We came here to express our support for our leaders," said an elderly supporter of ethnic Uzbek warlord Abdul Rashid Dostum. [More>>metimes.com]
---
02.23.07 Afghan Taliban say rearmed, ready for war
SPIN BOLDAK, Afghanistan (Reuters) – Rearmed with new guns the Taliban on Friday vowed this would be the deadliest year for foreign soldiers in Afghanistan since the Islamists were toppled in 2001. "This year will prove to be the bloodiest for the foreign troops. It is not just a threat, we will prove it," senior commander Mullah Dadullah told Reuters by satellite phone. "The Taliban's war preparations are going on in caves and in mountains. Our 6,000 fighters are ready for attacks on foreign troops after the change in weather and as it becomes warmer."

His comments came as Britain approved a plan to send a wave of extra troops to Afghanistan to repel an expected spring offensive by the Taliban, British government sources said. Taliban leaders say they expect to be able to field 10,000 soldiers after the bloodiest year since the Taliban's ouster in 2001, with a big increase in suicide fighters after conventional pitched battles brought heavy losses for the rebels...Dadullah said the extra weapons the Taliban were being supplied – he did not say from where – included the ability to bring down the NATO and U.S. helicopters crucial to their operations in this rugged, mountainous country. [Full story>>thestar.com.my]
---
02.23.07 Egyptian web dissident gets four years' jail
CAIRO, February 24 – An anti-government internet blogger has been sentenced to four years in an Egyptian jail, in a landmark case that has sent shock waves through the country's growing community of online dissidents. The case against Abdel Kareem Suleiman, 23, a former student at the Islamic institute of al-Azhar, was Egypt's first prosecution of a blogger specifically for online writings; other bloggers had been detained for their offline political activities.

Suleiman, who blogs as Kareem Amer, received three years in prison on charges of contempt of religion and an extra year for defaming US-allied President Hosni Mubarak. "He's only 23 years old. This verdict will ruin his future," said Mohamed el Sharkawy, another blogger and opposition figure who was arrested and allegedly tortured in a crackdown on dissidents last year. "Security officials tailor-made this charge to shove bloggers and activists into jail. This means that the state cannot tolerate anyone voicing his opinion." [More>>theaustralian.news.com.au ; See also metimes.com, February 23, "Rights group protests jail for Egyptian blogger."]
---
02.23.07 Egypt uncovers explosives cache near border with Gaza
EL-ARISH, Egypt (AP) February 23 – Egyptian security forces discovered on Friday approximately one ton of explosives hidden underground near Egypt's border with Gaza, a security official said. The explosives, mostly TNT that officials believe was recovered from land mines, were stashed in 34 plastic sacks, the security officer said speaking on condition of anonymity, because he is not authorized to give statements to the media. The explosives were to be smuggled to the Gaza Strip, he said. Bedouin trackers working for the authorities led security forces to the underground hiding place in Nagaa Shabanah, a village a few kilometers south of the Rafah crossing between Egypt and the Gaza Strip. [More>>haaretz.com]
---
02.23.07 Turkey charges Kurdish politician
February 23 – Turkey has charged a Kurdish politician with inciting hatred and threatening public safety after suggesting that Kurds would rise against the state if Turkey ever attacked Kurds in Iraq. Police detained Hilmi Aydogdu, leader of the Democratic Society Party's branch in the mainly Kurdish city of Diyarbakir, as he left a conference on Friday. Prosecutors later charged him with threatening public safety by inciting racial enmity and hatred. The charge carries a maximum three-year prison sentence.

Aydogdu had warned Turkey against taking any action in the oil-rich Iraqi city of Kirkuk, in remarks published in several newspapers. "The two sides in this war would be Turkey and the Kurds in Iraq. There are some 20 million Kurds in Turkey, and the 20 million Kurds would regard such a war as an attack against them," newspapers quoted Aydogdu as saying. "Any attack on Kirkuk would be considered an attack on Diyarbakir," the politician was also quoted as saying. [More>>aljazeera.net]
---
02.22.07 Israel gripped by Syria war fears
JERUSALEM (AFP) February 22 – A reported Syrian troop build-up near the Israeli-occupied Golan Heights has fueled speculation in Israel about a future conflict, more than three decades after the two enemies last went to war. Syrian armed forces appear to be moving closer to the armistice line as Damascus spearheads an unprecendented armaments drive, shrieked Israel's Ha'aretz newspaper from its front page Thursday. "The Syrian armed forces are being strengthened in a way unprecedented in recent memory with the help of generous funding from Iran," wrote military affairs correspondent Zeev Schiff.

Brigadier General Yossi Beidatz, the head of military intelligence research, has also warned Syrian President Bashar Al Assad is preparing for conflict with Israel, possibly through Hezbollah, which fought a 34-day war with Israel last year. Ha'aretz said the main thrust of Syria's armaments drive was missiles and long-range rockets, with its navy being bolstered by an Iranian missile similar to one fired by Hezbollah, killing four Israeli sailors last summer. [More>>metimes.com ; See also haaretz.com, February 22, "Peretz urges Israel to avoid verbal escalation with Syria."]
---
02.22.07 Ready to take over Basra after UK pullout: Iraq
BAGHDAD (Reuters) February 22 – The Iraqi government said on Thursday it was ready to take over security in southern Iraq once Britain withdraws 1,600 troops in the coming months, but insisted that British forces would still be needed for support. A leading group of Sunni Muslim clerics that has long criticized the foreign troop presence said the withdrawal marked the beginning of the end for the U.S.-led coalition in Iraq. Prime Minister Tony Blair said on Wednesday that Britain would withdraw almost a quarter of its troops from Iraq, reducing its levels from 7,100 to roughly 5,500, most of them in the province of Basra. In the first comments by the Iraqi government since Blair made his announcement in parliament, Prime Minister Nuri Al Maliki said Britainıs decision to reduce the number of its troops was a sign of the ³rapid development² of Iraqi forces. [More>>khaleejtimes.com]
---
02.22.07 US forces killed three Al Qaeda suspects, detained 11
BAGHDAD, February 22 – US forces targeted al-Qaeda fighters Thursday north of Baghdad, killing three suspected insurgents and detaining 11, the military said. Six suspected insurgents with alleged ties to al-Qaeda were captured and weapons including rocket-propelled grenades were seized during operations west of Taji, an air base 20 kilometers (12 miles) north of the capital, according to a statement. An attack helicopter then killed three armed men approaching the US troops as they were leaving the area with the detainees, it said. US forces also captured five suspects believed to be part of a network helping foreign fighters stage attacks near Samarra, 95kilometers (60 miles) north of Baghdad, the military said. [>thenews.com.pk]
---
02.22.07 First yellow dust warning issued
February 22 – The first yellow dust warning of the year was issued for central and southern regions yesterday, with a wave of the powdery irritant from Central Asia spreading to the Korean Peninsula overnight. Meteorologists said the storm came from the Gobi Desert in Mongolia and began to move to the peninsula yesterday. The dust level is expected to peak today, with the storm reaching Jeju Island and the Gyeongsang provinces early in the morning. "Due to a low pressure trough, yellow dust was detected in the Gobi Desert in Mongolia. The yellow dust is to hit the nation late at night and stay in effect through Friday," the Korea Meteorological Administration said yesterday. The KMA issued a nationwide primary caution for yellow dust, asking citizens to stay indoors and reduce contact with the air.

The dust, consisting of fine sand particles carried by prevailing winds from desert-like northwestern China, affects the nation every spring. Weather experts had warned that Korea will face its worst-ever sand storms from China in terms of severity and frequency this year...The dust from China also contains heavy metal substances and dioxin, a toxic chemical that causes cancer, a consequence of China's rapid industrialization. Over the past 30 years, Korea was affected by yellow dust for an average of 3.6 days per year, but in recent years the number of days has been increasing. [Full story>>koreaherald.co.kr]
---
02.22.07 Bombs found in Sealdah-Varanasi train
KOLKATA, India (PTI) February 22 – A polythene bag containing a number of bombs was on Thursday seized by the Railway Protection Force from a general compartment of the Sealdah-Varanasi Express train at Dhanauri station in Malda. The train had halted at Dhanauri for the Kiul-Jamalpur passenger train to cross when the RPF personnel found the bag containing five large and 10 small bombs from a second-class coach, railway officials said. An examination revealed the bombs were crude devices, sources said. [>exressindia.com]
---
02.22.07 Taliban 'in control' in Helmand
February 27 – Al Jazeera has uncovered evidence that Taliban fighters are now in effective control of large parts of a key province in southwest Afghanistan, despite recent claims by NATO that their bases had been destroyed. James Bays spent two days with the Taliban in Helmand and found that the group is running schools and medical facilities, and is travelling armed and unchallenged by NATO-led forces. Here is his report:

Behind Taliban lines, we travelled with a group of fighters across the deserts of Helmand province. These hardened men are well-armed, ready for battle – and they told me they are ready for martyrdom too. The journeys are often at break-neck speed – because of the risk of NATO air strikes. NATO may be the master the skies – but the Taliban claim that they control large swathes of territory on the ground. They took us on a trip – to show us how they operate almost unhindered in many areas...And when The Taliban took us to a mass rally clearly arranged for us to film, it was somewhat unnerving standing in the desert with such a large group – over 400 Taliban fighters. Some were no more than 12-years old while others carried their ammunition in UN food bags. The district commander showed me all the land he claims is controlled by his men. [Full story>>aljazeera.net]
---
02.22.07 UN: Almost half of Palestinians in Gaza, W. Bank are food insecure
(AP) February 22 – The United Nations said Thursday that the Palestinian economic crisis had left almost half the people in Gaza and the West Bank food insecure. The crisis has made previously secure workers - fishermen, farmers, and small traders - increasingly desperate, the World Food Program and the Food and Agricultural Organization said in a report Thursday.

Poverty has risen since the international community cut off aid to the Palestinian Authority after Hamas militants won parliamentary elections last year. Kirstie Campbell, spokeswoman for the WFP, said 46 percent of Palestinians are now food insecure or vulnerable. In 2004, 35 percent of Palestinians were food insecure, she said. Many people, who cannot afford to buy food, have been forced to sell off valuable assets such as land or tools, the report said. To tackle the growing need, the WFP increased its food assistance by 25 percent in the past year, feeding some 260,000 non-refugees in Gaza and 400,000 in the West Bank. Another UN agency, UNRWA, handles food distribution for refugees. [More>>haaaretz.com]
---
02.22.07 Iran continues to pursue nuclear program, report finds
February 22 – Iran has pushed ahead with a uranium enrichment program in defiance of a UN Security Council deadline to suspend it, the International Atomic Energy Agency reported today. The finding appeared likely to trigger US efforts to obtain harsher UN sanctions against the Islamic Republic. "Iran has not suspended its enrichment-related activities," the UN nuclear watchdog agency reported. The report also said that Iran "has not agreed" to permit sufficient scrutiny of its nuclear program as required to determine whether it is pursuing nuclear weapons.

"Iran has not agreed to any of the required transparency measures, which are essential for the clarification of certain aspects of the scope and nature of its nuclear program," the six-page report said. The IAEA said Iran has not been forthcoming in its response to documents obtained by US intelligence indicating that Iran was trying to build a missile to accommodate a nuclear warhead and constructing a covert facility to convert uranium. [More>>washingtonpost.com]
---
02.22.07 Google to launch new office tools in challenge to Microsoft
February 22 – Google will launch an assault on one of Microsoftıs biggest earners today when it unveils its first suite of paid-for office tools. For $50 (£26) a year per user, Google Apps Premier Edition will offer corporate customers a bundle of web-based applications including e-mail, a word processor and a spreadsheet. It will compete with Microsoftıs Office, which includes the software stalwarts Word and Excel.

A Microsoft spokesman played down the threat, saying that online services such as Googleıs were "not alone in altering today's technology industry." He added: "Productivity applications [such as Office] represent a very competitive space in which more than 450 million users around the world have consistently chosen Microsoft." Microsoftıs Business Division, which includes Office, accounted for $3.5 billion of the groupıs revenues of $12.5 billion in the latest reported quarter, making it the largest source of sales. However, industry insiders say that Google has been quietly preparing for months to tap Microsoftıs cash cow. Keen to supplement its lucrative search business, Google has built massive data-storage plants, thought to be years ahead of those so far developed by Microsoft and IBM. [More>>timesonline.co.uk]
---
02.22.07 New Zealand fishermen catch rare colossal squid
(AP) February 22 – A New Zealand fishing crew has caught an adult colossal squid, a sea creature with eyes as big as dinner plates and razor-sharp hooks on its tentacles. The New Zealand Fisheries Minister Jim Anderton said the squid, weighing an estimated 450 kilograms (990 pounds), took two hours to land in Antarctic waters. The fishermen were catching Patagonian toothfish south of New Zealand "and the squid was eating a hooked toothfish when it was hauled from the deep," he said.

Colossal squid, known by the scientific name Mesonychoteuthis hamiltoni, are estimated to grow up to 14 meters (46 feet) long and have long been one of the most mysterious creatures of the deep ocean. Experts have not yet examined the squid, but if original estimates are correct it is about 150 kilograms (330 pounds) heavier than the next biggest specimen ever found. [More>>independent.co.uk]
---
02.22.07 Wimbledon to balance prize scales
February 22 – And Only 34 Years After Billie Jean King Beat Bobby Riggs! The All England Club, which organizes the Wimbledon tennis championships, said today that from now on it will offer women the same prize money as men. The chairman of the club, Tim Phillips called the decision ³good for tennis, good for women players and good for Wimbledon² (and besides, the men-women differential had shrunk to near insignificance over the years anyway). As the Associated Press noted this morning, Roger Federer received $1.170 million as last yearıs menıs champion, while the womenıs champion, Amelie Mauresmo received $1.117 million.

Wimbledon was the last holdout among the Grand Slam tennis tournaments in not awarding equal prize money to women across the board. The U.S. Open and Australian Open have paid equal prize money for years, and the French Open moved part-way to equality last year, making the prizes for the two singles champions the same. [More>>nytimes.com]
---
02.22.07 Insurgents kill more than 23 in Iraq, US chopper also likely hit
BAGHDAD (AFP) February 21 – A US helicopter was brought down by ground fire and 23 people killed as Britain and Denmark said they would begin withdrawing their troops. The downing of a Black Hawk helicopter north of Baghdad marked the eighth crash in just over a month, though no casualties were suffered in the latest incident, a senior US military spokesman said. In the worst single assault on Wednesday, a suicide car bomber struck in the Shiite holy city of Najaf, detonating his explosives as a police patrol stopped him from entering the old city that is home to the revered Imam Ali Mausoleum. [More>>turkishpress.com ;
---
02.20.07 Chlorine truck blast kills five in Iraq
BAGHDAD (Reuters) February 20 – A bomb destroyed a truck carrying chlorine gas north of Baghdad on Tuesday, killing at least five people and spewing out toxic fumes that left nearly 140 others sick, Iraqi police said. In Baghdad, a suicide bomber and two car bombs killed at least 17 and police said 20 unidentified bodies were found on Monday, a spike in the daily death toll after a marked reduction since the start of a US-backed security crackdown aimed at restoring order to the Iraqi capital.

It was not immediately clear if the chlorine truck blast was caused by a roadside bomb that hit the truck or if the vehicle itself was rigged with explosives as a makeshift chemical gas bomb. One source at police headquarters said the truck was rigged with explosives, suggesting it was a "dirty bomb" employing a readily available substance used to purify water....One source at police headquarters said the truck was rigged with explosives, suggesting it was a "dirty bomb" employing a readily available substance used to purify water.

...In Baghdad, a suicide bomber killed at least seven people and wounded 20 when he blew himself up at a mourning tent in the mainly Shi'ite area of Palestine Street in the northeastern part of the city, police said. Earlier in the day, a car bomb exploded near a fuel station in the Baghdad district of Saidiya, killing five people and wounding 11 more, police said. A second police source, however, said three were killed and 12 wounded in that attack. Another car bomb exploded in Doura, in the south of Baghdad, killing five people and wounding 20 at a vegetable market. [Full story>>thestar.com.my ; See also nytimes.com, February 20, "More Iraq attacks day after raid on US outpost." and related story, turkishpress.com, February 19, "Terrorism envoy says terrorist organization received support in North Iraq."]
---
02.20.07 Al Qaeda-linked groups to be outlawed in Phillippines
MANILA (AP) February 20 – Violent Muslim groups operating in the Philippines are expected to be outlawed when President Gloria Macapagal Arroyo signs a long-delayed anti-terror law, an official said Tuesday.The Senate and the House of Representatives have ratified the Human Security Act, and Arroyo is expected to sign it soon. The United States and other Western countries have long prodded the Philippines to enact an anti-terrorism law, citing the presence of al-Qaeda-linked militants who have been blamed for deadly bomb attacks, beheadings and kidnappings.

Concerns over possible rights abuses and suspicion that the legislation could be used by Arroyo's government to crack down on political rivals prompted opposition senators to overhaul the proposal, delaying its passage. Justice Secretary Raul Gonzalez said al-Qaeda-linked groups with violent track records, like the Indonesian-based Jemaah Islamiyah and the Abu Sayyaf extremist groups, would most likely be proscribed under the new law. The inclusion of other Muslim rebels groups and the communist New People's Army will have to be studied, he said. [More>>thejakartapost.com]
---
02.20.07 Thailand arrests three over bombing
February 20 – Thailand's security forces have arrested three Muslim men in connection with a series of bombs and shootings that killed eight people in the far south of the country at the weekend. Viroach Buacharoon, a lieutenant-general and southern army commander, said all three had confessed and been charged. [More>>aljazeera.net ; See more details, bangkokpost.net]
---
02.20.07 Indian police release sketches of bomb suspects
NEW DELHI (Reuters) February 20 – Police in India released sketches on Tuesday of two men believed to have jumped off a train bound for Pakistan shortly before two suitcase bombs exploded, sparking a fire that killed 68 people. "Around 11:30 (p.m.), these people got down, and the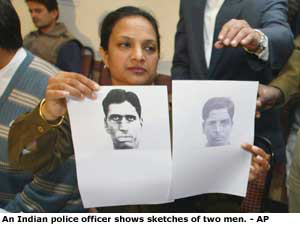 blasts happened 15 minutes later," police Inspector-General Sharad Kumar told a televised news conference in Panipat town, close to the site of the blasts some 80 km (50 miles) outside New Delhi.

One of the men was around 35 or 36 years old, "plumpish" and dark, with a moustache, the second around 26 or 27, wearing a scarf wrapped around his head, Kumar said. Both men were speaking the local Hindi language. "This is the statement of one of the eyewitnesses," he said. "On the basis of the witness we have made portraits of the suspects, of these two people." Two bombs exploded on a train connecting New Delhi to the northern Pakistani city of Lahore, in what appeared to be an attempt to undermine a peace process between the two countries. [More>>khaleejtimes.com ; See earlier story, xinhuanet.com]
---
02.20.07 Women's rights activist minister killed
ISLAMABAD (Reuters) February 20 – A suspected Islamic militant shot dead a female provincial minister at a political meeting in central Pakistan today because she was not wearing Muslim clothing, officials said. Zill-e Huma, the Punjab province minister for social welfare, was shot in the head at a function in Gujranwala city, provincial law minister Raja Basharat said. "She was shot dead by a fanatic when she was meeting with party workers," he said. Officials said Huma was known for promoting women's rights. "He killed her because she was not observing the Islamic code of dress. She was also campaigning for emancipation of women," local police officer Nazir Ahmad said. "The suspect is an extremist and he has a history of targeting woman whom he believed to be immoral." [More>>news.com.au]
---
02.20.07 Two US soldiers hurt in Afghan hospital attack
KHOST, Afghanistan (AFP) February 20 – A suicide bomber dressed in a white doctor's coat blew himself up in a hospital in eastern Afghanistan Tuesday, wounding two US soldiers and an Afghan, officials said. The attacker struck at a ceremony attended by the provincial governor and staff from an International Security Assistance Force (ISAF)-run provincial reconstruction team (PRT) to open a new emergency ward in the hospital in Khost city.

"The attacker in a white doctor's coat tried to enter a room in the hospital where officials – including the governor – were meeting with PRT staff," police Colonel Mohammad Yaquob said. "An American soldier tried to stop him but [the attacker] refused and blew himself up," he said. Provincial governor Arsala Jamal said three people were wounded. "Two of them were NATO [North Atlantic Treaty Organization] soldiers and one a hospital worker." [More>>metimes.com]

---
02.20.07 Report: al-Qaeda chiefs to regain power
WASHINGTON, February 19 – Senior leaders of al Qaeda operating from Pakistan have re-established significant control over their once-battered worldwide terror network, The New York Times reported on Monday. The newspaper, citing US intelligence and counter-terrorism officials, said there was mounting evidence that Osama bin Laden, the al Qaeda leader, and his deputy Ayman al-Zawahri, had been steadily building an operations hub in the mountainous Pakistani tribal area of North Waziristan.

US analysts were quoted as saying that recent intelligence showed that the compounds functioned under a loose command structure and were operated by groups of Arab, Pakistani and Afghan militants allied with al Qaeda. They receive guidance from their commanders and Zawahri, and bin Laden appears to have little direct involvement, according to the report. Groups of 10 to 20 men are being trained at the camps, the officials said, and the al Qaeda infrastructure in the region is gradually becoming more mature. The new warnings are different from those made in recent months by intelligence officials and terrorism experts, who have spoken about the growing ability of Taliban forces and Pakistani militants to launch attacks into Afghanistan. [More>>xinhuanet.com ; See related story, thefirstpost.co.uk, February 20, "Is Osama bin Laden dead?"]
---
02.20.07 Iran war games as US carrier moves in to Gulf
TEHRAN (AFP) February 20 – Iranıs elite Revolutionary Guards on Tuesday staged a war game simulating an enemy air strike as a second nuclear-powered US aircraft carrier arrived in regional waters in an apparent warning to Teheran. The Revolutionary Guards land forces fought back the hypothetical air strike from enemy helicopters, planes and missiles with 620 anti-aircraft cannon and shoulder missiles, state television said.

"Today, we are fighting back at all kinds of planes at low and average altitudes," said Brigader General Mohammad Reza Zahedi, the commander of the Guardsı land forces. "The manoeuvre is exceptional in terms of the number and types of the weapons used. We have used anti-helicopter weapons with a range of more than 10 kilometres (six miles)," he said.

It was the second of the three-day ³Power Manoeuvre² exercises involving 3,000 units of the elite force in 16 of Iranıs 30 provinces, the second war games staged by the Guards this month. Although Washington has always said it wants to solve the standoff over Iranıs controversial nuclear programme through diplomacy, it has never ruled out the option of military action against Iran to halt the atomic drive. [More>>khaleejtimes.com]
---
02.20.07 Fowl deaths registered in sixth district near Moscow
MOSCOW (Ria Novosti) February 20 – More fowl deaths have been registered in the southeast of the Moscow Region, the local agriculture ministry said Tuesday. What killed some 75 birds at a private farm has not been established yet, but if bird flu is confirmed, Ramenskoye will be the sixth district in the Moscow Region to be hit by the recent outbreak of the deadly virus. Cases of avian flu were registered last Saturday in various districts in the Moscow Region, all of which were traced to a single market in southwest Moscow. The Russian agricultural watchdog confirmed Monday that the outbreak involved the deadly H5N1 virus. [More>>rian.ru]
---
02.20.07 Rumsfeld 'one of the worst,' says McCain
(AP) February 20 – Republican presidential candidate John McCain said the Iraq conflict had been mismanaged and the former US Defence Secretary Donald Rumsfeld would be remembered as one of the worst in history. "We are paying a very heavy price for the mismanagement of Donald Rumsfeld," the Arizona senator told an overflow crowd of more than 800 at a retirement community near Hilton Head Island, South Carolina. "The price is very, very heavy and I regret it enormously."

Mr. McCain, the ranking Republican on the Senate Armed Services Committee, complained that Mr. Rumsfeld never put enough troops on the ground to succeed in Iraq. "I think that Donald Rumsfeld will go down in history as one of the worst secretaries of defence in history," Mr. McCain said. The comments were in sharp contrast to Mr. McCain's statement when Mr. Rumsfeld resigned in November, and failed to address the reality that President Bush was the commander in chief. "While Secretary Rumsfeld and I have had our differences, he deserves Americans' respect and gratitude for his many years of public service," McCain said last year when Mr. Rumsfeld stepped down. [More>>independent.co.uk]
---
02.17.07 Officials struggle with Batam sand smuggling
February 17 – Sand continues to be smuggled from Indonesia to Singapore despite a recent crackdown, Riau Islands Police chief Brig. Gen. Sutarman said in Batam on Friday. Sutarman discussed the issue with the acting head of the Sea Security Coordinating Agency, Vice Adm. Djoko Sumaryono, during a ceremony in Batam. "As I was returning home from Johor, Malaysia, by ferry on Thursday, I saw for myself at least 10 barges flying Indonesian flags filled with sand and granite heading toward a reclamation project in Singapore. Sand smuggling is apparently still going on. We urge the central government, through the agency, to deal with the problem because the police do not have the necessary resources," said Sutarman.

Riau Islands Police will begin posting officers at every sand quarry in the province next week in an effort to curb the smuggling. "They will monitor where the sand is being sent, whether it's for Indonesia's purpose or is being smuggled out of the country," said Sutarman. ..After the Indonesian government issued the ban, Singapore raised the price to S$16 per cubic meter. "Singapore is now offering to pay S$31 for each cubic meter, while it buys sand from China for S$48 per cubic meter. This is just an example of how Singapore treats us. Our job is to raise awareness to prevent Indonesia's natural wealth, including sand, from being smuggled out of the country," said Djoko. [More>>thejakartapost.com]
---
02.17.07 More yellow dust expected this year
February 17 – Weather experts are warning that Korea faces its worst-ever sand storms from China in terms of severity and frequency this year. The year's first yellow dust hit Seoul Wednesday, far earlier than in previous years. Due to an unusually warm winter and lighter snowfalls in China, the dust is likely to be carried more easily, the Korea Meteorological Administration said. The dust, consisting of fine sand particles carried by prevailing winds from desert-like northwestern China, affects the nation every spring.

"This time the yellow dust storm originated from Manchuria," the KMA said. "As the situation is expected to worsen throughout the month with more dust arriving, citizens are advised to be thoroughly prepared." Health problems from the dust increased in recent years with many people suffering from eye infections, dry skin, and respiratory and rhinitis-related diseases. [More>>koreaherald.co.kr]
---
02.17.07 Greenhouse gases hit new high, may be Asia growth
OSLO (Reuters) February 17 – Greenhouse gases widely blamed for causing global warming have jumped to record highs in the atmosphere, apparently stoked by rising emissions from Asian industry, a researcher said on Friday. "Levels are at a new high," said Kim Holmen, research director of the Norwegian Polar Institute which oversees the Zeppelin measuring station on the Arctic archipelago of Svalbard about 1,200 km (750 miles) from the North Pole. He told Reuters that concentrations of carbon dioxide, the main greenhouse gas emitted largely by burning fossil fuels in power plants, factories and cars, had risen to 390 parts per million (ppm) from 388 a year ago.

Levels have hit peaks almost every year in recent decades, bolstering theories of warming, and are far above 270 ppm before the Industrial Revolution of the 18th century. Climate scientists say the heat-trapping gas is blanketing the planet. Holmen said the increase of 2 ppm from 2006 reflected an accelerating rise in recent years. "When I was young, scientists were talking about 1 ppm rise" every year, he said. "Since 2000 it has been a very rapid rate." [More>>thestar.com.my]
---
02.17.07 Back-to-back blasts kill 9 in N. Iraq
BAGHDAD (AP) February 17 – A suicide car bomber rammed into a crowded market in northern Iraq moments after a booby-trapped vehicle exploded Saturday, killing at least nine people and injuring 60, police said. The back-to-back blasts in the oil hub of Kirkuk contrasted with a lull in major violence in Baghdad as US and Iraqi forces try to regain control from gangs and militias. On the outskirts of the capital, Iraqi soldiers seized 50 Russian-made anti-aircraft missiles, said Brig. Gen. Qassim Moussawi. He declined to give more details. Secretary of State Condoleezza Rice made an unannounced stop in Baghdad before heading for scheduled talks in Israel. She is the highest-level Washington official to visit Iraq since last month's announcement of the coordinated sweep against militant factions. [More>>abcnews.go.com]
---
02.17.07 Italian judge orders CIA agents to face trial for kidnap
ROME, February 17 – In the first legal test anywhere in the world of America's right to seize people from the streets of allied countries and take them away to be tortured, an Italian judge ordered yesterday that 26 Americans and five Italians be put on trial for the abduction of an Egyptian cleric in 2003. The Americans, practically all CIA agents, left Italy long ago and unless Italy were itself to take steps to seize them from the streets of the American suburbs where they live, it is highly unlikely that they will answer the charges in person.

The Italian government has yet to forward the prosecutor's extradition request to the United States government. It is waiting for the constitutional court to rule on whether the prosecutor in the case exceeded constitutional limits when he ordered the telephones of Italian secret service agents to be bugged. But under Italian law the agents can be tried in absentia. The case marks a historic first as the Italian justice system stands up for the rights of those legally resident within its shores to be protected from what the Americans term "extraordinary rendition." [More>>independent.co.uk]
---
02.17.07 Report: Weapons used in attack in Zahedan, Iran come from US
TEHRAN (Xinhua) February 17 – Explosive devices and arsenals used in a terrorist attack in the southeastern Iranian city of Zahedan on Wednesday came from the United States, the semi-official Fars news agency reported on Saturday. Relevant documents, photographs and film footage, which show that the explosives and arsenals used in the attack were American, would soon be made public, an "informed source" was quoted as saying. The source further pointed out that Jundallah, a shadowy Sunni militant group, had several plots for assassinating Sunni and tribal leaders to sow discord and foment conflicts between the Shiite and Sunni citizens in Sistan-Baluchestan province.

On Wednesday morning, an explosive-laden car exploded in Zahedan as a bus, belonging to ground forces of Iran's Revolutionary Guards Corps, passed by, killing at least 11 people and injuring 31 others. Jundallah has reportedly claimed responsibility for the Wednesday attack. Iran has blamed the group for past killings in the area bordering Pakistan and Afghanistan. So far a total of 65 suspects in addition to the three people responsible for the bomb attack have been arrested, the official IRNA news agency reported Thursday, quoting Brigadier General Mohammad Gaffari, a senior police officer in Sistan-Baluchestan province. Jundallah also claimed responsibility for a second bombing on Friday in Zahedan, which caused no casualties. [More>>xinhuanet.com ; See more details at cnn.com, February 17, "Order restored after blast at girls school in Iran."]
---
02.17.07 Bush all set to attack Iran: Report
LONDON (PTI) February 17 – The Bush administration's preparation to strike Iran is complete with the top commander of the US Central Command having received computerized plans for ŒOperation Iranian Freedomı, a report has said. "American military operations for a major conventional war with Iran extend far beyond targeting suspect WMD (weapons of mass destruction) facilities and will enable President George Bush to destroy Iran's military, political and economic infrastructure overnight using conventional weapons," the journal New Statesman has claimed.

In a story titled "Attack-Revealed: America's Plans to Invade Iran," the journal quoting British military sources, said "the US military switched its whole focus to Iran 'as soon as Saddam Hussein was removed from power.' The White House continued this strategy, even though it had American forces bogged down in Iraq. The US army, navy, air force and marines have all prepared battle plans and spent four years building bases and training for "Operation Iranian Freedom." Admiral Fallon, the new head of US Central Command, has inherited computerized plans under the name TIRANT (Theatre Iran Near Term).

Even as the sending of a second aircraft carrier to the Gulf has been highlighted, the US navy can put six carriers into battle at a month's notice. The report said any US general planning to attack Iran could now assume that at least 10,000 targets could be hit in a single raid, with warplanes flying from the US or Diego Garcia in the Indian Ocean. [>expressindia.com ; See related stories:

haaretz.com, "Ahmadinejad: Iran and Lebanon are two parts of the same body" : Iranian President Mahmoud Ahmadinejad said Saturday that Lebanon and Hezbollah have his complete support in their struggle against Israel and the United States. "Iran and Lebanon are two parts of the same body, and only through cooperation between our two nations will it be possible to foil the conspiracies of the enemy," Ahmadinejad said. "Thanks to Hezbollah, the Lebanese people have become a symbol of courage, faith and respect for all nations, and all this through the power of resistance," Ahmadinejad added.

Syrian President Bashar Assad is expected to arrive in Iran on Saturday. Assad is scheduled to meet with Ahmadinejad to discuss developments in the Palestinian Authority, Iraq and Lebanon. On Friday, Hezbollah leader Hassan Nasrallah said that his organization is entitled to secretly transfer arms in order to fight Israel, and that he will not forgive the Lebanese Army for seizing last week an arms-laden truck that belonged to Hezbollah. Nasrallah said "we have plenty of weapons ... and we have the right to transport our arms to combat Israel." Nasrallah said the arms transfers are carried out in secret...


aljazeera.net, February 17, "Syrian president arrives in Iran."

iranfocus.com, February 16, "US Treasury names Iran firms weapons proliferators" : WASHINGTON (Reuters) – Stepping up US financial pressure on Iran over its nuclear program, the Treasury Department labeled three Iranian companies on Friday as proliferators of weapons of mass destruction and banned Americans from transactions with them.

The Treasury, invoking an executive order recently used against Iranian state-owned banks, said it would also seek to freeze any U.S. assets of Kalaye Electric Co., Kavoshyar Co. and Pioneer Energy Industries Co. It said the companies are either owned by, controlled by, or acting on behalf of the Atomic Energy Organization of Iran, the government agency that manages Iran's overall nuclear program, including efforts to enrich uranium through centrifuge and laser processes...

nytimes.com, February 17, "Iranian force, focus of US, still a mystery" : Like so much else about the Iranian state, the Quds Force, which conducts overseas operations for Iranıs Islamic Revolutionary Guard Corps, remains remarkably mysterious even to those who closely study the country. The Quds Force is under intense scrutiny by American intelligence agencies because it is suspected of supplying sophisticated explosives to Iraqi militants. Among those detained in recent American raids on Iranian offices in Iraq were several Iranians identified by the United States military as Quds operatives, including a diplomat said to be the No. 2 official in the Quds Force.

Questions about what exactly Quds Force officers have done and whether they acted at the direction of the Iranian leadership have taken on particular urgency as the Bush administration sends more troops to damp the violence in Baghdad. But the competing power centers inside the Iranian government, and the intense secrecy that obscures decision making, make answers elusive.

"We know that the Quds Force is involved," Defense Secretary Robert M. Gates told reporters on Thursday. "We know the Quds Force is a paramilitary arm of the I.R.G.C.," he added, using the abbreviation for the Islamic Revolutionary Guard Corps. "So we assume that the leadership of the I.R.G.C. knows about this," Mr. Gates said. "Whether or not more senior political leaders in Iran know about it, we donıt know." Most independent experts say it is only logical to assume that Iran deployed large numbers of operatives in Iraq as soon as Saddam Hussein was ousted in 2003...
---
02.17.07 House votes against troop surge in Iraq
February 17 – The Democratic-led House yesterday voted against President Bush's plan to send more troops to Iraq, a nonbinding but symbolic action that Republicans said is defeatist and a step backward in the war on terrorism. "Today we have had an historic victory for the American people," said House Speaker Nancy Pelosi, who voted against the war in 2002. The 97-word resolution, which opposes sending 21,500 more troops to Iraq, passed 246-182. The vote was preceded by 44 hours and 55 minutes of debate over four days. Seventeen Republicans voted for the measure, and two Democrats voted against it.

The president's spokesman said the resolution won't change Mr. Bush's plan, adding that early signs of its success would leave those who voted for the resolution having to explain themselves later. "Members of Congress have taken their own gamble here. They're gambling on failure – some members, at least," White House press secretary Tony Snow said. [More>>washtimes.com]
---
02.17.07 US panel doubts North Korea will give up nukes
WASHINGTON (AFP) February 17 – Four days after a landmark nuclear accord with North Korea, an independent US report warned Friday that the Stalinist stateıs leader, Kim Jong-Il, continues to distrust Washington and views US aid as a 'poison apple.' The report by an influential panel of Asia specialists also ruled out the possibility of Kim emulating Chinaıs former paramount leader Deng Xiaoping in embracing economic reforms to open up reclusive and impoverished North Korea.

Our conclusion is that the Kim regime would prefer to muddle through, despite the dim future for 21 million North Koreans, than to take the risk of opening up a la Deng Xiaoping,ı said the report, 'US-Japan Alliance: Getting Asia Right Through 2020.' Thus, the often-touted ŒGrand Bargainı is likely to remain elusive because Kim Jong-Il harbors deeply ingrained distrust of the United States and tends to view proffered US economic incentives as a Œpoison apple,ıı said the panel co-chaired by former US deputy secretary of state Richard Armitage. [More>>khaleejtimes.com]
---
02.17.07 Abbas presses US to soften stance on unity deal
RAMALLAH, West Bank (Reuters) February 17 – President Mahmoud Abbas appealed to Washington on Saturday to soften objections to his Palestinian unity government with Hamas, telling a top envoy he had cut the best deal he could, aides said. US Secretary of State Condoleezza Rice will arrive later on Saturday to try to lay the groundwork for a three-way summit on Monday with Abbas and Israeli Prime Minister Ehud Olmert.

In preparatory meetings in the West Bank city of Ramallah, Abbas told the American envoy, Assistant Secretary of State David Welch, to give the unity government a chance, Abbasıs spokesman, Nabil Abu Rdainah, said. "We told him that this agreement was the best we could get. We cannot change it. You either take it or leave it," said another Palestinian official who took part in the meetings but declined to be identified. [More>>khaleejtimes.com]
---
02.17.07 Civil judge among 15 killed in Quetta suicide blast
Quetta, February 17 – At least 15 including a senior civil judge were killed and over 25 were wounded Saturday in a powerful blast at Quetta district courtıs licence branch. The powerful blast at Quetta district courtıs licence branch was a suicide bombing attack, police sources said. The blast occurred in the chamber of civil judge Abdul Wahid Durrani, claimed 15 lives including the civil judge and lawyers, police sources further said. Over 25 persons were injured in the blast, four of them said to be in a precarious state...The agencies are investigating into the incident. According to officials, the bomber was about 20 years of age with small beard. [Full story>>thenews.com.pk]
---
02.17.07 'Revolutionary Army' claims responsibility for Zama explosions
TOKYO, February 17 – A statement claiming responsibility for Monday's two explosions near a U.S. military base in Zama, Kanagawa Prefecture, was sent by mail to some news organizations in Tokyo on Saturday, the police said. Police believe the statement was issued by a faction of a Japanese ultra-leftist extremist group. The statement issued by the "Revolutionary Army" admitted launching two projectiles at the U.S. installation at around 11 p.m. Monday and said the launch was "an attack to prevent" realignment of the U.S. military in Japan and U.S. Vice President Dick Cheney's three-day visit to Japan from Tuesday. [>japantoda.com]
---
02.17.07 Rwanda snubs France to join Commonwealth
February 17 – Rwandan President Paul Kagame says his country will cement its bitter divorce from France and the French-speaking world, which he holds responsible for the 1994 slaughter of up to one million of his countrymen, by joining the Commonwealth. "There are many benefits for us in joining the Commonwealth – cultural, economic, political," Mr. Kagame said. He has been invited to attend the November Commonwealth summit as an observer and said: "I hope they will then approve our membership. I am looking forward to it."

Mr. Kagame, a lanky former guerilla fighter with an austere manner, rarely shows emotion. But the softly-spoken 50-year-old struggles to contain his anger when discussing France in Africa. "They are the ones who armed and trained the militias ... the evidence is everywhere," he said. "They continued to do so even after the genocide started." The bitter relations between the two countries came to a head in November when a French judge accused Mr. Kagame and several of his top aides of shooting down the aircraft carrying former president Juvenal Habyarimana. The incident triggered the 100-day massacre of Tutsis and of moderate Hutus opposed to his regime. [More>>theaustralian.news.com]
---
02.17.07 Bionic eye restores sight to the blind
February 17 – A bionic eye that can restore sight to the blind should be available commercially within two years, scientists behind the revolutionary technology announced yesterday. The artificial retina has been cleared by US regulators to begin trials on between 50 and 75 people suffering from two of the most common causes of blindness, opening the way for millions more to benefit from similar implants in the future.

If the research progresses well, a device could be on the market early in 2009 at a likely cost of about £15,000, said Mark Humayun, Professor of Ophthalmology at the Doheny Eye Institute, part of the University of Southern California.

An early version of the prosthetic retina has already been fitted to six patients with retinitis pigmentosa, a degenerative and incurable eye condition that affects 1 in 3,500 people. All have recovered the ability to detect light and motion, and even to make out large letters and to distinguish between objects such as a cup, a knife and a plate. [More>>timesonline.co.uk]
---
02.17.07 Third bird flu site detected in Moscow Region
MOSCOW (RIA Novosti) February 17 – A third avian flu outbreak has been detected at a private farm in the Moscow Region, the acting governor said Saturday. "A resident of the Podolsk District [south of Moscow] bought a chicken on Moscow's Ptichy pet market, and forty-four birds at his farmstead died as a result," Alexei Panteleyev said...Rosselkhoznadzor, said earlier Saturday the dead birds there have been traced to the same Moscow market and that they were presumably brought in from other regions. Russia recorded its first cases of bird flu in August 2005, but until now, outbreaks have occurred only in southern provinces and in Siberia. [Full story>>rian.ru]
Copyright © 1981-2007 Maravot. All rights reserved
Copyright © 1981-2007 Mel Copeland. All rights reserved
Background: tile from Cicero's villa (Marcus Tullius Cicero 106 B.C. - 43 B.C.)