News Headlines & Trends
---
5.15.09 Melting ice could cause gravity shift
May 15 - Northern hemisphere sea levels 'will rise the most' if Antarctic sheet disintegrates. The melting of one of the world's largest ice sheets would alter the Earth's field of gravity and even its rotation in space so much that it would cause sea levels along some coasts to rise faster than the global average, scientists said yesterday. The rise in sea levels would be highest on the west and east coasts of North America where increases of 25 percent more than the global average would cause catastrophic flooding in cities such as New York, Washington DC and San Francisco.
A study into how the West Antarctic Ice Sheet could respond to global warming has found its disintegration would change the focus of the planet's gravitational field, so sea levels would rise disproportionately more around North America than in other parts of the world. If the ice sheet covering West Antarctica disappears, the loss of so much mass from the southern hemisphere would effectively make the pull of gravity stronger in the northern hemisphere, affecting the spin of the Earth and causing sea levels to rise higher here than in the south, where the mass of ice is currently located. [More>>independent.co.uk]
---
5.15.09 German economy in record decline
May 15 - Germany's economy shrank by 3.8 percent in the first three months of this year, its sharpest decline in 40 years, official figures reveal. The drop was far steeper than the 3.2 percent economists had predicted. The Federal Statistics Office said the contraction was led by a large slump in exports and a drop-off in investment. "This is a dramatic plunge and a worse start to the year than we could have imagined," Juergen Michels, an economist at Citigroup in London, said. As the world's biggest exporter of goods, Germany is suffering more than other advanced economies from a collapse in foreign demand. [More>>aljazeera.net; See related story,

xinhuanet.com, May 15, "Eurozone economy contracts by 2.5% in Q1" : BRUSSELS - The euro zone's gross domestic product (GDP) shrank by 2.5 percent in the first quarter of this year, EU statistics agency Eurostat said Friday. The quarter-on-quarter decline was the worst contraction since the 16-nation euro zone came into being in 1999...
---
5.15.09 Russia's GDP falls 9.5% year-on-year in 1Q09
MOSCOW (RIA Novosti) May 15 - Russian GDP fell 9.5% in the first quarter of the 2009, year-on-year, and 23.2% on the fourth quarter of 2008, the Federal Statistics Service said on Friday. The Economic Development Ministry earlier attributed the contraction to a slump in construction (a decline of about 20%), lower tax intake, falling investment and retail trade. The ministry said it expected the country's GDP to decline 8.7-10% in April-June 2009 as compared with the same period of last year. The ministry estimates that Russia's economy will grow by 1.3% to 2.8% in the second quarter of 2009 as compared with January-March 2009. [>en.rian.ru]
---
5.15.09 Obama planning to keep tribunals for detainees
WASHINGTON, May 14 - President Obama has decided to keep the military commission system that his predecessor created to try suspected terrorists but will ask Congress to expand the rights of defendants to contest the charges against them, officials briefed on the plan said Thursday. Mr. Obama will ask for an additional 120-day delay in nine pending hearings before commissions so the administration can revamp the procedures to provide more due process to detainees, the officials said. The new system would limit the use of hearsay, ban evidence gained from cruel treatment, give defendants more latitude to pick their own lawyers and provide more protection if they do not testify.

The decision, to be announced Friday, could set off more criticism from civil libertarian and liberal groups that have increasingly complained that Mr. Obama has not made a sharper break from former President George W. Bush's terrorism policies. During last year's presidential campaign, Mr. Obama called the military commission system put in place by Mr. Bush "an enormous failure" and vowed to "reject the Military Commissions Act." [More>>nytimes.com]
---
5.15.09 4 US citizens found strangled in Tijuana
TIJUANA, Mexico (AP) May 14 - The bodies of four US citizens were found strangled, beaten and stabbed in a van in this border city, two days after they reportedly left their Southern California homes for a night at the Mexican clubs, US officials said Thursday. The victims, ages 19 to 23 years old, were found tied up on Saturday, but their deaths were not reported earlier because they were under investigation, said Fermin Gomez, an assistant state prosecutor in Baja California. US consular officials in Tijuana said the victims — two men and two women from the San Diego and Chula Vista areas — were US citizens. The state attorney general's office in Baja California said one of the women was Mexican. Their deaths are the latest in a string of violence in Tijuana that authorities blame on a bloody turf war between drug cartels. "I just don't think kids should be going to Tijuana right now," Chula Vista police Lt. Scott Arsenault told the San Diego Union-Tribune. "They ran into the wrong people, obviously." [More>>washingtonpost.com]
---
5.15.09 Taliban flee Swat valley after shaving off beards
ISLAMABAD, May 15 - As Pakistani Army mobilized more troops to fight the Taliban in the restive Swat valley on Friday, militants began fleeing from the area after shaving off their trademark beards and cutting their long hair during the curfew relaxation to allow civilians to leave. At least 55 militants were killed in the Army's fresh offensive against the Taliban fighters in Mingora, the major town in the Swat valley, where nearly 4,000 militants are holed up, and nearby areas. With authorities relaxing the curfew for 8 hours from 6am to 2pm in various parts of Swat and Malakand to allow civilians to leave the region ahead of an assault on Mingora, the Talibans made use of the opportunity to flee the area."Taliban fighters were also fleeing from the area after shaving off their trademark beards and cutting their long hair," a military statement said.

Authorities have asked people of Swat to help security forces in identifying and apprehending the fleeing Taliban, the statement said. An estimated 4,000 militants are believed to be in the area while the army has mobilized 15,000 troops backed by tanks, fighters and helicopter gunships for the operation in Swat. Analysts have said the security forces will face stiff resistance in their efforts to secure Mingora. The military statement said security forces had achieved success in Swat and nearby areas in the past 24 hours and killed 55 militants. Three security personnel were also killed and 11 others injured in fresh clashes. Nearly 900 militants and 45 troops have died so far in the fighting in Buner, Dir and Swat. [>indianexpress.com; See other details,

timesofindia.indiatimes.com, May 15, "Pak troops kill 55 Taliban in Swat" : ...Army said its troops and tanks had advanced within six kilometers of Mingora and that they had captured an important Taliban commander Dawa Noor. The wanted Taliban militant was involved in terrorist activities in Sultanwas and Daggar areas of Buner and had been inciting residents against the security forces. He was one of the main commanders who led the Taliban takeover of Buner...
---
5.15.09 Egypt finds huge Sinai munitions cache
May 15 - Egyptian security forces uncovered an immense munitions cache near the Israeli border, the London published newspaper Al-Quds Al-Arabi reported on Friday. An Egyptian official assessed that the 266 rockets, 51 mortar shells, 21 grenades and 43 mines uncovered in northern Sinai were meant to be smuggled to Hamas forces in the Gaza Strip. Last Monday, Egypt discovered a large quantity of ammunition intended for Hamas use near Ismaeliya, Sinai. Egypt has recently intensified its security presence in the border town of Rafah, setting up checkpoints and dirt roadblocks to reign in smuggling into Gaza, the pan-Arab Asharq al-Awsat newspaper reported at the beginning of the month.

About 500 policemen, including plainclothes officers, have been deployed in the city and on dirt tracks and side roads leading to the border, it said. The increased security has led to heightened tension between smugglers and security officials, and in several incidents the former fired in the air when stopped by police. Egypt is also doing its utmost to maintain stability between Israel and factions in the Gaza Strip in the wake of renewed attacks into Israel, an Egyptian official told the Post. [>jpost.com]
---
5.15.09 Pope calls for two states at end of Mideast tour
JERUSALEM, May 15 - Pope ends "pilgrimage" at holiest church in Jerusalem. Pope Benedict XVI on Friday called for a two-state solution to end the Middle East conflict and slammed the Holocaust as a "brutal extermination" as he concluded his Holy Land pilgrimage. "Let the two-state solution become a reality," he said at a departure ceremony at Ben Gurion Airport, near Tel Aviv. "No more bloodshed. No more fighting. No more terrorism. No more war," the pontiff said at the conclusion of his eight-day pilgrimage to Jordan, Israel and the occupied West Bank. "Let it be universally recognized that the state of Israel has the right to exist and to enjoy peace and security within internationally agreed borders...." [More>>alarabiya.net]
---
5.15.09 Saudi activists call for reform of monarchy
RIYADH, Saudi Arabia (AFP) May 15 - A group of Saudi activists has called in a petition for a sweeping reform of political institutions that would reduce the royal family's role and move the kingdom towards a constitutional monarchy. In a petition sent to King Abdullah and other leaders, obtained by AFP on Friday, the 77 rights activists and lawyers called for the creation of an elected parliament and for a non-royal prime minister to run the government. The letter fell short of demanding a constitutional monarchy, calls for which in 2003-2004 led to the arrest of activists. [More>>khaleejtimes.com]
---
5.15.09 Suspected Islamic militant arrested in Bangladesh
(AP) May 15 - Bangladeshi security forces arrested a suspected Islamic militant at his Dhaka home Friday as a bomb exploded and severed his wife's hand during the raid. The suspect, Jahidur Rahman Mizan, was accused of being an explosives expert for the outlawed Islamic militant group Jamatul Mujahideen Bangladesh, said Rezanur Rahman, an official at the elite Rapid Action Battalion. The group, blamed for a spate of bombings at courts and public rallies across Bangladesh in recent years, wants to establish Islamic law in Muslim-majority Bangladesh, which is governed by secular laws. It was not clear how the bomb went off, but Rahman said security forces suspect Mizan's wife Sharmin detonated it. Mizan was unhurt but the blast blew off his wife's hand, Rahman said. Security forces also found two other bombs, one pistol and bomb-making materials, he said. [>thejakartapost.com]
---
5.15.09 Radical Muslims guilty of firebomb plot on publisher of prophet Mohammed book
May 15 - A radical Muslim who dressed his baby daughter in a hat with "I love al-Qaeda" on it tried to firebomb the home of the publisher of a controversial novel about the Prophet Mohammed. Ali Beheshti, 40, along with Abrar Mirza, 22, have admitted conspiracy to recklessly damage property and endanger life after they poured diesel through the letterbox of a publishing house in Islington, North London. Abbas Taj, 30, a mini-cab driver, was found guilty at Croydon Crown court of conspiracy to firebomb the home of Martin Rynja, the publisher of The Jewel Of Medina.

He was to be the getaway driver, but was stopped in his car and arrested by armed police near Angel Tube station in the early hours in September last year, just after they had set fire to the premises. Officers had been watching the three men in an "intelligence led" surveillance operation. Beheshti's 20-month-old daughter, Farisa, was pictured wearing the hat when he took her along to a protest against Danish cartoons of the prophet Mohammed and proudly called her "the youngest member of al-Qaeda." He waved banners vowing to "Massacre those who insult Islam" and promising "Europe, your 9/11 will come!" During the protests in 2006 he called himself Abu Jihad — meaning holy war. [More>>timesonline.co.uk]
---
5.14.09 Chinese imports could bring GM political troubles
DETROIT, May 14 - As thousands of General Motors workers await word on more US plant closures, reports that the company plans to import Chinese-made vehicles to the US have created a political problem for the automaker and the White House. The reports, which GM will neither confirm nor deny, could mean trouble because GM is supported by $15.4 billion in US government loans, largely due to the Obama administration's desire to preserve the company's 90,000 US jobs. The United Auto Workers charged last week that the Detroit automaker intends to almost double over the next five years the number of vehicles it imports to the US from Mexico, South Korea, China and Japan. "GM should not be taking taxpayers' money simply to finance the outsourcing of jobs to other countries," Alan Reuther, the union's Washington lobbyist, wrote in a letter to US lawmakers. [More>>japantoday.com]
---
5.14.09 Carlyle Groups settles in 'Pay to play' scandal
May 14 - Politically-Connected Firm Admits Payments of $13 Million to Indicted Middleman to Get New York State Business. The Carlyle Group, a giant Wall Street firm best known for its ties to former President George H.W. Bush and other prominent public officials, made more than $13 million in payments to a indicted political fixer who arranged for the firm to receive business from a New York pension fund, New York attorney general Andrew Cuomo said today. Cuomo said Carlyle had agreed to $20 million to "resolve its role" in the ongoing corruption investigation and agreed to a new code of conduct that prohibits the use of such middlemen. Cuomo said the code would "help eliminate the conflicts of interest and corruption inherent in a system that allows people to buy access to those holding the pension fund purse-strings."

Carlyle is the latest high-profile firm to be ensnared in a nationwide probe known as the "pay for play" scandal because Wall Street firms allegedly paid politically-connected fixers to get them business from pension funds controlled by public officials. According to Cuomo, his corruption investigation found that in 2003, Carlyle hired Hank Morris, the chief political aide to then New York state comptroller Alan Hevesi, as "a placement agent" to help obtain investments from the New York Common Retirement Fund. "If Boss Tweed were alive today, he would be a placement agent," Cuomo said.
In a statement, Carlyle said it "was unaware of any improper conduct" and "was victimized by Hank Morris' alleged web of deceit." Carlyle said it intended to file suit against Morris and has "cooperated extensively and voluntarily" with Cuomo. Carlyle paid Morris through shell companies he controlled, according to Cuomo. Morris allegedly shared the payments with a hedge fund manager, Barrett Wissman, who pleaded guilty earlier this year to securities fraud in connection with the investigation. Until it hired Morris, said Cuomo, Carlyle had "experienced limited success in obtaining investments" from the New York state fund. [More>>abcnews.go.com]

---
Editorial note: The name of the Carlyle Group took a more prominent place in the media after it was disclosed that George H. W. Bush had an interest in the group, together with the brother of Osama Bin Laden. The Carlyle Group, a holding company of defense companies, would benefit from the Iraq War. (See Maravot News 4.09.06 article 4.07.06 Testimony adds new element to probe of CIA leak.Pelosi claims that the administration of Geroge W. Bush misled Congress. The inquiry into the administration's misleading tactics seems to have come to a head during the Libby/Valerie Plame hearings. At that time Pelosi said:
..."I served for 13 years on the House intelligence committee, and I know intelligence must never be classified or declassified for political purposes," said House Minority Leader Nancy Pelosi (D-Calif.). "One of the constants in the Bush administration's miserable record on Iraq has been the manipulation of intelligence precisely for political purposes. That has caused our intelligence — which used to be accepted without question around the world — to be viewed with skepticism by the international community." [More>>washingtonpost.com

Connections between The Carlyle Group and the bin Laden family were shown in a BBC report:

rediff.com, November 7, 2001, "Bush's bin Laden link thwarted FBI probe – Report" : A BBC programme aired on Tuesday made a startling revelation that Federal Bureau of Investigation agents probing relatives of the Saudi-born terrorist Osama bin Laden were told to go slow soon after George W. Bush became the president of the United States.

The BBC's Newsnight said Bush at one point had a number of connections with Saudi Arabia's prominent bin Laden family. The programme hinted that US interests in the huge Saudi oil reserves blunted the probe into the terrorist connections of several individuals. Newsnight quoting from several purportedly secret documents said the FBI probe into the September 11 terror attacks unearthed terrorist links of at least two member of the bin Laden family. The programme said it had obtained evidence that the FBI was on the trail of bin Laden family members living in United States before, as well as after, the terrorist attacks.

Newsnight said Bush made his first million 20 years ago with an oil company partly funded by the chief US representative of Salem Bin Laden, Osama's brother. The programme also revealed that Bush and his father received fees from Carlyle Corporation — a little known company that became one of America's largest defence contractors — in which the bin Ladens held a stake, which was sold off after the September 11 terror attacks.
Mel Copeland
---
5.14.09 Pelosi: C.I.A. misled Congess over waterboarding
May 14 - Under fire from Republicans for what she knew about harsh questioning of terror detainees, House Speaker Nancy Pelosi on Thursday acknowledged that she had learned as early as 2003 that the C.I.A. had subjected suspects to waterboarding. At a tense press conference, Ms. Pelosi said for the first time that a staff member alerted her in February 2003 that top lawmakers on the House Intelligence Committee had been briefed on the use of tough interrogation methods on terror suspects.

But she said the fact that she did not speak out at the time due to secrecy rules did not make her complicit in any abuse of detainees. She accused the C.I.A. and Bush administration of lying to Congress about what was actually transpiring with the detainees. "I am saying that the C.I.A. was misleading the Congress and at the same the administration was misleading the Congress on weapons of mass destruction," Ms. Pelosi said.

...Republicans have said the speaker was now criticizing the Bush administration for abusing terror suspects when she herself was aware of it at the time...Ms. Pelosi said that at the sole briefing she attended as the senior Democrat on the House Intelligence Committee in September 2002, the only mention of waterboarding by C.I.A. officials was that while it was deemed to be legal, the technique was not being used.

...A new chart of briefings, prepared by the Office of the Director of National Intelligence and cited by the Republicans, appeared to cast doubt on Ms. Pelosi's assertion that she was never told that waterboarding and other methods had been used, but only that the C.I.A. believed they could legally be used. The chart said that in a briefing on Sept. 4, 2002 attended by Ms. Pelosi, the interrogation methods that "had been employed" against a prisoner, Abu Zubaydah, were described. But according to the legal memorandums released last month, Abu Zubaydah had been waterboarded 83 times the month before the briefing, so any objection from Democrats at the Sept. 4 briefing would have come too late.

Indeed, Ms. Pelosi said Thursday that she had learned only after the Sept. 4 briefing that waterboarding had already been used and that some administration experts had questioned its legality. "We later find out that it had been taking place before they even briefed us about the legal opinions and told us that they were not being used," she said, referring to the interrogation techniques. [Full story>>nytimes.com]
---
5.14.09 Spacewalk a success for Atlantis crew
May 14 - A pair of spacewalking astronauts successfully installed a new piano-sized camera in the Hubble Space Telescope on Thursday, the first step to making the observatory more powerful than ever. The repair job — all the more dangerous because of the high, debris-ridden orbit — got off to a slow start. John Grunsfeld and Andrew Feustel had trouble removing the old camera from the telescope because of a stubborn bolt. They fetched extra tools, but none seemed to work. Finally, Mission Control urged the astronauts to use as much force as possible to free the bolt.

"OK, here we go," Feustel said. "I think I've got it. It turned. It definitely turned." And then: "Woo-hoo, it's moving out!" The effort put the astronauts a little behind schedule in their first spacewalk of shuttle Atlantis' mission. In all, five high-risk spacewalks are planned to fix Hubble's broken parts and plug in higher-tech science instruments. Atlantis and its crew are traveling in an especially high orbit, 350 miles above Earth, that is littered with pieces of smashed satellites. A 4-inch piece of space junk passed within a couple miles of the shuttle Wednesday night, just hours after the shuttle grabbed Hubble. Even something that small could cause big damage. [More>>cbsnews.com]
---
5.14.09 Herschel telescope blasts off to unravel secrets of the universe
May 14 - The largest and most powerful space telescope yet built has launched from French Guiana, on a tandem mission to investigate the origins of the Universe and the birth of its stars and galaxies. The Herschel space observatory blasted off from Kourou at 2.12pm BST, on board a European Ariane-5 rocket that also carried the Planck spacecraft into orbit. Herschel separated successfully about 24 minutes after launch, followed by Planck four minutes later. Both satellites are travelling towards their final orbits, at a position in space called the second Lagrange point, where probes remain "behind" the Earth as viewed from the Sun at a consistent distance. The twin probes will collect the most detailed information yet about the formation and evolution of the cosmos.

Herschel, which will look at infrared radiation emitted by galaxies, stars, planets and comets, will be the biggest space telescope launched, with a mirror 3.5 metres in diameter that will observe with unprecedented detail and accuracy. The Hubble Space Telescope's mirror is 2.5 metres in diameter. By studying infrared light, it will be able to see through clouds of dust that obscure the astronomer's view of star and galaxy formation, to illuminate the processes behind them. It will also examine the dust ejected by dying stars, that spread the heavy elements necessary for life through the Universe, and analyze the composition of comets and planets in our own solar system. [More>>timesonline.co.uk]
---
5.14.09 Livni warns binational state a 'threat'
May 14 - The possibility of the establishment of one nation for Israelis and Palestinians, rather than the acceptance of a two-state solution, is a strategic threat to the existence of the Jewish state, opposition chair Tzipi Livni said on Thursday. "The idea that there will be one state for two peoples instead of a Jewish and democratic state of Israel is a strategic threat; no less [important] than any other threat," Livni said during a speech at the Fisher Institute. "Time is not on the side of those who want to keep Israel a Jewish state, time is not on the side of the moderates in the region, and therefore we must not drag our feet and delay the inevitable with unfruitful negotiations."

Livni also spoke indirectly about Iran, criticizing the use of the term "Holocaust" when discussing the threat the Islamic regime poses to Israel. "The use of terms such as 'Holocaust' when speaking of threats is problematic," she told the assembly. "It doesn't convey the right message. Israel of 2009 is a stronger, more powerful state, and it can make decisions..the connection to the Holocaust, which took place before the Jewish nation had the capacity to defend itself, is wrong, both with regards to the Holocaust itself, and also with regards to the correct ethos of our nation, from the perspective of its strength." Speaking about a 'Holocaust' does not "diminish the threat," the opposition leader said, "and Israel must not be portrayed as weak at [a] time when decisions need to be made." [>jpost.com]
---
5.14.09 Fears of Sri Lanka 'catastrophe'
May 14 - The Red Cross says its staff in Sri Lanka are witnessing an "unimaginable humanitarian catastrophe" in the area where troops have trapped Tamil Tigers. The agency says a ferry loaded with aid has been unable to reach the battered north-eastern coastal strip for three days because of fighting. The Sri Lankan army earlier said that more than 2,000 civilians had waded across a lagoon to escape to safety. There are also reports that staff have quit the last hospital in the war zone. Medics abandoned the hospital after persistent shelling over recent days, unverified reports say.

As the humanitarian situation worsened, UN Secretary General Ban Ki-moon's chief of staff, Vijay Nambiar, was being rushed back to Sri Lanka to press for the protection of trapped civilians, a UN spokeswoman said. In another development on Thursday, former colonial power Britain said the Sri Lankan government could face investigation into possible war crimes, as a result of violence against civilians caught up in the fighting. The UN says about 50,000 civilians are trapped in the war zone, although Colombo disputes this figure. [More>>bbc.co.uk]
---
5.14.09 Prime Minister Erdogan puts Baku's Armenia concerns to rest
BAKU, Azerbaijan, May 14 - Prime Minister Recep Tayyip Erdogan [of Turkey] yesterday appeared to have put strained relations with Azerbaijan back on track after giving firm and clear assurances to the regional ally that Turkey would not open its closed border with Armenia unless the Armenian occupation of Azerbaijani territory ended. "There is a relation of cause and effect here. The occupation of Nagorno-Karabakh is a cause, and the closure of the border is an effect. Without the occupation ending, the gates will not be opened," Erdogan said at a joint press conference with Azerbaijani President Ilham Aliyev during a visit to Baku. [More>>turkishpress.com]
---
5.14.09 Mumbai terror group exploits refugee crisis
May 14 - Pakistan comes under fire for failure to shut 'charity.' An Islamist charity accused of links to the militant fundamentalists blamed for the Mumbai terror attacks has resurfaced at the centre of the aid effort to help hundreds of thousands of refugees fleeing Pakistan's war on the Taliban. Six months after Pakistan, under international pressure, outlawed the charity said to be a front for the militant group Lashkar-e-Taiba (LeT), The Independent has discovered that scores of volunteers from the charity are openly working to ferry refugees from the edge of the conflict zone to emergency camps and hospitals. They are also providing food, water and first aid.

Despite a government undertaking that it had cracked down on Jamaat-ud-Dawa — described as the charitable arm of LeT — and pledged that it would not allow it to operate under a different name, volunteers say they are providing crucial services in an area where the government's resources are stretched. Yesterday morning, in a tent that had been erected on a traffic island in the centre of the city of Mardan, where thousands of refugees are being taken, the volunteers were operating under the name Falah-e-Insaniat Foundation (Humanitarian Welfare Foundation). In addition to the foundation's logo, the volunteers' tent was hung with black and white flags carrying the symbol of Jamaat, a curved scimitar.

"The foundation used to work under the name Jamaat-ud-Dawa," said one of the volunteers, Jafar Khan. "We are operating emergency camps near the conflict zone where we are giving first aid, water, juices and food. We have 12 ambulances. We are taking people to the [refugee] camps and to the hospitals. Our supplies are coming from Punjab." [More>>independent.co.uk]
---
5.14.09 Pakistan jets bomb Taliban as 170,000 more refugees flee
PESHAWAR, Pakistan (AFP) May 14 - Pakistan helicopters and fighter jets attacked Taliban targets in the northwest Wednesday as the government lobbied Afghanistan for a closer alliance in the battle against militants. Around 170,000 more civilians registered as refugees with the UN after fleeing the offensive in the northwest, where Taliban fighters have terrorized the population in a campaign to enforce sharia law and expand their control.

Terrified residents trapped in Mingora, the district's main town, told AFP by telephone that militants had planted mines and were digging trenches. "People are becoming mentally ill, our senses have shut down, children and woman are crying; please tell the government to pull us out of here," said one shopkeeper contacted by AFP who did not want to give his name. "Forget the lack of electricity and other problems, the Taliban are everywhere and heavy exchanges of fire are routine at night."

Air strikes targeted Taliban positions across Swat, which has sunk from a stunning ski resort favoured by Westerners to a crucible of Taliban violence, where ground troops have yet to take control. Helicopter gunships also swung into action in the neighboring district of Lower Dir, where the military has been on the offensive since April 26 after Taliban fighters advanced to within 100 kilometers (60 miles) of Islamabad. A military spokesman reported "heavy fighting" in Swat's northern mountains at Peochar, the suspected stronghold of firebrand Taliban commander Maulana Fazlullah, where airborne commandos on Tuesday opened a new front. [More>>khaleejtimes.com]
---
5.14.09 Diggers uncover Taliban arsenal
May 14 - Australian and Afghan patrols have uncovered caches of weapons, munitions, bombs and bomb-making equipment hidden by insurgents in the Oruzgan province. The commander of the Mentoring and Reconstruction Task Force said the discoveries in the Mirabad region of the province reduced the Taliban's ability to target civilians, Afghan security forces and coalition troops. [More>>news.com.au]
---
5.14.09 Qaeda leader in Yemen calls for Islamic rule
DUBAI, May 14 - The leader of al-Qaeda in the Arabian Peninsula on Wednesday declared his support for the people of southern Yemen and called for Islamic rule in Yemen and vowed to retaliate for what he called the killing of civilians in clashes between police and locals. "The time for the rule of Islam has come so that you could bask in the justice and tolerance it brings," Abu Basir Nasser al-Wahayshi said in a recording posted on an Islamist website. "The injustice that befell you, God willing, will not pass without punishment. The killing of Muslims in the streets is a great crime that has no justification."

Wahayshi's remarks coincided with a rare call by the United States embassy in recent weeks for political parties to act to keep Yemen united. People in the south, home to most of Yemen's oil facilities, have long complained that northerners have abused a unity agreement to grab their resources and discriminate against them. Demonstrations over army pensions turned violent in Aden in 2007 and job protests in the south degenerated into riots last year. Some southern leaders have openly called for secession. [More>>alarabiya.net]
---
5.13.09 Vital coral reefs 'face collapse'
May 13 - One of the world's most ecologically and economically important coral reef systems could be a dead wasteland by the end of the century without urgent action to tackle climate change, scientists have warned. In a report released on Wednesday, the World Wildlife Fund (WWF) said the collapse of Southeast Asia's Coral Triangle as a result of rising sea temperatures would threaten the livelihoods of more than 100 million people in the region. It would also spell the end of an ecosystem labelled the marine equivalent of the Amazon rainforest, the report said.
The WWF report was released at the World Ocean Conference in Sulawesi, Indonesia, where senior officials from 80 countries are holding talks aimed at building an international commitment on marine conservation. In its report the environmental group said the death of the reef system, which generates an estimated $3bn in annual income, would cause food production in the region to plummet by 80 percent. The Coral Triangle stretches between the Indian and Pacific oceans across Indonesia, Malaysia, the Philippines, East Timor, Papua New Guinea and the Solomon Islands. The diverse network of reefs has 76 per cent of the world's reef-building coral species and 35 percent of its coral reef fish species – the highest density of species above and below the water anywhere on the planet. [More>>aljazeera.net; See also worldwildlife.org]
---
5.13.09 Greek dolphins to disappear without urgent steps,
(Reuters) May 13 - Common dolphins, once a frequent sight in the Mediterranean, may soon be extinct in Greece's Ionian Sea due to overfishing, environmentalists warned. WWF and a dozen other environmental organizations said research showed numbers of dark-grey, white-bellied dolphins had decreased from 150 to 15 in 10 years in protected areas in the Ionian, between Greece and Italy..."It is called the common dolphin but the problem nowadays in the Mediterranean is that it's not common at all anymore. It is endangered. It is about to be extinct," WWF Greece-based expert Giorgos Paximadis said.

"Overfishing has caused the destruction of the marine environment and the dramatic decrease of common dolphins," Mr. Paximadis said. The environmental groups urged Greece to take measures, including the adoption of larger mesh size for all bottom-set nets, restrictions on trawling and on recreational fishing as well as stronger penalties for illegal fishing. The common dolphin population in the Ionian Sea is one of the last in the Mediterranean, Mr. Paximadis said. "As they are on the top of food web, it shows that the rest of the marine web is not healthy," he said. Three other species of dolphins in Greece, including the bottlenose dolphin, are considered vulnerable but not yet in danger of extinction, he said. [>news.com.au]
---
5.13.09 Huge Bolivian glacier disappears
May 12 - Scientists in Bolivia say that one of the country's most famous glaciers has almost dis
appeared as a result of climate change. The Chacaltaya glacier, 5,300m (17,400 ft) up in the Andes, used to be the world's highest ski run. But it has been reduced to just a few small pieces of ice. Many Bolivians on the highland plains, and in two cities, depend on the melting of the glaciers for their water supply during the dry season. The team of Bolivian scientists started measuring the Chacaltaya glacier in the 1990s. Not long ago they were predicting that it would survive until 2015. But now it seems, the glacier has melted at a much faster rate than they expected. Photos taken in the last two weeks show that all that is left of the majestic glacier, which is thought to be 18,000 years old, are a few lumps of ice near the top. [More>>bbc.co.uk; See also ecoworldly.com, May 7, "World's highest ski run melted away" and earlier bbc.o.uk article,

bbc.co.uk, December 10, 2002, "Bolivian glaciers shrinking fast" : Glaciers in the Bolivian Andes are shrinking at an alarming rate, say scientists. Data collected from tropical ice fields near the world's highest capital, La Paz, show mass loss in the 1990s at rates 10 times greater than previous decades. If rising temperatures and low precipitation continue, many smaller glaciers will vanish in a decade, the researchers believe. Further ahead, the consequence could be water and power shortages for millions of Bolivians.

...The Zongo glacier has retreated by around 10 metres and lost about one metre of depth every year...The nearby Chalcaltaya glacier, known as the world's highest ski-field, has lost over 40% of its thickness and surface area...Glaciers are shrinking all over the planet. But tropical glaciers, most of which are in the Andes, are losing ground fastest. These low-latitude high-altitude glaciers are particularly sensitive to changes in climate because their season of accumulation is summer, when radiation levels are at their peak...

usatoday.com, January 30, 2005, "Glaciers are vanishing around the world."
---
5.13.09 US returns birthplace of Prophet Abraham to Iraq
UR, Iraq (AFP) May 13 - The United States military Wednesday handed control of ancient Ur, the biblical birthplace of Abraham, back to Iraq, six years after the American invasion that toppled dictator Saddam Hussein. "We officially announce the taking over of Ziggurat of Ur from our friends the Americans," Talib Kamil al-Hassan, governor of Dhi Qar province, said at a ceremony to mark the return of the ancient site. "Abraham, peace be upon him, was born here, the father of prophets and religions," he said.

The site is renowned for its well preserved step platform or ziggurat, which dates back to the third millennium BC. It lies near the US air base of Talila, outside the southern city of Nasiriyah, and has been closed to the public since the US-led invasion of 2003. Ur of the Chaldees was one of the great urban centers of the Sumerian civilization of southern Iraq and remained an important city until its conquest by Alexander the Great a few centuries before Christ. [More>>alarabiya.net]
---
5.13.09 Intel fined record €1.06 billion over anti-trust 'abuse'
May 13 - Intel was today slapped with a fine of €1.06 billion, Europe's biggest-ever penalty for anti-competitive practices, after allegedly paying manufacturers and a major retailer to suppress its main computer chip rival. The European Commission said that the size of the penalty reflects Intel's market dominance and the losses suffered by millions of consumers who were denied the chance to buy cheaper or more innovative products. Intel was found to have set up a system of generous rebates for the computer-makers Acer, Dell, HP, Lenovo and NEC who bought all, or nearly all, of their x86 chips from the company. Intel also made direct payments to Media Saturn Holding, owner of the vast Media Markt chain of stores, on condition that they only stock computers made with Intel components. [More>>timesonline.co.uk]
---
5.13.09 Markets dive on weak retail sales
May 13 - US stock markets took a dive on Wednesday as retail sales unexpectedly fell in the month of April and helped fuel a debate among investors over the direction of the economy. The blue chip Dow Jones industrial average was down 1.93 percent, or 163.2 points, while the broader Standard & Poor's 500 index fell 2 percent, or 18.8 points. The tech heavy Nasdaq fell 2.2 percent, or 38 points. Wall Street has rallied strongly since hitting a low in early March on a series of better-than-expected economic reports and on optimism that the worst of the financial crisis for some of the nation's largest banks may have passed. The S&P 500 has surged about 34 percent since March 9. This week that exuberance appears to be on hold as investors try and gauge whether stocks have shot up too high, too fast. This morning's retail sales report showered more pessimism on those concerns as the government reported monthly retail sales dropped 0.4 percent. [More>>washingtonpost.com]
---
5.13.09 Al-Qaeda's No. 2 Zawahiri is in Pakistan: US intel reports
WASHINGTON, May 13 - Ayman al Zawahiri, al-Qaeda's second in command after Osama Bin Laden, carrying $25 million bounty is hiding at Quetta in Balochistan province. A master of disguise and the brain behind the al-Qaeda, Egyptian-born Zawahiri who has been on the run since 9/11 roams openly and with impunity in the border regions of Afghanistan and Pakistan, Washington Times reported quoting top Pakistani intelligence brass. While Predators have an eye out for the Egyptian radical and have in the recent past tracked his movements, they haven't been able to pin him down for a missile strike.

The paper reported that the US Drone attacks had forced him to move to South Waziristan Agency in Pakistan in 2008. But the wily terror brain sensing danger to his life moved to South Balochistan and then to provincial capital Quetta. Zawahiri, the report said shuns high-trappings and moves in small entourages and dresses in the manner of the people where he hides. He also moves his wives to preclude any identification through them. The paper said Zawahiri does not trust locals and his security force consists of mainly of trusted Egyptians. Though Pakistani intelligence have shared with the CIA location of Zawahiri's hideout in Quetta's suburbs, the paper said the No 2 most wanted man in the world roams free. [>timesofindia.indiatimes.com; See also washingtontimes.com]
---
5.13.09 New Afghan General has manhunter reputation
May 13 - (washingtonpost.com article) Lt. Gen. Stanley A. McChrystal, the former Special Operations chief who is President Obama's new choice to lead the war in Afghanistan, rose to military prominence because of his single-minded success in a narrow but critical mission: manhunting. As commander of the military's secretive Joint Special Operations Command (JSOC) for nearly five years starting in 2003, McChrystal masterminded a campaign to perfect the art of tracking down enemies, and then capturing or killing them. He built a sophisticated network of soldiers and intelligence operatives who proceeded to decapitate the Sunni insurgent group al-Qaeda in Iraq and kill its most notorious leader, Abu Musab al-Zarqawi.

He has also led the hunt for Osama bin Laden and other al-Qaeda leaders in Afghanistan and Pakistan. To succeed in the more expansive and varied Afghanistan mission, military officials and analysts said, McChrystal will have to transcend the perception that he is, at his core, an Army Ranger, an elite practitioner of rapid-fire raids intended to "find, fix, finish" the enemy. Instead, he will have to embrace the more unwieldy work of building Afghan security forces from disparate tribes, extending governance and cultivating diplomatic skills -- as well as a thirst for endless cups of tea -- that goes along with leading a counterinsurgency campaign. [More>>cbsnews.com]
---
5.13.09 President Obama reverses course on releasing more detainee abuse photographs
May 13 - President Obama met with White House counsel Greg Craig and other members of the White House counsel team last week and told them that he had second thoughts about the decision to hand over photographs of detainee abuse to the ACLU, per a judge's order, and had changed his mind. The president "believes their release would endanger our troops," a White House official says, adding that the president "believes that the national security implications of such a release have not been fully presented to the court." At the end of that meeting, the president directed Craig to object to the immediate release of the photos on those grounds. In an Oval Office meeting with Iraq Commander General Ray Odierno, the president told him of his decision to argue against the release  of the photographs. [More>>abcnews.com]
---
5.13.09 Taliban warns Pakistani politicians
May 13 - The Taliban in Pakistan has warned politicians from the Swat valley that they and their families will be attacked unless they quit their posts protesting against the continuing army offensive in the troubled region. Speaking to Al Jazeera on Wednesday, Muslim Khan, a Pakistani Taliban spokesman, gave members of the national and regional assemblies a three-day deadline to denounce the military assault on Taliban fighters. The warning came hours after suspected Taliban fighters attacked NATO supply trucks at a transport terminal near the northwestern city of Peshawar, destroying eight vehicles. Imran Khan,

Al Jazeera's correspondent reporting from Pakistan, said the warning signalled a "dark turn" in the unfolding events in Swat where the Pakistani army is battling Taliban fighters. "They [the Taliban] can make these threats and people will take them very seriously," Khan said. Up to 15,000 Pakistani troops are engaged in the fight against about 4,000 Taliban-linked fighters in the Swat valley and surrounding areas of the North Western Frontier Province (NWFP). Hundreds of thousands of civilians have fled from their homes in the northwest in an attempt to escape the clashes. [More>>aljazeera.net; See related story,

msnbc.msn.com, May 13, "Headless bodies found near Taliban stronghold" : PESHAWAR, Pakistan - Troops secured footholds Wednesday in a Pakistani valley overrun by the Taliban, killing 11 militants and discovering five headless corpses near the region's main town, the army said. Elsewhere in the turbulent northwest, police said dozens of assailants stormed a transport depot handling supplies for NATO troops in neighboring Afghanistan and torched eight trucks before escaping...
---
5.13.09 Afghan peace mediators in contact with Mullah Omar
KABUL, Afghanistan (Reuters) May 13 - Ex-Taliban officials now acting as intermediaries have contacted Taliban leader Mullah Mohammad Omar and other senior militants in a bid to set up peace talks with the Afghan government, a member of the team said on Wednesday. "We are not talking to junior people, certainly, but with the leadership council, Mullah Sahib and Hekmatyar," said Arsala Rahmani, using a respectful term for Mullah Omar and also referring to Gulbuddin Hekmatyar, a hardline Islamist guerrilla leader wanted by the United States.

Rahmani is part of a team of senior former Taliban officials trying to mediate between President Hamid Karzai and the insurgents since late last year. The mediators are pushing the government to provide asylum for members of the Taliban and other armed opposition groups as part of an effort to pave the ground for future peace talks, he told Reuters in an interview. Since starting the initiative, the team has held discussions with Karzai, the Western powers who have troops in Afghanistan and Saudi Arabia's King Abdullah, as well as with the militant leaders, Rahmani said...
Rahmani said the government and armed opposition groups have exchanged demands through the mediators, who also include former Taliban Foreign Minister Wakil Ahmad Muttawakil and the movement's former envoy to Pakistan, Abdul Salaam Zaeef. Zaeef and Muttawakil spent several years in US custody. [Full story>>khaleejtimes.com]
---
5.13.09 11 militants killed in Swat: military
ISLAMABAD, Pakistan, May 13 - Security forces have killed 11 more militants during the past 24 hours in fresh strikes on militants' positions in restive Swat valley, Inter-Services Public Relation said on Wednesday. A key militant commander, Naseeb Khan, is also among [the] dead in the latest offensive, it said. In a handout issued here, the ISPR said that four soldiers were martyred and 12 others wounded in the fighting. Meanwhile, security forces have taken complete control of Peochar area, believed to be a stronghold of Taliban militants. ISPR further said that "Security forces have also taken positions in Benai Baba shrine and Brem Bridge." [>thenews.com.pk]
---
5.13.09 US, Pakistan jointly carry out drone missions
May 13 - In a significant move, Pakistan has reportedly allowed armed U.S. Predator drones to fly inside its geographical territory for the first time to carry out airstrikes against the Taliban and other extremist groups. Under the new partnership, US drones will be allowed to venture beyond the borders of Afghanistan into Pakistan's territory under the direction of Pakistani military officials, the Los Angeles Times reported on Wednesday. Pakistan military officials are working with their American counterparts at a command center in Jalalabad, Afghanistan, the paper reported. [More>>foxnews.com; See also latimes.com, May 13, "Pakistan gets a say in drone attacks on militants."]
---
5.12.09 Two al-Qaeda suspects arrested in Italy: Report
ROME (AFP) May 12 - Italian police in the southern city of Bari have arrested two suspected al-Qaeda members thought to have been preparing attacks in France and Britain, ANSA news agency reported on Tuesday. One of the targets on their list had been Paris' Roissy-Charles de Gaulle airport, the agency reported. The two men were an imam, Bassam Ayachi, 63, a Syrian who had obtained French nationality, and a French citizen identified as 34-year-old Raphael Gendron, said the agency, citing the two investigating magistrates' file.

According to the file, drawn up by magistrates Roberto Rossi and Francesca Romana, the two men had "planned and organized terrorist attacks and guerrilla actions." Equipped with arms and explosives, the two men had also set up a recruitment and training network for militants ready to commit suicide attacks or to fight in Iraq and Afghanistan, the dossier alleged. The two men had already been arrested in November 2008 when they were caught using their camping car to try to smuggle in illegal immigrants from Greece, ANSA reported. Police in Bari were not able to immediately confirm the report. [>timesofindia.indiatimes.com]
---
5.12.09 Iraq parliament demands more water from neighbors
BAGHDAD (Reuters) May 12 - Iraq's parliament voted on Tuesday to compel the government to demand on a greater share of water resources from neighbors upstream of its vital rivers, Turkey, Iran and Syria, in any bilateral deals with them. In a resolution, Iraqi lawmakers agreed to block any treaty or agreement signed with the three nations that does not include a clause granting Iraq a fairer share of water resources. The resolution's passage is likely to turn up the heat on a long-running dispute between Iraq and the neighboring states, whose mountains feed the arid nation's rivers.
Iraq is mostly desert and its inhabitable areas are slaked by the Tigris, which comes down from Turkey, the Euphrates, from Syria, and a network of smaller rivers from Iran. Iraq accuses Turkey and Syria of choking the Tigris and Euphrates by placing a hydroelectric dams on them that have restricted water flow, damaging an Iraqi agricultural sector already hit hard by decades of war, sanctions and neglect. [More>>khaleejtimes.com; See related story:

cbsnews.com, May 12, "Some GIs forced to steal water in Iraq" : HOUSTON, Texas - Soldiers Reduced To Desperate Measures To Survive Desert Heat; Say They Found Plenty In Hands Of Private Contractors. Stories of short supplies for American forces in Iraq, such as inadequate body armor or unshielded Hummers, have been around since the war began. CBS affiliate KHOU-TV in Houston has discovered that some soldiers were forced to ration water, perhaps as little as 2-3 liters per day, because there was never enough. It is less than the one gallon minimum a day that an Army manual says is necessary just to survive in a desert environment. In fact, an Army training document on preventing heat casualties states that water losses in the desert can reach 15 liters (about four gallons) a day per soldier.

Army Staff Sgt. Dustin Robey told KHOU correspondent Jeremy Rogalski that soldiers would throw up or pass out from dehydration. Chronic dehydration can lead to such problems as kidney stones, urinary infection, rectal afflictions and skin problems, and can have long-term health problems, including kidney injury. Robey said in 2003 his company would run out of water on missions, forcing them to improvise, like drinking water from whatever taps they found. Unfortunately, the often-untreated Iraqi water can cause intestinal illnesses. Robey said 50 to 60 members of his company got dysentery. Desperate, Robey said he and his commander were reduced to stealing water from supplies stored at Baghdad International Airport...
---
5.12.09 'Vatican to stop missionizing Jews'
May 12 - In his welcoming address Tuesday to Pope Benedict XVI at Jerusalem's Heichal Shlomo, adjacent to the capital's Great Synagogue, Chief Ashkenazi Rabbi Yona Metzger said that the pontiff had agreed that the Catholic Church would cease all missionary activity among Jews, and thanked him for the gesture. Metzger opened by congratulating the pope on his arrival to "our holy land — the land to which we prayed to return during 2000 years of exile... And, with God's help, our meeting today is taking place in the Land of Israel, in our city of Jerusalem — the eternal capital of the Jewish people."

Speaking of the necessity of dialogue between the faiths, Metzger said that "if a historical meeting such as this, where the head of the largest religion in the world meets in Jerusalem with the head of the Jewish religion, had taken place many years ago, much blood would have been spared and senseless hatred averted." Metzger thanked Benedict for preventing the return to the fold of Holocaust-denying Bishop Richard Williamson. [More>>jpost.com]
---
5.12.09 'Afghan forces end Khost siege
May 12 - Afghan security forces have killed several Taliban fighters who barricaded themselves inside government buildings in the city of Khost after taking a number of people hostage, the interior ministry has said. At least 10 fighters, wearing suicide vests and carrying AK-47s and grenades, had attacked the governor's office and the municipal headquarters in the provincial capital of southeastern Khost on Tuesday. "Fortunately the operation is over now," Zmaray Bashari, an interior ministry spokesman, told Al Jazeera. 

"The security forces, as a result of giant operations, overwhelmed and overcame all these attacks and all the bombers were either targeted by security forces or detonated during the exchange of fire," he said. Afghan forces, supported by the US military, battled the Taliban fighters for several hours before the siege was ended and the captives were freed. [More>>aljazeera.net; See more details,

nytimes, May 12, "At least eight dead in Taliban attack": ...The attack appeared to be the latest in a string of increasingly brazen Taliban assaults against government buildings in Afghanistan in which multiple suicide bombers blast through the gates and then armed gunmen and additional bombers follow up to cause more casualties. The latest such attack took place in March in the southern city of Kandahar, when at least eight people, including five police officers and three civilians, were killed in an attack on a municipal building housing a police headquarters and a court.
A similar attack in Khost, a restive province next to Pakistan border, took place in August, when a coordinated attack by at least 10 suicide bombers occurred at Camp Salerno, one of the largest American military installations in the country. Similar complex coordinated attacks involving multiple suicide bombers and gunmen have also occurred in Kabul at the Justice Ministry in February, as well as at the Serena hotel in January of last year...

Related story:

thenews.com.pk, May12, "Suicide bombing at government buildings kills 10 in Afghanistan" : KANDAHAR: A double suicide bomb attack in southern Afghanistan has killed 10 and wounded 13 others. Helmand deputy provincial police chief Kamaluddin Khan says the attack began when a first suicide bomber detonated his explosives near a taxi stand in the town of Gereshk. Khan says that police and army soldiers responded to the scene. Then, a second suicide attacker detonated his explosives, causing a majority of the casualties. [end]
---
5.12.09 Pakistan 'captures Taliban hideout'
May 12 - The Pakistani military has said it captured a Taliban rear-base, believed to have been used by Mullah Fazlullah, a pro-Taliban leader, and a centre for 4,000 fighters. The hideout in Gatt Puchar, a mountainous region in the Swat valley, was taken on Tuesday morning, with helicopters being used in the assault, military sources told Al Jazeera. Troops were dropped into the area, which has so far proved to be impenetrable for ground forces. There has been no confirmation of Fazlullah's whereabouts following the attack.

Fazlullah is the son-in-law of Sufi Muhammad, a local religious leader  who negotiated a deal with the government under which a stricter interpretation of sharia would be implemented in the Swat valley. Imran Khan, Al Jazeera's correspondent in Peshawar, said: "The army is telling us that they started to use heavy bombardment against a mountain stronghold that belongs to Mullah Fazlullah.
"Once that bombing was over they sent in helicopters and then parachuted in commandoes to take the area," he said. "This area is home to nearly 4,000 Taliban fighters and it is home to Pakistan Taliban in the Swat valley's arms dump and training camps for suicide bombers and armed fighters. So it's really the hub. It's a crucial blow to the Pakistani Taliban." [More>>aljazeera.net; See related stories:

thenews.com.pk, May 12, "Fighting continues in Malakand, 34 militants killed" : MALAKAND: Security forces have killed 34 militants in fresh ground and air offensive in different parts of Malakand region on Tuesday, while five dead bodies of unidentified persons have also been found in the area. According to the Inter-Services Public Relation, commandos were dropped from helicopters in Peuchar believed to be the stronghold of Maulvi Fazlullah. Security forces backed by helicopter gunships and artillery shelled militants' hideouts in Mingora city. [end]

thenews.com.pk, May 12, "30 militants killed, 3 held in Lower Dir" : LOWER DIR - More than 30 militants have been killed and 3 others arrested in the ongoing operation in Lower Dir. According to sources, security forces are presently carrying out operation[s] in Gulabad area. [end]
---
5.11.09 Estimate of budget deficit now tops $1.84 trillion
WASHINGTON, May 11 - The economic crisis is already taking a toll on the Obama administration's new budget projections, adding $90 billion to its already historically high estimates of deficits for both this fiscal year and next. The changes, reported on Monday by the Office of Management and Budget, brings the deficit for this fiscal year, which ends Sept. 30, to $1.84 trillion from a February projection of $1.75 trillion. For fiscal 2010, the new estimate is $1.26 trillion, up from $1.17 trillion. As measured against the size of the economy, this year's shortfall would be 12.9 percent of the overall economy, or gross domestic product. Next year's deficit would be 8.5 percent of G.D.P.

Even before the latest revisions those levels are the highest in more than 60 years, since the end of World War II. Economists generally consider that a country's annual deficits should not exceed 3 percent of economic output. President Obama, in his 10-year budget outline, projects that the nation will fall just below that level in his last months in office, in fiscal year 2013, though many analysts consider his economic assumptions to be too rosy. [More>>nytimes]

---
Editorial note: Interest on the Public Debt in the first half of FY 2009 — October 2008 thru April 2009 — was $193.4 billion. Total interest paid for FY 2008 was $451.2 billion. The Public Debt as of 5.07.09 was $11.3 trillion. For trends in the Public Debt see Maravot's National Debt.html.

Mel Copeland
---
5.11.09 NASA to give Hubble new view of universe
May 11 - Improvements will allow telescope to see almost as far back as the Big Bang. It is not so much a journey through time, more a mission to buy more time for a telescope which has provided a glimpse of the distant past. Later today, Shuttle astronauts will blast off from Cape Canaveral in Florida for a mission to the Hubble Space Telescope designed to keep it working for at least another five years. In the 18 years since Hubble was launched, the space telescope has astounded scientists and the public with its amazing views of the nearest as well as the most distant objects in the visible universe. It has lasted so long precisely because it was designed to be repaired and serviced.

One of the Hubble telescope's greatest achievements has been its ability to see objects that are billions of light years from Earth. Seeing so far away is equivalent to seeing back in time because light from the furthest reaches of the known Universe has taken billions of years to reach the telescope's orbit around Earth. Now the fifth and final servicing mission should see the telescope continue its groundbreaking observations until 2014, and possibly beyond, providing everything goes as planned when the shuttle Atlantis is scheduled to take off from Kennedy Space Centre at 6pm BST today. [More>>independent.co.uk; See also

cnn.com, May 11, "Shuttle blasts off for final Hubble fix" : KENNEDY SPACE CENTER, Florida - The space shuttle Atlantis blasted off successfully Monday afternoon on NASA's fifth and final repair visit to the Hubble Space Telescope. The spacecraft rocketed into mostly sunny skies right on schedule at 2:01pm ET. Atlantis will spend five days upgrading the Hubble, the orbiting observatory that's been scanning the universe for almost two decades. For the seven members of the shuttle crew, that means added pressure. "I think [this] is motivating us because we know there's nobody coming after us to do anything we don't get done," said Atlantis Commander Scott Altman. "This is it. We either get it done or it doesn't happen."...
---
5.11.09 52 militants killed in operation in NW Pakistan
ISLAMABAD, May 11 - In the last 24 hours 52 miscreants have been killed and five others wounded during the exchange of fire as operation against miscreants by security forces is making headway successfully, a statement released by Pakistan army said on Monday. Miscreant hideouts were destroyed at Kabal, Tutano Banda, Deda Khura, Peochar, Sarbande and Matta in Swat district of North West Frontier Province and 30 miscreants were killed, said the statement. "Miscreant's hideouts were engaged at Mingora and Peochar area. As a result 11 miscreants were killed," said the statement.

Two Security Forces personnel were injured due to miscreants' fire at Circuit House in Mingora, the main town in Swat valley. Seven miscreants were killed by Security forces at Ayub Bridge. Gunship helicopters engaged [a] tunnel and hideout of miscreants at Qamber ridge. As a result, three miscreants were killed and five others got injured. Security forces killed a miscreant who was placing an improvised explosive device at Chamtalai in Swat. Miscreants fired mortar shells at [the] Police Station at Mingora and four soldiers got injured. During the clearance of Banni Baba Ziarat in Swat three soldiers were killed and three soldiers got injured. Banni Baba Ziarat has been occupied by security forces. [More>>xinhuanet.com]
---
5.11.09 Five US soldiers' deaths came at hands of comrade, military says
BAGHDAD, May 11 - An American soldier opened fire on comrades Monday on a large military base in Baghdad, killing five and wounding three, the US military said. The shooting at Camp Liberty, one of the largest bases in Baghdad, occurred about 2pm. Lt. Col. Brian Tribus, a US military spokesman, said the gunman was taken into custody. White House press secretary Robert Gibbs said in Washington that President Obama was "saddened" and "shocked" by the shootings and that the president's "heart goes out" to the families of those killed. Obama will press Defense Secretary Robert M. Gates in a meeting Monday afternoon to investigate the shootings to "ensure we fully understand what happened," Gibbs said. A US military officer in Baghdad said the shooting occurred at the base's combat stress clinic.

The official, speaking on condition of anonymity, said the incident shook up soldiers, many of whom are in their third and even fourth tours. Some broke down in tears, he said. "A lot of soldiers are wondering why," the official said. "We will be asking as leaders: What could we have done? How could have we protected the soldiers?" Most military facilities in Iraq have combat stress clinics, where soldiers seek counseling and are at times prescribed medicine for anxiety and depression. The Army is grappling with a growing incidence of suicide cases, which military leaders attribute to the stress inflicted by multiple deployments to Iraq and Afghanistan. [More>>washingtonpost.com]
---
5.11.09 Jailed US journalist in Iran freed
TEHRAN, Iran, may 11 - An American journalist jailed for five months in Iran was freed Monday and reunited with her parents after an appeals court suspended her eight-year prison sentence on charges of spying for the US Roxana Saberi, a 32-year-old dual Iranian-American citizen, met her parents outside Evin prison Monday evening after the court cut her jail term to a two-year suspended sentence, her lawyers said. While they awaited her release, her mother, in a headscarf, smiled while her father looked overcome with emotion. "She was reunited with her father and mother.

They left for their house," her lawyer Saleh Nikbakht told The Associated Press. He said Saberi was free to leave Iran immediately. Her Iranian-born father, Reza Saberi, said he planned to return home with his daughter in the next few days. The family lives in Fargo, North Dakota and her parents have been in Iran for several weeks seeking their daughter's freedom. [More>>cbsnews.com]
---
5.11.09 Fears of mass poisoning of Afghan schoolgirls
CHARIKAR, Afghanistan (AP) May 11 - Doctors were investigating whether dozens of students were poisoned at a high school in northern Afghanistan on Monday after 61 girls went to the hospital complaining of sudden illness, officials said. Dr. Khalil Farangi said the 61 students and one teacher from Hora Jalaly high school in Parwan province northwest of Kabul complained of symptoms like irritability, weeping and confusion. Several girls also passed out. The mass hospitalization comes about two weeks after a similar incident in Parwan, where dozens of girls were hospitalized after being sickened by what Afghan officials said were strong fumes or a possible poison gas cloud.

The Taliban and other conservative extremist groups in Afghanistan oppose education for girls, who were not allowed to attend school under the 1996-2001 Taliban regime. Though it was unclear if Monday's incident was the result of an attack, militants in the south have previously assaulted schoolgirls by spraying acid in their faces and burned down schools as a protest against the government. Scores of Afghan schools have been forced to close because of violence. Officials on Monday sent blood samples to Kabul and to the main U.S. military base in Bagram to test whether some form of poison was to blame, said Farangi, the director of Charikar's hospital. Provincial Gov. Abdul Basir Salangi said officials said an investigation is under way. [More>>khaleejtimes.com]
---
5.11.09 Concerns white phosphorus used in Afghan battle
KABUL, Afghanistan, May 11 - Doctors voiced concern over "unusual" burns on Afghan villagers wounded in an already controversial US-Taliban battle, and the country's top human rights groups said Sunday it is investigating the possibility white phosphorus was used. The American military denied using the incendiary in the battle in Farah province — which President Hamid Karzai has said killed 125 to 130 civilians — but left open the possibility that Taliban militants did.

The US says Taliban fighters have used white phosphorus, a spontaneously flammable material that leaves severe chemical burns on flesh, at least four times the last two years. Using white phosphorus to illuminate a target or create smoke is considered legitimate under international law, but rights groups say its use over populated areas can indiscriminately burn civilians and constitutes a war crime. [More>>japantoday.com]
---
5.10.09 H1N1 flu tally 4,379 in 29 countries - WHO
ZURICH (Reuters) May 10 - H1N1 flu has infected 4,379 people in 29 countries, the World Health Organisation (WHO) said on Sunday, increasing its count by almost a thousand in a day. The WHO tally tends to lag national reports but is considered more definitive. The UN agency said Mexico has reported 1,626 confirmed cases, up from 1,364 on Saturday, and repeated that 45 people have died there from the new flu strain that is a genetic mixture of swine, bird and human viruses. The Mexican government has said the worst is over and eased restrictions on commercial and public activity in the country that has been at the epicentre of the outbreak.

The WHO's latest flu tally increased the number of confirmed infections in the United States to 2,254 from 1,639 reported on Saturday, while the number of reported deaths remained at two. US officials on Saturday said a man died from the new flu in Washington state last week, bringing the toll in the United States to three. WHO increased the number of infections in Canada to 280, from 242, and repeated one person had died there. It said one person had also died in Costa Rica, which had eight confirmed cases. SEuropean countries with cases confirmed in WHO laboratories include Spain (93), Britain (39), Germany (11), Italy (9), France (12), Portugal (1), Ireland (1), Netherlands (3), Austria (1), Denmark (1), Sweden (1), Switzerland (1) and Poland (1).

The WHO also confirmed the following infections in the rest of the world: Israel (7), New Zealand (7), Brazil (6), Japan (4), Panama (3). South Korea (3), El Salvador (2), Hong Kong, China (1), Guatemala (1), Colombia (1) Argentina (1) and Australia (1). Evidence that the disease, popularly known as swine flu, has taken hold in communities outside the Americas would prompt WHO Director-General Margaret Chan to declare a full pandemic. Chan raised the global pandemic alert level last week to 5 out of 6 in response to the spread of H1N1 flu. Phase 5 means a pandemic is imminent. The WHO also repeated its guidance that international travel should not be restricted as a result of the outbreak. [>thestar.com.my; See also who.int]
---
5.10.09 US blames Taliban for civilian deaths in Afghanistan
KABUL, Afghanistan, May 10 - The US coalition blamed Taliban militants Saturday for causing what Afghan officials say are dozens of civilian deaths during a prolonged battle that included American airstrikes. The US said in a report that an unspecified number of civilians died but did not take responsibility for any deaths. Afghanistan's Interior Ministry declined to endorse the US report, saying its own investigation would be completed soon. Afghan officials have estimated up to 147 people died in the battle in the western province of Farah on Monday, but a US spokeswoman called that number exaggerated. The US report did not offer an estimate of the number killed in the battle.

The preliminary report said Taliban fighters herded Afghan villagers into houses to use as human shields while they fired on coalition forces in two villages in Farah. The report said that US forces had responded to a call for help from Afghan forces and that militants attacked the troops from several locations. Troops called for airstrikes on the militant positions, and a US spokeswoman said Saturday that fighter aircraft made 13 passes over the two villages, using a combination of flares, strafing runs and bombs. "The investigation suggests that villagers had taken refuge in a number of houses in each village. Reports also indicate that Taliban fighters deliberately forced villagers into houses from which they then attacked ANSF (Afghan security forces) and Coalition forces," a statement from the US coalition said. [More>>japantoday.com; See related story,

nytimes.com (AP) May 10, "Afghan bombings kill and wound 20" : KANDAHAR- A double suicide bomb attack killed seven people and wounded 20 in southern Afghanistan on Sunday, an official said. The majority of casualties were police and army units responding to the initial attack. The first suicide bomber was on a motorbike detonated his explosives near a taxi stand and police checkpoint in the town of Gereshk in Helmand province, the world's largest poppy-growing region and the country's most violent province, said Dawood Ahmadi, the governor's spokesman. Helmand deputy provincial police chief Kamaluddin Khan said when police and army units responded to the scene, a second suicide bomber on foot detonated his explosives, causing a majority of the casualties. The blasts killed seven people — four security forces and three civilians — and wounded 20 people, Ahmadi said. A Taliban spokesman, Qari Yusef Ahmadi, claimed responsibility for the attacks...
---
5.10.09 Fighting flares in northwest Pakistan, 230 Taliban killed
ISLAMABAD, May 10 - Over 230 Taliban were killed in fierce fighting with troops in Pakistan's northwest tribal belt, the military said on Sunday, as President Asif Ali Zardari asserted that his government was determined to eliminate all terrorists holed up in the restive Swat valley. Amid intensification in the military offensive, thousands of terrified civilians fled the scenic valley after relaxation of curfew, even as the authorities voiced fears that over a million people could be displaced due to fighting. About 60 Taliban were killed when troops targeted militant positions in Swat, including the rebel strongholds of Peochar and Fizaghat, the military said in a statement.
Another 150 militants were killed when security forces destroyed a Taliban training camp at Banai Baba in Shangla district. Bodies and weapons were found in the area, the statement said. Five more militants were killed in a clash in nearby Dir district. At least 26 pro-Taliban fighters were killed and 16 more injured when troops repulsed an attack by militants on a security check post in Mohmand tribal region early this morning. Fourteen security personnel were also injured in the clashes that erupted when about 300 militants attacked a check post of the Mohmand Rifles. Two soldiers were killed in operations in Shangla, while another soldier was injured in Dir. [>indianexpress.com; See related story,

thenews.com.pk, May 10, "Petraeus says 'al-Qaeda center in Pakistan' " : WASHINGTON - US regional commander General David Petraeus Sunday said that al-Qaeda has its base in Pakistan and added that it is no longer in Afghanistan. In an interview, he expressed confidence that Pakistan's nuclear sites are secure from any attempted seizure by the Taliban. "We have confidence in their security procedures," the chief of US Central Command said when asked about Pakistan's nuclear safeguards as the Taliban make deep inroads. Petraeus welcomed what he described as a new mood of determination by Pakistani President Asif Ali Zardari's government to take on the Taliban, following White House talks between Zardari and President Barack Obama...
---
5.10.09 Anti-Qaeda leader killed in Iraq
BAGHDAD, May 10 - An anti-Qaeda militia leader allied with American forces has been killed by a roadside bomb north of Baghdad, police said on Sunday. Sheikh Abed Mohammed Hussein al-Dulami, chief of the Sahwa or Awakening Council in Iraq's Taji area, was killed on Saturday while on his way to a hunting area, a local policeman told a foreign news agency. One of his guards also died in the bombing, he added. Taji, about 20 kilometres (12 miles) north of Baghdad, was controlled by al-Qaeda fighters until late 2006 when local tribes and former insurgents started allying with the US military to drive out the rebel groups.

Known as Sahwa in Arabic, the mainly-Sunni militia have played a crucial role in driving al-Qaeda out of its former strongholds but have long had cool relations with the Shiite-led government. Targeted by al-Qaeda, Sahwa members are also subject to detention by the government, raising persecution fears among the paramilitary groups. Dozens of Sawha members, who have been warned by the government they have no immunity from the law, have been arrested in recent months. [>thenews.com.pk]
---
5.10.09 Mortar shell kills 14 at Mogadishu mosque
MOGADISHU, Somalia (AFP) May 11 - A mortar shell has hit a mosque in Somalia's capital, killing at least 14 people and raising the toll from days of clashes between Islamist militants and government forces to 39, witnesses say. "The mortar shell struck at the gate of the mosque. I counted about 14 people who died instantly and 10 others were wounded," Hassan Abdifatah, a worshipper at the mosque in southern Mogadishu said. Several other witnesses confirmed the attack. [More>>news.com.au]
---
5.10.09 Billionaire Branson joins hunger strike
May 10 - Billionaire Virgin boss Richard Branson is on a hunger strike. He began the three-day  fast after actress Mia Farrow, ailing after almost two weeks without food, asked him to take over her protest to show solidarity with people in Sudan's Darfur region. More than a dozen aid agencies have been expelled from the region. The British entrepreneur said he was "honoured" to take up the cause. "This is the first time I've deprived my stomach to get political change," he told Entertainment Weekly. "I'm a great believer in doing everything once in life. So it'll be interesting to see how one can cope. She said that if they haven't found anybody else to take over after three days they might extend it, so I'm hoping they get somebody else."

On the first evening, he admitted he was feeling the effects of no food. "... I certainly could do with a decent meal already," he said. "I just had a couple games of chess with somebody who doesn't normally beat me, and he beat me both times. I've been walking around and expending lots of energy - all the things I shouldn't be doing. I'm trying not to be grumpy with friends. That's the key thing. And remembering what we're doing it for: There are people starving as a result of the government's decision to expel the aid agencies. And in four-day's time, I'll have a big meal whereas people in Darfur won't. Branson said the hunger strike would continue to be handed from person to person. "We cannot stand and watch as 1 million people suffer. We all need to stand up and demand that international aid is restored and that the people of Darfur are protected and given the chance to live in peace," he said. [More>>news.com.au]
---
---
*Visitor statistics on maravot.com from 1&1. com. 46,153 page views in May 2007; monthly visitors in 2008 range between 40,000-45,0000..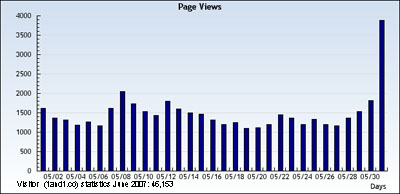 Privacy Policy: We do not store any personal data from you. We have no way of knowing any vital information about you — not even your name. Third-party distribution: We do not distribute information about your site usage to any third party. We are not responsible for the content of links from our site. Usage data: supplied by our Web Hosting service, 1and1.com, which consists of usage reports, such as page views / impressions and web pages visited, visitors' servers and geographical data (ISP's and country of origin).

---
Launched: 10.25.04 / 11.02.04 – | — |
Updated: 5.10.09; 5.11.09; 5.12.09; 5.13.09; 5.14.09; 5.15.09
Copyright © 1981-2009 Maravot. All rights reserved
Copyright © 1981-2009 Mel Copeland. All rights reserved
Background: tile from Cicero's villa (Marcus Tullius Cicero 106 B.C. - 43 B.C.)