News Headlines & Trends
---
4.24.09 'UK economy shrinks at fastest rate for 30 years
April 24 - The economy contracted by 1.9 percent in the first three months of the year, at the fastest rate since 1979, when Margaret Thatcher came to power, as the country sank further into recession, official figures showed this morning. The dramatic fall in GDP, the total value of all goods and services produced by a country, is far higher than the 1.6 percent contraction predicted by Alistair Darling in the Budget. The Chancellor has been widely derided for the economic predictions he gave on Wednesday, which also forecast that the UK economy would, after shrinking by 3.5 percent in 2009, begin to recover towards the end of the year and grow by 1.25 percent over 2010. In contrast, the International Monetary Fund said that it expected the UK economy to shrink by 4.1 percent this year and for the slowdown to continue into 2010, when GDP will contract by 0.4 percent. [More>>timesonline.co.uk]
---
4.24.09 Spain's jobless rate soars to 17%
April 24 - Spain's unemployment rate hit 17.4% at the end of March, figures have shown, with the jobless total now having doubled over the past 12 months. In the past year, two million people have lost their jobs taking the total out of work to just over four million. The Bank of Spain recently predicted the jobless rate would reach 19.4% in 2010, as the recession took hold. "It is a terrible figure," Octavio Granado, secretary of state for social security told state television. [More>>bbc.co.uk]
---
4.24.09 2 Japanese auto suppliers apply for US aid
TOKYO, April 24 - Two Japanese auto parts makers have applied for the US government's $5 billion financial aid package to secure their account receivables to struggling US automakers, industry sources said Friday. The two manufacturers are Yazaki Corp, a Tokyo-based auto parts maker, and Yokohama-based Yorozu Corp, the sources said, adding several other domestic auto suppliers are also considering applying for the program.

The US scheme is aimed at shielding auto suppliers from financial damage in the event of Chapter 11 bankruptcy filings by General Motors Corp. and Chrysler LLC, by guaranteeing their account receivables to the two US automakers with up to $5 billion in public funds. In order to be entitled for the guarantee, auto suppliers need to pay a 2% portion of their total account receivables to the two carmakers. Yazaki supplies GM and Chrysler with wire harnesses and indicators, with annual sales of around 100 billion yen in the business. Yorozu, which supplies GM with suspension parts with annual sales of about 20 billion yen, applied for its account receivables to GM, they added. [>japantoday.com]
---
4.24.09 Treasury lends $2b more to General Motors
WASHINGTON, April 24 - The Treasury Department says it has provided General Motors Corp. with another $2 billion in federal loans as the giant automaker struggles to restructure. The Treasury said that the payment was made to GM on Wednesday and provides working capital to the company. A government report revealed earlier this week that the Treasury was prepared to provide GM with up to $5 billion more in federal loans and Chrysler with up to $500 million more in bailout support as they race against deadlines to restructure. GM has until June 1 to complete restructuring plans that satisfy the government's auto task force, while Chrysler has until April 30. [More>>cbsnews.com]
---
4.24.09 Pakistan acts on US carrot and stick policy
WASHINGTON, April 24 - Word from the White House that Washington's multi-billion dollar largesse to Islamabad is "directly related to military security and the ability to confront extremists" had an immediate salutary effect on Friday with Pakistan announcing its willingness to take on Taliban and the extremists mysteriously withdrawing from Buner district north of Islamabad. The anger and agitation in Washington over Pakistan's abject and inexplicable ''capitulation'' to Talibanist forces rippled through cables, phone calls, memos, briefings, and hearings on Wednesday and Thursday.

But the most authoritative word on the subject came from White House spokesman Robert Gibbs, who said the matter was deemed so serious that President Obama was personally involved in taking stock of the situation. 'The news over the past several days is very disturbing. You know that this President has called attention to the deterioration in this region for quite some time. We're extremely concerned about the situation and it's something that takes a lot of the President's time,"' Gibbs said at a White House briefing, endorsing Secretary of State Hillary Clinton's "candid" remarks on the subject. [More>>timesofindia.indiatimes.com; See also:

indianexpress.com, April 24, "Pakistani Taliban say they're withdrawing from Buner" : A Pakistani Taliban commander has ordered his men to withdraw from Buner district, a spokesman said on Friday, amid mounting alarm in the United States and Islamabad over the militants' creeping advance. Taliban spokesman Muslim Khan said there were around 100 fighters in Buner, a district just 100 km (60 miles) from Islamabad, and less than five hours drive from the capital. "Our leader has ordered that Taliban should immediately be called back from Buner," Khan said. Khan belongs to faction led by Taliban commander Fazlullah, whose stronghold is in the neighboring Swat valley where the government has caved in to militants' demands for the imposition of Islamic law...Khan was quoted in the past week as saying al-Qaeda would be given refuge in lands under Taliban control...
---
4.24.09 60 die in deadliest Iraq bombing since June
BAGHDAD (Reuters) April 24 - In a second day of major bloodshed, two suicide bombers wearing explosive vests blew themselves up at the gates of a Shia Muslim shrine in Baghdad today. Iraqi police said 60 people were dead. The attack was the deadliest single incident in Iraq since 63 people died in a truck bomb blast in Baghdad on June 17 last year, and came amid growing concerns that a recent drop in violence might turn out to have been just a temporary lull. At least 125 people were wounded in the apparently coordinated blasts at the Imam Moussa al-Kadhim shrine in the Shi'ite neighbourhood of Kadhimiya, police said.

Many of the dead and wounded were Iranian Shi'ite pilgrims. Police said the attackers approached two different gates to the shrine, which has been a frequent target in the past. One of the bombers detonated the explosives just inside a courtyard of the shrine, which contains the tombs of two important holy men, or imams. The blasts on the Muslim holy day followed two suicide bombs on Thursday, one in Baghdad and the other in the northeastern province of Diyala, in which at least 89 people died. [More>>independent.co.uk]
---
4.24.09 'World leaders must drop their slogans'
April 24 - The international community has to "stop speaking in slogans" if it really wants to help the new Israeli government work toward a solution to the Palestinian conflict and help bring stability to the Middle East, Foreign Minister Avigdor Lieberman told The Jerusalem Post on Thursday, in his first interview with an Israeli newspaper since taking the job. "Over the last two weeks I've had many conversations with my colleagues around the world," he said. "Just today, I saw the political adviser to German Chancellor Angela Merkel, the Chinese foreign minister and the Czech prime minister. And everybody, you know, speaks with you like you're in a campaign: Occupation, settlements, settlers..."

Slogans like these, and others Lieberman cited, such as "land for peace" and "two-state solution," were both overly simplistic and ignored the root causes of the ongoing conflict, he said. The fact was, said the Israel Beiteinu leader, that the Palestinian issue was "deadlocked" despite the best efforts of a series of dovish Israeli governments. "Israel has proved its good intentions, our desire for peace," he said. The path forward, he said, lay in ensuring security for Israel, an improved economy for the Palestinians, and stability for both. [More>>jpost.com; See related story,

haaretz.com, April 24, "Egypt MP: Lieberman not welcome in Cairo unless he apologizes" : ...Lieberman sparked outrage in Egypt last year when he criticized its president, Hosni Mubarak, in a speech before the Knesset, for his refusal to make an official state visit to Israel. During his speech, Lieberman said the Egyptian leader could "go to hell."
---
4.24.09 New, deadly swine flu hits Mexico, may spread
MEXICO CITY (Reuters) April 24 - A deadly strain of swine flu never seen before has broken out in Mexico, killing at least 16 people and raising fears it is spreading across North America. The World Health Organization said it was concerned about what it called 800 "influenza-like" cases in Mexico, and also about a confirmed outbreak of a new strain of swine flu in the United States. Mexico canceled classes for millions of children in its sprawling capital city and surrounding areas on Friday after authorities noticed a higher number of deaths involving flu-like illness than normal in recent weeks.

"It is a virus that mutated from pigs and then at some point was transmitted to humans," Health Minister Jose Angel Cordova told the Televisa network. He linked the disease in Mexico to a new kind of swine flu that struck seven people in California and Texas. The US Centers for Disease Control and Prevention said the virus in the United States was a never-before-seen mixture of viruses typical among pigs, birds and humans. All seven American patients have recovered. [More>>thestar.com.my]
---
4.24.09 'Climate change' forces Eskimos to abandon village
April 24 - The indigenous people of Alaska have stood firm against some of the most extreme weather conditions on Earth for thousands of years. But now, flooding blamed on climate change is forcing at least one Eskimo village to move to safer ground. Authorities have ordered about 340 residents of the tiny coastal village of Newtok to move to new homes 9 miles away, up the Ninglick River. The village, home to indigenous Yup'ik Eskimos, is the first of possibly scores of threatened Alaskan communities that could be abandoned. Warming temperatures are melting coastal ice shelves and frozen sub-soils, which act as natural barriers to protect the village against summer deluges from ocean storm surges.

..The US Army Corps of Engineers has estimated that moving Newtok could cost $130 million. Twenty-six other Alaskan villages are in immediate danger, with an additional 60 considered under threat in the next decade, according to the corps. The village crisis is taking place as more than 400 indigenous people from 80 nations gather 500 miles (800 kilometers) away in Anchorage, Alaska, at the first Indigenous Peoples' Global Summit on Climate Change. The conference aimed to address global issues effecting indigenous communities like the Yup'ik Eskimos. The five-day summit also hoped to raise global awareness about the crisis facing these indigenous communities and to help them speak with a more unified voice, said Patricia Cochran, chairwoman of the Inuit Circumpolar Council, which hosted the event. [Full story>>cnn.com]
---
4.23.09 Rice 'approved torture methods'
April 23 - Condoleezza Rice, the former US secretary of state, approved the use of torture methods such as waterboarding as early as 2002, a new report says. A US senate intelligence committee report said on Wednesday that Rice, then national security adviser, verbally gave the green light to the CIA in July 2002 to use waterboarding on Abu Zubaydah, an al-Qaeda suspect held in Guantanamo Bay in Cuba. A few days later on August 1, 2002, the then US justice department approved the use of waterboarding in a secret memo, the report said.

Abu Zubaydah underwent waterboarding at least 83 times in August 2002, according to memos from the administration of George Bush released earlier this week. The news comes as the senate armed services committee had its own report declassified earlier this week, in which it said senior US officials in the Bush administration were involved in the approval of the use of torture on so-called terror suspects. [More>>aljazeera.net]
---
4.23.09 Government watchdogs warn of lack of oversight for trillions in president's new spending programs
April 23 - The Government Accountability Office today issued a report on the $787 billion stimulus bill called "RECOVERY ACT: As Initial Implementation Unfolds in States and Localities, Continued Attention to Accountability Issues Is Essential." The GAO study asserts that officials from most of the states surveyed "expressed concerns regarding the lack of Recovery Act funding provided for accountability and oversight. Due to fiscal constraints, many states reported significant declines in the number of oversight staff — limiting their ability to ensure proper implementation and management of Recovery Act funds." [More>>abcnews.com]
---
4.23.09 Jobless claims jump 640k; total tops 6.1m
WAShINGTON, April 23 - New jobless claims rose more than expected last week, while the number of workers continuing to filing claims for unemployment benefits topped 6.1 million. Both figures are fresh evidence layoffs persist amid a weak job market that is not expected to rebound anytime soon. The Labor Department said Thursday that initial claims for unemployment compensation rose to a seasonally adjusted 640,000, up from a revised 613,000 the previous week. That was slightly above analysts' expectations of 635,000. [More>>cbsnews.com]
---
4.23.09 UK: Breast cancer death rate tumbles to a record low
April 23 - It is difficult to know whether to laugh or cry at the latest figures relating to breast cancer. Britain's cancer community was celebrating yesterday after the charity Cancer Research UK reported that deaths from the disease have fallen to a record low. In 1971, the first year statistics were collected, 12,472 women died from the disease and over the next 18 years the death toll steadily mounted, peaking at 15,625 in 1989. Since then the death rate has plummeted bringing the number of women dying below 12,000 for the first time in 2007, to 11,990. More than three out of four women diagnosed with breast cancer survive more than five years today, compared with half in the early 1970s.

That is undoubtedly good news. But there is another, less happy side to the story. While the death rate has fallen, the incidence of the disease has soared, doubling since 1971 to over 45,000 cases a year. Breast cancer is now Britain's most common cancer, even though it principally affects only one sex (there are a few hundred male cases per year). The fall in the death rate is all the more remarkable because it has occurred at a time when the incidence of the disease has risen dramatically. But while that is testament to medicine's success, the increasing incidence of the disease is evidence of its failure. [More>>independent.co.uk]
---
4.23.09 Pakistan moves troops as Taliban invade another district
ISLAMABAD, Pakistan (DPA) April 23 - Taliban militants clashed with Pakistani security forces Thursday as they moved into the north-western district of Buneer, said an official, as Western leaders worried over the mounting threat to the Pakistani government. The movement of eight platoons of Frontier Constabulary seems to have failed in blocking Taliban who reportedly have invaded another neighboring district of Shangla. The insurgents fired at the two platoons of paramilitary troops from their positions in the mountains in the Chinglai area of Buneer district as they headed to guard the government buildings in the area.

"One policeman in a police squad escorting the paramilitary troops died and another was injured," said local police official Rasool Khan. "The troops retreated following the attack while the insurgents are still holding their positions on the hilltops." Hundreds of Taliban infiltrated Buneer district from the militancy-plagued Swat valley days after President Asif Ali Zardari signed a peace deal with the Taliban to end a 16-month long conflict in the Swat valley.

As the clashes were taking place in Buneer, more than 30 Taliban fighters entered another district of Shangla, that borders both Swat and Buneer, Geo television reported citing eye-witnesses. However, the local officials in Shangla denied the report. The Taliban expansion is perceived as a direct threat to Islamabad, located only 100 kilometers south-west of Buneer.
"I think that the Pakistani government is basically abdicating to the Taliban and to the extremists," US Foreign Secretary Hilary Clinton told the House Committee on Foreign Affairs on Wednesday. "We cannot underscore the seriousness of the existential threat posed to the state of Pakistan by the continuing advances, now within hours, of Islamabad," she said. According to her, the militants are "seeking the overthrow of the Pakistani state." [>khaleejtimes.com; See related stories:

indianexpress.com, April 23, "Gilani faces death threats from Pakistan terror groups" : ISLAMABAD - Pakistan Prime Minister Yousuf Raza Gilani faced a serious threat from three terror groups that could target him in suicide bombings in the federal capital, in Lahore or in his hometown of Multan, intelligence agencies have warned. A report sent by the intelligence agencies to the government, including the Interior Ministry, was quoted by The News daily as saying that the premier could be targeted in a suicide bombing or a guerrilla attack similar to the one on the visiting Sri Lankan cricket team on March 3 in Lahore. "Tribal area-based terrorists are planning to target Prime Minister Yousuf Raza Gilani through a combination of explosion and a suicide attack, or guerrilla attack similar to the (ones on the) Sri Lankan cricket team and the Manawan police training centre," the report said. "Three teams of terrorists are reported to be working simultaneously at Islamabad, Lahore and Multan," it added...

thenews.com.pk, April 23, "No more promises, go after militants: Clinton asks Pakistan" : WASHINGTON - Pakistan is beginning to recognize the severity of the threat posed by an extremist insurgency that is encroaching on major urban areas, Secretary of State Hillary Rodham Clinton said Thursday. Clinton told a House of Representatives Appropriations subcommittee that the Obama administration is working to convince the Pakistani government that its traditional focus on India as a threat has to shift to the Islamic extremists. "Changing paradigms and mindsets is not easy, but I do believe there is an increasing awareness of not just the Pakistani government but the Pakistani people that this insurgency coming closer and closer to major cities does pose such a threat," the secretary of state said.

On Wednesday, Clinton told another House committee that in her view the Pakistani government is "basically abdicating to the Taliban and the extremists." She said Thursday that the administration's special envoy for Pakistan and Afghanistan, Richard Holbrooke, has had "painful, specific" conversations with a wide range of Pakistanis about the need to act more effectively against the insurgents. "There is a significant opportunity here for us working in collaboration with the Pakistani government to help them get the support they need to make that mindset change and act more vigorously against this threat," she said, adding: "There are no promises. They have to do it."...

japantoday.com (AP) April 23, "Militants burn NATO fuel tankers in Pakistan" : ISLAMABAD - Dozens of militants armed with guns and gasoline bombs attacked a truck terminal in northwestern Pakistan on Thursday and burned five tanker trucks carrying fuel to NATO troops in Afghanistan, police said. NATO and US commanders are seeking alternative transport routes into landlocked Afghanistan amid mounting assaults on the critical main supply line through Pakistan. Militants attacked the truck depot near the city of Peshawar before dawn, hurling gasoline bombs which set fire to the five tankers, said Abdul Khan, a local police official.

Security guards fled and the assailants made their escape before police arrived, Khan said. Several truckers drove their vehicles out of the terminal to save them from the flames, which were later doused by firefighters, he said. NATO and the US military insist that their losses on the transport route remain minimal and have had no impact on their expanding operations in Afghanistan. Most of the fuel for U.S. troops in Afghanistan comes from Central Asia...

Maravot News, article 4.21.09 Taliban in Pakistani ex-resort: "Welcome, Osama!';

Maravot News 1.20.09 article 01.18.09 Al-Qaeda threatens German soldiers in web video: Al-Qaeda issued an Internet threat against German soldiers at the weekend, citing their involvement in fighting the Taliban in Afghanistan...Whoever tried to make a distinction between al-Qaeda and the Taliban had not understood his enemy, he added.
---
4.23.09 Two militants killed in raid in central Afghanistan
KABUL, Afghanistan, April 23 - US forces say international and Afghan troops have killed two militants in an overnight raid in central Afghanistan. The US statement released on Thursday said forces with the Afghan army and the US-led international coalition were attempting to capture Taliban militants that intelligence sources said were camping in Tarin Kowt district of Uruzgan province. The statement said two armed men threatened the troops, who shot and killed the militants. No women or children were present and no Afghan or international forces were injured. The statement said in a separate incident Afghan and coalition troops captured three suspected militants in a raid in eastern Logar province. No casualties were reported in that incident. [>gulfnews.com]
---
4.23.09 At least 75 people are killed in two attacks in Iraq
BAGHDAD, April 23 - At least 75 people were killed and 120 wounded in two explosions in Iraq on Thursday that shook a quiet residential Baghdad neighborhood and a restive city north of the capital where Iranian tourists were attacked. Also on Thursday, a major leader of the Sunni insurgency, Abu Omar al-Baghdadi, was captured in Baghdad, according to Major General Qassim Atta, the Army official responsible for security in the capital. Mr. Baghdadi is the leader of the Islamic State of Iraq, an umbrella group of Sunni militant forces believed to include al-Qaeda in Mesopotamia.

The overall level of violence in Iraq is at its lowest since the American invasion in 2003. But a series of recent attacks, highly organized and carried out under tight security, have raised worries that Baathist and jihadi militants are regrouping into a smaller but still lethal insurgency seeking to reassert itself as American troops reduce their presence on the ground in advance of their full withdrawal in 2011. [More>>nytimes.com]
---
4.23.09 North Korea is fully fledged nuclear power, experts agree
April 23 - North Korea has become a fully fledged nuclear power, with the capacity to wipe out cities in Japan and South Korea. The uncomfortable truth has been confirmed by a number of experts, from the head of the International Atomic Energy Agency to the US Defence Secretary. According to intelligence briefings shown to academic experts, North Korea has successfully miniaturized nuclear warheads that could be launched on medium-range missiles. This puts it ahead of Iran in the race for nuclear attack capability, and significantly alters the balance of power between North Korea's large but poorly equipped military and the South Korean and US forces ranged against it. "North Korea has nuclear weapons, which is a matter of fact," the head of the IAEA, Mohamed ElBaradei, said this week. "I don't like to accept any country as a nuclear weapon state. We have to face reality." [More>>timesonline.co.uk]
---
4.23.09 No pirate money laundered n our banks, says Dubai
DUBAI, April 23 - An Emirati newspaper says Dubai's deputy police chief has denied a report that pirates have laundered their ransom money through banks in the Gulf City-state. Wednesday's report in Al Emarat Al Youm newspaper has quoted Maj. Gen. Khamis Mattar al-Mazeina as saying Dubai has strict laws to prevent money laundering. The Arabic language newspaper has close ties to Dubai's ruling family. Al-Mazeina was responding to Tuesday's report in the British newspaper The Independent that quoted investigators hired by the shipping industry as saying organized piracy syndicates operating in Dubai and other Gulf states have laundered large amounts of ransom money. Piracy has spiked in the waters off the lawless Somali coast. [>timesofindia.indiatimes.com]
---
4.23.09 Mubarak to Hezbollah: Beware of Egypt's wrath
April 23 - Egyptian President Hosni Mubarak on Thursday warned the Lebanese militant group Hezbollah, and its suspected allies Iran, that he would not tolerate "the intervention of regional powers that are hostile to peace and that aim to drag the region into the abyss." Speaking out for the first time since Egyptian authorities announced two weeks ago the arrest of 49 Hezbollah agents on suspicion of carrying out hostile operations. The government statement said that the men were looking to destabilize Egypt's general security. Egyptian media later quoted senior officials as saying that it had been Iran that had masterminded the terror attacks against targets in Egypt by Hezbollah operatives. [More>>haaretz.com]
---
4.23.09 Turkey and Armenia agree on a comprehensive framework for normalization of relations
ANKARA, Turkey, April 23 - Turkey and Armenia have agreed on a comprehensive framework for the normalization of their bilateral relations in a mutually satisfactory manner, Turkish Foreign Ministry said on Wednesday. A statement by the Foreign Ministry said, "Turkey and Armenia together with Switzerland as mediator, have been working intensively with a view to normalizing their bilateral relations and developing them in a spirit of a good-neighborliness, and mutual respect, and thus to promoting peace, security and stability in the whole region."

"The two parties have achieved tangible progress and mutual understanding in this process and they have agreed on a comprehensive framework for the normalization of their bilateral relations in a mutually satisfactory manner. In this context, a road-map has been identified," it said. This agreed basis provides a positive prospect for the on-going process, the statement added. [>turkishpress.com]
---
4.23.09 New carvings shed light on pharaoh's dark age
CAIRO (AFP) April 23 - Egyptian archaeologists have unearthed carvings at four ancient temples in the Sinai Peninsula which they hope will shed fresh light on one of the most obscure periods of Pharaonic history. Rare inscriptions on the temples' walls relate to the Hyksos — Asiatic peoples who invaded Egypt during the 12th dynasty (1991-1802 BC) and ruled for more than a century from their Nile Delta capital, Avaris. "There is a carving of King Ramses I standing before the god Set, who was worshipped by the Hyksos. This is the first of its kind," archaeologist Mohammed Abdel Maksud, who heads the mission, told AFP on Tuesday. The Hyksos, whose name means "foreign rulers" in ancient Greek, were so hated that when Egyptians eventually returned to power, they destroyed all Hyksos monuments and records. The find, including inscriptions relating to an array of other gods and kings, "opens the door to many secrets of that time and could help rewrite Sinai's history," Maksud said. [More>>alarabiya.net; See also haaretz.com, April 23, "3,000-year-old arms storrehouse uncovered in Sinai."]
---
4.22.09 Executive at Freddie Mac is found dead
April 22 - David B. Kellermann, the acting chief financial officer of the troubled mortgage giant Freddie Mac, was found dead Wednesday morning at his home in Northern Virginia, the police said. The executive apparently committed suicide by hanging himself, according to people with knowledge of the investigation. A spokeswoman for the Fairfax County police said there were no signs of foul play.

...Mr. Kellermann, 41, had been Freddie Mac's chief financial officer since September. He was named to the position when the federal government seized the company and ousted its top executives last fall. In recent weeks, according to neighbors and company officials, Mr. Kellermann had received a bonus of about $800,000. Such bonuses — which totaled $210 million for executives at Freddie Mac and its sibling company Fannie Mae — caused some controversy earlier this month, and some lawmakers called for them to be rescinded. According to neighbors, Mr. Kellermann hired a private security firm after reporters came to his house to ask about his bonus..

...Before becoming chief financial officer, Mr. Kellermann had served as senior vice president, corporate controller and principal accounting officer. He was a graduate of the University of Michigan and a volunteer board member of the D.C. Coalition for the Homeless. Regulators with the Securities and Exchange Commission and Department of Justice have been interviewing Freddie Mac officials about possible accounting violations and other topics, the company disclosed in March. It is not known if Mr. Kellermann was one of those interviewed.

The company recently disclosed in a public filing that in September it received a federal grand jury subpoena seeking documents concerning the company's accounting, disclosure and corporate-governance practices. The investigation is being overseen by the United States Attorney's Office for the Eastern District of Virginia. Freddie Mac has said it was "cooperating fully in these matters."[Full story>>nytimes.com]
---
4.22.09 Computers worldwide hit by cyber hackers
April 22 - A small group of cyber criminals have succeeded in hacking into almost two million computers around the world — including British Government machines. The global network of 1.9m computers infected with malicious software, or malware, was tracked to a cyber gang of six people based in the Ukraine. The malware was remotely controlled by the gang, allowing them to read emails, copy files, record keystrokes, send spam and make screenshots, security firm Finjan said. The criminal network of remotely controlled computers, known as a botnet, was the largest ever discovered, Finjan said. Its server has now been shut down.

The botnet started operating in February, infecting consumer, corporate, and government machines. By far the highest number of infected machines was found in the US, with 45% of the total while the UK's 115,000 affected machines accounted for 6% of the total. The malware infects computers running the Windows XP operating system using vulnerabilities in web browsers such as Internet Explorer and Firefox. It installs itself on computers when a legitimate but compromised website is visited; computer users do not have to click on a specific link or download any programmes for the malware to take affect. [More>>news.sky.com]
---
4.22.09 Hamas denies killing, maiming dozens of opponents in Gaza
April 22 - Hamas has dismissed allegations that it systematically killed and maimed dozens of opponents during and after Operation Cast Lead in the Gaza Strip, the news Website ANI reported on Wednesday. In a report released earlier this week, the Human Rights Watch accused Hamas of directing its gunmen to eliminate political opponents and suspected collaborators under the cover of Israel's military offensive in Gaza. According to the report, 32 people have been killed and dozens in such more wounded since December under these attacks. Hamas spokesman Fawzi Barhoum decried the rights group's report "hasty and incomplete", as it did not cite "the Israeli occupation as the real reason for the chaos in Gaza during the war." [More>>haaretz.com]
---
4.22.09 UK police release al-Qaeda suspects
April 22 - British police have released all 12 men arrested in raids earlier this month over a suspected al-Qaeda plot. Officers did not charge the men, 11 Pakistanis and one Briton, who were seized on April 8 in a raid that had been brought forward due to a security breach. The arrests, which took place in northwest England, were rushed through after Bob Quick, Britain's senior counter-terrorism officer, was photographed holding notes on the operation. The security blunder led him to resign a day later. Gordon Brown, Britain's prime minister, said at the time of the raids that police had foiled "a very big terrorist plot." The men, 10 of whom held student visas, were arrested in raids in Manchester, Liverpool and Clitheroe in Lancashire. But prosecutors said there was insufficient evidence to justify holding them any longer or bring charges against them. [More>>aljazeera.net]
---
4.22.09 Four bomb plot suspects go on trial in Germany
DUSSELDORF, Germany (Reuters) April 22 - Four men on trial in a German court planned a series of bomb attacks on US targets in Germany designed to be as destructive as the Sept. 11 strikes in the United States, prosecutors said on Wednesday. The prosecutors told the court on the opening day of the trial that the men, three Germans and one Turkish national, had planned to use car bombs to attack three big targets in Germany, at least two of them American. The defendants had identified discos and airports, even the US Ramstein air base, as possible targets, prosecutors said. "The objective was to destroy as many American targets and Americans to achieve the scale of the attacks of Sept. 11 in the United States," Federal Prosecutor Volker Brinkmann said. [More>>khaleejtimes.com]
---
4.22.09 Two Afghan suspects arrested in Kurram Agency
PESHAWAR, Pakistan, April 22 - Security agencies have arrested two Afghan nationals from Kurram Agency in connection with suicide attack on senior provincial minister Bashir Ahmed Bilor and other terror activities. The suspects, aged between 20 and 30, have been identified as Afghan nations. They hail from Lughman province of Afghanistan. According to the security agencies, they have admitted to carrying out several terror acts in different parts of NWPF. Both suspects also admitted that they were involved in planning of suicide attack on NWP senior minister Bashir Bilor. [>thenews.com.pk]
---
4.21.09 Obama open to prosecutions in interrrogation abuses
WASHINGTON, April 21 - President Obama on Tuesday left open the door to creating a bipartisan commission that would investigate the Bush administration's use of harsh interrogation techniques on terrorism suspects, and he did not rule out taking action against the lawyers who fashioned the legal guidelines for the interrogations. Mr. Obama, who has been saying that the nation should look ahead rather than focusing on the past, said he is "not suggesting" that a commission be established. But in response to questions from reporters in the Oval Office, he said, "if and when there needs to be a further accounting," he hoped that Congress would examine ways to obtain one "in a bipartisan fashion," from people who are independent and therefore can build credibility with the public.

Mr. Obama said once again that he does not favor prosecuting C.I.A. operatives who used interrogation techniques that he has since banned. But as for lawyers or others who drew up the former policies allowing such techniques, he said it would be up to his attorney general to decide what to do, adding, "I don't want to prejudge that." On Monday, aides to Mr. Obama said they were not ruling out legal sanctions against the Bush lawyers who developed the legal basis for the use of the techniques. [More>>nytimes.com]
---
4.21.09 Taliban in Pakistani ex-resort: "Welcome, Osama!'
MINGORA, Pakistan (AP) April 21 - Pakistan was trying to end bloodshed when it let the idyllic Swat Valley fall under Islamic law last week. Instead, it has emboldened the Taliban and prompted an invitation — however improbable — for Osama bin Laden. The local spokesman for the Taliban, which control the valley, told The Associated Press he'd welcome militants bent on battling US troops and their Arab allies if they want to settle there. "Osama can come here. Sure, like a brother they can stay anywhere they want," Muslim Khan said in a two-hour interview Friday, his first with a foreign journalist since Islamic law was imposed. "Yes, we will help them and protect them."

Khan spoke in halting English he learned during four years painting houses in the US before returning to Swat in 2002. He averted his eyes as he spoke to a female journalist, in line with his strict understanding of Islam. Pakistan reacted with alarm to his comments, saying it would never let him shelter the likes of bin Laden. "We would have to go for the military operation. We would have to apply force again," said Information Minister Qamar Zaman Kaira. "We simply condemn this. We are fighting this war against al-Qaeda and the Taliban."

But it is far from clear that the government has the means to do much of anything in the Swat Valley. It agreed to Islamic law in the region — drawing international condemnation — after trying and failing to defeat the Taliban in fighting marked by brutal beheadings that killed more than 850 people over two years. "We lost the war. We negotiated from a position of weakness," said Afrasiab Khattak, a leader of the Awami National Party, which governs the province that includes Swat. He said the region's police force is too underpaid, undertrained and underequipped to take on the militants. [More>>arabtimesonline.com; See related story,

khaleejtimes.com, April 21, "Pakistan boosts police pay as violence grows" : PESHAWAR, Pakistan - Authorities in Pakistan's violence-plagued North West Frontier Province boosted police salaries by about 30 percent on Tuesday in recognition of the danger they face from an intensifying Taliban insurgency. Violence has surged across Pakistan since 2007, especially in the country's northwest, raising fears that the nuclear-armed US ally, whose cooperation is vital to efforts to stabilise Afghanistan, could become a failed state...
---
4.21.09 Cyber spies steal fighter jet data
April 21 - Online Attack Breaches Fighter Program, Air Traffic Control System; China Suspected As Possible Source. A series of online spy attacks breached a $300 billion Pentagon fighter jet program and the Air Force's air traffic control system in recent months, according to a Wall Street Journal report Tuesday. The computer spies copied several terabytes of data from the Joint Strike Fighter project, the most expensive in Defense Department history, pertaining to the electronics and design systems of the aircraft, several current and former officials told the Journal.

Officials said the separate incursion into the air traffic control system could allow intruders to interfere with military aircraft. The source of the espionage appears to be China, according to a former official, though the origin of any attacks could be masked. Chinese officials deny any involvement and say US suspicion is the result of a "Cold War mentality." Similar attacks have become more frequent in recent months, underscoring the increasingly heated battles taking place in cyberspace. Earlier this month, the Wall Street Journal reported that Russian and Chinese spies gained access to the US electrical grid, inserting software that could disrupt the system. [More>>cbsnews.com]
---
4.21.09 Pirates: the $80m Gulf connection
April 21 - Crime syndicates laundering vast sums taken in ransom from ships and their crews hijacked in Horn of Africa. Organised piracy syndicates operating in Dubai and other Gulf states are laundering vast sums of money taken in ransom from vessels hijacked off the Horn of Africa. Investigators hired by the shipping industry have told The Independent that around $80m (£56m) has been paid out in the past year alone — far more than has previously been admitted. But while some of this money has ended up in the pirate havens of Somalia, millions have been laundered through bank accounts in the United Arab Emirates and other parts of the Middle East. The so-called "godfathers" of the illicit operations, according to investigators, include businessmen from Somalia and the Middle East, as well as other nationalities on the Indian sub-continent. There have also been reports that some of the money from piracy ransoms has gone to Islamist militants. [More>>independent.co.uk]
---
4.21.09 Turkish police detain 37 in anti-Qaeda raids
ANKARA, Turkey, April 21 - Suspected Qaeda cell houses raided in five provinces. Turkish anti-terror police rounded up 37 people with suspected links to the al-Qaeda network in operations across southern Turkey Tuesday, Anatolia news agency reported. In simultaneous raids early in the morning, the security forces targeted suspected al-Qaeda cell houses, detaining 17 people in five provinces, the agency said. Police also seized guns and computers from suspected al-Qaeda cell houses. Public television TRT aired a video tape seized in the operation, said to be shot in Afghanistan, in which militants demonstrate the making of a bomb. One of those detained was believed to have links with a suspected al-Qaeda cell in the southern province of Gaziantep, which engaged police in a deadly firefight last year.

Six of those detained in Gaziantep province had received training in Afghanistan, Anatolian said. A Turkish cell of al-Qaeda was held responsible for truck bombs against two synagogues, the British consulate and a British bank in Istanbul in 2003, which killed 63 people, including the British consul, and left hundreds injured. Seven men were jailed for life in 2007 over the bombings, among them a Syrian national who masterminded and financed the attacks. In January, a suspected al-Qaeda militant was killed and three others captured in a shootout with the police in Istanbul after the group attempted to rob a post office. A Turkish newspaper reported in March that Ankara had received US intelligence that al-Qaeda militants could be plotting attacks on foreign targets in Turkey. [>alarabiya.net]
---
4.21.09 Churches unite against Islamic school in Camden
April 22 - Four Christian churches have joined in an unprecedented attack on the Islamic faith in an attempt to stop a Muslim school being built. Calling the religion an ideology driven by world domination, a submission to the Land and Environment Court yesterday said a proposed school at Camden was a "beachhead" in Islamic takeover of southwestern Sydney, threatening the Australian way of life. The attack, co-signed by local heads of Baptist, Anglican, Presbyterian and the Evangelical Sisters of Mary churches, formed the spearhead of Camden City Council's defence to a court challenge over its rejection of a development application for the Muslim school.

"Islam is not simply a private religion. It is driven by a powerful political agenda, it is an ideology with a plan for world domination," the letter said. "The Quranic Society application to establish an Islamic school in Camden is typical of a regularly repeated pattern to form a beachhead in an area for the development of a sub-culture which, for the most part, regards its own legal system as superior to the current Australian law." [More>>news.com.au]
---
4.21.09 Hardline Jordanian Muslims urge Pope to apologize
AMMAN, Jordan (AP) April 21 - Jordan's powerful Muslim Brotherhood is urging Pope Benedict XVI to apologize ahead of his Mideast tour for his previous remarks about the Prophet Muhammad that many Muslims interpreted as insulting their faith. Muslim Brotherhood spokesman Jamil Abu-Bakr said Tuesday the pope must "clear the air" before visiting Jordan as part of a May 8-15 tour to the region. n September 2006, Benedict quoted a Medieval text that characterized some of the teachings of the Prophet Muhammad as "evil and inhuman." The pope later said he was "deeply sorry" over the reaction to his remarks, and said the passages he quoted did not reflect his own opinion. Abu-Bakr said the remark was insufficient and that a "clear apology" was required. [>thejakartapost.com]
---
4.21.09 Kuwait police open to women but Islamists opposed
KUWAIT (Reuters) April 21 - Raised in a society dominated by men, Hanan wants to prove that Kuwaiti women are just as good as males in serving in the police force. The 19-year-old Kuwaiti is among the first female police officers who recently graduated from academy in the conservative Gulf Arab state where many believe a woman's place is at home. "When people said that women will not be able to work as police officers I wanted to prove to them that women can actually make it," said Sergeant Hanan al-Saybaei. "It was not a childhood dream, but I took it as a challenge." The move is the latest step that the US ally has taken towards greater participation of women in society after granting them the right to vote and run for office in 2005. [More>>khaleejtimes.com]
---
4.21.09 Two Koreas meet briefly in Gaeseong
April 21 - The two Koreas' first government-level meeting in 14 months lasted for about 20 minutes last night in Gaeseong where a South Korean worker is held in custody. "The meeting started at 8:35pm and ended at 8:57pm at the North's office of the Central Special District General Bureau," Unification Ministry spokesman Kim Ho-nyoun told reporters. "We do not know about the outcome of the talks yet, but we insisted on our rights to meet with the detained engineer surnamed Yoo as confirming our citizen's condition and safety is the most important for us."
The brief meeting, proposed by the North last week to "make an important notice related to the operation of the joint industrial park in Gaeseong," took place at the height of tension over its continued military threats against Seoul's plan to join a US-led security campaign. [More>>koreaherald.co.kr]
---
4.21.09 US signs Afghanistan transit deal with Tajikistan: US official
DUSHANBE, Tajikistan (AFP) April 21 - The United States and Tajikistan have agreed a deal on the transit of non-military cargoes for Western operations in Afghanistan, US assistant secretary of state Richard Boucher said Tuesday. [More>>timesofindia.com]
---
4.21.09 'Nearly 100 terrorists sneek into Jammu and Kashmir'
SRINAGAR, India, April 21 - Nearly 100 militants belonging to Lashker-e-Taiba, Jaish-e-Mohammed and Harkat-ul-Mujahideen have managed to slip into Jammu and Kashmir in recent weeks, after which the authorities beefed up security around key installations in the state. The Line of Control in Kupwara and Baramulla along North Kashmir and along Rajouri in Jammu region had witnessed over a dozen infiltration bids in the past three weeks. Official sources said despite engaging terrorists at various places, nearly 80 ultras managed to enter through Shamasbari range into Bandipore area in North Kashmir and hills of Rajouri in Jammu division.

The number of nearly 100 was arrived after various teams ascertained the number of infiltrations that have taken place since March 20 in Gurez, Tangdhar and Kupwara belts of North Kashmir and Rajouri, the sources said, adding, security around important places had been beefed up. One of the terrorists belonging to Harkat-ul-Mujahideen (HuM) was picked up and questioned by a multi-agency team to understand the new strategy of Pakistan's ISI and other terror groups located in Pakistan-occupied-Kashmir (PoK), the sources said, adding, the arrested terrorist hails from North West Frontier Province of Pakistan(NWFP). The Army has come in for criticism and was given evidence of infiltration, the sources said.[>indianexpress.com]
---
4.21.09 Japan stocks tumble on renewed bank fears
TOKYO, April 21 - Japanese stocks tumbled Tuesday, with investors rattled by a blowout in problem loans at a major US bank and an unsettling production outlook for Toyota Motor Corp. The benchmark Nikkei 225 stock average declined 213.42 points, or 2.4%, to 8,711.33 — its lowest closing level in two weeks. The broader Topix fell 2.1% to 830.72.

Overnight on Wall Street, the Dow Jones industrials shed 3.6% on news of mounting bad loans at Bank of America. Investors reverted to worrying about the banking industry again after the bank, while posting a profit in the first quarter, said it was setting aside $13.4 billion to cover losses from souring loans. Japan's biggest bank, Mitsubishi UFJ Financial Group Inc, fell 1% to 491 yen, Sumitomo Mitsui Financial Group Inc was down 1.7% to 2,980 yen, and Mizuho Financial Group Inc slipped 1% to 195 yen. Nomura Holdings Inc, Japan's biggest securities firm, slumped 3.7% to 578 yen. [More>>japantoday.com]
---
4.21.09 Global banking losses to hit $4 trillion
April 21 - The huge losses inflicted on banks across the West by the credit crisis and past, lax lending are set to soar to $4 trillion (£2.75 trillion), the International Monetary Fund (IMF) said today. Confirming massive loss estimates first revealed by The Times two weeks ago, the IMF says that the mounting toll on banks from the worst global recession since the Second World War is leading write-offs from loans to spiral. In an analysis, the fund has sharply increased its estimate of losses on lending first made in the US for a second time, to $2.7 trillion. That is up from an initial forecast of slightly less than $1 trillion and an updated $2.2 trillion estimate released six months ago.

For the first time, the IMF has also produced estimates of likely losses inflicted on banks across key economies from lending originated in Europe and Japan. It now puts likely total losses due to European lending at $1.19 trillion, and those for Japan at a comparatively modest $149 billion. Two thirds of the total $4 trillion in write-offs are set to be made by banking groups, the IMF believes, with the rest affecting insurance groups and other types of financial institution. [More>>timesonline.co.uk]
---
4.20.09 Walkout at UN conference after Iran president calls Israel 'racist'
April 20 - British delegates joined a dramatic diplomatic walkout today when President Ahmadinejad of Iran told a major UN conference against racism that the state of Israel had been founded "on the pretext of Jewish suffering" during the Second World War. Around 20 delegates, including envoys from the UK, France, and Finland stood up and left the room at what was considered an anti-Semitic remark by the Iranian leader, who has repeatedly called for Israel to be wiped off the map.

Nine Western countries including Israel and the United States had already decided to boycott the conference entirely because its draft declaration endorsed the conclusions of an anti-racism conference in South Africa eight years ago in which Islamic nations pushed through a text equating Zionism with racism. Even before the walkout, Mr. Ahmadinejad's speech had been interrupted by three protesters dressed as clowns who where quickly bundled from the vast conference room at the Palais des Nations by guards.

..Australia, Canada, Germany, Italy, the Netherlands, New Zealand and Poland joined the boycott...The major sticking points in the draft final declaration prepared for the current meeting concern its implied criticism of Israel and an attempt by Muslim governments to remove all criticism of Islam, Sharia law, the Prophet Muhammad and other tenets of their faith. [Full story>>timesonline.co.uk; See also:

abcnews.go.com, April 20, "Iran's leader sparks Western walkout at UN meeting" : ...A Jewish student group from France later took credit for causing the disturbance, saying members were trying to convey "the masquerade that this conference represents." Ahmadinejad restarted his talk and delivered a speech that lasted more than a half-hour, saying the United States and Europe had helped establish Israel after World War II at the expense of Palestinians.

"They resorted to military aggression to make an entire nation homeless under the pretext of Jewish suffering," he said. That prompted a walkout by some 40 diplomats from Britain and France and other European countries that had threatened to leave the conference if it descended into anti-Semitism or other rhetoric harshly critical of Israel, which marred the UN's last racism gathering eight years ago in South Africa. The United States and eight other Western countries were already boycotting the event because of concerns about its fairness. Ahmadinejad went on to accuse Israel of being the "most cruel and repressive racist regime."...
---
4.20.09 Wall St. slides as investors doubt banks
NEW YORK, April 20 - Concerns Surrounding Levels Of Bad Debt Outweighs Profits, News Of Oracle Acquiring Sun Microsystems. Investors grew fearful Monday that a recovery by the nation's biggest banks could be endangered by rising levels of bad debt. Stocks fell sharply Monday after Bank of America Corp. said it set aside $13.4 billion to cover bad debts even as it posted earnings that came in ahead of expectations. Other big banks have also put up similar increases in provisions for soured loans as they reported results in recent weeks.

Major market indicators tumbled more than 3 percent, including the Dow Jones industrial average, which fell 250 points. Traders had been looking for some pullback after the Dow Jones industrial average jumped 24 percent from 12-year lows in early March, led largely by a recovery in banking stocks. Renewed worries about the stability of banks appeared to be triggered by news reports that their lending remains tight and that the government may swap its debt in banks for ownership stakes as its $700 billion bailout fund runs down...In afternoon trading, the Dow fell 262.20, or 3.22 percent, to 7,869.13. Broader stock indicators also lost ground. The Standard & Poor's 500 index fell 32.48, or 3.74 percent, to 837.12, and the Nasdaq composite index fell 57.64, or 3.45 percent, to 1,615.43. About 10 stocks fell for every one that rose on the New York Stock Exchange, where volume came to 756.3 million shares. [Full story>>cbsnews.com]
---
4.20.09 Lawsuit against Army Corps over Katrina begins
NEW ORLEANS, April 20 - A groundbreaking civil suit begins in federal court here today to consider claims by property owners that the Army Corps of Engineers amplified the destructive effects of Hurricane Katrina by building a poorly designed navigation channel adjacent to the city. The Mississippi River-Gulf Outlet, a 76-mile-long channel known locally as MR-GO and pronounced "Mister Go," was completed in 1968 and created a straight shot to the Gulf of Mexico from New Orleans. The suit claims that the channel was flawed in its design, construction, and operation, and that those flaws intensified the flood damage to the eastern parts of New Orleans and St. Bernard parish.

If they win, the plaintiffs — a local newscaster, Norman Robinson, and five other people whose homes or businesses were destroyed by the 2005 storm — could pave the way for more than 400,000 other plaintiffs who have also filed claims against the government over Katrina's destruction. The government has historically enjoyed strong legal protection against lawsuits related to collapsing levees. The Flood Control Act of 1928 bars suits against the United States for damages resulting from floods or flood waters, and in January 2008 Federal District Judge Stanwood R. Duval Jr. ruled that the corps was immune in a different lawsuit related directly to the levee and floodwall failures during Katrina in the city's major drainage canals.

This case, however, is different, because MR-GO is a navigation canal, not a flood control project. In March, Judge Duval allowed the suit to go forward, over repeated efforts by the Department of Justice to get him to dismiss it, based largely on a a 1971 case, Graci v. United States, that found there is no immunity for flooding caused by a federal project unrelated to flood control. [More>>nytimes.com]
---
4.20.09 Pakistan attacks militants after bomb; 20 dead
PARACHINAR, Pakistan (Reuters) April 20 - Pakistani jets and helicopter gunships killed 20 militants, residents and a military official said on Monday, in an attack on a Taliban commander who claimed responsibility for a bombing last week. Escalating militant violence has raised fears that nuclear-armed Pakistan, a US ally whose cooperation is vital for efforts to bring stability to Afghanistan, will fail to stop the spread of the Taliban and al-Qaeda.
Pakistani aircraft attacked three camps of Pakistani Taliban commander Hakimullah Mehsud in the Orakzai ethnic Pashtun tribal region, 170 km (100 miles) west of Islamabad, on Sunday, residents and a military official said. "Our jets and helicopters attacked suspected hideouts of militants in the Ghiliju area and killed 20 militants," said a military official who declined to be identified. Mehsud, an ally of Pakistani Taliban leader Baitullah Mehsud, claimed responsibility for a suicide car-bomb attack on a security convoy, near the town of Kohat, near Orakzai, on Saturday. The bomber killed 25 soldiers and two passers-by. [More>>khaleejtimes.com; See also,

thenews.com.pk, April 20, "Militants' hideouts bombed in Khyber Agency" : PESHAWAR: Security forces backed by helicopter gunships targeted militants' positions in Khyber Agency on Monday. A local activist of the banned militant outfit Jaish-e-Muhammad was arrested in Jamrud tehsil. According to sources, security forces bombed suspected militants' hideouts by helicopter gunships in Landi Kotal and Jamrud tehsils of Khyber Agency. Several suspected positions of militants were destroyed. However, no loss of life war reported in the bombing. [end]
---
4.20.09 Suicide bomber kills three Iraqi policemen
BAGHDAD, April 20 - A suicide bomber wearing an Iraqi military uniform killed three Iraqi police officers and wounded eight American soldiers north of Baghdad on Monday morning, US and Iraqi authorities said. The bomber detonated explosives about 10am, officials said. He was standing near a group of soldiers who were headed to a meeting with the mayor of Baqubah, the capital of restless Diyala province. [More>>washingtonpost.com]
---
4.20.09 Armenia to receive $400 million loan to build railway to Iran
YEREVAN, Armenia (RIA Novosti) April 20 - Armenia has reached an agreement with Iran on a $400 million loan for the construction of a railway between the two countries, the Armenian transport minister, Gurgen Sargsyan, said on Monday. An agreement on the construction of the strategic route was signed by Armenia's Sargsyan and his Iranian counterpart, Hamed Behbahani, on April 14 in Tehran. A working group will take about three months to carry out a feasibility study...
The railway, with the Armenian section connecting the northern city of Sevan to the southern city of Meghri on the border with Iran, will ensure the transportation of energy supplies and other goods, and increase trade between the countries. Landlocked Armenia, currently under economic blockade by Turkey and Azerbaijan, has rail links with other countries only through the territory of Georgia, which is complicated by Tbilisi's often fractious relations with Moscow...[Full story>>en.rian.ru]
---
4.20.09 China to build 5 nuclear power plants this year
BEIJING (AP) April 20 - China is planning to build five nuclear power stations this year to reduce the country'sreliance on coal and oil, state media reported Monday. The plants will be built in China's eastern provinces of Zhejiang and Shandong, as well as Guangdong and Hainan in the south, the official Xinhua News Agency cited the National Energy Administration as saying...China currently has six nuclear power plants, all located on the east coast. Beijing is also promoting solar, wind and other renewable energy, but is expected to continue to rely heavily on coal and oil. [Full story>>khaleejtimes.com]
---
4.20.09 Egypt, thou knew'st too well: is Cleopatra's final secret out?
April 20 - Archaeologists believe they are on brink of discovering queen's final resting place. Just as he did fictitiously with Romeo and Juliet, William Shakespeare immortalised Antony and Cleopatra as a tragic tale of a defeated couple. But unlike Verona's star-crossed lovers, Marc Antony and Cleopatra's final resting place has remained a mystery. Now archaeologists believe they are on the cusp of a conclusive discovery. Three sites buried deep underneath the crumbling limestone of a 2,000-year-old temple are thought to contain a series of complex systems of tunnels which archaeologists believe could lead to the tomb of the two lovers.
And to prove it, Zahi Hawass, director of Egypt's Superior Council for Antiquities, showcased a range of items yesterday that have been found at the site at Burg El-Arab, nearAlexandria. They include 22 coins bearing Cleopatra's image, a fragment of a mask — with a cleft chin which he believes could belong to Antony — and 10 mummies of apparent nobles. "The discovery of the cemetery this week really convinced me that there is someone important buried inside this temple," he said. "No one would be buried outside a temple without a reason. We saw in the pharaonic days, they were always buried beside pyramids." Urging caution, he added: "If you look at the face of Mark Antony, many believed he had this cleft on his chin and that's why I thought this could be him." [More>>independent.co.uk; See wikipedia.org for Roman images of Mark Antony]
---
4.20.09 Australian mum jailed in Kuwait
KUWAIT CITY (AFP) April 20 - Kuwait's court sentenced an Australian mother of Arab origin to two years in jail for allegedly insulting the emir, her lawyer said."I will appeal the verdict tomorrow," lawyer Falah al-Hajraf said. "My client has denied the charge during the trial and insisted she committed no wrongdoing." Nasra al-Shimmari, 43, was arrested at Kuwait airport in December after she allegedly insulted Emir Sheikh Sabah al-Ahmad al-Sabah, during a quarrel between her children and husband and an airport employee. She has been in jail since her arrest along with two of the couple's seven children. Her husband and the other five children were not allowed into the oil-rich Gulf state.

Mr. Hajraf said that police has not yet pressed charges against Shimmari's two sons, in their early 20s, and "it looks as if the case is over." The Shimmary family obtained Australian citizenship a few years ago. Previously they lived in Kuwait among the some 100,000 bidoons, or stateless Arabs. Bidoons have no right to work, obtain a birth certificate for their babies or even get their marriage certificate attested. [>news.com.au]
4.18.09 Obama, Chavez shake hands at Americas Summit
PORT-OF-SPAIN, Trinidad (AP) April 18 - Presidents Barack Obama and Hugo Chavez, Venezuela's socialist leader, met on Friday and shook hands on the sidelines of a summit of their hemisphere's democracies. Obama walked across a hotel meeting room to meet Chavez for the first time, said a senior US administration official who witnessed it and spoke on condition of anonymity to discuss the details of the event. The official said Obama initiated the encounter. Chavez has been a fierce critic of the United States during President George W. Bush's tenure.

"It was very, very short," the official said of Friday's meeting. "The president shook his hand, smiled and then went back to his position in the line." The encounter comes as Obama softens US policy against Cuba, a Chavez ally. Asked later about the meeting, Obama elicited laughter from reporters with a brief response: "I said, 'Como estas?" That's the familiar form of Spanish for "How are you?" Chavez was more forthcoming with reporters.
"We shook each other's hands like gentlemen, and it was predictable this would happen," Chavez said. "We don't have any complexes that would prevent us from extending our hands to each other. I'm grateful for his gesture." Photos released by the Venezuelan government show the two smiling and Obama touching Chavez on the shoulder. Other photos show them with clenched hands in the room next to the main summit ballroom while the heads of state and government were waiting in line to enter the opening ceremony. The Venezuelan presidency also said Obama initiated the handshake and quoted Chavez as telling Obama he hopes for better relations between their nations. [>indianexpress.com; See also:

en.rian.ru, April 18, "Hugo Chavez tells Barack Obama he wants to be friends" : ...Chavez has traditionally had tense relations with Washington. However, the United States remains the biggest importer of Venezuelan oil, the country's most important export. On the eve of the regional summit an annual poll by the Latin American research center, CIMA, was published on the popularity ratings of leaders attending the summit. Some 12,000 people were polled from 19 Latin American countries. According to the survey, Obama emerged as the most popular leader with the approval of 70% of respondents, whereas Chavez was the most unpopular with 28%...

cnn.com, April 18, "Chavez gives Obama a book at summit" : ...The leftist leader, who once likened President George W. Bush to the devil, shook Obama's hand and handed him "Open Veins of Latin America: Five Centuries of the Pillage of a Continent," by Uruguayan writer Eduardo Galeano. Asked later what he thought of the book, Obama jokingly said he thought it was one of Chavez's books. "I was going to give him one of mine," he quipped...
---
4.18.09 20 dead in Mexico drug attacks, including US citizen
CIUDAD JUAREZ, Mexico (AFP) April 18 - Twenty people were killed in the latest suspected Mexican drug attacks, including a US citizen, officials said Friday, hours after US President Barack Obama vowed to help Mexico fight violent cartels. More than 7,000 people have been killed since the start of last year in clashes between Mexican cartels and security forces, amid a military crackdown involving tens of thousands of troops. In the latest violence, a carload of gunmen shot dead a 32-year US citizen as he entered a house in the northern border city of Ciudad Juarez overnight Thursday, the deputy state attorney general's office said Friday.

Police found another five bullet-riddled male bodies near a road in the same northern state of Chihuahua, the attorney general's office said, adding later that the five victims were identified as Mexican Army soldiers. The soldiers were tortured before they were killed, a spokesman told AFP. Police found four other bodies in the state, including that of a woman in a car with Texas license plates in Ciudad Juarez. The government recently sent an extra 5,000 troops to that volatile border city, where more than 1,600 alone died in 2008.

In another hotspot, police found four bodies, three of which were decapitated, in a village in western Michoacan state, according to the state prosecutor's office. Six tortured male bodies were found in two other villages, including two carrying messages from the powerful La Familia cartel to the Zetas, hitmen for the Gulf cartel. In Mexico City on Thursday, Obama admitted US responsibility in Mexico's drug problem and called for a crackdown on weapons trafficking, but acknowledged the political challenges involved in banning some of the most dangerous weapons, as called for by Mexico. [>khaleejtimes.com]
---
4.18.09 Bank profits mask peril still lurking
April 18 - Citigroup announced a surprisingly strong first-quarter profit yesterday, the latest bank to report a sharp improvement from the disastrous final months of 2008. The earnings bloom, however, is probably a false spring, according to bank executives and financial analysts. Banks rise and fall with the economy. As prosperity recedes, more people and companies are defaulting on loans. The nation and its banks still face grave challenges, they said.
"We don't see the light at the end of the tunnel," Edward "Ned" Kelly, Citigroup's chief financial officer, said in an interview, referring to the state of the economy. His company, the most troubled of the large banks, reported that defaults increased during the first quarter on nearly every kind of consumer loan. J.P. Morgan Chase also announced strong earnings this week. The company's chief executive, Jamie Dimon, also did not see in those results evidence of recovery. [More>>washingtonpost.com; See related story,

thenews.com.pk, April 18, "2 more US banks fail, lifting this year's tally to 25" : ...The latest banks seized were American Sterling Bank in Missouri and Great Basin Bank of Nevada. The Federal Deposit Insurance Corp. will continue to insure deposits. Regular deposit accounts are insured up to $250,000...
---
4.18.09 British intelligence prosecution fear over US torture memos
April 18 - Fresh revelations about the CIA's torture techniques have thrown the spotlight on British Intelligence, which gained valuable insight into terror networks from confessions extracted by American officers. They have raised further fears that British agents could be prosecuted for their indirect role in the abuse of detainees. Documents declassified this week by the Obama Administration — four US Justice Department memos authorizing "harsh interrogation" — show that the CIA based more than 3,000 intelligence reports on the questioning of "high-value" terror suspects from September 11 2001 to April 2003. They were sanctioned by US government lawyers during the Bush presidency, and MI5 and MI6 would have had access to huge amounts of such material.

The memos show that the majority of these reports — some of which would have been passed to the British as part of intelligence-sharing arrangements between the two countries — came "from detainees subjected to enhanced interrogation techniques." In the period between September 11 2001 and April 2003, there were a number of crucial intelligence tip-offs to the British authorities that may have come via US interrogation of suspected al-Qaeda terrorists.
They include the alert that led to the decision by Tony Blair in February 2003 to send 400 troops in light tanks to Heathrow after a warning of an imminent attack on airliners coming into the airport. Another led to the deployment of special forces to intercept a cargo vessel, the MV Nisha, off the Isle of Wight in December 2001 because of intelligence that a ship in the English Channel might be carrying biological weapon components. [More>>timesonline.co.uk; See related stories:
independent.co.uk, April 18, "Obama attacked from all sides over CIA memos" : Former Bush aides condemn release of sensitive documents / Human rights groups criticise immunity given to interrogators. The White House was engulfed by a maelstrom of anger yesterday after its decision to release memos from the Bush era providing legal cover for "enhanced" interrogation techniques in secret CIA prisons. At the same time, it made promises to protect those who implemented them from prosecution. The act of releasing the memos with almost no blacking out of sensitive sections was attacked by two senior former Bush aides. Michael Hayden and Michael Mukasey, who served respectively as CIA director and US attorney general, said their publication "was unnecessary as a legal matter, and is unsound as a matter of policy." Perhaps more controversial was the decision to couple their publication with assurances from Barack Obama and his Attorney General, Eric Holder, that no one who carried out interrogations using the now disavowed techniques, including forcing detainees to stand naked for hours and slamming them against walls, would face prosecution...

cbsnews.com, April 18, "UN official: No pass for torturers" : President Barack Obama's decision not to prosecute CIA operatives who used questionable interrogation practices violates international law, the UN's top torture investigator said Saturday. On Thursday, Obama absolved CIA officers from prosecution for harsh, painful interrogation of terror suspects under the former Bush administration. The announcement was met with disappointment from human rights groups and former detainees who condemned such methods as torture. In a brief telephone interview with The Associated Press, Manfred Nowak, an Austrian who serves as a UN special rapporteur in Geneva, said the United States had committed itself under the UN Convention against Torture to make torture a crime and to prosecute those suspected of engaging in it...
---
4.18.09 North Korea: Sanctions a declaration of war
April 18 - North Korea said Saturday any sanctions or pressure applied against it following its rocket launch earlier this month will be considered a "declaration of war." In an announcement on state-run television, the country said it was ready to step up efforts to develop nuclear weapons and poised for a military response to any moves against it. "The revolutionary armed forces of the DPRK are always keeping themselves fully ready to go into action any moment to mercilessly punish anyone who encroaches upon the sovereignty and dignity of the DPRK even a bit," it said. On Monday the United Nations condemned North Korea — which refers to itself as the Democratic People's Republic of Korea, or DPRK — for launching a rocket. [More>>cnn.com; See related story, xinhuanet.com, April 18, "DPRK proposes talks with South Korea."]
---
4.18.09 'IAF readying swift strike on Iran'
April 18 - The IAF is preparing for the possibility that it will need to attack Iran's nuclear facilities at several hours' notice, The London Times reported Saturday. According to an unnamed Israel security official quoted by the paper, "Israel wants to know that if its forces were given the green light they could strike at Iran in a matter of days, even hours."
"They are making preparations on every level for this eventuality," the source said. "The message to Iran is that the threat is not just words." According to the paper, such an attack would involve strikes on over a dozen targets, including the uranium enrichment facility in Natanz, the uranium conversion facility in Isfahan, the heavy water plant in Arak, as well as moving convoys. [More>>jpost.com]; See also timesonline.co.uk]
---
4.18.09 Iran jails US-Iranian reporter for 8 years
TEHRAN (Reuters) April 18 - An Iranian-American journalist accused in Iran of spying for the United States has been sentenced to eight years in jail, her lawyer said on Saturday, five days after she was put on trial. The jailing of Roxana Saberi could become a source of tension between Iran and the United States at a time when Washington is trying to reach out to the Islamic Republic following three decades of mutual mistrust. Iran's judiciary earlier this week said Saberi went on trial on Monday at a Revolutionary Court, which handles state security issues. "She has been sentenced to eight years ... I will appeal," lawyer Abdolsamad Khorramshahi told Reuters. The United States has called the charges against Saberi, a freelance reporter who has worked for the BBC and National Public Radio, 'baseless and without foundation' and demanded her immediate release. [More>>khaleejtimes.com]
---
4.18.09 20 killed in suicide blast at police check post in Pakistan
ISLAMABAD, April 18 - A suicide bomber on Saturday rammed his explosive-laden vehicle into a police check post killing 20 people, most of them security personnel, in Pakistan's troubled Northwest Frontier Province. In second such attack on security forces within a week, the bomber targeted the check post located in Doaba area of Hangu district, which is surrounded by the troubled Aurakzai, Kurram and North Waziristan tribal regions. [More>>timesofindia.indiatimes.com]
---
4.18.09 Egypt uncovers 5 smuggling tunnels near Gaza border
April 18 - Egyptian security forces have in recent days discovered five tunnels on the border with Gaza used to smuggle contraband into the coastal territory, Israel Radio reported on Saturday. A security official said the tunnels, found north of the Egyptian border town of Rafah, would be destroyed. Egypt on Saturday opened its border with the Gaza Strip for limited numbers of humanitarian cases, a Hamas spokesman said. [More>>haaretz.com]
---
4.18.09 NATO frees hostages from pirates
MOGADISHU (Reuters) April 18 - Dutch commandos freed 20 Yemeni hostages on Saturday and briefly detained seven pirates who had forced the Yemenis to sail a "mother ship" attacking vessels in the Gulf of Aden, NATO officials said. In a separate incident, gunmen from Somalia seized a Belgian-registered ship and its 10 crew, including seven Europeans, further south in the Indian Ocean. A pirate source said the vessel, the Pompei, would be taken to the coast. Somali sea gangs have captured dozens of ships, taken hundreds of sailors prisoner and made off with millions of dollars in ransoms despite an unprecedented deployment by foreign navies in waters off the Horn of Africa.

NATO Lieutenant Commander Alexandre Fernandes, speaking on board the Portuguese warship Corte-Real, said the 20 fishermen were rescued after a Dutch navy frigate on a NATO patrol responded to an assault on a Greek-owned tanker by pirates firing assault rifles and grenades. Commandos from the Dutch ship, the De Zeven Provincien, chased the pirates, who were on a small skiff, back to their "mother ship" -- a hijacked Yemeni fishing dhow. "We have freed the hostages, we have freed the dhow and we have seized the weapons... The pirates did not fight and no gunfire was exchanged," Fernandes told Reuters. The Corte-Real is also on a NATO anti-piracy mission.
...In a Reuters interview late on Friday, Puntland President Abdirahman Mohamed Farole also blamed ship owners for paying ransoms that encouraged impoverished youths to join the gunmen. "But the root cause of this piracy, as everyone knows, is illegal fishing," Farole said in neighboring Kenya. [Full story>>thestar.com.my; See related story,

alarabiya.net, April 18, "Somali parliament approves Islamic law" : MOGADISHU - Move aims to appease Shabab fighters. Somalia's parliament unanimously approved Saturday a government proposal to introduce sharia, Islamic law, in the country, in a move aimed at appeasing Islamists waging a civil war since 1991. The approval by parliament had been expected since March 10, when the cabinet appointed by new President Sheikh Sharif Ahmed also voted to establish sharia, or Islamic, law. Experts say Ahmed's move undermines guerrillas who have been fighting the government and questioning his Islamic credentials. It will also please wealthy potential donors in Gulf nations...
---
4.18.09 Philippine forces 'rescue' Swiss hostage
April 18 - Philippine security forces have "rescued" a Swiss Red Cross worker held hostage for three months by a separatist group, government officials have said. Officials said Andreas Notter, 38, was freed early on Saturday with the help of "combined initiatives in all fronts," including the intervention of several Muslim clerics. Cerge Remonde, a presidential spokesperson, said: "This is a major breakthrough that we hope shall eventually lead to the rescue of the last remaining hostage." But another hostage, 62-year-old Eugenio Vagni, is still being held by the armed Abu Sayyaf group. [More>>aljazeera.net]
---
4.18.09 Microbes that 'breathe iron' are found in Antarctic
April 18 - Unique organisms have developed from more than a million years in isolation. A community of microbes that have lived cut off from the rest of the world for more than 1.5 million years has been discovered beneath a vast glacier in the Antarctic. The organisms have survived in total darkness on nothing but the minerals and long-decayed organic matter that were also trapped at the base of the glacier. Instead of breathing oxygen, they have learnt to "breathe" iron to produce energy. The discovery of the microbes demonstrates the tenacious capacity of life to survive in the most extreme environments, and raises the prospect that it may one day be possible to find life in equally extreme environments both on Earth and on other planets.

..The scientists discovered the microbes by analyzing the very salty water flowing out of a crack in the wall of the Taylor Glacier in the McMurdo Dry Valleys of East Antarctica. The glacier is famous for its "Blood Falls", an outflow of rusty-red mineral deposits first discovered in 1911. The brine seeping from the glacier contained no oxygen, indicating that it had been isolated from the atmosphere, but it did include the telltale genetic signatures of living organisms living beneath the mass of ice. [More>>independent.co.uk]
---
---
*Visitor statistics on maravot.com from 1&1. com. 46,153 page views in May 2007; monthly visitors in 2008 range between 40,000-45,0000..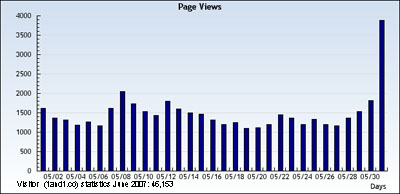 Privacy Policy: We do not store any personal data from you. We have no way of knowing any vital information about you — not even your name. Third-party distribution: We do not distribute information about your site usage to any third party. We are not responsible for the content of links from our site. Usage data: supplied by our Web Hosting service, 1and1.com, which consists of usage reports, such as page views / impressions and web pages visited, visitors' servers and geographical data (ISP's and country of origin).

---
Launched: 10.25.04 / 11.02.04 – | — |
Updated: 4.18.09; 4.20.09; 4.21.09; 4.22.09; 4.23.09; 4.24.09
Copyright © 1981-2009 Maravot. All rights reserved
Copyright © 1981-2009 Mel Copeland. All rights reserved
Background: tile from Cicero's villa (Marcus Tullius Cicero 106 B.C. - 43 B.C.)