News Headlines & Trends
---
4.16.09 Pakistan makes financial aid plea
April 16 - Pakistan's president has called for a major aid plan to fight poverty and violence in his country on the eve of a major meeting with donors. Asif Ali Zardari is in Tokyo for a one-day aid conference being hosted by the World Bank and Japan. Loan and grant pledges of $4bn to $6bn are expected to be made when 27 countries and 16 organizations attend Friday's conference and a Friends of Pakistan meeting. Zardari stressed in a Japan Times article that his government was determined to battle anti-government fighters, but said it needed an aid and reconstruction programme similar to the post-World War II Marshall Plan for Europe. "We are determined to fight militancy to the end and will never permit the extremists to dictate their agenda on the people through guns and bullets," he said. [More>>aljazeera.net; See related stories,
indianexpress.com, April 16, "Pakistan tribal areas unfit to benefit from US aid: Kerry" : WASHINGTON - US Senator John Kerry is sceptical about the US aid being put to thwart the terror activities in the tribal areas of Pakistan as he considers the Federally Administered Tribal Areas (FATA) too violent and ungovernable to benefit from the financial assistance. Kerry, who heads the Senate Foreign Relations Committee, said the security situation in the region must improve before lending the financial help to the people there. "You've got to build the police and the security capacity and then you can follow in to assist the citizens. You can't yet spend the money there. It is too dangerous there," The Dawn quoted Kerry, as saying.... "If you can begin to bring law enforcement to the task, then the majority of people who don't want to live under those insurgents or under the Taliban will dare to stand up," he said...

timesofindia.indiatimes.com, April 16, "Sikhs pay RS 20m 'tax' to Taliban in Pakistan's Aurakzai" : ISLAMABAD - Members of Pakistan's minority Sikh community living in the restive Aurakzai tribal region have paid Rs 20 million as "tax" to the Taliban after militants forcibly occupied some of their homes and kidnapped a Sikh leader. The Taliban had demanded Rs 50 million as "jizia" - a tax levied on non-Muslims living under Islamic rule — but the militants finally settled for Rs 20 million. After the amount was paid on Wednesday, the militants vacated the homes they had taken over and released Sikh leader Saiwang Singh, officials in the tribal region near the northwestern city of Peshawar were quoted as saying by the Daily Times newspaper...
---
4.16.09 No end yet for downturn in housing, new data suggest
April 16 - In twin signals that the housing market continues to stumble lower, construction of new homes fell sharply last month, and foreclosures surged in the first quarter, according to reports released on Thursday. The government reported that new home starts fell 10.8 percent in March from February, just a month after a sharp spike in new-home construction warmed hopes among some economists and investors that the country's foundering housing market was beginning to make a comeback as credit conditions eased. Home construction in March fell to an annual pace of 510,000 units, the Commerce Department reported, less than economists' expectations of 540,000 units. It was the second-lowest level on record, and 48.4 percent lower than housing starts a year ago. [More>>nytimes.com]
---
4.16.09 Foreclosure at the mall: General Growth files for Chapter 11
April 16 - The Recession's Latest Victim: General Growth Properties, the Nation's Second-Largest Mall Operator. Forget those 50 percent off signs. A trip to your local mall these days might reveal a new sign in the window of your favorite retailer: "Going Out of Business." That means big trouble for mall owners already struggling to survive. As individual store owners struggle to stay afloat, mall operators facing ever-mounting debt are fighting a similar battle. General Growth Properties Inc., the nation's second-largest mall operator, filed for Chapter 11 bankruptcy protection today, the latest sign of the challenges facing malls of all sizes. The nation's shopping center owners are facing a recessionary double-whammy: Consumers who are spending less and real estate investors who are holding back money used to finance their operations. [More>>abcnews.go.com]
---
4.16.09 Blasts kill NATO soldier, Afghan policeman
KABUL, Afghanistan, April 16 - NATO soldier and four Afghan policemen have been killed in fresh violence in war-torn Afghanistan, authorities said Thursday. "An International Security Assistance Force (ISAF) service member was killed by an improvised explosive device in eastern Afghanistan yesterday," the alliance said in a statement without giving further details. [More>>thenews.com.pk]
---
4.16.09 Sarkozy snipes at 'dim' Spanish PM and German Chancellor
PARIS, April 16 - After attempting to remove the gloss from Barack Obama, President Sarkozy of France upset Spain today by suggesting that Jose-Luis Zapatero, the Prime Minister, was a little dim. Mr. Sarkozy's latest put-down of fellow leaders emerged from a Wednesday lunch meeting with MPs at which he again boasted of what he sees as his pivotal role in the G20 summit. He cast President Obama as inexperienced and ineffectual - a line that he has taken in private since the the London meeting and the NATO gathering in Strasbourg that followed it.

..France's "hyper-president" also took a swipe at Chancellor Angela Merkel of Germany, saying that she had only decided to side with him on his approach to the economic crisis after releasing how badly German industry and banks were doing. "She did not have any other choice but to rally to my position," he said...On the US President, Mr. Sarkozy said: "Obama has a subtle mind, very clever and very charismatic. But he was elected two months ago and had never run a ministry. There are a certain number of things on which he has no position. And he is not always up to standard on decision-making and efficiency," he said. [Full story>>timesonline.co.uk]
---
4.16.09 Dutch anti-Islam politician Wilders plans new film
AMSTERDAM (Reuters) April 16 - Right-wing Dutch politician Geert Wilders said on Thursday he planned to produce a follow-up film to his anti-Koran video "Fitna" to warn against the threat Islam poses to free speech and the impact of Muslim immigration. Wilders's previous film, which was launched over the internet in March 2008 and argues that the Koran incites violence, was condemned by the Netherlands and Muslim nations, but did not spark widespread violent backlashes as initially feared.

Wilders said his new film would focus on the threat of Islam and the impact 'Islamisation' has had on Europe and the United States. The film would also focus on the principle of freedom of speech and should be completed before the end of 2010, he added. The outspoken MP heads the Freedom Party PVV in the Dutch Parliament and recent polls have shown that if an election was held now, the PVV would become the largest party ahead of coalition government parties the Christian Democrat CDA and Labour PvdA. [More>>thestar.com.my: See related stories:

washingtonpost.com, April 16, "We are at war"- (Editorial by David Wolpe, Rabbi of Sinai Temple in Los Angeles) What's your reaction to President Obama's recent statements to the Muslim world that "the United States is not, and never will be, at war with Islam" and that "we do not consider ourselves a Christian nation"?
We are at war. We are at war with the part of Islam that persecutes women, sends suicide bombers in God's name into crowded markets, and threatens nuclear annihilation, claiming to love death. (Recall the Imam who criticized Western culture for loving life, when true Islam loves martyrdom and death.) However, we are not at war with all of Islam, quite the contrary: we take sides. The West has chosen those in Islamic culture who reject the barbarity of the Taliban and the inhumanity of the murderer in God's name. We stand with those, however numerous or few, who believe that the ultimate message of Islam can be one of pluralism and peace. The distinction is important because the civil war inside of Islam is perhaps the single most important war in the world right now. To recuse oneself from that struggle is impermissible. The United States has a constant, unremitting interest in the triumph of an open Islam...

Maravot News 4.09.08 editorial "Confusion over the teachings of the Koran." ...There have been many Islamic conferences, mainly conducted under the auspices of the Saudis, that have sought a reconciliation of the faiths and ways in dealing with terrorism. The problem with the conferences is the fact that Islamic leaders have not been able to define the word "terrorist." They have not been able to separate an action of a freedom fighter — or a defender of Islam — from the acts of terrorism. The problem appears to begin with the Koran itself whose verses advocate the following:

— Koran's Confirmation of the Bible
(The Torah, Prophets and Gospel; Jesus as the Messiah)

— Koran advocates violence against unbelievers (kuffar) / enemies:

— Islamic scholars' teachings against unbelievers - "kuffars"
---
4.16.09 Senior Russian senator hits out at US nuclear deterrence report
MOSCOW (RIA Novosti) April 16 - A senior Russian politician has expressed "surprise" and "indignation" at the contents of a report by an influential US think tank that calls for "minimal nuclear deterrence." The study by the Federation of American Scientists and Natural Resources Defense Council recommends a nuclear policy that would see Washington target nuclear missiles at major industrial objects rather than population centers. This, the authors said, would be the first step toward US President Barack Obama's recently-stated goal of "a world without nuclear weapons."

Vasily Likhachyov, deputy chairman of the Russian Federation Council's foreign affairs committee, said he was concerned by the nature of the report, calling its proposals "an infringement of the fundamental principles of international law." He pointed out that under an existing agreement, the US and Russia did not target nuclear missiles at each other, something he said that Moscow "strictly adheres to." [More>>en.rian.ru]
---
4.16.09 Suicide bomber kills 16 in west Iraq base
BAGHDAD (Reuters) April 16 - A suicide bomber wearing a vest packed with explosives killed at least 16 people and wounded 50 others on Thursday at a military base in Iraq's western Anbar province, the army and police said. An eyewitness said the bomber was wearing a military uniform when he detonated himself among soldiers on parade at the base, while army and police sources said the explosion took place at the base's cafeteria. All the casualties were soldiers, the army and police said. [More>>khaleejtimes.com]
---
4.16.09 IAF demolishes booby-trapped building in central Gaza
April 16 - The IAF on Thursday evening demolished a booby-trapped building in central Gaza in the first air strike in over a month, the army said. Palestinians reported no casualties in the attack near the Gaza border as the structure was unoccupied at the time of the strike. It came a day after a Kassam rocket fired by Palestinian terrorists in the Gaza Strip landed in an open area in the Eshkol region. No one was wounded and no damage was reported in the first Kassam attack since the end of last month, when two rockets slammed into the western Negev, causing neither casualties nor damage. Also Thursday, Egyptian security forces arrested nine Sinai Beduin near the Gaza border on suspicion of smuggling weapons, merchandise and money to Hamas. Two of the suspects were caught at the Rafah border crossing in possession of more than $90,000. [More>>jpost.com]
---
4.16.09 Study finds a pattern of severe droughts in Africa
April 16 - For at least 3,000 years, a regular drumbeat of potent droughts, far longer and more severe than any experienced recently, have seared a belt of sub-Saharan Africa that is now home to tens of millions of the world's poorest people, climate researchers reported in a new study. That sobering finding, published in the April 17th issue of Science, emerged from the first study of year-by-year climate conditions in the region over the millenniums, based on layered mud and dead trees in a crater lake in Ghana. Although the evidence was drawn from a single water body, Lake Bosumtwi, the researchers said there was evidence that the drought patterns etched in the lakebed extended across a broad swath of West Africa. More such mega-droughts are inevitable, the research team that studied the patterns said, although there is no way to predict when the next may unfold.

The lead authors of the report, Timothy M. Shanahan of the University of Texas at Austin and Jonathan T. Overpeck of the University of Arizona, warned that global warming resulting from human-generated greenhouse gases was likely to exacerbate those droughts and that there was an urgent need to bolster the resilience of African countries in harm's way. The study said that some of the past major droughts appeared to be linked to a distinctive pattern of increases and reductions in surface temperatures of the Atlantic Ocean, known as the Atlantic multidecadal oscillation. [More>>nytimes.com]
---
4.16.09 Eat your greens if you want to avoid asthma
April 16 - Studies find link between diet and respiratory disease. Telling children to eat up their greens – and giving them a helping of liver – may be the best way to prevent them from developing asthma. Researchers who examined the influence of diet on asthma found that people who did not get enough vitamin A or C from their food had a higher risk of becoming asthmatic. Vitamin A is found in dark green and yellow vegetables such as broccoli, spinach and turnip greens, carrots, squash and sweet potatoes. It is also found in liver, milk, butter, cheese and eggs. Vitamin C is found in many of the same vegetables and in fruits including oranges, lemons, pineapple and strawberries.

Low levels of vitamin C in the blood were associated with a 12 per cent rise in incidence of the disease. Analysis also showed that those with asthma had an average daily intake of vitamin A which was between a quarter and a third of the recommended level. Those with severe asthma had the lowest levels of vitamin A. No association was found with vitamin E. The findings are from one of the largest reviews of research into the link. Scientists from the University of Nottingham found 40 relevant studies conducted around the world between 1980 and 2007.
Jo Leonardi-Bee, from the university's Department of Public Health, who led the study published in the journal Thorax, said: "It does appear that there is a link between diet and respiratory disease. It is unclear what the link is but it is probably to do with the anti-inflammatory properties of vitamins." [More>>independent.co.uk]
---
4.15.09 Somali pirates vow to hunt down, kill Americans
MOMBASA, Kenya (AP) April 15 - Somali pirates vowed to hunt down American ships and kill their sailors and French forces detained 11 other brigands in a high-seas raid as tensions ratcheted up Wednesday off Africa's volatile eastern coast. Pirates fired grenades and automatic weapons at an American freighter loaded with food aid but the ship escaped and was heading to Kenya under US Navy guard. The Liberty Sun's American crew successfully blockaded themselves inside the engine room — the same tactic that the Maersk Alabama crew used to thwart last week's attack on their ship. They were not injured in the attack Tuesday night but the vessel sustained some damage, owner Liberty Maritime Corp. said. One of the pirates whose gang attacked the Liberty Sun said Wednesday his group was specifically targeting American ships and sailors. [More>>thejakartapost.com]
---
4.15.09 British house prices decline 12.3%
April 15 - The annual pace of decline in British house prices hit 12.3 per cent in three months to February, according to the latest government data. Today's figures, from the Department of Communities and Local Government (DCLG), compare house prices between December and February to the same period last year, showing that the average value of a home is now £189,813 — a 12.3 percent year-on-year decline. The data from the DCLG reveals that annual house prices have fallen compared to the three months to January, which recorded a slump of 11.5 percent. In the three months to February house prices fell by 4.8 percent, compared to a decline of 4.3 percent in three months to November. The plunge was most pronounced in Northern Ireland, where values tumbled by 19.4 percent over the year. Wales also saw a sharp decline, with house prices falling by 12.5 percent. In England, the average price declined by 12.4 percent and in Scotland, by 8.6 per cent. [More>>timesonline.co.uk]
---
4.15.09 Consumer prices fall in March
April 15 - The economy's performance in March offered a mixed picture, according to government data released this morning, with declining demand for appliances, furniture and other goods pulling down manufacturing output for a fifth straight month but falling fuel prices putting more money into consumers' pockets. Industrial production dropped 1.5 percent in March and the amount of production capacity manufacturers used reached 69.3 percent — the lowest level since the government began collecting the data in 1967. And reflecting a dramatic drop in energy costs, the consumer price index fell 0.1 percent in March and recorded its first 12-month decline since August 1955, according to government data released this morning.

The consumer price index dropped 0.4 percent from March 2008 to March 2009, according to the Bureau of Labor Statistics, largely the result of energy prices that declined 23 percent and gasoline costs that fell 39 percent or about $1.30 a gallon. Still, the psychological boost from the lower gas prices isn't translating into higher retail sales — consumers are hesitant to go shopping with the extra dollars they're saving at the pump. Retailers, whose sales unexpectedly fell 1.1 percent in March after showing some signs of improvement earlier in the year, are working through their inventory backlog and have reduced their factory orders, analysts said. [More>>washingtonpost.com]
---
4.15.09 Nationwide 'tea party' protests blast bailout
April 15 - Conservatives are showing they know their way around the Internet just as well as liberals, as hundreds of organized "tea party" protests are planned across the nation Wednesday. The protests are a backlash against President Obama's bailout policies. Heralded on videos and blogs, the movement also appears, in part, a reflection of a general anger among people who contend the government takes too much from their pocketbooks. "TEA" stands for "Taxed Enough Already," according to teapartyday.com, which lists organizers and their phone numbers. [More>>cnn.com]
---
4.15.09 South Korea: Job losses in March worst since Asian financial crisis
April 15 - The Korean economy lost 195,000 jobs in March from a year earlier, the biggest job loss since March 1999 when 390,000 jobs disappeared, government data showed yesterday. According to the National Statistical Office, the number of people with jobs stood at 23.11 million in March, down by 0.8 percent from a year ago. The number of jobs has declined for four consecutive months — from a loss of 12,000 in December, 103,000 in January and 142,000 in February. The number of unemployed reached 952,000, nearing 1 million for the first time since February 2006, the NSO said. [More>>koreaherald.co.kr]
---
4.15.09 Coral fossils show sea level can rise rapidly, report says
April 15 - Evidence from fossil coral reefs in Mexico underlines the potential for a sudden jump in sea levels because of global warming, scientists report in a new study. The study, published in the journal Nature, suggests that a sudden rise of 6.5 feet to 10 feet occurred within a span of 50 to 100 years about 121,000 years ago, at the end of the last warm interval between ice ages. "The potential for sustained rapid ice loss and catastrophic sea-level rise in the near future is confirmed by our discovery of sea-level instability" in that period, the authors write.

Yet other experts on corals and climate are faulting the work, saying that big questions about coastal risks in a warming world remain unresolved...Studies of past climate shifts, particularly warmups at the ends of ice ages, show that fast-eroding ice sheets have sometimes raised sea levels worldwide in bursts of up to several yards in a century...The study focuses on a set of fossil reef remains exposed in excavations for channels at a resort and water park, Xcaret, about 40 miles south of Cancún on the east coast of the Yucatan peninsula in Mexico. [Full story>>nytimes.com]
---
4.15.09 Garden of Eden battling severe drought
HOR AL-HAMMAR, Iraq (AP) April 15 - Marshes At Traditional Site Of Biblical Locale In Iraq Suffering From Punishing Weather. A severe drought is threatening Iraq's southern marshes — the traditional site of the biblical Garden of Eden — just as the region was recovering from Saddam Hussein's draining of its lakes and swamps to punish a political rebellion. Marshes that were coming back to life a few years ago with UN help are again little more than vast expanses of cracked earth. The area's thousands of inhabitants, known as Marsh Arabs, are victims of the debilitating drought that has ravaged much of Iraq and neighboring countries the last two years.

..The Marsh Arab culture existed for more than 5,000 years in the 8,000 square miles of wetlands fed by the Tigris and Euphrates rivers. The marshes boasted hundreds of species of birds and fish, and periodic flooding created fertile farm lands. The flooded, flat plain is said to have played an important role in the development of an agriculture-based culture that helped raise civilization to new heights. Some biblical scholars identified the vast marshes — the most extensive wetlands in the Middle East — as the site of the fabled Garden of Eden...Many Shiite rebels hid among the Marsh Arabs in the forests of reeds and myriad of lakes. To punish them, Saddam [Hussein] built a massive network of dams and earthen walls to divert water and dry the marshes. The effect was devastating.

By the time Saddam was overthrown in 2003, the marshes had shrunk by 90 percent from their size in the 1970s, when they had covered nearly 3,500 square miles — larger than Delaware. Many experts direly predicted that the marshes might disappear entirely by 2008. The United Nations launched an $11 million project to restore the marshes, including removing some of the barriers that were keeping water from flowing into the area. And by 2006, more than half the original marshlands had successfully flooded...The marsh restoration programs depend on adequate water flow in the Tigris and the Euphrates, the two rivers that gave Iraq its ancient name of Mesopotamia — Greek for "land between the rivers." But the recent drought has caused the levels of those two rivers to fall. [Full story>>cbsnews.com; See background, bbc.co.uk, June 28, 2002, "The Marsh Arabs."]
---
4.15.09 Afghans rally against women's law
April 15 - Scores of Afghan Shia women have protested against a new law, which they will take women's civil rights in the country back to the days of the Taliban. Human rights activists and lawyers gathered outside a Kabul university on Wednesday demanding "justice" and handing out a declaration saying the Shia Personal Status Law "insults the dignity of women." "We don't want a Taliban law, we want a democratic law and we want a law that guarantees human dignity," protesters chanted. A large group of men and women confronted the protesters, chanting slogans in favour of the law — which regulates marriage, divorce and inheritance for the Shia minority on their request. [More>>aljazeera.net]
---
4.15.09 Columbia captures top drug lord
April 15 - Colombian authorities have arrested the country's most wanted drug lord, the government has said. Daniel Rendon Herrera, known as "Don Mario," was captured early on Wednesday near Necocli in north-western Colombia, officials said. The government had offered a bounty of up to $2m (£1.3m) for information leading to his arrest. Colombia is a major global supplier of cocaine. Drug trafficking has fuelled the country's decades-long conflict. Daniel Rendon is accused of smuggling hundreds of tones of cocaine from an area on the Caribbean coast controlled in the 1990s by his brother — a paramilitary leader who is now in prison. The US has requested his extradition. Earlier this year he offered his gunmen almost $1,000 for each police officer they murdered, as security forces closed in on his network. [More>>bbc.co.uk]
---
4.15.09 10 policemen among 16 killed in Charsadda suicide attack
CHARSADDA, Pakistan, April 15 - At least 16 people were killed, including 10 policemen, and several others wounded after a suicide bomber slammed his explosive-laden vehicle into a police check-post in Charsadda on Wednesday. According to reports , the blast took place at the Harichand Police Check-post in Charsadda, killing 16 people, including 10 policemen, and injuring several others. The DPO Charsadda confirmed that 16 people were killed in the suicide attack. A DSP was also among the dead. Meanwhile, emergency was declared in the Charsadda Hospital immediately after the blast. [>thenews.com.pk; See related story, thenews.com.pk, April 15, "Altaf urges nation to unite against Talibanisation."]
---
4.15.09 Egypt police find 900 kg of explosives near Gaza
(Reuters) April 15 - Egyptian police found 900 kilograms of explosives on Wednesday near the border with Gaza and also detained three Palestinian youths on suspicion of crossing illegally into Egypt, security sources said. Officers said they found the TNT explosives hidden in 18 sacks near the border with Gaza. Police detained the three Palestinians, aged 16 to 18, in a dawn raid in the town of Sheikh Zweid, near the border with Gaza, the sources said. [More>>haaretz.com]
---
4.14.09 Ukraine arrests 3 in radioactive material sale
KIEV, Ukraine (AP) April 14 - Ukrainian security agents have arrested a regional lawmaker and two companions for trying to sell a radioactive substance that could be used in making a dirty bomb, officials said Tuesday. The legislator in the western Ternopyl region and two local businessmen were detained last week for trying to sell 8.2 pounds (3.7 kilograms) of radioactive material to an undercover agent of the security service, said Marina Ostapenko, a spokeswoman or the service. The suspects tried to peddle the substance as plutonium-239, a highly radioactive material that can be used to build nuclear weapons, and demanded $10 million, Ostapenko said.

But security experts later determined that the material was likely americium, a widely used radioactive material. Ostapenko said it could be used in a dirty bomb, but not nuclear weapons. The service said in a statement it believes the material was produced in Russia during the Soviet era and smuggled into Ukraine through a neighboring country. Ukraine renounced nuclear weapons after the Soviet Union's collapse. However, concerns remain over the existence of unsecured radioactive materials here and in other ex-Soviet republics, where safety rules are often neglected and corruption is rampant. [>thejakartapost.com]
---
4.14.09 Obama: US not "out of the woods"
WASHINGTON, April 14 - President Obama proclaimed signs of economic progress Tuesday but also warned Americans eager for good news that "by no means are we out of the woods." In a speech at Georgetown University, Mr. Obama aimed to juggle his glass-half-full take on the economy with a determination to not be stamped as naive or overly rosy in the face of stubborn problems that linger. "There is no doubt that times are still tough," Mr. Obama said. "But from where we stand… for the very first time, we are beginning to see glimmers of hope. And beyond that, way off in the distance, we can see a vision of an America's future that is far different than our troubled economic past."

...The president added that a full recovery is some time off and there is more work to be done. "The severity of this recession will cause more job loss, more foreclosures, and more pain before it ends. The market will continue to rise and fall. Credit is still not flowing nearly as easily as it should. The process for restructuring AIG and the auto companies will involve difficult and sometimes unpopular choices," he said. "All of this means that there is much more work to be done. And all of this means that you can continue to expect an unrelenting, unyielding, day-by-day effort from this administration to fight for economic recovery on all fronts." [Full story>>cbsnews.com; See related stories,

foxnews.com, April 14, "US retail sales drop unexpectedly in March" : WASHINGTON - Retail sales fell unexpectedly in March, delivering a setback to hopes that the economy's steep slide could be bottoming out. The Commerce Department said Tuesday that retail sales dipped 1.1 percent in March. It was the biggest decline in three months and a much weaker showing than the 0.3 percent increase that analysts expected. A big drop in auto sales led the overall slump in demand. Sales also plunged at clothing stores, appliance outlets and furniture stores...

cnn.com, April 14, "Stock selloff picks up steam" : NEW YORK - Stocks slumped Tuesday afternoon, with a weaker-than-expected retail sales report giving investors ammunition to step back after the recent rally. The Dow Jones industrial average (INDU) lost 127 points, or 1.6%, with 2-1/2 hours left in the session. The S&P 500 (SPX) index lost 15 points, or 1.8%. The Nasdaq composite (COMP) lost 29 points, or 1.7%. Stocks have been on the rise for five straight weeks on bets that the worst for the economy and financial sector has already happened. But with consumer spending being such a big driver of the economy, a weak retail sales report caused fresh concern among investors...
---
4.14.09 US will provide the Lebanese military with unmanned aircraft
(AP) April 14 - The United States said Tuesday it is providing Lebanon with 12 unmanned military aircraft in the coming months, the latest effort to bolster the fragile Middle East nation. Washington hopes a strengthened Lebanese military would extend state authority across the country, where Hizbullah is gaining power with its arsenal of rockets that threaten another US ally, Israel. A strong national army could be a counter to Hizbullah's weapons and could deprive the terrorists of the excuse to keep their arms. US officials said their support is intended to help Lebanon maintain internal security, fight terrorism and secure its borders. Since 2006, the US has provided Lebanon with more than a billion dollars in assistance, including $410 million to support security. But the aid has largely been equipment, vehicle and supplies, drawing ridicule from critics who contrast that with the high-tech weapons provided to Israel. [More>>jpost.com]
---
4.14.09 Taliban execute couple for eloping
KABUL, Afghanistan (AP) April 14 - Taliban gunmen executed a young couple in southern Afghanistan for trying to elope, shooting them with rifles in front of a crowd in a lawless, militant-controlled region, officials said on Tuesday. The woman, 19, and the man, 21, were accused by the militants of immoral acts, and a council of conservative clerics decided that the two should be killed, said Ghulam Dastagir Azad, the governor of the southwestern province of Nimroz. Riflemen in the remote district of Khash Rod shot the man and woman with AK-47s Monday during a public execution, said Sadiq Chakhansori, the chief of Nimroz' provincial council. [More>>timesofindia.indiatimes.com; See related story,
indianexpress.com (AP) April 14, "Afghanistan warns against Pakistan's Taliban deal" : KABUL, Afghanistan - Afghanistan warned that Pakistan's deal to allow Taliban to impose Islamic law in part of the country may have "dire consequences" for the region and could harm ties between the neighbors. The criticism came after Pakistan's President Asif Ali Zardari signed an accord to put the vast Malakand district under sharia law as part of efforts to end an insurgency, despite fears that it could encourage extremism. "We do not interfere in Pakistan's internal affairs," President Hamid Karzai's spokesman, Homayun Hamidzada, told reporters in response to a question about the deal.

However there were concerns that "dealing with terrorists and handing over parts of one country to terrorists could have dire consequences in the long term," he said. Malakand is home to around three million people and includes the Swat valley, a former ski resort and jewel in the crown of Pakistani tourism until the central government lost control when cleric Maulana Fazlullah launched a campaign to enforce Taliban-style sharia. [end]
---
4.14.09 France seeks to stop forced marriage, mutilation
PARIS (AP) April 14 - France's government launched a campaign Tuesday against forced marriages and genital mutilation, seeking to protect women from practices that quietly thrive in immigrant communities the nation is struggling to integrate. The government is handing out 100,000 leaflets to schools, doctors and other public services explaining the health and legal risks and providing information on support services for victims.

...France is among several European countries that have sought to stamp out such customs. French law forbids forced marriages and allows prosecution of anyone who mutilates the genitals of a girl with French citizenship or resident status, even if the operation is conducted in another country. But the practices continue to thrive in secret. The French information campaign appears aimed at getting the word out to immigrants that such acts are not acceptable here. "A barbaric, anachronistic and unjustifiable plague," was how the government's junior minister for women's and other social issues, Valerie Letard, described the practices. Around 55,000 women and girls in France have been genitally mutilated, and about 70,000 women and girls in France are "under threat" of being forced into marriage, she said. [Full story>>khaleejtimes.com]
---
4.14.09 Trial begins in New York for al-Qaeda helpers
NEW YORK (Reuters) April 14 - Suspects accused of setting up training camps. Jury selection began in New York on Monday in the trial of three men accused of helping set up a militant training camp in rural Oregon and operating websites showing how to assemble bombs. The three suspects are Oussama Abdullah Kassir, James Ujaama and Haroon Rashid Aswat. Kassir, 43, who was extradited from the Czech Republic to New York in 2007, faces multiple charges, including supporting terrorism and al-Qaeda, by attempting to set up the camp in Bly, Oregon from 1999 to early 2000.

Prosecutors say Kassir and two others involved in the case were followers of Egyptian-born Abu Hamza al-Masri, a one-armed Muslim cleric who is serving a seven-year sentence in Britain for inciting his followers to murder nonbelievers. Ujaama, a former community activist in Seattle, has pleaded guilty to trying to help al-Qaeda militants and may testify at the trial in Manhattan federal court as part of a plea agreement. The other suspect in the case, Aswat, one of Masri's chief aides, is appealing against extradition to the United States. [More>>alarabiya.net]
---
4.14.09 Warrants out for Thaksin, cronies
BANGKOK, April 15 - The Criminal Court yesterday issued arrest warrants for ousted premier Thaksin Shinawatra and 13 of his supporters over Monday's riots, police said. The court issued the warrants late in the afternoon after protest leaders told the red shirts camped out at Government House to go home before turning themselves in around noon. The warrant said Thaksin was sought for inciting unrest that led Prime Minister Abhisit Vejjajiva to cancel the Asean summit in Pattaya and impose a state of emergency that led to military crackdowns on protesters. "Thaksin and his allies are charged by court for illegal assemblies of more than five people, threatening violence and breach of peace, punishable by five years in jail," the warrant said. It said the former PM was also accused of inciting people to break the law and cause unrest, a charge punishable by seven years in prison. Red-shirt protest leaders, Veera Musigapong, Natthawut Saikua and Dr. Weng Tochirakarn turned themselves in at the Metropolitan Police Bureau headquarters. [More>>nationmultimedia.com]
---
4.14.09 Iran working on new rockets
TEHRAN (AFP) April 14 - Iranian President Mahmoud Ahmadinejad said on Tuesday that Tehran was working on manufacturing rockets that can carry satellites heavier than the one launched into space in February. "They (world powers) think this (Safir-2) was our final rocket, but we are working on rockets which can go up to 700 kilometres (440 miles) and above and carry heavier satellites," he said in an address to visiting expatriate Iranians. [More>>khaleejtimes.com]
---
4.14.09 Iran: US journalist tried behind closed doors
April 14 - An Iranian American journalist accused by Iran of spying for the United States has been tried behind closed doors, Iran's judiciary said today, and a verdict is expected in one to two weeks. Roxana Saberi "has been charged with spying for foreigners. The first session of the court was held yesterday, and her last defense was heard," judiciary spokesman Ali Reza Jamshidi told journalists, the semiofficial Iranian Students News Agency reported. "Her spying was for the United States, and I think the verdict will be passed within a couple of weeks," Jamshidi added, saying that it was up to the judge to decide whether future hearings would be open to the public. The Obama administration says the charges against Saberi, 31, are baseless and has demanded her immediate release. [More>>washingtonpost.com]
---
4.14.09 New wave of Somali pirate attacks
April 14 - Somali pirates have hijacked a fourth vessel in 48 hours, seizing a Lebanese-owned cargo ship. The 5,000-tonne Togo-flagged MV Sea Horse was taken by gunmen in up to four skiffs, NATO officials said. Earlier, pirates hijacked a Greek-owned bulk carrier, the MV Irene, in the Gulf of Aden a day after Somali raiders captured two Egyptian fishing boats. Analysts say the gangs are clearly not put off by recent US and French hostage rescues that left several bandits dead. Somali pirate leaders — who have generally treated captives well in the hope of winning big ransom payouts — vowed on Monday to avenge the deaths. [More>>bbc.co.uk; See related story,

cnn.com, April 14, "Pentagon looks to move battle against pirates ashore" : As the Defense Department weighs options to prevent a repeat of the drama that unfolded on the seas this weekend, those who patrol the waters say pirates must be rooted out before they leave land. Pentagon planners are preparing a variety of options for dealing with Somali pirates, and a United Nations resolution gives them the authority to conduct operations inside Somalia. "The ultimate solution for piracy is on land," said Vice Adm. William Gortney, commander of US Naval Forces Central Command and the Combined Maritime Forces...
---
4.14.09 North Korea vows to restart plant and boycott talks
WASHINGTON, April 14 - North Korea, angered by a United Nations rebuke over its recent missile launch, declared Tuesday it would pull out of nuclear disarmament talks for good and reactivate its nuclear program. The Web site of the International Atomic Energy Agency, the United Nations nuclear watchdog, later confirmed that North Korea had announced that it was ceasing all cooperation and expelling nuclear inspectors from the country. The North "also informed the I.A.E.A. that it has decided to reactivate all facilities and go ahead with the reprocessing of spent fuel," said an agency spokesman, Marc Vidricaire. The decision by Pyongyang, which came just hours after the Security Council chastised North Korea for violating United Nations resolutions, poses a foreign policy test for the Obama administration. [More>>nytimes.com]
---
4.13.09 3 phenomenal shots ended pirate hostage crisis
April 13 - In the end, it was a single moment that brought the hostage crisis to its dramatic finish. Three gunshots. All three fatal. Fired in the dark by three specially trained US Navy SEALs as the pirates' boat rocked in the water off Somalia. "Phenomenal shots — 75 feet away," said Navy Vice Adm. Bill Gortney, who oversees the region. A senior defense official told CNN that each was a shot to the head. Gortney, in an interview Monday with CNN's "American Morning," described critical steps that led to the rescue of US Capt. Richard Phillips, who was taken by pirates after they boarded his merchant ship, the Maersk Alabama, east of Somalia on Wednesday...The three were "tired," Gortney said. "The sea state was picking up. They agreed for us to tow them into little better waters as the ship was bouncing around. It was very tense."...[Full story>>cnn.com]
---
4.13.09 Egypt: 13 Hizbullah men hiding in Sinai
April 13 - Egyptian police were tracking down 13 members of an alleged Hizbullah cell believed to be hiding out with the Beduins in the Sinai Peninsula, a security official said Monday. The men are thought to be 10 Lebanese and three Sudanese — connected to a group of 49 members of an alleged Hizbullah cell that the government announced was plotting to attack Egyptian institutions and Israeli tourists. The official, who spoke on condition of anonymity because he is not authorized to speak to the media, said the men had taken shelter in the central Sinai town of al-Nakhl. Authorities fear the suspects may either try to escape north into Gaza — some 120 miles away — through the many smuggling tunnels or head south to the tourist resorts on the coast. [More>>jpost.com; See also

alarabiya.net, April 13, "Egypt police surround wanted Lebanese in Sinai" : Egyptian police in Sinai have surrounded 10 Lebanese men wanted on suspicion of plotting attacks against Egypt, a security source said on Sunday. The men are part of a group sought by Cairo for their links to Lebanon's Hizbullah, the source said. Tensions between Egypt, a predominantly Sunni country, and Hizbullah, a Shiite group backed by Iran, have been running high since Hizbullah leader Hassan Nasrallah in December accused Cairo of complicity with Israel in its siege of Gaza. Cairo said on Wednesday it had detained 49 Egyptian, Palestinian and Lebanese men linked to Hizbullah, accusing them of planning attacks in Egypt...
---
4.13.09 Gaza boat explodes near Isreal Navy vessel
April 13 - A booby-trapped fishing boat exploded on Monday near an Israel Navy vessel off the coast of the northern Gaza Strip. No one was wounded in the blast, which occurred about 300 meters from the Gaza coast, near the border with Israel. The Palestinian vessel was laden with explosives, but was unmanned. Israel Defense Forces Chief of Staff Gabi Ashkenazi later Monday called the incident an attempted attack. [More>>haaretz.com]
---
4.13.09 Taliban using mosques as 'recruitment centers'
ISLAMABAD, April 13 - Having forcibly taken over Buner district adjoining Swat Valley, Taliban militants have begun using mosques in the area as "recruitment centres" to attract youths to join their ranks. Almost all mosques in villages in Buner district are being used by the Taliban to recruit local residents for their cause of enforcing Sharia or Islamic law in the Malakand division, which includes Swat, and the rest of the country, media reports said on Monday.

The entry of Taliban into Buner, which is just about 100 km from the federal capital, has raised alarm throughout Pakistan as to the intentions of the Taliban. Armed bands of Taliban poured into Buner from neighboring Swat and took control of the district after overcoming resistance from local tribesmen and officials. The militants on Sunday placed villages in Chamla sub-district of Buner "under their protection" and faced no resistance from law enforcement agencies. Despite assurances to a tribal jirga last week that they would leave Buner, the militants have instead strengthened their hold on the district.
Maulana Khalil, a Taliban leader from Swat, addressed a congregation in a mosque in Malakpur village where he was welcomed by clerics and a large number of local residents. He urged youths to come forward and shoulder the responsibility for enforcing Sharia in their areas. Khalil said the movement for enforcing Sharia in Malakand division had started 20 years ago but the peaceful campaign could not achieve results. Thus it had to be turned into an armed movement to enforce Sharia. [>indianexpress.com; See related stories:

thenews.com.pk, April 13, "Taliban commander killed in Mohmand Agency" : PESHAWAR: A Taliban commander Dilbar Khan was killed by security forces in an armed clash here, Frontier Corps claimed on Monday. He was the cousin of a key Taliban commander Umer Khalid, sources said. According to the FC officials, Dilbar Khan and his 18 fighters came to threaten the security forces which retaliated and killed him. The officials told that the clash took place on Sunday night after militants had tried to besiege the area following the death of Dilbar Khan. However, security forces helped the local tribal to successfully end the siege after which militants fled from the scene. The sources said that local tribals had praised Frontier Corps personnel for their support against the militants. [end]

thenews.com.pk, April 13, Mehsud's close aide arrested in Karachi" : KARACHI: Badshah Din, a close accomplice of Baitullah Mehsud, has been arrested from the jurisdiction of Sachal Police Station in Karachi, police said. According to SSP Ghayasuddin, the name of the accused was in the red book of CID and that he provided weapons, residence and vehicles to terrorist. The man has also been involved in bank robberies, the SSP added. Ghayasuddin further said that Badshah Din was responsible for running the network of Baitullah Mehsud in Karachi. [end]

washingtonpost.com, April 13, "Pakistan leader under pressure to back Swat deal" : ISLAMABAD (AP) - Pakistani lawmakers passed a resolution Monday urging that the president sign a regulation that imposes Islamic rule in a northwestern valley in exchange for peace with the Taliban. Meanwhile, authorities announced the arrest of a fifth suspect in the deadly siege of the Indian city of Mumbai last year. Hours after a Taliban spokesman said lawmakers would be considered to have abandoned Islam if they opposed the Islamic law deal, the National Assembly unanimously approved the resolution aimed at President Asif Ali Zardari — though at least one party boycotted.

The provincial government in northwestern Pakistan agreed in February to impose Islamic law in the Swat Valley and surrounding areas in exchange for a cease-fire with the local Taliban. Western and Pakistani critics say the agreement represents a dangerous surrender to extremists behind a campaign of terrorism in the Swat Valley and more broadly across the border region with Afghanistan. Amid the criticism, Zardari has delayed signing the agreement...
---
4.13.09 Iran ready to train Afghan police
TEHRAN (AFP) April 13 - Iran's police chief on Monday said his force was ready to train its counterparts in Afghanistan but also said there were no talks with NATO on cooperating with foreign forces in the war-ravaged country. "We have announced our readiness to train the Afghan police,"  Esmaeel Ahmadi-Moghadam told reporters. Last month, Iran and NATO held their first "informal" talks since the Iranian revolution 30 years ago, focusing on Afghanistan where NATO is battling an intense Taliban-led insurgency. Iran is interested in possible cooperation on Afghanistan to confront the problems posed by opium production there, and because of an influx of Afghan refugees across their common border...He said 7,700 tones of opium were produced in Afghanistan in 2008, of which 3,000 tones entered Iran. His forces managed to seize 1,000 tones of this, Moghadam added. Iran has close ethnic and religious ties with Afghanistan... [Full story>>khaleejtimes.com]
---
4.13.09 Iraq militia fear reprisals after US exit
April 13 - Awakening Councils, who helped end Sunni uprising, to lose American protection. The Sunni Arabs lost their dominant position in Iraq when Saddam Hussein was overthrown, but they began to regain their strength when the United States recruited them as foot soldiers to fight against al-Qaeda. But now, as American troops prepare to go home, the Sunni who changed from insurgents to US allies over the last two years are once more fearful for their future. This weekend was a case in point. In the latest attack, a suicide bomber — almost certainly from al-Qaeda — killed 13 and wounded 30 Sunni paramilitaries. The victims were all members of the Awakening Councils, the US-backed Sunni militia groups, which had at first fought the American occupation until they revolted against growing al-Qaeda control of the rebellion. In all an estimated 53 Awakening Council members were killed last week.

Not only are members of the Awakening Council being targeted by the bombers and assassins of al-Qaeda. They are regarded with extreme distrust by the largely Shia government and security forces in Baghdad at the very moment that their American protectors are departing. Some 250 of the lightly armed Awakening Council fighters, also known as al-Sahwa or the Sons of Iraq, were milling around outside an Iraqi army base in the town of Jbala, 35 miles south of Baghdad, waiting to collect their pay when the bomber struck on Saturday. He was wearing an explosives belt and was able to infiltrate the crowd because he was wearing the same uniform as the Awakening Council members. [More>>independent.co.uk]
---
4.12.09 US ship captain held by pirates now free on US warship, source says
April 12 - Circumstances of Rescue Still Emerging. The American ship captain held since Wednesday by Somali pirates now is free on board a US warship after a rescue, sources tells ABC News. Details still were emerging about the rescue of Capt. Richard Phillips, who was aboard the USS Bainbridge. There were reports earlier in the day that negotiations for Phillips' were breaking down, and that the US Navy today had seen Phillips in captivity. The Navy also had been able to communicate with Phillips, 53, and confirm he was alive after a daring escape attempt early Friday, officials said Saturday.
The new sighting came with Phillips' ship, the Maersk Alabama, now in a Kenya port and declared a "crime scene" after its crew repelled a pirate attack, and amid reports that negotiations for Phillips' release are sputtering. Somali elders who were negotiating for the pirates offered to forgo a ransom, but insisted that the pirates not be arrested, according to people in touch with the elders. However, the US negotiators were not accepting those terms, the sources said. This morning, the US military said its negotiators were continuing to negotiate until Phillips is released. [>abcnews.go.com; See also

cnn.com, April 12, "American captain rescued, pirates killed, US official says" : The captain of the Maersk Alabama was freed Sunday after being held captive since Wednesday by pirates off the coast of Somalia, a senior US official with knowledge of the situation told CNN. The official said Capt. Richard Phillips is uninjured and in good condition, and that three of the four pirates were killed. The fourth pirate is in custody. Phillips was taken aboard the USS Bainbridge, a nearby naval warship. Earlier Sunday afternoon Maersk Line Limited, owner of the Maersk Alabama, said the US Navy informed the company that it had sighted Phillips in a lifeboat where pirates are holding him. Phillips was spotted another time earlier in the day, the Navy said...
---
4.12.09 Bangkok descends into "total chaos"
BANGKOK, April 12 - Protesters Swarm Thai Capital As Gov't Declares State of Emergency; Exiled Former Leader Calls For Revolution. Thailand's ousted prime minister called for a revolution Sunday after rioting erupted in the capital, with protesters commandeering public buses and swarming triumphantly over military vehicles in unchecked defiance after the government declared a state of emergency.

Bands of red-shirted anti-government protesters roamed areas of Bangkok, with some furiously smashing cars carrying Prime Minister Abhisit Vejjajiva and his aides and others beating up motorists who hurled insults at them. At least 10 intersections were occupied by the protesters, who used buses to barricade several major roads, spawning massive traffic jams. Police Gen. Vichai Sangparpai said up to 30,000 demonstrators were scattered around the city. Police vans at some intersections were abandoned and looted. [More>>cbsnews.com; See also

bangkokpost.com, April 12, "Thaksin urges for more protesters": Former prime minister Thaksin Shinawatra made a phone-in speech to the red-shirt United Front for Democracy against Dictatorship (UDD) protesters outside Government House on Sunday night, calling on his supporters to gather and fight against the government. The deposed prime minister said he will return to lead his supporters, if a coup takes place...
---
4.12.09 China slows purchases of US and other foreign bonds
HONG KONG, April 12 - Reversing its role as the world's fastest-growing buyer of US Treasuries and other foreign bonds, the Chinese government actually sold bonds heavily in January and February before resuming purchases in March, according to data released this weekend by China's central bank. China's foreign reserves grew in the first quarter of this year at the slowest pace in nearly eight years.

For the quarter, the reserves edged up $7.7 billion, compared to a record increase of $153.9 billion in the same quarter last year. The main effect of slower bond purchases may be to weaken Beijing's influence in Washington, by lessening the reliance of the US Treasury on Chinese central bank purchases at its government bond auctions. Chinese officials from Premier Wen Jiabao on down have expressed growing nervousness over the past two months about their country's huge exposure to America's financial well-being.

Chinese reserves fell a record $32.6 billion in January and another $1.4 billion in February before rising $41.7 billion in March, according to figures that were released by the People's Bank for the first time over the weekend. Resumed growth in China's reserves during March suggests that confidence in the country may be reviving, and capital flight could be slowing. China has essentially lent vast sums to the United States — roughly two-thirds of the central bank's $1.95 trillion in foreign reserves are believed to be in American securities. [More>>nytimes.com; See related story, xinhuanet.com, April 12, "Chinese economy shows signs of positive changes."]
---
4.12.09 Afghan, international forces kill 40 suspected Taliban
KABUL, Afghanistan (DPA) April 12 - Afghan and international forces killed 40 suspected Taliban militants in the latest clashes in southern and eastern Afghanistan, while a suicide bomber killed himself and wounded a civilian in the northern region, officials said Sunday. The police chief of Afghanistan's restive southern Zabul province claimed Sunday that Afghan forces backed by US-led coalition air support killed 22 suspected insurgents in a clash.

The militants ambushed a convoy of Afghan soldiers and international troops in the province's Shinkay district on Saturday night, sparking a fierce battle that lasted for four hours, Abdul Rahman Sarjang, the provincial police chief said. Shortly after the battle erupted, Afghan police forces and coalition aircraft joined the fight and killed 22 insurgents, Sarjang said. [More>>khaleejtimes.com]
---
4.12.09 HAMAS "bomb factory" found in West Bank mosque
WEST BANK, April 12 - Fatah questions suspects over Hamas bomb factory in West Bank. Palestinian security officials said on Sunday that they had found a Hamas bomb-making factory underneath a mosque in the occupied West Bank. "Security forces found a bomb-making factory inside a mosque in Qalqiliya," an interior ministry statement said. "Many of the bombs were ready to use and many of them were of industrial grade." A senior security official told AFP that Fatah-led Palestinian security forces had detained "many" people for questioning after the discovery, and said the "factory belongs to Hamas." [More>>alarabiya.net]
---
4.12.09 New Orangutan population found in Indonesia
JAKARTA, Indonesia (AP) April 12 - Conservationists have discovered a new population of orangutans in a remote, mountainous corner of Indonesia — perhaps as many as 2,000 — giving a rare boost to one of the world's most endangered great apes. A team surveying forests nestled between jagged, limestone cliffs on the eastern edge of Borneo island counted 219 orangutan nests, indicating a "substantial" number of the animals, said Erik Meijaard, a senior ecologist at the US-based The Nature Conservancy. "We can't say for sure how many," he said, but even the most cautious estimate would indicate "several hundred at least, maybe 1,000 or 2,000 even." The team also encountered an adult male, which angrily threw branches as they tried to take photos, and a mother and child. There are an estimated 50,000 to 60,000 orangutans left in the wild, 90 percent of them in Indonesia and the rest in neighboring Malaysia. [More>>thejakartapost.com]
---
4.12.09 Afghan female provincial legislator shot dead
KANDAHAR, Afghanistan, April 12 - Two armed men on motorbikes gunned down a woman provincial legislator in Afghanistan's volatile southern city of Kandahar on Sunday, an official said. Sitara Achikzai was on her way home from work when she was killed in the drive-by shooting outside her house, the head of the council, Ahmad Wali Karzai told a foreign news agency. "She has been martyred by two men on motorbikes and the case is under investigation," said Karzai, brother of President Hamid Karzai.

He blamed the attack on "enemies of Afghanistan," a term often used to refer to Taliban insurgents behind a wave of killings, including assassinations, as part of an insurgency. There was however no immediate claim of responsibility. Taliban gunmen in the city shot dead the most high-profile female police officer in Afghanistan in September last year. [>thenews.com.pk]
---
4.12.09 NATO lorries set ablaze in Pakistan
April 12 - Suspected Taliban fighters in Pakistan have destroyed 11 lorries loaded with supplies for Nato forces in neighbouring Afghanistan, police say. Police officials on Sunday said as many as 60 fighters attacked two lorry terminals outside the northwestern city of Peshawar armed with petrol bombs, starting off huge blazes at both points. "There were no casualties in the petrol bomb attacks early Sunday on Pak-Afghan and Fazale Rabi terminals, which destroyed 11 trucks loaded with Nato supplies," Abdul Gahfoor, a senior police official, said. Mohammd Javed, another police official, said "the militants were 50-60 in number," adding they had over-powered and beaten security guards before starting the fires. Taliban fighters have carried out a series of strikes on lorries carrying supplies for US and Nato-led foreign forces fighting an insurgency in Afghanistan. The bulk of supplies and equipment required by the foreign troops across the border is shipped through northwest Pakistan's tribal region of Khyber. [>aljazeera.net]
---
4.12.09 New bird flu cases suggest the danger of pandemic is rising
April 12 - Infections in Egypt raise scientists' fears that virus will be spread by humans. First the good news: bird flu is becoming less deadly. Now the bad: scientists fear that this is the very thing that could make the virus more able to cause a pandemic that would kill hundreds of millions of people. This paradox — emerging from Egypt, the most recent epicenter of the disease — threatens to increase the disease's ability to spread from person to person by helping it achieve the crucial mutation in the virus which could turn it into the greatest plague to hit Britain since the Black Death. Last year the Government identified the bird-flu virus, codenamed H5N1, as the biggest threat facing the country — with the potential to kill up to 750,000 Britons.
The World Health Organization is to back an investigation into a change in the pattern of the disease in Egypt, the most seriously affected country outside Asia. Although infections have been on the rise this year, with three more reported last week, they have almost all been in children under the age of three, while 12 months ago it was mainly adults and older children who were affected. And the infections have been much milder than usual; the disease normally kills more than half of those affected; all of the 11 Egyptians so far infected this year are still alive.
Experts say that these developments make it more likely that the virus will spread. Ironically, its very virulence has provided an important safeguard. It did not get much chance to infect other people when it killed its victims swiftly, but now it has much more of a chance to mutate and be passed on. The WHO fears that this year's rise in infections among small children, without similar cases being seen in older people, raises questions about whether adults are being infected but not falling ill, so acting as symptomless carriers of the disease. Its investigation, due to start this summer, will see if this is happening by testing the blood of people who may have been in contact with infected birds, but who have not themselves become sick. [More>>independent.co.uk]

---
Editorial note: Compare the affects of the Spanish Flu of 1918 that killed as many as 50-100 million people worldwide. It is estimated that 2-20 % of the people infected died from the disease. Bird flu has had a 50% kill rate.

Mel Copeland
---
4.11.09 US navy eyeballs Somali pirates in hostage standoff
MOGADISHU, Somalia (Reuters) April 11 - Somali elders sought to mediate on Saturday between the US navy and pirates holding an American hostage in a high-seas standoff that presents President Barack Obama with a nasty new dilemma. Four pirates adrift in a lifeboat far out in the Indian Ocean with Richard Phillips, the 53-year-old American captain of a cargo ship they tried to seize on Wednesday, have demanded $2 million for his release and a guarantee of their own safety. With three US warships in the area, the elders and relatives of the pirates holding Phillips, a father-of-two from rural Vermont, are planning a mediation mission to try to avoid bloodshed, a regional maritime group said. "They are just looking to arrange safe passage for the pirates, no ransom," group coordinator Andrew Mwangura said.

...On Saturday pirates seized another vessel, a US-owned, Italian-flagged tugboat with 10 Italians among its 16-member crew, NATO alliance officials on a warship in the region said. Earlier, attackers fired a rocket-propelled grenade into the cabin of the commanding officer of another ship in the Gulf of Aden between Somalia and Yemen. They also fired bullets. The grenade did not explode and the ship's crew managed to repel the attackers with water hoses, the NATO officials said. A US military official said the destroyer USS Bainbridge was near the lifeboat and had been joined by the USS Boxer, the flagship of a US-led multinational counterpiracy task force. The Boxer, which has a crew of about 1,000 and can carry around 2,000 US Marines, is equipped with a hospital and dozens of attack planes and helicopters. The guided missile frigate USS Halyburton is also nearby.

...Pirates on a German 20,000-tonne container vessel with 24 foreign hostages gave up an attempt to use the ship as a "shield" to reach the lifeboat holding Phillips...Phillips is one of about 260 hostages being held by Somali pirates preying on the busy sea lanes of the Gulf of Aden and the Indian Ocean. There are more Filipinos than any other nationality and the pirates are keeping about 17 captured vessels at or near lairs like Eyl, Hobyo and Haradheere on Somalia's eastern coast — six of them taken in the last week alone. [Full story>>thestar.com.my]
---
4.11.09 US judge rules investors can force Madoff into bankruptcy
NEW YORK, April 10 - A US federal judge on Friday allowed investors to force Bernard Madoff, the swindler behind a purported 65-billion-dollar Ponzi scheme, into bankruptcy. Although U.S. federal prosecutors, the Securities and Exchange Commission and the Trustee for the Liquidation of Bernard L Madoff Investment Securities LLC opposed the bankruptcy proposal, US District Court Judge Louis Stanton ruled that the alleged victims could go after Madoff's assets that were not proceeds from his crimes. The judge, of the Southern District of New York in Manhattan, said the US bankruptcy code is the best and most experienced system to deal with the claims against Madoff's assets, excluding those that prosecutors may force him to forfeit as proceeds from a crime. US federal prosecutors and the SEC have argued that it would be "unnecessary and costly" for the convicted financier to file for personal bankruptcy. [More>>xinhuanet.com; See related story,

timesonline.co.uk, April 11, "Bernard Madoff liquidator sets off in pursuit of beneficiaries as pawn shops report brisk trade" : The liquidator of Bernard Madoff's investment business has started trying to claw back money paid out by the convicted swindler in the first act of what is likely to be a lengthy process. Irving Picard, the court-appointed trustee of Bernard L Madoff Investment Securities (BMIS), filed a lawsuit against Vizcaya Partners, a British Virgin Islands-based investor with Madoff, and Vizcaya's Gibraltar-based bank, Banque Jacob Safra. Mr. Picard, who is attempting to recover cash so it can be used to compensate victims of Madoff's $65 billion Ponzi scheme, wants Vizcaya to return $150 million it withdrew from BMIS about six weeks before the fraudster confessed to his massive scam. The clawback process is feared by Madoff investors, who have sought legal advice on how to thwart Mr. Picard's anticipated attempts to recover the money.

...In papers filed with a Manhattan bankruptcy court late on Thursday, Mr. Picard said that Vizcaya began investing with Madoff in 2001 and used Banque Jacob Safra to wire $327 million in total to BMIS in 26 separate payments. On October 31, 2008, Madoff wired $150 million in what Mr. Picard described as a "preferential payment" to Vizcaya's account at the Gibraltar bank. He told the court that he wanted the money back so that it could benefit Madoff's defrauded investors.

Under New York bankruptcy law, the trustee can recover profits taken up to six years before Madoff revealed his scam and he can also claw back initial investments in the scheme that have since been withdrawn. Mr. Picard has said that he will pursue Madoff investors who withdrew profits from the fake funds in the 90 days before December 11. He is also expected to try to reclaim profits taken more than 90 days before the confession if investors withdrew more than they put into the fund...
---
4.11.09 Thai protests cancel Asian summit
April 11 - A summit of Asian leaders in Thailand has been cancelled after anti-government protesters broke into the venue in the resort of Pattaya. PM Abhisit Vejjajiva declared an "extreme state of emergency" in Pattaya for several hours while the leaders were airlifted from the area. The Association of South-East Asian Nations (Asean) summit was due to have been held on Saturday and Sunday. Thailand has been in turmoil, with the opposition demanding fresh elections. The BBC's Jonathan Head in Bangkok says Thais have spent months organizing the summit, but security around the venue collapsed in a matter of hours as thousands pushed their way through the police cordon. [More>>bbc.co.uk]
---
4.11.09 'Nasrallah is trying to turn Egypt into Hizbullah's playground'
(AP) April 11 - Egyptian officials responded angrily to a speech by Hizbullah's leader, in which he admitted that the Lebanese terror group was smuggling arms into the Gaza Strip, and told the London-based Arab daily Asharq Alawsat that "[Hassan] Nasrallah wants to turn Egypt into a playground like Lebanon." In an article published on Saturday, the officials blamed Nasrallah for "dragging Egypt into this situation" by letting his people enter Egypt "for satanic purposes."
"Egypt is not a playground in which others can play. Egypt is not a building without a doorkeeper," the unnamed officials warned Hizbullah. The Egyptian officials reportedly went on to link Nasrallah's speech with the interests of the Iranian government.
"Nasrallah's admission and the language he used point to Hizbullah's desire to unite Egypt and the rest of the region with the Lebanese resistance movement and its solidarity with the Palestinians, under complicated international circumstances — for the mere sake of satisfying the Iranian interest to occupy the world, as (Teheran) develops its nuclear program," the officials were quoted as saying. [More>>jpost.com; See related story,

haaretz.com, April 11, "Egyptian police kill driver of munitions truck headed for Gaza" : Egyptian police shot dead a Bedouin in northern Sinai on Saturday, with the man found to be driving a truck loaded with munitions and heading for the Hamas-run Gaza Strip, a security official said. Three others escaped after an exchange of fire with police, Israel Radio reported. Meanwhile, Egyptian security sources said Saturday that police have detained a man they say was transporting $2 million to northern Sinai to be smuggled into the Gaza Strip to Hamas...
---
4.11.09 Terror plot was al-Qaeda driven, say UK anti-terror officials
LONDON, April 11 - British authorities believe that the foiled terror attack in the country was al-Qaeda driven and that a link existed between suspected al-Qaeda commanders in Pakistan and the suspects held in UK. Interception of calls and e-mails of suspects in the UK terror plot had led British security officials and police to fear that a large terrorist strike was in the offing. Quoting an informed source, the 'Guardian' newspaper said that the plot was "al-Qaeda driven." "There was concern (al-Qaeda) was directing operations... recruiting people to travel to this country, direct their operations and tell them what to do," the paper said. [More>>timesofindia.indiatimes.com]
---
4.11.09 Taliban knock on the doorstep of Islamabad
ISLAMABAD, April 11 - The Pakistani Taliban have begun enforcing Islamic law in the Bajaur tribal region even as scores of militants consolidated their hold on Buner district, located just 100 km from the federal capital. Maulvi Faqir Mohammad, the militant commander in Bajaur Agency and a deputy of Tehrik-e-Taliban Pakistan chief Baitullah Mehsud, announced the decision to enforce Shariah in the region during a broadcast on his illegal FM radio station on Friday. Mohammad also barred women from stepping out of their homes without male relatives, banned shaving of beards and warned people against availing assistance from the Benazir Income Support Programme, a government project to provide financial aid to women. During a 40-minute speech on radio, Mohammad said he and his fighters would spare no effort to strictly implement Islamic laws in the region.
The Taliban have formed an "action group" to ensure the enforcement of Shariah and to punish people who violate their edicts. Mohammad said that shaving of beards and men not wearing skull caps are "practices of Jews and their followers" which the Taliban would not allow in Bajaur. People who listened to his radio broadcast described Mohammad's tone as "aggressive." The militant commander also said people supporting the Benazir Income Support Programme and NGOs would be produced before Shariah courts. Meanwhile, scores of Taliban fighters from Swat who entered Buner district, located just 100 km from Islamabad, have begun consolidating their hold on the region and taking control of more areas, including the shrine of Sufi saint Pir Baba. [More>>indianexpress.com; See related story,

khaleejtimes.com (AP) April 11, "Afghan cleric defends contentious marriage law" : KABUL - A key backer of an Afghan law that critics say legalizes marital rape and rolls back women's rights rejected an international outcry as foreign meddling on Saturday and insisted the legislation offers women many protections. The law, passed last month, says a husband can demand sex with his wife every four days unless she is ill or would be harmed by intercourse, and regulates when and for what reasons a wife may leave her home alone.

The legislation has raised the specter of the deposed hard-line Taliban regime in Afghanistan. The strict Islamist regime required women to wear body-covering burqas and banned them from leaving home without a male relative. Following an international uproar, in which President Barack Obama called the law "abhorrent," Afghan President Hamid Karzai put it under review. The move puts enforcement on hold. Mohammad Asif Mohseni, a top Afghan cleric who was one of the law's main drafters, said the legislation cannot be revoked or changed because it was enacted through a legislative process — passed by both houses of parliament and signed by Karzai. He condemned the outcry, saying Western countries were trying to thwart democracy when results did not please them...
---
4.11.09 Suicide bomber strikes Iraqi town
April 11 - At least nine people have been killed and 31 wounded in a suicide bomb attack on a security post in Iraq, police say. The men, US-allied Sunni paramilitaries, or Sahwas, were killed in Iskandariya, 40km south of the Iraqi capital, while queuing to collect their wages on Saturday. Muthana Khalid, an Iraqi police spokesman, said the bomber mingled into a crowd of about 250 people and blew himself up. Ali al-Zahawi, the head of Iskandariya police, said: "The Sahwa men were preparing to enter the military post to receive their salaries when a suicide bomber managed to blow himself up among them, killing nine of them." Sahwas helped curb violence in Iraq after they turned against al-Qaeda and other anti-government groups. But relations between the Sahwas, also known as Awakening Councils, and the Shia-led government in Baghdad have been strained in recent weeks by the arrest of Sahwa leaders. Sahwas' salaries have been delayed in recent weeks, sparking concerns that the Shia-led government could disband them. [>aljazeera.net]
---
4.10.09 Report expected to show federal deficit tripled
WASHINGTON (AP) April 10 - The federal budget deficit likely surged again last month as the government struggles with the costs of the financial crisis and a severe recession. Economists surveyed by Thomson Reuters expect the deficit in March hit $150 billion, which would be more than three times higher than the year-ago level. The Treasury Department is scheduled to release the report Friday at 2 p.m. EDT. If economists are correct, the amount of red ink through the first six months of the current budget year would total $915 billion, keeping the government on track to reach the administration's projections for an annual deficit of $1.75 trillion. That would far exceed the current record holder, a deficit of $454.8 billion recorded last year. [More>>cnbc.com]
---
4.10.09 Top US general meets Afghan tribes, says he's studying Koran
KANDAHAR, April 10 - The top US general in Afghanistan is reaching out to influential Afghan tribesmen in regions where US troops will soon deploy, apologizing for past mistakes and saying he is now studying the Koran, the Muslim holy book. Gen. David McKiernan met with villagers in Helmand and Kandahar — two of Afghanistan's most violent provinces — in an attempt to foster good will ahead of the US troop surge that will send 21,000 more forces here this summer to stem an increasingly violent Taliban insurgency. McKiernan said he wanted to show respect to tribal elders by traveling to Kandahar on Wednesday to explain some of the mistakes US forces have made in the past — such as arresting people based on information taken from one side in a tribal fight, or killing civilians during operations. [More>>japantoday.com; See related story,
Maravot News 4.09.08 editorial "Confusion over the teachings of the Koran." ...There have been many Islamic conferences, mainly conducted under the auspices of the Saudis, that have sought a reconciliation of the faiths and ways in dealing with terrorism. The problem with the conferences is the fact that Islamic leaders have not been able to define the word "terrorist." They have not been able to separate an action of a freedom fighter — or a defender of Islam — from the acts of terrorism. The problem appears to begin with the Koran itself whose verses advocate the following:

— Koran's Confirmation of the Bible
(The Torah, Prophets and Gospel; Jesus as the Messiah)

— Koran advocates violence against unbelievers (kuffar) / enemies:

— Islamic scholars' teachings against unbelievers - "kuffars"
---
4.10.09 Egypt detains 15 people on suspicion of making rockets
April 10 - Egyptian security forces detained 15 people on Friday afternoon on suspicion that they helped manufacture rockets destined to be smuggled into the Gaza Strip through tunnels on the Gaza-Egypt border, Reuters quoted security sources as saying. The sources said authorities had confiscated the outer shells of 60 projectiles from a metal workshop in Sheikh Zuwayed, a town in the Sinai peninsula located near the Rafah border crossing. The detainees include the owner of the workshop and other workers and drivers who are accused of taking part in a scheme to manufacture rocket parts and send them to the Hamas-ruled coastal enclave.

The IDF fears Hamas could use the tunnels along the Egypt-Gaza border to replenish its weapon supply after a significant amount of it was destroyed during Operation Cast Lead in January. For the Palestinian residents of Gaza, approximately 1.5 million, the smuggling tunnels have also become a main source of goods, including fuel, since Israel tightened its embargo on the Strip after Hamas wrested control of it from the forces of Palestinian Authority President Mahmoud Abbas in 2007. Egypt, on its side of the border, also limits movement through the crossings. [>jpost.com]
---
4.10.09 Pirates demand ransom for US captain
April 10 - A Somali in contact with a pirate leader says the captors of a US sea captain want a ransom and are ready to kill him if attacked. The Somali, who helped negotiate a ransom paid last year to pirates who seized a Ukrainian ship carrying tanks, spoke Friday on condition of anonymity for fear of reprisals. He says he has spoken with a pirate leader on the ground in Somalia who is coordinating action on the lifeboat adrift in the Indian Ocean. He says the plan is to get the hostage to shore to negotiate from a better position. Four pirates are holding Capt. Richard Phillips, captured during a failed effort to seize the Maersk Alabama Wednesday. Phillips attempted a daring escape from the lifeboat where he was being held, but was quickly recaptured.

...The pirates on the lifeboat apparently fear being shot or arrested if they hand over Phillips - who was taken hostage in their failed effort to hijack the cargo ship Maersk Alabama on Wednesday - and they hope to link up with their colleagues who are using Russian, German, Filipino and other hostages captured in recent days as human shields...Mohamed Samaw, a resident of the pirate stronghold in Eyl, Somalia, who claims to have a "share" in a British-owned ship hijacked Monday, said four foreign vessels held by pirates are heading toward the lifeboat. A total of 54 hostages are on two of the ships — citizens of China, Germany, Russia, Ukraine, the Philippines, Tuvalu, Indonesia and Taiwan...Jack Cloonan, a former FBI agent whose Virginia-based firm Clayton Consultants Inc. handles hostage negotiations, told The Associated Press that the presence of other hijacked vessels in the area "could complicate the negotiation strategy under way." [Full story>>cbsnews.com; See related story,

news.com.au, April 11, "US warship with helicopters joins pirate standoff in Somalia" : A second US warship - this one carrying helicopters - has arrived off the Somali coast amid a tense standoff with pirates holding a US ship captain whose recent escape attempt failed, the Pentagon said. The guided-missile frigate USS Halyburton "is on site, in the vicinity" of the small lifeboat where pirates are holding Captain Richard Phillips hostage, US Defense Department spokesman Bryan Whitman said...

cnn.com, April 10, "Hostage dies as French attack Somali pirates" : A French hostage and two pirates died Friday in a rescue operation off Somalia's coastline, the French president's office in Paris said Friday. Four hostages, including a child, were freed from the hijacked yacht after almost a week of captivity, Nicolas Sarkozy's office said. The French military decided to move in when pirates refused their offers and increased threats against the hostages, it said...
---
4.10.09 Attack destroys six NATO tankers in Pakistan
PESHAWAR, Pakistan (AFP) April 10 - Suspected Taliban militants planted a bomb in northwest Pakistan that destroyed six tankers supplying fuel to NATO troops in neighboring Afghanistan, officials said Friday. Around 35 tankers were parked overnight at the Chamkani area, outside Peshawar, when militants placed a bomb under one of the vehicles loaded with diesel, petrol and aviation fuel, police official Asmatullah Khan told AFP. The blast triggered a fire which spread to another five tankers, he said, adding that the blaze was only brought under control by Pakistan air force vehicles after local firefighters failed to tame the flames. 'They used a special chemical to extinguish the fire,' a security official said on condition of anonymity. The oil tankers, contracted to supply NATO forces, had been parked in an unauthorized area, the official said. [More>>khaleejtimes.com]
---
4.10.09 Mexico City cuts off water supplies
April 10 - At least two million residents of Mexico City are without water after authorities cut off
supplies following a record drop in water reserves. The two-day shutdown of a main pipeline began late on Thursday, in time for the Easter holiday weekend, when many residents are out of town. The move is part of a five-month emergency rationing plan announced by Mexican authorities in January. The city's Cutzamala supply system is at 47 percent capacity, its lowest ever level because of low rainfall in 2008, Conagua, Mexico's national water commission said.

The commission also plans to make repairs to stop leaks in the distribution network of one of the main water supply systems. "Losses from leaks are greater than the total resources supplied through this system," Conagua's website said. The city's government said it would provide 500 trucks with water tanks and purified water containers in areas worst hit by the cuts. The government said it hopes to restore 50 percent of the service by late on Saturday and return to a full service by Wednesday. [>aljazeera.net]
---
4.10.09 26 Taliban killed, 18 more injured in South Afghanistan
KABUL, April 10 - Afghan troops and the NATO-led International Security Assistance Force (ISAF) in the latest operation against Taliban insurgents in southern Afghan province of Helmand killed 36 insurgents and wounded 18 more on Friday, officials said. Daud Ahmadi, the spokesman of provincial administration, told Xinhua that the clash erupted in Nad Ali district at 4am local time Friday (2330 GMT Thursday) when the joint patrol of Afghan and ISAF troops engaged with Taliban militants. Ahmadi said no casualties were caused on the joint forces while they eliminated 36 insurgents and injured 18 others.

Meantime, Qari Yusuf Ahmadi, the purported Taliban spokesman confirmed the clash Friday morning but adding the outfits have killed 10 Afghan soldiers. Conflicts and Taliban-linked insurgency have left more than 5,000 people, with over 2,000 civilians, dead and the violence is predicted to go up in 2009 as reinforcement of U.S. troops and the upcoming Presidential elections. [>xinhuanet.com]
---
4.10.09 Suicide truck bomb kills 5 US troops, 2 Iraq police
MOSUL, Iraq (Reuters) April 10 - Under a hail of gunfire, a suicide bomber charged a checkpoint in northern Iraq on Friday, detonating a truck laden with explosives and killing five US troops and two Iraqi policemen. The US military gave the death toll in a statement and said the attack in the restive city of Mosul was the single deadliest incident for US soldiers in Iraq in over a year. Mosul, some 390 km (240 miles) north of Baghdad, is one of two regions of Iraq where US forces are still locked in major combat operations against al-Qaeda and other insurgents, despite a drop in violence elsewhere in Iraq over the past year. Iraq's Interior Ministry said the authorities had been warned of such an attack but were unsure when it might happen. [More>>
thestar.com.my
]
---
---
*Visitor statistics on maravot.com from 1&1. com. 46,153 page views in May 2007; monthly visitors in 2008 range between 40,000-45,0000..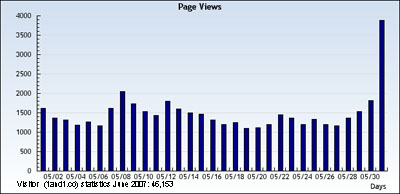 Privacy Policy: We do not store any personal data from you. We have no way of knowing any vital information about you — not even your name. Third-party distribution: We do not distribute information about your site usage to any third party. We are not responsible for the content of links from our site. Usage data: supplied by our Web Hosting service, 1and1.com, which consists of usage reports, such as page views / impressions and web pages visited, visitors' servers and geographical data (ISP's and country of origin).

---
Launched: 10.25.04 / 11.02.04 – | — |
Updated: 4.10.09; 4.11.09; 4.12.09; 4.13.09; 4.14.09; 4.15.09; 4.16.09
Copyright © 1981-2009 Maravot. All rights reserved
Copyright © 1981-2009 Mel Copeland. All rights reserved
Background: tile from Cicero's villa (Marcus Tullius Cicero 106 B.C. - 43 B.C.)