News Headlines & Trends
---
7.02.05 Ahmadinejad suspected of involvement in 1989 attack in Vienna
VIENNA (AP) July 2 – Iranıs newly elected president, accused of being a main participant in the taking of American hostages in 1979, faced fresh allegations on Saturday that he played a key role in the slaying of an Iranian Kurdish leader in Vienna a decade later. Peter Pilz, a top official with Austriaıs Green Party, told the newspaper Der Standard that Austrian authorities have "very convincing" evidence linking Mahmoud Ahmadinejad to the 1989 execution-style attack.

Pilz said he wants a warrant issued for Ahmadinejadıs arrest, alleging the president-elect "stands under strong suspicion of having been involved" in the killings of Kurdish politician Abdul-Rahman Ghassemlou and two associates by providing weapons to the Iranian commandos who carried out the attack. [More>>khaleejtimes.com; more articles on Ahmadinejad]

---
7.02.05 US : Photo not of Iran Chief
WASHINGTON, July 2 – U.S. investigators have concluded that Iranian president-elect Mahmoud Ahmadinejad is not the glowering Islamic militant seen escorting an American hostage in a 1979 photograph that was widely publicized this week, officials said Friday. [More>>latimes.com via mehrnews.ir/]
---
7.01.05 "Talking Points" paper identifies specific US crimes for which Bush may be impeached
July 1 – A paper provided by David Swanson of afterdowningstreet.org identifies legal arguments that may result in the impeachment of President Bush. The "Talking Points" paper argues: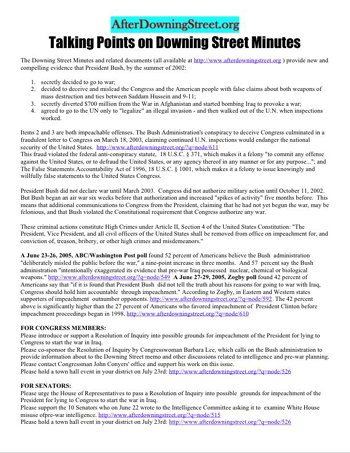 "Talking Points" paper released July 1, 2005 that identifies possible crimes under US law under which President George W. Bush may be impeached. Click on image for a pdf copy of the paper.
"The Downing Street Minutes and related documents (all available at
http://www.afterdowningstreet.org
) provide new and compelling evidence that President Bush, by the summer of 2002:
1. secretly decided to go to war;
2. decided to deceive and mislead the Congress and the American people with false claims about both weapons of mass destruction and ties between Saddam Hussein and 9-11;
3. secretly diverted $700 million from the War in Afghanistan and started bombing Iraq to provoke a war;
4. agreed to go to the UN only to "legalize" an illegal invasion – and then walked out of the U.N. when inspections worked.
Items 2 and 3 are both impeachable offenses. The Bush Administration's conspiracy to deceive Congress culminated in a fraudulent letter to Congress on March 18, 2003, claiming continued UN inspections would endanger the national security of the United States.
http://www.afterdowningstreet.org/?q=node/611
This fraud violated the federal anti-conspiracy statute, 18 U.S.C. § 371, which makes it a felony "to commit any offense against the United States, or to defraud the United States, or any agency thereof in any manner or for any purpose..."; and The False Statements Accountability Act of 1996, 18 U.S.C. § 1001, which makes it a felony to issue knowingly and willfully false statements to the United States Congress.
President Bush did not declare war until March 2003. Congress did not authorize military action until October 11, 2002. But Bush began an air war six weeks before that authorization and increased "spikes of activity" five months before. This means that additional communications to Congress from the President, claiming that he had not yet begun the war, may be felonious, and that Bush violated the Constitutional requirement that Congress authorize any war.
These criminal actions constitute High Crimes under Article II, Section 4 of the United States Constitution: "The President, Vice President, and all civil officers of the United States shall be removed from office on impeachment for, and conviction of, treason, bribery, or other high crimes and misdemeanors." [Full document>>
a pdf copy of the "Talking Points."
]
Editorial note: An inquiry initiated by Senator John Conyers (June 17, "Democrats urge inquiry on Bush, Iraq,") has the semblance of a large boulder rolling down a mountain. The "Talking Points" paper reveals the gravity of the problem:

A June 23-26, 2005, ABC / Washington Post poll found 52 percent of Americans believe the Bush administration "deliberately misled the public before the war," a nine-point increase in three months. And 57 percent say the Bush administration "intentionally exaggerated its evidence that pre-war Iraq possessed nuclear, chemical or biological weapons.

A June 27-29, 2005, Zogby poll found 42 percent of Americans say that "if it is found that President Bush did not tell the truth about his reasons for going to war with Iraq, Congress should hold him accountable through impeachment."

Following Conyers' inquiry, July 1 China and Russia made a joint declaration slamming [the Bush administration's] unilateral action in invading Iraq. Their joint declaration makes note that "Russia is the second-biggest oil exporter (see 6.25.05 "Russia hopes to annually export 50 million tons of oil to US – Putin") and China is the world's fastest growing economy," both arguments suggesting the ability of the two powers to apply economic sanctions to stop "countries [the US] from throwing their weight around on the world stage." Bush's alienation of the nations may be turning back against us. Congress is facing midterm elections and many may feel squeezed by this boulder gathering speed on its way down the mountain.

Mel Copeland

---
7.01.05 China-Russia declaration slams unilateral action
MOSCOW (Reuters) July 1 – Russia and China issued a veiled condemnation of the United States on Friday by signing a joint declaration criticizing countries that seek to throw their weight around on the world stage. "International society should rid itself of ... striving towards monopoly and domination in international affairs," said the document, signed by China's President Hu Jintao and Russian President Vladimir Putin after Kremlin talks.

"It is necessary to peacefully resolve differences and arguments, avoid one-sided actions and not resort to the politics of diktats, the threat of force or its use," the declaration said.

Russia, the world's second-biggest oil exporter, and China, the world's fastest-growing major economy with a huge appetite for crude, say they want to build on their "strategic partnership." With Jintao's visit to Moscow into its second day, there has so far been no mention of the extra oil imports from Russia that analysts said Beijing was hoping to secure from the trip. [thestar.com.my; See chinadaily.com.cn for the Chinese view; the Russian expectations on the conference are reported at kommersant.com]
---
7.01.05 Supreme Court Justice O'Connor resigns
WASHINGTON, July 1 – Sandra Day O'Connor, the first woman Supreme Court justice and a decisive swing vote for a quarter-century on virtually all the major legal issues of our time, announced her resignation today.

Because she is a moderate, her departure gives President Bush a major opportunity to alter the direction of the court if he so chooses. Supreme Court. O'Connor's possible resignation has been rumored for months, although many thought Chief Justice William H. Rehnquist, who has been ailing with cancer, would go first. In anticipation of one or more departures, the White House has been stepping up preparations for a nomination and almost certainly would be ready to announce a choice soon. [More>>washingtonpost.com]
---
7.01.05 Aide to Iraq spiritual leader killed, bomber targets PM office
BAGHDAD (AFP) July 1 – A top aide to Iraqıs Shia spiritual leader was among 18 people killed in insurgent attacks across the country on Friday, including a bombing near an office of Prime Minister Ibrahim Jaafariıs party. The unrest followed the release of figures showing that Iraqi deaths from attacks had fallen in June following one of the bloodiest months since Saddam Hussein was toppled in April 2003, although the US death toll was higher. A senior advisor to Shia spiritual leader Grand Ayatollah Ali al-Sistani, Sheikh Kamaleddin al-Ghuraifi, was shot dead with two others in Baghdad on his way to Friday prayers, the defense ministry and Sistaniıs office said.

A suicide car bomber also blew himself up near an office of Jaafariıs Islamic Dawa Party in western Baghdad, killing one and wounding another, a defense ministry source said.

Other attacks in Baghdad and in and around the restive city of Samarra further north killed 14 police and soldiers and wounded at least seven, police and army sources said. [More>>khaleejtimes.com]
---
7.01.05 Baghdad mayor threatens to resign over lack of funds
July 1 – Baghdad's mayor threatened to resign if the government fails to provide the funds and support needed to implement development projects in the capital, complaining Baghdadis were suffering from water shortages. Meanwhile, an Iraqi politician received death threats a day after launching a party that would represent the "resistance."

In a bid to improve relations with its neighbor, a delegation sent by Damascus met with Deputy Foreign Minister, Hamid al-Bayyati, to discuss preparations for the reopening of the Syrian Embassy in Baghdad. Bayyati's office declined to give details on the meeting.

"It's useless for any official to stay in office without having the means to accomplish his job," Baghdad Mayor Alaa Mahmoud al-Timimi said in a news conference. He said President Jalal Talabani and Prime Minister Ibrahim al-Jaafari had promised him to secure the needed funds. [More>>dailystar.com.lb]
---
7.01.05 Top Iranian official among hostage-takers
WASHINGTON (AP) July 1 – If the newly elected Iranian president turns out to have been a main participant in the holding of American hostages in Tehran, he won't be the first top Iranian official with a role in the 1979 crisis.

The current Iranian environment minister, Massoumeh Ebtekar, was the chief interpreter and spokeswoman for the radical students who took over the U.S. Embassy and held 52 Americans hostage for 444 days.

Dubbed "Sister Mary" by the American press because her heavy head scarf resembled a nun's habit, Ebtekar gave almost nightly interviews during the standoff, denouncing the hostages as spies and accusing the United States of committing crimes. [More>>foxnews.com; See 6.29.05 Photo claimed to show Iran President with hostage for background reports.]
---
7.01.05 Blair may snub US on climate
July 1 – Paul Brown, environment correspondent for The Guardian, reports: Tony Blair is contemplating an unprecedented rift with the US over climate change at the G8 summit next week, which will lead to a final communique agreed by seven countries with President George Bush left out on a limb.

The alternative is to face a "catastrophic failure" of his plan to get concerted action to combat global warming, which he has long said is the greatest threat the world faces. Mr Blair's cabinet colleagues have described him as showing great courage in sticking to his guns, despite being advised that it is "a very dangerous thing to do politically".

It would be the first time that the G8 has faced a "split" communique - and with the world's most powerful country in a minority of one. [More>>guardian.co.uk]
---
7.01.05 Pakistan nabs three alleged terrorists
ISLAMABAD, Pakistan (AP) July 1 – Three men suspected of ties to Usama bin Laden's terror network have been arrested in Pakistan, a major newspaper reported Friday. The suspects were traveling in a vehicle when they were caught Thursday in Mardan, a deeply conservative town in northwestern Pakistan, according to The Jang, Pakistan's largest circulation newspaper. That is the same region where Pakistani intelligence agents on May 2 caught Abu Farraj al-Libbi, reputedly No. 3 in the Al Qaeda terror network. The Jang said an army officer supervised this operation, but gave no other details. [More>>foxnews.com]
---
7.01.05 US freezes assets of Syrian interior minister and intelligence chief
July 1 – The United States, turning up the heat on Syria, moved to freeze the assets of the country's interior minister and a military intelligence chief, accusing them of abetting terrorism and destabilizing the region. In its latest move to isolate Syria financially, the Treasury Department named Syria's Interior Minister Ghazi Kanaan and Rustom Ghazaleh, a military spy chief who had responsibility for neighboring Lebanon, as "Specially Designated Nationals" under an anti-terrorism presidential order.

"Today's designation freezes any assets the designees may have located in the United States, and prohibits U.S. persons from engaging in transactions with these individuals," it said in a press release.

Syrian officials were not available for comment.

The US said it believed Kanaan and Ghazaleh "have directed the Syrian Arab Republic Government's (SARG) military and security presence in Lebanon and/or contributed to the SARG's support for terrorism."

"Both Ghazaleh and Kanaan allegedly engaged in a variety of corrupt activities and were reportedly the beneficiaries of corrupt business deals during their respective tenures in Lebanon," the Treasury added. "Actions like today's are intended to financially isolate bad actors supporting Syria's efforts to destabilize its neighbors," Treasury Secretary John Snow said in the statement. [More>>dailystar.com.lb; See also aljazeera.net for another point of view]
---
7.01.05 Germany's Schroeder loses confidence vote, looks to new elections
BERLIN (AFP) July 1 – German Chancellor Gerhard Schroeder lost a parliamentary confidence vote he engineered, raising the prospect of early elections that could usher in the country's first female leader. The Bundestag lower house defeated the measure with the help of deputies from Schroeder's coalition of Social Democrats and Greens who followed the chancellor's call to abstain in his bid to bring the general election forward by 12 months.

In a speech before the confidence vote, the embattled leader said his unpopular economic reform drive had cost him crucial support that he now hoped to regain. "Without a new mandate, it is impossible to continue with my policies," Schroeder told the chamber. [More>>turkishpress.com]
---
7.01.05 Muted hope for budget deal in UK presidency
July 1 – Britain takes over the European Union presidency today, with France refusing to budge on farm subsidies and Jack Straw playing down hopes of reaching agreement on the budget.

Dominique de Villepin, the French Prime Minister, set the tone yesterday for what promises to be an acrimonious six months by flatly rejecting Britainıs demands to review the Common Agricultural Policy. Speaking in English ³because I want to be sure to be perfectly understood by my British friends², he said at a Paris press conference: ³We are ready to discuss everything but not to negotiate on this issue in this period.²

In the Commons, the Foreign Secretary, setting out Britainıs priorities, played down hopes of a budget breakthrough. Mr. Straw said only that Britain hoped to ³make progress² on the issue in the next six months. He told MPs: ³Any new financial perspective must, at the very least, set out a process which leads to a more rational budget². The Government recognized its responsibilities in holding the presidency, he said, ³and we will work hard to reach agreement on future financing by the end of the year².

Privately, British officials are concerned that progress will be painfully slow before the likely departure of Jacques Chirac in Franceıs presidential election in 2007. The 2007-2013 budget has to be agreed by 2006. [More>>timesonline.co.uk]
---
7.01.05 China to build thermonuclear fusion reactor
July 1 – Yu Zheng of Xinhua, filed this report: A leading Chinese plasma physicist said Thursday China might build its own thermonuclear experimental reactor, which would be expected to supply sustained electricity for the world's most populous country. While building their own sophisticated devices in thermonuclear reaction, Chinese scientists have already participated in the International Thermonuclear Experimental Reactor (ITER), a testing step between today's plasma physics studies and tomorrow's electricity-producing fusion power plants.

The scientist, who has access to the ITER, said to Xinhua on condition of anonymity, "The ultimate goal of the Chinese scientists is to build thermonuclear experimental reactors with their own efforts."

"International cooperative endeavors like the ITER make us keep abreast of the world's most advanced technologies," He said. "We're entitled to share all top-notch know-how once we enter the global consortium."

Using deuterium, which is in seawater, as fuel for reactions, a hydrogen plasma torus operating at over 100 million Celsius degrees will produce 500 megawatts of fusion power. The ITER, which means "the way" in Latin, is based on the idea.

All the commercialized nuclear reactors in the world were designed for fission, a process contrary to the ITER's fusion, and have to consume recycled mineral resources such as uranium and plutonium. Waste of fission reactors is radioactive while a fusion reaction is rather environment-friendly.

Chinese scientists started to develop a fusion operation torus four decades ago in mountains southwest of inland Sichuan Province. In the late 1980s, the United States and Japan launched the ITER, which was joined by China in 2003. Among the six partners of the 10 billion-euro ambitious plan, the European Union will cover 50 percent of the total budget. The remaining five, the US, Japan, Russia, the Republic of Korea and China, will pay 10 percent each. [More>>chinadaily.com.cn]

---
7.01.05 NASA to pull out of International Space Station?
MOSCOW (RIA Novosti political commentator Andrei Kislyakov) July 1 – The International Space Station seems set to become a purely Russian venture. Despite declarations to the contrary, it seems that the United States is likely to pull out in the near future.

Europe may retain its interest, however, as the European Space Agency (ESA) plans to send its Jules Verne Automatic Transfer Vehicle (ATV) to the ISS.

In the two months since new NASA Administrator Michael Griffin was appointed, the United States has given virtually no assurances of its continued commitment to the ISS. On the contrary, Griffin told USA Today on June 22 that the NASA would not be able to fulfill all of its previous commitments on completing the program.

Griffin admitted that NASA cannot currently guarantee the launch of all remaining ISS modules, largely because implementation of President George W. Bush's new ambitious space doctrine, which includes manned flights to the Moon and Mars, means NASA is unable to fly the planned 28 space-shuttle missions to the ISS. According to Griffin, a specially convened NASA expert group is currently revising U.S. commitments to the program, a process that should be completed in early fall. [More>>rian.ru]

---
7.01.05 Sanyo to cut more than 10,000 jobs in Japan, abroad
TOKYO (AFP) July 1 – Money-losing Japanese consumer electronics maker Sanyo Electric will cut more than 10,000 jobs, or one-tenth of its workforce, in Japan and abroad over the coming years, a newspaper report said on Friday. Three thousand of the jobs will be trimmed from Sanyo's semiconductor and other operations in Japan, where it has 38,000 employees, in the current financial year to March 2006, the Nihon Keizai Shimbun reported. The group also plans to shed several thousand jobs overseas as it consolidates and closes factories in China, Indonesia and other places, it said...With a slimmed down workforce, Sanyo plans to focus its resources on solar batteries and other promising businesses in the fields of energy and the environment, and digital electronics fields, it said...[Full story>>thejakartapost.com; See also a substantially abbreviated version of this story at japantoday.com]

---
7.01.05 China, EU ready to explore 'open skies'
July 1 – China and the European Union (EU) are set to negotiate an "open skies" agreement to meet the growing demand for passenger and cargo air routes. A cargo plane of Holland's Martinair Cargo lands on Tianjin Municipality on October 13, 2005. [newsphoto/file]

Speaking at an EU-China aviation summit in Beijing yesterday, EU Vice-President Jacques Barrot said he has asked for a mandate from European transport ministers to discuss aviation deals with China. "The very issue on the agenda of the new UK presidency next week will, indeed, be a discussion about the commission's request for this global mandate," Barrot said.

China expects to start negotiations with the EU in the fourth quarter of this year, according to a joint declaration signed by Barrot and Yang Yuanyuan, director of the General Administration of Civil Aviation of China (CAAC), prior to the summit. [More>>chinadaily.com.cn]
---
7.01.05 Update, 6.29.05, 6.28.05 'Woman's marriage dissolves if raped by husband's blood relative' – Islamic Court
LUCKNOW, India June 26 – The All India Muslim Personal Law Board (AIMPLB) on Monday ordered a woman raped by a relative to separate from her husband and marry the rapist. The victim, Imrana, 28, wife of Noor Ilahi, was allegedly raped by her father-in-law, Ali Muhammad in Muzaffarnagar district of Uttar Pradesh. AIMPLB, set up in 1972 to protect the rights of Muslim women in the country, said the marriage would have to come to an end. Member AIMPLB Begum Naseem Iqtedar Ali said, "According to the rulings of the Qurıaan, Imranaıs conjugal relationship with her husband stood dissolved since she has been raped by the latterıs blood relative." Speaking to reporters, she said, "Here a sacred relationship had been violated, the consequences of which have to be borne by Imrana and her husband," she said. The ruling are binding on all Muslims in the country, but it was a ruling by a group of local Muslim clerics that Imrana, should marry her rapist and treat her husband as her son. [jang.com.pk; See expressindia.com story, June 29, 2005, "'Maulana' Mulayam defends Imrana's fatwa" : Despite the hue and cry by several womenıs organizations, Uttar Pradesh Chief Minister Mulayam Singh on Wednesday supported the edict in the Imrana case, saying the decision taken by the Muslim religious leaders must have been well-thought. This story continues in expressindia.com article 7.01.05, "Imrana skips Shariyat court, Muslim body stands by its edict" : A day after pledging to abide by Shariat laws, the woman who alleged that she was raped by her father-in-law, on Friday failed to appear before the religious court to present her case. ³Neither Imrana nor her parents appeared before the court to pursue the case,² Mufti Zulfiqar, one of the nine members of the court, said. The court, which has been asked by Islamic seminary Darul-Uloom, Deoband, to decide the future relationship of the victim with her in-laws, was, therefore, not in a position to start proceedings in the case, mufti Zulfikar said...; See article posted in khaleejtimmes.com 7.01.05, "Indian Women's groups slam Muslim fatwa on rape" and asianage.com article, "Two Muslim panels reject fatwa."]
---
7.01.05 Saddam Hussein's book a best seller
AMMAN, Jordan (Reuters) July 1 – Move over Harry Potter. In Amman's downtown bazaars, the best-selling book these days is Saddam Hussein's bootlegged novel Get out of here, curse you! Banned by Jordan on the grounds the 186-page tale of an Arab tribesman who defeats foreign invaders could harm relations between Jordan and Iraq. Saddam's latest novel has become so popular booksellers say they can't keep up with demand.

...Saddam, who faces war crimes charges, is a popular figure in some quarters in Jordan, where like the ousted dictator, the large majority of people are Sunni Muslims. There is also a large exile Iraqi community living here.

Portraits of Saddam smiling like a benevolent father figure are sold in some shops in gritty downtown Amman, where most residents are of Palestinian descent, next to pictures of Jordan's King Abdullah, a close US ally.

Images of daily bloodshed in neighbouring Iraq and reports of abuses of detainees at US-run prisons have whipped up anti-American sentiment in the kingdom, where some regard Saddam as an Arab nationalist leader, analysts said.

"There is a lot of unhappiness in Jordan about what is going on in Iraq," said Joost Hiltermann, of the International Crisis Group. "The images of violence and of Saddam in his underpants have reinforced the notion that the US war is illegal and that Americans are in Iraq to humiliate Arabs."

..."You can't ban books in Jordan anymore. We have satellite and Internet," said vendor Hassan Abu Ali. "If I find copies I will sell thousands."

Believed to have been penned before the US-led invasion of Iraq in 2003, the book tells the story of Salem, a noble Arab tribesman representing righteousness and Arab nationalism, who defeats his American and Jewish enemies. The tale describes how Salem unites divided Arab tribes in Iraq to defeat Hisquel, a foreign intruder who represents evil. [Full story>>expressindia.com]
---
6.30.05 Update; 6.29.05 Photo claimed to show Iran President with hostage
June 29 – Sam Knight, Times Online, reports: A photo has emerged which it is claimed links the President-elect of Iran, Mahmoud Ahmadinejad, with the taking of 60 American hostages during the US embassy siege in Tehran in 1979.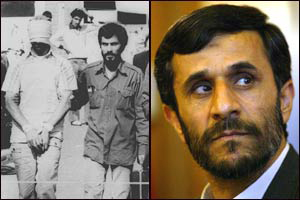 Opponents claim that the man with a US hostage is the new Iran President-elect, Mahmoud Ahmadinejad; (right) Mr Ahmadinejad after his election [Image:
timesonline.co.uk
; See
iranfocus.com
for full AP image]
A London-based Iranian news agency which opposes Mr. Ahmadinejad is circulating the photograph, which it says was taken by the Associated Press news agency on the first day of the hostage crisis. In the picture, a man which the Iran Focus agency claims it has identified as Mr. Ahmadinejad, is seen holding the arm of a blindfolded US hostage.
The possible role of Mr. Ahmadinejad in the embassy takeover, which lasted 444 days and remains a significant sore between America and Iran, came to light in the run-up to the presidential elections on June 17. Mr. Ahmadinejad is known to have been member of the "Office for Strengthening of Unity Between Universities and Theological Seminaries" or the OSU, the main student group behind the takeover, but his precise role in the hostage-taking was unclear. [More>>
timesonline.co.uk
; See also
iranfocus.com
story, "AP photo shows Iran's new President as 1979 US hostage-taker" : LONDON, Jun. 29 - Iran Focus has learnt that the photograph of Iranıs newly-elected president, Mahmoud Ahmadinejad, holding the arm of a blindfolded American hostage on the premises of the United States embassy in Tehran was taken by an Associated Press photographer in November 1979.
Prior to the first round of the presidential elections on June 17, Iran Focus was the first news service to reveal Ahmadinejadıs role in the seizure of the U.S. embassy in Tehran. The identity of Ahmadinejad in the photograph was revealed to Iran Focus by a source in Tehran, whose identity could not be revealed for fear of persecution;

Fox News
posted its version of the story June 30,
"Ex-hostages say Iran's new president was captor in 1979
;"

The
Washington Post June 30 article, "Iran leader linked to '79 embassy crisis"
: Americans held in the 1979 seizure of the U.S. Embassy in Iran said yesterday they clearly recall Iranian President-elect Mahmoud Ahmadinejad playing a central role in the takeover, interrogating captives and demanding harsher treatment for the hostages.
"As soon as I saw his picture in the paper, I knew that was the bastard," said retired Army Col. Charles Scott, 73, a former hostage who lives in Jonesboro, Ga. "He was one of the top two or three leaders," Col. Scott said in a telephone interview. "The new president of Iran is a terrorist." The new president's hard-line political views and his background as a student radical in the Iranian Revolution are well known.
See related story by iranfocus.com
, "Iran's new President has a past mired in controversy" : ...According to other OSU officials, when the idea of storming the US embassy in Tehran was raised in the OSU central committee by Mirdamadi and Abdi, Ahmadinejad suggested storming the Soviet embassy at the same time. A decade later, most OSU leaders re-grouped around Khatami but Ahmadinejad remained loyal to the ultra-conservatives.
...In the early 1980s, Ahmadinejad worked in the "Internal Security" department of the IRGC and earned notoriety as a ruthless interrogator and torturer. According to the state-run website Baztab, allies of outgoing President Mohammad Khatami have revealed that Ahmadinejad worked for some time as an executioner in the notorious Evin Prison, where thousands of political prisoners were executed in the bloody purges of the 1980s.
In 1986, Ahmadinejad became a senior officer in the Special Brigade of the Revolutionary Guards and was stationed in Ramazan Garrison near Kermanshah in western Iran. Ramazan Garrison was the headquarters of the Revolutionary Guards' "extra-territorial operations," a euphemism for terrorist attacks beyond Iranıs borders.
In Kermanshah, Ahmadinejad became involved in the clerical regimeıs terrorist operations abroad and led many ³extra-territorial operations of the IRGC." With the formation of the elite Qods (Jerusalem) Force of the IRGC, Ahmadinejad became one of its senior commanders. He was the mastermind of a series of assassinations in the Middle East and Europe, including the assassination of Iranian Kurdish leader Abdorrahman Qassemlou, who was shot dead by senior officers of the Revolutionary Guards in a Vienna flat in July 1989. Ahmadinejad was a key planner of the attack, according to sources in the Revolutionary Guards...;

Iranfocus June 30 update, of reports by press covering the topic, "Iran leader linked to 1979 hostage crisis
" ;

Aljazeera.net covers the story with its June 30 article, "Abductors deny Iran leader siege role"
: Iranian veterans of the 1979 seizure of hostages at the US embassy in Tehran have denied claims that President-elect Mahmoud Ahmadinejad played a role in the siege. Their comments come after several former US hostages who were held for 444 days by student followers of revolutionary leader Ayat Allah Ruhollah Khomeini said they were sure Ahmadinejad was a key player in the abduction.
"Mr Ahmadinejad was never one of students following the path of the imam that took the spy den (US embassy). He was never there," said Mohsen Mirdamadi, a former hostage-taker who went on to become a member of parliament. He said a picture circulating on the internet and the printed media portraying a thickly bearded hostage-taker leading out a blindfolded American hostage did not show Ahmadinejad
...Abbas Abdi, who like Mirdamadi is regarded as one of the instigators of the embassy seizure, also denied that Ahmadinejad had anything to do with the operation. "I say again: No Sir, he was not one of them. What I say is very clear. If you ask me if I know somebody and I say 'no' that is all I can say."
Hashem Aghajari, another veteran of the siege and leading political dissident, said: "Ahmadinejad was a member of the OCU but as far as I know he was not involved in the US embassy [takeover]."
...The BBC's World Affairs editor John Simpson had added to the speculation when he wrote on the BBC's website earlier this week that he instantly recognized the new president from his role in the siege. "When I read a profile of him in the English-language Tehran Times, I realized where I must have seen him: in the former American embassy in Tehran," Simpson said...



jang.com.pk report, "Era of oppression ended, says Ahmadinejad" : TEHRAN, June 30 – Iran's president-elect Mahmood Ahmadinejad hailed his election win as a new Islamic revolution, which he said he hoped, would now spread its way throughout the world.

"Thanks to the blood of the martyrs, a new Islamic revolution has arisen and the Islamic revolution of 1384 (the current Iranian year) will, if God wills, cut off the roots of injustice in the world," the local news agency quoted.

"The era of oppression, hegemonic regimes, tyranny and injustice has reached its end," he said, in an apparent reference to Iran's arch-foe the United States. "The wave of the Islamic revolution will soon reach the entire world," he added.



The Daily Star, Lebanon, June 30 report, "Iran's Ahmadinejad looks to export 'new Islamic revolution,'" carries this comment as an AFP report.



The Washington Post filed this AP report by Nedra Pickler, "Some ex-hostages say Iran leader-elect a captor" : WASHINGTON, June 30, 11:51am – The White House said Thursday it is taking seriously the allegations of some former American hostages who say they believe that Iran's president-elect was one of their captors in the late 1970s.

"I think the news reports and statements from several former American hostages raise many questions about his past," White House press secretary Scott McClellan said of the Iranian president-elect Mahmoud Ahmadinejad. "We take them very seriously and we are looking into them to better understand the facts."

Former hostages Chuck Scott, David Roeder, William J. Daugherty and Don A. Sharer told The Associated Press that after seeing Ahmadinejad on television, they have no doubt he was one of the hostage-takers. A fifth ex-hostage, Kevin Hermening, said he reached the same conclusion after looking at photos. A close aide to Ahmadinejad denied the president-elect took part in the seizure of the embassy or in holding Americans hostage...



An AP report filed by msnbc.msn.com June 30, 2:38pm, "White House 'looking into' Iranian leader" : ...At the State Department, spokesman Sean McCormack said, "We are now seeking to establish all the facts." He said the U.S. hostages had not been forgotten and "the Iranians have an obligation to speak definitively." McCormack would not say whether the United States would attempt to discuss the situation directly with Iran. There are no direct U.S. relations with Iran, but diplomats from the two countries have participated in joint meetings involving other nations.

...Several of the former hostages insisted they were certain that the president-elect was among their captors. Daugherty said it's further evidence that the State Department should stop defending Iran's immunity from lawsuits filed by the former hostages seeking reparations. In April 2002, a federal judge threw out a lawsuit by the hostages seeking $33 billion in damages. The State Department intervened, arguing the lawsuit would violate the U.S.-Iranian agreements that freed the hostages and would damage U.S. credibility. "This puts the Bush administration in an interesting position," Daugherty said. "You know how he said, 'You're either for us or you're for the terrorists.' Well, now the leader of Iran is a terrorist."

...Rowhani, the aide to Ahmadinejad, said Ahmadinejad said during the recent meeting that he stopped opposing the embassy seizure after the revolution's leader, Ayatollah Ruhollah Khomeini, expressed support for it. But the president-elect said he never took part.



---
Editorial note: To read about the hostage crisis, go to
http://www.jimmycarterlibrary.org/documents/hostages.phtml
. A list of the hostages taken by Ahmadinejad and his fellow terrorists is at:
http://www.jimmycarterlibrary.org/documents/list_of_hostages.phtml.


What is the Bush administration's response to this news? Is a US-Iran war looming on the horizon?
George W. Bush couched his speech on June 29 in the context of World War III, building from words he quoted from Osama binLaden. Right wing Christian zealots – often described as "born again Christians" – believe that the Biblical "Last Days" are here now, that Jesus will appear in the clouds of heaven and take up the saved to heaven, leaving the world in a final apocalyptic battle (described in Malachi chapter 4.0, the last book of the Old Testament and the Book of Revelation, chapters 19-21). The Koran – which endorses both the Old and New Testaments of the Bible – refers to this event as the "Day of Judgment." Because Bush began his invasion of Iraq with reference to the word, "Crusade," a greater conflict than that of invading Iraq is implied. The extent of his "crusade" may soon be unveiled in light of his and Ahmadinejad's speeches. See below, June 30 reports, "Bush says war is worth sacrifice" and Pakistan's newspaper, jang.com.pk, "Bush terms Iraq war as World War III."
The language used by Ahmadinejad appears to reflect "Baathist" ideals, a view similar to that expressed by Osama binLaden.
Aljazeera.net June 23, "The Iraqi Baath party" describes the history and goals of the "pan-Arab revolution"
: " ...The three men, Fayiz Ismail, Wasfi al-Ghanim and Sulayman al-Eisa - returned to Syria and joined political scientist Zaki al-Arsoozi, who was intent on founding al-Baath (renaissance) party. Al-Arsoozi's desire was to restore Arab pride. The men joined the party and pledged to carry the Baathist name back to Baghdad. Upon their return to Baghdad in 1949, they established the Iraqi Baath Party.
...The party promoted its ideology of pan-Arab secular nationalism with socialist leanings. In early 1988, the Baath Party began calling for parallelism between regional (qutri) and national (qawmi) goals. Territorially and politically divided Arab countries were merely regions of a collective entity - The Arab Nation, according to party rationale. The Baath movement in one country was considered merely an aspect of, or a phase leading to, "a unified democratic socialist Arab nation".
The crucial test of legitimacy for any Baath government would be whether or not their policies and actions were compatible with the basic aims of the revolution. The Baath party embraced the principles of "unity, freedom, and socialism". Although the party's efforts to create a unified Arab nation faced many problems, it did not abandon its goal of Arab unity. But Arab unity was to become a long-term ideal rather than a short term objective..."
The terms, "pan-Arab revolution" and "crusade" are disquieting terms to say the least. That President Bush has had recent inquiries, with regard to the Downing Street Memos, accusing him of lying to the US Congress (an impeachable offense) is interesting in the perspective that Iran may have a president-elect who appears to be denying his participation in the terrorist hostage taking. If inquiries should reveal that both George W. Bush and Ahmadinejad are liars, the world would certainly be in a quandary.
In the final analysis, the Bush story is all about the control of oil, using America's military might – as their private army – against foreign governments. Iraq would not have been invaded were it not for its oil. Next to Iraq is Iran, which has developed only 30% of its oil deposits, as noted in the May 29 article below.
Mel Copeland
6.29.05 Iran's proven oil reserves put at over 132b barrels
TEHRAN (MNA) June 28 – Exploratory operations have been performed on only some 30 percent of the oil deposits in the country, thus, more exploratory works should be carried out in this regard, noted vice chairman of the National Iranian Oil Company (NIOC). NIOC has the required potentials and abilities to explore oil and other hydrocarbonaceous resources in the 1,000,000 square kilometers of the oil deposits in the country, Iranian Students News Agency quoted Mehdi Hosseini as saying.

He said, ³Iranıs proven oil deposits have officially been put at over 132 billion barrels, 102 billion barrels of crude oil plus 30 billion barrels of liquids, and the figure has been registered by OPEC (Organization of Petroleum Exporting Countries) too.² [More>>mehrnews.ir]
---
05.21.05 British lawmaker: Iraq war was for oil
LISBON, May 21 – Adam Porter reports: Labour politician and former UK environment minister Michael Meacher has slammed Prime Minister Tony Blair and US President George Bush for starting a war, he says, to secure oil interests.

Speaking on Friday on the sidelines of the fourth International Workshop on Oil and Gas Depletion in Lisbon, Portugal, Meacher, a member of the British parliament, said: "The reason they attacked Iraq is nothing to do with weapons of mass destruction, it was nothing to do with democracy in Iraq, it was nothing to do with the human rights abuses of Saddam Hussein."
..."It was principally, totally and comprehensively to do with oil," Meacher continued. "This was about assuming control over the Middle East and over Iraq, the second largest producer and also over Saudi Arabia next door.

"It was about securing as much as possible of the remaining supplies of oil and also over the Caspian basin, which of course is Afghanistan." [More>>aljazeera.net]

Editorial note: For articles relating to Bush's lying to Congress and the American people with regard to his war on Iraq and other complaints that relate to his abuse of power see:

---
6.17-05 Federal Debt not a concern of the press
SAN FRANCISCO, June 17 Update. While the Federal Reserve continues to increase interest rates, the Exponentially rising Federal Debt is not being reported. What is not being reported is the fact that interest rates are tied to the US National Debt. This year the deficit is expected to exceed $420 billion, and interest on the debt which exceeds $8.2 trillion, is about $1 billion per day. Because the annual deficits are financed via the bond market, and because the amount of the bonds being sold exceeds demand, it is necessary to raise interest rates to attract investors in the US bonds financing the US debt. This routine of increasing debt on an exponential scale was experienced under the administration of George H. W. Bush. I predicted increasing interest rates "to sell bonds" in my conversation with Wm. F. Buckley Jr. at that time, in 1993, and I have repeated the prediction with regard to the current Bush administration's excesses and need to sell more bonds to finance the extraordinary deficits. The rate increases will continue in order to sell the overabundant US bonds. In a few words, George Bush's debt is causing your mortgage rates to increase, and they will continue to increase until the US assumes fiscal responsibility. Click here for details on this trend.

Postscript: If the EU adopts the practice of allowing large budget deficits, the consequence places a strain on the world bond market, since that market is already flooded with US bonds to the tune of some $9 trillion. Those who are allowing budget deficits also own some of the US debt. It's not a good situation, heralding a world economic collapse. That Greenspan has not reigned in the Bush administration on the US debt is a travesty.

Rising interest rates began with a Federal Reserve declaration of the "fear of inflation": WASHINGTON, March 22 – The Federal Reserve raised new worries about inflation on Tuesday, setting off alarms in the stock and bond markets that the central bank might drive up interest rates faster than investors had been expecting. The Fed nudged up short-term interest rates for the seventh time in the last year, raising the federal funds rate on overnight loans between banks to 2.75 percent from 2.5 percent. It restated its intention to keep raising them at a "measured" pace in the months ahead.

But in a departure from previous declarations, the central bank said there were rising inflationary pressures beyond those tied directly to the recent jumps in oil prices. [More>>nytimes.com]

Mel Copeland
---
(2) The name, Allah, in Arabic is an expression of surprise. It is not unusual for the God of the Bible to be known by many names. Jewish Midrash quotes passages in the Old Testament (Torah) that cite as many as seventy names of God (and more). But they can all be reduced down to one name.
(3) Ronald L. Conte Jr., biblicalchronology.com. has an interesting analyses of comets and eclipses as they relate to Roman times and Biblical Chronology. His estimate of 54 A.D. for the destruction of Jerusalem by Titus, rather than 70 A.D., is controversial, to say the least.
(4) In comparing the Hogenberg, Adrichem and Josephus maps, it appears that the structure noted as "Solomon's Temple" is, in fact, Pilate's palace, and the Antonia fortress and Strotion Tower. This leaves the adjacent "squared complex" in all three maps as the Temple of Herod. This leaves to be explained the mountain peak underneath the Dome of the Rock, whether the height of the Temple Mount was above that point, since no mountain peak is indicated in the area of the "squared complex." King Solomon's palace and stables were adjacent to the Temple Mount, and there may be confusion here with the "squared complex" on the maps. The image of "Solomon's Temple" on the Josephus map does match the description of the actual temple. The thesis that the Temple did not sit atop the peak underneath the Dome of the Rock still must be answered, since both those who advocate restoration of the Temple and those who resist it (Palestinians, who oversee the Temple Mount) have presumed that in order to restore the Temple the Dome of the Rock would have to be torn down.
(5) I saw the story on Bush's arrest in Canada November 29, 2004 on a CNN link:
http://www.world-cnn.com/2004/WORLD/americas/11/30/bush.arrest/index.html.
This appears to be a hoax originated by Paul K. J, http://informationclearinghouse.info/article7390.htm. According to an article by Sam Varghese at www.smh.com.au: "A satirical article about Canada arresting US President George W. Bush in Ottawa and charging him with war crimes appeared as the top story on Google News without the editor's note that identified it as satire. The article was up on Google's US news page on November 30, according to Zone-H.org, a website that tracks web defacements." A blog on wolverinemalaya.com recorded the story coming from an (AP) Associated Press article: ""OTTAWA, CANADA (AP) -- On the first of his two-day planned visit to Canada, George W. Bush was taken into custody by Canadian authorities citing war crime charges. The arrest claims that President Bush has been "party to the crime of torturing prisoners held in Guantánamo Bay and Abu Ghraib." Under Canadian law, even a non-citizen can be charged for crimes committed outside of Canada once that individual enters the country..." Nick Farrel, theinquirer.net, explains how Google picked up the story. The wolvierinemalaya.com story, as I recall, was the same report as carried in the CNN report. Dave at www.immunitysec.com provides more information regarding the story. I was not aware of the hoax (assuming it was a hoax) until 6.19.05, when I revisited the issue.
Mel Copeland

---
Launched: 10.25.04 / 11.02.04
Updated: 6.25.05; 6.30.05
Visitors since 4.19.05; 5,000 from 11.02.04 to 4.19.05

Copyright © 1981-2005 Maravot. All rights reserved
Copyright © 1981-2005 Mel Copeland. All rights reserved
Painting of Apple by Mel Copeland, early 70's
Background: tile from Cicero's villa (Marcus Tullius Cicero 106 B.C. - 43 B.C.)