News Headlines & Trends
---
6.17.08
Congress takes aim at oil speculators
NEW YORK, June 17 - Record prices have prompted a slew of bills to curtail the role of investors, but traders say they could backfire. Fed up with soaring oil prices and a chorus of people blaming Wall Street speculators, Congress is considering a host of rules aimed at limiting the inflow of investor money into oil contracts. But oil traders urge caution. While more disclosure is a good thing, they say making it harder for speculators to invest in oil futures could have the opposite effect intended, and send prices higher.
In light of oil's phenomenal climb from under $50 a barrel to nearly $140 in less than 18 months - and the public belief that Wall Street traders were behind the rise - Congress is awash in bills that attempt to limit the role of speculators. Several have bipartisan support and could soon become law. "In two days, the price of oil rose $16," said Sen. Richard Durbin, D-Ill., at a joint hearing of two Senate panels on oil speculation Tuesday. "Did I miss something, was there some war in the Middle East?"

...CFTC's Lukken also said raising the margin requirement may have a negative effect. "Margin (requirement) is a very blunt tool, and it could potentially drive markets overseas" where there is even less regulation, said Lukken. [Full story>>money.cnn.com; See earlier report,Maravot News, May 29, 2008, "Oil's tense trading scene may sway a move to Dubai.". ]

Editorial note: The Dubai Gold & Commodities Exchange was launched June 3, (planned from a year earlier), to run in competition with the US comodities market. One of the characteristics of our long-standing oil crisis has been the threat that any action against oil interests would result in reprisal actions by oil, through increasing the prices of oil. Now there is the additional threat from Dubai (part of the UAE, a major OPEC producer of oil) which — over a year ago — seems to have anticipated a day when the US might put restrictions on oil commodity trading.

Mel Copeland
---
6.17.08 Car bomb strikes Baghdad market; 11 dead, 35 hurt
BAGHDAD (AP) June 17 - Iraqi officials say at least 11 people have been killed and 35 wounded in a car bombing in Baghdad. It's the deadliest car bombing in weeks as the capital has been relatively calm amid stepped up security measures. Police and hospital officials say a parked car bomb exploded near a market in a mainly Shiite area in northern Baghdad. Tuesday's attack occurred just before 6 p.m. as the market was packed with shoppers preparing for their evening meal. [More>>washingtonpost.com; See related story, khaleejtimes.com (Reuters) June 17, "Iraq displays arsenal seized in southern city."]
---
6.17.08 Foreign investment in Pakistan declines 37%
KARACHI, June 17 - Foreign investment decreased 37 percent during 11 months of the current fiscal year. Pakistan received a total foreign investment of 3.94 billion dollars during July 2007 to May 2008, compared to 6.28 billion dollars last year in the period under review, according to State Bank of Pakistan. Foreign Direct Investment (FDI) stood at 3.88 billion dollars, showing a decline of 14 percent. Portfolio investment in the stock market registered pegged at 62.2 million dollars after a fall of 96 percent. [>thenews.com.pk]
---
6.16.08 Brown: Says Europe will tighten Iran sanctions
LONDON, June 16 - Prime Minister Gordon Brown announced on Monday that Britain and Europe would freeze the overseas assets of Iran's largest commercial bank, joining the United States in intensifying financial pressure against Iran over its refusal to address international concern over its nuclear activities. Mr. Brown, appearing with President Bush after discussions here, also pledged to send additional troops to Afghanistan, and indicated that he would not bend to political pressure at home to withdraw British forces in southern Iraq more quickly.
Both leaders said that they remained open to resolving the dispute with Iran diplomatically, but only after it suspended uranium enrichment. Mr. Bush and others hold that Iran intends to develop nuclear weapons; Iran's leaders insist the nuclear program is for peaceful purposes. [More>>nytimes.com; See also:

jpost.com, June 16, " 'Fearing sanctions, Teheran pulls $75 billion from EU banks.' " : Iran has withdrawn around $75 billion from European banks to prevent the assets from being blocked under threatened new sanctions over Teheran's disputed nuclear ambitions, Reuters reported Monday, quoting an Iranian weekly. The report in Shahrvand-e Emrouz stated that "About $75 billion of Iran's foreign assets which were under threat of being blocked were wired back to Iran based on Ahmadinejad's order."

"Part of Iran's assets in European banks have been converted to gold and shares and another part has been transferred to Asian banks," Mohsen Talaie, Deputy Foreign Minister in charge of economic affairs, was quoted as saying. The UK's Daily Telegraph reported last week that Iranian assets held in Europe were being funneled back to Teheran using financial intermediaries in Dubai...
---
6.16.08 Judge rules for White House in e-mail controversy
WASHINGTON (AP) June 16 - A federal judge ruled Monday that a White House office that has records about millions of possibly missing e-mails does not have to make them public. US District Judge Colleen Kollar-Kotelly says the Office of Administration is not subject to the Freedom of Information Act, enabling the White House to maintain the secrecy of a lengthy internal paper trail about its problem-plagued e-mail system.
The decision came in a lawsuit filed against the administration by Citizens for Responsibility and Ethics in Washington, a private group that has been trying to find out the extent of the White House's e-mail problems for more than a year. The functions of the Office of Administration "are strictly administrative," Kollar-Kotelly ruled. [More>>washingtonpost.com]
---
6.16.08 Taliban fighters take over several Afghan villages
KANDAHAR, Afghanistan (AP) June 16 - Hundreds of Taliban fighters took over several villages in southern Afghanistan on Monday just outside the region's largest city, and NATO and Afghan forces were redeploying to meet the threat, officials said. Mohammad Farooq, the government leader in the Arghandab district of Kandahar province, said around 500 Taliban fighters moved into his district and took over several villages.
Arghandab lies just north of Kandahar city — the Taliban's former stronghold — and a tribal leader from the region warned that the militants could use the cover from Arghandab's grape and pomegranate orchards to mount an attack on Kandahar itself. "All of Arghandab is made of orchards. The militants can easily hide and easily fight," said Haji Ikramullah Khan. "It's quite close to Kandahar. During the Russian war, the Russians didn't even occupy Arghandab, because when they fought here they suffered big casualties." [More>>indianexpress.com: hosted.ap.org]
---
6.16.08 Bomb kills 4 outside Pakistan mosque, injures 5
DERA ISMAIL KHAN, Pakistan (AP) June 16 - A bomb exploded outside a Shiite mosque in northwest Pakistan on Monday, killing at least four people and wounding five others, police said. The bomb exploded near the outer wall of the mosque in downtown Dera Ismail Khan as worshippers were leaving after evening prayers, said Abdul Ghafoor, a local police officer...Pakistan is struggling to combat a tide of Islamic militancy particularly in its volatile northwest. It has a history of violence between the majority Sunni and minority Shiite Muslims. While most members of the two sects coexist peacefully, violence by extremist elements is common. [Full story>>indianexpress.com: hosted.ap.org]
---
6.16.08 Kabul's raid threat angers Pakistan
June 16 - Pakistan has warned that it will retaliate if Afghanistan launches a cross-border attack. Pakistan's foreign office on Monday reinforced earlier comments by Yousuf Raza Gilanim, Pakistan's prime minister, vowing Pakistan will defend itself against any assault. "Pakistan shall defend its territorial sovereignty," Mohammad Sadiq, a foreign office spokesman, said. "We have seen president Karzai's statement [to] the media. We hope that it is not the re-initiation of the blame-game by Afghanistan." [More>>aljazeera.net]
---
6.16.08 Egypt Copts ask president for protection
CAIRO (AFP) June 16 - Egypt's Coptic church has used unusually strong language to call on President Hosni Mubarak to guarantee Christians' safety after a violent attack on a monastery in which four Copts were injured. The Coptic Ecclesiastical Council called on Mubarak to prevent "more armed attacks on monks" and "insults to the cross," said a statement carried by Egypt's press on Sunday.

The move follows a land dispute involving a historic monastery which turned violent on May 31, leading to the death of a Muslim man who was reportedly attacking the monastery...Egypt's Copts — the largest Christian community in the Middle East — account for an estimated six to 10 percent of the country's 76 million inhabitants and complain of systematic discrimination and harassment. Tensions often run high between Egypt's Muslim and Christian communities in an increasingly religious society dominated by Sunni Muslims. [Full story>>alarabiya.net; See related story, metimes.com, June 16, "Religious tension imperil's Egypt's unity."]
---
6.16.08 Islam stuck in the Middle Ages, says Professor Hans Kung
June 16 - Islam is stuck in its own version of the "Middle Ages" which is contributing to a global crisis, one of the religion's leading experts has argued. Professor Hans Kung, a leading Roman Catholic and theologian from Germany, warned in a lecture of a "deadly threat" to all humankind unless new efforts are made to build bridges with Islam. He said in London that Islam has "special problems" with modernity because, unlike Christianity and Judaism, in which he also specializes, it has never undergone a "serious religious reformation."
He questioned whether Islam is even capable of adapting to a post-modern world in the way that Christianity and Judaism have done. But he also outlined why he is hopeful that the present problems around radicalization within Islam can be resolved, and how the other two Abrahamic faiths are subject to some of the same problems on their extremist edges. [More>>timesonline.co.uk]
---
6.16.08 Britons warned of UAE terror threat
June 16 - The British Government has raised its terror warning for the United Arab Emirates to its highest level. A statement on the Foreign and Commonwealth Office (FCO) website says: "There is a high threat from terrorism. We believe terrorists may be planning to carry out attacks in the UAE."...But concerns have been voiced that al-Qaeda may have supporters or operatives in the country and a tradition of smuggling and money-laundering has raised fears about terrorist funding. [Full story>>independent.co.uk]
---
6.15.08 George Bush arrives in Britain with Bin Laden demand
June 15 - President George W. Bush has enlisted British special forces in a final attempt to capture Osama Bin Laden before he leaves the White House. As Mr. Bush arrived in Britain today on the final leg of his eight-day farewell tour of Europe, defence and intelligence sources in Washington and London confirmed that a renewed hunt was on for the leader of the September 11 attacks. "If he [Bush] can say he has killed Saddam Hussein and captured Bin Laden, he can claim to have left the world a safer place," said a US intelligence source. [More>>timesonline.co.uk]
---
6.15.08 Nuclear ring reportedly had advanced weapon design
WASHINGTON, June 15 - American and international investigators say that they have found the electronic blueprints for an advanced nuclear weapon on computers that belonged to the nuclear smuggling network run by Abdul Qadeer Khan, the rogue Pakistani nuclear scientist, but that they have not been able to determine whether they were sold to Iran or the smuggling ring's other customers.
The plans appear to closely resemble a nuclear weapon that was built by Pakistan and first tested exactly a decade ago. But when confronted with the design by officials of the International Atomic Energy Agency last year, Pakistani officials insisted that Dr. Khan, who has been lobbying in recent months to be released from the loose house arrest that he has been under since 2004, did not have access to Pakistan's weapons designs. [More>>nytimes.com]
---
6.15.08 Karzai threatens to send forces into Pakistan
KABUL, Afghanistan (AP) June 15 - Afghan President Hamid Karzai threatened Sunday to send Afghan troops across the border to fight militants in Pakistan, a forceful warning to insurgents and the Pakistani government that his country is fed up with cross-border attacks. Karzai said Afghanistan has the right to self defense, and because militants cross over from Pakistan "to come and kill Afghan and kill coalition troops, it exactly gives us the right to do the same."
Speaking at a Sunday news conference, Karzai warned Pakistan-based Taliban leader Baitullah Mehsud that Afghan forces would target him on his home turf. Mehsud is suspected in last year's assassination of former Pakistani Prime Minister Benazir Bhutto. "Baitullah Mehsud should know that we will go after him now and hit him in his house," Karzai said.
"And the other fellow, (Taliban leader) Mullah Omar of Pakistan should know the same," Karzai continued. "This is a two-way road in this case, and Afghans are good at the two-way road journey. We will complete the journey and we will get them and we will defeat them. We will avenge all that they have done to Afghanistan for the past so many years."
In Pakistan, Prime Minister Yousuf Raza Gilani said his country is a sovereign state that wants good relations with its neighbors. But he said the Afghan-Pakistan border is too long to prevent people from crossing, "even if Pakistan puts its entire army along the border." [More>>indianexpress.com: hosted.ap.org; See also
thenews.com.pk, June 15, "No foreign interference allowed in Pakistan's internal affairs." ;related story:
washingtonpost.com, June 15, "A sober assessment of Afghanistan.": The outgoing top US military commander in Afghanistan said Friday that attacks increased 50 percent in April in the country's eastern region, where US troops primarily operate, as a spreading Taliban insurgency across the border in Pakistan fueled a surge in violence. In a sober assessment, Gen. Dan K. McNeill, who departed June 3 after 16 months commanding NATO's International Security Assistance Force, or ISAF, said that although record levels of foreign and Afghan troops have constrained repeated Taliban offensives, stabilizing Afghanistan will be impossible without a more robust military campaign against insurgent havens in Pakistan.
---
6.15.08 Giive up arms or else, Iraqi PM warns militants
BAGHDAD, June 15 - Iraqi Prime Minister Nouri al-Maliki has given militiamen in the southern province of Maysan four days to surrender their weapons ahead of a planned military assault in the Shiite bastion, as the movement of Shiite cleric Moqtada al-Sadr will not compete in local elections under its own name but join with other groups and ask its followers to vote for those candidates. "Those who have heavy and medium weapons, explosives or sniper guns, must hand them over to the security forces over the next four days until June 18 in return for cash," Maliki said in a statement issued late on Saturday.

He said those who are accused of crimes but "do not have blood of Iraqis on their hands" must also report to the security forces within four days. After the June 19 deadline, the military will start search operations. "As part of our continuing efforts to impose security and law and putting an end to the chaos of crimes, we have decided that from today the province of Maysan should be without arms," Maliki said. [More>>alarabiya.net]
---
6.14.08 'Riyadh to increase oil production'
June 14 - Saudi Arabia is planning to increase its oil production output next month by about a half-million barrels a day, beginning in July, the New York Times reported Saturday. Quoting analysts and oil traders who have been briefed by Saudi officials, the paper said the increase could bring Saudi output to a production level of 10 million barrels a day, which, if sustained, would be the kingdom's highest ever. [More>>jpost.com]
---
6.14.08 Scientists find bugs that eat waste and excrete petrol
June 14 - Silicon Valley is experimenting with bacteria that have been genetically altered to provide 'renewable petroleum.' "Ten years ago I could never have imagined I'd be doing this," says Greg Pal, 33, a former software executive, as he squints into the late afternoon Californian sun. "I mean, this is essentially agriculture, right? But the people I talk to – especially the ones coming out of business school – this is the one hot area everyone wants to get into."
He means bugs. To be more precise: the genetic alteration of bugs – very, very small ones – so that when they feed on agricultural waste such as woodchips or wheat straw, they do something extraordinary. They excrete crude oil. Unbelievably, this is not science fiction. Mr. Pal holds up a small beaker of bug excretion that could, theoretically, be poured into the tank of the giant Lexus SUV next to us. Not that Mr. Pal is willing to risk it just yet. He gives it a month before the first vehicle is filled up on what he calls "renewable petroleum." After that, he grins, "it's a brave new world."
Mr. Pal is a senior director of LS9, one of several companies in or near Silicon Valley that have spurned traditional high-tech activities such as software and networking and embarked instead on an extraordinary race to make $140-a-barrel oil (£70) from Saudi Arabia obsolete. "All of us here – everyone in this company and in this industry, are aware of the urgency," Mr. Pal says.
...Inside LS9's cluttered laboratory – funded by $20 million of start-up capital from investors including Vinod Khosla, the Indian-American entrepreneur who cofounded Sun Micro-systems – Mr. Pal explains that LS9's bugs are single-cell organisms, each a fraction of a billionth the size of an ant. They start out as industrial yeast or nonpathogenic strains of E. coli, but LS9 modifies them by custom-de-signing their DNA. "Five to seven years ago, that process would have taken months and cost hundreds of thousands of dollars," he says. "Now it can take weeks and cost maybe $20,000."
Because crude oil (which can be refined into other products, such as petroleum or jet fuel) is only a few molecular stages removed from the fatty acids normally excreted by yeast or E. coli during fermentation, it does not take much fiddling to get the desired result...The closest that LS9 has come to mass production is a 1,000-litre fermenting machine, which looks like a large stainless-steel jar, next to a wardrobe-sized computer connected by a tangle of cables and tubes. It has not yet been plugged in. The machine produces the equivalent of one barrel a week and takes up 40 sq. ft. of floor space. However, to substitute America's weekly oil consumption of 143 million barrels, you would need a facility that covered about 205 square miles, an area roughly the size of Chicago. [Full story>>timesonline.co.uk]
---
6.14.08 Manhunt follows Taliban jail attack
June 14 - A hunt is under way for more than 870 prisoners who escaped from a jail in southern Afghanistan after Taliban fighters blew it open, killing 15 security guards. The Taliban claimed 400 fighters escaped after the raid in the city of Kandahar late on Friday. A suicide-bomb blast preceded a fierce gun attack on the prison guards.

...The attack came a day after world donors gathered at a conference in Paris and pledged $20bn to rebuild Afghanistan but also called on Hamid Karzai, the Afghan president, to strengthen security. Yousuf Ahmadi, a Taliban spokesperson, said the fighters used suicide bombers and detonated a bomb-laden water tanker as part of the attack. "First we exploded two suicide attacks and then our mujahidin (holy warriors) riding motorcycles entered the prison and killed the remaining security guards," Ahmadi said. [Full story>>aljazeera.net; See related story, nytimes.com, June 14, "Afghan bomb kills 4 US servicemen."]
---
6.14.08 UN extends mandate for foreign troops in Iraq
UNITED NATIONS, June 14 - The UN Security Council has extended by six months the mandate given to foreign troops in Iraq, as Foreign Minister Hoshiyar Zebari told the Council that Iraqi and US-led forces have "turned the corner" in battling a five-year insurgency, though the improvements were "fragile." In a speech to the council, Iraq's Zebari said his government's security forces were better trained and equipped than ever. They now numbered nearly 600,000 and were protecting half of Iraq's 18 provinces.

"Their efforts have won them the trust and cooperation of the Iraqi people and, with the support of the multinational forces, they have turned the corner in the fight against the insurgency and terrorism in Iraq," Zebari said. But he warned the council that Iraqi forces "still are short of being able to independently assume full responsibility for the maintenance of security in all Iraqi territory." [More>>alarabiya.net]
---
6.14.08 US freezes Kuwait charity over Al-Qaeda ties
WASHINGTON (AFP) June 14 - The United States Treasury Department on Friday froze the assets of a Kuwait-based charity for allegedly supporting and funding al-Qaeda, the government said in a statement. The decision applies to the Kuwaiti headquarters of the Revival of Islamic Heritage Society (RIHS), and specifically to any assets the group holds under US jurisdiction. It also bars US persons from any transactions with the group...RIHS offices have also been closed or raided over suspicions of terror ties by the governments of Albania, Azerbaijan, Bangladesh, Bosnia-Herzegovina, Cambodia, and Russia. [Full story>>khaleejtimes.com]
---
6.14.08 Mugabe rival faces treason charges
HARARE, Zimbabwe, June 14 - The deputy leader of Zimbabwe's main opposition party appeared in court on treason charges Saturday as President Robert Mugabe's regime turned up the pressure on rivals ahead of elections. Movement for Democratic Change (MDC) secretary-general Tendai Biti's High Court appearance, wearing leg irons, came as police re-arrested MDC leader Morgan Tsvangirai and 11 other party officials. Tsvangirai has been repeatedly arrested as he has campaigned for a June 27 presidential election run-off vote that Mugabe is accused of trying to rig through violence and intimidation. [More>>cnn.com]
---
6.13.08 US home foreclosures rise 48% as inflation surges
June 13 - Americans have not seen the worst of the housing crisis and must grow accustomed to surging inflation, one of Wall Street's leading economists warned today, as the US suffered the sharpest rise in foreclosures on record. Kevin Logan, chief economist at Dresdner Kleinwort, the investment bank in New York, predicted that inflation will continue to rise to as much as 5 per cent by August as food and fuel costs show no sign of slowing.
He also warned that house prices, construction activity and property sales may fall steeply until well into next year. His comments offer little comfort to American homeowners who last month suffered the sharpest rise in foreclosures on record. At the same time, official figures from Washington showed that the cost of living had risen by another 0.6 per cent compared with the month before, up to an annual rate of 4.2 per cent.
According to RealtyTrac, the US foreclosure monitor, the number of homeowners falling into serious arrears with their mortgage payments jumped by 48 per cent in May compared with the same period the year before. Last month, 261,255 American homeowners filed for foreclosure, with one in every 483 households across the country having either lost or on the brink of losing their home. [More>>timesonline.co.uk; See related story, nytimes.com, June 13, "Oil and food push consumer prices higher in May."]
---
6.13.08 2,000-year-old seed grows into 'tree of life' for scientists
June 13 - A 2,000-year-old seed recovered from the ancient Jewish fortress of Masada near the Dead Sea has become the oldest seed in the world to have germinated successfully, scientists said yesterday. The seed, which grew into a date palm plant, was one of three recovered during archaeological excavations in the early 1960s, but it was only planted two years ago as part of an experiment to see if it could germinate and grow after such a long time. Scientists chipped off small fragments from two of the seeds for radiocarbon dating, which showed they were formed between 206BC and AD24, shortly before the Romans laid siege to Masada AD72.

...When the seed germinated, the first leaves to sprout had white spots on them because of a lack of chlorophyll, which may have been due to mineral deficiencies immediately after germination. However, at 26 months, the plant showed normal development and a preliminary genetic analysis has revealed it shares about half its DNA with three modern varieties of the date palm from Morocco, Egypt and Iraq. The oldest seed known to have germinated prior to the Masada date palm was a 1,300-year-old lotus seed. [Full story>>independent.co.uk]
---
6.13.08 Security chief says al-Qaeda plotting in Denmark
COPENHAGEN (Reuters) June 13 - Al-Qaeda is planning an attack in Denmark, the head of the Danish security police said on Friday, two weeks after the network claimed responsibility for a deadly bombing at the Danish embassy in Pakistan. "We see now — also in cases not yet public — a determined steering, training and planning of a terror attack on Danish soil with management from al-Qaeda," Security and Intelligence Service (PET) head Jakob Scharf said in an interview published on newspaper Nyhedsavisen's website.
Al-Qaeda said earlier this month it was behind a suicide attack on Denmark's embassy in the Pakistani capital Islamabad that killed six and injured 20. It called the act revenge for the 2005 publication of caricatures of the Prophet Mohammad. Most Muslims consider physical representations of the founder of Islam blasphemous...
...According to the PET, young Danes have been training at camps on the border of Afghanistan and Pakistan, where British and German recruits have also been schooled in militant tactics. Scharf said there were "a number of operations running. We are looking at people and networks in Denmark which constitute a concrete threat and have the will and the means to carry out an attack," he said. [Full story>>thestar.com.my]
---
6.13.08 Al-Maliki criticizes US demands to stay in Iraq
BAGHDAD, June 13 - Prime Minister Nouri al-Maliki on Friday denounced demands made by the United States to extend the presence of American troops in Iraq, saying that the two sides are deadlocked and far from reaching an agreement. "We found out that the demands of the American side are strongly violating the sovereignty of Iraq, something we could never accept," Maliki said.
Speaking during a visit to Amman, Maliki for the first time added his voice to the growing chorus of senior Iraqi politicians opposed to US proposals for a status of forces agreement, which would authorize the presence of American troops, and a long-term strategic agreement between the two countries. He said the drafts presented by the American side were unacceptable, but that both parties would continue to work toward a deal. [More>>washingtonpost.com; See related story, cnn.com, June 13, "Al-Sadr: New force to fight US in Iraq."]
---
6.12.08 'Dead patient comes around as organs are about to be removed'
PARIS, June 12 - France may have to reconsider its medical definition of death after a heart-attack victim came alive in the operating theatre as doctors were about to remove his organs for transplant. The patient, whose identity has not been revealed, recovered after a long period in intensive care and is now able to walk and talk.
The 45-year-old man owes his life to the fact that surgeons authorised to remove organs for transplant operations were not immediately available. Under experimental rules adopted in France last year, to make more organ transplants possible, the man had already reached the point where he could be officially regarded as dead. Similar rules — allowing the removal of organs when a patient's heart has stopped and fails to respond to prolonged massage — already apply in several other European countries, including Britain.
The case occurred at the Pitié-Salpêtriere hospital in Paris in January but was not revealed at the time. The organization that runs state-owned hospitals in the Paris area — Assistance Publique-Hôpitaux de Paris (AP-HP) — referred the case to its ethical committee on transplants. A summary of the committee's debate, which came to no firm conclusion, has now been published on the AP-HP website. "This situation [illustrates] the questions that remain in reanimation ... and what criteria can be used to determine that a reanimation has failed," says the report.
The ethical questions raised are complex, as the committee acknowledges that doctors — and the state — have an obligation to the 13,000 people waiting for transplanted organs in France. Last year 231 of these patients died because organs did not become available. It was for this reason that France introduced experimental rules allowing the removal of organs in nine hospitals from so-called "stopped heart" patients. The 45-year-old at the centre of the controversy collapsed close to the La Pitié-Salpêtriere hospital. Efforts were made to revive him at the scene, and more elaborate procedures continued at the hospital for 90 minutes. As surgeons were preparing to remove his vital organs, the man began to breathe unaided. His pupils moved and he showed signs of pain. His heart started to beat again. After several weeks during which he was gravely ill, the man can now walk and talk. He has yet to be told that doctors were ready to remove his organs. [More>>independent.co.uk]
---
6.12.08 Visitors flocking to see 'unicorn' deer
ROME (AP) June 12 - The shy, young deer nicknamed "Unicorn" because of the rare, single horn in the center of his head is drawing hundreds of curious visitors, park officials said Thursday. People are flocking to the nature preserve in Tuscany where the deer lives, hoping to see him and take his picture. "We have received so many calls from people and many are coming to see it," said Gilberto Tozzi, director of the Center of Natural Sciences in Prato, near Florence. "Sometimes he comes close to the fence, even if he is very shy." In just the past few days, some 200 visitors have made the pilgrimage to the Prato preserve to see "Unicorn," Tozzi said. The shy but budding media star wanders freely around the 2.5-acre park, he said. [More>>indianexpress.com: hosted.ap.org]
---
6.12.08 Bush says military action is possible against Iran
MESEBERG, Germany (AP) June 12 - US President George W. Bush dusted off an old Iran refrain, the idea that military action is a possibility to thwart Teheran's suspected nuclear weapons program. The difference: This time he said it in the heart of Europe, where that idea is viewed as nearly unthinkable. Bush's warning that "all options are on the table" has not been heard much lately. Instead, he has been emphasizing that diplomacy is the preferable course. But he volunteered the military option with no prompting during a news conference with German Chancellor Angela Merkel.
Speaking at a baroque castle nestled on a lake in the German countryside Wednesday, Bush said Iran has a choice to make now, after having failed so far to make the right one. "The Iranian people deserve better than being isolated from the world," he said. "We'll see what choice they make." Merkel made clear her views on the saber-rattling without directly countering her guest. "I very clearly pin my hopes on diplomatic efforts," she said at Bush's side. Iran's leader weighed in, too. Speaking before thousands in the city of Shahr-e-Kord, President Mahmoud Ahmadinejad said Bush "won't be able to harm even one centimeter of the sacred land of Iran" and promised continued defiance over Iran's nuclear activities. Iran says it is enriching uranium to generate electricity, not build a bomb — a claim the West highly doubts. [More>>khaleejtimes.com]
---
6.12.08 US releases video of clash along Afghan border
ISLAMABAD, Pakistan (AP) June 12 - The US-led coalition in Afghanistan released footage Thursday of a skirmish with militants that Pakistan claims resulted in an airstrike on one of its border posts that killed 11 of its troops. Pakistan has lodged a strong diplomatic protest, saying the bombing of the Gorparai post in the Mohmand frontier region on Tuesday was a "completely unprovoked and cowardly act."
But Pakistani and US officials have given widely differing accounts of an event that threatens to further sour relations between key allies in Washington's war on terror — a partnership already unpopular among Pakistanis. To support its version, the coalition on Thursday took the unusual step of releasing excerpts of a video shot by a surveillance drone circling above the mountainous battle zone.
The grainy, monochrome images show about a half-dozen men firing small arms and rocket-propelled grenades from a ridge at coalition troops off-camera in the valley below. According to the voiceover in the video, the ridge is in Afghanistan's Kunar province, about 200 yards from the Pakistan border and close to the Gorparai checkpoint. Neither the checkpoint nor any other structures are visible in the video excerpts.
The voiceover says the coalition forces were on a reconnaissance mission and returned fire as they tried to break contact and move to a point where a helicopter could pluck them to safety. The video shows the "anti-Afghan militants" moving to a position identified as inside Pakistan and the impact of a bomb which the voiceover says killed two of them. The survivors then fled into a ravine, where three more bombs were dropped, nearly three hours after the clash began. The voiceover said all the militants were killed. [More>>indianexpress.com: hosted.ap.org; See also bbc.co.uk, June 12, "US releases border strike footage."]
---
6.12.08 Justices rule terror suspects can appeal in civilian courts
WASHINGTON, June 12 - Foreign terrorism suspects held at the Guantánamo Bay naval base in Cuba have constitutional rights to challenge their detention there in United States courts, the Supreme Court ruled, 5 to 4, on Thursday in a historic decision on the balance between personal liberties and national security. The laws and Constitution are designed to survive, and remain in force, in extraordinary times," Justice Anthony M. Kennedy wrote for the court.
The ruling came in the latest battle between the executive branch, Congress and the courts over how to cope with dangers to the country in the post-9/11 world. Although there have been enough rulings addressing that issue to confuse all but the most diligent scholars, this latest decision, in Boumediene v. Bush, No. 06-1195, may be studied for years to come. [More>>nytimes.com]
---
6.12.08 Afghan seizes 260 tons of hashish in drug bust
KABUL, Afghanistan (AP) June 12 - Afghan counternarcotics officials said they uncovered 260 tons (236 metric tons) of hashish hidden in 6-foot-deep (2-meter-deep) trenches in southern Afghanistan in what one official said appears to be the largest-ever drug bust. The hashish, found in the southern province of Kandahar on Monday, was worth more than US$400 million and would have netted the Taleban about US$14 million in profits, NATO's International Security Assistance Force said Wednesday. The hashish weighed as much as 30 double-decker London buses, ISAF said. The drugs were burned on site. [More>>khaleejtimes.com; See also independent.co.uk, June 12, "Afghan commandos discover 230 tons of cannibas in the desert."]
---
6.12.08 Failed suicide bomber's wife jailed for 15 years
June 12 - The wife of failed suicide bomber Hussain Osman was jailed for 15 years today for failing to tell police of his plans for "carnage and mass murder." Muslim convert Yeshi Girma, 32, knew of his plot to kill innocent Tube passengers on 21 July 2005 and could have stopped it going ahead. It was only the botched bomb-making of Osman and his fellow terrorists that saved a repeat of the carnage wreaked on 7 July, two weeks before. Just over half an hour after his failed attack on Shepherd's Bush Tube station, Osman was on the phone to his wife to set in motion an escape plan. Yeshi, the mother of Osman's three sons, helped him flee to Brighton before he took a Eurostar to Paris and ended up in Rome, where he was arrested. [More>>independent.co.uk]
---
6.11.08 Impeachment vote set
June 11 - The House is set to vote this afternoon on whether to refer articles of impeachment against President Bush to the Judiciary Committee, where they are unlikely to see any further action during this Congress. The impeachment resolution — accusing Bush of manufacturing a case for war in Iraq, among other charges — was introduced by Rep. Dennis Kucinich (D-Ohio) on Monday. Kucinich himself read all 35 articles into the Congressional Record on the House floor that night, a process that took nearly five hours. The second reading, which is required under House rules, was performed by House reading clerks on Tuesday night. In both cases, the readings kept the chamber in session past midnight. [More>>washingtonpost.com; See earlier story, Maravot News, June 10, "US Congressman calls for Bush impeachment."]
---
6.11.08 US airstrike kills Pakistani troops
PESHAWAR, Pakistan (AFP) June 11 - Eleven Pakistani troops were killed in a US airstrike near the Afghan border today, in an incident Islamabad said could jeopardise cooperation in the fight against terrorism. Pakistan's military strongly condemned the "completely unprovoked and cowardly" attack, the first of its kind since Islamabad joined Western efforts to combat the Taliban in the wake of the September 11, 2001 attacks.

The incident heightened tensions between Pakistan and US-led forces in Afghanistan, who recently warned that the new Government's decision to hold peace talks with the militants could increase cross-border infiltration. An army statement quoting a spokesman said a paramilitary checkpost at Gora Prai in the Mohmand tribal agency was "destroyed by coalition forces in Afghanistan through aerial attack", killing 11 troops including an officer. "The spokesman condemned this completely unprovoked and cowardly act on the FC (Frontier Corps) post and regretted the loss of precious lives of our soldiers," the statement said. [More>>news.com.au; See also thenews.com.pk, June 11, "US army informed Pakistan attack on Mohmand Agency." and khaleejtimes.com, June 11, "Pakistan official says US strike not intentional.": Pakistan does not view a US air strike that killed 11 Pakistani soldiers at a border post near Afghanistan as an intentional hostile act, Pakistan's ambassador to the United States said on Wednesday...
---
6.11.08 Afghan officials: 31 killed in airstrikes
KABUL, Afghanistan (AP) June 11 - Officials says 31 people died in airstrikes in eastern Afghanistan. Interior Ministry spokesman Zemeri Bashary says most of the 31 people were foreign fighters. But Khalid Farooqi, a lawmaker from Paktika, says at least nine civilians were killed. The US-led coalition says four civilians were killed and that several militants died in the clashes in northern Paktika province early Wednesday. Twelve militants were detained. Farooqi says the operation apparently targeted militant commander Mullah Mohammad Nabi and fighters who served under him. Civilian casualties have been a problem for the US-led coalition over the years, though fewer civilian deaths have been reported so far this year than in 2007. [>indianexpress.com: hosted.ap.org]
---
6.11.08 Serb war crimes suspect arrested
June 11 - Stojan Zupljanin, one of four Serbians wanted by the UN war crimes tribunal based in The Hague, has been arrested near Belgrade. The former Bosnian Serb police commander "was arrested near Belgrade at around 12:30pm (1030 GMT) and transferred to the war crimes court" in the capital, a justice official said. Zupljanin, 56, had been charged in 1999 with genocide, crimes against humanity, murder and torture during the Bosnian civil war that took place during the 1990s.

Three other war crime suspects, Radovan Karadzic, his military commander Ratko Mladic, and Goran Hadzic, the war time president of the self-proclaimed Serb republic of Krajina in Croatia, are still at large...His family had publicly called on him to surrender, to spare them embarrassment and financial collapse, as all their assets were frozen. [Full story>>aljazeera.net]
---
6.11.08 Iraqi police: Bomb kills 5 on minibuses in Baghdad
BAGHDAD (AP) June 11 - A bomb planted near a bridge in northern Baghdad killed five people on passing minibuses during rush hour Wednesday, Iraqi police said. A woman and a 7-year-old boy were among the dead, and at least 10 other people were wounded in the mostly Shiite neighborhood of Hurriyah, an officer said on condition of anonymity due to security concerns.
Across town, two mortar rounds hit a busy street in the central Baghdad area of Karrada, killing a civilian and wounding five others, police said. Another two roadside bombs targeted a passing police patrol south of the capital in Kut, killing two policemen and wounding five others, another officer said on the same anonymity condition. [More>>indianexpress.com: hosted.ap.org]
---
6.11.08 Special Report: Iran supports Iraq terror
June 11 - Secret details of the production of a new type of explosively formed penetrator, or EFP in military jargon, is being produced by Iran's Islamic Revolution Guards Corps – Qods Force (IRGC-QF), according to sources in the Iranian resistance. The information was revealed at a Parliamentary press conference held in London Tuesday by the National Council of Resistance of Iran, a group opposed to the rule of the mullahs.

The NCRI revealed precise details of 51 weapons smuggling networks operating between Iran and Iraq. The group outlined the methods used to smuggle the EFPs and exposed the Iranian-backed terrorist militias operating in Iraq. The information presented to the media was backed up by satellite images obtained by the NCRI depicting a number of what was described as "secret sites."

"Based on the information obtained by the network of the People's Mojahedin Organization of Iran [PMOI – also known as MeK, Mujahedin-e-Khalq], the Qods Force is responsible for providing more than 80 percent of the arms, ammunition and bombs being used across Iraq," said Hossein Abedini, member of the NCRI's Foreign Affairs Committee. [More>>metimes.com; See also ncr-iran.org]
---
6.11.08 Hungry monkeys raid farmland around Indonesia's Borabudur temple
JAKARTA, June 11 - Bands of starving monkeys have destroyed crops around Indonesia's famous Borobudur Buddhist temple in search of food their habitat can no longer supply, an official said Wednesday. Thousands of long-tailed macaques went searching for sustenance in several villages of Central Java province, said Dedi Rinyadi, who works for the Natural Resources Conservation Agency. The population of monkeys has exploded due to dwindling predators, but drought has led to food shortages, Rinyadi said.

The monkeys have stolen crops and destroyed about 990 acres (400 hectares) of farmland - including around the 7th-century Buddhist temple complex of Borobudur outside the sultanate of Yogyakarta. Some have invaded villagers' yards in search of fruit, vegetables and rice. Distressed farmers have used firecrackers and air rifles to chase them away. Farmers are worried they are so occupied fighting off the monkeys they will not be able to tend their land, Rinyadi said. "Monkeys are another threat to food production during this dry season," Rinyadi said. [>thejakartapost.com ; See profile, pbs.org "Borubudor: Pathway to Enlightenment." and related story on environmental changes, independent.co.uk, June 11, "Nature laid waste: The destruction of Africa."]
---
6.11.08 Deadly bird flu detected in Hong Kong
BEIJING, June 11 - Hong Kong authorities announced Wednesday that they planned to kill all chickens in the territory's retail markets because of fears of a dangerous bird flu outbreak. Health officials said they detected the deadly H5N1 virus last week in chickens at a stall in the Kowloon area and slaughtered about 2,700 animals in that neighborhood to prevent its spread. But more cases were uncovered this week at four markets in the New Territories and Hong Kong island, leading to the order to get rid of all remaining live chickens in retail markets, stalls and stores. [More>>washingtonpost.com]
---
6.10.08 US Congressman calls for Bush impeachment
WASHINGTON (Reuters) June 10 - Dennis Kucinich defied his party leadership on Monday by calling for the impeachment of US President George W. Bush for launching the Iraq war — but his move was not expected to go anywhere. The 61-year-old Ohio representative outlined his intention to propose more than two dozen charges against Bush on the floor of the US House of Representatives. Kucinich, a former presidential candidate, accused Bush executing a "calculated and wide-ranging strategy" to deceive citizens and Congress into believing that Iraq posed an imminent threat to the United States.

House Speaker Nancy Pelosi has repeatedly said she opposes trying to remove the Republican president who leaves office next January because such an attempt would be divisive and most likely unsuccessful. Kucinich, an outspoken Iraq war critic who has consistently voted against funding the war and led anti-war efforts in Congress, offered a resolution to impeach Vice President Dick Cheney in April 2007. That also failed to move forward.

Many Democrats and civil liberties groups have accused the Bush administration of providing misleading information before the 2003 Iraq invasion as well as violating the rights of US citizens with its warrantless surveillance program. The White House denies the charges. [>alarabiya.net; See details, afterdowningstreet.org and related story, dw-world-de, June 10, "German politicians offer harsh assessment of Bush's legacy."]

Editorial note: It may be that one of the problems with impeachment from Pelosi's point of view may deal directly with the fact that in the event President Bush and Vice President Cheney were removed from office through impeachment, Pelosi would assume the office of President of the United States, according to the US Constitution. It would seem appropriate if Pelosi were asked whether she objected to such a service because of personal reasons. Where crimes are involved, such as obstruction of justice, the use of signing statements to negate Congressional laws, and the way the Bush administration misled Congress on Bush's Iraq war, Congress has an obligation to conduct impeachment hearings. To avoid impeachment hearings "because they would be divisive" is like the Supreme Court avoiding a case because it would cause them to be divisive in the hearing of a case.

Mel Copeland
---
6.10.08 Marry or be fired, single employees told
TEHRAN, June 10 - A major Iranian state-owned company has told its single employees to get married by September or face losing their jobs, the press reported today. "One of the economic entities in the south of the country has asked its single employees to start creating a family," the hardline Kayhan daily reported. The paper did not mention the name of the company but the reformist Etemad newspaper said the firm was the Pars Special Economic Energy Zone Company — which covers Iran's giant gas and petrochemical facilities on the shores of the Gulf.
"Unfortunately some of our colleagues did not fulfil their commitments and are still single," Etemad quoted the company's directive as saying. "As being married is one of the criteria of employment, we are announcing for the last time that all the female and male colleagues have until September 21 to go ahead with this important and moral religious duty." Sexual relations outside of marriage are illegal in Iran — for the most part a traditional society where young people normally are encouraged by their families to marry in their 20s and swiftly bear children. The country is also in the midst of an unprecedented moral crackdown which has seen tens of thousands of women warned by the police for dress deemed to be unIslamic. [More>>news.com.au]
---
6.10.08 West risks obsession with Islam, warns Vatican
June 10 - The Vatican has given warning that the West's efforts at inter-faith dialogue must not be "held hostage" by Islam and are in danger of becoming "obsessed" with it at the expense of other religions. Cardinal Jean-Louis Tauran, head of the Pontifical Council for Inter-Religious Dialogue, said that the Church "has to have regard for all religions." He said that the council had this week discussed new guidelines for inter-faith dialogue. "What was interesting about our discussions was that we did not concentrate on Islam because in a way we are being held hostage by Islam a little bit," he told the Catholic website Terrasanta.net. "Islam is very important, but there are also other great Asiatic religious traditions. Islam is one religion."

...The cardinal criticized Saudi Arabia for not allowing Christian worship. "What is good for me is good for the other, so if it's possible for Muslims to have a mosque in the West, we should have the same in Muslim countries. This is not the case in many countries." ...Cardinal Tauran's comments came in the run up to an inter-faith meeting in Amman, the capital of Jordan, later this month organized by Oasis, the research centre for inter religious dialogue founded in 2004 by Cardinal Angelo Scola, the Patriarch of Venice. [Full story>>timesonline.co.uk]
---
6.10.08 The 14-year-old Afghan suicide bomber
KABUL, June 10 - The surroundings were grim and forbidding, a notorious jail run by Afghanistan's feared security service for those taken prisoner in the bloody war with the Taliban. Among the inmates: Shakirullah Yasin Ali; a small, frail boy, just 14 years old, arrested as he prepared to carry out a suicide bombing against British and American targets. "If I had succeeded, I would be dead now, I realize that," he said in a soft, nervous voice. "But those who were instructing me said that if I believed in serving God it was my duty to fight against the foreigners. They said God would protect me when the time came." It was a suicide bomber like Shakirullah who, on Sunday, claimed the lives of three more British soldiers in Helmand, bringing the total number of UK fatalities in Afghanistan to 100.
The Independent spoke to Shakirullah, a Pakistani Pashtun, one of the youngest ever suicide bombing suspects, after he was captured in a raid at the town of Khost in Afghanistan. Sitting cross-legged on the floor of the prison run by Afghan intelligence, the NDS, Shakirullah said: "I do not know what is going to happen to me. All we were told was the British and the Americans were in Afghanistan and they were killing Muslims. All I know is what the mullahs told me and kept telling me, that the British and the Americans were against God," he said with his head bowed down, his hands twisting a handkerchief.
Shakirullah, one of four children of Noor Ali Khan, a farmer, lived at the village of Tandola in the Pakistani region of South Waziristan. He said his education was at a madrassa run by two imams, Mullah Saleb and Mullah Azizullah. About 50 students between 13 and 22 attended the school, where the syllabus consisted of learning the Koran by heart, interspersed with political lectures. About two months ago, he finished a first course in Koranic studies. He was then approached by the two mullahs who told him that the time had come for him to serve God in Afghanistan. [Full story>>independent.co.uk]
---
6.10.08 Gulf Arabs eye Iraq role to counter Iran
DUBAI (Reuters) June 10 - Gulf Arab pledges to revive high-level diplomatic ties with Iraq reflect a growing awareness that only engagement with the Shia-led government can counter the spreading influence of Shia Muslim Iran. Sunni Arab governments who once funded Iraq's 1980-1988 war against Iran have held back from establishing top diplomatic ties with Baghdad since the US-led war toppled Saddam Hussein in 2003, citing security concerns and extensive Iranian sway.
No Arab ambassador has been stationed in Iraq since Egypt's envoy was kidnapped and killed shortly after arriving in 2005. But in a step toward easing Iraq's diplomatic isolation, United Arab Emirates Foreign Minister Sheikh Abdullah bin Zayed al-Nahayan on Thursday became the first Gulf Arab foreign minister to visit Iraq since the war. The UAE, Saudi Arabia and Bahrain have all pledged to reopen their embassies and appoint ambassadors to Baghdad amid US pressure to shore up the Iraqi government. [More>>khaleejtimes.com]
---
6.10.08 Food shortages feared across Spain
June 10 - Spanish drivers and shoppers are stockpiling fuel and food after truck drivers blocked deliveries across the country, as an indefinite protest against the high price of fuel entered a second day. One of the worst affected areas was Barcelona, where 40 per cent of petrol stations have run out of fuel supplies. Fresh food has also began to run low in some markets, according to reports by the Spanish media. Police motorbike riders escorted fuel tankers to some petrol stations to help break picket lines and prevent attacks, after several strikers slashed lorry tires on Monday.

The indefinite strikes over the impact of high oil prices, now at record highs of over $139 per barrel, have also been backed by protests across the border in Portugal and France. A Portuguese truck driver was killed near Alcanena, north of Lisbon, as he tried to stop a lorry at a road block set up by truckers also protesting against high fuel prices. [Full story>>aljazeera.net]
---
6.10.08 Korean cabinet offers to resign en masse
SEOUL, June 10 - Prime Minister Han Seung-soo and the entire Cabinet offered to resign yesterday amid a deepening political crisis surrounding US beef imports. Han delivered the intention for him and 15 other ministers to step down during a meeting with President Lee Myung-bak, Cheong Wa Dae said. They have served only 107 days. The request follows the resignation by all of Lee's eight senior secretaries including Chief of Staff Yu Woo-ik on Friday...Lee aides expect the shake-up to end the political impasse and calm popular protests which have been triggered by Seoul's April agreement with Washington to allow US beef regardless of animal age...Citizens have taken to the streets almost every day since May. [Full story>>koreaherald.co.kr; See also nytimes.com, June 10, "Protests in South Korea imperil government."]
---
6.10.08 Head of Saddam tribe killed in car bomb blast
TIKRIT, Iraq (Reuters) June 10 - The head of Saddam Hussein's tribe was blown up by a bomb attached to his vehicle north of Baghdad on Tuesday, police said. Major Hassan Emhimid, a police officer in the nearby town of Tikrit, said a bomb appeared to have been fixed to the undercarriage of Sheikh Ali al-Neda's car. "Sheikh Neda was the victim of assassination. When he left his house there was a bomb in his car that killed him and a driver and wounded two of his guards," said Major Ahmed Subhi, head of a counter-terrorism unit in Salahuddin province. A spokesman for Salahuddin Governor Hamad al-Qaisi confirmed the sheikh, head of the Albu-Naser tribe, had been killed. [More>>khaleejtimes.com]
---
6.10.08 Scientists discover macaque monkeys in Indonesia that fish
BANGKOK (AP) June 10 - Long-tailed macaque monkeys have a reputation for knowing how to find food — whether it be grabbing fruit from jungle trees or snatching a banana from a startled tourist. Now, researchers say they have discovered groups of the silver-haired monkeys in Indonesia that fish. Groups of long-tailed macaques were observed four times over the past eight years scooping up small fish with their hands and eating them along rivers in East Kalimantan and North Sumatra provinces, according to researchers from The Nature Conservancy and the Great Ape Trust.
The species had been known to eat fruit and forage for crabs and insects, but never before [to] fish from rivers. "It's exciting that after such a long time you see new behavior," said Erik Meijaard, one of the authors of a study on fishing macaques that appeared in last month's International Journal of Primatology. [More>>thejakartapost.com]
---
6.10.08 LGE moves closer to making English its official language
SEOUL, June 10 - LG Electronics Inc. employees will be banned from using the Korean language in e-mails directed to the company's overseas operations, as part of the aim of adopting English as its official language. English will be the official language for e-mail communications between the company's local and overseas operations, the company officials said yesterday. Korean will be allowed in cases where the use of the language is unavoidable with English translations. The company's "Speak English" campaign started early last year.
LG officials said they hope such a sweeping change will help facilitate smoother information sharing among its overseas units and the company's non-Korean employees keep up to date with developments at its headquarters in Korea. [More>>koreaherald.co.kr]
---
6.10.08 North Korea says it's opposed to terrorism
SEOUL, South Korea (AP) June 10 - North Korea reasserted its opposition to terrorism Tuesday in an apparent attempt to bolster its bid for removal from a US blacklist, as an American diplomat traveled to Pyongyang to help push the country's nuclear disarmament. In a statement from the North's Foreign Ministry, the country said it "will firmly maintain its consistent stand of opposing all forms of terrorism" and also keep nonproliferation pledges made at the nuclear talks.
The ministry also said the North will take part in international efforts to prevent weapons of mass destruction from falling into terrorists' hands. The US has promised to remove the North from its list of state sponsors of terrorism if it gives a complete declaration of nuclear programs to be eventually dismantled. North Korea missed a Dec. 31 deadline to provide a complete declaration, but handed 18,500 pages of nuclear records to the US in May. [More>>indianexpress.com: hosted.ap.org]
---
EDITORIALS
09.11.05 When a nation lacks a competent leader it invites disaster – the legacy of Bush
08.13.05 "Using force the George W. Bush way – Bush's crusade"
11.25.04 Why the Crusade & Jihad?
---
*Visitor statistics on maravot.com from 1&1. com. 46,153 page views in May 2007; 45,000 in Feb. 2008.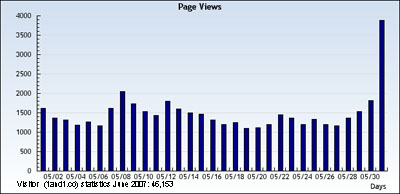 Privacy Policy: We do not store any personal data from you. We have no way of knowing any vital information about you – not even your name. Third-party distribution: We do not distribute information about your site usage to any third party. We are not responsible for the content of links from our site. Usage data: supplied by our Web Hosting service, 1and1.com, which consists of usage reports, such as page views / impressions and web pages visited, visitors' servers and geographical data (ISP's and country of origin).

---
Launched: 10.25.04 / 11.02.04 – —
Updated: 6.10.08; 6.11.08; 6.12.08; 6.13.08; 6.14.08; 6.15.08; 6.16.08; 6.17.08
Copyright © 1981-2008 Maravot. All rights reserved
Copyright © 1981-2008 Mel Copeland. All rights reserved
Background: tile from Cicero's villa (Marcus Tullius Cicero 106 B.C. - 43 B.C.)