News Headlines & Trends
---
5.09.08
Mexico police chief killed in Brazen attack by gunmen
MEXICO CITY, May 9 - Gunmen assassinated Mexico's national police chief Thursday, blasting him with nine bullets outside his home in the capital and dealing a significant setback to the government's campaign against drug cartels. Edgar Eusebio Millán Gómez, the public face of Mexico's offensive against drug cartels, became the highest-ranking law enforcement official to be killed since the launch of the effort 17 months ago. The assassination could give new confidence to drug cartels blamed for 6,000 killings in the past 2 1/2 years, and embolden other anti-government groups in this violence-plagued nation. [More>>washingtonpost.com]
---
5.09.08 After dispute with Junta, UN resuming Myanmar aid
BANGKOK, May 9 - The United Nations suspended relief supplies to Myanmar on Friday after the military government seized the food and equipment it had already sent into the country and turned away two aid workers but said it would resume the aid flights on Saturday. "All the food aid and equipment that we managed to get in has been confiscated," said Paul Risley, World Food Program in Bangkok. The program said it would send in two relief flights as planned on Saturday, while negotiations continued with the government about the distribution of supplies.
Myanmar has only allowed a handful of flights in the last two days after blocking most international aid — including necessities like food, water, medicine and blankets and tents. Six days after the cyclone struck, ravaging much of Myanmar's coast, the scale of the damage has yet to be fully assessed. Reports from inside the country, including from the few outside organizations allowed to operate there, suggest that food and clean water are scarce or entirely unavailable in the worst-struck areas, and that the death toll could escalate from the official count of 22,500. Aid officials and health experts are deeply worried about new ravages from diseases like cholera and acute diarrhea. But there is little hard data. [More>>nytimes.com; See related story, independent.co.uk, May 9, "Burma authorities approve single US aid aircraft."]
---
5.09.08 Hezbollah routs pro-government gunmen; controls Beirut
BEIRUT (Reuters) May 9 - Lebanon's Iranian-backed Hezbollah group took control of the Muslim half of Beirut on Friday, tightening its grip on the city in a major blow to the US-backed government. Security sources said at least 11 people had been killed and 30 wounded in three days of battles between pro-government gunmen and fighters loyal to Hezbollah, a Shi'ite political movement with a powerful guerrilla army.

The fighting, the worst internal strife since the 1975-90 civil war, was triggered this week after the government took decisions targeting Hezbollah's military communications network. The group said the government had declared war. In scenes reminiscent of the darkest days of the civil war, young men armed with assault rifles roamed the streets amid smashed cars and smouldering buildings. Fighting died down by mid-morning and Hezbollah and allied fighters were in control as government supporters put down their weapons.[More>>thestar.com.my]
---
5.09.08 Korea struggles to conrtain spread of avian influenza
SEOUL, May 9 - Government officials yesterday scrambled to contain the outbreak of avian influenza that hit the country last month and calm public concerns with an action plan. The government and the ruling Grand National Party held an emergency meeting to step up the fight against bird flu, which has spread to all regions except Jeju Island. After the meeting, officials were to announce a comprehensive scheme on avian influenza.
The National Veterinary Research and Quarantine Service confirmed that highly pathogenic avian influenza was discovered in the dead ducks and chickens in Chuncheon, Gangwon Province. Decontamination facilities were established at 47 locations in Chuncheon and regional officials vowed to move forward with sanitation efforts in cooperation with the central government. On Thursday, 358 chickens sold at 10 different places within the region were slaughtered, officials said. As of yesterday morning, there were a total of 35 cases of highly pathogenic avian influenza, which can be transmitted to humans, according to the Ministry of Food, Agriculture, Forestry and Fisheries. [More>>koreaherald.co.kr]

---
Editorial note: If the bird flu has reached all of the regions of South Korea one may wonder whether this highly contagious virus has affected North Korea and to what extent. When humans catch the bird flu virus the death rate is 50%. This can be compared to the Spanish Influenza during WW II that killed millions around the world with a death rate of 10%. The bird flu is primarily carried by migrating birds, and it would seem that the flight path to South Korea would go through North Korea. Japan is another stopover, others return north into Siberia and still others fly from Siberia to North America. In North America the western flight path runs directly from Alaska into California, a state rich in bird sanctuaries and also a major producer of chickens and turkeys. Other flight paths in North America proceed from Canada through the Bread Basket to the Texas Gulf Coast and other flight paths proceed from Eastern Canada down the eastern seaboard of the US (See Maravot News 10.18.05 Poultry production in the US – the domestic birds that could be struck with bird flu and editorial note 10.18.05 "Thinking about the bird flu flyways with refueling stops in wetlands"). It seems worthwhile to ask whether North Korea has been affected by bird flu and, if so, whether the government has it under control. At the moment no case of bird flu has been reported in North America.
Mel Copeland
---
5.09.08 US: Several militants killed in Afghanistan clash
KABUL (AP) May 9 - Coalition troops have killed several militants in southern Afghanistan, the U.S.-led coalition said Friday. A statement Friday said the militants were involved in weapons smuggling in the Garmser district of Helmand province. Insurgents on Thursday attacked the coalition troops, who responded with small arms fire and called in airstrikes. The troops recovered weapons and ammunition from the militants following the raid. The US Marines pushed into Garmser late last month aiming to open a route to move troops to the southern reaches of Helmand, a center of the Taliban-led insurgency. [>indianexpress.com: hosted.ap.org]
---
5.09.08 [Great Britain]: Repossessions hit near 1990s peak
May 9 - Home repossession orders are nearing the level last seen in the recession of the early 1990s after rising by 16 per cent in the first quarter of this year. According to the Ministry of Justice, 38,688 mortgage possession claims were issued from January to March this year, compared with 33,715 for the first quarter of 2007. The last time mortgage repossession claims reached this level was in the third quarter of 1990, when actions hit 37,498, and the housing market was slipping into one of the worse downturns in its history.
At the peak of the downturn in 1991, home repossession orders hit 186,649 for the year, reaching a quarterly high of 51,037 from July to September. The actual number of houses taken back into possession by lenders climbed to a record 75,500 in 1991, according to the Council of Mortgage Lenders (CML). [More>>timesonline.co.uk]
---
5.09.08 Another democracy threatens the Mideast
May 9 - (Editorial by the Middle East Times) The 60th anniversary of Israel's founding has understandably focused much of the attention of Middle Eastern analysts on this old and familiar problem. But if they think this remains the prime security issue for the region, they may be looking in the wrong direction. India this week successfully completed the testing program of its nuclear-capable Agni-3 missile, designed and developed by the state-owned Defense Research and Development Organization (DRDO).

The third test launch took place May 7, and flew 3,000 kilometers to its targeted impact site in the Indian Ocean south of the equator from the Dhamra base in the eastern Indian state of Orissa. The full range is 3,500 kilometers, which would bring Shanghai most of southern China into its range. Welcome to the new security landscape of Asia, with China and India now capable of repeating what in the bad old days of the Cold war used to be called "the balance of terror" between nuclear superpowers. [More>>metimes.com]
---
5.08.08 Ahmadinejad criticized for saying long-ago Imam Mahdi leads Iran
TEHRAN, May 7 - Several leading Iranian clerics criticized President Mahmoud Ahmadinejad on Wednesday for saying that the last imam of Shiite Islam, a messianic figure who Shiites believe was hidden by God 1,140 years ago, leads modern-day Iran.
"We see his hand directing all the affairs of the country," Ahmadinejad told theological students in the city of Mashad during a speech that appears to have been given last month but was not broadcast until Tuesday. "A movement has started for us to occupy ourselves with our global responsibilities. God willing, Iran will be the axis of the leadership of this movement," Ahmadinejad said.
Several clerics in the Iranian parliament accused Ahmadinejad of implying that Imam Mahdi or Imam Zaman (Imam of the Age), as the Shiite messiah is also called, supports his government. Since the 1979 revolution, Iran's government has been overseen by Shiite clerics, but religious leaders here have resisted Ahmadinejad's frequent hints that his government's actions are guided by the Mahdi. [More>>washingtonpost.com; See related stories,
khaleejtimes.com, May 7, "Ahmadinejad brands Israel a 'stinking corpse'' " and
en.rian.ru, May 8, "Russia joins new UN sanctions against Iran."]
---
5.08.08 Conservationists say Indonesian orangutans face rapid extinction
JAKARTA (AP) May 7 - The world's largest population of wild orangutans on Indonesia's Borneo island faces extinction within three years due to rapidly expanding oil palm plantations, a conservationist group said Wednesday. A report by the Center for Orangutan Protection says just 20,000 of the endangered primates remain in the tropical jungle of Central Kalimantan, down from 31,300 in 2004.
If the government does not protect wildlife from commercial exploitation, illegal logging and poachers, orangutans there could be extinct by 2011, said Hardi Baktiantoro, the group's head. He said more than 5,000 orangutans in the region have been lost every year since 2004, due largely to loss of habitat. Adding to the problem is a plan by Indonesian authorities to open up 1.1 million acres (455,000 hectares) — an area larger than the US state of Rhode Island — of protected land for palm oil growers, he said.
Indonesian President Susilo Bambang Yudhoyono announced a major initiative to save the nation's orangutans at the Bali Climate Conference last year, but it appears the plan has not received sufficient political support. [More>>thejakartapost.com]
---
5.08.08 Burma cyclone: '80,000 dead,' aid set to land
May 8 - An estimated 80,000 people have died in a remote district of Burma since a powerful cyclone struck last weekend, a local military official has said. The official death toll from the aftermath of the weekend's Cyclone Nagris stands at 22,980, but experts have been warning that the final number could top 100,000.  More than 40,000 people are still listed as missing. Thousands of bodies remain piled in rice paddies and millions more victims face disease and starvation.  Dozens of the 63 villages surrounding the town of Labutta, on the Irrawaddy delta, have been wiped out, said Tin Win, leader of a ward within the town. "So far the estimated death toll in those villages is about 80,000," he said. [More>>news.com.au; See related stories,
khaleejtimes.com, May 8, "No fuel for cremation, bodies rot in Myanmar" and
independent.co.uk, May 8, "Front line of a disaster: Inside Burma's dead zone" :...The road between Rangoon and Bogale, through the delta, marks a journey to the very heart of the destruction caused by the cyclone; damage that has left more than 22,400 dead, 41,000 more missing and perhaps a million people homeless. Ten thousand are believed to have died in Bogale alone. No one yet knows how many more open graves like Bogale are waiting beyond the reach of the outside world.
Indeed, if the definition of homeless includes those people who will have to rebuild their properties — often from scratch — then almost everyone in this swathe of southern Burma would fit the description. But the journey south and west from the former capital Rangoon towards the fingers of land jutting into the Andaman Sea is also a journey into the mindset of the military junta that has ruled this country for much of the past five decades. It is a mindset — at least evidenced outside of parts of Rangoon — that has left the majority of ordinary citizens to fend for themselves...
---
5.08.08 'Lebanese government has declared war on us'
BEIRUT, Lebanon, May 8 - A Lebanese government decision to declare Hizbullah's telecommunications network illegal amounts to a "declaration of war," the organization's leader Hassan Nasrallah said Thursday. The US-backed government on Tuesday declared the military telecommunications network illegal and said it was a threat to state security. The government also said it would dismiss the security chief of the country's only international airport because he was suspected of ties to Hizbullah. Those Cabinet decisions sparked sectarian clashes between Hizbullah and government supporters over the past two days. [More>>jpost.com]
---
5.08.08 British PM: Israel's creation one of the 20th century's 'greatest achievements'
May 8 - British Prime Minister Gordon Brown on Monday congratulated Israel on its 60th anniversary of independence, calling the state's creation of of the "greatest achievements" of the 20th Century. During an event marking the anniversary at a London synagogue, the British leader said that Israel has faced "immense threats" since its creation and called for a future where the "children of Abraham" would live together in peace as part of the same extended family. He also said that the British government was ready to support the Middle East peace process by contributing funds to aid Palestinian infrastructure. The European Union on Thursday also congratulated Israel on the 60th anniversary, with officials vowing to forge even closer ties with the Middle Eastern state. [More>>haaretz.com]

---
Editorial note: With the breakup of the Ottoman Empire, after WW I, Middle Eastern states, including Iraq, Syria, Saudi Arabia and Jordan, including a territory called Transjordan, now known as the West Bank, were created. Wikipedia.org describes how these states were formed: "...The dissolution brought the creation of the modern Arab world and Republic of Turkey. The League of Nations granted France mandates over Syria and Lebanon and granted the United Kingdom mandates over Mesopotamia and Palestine (which comprised two autonomous regions: Palestine and Transjordan). Parts of the Ottoman Empire on the Arabian Peninsula became parts of what are today Saudi Arabia and Yemen."

The creation of Saudi Arabia involved a bargain that realigned the tribal authority of the region, including the transfer of the Hijaz, formerly controlled by the Sherifs of Mecca and heirs of Mohammed, to the Saudis. This arrangement then set the rulers of Mecca as regents over Iraq, Syria and Jordan in exchange for the transfer of the Hijaz to the Saudis. The King of the Hashemite Kingdom of Jordan is a surviving regent from the League of Nations' arrangement. Their ancestry through the Sherifs of Mecca trace back to Fatima, the daughter of the prophet Mohammed. Other modern descendents of Mohammed are: the Tabaristan Sherifs, the Imams of the Yemen, the Sherifs of Sus, the Filali and the Bani Sa'ad Sherifs of Morocco, Bani Ukhaidhr of Mecca, who was set up as the king of Iraq and subsequently deposed, and the Humdites and Idrisids of North Africa. Among the families originally serving Mecca were the Qoraish (now called Hashemites). The leader of the Qoraish was Zaid, also called Qossay al Mujamma, who had a grandson named Amr-Hashim, and his grandson was Abdullah, father of Mohammed.

On November 2, 1917, the Balfour Declaration, reflecting the view of the British Cabinet, was issued and later incorporated into the the Sèvres peace treaty with Turkey and the Mandate for Palestine. The declaration stated: "...that the British government "view with favour" the establishment in Palestine of "a national home for the Jewish people" on the conditions that "nothing shall be done which may prejudice the civil and religious rights of existing non-Jewish communities in Palestine" or "the rights and political status enjoyed by Jews in any other country." The creation of a national home for the Jewish people was realized through the UN Resolution of November 29, 1947, "The partition of Palestine." The resolution provided for not only the creation of the state of Israel but also the state of Palestine and another territory, "The Corpus Separatum of Jerusalem." The terms of the resolution required that each of the two states, Israel and Palestine, submit to the UN, for approval, their "Declarations of Independence." Israel submitted its "Declaration of Independence " May 14, 1948. The Palestinian declaration of independence has not yet been produced. Israel's declaration reflects some interesting terms that pledge to protect the rights of all people living in Israel:

(Declaration of Independence, 1.13) The State of Israel..will foster the development of the country for the benefit of all inhabitants; it will be based on freedom, justice and peace as envisaged by the prophets of Israel; it will endure complete equality of social and political rights to all its inhabitants irrespective of religion, race or sex; it will guarantee freedom of religion, conscience, language, education and culture; it will safeguard the Holy Places of all religions; and it will be faithful to the principles of the Charter of the United Nations."

The Corpus Separatum of Jerusalem formed perhaps the most interesting part of the UN resolution of 1948, since it set aside a territory stretching from Jerusalem to the Mediterranean Sea that would be governed by the United Nations. The present impasse between the Palestinians and Israel in forming a Palestinian state fulfilling the plans of the UN resolution, "Partition of Palestine," could perhaps be resolved by applying Israel's Declaration of Independence and revisiting the Corpus Separatum of Jerusalem.

Much of this discussion, including a map showing the territories of the UN resolution, is provided in greater detail in a work, "Philistia triumph thou because of me" (1993).
Mel Copeland
---
5.08.08 Taliban 'governor, police chief' slain in Afghan operation
HeART, Afghanistan, May 8 - Afghan security forces on Thursday raided a Taliban hideout in central Afghanistan, killing six Taliban including a rebel-appointed provincial "governor" and "police chief," authorities said. The police raid was in the remote province of Ghor, the interior ministry said. "Afghan national police killed a governor and police chief appointed by Taliban for Ghor," the ministry said in a statement. [More>>thenews.com.pk]
---
5.07.08 Federal agents raid office of special counsel
May 7 - Nearly two dozen federal agents yesterday raided the Washington headquarters of the agency that protects government whistle-blowers, as part of an intensifying criminal investigation of its leader, who is fighting allegations of improper political bias and obstruction of justice. Agents fanned out yesterday morning in the agency's building on M Street, where they sequestered Office of Special Counsel chief Scott J. Bloch for questioning, served grand-jury subpoenas on 17 employees and shut down access to computer networks in a search lasting more than five hours.
Bloch, who was nominated to his post by President Bush in 2003, is the principal official responsible for protecting federal employees from reprisals for complaints about waste and fraud. He also polices violations of Hatch Act prohibitions on political activities in federal offices...A Kansas lawyer who previously worked at the Justice Department's Task Force on Faith-Based and Community Initiatives, Bloch repeatedly clashed with his own workforce and with other Bush administration officials he targeted for improper behavior. By his own account, the White House twice asked him to resign.[Full story>>washingtonpost.com; See related story, washingtonpost.com, May 7, " '03 White Houe E-Mails not found."]
---
5.07.08 Iraq's al-Qaeda leader identified: police source
CAIRO, May 7 - Authorities have identified the leader of al-Qaeda in Iraq, Abu Omar al-Baghdadi, as Hamid Dawoud al-Zawi, an Iraqi police official told Al Arabiya News Channel. Al-Baghdadi, who heads the Islamic State of Iraq, is originally from Haditha. He served in the Iraqi army under Saddam Hussein before joining al-Qaeda in 2003, the official said on condition of anonymity.

The US military in Iraq did not confirm the report, citing security reasons. Until now, it has described Baghdadi as fictitious. Meanwhile, an Iraqi Sunni delegation on a visit to Cairo urged Arab countries to act against what it called the "Iranian occupation" of Iraq. "We would like a common Arab position to save Iraq and its people...(in the face of) the Iranian occupation," Sheikh Majid Abdel Razzak al-Ali Suleiman said after a meeting with Egyptian Foreign Minister Ahmed Aboul Gheit. [More>>alarabiya.net]
---
5.07.08 Japanese tourists abducted in Yemen
May 7 - Two Japanese tourists have been kidnapped in the town of Marib in Yemen on Wednesday, a provincial government official says. The official said the kidnappers are believed to be tribesmen and the two women were part of a group of five tourists sightseeing near the old dam of Marib. Marib, a major tourist destination, is 176km east of the country's capital Sanaa. [More>>aljazeera.net]
---
5.07.08 India tests powerful nuclear-capable missile
NEW DELHI (DPA) May 7 - India on Wednesday successfully tested its longest-range nuclear-capable missile from a military base off the country's eastern coast, defence officials said. The Agni III surface-to-surface missile, which can reach targets as far as eastern China, was launched from the Integrated Test Range in the eastern state of Orissa and achieved its full range of 3,000 kilometers by reaching a target in the Indian Ocean...Named after the Hindu god of fire, Agni III can take a payload of up to 1.5 tons and is capable of carrying a nuclear warhead. The missile - which uses a two-stage, solid-propellant system - weighs 50 tons and can be deployed through rail or road mobile launch vehicles. [Full story>>khaleejtimes.com]
---
5.07.08 US promises cannot be trusted - Gorbachev
MOSCOW (RIA Novosti) May 7 - Promises made by US leaders cannot be trusted, former Soviet president Mikhail Gorbachev said in an interview with The Daily Telegraph published on Wednesday. "The Americans promised that NATO wouldn't move beyond the boundaries of Germany after the Cold War, but now half of central and eastern Europe are members, so what happened to their promises? It shows they cannot be trusted," he said in Paris.
..."I sometimes have a feeling that the United States is going to wage war against the entire world,," the former Soviet leader said. "The United States cannot tolerate anyone acting independently. Every US president has to have a war," he concluded...[Full story>>en.rian.ru]
---
5.07.08 Pollution in paradise: Flamingos vs the factory
May 7 - It is one of the world's greatest natural spectacles. More than 500,000 flamingos congregate on the salty shores of Lake Natron in the north of Tanzania every year to breed. And it could be about to end. That is the dire warning from a coalition of 32 environmental groups in east Africa if a company backed by the Indian conglomerate Tata Chemicals gets the go-ahead to build a soda ash factory at the lake. The factory would produce 500,000 tonnes of soda ash, also known as sodium carbonate, every year.

Tanzania's state-owned National Development Corporation, which will jointly run the factory with Tata, said that it has moved the proposed site 22 miles away from the shore after opposition was first raised. But conservationists say it will make little difference. "The landscape will be destroyed," said Ken Mwathe of Birdlife Africa. "It doesn't matter where the actual factory is – they will still be taking the soda ash from the lake."

...Natron's maximum depth is just 10 feet. Most of the sodium carbonate that washes down from Oldonyo Lengai evaporates in the heat. The high salt concentrations create an abundance of cyanobacteria, on which the flamingos feed. [Full story>>independent.co.uk]
---
5.07.08 US envoy: Myanmar deaths may top 100,000
YANGOn, Myanmar, May 7 - The death toll from the cyclone that ravaged the Irrawaddy delta in Myanmar may exceed 100,000, the senior US diplomat in the military-ruled country said Wednesday. "The information we are receiving indicates over 100,000 deaths," the US Charge D'Affaires in Yangon, Shari Villarosa, said on a conference call.
The US figure is almost five times more than the 22,000 the Myanmar government has estimated. The US estimate is based on data from an international non-governmental organization, Villarosa said without naming the group. She called the situation in myanmar "more and more horrendous." [More>>cnn.com]
---
5.06.08 Aid flows to Myanmar as death toll rises to 22,500
BANGKOK, May 6 - The death toll from a powerful cyclone that struck Myanmar three days ago rose to 22,500 Tuesday, with more than 40,000 people still missing, the government said, and foreign governments and aid organizations began mobilizing for a major relief operation.
Shaken by the scope of the disaster, the authorities said they would delay a vote in the worst affected areas on a new constitution that was meant to cement the military's grip on power. The death toll was the latest in a steadily escalating official count since Cyclone Nargis struck Myanmar early Saturday, devastating much of the fertile Irrawaddy Delta and Yangon, the nation's main city.
At a news conference in Yangon, the minister for relief and resettlement, Maung Maung Swe, said 41,000 people were still missing in the aftermath of the cyclone, which triggered a surge of water inland from the sea. "More deaths were caused by the tidal wave than the storm itself," he said, in the first official description of the destruction. "The wave was up to 12 feet high and it swept away and inundated half the houses in low-lying villages. They did not have anywhere to flee." [More>>nytimes.com]
---
5.06.08 Russia, US, sign civilian nuclear pact
MOSCOW (Reuters) May 6 - Russia and the United States signed on Tuesday a long awaited civilian nuclear cooperation pact that will allow firms from the world's two biggest atomic powers to expand bilateral nuclear trade. The deal will open up the booming U.S. nuclear market and Russia's vast uranium fields to firms from both countries. Without a deal, cooperation potentially worth billions of dollars was severely limited and required official consent. [More>>thestar.com.my ; See also en.rian.ru]
---
5.06.08 Tests confirm bird flu in Seoul
May 6 - The bird flu pandemic that has spread to six of Korea's nine provinces hit Seoul last week, prompting the slaughter of poultry and decontamination efforts in the area. Tests confirmed that two pheasants that died last week in a vivarium of the Gwangjin ward office in eastern Seoul were found to be infected with the H5 avian influenza, the city government said yesterday. The district office requested the National Veterinary Research and Quarantine Service to conduct an inspection on Saturday after a turkey and two chickens died as well, and was informed of the AI infection Monday evening. [More>>koreaherald.co.kr]
---
5.06.08 Japan: Government looks to immigrants as population shrinks
TOKYO, May 6 - Japan's ruling party is considering plans to encourage foreign workers to stay in the country long-term, a daily reported Monday after the birth rate fell for the 27th successive year. The Liberal Democratic Party (LDP) has proposed setting up an "immigration agency" to help foreign workers — including providing language lessons, the Nikkei economic daily said without naming sources.
The party also intends to reform current "training" programs for foreign workers, which have been criticized for giving employers an excuse for paying unfairly low wages, the paper said. LDP lawmakers believe that immigration reform will help Japanese companies secure necessary workers as the declining birthrate is expected to further dent in the nation's workforce, it said. [More>>japantoday.com]
---
5.06.08 Suicide bomber, gunment kill 5 in Pakistan
PESHAWAR, Pakistan (AP) May 6 - A suicide bomber riding a rickshaw attacked a police checkpoint and gunmen fired on officers guarding a bank in Pakistan's northwest Tuesday, killing five people and testing the new government's fledgling peace process. Police said the suicide attacker rode up to the checkpoint on a bridge in the garrison town of Bannu. He detonated his explosives when officers signaled him to stop, said Dar Ali, the Bannu district police chief. The army said two civilians and one policeman were killed. Police said four of their officers were wounded. There was no immediate claim of responsibility, and it was not clear whether police had prevented an attack on a different target. [More>>khaleejtimes.com]
---
5.05.08 Relief for world food crisis made more difficult by cyclones, riots
May 5 - (Analysis - an exceptional insight into the dynamics of the growing food crisis.) In the wake of the devastating cyclone in Myanmar and widespread rioting in Somalia, the international community continues to try and respond with food relief programs to confront the rising need. World Food Program's head Josette Sheeran discusses the relief efforts.
RAY SUAREZ: For more on that, we turn to Josette Sheeran, executive director of the United Nations World Food Program.
Welcome.
How has the World Food Program had to respond to the storms in Burma?
JOSETTE SHEERAN, Executive Director, United Nations World Food Program: Well, they have really taken their toll.
We have planned an emergency operation, which should be approved tomorrow, to reach 500,000 people with emergency food assistance. And we're also worried because these storms have hit right in the middle of the rice harvest. And we're worried about the food lost, as we saw last year in Bangladesh, where we lost 300,000 acres of food production in the storm.
So, we are worried about the immediate-term effect and making sure we reach people and save lives, but also the food that is lost for kind of future needs.
RAY SUAREZ: Wasn't there already a tight food supply situation in Southeast Asia, with rice in particular?
JOSETTE SHEERAN: There is a tight food situation all over the world, including in Southeast Asia. So, we can't really afford to lose any of this production there. So, we will be monitoring that situation also and looking at how much we have lost as soon as things settle down.
RAY SUAREZ: Well, when there is a catastrophe like that, where do you get the grain from on an emergency basis, if the neighbors can't immediately pony it up?
JOSETTE SHEERAN: Well, Ray, this is becoming an increasing problem. [More>>pbs.org/newshour/]
---
5.05.08 At least 15,000 killed in Myanmar cyclone
YANGON, Myanmar (Burma), May 5 - At least 15,000 people have been killed in two divisions of Yangon and Irrawaddy in Cyclone Nargis that swept Myanmar's five divisions last Friday and Saturday, according to official sources Monday evening. The casualties in Irrawaddy division's Bogalay alone are feared to have gone beyond 10,000 and at least 1,000 in Laputta in the same division.

Earlier official figures said 3,880 people were killed in Irrawaddy division. The sources said 2,375 people in the division and 504 in Yangon division were missing. In Haing Kyi island in the Irrawaddy division alone, nearly 20,000 houses were destroyed, leaving more than 92,000 people homeless. The deadly cyclone, which occurred over the Bay of Bengal, hit Yangon, Bago, Irawaddy, Kayin and Mon. [More>>khaleejtimes.com]
---
5.05.08 US: Hizbullah training Iraqi Shi'ite extremists in Iran
(AP) May 5 - Iraqi Shi'ite extremists are being trained by members of the Lebanese terror group Hizbullah in camps near Teheran, a US military spokesman said Monday. Iraqis are receiving the training at camps operated by the Quds Force, an elite unit of Iran's Revolutionary Guard Corps that has been accused of training and funneling weapons to Shi'ite extremists in Iraq. The group is also known as the Iranian Revolutionary Guards Corps-Quds Force, or IRGC-QF. Al-Quds is the Arabic name for Jerusalem.
The Quds Force is believed to operate overseas, helping to create the militant Shi'ite Hizbullah group in 1982 in Lebanon and to arm Bosnian Muslims during the Balkan wars.
"We have multiple detainees who state Lebanese Hizbullah are providing training to Iraqis in Iranian IRGC-QF training camps near Teheran," Air Force Col. Donald Bacon, a US military spokesman in Baghdad, told The Associated Press. The US has accused Iran of supporting Shi'ite militias in Iraq. But Iran, which is predominantly Shi'ite like Iraq, has blamed violence in the war-torn country on the US presence. [More>>jpost.com; See related story, washingtonpost.com, May 5, "Iraq says it has proof of Iranian meddling."]
---
5.05.08 Malaysian Catholics to challenge 'Allah' ban
KUALA LUMPUR (AFP) May 5 - Malaysian Catholics on Monday won the right to mount a legal battle against a government ban on the use of the word "Allah" as a translation for "God" in their main publication. The Muslim-dominated government last year declared that the word could only be used by Muslims and threatened to close down The Herald newspaper if it defied the prohibition.

The newspaper, which features articles written in English, Chinese, Tamil and Malay, is circulated among the country's 850,000 Catholics. In January it nearly lost its publishing license after using "Allah" in its Malay section...Father Lawrence Andrew, editor of The Herald, welcomed the decision which paves the way for a judicial review of the government ban.[Full story>>alarabiya.net]
---
5.05.08 Scores killed in Yemen clashes
May 5 - At least 20 Shia rebels have been killed and six soldiers wounded in clashes with the Yemeni army in northern Saada, according to officials. The fighting in the Haydan district of Dafaa on Sunday followed an army offensive to recapture a military camp which has been under Shia rebels' control for the past three months, officials said. Abdel Malak al-Hawthi, a rebel leader, told news agencies that tribal chiefs have stepped in to mediate a new ceasefire, but warned that his group would escalate fighting "if the government insists on the option of war." [More>>aljazeera.net]
---
5.04.08 Multinationals make billions in profit out of growing global food crisis
May 4 - Giant agribusinesses are enjoying soaring earnings and profits out of the world food crisis which is driving millions of people towards starvation, The Independent on Sunday can reveal. And speculation is helping to drive the prices of basic foodstuffs out of the reach of the hungry. The prices of wheat, corn and rice have soared over the past year driving the world's poor — who already spend about 80 per cent of their income on food — into hunger and destitution.
The World Bank says that 100 million more people are facing severe hunger. Yet some of the world's richest food companies are making record profits. Monsanto last month reported that its net income for the three months up to the end of February this year had more than doubled over the same period in 2007, from $543m (£275m) to $1.12bn. Its profits increased from $1.44bn to $2.22bn.
Cargill's net earnings soared by 86 per cent from $553m to $1.030bn over the same three months. And Archer Daniels Midland, one of the world's largest agricultural processors of soy, corn and wheat, increased its net earnings by 42 per cent in the first three months of this year from $363m to $517m. The operating profit of its grains merchandising and handling operations jumped 16-fold from $21m to $341m.
Similarly, the Mosaic Company, one of the world's largest fertiliser companies, saw its income for the three months ending 29 February rise more than 12-fold, from $42.2m to $520.8m, on the back of a shortage of fertiliser. The prices of some kinds of fertiliser have more than tripled over the past year as demand has outstripped supply. As a result, plans to increase harvests in developing countries have been hit hard. The Food and Agriculture Organization reports that 37 developing countries are in urgent need of food. [More>>independent.co.uk]
---
5.04.08 Turkish schools offer Pakistan a gentler Islam
KARACHI, Pakistan, May 4 - Praying in Pakistan has not been easy for Mesut Kacmaz, a Muslim teacher from Turkey. He tried the mosque near his house, but it had Israeli and Danish flags painted on the floor for people to step on. The mosque near where he works warned him never to return wearing a tie. Pakistanis everywhere assume he is not Muslim because he has no beard. "Kill, fight, shoot," Mr. Kacmaz said. "This is a misinterpretation of Islam."
But that view is common in Pakistan, a frontier land for the future of Islam, where schools, nourished by Saudi and American money dating back to the 1980s, have spread Islamic radicalism through the poorest parts of society. With a literacy rate of just 50 percent and a public school system near collapse, the country is particularly vulnerable.
Mr. Kacmaz (pronounced KATCH-maz) is part of a group of Turkish educators who have come to this battleground with an entirely different vision of Islam. Theirs is moderate and flexible, comfortably coexisting with the West while remaining distinct from it. Like Muslim Peace Corps volunteers, they promote this approach in schools, which are now established in more than 80 countries, Muslim and Christian. [More>>nytimes.com]
---
5.04.08 US plan to strike at camp in Iran
May 5 - The US military is drawing up plans for a "surgical strike" against an insurgent training camp inside Iran if Republican Guards continue with attempts to destabilise Iraq, Western intelligence sources said last week. One source said the Americans were growing increasingly angry at the involvement of the guards' special operations Quds force inside Iraq, training Shia militias and smuggling weapons into the country.
Despite a belligerent stance by US Vice-President Dick Cheney, the administration has put plans for an attack on Iran's nuclear facilities on the backburner since Robert Gates replaced Donald Rumsfeld as Defence Secretary in 2006, the sources said. However, US commanders are increasingly concerned by Iranian interference in Iraq and are determined that recent successes by joint Iraqi and US forces in the southern port city of Basra should not be reversed by the Quds force.
"If the situation in Basra goes back to what it was like before, America is likely to blame Iran and carry out a surgical strike on a militant training camp across the border in Khuzestan," said the source, referring to a frontier province. They acknowledged Iran was unlikely to cease involvement in Iraq and that, however limited a US attack might be, the fighting could escalate. [More>>theaustralian.news.com]
---
5.04.08 Reports: Tropical cyclone kills hundreds in Burma
BANGKOK, May 4 - A powerful cyclone in military-ruled Burma has killed more than 350 people and destroyed homes and infrastructure, state-run television said Sunday, a week before a planned national referendum on a controversial new constitution. Packing winds of up to 120 mph, Tropical Cyclone Nargis slammed into Rangoon, Burma's former capital and its largest city, and the rice-growing Irrawaddy Delta region on Saturday.
The powerful winds and heavy flooding knocked out power and telecommunications lines, lifted roofs from public buildings, and destroyed tens of thousands of bamboo and thatch homes. "It has been a catastrophic situation," said Terje Skavdal, regional head of the UN Office for the Coordination of Humanitarian Affairs. "It has flattened everything in its way. It will be a major, major clean-up operation for the government." [More>>washingtonpost.com; See slide show at nationmultimedia.com, May 4, "Cyclone hits Burma, killing at least 300."]
---
5.04.08 China's central government officials meet with Dalai Lama's private representatives
SHENZHEN, May 4 - Chinese central government officials and the private representatives of the 14th Dalai Lama agreed to hold another round of contact at an appropriate time when they met here on Sunday. The meeting, arranged at the repeated requests made by the Dalai side for resuming talks, was held between central government officials Zhu Weiqun and Sitar (who uses only one name) and the Dalai Lama's two private representatives Lodi Gyari and Kelsang Gyaltsen.
The two representatives, who arrived in this southern China city on Saturday, expressed their views on relevant matters and said they would report truthfully what had been discussed at the meeting to the Dalai Lama, sources told Xinhua. Zhu and Sitar answered patiently the questions raised by the two representatives and exchanged views with them on future contacts and consultations. "The two sides agreed another round of contact would be held at an appropriate time," the sources said.

... Since the year 2000, the officials said, the central government had managed to hold six meetings with the Dalai Lama's private representatives in spite of a number of obstacles.  According to them, it was the hope of the central government that to create conditions for the next round of contact and consultation, the Dalai side would be as good as their words and take credible moves to stop activities aimed at splitting China, stop plotting and inciting violence and stop disrupting and sabotaging the Beijing Olympic Games.

...The officials said facts showed that the guiding policies of the central government on Tibet were correct. Through the concerted efforts of people from all ethnic groups, Tibet would have an even better future. Official statistics revealed that the Tibet economy had been growing at an annual rate of 12 percent or more over the past seven years. According to the latest census conducted in 2000, the population of Tibetans rose to more than 2.41 million from 1.2 million in 1964 and accounted for 92 percent of the total in the region.

The central government has allocated more than 700 million yuan(nearly 1 million US dollars) since 1980 to maintain 1,400 monasteries and cultural relics. Tibet has more than 1,700 religious sites for Tibetan Buddhism that accommodate 46,000 monks and nuns. Also included are four mosques for 3,000 Muslims as well as one Catholic church for 700 believers. [Full story>>xinhuanet.com]
---
5.04.08 24 Chinese children die of virus; other countries affected
(AP) May 4 - A common illness that typically causes little more than a fever and rash has killed 24 children in China, and health officials fear the worst may be yet to come as outbreaks occur in neighboring countries. China's Health Ministry issued a nationwide alert over the weekend after the enterovirus 71 virus, or EV-71, which causes hand, foot and mouth disease, infected more than 4,500 children in central Anhui province. Vietnam and Singapore also have seen a increase in cases linked to EV-71.
The outbreak in China comes as the country gears up for the Olympic Games. But Hans Troedsson, The World Health Organization's country representative for China, said the disease should not disrupt the Beijing games, which start Aug. 8. "I don't see it at all as a threat to the Olympics or any upcoming events. ... This is a disease mainly affecting young children," he said. [More>>indianexpress.com : hosted.ap.org ; See also xinhuanet.com, May 4, "China's Guangdong reports third child death from EV71 virus."]
---
5.04.08 5 US soldiers killed, Shia mosque blown up by army
BAGHDAD (DPA) May 4 - The US military in Iraq announced on Sunday the deaths of five soldiers in two attacks, while in the southern city of Basra the Iraqi army blew up the headquarters of the Shia Thaarallah party in a mosque. The US military said four Marines had been killed on Friday by a roadside bomb in the western Anbar province, and another soldier died that evening when a roadside bomb struck a patrol in eastern Baghdad. Meanwhile, Iraqi and US troops continued their onslaught on militiamen from Mahdi Army of radical Shia cleric Moqtada al-Sadr in eastern Baghdad's Sadr City slum area. The US military said it struck with precision-controlled munitions "a criminal element command-and-control centre" in Sadr City Saturday. [More>>khaleejtimes.com; See also thenews.com.pk, May 4, "9 militants killed in Iraq: US claim."]
---
---
*Visitor statistics on maravot.com from 1&1. com. 46,153 page views in May 2007; 45,000 in Feb. 2008.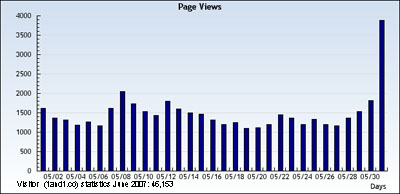 Privacy Policy: We do not store any personal data from you. We have no way of knowing any vital information about you – not even your name. Third-party distribution: We do not distribute information about your site usage to any third party. We are not responsible for the content of links from our site. Usage data: supplied by our Web Hosting service, 1and1.com, which consists of usage reports, such as page views / impressions and web pages visited, visitors' servers and geographical data (ISP's and country of origin).

---
Launched: 10.25.04 / 11.02.04 – —
Updated: 5.04.08; 5.05.08; 5.06.08; 5.07.08; 5.08.08; 5.09.08
Copyright © 1981-2008 Maravot. All rights reserved
Copyright © 1981-2008 Mel Copeland. All rights reserved
Background: tile from Cicero's villa (Marcus Tullius Cicero 106 B.C. - 43 B.C.)