News Headlines & Trends
---
5.31.08
Police arrest reports give picture of Indonesia's international terror links
JAKARTA (AP) May 31 - After months on the run, two alleged leaders in a Southeast Asian militant group were holed up in a cheap Malaysian hotel, ready to fly to the Middle East to link up with other Islamic extremists, possibly in Iraq. The pair had bribed Indonesian immigration officials to smooth their way out of the airport in Jakarta, where they started their journey. An Algerian gave them fake passports, airline tickets and militant contacts in Syria. But they never made it farther than Kuala Lumpur. It is unclear what led police in the Malaysian capital to their room early this year, but - befuddled by sleep - they did not resist arrest.
The foiled flight of Abu Husna and Agus Purwantoro, who were sent back to Indonesia in late March, is just part of the story outlined in police investigation reports obtained by The Associated Press. The documents detail how the regional terror group Jemaah Islamiyah has maintained the ability and desire to forge international links despite a crackdown that most experts believed left it severely weakened and isolated, with hundreds of its members behind bars. The papers also provide rare details on the inner workings of the network, showing how Husna and Purwantoro were able to travel around Indonesia, using passwords to meet up with other wanted men at mosques, bus stations and cheap restaurants before fleeing the country. [More>>thejakartapost.com]
---
5.31.08 Soldiers evacuated as plans to drain quake-formed lake are completed
MIANYANG, Sichuan, May 31 - The diversion project to drain a dangerous lake in China's quake-hit Sichuan was completed at 10 p.m. on Saturday, a water resources official said. By 10 p.m. Saturday, about 135,500 cubic meters of mud and rocks have been removed from the Tangjiashan quake-formed lake, leaving a 475-meter-long channel up to 10 meters wide on the giant blockage, said Liu Ning, chief engineer of the Ministry of Water Resources and deputy director of the diversion project.

The quake lake was formed when the May 12 earthquake triggered landslides and blocked a river. The lake, which holds nearly 200 million cubic meters of water, threatened to burst through the loose blockage and flood millions of people downstream. The water level of the lake, which had been rising about 1.6 meters daily, was seven meters from the lowest point of the blockage, Liu said. He added that the plan to blow off the blockage with explosives has been abandoned, as the diversion channel has been completed on time. [More>>xinhuanet.com]
---
5.31.08 Two NATO soldiers, 100 rebels killed in Afghanistan
KABUL, May 31 - Two NATO soldiers were killed Saturday in a Taliban suicide car bomb attack in eastern Afghanistan, while authorities said more than 100 rebels were slain in military operations in the southwest. Four more International Security Assistance Force soldiers and five civilians were wounded in the blast in Jalalabad, a thriving city 50 kilometres (30 miles) from the Pakistan border, the alliance and Afghan government said. The 40-nation ISAF would not release the nationalities of its casualties, according to policy.

Most foreign troops in eastern Afghanistan are US nationals. The new deaths bring to 67 the number of international soldiers who have died in Afghanistan this year, most of them in hostile action. The insurgent Taliban — an Al-Qaeda-linked outfit waging a deadly campaign against the pro-democratic government — claimed responsibility for the blast, similar to scores of others carried out by the group. [>thenews.com.pk]
---
5.31.08 Egypt finds massive arms cache in Sinai
May 31 - An Egyptian police official says boxes of ammunitions, RPGs and anti-aircraft missiles have been uncovered inside a mountain in the northern Sinai peninsula. The official, who spoke on condition of anonymity because he was not authorized to talk to the media, said the weapons were to be smuggled into the neighboring Gaza Strip.
The mountain is about 80 kilometers (48 miles) south of Rafah on the Gaza border. It has been used before as a shelter for local Islamic groups that carried out three major bomb attacks starting October 2004 in Sinai. They killed 125 people in total. The official said some 2,200 bullets, 30 anti-aircraft missiles, several sacks packed with hand grenades and automatic rifles, and RPG launchers were stored inside the mountain.
Meanwhile, Kassam rockets continued to rain down on southern Israel on Saturday, with two striking open areas in the western Negev early in the morning. Nobody was wounded in the latest attack, and no damage was reported. Shortly after the rocket attack, the IDF launched an airstrike against a Palestinian Kassam-launching cell. According to the Palestinians, nobody was wounded in the strike. [>jpost.com]
---
5.31.08 Eight shot dead outside mosque in Yemen
SANAA, May 31 - At least eight people were shot dead when a gunman described as "mentally unbalanced" opened fire inside a mosque in a village north of the Yemeni capital during Friday prayers. The shooting took place in the village in Amran province, about 60 km (38 miles) north of the capital, Sanaa. Dozens were wounded, many seriously, a local official told Reuters...The shooting occurred just a day after the authorities announced they had broken up an al-Qaeda cell in the capital Sanaa and arrested 11 suspects. [Full story>>alarabiya.net]
---
5.31.08 Iraqi military extends control in northern city
MOSUL, Iraq, May 31 - The recent successes in quieting violence in Basra and Sadr City appear to be stretching to the long-rebellious Sunni Arab district here in Mosul, raising hopes that the Iraqi Army may soon have tenuous control over all three of Iraq's major cities. In this city, never subdued by the increase of American troops in Iraq last year, weekly figures on attacks are down by half since May 10, when the Iraqi military began intensified operations here with the backing of the American military. Iraqi soldiers searching house to house, within American tank cordons, have arrested more than 1,000 people suspected of insurgent activity. [More>>nytimes.com]
---
5.30.08 Iraqi troops kill 11 suspected Qaeda fighters
MOSUL (AFP) May 30 - Iraqi security forces shot dead at least 11 suspected al-Qaeda operatives who were hiding in a sheep truck near the northern city of Tikrit on Friday, the defence ministry said. The men were killed in fighting at a checkpoint between ousted dictator Saddam Hussein's hometown of Tikrit and Baiji, ministry spokesman Major General Mohammed al-Askari said.
"Members of the Iraqi special forces intercepted a truck transporting animals, but there were 11 al-Qaeda fighters hiding in it," Askari told AFP, adding that one of the men was a foreigner from an unidentified Arab nation. Askari said the truck was believed to be fleeing the main northern Iraqi city of Mosul, where the Iraqi army has been conducting a large-scale crackdown on al-Qaeda since May 14. In a separate incident in Tikrit, the US military said its troops shot dead a suspected al-Qaeda weapons dealer and detained another man. On Thursday, 15 suspected al-Qaeda members were gunned down in the same region by a militia group loyal to the government. [More>>khaleejtimes.com ; See related story, alarabiya.net, May 30, "CIA says al-Qaeda near defeat in Iraq, Saudi."]
---
5.30.08 Taliban captures Afghan district
May 30 - Taliban fighters have captured a remote district in central Afghanistan, taking prisoner the police and administration chiefs, officials and the Taliban have said. The fighters attacked the district of Rashidan in the central province of Ghazni in a night attack, the provincial governor and a Taliban spokesman told the AFP news agency on Friday. [More>>aljazeera.net ; See also, thenews.com.pk, May 30, "Taliban driven from Afghan district.": GHAZNI: Police reinforcements retook charge of a remote district in central Afghanistan Friday after Taliban rebels attacked and took control overnight, police said. The rebels entered the small district of Rashidan in the central province of Ghazni late Thursday, saying Friday they had captured the district governor, acting police chief and eight policemen...
---
5.30.08 Congressman wants McClellan to testify under oath
WASHINGTON, May 30 - Former Bush spokesman Scott McClellan should testify under oath on Capitol Hill about his explosive new book in which he sharply criticizes his old boss, a Democratic congressman said Friday. Rep. Robert Wexler, D-Florida, said McClellan, who served as the president's press secretary before leaving the White House in 2006, would be able to provide valuable insight into a number of issues that the House Judiciary Committee is investigating.
"The administration has always called for different kinds of privileges to avoid their officials testifying, but because Mr. McClellan has put all this information in a book, these privileges, I do not believe, would be available to the administration, so we would have a free flow of information," Wexler said. Wexler is a senior member of the Judiciary Committee.
Wexler said he did not know whether McClellan would fight a subpoena to testify before the committee, but suggested that any White House claims that McClellan should be barred from testifying due to executive privilege would be invalid because McClellan had put much of the information in the public domain with book and multiple television appearances. [More>>cnn.com]
---
5.30.08 Obama faces a new preacher problem
May 30 - Democratic presidential candidate Barack Obama said Thursday that he was "deeply disappointed" by a supporter's sermon at his church that mocked Hillary Rodham Clinton. The Rev. Michael Pfleger, a Chicago activist, also apologized for last Sunday's sermon at Obama's church, in which he said Clinton's eyes welled with tears before the New Hampshire primary because she felt "entitled" to the Democratic nomination and because "there's a black man stealing my show."

In video circulating on the Internet, Pfleger said the former first lady expected to win the nomination before Obama's sudden popularity. "She just always thought that, 'This is mine. I'm Bill's wife. I'm white.' ... And then, out of nowhere, came 'Hey, I'm Barack Obama.' And she said, 'Oh damn, where did you come from? I'm white. I'm entitled. There's a black man stealing my show,' "' Pfleger said at Trinity United Church of Christ. He then went on to parody Clinton, sobbing and wiping his face with a handkerchief. [More>>cbsnews.com]

Editorial note: One may wonder how much of the Obama campaign is being conducted through nonprofit churches. A church's nonprofit status may be jeopardized by political teachings. See religoustolerance.org, "Political activities by nonprofit religious groups."
Mel Copeland
---
5.30.08 Silverjet collapse hits almost 10,000 travellers
May 30 - Thousands of Silverjet customers have been stranded or have lost money after the business class-only airline today admitted it no longer had the cash to continue flying, suspended operations and appointed an administrator. The airline, which has only been in operation since last year, is the latest to fall victim to soaring jet fuel prices.
"It is with deep regret that the board of Silverjet has therefore decided that it must suspend operations with immediate effect," it said. "The board does not believe that there is likely to be any value realized for shareholders," it added later when it announced the appointment of the administrator. [More>>timesonline.co.uk]
---
5.30.08 'No one is above the law in Israel'
May 30 - The corruption case against Prime Minister Ehud Olmert has earned Israel tremendous respect throughout the Arab world, where many have called on their leaders to benefit from Israel's democratic system and independent judicial system. Words of praise for Israel are a rare phenomenon in the Arab media. But judging from the reactions of many Arabs to the corruption case in the past week, the trend appears to have changed. Even some Arabs who describe themselves as "sworn enemies of the Zionist entity" have begun singing praise for Israel.
Over the past week, the corruption case against Olmert received wide coverage in the mainstream Arab media, prompting an outcry about the need for transparency and accountability in the Arab world. "Show me one Arab or Islamic country where a prime minister or a senior government official was ever questioned for financial corruption or bribery," said a reader who identified himself only as Majed. [More>>jpost.com]
---
5.30.08 Photos taken of uncontacted Amazon indian tribe
BEIJING, May 30 - Amazon Indians from one of the world's last uncontacted tribes have been photographed from the air, with striking images released on Thursday showing them painted bright red and brandishing bows and arrows. The photographs of the tribe near the border between Brazil and Peru are rare evidence that such groups exist. A Brazilian official involved in the expedition said many of them are in increasing danger from illegal logging.
"What is happening in this region is a monumental crime against the natural world, the tribes, the fauna and is further testimony to the complete irrationality with which we, the 'civilized' ones, treat the world,' " Jose Carlos Meirelles was quoted as saying in a statement by the Survival International group. One of the pictures, which can be seen on Survival International's website (www.survival-international.org), shows two Indian men covered in bright red pigment poised to fire arrows at the aircraft while another Indian looks on. [More>>xinhuanet.com]
---
5.29.08 Oil's tense trading scene may sway a move to Dubai
SAN FRANCISCo, May 23 - The Dubai Gold & Commodities Exchange will launch trading of crude-oil futures on Tuesday, a timely move given the astronomical prices for oil and talk of US regulation of speculators in the commodity markets. Prices for crude peaked above $135 a barrel Thursday in electronic trading on the Chicago Mercantile Exchange Globex platform. See Futures Movers. Record prices over the past several months have raised questions over manipulation of the market. A US Senate panel listened to testimony on May 20 that said financial speculation by institutional investors and hedge funds in the commodity markets are contributing to energy and food inflation. See full story. "The regulatory environment is becoming so undesirable to foreign and domestic funds that they have no choice but to go offshore," said Kevin Kerr, president of Kerr Trading International and editor of MarketWatch's Global Resources Trader. [More>>marketwatch.com; See related stories,

cbsnews.com, May 29, "Feds probe possible oil price manipulation" : ...The CFTC also said it has reached an agreement with its British counterpart and InterContinental Exchange Inc.'s Futures Europe to expand surveillance of energy futures contracts with US delivery points, including the benchmark West Texas Intermediate crude, which trades on the New York Mercantile Exchange..

menafn.com, May 28, "Oil futures trade starts in Dubai" : (Arab News) Dubai Gold & Commodities Exchange (DGCX) launched its West Texas Intermediate (DWTI) Light Sweet Crude Oil and Brent Crude Oil (DBRC) futures contracts at a ceremony held here yesterday. "The contracts mark the beginning of a new phase in the region's commodity trade" said Sultan ibn Sulayem, chairman of Dubai World.

The region's first ever cash-settled WTI & Brent crude oil futures went live on DGCX at 8.30am local time, enabling investors to trade and clear transactions in the UAE. The products seek to energize the portfolio of investors by offering new risk management tools, besides providing time and cost efficiencies. A strategic initiative, the crude oil contracts are set to launch the next stage of growth for DGCX...

bi-me.com, January 17, 2006, "Dubai Mercantile Exchange to create new international energy exchange" : UAE. The Dubai Mercantile Exchange (DME) today announced recent developments in the creation of a new commodity exchange that will initially develop and trade a Middle East Sour Crude Oil Futures contract in the heart of the world's largest hydrocarbon province. The DME aims to meet the growing market need for price discovery of Middle East Sour Crude Oil whilst simultaneously addressing the time zone gap between Europe and Asia by providing a hub for the trading of energy futures, options and other products.
Amongst these key recent developments are the naming of an eight-member board of directors comprising senior executives from the joint venture partners, Dubai Holding and the New York Mercantile Exchange (NYMEX). The parties said there are plans to adopt an electronic trading platform and there will be an official launch of the international marketing drive at the Cambridge Energy Research Associates (CERA) Conference in Houston, Texas in February 2006.
The DME board consists of the Chairman Ahmad Sharaf, Senior Vice President of Dubai Energy & Healthcare and Tatweer; Deputy Chairman Fadel Al Ali, Chief Financial Officer and Chief Operating Officer of Dubai Holding; NYMEX President James E. Newsome; Soud Ba'alawy, Chief Executive Officer of Dubai Investment Group; Rashed Al Ansari, Principal Executive of Dubai Holding; NYMEX Executive Committee Member Scott Hess; and NYMEX board members Stephen Forman and John McNamara...

Dubaimerc.com, January 17, 2006, "Dubai Mercantile Exchange Ltd Announces Developments in Creation of New International Energy Exchange" (page lists bio's and business affiliations of principals in the exchange).

marketwatch.com, May 16, 2008, "Carlyle Group buyout of Booz-Allen would add billions in sensitive US contracts to portfolio partially owned by Abu Dhabi government" : $2.54 Billion Deal Warrants Close Scrutiny, Heightened Standards for Review, Given "Critical Services" Involved. Today's announcement that global buyout firm Carlyle Group will pay $2.54 billion for Booz Allen's government consulting arm demands immediate congressional attention to examine any national security implications and to clarify present and future control issues before the deal receives regulatory approval. Last September, Carlyle announced that the Mubadala Development fund of the government of Abu Dhabi paid $1.35 billion for a 7.5% ownership stake in Carlyle. Driven by rising oil prices and the falling dollar, foreign countries are increasingly investing in the US economy through the purchase of stakes in leading American companies by sovereign wealth funds...[See also washingtonpost.com, April 16, 1999, "Top 15 US companies" : ...(4) ..Booz-Allen & Hamilton is an international management and technology consulting firm serving major corporations and government clients. In the Washington area, Booz-Allen focuses on information technology, defense, telecommunications, environment, transportation and restructuring for government agencies. It also serves large local corporate clients in the fields of oil, aerospace and communications.
Developments: Major new government contracts included a $300 million project to design and develop a transportation command and control system for the Air Force, a $102 million contract for long-range strategic planning for the Air Force, and a $20 million award to help the US Agency for International Development aid banking reform in the states of the former Soviet Union. Ongoing projects include advising the Internal Revenue Service on modernization and consulting on the Washington Metro, San Francisco and New Jersey transit systems.
Earlier this month Ralph W. Shrader succeeded William Stasior as chief executive. Shrader will add the title of chairman in October when Stasior retires from that position...

sipr.org, June 7, 2007, "Small-to-Mediut-Sized Enterprises (SMEs): The relationship between Economic Growth and sound governance," by don Eberly : ...The consulting firm Booze Allen is working on an advanced web-based global intelligence system to serve a "mega-community" of businesses and nonprofits, which, when up and operating, will enable anyone from anywhere to survey the civic and economic map of virtually every community in the world. The system will offer "market intelligence" that can help potential investors know vastly more than they do at present regarding critical factors affecting business success. This tool is only one of many that will bridge the knowledge gap. A big factor in investing anywhere is reducing the number of uncertainties that arise from areas like social and political environment or factors relating to a particular firm. Spreading knowledge about SMEs will help reduce this uncertainty. 
Also important are new investment mechanisms. There is a growing trend of individual business investors who discover a small third world firm and choose to partner with it, often providing mentoring and some form of assistance in market development. There is a fair amount of this kind of one-on-one mentoring and partnering going on...
---
5.29.08 A small bite for a monkey...a giant leap for mankind
May 29 - Hope for paralysis victims as animal is trained to control robotic arm using only its thoughts. Two monkeys have been trained to eat morsels of food using a robotic arm controlled by thoughts that are relayed through a set of electrodes connecting the animal's brain to a computer, scientists have announced. The astonishing feat is being seen as a major breakthrough in the development of robotic prosthetic limbs and other automated devices that can be manipulated by paralysed patients using mind control alone.
Scientists eventually plan to use the technology in the development of prosthetics for people with spinal cord injuries or conditions such as motor neurone disease, where total paralysis leaves few other options for controlling artificial limbs or wheelchairs. They hope one day to develop robotic machines that feel like a natural extension of the human body, which would enable the technology to be adapted for a wide variety of purposes, from driving a car to operating a fork-lift truck. Andrew Schwartz, professor of neurobiology at the University of Pittsburgh, said that the monkeys were able to move the robot arm to bring pieces of marshmallow or fruit to their mouths in a set of "fluid and well-controlled" movements. [More>>independent.co.uk]
---
5.29.08 Pro-US militia kill 15 insurgents north of Baghdad
TIKRIT, May 29 - Militia working alongside government and US forces shot dead at least 15 men believed to be al-Qaeda militants near the northern Iraqi city of Tikrit on Thursday, said a militia official. Members of the Sunni "Awakening" movement opened fire as men tried to escape from a water tanker that had been stopped at a check point, Ahmed al-Dulaini said. He said five men tried to engage the militia who opened fire and killed all 15 at Tikrit, 180 kilometers (112 miles) north of the capital Baghdad.

The driver initially offered sweets to militiamen who still insisted on searching the vehicle. As they [began] opening the storage tanks, they found 15 armed men hiding inside. Five of the men rushed out of the tank and tried to draw fire from the militia who gunned down all the occupants. The incident was near the village of Hawja, where the late Iraqi president Saddam Hussien is buried. It came as two suicide bomb attacks in the neighboring Nineveh province left 20 people killed and another 42 wounded on Thursday, according to police. [>thenews.com.pk; See related stories, indianexpress.com: hosted.ap.org, May 29, "Suicide bomber kills 16 people in northwestern Iraq." and xinhuanet.com, May 29, "Turkish jets hit 16 PKK targets in N. Iraq."]
---
5.29.08 Myanmar blasts aid donors for not giving more
YANGON, Myanmar (AP) May 29 - Myanmar's ruling junta lashed out Thursday at aid donors who promised millions of dollars for cyclone relief, saying survivors didn't need "bars of chocolate." State-run media criticized donors for only pledging up to $150 million - a far cry from the $11 billion the junta said it needed to rebuild. The Myanma Ahlin newspaper, a government mouthpiece, said cyclone victims from the hardest-hit areas could get by without foreign handouts. "People from the Irrawaddy delta can survive on their own, even without bars of chocolate donated by the international community," it said, adding they can live on "fresh vegetables that grow wild in the fields and on protein-rich fish from the rivers."
The reference to chocolate bars appeared to be metaphorical. No aid agency is known to be distributing them, and they would not be practical in the country's tropical heat. Paul Risley of the UN's World Food Program, which is directing the effort for emergency food supplies, said his agency provides rice, ready-to-eat meals of rice and beans and high-energy biscuits. The newspaper commentary also slammed an unnamed monetary institution, saying its refusal to help cyclone survivors was "an act of inhumanity." World Bank Managing Director Juan Jose Daboub said last week that the bank will not extend any financial aid or loans to Myanmar because it has not paid its debts for a decade. [More>>indianexpress.com: hosted.ap.org]
---
5.29.08 Chemicals, rain add to China's quake lake fears
DUJIANGYAN, China (Reuters) May 29 - Five thousand tones of dangerous chemicals and heavy rain are adding to the mix of threats from one of China's "quake lakes" in danger of bursting their banks, a newspaper said on Thursday. Illustrating the sense of urgency, the Finance Ministry said it was funneling an extra 1 billion yuan ($144.2 million) into relief work on an estimated 35 quake lakes in addition to 400 million yuan already allotted to work on smaller, damaged dams.
About 5,000 tones of chemicals, including sulfuric and hydrochloric acid, were trapped downstream from the Tangjiashan lake and had to be moved to safe ground, the Beijing News said, citing local environmental authorities. China has evacuated more than 150,000 people living below the swollen Tangjiashan lake, formed by the devastating May 12 earthquake, amid fears it could burst and trigger massive flooding. The official death toll from the 7.9 magnitude quake is already more than 68,500 and is certain to rise further, with nearly 20,000 listed as missing. Aftershocks on Tuesday toppled 420,000 houses, many already uninhabitable. [More>>thestar.com.my]
---
5.29.08 Yemen breaks up 11 member al-Qaeda cell
SANAA (AFP) May 29 - Yemeni security forces have broken up an 11-member al-Qaeda cell in the capital Sanaa, the defense ministry's online newspaper reported on Thursday. The suspects, who were arrested over the past few days, revealed during their interrogation "important information regarding terrorist attacks carried out by al-Qaeda (in Yemen)," the September 26 website reported.

Al-Qaeda's wing in Yemen, which calls itself Jund Al-Yemen Brigades, has carried out a series of attacks in recent months targeting the US and Italian embassies and a residential complex which is home to US oil workers. "Six Saudi Arabians and three Chadians are among the people arrested," a source close to the inquiry said. [More>>alarabiya.net]
---
5.28.08 Bush was not 'forthright' on Iraq - ex-spokesman
WASHINGTON (Reuters) May 28 - Former White House Press Secretary Scott McClellan says in a new book that US President Bush "veered terribly off course" and was not "open and forthright on Iraq," Politico.com reported on Tuesday. In the memoir due out next week, McClellan also says Bush relied on "propaganda" to sell the war and says the Washington press corps was too easy on the administration during the run-up to it, according to the Web site.

...In the memoir, McClellan is said to claim that Rove and Lewis "Scooter" Libby, a former aide to Vice President Dick Cheney, misled him about their role in the CIA leak case. Libby was convicted last year on charges related to the investigation into who blew the cover of former CIA analyst Valerie Plame, whose husband was an outspoken Iraq war critic. [Full story>>thestar.com.my; See also nytimes.com, May 28, "White House reacts angrily to former aid's book." and Arianna Huffington commentary, huffingtonpost.com, May 19, "Vincent Bugliosi: The prosecution of George W. Bush for murder."]
---
5.28.08 Oil price spikes drag down Korean economy
May 28 - This is the first of a series of articles on the impact of surging oil prices on the national economy, businesses and households. — Ed. Goldman Sachs recently warned that the crude oil prices may rise further up to $200 per barrel within two years due to poor growth in supplies. The price of Dubai crude oil, the benchmark for Korea, hit $128.97 last week, almost double the price of a year earlier. The grim news is that the current upward trend is likely to persist and it will take a heavy toll on the energy-intensive Korean economy, analysts said.
Korea, the world's fifth-largest oil importer, spent more than $27 billion to buy petroleum between January and April, up nearly 60 percent from a year earlier. "Given Korea's dependence on crude oil is much higher than that of advanced economies, the domestic inflation and foreign exchange rate will fluctuate more here than in others," said Park Hi-chan, an economist at Mirae Asset. "That will eventually batter the domestic consumption badly." Even among Asia's heavy users of energy, Korea consumes more oil per output unit. Crude oil import accounted for 6.3 percent of the nation's GDP in 2006, while the corresponding figure in China stood at 2.4 percent, according to data by the International Monetary Fund, the UN Commodity Trade Statistics and Mirae Asset Research. [More>>koreaherald.co.kr]
---
5.28.08 Iran-Syria sign defence pact
TEHRAN (AFP) May 28 - Iran and its close ally Syria have signed a new defence cooperation pact, Iranian media reported on Wednesday, just a week after news broke that Israel had begun indirect peace talks with Damascus. "The two countries pledge their mutual support regarding territorial independence and integrity in terms of international and regional authorities," the state-run IRNA news agency reported. The accord, signed during a visit by Syrian Defence Minister Hassan Turkmani, also called for the withdrawal of "foreign and occupation forces, which are the source of insecurity and instability in the region." [More>>khaleejtimes.com]
---
5.28.08 Mexican drug gangs kill seven police officers
May 28 - Drug traffickers killed seven Mexican policemen, the latest slayings in a wave of police murders as the army wages a battle against cartels. Police searching a drug hide-out in Culiacan in the Pacific state of Sinaloa were shot at from inside the building by the traffickers, who also threw a grenade, the government said. Seven police officers were killed and four were injured in yesterday's shoot-out. Violent Sinaloa state is the cradle of Mexico's drug trade and home to the country's most wanted man, drug kingpin Joaquin "Shorty" Guzman.
"We have to increase the firepower of police and improve the bulletproofing of their vehicles," Public Security Minister Genaro Garcia told Mexican radio. Earlier this month President Felipe Calderon deployed some 2,700 police and soldiers to Sinaloa as part of an assault on the country's most powerful traffickers. But the effort has failed to curb the killings. Some 1,400 people have died in drug-related violence this year, up around 50 percent from this time in 2007. [>independent.co.uk;
---
5.28.08 Zardari agrees to remove Musharraf: Nawaz Sharif
LAHORE, May 28 - Pakistan Muslim League-N Chief, Mian Nawaz Sharif Wednesday said the time to bring revolution has come "because the February 18 verdict of the people has not been accepted." Addressing the a program marking the 10th anniversary of Pakistan's emerging as one of the nuclear powers of the world here at Awan-i-Iqbal, he said President Pervez Musharraf had promised to step down in case the people's mandate goes against him on February 18. But he failed to keep his word, Nawaz added.

"I have made it clear to Asif Ali Zardari that if the judiciary is not restored he would also join in the lawyers movement," he said. PML-N Chief said President Pervez Musharraf should be indicted on charge of treason. "There is no need for giving him a safe passage." Pakistan People's Party Cochairman, Asif Ali Zardari has endorsed the action to remove President Musharraf, he informed, adding the people decided to bring a change in the country on February 18. "If I could, I would have removed (President) Musharraf on February 19." [>thenews.com.pk]
---
5.28.08 Thousands seeking refuge near Cape of Good Hope
CAPE TOWN, South Africa (AP) May 28 - One of South Africa's most famous beauty spots is now a scene of disgrace. Just out of sight of the tour buses that flock to the Cape of Good Hope, more than 2,000 foreigners are crammed into a makeshift refugee camp on the shores of the Atlantic, seeking protection from xenophobic attacks that have killed more than 50 people across the country and devastated South Africa's image as a haven of stability.
Nearly 19,000 people are in shelters after fleeing Cape Town over the weekend as the violence spread from Johannesburg to the so-called Mother City, which prides itself on tolerance and is the jewel in South Africa's tourist crown. "These attacks threaten to negate the gains we have made since the end of apartheid," Chief Justice Pius Langa told a somber crowd in Cape Town's cathedral on Tuesday. [More>>indianexpress.com: hosted.ap.org]
---
5.28.08 Indonesia pulling out of OPEC because it is no longer a net oil exporter
JAKARTA (AP) May 28 - Indonesia is pulling out of OPEC, because it is no longer a net oil exporter, the energy minister said Wednesday. Purnomo Yusgiantoro told reporters it did not make sense for Indonesia to be a member of the Organization of Petroleum Exporting Countries when the nation's domestic reserves were drying up and its consumption increasing. "We are pulling out of OPEC," he said. "I will sign the papers today." [More>>thejakartapost.com]
---
5.28.08 Out of their depth: the Great Barrier Reef mystery
May 28 - At first it seemed to be an extraordinary tale of survival. But the story of the two divers rescued from shark-infested waters is beginning to look distinctly fishy. By Mark Hughes. Richard Neely and Allyson Dalton's battle to stay alive for 19 hours in the tropical waters of Australia's Great Barrier Reef ensured them a place in the record books. Their tale of survival against the odds had all the elements of a spell-binding narrative: an idyllic holiday that turned into a nightmare, panicked hours spent desperate and stranded in the deep, shark-infested waters, and cries for help that went unheard. It ended, of course, in dramatic rescue, relief and a story that captured headlines all over the world.
From start to finish, the media cried, it was a tale of stupendous courage, almost superhuman stamina and intense drama. But, as the dust settles on the reports of their awe-inspiring struggle, those who originally praised the couple are starting to ask questions. And, unlike four days ago, when it was the operators of the boat and the pair's fellow divers who were under fire for alleged negligence, now Mr. Neely and Ms. Dalton are in the spotlight.

Scuba experts have wondered why the couple went diving in tropical 23C waters wearing 9mm hooded wetsuits when everyone else on their boat wore a 2mm stinger suit. It has also been queried as to why they took an expensive shark-repellent device when all they were planning was a casual afternoon's diving. Those onboard have also claimed the couple ignored safety instructions about leaving the lagoon they were diving in and that the distance they surfaced from the boat was much greater than was first suggested. While Neely and Dalton say it was 200m, it has been said that it could have been nearer 2km. [More>>independent.co.uk]
---
5.28.08 When suicide conflicts with Japan's polite society
TOKYO, May 28 - Japan's new recipe for killing oneself is being purged from the Internet at police request. Drugstores are pulling ingredients from shelves. Still, three more young people were found dead over one week earlier this month, part of the latest fad in Japanese suicide — painless death by stinky detergent fumes. A recent headline in the Weekly Asahi, a respected newsmagazine, noted that "The Remains Turn Green Like Aliens."
About 300 people — most of them in their 20s and 30s — have died in Japan in the past year by mixing common cleaning agents and inhaling the resulting hydrogen sulfide. The number has soared this spring, with about 50 deaths in April. The trend's epicenter is central Tokyo, where since January at least 34 young people have taken the fumes...More than 30,000 Japanese kill themselves annually. Among industrialized democracies, Japan, South Korea, Hungary and Finland are perennial leaders in suicide per capita. Japan's rate is almost double that of the United States. [Full story>>washingtonpost.com; See also japantoday.com, May 28, "Suicides in Japan certain to top 30,000 for 10th straight year."]
---
5.27.08 Sarkozy calls for tax cut as fuel protests spread across Europe
PARIS (AFP) May 27 - French President Nicolas Sarkozy on Tuesday called for a cut in European oil taxes to help consumers as fishermen and truck drivers across the continent staged protests against soaring prices. French riot police cleared fisherman away from a key oil depot in southern France as British truck drivers staged a demonstration in London and Spanish fishermen started a strike and lorry drivers threatened to join in. Italian and Greek fishermen may start strikes this week. "I want to ask the question to our European partners: if oil continues to increase, should we not suspend the VAT taxation on the price of oil," Sarkozy said in a radio interview.
French consumers pay about 19.6 percent VAT on the price of fuel. Sarkozy said he could not take a unilateral decision to suspend or cap the tax. But he warned that price of oil, already at record highs over 130 dollars (82 euros) a barrel, "is going to continue to increase." Sarkozy said France would channel additional revenue from VAT on oil products into a fund to help those struggling with higher fuel prices. He predicted it would generate 150-170 million euros per quarter. [More>>turkishpress.com;See also

timesonline.co.uk, May 27, "Truckers arrive in London to demand cheaper fuel" and

washingtonpost.com, May 27, "Crude Analysis" : Goldman's Spot-On Forecasts Prompt Questions. Goldman Sachs oil company analyst Arjun N. Murti and commodity analyst Jeffrey Currie are rattling the oil markets — again. Earlier this month, Murti, 39, and Currie, 41, raised their forecast for crude oil to $141 a barrel for the second half of this year and reiterated their prediction that oil would have a "super-spike" to $150 to $200 a barrel. Prices jumped immediately. It was the third increase in Goldman price predictions in five months and the fifth time in four years that the firm's analysts had pushed past what people previously thought possible. Every other time the Goldman team had turned out to be right.
But not everyone's buying it. "For us, the whole circus concerning analysts mentioning ever higher round numbers has seemed a very hollow one indeed," Barclays Capital commodities analysts Paul Horsnell and Kevin Norrish said in a scathing commentary last week. "It serves little purpose to start making me-too statements just to serve as a piece of analyst bling."

...But just because Goldman's team has been right in the past doesn't mean its streak will continue. Some oil experts say the firm's predictions were fulfilled only because of US hurricanes and an output cut from the Organization of the Petroleum Exporting Countries a year and a half ago. They fault Goldman for underestimating future oil supplies and overestimating future demand for oil, especially with prices this high. Others wonder why Goldman anticipates a big price increase later this year when supplies seem adequate, even if it does expect scarce supplies years from now. Some say Goldman -- which acts as an oil broker, runs the biggest commodity index fund, provides investment advice and trades oil on its own account — has too many institutional conflicts of interest. [Full story>>]
---
5.27.08 'Resistance has dispirited Zionists'
May 27 - Palestinians' strong resistance has completely dispirited Zionists, Iran's President Mahmoud Ahmadinejad said Tuesday. Ahmadinejad told Hamas leader Khaled Mashaal during a meeting between the two that the Palestinians and Lebanese had emerged victorious due to their determination, state-controlled Press TV reported. "The Iranian nation and government will continue to support the Palestinian nation," he added.
Mashaal said that Palestinians would never cease to resist Israel's "illegal regime," which he said was on the brink of extinction. Earlier, Mashaal met with Iran's supreme leader Ayatollah Ali Khamenei, who also congratulated him on his fight against Israel, and said the Jewish nation was helpless in the face of the Palestinian struggle. [>jpost.com; See more details, alarabiya.net, May 27, "Keep up resistance, Iran tells Hamas" and related story, Maravot News May 26, "Hezbollah 'to back Iraq resistance."]
---
5.27.08 Australian town rejects Muslim school
SYDNEY (Reuters) May 27 - Australian authorities rejected the development of a 1,200-student Islamic school on the outskirts of Sydney on Tuesday saying it was inappropriate for the small town where anti-Muslim protesters opposed the school. Camden Council voted against the school being built based on concerns over the impact on traffic flows, loss of agricultural land, but not on religious grounds. "It is a site issue ... we said all along religious issues, nationalistic issues, will not be entered into," Mayor Chris Patterson told local media.
The school was planned for Muslim students and would have taught the standard Australian education programme but also conducted religious classes just as Catholic and Anglican schools in Australia do. However, the school development has sparked anti-Muslim sentiment in Camden, with pigs heads being planted on spikes and threats to attack any Muslims attending the school. "We just don't want Muslim people in Camden, we don't want them not only here, but we don't want them in Australia," one woman, wearing a cowboy hat with an Australian flag wrapped around it, said at the council meeting on Tuesday. [More>>khaleejtimes.com]
---
5.27.08 Bombs, attacks kill 24 in Afghanistan
KABUL (AP) May 27 - Roadside bombings and insurgent attacks Tuesday killed 24 people in Afghanistan, including 13 police officers, while US-led coalition operations killed several militants, officials said. In southern Kandahar province, Taliban insurgents killed nine police in a two-pronged attack before dawn in Shorabak district, said provincial police chief Sayed Agha Saqib. Insurgents first attacked a police checkpoint, killing five officers, Saqib said. Two roadside bombs then hit two vehicles carrying police reinforcements, killing four more officers and wounding three.
Another roadside bomb in Logar province, south of Kabul, killed four police, said deputy police chief Abdul Majid Latifi. Militants regularly target the country's fledgling police force, which is seen as weaker than the better-trained and equipped Afghan army. At least 72 police officers were killed in insurgent ambushes and bombings in April alone. More than 900 policemen were among the 8,000 people killed last year. The high death toll comes despite some $4 billion spent by the U.S. to train and equip the police in the last three years. [More>>indianexpress.com: hosted.ap.org]
---
5.27.08 Lebanon bans bikes, protests after Beirut clashes
BEIRUT (AFP) May 27 - Lebanon on Tuesday banned motorbikes, political demonstrations as well as flag waving and provocative slogans from the Lebanese capital until further notice after clashes between rival factions last night. "Motorbikes will be banned in Beirut effective at 6:00pm (1500 GMT) on May 27, 2008, until further notice," an interior ministry statement said. Demonstrations, the waving of party flags or provocative slogans were also banned in the city.

It is common practice in Beirut for supporters of various rival political parties to drive around the city waving party flags, blaring slogans on loudspeakers and shooting in the air. Hezbollah and its ally Amal movement put out a statement on Tuesday calling on their supporters to put an end to these practices saying that they would "not provide political cover for them." Al-Arabiya TV said last night's clashes came as Hezbollah supporters were celebrating a speech by their leader Hassan Nasrallah, who vowed his powerful group would not use its weapons to achieve political gains. [More>>alarabiya.net]
---
EDITORIALS
09.11.05 When a nation lacks a competent leader it invites disaster – the legacy of Bush
08.13.05 "Using force the George W. Bush way – Bush's crusade"
11.25.04 Why the Crusade & Jihad?
---
*Visitor statistics on maravot.com from 1&1. com. 46,153 page views in May 2007; 45,000 in Feb. 2008.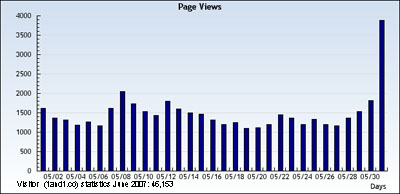 Privacy Policy: We do not store any personal data from you. We have no way of knowing any vital information about you – not even your name. Third-party distribution: We do not distribute information about your site usage to any third party. We are not responsible for the content of links from our site. Usage data: supplied by our Web Hosting service, 1and1.com, which consists of usage reports, such as page views / impressions and web pages visited, visitors' servers and geographical data (ISP's and country of origin).

---
Launched: 10.25.04 / 11.02.04 – —
Updated: 5.27.08; 5.28.08; 5.29.08; 5.30.08; 5.31.08
Copyright © 1981-2008 Maravot. All rights reserved
Copyright © 1981-2008 Mel Copeland. All rights reserved
Background: tile from Cicero's villa (Marcus Tullius Cicero 106 B.C. - 43 B.C.)