News Headlines & Trends
---
5.19.08
Cyclone videos are best sellers in Myanmar
YANGON, Myanmar (AP) May 19 - A stack of pornographic films at Mg Zaw's street stall hides some even more sought-after contraband: raw footage of the death and destruction caused by Cyclone Nargis. Images of bloated bodies and flattened villages have been broadcast around the world since the May 2-3 cyclone, but inside Myanmar they are available only on the black market. And copies are selling fast.
Myanmar's military junta, which has come under global criticism for mishandling relief efforts for survivors, does not want its people to see the full devastation caused by the storm. Tightly controlled state media paint a picture of a country quickly recovering, with mostly upbeat images of the country's military leaders handing out aid to survivors. The unauthorized videos show the more gruesome reality: hungry survivors squatting on roadsides, corpses floating in flooded waters, injured survivors being helped by villagers.

...The vendors say the videos were shot in various places including Labutta, a rice-growing township that was one of the worst-hit areas. A similar phenomenon occurred after the December 2004 Indian Ocean tsunami that largely spared Myanmar. In countries such as Thailand and India, videos of the disaster - mostly taken from TV broadcasts - were widely sold. [Full story>>indianexpress.com: hosted.ap.org; See related story, news.sky,com, May 19, "Burma cyclone: Aid breakthrough gives hope."]
---
5.19.08 200 China earthquake aid workers buried by mud
May 19 - More than 200 relief workers in quake-hit southwestern China have been buried by mudflows over the past two days, the Transport Ministry said. Details of the accidents were not immediately available. It was unclear whether any of those buried had been pulled out alive. News of the mudflows came seven days after a 7.9 magnitude quake hit Sichuan province, killing more than 34,073 people - a rise of 1900 confirmed deaths since yesterday. The Government says the death toll from last Monday's earthquake is expected to surpass 50,000. Hundreds of aftershocks have since rattled the vast mountainous region. There have been numerous rockslides from unstable mountain slopes, and blocked rivers swollen by heavy rain have threatened to burst their banks. Meanwhile, two women have been rescued after being trapped for a week by the massive earthquake. [More>>news.com.au]
---
5.19.08 Sea, not Egypt, top Gaza arms route
JERUSALEM/GAZA (Reuters) May 19 - Israeli worries about gunrunner tunnels from the Egyptian Sinai to the Hamas-run Gaza Strip are overblown as the greater smuggling threat is from the Mediterranean sea, a senior Israeli lawmaker said on Monday. Israel last year accused Egypt of not doing enough to stop arms reaching Palestinian factions, a charge rebuffed by Cairo, though it has since mounted more public crackdowns on tunnels crisscrossing its 12 km (7.5 mile) frontier with coastal Gaza. A halt to the smuggling is now among Israeli conditions for considering an Egyptian-proposed cease-fire with Hamas in Gaza.

...Ben-Israel, an army ex-brigadier and former chief of weapons development at Israel's Defence Ministry, said rockets and other arms have frequently been floated to Gaza's 45 km- (25 mile) long coast in special canisters released by boats out at sea. In 2002, Israel seized a ship in the Red Sea that it said was delivering 50 tones of arms to the Palestinians. According to Israel, the arms were funded by Iran and were to have been loaded onto fishing boats which would have dumped them off Gaza in submersible tubs that Palestinian divers could then recover. [Full story>>khaleejtimes.com]
---
5.19.08 Mubarak snubs Bush at World Economic Forum
DUBAI, May 19 - Egyptian leader walks out after Bush misses his keynote. The presidents of Egypt and the United States appeared to snub each other at the opening of the World Economic Forum in the Red Sea city of Sharm al-Sheikh yesterday, press reports said, aggravating tensions between Washington and Cairo. Egyptian President Hosni Mubarak inaugurated the meeting with a keynote speech, attended by some 14 heads of state and government, but not US President George W. Bush, Egyptian daily Al-Masry al-Youm reported on Monday.

As Mubarak spoke, the seats of the American delegation remained empty. Laura Bush's seat, next to that of Mubarak's wife, also remained unoccupied, the daily said. Laura Bush arrived with her husband one hour into the proceedings. Addressing the forum, Bush repeated parts of the speech he gave to the Knesset on the occasion of Israel's 60th anniversary. According to Al-Masry al-Youm, Mubarak deliberately left the Forum's main hall after delivering his speech and did not wait to hear Bush's address. Sources told the paper that Mubarak was planning to attend the opening session, but when he found out that Bush had missed his speech, he decided to leave. [More>>alarabiya.net]
---
5.18.08 Wanted al-Qaeda operative jailed in Yemen
BERLIN, May 18 - Jaber Elbaneh, the al-Qaeda operative who had roamed free in Yemen despite a $5 million reward offered by the US government for his capture, was jailed Sunday by a Yemeni judge. Elbaneh's detention was ordered one day after a Washington Post article on how he was living under the personal protection of Yemen's president, Ali Abdullah Saleh. The Yemeni government has repeatedly refused US requests to extradite him to stand trial on terrorism charges, straining diplomatic relations between the two countries.
According to Yemen's official news agency, a judge ordered Elbaneh's arrest after prosecutors filed a request to lock him up. Elbaneh is part of a group of 36 Yemeni defendants who are being tried on charges of conspiring to blow up oil installations in 2006. The decision marked a change of heart for prosecutors. Until Sunday, they had allowed Elbaneh to remain free while the trial proceeds in Sanaa, the capital, in spite of recent demands from FBI Director Robert S. Mueller III and other US officials that he be imprisoned. [More>>washingtonpost.com]
---
5.18.08 Fatal blast near Pakistan army base
May 18 - At least 13 people are reported to have been killed and 22 others injured in a suicide bomb attack in Mardan, a city in Pakistan's North West Frontier province. The blast on Sunday struck a bakery at a market close to the military Punjab Regiment Centre, destroying several shops, the military Al Jazeera. Major General Athar Abbas, the army's chief spokesman, said five of the people killed and four of those wounded were soldiers — the apparent targets of the attack — guarding the gate of the army base. [More>>aljazeera.net]
---
5.18.08 Blasphemous barber gets new hearing in Saudi
May 18 - Man sentenced to die for insulting God and Prophet. A Turkish barber who was sentenced to death by a Jeddah court on charges of blasphemy will have his case heard in an Appeals Court in Mecca next week, press reports said. Sabri Bogday was sentenced to die after two men told authorities that he had sworn at God and the Prophet Muhammad at his barbershop in Jeddah early last year, Saudi's English-language daily Arab News reported. [More>>alarabiya.net]
---
5.18.08 French fishermen step up protest over fuel cost
BORDEAUX, France (Reuters) May 18 - French fishermen prolonged their blockade of La Rochelle port on Sunday in a protest over rising fuel costs that comes as President Nicolas Sarkozy prepares for a week of nationwide demonstrations. Fishermen said they had blocked the ports of Chef de Baie, Rochelle's Old Port and the Minimes port in western France.
Earlier in the week, fishermen had also cut off access to the nearby Atlantic ports at Ile d'Oleron and La Cotiniere. Record oil prices of more than $120 a barrel have led to higher fuel costs for fishermen, impacting their profit margins...On Thursday, teachers and students are due to hold a nationwide demonstration over Sarkozy's plans to cut jobs in the education sector. The cuts are part of broader reforms by the right-wing government to boost the French economy. [Full story>>khaleejtimes.com]
---
5.18.08 Foreign soldier, 15 Taliban killed in Afghanistan
KABUL, May 18 - A bomb blew up a military vehicle in southern Afghanistan Sunday, killing a foreign soldier and an Afghan civilian, while 15 Taliban were killed in operations a day earlier, authorities said. The vehicle was hit in the southern province of Zabul, a hotbed of Taliban activities, the US-led coalition said in a statement. Another soldier was seriously injured. The force of about 20,000 troops, most of them US nationals, could not immediately say which country the foreign troops came from or better identify the Afghan "non-combatant." There was no immediate claim of responsibility for the bombing, but the extremist Taliban militia — in government until 2001 — has carried out a series of similar attacks. [More>>thenews.com.pk]
---
5.17.08 Myanmar death toll soars, devastation 'huge'
YANGON, Myanmar (Reuters) May 17 - Diplomats witnessed "huge" devastation in the Irrawaddy delta on Saturday and the toll of dead and missing from the cyclone rose above 133,000 people, making it one of the most damaging to hit Asia. With about 2.5 million people clinging to survival in the delta, and the military government refusing to admit large-scale outside relief, disaster experts say the death toll from Cyclone Nargis which struck on May 2 could rise dramatically. "It was useful to catch the magnitude of the devastation. It's huge," Bernard Delpuech, head of the European Commission Humanitarian Office in Yangon, said of the trip.
"For the recovery you can't expect it to be six months or a year. It will take longer," he told Reuters from Yangon, the former Rangoon. Helicopters took some 60 to 70 diplomats split in three groups to different parts of the delta, where Nargis struck with 120 mph (190 kmh) winds and a 12-foot (3.5 metre) wall of water. The itineraries were arranged by the Myanmar government, under fire for refusing to allow significant numbers of foreign aid workers and major international aid operations. The generals running the country say they have things in hand. [More>>khaleejtimes.com]
---
5.17.08 Chinese flee flood threat due to quake
CHENDU, China, May 17 - Thousands of earthquake survivors fled tent camps and villages across the ravaged landscape of southwestern China on Saturday after the government warned that several lakes and rivers were getting dangerously close to overflowing because landslides have blocked water flow. Thousands of earthquake survivors fled tent camps and villages across the ravaged landscape of southwestern China on Saturday after the government warned that several lakes and rivers were getting dangerously close to overflowing because landslides have blocked water flow. [More>>nytimes.com]
---
5.17.08 Bounties a bust in hunt for al-Qaeda
SANAA, Yemen, May 17 - Jaber Elbaneh is one of the world's most-wanted terrorism suspects. In 2003, the US government indicted him, posted a $5 million reward for his capture and distributed posters bearing photos of him around the globe. None of it worked. Elbaneh remains at large, as wanted as ever. The al-Qaeda operative, however, isn't very hard to find. One day last month, he shuffled down a busy street here in the Yemeni capital, past several indifferent policemen. Then he disappeared inside a building, though not before accidentally stepping on a reporter's toes.
Elbaneh, 41, is one of two dozen al-Qaeda members listed under a US program that offers enormous sums of cash for information leading to their capture. For years, the Bush administration has touted the bounties as a powerful tool in its fight against terrorism. But in the hunt for al-Qaeda, it has proved a bust.
Known as Rewards for Justice, the program dates to 1984 and was originally used to track down fugitive terrorism suspects of all persuasions, from the Balkans to the Palestinian territories. After the Sept. 11, 2001, attacks, the most-wanted list was expanded — and the rewards boosted exponentially — as part of a push to eliminate al-Qaeda's leadership.
So far, however, Rewards for Justice has failed to put a dent in al-Qaeda's central command. Offers of $25 million each for al-Qaeda founders Osama bin Laden and Ayman al-Zawahiri have attracted hundreds of anonymous calls but no reliable leads, officials familiar with the program say. For a time, the program was generating so little useful information that in Pakistan, where most al-Qaeda chiefs are believed to be hiding, it was largely abandoned. [More>>washingtonpost.com]
---
5.17.08 Abducted Pakistan envoy Tariq Azizuddin returns home
ISLAMABAD, May 17 - Pakistan Ambassador in Afghanistan, Tariq Azizuddin has returned home being released by the abductors after three months. Tariq Azizuddin was kidnapped from Khayber Agency on February 11, 2007, while he was on his way to Afghanistan. In videotape released on April 19, 2008, Tariq Azizuddin had appealed to the government of Pakistan for arranging his release by accepting the demands of the Taliban. Tariq Azizuddin has been recovered after lapse of three months and 11 days.. [>thenews.com.pk See more details, khallejtimes.com (Reuters) May 17, "Pak envoy freed after Taleban release."]
---
5.17.08 Spanish police detain notorious hacker group
MADRID (RIA Novosti) May 17 - Spanish police have announced that they have detained five young hackers from a notorious group that hacked into a number of websites run by government agencies in the US, Latin America and Asia, possibly including NASA. The five were all members of the D.O.M. Team 2008 group, which according to the police currently holds "fifth place for hacker attacks." Two of the five are minors, and the other three are aged 19 and 20. They had communicated exclusively via the Internet and lived in four different Spanish cities - Barcelona, Malaga, Valencia and Burgos. The police statement said that, "During the past two years the group hacked into 21,000 web pages."
The Spanish El Mundo newspaper had earlier reported that the group had hacked into the NASA website, but the police were unable to confirm this. They are also said to have hacked into the website of the Spanish telephone operator Jazztel. The group would usually replace the websites with their own D.O.M. Team page. The investigation began in March after the website of a left-wing Spanish political party, Izquierda Unida, was hacked into and filled with obscene messages following Spain's general election on March 9. The five were released after questioning. Trial dates have yet to be set. The three older hackers face three years behind bars if convicted. They have claimed that they carried out their attacks in order to show up deficiencies in the defenses of those sites they hacked. [More>>rian.ru]
---
5.17.08 Ten detained in Europe for alleged ties to Islamic extremists
PARIS, May 16 - Police in France, Germany and the Netherlands arrested on Friday 10 people suspected of providing funding to Islamic extremists in Uzbekistan, officials said. Eight arrests took place in France, one in the Netherlands and one in Germany. One suspect was later released in France. The eight suspects of Turkish origin thought to have ties to al-Qaeda were arrested in a suburb of the eastern city of Mulhouse and in the central Rhone region, a police source said. The source said anti-terrorism units moved in on the group as a "pre-emptive" measure and that none of the suspects had committed attacks.
Police found several firearms and a large amount of cash during searches of the suspects' homes on Friday, a police source said. Computer discs and files were seized. The suspects are believed to have helped fund the Islamic Movement of Uzbekistan (IMU), formed in 1998 and considered one of the most radical groups operating in Central Asia. [More>>turkishpress.com]
---
5.17.08 How picture phones have fuelled frenzy of honour killing in Iraq
May 17 - A dark pool of dried blood and a fallen red scarf mark the place where Ronak, who had fled to a woman's shelter in the Kurdish city of Sulaymaniyah when she was accused of adultery by her husband, was shot three times by a man hiding on the roof of a nearby building. Ronak was wounded by bullets in the neck, side and leg and only survived after a four-hour operation. She was the latest victim of a huge increase across Iraq in the number of "honour" killings of women for alleged immorality by their own families. Many are burnt to death by having petrol or paraffin poured over them and set ablaze. Others are shot or strangled. The United Nations estimates that at least 255 women died in honour-related killings in Kurdistan, home to one fifth of Iraqis, in the first six months of 2007 alone.
The murder of women who are deemed to have disobeyed traditional codes of morality is even more common in the rest of Iraq where government authority has broken down since the overthrow of Saddam Hussein in 2003. A surprising reason explaining the massive increase in the number of honour killings is the availability of cheap mobile phones able to take pictures. Men photograph themselves making love to their girlfriends and pass the pictures to their friends. This often turns out to be a lethal act of bravado in a society where premarital or extra-marital sex justifies killing. [More>>independent.co.uk]
---
5.16.08 Pakistan defies US on halting Afghanistan raids
PESHAWAR, Pakistan, May 16 - Pakistani officials are making it increasingly clear that they have no interest in stopping cross-border attacks by militants into Afghanistan, prompting a new level of frustration from Americans who see the infiltration as a crucial strategic priority in the war in Afghanistan.
On Wednesday night, the United States fired its fourth Predator missile strike since January, the most visible symbol of the American push for a freer hand to pursue militants from al-Qaeda and the Taliban who use Pakistan's tribal areas as a base to attack Afghanistan and plot terrorist attacks abroad. In Afghanistan, cross-border attacks have doubled over the same month last year and present an increasingly lethal challenge to American and NATO efforts to wind down the war and deny the Taliban and al-Qaeda a sanctuary.
In an unusual step during a visit to Pakistan in March, Adm. Eric T. Olson, the commander of United States Special Operations Command, held a round-table discussion with a group of civilian Pakistani leaders to sound them out on the possibility of cross-border raids by American forces. He was told in no uncertain terms that from the Pakistani point of view it was a bad idea, said one of the participants.
Instead, Pakistani officials are trying to restore calm to their country, which was rattled by a record number of suicide attacks last year. Within days, they are expected to strike a peace accord with Pakistan's own militants that makes no mention of stopping the infiltrations. In fact, Pakistani counterinsurgency operations have stopped during the new government's negotiations with the militants. [More>>nytimes.com; See related stories, alarabiya.net, May 16, "Bin Laden back on stage for Israel anniversary." and Maravot News 5.11.08 Eight NATO troops killed in clash with Taliban in Afghanistan."]
---
5.16.08 An epidemic of extinctions: Decimation of life on earth
May 16 - Species are dying out at a rate not seen since the demise of the dinosaurs, according to a report published today – and human behavior is to blame. Emily Dugan counts the cost. The world's species are declining at a rate "unprecedented since the extinction of the dinosaurs," a census of the animal kingdom has revealed. The Living Planet Index out today shows the devastating impact of humanity as biodiversity has plummeted by almost a third in the 35 years to 2005.
The report, produced by WWF, the Zoological Society of London (ZSL) and the Global Footprint Network, says land species have declined by 25 per cent, marine life by 28 per cent, and freshwater species by 29 per cent. Jonathan Loh, editor of the report, said that such a sharp fall was "completely unprecedented in terms of human history". "You'd have to go back to the extinction of the dinosaurs to see a decline as rapid as this," he added. "In terms of human lifespan we may be seeing things change relatively slowly, but in terms of the world's history this is very rapid." [More>>independent.co.uk ; See related stories,
thejakartapost.com, May 16, "Studies say reactive nitrogen a growing hazard in the environment." and
washingtonpost.com, May 16, "Clean air rules protecting parks set to be eased."]
---
5.16.08 Burma death toll jumps to 78,000
May 16 - The official death toll for Burma's cyclone disaster has jumped to almost 78,000 people, with nearly 56,000 missing, according to state TV. Previously, Burma was giving a toll of 43,000 dead and 28,000 missing while the Red Cross and United Nations had estimated a death toll above 100,000. Aid agencies are frustrated at the slow progress of aid to areas worst hit.
Cyclone Nargis battered southern regions of Burma, including the Irrawaddy Delta, on 2-3 May. A BBC reporter in the delta this week saw little sign of official help and foreign aid workers have been barred from the area. Heavy rain has been lashing the region, compounding the misery of survivors. [More>>bbc.co.uk]
---
5.15.08 Probe discovers striking parallel: bombs in Jaipur, Hyderabad ditto
JAIPUR, NEW DELHI, May 15 - As investigators grope in the dark after yesterday's eight blasts in Jaipur that have now killed 63 and injured 118, the one ray of light is the striking similarity they have found between the explosives used in Jaipur and the one used in the twin explosions in Hyderabad last August. A team from Andhra Pradesh Police is set to arrive in Jaipur to help in the probe. Contrary to claims by the local police, agencies here maintain that use of RDX is still not confirmed. It's learnt that ammonium nitrate was the principal explosive in Jaipur with an ammonium-based gel, possibly Neogel 90, that was also used in the twin explosions at Gokul Chaat Bhandar and Lumbini Park, Hyderabad. Sources said no RDX was found in the unexploded device that was defused just in time by the local bomb squad.

The Indian Express spoke to several investigators in Jaipur and New Delhi and police officials and the following have emerged as key leads in the case:
• Each bomb had an average of 7.5 kg of explosives and shrapnel packed into it. The bombs proved more lethal as they were "directional chargers," meaning on explosion the impact was focused in a particular direction to inflict maximum damage — similar bombs were used in last year's Hyderabad blast at the Gokul Chaat Bhandar.

• Sources said the explosive material was packed tightly in a cloth and then again wrapped in a crepe bandage fortified with ball bearings and iron shrapnel. A Samaya quartz clock was used as a timer, similar to the ones used in Hyderabad, Delhi and Varanasi...

...The Hyderabad blasts were attributed to HuJI, which appears to be the group behind the Jaipur blasts too going by these preliminary inputs. But investigators are handicapped by the slow progress in the Hyderabad case. Agencies are also finding it difficult to name SIMI as its key leadership, including Safdar Nagori, is under arrest. The Jaipur police have registered three FIRs at three police stations, Manak Pura, Kotwali and Sanjay Circle. Local police have recorded statements of at least 70 witnesses, more than 20 people were interrogated. [Full story>>indianexpress.com See related story, alarabiya.net, May 15, " Islamic group claims deadly India bombings."]
---
5.15.08 China says quake toll could reach 50,000
CHENGDU, China, May 15 - Mass Graves Dug for Quake Victims Amid Falling Hopes for Survivors Under Rubble. China has literally thrown an army of rescuers into the earthquake-ravaged Sichuan province, but has been unable to stop the death toll from marching higher. In the last 24 hours China raised the death toll from 15,000, to 20,000, and warned today that the body count could go as high as 50,000 as relief workers clawed their way through tons of tumbled brick and slabs of cement.
But more than 72 hours after the magnitude 7.9 quake hit, cries for help from under the rubble that had become increasingly weak have now stopped. Workers appear to have shifted their focus from rescuing survivors to searching for corpses. The government has said that as many as 12,300 people could be entombed beneath collapsed buildings. To cope with the mounting number of bodies, China has begun digging mass graves and pouring lime over each layer of corpses. [More>>abcnews.go.com; See related story, timesonline.co.uk, May 15, "British quake survivors: 'We thought it would bury us alive.']
---
5.15.08 Burmese junta requests aid to rehabilitate farms
BANGKOK, May 15 - Burma's military rulers are appealing for international funding to get rice farmers in the cyclone-ravaged Irrawaddy Delta back to their paddy fields, amid concerns about future food shortages if cultivators miss the upcoming planting season. The Burmese government's request for help in restoring farms in the disaster zone was made in closed-door meetings with relief officials in Burma, aid sources said Thursday.
The request came as Burma's state television claimed overwhelming public support for a controversial military-sponsored constitution in a May 10 referendum. It reported that 92.4 percent of voters endorsed the charter in areas that were not seriously affected by the storm. Polling in the cyclone-hit section of the country — including the Irrawaddy Delta and Rangoon, Burma's largest city — is scheduled for May 24. The opposition National League for Democracy, the party of detained Nobel Peace Prize laureate Aung San Suu Kyi, promptly denounced the results as fraudulent. [More>>washingtonpost.com]
---
5.15.08 Palestinians mark 'catastrophe' of Israel's birth
RAMALLAK, West Bank (AFP) May 15 - Palestinians protested across the occupied territories on Thursday on the 60th anniversary of the "catastrophe" of the birth of Israel and the exodus of hundreds of thousands of refugees. The commemoration of the Nakba, or "catastrophe" — the defeat of Arab armies and the expulsion or flight of about 760,000 people — came as US President George W. Bush was to mark the creation of the Jewish state with an address to the Israeli parliament.

Sirens sounded across the West Bank political capital of Ramallah at the start of a protest in which thousands of people demanded the "right of return" for some 4.5 million UN registered refugees in camps across the Middle East. Demonstrators waved Palestinian flags and released 21,915 black balloons — one for each day since Israel's creation — to darken the skies over Jerusalem ahead of Bush's speech to Israeli MPs. Arab members of the Israeli parliament boycotted the US president's address, and Palestinians have expressed outrage at the decision to hold the event on their Nakba Day. [More>>alarabiya.net]
---
5.15.08 Calls for anti-drug belt in Afghanistan
May 15 - China, India and Russia called today for the creation of a security belt around Afghanistan to halt the spread of heroin. Russian Foreign Minister Sergei Lavrov said a joint communique on boosting links between the three large developing countries would look at enhanced cooperation on humanitarian aid, fighting terrorism and combating drug trafficking. "We discussed the situation around Afghanistan, where the drug threat emanates. It would help to build drug-secure belts around Afghanistan," Mr. Lavrov said after holding talks with his Chinese and Indian counterparts in this Urals city.

Afghanistan, devastated by three decades of Soviet occupation and civil war, accounts for 93 per cent of world opium output, according to United Nations data. About 90 per cent of the global supply of heroin emanates in Afghanistan, with output increasing since the fall of the Taliban regime in late 2001. One of the main drug trafficking routes from Afghanistan lies across sparsely populated post-Soviet Central Asia to Russia. From there Afghan drugs make their way to Europe. [More>>news.com.au]
---
5.15.08 Official: Suicide bomber kills 12 in Afghanistan
KABUL (AP) May 15 - A suicide bomber wearing a burqa attacked a police patrol at a crowded market in western Afghanistan on Thursday, killing at least 12 people and wounding 27 others, officials said. Provincial Gov. Rohul Amin said the bomber, who struck a busy market in Dilaram district of Farah province, was a woman. But the Taliban, which claimed responsibility for the blast, identified the bomber as a man named Mullah Khalid. Five policemen, including a district police chief, and seven civilians were among those dead, Amin said. Another 27 people, including 11 police and 16 civilians were wounded, he said.
Police tried to stop the bomber seconds before he exploded, said Younus Rasoul, another provincial official. Rasoul gave a higher death toll, saying 15 died including 12 civilians. It was not possible to reconcile the differing figures. Afghanistan is battling a Taliban-led insurgency that is strongest in the east and south of the country. Militants launched more than 140 suicide bombings in the country in 2007, and many of those killed in the attacks have been civilians. [More>>indianexpress.com: hosted.ap.org; See also metimes.com, May 15, "Burqa bomber kills 16; UN slams overkill."]
---
5.15.08 Obama clashes with Bush in Nazi appeasement row
May 15 - Barack Obama today accused President Bush of launching a "false political attack" after he appeared to compare the Democratic presidential hopeful's foreign policy to appeasement of the Nazis. Mr. Bush triggered a row when he implied during a speech in the Israeli Parliament that Mr. Obama's willingness to talk to radical regimes was a dangerous "delusion." Although he did not refer to Mr. Obama by name, the Illinois senator condemned the President for using Israel's 60th birthday to attack Democratic contenders for the White House.
"Some seem to believe that we should negotiate with the terrorists and radicals, as if some ingenious argument will persuade them they have been wrong all along," Mr. Bush said. "We have heard this foolish delusion before. As Nazi tanks crossed into Poland in 1939, an American senator declared: 'Lord, if only I could have talked to Hitler, all of this might have been avoided.'
"We have an obligation to call this what it is — the false comfort of appeasement, which has been repeatedly discredited by history."
Mr. Obama has said that as president he would personally negotiate with Iran and offer economic incentives and a chance for peaceful relations if Iranian leaders would forgo their pursuit of nuclear weapons and their support of terrorists. [More>>timesonline.co.uk]
---
5.15.08 Pope's astronomer insists alien life 'would be part of God's creation'
May 15 - The Vatican's official newspaper has endorsed the possibility that the universe could contain intelligent life beyond Earth, while insisting that aliens would be "our brothers" and "children of God" as much as human beings are. The Pope's astronomer, José Gabriel Funes, a Jesuit priest, told L'Osservatore Romano that there would be nothing surprising about the existence of intelligent extra-terrestrials.
"Just as there is a multiplicity of creatures on Earth, so there could be other beings created by God [beyond it]," he said. The interview suggests that the Church's hierarchy may be paving the way to showing that Pope Benedict XVI is more open to the ideas of modern science than he has previously seemed to be. Pope Benedict has spoken in favour of "intelligent design" in the past and has damned evolutionary ideas that leave no room for God. [More>>independent.co.uk]
---
5.14.08 China warns of burst dams as quake death toll rises
DUJIANGYAN, China (Reuters) May 14 - The death toll from China's deadliest earthquake in decades climbed to nearly 15,000 on Wednesday, as officials warned of calamities downstream from broken rivers and dams strained to bursting point. Tens of thousands of troops, firefighters and civilians raced to save more than 25,000 people buried across a wide swathe of southwest Sichuan province under collapsed schools, factories and hospitals after Monday's 7.9 magnitude quake.
Many schoolchildren were buried as they were taking an afternoon nap. One body of a boy was found still clutching a pen. The official death toll climbed to 14,866, as rescuers pulled at tangled chunks of buildings for signs of life. The government sent 50,000 troops to dig for victims. A paramilitary officer who arrived at Wenchuan, at the epicentre, told Sichuan TV a third of houses there had been destroyed and more than 90 percent damaged.

..Officials have also warned of dangers from increased strain on local dams as well as mudslides on brittle hillsides where rain has been forecast over the next few days. Two hydropower stations in Maoxian county, where 7,000 residents and tourists remain stranded near the epicentre, were "seriously damaged". Authorities warned that dams could burst. Landslides had blocked the flow of two rivers in northern Qingchuan county, forming a huge lake in a region where 1,000 have already died and 700 are buried, Xinhua said. "The rising water could cause the mountains to collapse." [Full story>>thestar.com.my ; See also aljazeera.net, May 14, "Damaged dam hampers China rescue."]
---
5.14.08 Iranian leader condemns Israeli celebrations, predicts downfall
TEHRAN (Ria Novosti) May 14 - Iranian President Mahmoud Ahmadinejad forecast the annihilation of Israel on Wednesday as the Hebrew state celebrated its 60th anniversary. "The Zionist regime is dying. All nations in the region loathe this fake and criminal regime," Ahmadinejad said addressing crowds in the northern province of Golestan. Iran refuses to recognize Israel and says it was illegally established on Palestinian territories. "Celebrating the anniversary of the Zionist regime is the same as celebrating the birthday of a dead man. This celebration is senseless and a shame on its organizers," the president said.
This is not the first case of anti-Jewish rhetoric from Ahmadinejad. In 2005, he described live on TV the Nazi genocide of 6 million Jews during World War II as a fabrication concocted to justify Israel's existence. He said the Europeans "have created a myth today that they call the massacre of the Jews and they consider it a principle above God, religions and the prophets." He earlier said Israel must be wiped off the world map and called on Europe or North America to host a Jewish state. This string of xenophobic remarks sparked international outrage and increased the world community's pressure on Tehran to abandon its nuclear program. [>en.rian.ru; See related story, alarabiya.net, May 14, "Australia may take Iran president to court."]
---
5.14.08 Saudis send sharp warning to Iran over Lebanon
BEIRUT, Lebanon (AP) May 13 - Saudi Arabia sent Iran a sharp warning over Lebanon Tuesday, saying Tehran's support for Hezbollah will damage its relations with other Muslim and Arab countries. More soldiers fanned out through Beirut, with orders to use force to restore security to a nation shaken by nearly a week of sectarian clashes. Lebanese buried more of their dead and tried to resume life in a capital dissected by roadblocks. What began as a political struggle 1 1/2 years ago with Shiite ministers bolting from the Cabinet devolved last week into Lebanon's worst fighting since the end of the 1975-1990 civil war, with at least 54 people dead and scores wounded. [More>>indianexpress.com : hosted.ap.org]
---
5.14.08 Baghdad fighting kills 7, but city calmer
Baghdad (Reuters) May 14 - Clashes broke out between security forces and Shia gunmen in Baghdad overnight and on Wednesday, police said, killing seven people and putting more strain on a deal to end nearly two months of fighting. Despite the fresh violence, residents in the eastern Baghdad stronghold of Iraqi Shia cleric Moqtada al-Sadr and the US military said it was calmer there on Tuesday night compared to recent weeks, indicating that fighting could be easing.

At least 28 people were wounded in clashes between US-backed Iraqi security forces and militiamen claiming allegiance to Sadr, police and hospital sources said. Police said gunmen fought security forces in the cleric's eastern Baghdad bastion of Sadr City overnight in fighting that killed five people and wounded 22 in the crowded slum. Fighting also broke out in western Baghdad's Shula district, killing two and wounding six, police said. [More>>khaleejtimes.com]
---
5.14.08 Brief curfew in India city day after bombs kill 80
JAIPUR, India (AP) May 14 - The seven bombs that tore through this historic city ripped apart Sumana Khan's life, killing her mother and two aunts and leaving the 4-year-old girl with a broken arm, a fractured leg and shrapnel embedded in her back. Lying in a crowded hospital Wednesday, Khan and the nearly 200 other wounded were in some ways among the lucky - they survived. Eighty others became the latest deaths in a seemingly endless series of bombings that have terrorized Indian cities in recent years.
Most attacks, like Tuesday's in Jaipur, have hit soft targets - crowded markets, packed temples, congested trains, mosques filled with worshippers. And with authorities repeatedly blaming Islamic militants for the bombings, each has brought fears of fresh violence between India's Hindu majority and its sizable Muslim minority. Soon after the attack, officials suggested that blame would eventually fall on Pakistan and the Islamic militant groups that India accuses its neighbor of backing. [More>>indianexpress.com: hosted.ap.org]
---
5.14.08 The truth really is out there as Britain's 'X-files' released
May 14 - Her Majesty's Government may have concluded in 1979 that "it has never been approached by people from outer space" but the current Pope is entertaining the idea of aliens. That was the bizarre clash of opinions that emerged this morning as thousands of pages of "Britain's X-files" were released by the Ministry of Defence in a move brought about by a "deluge" of Freedom of Information requests by UFO conspiracy theorists.
The 160 files – the first eight of which, covering 1978-1987, are published today – throw up no "saucer-in-a-hangar smoking gun" in the skies, experts said last night. However, the papers, viewable on the National Archives' website, do show that officials conducted a full investigation into every claimed sighting until the 1980s. The files, one of which is more than 450 pages long, show that since the 1950s thousands of seemingly ordinary people have claimed UFO sightings in this country. In June 1983 a woman in Sanderstead, Surrey, opened her curtains at 3am to see a giant rectangular object passing past her bedroom window. "There seemed to be no means of propulsion, the object was not being pushed, pulled, lifted or carried. Its movement was silent," she said. A picture of what she says she saw features in one of the files published today. [More>>independent.co.uk]
---
5.13.08 Sichuan earthquake death toll exceeds 12,000
CHENDU, China (Xinua) May 13 - A senior official with the Sichuan Provincial government said Tuesday the death toll in the province has exceeded 12,000, and is still rising. Li Chengyun, vice governor of Sichuan, said at a news conference Tuesday afternoon that the death toll was based on incomplete figures tallied by 4:00 p.m. Tuesday. He said another 26,206 people were injured, and more than 9,400 people were buried in debris. Li also provided a breakdown of the death toll, including 161 in the Aba Tibetan and Qiang Autonomous Prefecture, 7,395 in Mianyang City, 2,648 in Deyang City, 959 in the provincial capital Chengdu and 700 in Guangyuan City. Other casualties were reported in cities including Ya'an, Ziyang and the Garze Tibetan Autonomous Prefecture.
The death toll climbed from an earlier tally provided by the Ministry of Civil Affairs, which put the Sichuan death toll at 11,608. Authorities said the death toll might change every hour, as they heard reports from rescuers who were seizing every minute to pull out bodies from the earthquake rubble. The earthquake, which centered on the province's Wenchuan County at 2:28 p.m. Monday, has left the province in chaos. More than 3.46 million houses were wracked, Li said. [More>>xinhuanet.com; See also nytimes.com, May 13, "Struggle to reach quake survivors."]
---
5.13.08 Myanmar cyclone victims getting low-quality supplies
YANGON, Myanmar (AP) May 13 - Many cyclone victims are getting spoiled food from Myanmar's junta instead of the high-quality supplies being delivered by foreign governments and charities, victims and aid workers said Tuesday. A longtime foreign resident of Myanmar's biggest city, Yangon, told The Associated Press in Bangkok by telephone that angry government officials have complained to him about the military misappropriating aid. [More>>washingtonpost.com]
---
5.13.08 12 militants killed in southern Afghanistan
KABUL (AP) May 13 - US-led coalition forces called in airstrikes against the Taliban, killing a dozen militants during fighting in southern Afghanistan that has displaced many families, officials said Tuesday. Meanwhile, an old mortar round exploded in the north of the country, wounding 17 children. The coalition said in a statement that its troops opened fire and called in airstrikes Monday after observing militants trying to set up an ambush. The coalition had been targeting a Taliban commander transporting weapons. The troops also discovered weapons and ammunition in a search of compounds in the area, it said. [More>>indianexpress.com: hosted.ap.org]
---
5.13.08 Shiites attack Baghdad wall builders
BAGHDAD, May 13 - Despite a declared cease-fire, Shiite gunmen loyal to radical cleric Moqtada Sadr and Iranian influenced "special groups" are continuing to attack US and Iraqi Security Forces in Baghdad's Sadr City. According to the US military, most of the attacks were along the three-mile barrier American soldiers are building on al-Quds Street, which separates the southern Jamilla and Tharwa neighborhoods of Sadr City from northern sectors. The attacks included rocket propelled grenades, sniping and detonation or planting of improvised explosive devices.

"It doesn't look like a cease-fire to me," said Maj. Kyle Ferger, executive officer of the 1st Battalion, 6th Infantry Regiment. "Just last night there were more than a dozen [incidents] along the wall." The wall, made of 12-foot high concrete slabs, was begun mid-April to block Shiite extremists from infiltrating the two neighborhoods using cross streets along al-Quds to fire rockets at the Green Zone, the seat of the Iraqi government and US military and diplomatic headquarters. [More>>metimes.com; See also khaleejtimes.com, May 13, "Baghdad truce under pressure, clashes kill 11 ."]
---
5.13.08 Abu Hamza fights extradition to US
LONDON, May 13 - Lawyers for the radical Muslim preacher Abu Hamza al-Masri, convicted in Britain of race-hate crimes and soliciting murder, began a legal challenge Monday against his extradition to the United States. The Egyptian-born former imam of the once notorious Finsbury Park mosque in north London is wanted for allegedly trying to set up an al-Qaeda training camp in the northwest US state of Oregon.

But his legal team is arguing at London's High Court that his extradition, which was signed by Home Secretary Jacqui Smith in February this year, should be blocked as evidence gained by torture was being used against him. Lawyer Alun Jones told the court in written arguments that his client should be tried in London, not the United States, because he was living here at the time of the alleged offences.

...Hamza, 49, a former nightclub bouncer who has one eye and a hook in place of a missing hand, is facing a maximum sentence of up to 100 years in prison over 11 charges, including sending money and recruits to assist Afghanistan's hard-line former rulers the Taliban and al-Qaeda. He is also accused of assisting a gang of kidnappers in Yemen who abducted a 16-strong party of Western tourists in 1998. Four people — three Britons and an Australian — were killed. [Full story>>alarabiya.net]
---
5.13.08 Write-down woes for French banks
May 13 - France's biggest retail bank, Credit Agricole, is contemplating asking shareholders for 5.9bn euros (£4.7bn; $9.1bn) to help its financial position. The move comes after more write-downs at its Calyon investment banking unit as a result of the credit squeeze. Meanwhile, the country's second-largest bank, Societe Generale, said its own write-downs had led to a 23% fall in profits in the first quarter of 2008. Net profit fell to 1.1bn euros in the period from 1.43bn euros a year ago. Losses at SocGen's global investment management arm were blamed for the dip. In January this year, SocGen announced 4.9bn euros of losses which it blamed on rogue deals carried out by Jerome Kerviel — a junior trader at the bank. [More>>bbc.co.uk]
---
5.12.08 At least 8,600 people are killed in China earthquake
May 12 - Thousands of people were reported killed today when China's worst earthquake for 30 years struck a densely populated area in Sichuan province. The massive quake, measuring 7.8 on the Richter scale, flattened schools, offices and houses in the southwestern province, and caused widespread damage in nearby Gansu and Yunnan provinces as well as the sprawling municipality of Chongqing. The state-run Xinhua news agency said that 8,533 had been confirmed dead in Sichuan province alone.
China's national disaster relief headquarters reported 48 killed in northwestern Gansu province, 50 in the municipality of Chongqing, 61 in Shaanxi province and one in southwestern Yunnan, all of which border Sichuan, according to Xinhua. The combined death toll reported by Xinhua adds up to 8,693 people, but there were fears the toll will rise with reports of hundreds more buried under debris. Wen Jiabao, the Chinese Premier, who flew immediately from Beijing to Sichuan province, called it a "major disaster" and urged calm.
The quake struck at 2.28pm (0628 GMT) 57 miles northwest of the provincial capital of Chengdu, which has a population of more than 12 million. The tremor was felt in cities across South East Asia as far as Bangkok, more than 1,200 miles from the epicenter. Xinhua reported that as many as 5,000 had been killed and 10,000 injured in Beichuan, a single county of Sichuan where 80 per cent of buildings had collapsed. The news agency reported that up to 900 students were trapped in the rubble of a high school which collapsed in Dujiangyan. Other reports said that at least 50 of them had died. [More>>timesonline.co.uk; See also bbc.co.uk]
---
5.12.08 Sudan arrests Islamist leader
NIROBI, Kenya, May 12 - Hassan Turabi, a flamboyant Islamist leader who used to be friends with Osama bin Laden, was arrested on Monday in Khartoum, the Sudan capital, on suspicion of fomenting a rebellion, Sudanese officials said. Sudanese officials accused Mr. Turabi of working with a Darfurian rebel force that staged a bold, unprecedented attack on Khartoum on Saturday. Mr. Turabi's Islamic political party is widely known to have links with the Darfurian rebel group, Justice and Equality Movement, which also has an Islamist agenda.

Hundreds of the group's fighters crossed the desert from Darfur and penetrated the suburbs of Khartoum, provoking intense clashes that killed upwards of 100 people. A high-ranking Sudanese police official said that Mr. Turabi's contacts may have helped the rebels get as far as they got. "They had inside information," the police official said, speaking on the condition of anonymity because he was not authorized to talk to journalists. [More>>nytimes.com]
---
5.12.08 Iran offers ocean [access] to oil giant Kazakhstan
May 12- A central tenet of US Middle East foreign policy has been to maintain Washington's sanctions imposed on Iran under the 1996 Iran-Libya Sanctions Act, or ILSA, and persuade or strong-arm other nations into minimizing their trade relations with the Islamic republic. Regional trade realities have been slowly chipping away at the sanctions regime for years, and the final nail in the coffin may well come from US ally Kazakhstan, the sole rising petro-state able to ramp up production to meet rising global demand, where oil is topping $126 a barrel.

Kazakhstan's problem is that, if current estimates are correct, within the next two years its oil production will outstrip the current carrying capacity of its major export pipeline, the 938 mile-long Tengiz-Novorossiisk pipeline. The pipeline links western Kazakhstan's Kashagan and Karachaganak oil fields with Russia's Novorossiisk port on the Sea of Azov; tankers then ferry the crude across the Black Sea and through the Turkish Straits to thirsty Western markets.

...Iran is planning not only to increase Neka's handling capabilities, but to build a trans-Iranian pipeline linking Neka to Iran's Arabian Sea port at Jask. First proposed last year, the 970 mile-long Neka-Jask pipeline will have a projected capacity of 1 million bpd. A further incentive to Almaty to use the proposed pipeline would be lower transit fees. Eskandari stated that the Neka-Jask transportation tariff would be $45 per ton, in contrast to the Baku-Tbilisi-Ceyhan pipeline ($75/ton), CPC ($55/ton), or the Baku-Batumi-Kulevi railway ($73/ton.) [More>>metimes.com]
---
5.12.08 US troops battle militia in Baghdad despite deal
BAGHDAD (AFP) May 12 - American troops fought street battles with Shiite militia in Baghdad's Sadr City, killing three people on the first full day of a deal to end fighting in the area, a military official said on Monday. US military spokesman Lieutenant Colonel Steven Stover said troops came under attack in three incidents on Sunday evening and Monday morning in Sadr City, stronghold of the Mahdi Army militia of anti-US cleric Moqtada al-Sadr.
Stover said two "criminals" were shot dead by US troops in two confrontations while the third was killed by a tank shell. Medical and police sources in Sadr City, a teeming slum area where two million Iraqis live, said two bodies had been brought to the main hospital together with 25 wounded people. The latest skirmishes came despite a deal announced on Saturday by the Iraqi government of Prime Minister Nuri al-Maliki and Sadr's movement that they will end the violence in Sadr City. [More>>khaleejtimes.com]
---
5.12.08 New Google service makes web pages social
May 12 - To socialize these days, hundreds of millions of people every month turn to social networking sites such as MySpace or Facebook. But what if the Web itself worked as a social network? Google announced today another step in what its engineers see as that inevitable evolution. A new free service from the Mountain View, Calif., tech giant will allow any Web site to become a social site.
Using Google's new Friend Connect product, any Web page, whether it is devoted to curling or pizza or a folk singer, can allow visitors to make and connect with other "friends" who visit that site. Like any major social network today, any Web page using Friend Connect could easily present to each user the names and pictures of friends and potential friends. Those people could then post messages to one another. [More>>washingtonpost.com]
---
5.11.08 White House vs white bear: Judge says Bush must decide whether to save polar bear
May 11 - It's a classic stand-off between one of the world's best loved animals and one of its most unpopular leaders, between the planet's largest bear and its most powerful man. And it comes to a head this week. On Thursday, by order of a federal judge, George W. Bush must stop stalling on whether to designate the polar bear as a species endangered by global warming. The designation could have huge consequences for his climate-change policies; his administration would, by law, have to avoid doing anything that would "jeopardise the continued existence" of the mammal whose habitat is melting away.
Unsurprisingly, perhaps, the administration has sought to avoid the decision. It has delayed it for months, and was seeking to put it off for months more. But two weeks ago Claudia Wilken, the judge, ruled it had long been "in violation of the law," and ordered it to act by 15 May. Polar bears depend on the sea ice for hunting, mating and moving around. Last summer, 200,000 square miles of ice — more than twice the size of Britain — melted for the first time, shrinking the frozen sea to an extent that the Intergovernmental Panel on Climate Change predicted would not occur until 2050. More and more scientists believe the Arctic could be ice-free in summer in little more than 20 years. [More>>independent.co.uk ; See related story, independent.co.uk, May 11, "Climate change plea from tribe of [reindeer] herders who face extinction."]
---
5.11.08 North Korea dcocuments date back to 1986: US
May 11 - The United States said documents handed over by North Korea detailed its weapons-grade plutonium program as far back as 1986, and were an "important first step" in getting a full declaration of the North's nuclear activities. In a "fact sheet" providing limited details of the documents, the State Department said the 18,000 pages covered three major periods when plutonium was produced by North Korea for nuclear weapons.
"The United States and the other parties continue to press the DPRK to fulfil its declaration commitment," said the statement, referring to Pyongyang's failure to produce a full declaration of its nuclear activities by the end of last year. The documents were given by Pyongyang to the State Department's Korea expert, Sung Kim, on Thursday who then hand-carried them over the heavily fortified Demilitarized Zone into South Korea on Saturday. [More>>koreaherald.co.kr]
---
5.11.08 China's jumbo passenger aircraft company established in Shanghai
SHANGHAI (Xinhua) May 11 - China's first ever jumbo passenger aircraft company, which was a major part of the nation's large jet program, was officially inaugurated in Shanghai on Sunday. Vice Premier Zhang Dejiang said at the inauguration ceremony that the large jet program was of significance to improve China's independent innovation capabilities and to meet the rapidly expanding civil aviation market at home.

For the program, China should actively import sophisticated technologies, and at the same time, make breakthroughs in core technologies and achieve related independent intellectual property rights, according to Zhang. The newly established company, named Commercial Aircraft Corporation of China Ltd. (CACC), will be responsible for researching, developing, manufacturing and marketing the homegrown large passenger aircraft. [More>>xinhuanet.com]
---
5.11.08 Eight NATO troops killed in clash with Taliban in Afghanistan
KABUL, May 11 - Eight coalition soldiers [were] killed in [a] Taliban attack in Paktika province of Afghanistan. Thirteen Taliban militants were also killed in the clash. Nine bodies of the Taliban militants were brought back to South Waziristan [Pakistan], for burial on Sunday. The skirmish in Paktika left 13 Taliban militants and eight NATO and Afghan troops, including a colonel, dead. Among the dead men was Maulana Muhammad Iqbal, deputy chief of Mullah Nazir's group. Besides the nine men from South Waziristan, two militants from Punjab were also killed. [>thenews.com.pk]
---
5.11.08 Shell pulls out of Iran gas deal
May 11 - The British and Royal Dutch Shell, which ranks as the second largest non-governmental oil company in the world, has decided to pull out of a planned gas deal in Iran. The alleged reason is pressure from US politicians to divest from Iran in efforts to penalize the country for running a supposed nuclear weapons program. The deal was signed in 2002 for the development of a gas field in southern Iran. The planned project would have seen the gas cooled and turned, after extraction, into liquid natural gas (LNG) for transport in tankers.
Iran will now have to find a new partner for the project and companies from countries where the US political influence is more limited — such as Russia, India and China — are now lining up to step in. However, these companies, including Russia's Gazprom and India's Indian Oil Corp, have less experience with these types of projects than Shell. [More>>jpost.com]
---
5.11.08 Turkish military says it killed 20 Kurdish fighters
May 11 - Turkish military sources said at least 20 Kurdish separatists and two Turkish soldiers were killed after Kurdistan Workers Party (PKK) guerrillas attacked a military base in southeast Turkey late on Friday. Turkish warplanes bombed rural areas along Turkey's border with Iraq after some 50 PKK members from northern Iraq attacked a gendarme station near the border, killing two soldiers. The bombings killed 20 militants, the military sources said. No further details were available. Earlier in the day three people were killed and a dozen injured in a series of explosions in the region blamed on the Kurdish separatist guerrillas. [More>>alarabiya.net]
---
5.11.08 Fighting spreads to Mount Lebanon
May 11 - Heavy fighting has broken out between pro-government and opposition supporters in Lebanon's central mountains overlooking the capital, Beirut. Machinegun fire and loud explosions rocked several villages in the district of Aley, including Aaytat and Baysur on Sunday. Intense fighting was also reported in Shwayfat. Walid Jumblatt, a member of the ruling coalition and leader of the country's Druze community, urged Talal Arslan, his political rival allied with the Hezbollah-led opposition, to place the affected regions under army rule. [More>>aljazeera.net]
---
EDITORIALS
09.11.05 When a nation lacks a competent leader it invites disaster – the legacy of Bush
08.13.05 "Using force the George W. Bush way – Bush's crusade"
11.25.04 Why the Crusade & Jihad?
---
*Visitor statistics on maravot.com from 1&1. com. 46,153 page views in May 2007; 45,000 in Feb. 2008.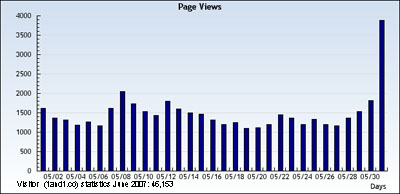 Privacy Policy: We do not store any personal data from you. We have no way of knowing any vital information about you – not even your name. Third-party distribution: We do not distribute information about your site usage to any third party. We are not responsible for the content of links from our site. Usage data: supplied by our Web Hosting service, 1and1.com, which consists of usage reports, such as page views / impressions and web pages visited, visitors' servers and geographical data (ISP's and country of origin).

---
Launched: 10.25.04 / 11.02.04 – —
Updated: 5.11.08; 5.12.08; 5.13.08; 5.14.08; 5.15.08; 5.16.08; 5.17.08; 5.18.08; 5.19.08
Copyright © 1981-2008 Maravot. All rights reserved
Copyright © 1981-2008 Mel Copeland. All rights reserved
Background: tile from Cicero's villa (Marcus Tullius Cicero 106 B.C. - 43 B.C.)