News Headlines & Trends
---
6.09.08
Saudi Arabia seeks oil price curb
RIYADH, Saudi Arabia (AP) June 9 - Saudi Arabia says it will call for a meeting of oil producing countries and consumers to discuss soaring oil prices and work to prevent an unjustified rise in prices. Information and Culture Minister Iyad Madani says the kingdom will work with OPEC to "guarantee the availability of oil supplies now and in the future." In a statement following the weekly Cabinet meeting on Monday, the minister said Saudi Arabia will also work to control "unwarranted and unnatural" price hikes. He said that the current price of oil is unjustified [>cnn.com]
---
6.09.08 Algeria bus station bomb kills 20 people
ALGIERS (Reuters) June 9 - A bomb exploded on Monday at a bus station in a town east of Algiers, killing 20 people, a security source said. The bomb went off in Bouira, some 120 km (75 miles) from the capital, the source said. There was no immediate claim of responsibility. It was the fourth deadly bomb attack in six days in regions east of the capital of the oil and gas exporting North African country. [More>>khaleejtimes.com]
---
6.09.08 US: 5 suspected militants killed in Iraq raids
BAGHDAD (AP) June 9 - US soldiers under heavy fire during a raid Monday in northwestern Iraq called in airstrikes and killed five suspected al-Qaeda in Iraq militants, the military said. Meanwhile, a parked car packed with munitions exploded near a passing Iraqi army patrol in eastern Baghdad, killing three civilians and an army lieutenant, police said. The explosion wounded at least 12 others, and damaged several cars and shops in a busy commercial district of Karrada, an officer said on condition of anonymity because he was not authorized to talk to media. The US military said it also detained 13 suspects and destroyed a "foreign terrorist hideout" in two days of operations targeting al-Qaeda in Iraq across the country. [More>>indianexpress.com: hosted.ap.org]
---
6.08.08 Oprah overload means we're turning off
June 8 - Is it time for Oprah Winfrey to get off the couch? Perhaps not quite yet, but there are signs the world is suffering from too much Oprah. After decades of being touted as the most powerful woman in the United States, if not the world, cracks are starting to appear in the seemingly invincible Winfrey empire. It used to be enough for Oprah, 54, to smile serenely and make a few banal feel-good remarks to arouse cheers from her studio audiences. Her program is seen in Australia on Channel 10, Monday to Friday.
A kind mention of a book by Oprah could make a struggling author of bad fiction an overnight star. She had the power to make or break lives, and the fans loved her for it. This was Oprah, the woman with a $2.5 billion empire that Vanity Fair magazine described as having "more influence on the culture than any university, president, politician or religious leader, except perhaps the Pope."

...But ratings for her TV show have dropped 7 per cent in the US in the past year - the third year of declining figures. That's a loss of more than a quarter of her female audience aged 25 to 54 — two million viewers — since 2004. The circulation of O, the Oprah magazine in which she is the cover girl every month, has fallen more than 10 per cent in the past three years, to about 2.4 million. Her latest television venture, Oprah's Big Give — in which the billionaire businesswoman provides gifts for the needy — was cancelled after one short season. The TV charity show didn't rate well.
The school she set up for disadvantaged girls in South Africa, the Oprah Winfrey Leadership Academy for Girls, has been beset by problems and accusations of abuse...Some of the decline in Oprah's popularity among her US prime audience — middle-aged white women - has been attributed to her effusive endorsement of Barack Obama for president. Most of Oprah's fans, she discovered, were supporters of Hillary Clinton. [Full story>>news.com.au]
---
6.08.08 Leader of Basra assassination squad captured
BAGHDAD (AP) June 8 - US soldiers in Baghdad captured an Iraqi arms dealer and assassination squad leader...responsible for trafficking Shia extremists in and out of neighboring Iran for training, the military said on Sunday. The arrest came as Iraqi Prime Minister Nouri al-Maliki was visiting Iran and was expected to raise with its leaders the long-time US allegations that Teheran arms, trains and funds Shia Muslim militiamen inside Iraq. Teheran denies the charges.
The Iraqi prime minister, himself a Shia, is struggling to keep Washington happy while reassuring Iran, the largest Shia nation, that a proposed US-Iraqi security agreement would not make his country an American launching pad for attacks on Iran. [More.>khaleejtimes.com]
---
6.08.08 Biotech giants demand a high price for saving the planet
June 8 - Giant biotech companies are privatizing the world's protection against climate change by filing hundreds of monopoly patents on genes that help crops resist it, a new investigation has concluded. The study — by the authoritative Action Group on Erosion, Technology and Concentration (ETC Group), based in Ottawa, Canada — has found that nine firms have filed at least 532 patents around the world on about 55 different genes offering protection against heat, drought and floods. If granted, the companies would be given control of crucial natural raw material needed to maintain food supplies in an increasingly hungry world...Small farmers in developing countries will be particularly hard hit by such "climate-change profiteering". Patenting will make the crops expensive and ensure that poor farmers have to buy them every year, by prohibiting them from saving seeds from one harvest to grow for the next. [Full story>>independent.co.uk]
---
6.07.08 Ending her bid, Clinton backs Obama
WASHINGTON, June 7 - Asks supporters to rally behind her former rival. Senator Hillary Rodham Clinton formally threw her support behind Senator Barack Obama on Saturday, clearing the way for Mr. Obama to head into the general election with a plan to challenge Senator John McCain in typically Republicans states. Mrs. Clinton, speaking here to an audience of advisers and supporters who had been invited to attend from across the country, used the final rally of her presidential campaign to end her barrier-breaking bid for the presidency and endorse Mr. Obama. She pledged that she would do what it takes to help Mr. Obama win the White House.
In her last rally as a presidential candidate, Mrs. Clinton expressed deep gratitude to the voters. who had cast ballots for her. She suspended her campaign, rather than officially ending it. That's a technicality that will allow her to raise money to retire her debt and to control the delegates she won. It is not an indication that she has any intention of resuming it. [More>>nytimes.com]
---
6.07.08 Car bombings in Baghdad leave at least 6 dead
BAGHDAD (AP) June 7 - A suicide car bomb and another car packed with explosives targeted Iraqi police patrols Saturday on opposite sides of Baghdad, killing at least six people, police said. The suicide attacker rammed into a police patrol mid-afternoon in Nisoor Square on the capital's west side, killing a civilian and a policeman, police said. Another five people were wounded.
The other explosion took place nearly simultaneously across town at a crowded bus stop where passengers were lining up to catch rides to eastern Shiite neighborhoods, though police said the target was the passing convoy of a top Iraqi police general. Four people were killed and 18 wounded, Brig. Gen. Nazar Majeed among them, said an officer on condition of anonymity because he was not authorized to talk to media. Three of the dead were policemen, he said. [More>>indianexpress.com: hosted.ap.org]
---
6.07.08 Who's the last visitor Brown needed at a time like this? Step forward George Bush
June 7 - George Bush will face protests and demands that he be charged as a war criminal over the Iraq conflict when he makes his final visit to Britain as US President next weekend. Mr. Bush and the first lady, Laura Bush, will be entertained by the Queen at Windsor Castle during the state visit and will have dinner at Downing Street with Gordon Brown. But leading voices in the worlds of the arts and politics, including the novelist Iain Banks, the artist David Gentleman and the human rights campaigner Bianca Jagger, have now joined forces to call for Mr. Bush to face a war crimes trial in the Hague.
Labour MPs and the cross-party Coalition Against the War in Iraq are preparing a national demonstration against the visit. They will deliver protest letters to Downing Street and carry handcuffs as a symbol of their claims that the President is a war criminal. Andrew Murray, the chair of the Stop the War Coalition, said: "George Bush should be in The Hague facing war crimes charges over the hundreds of thousands of civilians killed in Iraq since 2003, not being entertained in Downing Street. Gordon Brown doesn't need a policy brief for this meeting, just a pair of handcuffs." Clare Short, the former cabinet minister, said the disclosures in The Independent this week that the US is planning permanent bases in Iraq would increase the anger against the Bush visit and put pressure on Mr. Brown. [More>>independent.co.uk]
---
6.07.08 Hong Kong finds H5N1 bird flu in poultry market
HONG KONG, June 7 - Hong Kong has found the feared H5N1 bird flu virus at a poultry stall in one of the territory's many markets and ordered the culling of 2,700 birds, a government spokeswoman said on Saturday. The official said Hong Kong had banned poultry imports from mainland China for 21 days, as well as from local farms in the territory, while it worked to discover the source of the infection.

She added there had been no human infection detected. The virus was discovered in the Po On Road market in the city's Sham Shui Po neighbourhood. It is not the first appearance of the disease in the territory, with infected wild birds discovered in 2007. Since the virus resurfaced in Asia in late 2003, it has killed 241 people in a dozen countries, according to the World Health Organization (WHO). [>thenews.com.pk; Editorial note - the death rate from H5N! on humans has been reported as 50% and in some cases as high as 80%. Compare this to the "Spanish flu" of WWI which had a death rate of 10% and killed millions across the globe.
---
6.07.08 Record oil spike, high jobless rate sink stock market
June 7 - A soaring jobless rate, an unprecedented jump in oil prices and a sliding dollar sent tremors through financial markets yesterday and cast fresh doubt on how soon the US economy would be able to break out of a pattern of feeble growth and financial instability. The nation's unemployment rate shot skyward last month to 5.5 percent, the biggest leap in more than two decades, and crude oil prices rocketed up $10.75 a barrel, sending US stock markets tumbling and shaking the economic and political landscape just as the general election season begins.
It was one of the worst days of economic news in a year already well-stocked with disappointment. The Dow Jones industrial average reacted by plunging 394.64 points, or 3.13 percent, its sharpest decline since Feb. 27, 2007. Other major indicators also dropped about 3 percent. "Today's events are a combination of really nasty news for American consumers," said Andrew Tilton, a senior economist at Goldman Sachs. Crude oil prices hit a new trading record of more than $139 a barrel before settling at $138.54. This more than erased a drop earlier in the week and promised further increases in motor fuel prices. The nationwide average is already just a penny shy of $4 a gallon for regular gasoline. [More>>washingtonpost.com]
---
6.07.08 Russia blames US for global financial crisis
ST. PETERSBURG, Russia (Reuters) June 7 - Russian President Dmitry Medvedev blamed "aggressive" United States policies on Saturday for the global financial crisis and said Moscow's growing economic muscle could be part of the solution. "Failure by the biggest financial firms in the world to adequately take risk into account, coupled with the aggressive financial policies of the biggest economy in the world, have led not only to corporate losses," Medvedev told Russia's main annual event for international investors in St. Petersburg. "Most people on the planet have become poorer." The Kremlin leader said investment by cash-rich Russian companies abroad, promotion of Moscow as a major financial centre and use of the rouble as a reserve currency were part of the answer. [More>>khaleejtimes.com]
---
6.07.08 Swiss bank secrecy at risk as America presses UBS for 20,000 client names
June 7 - The veil of secrecy that has protected the wealthy clients of Swiss banks for centuries was under severe threat last night after the US Justice Department moved to force UBS to reveal the names of 20,000 clients. The US Government believes that the Swiss bank has helped some of the wealthiest Americans to evade $300 million (£152 million) in taxes.
Under Swiss law, UBS can reveal clients' identities to a foreign regulator or law enforcer only if ordered to do so by the Swiss Government. However, the US Justice Department is discussing a settlement with UBS under which the department would make a request to the Swiss authorities for the names of the bank's American clients. UBS declined to comment on any aspect of the Justice Department's investigations except to say that it was treating them "with the utmost seriousness." [More>>timesonline.co.uk]
---
6.07.08 Paradise lost: climate change forces South Sea islanders to seek sanctuary abroad
June 6 - After years of fruitless appeals for decisive action on climate change, the tiny South Pacific nation of Kiribati has concluded that it is doomed. Yesterday its President, Anote Tong, used World Environment Day to request international help to evacuate his country before it disappears. Water supplies are being contaminated by the encroaching salt water, Mr. Tong said, and crops destroyed. Beachside communities have been moved inland. But Kiribati — 33 coral atolls sprinkled across two million square miles of ocean — has limited scope to adapt. Its highest land is barely 6 feet above sea level.
Speaking in New Zealand, Mr. Tong said i-Kiribati, as his countrymen are known, had no option but to leave. "We may be beyond redemption," he said. "We may be at the point of no return, where the emissions in the atmosphere will carry on contributing to climate change, to produce a sea level change so in time our small, low-lying islands will be submerged." ...Kiribati — a former British colony called the Gilbert Islands — is home to 97,000 people, most of them squeezed into the densely populated main atoll, Tarawa, a chain of islets surrounding a central lagoon. Along with other low-lying Pacific island nations such as Tuvalu, the Marshall Islands and Vanuatu, it is regarded as one of the places most vulnerable to climate change. [Full story>>independent.co.uk]
---
6.07.08 Holdouts at FEMA trailer park test aid's limits
BAKER, La, June 7 - Theresa August spent the official closing day of the Renaissance Village trailer park singing, muttering to herself and dancing on a picnic table. Finally, wearing an infant's flowered onesie on her head like a kerchief, she began to pack up...The closing of Renaissance Village, near Baton Rouge, and the other remaining FEMA parks represents the final chapter in one of the largest and most tumultuous efforts by the federal government to provide emergency housing to a displaced population. Over the course of two years and nine months, the Federal Emergency Management Agency put up 9,000 families in trailer parks scattered around the Gulf area, where residents endured cramped, inadequate and often poisonous conditions.
Many Louisiana residents shared a similar reaction to the announcement that the parks would close at the end of May: It's about time. After all, more than 800 families had passed through Renaissance Village's gates and managed to move on with their lives in their own homes. Why not the rest? [Full story>>nytimes.com]
---
6.06.08 Obama clarifies united Jerusalem comment
WASHNGTON, June 6 - Presumptive Democratic presidential nominee Barack Obama did not rule out Palestinian sovereignty over parts of Jerusalem when he called for Israel's capital to remain "undivided," his campaign told The Jerusalem Post Thursday. "Jerusalem will remain the capital of Israel, and it must remain undivided," Obama declared Wednesday, to rousing applause from the 7,000-plus attendees at the American Israel Public Affairs Committee policy conference.
But a campaign adviser clarified Thursday that Obama believes "Jerusalem is a final status issue, which means it has to be negotiated between the two parties" as part of "an agreement that they both can live with."

"Two principles should apply to any outcome," which the adviser gave as: "Jerusalem remains Israel's capital and it's not going to be divided by barbed wire and checkpoints as it was in 1948-1967." He refused, however, to rule out other configurations, such as the city also serving as the capital of a Palestinian state or Palestinian sovereignty over Arab neighborhoods. "Beyond those principles, all other aspects are for the two parties to agree at final status negotiations," the Obama adviser said. [More>>jerusalempost.com; See also alarabiya.net, June 6, "Israel has legitimate claim on Jerusalem: Obama." : ...Asked if he opposed any division of Jerusalem, Obama said: "As a practical matter, it would be very difficult to execute. And I think that it is smart for us to — to work through a system in which everybody has access to the extraordinary religious sites in Old Jerusalem but that Israel has a legitimate claim on that city."

Editorial note: The legal documents involved in the founding of Israel provided for Israeli and Palestinian states plus the Corpus Separatum of Jerusalem which was governed by the United Nations. A requirement of the UN resolution that created these three entitites in 1948 was that both the Jews and the Palestinians must prepare Declarations of Independence, to meet all the terms of the UN resolution of 1948, to be submitted for approval by the UN. Israel submitted its document which was approved. The Palestinians never submitted a document. The Declaration of Independence was designed as the "basic law of the land."

This is one of the clauses in the Israeli Declaration of Independence of 1948:

(Declaration of Independence, 1.13) The State of Israel..will foster the development of the country for the benefit of all inhabitants; it will be based on freedom, justice and peace as envisaged by the prophets of Israel; it will endure complete equality of social and political rights to all its inhabitants irrespective of religion, race or sex; it will guarantee freedom of religion, conscience, language, education and culture; it will safeguard the Holy Places of all religions; and it will be faithful to the principles of the Charter of the United Nations."
When people comment about the preferred status of Israel and Palestine one might hope that they would at least have read the documents by the UN and Israel that establish the legal foundations of the argument. Obama has apparently not read them. We have discussed these legal foundations repeatedly and at length, i.e.,:
Editorial note to Maravot News May 8, 2008, "British PM: Israel's creation one of the 20th century's 'greatest achievements' "

Editorial note to Maravot News, April 13, 2006, "Hamas 'willing' to recognize Israel"

Editorial note to Maravot News August 16, 2005, "Police arrest three far-rightists trying to enter Temple Mount."

Maravot News February 5, 2006 and November 24, 2004, "Why the Crusade and Jihad?"

"Phylistia Triumph thou because of me," (a document that refers to Psalm 60.8)

Mel Copeland
---
6.06.08 Israel to attack Iran unless enrichment stops
JERUSALEM (Reuters) June 6 - An Israeli attack on Iranian nuclear sites looks "unavoidable" given the apparent failure of sanctions to deny Tehran technology with bomb-making potential, one of Prime Minister Ehud Olmert's deputies said on Friday. "If Iran continues with its programme for developing nuclear weapons, we will attack it. The sanctions are ineffective," Transport Minister Shaul Mofaz told the mass-circulation Yedioth Ahronoth newspaper. "Attacking Iran, in order to stop its nuclear plans, will be unavoidable," said the former army chief who has also been defence minister. [More>>khaleejtimes.com]
---
6.06.08 Dow falls almost 300 points as oil prices jump $8
June 6 - Crude oil prices rose and the stock markets fell sharply Friday morning, as new reports renewed concerns about the state of the economy. The price of oil surged more than $7 a barrel Friday morning, the biggest gain in more than three months, sending the stock market into a nose-dive and reversing Thursday's gains. Investors are worried that the rising price of oil, coupled with bleak unemployment data that was released Friday morning, will continue to hurt businesses and suppress consumer spending in an already-weak economy. [More>>nytimes.com]
---
6.06.08 Zimbabwe halts opposition rallies
June 6 - Zimbabwe's authorities have stopped opposition presidential candidate Morgan Tsvangirai from campaigning for the 27 June election. The order banning "several future rallies" came after police briefly detained Mr. Tsvangirai ahead of a rally in the second-largest city of Bulawayo. The length or extent of the ban, which cites security fears, is not yet clear.
It comes soon after the government banned food aid distribution, saying agencies were helping the opposition. Relief organizations reject the charges, warning that Zimbabwe's "desperate" situation could get even worse. They had been hoping to feed around 600,000 people this month, as the country has just had its harvest. [More>>bbc.co.uk]
---
6.06.08 Coalition forces claim to kill 20 militants in Afghanistan
KABUL, June 6 - The US-led coalition in Afghanistan has claimed to kill about 20 militants in the east of the country. A coalition spokesman in Kabul has said the air strike occurred in Paktika province. The region borders Pakistan. However, Afghan police officials said the attack was in Orgun district, where US forces have a base. Spokesman said 32 militants died, including foreign fighters. [>thenews.com.pk]
---
6.06.08 Six Algerian soldiers die in bomb attack
Algiers (Reuters) June 6 - Six Algerian soldiers were killed and four others wounded in a bomb attack by Islamic rebels, a local newspaper reported on Friday. The soldiers were returning to their barracks from an unspecified mission at the coastal village of Cap Djinet, about 40 km (20 miles) east of Algiers, when their convey hit a bomb planted by rebels, El Watan daily said on its Web site. [More>>khaleejtimes.com]
---
6.06.08 2 Shiite militia leaders surrender in Iraq
BAGHDAD (AP) June 6 - Two suspected Shiite militia leaders surrendered Friday during raids by U.S. forces, while tens of thousands of Shiite faithful streamed out of mosques to join protests against a security agreement with the United States. Such rallies have erupted weekly following a call by anti-American cleric Muqtada al-Sadr, who opposes the deal, which could lead to a long-term US troop presence in Iraq. The arrests and demonstrations came on the eve of Prime Minister Nouri al-Maliki's trip to Iran, the second such visit in a year. A US campaign against Shiite militiamen and the US-Iraq security pact would likely be on the agenda for his talks there.
One of the men who surrendered early Friday is suspected of ordering attacks on US troops, directing the kidnapping of Iraqis and smuggling Iranian weapons and Katyusha rockets into Iraq, according to a statement from the US military. The other suspect tried to flee by wading through an irrigation canal, before turning himself over to US soldiers. The US said the men were members of Iranian-backed "special groups" - language the American military uses to describe Shiite fighters defying al-Sadr's cease-fire order. [More>>expressindia.com: hosted.ap.org]
---
6.06.08 Pakistani police say they foiled major terror plot
ISLAMABAD (AP) June 6 - Pakistan seized three bomb-laden vehicles and arrested three suspected suicide attackers, uncovering a terror plot just days after an assault on the Danish Embassy, officials said Friday. Authorities ramped up security near the enclave where most foreign diplomatic missions are located. The US Embassy strongly advised Americans to limit nonessential movement in the capital and nearby Rawalpindi. "They (the suspects) had very destructive designs," city police chief Nasir Durrani told The Associated Press. "They wanted to create mayhem on a wide scale." [More>>indianexpress.com: hosted.ap.org; See also independent.co.uk, June 6, "Explosives haul found in Pakistan vehicles" : Pakistan authorities have seized two vehicles carrying large amounts of explosives, foiling a possible terror plot near Pakistan's capital, officials said...
---
6.05.08 Fuel price hikes spark protests in India and Malaysia that could undermine governments
KUALA LUMPUR (AP) June 5 - Protests broke out in India and Malaysia on Thursday as consumers reacted angrily to sharp fuel price hikes that could undermine governments in both countries. With global oil prices soaring, authorities in the two countries said a day earlier they were slashing fuel subsidies that were draining government coffers. In Malaysia, gasoline pump prices jumped 41 percent overnight and diesel prices surged a stunning 67 percent. The gasoline price hike in India, the second this year, was smaller — about 11 percent in the capital, New Delhi — but will still weigh on consumers. India also raised prices on diesel and cooking gas.
The most pronounced protests were in India's West Bengal state, where schools and businesses were closed and flights and trains canceled. Shops were also shuttered and roads emptied in the southern state of Kerala, with protests also reported in the central city of Indore. India's communist parties, which control both Kerala and West Bengal, have called for a week of protests across the country, saying import duties on oil should be further cut instead of raising retail prices. In Malaysia, long lines of vehicles formed at gasoline stations overnight to fill up before midnight when the new pricing came into effect, and brawls broke out as some motorists tried to cut in line. [More>>thejakartapost.com; See also thestar.com.my, June 5, "Petrol price up by 78 sen.."]
---
6.05.08 Zimbabwe police arrest British and American diplomats at gunpoint
June 5 - A group of British and American diplomats were detained at gunpoint in Zimbabwe today after being stopped at a police roadblock. US officials said that five Americans and four Britons have been held for some five hours after their convoy was stopped in Bindura. The White House denounced the Zimbabwean action as an "outrageous" and "completely unacceptable" attack. Details of the incident are unclear but the US Ambassador to Zimbabwe, James McGee — who was himself briefly detained with other diplomats last month — told CNN from Harare that the confrontation turned violent. [More>>timesonline.co.uk; See also nytimes.com]
---
6.05.08 Spanish court charges 9 Pakistanis
MADRID, June 5 - A Spanish court has charged 11 Muslim men, including 9 Pakistanis, with plotting a suicide attack on Barcelona's transportation network. They were alleged in an indictment released today to have planned to carry out the attack between Jan. 18 and 20. They are accused of belonging to a terrorist group and possessing explosives. Nine of the suspects are Pakistani, one is Indian and the other's nationality wasn't given. [>thenews.com.pk]
---
6.05.08 Senate panel finds Iraq intelligence exaggerations
WASHINGTON, June 5 - In a report long delayed by partisan squabbling, the Senate Intelligence Committee on Thursday accused President Bush and Vice President Cheney of taking the country to war in Iraq by exaggerating evidence of links between Saddam Hussein and al-Qaeda in the emotional aftermath of the Sept. 11, 2001 terrorist attacks. "The president and his advisers undertook a relentless public campaign in the aftermath of the attacks to use the war against al-Qaeda as a justification for overthrowing Saddam Hussein," Sen. John D. Rockefeller IV, the committee's Democratic chairman, said in a statement accompanying the 171-page report.

The committee's report cited some instances in which public statements by senior administration officials were not supported by the intelligence available at the time, such as suggestions that Saddam Hussein's Iraq and Osama bin Laden's al-Qaeda were operating in a kind of partnership, that the Baghdad regime had provided the terrorist network with weapons training, and that one of the Sept. 11 hijackers had met an Iraqi intelligence operative in Prague in 2001.[More>>nytimes.com]
---
6.05.08 Home foreclosures set record in first quarter
WASHINGTON (AP) June 5 - Home foreclosures and late payments set records over the first three months of the year and are expected to keep rising, stark signs of the housing crisis' mounting damage to homeowners and the economy. The latest snapshot of the mortgage market, released Thursday, showed that the proportion of mortgages that fell into foreclosure soared to 0.99 percent in the January-through-March period. That surpassed the previous high of 0.83 percent over the last three months in 2007.
The report by the Mortgage Bankers Association also found that more homeowners slipped behind on their monthly payments. The delinquency rate jumped to 6.35 percent in the first quarter, compared with 5.82 percent for the three months earlier. Payments are considered delinquent if they are 30 or more days past due. [More>>washingtonpost.com; See related story, timesonline.co.uk, June 5, "(Britain) Average house prices plunge by £4,000 in May."]
---
6.05.08 Hong Kong's websites the world's riskiest
HONG KONG (AFP) June 5 - Hong Kong websites are the most likely to hit visitors with unwanted ads, viruses and spam, research from an Internet security company has found. More than 19 percent of websites using the ".hk" domain name pose a security threat to visitors, the research by United States software firm McAfee found. China-based sites are the second most risky with 11 percent, while those from Finland and Japan are the two safest. Romanian and Russian sites were also a threat to web users.
Last year, the survey ranked Hong Kong as only the 28th most risky Internet location. "Just like the real world, the virtual threats and risks are constantly changing. As our research shows, websites that are safe today can be dangerous tomorrow," said Jeff Green, senior vice president at McAfee. "Surfing the Web based on conventional wisdom is not enough to avoid risk online."
The study looked at 9.9 million well-visited websites in 265 countries and ranked them by the amount of adware, spyware, viruses, spam, excessive pop-ups, browser exploits or links to other problem sites. The generic domain name ".info" was considered the most problematic, the survey found, while ".gov" was the safest. Hong Kong and China are often cited as the source of much of the world's spam — unwanted email messages that fill computer users' inboxes. [>khaleejtimes.com; See more details, mcafee.com]
---
6.05.08 Turkey's top court re-imposes headscarf ban
ANKARA, June 5 - Turkey's top court on Thursday annulled a law allowing women to wear Islamic headscarves in universities, on grounds that it violated the country's secular principles, a court statement said. The 11-judge tribunal ruled against the law because it ran counter to constitutional provisions which say Turkey is a secular republic and that this principle is unalterable, the brief statement said. The law, pushed through by the ruling Justice and Development Party (AKP), was central to a case that seeks to ban the party on charges that it is covertly seeking to replace the secular order with an Islamist regime. [More>>alarabiya.net]
---
6.05.08 Report: Iran, Turkey strike rebels in Iraq
June 5 - A Turkish TV station is quoting a senior military commander as saying that Turkey and Iran have carried out coordinated strikes against Kurdish rebels in northern Iraq. CNN-Turk television reports that Gen. Ilker Basbug has confirmed for the first time that the two countries share intelligence against the rebels. He said the two countries plan to launch more coordinated operations against the rebel group in the future. [More>>cbsnews.com]
---
6.04.08 Obama clinches Democratic nomination
June 4 - With Senator Barack Obama crossing the threshold of delegates needed to win the Democratic presidential nomination, party leaders began to move on Wednesday to bring the lengthy primary battle to a close and unite the party, even as questions swirled about Senator Hillary Rodham Clinton's next move. In the morning, a group of top Democratic leaders asked all of the party's uncommitted superdelegates, the officials and party leaders who get automatic convention seats, to make their preferences known by Friday.
While the group of leaders — including the chairman of the Democratic National Committee, Howard Dean; the Speaker of the House, Nancy Pelosi; the Senate Majority Leader, Harry Reid; and Gov. Joe Manchin of West Virginia — did not formally endorse Mr. Obama or urge Mrs. Clinton to exit the race, they said in a joint statement: "Democrats must now turn our full attention to the general election." They added that the party needed to "stand united and begin our march toward reversing the eight years of failed Bush/McCain policies that have weakened our country." Other party leaders began to coalesce behind Mr. Obama, including Representative Rahm Emmanuel, of Illinois, a former aide in the Clinton White House but also a close friend of Mr. Obama. [More>>nytimes.com; See also washingtonpost.com, June 4, "Clinton's Vice Presidential campaign."]
---
6.04.08 US nets 2 al-Qaeda suspects, Shia leader in Iraq
BAGHDAD (AP) June 4 - American troops grabbed two al-Qaeda in Iraq bombing suspects and a Shia militia leader Tuesday in separate raids north and south of Baghdad, the US military said.The command also said US soldiers killed four other suspects a day earlier after coming under fire from machine guns and rocket-propelled grenades in Shia sections of the capital. The troops seized dozens of rifles and several rounds of ammunition, the statement said.
One of the two al-Qaeda suspects, who was captured with four aides in Mosul, is believed to have overseen security for the group's branch in that northern city, the military said. Mosul is one of the terror network's last urban strongholds and the target of a joint US-Iraqi operation. The man, who was not identified by name, is also suspected of masterminding bombings against Iraqi police in the area, the US military said.
The other al-Qaeda in Iraq su0pect was apprehended along with an assistant in Tikrit, a Sunni Arab city south of Mosul. He allegedly helped organize suicide bombings and the movement of foreign fighters into the country, a US statement said. The suspected Shia militia leader and five associates surrendered without incident at his home in Kut, southeast of the Iraqi capital, the US said. He was accused of involvement in the murder of Iraqis and American soldiers, it said. [More>>khaleejtimes.com]
---
6.04.08 Obama: Jerusalem must remain the undivided capital of Israel
June 4 - Democratic presidential candidate Barack Obama assured the AIPAC Policy Conference Wednesday that he will be a staunch ally of Israel and will not negotiate with terrorist groups. "Jerusalem must remain the undivided capital of Israel," he said. He went on to discuss the history of the Jewish people, saying that from "decades of struggle." including the Holocaust, "Jews around the world, in the face of constant threat… have triumphed, prospered, and maintained vibrant and open discourse and commitment to the rule of law."
Israel, he said, "is not a perfect place," however it "sets an example for all when it seeks a more perfect future." Obama referred to the Jewish concept of tikkun olam, which he described as a "commitment embedded in Judaism. Now is the time to stand by Israel," he said, "now is the time to join together in the work of repairing this world." Obama said that he looks forward to being a "partner with AIPAC" in making this happen. [>jpost.com; See also thenews.com.pk, June 4, "Hamas slams 'hostility' of Obama's Israel speech."]
---
6.04.08 Saudi king calls for end to Islamic extremism
RIYADH, Saudi Arabia (AP) June 4 - Islam must do away with the dangers of extremism and present the religion's positive message, Saudi King Abdullah said Wednesday as he opened a conference of Muslim figures aimed at launching a dialogue with Christians and Jews. The three-day gathering in the holy city of Mecca seeks a unified Muslim voice ahead of the interfaith dialogue. In particular, Saudi Arabia hopes to promote reconciliation between Shiite and Sunni Muslims. "You have gathered today to tell the whole world that ... we are a voice of justice and values and humanity, that we are a voice of coexistence and a just and rational dialogue," Abdullah told the 500 Muslim delegates from 50 Muslim nations in his opening speech.
Abdullah walked into the conference hall Wednesday with powerful Iranian politician Akbar Hashemi Rafsanjani, who later sat on the king's left on the stage, sending a message that the Sunni kingdom does not have a problem with moderate Shiites like him. Saudi Arabia and mainly Shiite Iran are seen as top rivals for influence in the Middle East, standing on opposite sides of political divides in Lebanon, Iraq and the Palestinian territories.
Moreover, Saudi Arabia's official Wahhabi interpretation of Islam considers Shiites as infidels - and days ahead of Wednesday's gathering a number of hardline Wahhabi clerics issued a statement harshly condemning Shiites and Iran. Abdullah announced in March that he wanted to sponsor an interfaith dialogue between the world's monotheistic religions - specifically including Jews. It was the first such initiative from a nation with no diplomatic ties to Israel and a ban on non-Muslim religious services and symbols. He said Wednesday that the Islamic world faces difficult challenges from the extremism of some Muslims, whose aggressions "target the magnanimity, fairness and lofty aims of Islam." [More>>indianexpress.com: hosted.ap.org]
---
6.04.08 Two bombs explode east of Algiers
June 4 - Two bombs have exploded east of the Algerian capital Algiers, killing one person and wounding several others, witnesses and security officials have said. One bomb exploded in front of a cafe, and the other at the entry to military barracks in the district of Lido, they said. A double suicide bombing in December in Algiers killed dozens of people, including 17 UN workers. An al-Qaeda group claimed responsibility for that attack, but no claim has been made for Wednesday's attack. [>aljazeera.net]
---
6.04.08 3 US troops killed in northern Iraq
June 4 - Three US soldiers were shot dead Wednesday in northern Iraq, and the decaying bodies of at least 23 Iraqis were discovered in a shallow grave and a sewer shaft at separate sites near the capital. The Americans were killed when gunmen opened fire on them in the northern Iraqi village of Hawija, according to a brief military statement.

The area, once a hub for Sunni militants and disaffected allies of Saddam Hussein, is thought to have been pacified in recent months. Last year it hosted one of the largest sign-on ceremonies for tribal sheiks partnering with US forces to fight al-Qaeda in Iraq. The latest US deaths brought to at least 4,090 the number of US military personnel who have died in the Iraq war since it began in March 2003, according to an Associated Press count. [More>>cbsnews.com]
---
6.04.08 Police kill man in standoff over FEMA trailer
NEW ORLEANS, Louisiana (AP) June 4 - Police fatally shot the mentally ill occupant of a federally supplied trailer early Wednesday, ending a nearly 10-hour standoff in one of the neighborhoods hardest hit by Hurricane Katrina. Federal Emergency Management Agency workers alerted police Tuesday afternoon after a man with a handgun ordered them to leave the trailer in an overgrown, weedy lot in the affluent Lakeview neighborhood after an inspection, authorities said. The man, who police have not identified, locked himself inside a partly gutted two-story brick house next to the trailer. Police got in downstairs, but the man shot at them twice, causing no injuries, officials said.
Authorities shot the man around 2 a.m. after he pointed a handgun at officers who tried to arrest him, police said. The man later died at a hospital. The man's brother told police that he was mentally ill and had been untreated for years, according to a statement from Officer Garry Flot, a police spokesman. Rosemarie Brocato, who lives about a block away from the house, said the trailer was occupied only by Eric Minshew, who grew up in the house next to it. Brocato said she had told police, "He's sick. Please don't shoot him. He needs help." [More>>cnn.com]
---
6.03.08 Iran's Khamenei labels Bush 'mad'
June 3 - Iran's supreme leader has reaffirmed his country's commitment to a peaceful nuclear programme, while attacking George Bush, the US president as "mentally ill." Ayatollah Ali Khamenei told a ceremony honouring the late Ayatollah Ruhollah Khomeini, founder of the Islamic Republic, that Tehran had no interest in building nuclear weapons. "Look at behaviour of the US president and members of his team, their words are like those of the mentally ill," he said on Tuesday...With regards to accusations by the US and its allies that Iran is attempting to manufacture a nuclear weapon, Khamenei said that possessing such arsenal would be "useless." "No wise nation is interested in making a nuclear weapon," since it is not logical and cannot be used. [Full story>>aljazeera.net; See related stories that reflect different takes on Ahmadinejad's speech at the UN summit in Rome:

rian.ru, June 3, "Iran slams 'capitalists' for rising oil and food prices" : Iran's president told a UN-sponsored summit in Rome on Tuesday that "powerful capitalists," who are trying to stop the development of nuclear energy, are to blame for high oil and food prices...

jpost.com, June 3, " 'Zionism has damaged Europe' : Iranian President Mahmoud Ahmadinejad has again spoken out against Israel, saying that Europe has endured the "biggest damage" from the "Zionists." He spoke in Rome, on arrival for a UN food agency summit, according to a report Tuesday. "I do not believe that my declarations create problems," Ahmadinejad told reporters through an interpreter. "People like my comments, because people will save themselves from the imposition of the Zionists. European peoples have suffered the greatest damage from Zionists and today the costs of this false regime, be they political or economic costs, are on Europe's shoulders," he said...

thestar.com.my (Reuters) June 3, 'Ahmadinejad - Israel to vanish with or without Iran" : Israel will cease to exist with or without the involvement of Iran, President Mahmoud Ahmadinejad said on Tuesday, and Israel branded Iran a "neighbourhood bully" that must be met with firmness. Israeli Foreign Minister Tzipi Livni told a closed door meeting of Israeli lawmakers in Jerusalem that the international community must take decisive action on Iran and reiterated that military action was an option. On Monday, Ahmadinejad said in Tehran that the "satanic power" of the United States faced destruction and that the Jewish state would soon disappear from the map, a theme he returned to on Tuesday...

earlier Maravot News article, June 2, "Ahmadinejad's past tells it all"
---
6.03.08 Senate panel probes whether speculators are manipulating prices
NEW YORK, June 3 - High oil prices, driven by decreasing crude supplies and increasing demand could drive the US economy into a recession, George Soros, the famous fund manager and commodities investor, told lawmakers Tuesday. The Senate Commerce Committee held a hearing on Capitol Hill in an attempt to find out if oil prices are being manipulated by speculators, what can be done to regulate commodities trading, and what effect high oil prices have on the economy. [More>>cnn.com]
---
6.03.08 Death toll from bombing in Iraq's Mosul rises to 13
MOSUL, Iraq (AFP) June 3 - The death toll from a suicide car bombing against the main police headquarters in the northern Iraqi city of Mosul has risen to 13, including children, police said on Tuesday. Four more people succumbed to their injuries suffered in the Monday night bombing in the centre of Mosul, Iraq's third largest city, police Colonel Saad al-Juburi said.
He said five policemen and two children aged three and seven years were among those killed. The other victims were civilian passers-by, he said. Juburi said 43 people were in hospital following the bombing, the deadliest in the northern province of Nineveh since security forces began a crackdown against insurgents on May 14. [More>>metimes.com]
---
6.03.08 Zimbabwe suspends aid group
JOHANNESBURG, June 3 - The Zimbabwean government has suspended all the humanitarian work of CARE, one of the largest nonprofit groups working in the country, because of allegations that it sided with the political opposition party in the current election season. CARE provides assistance to 500,000 of Zimbabwe's most vulnerable people, including orphans, the sick and the elderly. This month, it would have fed more than 110,000 people in schools, orphanages, old age homes and through other programs.
Speaking at a United Nations food conference in Rome, President Robert Mugabe attacked the activities of nongovernmental organizations and accused the West of conspiring "to cripple Zimbabwe's economy" and bring about "illegal regime change."
"Funds are being channeled through nongovernmental organizations to opposition political parties, which are a creation of the West," Mr. Mugabe said. "These Western-funded NGOs also use food as a political weapon with which to campaign against government, especially in the rural areas." [More>>nytimes.com; See also, timesonline.co.uk, June 3, "Robert Mugabe: UK to blame for Zimbabwe's starving."]
---
6.03.08 Former GOP staff member pleads guilty to fraud charge
June 3 - The chief of staff to a former senior member of the House Appropriations Committee pleaded guilty yesterday to conspiring to commit fraud, becoming the latest casualty of the scandal centered on disgraced former lobbyist Jack Abramoff. John C. Albaugh admitted to accepting gifts -- including tickets to sporting events, concerts by groups such as the Wiggles and a Disney on Ice show -- in exchange for helping lobbyists and their clients, according to prosecutors.
Albaugh is scheduled to be sentenced in September. He faces as much as two years in prison and has agreed to become a cooperating witness under an agreement with the Justice Department. He is the latest former official caught in the investigation of Abramoff and his illicit dealings with some members of Congress and Bush administration officials. Fourteen lobbyists and public officials have either pleaded guilty to, or been convicted of, charges as a result of the investigation into Abramoff's activities, the Justice Department said yesterday. [More>>washingtonpost.com]
---
6.03.08 Australian PM criticizes former government over Iraq commitment
CANBERRA, June 2 - Australian Prime Minister Kevin Rudd on Monday attacked the previous government for committing Australia to the Iraq war. Making a ministerial statement before parliament's question time, Rudd said the Labor Party had never supported the Howard government's decision to go to war back in March 2003.

Former prime minister John Howard had at the time presented four reasons for going to war: to prevent further terrorist attacks, to stop Iraq giving weapons of mass destruction (WMD) to terrorists, to prevent other rogue states giving WMD to terrorists and to put an end to the humanitarian crisis in Iraq. But Rudd said on every count the Labor rejected these arguments, as further terrorist attacks have not been prevented, no evidence of a link between WMD and the former Iraqi regime and terrorists have been found, the actions of rogue states have not been moderated, nor have the humanitarian crisis in Iraq been removed. More>>xinhuanet.com]
---
6.02.08 Ahmadinejad's past tells it all
June 2 - In just three years Mahmoud Ahmadinejad, Iran's controversial president, has become a household name. It is worth noting that for a man whose name is mentioned so much, not much is known about him and his past. Indeed, even his official biography lacks a lot of information. But grasping who is Ahmadinejad and where he comes from proves how dangerous this man really is. Ahmadinejad was born in 1956 to a poor family. In his just-released book, "The Bomb and the Koran," French journalist Michel Taubmann masterly delved into Ahmadinejad's biography.

Taubmann unveils many unknown facts about the current Iranian president: for instance, his mother's name is Sayeed Khanom, which indicates that she is a descendant of the Prophet; but his father's pedigree is much less glorious. His name was originally Sabarian, which is most certainly an Arabic name (an insult for most Iranians). Interestingly his father whose first name was Ahmad changed his family name to Ahmadinejad, which could translate in "of the race of the prophet" since Ahmad was one of the multiple names used by the prophet.

...While reports on Ahmadinejad's presence among the captors of the US embassy in Tehran remain so far somewhat unconfirmed, what is almost sure is that Ahmadinejad had a hand in the planning of the operation. He also allegedly suggested storming the Soviet embassy at the same time as the United States. During the Iran-Iraq war (1980-1988), he joined the special forces of the Islamic Revolution Guards Corps and became one of the senior commanders of the elite Qods (Jerusalem) Force.

According to the Baztab Web site, close to former Iranian president Akhbar Hashemi Rafsanjani, Ahmadinejad was a close associate of Ayatollah Malahati, who was among the people that set up Iran's terrorist activities. Malahati reportedly supervised the Oct. 23, 1983 Beirut terror attacks against the US Marines and French soldiers barracks that killed 241 US servicemen and 58 French paratroopers.In his new role Ahmadinejad allegedly planned assassinations in the Middle East and Europe of opponents to the regime, such as the Kurdish leader Qasselou in July 1989 in Vienna. Also, Ahmadinejad has reportedly been linked to a plot to kill British author Salman Rushdie.

...Not only numerous credible stories accuse Ahmadinejad of several murders, but he also earned a reputation of a callous torturer. In fact, according to several sources, Ahmadinejad worked in the infamous Evin prison where he was nicknamed "The Executioner" because he was the one inflicting the coup de grace to some prisoners.

...Ahmadinejad adheres to the Hojjatieh's interpretation of Shiism which holds a very messianic and apocalyptic view of the world. It actually predicts a period of universal chaos before the return of the Mahdi (the 12th imam, also known as the hidden imam). Interestingly even radical Ayatollah Khomeini banned Hojjatieh Shiism in 1983, but it was recently revived. Ahmadinejad sees politics as the "continuation of war by other means." When asked by students to define "what's the most beautiful for a Muslim on earth," he answered very matter of fact: "To kill and be killed." [Full story>>metimes.com; See background stories, Maravot News 5.08.08 "Ahmadinejad criticized for saying long-ago Imam Mahdi leads Iran." and crif.org, Jan 18, 2008, Conseil Representatif des Institutions de France, interview, "La bombe et le Coran."]
---
6.02.08 'Iraq troop pullout would harm Israel'
June 2 - US presidential candidate, Sen. John McCain on Monday criticized Democratic presidential candidate Sen. Barack Obama's calls for withdrawing US troops from Iraq, saying that such a pullout would harm Israel's security. Speaking to the American Israel Public Affairs Committee (AIPAC), McCain also blasted Obama's calls for talks with Iran. "The Iranians have spent years working toward a nuclear program,"' McCain said, "and the idea that they now seek nuclear weapons because we refuse to engage in presidential-level talks is a serious misreading of history."
"Even so, we hear talk of a meeting with the Iranian leadership offered up as if it were some sudden inspiration, a bold new idea that somehow nobody has ever thought of before," he said. "Yet it's hard to see what such a summit with President Ahmadinejad would actually gain, except an earful of anti-Semitic rants, and a worldwide audience for a man who denies one Holocaust and talks before frenzied crowds about starting another," the Arizona senator continued. "Such a spectacle would harm Iranian moderates and dissidents, as the radicals and hardliners strengthen their position and suddenly acquire the appearance of respectability." [More>>jpost.com ; See related story, washingtonpost.com, June 2, "New contracts reflect continued presence in Iraq."]
---
6.02.08 Italy grapples with Iranian leader's visit
ROME, June 2 - Italy was wrestling yesterday with the problem of what to do about a one-man diplomatic nightmare known as President Mahmoud Ahmadinejad of Iran, who is making his first trip to western Europe this week. The Holocaust-denier, who has repeatedly called for Israel to be destroyed, is flying in to Rome, with 40 other heads of state, for a UN summit on the soaring cost of food. Organizers at the Food and Agriculture Organization (FAO) insist they had no choice but to invite him with the heads of state of all the UN's other 190 members.
Israel is incensed. "To imagine on the podium of a UN organization a leader who calls for the destruction of a member state is a disgrace for every democrat," its ambassador to Rome, Gideon Meir, told the daily La Repubblica. Mr. Ahmadinejad's presence has also been fiercely criticized in the Italian media, and a coalition of secular groups under the slogan "We are hungry for freedom" will protest against his visit outside Rome's city hall today. [More>>independent.co.uk]
---
6.02.08 Indian Muslim school issues fatwa against terror
DELHI (Reuters) June 2 - A conservative Muslim seminary in India, which is said to have inspired the Taliban, issued a fatwa, or edict, against terrorism during a meeting attended by thousands of clerics and students. The Darool-Uloom Deoband, a 150-year-old institute controlling thousands of smaller Islamic seminaries in India, vowed late on Saturday in New Delhi to wipe out terrorism, a senior rector said.

"Islam rejects all kinds of unjust violence, breach of peace, bloodshed, murder and plunder and does not allow it in any form," rector Habibur Rehman said. Teachings of the Deoband school and its strict interpretation of Islamic law have spread to many countries, including Britain and Afghanistan. [More>>alarabiya.net]
---
6.02.08 Afghan children paying family debts
June 2 - Al Jazeera has discovered that thousands of children, some as young as aged four, are being forced to work in brick factories in Afghanistan. In the Sokhrod district in the east of the country, which is well known for producing bricks, there are about 38 factories and about 2,200 children are believed to be working in them. "I don't want to do this with my life. I want to go to school, but I cannot because I am poor,"

10-year-old Shafiq Ola told Al Jazeera.. "My family is in debt for $800 and I have to work." Many of the children were forced into the brick factories after their parents became indebted to the owners. "They are bonded labour, I am holding them," Mohamed Gul, the owner of one factory in the area near Jalalabad, said.  "They don't have any other option they have to, like a slave, work for me. Each family owes me thousands of aghanis [the Afghan currency]. They have to pay me with their work." [More>>aljazeera.net]

---
6.02.08 NATO forces claim to kill 55 Taliban in Afghanistan
HERAT, Afghanistan, June 2 - Afghan and NATO forces have claimed to kill 55 Taliban in ground and air strikes in northwestern Afghanistan, near the Turkmenistan border. The Afghan security forces and the NATO's International Security Assistance Force (ISAF) jointly draw [drew] back the Taliban attack on a police station in Bala Murghab district, during which 55 Taliban fighters were killed, the deputy governor of Badghis said. Nearly 30 Taliban fighters were also wounded in the clashes. [>thenews.com.pk]
---
6.02.08 Car bomb kills 6 at Danish embassy in Pakistan
ISLAMABAD (Reuters) June 2 - A suspected suicide bomber blew up a car outside the Danish embassy in the Pakistani capital on Monday, killing six people and wounding 25, government officials said. The blast will raise fresh questions about the safety of foreigners in Pakistan, even though militant attacks have dropped off since a new government came to power after a February general election vowing to negotiate to end violence. [More>>khaleejtimes.com]
---
6.02.08 Myanmar rulers still impeding access
BANGKOK, June 2- One month after a powerful cyclone struck Myanmar and 10 days after the ruling junta's leader promised full access to the hardest-hit areas, relief agencies said Monday that they were still having difficulty reaching hundreds of thousands of survivors in urgent need of assistance. Over the past week, they said, the door has opened slightly and a number of foreign experts have been allowed to travel into the Irrawaddy Delta, which bore the brunt of the May 3 storm. A modest flow of food, medicine and other supplies has begun to enter the delta by truck and barge. But the agencies said that travel permits for international experts are limited and irregular and that dozens of relief workers remained stranded in the main city, Yangon. [More>>nytimes.com]
---
EDITORIALS
09.11.05 When a nation lacks a competent leader it invites disaster – the legacy of Bush
08.13.05 "Using force the George W. Bush way – Bush's crusade"
11.25.04 Why the Crusade & Jihad?
---
*Visitor statistics on maravot.com from 1&1. com. 46,153 page views in May 2007; 45,000 in Feb. 2008.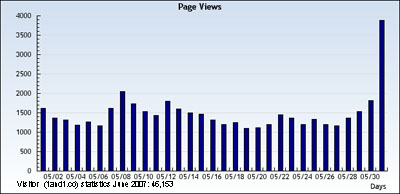 Privacy Policy: We do not store any personal data from you. We have no way of knowing any vital information about you – not even your name. Third-party distribution: We do not distribute information about your site usage to any third party. We are not responsible for the content of links from our site. Usage data: supplied by our Web Hosting service, 1and1.com, which consists of usage reports, such as page views / impressions and web pages visited, visitors' servers and geographical data (ISP's and country of origin).

---
Launched: 10.25.04 / 11.02.04 – —
Updated: 6.02.08; 6.03.08; 6.04.08; 6.05.08; 6.06.08; 6.07.08; 6.08.08; 6.09.08
Copyright © 1981-2008 Maravot. All rights reserved
Copyright © 1981-2008 Mel Copeland. All rights reserved
Background: tile from Cicero's villa (Marcus Tullius Cicero 106 B.C. - 43 B.C.)