News Headlines & Trends
---
1.20.08 Penalize "re-conversion" : Egyptian fatwa says
DUBAI, January 20 - Egypt's top religious body has called for tough penalties on people who convert to Islam for personal reasons, only to re-convert to their old religion, Quds Press news agency reported on Saturday. The religious ruling, issued by the fatwa committee at Al Azhar, affects mostly Coptic Christians, who often convert to Islam in order to get a divorce, to remarry, or to marry a Muslim. They then convert back to Christianity once they have achieved the desired result. According to the fatwa, the practice of re-converting after converting to Islam is "a grave crime that cannot be met with leniency." [More>>alarabiya.net]
---
1.20.08 Church group campaign blocks new US mosque
DUBAI, January 20 - A campaign by Ohio churchgoers to stop the construction of a mosque and Muslim family center appears to have worked, as local authorities turned down the request after the town's Christian residents protested, America in Arabic news agency reported. Some Christians organized a phone campaign, telling residents of the Greater Dayton region in the Midwestern state to protest in front of the zoning board headquarters as they considered the request, which was submitted by the Islamic Society of Greater Dayton (ISGD).

One of the protestors -- Brooke Hick, a local pastor -- said a member of the First Baptist Church of Kettering called his home a few days before the board meeting, urging him and his wife to participate in the demonstration. "We have to stop the construction of this mosque because of what is said in the Koran and what those bad people do," Hick quoted her as saying. [More>>alarabiya.net ; See also daytondailynews.com, January 13, "Pastor received call as part of alleged campaign against mosque."]

Editorial note: If one takes the Koran at its word, and in view of Sharia law imposed in other countries, in view of the actions of Islamic terrorists, etc., Christians have a concern as to the affect Islam may have on their way of life. A commentary on some Christian objections to statements in the Koran is at: http://www.byzantines.net/byzcathculture/islamworldview.html, "Islam, A violent Religion and World View?"

Mel Copeland
---
1.20.08 India bird flu spreads as farmers resist cull
KOLKATA, India (AFP) January 20 - Avian flu was reported from two more districts in eastern India where authorities said Sunday that poultry farmers have fought a massive bird cull aimed at halting the spread of the virus. A total of five districts in eastern West Bengal state have reported an outbreak of avian flu among poultry, the government said. The outbreak is the third in India since 2006 and the worst so far, according to the World Health Organisation, partly because it is more widespread...West Bengal state borders Bangladesh, which is also fighting a bird flu outbreak Full story>>khaleejtimes.com ; See also
---
1.19.08 20 Taleban killed in joint Afghan operation
ASADABAD, Afghanistan (AFP) January 19 - More than 20 Taleban rebels were killed and over a dozen wounded in a joint operation between Afghan and Western forces in eastern Afghanistan, officials said Saturday. The Islamic extremists were killed late Friday in the province of Kunar, a troubled region on the Pakistani border, its governor Fazlullah Wahedi said. The rebels had recently crossed the border from Pakistan to launch an attack on Afghan and foreign targets, he said. [More>>khaleejtimes.com]
---
1.19.08 Pakistan expels New York Times journalist
IISLAMABAD (Reuters) January 19 - Pakistan has expelled a reporter for the New York Times magazine who interviewed Taliban leaders and visited the southwestern Baluchistan province on the Afghan border, a media watchdog said The journalist, Nicholas Schmidle, whose report "Next-Gen Taliban" appeared in the magazine on the weekend, was deported on Friday, the Committee to Protect Journalists (CPJ) said. "The article contained interviews with anti-government Taliban leaders and was written from the tumultuous Baluchistan province, and its capital, Quetta," the New York-based watchdog said.


The Committee quoted Scott Malcomson, Schmidle's editor at the magazine, as saying that no explanation was given for the journalist's deportation. However, he said, the deportation was "clearly connected to his writing rather than anything else he was doing." An information ministry official said Schmidle did not have a journalist visa. "He was on a two-year fellowship here and had visited sensitive areas in Baluchistan without permission and did reporting. He was not on a journalist via," the official said on condition of anonymity. [>indianexpress.com]
---
1.19.08 Forces capture 50 militants in S. Waziristan operation
ISLAMABAD, January 19 - Security forces captured 50 militants in an operation in the rugged tribal region of South Waziristan, the military said Saturday. Troops also recovered 10 bodies of miscreants from Chaghmalai area of South Waziristan, chief military spokesman Major General Athar Abbas said. "Security forces have completed operation in Chaghmalai area and captured 40 militants," he told Geo News. "The village has been completely cleared of the militants," he said. Troops also recovered 10 bodies of miscreants from Chaghmalai area killed yesterday in an operation. Security forces also launched a search operation in Tank area and arrested 10 militants including some of their local commanders, the spokesman said. [More>>thenews.com.pk]
---
1.19.08 Bhutto kill squad teenager arrested
ISLAMABAD, January 19 - Pakistani police have arrested a teenager who was allegedly part of a five-man squad assigned to kill opposition leader Benazir Bhutto last month, security officials said. The suspect, 15-year-old Aitezaz Shah, was arrested in the north-western city of Dera Ismail Khan while planning a suicide bombing during the Muslim festival of Ashura. Shah told interrogators he had been part of a back-up team of three bombers who were tasked with killing the former premier if the original December 27 attack by two men had failed. Interior ministry spokesman Iqbal Cheema could not confirm the arrest. [More>>news.com.au]
---
1.19.08 Spain arrests 14 terrorist suspects
MADRID (xinhua) January 18 - Spanish police on Saturday arrested 14 suspected Islamic extremists in Barcelona, the Interior Ministry said. The Spanish civil guard police searched several homes in Barcelona with the National Intelligence Center, Spain's home intelligence services, the Interior Ministry said in a statement. It added that more arrests have not been ruled out. Interior Minister Alfredo Perez Rubalcaba is expected to hold a news conference at 1230 local time (1130 GMT) to provide further details on the operation. [>xinhuanet.com ; See more details, aljazeera.net and nytimes.com : "...One prominent Muslim leader in Barcelona, who spoke on condition of anonymity because of the delicacy of the issue, said the arrested men belonged to a Pakistan-based group called Tabligh Jamaat. The group publicizes a benign strain of revivalist Islam but is suspected by Western intelligence agencies to be a recruiting ground for jihadists. Spanish and international intelligence officials say they are worried the growing Pakistani population in Spain is becoming a new European link in the global terrorism network.]
---
1.19.08 Hackers have attacked foreign utilities, CIA analyst says
January 19 - In a rare public warning to the power and utility industry, a CIA analyst this week said cyber attackers have hacked into the computer systems of utility companies outside the United States and made demands, in at least one case causing a power outage that affected multiple cities. "We do not know who executed these attacks or why, but all involved intrusions through the Internet,"Tom Donahue, the CIA's top cybersecurity analyst, said Wednesday at a trade conference in New Orleans. [More>>washingtonpost.com]
---
1.19.08 70 dead as Iraqi forces defeat doomsday cult
NASIRIYAH, Iraq (AFP) January 19 - Security forces on Saturday overran a mosque in southern Iraq where Shiite doomsday cultists were holed up, ending two days of clashes in two cities that killed at least 70 people, police said. The fighting came as millions of Shiites across Iraq marked the climax of 10-day Ashura rituals, which commemorate the killing of Imam Hussein by armies of the Sunni caliph Yazid in 680. The mosque was the last stronghold of the cultists. [More>>alarabiya.net]
---
1.18.08 Belgians killed in Yemen attack
January 18 - Two Belgian tourists have been killed after gunmen ambushed their convoy in eastern Yemen, security officials say. Four other Belgians were wounded in the attack, which happened in the province of Hadramut. The attackers are believed to be Islamic militants, the Associated Press quoted unnamed officials as saying. Last July, seven Spaniards and two Yemenis were killed when a suicide car bomber attacked a group of tourists visiting a temple in central Yemen.
Unnamed officials told AP that the Belgian tourists were attacked as they travelled through Wadi Dawan, a desert valley about 300km (180 miles) east of the capital Sanaa. They were reportedly driving in a five-vehicle convoy when a group of gunmen opened fire, the officials said. Tourists are often drawn to Wadi Dawan area by the famous multi-storey mud buildings in the nearby town of Shibam. [More>>bbc.co.uk]
---
1.18.08 Thailand claims international funding for southern Muslim militants is increasing
BANGKOK (AP) January 18 - Thailand's military-installed government said Friday that the violent Islamic insurgency in the country's south had intensified due to an influx of funding from local drug traffickers and many international supporters. Government Spokesman Chaiya Yimvilai said the foreign funding could have come from terrorist groups, but he refused to name any such groups or say where they might be based.
Analysts have long been divided over whether Thai insurgents are plugging into a broader Islamic movement or would rather be on their own in their four-year rebellion. Many Muslims -- who make up the majority in Thailand's far south -- feel unfairly treated by the country's Buddhist majority. Their discontent has fueled separatist movements since Thailand annexed the area a century ago. Chaiya's assertions are the latest indication that the separatist rebellion, which has already killed more than 2,800 people, is tapping support from abroad to support its campaign of bombings and killings. [More>>thejakartapost.com ; See also alarabiya.net, January 18, "Al-Qaeda accused of funding Thai separatists."]
---
1.18.08 Bush calls for $145 billion economic aid package
WASHINGTON, January 18 - President Bush called on Friday for a $145 billion to $150 billion mix of tax rebates for American families and incentives for businesses to provide "a shot in the arm to keep a fundamentally strong economy healthy" and avert a slide into recession. The president said the package "must be big enough to make a difference" in an economy as large as that of the United States, meaning it should be worth about 1 percent of the gross domestic product.
"This growth package must be temporary and take effect right away," Mr. Bush said. The president said Treasury Secretary Henry M. Paulson Jr. would work with Congressional leaders to get a bipartisan relief package ready as soon as possible. "Letting Americans keep more of their own money should increase consumer spending," the president said, repeating a theme he has embraced time and again during his presidency, although perhaps never when, in the opinion of many analysts, the economy was teetering on the brink of recession. [More>>nytimes.com]
---
1.18.08 Iraqi forces battle cult gunmen, dozens killed
BASRA (Reuters) January 18 - Iraqi soldiers and police fought running battles with gunmen from a Shi'ite cult in two southern cities on Friday in which dozens of people were killed and nearly 100 wounded, officials said. Police said the head of the so-called "Soldiers of Heaven" cult in Basra had been killed in the fighting, which is reminiscent of clashes between the obscure group and Iraqi and US forces a year ago. Those battles near the holy Shi'ite city of Najaf left hundreds dead, mainly members of the cult.
The latest clashes are the biggest test yet for Iraq's army and police in the south since Britain finished handing back responsibility for security in the oil rich region last month. Major-General Abdul Jalil Khalaf, the Basra provincial police chief, told Reuters that dozens of people had been killed in Basra, Iraq's second largest city, where gunmen staged a series of hit-and-run raids using heavy machine guns. Khalaf did not give a precise number of those killed during several hours of fighting, but he said it included the head of the "Soldiers of Heaven" in the city. [More>>thestar.com.my ; See related story, metims.com, January 18, "US blitz on al-Qaeda targets outside Baghdad."]
---
1.18.08 Security forces kill 90 militants in retaliatory action
WANA, Pakistan, January 18 - At least 90 militants have been killed and 4 soldiers injured in separate clashes that took place in Chagmalai and Ladha Fort as security forces and militants engage in battles across the agency. Spokesman of ISPR, Maj. Gen. Athar Abbas has confirmed the incident, saying the militants attacked the security personnel in the area lying between Wana Road and Ladha Fort. In reaction to this, the security forces launched an offensive against militants, killing at least 90 and injuring several others, he added. Four security personnel were injured in two separate clashes between security forces and militants while two vehicles were also damaged. [>thenews.com.pk ; See also
khaleejtims.com, January 18, "Army kills 10 Islamic militants in Pakistan." and
nytimes.com, January 18, "Frontier insurgency spills into Peshawar."]
---
1.18.08 The twins who unlicked the secrets of Leukaemia
January 18 - A study of two identical twin girls has led to a new understanding of the causes of childhood leukaemia and could revolutionise the treatment – and possibly prevention – of the potentially lethal disease. The detailed investigation of the two British girls has, for the first time, enabled medical researchers to track down the source of the cancerous stem cells in the blood that can lead to leukaemia in the first few years of life.
Olivia and Isabella Murphy, aged four, from Bromley in Kent, have provided science with an astonishing insight into the nature of leukaemia because of the highly unusual situation where both of them are at risk of the disease but only Olivia developed it.
Scientists believe the findings, which were paid for by the Leukaemia Research Fund, will enable them to develop better treatments with fewer and less serious side effects. It could also help in the search for the ultimate cause of the condition, which is newly diagnosed in 500 children each year in Britain.
Olivia and Isabella share the same genetic mutation to the blood-forming cells of the bone marrow, which must have occurred during their time in the womb because neither of their parents was found to have the same mutation. However, only Olivia went on to develop leukaemia because she was unfortunate enough to have suffered a second mutation after birth, which triggered the onset of the cancer. [More>>independent.co.uk]
---
1.18.08 Bush skills fail to save couple
January 19 - A couple who tragically perished in the NT Outback this week when their vehicle broke down in 40C-plus heat spent two hellish days trying to find water in a desperate bid to survive. The young married couple struggled frantically in their final hours, using their considerable bush skills in a vain attempt to keep themselves alive until help arrived. At first, they tried to fix the hole in their vehicle's leaking radiator with spinifex gum.
When their attempts failed - and they had used up the 30 litres of drinking water they were carrying to top up the radiator instead - they could do nothing but turn to the harsh land they were reared on. After several hours passed with no sign of help on the horizon, thirsty and rapidly dehydrating, they decided to head for a known local waterhole about 5km away. But when they got there it was bone dry. This still did not deter them. The husband is then believed to have tried to use an old car muffler to dig a 2m hole in the dry creek, in the hope of striking water along the way. [More>>news.com.au]
---
1.17.08 Home office targets extremist websites
LONDON, January 18 - The British government announced a drive to shut down websites inspired by al-Qaeda, comparing the move with efforts to target pedophiles online. In her first keynote speech on terrorism, Home Secretary Jacqui Smith said fighting it was about more than disrupting planned attacks, adding that Britain "can't after all simply arrest our way out of this problem."
"If we are ready and willing to take action to stop the grooming of vulnerable young people on social networking sites, then I believe we should also take action against those who groom vulnerable people for the purposes of violent extremism," she told an audience in London. [More>>news.com.au ; See also timesonline.co.uk]
---
1.17.08 Merrill lost $9.8 billion in fourth quarter
January 17 - Merrill Lynch on Thursday reported a $9.8 billion loss for the fourth quarter, the largest quarterly loss in its 93-year-history, as troubles in the subprime mortgage market took another big bite out of its balance sheet.
Merrill, one of the Wall Street firms that has been hardest hit by the subprime hurricane, said Thursday that it recorded more than $14 billion in write-downs and "credit valuation adjustments" in the fourth quarter related to subprime mortgages and collateralized debt obligations, which are complex debt securities often linked to subprime mortgages. That is on top of $7.9 billion in write-downs at Merrill in the third quarter.
The rise in defaults and delinquencies among United States homeowners has sharply reduced the value of subprime-related securities, many of which are held by Merrill and other financial firms. The latest write-downs pushed Merrill to its second consecutive quarterly loss as well as a $7.8 billion loss for the entire year. Merrill hasn't lost money for a full year since 1989, Bloomberg News reported. [More>>nytimes.com]
---
1.17.08 Opium fields spread across Iraq as farmers try to make ends meet
January 17 - The cultivation of opium poppies whose product is turned into heroin is spreading rapidly across Iraq as farmers find they can no longer make a living through growing traditional crops. Afghan with experience in planting poppies have been helping farmers switch to producing opium in fertile parts of Diyala province, once famous for its oranges and pomegranates, north- east of Baghdad. At a heavily guarded farm near the town of Buhriz, south of the provincial capital Baquba, poppies are grown between the orange trees in order to hide them, according to a local source. [More>>independent.co.uk]
---
1.17.08 10 dead in Kohati blast, several others injured
PESHAWAR, January 17 - Ten persons were killed and several others injured in a suicide bomb blast in an Imam Bargah here in Mohala Jangi area of Kohati on Thursday. Police has confirmed deaths of 8 persons. Spokesman, Federal Interior Ministry, Javed Iqbal Cheema confirmed that the blast was a suicide attack. He said the suicide bomber was stopped by security personnel at the entrance of the Imam Bargah when he shot two gun fires and then blew himself up, killing 10 persons. Is reported that as many as 23 persons were injured. [More>>thenews.com.pk]
---
1.17.08 Suicide blast hits Iraq worshippers
January 17 - A suicide bomber wearing an explosives vest has killed at least 10 people near a Shia mosque in the Iraqi city of Baquba, police said. Another 14 people were wounded in the attack on Thursday as worshippers gathered in the city of Baquba to observe Ashura, a day marked by both Sunni and Shia Muslims. Baquba is the capital of Diyala province, where the US military and Iraqi forces are concentrating their fight against al-Qaeda in Iraq and other armed groups who were pushed out of Baghdad and the western Anbar province. [More>>aljazeera.net]
---
1.17.08 US company claims cloned humans, made stem cells
WASHINGTON (Reuters) January 17 - A California company said on Thursday it used cloning technology to make five human embryos, with the eventual hope of making matched stem cells for patients. Stemagen Corp. in La Jolla, California, destroyed the embryos while testing to make sure they were true clones. But the researchers, based at a fertility center, said they believed their ready source of new human eggs would make their venture a success. Other experts were skeptical about the claims, published in the journal Stem Cells. If verified, the team would be the first to prove they have cloned human beings as a source of stem cells, the master cells of the body. [More>>thestar.com.my]
---
1.17.08 Cosmic cockroaches faster developers, Russian scientists say
VERONEZH (RIA Novosti) January 17 - Cockroaches conceived in space onboard the Russian Foton-M bio satellite have developed faster and become hardier than 'terrestrial' ones, a research supervisor said on Thursday. The research team has been monitoring the cockroaches since they were born in October. The scientists established that their limbs and bodies grew faster. "What is more, we have found out that the creatures... run faster than ordinary cockroaches, and are much more energetic and resilient," Dmitry Atyakshin said. [More>>rian.ru]
---
1.17.08 UN grills Saudia Arabia on women's rights
GENEVA (AP) January 17 - Saudi Arabia, appearing for the first time before a UN watchdog for women's rights, faced tough questions on Thursday and was challenged to grant gender equality. The UN Committee on the Elimination of Discrimination against Women has 23 independent experts monitoring adherence to a 1979 international bill of rights for women...
Heisoo Shin, another committee member, said that a system of male guardianship 'governed virtually every aspect of a women's life' in Saudi Arabia. "Without a man's consent, a woman cannot study or get health service, work, marry, conduct business or even get an ambulance service in an emergency," she said. [Full story>>khaleejtimes.com ; See related stories, khaleejtimes.com, January 17, "Muslim clothing: School track star disqualifired." and alarrabiya.net, January 17, "Syrian author flees after fatwa for killing."]
---
1.17.08 Neturei Kara decry 'Gaza massacre'
January 17 - The ultra-orthodox anti-Zionist group, Neturei Karta, on Thursday condemned "the recent Zionist terrorist massacre" in Gaza. In a press release, the group referred to Tuesday's heavy fighting, which resulted in the death of 19 Palestinians, a majority of them combatants. The statement read, "Anti-Zionist Jews condemn the Zionists in no uncertain terms for their violent and bloodthirsty behavior."
"We cannot understand why great world powers seem to give the Zionists a free hand to commit such crimes against the indigenous Palestinian people from the comfort of their F-16 fighter jets, helicopter gun ships and Merkava tanks." It went on to call on "great world powers" to "restore the rights of the Palestinians throughout historic Palestine." The statement concluded: "Zionism is doomed! The Zionist regime is doomed! The Holy Land will be restored to Palestinians! It's not a matter of 'if' but only 'when!' "
Neturei Karta ("Guardians of the City") were created in 1935, with the express purpose of opposing the creation and existence of a Jewish State before the coming of the Messiah. No statistics about their numbers exist, but it is thought they do not exceed 5,000, most of whom live in the Jerusalem area. [>jpost.com]
---
1.16.08 Ex-congressman accused of terror ties
WASHINGTON (CBS/AP) January 16 - A former congressman and delegate to the United Nations was indicted Wednesday as part of a terrorist fund-raising ring that allegedly sent more than $130,000 to an al-Qaeda and Taliban supporter who has threatened US and international troops in Afghanistan. The former Republican congressman from Michigan, Mark Deli Siljander, was charged with money laundering, conspiracy and obstructing justice for allegedly lying about lobbying senators on behalf of an Islamic charity that authorities said was secretly sending funds to terrorists.

A 42-count indictment, unsealed in US District Court in Kansas City, Mo., accuses the Islamic American Relief Agency (IARA) of paying Siljander $50,000 for the lobbying - money that turned out to be stolen from the US Agency for International Development...In the indictment, the government alleges that IARA employed a man who had served as a fund-raising aide to Osama bin Laden. The indictment charges IARA with sending approximately $130,000 to help Gulbuddin Hekmatyar, whom the United States has designated as a global terrorist. The money, sent to bank accounts in Peshawar, Pakistan in 2003 and 2004, was masked as donations to an orphanage located in buildings that Hekmatyar owned. [Full story>>cbsnews.com ; See also bbc.co.uk, January16, US politician on al-Qaeda charge."]
---
1.16.08 Good news for alleged al-Qaeda financier
January 16 - A European court advisor's opinion could lead to the unfreezing of assets belonging to a wealthy Saudi alleged to be a major al-Qaeda financial backer. The European Union, the United Nations and the United States designated Yasin al Qadi a terrorist sponsor and froze his assets shortly after the Sept. 11, 2001 attacks. The FBI has reportedly found links between al Qadi, various charities and companies, and terrorist groups including Osama bin Laden's al-Qaeda. Al Qadi has denied the allegations.
Al Qadi has been fighting the European freeze before EU courts since 2002. On Wednesday, an appeals court judge issued a preliminary opinion concluding that a lower court ruling in al Qadi's case should be overturned because he had not received his right to a fair trial. The opinion of Advocate General Poaires Maduro is not binding and acts as a recommendation to his colleagues on the bench...Victor Comras, a former United Nations official who monitored financial support for al-Qaeda, called al Qadi "one of the poster children" of terrorist financiers. Comras said he was doubtful that al Qadi could succeed in the EU court. [Full story>>abcnews.go.com]
---
1.16.08 7 troops, 40 militants killed in South Waziristan
WANA, January 16 - Seven Pakistani soldiers and up to 40 Islamic militants were killed in clashes after hundreds of rebels captured a paramilitary fort near the Afghan border, the army said Wednesday. "Heavy fighting erupted after militants armed with rocket launchers attacked the outpost at Sararogha town in the South Waziristan tribal district overnight," military spokesman Major General Athar Abbas said. "Yesterday around midnight 400 miscreants attacked the Frontier Corps at Sararogha. There are reports of 40 to 50 dead miscreants, while seven personnel embraced martyrdom," Abbas said. [>thenews.com.pk ; See more details, indianexpress.com: hosted.ap.org, January 16, "7 Pakistani troops killed, 20 missing."]
---
1.16.08 Robert Fish: Bloody reality bears no relation to the delusions of this President
January 16 - As a bomb explodes in Beirut and Israel kills 19 in Gaza raids, Bush takes his Middle East peace mission to Saudi Arabia (and signs off $20bn weapons deal with repressive regime). Twixt silken sheets – in a bedroom whose walls are also covered in silk – and in the very palace of King Abdullah of Saudi Arabia, President George Bush awakes this morning to confront a Middle East which bears no relation to the policies of his administration nor the warning which he has been relaying constantly to the kings and emirs and oligarchs of the Gulf: that Iran rather than Israel is their enemy.
The President sat chummily beside the all-too-friendly monarch yesterday, enthroned in what looked suspiciously like the kind of casual blue cardigan he might wear on his own Texan ranch; he had even received a jangling gold "Order of Merit" – it looked a bit like the Lord Chancellor's chain, though it was not disclosed which particular merit earned Mr. Bush this kingly reward. Could it be the hypocritical merit of supplying yet more billions worth of weapons to the Kingdom, to be used against the Saudi regime's imaginary enemies.
It was illusory, of course, like all the words that the Arabs have heard from the Americans these past seven days, ever since the fading President began his tourist jaunt around the Middle East. You wouldn't think it though, watching this preposterous man, prancing around arm-in-arm with the King, in what was presumably meant to be a dance, wielding a massive glinting curved Saudi sword, a latter-day Saladin, who would have appalled the Kurdish leader who once destroyed the Crusaders in what is now referred to by Mr. Bush as "the disputed West Bank." [More>>independent.co.uk ; See related story, washingtonpost.com, January 16, "Bush seeks to answer Arab skepticism."]
---
1.16.08 Taliban threaten restaurant attacks
KABUL (AP) January 16 - Security experts responsible for the safety of Americans and other Westerners in Kabul were evaluating on Wednesday whether restaurants that cater to foreigners should be off limits after the Taliban warned that suicide bombers would target them. The warning came the day after a deadly attack Monday on the Serena Hotel - a well-guarded, high-profile property in Kabul frequented by Westerners.
The country's intelligence chief linked the assault to a Pakistani militant, and Afghan officials arrested four people, and said they included one of the three attackers, who was disguised in a police uniform for the assault. The death toll in the bombing and shooting attack on the hotel rose to eight. An American, a Norwegian journalist and a Filipina who died of her wounds Tuesday were among those killed. [More>>indianexpress.com: hosted.ap.org ; See related story, metimes.com, January 16, "Taliban attack hotel to expel foreigners."]
---
1.16.08 US security chief sees Europe as main threat for extremism
LONDON (AFP) January 16 - Europe is increasingly seen as a staging post for potential attacks on the United States, the US Secretary of Homeland Security told the BBC Wednesday, indicating tougher checks on travellers. Michael Chertoff said in an interview in Washington that there were no plans to scrap the existing visa waiver programme, under which passengers from Europe are not screened before travelling. But he said travellers could be forced to register online before their trip and undergo tighter security checks. [More>>turkishpress.com]
---
1.16.08 Israel kills Quds Brigades leader in West Bank
JENIN, West Bank (AFP) January 16 - Israeli troops killed the head of the armed wing of the Islamic Jihad movement in the West Bank in a gun battle on Wednesday, Palestinian security sources said. Walid Abeidi, 40, was shot dead during heavy exchanges of fire with Israeli troops who had surrounded his house in the village of Qabatiya near the northern West Bank town of Jenin, the sources said. An Israeli army spokesman confirmed that troops had killed Abeidi and said a second militant was arrested in the raid. [More>>alarabiya.net]
---
1.16.08 Al-Qaeda opening UK branch - website
LONDON (Reuters) January 16 - Britain's intelligence services are investigating an Islamist website that says it is establishing a branch of al-Qaeda in Britain, BBC TV says. According to the report, security experts fear a posting on the site, www.alekhlaas.net, declaring "the creation of the al-Qaeda organization in Britain" may be genuine.
"You don't ignore this sort of thing," Pauline Neville-Jones, the former head of the British joint intelligence committee, told the Newsnight program. "It may not be a threat from an existing cell ... but it does represent a move in the propaganda game and the propaganda game is not something we should ignore. This is after all a struggle over ideology." [More>>news.com.au]
---
1.16.08 13 killed, 18 injured in bomb attacks around Iraq
BAGHDAD (DPA) January 16 - At least 13 people were killed, including a US marine soldier, and 18 injured Wednesday in separate bomb blasts in Iraq, according to media reports. The first attack occurred in central Baghdad, the Voices of Iraq news agency (VOI) reported. "A bomb planted near a bus station went off in the early hours on Wednesday in Bab Al Muazim in central Baghdad, killing three people and injuring seven," a security official told the news agency.
In southern Baghdad, two bombs went off at the same time in Zafaranyah, leaving one person dead and four injured, the official said. In Baquba, a female suicide bomber wearing an explosive belt blew herself up in a market, killing eight people and injuring seven. [More>>khaleejtimes.com]
---
1.16.08 Austria politician gets threats for anti-Islam rant
VIENNA (AFP) January 16 - A far-right Austrian politician has received death threats from an Islamic group after she made several inflammatory remarks about Islam and Prophet Muhammad (PBUH), the interior ministry said Tuesday. The Global Islamic Media Front (GIMF) sent e-mails to several media outlets in which it called for the death of Susanne Winter, after she denounced the prophet and Muslim men in general as "child molesters," ministry spokesman Rudolf Gollia told AFP. "We take any such threats very seriously," Gollia said, adding that Winter had been offered personal protection in the wake of the threats. [More>>alarabiya.net]
---
1.16.08 Found: prehistoric rodent that was as big as a bull
January 16 - The fossilized skull of a giant rodent that grew to the size of a bull has been discovered in South America, where it lived about four million years ago alongside sabre-toothed cats, huge flightless "terror" birds and giant ground sloths. Scientists have found the almost complete skull of the extinct rodent, which weighed about a ton and grew about 5ft tall and about 9ft long.
Rodents, which include rats, mice and guinea pigs, are the most abundant group of living mammals. The latest discovery shows that they are also physically one of the most varied, ranging from a few grams – the size of a pygmy mouse – to about 1,000kg, the weight of the extinct South American specimen. [More>>independent.co.uk]
---
1.16.08 India culls chickens, fears bird flu spread
KOLKATA (Reuters) January 16 - Veterinary workers began killing thousands of chickens in India's east as fears mounted that bird flu could have spread to a third district in the state of West Bengal. Officials said it could take up to a week to cull about 400,000 chickens in two districts of West Bengal state where the latest outbreak of H5N1 avian influenza has been detected.

They feared the virus could have spread to a third district where dead poultry had been found. Samples from the dead birds had been sent for testing and results are expected on Wednesday. "We hope it's not bird flu there as well," Anisur Rahaman, West Bengal's animal resources minister, told Reuters. "Our objective is to cull up to 400,000 chickens and contain the virus from spreading at any cost." [More>>khaleejtimes.com]
---
1.15.08 Egypt, Turkey warn against war on Iran
CAIRO, January 15 - Egypt and Turkey on Tuesday warned against war on Iran and called for a peaceful solution to the nuclear standoff, as US President George W. Bush toured the region in a bid to isolate Tehran. "We have no details on Iran's nuclear programme, but if it is a danger, then it must be resolved peacefully," Egyptian President Hosni Mubarak said at a joint news conference with his Turkish counterpart Abdullah Gul in Cairo. "There is no need for the use of force. Use of force will lead to very serious consequences in the region and the world," Mubarak said. [More>>turkishpress.com]
---
1.15.08 France to get military base in UAE
January 15 - Nicolas Sarkozy has signed a deal with the United Arab Emirates for France to establish its first permanent military base in the Gulf. The agreement reached on Tuesday will make France one of the first Western countries other than the United States to have a permanent base in the region. The planned facility will be able to house up to 500 personnel.
During his visit to Abu Dhabi, the latest stop on his tour of the Gulf, Sarkozy was also expected to conclude a deal with his Emirati counterpart, Sheikh Khalifa bin Zayed al-Nahyan, on nuclear cooperation that could be worth up to $6 billion. France already has long-standing military cooperation accords with countries in the Gulf, including the Emirates and Qatar. [More>>aljazeera.net]
---
1.15.08 Beirut: 4 dead in US embassy car bomb
January 15 - An explosion targeted a US Embassy vehicle Tuesday in northern Beirut, killing four Lebanese and wounding a local embassy employee, an American official said. In Washington, State Department spokesman Sean McCormack said two embassy employees - including the driver - were in the vehicle damaged in the blast, which could be heard across the Lebanese capital and sent gray smoke billowing near the Mediterranean coast. The driver was slightly wounded and the other staffer is fine, McCormack told reporters. He said no US citizens or diplomats were in the vehicle. McCormack said four Lebanese were killed in the explosion. [More>>jpos.com]
---
1.15.08 US sending 3,200 Marines to Afghanistan
WASHINGTON (Reuters) January 15 - The United States will send an additional force of about 3,200 Marines to Afghanistan this spring to help NATO troops and Afghan security forces confront rising Taliban violence, the Pentagon said on Tuesday. The US troop expansion, which increases the number of US forces deployed to Afghanistan by more than 10 percent, follows months of US efforts to persuade NATO allies to provide extra combat forces. Violence has surged in Afghanistan over the past two years, with the hard-line Islamist Taliban fighting a guerrilla war in the south and east and carrying out high-profile suicide and car bombings across the good country. [More>>thestar.com.my ; See related story, indianexpress.com: hosted.ap.org, January 15, Taliban promises more Kabul attacks."]
---
1.15.08 Bird flu kills teenager, raises death toll to 96
JAKARTA, January 16 - A 16-year-old girl died from bird flu, the Health Ministry said Tuesday, raising Indonesia's death toll to 96. The girl, from the town of Bekasi on the eastern outskirts of the capital, Jakarta, developed symptoms on Dec. 30 and had been hospitalized since Jan. 4. She died on Tuesday and laboratory results showed she had an infection of the H5N1 strain of the virus, the Health Ministry said in a statement. [>thejakartapost.com ; See related story from India, expressindia.com, January 15, "Government confirms bird flu outbreak is H5N1 strain."]
---
1.15.08 Citi posts $9.83 billion loss; will cut jobs
January 15 - Citigroup announced a steep cut in its stock dividend and another big investment by foreign investors on Tuesday after taking more write-downs related to subprime securities and posting a $9.83 billion loss for the fourth quarter. Beginning what is expected to be a grim week for financial company earnings, Citigroup said it was writing down $22.2 billion because of soured mortgage-related investments and bad loans. The bank is also cutting its dividend by 41 percent and obtaining a $12.5 billion cash infusion to strengthen its balance sheet, including big investments by its former chairman, Sanford I. Weill, and the Government of Singapore Investment Corporation. [More>>nytimes.com]
---
1.14.08 Bird flu kills Indonesian woman, raising country's toll to 95
JAKARTA, January 15 - A 32-year-old Indonesian woman died from bird flu at her home after refusing to see a doctor, the Health Ministry said Monday, raising the country's death toll from the disease to 95. Two laboratory tests confirmed she was infected with the H5N1 strain of the virus, said Joko Suyono, an official at the Bird Flu Information Center. The woman from the western outskirts of the capital, Jakarta, came down with severe pneumonia and died shortly after going to a hospital Thursday, he said. [>thejakartapost.com]
---
1.14.08 Karachi blast death toll rises to 10
KARACHI, January 14 - The death toll in [the] Karachi blast mounted to ten, as a fierce blast ripped thorough [the] Karachi industrial area of Quaidabad near Gul Ahmed Chawrangi today (Monday) evening. At least five dead bodies, including one of a child, have been shifted to Jinnah Post-Graduate Medical Centre. Two dead bodies are said to be present at Social Security Hospital Landhi. Four men who were shifted to Jinnah Hospital are in critical condition. Most of the injured are being shifted to Jinnah Hospital. At least, 22 men have so far been rushed to the hospital.
[>thenews.com.pk ; See also nytimes.com, January 14, "Bomb in Pakistan market kills 8," and related story, khaleejtimes.com, January 14, "7 troops, 23 militants killed in Pakistan clash."]
---
1.14.08 Attack in Thailand kills 8 soldiers
BANGKOK (AP) January 14 - Suspected Muslim insurgents killed eight soldiers - leaving one beheaded - in a bomb and shooting attack Monday in restive southern Thailand, army and police officials said. The soldiers were on a routine morning patrol in the Chanae district of Narathiwat province when a bomb hidden on the road exploded as their vehicle passed, said the spokesman, Col. Akara Thiprote. After the blast, suspected insurgents attacked the vehicle with a barrage of gunfire, leaving no survivors, he said...More than 2,800 people have been killed in Thailand's Muslim-majority southernmost provinces of Pattani, Yala and Narathiwat, and some parts of neighboring Songkhla, since a long-simmering Islamic separatist insurgency flared in January 2004. [Full story>>indianexpress.com: hosted.ap.org]
---
1.14.08 Inside Iran's secretive Qods Force
January 14 - (By CLAUDE SALHANI, Editor, Middle East Times) Since 2003 Iran has spent billions of dollars in Iraq, mobilized vast government resources and unleashed the Qods Force of the Islamic Revolutionary Guard Corps, all in an effort to spread its hegemony and the Islamic revolution, according to sources in the Iranian resistance.
...The Qods Force, a part of the IRGC, is commanded by Brig. Gen. Qassem Suleimani, who reports directly to the regime's supreme leader, Ayatollah Ali Khamenei. This is an indication of the importance the Islamic republic gives the force. Brig. Gen. Ahmed Foruzandeh is the No. 2 commander in the Qods Force and the commanding officer of the Ramazan garrison in western Iran, tasked with Iraqi affairs. The Ramazan garrison has four tactical bases:
– Fajr garrison in the southwestern city of Ahwaz
– Zafar garrison in the western city of Kermanshah
– Raad and Nasser garrisons in the northwestern cities of Marivan and Naqadeh.
These bases provide logistic support for Qods Force operations in Iraq. In January 2007 Foruzandeh and Jafari Sahraroudi traveled to Iraqi Kurdistan to coordinate and brief Qods Force's surrogate terrorist groups in Iraq. They reportedly were among the list of those Qods Force officers and operatives targeted for arrest by U.S. forces during a raid last January in Arbil. The two, however, were reportedly tipped off by informants within the Iraqi security apparatus and managed to evade arrest. Formed in 1990, the Qods (Jerusalem) Force is the most secretive, elite, and skilled unit of the Iranian regime's Islamic Revolutionary Guard Corps.

...Driven by Islamist fundamentalist ideology, the unit is considered to be the most sophisticated, well-funded state-sponsored terrorist outfit in the world, say sources in the Iranian resistance. "It is Tehran's primary vehicle for conducting terrorism," said Alireza Jafarzadeh, author of author of "The Iran Threat," and who is close to the anti-mullah resistance, the Mujahedeen-e-Khalq. The force is headquartered in the former site of the U.S. Embassy in Tehran, where shortly after the 1979 Islamic Revolution overthrew the shah, 52 U.S. diplomats were detained for 444 days. [Full story>>metimes.com ; See related story, cnn.com, January 14, "Report: Iran accuses Bush of fanning 'Iranophobia.' "]
---
1.14.08 Diplomat caught in Kabul hotel attacked by Taleban
KABUL, January 14 - Four people were killed and six wounded today after a suicide bomber and armed militants attacked a luxury hotel in Kabul. The Norwegian Foreign Minister, Jonas Gahr Stoere, was among guests at the newly opened Kabul Serena hotel who took shelter in the basement after an explosion and several rounds of gunfire. The Taleban has claimed responsibility, saying one suicide bomber and three militants with grenades carried out the attack.
Hotel guards killed one of the attackers before two others entered the hotel gate ahead of a large explosion, said Captain Mario Renn, spokesman for the Nato-led International Security Assistance Force (Isaf). It was not immediately clear what happened to the other two attackers. A journalist from the Norwegian daily newspaper Dagbladet was also injured in the attack. Another Norwegian journalist who was in the hotel at the time of the attack described seeing a flash outside his hotel room window when the suicide bomber exploded, followed by about twelve minutes of sustained gunfire in the lobby area. [More>>timesonline.co.uk]
---
1.14.08 Six killed, seven wounded in booby-trapped home
BAQUBA, Iraq (AFP) January 15 - Six people were killed and seven wounded when a police patrol triggered a large blast in a booby-trapped house during operations in Iraq. Among the dead so far identified in the explosion in the restive province of Diyala are one policeman and two members of an anti-Qaeda "Awakening" group, said police Lieutenant-Colonel Ismail al-Jaburi.
"Three bodies were found under the rubble. They were badly mutilated and we have not yet been able to identify them," he said. Another officer, Lieutenant-Colonel Najim al-Soumaidaie, had said two policemen were missing after the blast in Al-Abarra, a village near Diyala's provincial capital Baquba. [More>>news.com.au ; See related story, khaleejtimes.com, "US troops kill 60 in Iraq Qaeda offensive."]
---
1.14.08 Loss of Antarctic ice has soared by 75 percent in just 10 years
January 14 - Parts of the ice sheets covering Antarctica are melting faster than predicted, with the net loss of ice probably accelerating in recent years because of global warming, a study has found. A satellite survey between 1996 and 2006 found that the net loss of ice from Antarctica rose by about 75 per cent as the movement of glaciers towards the sea speeded up. Scientists estimate that that the West Antarctic Ice Sheet lost about 132 billion tons of ice in 2006, compared with a loss of 83 billion tons in 1996. In addition, the Antarctic peninsula lost about 60 billion tons of ice in 2006. [More>>independent.co.uk]
---
1.14.08 Coca-Cola to remove 'Satanic' ads from Russian city
NIZHNY NOVGOROD (RIA Novosti) January 14 -Coca-Cola decided on Monday to remove a number of ads portraying Orthodox churches from the streets of the Russian city of Nizhny Novgorod, following accusations of blasphemy from local believers.
In mid-December 2007, a group of Orthodox residents of the city on the Volga River complained to prosecutors, the governor and the local bishop about the world-famous beverage company's "blasphemous ads." The believers said the advertizing posters showed the crosses on the domes of various well-known churches in the city, as well as views of the local Kremlin. "Coca-Cola uses all these Orthodox symbols in a blasphemous way by placing images of Coca-Cola bottles inside the pictures," the letter complained. "Some [church] images are deliberately turned upside down, including the crosses." An inverted cross is one of the symbols of Satanism. [More>>rian.ru]
---
---
*Visitor statistics on maravot.com from 1&1. com. 46,153 page views in May 2007; 41,657 in Nov. 2007.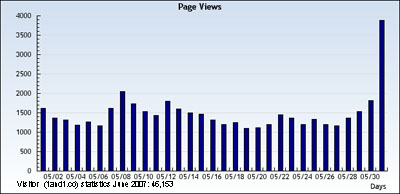 Privacy Policy: We do not store any personal data from you. We have no way of knowing any vital information about you – not even your name. Third-party distribution: We do not distribute information about your site usage to any third party. We are not responsible for the content of links from our site. Usage data: supplied by our Web Hosting service, 1and1.com, which consists of usage reports, such as page views / impressions and web pages visited, visitors' servers and geographical data (ISP's and country of origin).

---
Launched: 10.25.04 / 11.02.04 –
Updated: 1.14.08; 1.15.08; 1.16.08; 1.17.08; 1.18.07; 1.19.07; 1.20.07
Copyright © 1981-2008 Maravot. All rights reserved
Copyright © 1981-2008 Mel Copeland. All rights reserved
Background: tile from Cicero's villa (Marcus Tullius Cicero 106 B.C. - 43 B.C.)