7.11.05 First London bombing victim named
July 11 – The first victim of the London bombings has been named, as the confirmed number of dead reached 52. An inquest was opened and adjourned into the death at King's Cross of Susan Levy, 53, from Cuffley, Hertfordshire. As families of the missing continued to seek information, Tony Blair said a memorial service would be held and attended by the Queen at some point. Metropolitan Police Commissioner Sir Ian Blair said those responsible for Thursday's attacks would be found.

In a statement to the House of Commons, the prime minister confirmed a two-minute silence would be held at noon on Thursday. The date of the memorial service would be named after consultation with victims' families, he said.

The Mayor of London, Ken Livingstone, also announced the opening of a memorial fund set up with the Red Cross, which has already donated £50,000 to help victims and their families. Mr. Blair promised one of the most "vigorous and intensive" police manhunts the UK has ever seen to catch those responsible for the bombings.

...During his visit to King's Cross station, Sir Ian Blair appealed to the public to give investigators time, saying they were dealing with the "biggest crime scene in English history." Describing the scale of the investigation, he said officers had so far collected 2,500 CCTV tapes, taken 2,000 calls via the anti-terrorism hotline and were dealing with 115,000 calls to the casualty bureau. [Full story>>bbc.co.uk; See separate story on the hunt for the bombers, timesonline.co.uk, "Mastermine of Madrid is key figure."
---
7.11.05 Leaked No. 10 dossier reveals Al-Qaeda's British recruits
July 11 – Al-Qaeda is secretly recruiting affluent, middle-class Muslims in British universities and colleges to carry out terrorist attacks in this country, leaked Whitehall documents reveal. A network of ³extremist recruiters² is circulating on campuses targeting people with ³technical and professional qualifications², particularly engineering and IT degrees.

Yesterday it emerged that last week¹s London bombings were a sophisticated attack with all the devices detonating on the Underground within 50 seconds of each other. The police believe those behind the outrage may be home-grown British terrorists with no criminal backgrounds and possessing technical expertise. [More>>timesonline.co.uk (The Whitehall document is in four parts, linked at the timesonline.co.uk article.)]
---
7.11.05 Body of US commando found in Afghanistan
KABUL (AP) July 11 – The body of a missing US commando has been located in eastern Afghanistan, the military said Monday, bringing an end to the desperate search for the last member of an ill-fated, four-man special forces unit that disappeared last month. One of the four men was rescued July 3; the other two were found dead the next day. The body of the fourth US Navy SEAL was found Sunday in Kunar province by a search and rescue team, the military said. It said all indications are that he died in fighting, despite a claim by Mullah Latif Hakimi, a purported Taliban spokesman, that he was captured alive and beheaded. [More>>washingtonpost.com]
---
7.11.05 Rove comes under new scrutiny in C.I.A. disclosure case
WASHINGTON, July 11 – The White House went on the defensive today amid a barrage of questions from Democrats and reporters about the presidential adviser Karl Rove and whether he had disclosed the name of a covert intelligence operative in retaliation for criticism of the administration's Iraq policy.

President Bush's chief spokesman, Scott McClellan, declined to repeat his earlier assertions that Mr. Rove, the deputy White House chief of staff, had nothing to do with leaking the name of the operative, Valerie Plame of the Central Intelligence Agency, to get back at her husband, a former United States ambassador who had publicly challenged Bush administration policy. Nor would Mr. McClellan repeat his earlier statements that any White House staff person who had leaked the name should be fired.

"The president directed the White House to cooperate fully with the investigation, and as part of cooperating fully with the investigation, we made a decision that we weren't going to comment on it while it is ongoing," Mr. McClellan said at a news briefing. [More>>nytimes.com; See also washingtonpost.com story, "Plame, by any other name."
---
7.11.05 Floods kill 65 in Sichuan, China, 30 others missing
July 11 – Sixty-five people have been killed and 30 are missing following flooding in southwest China's Sichuan province since late last month. The Sichuan Daily said the victims died or went missing during flooding from June 28 to July 8. Among them, were 20 people from Dazhou city, which is submerged in deep floodwaters. Rainstorms and flooding swept over 84 counties and cities in the province, with 18 cities and counties reporting rainfall of more than 200 mm. The disasters affected 8.988 million people, flattened 30,000 houses, damaged 106,000 houses and totally destroyed more than 33,000 hectares of crops, according to the provincial disaster relief office on Sunday. [More>>chinadaily.com.cn]
---
7.11.05 Suspected Taliban gunmen behead 10 Afghan soldiers
KANDAHAR (AP) July 10 – Suspected Taliban gunmen ambushed a border patrol in the desert near the frontier with Pakistan, killing 10 Afghan soldiers and beheading them all, while 15 other rebels and troops were killed in violence elsewhere, officials said on Sunday. The beheading victims were part of a 25-member patrol in southern Helmand province that was attacked late on Sunday by militants driving four four-wheel-drive pickups, said provincial Governor Sher Mohammed Aghunzada. [More>>hindustantimes.com]
---
7.11.05 Explosion in Cesme injures 20 people
IZMIR, Turkey, July 11 – 20 people were injured in an explosion that took place in a garbage can near a bank in Cesme town of western Izmir city on Sunday. Izmir health department director Dr. Levent Kidak told the A.A correspondent that one of the injured people was in critical condition and was taken to Dokuz Eylul Hospital.

Noting that 20 people were injured in the blast, Kidak added that fortunately, no one was killed in the explosion.

IZMIR GOVERNOR: ''EXPLOSION CAUSED BY A CLUSTER BOMB''

Izmir Governor Yusuf Ziya Goksu said that the explosion that took place in touristic Cesme town of western Izmir city was caused by a cluster bomb. "Fortunately, no one was killed in the explosion. Two of the injured are foreign tourists. Everything is under control. Teams continue their investigation," Goksu stated. [More>>turkishpress.com]
---
7.11.05 Diplomats, churches in terrorists' hit list
ISLAMABAD (PTI) July 11 – Amidst intelligence reports that militants were planning attacks on American, British and Iranian diplomats as well as some religious places, Pakistan has beefed up security to prevent any untoward incident. Intelligence reports warned that banned terror outfits, including Harkatul Mujahideen Al-Alami, Harkatul Jihad-e-Islami, Harkatul Ansar, Jaish Muhammad (Khuddamul Islam), Lashkar-e-Jhangvi and Millat-e-Islamia of Pakistan planned to target American, British and Iranian diplomats and other dignitaries, local media reported.

Government officials such as Information Minister Sheikh Rashid Ahmed, Minister of State for Religious Affairs Amir Liaqat Hussain, National Bank of Pakistan president Syed Ali Raza, Muttahida Qaumi Movement senator Allama Ghulam Abbas Kumaili and Irfan Ali Abdi were also on the terrorists¹ hit lists, the report in The Daily Times said. The extremists had also selected churches to carry out suicide attacks and car bombings. [More>>expressindia.com]
---
7.11.05 Eleven Iraqi soldiers killed as diplomats promised more protection
BAQUBA, Iraq (AFP) July 11 – Iraq insurgents killed 11 soldiers on Monday as Foreign Minister Hoshyar Zebari promised more protection for diplomats after the abduction and murder of Egypt¹s head of mission. Nine of the troops were killed in a dawn raid on a checkpoint outside Khales north of Baghdad in which six soldiers and three civilians were also wounded, police said. The insurgents opened fire on the troops and then detonated a truck bomb when reinforcements arrived. The explosives were hidden amidst a cargo of melons. The town has seen repeated unrest by Sunni Arab insurgents. On June 15, a suicide bomber dressed in army uniform blew himself up at an army camp in Khales, killing 23 people and wounding 29.

South of the capital, two soldiers were shot dead as they searched homes near the town of Al-Azisiyah for a fugitive suspect, the army said. [More>>khaleejtimes.com; See also separate story, aljazeera.net, "Many die in Iraq army centre blast."
---
7.11.05 Four escape from main US detention facility in Afghanistan
KABUL (AP) July 11 – Four suspected terrorists escaped on Monday from the main US base in Afghanistan, the first time anyone has broken out of the heavily guarded detention facility, sparking a massive ground and air search, officials said. ³They are considered dangerous and are suspected terrorists. That is why they were detained initially,² a US military spokeswoman, Lt. Cindy Moore, told The Associated Press.

The four are Arabs from Syria, Saudi Arabia, Kuwait and Libya, said Kaber Ahmad, the government chief in Bagram town, which is adjacent to the vast US base by the same name, and whose security forces are helping in the search. ³Coalition forces, police and Afghan troops have surrounded several villages near the base,² he said. ³The coalition has distributed photos of the four. They all have short hair, long beards and are wearing yellow prison clothes.² [More>>khaleejtimes.com]
---
7.11.05 European Union condemns Israel's barrier
July 12 – European Union foreign policy chief Javier Solana criticized Israel for the separation barrier it is building around Jerusalem, while the Palestinian Authority said it is seeking UN-backed punitive measures against companies whose products are used in the project. Solana's comments came as Israel sought a $2.2 billion in additional U.S. aid for this summer's withdrawal from the Gaza Strip while also lobbying for EU backing.

On Sunday, Israel's Cabinet decided to build another segment of the barrier around Jerusalem, in what Israeli officials said would be the effective separation of 55,000 Palestinian residents from the rest of the holy city. [More>>dailystar.com.lb; See also haaretz.com story, "55,000 Jerusalem Arabs to remain outside fence."

Editorial note: To read more about the barrier, click on photo of the barrier in the sidebar of this page.
---
7.11.05 More than 30 civilians burned to death in DR Congo attack
BUKAVU, July 11 – More than 30 civilians were burned alive when an armed gang herded them into their huts in eastern Democratic Republic of Congo (DRC) and set them on fire, the UN mission in the DRC said.

"More than 30 civilians, mostly women, were killed and about 50 wounded" in the attack on Saturday night on Ntulumamba village, about 70 kilometres (45 miles) to the northwest of the border town of Bukavu in Sud-Kivu province.

Sud-Kivu province, which borders on Rwanda and Burundi, is one of the most volatile parts of the vast central African nation emerging from a 1998-2003 war and like, areas further north, is home to many former rebels and militia groups.

The victims were forced into their huts and their homes were then set ablaze. Pakistani UN peacekeepers sent to the village reported that local people were saying there had been 39 deaths, said sources Monday. [jang.com.pk]
---
7.11.05 Report: US war has killed 39,000 Iraqis
July 11 – Some 39,000 Iraqis have been killed as a direct result of combat or armed violence since the US-led invasion in 2003, a figure considerably higher than previous estimates, according to a Swiss institute report.

The public database, Iraqi Body Count, by comparison, estimates that between 22,787 and 25,814 Iraqi civilians have died since the March 2003 invasion, based on reports from at least two media sources. No official estimates of Iraqi casualties from the war have been issued, although military deaths from the US-led forces are closely tracked and now total 1937. The new estimate was compiled by the Geneva-based Graduate Institute of International Studies and published in its latest annual small arms survey, released at a UN news conference on Monday. [More>>aljazeera.net]
---
7.11.05 Arsonists torch Russian shop, 20 killed
MOSCOW (Reuters) July 11 – Arsonists torched a Russian shop on Monday, killing 20 people, officials said. Bodies were sprawled along the verges of the street in the town of Ukhta, around 1,500 km northeast of Moscow, while medics tried to resuscitate young men and women lying on stretchers as the building burned behind them. Television quoted witnesses as saying bars over the shop's ground floor windows had stopped people from escaping the blaze.

"Two teenagers ran into the trading hall on the ground floor and threw a container with a burning substance into the crowd, and the fire spread very quickly," a spokesman for the Komi region's prosecutors told Reuters.

"It was probably not a terrorist attack, these were teenagers ... the building is two storeys with plastic on the walls, that is why the fire spread so quickly." [More>>thestar.com.my]
---
7.11.05 Another coal mine explosion in China
BEIJING (Reuters) July 11 – At least 59 Chinese miners were killed and 24 left missing underground on Monday after a gas blast, state media said, one of the worst disasters this year in China's deadly coal industry. At least 87 miners were working underground when the explosion, caused by a buildup of gas in a mine shaft, shook the Shenlong Coal Mine in the far-western region of Xinjiang, the official Xinhua news agency reported. Four people escaped after the blast hit at about 2:30 a.m. on Monday (1830 GMT on Sunday), it said. [More>>thestar.com.my]
---
7.09.05 Mass arrests made in Milan swoops
July 9 – Italian police have arrested 142 people as part of a two-day anti-terror operation in and around Milan. One and a half kilos (3.3 pounds) of explosive were found, reports say. Some 2,000 Carabinieri police took part in the raid, aimed at boosting security at sensitive locations such as underground and train stations. An internet claim of responsibility for the London bombings threatened Italy and Denmark with similar attacks, but its credibility has been questioned.

Gen. Antonio Girone, the regional Carabinieri commander, said security forces had concentrated on Milan because it was a "prime target for possible terrorist action". Some 7,000 people are said to have undergone preventive police checks. [More>>bbc.co.uk]
---
7.09.05 Who is the group claiming London's bomb attacks?
LONDON, July 8 – The group claiming responsibility for London`s bomb blasts, the Organisation of Al-Qaeda Jihad in Europe, is likely part of a complex movement made up of hard-to-infiltrate cells, experts told AFP. Nothing is known of the group, and its claim is impossible to verify. But observers said that in any case, even though it used the name Al-Qaeda, there was no proof that the group in fact belonged in any way to the network led by Osama bin Laden that is blamed for the September 11, 2001 attacks in the United States.

Bin Laden`s group is certainly present in European countries, they said -- but stressed that it had never been a hierarchical, coherent structure against which it would be easier to fight.

"The main line is that Al-Qaeda is not really an organisation, but an ideology. So it does not require OBL (Osama bin Laden) or any of his lieutenants to be involved in the activities of any autonomous groups," said Alex Standish, the chief editor of Jane`s Intelligence Review. "There are AQ sympathisers in pratically every country on Earth. We have to assume that they are in mainland Europe, in Germany, in France, in Turkey, in Morocco," he said. [More>>turkishpress.com]
---
7.09.05 North Korea agrees to rejoin six-nation talks
(Agencies) July 9 – North Korea said Saturday it would rejoin six-nation nuclear arms talks in July, ending a more than yearlong boycott. The announcement came after North Korean and US envoys held a previously unannounced meeting in Beijing. The six-nation talks will resume July 25, the Korean Central News Agency said. The talks involve the two Koreas, the United States, Japan, China and Russia. [chinadaily.com.cn]
---
7.09.05 Pakistani connection in London blasts
ISLAMABAD (PTI) July 9 – A British national with links to the Al-Qaeda terror network may provide some clues about the coordinated blasts, which rocked London, according to police officials interrogating him.

Zeeshan Siddique, who was picked up by security personnel from near North-West Frontier City of Peshawar in May, said he was a British national and confessed upon interrogation that he was suspected of involvement in a failed plot to bomb pubs, restaurants and rail stations in London, the 'Dawn' newspaper reported.

Investigators are focussing on a note in which 25-year-old Siddique states that one of his comrades was unwilling to proceed further while another had informed him that the 'wagon' had now been called off, officials said. The reference to 'wagon' has prompted security officials to take a fresh look at the case with particular reference to the bombings in London that killed over 50 people dead and injured around 700, the report said. [More>>hindustantimes.com]
---
7.09.05 US launches another offensive in Iraq
July 9 – The US army says it has launched a fourth major offensive in Iraq in less than a month, this time near Falluja. The army said on Saturday that about 600 US Marines and Iraqi soldiers were participating in a major counter operation near Falluja. Operation Scimitar started on Thursday with targeted raids in the village of Zaidan, 30km southeast of Falluja. So far, 22 suspected fighters have been detained.

The US army said it did not announce the new military offensive earlier because commanders did not want to tip off fighters that a major operation had begun. The offensive - named after a curved Asian sword - includes 500 Marines from the 3rd Reconnaissance Battalion, Regimental Combat Team-8, stationed in Okinawa, Japan, the military said. [More>>aljazeera.net]
---
7.09.05 Russia set to build nuclear power stations in Iran
MOSCOW (AFP) July 9 – Russia is a likely partner in a plan envisaging construction of 20 nuclear power stations in Iran, a senior member of Iran's Parliament announced. "A plan has been approved in Parliament obliging the government to study the possibility of building 20 nuclear power stations ... Various countries, including Russia, can participate and we hope Russia will continue to cooperate with us on this question," Kazem Jalali, head of the Iranian Parliament's foreign affairs committee, said.

Jalali was speaking during a visit by an Iranian delegation to the Russian capital aimed at developing economic ties between the two countries.

Russia is constructing Iran's first nuclear reactor at Bushehr, part of a technological cooperation agreement with Tehran in 2002 that opened the way for construction of up to five reactors over the coming 10 years.

Both the United States and Israel have objected to the building of the Bushehr reactor, which could be turned on next year, as they claim Iran is secretly trying to develop nuclear weapons and that having such a facility will be a proliferation risk. - AFP [dailystar.com.lb]
---
7.07.05 London hit by multiple terror blasts at rush hour
July 7 – Tony Blair confirmed today that London had come under a concerted terrorist attack after an al-Qaeda-style series of bomb blasts targeting rush-hour commuters in Tube trains and a double-decker bus. A senior police commander said that at least 150 people were seriously injured and there were credible reports of at least four deaths from the blasts, which brutally shook the city out of its euphoria at winning the right to host the 2012 Olympics yesterday.

An unknown al-Qaeda cell in Europe claimed responsibility for the attack in an internet claim that could not be verified, saying: "Britain is now burning with fear."

Speaking from the G8 summit at Gleneagles, which began this morning, the Prime Minister said: "It's reasonably clear that there has been a series of terrorist attacks in London. There are obviously casualties both people who have died, people seriously injured, and our thoughts and prayers of course are with the victims and their families."

Mr. Blair left Gleneagles this afternoon for face-to-face briefings from police and ministers in London, but he said that the summit itself would continue in his absence. [More>>timesonline.co.uk; See update reuters.com, "US official, 43 believed dead in London blasts," Speigel Online, "Britian rocked by rush hour explosions; Al-Qaida claims responsibility."]
---
7.07.05 'Al-Qaeda' group claims London attacks
DUBAI, July 7 – A group calling itself the Organisation of Al-Qaeda Jihad in Europe claimed Thursday's attacks in London and threatened similar ones in Italy, Denmark and other countries with troops in Iraq and Afghanistan.

"Heroic mujahedeens carried out a sacred attack in London, and here is Britain burning in fear, terror, and fright in the north, south, east and west," said a statement posted on the Internet, which could not be authenticated. The group said the attacks were "in response to the massacres carried out by Britain in Iraq and Afghanistan. A series of explosions ripped hit public transport in central London, bringing the British capital to a standstill and causing scores of casualties. [jang.com.pk]

---
7.07.05 Iraq to launch military, anti-terror cooperation with Iran
TEHRAN (AFP) July 7 – Iraq is to launch military and anti-terrorist cooperation with Iran and will not allow its soil to be used for attacks on its neighbor, the visiting Iraqi defence minister said Thursday. I have come to Iran to ask forgiveness for what Saddam Hussein has done. The same has to be done with Kuwait and all Saddam Hussein¹s victims,² Saadun al-Dulaimi said at a press conference with Iranian counterpart Ali Shamkhani.

Dulaimi said it was too soon for foreign troops to pull out of his country. ³Given the present situation, if foreign forces leave Iraq, there will be nothing but chaos and more trouble,² he said.

Iran is concerned about the US military presence on its borders and has repeatedly called for their withdrawal. ³Iraq will not be a source of insecurity and instability for any of its neighbors. Nobody can use its soil to attack Iraq¹s neighbors,² Dulaimi said, in response to Iranian concerns over a possible American attack on Iran. Shamkhani announced the formation of joint committees for military cooperation, the fight against terrorism, clearing mine fields and investigating the missing soldiers from the 1980-1988 between Iran and Saddam¹s Iraq. [More>>khaleejtimes.com]
---
7.07.05 Militant group executes Egyptian envoy in Iraq: website
DUBAI (AFP) July 7 – The group of Al Qaeda¹s frontman in Iraq, Abu Musab Al Zarqawi, announced on Thursday in a purported message posted on the Internet the execution of Egypt¹s top envoy to Iraq, whom the group says it abducted.

³We announce that the judgement of God Almighty has been executed on the ambassador of the infidels, the ambassador of Egypt,² it said in a statement which could not be authenticated. [Khaleejtimes.com]
---
7.07.05 Zarqawi vows to attack Shiite foes
July 7 – The head of Al-Qaeda in Iraq, Abu Musab al-Zarqawi, lashed out at contacts between some rebels and US officials as he announced the creation of a new unit to take on Shiite foes, in a voice message attributed to him. The announcement was followed by a posting on an Al-Qaeda website threatening to kill Egypt's kidnapped diplomat because Egypt has allied with "Jews and Christians." Zarqawi, who has a $25 million bounty on his head, also purportedly vowed to head to the Palestinian territories to continue the fight after "victory" had been won in Iraq.

"The enemy is experiencing its worst days on the soil of Mesopotamia, at a time when a member of the US Congress has said the United States is losing the war in Iraq," said the voice message on an Internet site. "Some people want to stop our jihad in Mesopotamia," the voice said, referring to the contacts that have taken place between insurgents in Iraq and US officials.

It was not possible to verify the authenticity of the message, which comes two days after a newly named "spokesman" for two Iraqi insurgent groups asked the US Congress to make an "official" offer for negotiations. [More>>dailystar.com.lb]
---
7.07.05 Taleban again say holding missing US commando
KABUL (Reuters) July 2 – The Taleban reiterated on Thursday that they were holding a US commando missing in eastern Afghan for more than a week and vowed to kill him, but the US military said it had no information to support the claim. Taleban spokesman Abdul Latif Hakimi said the guerrillas did not need to provide evidence that they were holding the man. ³We don't need to do this because very soon we plan to execute him and then release his video to the world,² he said from an undisclosed location. ³There is no way the soldier is going to be released. He will be executed.²

The US military says a four-man team of elite Navy SEAL commandos went missing during a clash with insurgents in Kunar province on June 28. It says two were found dead on Monday, while another has been rescued, but the fourth remains unaccounted for. [More>>khaleejtimes.com]
---
7.07.05 NASA's Cassini reveals lake-like feature on Titan
6-28-05 – Scientists are fascinated by a dark, lake-like feature recently observed on Saturn's moon Titan. NASA's Cassini spacecraft captured a series of images showing a marking, darker than anything else around it. It is remarkably lake-like, with smooth, shore-like boundaries unlike any seen previously on Titan.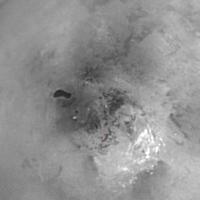 This view of Titan's south polar region reveals an intriguing dark feature that may be the site of a past or present lake of liquid hydrocarbons. [Photo:
saturn.jpl.nasa.gov
]
"I'd say this is definitely the best candidate we've seen so far for a liquid hydrocarbon lake on Titan," said Dr. Alfred McEwen, Cassini imaging team member and a professor at the University of Arizona, Tucson. The suspected lake area measures 234 kilometers long by 73 kilometers wide (145 miles by 45 miles), about the size of Lake Ontario, on the U.S. Canadian border.
"This feature is unique in our exploration of Titan so far," said Dr. Elizabeth Turtle, Cassini imaging team associate at the University of Arizona. "Its perimeter is intriguingly reminiscent of the shorelines of lakes on Earth that are smoothed by water erosion and deposition."
The feature lies in Titan's cloudiest region, which is presumably the most likely site of recent methane rainfall. This, coupled with the shore-like smoothness of the feature's perimeter makes it hard for scientists to resist speculation about what might be filling the lake, if it indeed is one. [More>>
saturn.jpl.nasa.gov
]
---
7.07.05 Rice to skip key ASEAN talks, may be viewed as snub by region
WASHINGTON (AFP) July 7 – US Secretary of State Condoleeza Rice will not attend a key Southeast Asian meeting this month, officials said on Wednesday amid warnings that the move could be viewed as a slight by the region's leaders. Rice had told Association of Southeast Asian Nations (ASEAN) foreign ministers that she could not make it to the ASEAN Ministerial Meeting in the Laotian capital Vientiane in late July due to a clash of schedules, regional diplomats said.

But some officials had linked her skipping of the trip to concerns in Washington that the region was not pushing enough for democratic reforms in military-ruled Myanmar.

As this would be the first time in about two decades that a US Secretary of State is not participating in the annual ASEAN talks, some ASEAN leaders may perceive it as downgrading of US participation in the region's most important diplomatic event.

The meeting includes a July 28-29 post-ministerial dialog between ASEAN and its key trading partners, notably the United States, European Union, China, Japan and Russia, as well as an ASEAN Regional Forum (ARF), the only official security meeting in the Asia-Pacific region. [More>>thejakartapost.com]
---
7.07.05 Asian workers in 'intolerable conditions' in Austria
LINZ (DPA) July 7 – About 150 workers from Indonesia and South Korea are being employed in "intolerable conditions" in Linz, the Austrian Metal-Textile Trade Union (GMT) charged on Thursday. They were forced by their firm to work a 62-hour week, received hourly wages of just 1.3 euros, and were kept overnight in "corrugated iron barracks", said the union. "That's nothing but modern slavery," charged GMT Central Secretary Franz Riepl.

In a first reaction, the Austrian representative of the unnamed firm said it was in Indonesian ownership, and denied the accusation of "slavery". But on Thursday the union gave new details.

"We spoke with those affected, and we saw their housing. The facts cannot be played down," said Riepl. He said the beds of the workers were so close together that they had to climb in. An Indonesian cook had to prepare food for more than 50 workers in a kitchen of just eight square meters with a tiny window. Instead of lockers to keep their possessions, the workers only had hooks and chains suspended from the ceiling. The washroom was a hall with pipe outlets in the ceiling "which summon up horrible associations at the mere sight of them", Riepl said: "You don't treat people like that." [More>>thejakartapost.com]
---
7.07.05 US government to sue Boeing for selling technology to China
SEATTLE (Agencies) July 7 – The US government is poised to sue Boeing Co. for selling jets to China equipped with a computer chip that has military applications, a report said. The aviation giant, whose production base is in Seattle, could be hit with up to 47 million dollars in fines if found guilty of 94 violations of the Arms Control Act, according to the Seattle Times report.

Boeing and government officials could not be reached for comment on the report, which could be another blow to the company's standing in Washington after a series of corruption scandals. Aside from the fines, Boeing faces a "potential but unlikely three-year suspension from government contracts", the newspaper said.
[More>>chinadaily.com.cn]