10.26.07 FEMA apologizes for sham briefing
October 26 - It looked like any other Washington press briefing, with a public affairs official walking up to a podium, introducing a government official and kicking off a press conference. But what happened next raised the ire of the news media and ticked off Bush administration officials. Tuesday the Federal Emergency Management Agency announced it was holding a news conference to answer reporters' questions about the federal agency's emergency response to the Southern California wildfires.
The agency gave reporters just 15 minutes notice to attend, and those members of the media who called in via phone lines could listen to the event but were not able to ask questions...No reporters? No problem for FEMA. The agency filled the press room with its own public affairs personnel who asked questions. [Full story>>abcnews.go.com]
---
10.26.07 Campaigners file 'torture' suit against Rumsfeld
PARIS (AFP) October 26 - French, US, and German rights groups said Friday they had filed suit for "torture" against ex-US defense secretary Donald Rumsfeld, currently in Paris, for his role in the Iraq war and the US war on terror. Around 20 campaigners gave Rumsfeld a rowdy welcome as he arrived for a breakfast meeting in Paris, yelling "murderer," waving a banner and trying to push into the building, according to the organizers, a political magazine.
The International Federation of Human Rights (FIDH), the French League for Human Rights, the US Center for Constitutional Rights, and Germany's European Center for Constitutional and Human Rights filed the joint suit before a Paris prosecutor Thursday.
They accuse Rumsfeld of being "personally responsible for authorizing and ordering the carrying out of acts of torture" in the Abu Ghraib jail in Iraq, and the US base in Guantanamo, Cuba, during his time as defense secretary from 2001 to 2006, according to lawyer Patrick Baudouin. "From the moment Donald Rumsfeld sets foot on French territory, he falls within French jurisdiction with regard to the 1984 New York convention against torture," said Baudouin. [More>>
metimes.com
]
---
10.26.07 Vietnam reports 3rd bird flu outbreak this month
HANOI (AP) October 26 - Vietnam has reported a fresh bird flu outbreak, marking the third this month, as officials call for vigilance prior to the winter season when the virus typically flares, a government report said Friday. Samples of some 560 ducks and chickens from 13 small farms in Cao Bang province bordering China tested positive for the H5N1 bird flu virus, the Department of Animal Health said in a report.
Animal health workers and local authorities have slaughtered all of the birds and isolated infected farms, it said. Earlier bird flu outbreaks killed several hundred domestic birds in the southern province of Tra Vinh and central province of Quang Tri, the department said. [More>>thejakartapost.com]
---
10.26.07 Pakistan cleric's base under siege
October 26 - Troops have surrounded a pro-Taliban cleric's hideout in northwest Pakistan, leading to heavy clashes with his supporters, witnesses say. The battle erupted on Friday in the Swat valley in North West Frontier Province, the base of religious leader Maulana Fazlullah who has been driving a fierce campaign to introduce pro-Taliban laws. The fighting broke out at the village of Imam Dheri, where Fazlullah has a religious school. A day earlier, a blast hit a security forces vehicle in Swat, killing about 20 people and wounding another 35, after the arrival of more than 2,000 Pakistani soldiers in the area earlier this week...In an FM radio broadcast on Wednesday, the cleric reportedly announced he was shifting to neighbouring mountainous district, Kohistan. [More>>aljazeera.net ; See also nytimes.com]
---
10.26.07 Al-Qaeda takes issue with Al-Jazeera
CAIRO (AP) October 26 - al-Qaeda sympathizers have unleashed a torrent of anger against Al-Jazeera television, accusing it of misrepresenting Osama bin Laden's latest audiotape by airing excerpts in which he criticizes mistakes by insurgents in Iraq. Users of a leading Islamic militant Web forum posted thousands of insults against the pan-Arab station for focusing on excerpts in which bin Laden criticizes insurgents, including his followers.
Analysts said the reaction highlighted militants' surprise at bin Laden's words, and their dismay at the deep divisions among al-Qaeda and other Iraqi militants that he appeared to be trying to heal.
"It's not about Al-Jazeera, it's about their shock from bin Laden," said Diaa Rashwan, an Egyptian expert on Islamic militant groups. "For the first time, bin Laden, who used to be the spiritual leader who gives guidance, became a critic of al-Qaeda and is confessing mistakes. This is unusual."
"God fight Al-Jazeera," railed one militant Web poster, calling the station a "collaborator with the Crusaders" for suggesting the tape showed weakness in al-Qaeda and featuring discussions of how the tape reflected weaknesses and divisions among insurgents in Iraq. [More>>indianexpress.com: hosted/ap.org]
---
10.26.07 Two NATO soldiers killed in Afghanistan
KABUL, October 26 - Two NATO soldiers were killed and three others wounded in a battle with Taliban militants in eastern Afghanistan, the military force said Friday. "Two service members were killed and three others were wounded during a firefight with insurgent forces," a statement from the NATO-led International Security Assistance Force said.

The troops were killed in eastern Kunar province late Thursday when their joint Afghan army and ISAF patrol was ambushed with small-arms fire and rocket-propelled grenades, the statement said. The patrol repelled the insurgent attack and called in air support, the statement added. [>thenews.com.pk]
---
10.26.07 New satellite photos show Syrian reactor site wiped clean
WASHINGTON (AP) October 26 - New commercial satellite images show a suspected Syrian nuclear reactor site has been wiped clean since it was bombed Sept. 6 by Israeli aircraft. Analysts say Thursday that the cleanup will hinder a proposed investigation by international nuclear inspectors and suggests Syria is trying to conceal evidence. It took down this facility so quickly it looks like they are trying to hide something,' said David Albright, president of the Institute for Science and International Security, which analyzed the images. An image taken Wednesday by a DigitalGlobe commercial satellite shows tractors or bulldozers and scrape marks on the ground where the building stood in photos taken before the September Israeli attack. [More>>khaleejtimes.com]
---
10.26.07 Archbishop of Canterbury to visit Israel, meet chief rabbis
October 26 - The Archbishop of Canterbury, Dr. Rowan Williams, is expected to visit Israel next week for meetings with the chief rabbis. Williams, the chief religious figure of the Church of England and symbolic head of the worldwide Anglican Communion, blasted Israel's security policy on previous visits. He is not expected to meet Israeli politicians, although he frequently speaks out on political issues.

Williams objected strongly to the war in Iraq and said three weeks ago in Syria that the talk of a military strike against Iran or Syria was "criminal, ignorant and potentially murderous folly." On a visit to Bethlehem last year Williams said the separation barrier was "a sign of all that is wrong in the human heart." On another occasion he attacked Israel for not ensuring the safety of the Christian communities in the Holy Land.

Two years ago at a Church of England gathering he supported practicing "morally responsible investment in the Palestinian occupied territories" and divesting from "companies profiting from the illegal occupation." Rabbi David Rosen, chairman of the International Jewish Committee and one of the organizers of Williams' visit, said that "the archbishop is committed to Israel's existence and the good relations between Jews and Anglicans." [>haaretz.com]
---
10.26.07 Dissident Uzbek reporter shot dead
October 26 - A prominent journalist with close ties to the opposition in neighboring tightly controlled Uzbekistan has been shot to death in Kyrgyzstan, an official said. A gunman fired three shots at Alisher Saipov at close range as he was leaving his office on Wednesday in the city of Osh, Osh regional Governor Jantoro Satybaldiyev said. Saipov died on the spot, he said. [More>>independent.co.uk]
---
10.25.07 'Western Wall was never part of temple'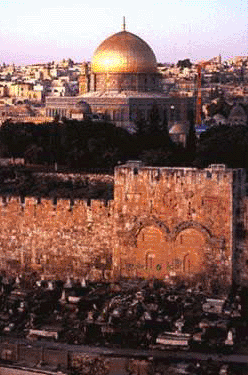 October 25 - The former mufti of Jerusalem, Ikrema Sabri, has made the claim that there never was a Jewish temple on the Temple Mount, and the Western Wall was really part of a mosque. "There was never a Jewish temple on Al-Aksa [the mosque compound] and there is no proof that there was ever a temple," he told The Jerusalem Post via a translator. "Because Allah is fair, he would not agree to make Al-Aksa if there were a temple there for others beforehand."
Sabri rejected Judaism's claim to the Western Wall as part of the outer wall of the Second Temple. "The wall is not part of the Jewish temple. It is just the western wall of the mosque," he said. "There is not a single stone with any relation at all to the history of the Hebrews."
Asked if Jews would ever be allowed to pray on the Temple Mount under Muslim control, he replied: "It is not the Temple Mount, you must say Al-Aksa. And no Jews have the right to pray at the mosque. It was always only a mosque - all 144 dunams, the entire area. No Jewish prayer. If the Jews want real peace, they must not do anything to try to pray on Al-Aksa. Everyone knows that." [More>>jpost.com]

Editorial note: For more details on the controversy over the Temple Mount see Maravot News, "Why the crusade and jihad?". Note that the wall in this photo is of the Golden Gate which was the main gate to the Temple, where rabbis, including Jesus, preached. The gate was sealed by Suleiman the Magnificent (1520-1566) to prevent the Jewish Messiah from entering the mount. Other measures to prevent the Jewish Messiah from entering the mount included placement of an iron fence in front of the gate and placement of a Moslem cemetary there as well. The Moslems believe that no Jewish Messiah would dare walk through a Moslem cemetary. The Temple was burned during the seige of the Roman troops in 70 A.D. Rome's war against the Jews was conducted by Vespasian and his son, Titus, ended the war with the siege of Jerusalem. During the Jewish Wars a Jewish governor, Flavius Josephus, was taken prisoner and became an advisor to Vespasian. Josephus recorded the event in his work, "The Jewish Wars."

To fully appreciate the controversy of the Temple Mount one should ask why the Golden Gate is sealed. Moslems prevent the entrance of a Messiah in whom they do not believe, though the Koran, IMRANS 3:45, curiously honors the Messiah. Though this should be perplexing to Jewish and Christian leaders who believe in the Messiah, there seems to be no one who can answer why the Golden Gate continues to be sealed.

Mel Copeland
---
10.25.07 Australian soldier among 25 killed in Afghanistan
KABUL, October 25 - An Australian soldier was among 25 people reported Thursday to have been killed in new battles in Afghanistan as Kabul's international allies called for more help to fight extremists here.
The soldier was killed in an ambush while on patrol Thursday in the southern province of Uruzgan, the Australian Defence Force said in a statement.

It was Australia's third combat fatality since it sent troops to Afghanistan and Iraq in the US-led "war on terror" in the wake of the September 11, 2001 attacks. This year, 186 international soldiers have died while in Afghanistan to fight back a growing insurgency led by hard-core Islamic militants from the Taliban and other radical outfits such as al-Qaeda. [More>>thenews.com.pk]
---
10.25.07 UN warns of environmental threats
PARIS, October 25 - The human population is living far beyond its means and inflicting damage to the environment that could pass points of no return, according to a major report being issued today by the United Nations.
Climate change
, the rate of extinction of species, and the challenge of feeding a growing population are among the threats putting humanity at risk, according to the United Nations Environment Program in its fourth Global Environmental Outlook since 1997.
"The human population is now so large that the amount of resources needed to sustain it exceeds what is available at current consumption patterns," Achim Steiner, the executive director of the Environment Program, said in a telephone interview. Efficient use of resources and reducing waste now are "among the greatest challenges at the beginning in of 21st century," he said. [More>>nytimes.com]
---
10.25.07 US imposes new sanctions against Iran
October 25 - The Bush administration announced an unprecedented package of unilateral sanctions against Iran today, including the long-awaited designations of its Revolutionary Guard Corps as a proliferator of weapons of mass destruction and of the elite Quds Force as a supporter of terrorism.
The package, announced jointly by Secretary of State Condoleezza Rice and Treasury Secretary Henry M. Paulson Jr., marks the first time that the United States has tried to isolate or punish another country's military. It is the broadest set of punitive measures imposed on Tehran since the 1979 takeover of the US Embassy, and included a call for other countries and firms to stop doing business with three major Iranian banks.
The sanctions recognize that financing for groups like the Revolutionary Guard have become closely entwined with Iran's economy, making it difficult to disrupt the one without targeting the other. The Revolutionary Guard "is so deeply entrenched in Iran's economy, that it is increasingly likely that if you are doing business with Iran you are doing business with the IRGC," Paulson said.
The banks involved are Bank Melli, Bank Mellat and Bank Saderat. The first two are being designated for helping finance Iran's proliferation program, and Saderat is being designated for financing terrorism. In addition, the administration named five Revolutionary Guard leaders who are included under the new restrictions, as well as nine businesses and the Iranian Ministry of Defense and Armed Forces Logistics. [More>>washingtonpost.com]
---
10.25.07 Bush to tour fire-ravaged areas today
October 25 - With the smoke clearing and President Bush in California to tour fire-ravaged communities, the painful process of counting losses -- including two bodies found in San Diego County -- and moving forward started today across Southern California.

San Diego County Sheriff Bill Kolender said the bodies were found in the charred remains of a home in Poway, an upscale community hit hard by the 196,000-acre Witch fire. The victims apparently had been warned to evacuate but refused, according to Jan Caldwell, spokeswoman for the San Diego County Sheriff's Department. The bodies were tentatively identified as those of a man and a woman, but no names had been released.

...The overall toll this morning was 695 square miles burned and 1,609 homes destroyed, with more than 60 people injured, authorities said. Damages were estimated by the state Department of Insurance at more than $1 billion. The nearly 20,000-acre Santiago fire in Orange County, and the 10,000-acre Slide fire near Lake Arrowhead, were presenting the biggest continuing challenges.

Flare-ups overnight on the eastern front of the Santaigo fire, which was moving through the Cleveland National Forest, had increased the fire's size quickly. Officials who had reported the fire 50% contained at one point reduced that to 30% this morning. In the San Bernardino Mountains, where 300,000 acres had burned and 1,000 homes had been destroyed, there were encouraging signs as temperatures declined, winds subsided and humidity rose.

"We are making good progress," said Tim Fike, a section chief with the Nevada City, Calif., fire department, who was overseeing deployments of firefighters and equipment at the Grass Valley fire near Lake Arrowhead. "Our goal is to button it up as soon as possible." [Full story>>latimes.com]
---
10.25.07 Pakistan military truck blast kills 30
ISLAMABAD (AFP) October 25 - A blast tore through a truck carrying paramilitary soldiers in restive northwest Pakistan on Thursday, killing 30 people and wounding at least a dozen more, a senior security official said. The vehicle, which was packed with ammunition, was travelling outside Mingora, the main city in the scenic Swat valley in North West Frontier Province, when the explosion occurred, the official said. "Thirty people were killed in the explosion including 17 paramilitary soldiers. The damage was high because the truck was packed with ammunition," the official, who asked not to be named, told AFP. [More>>khaleejtimes.com]
---
10.24.07 UN decisions on atomic plans worthless: Iran
TEHRAN (Reuters) October 24 - Iran will not abandon its atomic goals because of U.N. sanction resolutions that are "just a pile of papers," President Mahmoud Ahmadinejad said on Wednesday. The Security Council has imposed two sets of limited sanctions because of Iran's failure to heed a demand to halt nuclear work the West believes is aimed at building atomic bombs. Teheran denies any such military plans.
"Some people tell us Iran's case is at the (UN) Security Council but we tell them those (decisions by the Council) are just a pile of papers. They don't have any value for us," Iran's ISNA news agency reported Ahmadinejad as saying. [More>>khaleejtimes.com]
---
10.24.07 Spain arrests six for recruiting Iraq fighters
MADRID, October 24 - Spanish police have arrested six people suspected of links to an Islamist militant cell that recruited guerrillas through the Internet to fight in Iraq, the Interior Ministry said on Wednesday. Police are searching six homes and a butcher's shop operated by members of the cell and have taken away documents and computers for examination, the Ministry said in a statement.

...The cell is alleged to have operated through Internet chat rooms and discussion groups. The arrests, in the northern province of Burgos, came a week before the verdict is due to be announced in the trial of 28 men accused of killing 191 people in train bomb attacks in Madrid in March 2004. [Full story>>alarabiya.net]
---
10.24.07 Threat of war looms over Kurdish mountain village
ENISHKE, Iraq (AFP) October 24 - Georgis Hamon Shlemo feels he is being stalked by fate. The Christian fled Baghdad to escape the daily violence and settled down to a new life in his ancestors' village of Enishke in Iraq's Kurdish region. But now war has caught up with him again. n the dead of night, six Turkish artillery shells slammed into the sleeping village just 20 kilometers (12 miles) from the border. Nobody was hurt and the damage was minimal, but the craters and scorched vegetation are clear for all to see.

For Shlemo and the 450 inhabitants of this tiny Christian hamlet, 250 kilometers (150 miles) north of Arbil, the mountains that surround them and that had previously seemed so secure now feel considerably less safe. Somewhere in the undergrowth of the mountainside are concealed the fighters of the Kurdistan Workers' Party (PKK), the separatist group branded terrorists by Turkey that wants to destroy them. "We don't know what to do anymore. In Baghdad I was threatened because I was a Christian. And here I find more violence," sighs Shlemo as he clutches a set of rosary beads.

The Kurds of northern Iraq have had a great deal of autonomy for more than 15 years, and are torn between preserving this security and prosperity and sympathy with the Turkish Kurd rebels, many of whom have sought refuge close by. "We have never seen the PKK fighters. They never come here," says Demke Yalda, the 56-year-old mayor of the village where the Assyrio-Chaldean population still speaks the Aramaic language of Jesus Christ. [More>>metimes.com ; See also thestar.com.my (Reuters) October 24, "Turkey masses more troops, raids in Iraq confirmed." and related history, aina.org, April 17, 1997, "Assyrians persecuted in Turkey" and christiansofiraq.com and Maravot News 7.06.07, "Persecution of indigenous peoples in Iraq."]
---
10.24.07 Merrill Lynch stuns with an $8bn subprime hit
NEW YORK, October 24 - Pressure builds on chief executive as the bank unveils Wall Street's biggest hit from risky mortgage debt. Merrill Lynch stunned Wall Street after it admitted to a far bigger loss than expected arising from toxic subprime mortgage-backed investments. The investment bank said it would write-down $7.9 billion the third quarter of the year to cover bad investments and the falling price of mortgage-backed collateral it used to raise money.
The write-down was far bigger than either the bank or Wall Street had expected. Last month, Merrill Lynch said that it had to write down $4.5 billion because some of the investments it made in bonds backed by mortgage assets were effectively worthless. Wall Street analysts expected that the bank would take a $7 billion charge, as a worst case scenario.
Stan O'Neal, chairman and chief executive, explained the large discrepancies between Merrill's first estimates and those published today. He claimed that the bank had since re-examined the position of some of its collateralized debt obligations (CDOs) with "more conservative assumptions" and losses arising from them had soared.
CDOs are bonds backed by a pool of mortgages. A number of those mortgages, which were offered to Americans with low incomes and poor credit histories, have fallen into arrears as the US housing market plunged into recession and the adjustable interest rates on the mortgages soared. As a result, the bonds have either fallen in value, or become untradeable and therefore worthless.
The loss makes Merrill Lynch one of the biggest casualties of the sub-prime fall-out. In the summer, Bear Stearns closed two of its hedge funds, which lost $1.5 billion between them, Goldmans made a cash injection into one of its hedge funds and Citigroup last week admitted to a $3 billion of higher losses and provisions against bad loans. [More>>timesonline.co.uk ; See also nytimes.com]
---
10.24.07 Russia can build fast neutron NPPs in India if sanctions lifted
MOSCOW (RIA Novosti) October 24 - Russian nuclear official said Wednesday his country could launch cooperation with India in building fast neutron nuclear reactors for power plants if sanctions against India are removed. India, a confirmed nuclear power, has never been party to the 1968 Nuclear Non-Proliferation Treaty, and has been under US, Japanese and European sanctions since 1998, when it first tested atomic weapons.
"Joint work to build nuclear power plants equipped with fast neutron reactors is one of our perspective projects. India is taking its first steps in this work, and Russia is the world leader in this field," the spokesperson for the Federal Agency for Nuclear Power said. The Beloyarsk nuclear power plant in Russia's Urals has operated with a fast neutron reactor for more than 20 years. [More>>rian.ru ; See related story, indianexpress.com, October 23, "Low on uranium, 5 n-power units are shut down."]
---
10.24.07 China launches 1st lunar probe
BEIJING (AP) October 24- China launched its first lunar probe Wednesday, an initial step in an ambitious 10-year plan to send a rover to the moon and return it to Earth. The Chang'e 1 orbiter blasted off with a trail of smoke from the Xichang Satellite Launch Center in Sichuan province in southwestern China, according to images from state television.
The launch comes just weeks after China's regional rival Japan put a probe into orbit around the moon in a great leap forward in Asia's undeclared space race. India is likely to join the regional rivalry soon, with plans to send its own lunar probe into space in April. The Long March 3A rocket carrying the probe was launched shortly after 6 p.m. local time after officials from the China National Space Administration said weather conditions were good for a liftoff. [More>>indianexpress.com, hosted.ap.org]
---
10.24.07 'Much better to invest in North Korea than China'
GAESEONG, North Korea, October 24 - Ok Sung-seok, who recently opened a shirt-making factory in the Gaeseong Industrial Complex, is confident that South Korean manufacturers seeking cheap labor will benefit more from investing in North Korean than in China or South East Asia.
"Production factors in China are under an upward pressure, but in Gaeseong, you see that productivity is going up," Ok told The Korea Herald after a ceremony celebrating the completion of an apartment-type factory building in the North Korean city on Wednesday.
..."In terms of quality and productivity, here (Gaeseong) is much better than China because my every decision can be directly delivered to workers in the same language," he said. According to Ok, the monthly wage in China is at least three times that in Gaeseong. Currently, North Korean workers at the Gaeseong industrial park receive about $60 a month. [Full story>>koreaherald.co.kr]
---
10.23.07 20 militants among 32 killed in Afghan battle
KABUL, October 23 - A battle in central Afghanistan killed up to 20 suspected militants but also several civilians, Afghan officials said Tuesday. Afghan officials said up to 12 civilians and 20 militants died infighting Monday in a remote area of Wardak province, west of the capital, Kabul. NATO's force in Afghanistan said 50 fighters were trying to setup an ambush and that aircraft dropped two bombs on their position. NATO spokesman Maj. Charles Anthony said soldiers had investigated possible civilian fatalities but found no evidence of it. [>thenews.com.pk ; See related story and details, metimes.com, October 23, "Nomad child among several killed in new Afghan battles."]
---
10.23.07 US military: 11 dead in Iraq airstrikes
BAGHDAD (AP) October 23 - A US helicopter opened fire on a group of men as they were planting roadside bombs in a Sunni stronghold north of Baghdad on Tuesday, then chased them into a nearby house, killing 11 Iraqis, including five women and one child, the military said.
The airstrikes came a day after Osama bin Laden scolded his al-Qaeda followers and other insurgents, saying they have been "lax" for failing to overcome fanatical tribal loyalties and unite in the fight against US troops.
The message of his new audiotape reflected the growing disarray among Iraq's Sunni Arab insurgents and bin Laden's client group in the country, both of which are facing heavy US military pressure and an uprising among Sunni tribesmen. The men were seen placing the bombs near the volatile northern city of Samarra, said Maj. Peggy Kageleiry, a military spokeswoman. [More>>indianexpress.com : hosted.ap.org]
---
10.23.07 Turkey tells Iraq wants diplomatic end to PKK crisis
BAGHDAD (AFP) October 22 - Turkey reassured Iraq on Tuesday that it wants a diplomatic solution to the problem of Kurdish rebel rear-bases but rejected a conditional cease-fire offer made by the guerrillas. "Politics, dialogue, diplomacy, culture and economy are the measures to deal with this crisis," Turkish Foreign Minister Ali Babacan told a joint news conference in Baghdad with his Iraqi counterpart Hoshyar Zebari.
"We do not want to sacrifice our cultural and economic relations with Iraq for the sake of a terror organization," he said, referring to the rebel Kurdistan Workers' Party (PKK) which has bases in northern Iraq. But Babacan rejected a truce offer made by the PKK on Monday in return for an end to Turkish military action. "The issue of cease-fire is an issue between two countries and two armies and not with a terror organization. The issue is of terrorism," the Turkish minister said. [More>>turkishpress.com]
---
10.23.07 Pakistan is the most dangerous country in the world: report
NEW YORK, October 23 - Pakistan, which recently witnessed a series of suicide attacks by pro-Taliban and al-Qaeda militants, is the most dangerous country in the world, and has become a safe haven for terrorists, a media report says. "Unlike countries such as Afghanistan and Iraq, Pakistan has everything al-Qaeda chief Osama bin Laden could ask for: political instability, a trusted network of radical Islamists, an abundance of angry anti-Western recruits, secluded training areas and security services that don't always do what they're supposed to do," says Newsweek in an investigative report being published in its upcoming issue. [More>>indianexpress.com ; See Newsweek article, October 23, "Where the jihad lives now."]
---
10.23.07 In breakthrough, Samsung develops 64-gigabit chip
October 23 - Samsung Electronics announced yesterday that it has developed the world's first 64-gigabit NAND flash memory chip. The first-of-its-kind breakthrough is based on 30-nanometer class process technology, the company says. NAND flash memory chips are widely used in mobile gadgets such as cellular phones and MP3 players. The chip features the biggest storage capacity ever, and is expected to blossom into a market worth $20 billion starting from 2009 when it plans to begin full-scale production, the company said.
The new chip's cutting-edge design could help cut production costs because it can be produced with conventional equipment, the company said...Using 16 new chips, the company expects to produce one 32 gigabit memory card capable of storing 80 DVD-resolution movies and DNA information of 40 individuals. Thirty nanometers are one-4,000th the thickness of a human hair. [Full story>>koreaherald.co.kr]
---
10.23.07 Reports: Suicide attack injures 8 in Russia
MOSCOW, October 23 - A suicide bomber blew up a mini-bus in Russia's Dagestan republic, injuring at least eight people, Itar-Tass news agency reported on Tuesday. The blast occurred at 11:40 Moscow time (0740 GMT), on the border between the Kazbek and Khasavyurt districts, several hundred meters from a road police post, local police said. Police said the suicide bomber might have targeted "not only passengers but also the police at the post."

"A group of investigators at the scene are trying to ascertain the identity of the suicide bomber. The identification will be difficult as the explosion tore her to pieces," said the republic's Interior Ministry spokesman Mark Tochinsky. "Five victims have been given medical assistance. Another three persons have been hospitalized and one of them is in critical condition," a doctor said. Terrorist attacks in Russia's Caucasus regions, which neighbor the Chechen republic, have increased in recent years. [More>>xinhuanet.com]
---
10.22.07 Iran's Khatami attacks Ahmadinejad on economy
TEHRAN (AFP) October 22 - Iran's ex-president Mohammad Khatami has made a rare criticism of successor Mahmoud Ahmadinejad, saying inflation was a growing problem that government statistics were attempting to conceal, the press reported Monday. The reformist Khamati has, until now, refrained from commenting on Ahmadinejad's policies since he left office in 2005, but his stinging attack comes amid intense maneuvering ahead of parliamentary elections in March.

"Inflation exists in society ... every single person in society says that it exists, and ordinary people feel it every time they purchase something," Khatami was quoted as saying by the economic daily Sarmayeh...
Iran's year-on-year inflation is currently running at 15.8 percent, according to central bank statistics. However, many economists dispute this figure, and Iranian parliamentary research has estimated that inflation this year will be running at 22.4 percent. [Full story>>metimes.com]
---
10.22.07 US sanctions against Iran could threaten LUKoil project
MOSCOW (RIA Novosti) October 22 - Russia's largest independent crude producer LUKoil [RTS: LKOH] said on Monday that possible U.S. sanctions against Iran could threaten the company's Anaran oil project in the Islamic Republic. The Anaran project is a joint undertaking involving Norwegian Norsk Hydro (75%) and LUKoil Overseas (25%). The Anaran oil block has oil reserves of 2 billion barrels.
LUKoil said that as its investments in the project exceed $20 million, the company could face difficulties, and that similar restrictions would affect other companies operating in Iran above this investment limit. Iran has so far been subjected to two rounds of UN Security Council sanctions for its refusal to halt its nuclear program, which many countries suspect is geared toward weapons production. The United States intends to impose sanctions against international energy companies conducting business in Iran. [>rian.ru]
---
10.22.07 Eleven killed in Burundi rebel ambush
GAKUNGWE, Burundi, October 22 - Eleven rebels, including nine members of a breakaway faction of Burundi's last active rebel movement, have been killed in a clashes near the capital, the army of Burundi said Monday. Army spokesman Adolphe Manirakiza said gunmen allied to National Liberation Forces (FNL) leader Agathon Rwasa attacked a camp housing FNL dissidents south of Bujumbura late Sunday, killing nine of their rivals. The army responded to the attack and killed two FNL rebels in fighting that lasted more than two hours, Manirakiza said.

"They attacked on two fronts and decapitated nine dissidents," Manirakiza told reporters. "This is a new violation of the cease-fire because not only did they attack the dissidents (in the splinter group), they also attacked our soldiers," he added. Witnesses however said 14 people, including two soldiers had been killed and several wounded people were taken away early in the morning. [More>>thenews.com.pk]
---
10.22.07 Most attacks traced to Pakistan, US officials warn that it's main terror front, not Iraq
WASHINGTON, October 22 - The scenes of carnage in Pakistan this week conjured what one senior US administration official on Friday called "the nightmare scenario" for President George W. Bush's last 15 months in office: Political meltdown in the one country where the al-Qaeda, Taliban and nuclear weapons are all in play.
White House officials insisted in interviews that they had confidence that their longtime ally, General Pervez Musharraf, would maintain enough influence to keep the country stable as he edged toward a power-sharing agreement with his main rival, Benazir Bhutto.
But other current and former officials cautioned that six years after the US forced Musharraf to choose sides in the days after the September 11 attacks, American leverage over Pakistan is now limited. And Musharraf is weakened. His effort at conciliation in Pakistan's tribal areas, where al-Qaeda and the Taliban plot and train, proved a failure. His efforts to take them on militarily have so far proved ineffective and politically costly. [More>>indianexpress.com, from New York Times ; See related stories, thenews.com.pk, October 22, "Benazir urges terrorists to surrender arms" and independent.co.uk, October 22, "Bhutto calls for foreign help to find bombers."]
---
10.21.07 US forces find 19 tones of explosives in cache
BAGHDAD, October 21 - US forces in Iraq discovered nearly 19 tones of explosives in a weapons cache north of Baghdad this week, one of the biggest finds of its kind, the US military said today. The cache was discovered west of Tarmiya, about 30km northwest of the capital Baghdad, in Salahuddin province where Sunni Arab militants have a strong presence. The find was made up of 18.6 tones of ammonium nitrate and 35 mortar bombs. US forces destroyed the cache. "It's a crippling blow against the enemy, it's really huge," said Peggy Kageleiry, a spokeswoman for US forces in northern Iraq.
Car and truck bombs are used on an almost daily basis by militants in Iraq targeting US and Iraqi security forces and civilians. In the deadliest attack this year, 520 people were killed in August when two suicide bombers drove two garbage trucks packed with explosives into two villages in north-western Iraq. [>news.com.au ; See related story khaleejtimes.com, October 21, "US kills 49 in raid in Baghdad Shia stronghold."]
---
10.21.07 Thirty rebels killed, bomb hits Afghan music shop
KABUL, October 21 - Security forces said Sunday they killed about 30 rebels in new operations while two Afghan civilians died in separate incidents in an insurgency which is now heading for its seventh year. A bomb meanwhile exploded in a music shop in a small eastern town and hurt the shopkeeper, an official said, adding the attack may have been carried out by Taliban extremists who say secular music is un-Islamic and corrupting.

The Afghan defence ministry said 20 "enemies of the people" were killed in an overnight operation by Afghan and US-led coalition forces in Kunar province on the eastern border with Pakistan. Fighters allied to the Taliban movement that was in government between 1996 and 2001 are active in the east but so are militants with other radical factions.

The coalition said separately it killed two militants in the province Sunday. Kunar governor Shalazai Diddar said a woman was also killed and three children hurt in the same incident. About eight more rebel fighters were killed in days of operations that wound up Saturday in Taliban strongholds in the central province of Ghazni, deputy provincial police Mohammad Zaman said. Also in Ghazni, the Taliban killed a tribal elder whom they accused of supporting government forces, he said. [More>>thenews.com.pk]

---
10.21.07 Another suspected bird flu patient dies in Riau
JAKARTA, October 21 - A girl believed to have been suffering from bird flu died in Riau province, Metro TV reported Sunday. The 10-year-old girl was treated at the Arifin Achmad hospital on Saturday and died less than 12 hours later. A doctor at the hospital said local tests indicated that the girl had bird flu, but samples from her body were to be sent to Jakarta for testing to confirm the cause of death. Indonesia has the highest human bird flu infection rate, recording 109 cases, 88 of which died. [>thejakartapost.com]
---
10.21.07 Twelve Turkish soldiers killed in rebel attack
ISTANBUL, October 21 - At least 12 Turkish soldiers were killed in an ambush by Kurdish militants shortly after midnight on Sunday, in an audacious attack that sharply increased the pressure on Turkey's government to send troops into northern Iraq.
A group of Kurdish fighters moved into Turkey from northern Iraq, the Turkish military said, and attacked Turkish soldiers based near the town of Hakkari, about 25 miles from the border, in three different locations, killing 12 and injuring another 16. Turkish soldiers then struck back, firing from helicopters and from the ground, killing at least 23 militants, according to the military, which provided its account in a statement. In a statement on a Kurdish website, the militants said they captured eight Turkish soldiers, but the claim could not be substantiated. [More>>nytimes.com; See also turkishpress.com, October 21, "35 in clash blamed on Kurdish rebels." and haaretz.com, October 21, "Iraq leader orders Kurdish rebels to disarm after deadly strike."]
---
10.21.07 Pope urges world's religions to promote peace
NAPLES, October 21 - Pope Benedict told religious leaders, including Christians, Jews and Muslims, on Sunday that faiths must work together to stamp out religiously motivated hatred which uses God as an excuse for violence. The Pope's comments came just minutes before the Vatican announced two priests kidnapped in Iraq had been freed by their captors, in a move a Vatican spokesman said lifted hopes for that country. 
"Faced with a world lacerated by conflict, where violence is still justified in the name of God, it is important to reiterate that religions must never become a vehicle of hatred." the Pontiff said. "On the contrary, religions can and should offer precious resources to build a humanity of peace, because they speak of peace at the heart of man." 
The Pope addressed scholars and religious leaders attending a three-day inter-faith gathering in the southern Italian port city of Naples. The conference is called "For a World Without Violence: Religions and Cultures in Dialogue." 
Less than two weeks ago more than 130 Muslim scholars from around the globe called for peace and understanding between Islam and Christianity, saying the world's survival could be at stake. The Pope did not address that document directly, but he spoke forcefully against invoking the name of God in any religion "to justify evil and violence." [More>>thestar.com.my ; See earlier report, alarabiya.net, October 19, "Vatican paises Muslim call for dialogue."]
---
10.21.07 On the road to nowhere, merchants pay the toll
MAS-HA, West Bank, October 21 - From the Zeituna Restaurant to the Basel Furniture store, business once thrived along the road that runs through this Palestinian village, conducted in a language no longer spoken here. For years Hebrew was the lingua franca of Arabs and Jews on Route 505, an Israeli-built highway that rushed bargain hunters from the Jewish state to Arab-owned businesses in the West Bank and Palestinian laborers to jobs inside Israel. Now, the highway is a road to nowhere, the flaking Hebrew signs along its empty length symbols of Israel's abrupt economic break with the occupied Palestinian territories.

The highway has been blocked at the western edge of this village by the $2.5 billion barrier Israel is building to separate Jews from the Palestinians of the West Bank, splitting a largely shared economy whose shops, factory floors and restaurant terraces once provided a rare meeting place for two peoples. Now they are living increasingly estranged lives in the land they are unable to share.
"Just traveling this kilometer and a half would take you an hour on Saturdays," said Ibrahim Amer, 53, who sells plastic furniture from a row of mostly shuttered storefronts under a large Hebrew sign at the village's only intersection. "As you can see now, no one is coming."
Since the September 2000 start of the most recent Palestinian uprising, the Israeli government has imposed stiff restrictions on Palestinian trade, permission to work inside Israel and movement among West Bank towns and cities. More recently, it has severed the economic link between the West Bank and Gaza Strip, the main territorial elements of the unrealized Palestinian state. [More>>washingtonpost.com ; See map of fence.