News Headlines & Trends
---
7.18.08
Bombs kill three in north Iraq
July 18 - Two bombs killed at least three people and wounded 12 in attacks on an Iraqi army patrol and a police convoy in northern Iraq on Friday, defence and interior ministry officials said. Two of the dead were Iraqi soldiers hit by a car bomb near Mosul, the northern city described by the US military as the "last urban bastion" of al-Qaeda in Iraq. Eight more soldiers were wounded in the blast. In the other attack, one man died when a home-made mine targeting a police convoy exploded near the northern oil city of Kirkuk. Four people were wounded in the explosion targeting the vehicles charged with protecting oil installations near the city. [>thenews.com.pk]
---
7.18.08 Al-Qaeda draws more foreign recruits to Afghan war
PESHAWAR, Pakistan (AP) July 18 - Afghanistan has been drawing a fresh influx of jihadi fighters from Turkey, Central Asia, Chechnya and the Middle East, one more sign that al-Qaeda is regrouping on what is fast becoming the most active front of the war on terror groups. More foreigners are infiltrating Afghanistan because of a recruitment drive by al-Qaeda as well as a burgeoning insurgency that has made movement easier across the border from Pakistan, US officials, militants and experts say. For the past two months, Afghanistan has overtaken Iraq in deaths of US and allied troops, and nine American soldiers were killed at a remote base in Kunar province Sunday in the deadliest attack in years.
Adm. Mike Mullen, chairman of the Joint Chiefs of Staff, warned during a visit to Kabul this month about an increase in foreign fighters crossing into Afghanistan from Pakistan, where a new government is trying to negotiate with militants. Two US officials, who spoke on condition of anonymity because of the sensitivity of the information, told The Associated Press that the US is closely monitoring the flow of foreign fighters into both Afghanistan and Pakistan.
Jihadist Web sites from Chechnya to Turkey to the Arab world featured recruitment ads as early as 2007 calling on the "Lions of Islam" to fight in Afghanistan, said Brian Glyn Williams, associate professor of Islamic history at the University of Massachusetts. Williams has tracked the movement of jihadis for the US military's Combating Terrorism Center at West Point.
Local Afghans in the border regions are increasingly concerned about the return of the "Araban" or "Ikhwanis," as Arab fighters are known in the Pashtun language, Williams wrote in a CTC paper. He said there were rumors of hardened Arab fighters from Iraq training Afghan Pashtuns in the previously taboo tactic of suicide bombing. Turkey also appears to have emerged as a source of recruits. Williams estimated as many as 100 Turks had made their way to Pakistan to join the fight in Afghanistan. [More>>khaleejtimes.com]
---
7.18.08 Six Israeli Arabs planned al-Qaeda cell
July 18 - Four Israeli Arabs from east Jerusalem and two from Nazareth have been indicted for allegedly setting up an al-Qaeda cell in the capital and offering their services to global Jihad elements, security officials announced Friday. One of the suspects allegedly made contact with those elements in an attempt to assassinate US President George W. Bush during his visit to Israel in May. The group, arrested in a joint operation by the Shin Bet (Israel Security Agency) and the Israel Police, includes two students at the Hebrew University of Jerusalem, one of whom lived in the university dormitories at Givat Ram with a view of a helicopter landing pad in the campus stadium.
Using a camera, the student filmed helicopters taking off and landing and made contact via the Internet with al-Qaeda elements to discuss bombing one of Bush's helicopters on his Independence Day visit. The six were identified as Ibrahim Na'ashaf, 22, from Taiba — a physics and computer science student at Hebrew University; Muhammad Najam, 24, from Nazareth — a chemistry student at the university; Yousef Sumarin, 21, from Beit Hanina; Anas Shwayke, 21, from Jebl Mukaber; Kamal Abu Kweidar, 22, from Jerusalem's Old City; and Ahmad Shwayke, 21, from Shuafat.
According to security officials, the six created a closed religious terror cell and were also active in the Temple Mount's Al-Aksa Mosque as well as throughout east Jerusalem. Investigators found bomb-making instructions on the personal computers of several of the suspects. In a related development, two Beduin from the Negev town of Rahat were charged on June 9 with plotting terrorist attacks via the Internet with al-Qaeda members overseas and marking out civilian and military sites as targets. Officials said Friday that the latest indictments were further indication of an al-Qaeda presence in Israel. [>jpost.com]
---
7.18.08 Pelosi: Bush 'a total failure'
July 18 - House Speaker Nancy Pelosi called President Bush "a total failure" on Thursday, among the California Democrat's harshest assessments to date of the president. "God bless him, bless his heart, president of the United States — a total failure, losing all credibility with the American people on the economy, on the war, on energy, you name the subject," Pelosi told CNN's Wolf Blitzer in an exclusive interview.
The comments came two days after the president sharply criticized Congress over what he described as relative inaction over the course of the legislative term. At the White House on Wednesday, Bush noted that there were only 26 legislative days left in the fiscal year and said Congress would need to pass a spending bill every other day to "get their fundamental job done. "This is not a record to be proud of, and I think the American people deserve better," Bush said. In the interview, Pelosi said the president was in no position to criticize Congress and brushed aside the criticisms as "something to talk about because he has no ideas." [More>>cnn.com via japantoday.com]
---
7.17.08 Iran and US signaling chance of deal
July 17 - President Bush's decision to shift policy and send a senior US envoy to nuclear talks with Iran this weekend was made after increasing signs that Iran was open to possible negotiations and that international sanctions were having an impact on the Islamic republic, US officials said yesterday. Secretary of State Condoleezza Rice pushed for the move in a meeting on Monday of Bush's top aides, and Bush's support suggests he increasingly is determined to put aside a possible military strike in an effort to reach a deal to end Iran's nuclear program in his final six months in office. In recent weeks, the White House already has approved a sweetened package of incentives to Iran that included a pledge to refrain from the use of force, supported a European gambit to begin preliminary talks with Iran and sent clear signals to Israel not to consider acting against Iran on its own.

For more than two years, the Bush administration has had the same bottom line: Iran must suspend its enrichment of uranium — a route to a nuclear weapon — before serious talks can begin. US officials insisted yesterday that such a demand, also shared by European allies, had not changed, but the diplomatic lines have become sufficiently hazy that if negotiations start in earnest, Iran will also be able to claim a diplomatic victory. [More>>washingtonpost.com]
---
7.17.08 Iraq to limit no-bid deals with big oil
BAGHDAD, July 17 - The Iraqi government is planning to limit no-bid contracts being negotiated with several major oil companies to one year to avoid overlap with longer-term deals expected to be signed next June, a senior Oil Ministry official said Thursday. The no-bid contracts have sparked controversy because several major Western firms have been involved in the discussions. There are concerns that granting such contracts to Western oil companies could feed perceptions that US-led forces toppled Saddam Hussein to grab the country's natural resources.

Iraqi officials have stressed that the contracts are only for technical advice and equipment and the companies will receive money in return, not a share of oil production. They say the deals are meant as a stopgap measure to boost oil production until the government completes a bidding process next June on the development of six major oil fields and two natural gas fields. [More>>cbsnews.com]
---
7.17.08 Senator Levin: Shut down giant Swiss Bank UBS
July 17 - Investigation Reveals Secrecy Tricks Allegedly Used by Swiss Bankers. Federal regulators should consider revoking the US banking license of the giant Swiss Bank UBS because of its role in helping wealthy Americans evade billions of dollars in taxes, Sen. Carl Levin (D-MI) told ABC News today. "I don't think that any bank that goes to the extent that UBS has gone through to avoid doing what their agreements with the United States require them to do, should be allowed to continue to do business unless they clean up their act." Levin said.

UBS's role in arranging "undeclared" accounts for an estimated 19,000 US citizens was one focus of a hearing by the Senate Permanent Subcommittee on Investigations, chaired by Levin today. The role of the LGT bank, owned by the royal family of Liechtenstein, was also investigated. Levin said UBS practices resulted in its US clients maintaining undeclared Swiss accounts that collectively held "$18 billion dollars in assets that have been kept secret from the the IRS." [>abcnews.go.com]
---
7.17.08 Israel and Russia close to deal on Mediterranean pipeline
July 17 - Jerusalem is close to an agreement with Moscow that would secure natural gas for a planned pipeline project between Turkey and Israel, Infrastructure Minister Binyamin Ben-Eliezer said on Thursday. The project consists of five pipelines that would carry water, natural gas, oil, electricity and fibre optics from Turkey's Mediterranean coast to Israel. "We are very close to reaching an agreement with Russia that would supply the pipeline with natural gas," Ben-Eliezer said after meetings with Turkish energy officials over technical details of the pipeline project. Feasibility studies on an accompanying oil pipeline will be done in 10 months, said Turkish Energy Minister Hilmi Guler, adding that the pipeline could carry at least 40 million tones of oil annually. [More>>haaretz.com]
---
7.17.08 Freed detainees receive heroes' welcome
July 17 - Lebanon welcomes back its liberated sons, Israel mourns its slain soldiers. Five Lebanese prisoners freed by Israel arrived to a hero's welcome in Lebanon Wednesday, hours after Hizbullah handed over the bodies of two Israeli soldiers seized two years ago. Among those freed in a prisoner swap greeted with triumph in Lebanon but anguish in Israel was Samir Kontar, who was sentenced to five life terms for a a deadly raid in 1979. The prisoners were transported to Lebanon in a convoy of four International Committee of the Red Cross vehicles via the Naqoura border crossing, where they were cheered and applauded by crowds of Hizbullah supporters who had been waiting all day for their arrival.
They were then flown by helicopters to Beirut, where they were accorded a red-carpet welcome by Lebanese President Michel Sleiman, Prime Minister Fouad Siniora, Parliament Speaker Nabih Berri, the entire Cabinet and a host of lawmakers and religious leaders. The five — Kontar and Hizbullah fighters Khaled Zidan, Maher Kourani, Mohammad Srour and Hussein Suleiman — stood on a platform as Sleiman spoke before shaking hands with politicians lined up to greet them. "Your return is a new victory and the future in your presence will be a path in which we will realize the sovereignty of our territory and the liberty of our people," Sleiman said. [More>>dailystar.com.lb ; See also:

jpost.com, July 17, "Kuntar: I'll continue Mughniye's legacy" : Five Lebanese terrorists set free as part of a prisoner swap with Israel prayed Thursday at the grave of a slain Hizbullah military commander, pledging to follow in his footsteps and continue fighting Israel...
---
7.17.08 NATO claims Taliban commander killed
KABUL, Afghanistan (AP) July 17 - NATO reported Thursday that a senior Taliban commander has been killed and Afghan officials said an airstrike left at least 10 insurgents dead and four civilians wounded. The military alliance said that Bismullah Akhund, an insurgent leader in the southern province of Helmand, was killed on Saturday in Naw Zad district. It did not say how Akhund died. NATO accused Akhund of supplying weapons and roadside bombs that have killed Afghan and foreign forces in the area — a hub of the insurgency wracking Afghanistan.
Meanwhile, Gen. Mohammad Zahir Azimi, a defense ministry spokesman, said "tens of enemy" were killed during a joint NATO-Afghan army operation in the western province of Herat. NATO confirmed it launched an airstrike against insurgents that "was effective." It provided no other details. There were varying accounts of the death toll. The head of Herat's provincial council, Humayun Azizi, said 10 to 12 militants were killed and that there were also reports of civilian casualties from the airstrikes. [More>>indianexpress.com: hosted.ap.org]
---
7.17.08 Taliban give NWFP government 5-day ultimatum to quit
PESHAWAR, Pakistan, July 17 - Tehreek- I -Taliban has warned NWFP government of dire consequences in case it failed to step down within the next five days. Taliban spokesman Maulvi Umer told Geo News on Telephone that Tehreek- I -Taliban will be forced to take action against NWFP government if it fails to quit. "NWFP government will itself be responsible for the damage," he warned. "ANP government made peace pacts but failed to fulfill its promises," Taliban spokesman maintained. [>thenews.com.pk]
---
7.17.08 Morocco handpicks preachers for Europe
RABAT, Morocco (AFP) July 17 - Morocco is to send more than 170 preachers throughout Europe from September until Ramadan to protect its citizens from extremist speeches, the government said Wednesday. The decision follows a request from King Mohammed VI. The 167 men and nine women have been given the task of "answering to the religious needs of the Moroccan community abroad, to protect them from any speeches of an extremist or irregular nature and shelter them from fanaticism and extremism," according to a government statement. They must also ensure that expatriate Moroccans remain true to their roots and Malikite traditions and instill in them the values of "good citizenship," the statement added. The preachers received their instructions at a meeting Wednesday in Rabat with the Minister for Islamic Affairs, Ahmed Taoufiq, and the Secretary General of the Higher Council of Clerics, Mohamed Yessef. [More>>alarabiya.net]
---
7.17.08 Woodland birds on route to extinction as numbers dive
July 17 - Birds of Britain's woodlands are declining so rapidly that some appear to be on the road to extinction, a study reveals today. A suite of woodland species, from the nightingale to the spotted flycatcher, fell by more than 50 per cent between 1994 and last year, according to the report of the annual Breeding Bird Survey, run by the British Trust for Ornithology, the Royal Society for the Protection of Birds and the Joint Nature Conservation Committee. The willow tit has declined by 77 per cent over the period and is extinct over much of Britain. But other declines are nearly as bad: since 1994, wood warbler has declined by 67 per cent, nightingale by 60 per cent, spotted flycatcher by 59 per cent and pied flycatcher by 54 per cent. Lesser spotted woodpecker has declined so much that it is too rare to monitor accurately on a national basis.
Over the past 30 years declines of Britain's farmland birds have been the main concern, with grey partridge and corn bunting falling nearly 90 per cent because of the intensification of agriculture. Now woodland birds seem to be going the same way — but the causes are much less obvious. Factors being considered include predation by grey squirrels or great spotted woodpeckers (not proved), the decline in the form of woodland management known as coppicing (possible) and the huge rise in the numbers of deer (much more likely). Virtually all species of deer are steadily increasing, led by the muntjac. Their browsing is causing structural changes to the vegetation, and the undergrowth where birds nests are disappearing.
The other factor is migration. Four of the five birds with the biggest drop in numbers — wood warbler, nightingale and the two flycatchers — are summer visitors, spending the winter in Africa south of the Sahara, and conservationists fear trouble on their journeys or on the wintering grounds could be to blame. [More>>independent.co.uk]
---
7.14.08 Sudan's president charged with genocide
(AP) July 14 - Sudan's president was charged with genocide today, accused of masterminding a campaign to wipe out entire tribes in the war-torn Darfur region. But Omar al-Bashir is unlikely to be brought before the International Criminal Court soon as his country rejects its authority and senior officials claimed the charges were politically motivated. However it was the first time prosecutors at the world's first permanent, global war crimes court have issued charges against a sitting head of state.
Head prosecutor Luis Moreno-Ocampo asked a three-judge panel to issue an arrest warrant for al-Bashir to prevent the slow deaths of 2.5 million people forced from their homes in Darfur and still under attack from government-backed janjaweed militia. [More>>independent.co.uk]
---
7.14.08 Rescue plan not enough to lift Fannie, Freddie shares
July 14 - Struggling US Dollar Gains Against Euro, Yen. Government efforts to support mortgage giants Fannie Mae and Freddie Mac drew a tepid response from investors today after last week's steep collapse, but bond investors showed faith in a new Freddie debt issue. As Wall Street took stock of a broad government plan to support the two companies, investors initially pushed Fannie Mae's stock price up more than 20 percent, while Freddie Mac added more than 15 percent in early trading.
Those sharp gains, however, quickly evaporated, an indication that government action over the weekend had not fully restored confidence that the two companies can weather the current downturn in the real estate and mortgage markets. Freddie dropped about 6 percent and Fannie was down more than 1 percent shortly after 12:30pm [More>>washingtonpost.com]
---
7.14.08 Syria warns against incalculable Iran strike
PARIS (Reuters) July 14 - Syrian President Bashar al-Assad warned on Monday that an assault on Iran over its controversial nuclear programme would have grave consequences for the United States, Israel and the world. "It will cost the United States and the planet dear," Assad said in an interview with France Inter radio. "Israel will pay directly the price of this war. Iran has said so."
Iranian President Mahmoud Ahmadinejad told a senior official not to interfere in the nuclear dispute with the West, in what analysts see as a sign of internal concern that the president's hardline tactics are further isolating his country. Speculation about a strike against Iran's nuclear facilities mounted following a report that the Israeli air force rehearsed for such an attack. The United States has refused to rule out military action if diplomacy fails to stop Iran's atomic enrichment. [More>>thestar.com.my; See related story, jpost.com, July 14, " 'Peace would hurt Syria-Iran relations.' "]
---
7.14.08 Chief prosecutor indicts 86 people on charges of attempting to overthrow Turkish government
ISTANBUL, July 14 - The indictment regarding the operation "Ergenekon" was filed at an Istanbul court on Monday, indicting 86 people on charges of attempting to overthrow Turkish government, a prosecutor said. Istanbul Chief Prosecutor Aykut Cengiz Engin unveiled technical details of the indictment on Ergenekon investigation at a press conference. "The indictment includes 86 suspects, 48 of whom are in prison," Engin said.
He said the 2455-page indictment and its 441-folder annexes accused the suspects of "being members of an armed terrorist organization, aiding the armed terrorist organization, attempting to overthrow [the] Turkish government by force, inciting people to armed insurgency, possessing and throwing explosives, instigating these crimes, instigating the attack on Council of State and bombing of daily Cumhuriyet, having secret documents on state security, recording personal data, encouraging military disobedience, inciting people to enmity and animosity."
An alleged criminal network that came to be known as "Ergenekon" was revealed after police seized hand grenades, TNT explosives and fuses in a shanty house in Istanbul on June 12th, 2007 and Istanbul Chief Prosecutor's Office launched an investigation into weapons. Several Turkish figures, including two senior retired generals, a political party leader and a business leader, were detained and sent to prison within the scope of the investigation. [More>>turkishpress.com]
---
7.14.08 PM Gilani fears incident like 9/11 could happen again
ISLAMABAD, July 14 - Prime Minister Syed Yousuf Raza Gilani has said that foreigners are present in the tribal areas and [an] incident like 9/11 could happen again. Talking to media, Prime Minister Gilani said Chechens, Uzbeks and other foreigners are present in Pakistan's tribal region. [The] United States is supporting Pakistan's three-pronged strategy in [the] war against terror. [More>>thenews.com.pk]
---
7.14.08 Pakistan marble helps Taliban stay in business
ZIARAT, Pakistan, July 14 - The mountain of white marble shines with such brilliance in the sun it looks like snow. For four years, the quarry beneath it lay dormant, its riches captive to tribal squabbles and government ineptitude in this corner of Pakistan's tribal areas. But in April, the Taliban appeared and imposed a firm hand. They settled the feud between the tribes, demanded a fat fee up front and a tax on every truck that ferried the treasure from the quarry. Since then, Mir Zaman, a contractor from the Masaud subtribe, which was picked by the Taliban to run the quarry, has watched contentedly as his trucks roll out of the quarry with colossal boulders bound for refining in nearby towns.
"With the Taliban it is not a question of a request to us, but a question of force," said Mr. Zaman, a bearded, middle-aged tribal leader who seemed philosophical about the reality of Taliban authority here. At least the quarry was now operating, he said. The takeover of the Ziarat marble quarry, a coveted national asset, is one of the boldest examples of how the Taliban have made Pakistan's tribal areas far more than a base for training camps or a launching pad for sending fighters into Afghanistan. [More>>nytimes.com]
---
7.14.08 'Taliban' kill seven Afghans accused of spying
KABUL, July 14 - The Taliban have shot dead at least seven Afghan civilians whom they captured on suspicion of working for the government or other organizations, police and the militants said Monday. The civilians were taken from cars, buses and taxis that were stopped on the main road between Kabul and the southern city of Kandahar on Sunday, said the deputy police chief for Zabul province, Jailani Khan. "They have shot them dead. Their bodies are with police," he said. The seven were abducted in Ghazni province, south of Kabul, and killed in neighboring Zabul, he said. [>thenews.com.pk]
---
7.13.08 43 Mediterranean nations gather to launch regional union
PARIS (AP) July 13 - More than 40 nations home to 800 million people were set Sunday to join in a Union for the Mediterranean, a vast though vague body its boosters hope can nudge this disparate and conflicted swath of the world toward peace and stability. Israeli, Syrian and Palestinian leaders were among those attending an unprecedented gathering on the River Seine in Paris. Coping with age-old enmities involving their peoples and others along the Mediterranean shores will be a central challenge to the new union. French President Nicolas Sarkozy urged nations around the Mediterranean to learn to love one another rather than to continue to hate each other and wage war."
Israeli Prime Minister Ehud Olmert said: We are closer than ever to a possible (peace) agreement today" with the Palestinians and said he hoped for direct contacts soon" with enemy Syria. France's foreign minister urged the countries to unite to deal with global warming, growing migration and shrinking water and energy resources...A draft declaration obtained by The Associated Press shows that summit participants will announce objectives of achieving peace, stability and security" in the region. But the few firm measures are things such as a region-wide solar energy project, a cross-Mediterranean student exchange program and a plan to clean up the polluted sea. [Full story, khaleejtimes.com]
---
7.13.08 US soldiers killed in Afghanistan
July 13 - At least eight US soldiers have been killed in Afghanistan in clashes with Taleban militants. US commander Daniel Dwyer told the BBC the soldiers had been killed in clashes in the north of the country, close to the border with Pakistan. The BBC's Martin Patience in Kabul says it is one of the biggest single losses in a day for the coalition since the start of military operations there. [More>>bbc.co.uk; See related stories, thenews.com.pk, July 13, "40 Taliban militants killed in Afghanistan: US-led force." ; xinhuanet.com, July 13, "Suicide bombing kills 25, wounds 27 in S. Afghanistan." and timesonline.co.uk, July 13, "US soldiers killed in Afghanistan as Taliban attacks base."]
---
7.13.08 West seizes £800m-worth of drugs from Iranian ports
July 13 - Tehran strenuously denies involvement in narcotics smuggling, widely claimed to be a crucial source of income for the Taliban. Worsening tension between Iran and the West has been given a new twist by the revelation that the Royal Navy and allied forces have intercepted smuggled narcotics worth more than £800m coming out of Iranian ports. Much of the money, it is claimed, helps to fund the Taliban in Afghanistan. Although raids on drugs-carrying dhows have been going on for several months near the sensitive Straits of Hormuz, at the mouth of the Gulf, they have only now been made public. According to military sources, the dhows carrying the narcotics are loaded in a number of small Iranian ports, but Tehran strenuously denies being involved in the illicit trade. It says any Western allegation of a link to trafficking is propaganda, partly aimed at justifying its large-scale naval presence in the area.
The accusations come amid growing fears of an attack on Iran by the US or Israel to halt Tehran's alleged attempts to develop nuclear weapons, and threats of retaliation by the Iranians. In the wake of an Israeli military exercise designed to show its ability to carry out a long-range strike on Iran, the Iranians responded with a series of missile test launches. Yesterday Iranian government spokesmen kept up the threatening rhetoric, with a senior official, Mojtaba Zolnour, saying: "The US knows full well that with the smallest move against Iran, Israel and 32 US military bases in the region would not be out of the reach of our missiles, and would be destroyed." The cleric represents the supreme leader, Ayatollah Ali Khamenei, in Iran's Revolutionary Guard, which was responsible for the missile tests. [More>>independent.co.uk]
---
7.13.08 Pakistan says US not hunting bin Laden on its turf
NEW YORK (AP) July 13 - Pakistan's top diplomat said Saturday there are no US or other foreign military personnel on the hunt for Osama bin Laden in his nation, and none will be allowed in to search for the al-Qaeda leader. In an interview with The Associated Press, Pakistani Foreign Minister Shah Mahmood Qureshi said his nation's new government has ruled out such military operations, covert or otherwise, to catch militants. "Our government's policy is that our troops, paramilitary forces and our regular forces are deployed in sufficient numbers. They are capable of taking action there. And any foreign intrusion would be counterproductive," he said Saturday. "People will not accept it. Questions of sovereignty come in."
The United States has grown increasingly frustrated as al-Qaeda, the Taliban and other militants thrive in Pakistan's remote areas and in neighboring Afghanistan, and has offered US troops to strike at terror networks. Critics in Washington also have expressed frustration with the new Pakistani government's pursuit of peace deals in the region. Bin Laden is believed to be hiding somewhere along the rugged and lawless Afghan-Pakistan border region.
Pakistan's newly elected civilian government is negotiating with tribal elders to secure peace with militants along the Afghan border in hopes of curbing a surge in violence. It is a step back from the heavy-handed tactics pursued by the previous government led by supporters of President Pervez Musharraf. [More>>indianexpress.com: hosted.ap.org]
---
7.12.08 Korea negotiators agree on nuclear arms inspections
BEIJING, July 12 - Negotiators in the North Korean nuclear talks agreed Saturday to a blueprint for verifying North Korea's nuclear disarmament as part of a deal under which it would dismantle its main Yongbyon nuclear weapons complex by the end of October in exchange for energy and economic aid. The accord, announced by China in a joint communiqué among the six nations involved in the talks, gives new momentum to the negotiations, yet leaves many difficult issues unresolved in what has been a long and halting process to rid North Korea of its nuclear arsenal. No timetable has been set for full disarmament.
In the coming weeks, negotiators will try to hammer out critical details of the verification process that will be used by international inspectors to ensure that North Korea carries out its commitment to disarm. Under the agreement made public on Saturday, international inspectors will be allowed to visit North Korean nuclear facilities, review documents and interview technical personnel. In addition, the International Atomic Energy Agency will be allowed to participate in the verification process. But those broad steps do not define the specifics of the verification process or describe how much leeway will be granted to inspectors visiting nuclear sites. [More>>nytimes.com]
---
7.12.08 Court chips away at White House secrecy
July 12 - A federal appeals court dealt a blow yesterday to White House efforts to keep secret the names of people who visited Vice President Cheney. A three-judge panel of the U.S. Court of Appeals for the District of Columbia Circuit ruled that the White House had prematurely appealed a decision by a federal judge last year that visitor logs are public records. The ruling came in a lawsuit brought by a watchdog group, Citizens for Responsibility and Ethics in Washington, seeking information about nine conservative religious leaders who visited Cheney.
White House lawyers argued that the logs are considered presidential records outside the scope of the Freedom of Information Act. In December, U.S. District Judge Royce C. Lamberth ruled that the logs are public records and ordered the Secret Service, which maintains them, to process the group's request. The Secret Service could then try to withhold the information under exemptions in the public records law, according to opinions by Lamberth and the appeals court. The appellate decision, written by Judge David S. Tatel, sent the case back to Lamberth to consider. [>washingtonpost.com]
---
7.12.08 Xinhua's guide to dining out in Beijing
BEIJING, July 11 - You'll find a selection of great restaurants around almost every corner in Beijing, but some areas have built their reputations on their cuisines. Here's Xinhua's brief guide to Beijing's best known food areas. Restaurants and bars are scattered along the sides of a serpentine lake north of the Forbidden City, the very center of Beijing, making a great place to sit back and enjoy the views, particularly at night when the lights glisten off the water. Restaurants here offer a range of Chinese and foreign cuisines,including the Hakka cuisine from south China, spicy Sichuan and Yunnan dishes, light Vietnamese and heavier Russian food. Most of the restaurants offer a cozy dining environment. Many have a lake view, some set up tables in the open beside the water, while boats offer dining on the lake.

...Nanluoguxiang, or South Gong and Drum Lane

The south-north lane, about 800 meters long and quite narrow in places, is about a block east of Houhai, said to exist when Yuan Dynasty founded by Genghis Khan built its capital here more than 700 years ago. Many restaurants here are hidden in small and quiet traditional courtyards, or siheyuan, offering a good experience of life in old Peking on idle Sunday afternoons...

...Guijie, or Ghost Street

The 1.4-km-long east-west street in eastern downtown Beijing was used for peddlers who sold groceries 60 or 70 years ago. The fair usually started at midnight and ended in early morning, and those peddlers who were dimly lit up by kerosene burners, looked like ghosts...

...Donghuamen Night Food Bazaar

Hemmed in by food stalls, this short street is renowned for its snacks from Beijing and other parts of the country, and conveniently located near the Wangfujing shopping area. The snacks on offer can be scary, fitting with the stereotype that Chinese eat anything that moves. There are baked bugs or scorpions on a stick. More conventional are roast mutton skewers, fried dumplings, sugarcoated fruit, yellow pea cakes, fried flour tea and boiled beef tripe served with sesame paste...

...Worker's Stadium and Sanlitun

Near the heart of Beijing's diplomatic area and Central Business District, the restaurants here cater to the up market white-collar crowd... [Full story>>xinhuanet.com]
---
7.12.08 'Six months to save Lascaux'
July 12 - Unesco, the world cultural body, has threatened to humiliate France by placing the Lascaux caves — known as the "Sistine Chapel of prehistory" — on its list of endangered sites of universal importance. The Unesco world heritage committee, meeting this week in Quebec, has given the French government six months to report on the success of its efforts to save the Lascaux cave paintings in Dordogne from an ugly, and potentially destructive, invasion of grey and black fungi.
At the same time, a scientific committee appointed by the French government has conceded that an elaborate treatment with a new fungicide in January failed to stop the mould advancing through one part of the caves. An independent pressure group of scientists and historians claims that up to half of the startlingly beautiful, 17,000-year-old images of bison, horses, wild cattle and ibex are now threatened by the fungal invasion — the second of its kind in eight years. [More>>independent.co.uk]
---
7.12.08 Syria's Assad in France to break isolation
PARIS (AFP) July 12 - Syrian President Bashar al-Assad is set to begin a three-day visit to France on Saturday, seeking to make headway in the push by Damascus to break out of diplomatic isolation. After years of being shunned by former French leader Jacques Chirac, Assad will be welcomed at the Elysee palace for talks with President Nicolas Sarkozy before joining some 40 other foreign leaders for a Mediterranean summit on Sunday.
Assad will also hold a meeting in Paris on Saturday with new Lebanese President Michel Sleiman, their first since his breakthrough election in May ended Lebanon's worst political crisis since the 1975-1990 civil war. But speculation of a historic meeting between Assad and Israeli Prime Minister Ehud Olmert has been quashed, even though the leaders will find themselves at the same table for the launch of the Union for the Mediterranean.
On Monday, the 42-year-old Syrian leader joins dozens of other leaders from Europe, the Middle East and north Africa to watch the annual Bastille Day military parade on the Champs Elysees during France's national celebrations. [More>>turkishpress.com]
---
7.12.08 Seven die in Afghan violence
KANDAHAR, Afghanistan, July 12 - Seven people including a six-year-old boy were killed in Taliban-style bombings in Afghanistan Saturday, including a suicide attack in the insurgency-hit south, officials said. In one attack, a suicide bomber detonated explosives strapped to his body near an Afghan military convoy in southern province of Helmand, killing two soldiers and a child, a police commander said. The blast comes days after a suicide car bomb targeting the Indian embassy in Kabul killed more than 40 people including two Indian envoys. "A suicide bomber on foot blew himself up near a joint convoy of police and army. Two soldiers and a six-year-old boy were killed," provincial police chief Mohammad Hussein Andiwal said. [More>>thenews.com.pk]
---
7.12.08 Seven Pakistani troops killed in ambush
PESHAWAR, Pakistan (AFP) July 12 - Suspected Taliban militants ambushed a Pakistani paramilitary convoy Saturday in a restive northwestern town, killing at least seven soldiers and wounding dozens more, officials said. The convoy was heading to a fort outside Hangu district near the border with Afghanistan when the rebels attacked it with rocket propelled grenades and assault rifles, local police officer Shakirullah Jan told AFP. He did not however confirm the death toll.
A senior security official, speaking on condition of anonymity, said seven soldiers were killed and 25 wounded in the attack in the neighbourhood of Zargari, outside Hangu city. Security forces responded by attacking Taliban positions using gunship helicopters and artillery fire in the mountainous region. "We have reports three militants were killed and 10 wounded in retaliatory fire," the security official said. [>khaleejtimes.com]
---
7.12.08 Gunmen kill 2 police, injure another in north Iraq
BAGHDAD (AP) July 12 - Iraqi police say gunmen have killed two policemen and injured another in the northern city of Mosul. A provincial security official says the drive-by shooting happened on Saturday in the western part of the city. He spoke on condition of anonymity because he is not authorized to speak to the media. In another attack, a bomb killed the driver of a civilian vehicle in the eastern part of Mosul. The city is believed to have become a new base of operations for Sunni extremists who were escaping intense military pressure in Baghdad and other areas where they used to have strongholds. [>indianexpress.com: hosted.ap.org]
---
7.11.08 Fannie and Freddie shares slide, dragging down markets
July 11 - Fannie Mae and Freddie Mac shares plummeted again on Friday morning — and the broader stock market followed suit — as concern mounted that the government will be forced to take over the beleaguered mortgage finance companies, which some investors fear are at risk of default. Even after a week of unprecedented losses, the companies' declines on Friday were the sharpest yet: Freddie Mac shares were down 45 percent from Thursday's closing price, to $4.42 a share, and Fannie Mae stock fell 39 percent to $8.06 a share.
Less than an hour after the markets opened, Henry M. Paulson, the Treasury secretary, said a government bailout was not an immediate possibility. "Our primary focus is supporting Fannie Mae and Freddie Mac in their current form," Mr. Paulson said in a statement. "We are maintaining a dialogue with regulators and with the companies." [More>>nytimes.com]
---
7.11.08 Sudan president expected to face war crimes charges
UNITED NATIONS (AP) July 11 - UN officials and diplomats say Sudan's president is widely expected to be charged by the International Criminal Court with crimes against humanity and genocide in Darfur. The court says evidence will be presented to judges Monday and one or more new suspects will be named. Lesser charges of helping orchestrate genocide and participating in crimes against humanity are expected to be sought against Sudanese Vice President Ali Osman Mohammed Taha. The UN officials and diplomats spoke on condition of anonymity because of the sensitivity of the issue. A spokesman for Sudan's president dismissed the investigation and said his government refuses to hand over any suspects. [>indianexpress.com: hosted.ap.org]
---
7.11.08 21/7 bomber's fiancee jailed for helping 'burka escape'
July 11 - The fiancee of one of the failed July 21 suicide bombers was today jailed for three years for helping him to escape by dressing as a Muslim woman in a burka. Teenager Fardosa Abdullahi gave bomb plot ringleader Yassin Omar her mother's long black robe to help him flee London the day after the attacks in 2005. Abdullahi, now 20, got engaged to Omar in an Islamic ceremony four days before he tried to blow up himself with fellow passengers at Warren Street Tube station. She admitted helping him escape at an Old Bailey hearing last month but her plea could not be reported until today. [More>>timesonline.co.uk]
---
7.11.08 Muslim woman too 'radical' to be French: court
PARIS (Reuters) July 11 - France has denied citizenship to a veiled Moroccan woman on the grounds that her "radical" practice of Islam is incompatible with basic French values such as equality of the sexes, a legal ruling showed on Friday. The case will reignite debate about how to reconcile freedom of religion, which is guaranteed by the French constitution, and other fundamental rights, which many in France feel are being challenged by the way of life of some Muslims.

Le Monde newspaper said it was the first time a Muslim applicant had been rejected for reasons to do with personal religious practice. "She has adopted a radical practice of her religion, incompatible with essential values of the French community, particularly the principle of equality of the sexes," said a ruling by the Council of State handed down last month and sent to Reuters on Friday to confirm a report in Le Monde. [More>>alarabiya.net; See details, lemonde.fr, July 11,"Une Marocaine en burqa se voit refuser la nationalité française."]
---
7.11.08 Antarctic ice shelf 'hanging by thread'
PARIS, July 11 - New evidence has emerged that a large plate of floating ice shelf attached to Antarctica is breaking up, in a troubling sign of global warming, the European Space Agency (ESA) said on Thursday. Images taken by its Envisat remote-sensing satellite show that Wilkins Ice Shelf is "hanging by its last thread" to Charcot Island, one of the plate's key anchors to the Antarctic peninsula, ESA said in a press release. "Since the connection to the island… helps stabilize the ice shelf, it is likely the breakup of the bridge will put the remainder of the ice shelf at risk," it said.
Wilkins Ice Shelf had been stable for most of the last century, covering around 16,000 square kilometers before it began to retreat in the 1990s. Since then, several large areas have broken away, and two big breakoffs this year left only a narrow ice bridge about 2.7 kilometers wide to connect the shelf to Charcot and nearby Latady Island...In the past three decades, six Antarctic ice shelves have collapsed completely — Prince Gustav Channel, Larsen Inlet, Larsen A, Larsen B, Wordie, Muller and the Jones Ice Shelf. [Full story>>japantoday.com; See related story, nytimes.com, July 11, "Lawmakers say EPA to delay action on climate."]
---
7.11.08 New windows double as solar panels
July 11 - A new type of solar panel that allows light to pass through it like a pane of glass has been invented by scientists who said that it is 10 times more powerful than conventional methods of producing energy from sunlight. The discovery raises the prospect of using ordinary domestic windows to generate electricity with minimum structural alterations, although scientists have not yet worked out how much it would cost to convert a domestic home to a solar-powered generator.
Instead of coating the entire solar panel with solar cells — the expensive semiconductor devices that turn the energy of sunlight into electricity — the new solar panel works on the principle of concentrating the light, and the energy, at the edges of a pane of glass where it can be collected by the solar cells.
Scientists from the Massachusetts Institute of Technology (MIT) in Boston said that the "solar concentrator" is made from a film of organic molecules that can be coated on to glass window panes or other surfaces exposed to sunlight. This allows light to pass straight through the window even though it is being used to generate power. [More>>independent.co.uk]
---
7.11.08 Four suspected kidnappers arrested in Philippines
MANILA (DPA) July 11 - Four suspected kidnappers, including a former vice mayor and a policeman, have been arrested in the Philippines after they collected ransom for hostages they already killed, police officials said Friday. The hostages, retired pilot Demosthenes Canete and his driver Allan Garay, were killed on the night they were abducted on June 27 in Cavite province, just south of Manila. But the kidnappers still demanded ransom from the victims' family, according to Senior Superintendent Leonardo Espina, chief of the police anti-crime and emergency response.
Espina said two of the suspects were arrested during a ransom pay-off arranged by Canete's family with the assistance of the police on July 4 in Manila. "Operatives monitoring the pay-off promptly arrested (the two suspects) as they picked up the ransom," he said. "The ransom takers admitted during investigation that they were acting on orders (of a police officer)." [More>>khaleejtimes.com]
---
7.11.08 Study finds Myanmar, Indonesia, Thailand face high risk from arsenic contamination
BANGKOK (AP) July 11 - Myanmar's cyclone-devastated Irrawaddy delta and Indonesia's Sumatra island face high risks of arsenic contamination in groundwater that could cause cancer and other diseases in residents, according to a study released Friday. Using a digitalized model that examines geological features and soil chemistry in Southeast Asia, researchers writing in the peer-reviewed journal Nature Geoscience mapped several likely hotspots that had never been assessed for arsenic risks. "Obviously, there is concern," said Michael Berg, one of the five authors, who is a senior scientist at the Swiss Federal Institute of Aquatic Science and Technology in Dubendor, Switzerland. "If you look at our data, there is risk of arsenic in the ground water."
Arsenic, especially in drinking water, is a global threat to health, affecting more than 70 countries and 137 million people. The country worst affected is Bangladesh, where hundreds of thousands of people are in danger of dying from cancers of the lung, bladder and skin. Odorless and tasteless, arsenic enters water supplies from natural deposits in the ground or from agricultural and industrial practices. Arsenic is poisonous when consumed in high doses, but even smaller amounts can cause cancer, skin problems and abnormal heart rhythms...Researchers said regions with organic-rich sediment containing silt and clay have a higher likelihood of arsenic contamination. [Full story>>thejakartapost.com]
---
7.11.08 US airstrikes killed 47 wedding guests
JALALABAD, Afghanistan (AFP) July 11 - An official investigation has found that US-led air strikes a week ago struck a wedding and killed 47 Afghan civilians, most of them women and children, an official said today. The US-led coalition has steadfastly denied that it killed civilians in the July 6 strikes in the mountains of eastern Nangarhar province, saying only extremist militants had died. But a nine-member team appointed by President Hamid Karzai to look into the incident found that only civilians were killed in the strikes in remote Deh Bala district, said the head of the mission, Burhanullah Shinwari. "We found that 47 civilians, mostly women and children, were killed in the air strikes and another nine were wounded," said Shinwari, who is also the deputy speaker of Afghanistan's senate. [>news.com.au]
---
7.10.08 Rove ignores subpoena, refuses to testify
WASHINGTON (AP) July 10 - Former White House adviser Karl Rove defied a congressional subpoena and refused to testify Thursday about allegations of political pressure at the Justice Department, including whether he influenced the prosecution of a former Democratic governor of Alabama. Rep. Linda Sanchez, chairman of a House subcommittee, ruled with backing from fellow Democrats on the panel that Rove was breaking the law by refusing to cooperate — perhaps the first step toward holding him in contempt of Congress.
Lawmakers subpoenaed Rove in May in an effort to force him to talk about whether he played a role in prosecutors' decisions to pursue cases against Democrats, such as former Alabama Gov. Don Siegelman, or in firing federal prosecutors considered disloyal to the Bush administration.
Rove had been scheduled to appear at the House Judiciary subcommittee hearing Thursday morning. A placard with his name sat in front of an empty chair at the witness table, with a handful of protesters behind it calling for Rove to be arrested. A decision on whether to pursue contempt charges now goes to the full Judiciary Committee and ultimately to House Speaker Nancy Pelosi. [More>>washingtonpost.com]
---
7.10.08 Iran test-fires more missiles in Persian Gulf
TEHRAN (AP) July 10 - Iran test-fired more long-range missiles overnight in a second round of exercises meant to show that the country can defend itself against any attack by the US or Israel, state television reported Thursday. The weapons have "special capabilities" and included missiles launched from naval ships in the Persian Gulf, along with torpedoes and surface-to-surface missiles, the broadcast said. It did not elaborate. A brief video clip showed two missiles being fired simultaneously in the darkness trailed by red plumes of fire and smoke.
The report came hours after Secretary of State Condoleezza Rice warned Iran that Washington will not back down in the face of threats against Israel. "We are sending a message to Iran that we will defend American interests and the interests of our allies," Rice said Thursday in Georgia at the close of a three-day Eastern European trip. [More>>abcnews.go.com ; See related story,

jpost.com, July 10, "French energy giant opts out of Iran." : The French oil and gas giant Total said that it will not invest in an Iranian gas field, describing the situation there as too politically risky, the company's CEO told the Financial Times. The company was considering investing in a liquefied natural gas project in Iran and was the last major Western oil company mulling such an investment there. Total will be the third European company to opt out of the scheme after Royal Dutch Shell and Spain's Repsol decided not to invest in the project, but those two companies said they may join later stages of the field's development...
---
7.10.08 Hamas arrests militants after rocket fire
GAZA (Reuters) July 10 - Hamas arrested two militants who fired cross-border rockets into southern Israel from the Gaza Strip on Thursday, in the first such detentions since the Islamists and Israel agreed a truce last month, militants said. An official with the al-Aqsa Martyrs Brigades, a militant faction of Palestinian President Mahmoud Abbas's Fatah movement, said Hamas security forces arrested two of its members who were involved in firing two rockets at Israel. "They chased the two after they fired the rockets and abducted them," the official said.
Hamas, which seized control of the Gaza Strip after routing Abbas's more secular Fatah faction a year ago, had no immediate comment. Al-Aqsa said it fired the two rockets into southern Israel after Israel's killing of an unarmed infiltrator from the coastal area earlier in the day. The Egyptian-brokered truce, which took effect June 19, has been shaken by several rocket attacks, prompting Israel to temporarily close the Gaza Strip's border crossings. [>khaleejtimes.com; See more details, jpost.com, July 10, "Al-Aksa official: Hamas nabs two gunmen for Kassam attack."]
---
7.10.08 2 Taliban killed by group of Afghan villagers
KABUL (AP) July 10 - A group of villagers in northwestern Afghanistan used a machine gun, sticks and stones to kill two Taliban militants and chase 10 others away, a provincial police chief said Thursday. The militants had tried to abduct local aid workers who were building a well in the Qayar district of Faryab province on Wednesday, said the police chief, Khalil Andarabi. The villagers confronted the militants, and after a brief altercation, shot at them, killing two and forcing the rest to flee, he said.
The bodies of the dead militants, which included the Taliban-appointed shadow governor for the province, were still with the villagers, Andarabi said. In areas where there is a Taliban presence, the militants appoint representatives to carry out administrative jobs such as tax collection and resolving disputes using traditional methods...Separately, NATO-led forces said troops in central Logar province killed a Taliban militant involved with suicide bombing networks. The alliance accused the militant, Mohammed Daud Rahimi, of identifying targets for suicide bombers in Kabul and helping the bombers into the city. [Full story>>indianexpress.com: hosted.ap.org]
---
7.10.08 Militant gains in Pakistan said to draw fighters
WASHINGTON, July 10 - American military and intelligence officials say there has been an increase in recent months in the number of foreign fighters who have traveled to Pakistan's tribal areas to join with militants there. The flow may reflect a change that is making Pakistan, not Iraq, the preferred destination for some Sunni extremists from the Middle East, North Africa and Central Asia who are seeking to take up arms against the West, these officials say.
The American officials say the influx, which could be in the dozens but could also be higher, shows a further strengthening of the position of the forces of al-Qaeda in the tribal areas, increasingly seen as an important base of support for the Taliban, whose forces in Afghanistan have become more aggressive in their campaign against American-led troops. According to the American officials, many of the fighters making their way to the tribal areas are Uzbeks, North Africans and Arabs from Persian Gulf states. American intelligence officials say that some jihadist Web sites have been encouraging foreign militants to go to Pakistan and Afghanistan, which is considered a "winning fight," compared with the insurgency in Iraq, which has suffered sharp setbacks recently. [More>>nytimes.com]
---
7.09.08 Three police, 3 gunmen killed at US Istanbul mission
ISTANBUL (Reuters) July 9 - Three policemen and three gunmen were killed in an armed attack on the United States consulate in Istanbul on Wednesday, the city's governor said. A witness said the attackers drove a car up to the high- walled compound situated outside Istanbul city centre and overlooking the Bosphorus waterway. Three jumped out as the car halted and began firing at police who approached. Governor Muammer Guler said one of the police officers had died at the scene in a gunbattle lasting several minutes. Two had died of their wounds at a nearby hospital. Two other people were also injured.
Television images showed paramedics carrying out heart massage on one of those lying on the ground. The shirts of one of the men was ripped open. Blood was flowing from the head of another person. "They (assailants) were four people. Three of them got out of the car and fired at the police. I saw them dead afterwards lying on the ground and many more dead among the police," Enis Yilmaz, who was going to the consulate for a visa application, told Reuters. He said the other person drove off in a vehicle. [More>>thestar.com.my; See more details, turkishpress.com, July 9, "Six killed in attack outside US mission in Istanbul."]
---
7.09.08 Three Germans kidnapped in Turkey
July 9 - Kurdish guerrillas have kidnapped three German tourists on a climbing expedition in eastern Turkey, a local governor was reported as saying today. State-run Anatolian news agency reported Governor Mehmet Cetin as saying Kurdistan Workers Party (PKK) militants were behind the kidnapping of the three tourists, who were part of a 13-member climbing team, in Agri province. Kidnapping tourists is a rare tactic for the PKK whose activities are mainly focused on attacking military targets in south-east Turkey.
Agri province borders Iran and is the site of Mount Ararat, a popular destination for mountain climbers. The governor said the climbers had arrived in the region three days ago and had established a camp at a height of 3,200 metres on Mount Ararat. Five PKK militants approached the camp and kidnapped three people, he said. [More>>independent.co.uk]
---
7.09.08 Taliban take 35 policemen hostage in NW Pakistan
ISLAMABAD (Xinhua) July 9 - Local Taliban have taken 35 policemen hostage in Pakistan's North West Frontier Province (NWFP) on Wednesday, local TV channel DAWN NEWS reported. Some Taliban militants surrounded the Doaba police station in Hangu district of NWFP and demanded the release of some Taliban who were arrested by security personnel earlier, said the report.
The Station Head Office of Doaba police station has sought immediate help from paramilitary forces. Seven Taliban militants were arrested by security personnel in an operation earlier. Security forces started to crack down on Taliban militants in Khyber Tribal Agency in late June. However, the government last week directed the army to suspend the operation so that tribal elders could resume peace talks with the militants. [>xinhuanet.com]
---
7.09.08 Twin bombings kill six in Iraq's Sunni bastion
BAGHDAD (AFP) July 9 - Two near simultaneous bomb attacks in the Iraqi Sunni city of Fallujah on Wednesday killed six people and wounded 18, security officials told AFP. The bombs exploded at around 6:30am (0330 GMT) within minutes of each other near a bank in central Fallujah, the former Sunni rebel bastion in the western province of Anbar. Those killed included four policemen, a security official said, adding that the second bomb went off as officers were aiding victims of the first attack. Fallujah and Anbar province, once an insurgent stronghold, are now considered a symbol of stability after the violence there dropped significantly since late 2006. [>khaleejtimes.com]
---
7.09.08 US, Czechs sign missile deal, upsetting Moscow
PRAGUE (Reuters) July 9 - The United States signed a pact on Tuesday to build part of a US missile defense shield in the Czech Republic, prompting neighboring Russia to warn it will react with military means if the shield is deployed. The US and Czech foreign ministers toasted with champagne after signing the accord to place a tracking radar southwest of Prague as part of a system to protect against the perceived threat of missile attack from countries such as Iran.
But Russia, in a statement reminiscent of Cold War rhetoric, warned the United States against deploying the shield close to its borders. "If the real deployment of an American strategic missile defense shield begins close to our borders, then we will be forced to react not with diplomatic methods, but with military-technical methods," the Foreign Ministry said in a statement on its www.mid.ru website. [More>>khaleejtimes.com; See also en.rian.ru, July 9, "Russia must punish states hosting US missile shield.- analyst."]
---
7.09.08 Obama: Missile tests show need for talks
(AP) July 9 - Democratic presidential candidate Barack Obama said Wednesday that Iran's missile tests highlight the need for direct diplomacy as well as tougher threats of economic sanctions and strong incentives to persuade Teheran to change its behavior. John McCain, the Republican seeking the presidency, said the tests demonstrate a need for effective missile defense, including missile defense in Europe and the defense system the US plans with the Czech Republic and Poland. "Working with our European and regional allies is the best way to meet the threat posed by Iran, not unilateral concessions that undermine multilateral diplomacy," McCain said in a statement
Obama has been criticized by Republicans for being too eager to engage enemies of the US in talks. Asked how he would respond to the missile tests if he were president, Obama said he would confer with his national security team to find out whether "this indicates any new capabilities on Iran's part."

...Iran's state-run television reported Wednesday that the government had tested nine long- and medium-range missiles, including a new version of the Shahab-3 missile that has a range of 1,250 miles and is armed with a 1-ton conventional warhead. A missile with that range could strike Israel, Turkey, the Arabian peninsula, Afghanistan or Pakistan.

...Obama, while calling Iran a threat, criticized the Bush administration for using bellicose language against the Iranian government while increasing exports to the country. The Associated Press reported Tuesday that US exports to Iran grew more than tenfold under President George W. Bush in spite of his criticism of its government as a sponsor of terrorism and warnings against any efforts to develop a nuclear weapon. [Full story>>jpost.com; See also:
japantoday.com, July 9, "Iran buys American despite tough talk." and related stories:
alarabiya.net, July 9, "Use cigarettes to kill Iranians, McCain jokes." (the blog is interesting)"
thejakartapost.com, July 9, "Iran blames West for 'artificially' raising oil prices, says war threat is a 'joke.' "
---
7.09.08 US rejects Iraq pullout timetable
July 9 - The US remains opposed to setting an "arbitrary" date for withdrawing troops from Iraq, the White House has said. Wednesday's announcement came after Iraqi officials called for a withdrawal timetable as part of a security agreement being negotiated with Washington. "We have always been opposed and remain so to an arbitrary withdrawal date," Dana Perino, a White House spokeswoman, said to reporters travelling with George Bush, the US president, in Japan. The US believes those decisions should be "based on conditions on the ground" and Iraqi officials agree with that, she said. [More>>aljazeera.net]
---
7.09.08 G8 accused of 'failing the world' on carbon cuts
July 9 - Leaders of the world's richest nations have kept alive hope of a global agreement to combat climate change by agreeing to cut their carbon emissions by at least 50 per cent by 2050. Environmental groups said the agreement at the G8 summit in Japan did not go far enough, and the search for a deal moves to the talks about a "son of Kyoto" global agreement in Copenhagen next year.
George Bush, who had previously stalled progress by agreeing only to "seriously consider" a 50 per cent cut, finally gave a little ground yesterday, knowing his two possible successors as US President, Barack Obama and John McCain, were ready to go further. However, the G8 leaders failed to agree on an interim target to cut emissions by 2020 or the start date from which the 50 per cent cut would be measured.
Five big emerging countries – China, India, Brazil, Mexico and South Africa – will urge G8 leaders today to agree to reduce their emissions by 80 to 95 percent by 2050, and to set a medium-term target of a 25 to 40 percent cut below 1990 levels by 2020. G8 leaders acknowledged the need for interim goals but officials said they would not be agreed until next year's talks. [More>>independent.co.uk]
---
EDITORIALS
09.11.05 When a nation lacks a competent leader it invites disaster – the legacy of Bush
08.13.05 "Using force the George W. Bush way – Bush's crusade"
11.25.04 Why the Crusade & Jihad?
---
*Visitor statistics on maravot.com from 1&1. com. 46,153 page views in May 2007; 45,000 in Feb. 2008.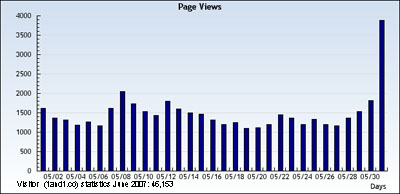 Privacy Policy: We do not store any personal data from you. We have no way of knowing any vital information about you – not even your name. Third-party distribution: We do not distribute information about your site usage to any third party. We are not responsible for the content of links from our site. Usage data: supplied by our Web Hosting service, 1and1.com, which consists of usage reports, such as page views / impressions and web pages visited, visitors' servers and geographical data (ISP's and country of origin).

---
Launched: 10.25.04 / 11.02.04 – | — |
Updated: 7.09.08; 7.10.08; 7.11.08; 7.12.08; 7.13.08; 7.14.08; 7.17.08; 7.18.08
Copyright © 1981-2008 Maravot. All rights reserved
Copyright © 1981-2008 Mel Copeland. All rights reserved
Background: tile from Cicero's villa (Marcus Tullius Cicero 106 B.C. - 43 B.C.)