News Headlines & Trends
---
1.28.08 Sales of new homes fell by 26% in 2007
January 28 - Sales of new homes fell last year by 26 percent, the steepest drop since records began in 1963, the Commerce Department said on Monday. Last week, the National Association of Realtors reported that sales of previously owned single-family homes, a large portion of the overall housing market, suffered their biggest annual drop in 25 years. Prices have also fallen sharply. In December, the median price of a new home fell to $219,200, down 10 percent from December 2006. [More>>nytimes.com]
---
1.28.08 French court jails charity workers
January 28 - A French court has sentenced six charity workers convicted of trying to kidnap children in Chad to eight years each in prison. The court's ruling on Monday converts sentences of eight years' hard labour that were handed by a Chadian court to the six members of the Zoe's Ark organization in December. The group, originally arrested in October, said they were rescuing orphans from Sudan's Darfur region near Chad's eastern border, and that they intended to fly them to Europe to be entered into foster care. Most of the children were found to have come from families in Chadian border villages who were persuaded to give up their offspring in exchange for promises of education. [More>>aljazeera.net]
---
1.28.08 Five US soldiers killed in north Iraq: military
BAGHDAD (Reuters) January 28 - Five US soldiers were killed in a coordinated ambush in the northern Iraqi city of Mosul on Monday, the US military said, making it one of the single deadliest attacks against American forces in months. The patrol was hit by a roadside bomb and then came under small arms fire, the military said, the day after extra Iraqi troops arrived for a final push against al-Qaeda in what has been described as their last major urban stronghold.
Violence has fallen sharply across Iraq, with attacks down 60 percent since last June. But northern Iraq remains the biggest security worry after al-Qaeda regrouped in Nineveh, of which Mosul is the capital, Salahuddin and Diyala provinces. [More>>khaleejtimes.com]
---
1.28.08 9-year-old boy dies of bird flu, bringing Indonesia's death toll to 99
JAKARTA (AP) January 29 - A 9-year-old boy has died of bird flu, bringing Indonesia's death toll from the disease to 99, health officials said Monday. The boy died Sunday at the Sulianto Saroso Hospital for Infectious Disease in Jakarta, said Ningrum, an official at the Health Ministry's bird flu center.
Tests confirmed the boy had the H5N1 virus, she said, adding that the cause of the infection had yet to be determined. The boy was from a neighborhood on the southern outskirts of Jakarta. He first developed symptoms on Jan. 16, said Ningrum, who like many Indonesians who uses a single name. [More>>thejakartapost.com]
---
1.27.08 24 militants killed as Pakistan secures tunnel
ISLAMABAD (DPA) January 27 - (Maravot News: an interesting article with a historical narrative) Security forces in Pakistan on Sunday killed 24 militants and gained control of a strategic road tunnel, while 31 rebels were seized in restive Swat valley in country's North-West Frontier Province (NWFP), the army said. Heavily-armed fighters captured the Friendship tunnel near the town of Darra Adam Khel on the Indus Highway Friday evening when government troops launched an offensive in the area to recover four trucks carrying ammunition that rebels had seized.
The military said it flushed out militants from most parts of the mountainous area Sunday after fierce fighting in which heavy artillery and helicopter gunships were used. "Reportedly 24 miscreants have been killed and many more fled leaving behind huge quantity of arms and ammunition," the statement said. However, the military's chief spokesman Major General Athar Abbas said some militants were still holed up around a couple of peaks. [More>>khaleejtimes.com]
---
1.27.08 US claims Qaeda using children as Iraq suicide bombers
BAGHDAD (AFP) January 27 - Al-Qaeda is using teenagers as suicide bombers in Iraq, a US military spokesman claimed on Sunday, as an influential Sunni cleric urged the jihadists to stop "strapping bombs to children." The comments came as Iraqi troops and tanks rolled into Mosul to boost forces for a huge offensive against al-Qaeda after deadly bombings in the restive northern city this week killed dozens, among them a police chief. Rear Admiral Gregory Smith told a news conference in Baghdad that two suicide attacks in Iraq in the past week had been carried out by 15-year-olds. [More>>metimes.com ; See related story, cnn.com, January 27, "Family stabbed to death in Baghdad."]
---
1.26.08 Mottaki: Iran isn't threatening Israel, doesn't want nukes
January 26 - "Iran is not threatening Israel and does not want nuclear weapons," Iranian Foreign Minister Manouchehr Mottaki said Saturday. Speaking to an Israel Radio reporter on the sidelines of the World Economic Forum in Davos, Switzerland, Mottaki said that it was Israel that possessed nuclear weapons and "it is threatening Teheran."
The Iranian foreign minister went on to say that Iran did not recognize two countries, South Africa and Israel. "In the case of South Africa, the problem was solved with the end of apartheid and if the situation also changes in the other case [Israel], there is no reason why relations with that country cannot change too," he added. Meanwhile, in an interview to the Washington Post published Saturday, Defense Minister Ehud Barak said Israel believes Iran has a clandestine uranium enrichment program beyond the one in Natanz and suspects that it is already working on warheads for ground-to-ground missiles. [More>>jpost.com]
---
1.26.08 Gadhafi's son said tied to Iraq attack
BAGHDAD (AP) January 26 - A son of Libyan leader Moammar Gadhafi is behind a group of foreign and Iraqi fighters responsible for this week's devastating explosion in northern Iraq, a security chief for Sunni tribesmen who rose up against al-Qaeda said Saturday. At least 38 people were killed and 225 wounded last Wednesday when a huge blast destroyed about 50 buildings in a Mosul slum. The next day, a suicide bomber killed the provincial police chief and two other officers as they surveyed the blast site.
Col. Jubair Rashid Naief, who also is a police official in Anbar province, said those attacks were carried out by the Seifaddin Regiment, made up of about 150 foreign and Iraqi fighters who slipped into the country several months ago from Syria. Naief said the regiment, which is working with al-Qaeda in Iraq, was supported by Seif al-Islam Gadhafi, 36, the eldest son of the Libyan leader. "I am sure of what I am talking about, and it is documented," Naief said, adding that he was "100 percent sure" of the younger Gadhafi's role with the terror group.
Naief told The Associated Press his information about the Seifaddin Regiment and the younger Gadhafi's purported role came from "reliable sources" maintained by his Anbar Awakening Council within the ranks of al-Qaeda in Mosul and elsewhere. [More>>indianexpress.com: hosted.ap.org]
---
1.26.08 Detained extremists planned attack wave
MADRID, January 26 - A group of alleged Islamist extremists were planning a wave of suicide attacks across Europe before they were detained in Barcelona last weekend. The group intended to carry out three attacks in Spain and one each in Portugal, France and Germany, an unnamed man who infiltrated the group told top-selling daily El Pais.
The report comes one day after Spanish judicial sources said that three of the six members of the group, who allegedly planned to blow themselves up, were still at large. The preferred targets were public transportation networks, especially metro systems because of the difficulty which emergency services would have in reaching the injured there, according to the newspaper. The attacks would be claimed in the name of al-Qaeda by Islamist warlord Baitullah Mehsud from Pakistan's tribal region of South Waziristan.
Mehsud is accused by Pakistani officials and the US Central Intelligence Agency of orchestrating former Pakistani premier Benazir Bhutto's killing in a gun and suicide bomb attack at a political rally on December 27. He has denied any involvement. The informant arrived recently in Barcelona from France by train to help prepare the attacks, but then tipped off police to the group's plans, leading to the arrest on January 19 of 14 men – 12 Pakistanis and two Indians. [More>>news.com.au]
---
1.26.08 'Rogue' trader Jerome Kerviel taken into police custody
January 26 - The man alleged to be a "rogue trader" who lost billions of pounds for the Societe Generale (Soc Gen) bank, has been taken into custody by Paris police. Jerome Kerviel had not been seen for several days since the fraud emerged earlier in the week, but his lawyer insisted he had not been in hiding. It is understood he had been staying in the Paris area with his mother and counsellors. Prosecutors said they would only question him once they had analyzed documents collected from SocGen. Kerviel could face between five and 15 years in prison if convicted of fraud.
French Police last night searched the Paris headquarters of Soc Gen, as well as scouring Kerviel's Paris flat. The trader is alleged to be responsible for losing the bank EUR4.9bn (£3.7bn). Officers took away a number of briefcases. The 31-year-old trader, who created a complex web of unauthorized transactions, is responsible for the world's largest ever fraud by a single trader. His family insists he is innocent. [More>>timesonline.co.uk]
---
1.26.08 Several militants killed in SW operation
SOUTH WAZIRISTAN, Pakistan, January 26 - Militants had to leave their strongholds in pockets of Jandola and Kotkai after sustaining heavy casualties as a result of a military operation on Saturday. According to ISPR, the militants suffered heavy loss of life in Spinkai, Nawakli, Raghzai and Marghaband and left their strongholds. During search operation a huge cache of arsenal including explosives and jackets used by suicide bombers were recovered. [More>>thenews.com.pk ; See also aljazeera.net, January 26,"Pakistan army raid kills fighters."]
---
1.26.08 US woman aid worker kidnapped in Afghanistan
KANDAHAR (AFP) January 26 - An American woman working for an aid organization and her Afghan driver were kidnapped by unknown gunmen in the southern city of Kandahar on Saturday, officials told AFP. "Today in the morning, unknown gunmen kidnapped an American woman who was working for an NGO," Asadullah Khalid, the governor of Kandahar province, told AFP.
Khalid said the woman was travelling by car from home to her office wearing a burqa – the tent-like veil worn by most Afghan women – when she was kidnapped at gunpoint with her driver. They had no armed guards with them. The governor said the 49-year-old woman, who 'has been in Kandahar for a while,' worked for the Asian Rural Life Development Organization. [More>>khaleejtimes.com]
---
1.25.08 Anti-Islam Dutch MP to sue against death threats
THE HAGUE (AFP) January 25 - Dutch far-right deputy Geert Wilders will take legal action against a clip circulating on the internet showing a poster of his picture riddled with bullets, his party's spokesman said Friday. "Mister Wilders will file a legal complaint against the film" which he finds "disgusting," a spokesman for Wilders's Freedom Party, who refused to be identified, told AFP. Wilders has been in the spotlight since he announced last November that he plans to make a short film to show the Koran, Islam's holy book, is "a fascist book" that "incites people to murder." Observers here fear that Wilders will burn or tear up the Koran in the film. [More>>alarabiya.net ; for a list of verses from the Koran that advocate violence and the concerns Christians have with regard to the Koran, see byzantines.net. Christian churches in Iraq, such as the Assyrian Church and Byzantine Church, have suffered considerable persecution. See Maravot News archives for recent news reports on the persecution.]
---
1.25.08 US asking Iraq for wide rights on war
WASHINGTON, January 25 - With its international mandate in Iraq set to expire in 11 months, the Bush administration will insist that the government in Baghdad give the United States broad authority to conduct combat operations and guarantee civilian contractors specific legal protections from Iraqi law, according to administration and military officials.
This emerging American negotiating position faces a potential buzz saw of opposition from Iraq, with its fragmented Parliament, weak central government and deep sensitivities about being seen as a dependent state, according to these officials. At the same time, the administration faces opposition from Democrats at home, who warn that the agreements that the White House seeks would bind the next president by locking in Mr. Bush's policies and a long-term military presence. [More>>nytimes.com; See related story, independent.co.uk, January 25, "US troops will be gone within 10 years, says Iraqi minister." : US military forces will not stay in Iraq for anything like as long as some American politicians are demanding, says the Iraqi Foreign Minister, Hoshyar Zebari. He said crucial issues about "Who is in charge in Iraq – we or you?" would be settled in negotiations between Iraq and the United States, starting this month...
---
1.25.08 At least 10 killed in Beirut blast
January 25 (AP) - A car bomb ripped through one of Beirut's Christian neighborhoods Friday, killing at least five people including a top police official who had been investigating terrorist bombings, officials said. The force of the blast, which struck midmorning in Hazmieh on the Lebanese capital's eastern edge, set a dozen vehicles ablaze and ripped a crater in the asphalt two meters (six feet) wide and a meter (3 feet) deep. Another dozen vehicles were wrecked in a nearby lot.
The country's national police chief, Brig. Gen. Ashraf Rifi, confirmed that the blast was a car bomb that killed Capt. Wissam Eid, a senior police intelligence official. Eid was an engineer who was handling "very important" files, including "all those having to do with the terrorist bombings" in Lebanon, Rifi said. Eid's bodyguard also was killed, Rifi said, in addition to three or four civilians. [More>>jpost.com]
---
1.25.08 Iraq PM declares 'final war' on al-Qaeda
KARBALA, Iraq (AFP) January 25 - Iraqi Prime Minister Nuri Al Maliki declared 'final war' on al-Qaeda on Friday after dozens of people including a police chief were killed in bomb attacks blamed on the jihadists in Mosul city. Iraqi forces were moving towards Mosul, 370 kilometers (225 miles) north of Baghdad, for a major assault that would become a "decisive battle," Maliki told a gathering in the central shrine city of Karbala.
At least 35 people were killed and 217 wounded in a massive bomb attack Wednesday that obliterated a building and destroyed houses in Mosul, Iraq's third main city and capital of Nineveh province. A suicide bomber on Thursday killed provincial police chief Brigadier General Salah Al Juburi and two other officers when they went to inspect the previous day's carnage. "We have formed an operations centre in Nineveh (province) for a final war against al-Qaeda and the remnants of the former (Saddam Hussein) regime," Maliki said. [More>>khaleejtimes.com ; See more details, indianexpress.com: hosted.ap.org.}
---
1.25.08 34 extremist militants killed in Darra Adamkhel operation
DARA ADAMKHEL, January 25 - Some 34 militants have been killed in Darra Adamkhel in security forces operation against militants who hijacked four civilian trucks carrying supplies and ammunition. Heavy shelling has been taking place with artillery and gunship helicopters while militants claim to have taken control of Zarghoonkhel checkpost. The entire area has been cordoned off as the situation remains tense. Earlier, 6 hired civilian trucks were on the Indus Highway when they were attacked by militants and four of them were hijacked and driven away to an unknown destination.

After the failure of negotiations by the political administration, the army is reported to be heading towards the village of Akhurwal – where they suspect two of the stolen ammunition trucks were unloaded. The ISPR says that this assault is aimed at recovering the trucks and clearing the area of militants. [>thenews.com.pk ; See also aljazeera.net]
---
1.25.08 US government awards pilot $5mln for terrorist tip
BEIJING (xinhuanet) January 25 - A 5 million US dollar reward for information that led to the arrest and conviction of 9/11 conspirator Zacarias Moussaoui was given Thursday to a former Minnesota flight instructor. Clarence Prevost, was honored at a closed-door ceremony at the US State Department, although the payout was secretly authorized last fall by Secretary of State Condoleezza Rice and the Justice Department, US officials told The Associated Press.

The reward from the State Department's "Rewards for Justice" program is the first and only one to date to a US citizen related to the Sept. 11, 2001, terrorist attacks, the officials said. It is also unusual because Moussaoui, who was imprisoned at the time of the attacks, was never named as a wanted suspect by the program. The program mainly seeks information about perpetrators or planners of terrorist acts against US interests and citizens abroad. [More>>xinhuanet.com]
---
1.24.08 Tentative deal reached on economic stimulus package
January 24 - House leaders and the administration reached tentative agreement today on a roughly $145 billion economic stimulus package that would quickly send payments to poor and middle class workers while offering businesses one-time incentives to invest in new equipment and write off tax losses.
The deal, reached after an arduous, late-night negotiation between House Speaker Nancy Pelosi (D-Calif.), House Minority Leader John A. Boehner (R-Ohio) and Treasury Secretary Henry M. Paulson Jr., was a work of difficult compromise. Democrats acceded to Republican demands, jettisoning plans to extend unemployment benefits and food stamps for now but concluding that they could revisit the issue if the economy continues to slide.
Republicans agreed to offer rebates as large as $1,000, even to working families that earn too little to pay income tax, an idea they had roundly rejected in past stimulus plans. [More>>washingtonpost.com]
---
1.24.08 US begins outreach in 'liberated' areas
January 24 - US military operations have transitioned from kinetic warfare to outreach efforts to root out al-Qaeda in Iraq operatives hiding among the people in newly "cleansed" areas of the northern Diyala river valley. Earlier this week hundreds of Iraqis lined up in the dirt outside an elementary school in Iraq's northern Diyala river valley to benefit from a major outreach effort by US and Iraqi military doctors – the first free medical clinic for residents of the town of Himbus and its surrounding villages.

In al-Hib children lined up behind Stryker armored vehicles and carried armloads of US-donated notebooks, pencils and other materials into their school. The same morning, drivers of 66 trucks lined up at East Sawid and then headed north to Mosul to market their oranges, potatoes, pomegranates and dates, after US and Iraqi troops inspected their vehicles, took down driver details, and issued special passes.

"I'm trying to build human intelligence," said Army Lt. Col. Rod Coffey, commander of the 3rd Squadron, 2nd Stryker Cavalry Regiment...Col. Coffey believes there are possibly 50 to 60 hardcore terrorists left in his area of responsibility. There are also supporters, by choice or intimidation, as well as a larger population standing on the sidelines. [Full story>>metimes.com]
---
1.24.08 Bomber kills Mosul police chief
January 24 - A suicide bomber dressed in police uniform has killed the police chief of Mosul while he was touring the scene of a blast that has so far claimed at least 36 lives. Brigadier-General Salih Mohammed Hasan was killed on Thursday as rescue teams searched through the rubble of a residential building destroyed in a blast a day earlier. Hasan's death in the northern Iraqi city came on a day two police officers were killed by a roadside bomb in Baghdad. Two of their colleagues and two civilians were wounded in the attack. [More>>aljazeera.net]
---
1.24.08 Fraud costs French bank $7.1 billion
PARIS, January 24 - The French bank Société Générale said Thursday that it had uncovered "an exceptional fraud" by a trader that would cost it 4.9 billion euros, or $7.1 billion, and that it was raising about 5.5 billion euros in fresh capital to shore up its finances. The company, one of the biggest banks in France, said in a statement that the fraud had been committed by a trader in charge of "plain vanilla" hedging on European index futures.
During a conference call, Société Générale's chairman and chief executive, Daniel Bouton, said the bank had started legal proceedings against the rogue trader, whom he did not identify; he also said the trader's whereabouts was unknown. The trader is "on the run," officials said. A banker close to the situation identified the trader as Jérôme Kerviel, a Frenchman in his 30s who joined the bank in 2000. A spokeswoman for Société Générale declined to comment. [More>>nytimes.com ; See also liberation.fr, January 24, "4,9 milliards d'euros ? Cinq plans pour la banlieue ou 500.000 Twingos..."]
---
1.24.08 Satellite images show widespread destruction of Amazon rainforest
January 24 - Brazil is losing its Amazonian forests to farmers at an unprecedented rate, satellite observations have shown. Their destruction has so alarmed the Brazilian Government that it called an emergency meeting, attended by the President, Luiz Inácio Lula da Silva. The rate of loss jumped in the second half of last year and reversed a downwards trend that officials had hoped showed that the problem of deforestation was being controlled.
Only six months ago Brazilian ministers were celebrating figures that showed the lowest forest loss since the 1970s with 3,700sq miles being cleared in the 12 months up to July 2007. Rises in food prices, however, encouraged farmers to return to hacking down forest areas to convert them into fields for crops such as soya. In the last five months of last year more 2,700sq miles of Brazil's Amazonian forests disappeared and conservationists believe that the rate will worsen in coming months. [More>>timesonline.co.uk]
---
1.24.08 Number of young people found hanged in 'suicide cult town' rises to 13
January 24 - The number of young people found hanged in a small town rocked by a chain of suicides is almost twice as many as previously thought, it emerged yesterday. The death toll of 13 was revealed by the coroner of Bridgend in South Wales after fears were raised that a recent string of seven suicides may have links to social networking websites.
The astonishing rate of hangings in one year has led to widespread concern among parents in the area and one secondary school has been placed on "suicide watch" after pupils appealed for help. Of the seven suicides which culminated in the death last week of 17-year-old Natasha Randall, each victim was known by at least one of the others who died over a period of 12 months. Although the six other deaths revealed by the coroner are believed to be isolated incidents, he said they show the problem is even more widespread than originally feared. [More>>dailymail.co.uk]
---
1.24.08 Australian transplant girl makes medical history
SYDNEY (DPA) January 24 - An Australian liver-transplant patient has made medical history by spontaneously switching over to the immune system of her donor, doctors said Thursday. When 15-year-old Demi-Lee Brennan received her donor kidney five years ago, her blood type was O, RhD-negative. Since then, it's changed to O, RhD-positive, the blood group of her donor. [More>>khaleejtimes.com]
---
1.24.08 US-led soldiers kill Afghani police
GHAZNI, Afghanistan (AFP) January 25 - US-LED soldiers killed nine Afghan policemen, including a district police chief, and a woman in an overnight raid aimed at Taliban fighters, Afghan officials said. The police officers had gone to the scene of a US-led coalition operation in the central province of Ghazni overnight, said Mohammad Nashir, the spokesman for the provincial governor. "The coalition forces opened fire at them. Nine policemen, including a police district chief, Abdul Wakeel Kamiab, were killed.... A civilian woman was also killed," he said.

Four other Afghan policemen were wounded and the US forces took eight civilians with them, including some officials with the provincial education department, Mr. Nashir said...Afghan interior ministry spokesman Zemarai Bashary said eight policemen were killed. "We have sent down an emergency delegation to find out how exactly this has happened," he said, adding the incident was probably the result of a "misunderstanding."
"The dark of the night has been one of the causes of the incident," he said. [Full story>>news.com.au]
---
1.23.08 Palistinians blow up border wall, flood into Egypt
RAFAH, Gaza Strip (Reuters) January 23 - Tens of thousands of Palestinians poured into Egypt from the Gaza Strip on Wednesday through a border wall destroyed by militants, and stocked up on food and fuel in short supply because of an Israeli blockade.
"Those people are hungry for freedom, for food and for everything," said an Egyptian shopkeeper who gave her name only as Hamida, surveying shelves emptied swiftly by Gazans paying with Egyptian pounds and Israeli shekels. Residents of Rafah, a divided town straddling the Egypt-Gaza border, said militants set off explosions that demolished a 200-metre length of the rusting, six-metre-high metal border wall put up by Israel in 2004, a year before it pulled troops and settlers from the territory. [More>>thestar.com.my ; See also jpost.com, January 23, " 'I toldGazens to come and eat: Mubarak' " :...Egyptian President Hosni Mubarak announced that he had ordered his troops to allow Palestinians to cross into Egypt because they were starving. Speaking at the Cairo International Book fair, Mubarak told reporters that when Palestinians began breaking through the Gaza-Egypt border at Rafah by force, he told his men to let them in to buy food before escorting them out...
---
1.23.08 Bush is liar no. 1, US study on Iraq war finds
WASHINGTON (AFP) January 23 - Top US officials – led by President George W. Bush – lied 935 times in a two-year period leading up to the Iraq war, a study released Wednesday found. Bush was the chief of misstatement, with 260 lies – about weapons of mass destruction and links to al-Qaeda in Iraq, trailed by then-secretary of state Colin Powell with 254, claimed the study, conducted by the Center for Public Integrity.

Founder Charles Lewis and researchers helping him write a forthcoming book released a statement saying they identified "935 false statements by eight top administration officials that mentioned Iraq's possession of weapons of mass destruction, or links to al-Qaeda, on at least 532 separate occasions" ahead of the March 18, 2003 invasion of Iraq. With the fifth anniversary of the war looming, the center underscored that its work calls into question "the repeated assertions of Bush administration officials that they were merely the unwitting victims of bad intelligence." [More>>alarabiya.net; See also nytimes.com, January 23, "Website assembles US prewar claims." and publicintegrity.org/WarCard/]

Editorial note: There are organizations advocating the impeachment of President Bush and Vice President Cheney. Congressman Wexler is currently leading an "impeach Cheney" movement in Congress. His website, www.wexlerwantshearings.com, says: "The charges are too serious to ignore. There is credible evidence that the Vice President abused the power of his office, and not only brought us into an unnecesary war but violated the civil liberties and privacy of American citizens. It is the constitutional duty of Congress to hold impeachment hearings."
---
1.23.08 War crimes trial ends impunity: official
UNITED NATIONS (UPI) January 23 - The chief prosecutor in the war crimes trial of Charles Taylor said bringing the former Liberian leader to trial is of historic importance. The chief prosecutor of the UN-backed Special Court for Sierra Leone, Stephen Rapp, said Tuesday the war crimes trial of Taylor, who is facing 11 counts of war crimes, signals an end to impunity.
Taylor is facing charges of mass murder, mutilations and other crimes including the alleged use of child soldiers during a decade-long civil war in Sierra Leone. He has pleaded not guilty to all 11 counts. "I think it has awakened many in the world to the possibility that individuals who might commit or be alleged to have commit similar crimes will in the end face a day of justice," Rapp said in a statement. "The case is one of historic importance in signaling an end to impunity of individuals, even at the highest level." [More>>metimes.com]
---
1.23.08 Government ordered to release Iraq WMD paper
January 23 - The Foreign Office has been ordered to release a document written in 2002 by John Williams, then head of communications. The Government was yesterday ordered to make public a secret document about Iraq's weapons of mass destruction which was drawn up by the head of information at the Foreign and Commonwealth Office in 2002. A ruling by the Information Tribunal rejected an appeal by Foreign Office lawyers who had claimed that the contents of the document were exempt from disclosure under the Freedom of Information Act.
The Government has always insisted that the official dossier on Iraq's weapons of mass destruction published in September 2002 was drawn up by the Joint Intelligence Committee, then headed by Sir John Scarlett who is now the Chief of MI6. However, it emerged that there was an earlier draft of a document on the same subject which was written by John Williams who at that time was director of communications at the Foreign Office. There have been claims that Mr. Williams' document played a key part in influencing the content of the dossier produced by Sir John and the JIC, although this has been denied by the Foreign Office...John Baron, Conservative MP for Billericay, told the New Statesman: "This decision lifts the lid on government efforts to cover up the role played by spin doctors in producing the Iraq dossier." [Full story>>timesonline.co.uk]
---
1.23.08 US markets volatile after another steep dive in Europe
January 23 - Wall Street endured another volatile day on Wednesday as stocks plunged at the opening bell, spent much of the session in negative territory, then erased a 326-point deficit in the afternoon. "The market has this out-of-control feeling, and until the market sees some semblance of stability, it's going to continue to be very volatile," said Richard Sparks, senior equities analyst at Schaffer's Investment Research. After diving nearly 250 points in the opening minutes, the Dow Jones industrial average came back to nearly even in the first hour, only to fall again sharply. In the early afternoon, the average was off 326 points. But by 2:30 p.m., it was showing a slight gain for the day. [More>>nytimes.com]
---
1.23.08 Iraq's new law on ex-Baathists could bring another purge
BAGHDAD, January 23 - Maj. Gen. Hussein al-Awadi, a former official in Saddam Hussein's Baath Party, became the commander of the Iraqi National Police despite a 2003 law barring the party from government. But now, under new legislation promoted as way to return former Baathists to public life, the 56-year-old and thousands like him could be forced out of jobs they have been allowed to hold, according to Iraqi lawmakers and the government agency that oversees ex-Baathists. "This new law is very confusing," Awadi said. "I don't really know what it means for me."

...The confusion has been compounded because the information on former party members comes from the de-Baathification commission headed by Ahmed Chalabi, the former deputy prime minister who as an Iraqi exile sought to convince US officials that Hussein's government had weapons of mass destruction. In light of the absence of such weapons, many Iraqi and US officials are suspicious of his commission's statistics.
In an interview at his lavish home in the Mansour district, Chalabi said the new legislation would drive out some of the former Baathists his commission had allowed to return to government. The new measure, he said, is much harsher than the existing policy and a draft of the law that the United States had encouraged parliament to pass. [More>>washingtonpost.com]
---
1.23.08 Greek PM in historic Turkey visit
January 23 - Costas Karamanlis, Greece's prime minister, has arrived in Turkey for the first official trip by a Greek leader in five decades in an effort to improve relations between the former enemies. Among the issues that Karamanlis and his Turkish counterpart are to discuss is the status of Cyprus, which is currently divided between the two countries. Although the visit is not expected to produce a breakthrough on Cyprus or the long-standing territorial and minority disputes that have hurt Turkey's European Union accession hopes, it is another sign of improving relations between Athens and Ankara. [More>>aljazeera.net]
---
1.23.08 Iraq bomb blast kills, injures 50
BAGHDAD, January 23 - The violence in Iraq continues as a bomb blast ripped through a residential building killing and wounding up to 50 people. According to reports the casualties and injured include mostly women and children. The blast took place in Iraq's northern city of Mosul, resulting in 50 being affected; however an exact count of the number of deaths and injured is not yet available. [>thenews.com.pk ; See more details, aljazeera.net, "Many dead in Iraq building blast."]
---
1.23.08 Virus spreading as trucks smuggle birds out of West Bengal flu zone
KOLKOTA, India, January 23 - Not willing to incur any financial loss because of the outbreak of bird flu, well-networked cartels in West Bengal are smuggling out chicken and poultry products from affected areas, even sending consignments to neighbouring states to minimise the loss. This could be one of the reasons why the deadly virus has spread so fast — from one district in the beginning to almost eight districts now. Two lorries full of poultry birds and four lorries carrying eggs were intercepted at the Birbhum-Murshidabad border today. These were being smuggled out of the Rampurhat area in Birbhum where the virus was first detected and where culling operations are on. [More>>indianexpress.com; Another indianexpress report said:..Cooch Behar and Hoogly were on Wednesday declared bird flu hit, taking the number of affected districts in the state to nine even as authorities set a target of culling three lakh chicken daily...
---
1.23.08 More bird flu patients in Tangerang, Garut
TANGERANG, Indonesia, January 24 - A 30-year-old man from Tangerang has been confirmed as the latest case of bird flu in the country. The sales executive at an automotive company, identified only as GR, was initially treated at Honoris Hospital in Tangerang on Jan. 18 and referred to Persahabatan Hospital two days later. He was sent to the hospital with a fever, cough, breathing difficulties, a decreasing white blood cell level, a reduced blood platelet count and symptoms of pneumonia.
Tests held by the Health Ministry and Eijkman Molecular Biology Laboratory have found that GR is infected with the H5N1 virus. The cause of the infection, however, is still under investigation. The case is 120th confirmed case in Indonesia, of which 97 have ended in death, according to Sumardi, a spokesman at the Health Ministry. [More>>thejakartapost.com]
---
1.23.08 Afghan journalist sentenced to death
KABUL, Afghanistan (AP) January 23 - An Afghan journalist sentenced to death for distributing an article that allegedly violated Islam is actually being punished for reporting by his brother about abuses by northern warlords, a media group said Wednesday. Sayed Parwez Kaambakhsh, 23, was sentenced to death Tuesday by a three-judge panel in the northern city of Mazar-i-Sharif for distributing a report he printed off the Internet to fellow journalism students at Balkh University.
The judges said the article humiliated Islam, and members of a clerics council had pushed for Kaambakhsh to be punished. The case now goes to the first of two appeals courts. Jean MacKenzie, country director for the Institute for War and Peace Reporting, which helps train Afghan journalists, said Kaambakhsh is being punished for stories written for IWPR by his brother, Sayed Yaqub Ibrahimi...Ibrahimi wrote stories for IWPR late last year quoting villagers accusing Afghan lawmaker Piram Qul of being behind murders and kidnappings. Qul - a former commander in the militant and political group Jamiat-e-Islami and a current parliament member from Takhar province - denied the allegations. [Full story>>indianexpress.com: hosted.ap.org]
---
1.23.08 Pakistani forces pound militant hideouts: military
WANA, Pakistan (AFP) January 23 - Pakistani troops hammered militant hideouts and reinforced outposts Wednesday in a tribal area where days of clashes have left more than 20 troops and 100 rebels dead, the army said. There were no immediate details about casualties in the latest fighting in South Waziristan tribal district bordering Afghanistan, the hideout of a rebel commander accused of masterminding the killing of opposition leader Benazir Bhutto. In the neighboring tribal zone of North Waziristan one soldier was killed and two wounded when Islamist fighters fired rockets at a paramilitary fort. [More>>khaleejtimes.com]
---
1.22.08 Republican Romney warns of 'distressed' markets
BOCA RATON, Florida (Reuters) January 22 - Republican presidential contender Mitt Romney said on Tuesday US markets were distressed and raised the possibility of a solvency crisis at US banks. "We have to make sure these institutions have sufficient capital," Romney told Reuters after a speech to Florida's Republican Jewish Coalition, describing the US stock market as "distressed" after a plunge in global stock prices.
The former Massachusetts governor, who made a fortune as a venture capitalist before entering politics, said he saw a worrying trend in growing numbers of US banks seeking capital offshore following a blowout in subprime mortgages. He stopped short of predicting some banks would face the risk of insolvency. But in a speech earlier to Florida's Jewish Republican community he said he had been warned of such a crisis...US stocks tumbled at the open on Tuesday, joining a global equity rout on fears of a US recession. Investors dumped stocks despite the Federal Reserve's slashing benchmark US interest rates by 75 basis points in a surprise decision. [Full story>>thestar.com.my ; See related story, nytimes.com, January 22, "Markets in flux after Fed move."]
---
1.22.08 Bird flu hits India; Turkey, Indonesia confirms
KOLKOTA, India, January 22 - An outbreak of bird flu in India's most densely populated state could spiral out of control, officials said on Tuesday, as the disease spread to a seventh district. The deadly H5N1 strain of bird flu was found among poultry in Malda, infecting seven of the 19 districts in the eastern state of West Bengal, according to state officials.
"There is every chance of the virus spiralling out of hand if it's too late," said Sanchita Bakshi, the state health services director. At least 24 million people live in West Bengal's seven affected districts. Officials worry the virus could spread to humans and were collecting random blood samples from villagers.

...Elsewhere, Turkey confirmed the H5N1 bird flu strain among dead chickens in a village in the northern Black Sea region. Muzaffer Aydemir, a senior agriculture ministry official, said on Tuesday Saz village in Zonguldak province was placed under quarantine with all animal movements halted. He said the surrounding area was disinfected, and no other cases had been reported so far. Turkey lies on the migratory route for wild birds flying south from Scandinavia and Siberia to north Africa for winter. The country was hit hard by a bird flu outbreak in the winter of 2006, which hurt tourism and damaged the poultry sector. [Full story>>khaleejtimes.com]
---
1.22.08 Mysterious reptile deaths puzzle scientists
LUCKNOW, India (AP) January 22 - Conservationists and scientists scrambled Tuesday to determine what has killed at least 50 critically endangered crocodile-like reptiles in recent weeks in a river sanctuary in central India. Everything from parasites to pollution has been blamed for the deaths of the gharials -- massive reptiles that look like their crocodile relatives, but with long slender snouts. The bodies, measuring between five and 10 feet long, have been found washed up on the banks of the Chambal River since early December, according to conservationists and officials.
The precise number of gharials that have died remains unclear, with the Gharial Conservation Alliance saying 81 bodies have been found since early December, butt Chief Wildlife Warden D.N.S Suman putting the number of dead animals at 50. Conservationists believe there are only some 1,500 gharials left in the wild, many of them in a sanctuary based along the Chambal, one of the few unpolluted Indian rivers. The Chambal contains the largest of three breeding populations in the world. [More>>cnn.com]
---
1.22.08 New armored truck sees first Iraq death
BAGHDAD (AP) January 22 - A soldier killed over the weekend south of Baghdad was the first American casualty in a roadside bomb attack on a newly introduced, heavily armored vehicle, a military spokeswoman said Tuesday. The V-shaped hull of the huge MRAP - Mine-Resistant, Ambush-Protected - truck is designed to deflect blasts from roadside bombs, a weapon that has killed more American soldiers than any other tactic used by Sunni insurgents and militia fighters in Iraq.
The soldier who died Saturday was the gunner who sits atop the MRAP vehicle. Three crew members tucked inside the cabin were wounded. The vehicle rolled over after the blast and it was not clear how the gunner died - from wounds in the explosion or in the subsequent roll-over. [More>>indianexpress.com:hosted.ap.org ; See related story, thenews.com.pk, January 22, "Bodies of 7 family members found in Iraq orchard."]
---
1.22.08 Scientists genetically disarm Ebola virus for 1st time
TOKYO, January 22 - A team of researchers including University of Tokyo scientists have succeeded in genetically disarming the Ebola virus for the first time ever, they said in the Tuesday issue of the Proceedings of the National Academy of Sciences (PNAS.org) of the United States of America. The findings mean researchers effectively confined the virus to a set of specialized cells, making it safe to study under conditions far less stringent than those currently imposed, a move scientists believe will help advance studies on anti-Ebola drugs and could pave the way for vaccine production. "We wanted to make a biologically contained Ebola virus," Yoshihiro Kawaoka, a University of Tokyo professor, was quoted as saying in the weekly journal. "This is a great system...This system can be used for drug screening and for vaccine production." [>japantoday.com]
---
1.22.08 Seven troops, at least 37 militants killed
WANA, Pakistan (AFP) January 22 - Seven Pakistani security personnel and at least 37 militants were killed in clashes in the tribal belt bordering Afghanistan, the army said, updating an earlier toll. Five of the soldiers and all of the rebels were killed after Islamist insurgents attacked a military fort at Ladha in South Waziristan before dawn, chief military spokesman Athar Abbas said.

"Through air intercepts and our sources we have confirmation now that at least 37 militants were killed when forces retaliated the attack in Ladha," Mr. Abbas said. He had earlier confirmed the five deaths and seven wounded soldiers but had said only that the insurgents suffered heavy casualties. [>news.com.au ; See also aljazeera.net, January 22, "Pakistani army claims border victory." :..speaking in Paris on the second leg of a European tour, Pervez Musharraf, Pakistan's president, said there was a "zero percent chance" of an al-Qaeda takeover of the country. The only way for that to happen, he said, would be if al-Qaeda or the Taliban "defeated the Pakistani army entirely" or if hardline religious groups won next month's elections...
---
1.22.08 John Bolton: It will be up to Israel to stop Iran
January 22 - "The questions come to Israel, weather it will use military force to stop Iran,"former US ambassador to the US John Bolton said Tuesday. Speaking at the eighth Herzliya Conference, in a special session devoted to the Iranian nuclear race, Bolton said "The united states used to have a policy on Iran and recently there was a new push to create a new policy but sadly, due to the direction American policy is going, it seems that for the next few years the United States will be a bystander to the process."
"It's close to zero percent chance that the Bush administration will authorize military action against Iran before leaving office. At the same time in Teheran they took careful notice of how Israel got into Syria and to prepare for such an action against Iran. Without American policy backing anti Iraq action Israel should be willing to see themselves as a possible last resort." [More>>jpost.com]
---
1.22.08 Israel unveils missile designed to intercept Hezbollah rockets
January 22 - Rafael Advanced Defense Systems, Israel's arms development firm, unveiled a new missile system Tuesday designed to intercept mid to long-range rockets and missiles of the kind used by Hezbollah during the Second Lebanon War. The firm introduced the "Stunner" missile during a visit from Prime Minister Ehud Olmert, the Prime Minister's Office said. The Stunner will be incorporated in the new Magic Wand anti-missile system. "Magic Wand" is intended to intercept missiles with a range of 40-250 kilometers, like Hezbollah's Zilzal and Fajr missiles. The development, in conjunction with a Pentagon-backed American company, is expected to cost some NIS 1 billion. [More>>haaretz.com]
---
EDITORIALS
09.11.05 When a nation lacks a competent leader it invites disaster – the legacy of Bush
08.13.05 "Using force the George W. Bush way – Bush's crusade"
11.25.04 Why the Crusade & Jihad?
---
*Visitor statistics on maravot.com from 1&1. com. 46,153 page views in May 2007; 41,657 in Nov. 2007.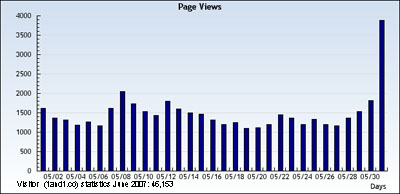 Privacy Policy: We do not store any personal data from you. We have no way of knowing any vital information about you – not even your name. Third-party distribution: We do not distribute information about your site usage to any third party. We are not responsible for the content of links from our site. Usage data: supplied by our Web Hosting service, 1and1.com, which consists of usage reports, such as page views / impressions and web pages visited, visitors' servers and geographical data (ISP's and country of origin).

---
Launched: 10.25.04 / 11.02.04 –
Updated: 1.22.08; 1.23.08; 1.24.08; 1.25.08; 1.26.08; 1.27.08; 1.28.08
Copyright © 1981-2008 Maravot. All rights reserved
Copyright © 1981-2008 Mel Copeland. All rights reserved
Background: tile from Cicero's villa (Marcus Tullius Cicero 106 B.C. - 43 B.C.)