News Headlines & Trends
---

01.30.09 Obama administration's relations with China off to rocky start
WASHINGTON, January 30 - China recently surpassed Japan as the US government's largest creditor. Any decision by Beijing to move its money would deal a dizzying new blow to an already tottering American economy. Yet relations between China and the new Obama administration are off to a rocky start. For now, Beijing continues to loan Washington money by buying Treasuries and other US government securities, helping to finance the ever-growing US budget deficit. But there are signs its leaders may be considering trimming these holdings as that country experiences its own economic slowdown. Strains between the two economic powerhouses seem to be growing with the change in administrations.

The latest irritants are a "buy American" provision attached to White House-backed stimulus legislation moving through Congress and criticism of China's currency policies by Vice President Joe Biden and Treasury Secretary Timothy Geithner. Geithner accused Beijing of "manipulating" its currency during his Senate confirmation process. Biden, interviewed Thursday by CNBC, said that the Obama administration would "say to China — which occasionally the last administration was reluctant to do —' You're a major player on the world scene economically, and you've got to play by the rules that everybody else plays by.' "

Their comments followed a move by Chinese censors to silence part of a live broadcast of Obama's inaugural address when he spoke of the US struggle against communism. And at an economic forum in Switzerland on Wednesday, Chinese Premier Wen Jiabao blamed China's economic woes on US-led Western financial institutions, suggesting "a lack of self-discipline" and "blind pursuit of profit." The pointed words from Geithner and Biden were widely seen as an escalation of old complaints that China artificially depresses the value of its currency to bolster its exports, even though the White House has sought to play down such comments and has denied increasing friction with China.

China has allowed the value of its currency to rise by 21% over the past two years. But American manufacturers complain the Chinese yuan is still significantly undervalued, making Chinese goods cheaper for US consumers and American products more expensive in China. China holds roughly $2 trillion in foreign exchange reserves and surpassed Japan in September as the biggest foreign holder of Treasuries. It also has the largest single-country trade deficit with the United States — totaling $246.5 billion in 2008 through November.

With the Federal Reserve holding short-term interest rates at near zero and suggesting it may start buying longer-term US securities to help drive down home mortgage rates, US government securities are becoming increasingly less attractive to foreign investors. Washington needs a continued flow of loans to help it claw its way out of the worst financial crisis since the early 1980s, perhaps since the Great Depression. Much of this demand is being met by China, Japan, Britain and Arab oil-exporting nations. Of those sources of money, China is not only the biggest lender but perhaps the least predictable. [More>>japantoday.com]

---
Editorial note: The current public debt of the US (See treasurydirect.gov) is $10.6 trillion. Interest paid against the debt in 2008 was $451.1 billion. Interest paid (See treasurydirect.gov) so far in fiscal year 2009 (December.-October 2008) is $135.3 billion. Previous interest expenses per year are listed at the treasurydirect.gov link, including: 2007 - $430 billion; 2006 - $405 billion and the years 2005 - 1995 ranging between $318 billion and $361 billion. Essentially, as a percentage of the public debt, in any of these years interest outlays have been about 5% of a year's total debt.

There are several factors that are involved with the financing of the public debt, as this article opines. A diminishing dollar would cause a nation's investments in the US to lose value, and there is thus a trade-off in buying US dollars, treasury certificates, securities, etc. and maintaining a healthy trade. In this time of a world economic collapse more pressure is placed on international central banks to find a safe refuge for their investments. US treasuries were seen as a safe refuge, as all other currencies began to come under pressure, such as the yen, yuan, euro, and pound. As currencies fluctuated international investors sought another refuge and found it in crude oil, driving up the price of oil from $40 per barrel to $145 per barrel (together with OPEC's help) in a span of about 6 months. The sharp rise in the cost of oil in turn drove up the cost of agriculture — fertilizers and transportation — which in turn drove up the cost of food and animal fodder.

Then came the Wall Street / banking crash. As the world economy began to collapse under the weight of the price of fuel and crash of financial institutions, the solution for international central banks has been to borrow (sell treasury certificates) to inject money into the economy. At the same time, because the crisis involved a halt to bank lending, governments have been reducing interest rates to encourage more loans.

At present the reward for buying a central bank's notes is nil. There are better returns on investment than a government's promissory note. To make the notes more attractive a government needs to increase the interest rate payable against a note. But this presents another problem.

Because of the amount of international debt already being held by investors (the US debt is now at $10.6 trillion alone) investors are inclined to buy fewer notes. At the moment a question is being posed, "Are there enough investors out there to buy up the notes being offered?"

The Reagan administration introduced the convention and practice of running its government on borrowed money and drove up the US debt from $.5 trillion to about $2.6 trillion. Bush I drove the debt up from there to $4 trillion. Clinton retarded the growth of the debt through a "no more borrowing and paydown the debt" discipline, but interest alone accumulated against the debt to the extent that it was $5.5 trillion when President George W. Bush (Bush II) took office. Bush II stopped the "no more borrowing" program, squandering even a $700 billion surplus from the Clinton administration — intended to pay down the debt — and drove the public debt up from $5.5 trillion to its present state of $10.6 trillion. He squandered not only an opportunity to save for a rainy day but also the perceived solvency of the US. (See chart on US Debt in the sidebanner of this page)

The argument for borrowing to run the government (called Reaganomics; another form of "deficit spending") was that one could safely borrow using a criteria of indebtedness in relation to the Gross Domestic Product (GDP). The precept applied was the same as the bankers used in financing real estate, thinking that the practice of variable rate loans was safe since house values always increased. When real estate values began to crash (the Fed raised prime rates, probably to sell bonds, causing mortgage rates to increase; the increases then caused mortgage defaults when home values fell below mortgage values.) the assets of the financial institutions carrying the loans also crashed.

A similar threat exists with the US GDP. As the US GDP declines the ratio of debt to GDP worsens, making the investment in notes more risky. The higher the risk the less the borrowing.

Interest on the public debt — as in the case of credit cards — can multiply the original cost of a loan to the point that a borrower may be unable to make the interest payments owed on a loan (as in the mortgage meltdown). At the least, interest on a loan can eat up expenditures otherwise needed: for defense, education, food, etc.

The public debt is a long-term loan, and thus interest rates to finance the debt will vary over time. But we can use the historic rate of 5% as a reasonable deduction on what portion of our taxes will have to be expended just to service the interest accumulating in 2009 against the current debt of $10.6 trillion. The cost to service the debt is now about $530 billion. That is to say the current interest in fiscal year 2009 of $135.3 billion will become about $530 billion before the year is out. This does not take into consideration the additional funds being borrowed by the Obama administration of $800 billion (Interest on this amount alone, at 5% estimated, would be $40 billion).

Now comes the cold part of this discussion: Creditors always get paid first. The money you hope on for education, defense, food, etc., will be reduced to pay the creditors, including China, Japan, the EU and OPEC countries. Bush's 2008 defense budget, to fight his wars, was about $700 billion. The world now pretty much in shambles, more insecure than ever, makes a troubling enterprise for Obama to defend.

Mel Copeland
---
01.30.09 US economy falls at 3.8 percent rate at year's end
January 30 - Two-Year Recession Deepens; Quickest Economic Contraction in Quarter-Century. Households and businesses slashed spending during the last three months of 2008, causing the quickest economic contraction in a quarter-century and deepening a recession entering its second year. New data from the Commerce Department released this morning show the US economy shrank at a 3.8 percent seasonally adjusted annual rate from October through December, compared with the previous three months. The number is an initial estimate that might change as more information is collected.

It was the steepest quarterly contraction since early 1982 — when the country was mired in a deep downturn — and shows how a global credit crunch, a weak US real estate market and a decline in consumer spending have combined to undercut economic growth. The 3.8 percent decline in gross domestic product from October through December compares with a 0.5 percent decline in the previous three months, and modest growth for the first half of the year. For all of 2008, gross domestic product — a broad measure of the goods and services produced by the economy — rose 1.3 percent, compared with 2 percent the year before. [More>>washingtonpost.com; See related story,
cnn.com, January 30, "Worst January ever for Dow, S&P 500" : NEW YORK - The Dow Jones industrial average and Standard & Poor's 500 finished their worst January ever Friday as investors eyed abysmal reports on economic growth and quarterly earnings. The Dow Jones industrial average (INDU) ended the day down 148 points, or 1.8%. The Standard & Poor's 500 (SPX) index lost 19 points, or 2.3%. The Nasdaq composite (COMP) lost 31 points, or 2%...
---
01.30.09 Economic crisis savages Japanese companies
TOKYO (AFP) January 30 - Massive losses and cutbacks struck top Japanese companies on Friday, with electronics giant NEC alone shedding 20,000 jobs, as dire forecasts poured in from firms worldwide. Japan announced a triple slump in key economic data, with industrial output, consumer spending and employment all sharply down, and said there was no end in sight to the bad news. The data echoed gloomy reports on the health of the economy in the United States, where President Barack Obama took aim at what he called the "shameful" bonuses given to Wall Street bankers during the financial crisis. December's 9.6 per cent drop in industrial output from the previous month was the steepest such decline on record, raising fears Japan's economy suffered its biggest contraction in decades in the fourth quarter of 2008. [More>>news.com.au]
---
01.30.09 Deputy PM: Russia to have nearly zero growth in 2009
MOSCOW, January 30 - Russia's economic growth would be close to zero in 2009 due to the global financial crisis, Russian Deputy Prime Minister and Finance Minister Alexei Kudrin said Friday. "Our economic growth will most likely be close to zero, and the situation to a great extent will depend on our own measures," Kudrin was quoted by the Itar-Tass news agency as saying in the State Duma, the lower house of parliament. Russia's budgetary revenues in 2009 could decline from 10.9 trillion rubles (321 billion US dollars) to 6.5 trillion (191.5 billion US dollars) amid the financial meltdown, Kudrin said. Igor Shuvalov, Russia's first deputy prime minister, said Friday in the State Duma that the country's economic situation will be "fairly harsh" in 2009. [More>>xinhuanet.com]
---
01.30.09 North Korea scraps accords with south
January 30 - North Korea announced yesterday it is scrapping all political and military agreements with South Korea, accusing the Seoul government of pushing relations to the brink of war. The Committee for the Peaceful Reunification of Korea said all agreements on ending confrontation would be nullified, including one covering their West Sea border — the scene of bloody naval clashes in 1999 and 2002. South Korea expressed regret and pledged "firm counteraction" against any violation of the sea border. The Unification Ministry called on the North to stop raising tension and return to dialogue.

The Defense Ministry said the military has enhanced alert on the West Sea though no unusual signs were spotted along the border. The Navy has reportedly deployed a 4,500-ton destroyer and ordered forces there to be fully prepared against any North Korean provocation. Analysts believe the latest in a series of verbal attacks is aimed to ensure it remains a diplomatic priority for US President Barack Obama. It also seeks to pressure conservative South Korean President Lee Myung-bak and to drum up political support at home, they said. [More>>koreaherald.co.kr]
---
01.30.09 US envoy warns of setbacks ahead in Mideast talks
JERUSALEM (Reuters) January 30 - US President Barack Obama's Middle East envoy said on Friday that the new administration's push for Israeli-Palestinian peace after the war in the Gaza Strip faced big hurdles and he warned of setbacks ahead. The sombre assessment by former US Senator George Mitchell followed two days of talks with Israeli and Palestinian leaders on shoring up a shaky ceasefire that ended Israel's 22-day offensive against Gaza's Hamas Islamists rulers.

In the talks, Israel has balked at fully reopening Gaza's border crossings to allow reconstruction. Washington supports Palestinian President Mahmoud Abbas in his power struggle with Iranian-backed Hamas for control of the passages, Gaza's gateway to the outside world and a major political and economic prize. Mitchell said consolidating the truce and "immediately" addressing the humanitarian needs of Gaza's 1.5 million residents were the US administration's top priorities. "Then we must move forward," he added, citing Obama's commitment to "aggressively" seek a peace deal. US-backed talks between Israel and the Palestinians stalled last year in discord over Jewish settlement expansion and the future of Jerusalem. Diplomats said reviving them after the war in Gaza would be very difficult and would take time. [More>>thestar.com.my; See related stories:

khaleejtimes.com (AFP) January 30, "Turkey;s Mideast ambitions at risk after PM outburst" : ANKARA - Turkish Prime Minister Recep Tayyip Erdogan's spat with Israeli President Shimon Peres in Davos has dealt a blow to Ankara's ambitions to become a powerbroker in the Middle East, analysts said Friday. "The incident is a breaking point. It will seriously harm Turkey's mediation role (in the Middle East) and may change the West's perception of Turkey," said Arif Keskin, a senior analyst at the Ankara-based Eurasia Studies Centre. Erdogan, whose political career began in the ranks of a now-banned Islamist party, stormed out of a heated debate over the Gaza conflict at the World Economic Forum on Thursday after clashing with Peres. Before walking off, he said Israel committed "barbarian" acts in the Gaza Strip, lashed out at the audience for applauding Peres' emotional defence of the war and vowed he would never return to Davos...

jpost.com, January 30, "Peres: Erdogan spat 'nothing personal' " :Despite his public spat with Recep Tayyip Erdogan at the World Economic Forum over the Gaza fighting, President Shimon Peres said Friday that his relationship with the Turkish prime minister had always been good and remained so. Speaking to reporters in Davos, Peres said Turkey was an ally and an important country, both in the Middle East and the World. Peres said he spoke to Erdogan after the row in which the Turkish prime minister stormed off the stage...
---
01.30.09 Iraq vigilant after election candidates shot dead
BAGHDAD, January 30 - Iraq on Friday prepared for its first election since 2005 with security forces on high alert after gunmen killed candidates and campaign workers, raising fears of new violence ahead of polling day. Reports of attempts to buy votes and fears about fraud threaten to cast a shadow over an otherwise vibrant campaign that will test the country's growing security. It was difficult to quantify how widespread the attempts have been to garner votes with gifts, but the issue has become a talking point among Iraqis before Saturday's regional vote.

The run-up to Saturday's poll had been relatively free of violence but the shooting of election contenders in Baghdad and in the cities of Baquba and Mosul, north of the capital, on Thursday night exposed the threat that such attacks could throw voting day into chaos. The elections are seen as a key test of Iraq's steadily improving stability, as US President Barack Obama looks to redeploy American troops to Afghanistan. [More>>alarabiya.net]
---
01.30.09 Thousands rally over Muslim persecution in India
NEW DELHI, January 30 - Protestors say Muslim youths being unjustly targeted. At least two thousand people rallied in New Delhi on Thursday to protest the killing and imprisonment of Muslims, saying innocent members of the community became targets after bomb attacks in India in recent years. Many demonstrators holding banners like "Give us security, not tears and blood" arrived by train from Azamgarh district in the neighboring Uttar Pradesh state, where the protesters said many Muslim youths have been arrested on scant evidence. [More>>alarabiya.net]
---
01.30.09 Urgent action needed as Zimbabwe cholera hits 60,000: WHO
GENEVA (AFP) January 30 - The World Health Organization on Friday called for drastic national and international action to tackle Zimbabwe's cholera outbreak, after the number of victims soared past the worst case threshold of 60,000. The death toll in the outbreak since August 2008 reached 3,161, out of 60,401 recorded cases, according to the WHO's most recent update released here on Friday. Eric Laroche, a WHO assistant director-general, said the WHO and other international and local partners were supporting Zimbabwe's health ministry in tackling the disease. "But unless drastic action is taken by all players in this crisis, more Zimbabweans will succumb to the outbreak, and other countries in the southern African region will face the continued threat of spill over epidemics," he added in a statement. [More>>timesofindia.indiatimes.com]
---
01.30.09 Jakarta: City mosques reject Islamic formalization
JAKARTA, January 30 - Most managers of mosques in Jakarta embrace a moderate brand of Islam and support the unitary state of Indonesia, a survey released Thursday reveals. Only a few wish for Indonesia to become an Islamic state, it added. The survey was conducted by the Center for the Study of Religion and Culture (CSRC) at Jakarta's Syarif Hidayatullah State Islamic University between November 2008 and January 2009. It surveyed 250 takmir masjid (mosque managers) in Jakarta. "Some 88.8 percent of the respondents approve of Pancasila [state ideology] and [view] the 1945 Constitution as the best model for Indonesia. As many as 78.4 percent agree that democracy is the best system of governance for Indonesia," CSRC research coordinator Ridwan Al Makassary told a press conference. [More>>thejakartapost.com]
---
01.30.09 Rising acidity threatens oceans
January 30 - The oceans have long buffered the effects of climate change by absorbing a substantial portion of the greenhouse gas carbon dioxide. But this benefit has a catch: as the gas dissolves, it makes seawater more acidic. Now an international panel of marine scientists says this acidity is accelerating so fast it threatens the survival of coral reefs, shellfish and the marine food web generally. The panel, comprising 155 scientists from 26 countries and organized by the United Nations and other international groups, is not the first to point to growing ocean acidity as an environmental threat, but its blunt language and international credentials give its assessment unusual force. It called for "urgent action" to sharply reduce emissions of carbon dioxide. [More>>nytimes.com]
---
01.29.09 Jobless claims for Americans hit record
WASHINGTON (AP) January 29 - Nearly 6.5 Million Drawing Unemployment Benefits As Corporate Layoffs Continue. The number of people receiving unemployment benefits has reached an all-time record, the government said Thursday, as layoffs spread throughout the economy. The Labor Department reported that the number of Americans continuing to claim unemployment insurance for the week ending Jan. 17 was a seasonally adjusted 4.78 million, the highest on records dating back to 1967. A department analyst said that as a proportion of the work force, the tally of unemployment recipients is the highest since August 1983. The total released by the department doesn't include about 1.7 million people receiving benefits under an extended unemployment compensation program authorized by Congress last summer. That means the total number of recipients is actually closer to 6.5 million people...Companies have announced more than 125,000 layoffs in January, according to an Associated Press tally. [Full story>>cbsnews.com]
---
01.29.09 Huge turnout for 'Black Thursday' of strikes
January 29 - French workers staged a one-day strike and took to the streets on Thursday to protest the government's handling of the economic crisis, causing major disruptions to public transportation and education. President Nicolas Sarkozy once joked that French workers went on strike so often "no one even noticed." He's not saying that any more. On Thursday, France entered a state of virtual paralysis as over 1.4 million people went on strike and joined mass demonstrations throughout France, the French CGT trade union said. In Paris, 300.000 workers and students marched through the capital, according to the union, compared to 65.000 according to the police.

Reporting from the protests in Paris, FRANCE 24's Nadia Chabit says that bankers or private sector nurses took to the streets to condemn the French president's handling of the economic crisis. "The private sector is also involved this time, and normally trade unions find it hard to rally this sector," she says. "When eight unions, representing many different professional fields, go on strike, it means something," said Ian Brossat, President of the Paris Council's communist group, in FRANCE 24's Debate. "The relevant question is: why does a large segment of the population support the strikes?" Polls show that 69% of the French understand the protesters' discontent. [More>>france24.com]
---
01.29.09 UK: Annual house prices plunge 16.6 percent
LONDON, January 29 - The average price of a house is 16.6 per cent lower than this time last year after a further 1.3 per cent fall in January, according to figures published today by Britain's biggest building society. The January fall recorded by the Nationwide is lower than the 2.5 per cent slump in value seen last month, but is still well ahead of the fall of 0.4 per cent reported in November...The latest decline, which will push more homeowners into negative equity, which is where the value of a house falls below the level of mortgage debt, leaves the average price of a typical house at £150,501, down from £153,048 in December. Mr. Gahbauer said that the number of house sales had remained poor in recent months, with mortgage approvals falling to a record low of 27,000 in November, and partial figures for December suggesting only a small improvement since then. [Full story>>timesonline.co.uk]
---
01.29.09 OPEC pledges to push oil above $50
January 29 - OPEC members need an oil price above $50 a barrel to make exports worthwhile, the head of the cartel said today, adding that more production cuts were possible this year. "We are not happy with $40 even $50 a barrel," Abdalla Salem El-Badri, OPEC Secretary-General, told a panel discussing energy security at the World Economic Forum in Davos. Even $50 did not guarantee a "decent income for our countries," he said, adding: "I hope that the price will pick up ... a $50 price will not permit us to invest." Asked about further cuts by the cartel, he said: "If we still have some downward problems [on prices], OPEC will not hesitate to take some quantity out of the market. We cannot tell at this time before our next meeting on March 15." [More>>timesonline.co.uk]
---
01.29.09 Four killed, 31 suspects arrested in Swat
SWAT, Pakistan, January 29 - Security forces and police claimed to have arrested 31 suspects during search operation from Swat on Thursday — while four persons, including a minor boy, were killed in different acts of violence in the volatile valley. According to reports, a minor boy was killed in crossfire in Kabal, while two more persons were gunned down in Matta. In another violent incident, one person was killed and three others wounded after a missile fired from some unknown location landed at a house in Mangor area of Mangora. Besides, a missile attack was carried out at DIG office in Saidu Sharif. However, no loss of life was reported. Meanwhile, undeclared curfew was imposed in Kanju after some unknown miscreants attacked security forces' convoys with remote-control bombs. [>thenews.com.pk; See related story:

khaleejtimes.com, January 29, "Pakistan busts 'high profile terror network: police' " : ISLAMABAD - Pakistani police said Thursday they had arrested a nine-member gang of high-profile militants linked to al-Qaeda and the Taliban, and wanted in connection with a string of major suicide attacks. (the extent of the sketchy information reported)
---
01.29.09 IDF wounds Gaza militant behind deadly attack on soldiers
January 29 - The Israel Air Force on Thursday attacked a Palestinian militant in the southern Gaza Strip who was apparently behind a deadly attack on an Israel Defense Forces convoy earlier this week. The IDF identified the targeted militant as Mohammed Uda-Samidi and said he was involved in rigging the roadside bomb which killed an Israeli tracker and wounded three others on Tuesday. Uda-Samidi and seven children passersby were wounded during the attack on the southern Gaza town of Khan Yunis, Palestinian medical officials said.

This was fifth Israeli air strike since a shaky cease-fire went into effect nearly two weeks ago, ending Israel's 22-day offensive on the coastal enclave. Despite the truce, Israel and the Gazans have been trading fire all week. Palestinian militants in Gaza fired a Qassam rocket at southern Israel earlier Thursday morning. The rocket exploded in the Sha'ar Hanegev Regional Council area, causing no casualties or damage. [More>>haaretz.com]
---
01.29.09 Angry sounds from the mosques
BEIRUT, Lebanon, January 29 - The sound that blasts from the loudspeakers in the mosque near my office in Beirut is causing the windowpanes to shudder. It is noon on Friday, and the local muezzin is leading the faithful in prayer. The mosque is crowded with believers spilling over to the sidewalk. Today, the muezzin is more upset than usual, and he has been very upset of late. He is admonishing Arab leaders for failing to stop the violence in Gaza, for failing to confront Israel and the United States, for failing to come to the assistance of Hamas and the Palestinians. Arab leaders are traitors to the ummah (Arab world), he tells the crowd quoting from the Koran to make his point clear.

..Recently on a morning political show on Hezbollah's Al-Manar TV, a respected Shia scholar told his hosts that it was about time Arabs start discussing what the Middle East will look like without Israel. "I am not saying that this is going to happen tomorrow or after tomorrow," he said. "But there is reason to think that we will not have a Jewish state in the region in the not too distant future."

...the appeal that Islamic organizations have among Palestinians, and Arab militants. This is likely to grow rather than diminish in the years to come and it is naïve to expect that the impoverished Palestinian and Arab populations surrounding Israel will choose to confront Israel as secular and liberal democratic when the West supports, arms, and, in the case of the United States, finances a Jewish state in the Middle East, albeit dressed in the garb of modernity.

Those who want to support a religious state must be ready to fight a religious war. The muezzin in the mosque nearby has learned that lesson, and his crowd grows larger every week. [Full story>>metimes.com; See related story:

jpost.com, January 29, "Nasrallah vows revenge for Mughniyeh" : Hizbullah leader Hassan Nasrallah warned on Thursday that his group will indeed avenge the death of Imad Mughniyeh, despite reports on Wednesday that Israel thwarted a major a Hizbullah-backed terror attack in Europe recently. "The reaction to Mughniyeh's assassination, which will aim to teach the murderers a lesson, is a necessary thing," Nasrallah said. "However, regarding the question of when the revenge will come and what it will be," the Hizbullah leader continued, "don't expect us to answer that."

Nasrallah promised that even with future attacks against Israel, Hizbullah would always retain the right to avenge the death of Mughniyeh. "There will never be a day when revenge is behind us," Nasrallah said. "It will always be ahead of us." The most recent threat comes just two weeks before the first anniversary of Mughniyeh's death. In February 2008, Hizbullah's terror chief was killed when his car exploded in Damascus. Despite Israeli denials that it was connected to the assassination, Syrian intelligence and Hizbullah maintain that the bombing was a Mossad operation. On Wednesday, Channel 2 reported that Israeli intelligence agencies recently succeeded in thwarting a major Hizbullah terror attack against an Israeli target in Europe...
---
01.29.09 US and UK navies seize 20 tones of narcotics
MANAMA, Bahrain, January 29 - More than 20 tones of narcotics with an estimated street value of more than $100 million (Dh367 million) have been seized by the US Navy and British Navy warships over the last three months. The figure announced on Monday takes the total quantity of narcotics seized by the US and British maritime forces to more than 53 tones during 2008, the US Navy said in a statement sent to Gulf News. According to the US Navy, the drugs seized "could have helped to fund the insurgency fighting coalition forces in Afghanistan as well as contribute to instability in the region." [More>>gulfnews.com]
---
01.29.09 Somali pirates seize German gas tanker
NAIROBI, Kenya (AFP) January 29 - Somali pirates have hijacked a German gas tanker with 13 crew in the Gulf of Aden, a Kenyan maritime official said...The MV Longchamp, with a crew of 12 Filipinos and one Indonesian, was transporting liquefied petroleum gas "from Europe to the Far East,'' Mwangura said, without giving exact locations. The pirates took control of the Bahamas-flagged vessel and headed for the Somali coast, he said...The seizure brings to 16 the number of ships currently in the hands of pirates. [Full story>>news.com.au; See also

alarabiya.net, January 29, "Nine countries sign deal to fight Somali piracy" : Nine countries from the region most affected by Somali piracy on Thursday signed a deal enhancing cooperation in the fight against piracy in the Indian Ocean and Gulf of Aden, as pirates hijacked a German-owned tanker carrying liquefied petroleum gas despite being under navy escort...The nine signatories are Djibouti, Ethiopia, Kenya, Madagascar, the Maldives, the Seychelles, Somalia, Tanzania and Yemen...The code of conduct says coastal states should make the necessary changes in their legislations to facilitate the arrest and prosecution of piracy suspects..."..There is a principle that each ship pursuing a pirate has to ask for the permission of the concerned state to enter its waters. We have decided to stay on this principle," Sekimizu explained...

---
01.28.09 World growth 'worst for 60 years'
January 28 - World economic growth is set to fall to just 0.5% this year, its lowest rate since World War II, warns the International Monetary Fund (IMF). In October, the IMF had predicted world output would increase by 2.2% in 2009. It now projects the UK, which recently entered recession, will see its economy shrink by 2.8% next year, the worst contraction among advanced nations. The IMF says financial markets remain under stress and the global economy has taken a "sharp turn for the worse."...Meanwhile, it predicts that the eurozone economy is poised to shrink by 2.0% in 2009 and the US economy by 1.6%. [Full story>>bbc.co.uk]
---
01.28.09 Boeing to axe thousands of jobs
January 28 - Boeing is to cut 10,000 jobs this year in response to the economic crisis. The firm is one of the largest aerospace manufacturers in the world. In the last three months of 2008, it made a loss of £39m (56 million US dollars), partly because of a strike by its machinist union. Its 27,000 machinists — 16% of Boeing's workforce — walked out on September 6 and did not return for 58 days. The company was also hit by a costly redesign of its 747 freighter aircraft.

Boeing was also out-performed by its European rival Airbus in 2008. The plane manufacturer is the latest to be hit by global economic slowdown, and follows job-loss announcements from engineering giant GKN and home shopping firm Shop Direct. US President Barack Obama today said the economic slump could be overcome if everyone "chips in so we can climb our way out of the crisis, executives and factory floor workers." [More>>news.sky.com; See also cbsnews.com]
---
01.28.09 UK: Ailing car firms must go green to get help
January 28 - Lord Mandelson faced charges of producing too little and acting too late as he set out a £2.4bn rescue package for Britain's beleaguered car industry. The Business Secretary linked the cash — which was far less than the £13bn demanded by the unions — to manufacturers developing green technology. Lord Mandelson insisted he was not offering a "bailout" for the motor industry, which employs nearly one million people from the shopfloor to showroom. He argued that the investment would help car companies become "greener, more innovative and more productive." Car sales have collapsed by a half since the recession began to bite and several car-makers have been forced to cut workers' hours in an attempt to avoid redundancies. [More>>independent.co.uk]
---
01.28.09 Obama must apologize for crimes against Iran: Ahmadinejad
TEHRAN, January 28 - Iranian President Mahmoud Ahmadinejad demanded on Wednesday that President Barack Obama apologies for past US "crimes" against the Islamic republic, after the new US leader extended a hand of diplomacy to Tehran. Iranian leader also called on Washington to withdraw its troops from across the world as a proof of Obama's promised policy of change. "You were standing against the Iranian people in the past 60 years," Ahmadinejad said in an address in the western region of Khermenshah that was broadcast on state television. "Those who speak of change must apologies to the Iranian people and try to repair their past bad acts and the crimes they committed against Iran," he said, suggesting it could be a condition for any talks between the arch foes.

In an interview on Monday with Al-Arabiya television, Obama promised to lay down a framework for his policy towards Iran, whose leaders have long regarded the United States as the "Great Satan." "As I said in my inauguration speech, if countries like Iran are willing to unclench their fist, they will find an extended hand from us," Obama said. "It is very important for us to make sure that we are using all the tools of US power, including diplomacy, in our relationship with Iran." [More>>thenews.com.pk]
---
01.28.09 Egypt FM: Hezbollah, Hamas and Iran cooperate to provoke conflict
January 28 - Egypt aired its grievances against Iran, the Palestinian Islamist movement Hamas and the Lebanese Shi'ite group Hezbollah, saying they worked together in the fighting over Gaza to provoke conflict in the Middle East. "[They tried] to turn the region to confrontation in the interest of Iran, which is trying to use its cards to escape Western pressure...on the nuclear file," Egypt's Foreign Minister Ahmed Aboul Gheit said in an interview with Orbit satellite channel, broadcast on Wednesday. Aboul Gheit also said that Egypt undermined Qatar's attempts to arrange a formal Arab summit on Gaza earlier this month, arguing that it would have damaged "joint Arab action." ...Diplomats say Egypt resents the Qatari challenge to its traditional role as leading Arab mediator and dislikes the influence of the satellite television channel Al Jazeera, which is based in Doha and is owned by the Qatari government. [Full story>>haaretz.com]
---
01.28.09 Israeli jets bomb Gaza tunnels as US envoy due
GAZA, January 28 - Israeli warplanes bombed Wednesday tunnels under the border between the Gaza Strip and Egypt that are used by fighters to smuggle weapons, the army and witnesses said. The attack came hours before a US peace envoy was due to arrive in the Jewish state. The army said that the strike on the "Hamas tunnels" came in response to the attack along the Gaza border on Tuesday where one Israeli soldier was killed and three others were wounded.

An air strike shortly afterwards killed one Palestinian on a motorcycle whom a spokesman identified as the planner of the roadside bomb attack. "The Israel Defense Forces (army) sees Hamas as accountable for preserving the peace in Israel's southern villages and will respond harshly to any attempt of undermining it," it said in a statement. Residents of the Gaza town of Rafah and Hamas security officials said some people began to flee their homes in panic as the aircraft struck three times before dawn. There was no initial word of casualties. [More>>alarabiya.net]
---
01.28.09 'Jerusalem division will lead to Iran base'
January 28 - An Israeli withdrawal from east Jerusalem will lead to the creation of an Iranian terror base in the city, Likud leader Binyamin Netanyahu said Wednesday. "If we leave sections of Jerusalem, Hamas will enter and set up an Iranian-backed terror center," Netanayhu said in an address at the sixth annual Jerusalem Conference. He added that one had to be "totally blind" to assume that a division of Jerusalem as part of a peace agreement with the Palestinians will lead to stability in the city.

Netanyahu, who is the front-runner in next month's elections, said that any Israeli withdrawal from parts of the city would only serve to bring terror to the heart of Jewish neighborhoods of Jerusalem. "Anybody who yearns for the peace of Jerusalem will support Israeli sovereignty over all the city," he said. "As the English saying goes, if it ain't broke don't fix it," Netanyahu concluded. Palestinians claim all of east Jerusalem — as well as the city's holy sites — for the capital of their future state. More than 250,000 Arabs live in Jerusalem. Prime Minister Ehud Olmert has voiced readiness to cede [the] Arab section of east Jerusalem to the Palestinians, while control over the holy sites — dubbed "the holy basin" — would be shared under an international body. [>jpost.com]

---
Editorial note: "Solution in original documents creating Israel." It may be that a solution bringing peace in Jerusalem and thus to Israel (and the world) can be found in the original documents that involve the creation of the state of Israel in 1948. A reasonable step forward for all sides concerned ought to begin with examination of the original documents, to see if they contained conditions that would lead to peace. One condition that seems to fit with criteria of "sharing control over the holy sites with an international body" would be the "Corpus Separatum of Jerusalem."

As relating to the criteria of "the holy basin" all of Jerusalem is a holy site, assuming criteria described by Isaiah applies. (We reference the Biblical view, since it is a foundation of Israel's Declaration of Independence and a document that the Koran repeatedly claims to confirm — Hence, the Bible is not an unreasonable foundation to apply in defining that part of Jerusalem that is holy. Related Biblical and international covenants are discussed in our work, "Philistia triumph thou because of me" (1993).)

Isaiah 56.6.Also the sons of the stranger, that join themselves to the LORD, to serve him, and to love the name of the LORD, to be his servants, every one that keepeth the sabbath from polluting it, and taketh hold of my covenant.;
56.7 Even them will I bring to my holy mountain, and make them joyful in my house of prayer...for mine house shall be called an house of prayer for all people.

4.3 And it shall come to pass, that he that is left in Zion, and he that remaineth in Jerusalem, shall be called holy, even every one that is written among the living in Jerusalem."

We quote from Maravot News 5.10.08, editorial note to article 5.08.08 British PM: Israel's creation one of the 20th century's 'greatest achievements':

With the breakup of the Ottoman Empire, after WW I, Middle Eastern states, including Iraq, Syria, Saudi Arabia and Jordan, including a territory called Transjordan, now known as the West Bank, were created. Wikipedia.org describes how these states were formed: "...The dissolution brought the creation of the modern Arab world and Republic of Turkey. The League of Nations granted France mandates over Syria and Lebanon and granted the United Kingdom mandates over Mesopotamia and Palestine (which comprised two autonomous regions: Palestine and Transjordan). Parts of the Ottoman Empire on the Arabian Peninsula became parts of what are today Saudi Arabia and Yemen."

The creation of Saudi Arabia involved a bargain that realigned the tribal authority of the region, including the transfer of the Hijaz, formerly controlled by the Sherifs of Mecca and heirs of Mohammed, to the Saudis. This arrangement then set the rulers of Mecca as regents over Iraq, Syria and Jordan in exchange for the transfer of the Hijaz to the Saudis. The King of the Hashemite Kingdom of Jordan is a surviving regent from the League of Nations' arrangement. Their ancestry through the Sherifs of Mecca trace back to Fatima, the daughter of the prophet Mohammed. Other modern descendents of Mohammed are: the Tabaristan Sherifs, the Imams of the Yemen, the Sherifs of Sus, the Filali and the Bani Sa'ad Sherifs of Morocco, Bani Ukhaidhr of Mecca, who was set up as the king of Iraq and subsequently deposed, and the Humdites and Idrisids of North Africa. Among the families originally serving Mecca were the Qoraish (now called Hashemites). The leader of the Qoraish was Zaid, also called Qossay al Mujamma, who had a grandson named Amr-Hashim, and his grandson was Abdullah, father of Mohammed.

On November 2, 1917, the Balfour Declaration, reflecting the view of the British Cabinet, was issued and later incorporated into the the Sèvres peace treaty with Turkey and the Mandate for Palestine. The declaration stated: "...that the British government "view with favour" the establishment in Palestine of "a national home for the Jewish people" on the conditions that "nothing shall be done which may prejudice the civil and religious rights of existing non-Jewish communities in Palestine" or "the rights and political status enjoyed by Jews in any other country." The creation of a national home for the Jewish people was realized through the UN Resolution of November 29, 1947, "The partition of Palestine." The resolution provided for not only the creation of the state of Israel but also the state of Palestine and another territory, "The Corpus Separatum of Jerusalem." The terms of the resolution required that each of the two states, Israel and Palestine, submit to the UN, for approval, their "Declarations of Independence." Israel submitted its "Declaration of Independence " May 14, 1948. The Palestinian declaration of independence has not yet been produced. Israel's declaration reflects some interesting terms that pledge to protect the rights of all people living in Israel:


(Declaration of the establishment of the state of Israel," 1.13) The State of Israel..will foster the development of the country for the benefit of all inhabitants; it will be based on freedom, justice and peace as envisaged by the prophets of Israel; it will endure complete equality of social and political rights to all its inhabitants irrespective of religion, race or sex; it will guarantee freedom of religion, conscience, language, education and culture; it will safeguard the Holy Places of all religions; and it will be faithful to the principles of the Charter of the United Nations."


The Corpus Separatum of Jerusalem formed perhaps the most interesting part of the UN resolution of 1948, since it set aside a territory stretching from Jerusalem to the Mediterranean Sea that would be governed by the United Nations. The present impasse between the Palestinians and Israel in forming a Palestinian state fulfilling the plans of the UN resolution, "Partition of Palestine," could perhaps be resolved by applying Israel's Declaration of Independence and revisiting the Corpus Separatum of Jerusalem.


Much of this discussion, including a map showing the territories of the UN resolution, is provided in greater detail in a work, "Philistia triumph thou because of me" (1993).

Mel Copeland
---
01.28.09 Early voting in Iraq is mostly smooth
BAGHDAD, January 28 - Thousands of soldiers, police officers, hospital patients and prisoners cast ballots on Wednesday as part of early voting in Iraq's provincial elections. At least one act of violence accompanied the voting. Two police officers guarding a polling center south of Kirkuk were killed by gunmen who fired at them from a passing car, according to an official from the Ministry of Interior who spoke on condition of anonymity. The gunmen escaped, the official said. Overall, however, the voting appeared to go smoothly, Iraqi election officials said. [More>>nytimes.com]
---
01.28.09 China will project military around the world: analysts
January 28 - China is likely to begin deploying its military increasingly further from its borders, analysts at a top think tank said on Tuesday. The Asian power is also unlikely to constrain its defense budget because of an economic downturn that has left the World Bank forecasting the slowest pace of growth in China since 1990, the AFP reported, quoting analysts at the International Institute for Strategic Studies. Noting that China began using a naval convoy in the Gulf of Aden to protect the country's shipping from Somali pirates, IISS director of transnational threats and political risk Nigel Inkster said he expected "to see further such international contributions." "We are probably close to the end if not already at the end of what one now calls the Deng Xiaoping doctrine of lying low," he told reporters at a press conference, referring to the man who led China from 1978 to 1997. [More>>koreaherald.co.kr]
---
01.28.09 NATO welcomes possible suspension of Russian missile plans
BRUSSELS (RIA Novosti) January 28 - NATO would consider the suspension of Russian plans to deploy Iskander missile systems near Poland a "good step," a NATO spokesman said on Wednesday. Some media sources earlier cited a Russian high-ranking military source as saying that the Defense Ministry had so far taken no practical measures to deploy Iskander missiles in its Kaliningrad exclave. "The earlier Russian announcement that they were going to deploy missiles into Kaliningrad and point them at NATO allies was unwelcome. If that decision has now been rescinded, it is a good step," NATO spokesman James Appathurai said. [More>>en.rian.ru; See also bbc.co.uk, January 28, "Russia 'halts missile deployment.' "
---
01.28.09 Times Co. results reflect ad slump
January 28 - Battered by a steep drop in newspaper advertising, The New York Times Company on Wednesday reported fourth-quarter income of $27.6 million, or 19 cents a share, down 47.5 percent from a year earlier. Net income in the period a year ago was $53 million, or 37 cents a share. For the year, the company lost $57.8 million, after more than $300 million in non-cash charges. That compared with a profit of $208.7 million in 2007. Anticipating a continued slide in 2009 and the maturity of some debt, the company has recently sought cash infusions from several sources. Last week, it announced that it was borrowing $250 million from the Mexican billionaire Carlos Slim Helú. It was also seeking a sale-leaseback of its headquarters building in Manhattan as well as the sale of its stake in the Boston Red Sox. [More>>nytimes.com]
---
01.27.09 Gaza violence clouds US envoy's first Mideast mission
(Reuters) January 27 - An Israeli soldier and a Palestinian were killed on Tuesday in the deadliest flare-up of Gaza violence since the war, casting a shadow over the new US peace envoy's maiden trip to the region. Israeli soldiers moved into the Gaza Strip and the military launched an air strike shortly after a soldier on the Israeli side of the border was killed in a bomb blast. Defence Minister Ehud Barak warned that Israel would strike back after the blast, which came 10 days after his government and Hamas declared mutual ceasefires after a deadly 22-day onslaught on Gaza.

An officer was severely wounded and two other soldiers lightly injured in the attack near the Kissufim border crossing, an army spokesman said. A 24-year-old Palestinian, Anwar Al-Dreim, was killed by Israeli fire shortly afterwards and a Hamas fighter and two other Palestinians were wounded in an air strike, also in the southern Gaza Strip, medics said. [More>>news.com.au; See related stories,

jpost.com, January 27, "Livni: Israeli restraint in Gaza is over" : Foreign Minister Tzipi Livni said Tuesday that Israel will no longer show restraint against Palestinian attacks from the Hamas-ruled Gaza Strip. "Israel is going to act according to a new equation. We are not going to show restraint anymore," Livni told a gathering of the New York-based World Jewish Congress in Jerusalem. Her remarks came after an Israeli soldier was killed and three others were wounded in an attack near the Gaza border in the most serious assault since a temporary cease-fire went in effect last week...

khaleejtimes.com (Reuters) January 27, "Egypt warns Europe against sending ships to Gaza" : CAIRO - Egypt warned European countries on Tuesday to think carefully before sending ships to patrol Gaza's coastal waters to prevent arms smuggling, saying such a move could have significant consequences on ties with Arab states. The warning by Foreign Minister Ahmed Aboul Gheit came after Britain, France and Germany offered to send warships to the Middle East to monitor and prevent arms smuggling to Gaza and to help consolidate a shaky ceasefire. "In my discussions with European foreign ministers yesterday, I warned them and said: 'You must understand Arab and Muslim feelings,' " Aboul Gheit told a news conference, adding that if such a job was needed, the responsibility should be borne by Israel, not Europe...

alarabiya.net, January 27, "Obama tells Al Arabiya peace talks should resume" : DUBAI - In his first interview since taking office, President Barack Obama told Arab satellite station Al Arabiya that Americans are not the enemy of the Muslim world and said Israel and the Palestinians should resume peace negotiations. "My job to the Muslim world is to communicate that the Americans are not your enemy," Obama told Al Arabiya's Hisham Melhem in an interview broadcast Tuesday morning...Obama pointed out that he had lived in the world's largest Muslim nation, Indonesia for several years while growing up, and said his travels through Muslim countries had convinced him that regardless of faith, people had certain common hopes and dreams...Obama reiterated America's support to Israel and the "paramount" importance of the Jewish state's security, making no mention of the suffering of Palestinians, the Gaza war, or the continuing Israeli blockade of the beleaguered territory...
---
01.27.09 Ex-Serb general tried on war crimes
January 27 - A former Serbian general accused of taking part in a campaign of "ethnic cleansing" against Albanians in Kosovo has gone on trial at the United Nation's Yugoslav war crimes court in The Hague. Vlastimir Djordjevic, 60, is accused of murdering hundreds of ethnic Albanians and deporting 800,000 others from Kosovo between January and June 1999. The former assistant minister of Serbian internal affairs and police commander has pleaded not guilty to charges of war crimes and crimes against humanity for deportation, murder and racial persecution.

Chester Stamp, prosecuting before the International Criminal Tribunal in the former Yugoslavia, stressed Djordjevic's role in operations carried out against ethnic Albanians, including the expulsion by the Yugoslavian and Serbian armies of a third of the Albanians living in Kosovo. Stamp told the court in the Netherlands that ethnic Albanians were forced to leave their homes, with the women and children separated from the men, who were then killed. He said the bodies were concealed by being moved to mass graves in Serbia...On Tuesday, Djordjevic told the court that the operations he oversaw were not aimed against civilians but the "terrorists" of the Kosovo Liberation Army, who were seeking the secession of Kosovo from Yugoslavia. [Full story>>aljazeera.net]
---
01.27.09 Terrorists are 'animals' : SC judge (India)
NEW DELHI,India, January 27 - A senior judge of the Supreme Court on Tuesday likened terrorists killing innocent people to "animals" and said they cannot be allowed to take benefit of human rights. "Those who violate the rights of society and have no respect for human rights cannot be a human," Justice Arijit Pasayat said at a seminar on terrorism here.

"We should not talk about human rights violation of terrorists because terrorists are the people who kill innocent people with AK-47 and AK-56," he said, adding that "those who killed innocent people by no stretch of imagination are human beings. They are worth not more than animals." Pasayat stressed the need for effective implementation of the new terror law and said that "investigators and prosecutors should be trained properly in this regard".

He said cases relating to terror attacks should be taken on priority basis as "it is the object of the Act." Solicitor General G E Vahanvati while referring to the November 26 terror attacks in Mumbai said as a lawyer it would have been difficult for him to defend lone surviving terrorist Amir Ajmal Kasab. "If I would have been asked to defend Kasab, probably I would have refused," Vahanvati, who hails from Mumbai, said. The solicitor general said he could not defend a person against his conviction. "If I go and defend a person against my conviction it would be unfair," he said. [>timesofindia.indiatimes.com]

---
Editorial note: There needs to be a United Nations (Hague) declaration on what constitutes terrorism. Vlastimir Djordjevic, now being heard in the Hague, claimed that he was fighting "terrorists" in Kosovo. By the same token Arab summits held under the auspices of the King of Saudi Arabia over the years have taken up the definition of terrorism and failed to resolve that a freedom fighter, such as Hamas, would fall under the category of "terrorism." Perhaps Djordjevic's trial will resolve this conflict. There are some precedents in the Moslem world that help define terrorism. Iran, for instance, is regarded as a supplier of weapons and other aid to terrorist organizations, such as Hezbollah and Hamas, insurgents in Iraq, etc. An Arab Summit should be convened to establish whether Iran's actions fall under the category of "state supported terrorism." As a foundation of such a summit Saudi Arabia's recent actions in removing extremist literature might apply. (See Maravot News 11.30.08 article 11.29.08 Saudi Arabia removes extremist literature).

Mel Copeland
---
01.27.09 US will go after al-Qaeda wherever it is: Gates
WASHINGTON, January 27 - US Defense Secretary Robert Gates said Tuesday the United States will "go after al-Qaeda wherever Al-Qaeda is," and said Washington's position has been relayed to Pakistan. "Both President (George W.) Bush and President (Barack) Obama have made clear we will go after Al-Qaeda whereever al-Qaeda is, and we will continue to pursue that," he told lawmakers. Asked whether that decision has been transmitted to the government of Pakistan, Gates said "Yes, sir." [>thenews.com.pk ; See also
indianexpress.com (Reuters) January 27, "Missile strikes in Pakistan will continue: US" : WASHINGTON - The United States will continue to carry out missile strikes against al-Qaeda militants in Pakistan, Defense Secretary Robert Gates said on Tuesday. Pakistani officials have complained publicly about the attacks from unmanned US aircraft in tribal areas, saying they are a violation of sovereignty and increase resentment towards both Pakistan's Government and the United States. US officials normally decline to comment publicly on reports of the missile strikes, but Gates made an exception when asked about Pakistan's complaints at a hearing of the Senate Armed Services Committee.

US drones fired missiles into the northwestern regions of North and South Waziristan late on Friday, killing 17 people, according to intelligence officials and residents, in the first such strike since Barack Obama became US President, succeeding George W. Bush. "Both President Bush and President Obama have made clear that we will go after al-Qaeda wherever al-Qaeda is and we will continue to pursue that," Gates said...

nytimes.com, January 27 "Gates: Modest goals, more strikes - The Caucus Blog" : Defense Secretary Robert M. Gates on Tuesday set forth modest goals for Afghanistan, saying that success should be defined as an Afghanistan that is not a safe haven for al-Qaeda, whose people reject the rule of Taliban insurgents and support a legitimate government. In his first Congressional testimony as defense secretary under President Obama, Mr. Gates cautioned that success in Afghanistan also requires security progress in neighboring Pakistan, given the porous and violent frontier between the two nations. Mr. Gates was pressed for details on a recent strike across the border in Pakistan in which a remotely piloted vehicle attacked a suspected insurgent target. The defense secretary said President Obama, like President Bush, was committed to going after al-Qaeda targets "wherever al-Qaeda is."...
---
01.27.09 Al-Qaeda and the plague
January 27 - In the middle of the massive coverage of US President Barack Obama's inauguration, a rather troublesome news story emerged. Unfortunately, it failed to get the coverage it deserves. If confirmed, it deserves the full attention of the Obama administration: the story has to do with bioterrorism. The story began with a Jan. 6 report in the Algerian newspaper Echorouk that a number of terrorists had died of the plague in one of al-Qaeda in the Islamic Maghreb (AQIM) training camps in Tizi Ouzou. Another Algerian newspaper En-Nahar, affirmed that 50 terrorists have been diagnosed with the plague, 40 of whom have already died...Consider the following:
3. Over a year ago, Pakistani terrorists came to train in AQIM training camps and may have one way or another contributed to the production of that biological agent. Interestingly, the Washington Times mentions an intercepted communication between AQIM leaders and AQ Central in Pakistan relating the mishap.

4. Al-Qaeda operatives in Europe had tried to develop biological weapons in the recent past. In France, Menad Benchelalli, a terrorist specialized in poisons had produced small amounts of ricin and Botulinum toxin that he intended to release in France...

5. AQIM was "hired" by AQ central mostly because of their extensive network in Europe that could allow them to strike Europe at some point...If the group was indeed developing a biological weapon, it was surely destined for delivery in Europe, and most likely in France...Whatever the explanation, it seems that there have been unexplained deaths among AQIM operatives. At this point, the developments of this story and its possible implications need to be closely monitored. Indeed a nightmarish scenario could unfold if one of the infected individuals boarded a flight to Paris, London or New York. This person could become de-facto the means of "delivering" the weapon.
[Full story>> metimes.com; See earlier story, Maravot News 1.20.09 01.20.09 Black Death kills 40 al-Qaeda fighters in Algeria]
---
01.27.09 Iranian rebels kill a dozen policemen: judiciary
TEHRAN (AFP) January 27 - Rebels have killed 12 members of the Iranian security forces in an ambush in the restive southeast, judiciary spokesman Ali Reza Jamshidi said on Tuesday. "They were on a mission and they fell into a rebel ambush. Tragically, the 12 were killed," Jamshidi said, adding that the attack happened in Saravan in Sistan-Baluchestan province near the border with Pakistan. He said those behind the attack had escaped. On Monday, the Fars news agency reported that rebels had attacked a border patrol van on Sunday afternoon killing several policemen and fled back across the border to Pakistan. Iranian police have clashed with rebel groups, in particular the Sunni Muslim Jundullah (Soldiers of God), in the province which also lies on a major narcotics-smuggling route from Afghanistan and Pakistan. [More>>iranfocus.com (via xinhaunet.com)]
---
01.26.09 'Big companies around globe lay off tens of thousands
January 26 - Employers have tried to nip and tuck their labor costs by reducing overtime, shortening the workweek and freezing wages, but now, they are reaching for the saw. On Monday alone, companies across the employment spectrum announced about 62,000 job cuts in the United States and around the world, a stark sign that the economy continues to deteriorate. Monday's toll included 20,000 cuts at Caterpillar, the world's largest maker of construction and mining machinery; 8,000 jobs at the wireless provider Sprint Nextel; 7,000 workers at Home Depot, and 8,000 from the expected merger of the pharmaceutical makers Pfizer and Wyeth.

The beleaguered automaker General Motors announced that it would cut shifts at plants in Michigan and Ohio, where the downturn has hit hardest, eliminating some 2,000 jobs. And in Europe, the banking and insurance group ING said it would cut 7,000 jobs; the electronics company Philips, 6,000, and the steel maker Corus, 3,500 worldwide. "We're now into the danger zone," said Brian Bethune, chief United States financial economist at IHS Global Insight. "It really becomes pernicious because the uncertainty increases, corporate confidence is badly battered, and you get these severe measures being taken."

President Obama cited the layoff announcements in remarks Monday morning as he urged Congress to approve an $825 billion economic stimulus package of tax cuts, emergency benefits and public spending projects...Monday's announcements were the latest in a grim parade of job cuts from Wall Street to wireless providers to computer companies to retail stores. Last week, Microsoft announced it would cut 5,000 jobs over the next year and a half; Sony in Japan and Ericcson in Sweden each announced 5,000 layoffs; and the motorcycle maker Harley-Davidson said it was eliminating 1,000 jobs. Carmakers in Japan, South Korea and Europe have also cut jobs in recent months as did the cellphone maker Nokia. [Full story>>nytimes.com]
---
01.26.09 'Betty Ford' Islamic militants arrested in Saudi Arabia
January 26 - Nine Saudi Islamic militants, including former Guantanamo inmates, have been rearrested in the Kingdom despite completing a controversial rehabilitation programme. The arrests follow the embarrassing revelation last week that another Saudi Guantanamo Bay detainee who was released to the authorities in 2007 has emerged as the deputy leader of al-Qaeda's Yemeni branch of the terrorist organisation. Both incidents are a serious setback for the experimental regime in which Saudi terror suspects are "weaned off" Islamic militancy at the so-called "Betty Ford clinic" for jihadists. The rearrest of nine Saudi militants has also underlined the dilemma now facing governments with nationals still being detained in Guantanamo Bay, following President Obama's decision to close the camp. He has called on other countries to take detainees to help clear out the controversial prison. [More>>timesonline.co.uk]
---
01.26.09 Al-Qaeda posts chilling video
January 26 - Al-Qaeda has posted a chilling video threat to Britain on YouTube - showing masked gunmen shooting the Union Flag. Heavily-armed henchmen of Osama bin Laden are seen in a desert area, dressed from head to toe in black, using the flag as target practice. The video also shows the Stars and Stripes and Israel's flag riddled with bullets as the men unload their rifles. Two men released from America's Guantanamo Bay terror prison appear in the video, which has also been posted on jihadist websites.

Abu Hareth Muhammad al Oufi is seen venting his fury at the West while holding an automatic rifle and brandishing a grenade. Former inmate Abu Sufyan al Azdi al Shahri is filmed sitting with two other men before a flag of the Islamic State of Iraq, the symbol for the al-Qaeda terror network in Iraq. [More>>news.sky.com]
---
01.26.09 Yemen: Gunshots fired near US embassy
SAN'A, Yemen, January 26 - Gunmen in a car fired on a police checkpoint near the US Embassy in Yemen's capital on Monday, an Interior Ministry official said, hours after the embassy received threats of a possible attack. Police returned fire at two gunmen in the car, which fled the scene, the official said. It was unclear if anyone was injured. The official spoke on condition of anonymity because he is not allowed to speak to the press. He said three men in the area were detained. An attack on the embassy in September involving gunmen and explosives-packed vehicles killed 17 people, including six militants. al-Qaeda later claimed responsibility for that attack...Earlier, a Yemeni security official said the US Embassy received a telephone call and an e-mail early Monday saying the US and Russian embassies would be targeted by al-Qaeda within a few hours. Full story>>cbsnews.com; See also france24.com, January 26, "Gunmen arrested after shooting incident near US embassy."]
---
01.26.09 EU: US must show Guantanamo detainess pose no risk
BRUSSELS, Belgium (AP) January 26 - European Union leaders said Monday they are willing to take prisoners being released from the US detention camp at Guantanamo Bay — but only after detailed screening to ensure they don't import a terrorist. Foreign ministers from the 27-nation bloc discussed the fate of up to 60 Guantanamo inmates who, if freed, cannot be returned to their homelands because they would face abuse, imprisonment or death. The prisoners come from Azerbaijan, Algeria, Afghanistan, Chad, China, Saudi Arabia and Yemen.

French Foreign Minister Bernard Kouchner, whose nation played a lead role in Monday's discussions on Guantanamo, said the European Commission will draft a formal plan in coming weeks defining a common course for EU members to pursue with the new U.S. administration of President Barack Obama. In his first week in office, Obama ordered Guantanamo Bay prison in Cuba to be closed within a year. [More>>washingtonpost.com]
---
01.26.09 'EU official: Hamas responsible for Gaza
GAZA STRIP, January 26 - Hamas bears full responsibility for the war in Gaza, a top EU official said Monday in the Strip, calling the group "a terrorist movement." "At this time we have to also recall the overwhelming responsibility of Hamas," Louis Michel, European Commissioner for Development and Humanitarian Aid, told reporters. "I intentionally say this here — Hamas is a terrorist movement and it has to be denounced as such," Michel said as he visited the town of Jabalya in northern Gaza. [More>>jpost.com; See related stories:

haaretz.com (AP) January 26, "Fatah: No Israel-Hamas truce until Palestinian factions reconcile" : "A lasting truce and reconstruction in the devastated Gaza Strip will only come once the rival Hamas and Fatah factions reconcile," a Palestinian negotiator said Monday. Saleh Rafaat, a member of the Palestine Liberation Organization (PLO) executive committee, spoke in Cairo shortly after the first official meeting between the two Palestinian factions since Hamas evicted Fatah from Gaza in a violent June 2007 coup. "In order to end the division a national consensus government should be formed to carry out [distribution of] aid to our people, the reconstruction and supervision of the crossings," said Rafaat, who is part of a small Fatah-allied Palestinian group...The bitter battle between the two factions is hindering plans for the reconstruction of the Gaza Strip, devastated by a three week Israeli aerial and ground assault, as Israel, the U.S. and the EU all consider Hamas to be a terrorist organization and refuse to funnel reconstruction money to it...

alarabiya.net, January 26, "Rabbi told troops to show Gaza no mercy: report" : JERUSALEM - An Israeli human rights group on Monday called for the immediate dismissal of the chief military rabbi, claiming he gave soldiers fighting in Gaza pamphlets urging them to show no mercy. Yesh Din said it had written to both Defense Minister Ehud Barak and Chief of Staff Gabi Ashkenazi, urging them to "take this incitement seriously and fire Chief Military Rabbi Brigadier General Avi Ronzki." It said a pamphlet distributed to soldiers taking part in Operation Cast Lead stressed that the troops should show no mercy to their enemies, and that the pamphlet borders "on incitement and racism against the Palestinian people."

"When you show mercy to a cruel enemy you are being cruel to pure and honest soldiers. These are not games at the amusement park where sportsmanship teaches one to make concessions. This is a war on murderers," Yesh Din quoted the pamphlet as saying. It said the pamphlet quotes at length statements by Rabbi Shlomo Aviner, a spiritual leader of the Jewish settlers in the occupied West Bank who opposes any compromise with Palestinians. "The Palestinians claim they deserve a state here, when in reality there was never a Palestinian or Arab state within the borders of our country," the pamphlet quoted Aviner as saying. "[There is] a biblical ban on surrendering a single millimeter of it [the Land of Israel] to gentiles, though all sorts of impure distortions and foolishness of autonomy, enclaves and other national weaknesses. We will not abandon it to the hands of another nation, not a finger, not a nail of it." another excerpt said.

The rights group said the pamphlet contains "degrading and belittling messages that border on incitement and racism against the Palestinian people. These messages can be interpreted as a call to act outside of the confines of international laws of war," The Haaretz newspaper reported on Monday that far right-wing groups also gave out pamphlets bearing racist messages on military bases. It said one urged soldiers to "spare your lives and the lives of your friends and not to show concern for a population that surrounds us and harms us...Kill the one who comes to kill you. As for the population, it is not innocent," the daily quoted the pamphlet as saying. [More>>(alarabiya.net Blog comments)]

---
01.26.09 Six killed, 20 injured in blast in Pakistan
ISLAMABAD, January 26 - At least six persons were killed and more than 20 injured in a bomb blast in the north-western Pakistani city of Dera Ismail Khan on Monday, police said. ( Watch ) The bomb, a timed device planted in an auto-rickshaw, went off in a busy area located a short distance from the town hall and a hospital. A car that was passing the area bore the brunt of the blast, which also damaged several nearby shops. Reports suggested that local legislator Khalifa Abdul Qayyum could have been the target of the attack as he had passed through the city centre shortly before the blast occurred. Officials in a local hospital said they had received six bodies.

Police said over 20 people were injured in the powerful blast, which was heard several kilometers away. Doctors said six of the injured were in a critical condition. No group claimed responsibility for the attack. Taliban militants operating in the area are usually blamed for such attacks in Dera Ismail Khan. President Asif Ali Zardari and Prime Minister Yousuf Raza Gilani condemned the attack and directed authorities to apprehend those responsible for the blast. Dera Ismail Khan, a major city in the North West Frontier Province, has witnessed suicide attacks on security forces in recent months. The city has also been rocked by sectarian tensions. The city is located near the South Waziristan tribal region and Bannu and Tank districts, where the local Taliban have a presence. [>timesofindia.indiatimes.com; See also:
khaleejtimes.com, January 26, "Bicycle bomb kills five in NW Pakistan": A bomb planted on a bicycle exploded near a women's hostel in the northwestern Pakistani town of Dera Ismail Khan on Monday, killing five people and wounding several, police said...Khan declined to say if the women's hostel was the target. A hospital and a press club are also in the vicinity...

Related stories,

thenews.com.pk, January 26, "6, killed, several hurt in Swat violence" : SWAT, Pakistan: At least six people were killed, including three children and two women, and 20 others were wounded after missiles landed at homes in Swat on Monday. According to sources, security forces continued to advance in Charbagh, Manglor, Sangota and other areas of the valley. Forces targeted suspected hideouts of militants in these areas. A missile fell at the house of one Rehmat Ali in Manglor area, killing at least two people and injuring five others. Besides, two children and a woman were killed and three others injured as a rocket landed at another home in Manglorserai area, situated in the outskirts of Mangora. Meanwhile, undeclared curfew is still in force in several areas of Swat. [end]

xinhuanet.com, January 26, "Pakistan PM rejects Taliban courts" : ISLAMABAD - Pakistani Prime Minister Yousuf Raza Gilani Monday rejected Taliban courts and said that they would not be allowed to run a parallel judicial system. "We will not accept parallel courts of Taliban," Gilani told reporters in Islamabad. "The government will not allow Taliban to set up their courts and will sternly deal with them." Taliban in Pakistan's insurgency-hit Swat valley have released a list of 43 people, including former and incumbent ministers, who they have declared "wanted" and liable to punishment under the Taliban sharia...
Maravot News 1.25.09, article 01.25.09 Taliban releases hit-list of Pakistani politicians

Maravot News 12.31.08, article, 12.25.08 Taliban bar girls from schools and threaten to kill violators
---
01.26.09 US cuts payment to Pakistan for fighting Taliban, al-Qaeda
ISLAMABAD (DPA) January 26 - The United States has deducted 55 million dollars out of the 156 million dollars bill sent by Pakistan for rendering its military services to fight against Taliban and al-Qaeda in volatile bordering tribal areas adjacent to war-torn Afghanistan. Shaukat Tarin, a financial advisor in the prime minister's office, said the US had "changed the format" for money released under the Coalition Support Fund (CSF) for Islamabad, resulting in a "massive" deduction.

Pakistan, a key US ally in the fight terrorism, has mobilized its more than 100,000 troops in tribal areas to contain Islamic militants launching cross-border attacks on international forces in Afghanistan, and bills [the] US for the expenditure. The cut in its reimbursements is a setback to the civilian government led by President Asif Ali Zardari, widower of assassinated former Pakistani premier Benazir Bhutto. Tarin said Islamabad had taken the matter of the deducted money [up] with Washington. [More>>khaleejtimes.com]
---
01.26.09 Taliban style in BJP's Karnataka: moral cops assault girls in pub
MANGALORE, India, January 26 - Moral policing reared its head again, this time in BJP-ruled Karnataka where members of a right-wing Hindu group assaulted girls in a Mangalore pub, accusing them of behaving in an "obscene manner." Eyewitnesses said the girls were chased and thrashed by activists of the Sri Ram Sena as they tried to flee from the pub on the busy Balmatta Road in the heart of Mangalore. There were also allegations that some of the girls were molested.
With the attack causing public outrage and inviting wide condemnation, police swung into action, arresting ten activists of the Sri Ram Sena. They have been remanded to judicial custody until Tuesday on charges of assaulting guests of the pub last night, police said...In New Delhi, Union Minister for Women and Child Development Renuka Chowdhry described the attack as "an attempt to Talibanise India" and said she would seek an explanation from the Karnataka government on the issue. "I am absolutely horrified at the insensitivity on the eve of Republic Day. I will seek an explanation from the Karnataka government as well as the self-styled Sri Ram Sena." [Full story>>indianexpress.com]
---
01.26.09 Al-Shabab overruns Somali town
January 26 - Fighters from the al-Shabab group have captured the Somali town of Baidoa and seized the parliament building just hours after Ethiopian troops pulled out of the country, witnesses said. Mohammed Sheikh Nur, a journalist based in Mogadishu told Al Jazeera that al-Shabab fighters had also taken control of the airport and the presidential palace. "They are now in full control of the town and have urged people to stay calm. There have been injuries [as a result of the clashes] but no deaths so far," he said. Sheikh Mukhtar Robow, a spokesman of the al-Shabab, said: "The town is completely in our hands. We have taken control of Baidoa today." [More>>aljazeera.net]
---
01.26.09 EU nations increase sanctions against Zimbabwe
BRUSSELS, Belgium (AP) January 26 - The European Union on Monday increased the pressure on Zimbabwe's President Robert Mugabe to share power with opposition parties, adding more officials and companies that support him to an EU blacklist. An extra 26 officials and 36 companies were added to a visa and assets freeze meant to isolate Mugabe's regime. The blacklist now totals 203 people and 40 entities that are kept out of EU nations. The EU's 27 foreign ministers said the people and companies on the list "are actively associated with the violence or human rights infringements of the (Mugabe) regime." [More>>washingtonpost.com]
---
01.26.09 Fifth death from bird flu reported in south China
BEIJING, January 26 - An 18-year-old man died from bird flu on Monday in south China's Guangxi Zhuang Autonomous Region, the fifth human death from the H5N1 virus in China this year. According to a press release posted on the website of the Ministry of Health, the man surnamed Liang fell ill on Jan. 19 in Beiliu City of Guangxi. Liang was transferred to Yulin Municipal Red Cross Hospital on Jan. 24. He died on Monday. The young man tested positive for the H5N1 strain of avian influenza, according to the test result on Monday from the Chinese Center for Disease Control and Prevention. The ministry said it had reported the case to the World Health Organization and informed the health authorities of China's Hong Kong and Macao special administrative regions. [>xinhuanet.com]
---
01.26.09 Heavy weather: What climate change really means for Britain
January 26 - Wash-out summers, big chills, extreme heatwaves. Each time the weather goes mad, we're given the same reason: climate change. Is that the whole story? Archie Bland investigates. In 1992, Tom Clarke became an apprentice gardener with the National Trust. He was a bright student, but he didn't want to be stuck in an office job: he wanted to use his hands, and he loved the outdoors. He didn't know exactly what he would be doing at the age of 35, some 17 years later, but it's safe to assume that he might have hoped to have graduated past the intricacies of lawn mowing.

Today, Clarke is the assistant head gardener at the National Trust's Trelissick Garden in Cornwall, but he has to think about mowing the lawn all the time. "In the old days, the mower would get put back in the shed for two or three months a year," he explains. "Around now, it'd be gathering dust. But now we cut grass 12 months of the year, right through the season..." Says Clarke: "We've had the hottest summer, the wettest summer – every other month seems to be a record breaker in a different direction. There's so much confusion. And it's hard to grasp that climate change doesn't just work in one direction. Last week it was minus seven, and this week it's 12 degrees different from that. Even a lot of quite tender plants can deal with cold weather. But the unpredictability kills them." [Full story>>independent.co.uk; See related article, news.com.au, January 27, "Australia: Victoria prepares for worst heavtwave in a century."]
---
01.26.09 Obama acts on fuel efficiency, global warming
NEW YORK, January 26 - In first energy move, president finalizes mileage standard increases and may leave the regulation of greenhouse gases from cars to states. President Obama set his green plan into action Monday, potentially reversing several Bush-era decisions on global warming and fuel efficiency. In his first major environmental acts as president, Obama directed his Environmental Protection Agency to review a California application to regulate greenhouse gases and told his Department of Transportation to begin implementing fuel efficiency standards passed in late 2007 but not implemented by the Bush administration.

He also pushed for passage of the $825 billion economic stimulus package in the House and Senate. Those bills include money for investments in renewable energy, conservation and a better electric grid. "No single issue is as fundamental to our future as energy," Obama said at a White House news conference. "It is time for this moment of peril to be turned into one of progress."
California emissions: Under the Clean Air act, California has long sought to tighten its air quality standards. To achieve those standards, California would likely require cars to emit fewer greenhouse gases. Currently the federal government does not regulate carbon dioxide emissions - the main culprit in greenhouse gases. The Bush administration recently denied California's request saying that new federal fuel standards made stricter rules there unnecessary. [More>>cnn.com]
---
*Visitor statistics on maravot.com from 1&1. com. 46,153 page views in May 2007; monthly visitors in 2008 range between 40,000-45,0000..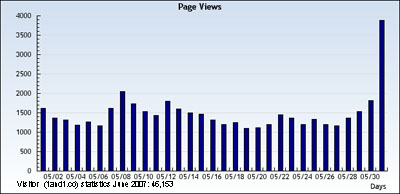 Privacy Policy: We do not store any personal data from you. We have no way of knowing any vital information about you — not even your name. Third-party distribution: We do not distribute information about your site usage to any third party. We are not responsible for the content of links from our site. Usage data: supplied by our Web Hosting service, 1and1.com, which consists of usage reports, such as page views / impressions and web pages visited, visitors' servers and geographical data (ISP's and country of origin).

---
Launched: 10.25.04 / 11.02.04 – | — |
Updated: 1.26.09; 1.27.09; 1.28.09; 1.29.09; 1.30.09
Copyright © 1981-2009 Maravot. All rights reserved
Copyright © 1981-2009 Mel Copeland. All rights reserved
Background: tile from Cicero's villa (Marcus Tullius Cicero 106 B.C. - 43 B.C.)