News Headlines & Trends
---
3.16.08 Global protests against Iraq War
March 16 - Tens of thousands of protesters across the world have taken part in a day of protests demanding the withdrawal of US and British troops from Iraq and Afghanistan. The World Against War action was organized to mark the fifth anniversary of the US-led invasion of Iraq on March 20. In London, police said that 10,000 activists had rallied at Trafalgar Square before marching the short distance to parliament. Organizers said that between 30,000 and 40,000 people had gathered...Caroline Lucas, the Green Party's member of the European Parliament, called for Tony Blair, the former British prime minister, and Gordon Brown to be prosecuted for war crimes. [Full story>>aljazeera.net; See also sfgate.com (SF Chronicle), March 16, "Examinng the war in Iraq after 5 years."]
---
3.16.08 Military 'profiles' al-Qaeda recruits
(AP) March 16 - The suicide bombers who have killed 10,000 people in Iraq, including hundreds of American troops, usually are alienated young men from large families who are desperate to stand out from the crowd and make their mark, according to a US military study. As long suspected, most come from outside Iraq. Saudi Arabia, home of most of the 9/11 hijackers, is the single largest source. And the pipeline is continually replenished by al-Qaeda in Iraq's recruiters.

The study, obtained by The Associated Press, profiles the suicide bombers and their support system based in part on interrogations of 48 foreign fighters who were captured or surrendered. The U.S. command is trying to understand the system, including al-Qaeda in Iraq's recruiting, training and transportation network, so it can be disrupted before the bombers strike. According to the summary, interrogators concluded that most foreign fighters are Sunni Muslim men from 18 to 30, with the mean age of 22. They are almost always single males with no children, and tend to be students or hold blue-collar jobs ranging from taxi drivers to construction and retail sales. [More>>cbsnews.com]
---
3.16.08 Germany's first suicide bomber in Afghanistan?
March 15 - A young German-born Turk could possibly have carried out an attack in Afghanistan that killed two US soldiers. The Islamic Jihad Union claims 28-year-old Cüneyt C. from Bavaria was responsible for the March 3 attack, now the German authorities are desperately trying to find out the bomber's identity.
His last mission began at exactly 4.04 p.m. on March 3. The driver pulled up his blue Toyota Dyna truck in front of the Sabari district center in the eastern Afghan province of Khost. The motor was still running when he hit the detonator. The force of the blast shook the earth and caused the guard post to collapse, trapping dozens of US soldiers under the rumble. The explosion was so forceful that eye witnesses assumed there had been a rocket attack on the building that the US army had built just two months previously.

...The terrorist group Islamic Jihad Union (IJU) wrote in Turkish that they had attacked "the military camp of the occupying force of the unbelievers," with 4.5 tons of explosives, "fully destroying" the US camp. The site gladly quotes the Taliban, who helped prepare the operation, and its reports of helicopters that took away the bodies. Instead of the two dead US soldiers, the IJU speaks of 60 victims.
The text then gets more flowery but also very concrete when it comes to details. Cüneyt C., also known as Saad Ebu Furkan, had "successfully carried out" the attack — "a brave Turk, who came from Germany and exchanged his life of luxury for paradise." [More>>spiegel.de; See also Spiegel's report on "International Terrorism."]
---
3.16.08 Iraq's insurgency runs on stolen oil profits
BAIJI, Iraq, March 16 - The Baiji refinery, with its distillation towers rising against the Hamrin Mountains, may be the most important industrial site in the Sunni Arab-dominated regions of Iraq. On a good day, 500 tanker trucks will leave the refinery filled with fuel with a street value of $10 million.
The sea of oil under Iraq is supposed to rebuild the nation, then make it prosper. But at least one-third, and possibly much more, of the fuel from Iraq's largest refinery here is diverted to the black market, according to American military officials. Tankers are hijacked, drivers are bribed, papers are forged and meters are manipulated — and some of the earnings go to insurgents who are still killing more than 100 Iraqis a week. "It's the money pit of the insurgency," said Capt. Joe Da Silva, who commands several platoons stationed at the refinery.
Five years after the war in Iraq began, the insurgency remains a lethal force. The steady flow of cash is one reason, even as the American troop buildup and the recruitment of former insurgents to American-backed militias have helped push the number of attacks down to 2005 levels. [More>>nytimes.com]
---
3.16.08 Wall Street fears for next Great Depression
March 16 - Wall Street is bracing itself for another week of roller-coaster trading after more than $300bn (£150bn) was wiped off the US equity markets on Friday following the emergency funding package put together by the Federal Reserve and JPMorgan Chase to rescue Bear Stearns. One UK economist warned that the world is now close to a 1930s-like Great Depression, while New York traders said they had never experienced such fear. The Fed's emergency funding procedure was first used in the Depression and has rarely been used since. [More>>independent.co.uk]
---
3.16.08 US magazine distributes free anti-Prophet book
WASHINGTON (America in Arabic) March 16 - A right-wing American weekly magazine will distribute free copies of a book that insults Prophet Muhammad and associates Islam with terrorism, Washington-based news agency America in Arabic reported. The neo-conservative, Republican-oriented Human Events magazine will distribute Robert Spencer's "The Truth About Muhammad: Founder of the World's Most Intolerant Religion" (2006), America in Arabic said.

The book — regularly priced at 30 dollars — is released by Regnery, which has published a string of controversial neo-con books and is a division of Eagle Publishing, which owns Human Events. Well-known British writer Karen Armstrong, author of "Muhammad: A Prophet of Our Time," has said that the book is "written in hatred," contains "basic and bad mistakes of fact" and that the author "deliberately manipulates the evidence."

The magazine says Spencer unravels facts not known to historians. The book claims that Muhammad said terrorism made him victorious and that he used to tempt people with paradise so they would crush his enemies.The author also accuses Muhammad of treason, breaching the Treaty of Hudaybiya with the Meccan tribe of Quraish, and instigating Muslims to kill Jews.

Spencer, the director of the Jihad Watch and Dhimmi Watch websites, also claims that the prophet encouraged Muslim men to take women captive to control them. Ultra conservative attorney Ann Coulter, who writes a column in the magazine, is taking part in the campaign to promote the book. Coulter is famous for her controversial statement about Arabs and Muslims, especially after 9/11 when she said Americans should invade Arab countries.

"We should invade their countries, kill their leaders and convert them to Christianity. We weren't punctilious about locating and punishing only Hitler and his top officers. We carpet-bombed German cities; we killed civilians. That's war. And this is war," she wrote in the conservative website National Review Online. Coulter also angered Jews in the United States when she said they should convert to Christianity to reach perfection. [>alarabiya.net ; See related stories:
nytimes.com, March 16, "Spain's many Muslims face dearth of Mosques," and
Maravot News, March 15, Muslim nations: Defame Islam, get sued?]

---
3.16.08 Foreigners under threat after Pakistan restaurant blast
ISLAMABAD (AFP) March 16 - Islamist militants behind a wave of recent attacks in Pakistan have changed tactics to target foreigners, officials said Sunday, after a bomb at an Islamabad restaurant killed a Turkish woman. The Turkish aid worker died and at least 10 other foreigners were wounded, including several US diplomats, in the blast at the popular Luna Caprese Italian eatery in Islamabad on Saturday evening. Violence linked to al-Qaeda and Taliban insurgents has left at least 600 people dead since the start of the year and posed a major challenge to the country's incoming government after last month's elections. [More>>turkishpress.com]
---
3.16.08 Wana missile strike death toll rises to 20
SOUTH WAZIRISTAN (AFP) March 16 - The death toll in Wana Missile strike, the main town in the tribal district of South Waziristan, has increased to 20, sources said. Seven others were also injured when a missile struck a suspected militant compound in a lawless Pakistani tribal area on the Afghan border Sunday. Residents said they heard several blasts after several missiles fired from an unknown site hit the home of a local tribesman in a village near Wana. Foreigners linked with Taliban and al-Qaeda militants were believed to be staying at the compound in Doog village, the residents said.

"Militants have cordoned the blast site and are taking out bodies from the rubble," one local tribesman said. "The missile has left only part of a boundary wall intact and turned the compound into a pile of debris," he said. "Body parts were flung into the air and were lying in nearby farmlands," he added. Pakistan's chief military spokesman major general Athar Abbas said that he had received reports about blasts, but had no details about casualties yet. "We are trying to get more details," Abbas said. [>thenews.com.pk; See more details, khaleejtimes.com and related story, khaleejtimes.com (Reuters), March 16, "Pakistan extradites 3 militant suspects: Saudi."]
---
3.16.08 'Eighty killed' in Tibetan unrest
March 16 - At least 80 people have been killed in unrest following protests by Tibetans against Chinese rule, the Tibetan government in exile says. Indian-based officials said the figure was confirmed by several sources, even though China put the death toll at 10. The Dalai Lama called for an international inquiry into China's crackdown, accusing it of a "rule of terror" and "cultural genocide." Chinese troops were out in force in Lhasa, Tibet's main city, on Sunday. [More>>bbc.co.uk ; See related story, washingtonpost.com, March 16, "Tibet protests spread to other provinces."]
---
3.15.08 EU warns water shortage in Central Asia could spark conflicts
BRUSSELS (RIA Novosti) March 15 - The severe impact of climate change in Central Asia is causing water and food shortages that could lead to regional conflicts, EU foreign policy chief Javier Solana warned. Solana delivered a climate change and security report from the High Representative and the European Commission to leaders at the European Union summit held on Thursday and Friday. "An increasing shortage of water, which is both a key resource for agriculture and a strategic resource for electricity generation, is already noticeable" in Central Asia, the report said.
"The glaciers in Tajikistan lost a third of their area in the second half of the 20th century alone, while Kyrgyzstan has lost over a 1000 glaciers in the last four decades. There is thus considerable additional potential for conflict in a region whose strategic, political and economic developments as well as increasing trans-regional challenges impact directly or indirectly on EU interests."[More>>rian.ru]
---
3.15.08 Police arrest dozens after clashes in Iraqi city
KUT (Reuters) March 15 - Iraqi police arrested dozens of members of Shia cleric Moqtada al-Sadr's Mehdi Army militia on Saturday, hours after two policemen were killed in gunbattles in the southern city of Kut, police said. Clashes this week between Iraqi security forces and the militia in Kut, 170 km (105 miles) southeast of Baghdad, have raised fears that a ceasefire called by Sadr may unravel, although the violence has so far been confined to Kut.
It is the first major violation of the seven-month-old truce, which has been credited by the US military with helping to reduce violence between majority Shia and Sunni Muslims that has killed tens of thousands of Iraqis. But Sadr clarified the conditions of the truce last week, telling followers they could defend themselves if attacked, an apparent response to complaints among his fighters that US and Iraqi forces were exploiting the ceasefire to target them. [More>>khaleejtimes.com ; See related story, metimes.com, March 14, "Iraqi army uncovers insurgents' weapons."]
---
3.15.08 Two dead, limbs lost in restaurant blast
(AFP) March 15 - A blast hit a restaurant frequented by foreigners in the Pakistani capital Islamabad this evening, killing two people and wounding nine, police said, police and witnesses said. "There was an explosion inside the Luna Caprese Italian restaurant in the centre of the capital," police official Mohammad Ishtiaq said. [More>>news.com.au; See also thenews.com.pk, March 15, "US nurse among two killed in Islamabad blast." and more details, nytimes.com]
---
3.15.08 New bird species found on Togian (Indonesia)
March 15 - Two field scientists from the University of Indonesia have found a new bird species, Zosterops somadikartai or Togian white-eye, in the Togian Islands, Gulf of Tomini, Central Sulawesi. The newly discovered bird is small with green plumage and a red beak. It is very active and moves in small flocks.
However, unlike its closest relatives – and despite its name – the bird's eyes are circled by a band of red feathers, not white. Its beak is a more intense red than that of its relatives. The species is being introduced for the first time this month in The Wilson Journal of Ornithology, 12 years after Indrawan and Sunarto first spotted the bird. [More>>thejakartapost.com]
---
3.15.08 Muslim nations: Defame Islam, get sued?
DAKAR, Senegal (IAP) March 15 - The Muslim world has created a battle plan to defend its religion from political cartoonists and bigots. Concerned about what they see as a rise in the defamation of Islam, leaders of the world's Muslim nations are considering taking legal action against those that slight their religion or its sacred symbols. It was a key issue during a two-day summit that ended Friday in this western Africa capital.
The Muslim leaders are attempting to demand redress from nations like Denmark, which allowed the publication of cartoons portraying the Prophet Muhammad in 2006 and again last month, to the fury of the Muslim world. Though the legal measures being considered have not been spelled out, the idea pits many Muslims against principles of freedom of speech enshrined in the constitutions of numerous Western governments. "I don't think freedom of expression should mean freedom from blasphemy," said Senegal's President Abdoulaye Wade, the chairman of the 57-member Organization of the Islamic Conference. "There can be no freedom without limits."
Delegates were given a voluminous report by the OIC that recorded anti-Islamic speech and actions from around the world. The report concludes that Islam is under attack and that a defense must be mounted. "Muslims are being targeted by a campaign of defamation, denigration, stereotyping, intolerance and discrimination," charged Ekmeleddin Ihsanoglu, the secretary general of the group.
The report urges the creation of a "legal instrument" to crack down on defamation of Islam. Some delegates point to laws in Europe criminalizing the denial of the Holocaust and other anti-Semitic rhetoric. They also point to articles within various UN charters that condemn discrimination based on religion and argue that these should be ramped up. "In our relation with the western world, we are going through a difficult time," Ihsanoglu told the summit's general assembly. "Islamophobia cannot be dealt with only through cultural activities but (through) a robust political engagement."
The International Humanist and Ethical Union in Geneva released a statement accusing the Islamic states of attempting to limit freedom of expression and of attempting to misuse the UN. Human Rights Watch said in a statement that objectionable depictions of the Prophet Muhammad do not "give them the right under international human rights law to insist that others abide by their views." [More>>indianexpress.com: hosted.ap.org ; See related story, alarabiya.net, March 15, "Islamic body to defuse 'clash of civilizations.' "]

---
Editorial note: The fear of Islam (Islamophobia) appears to be connected to the actions of Islamic jihadists who set bombs in one way or another, on their bodies or in vehicles, to blow up civilians and passersbys around the world. The cartoon depicting Mohammed with a bomb in his turban no doubt expresses that particular fear. At the moment a Dutch-produced movie depicting the threat of Islam has raised another protest around the world by Islamic faithful who object to the criticism of their religion or their prophet. (See http://www.suntimes.com/lifestyles/religion/832766,afghanistan030808.article and metimes.com, March 13, "Dutch film wins Egypt prize amid furor.")

Unfortunately, the sacred book of Islam, the Koran, instructs its believers to wage war against, and murder, unbelievers. It may be that Islam needs to revise its teaching towards unbelievers, such as:

Koran Repentance 9.20 Those that have embraced the faith and fled their homeland and fought for Allah's cause with their wealth and their persons are held in higher regard by Allah. It is they who shall triumph. Their Lord has promised them joy and mercy, and gardens of eternal bliss where they shall dwell forever. Allah's reward is great indeed.
9.116 ...Allah has purchased of the faithful their lives and worldly goods and in return has promised them the Garden. They will fight for His cause, slay, and be slain. Such is the true pledge which he has made them in the Torah, the Gospel, and the Koran. And who is more true to his promise than Allah? Rejoice then in the bargain you have made. That is the supreme triumph.

Koran, Women 4.91 Others you will find who seek security from you as well as from their own people. Whenever they are called back to idol-worship they plunge into it headlong. If these do not keep their distance from you, if they neither offer you peace nor cease their hostilities against you, lay hold of them and kill them wherever you find them. Over such men We give you absolute authority.
4.92 It is unlawful for a believer to kill another believer except by accident.
4.98 He that flies his homeland for the cause of Allah shall find numerous places of refuge in the land and great abundance. He that leaves his dwelling to fight for Allah and His apostle and is then overtaken by death, shall be rewarded by Allah.
4.104 Seek out your enemies relentlessly.

These are a few of several verses in the Koran that advocate violence against unbelievers. Islamic teachings applying the Koran become more particularly violent. See renaissance.com.pk, "Punishing the Disbelievers (kuffar)" for more particulars that instruct the punishment of unbelievers. This website is a Pakistani website, and it has become a well-recorded fact that the Islamic schools (madrasas) in Pakistan have been the schools of preference for training as jihadists. Islamic schools and internet websites / blogs continue the conversations relating to punishing and murdering unbelievers, from making bombs to justifications (such as those expressed by al-Qaeda) to murder even the faithful of Islam. Murder whoever does not agree with you seems to be the present direction or trend of Islam.

The West may have a legitimate complaint against the violence of Islam. A website worth reviewing is at:http://www.byzantines.net/byzcathculture/index.html.

There have been many attempts to define terrorism. Islamic leaders have argued, in fact, that suicide bombers are not terrorists (See http://www.eyeontheun.org/facts.asp?1=1&p=61). See also the Islamic Conference reports. Using an argument on behalf of Palestinians they have agreed that a people have a right to resist an aggressor, even with suicide bombers. In any event, one ought to clean up one's own house before one attempts to clean up others'. As Islamists pursue their attack against the West (which they believe to be their enemy), the international court might consider censoring the Koran, citing it as the Islamist terrorist manual.

There are other ways, of course, of reconciling the Koran to Western values and enable a peaceful application of the teachings. For the Koran claims in many places that it was written to confirm that the Jewish teachings (Old Testament / Torah) and Gospel (i.e., Jesus) are true (See "Why the Crusade & jihad?"). If it is agreed that the Koran was written to confirm that the Bible is true, then it could be argued that whoever believes in the Bible cannot be regarded as unfaithful. It is illogical for the Koran on one hand to claim to confirm the Bible and then contradict it. The Koran needs to be reconciled to sound Biblical precepts such as "thou shalt not kill" and the Gospel of Jesus that advocates peace: turning the other cheek, forgiving your enemies, doing unto others as you would have done to you (the Golden Rule).

Mel Copeland
---
3.15.08 Retired Kuwaiti pop star joins al-Qaeda
DUBAI, March 15 - A retired Kuwaiti superstar singer has recently the Gulf emirate for Afghanistan to join ranks with al-Qaeda and Taliban in fighting foreign troops there, according to a press report published Saturday. Hussein al-Ahmad, who was until recently one of the Gulf's most famous pop stars, decided to join "his brother Mujahideen in Afghanistan to support Islam and fight along his fellow Muslims of al-Qaeda," reported Kuwaiti daily Al-Rai Saturday. Al-Ahmad has previously told Kuwait's Al-Rai TV that the reason he decided to quit singing was "a dream" where he saw his "own journey from this world into the Hereafter through death." [More>>alarabiya.net ; See related story, Maravot News, March 14, "Robert Fisk: The cult of the suicide bomber."]
---
3.15.08 Khomeini's grandson slams stoning of adulterers
March 15 - Stirring a bitter debate and drawing a scathing attack, the grandson of the spiritual leader of Iran's 1979 Islamic revolution has branded the stoning penalty of adulterers to be against Shiite Islam. With 11 men and women awaiting their death by stoning in public in Iran, human rights organizations have been issuing warnings against the implementation of the sentence and the controversy reached its peak in the Islamic republic. Hussein Khomeini, grandson of Ruhollah Musawi Khomeini, lashed out at the penalty and called for annulling it. But renowned Shiite scholar Mohamed Taskhiri called Khomeini's statements "irresponsible" and stressed that stoning as a punishment is indisputable in all Islamic denominations. [More>>alarabiya.net]
---
3.15.08 Russia fails to put US satellite into target orbit
MOSCOW (RIA Novosti) March 15 - Russia failed to put a U.S. AMC-14 telecommunications satellite into its target orbit after a booster rocket malfunctioned during the launch early on Saturday, Russia's Federal Space Agency said. At 2:28 a.m. Moscow time (23:28 GMT Friday), a few minutes after the Proton-M carrier rocket's launch from the Baikonur Space Center which Russia rents from Kazakhstan, the Breeze-M orbit insertion booster failed during its upper stage, putting the satellite into orbit much lower than required.
A spokesman for the space agency, Roscosmos, told RIA Novosti: "The communications satellite which was incorrectly put into orbit by the Russian Proton carrier rocket is fully controllable, but is at an orbit of 28,000 kilometers instead of the required 36,000 kilometers. A further decision on the satellite will be taken by the customer, the American corporation SES Americom." Designed and made by U.S.-based Lockheed Martin Commercial Space Systems, the satellite was intended to cover the entire North American continent, with a service life of 15 years. [More>>rian.ru]
---
3.15.08 Yahoo!'s move to Geneva raises fears about Britain's tax policy
March 15 - Fears of an exodus of major companies from Britain intensified yesterday after the internet search giant Yahoo! confirmed its decision to move its headquarters from London to Geneva. The US company is understood to want to relocate to Switzerland, where business taxes are much lower than in the UK, to "increase financial performance".
Its decision comes only days after the Budget, in which the Chancellor, Alistair Darling, pushed through changes to the tax system which disappointed the business lobby. Yahoo!'s move will stoke worries that London's standing as the de facto capital of European commerce has been irreparably damaged. Richard Lambert, the leader of the Confederation of British Industry, said: "We are deeply concerned that the UK corporate tax system is becoming uncompetitive and, without knowing the detail, this sounds like another sign of that."
Faced with global financial turmoil and a slowing economy, business leaders have warned the Treasury that, if it reaches deeper into the pockets of large companies, the steady trickle of those opting for more business-friendly climes could become a flood, which would cripple the economy. Nearly a fifth of UK tax receipts come from financial institutions in the City of London. They are among the most mobile businesses and are actively courted by officials from low-tax countries such as Ireland and Switzerland. Yahoo! is not the first to leave. Kraft, the US food manufacturer whose brands include Vegemite and Toblerone, moved its main office from London to Zurich last year. Experian, the credit history company, chose Dublin for is new headquarters, while the Surrey head office of Gallaher, maker of Camel and Salem cigarettes, is to be relocated to Geneva by its new owner, Japan Tobacco. [More>>independent.co.uk]
---
3.15.08 Inside the slave trade
March 15 - (Special investigation by John Hari) This is the story of the 21st century's trade in slave-children. My journey into their underworld took place where its alleys and brothels are most dense — Asia, where the United Nations calculates 1 million children are being traded every day. It took me to places I did not think existed, today, now. To a dungeon in the lawless Bangladeshi borderlands where children are padlocked and prison-barred in transit to Indian brothels; to an iron whore-house where grown women have spent their entire lives being raped; to a clinic that treat syphilitic 11-year-olds.

But this story begins like all these stories begin: with a girl, and a lie. Sufia comes to talk to me in a centre for children who have been rescued, funded by Comic Relief – which is having its major Sport Relief funding run this weekend. She has only ever talked about it to her counsellors here. But she wants the world to know what happened to her. [More>>independent.co.uk]
---
3.14.08 Editorial: OPEC killing the golden goose
(Middle East Times) March 14 - As the oil price clambered above the once-unthinkable level of $110 a barrel, the oil-rich countries of the Middle East are now confronted with two familiar questions and one even more familiar dilemma. They are all familiar because the rules of the market never fundamentally change. And as legendary Saudi Oil Minister Sheikh Yamani used to say: "The Stone Age did not end because the world ran out of stones. It ended because it became cheaper and simpler to develop metals and bricks and cements." So the Oil Age will not end because we run out of oil, but when the price of oil goes so high that it becomes cheaper and simpler to move to alternative fuels. [More>>metimes.com]
---
3.14.08 US west coast braced for ban on salmon fishing as stocks collapse
LOS ANGELES, March 14 - America's west coast looks set to lose almost all of its wild salmon harvest this year, depriving fish retailers and restaurants around the world of one of their key sources of high-quality fish, and raising troubling questions about the viability of commercial fishing in an age of climate change and increased competition over water use. United States government regulators have already closed down the early fishing season along swathes of the west coast and are expected to issue a season-long ban in California and Oregon, in response to an unprecedented collapse in the region's salmon population.
The unexpected shutdown will have a devastating effect on the 1,000 or so commercial salmon fishermen who ply their trade between California's Central Coast and the Oregon-Washington state line. It will kill the recreational salmon fishing industry, which attracts millions of anglers each year and generates about $4bn (£2bn) in benefits to the coastal economy. [More>>independent.co.uk; See also sfgate.com (SF Chronicle)]

Editorial note "Sea of trash": The pacific salmon industry may be in more trouble from a plastic continent-sized garbage patch in the north Pacific. Drifting a thousand miles north of Hawaii and a thousand miles off the US west coast are two patches of garbage – composed mainly from plastics – that each are believed to be the size of the continental United States. That is to say, each is about 2.3 billion acres in size.

The garbage patches are caught in two circulating currents, called gyres. The northeastern Pacific gyre describes the region where several species of salmon and steelhead trout migrate. (See http://www.goldseal.ca/wildsalmon/salmon_migration.asp?pattern=summary) What is not apparently known is the affect of the plastics upon the salmon populations that enter the gyre. Some research on the gyre has been done by the Algalita Marine Research Foundation which has proposed that the garbage patch has about 110 million tons of plastic, much of which has degraded, reduced to fish-egg-sized particles and smaller. Researchers indicate that the plastic breaks down but will stay in the ocean forever. Unfortunately, the plastic can be mistaken by fish as plankton, and dead sea birds have been found with plastics in their stomachs. Sea life eat the plastic which appears to be replacing biological food resources and thus starve. Also there are a number of UME's (Unusual Marine Events) involving sea lions, monk seals, manatees, dolphins, and other large mammals. The UME's are animals that have been found dead and the cause of death determined, in the main, as biotoxins. More about UME's may be read at the NOAA website.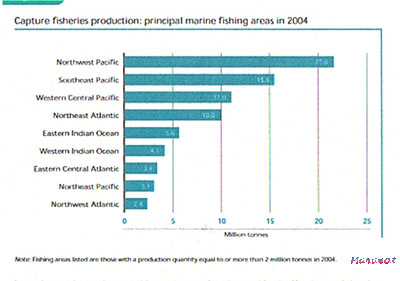 The United Nations "The State of World Fisheries and Aquaculture, 2006" lists the Northwest Pacific as the world's principal marine fishing area, followed by the Southwest Pacific, Western Central Pacific Northeast Atlantic, Eastern Indian Ocean, Western Indian Ocean, Eastern Central Atlantic, Northeast Pacific and Northwest Atlantic. The entire report may be downloaded from the UN website as a PDF file. See also UN Environmental Program report, February 22, 2008, "Warmer world may mean less fish."]

The North Pacific gyres are each about 1,000 miles across and 500 miles wide, spanning the North Pacific from the US West Coast to Japan. The garbage is believed to originate from land and has the consistency of a "soup." If it is discovered that plankton and larger sea life are feeding on the plastic rather than biological sources, the process may be starving the sea life and perhaps accounting for death by toxins and starvation. Scientists have pointed out that the plastics and their toxins ingested by the fish may, in fact, be ending up in our own digestive tracts, as the material can be passed up through the food chain. Plastic recyclers have placed warnings on the internet to avoid PCV products because of their toxins. These plastics, they say, are separated from other plastics by immersion in water. The plastics that are unsuitable for recycling will not float. The plastics reported in the garbage patch are floating and found just below the surface, down to about 100 feet. For those who are interested in learning more about the garbage patch in the North Pacific see independent.co.uk, February5, 2008, "The world's rubbish dump: a garbage tip that stretches from Hawaii to Japan." Wikipedia.com also has an interesting article, "The North Pacific Gyre." See other details at the Algalita Marine Research Foundation. Their report, "Pelagic Plastic," may be downloaded in PDF format from their website and is worth reading.

Mel Copeland
---
3.14.08 JP Morgan and Fed move to bail out Bear Stearns
March 14 - Bear Stearns, facing a grave liquidity crisis, reached out to JPMorgan on Friday for a short-term financial lifeline and now faces the prospect of the end of its 85-year run as an independent investment bank. With the support of the Federal Reserve Bank of New York, JPMorgan said in a statement that it had "agreed to provide secured funding to Bear Stearns, as necessary, for an initial period of up to 28 days."
For the next month, JPMorgan will work with Bear Stearns to reach a solution for its financing crisis. Options could include organizing permanent financing or, according to people briefed on the discussions, buying the bank for a discounted price. [More>>nytimes.com ; See related story, nytimes.com, March 14, "Stocks tumble on bank's troubles."]
---
3.14.08 Robert Fisk: The cult of the suicide bomber
March 14 - Few players in the 'war on terror' are more chilling, or misunderstood, than suicide bombers. Yet the true scale of their grisly activities has never been properly calculated. Five years after the invasion of Iraq, Robert Fisk details the shocking extent of the most widespread campaign of self-liquidation in human history.
Khaled looked at me with a broad smile. He was almost laughing. At one point, when I told him that he should abandon all thoughts of being a suicide bomber – that he could influence more people in this world by becoming a journalist – he put his head back and shot me a grin, world-weary for a man in his teens. "You have your mission," he said. "And I have mine." His sisters looked at him in awe. He was their hero, their amanuensis and their teacher, their representative and their soon-to-be-martyred brother. Yes, he was handsome, young – just 18 – he was dressed in a black Giorgio Armani T-shirt, a small, carefully trimmed Spanish conquistador's beard, gelled hair. And he was ready to immolate himself.

A sinister surprise. I had travelled to Khaled's home to speak to his mother. I had already written about his brother Hassan and wanted to introduce a Canadian journalist colleague, Nelofer Pazira, to the family. When Khaled walked on to the porch of the house, Nelofer and I both realized – at the same moment – that he was next, the next to die, the next "martyr." It was his smile. I've come across these young men before, but never one who so obviously declared his calling.

His family sat around us on the porch of their home above the Lebanese city of Sidon, the sitting room adorned with colored photographs of Hassan, already gone to the paradise – so they assured me – for which Khaled clearly thought he was destined. Hassan had driven his explosives-laden car into an American military convoy at Tal Afar in north-western Iraq, his body (or what was left of it) buried "in situ" – or so his mother was informed.

It's easy to find the families of the newly dead in Lebanon. Their names are read from the minarets of Sidon's mosques (most are Palestinian) and in Tripoli, in northern Lebanon, the Sunni "Tawhid" movement boasts "hundreds" of suiciders among its supporters. Every night, the population of Lebanon watches the brutal war in Iraq on television. "It's difficult to reach 'Palestine' these days," Khaled's uncle informed me. "Iraq is easier." Too true. No one doubts that the road to Baghdad – or Tal Afar or Fallujah or Mosul – lies through Syria, and that the movement of suicide bombers from the Mediterranean coasts to the deserts of Iraq is a planned if not particularly sophisticated affair. [More>>independent.co.uk]
---
3.14.08 Move to ban Turkey's ruling party
March 14 - A state prosecutor has asked Turkey's highest court to shutdown the ruling AK Party for allegedly undermining secularism. Abdurrahman Yalcinkaya, the court of appeals chief prosecutor, as quoted by Turkish television as saying he wanted senior party members, including the president and prime minister, banned from politics for five years. Yalcinkaya said a government move to lift a ban on women students wearing the Muslim headscarf at universities amounted to an anti-secular action.

Turkey, which is seeking European Union membership, is predominantly Muslim but has a strictly secular constitution. The constitutional court has yet to say whether it will agree to hear the complaint, which charges that the AKP or Justice and Development  Party has become a focal point for attempts to undermine separation of state and religion. [More>>aljazeera.net]
---
3.14.08 Ancient Inca temple ruins revealed
LIMA, Peru (AP) March 14 - Archaeologists in Peru have discovered the ruins of an ancient temple, roadway and irrigation systems at a famed fortress overlooking the Inca capital of Cuzco, officials involved with the dig said Thursday. The temple on the periphery the Sacsayhuaman fortress includes 11 rooms thought to have held mummies and idols, lead archaeologist Oscar Rodriguez told The Associated Press. [More>>cbsnews.com]
---
3.14.08 Pentagon says it captured key al-Qaeda figure
WASHINGTON, March 14 - The Pentagon said Friday it has captured a high-level al-Qaeda figure suspected of having close ties to Osama Bin Laden and has sent him to the US military prison at Guantanamo Bay, Cuba. The man, named as Muhammad Rahim, helped arrange Bin Laden's escape from his hideout in Afghanistan in 2001, Pentagon spokesman Bryan Whitman told reporters. Rahim was transferred to the Pentagon from CIA custody this week, he added.

However, Whitman would not say when or where the CIA captured Rahim, or how long he has been in the hands of the Americans. Afghani media earlier reported that Rahim was arrested in Pakistan and he had a bounty of 200,000 US dollars on his head. Whitman described Rahim as a close associate of Bin Laden and had ties to al-Qaeda groups throughout the Mideast. "He is one of (Bin Laden's) most trusted facilitators and procurement specialists," he said. US forces have caught a number of associates of Bin Laden but the hunt for the al-Qaeda mastermind is still going on. [>xinhua ; See more details, washingtonpost.com]
---
3.14.08 Tibet in turmoil as riots grip capital
March 14 - Opponents of Chinese rule in Tibet set fire to vehicles and shops on Friday as tear gas filled the streets and gunfire rang out in the Tibetan capital, Lhasa, according to witnesses and human rights groups. The protests – initiated by Buddhist monks – have been growing since Monday, the anniversary of the failed 1959 Tibetan uprising against Beijing rule. Tibet, an autonomous province, has long sought independence from China.
Roughly 1,000 people hurled rocks and concrete at security forces and military trucks pushing back riot police, a witness told CNN. Chinese bloggers and US-based human rights groups said Chinese security forces had sealed off the three main monasteries around Lhasa after the violence broke out. The bloggers also said police wearing armored vests were moving toward Lhasa in armored personnel carriers. [More>>cnn.com]
---
3.13.08 Dollar falls to record low against euro
March 13 - Fears that stresses in credit markets and the world economy as a whole are deteriorating despite central bank help hit financial markets today, sinking global stocks and sending the dollar tumbling. The dollar hit another record low against the euro and fell below 100 Japanese yen for the first time in 12 years, underlining concerns among monetary officials about extreme currency moves.

Oil, meanwhile, was at a record high above $110 a barrel and gold was closing in on $1,000 an ounce. Wall Street looked set for a sharply lower opening while European shares were down around 2 per cent and Japanese equities lost more than 3 per cent. In the latest credit market fallout, an affiliate of US-based buyout firm Carlyle Group, Carlyle Capital Group defaulted on about $16.6bn of debt. [More>>independent.co.uk ; See also:
nytimes, March 13, "Carlyle Fund expects assets will be seized." and
washingtonpost.com, March 13, "Treasury releases analysis of meltdown."]
---
3.13.08 Gene discovery raises hopes of new treatment for breast cancer
March 13 - A discovery that has "profound implications" for the diagnosis and treatment of aggressive breast cancer has been made by scientists who believe they have found a critical gene that causes a tumour to spread. The gene was known to be involved in the functioning of the immune system but a study has now shown that when it is active in a breast tumour it causes cancerous cells to break away to other parts of the body.
Scientists believe the discovery raises the prospects of tests being developed to assess the risk of an aggressive form of breast cancer developing in a patient, and to find ways of treating tumors before, or even after, they have begun to spread. Breast cancer is the most common form of cancer in women, with more than 44,000 diagnosed each year. Of these, some 12,000 die every year, mostly from aggressive forms of the disease that have spread to other vital organs. [More>>independent.co.uk]
---
3.13.08 Iranian military attacks Kurdish militants on Iraqi border
TEHRAN (RIA Novosti) March 13 - Iranian troops have launched attacks against two groups of Kurdish separatists on the country's border with Iraq, an Iranian official said on Thursday. The Iranian news agency Mehr quoted a deputy governor of Iran's western province of Kurdistan as saying that "the two groups were linked to terrorist anti-revolutionary groups."
Although he did not say how many insurgents had been killed, he reported that a large amount of explosives and small arms had been seized. "The criminals had intended to use terrorist attacks to destabilize the situation in the province ahead of parliamentary elections in Iran," he said. Parliamentary elections are due in Iran on March 14. [More>>rian.ru]
---
3.13.08 Muslim summit tackles 'Islamophobia' in West
DAKAR (AFP) March 13 - The Organization of the Islamic Conference opened its 11th leaders' summit here Thursday, seeking ways to end conflicts that have stricken members of the world's main Muslim group and to counter "Islamophobia" in the West. The summit started with Malaysia handing over the presidency of the 57-member organization to Senegal's President Abdoulaye Wade, host of the meeting which was meant to concentrate on a campaign against 'Islamophobia' in the West and efforts to modernize the OIC's institutions. But highlighting troubles that have beset its members, Afghanistan's President Hamid Karzai was preoccupied with a car bomb in Kabul that killed six people. [More>>alarabiya.net]
---
3.13.08 At least 18 killed in Baghdad suicide car bomb
BAGHDAD (AFP) March 13 - At least 18 people were killed and 64 wounded in a suicide car bombing in central Baghdad on Thursday, medical officials told AFP. The bomber detonated his explosives-laden vehicle in the Bab al-Sharji area at around 2:00pm (1100 GMT), security officials said. Medics at Baghdad's three hospitals, Al-Kindi, Ibn Nafis and Medical City, confirmed the overall toll. Soon after the blast police were searching the area for the bomber's accomplice, an AFP reporter at the scene said.
A local shopkeeper told AFP the two men parked their BMW car in front of his shop and one of them stepped out, while the other remained seated in the vehicle. "I went up to the man in the car and asked him to move it. He said 'I will move in a minute as I am waiting for my friend.' A few seconds later the car exploded," the shopkeeper told AFP, adding that the blast happened just after he had returned to his shop. [More>>khaleejtimes.com ; See related story, news.com.au (AFP) March 14, "Kidnapped archbishop found dead."]
---
3.13.08 Suicide attack, clashes kill 20 in Afghanistan
KABUL (AP) March 13 - A suicide car bomb attack on a convoy of US troops killed six Afghan civilians in Kabul on Thursday, while fresh violence in the restive south left at least 15 Taliban fighters and policemen dead. The extremist Taliban movement claimed responsibility for the rush-hour blast on the road to the capital's international airport, in which four US troops also suffered minor injuries and 33 Afghans were wounded.
Kabul police chief General Salim Ahsas told AFP that six people were killed in the suicide car bomb attack on US-led coalition forces. Health minister Mohammad Amin Fatimi said 33 civilians were wounded and blamed the attack on "enemies of Afghanistan." [More>>khaleejtimes.com]
---
3.11.08 20 bodies found in mass grave
(AFP) March 11 - A grave containing 20 bodies has been found by Iraqi security forces near Samarra, just days after 100 decomposed bodies were found at another site. The most recent mass grave, containing the bodies of men, women and children, was found in a dry riverbed in an area called Al-Jillam, north-east of Samarra. The bodies appeared to be killed a long time ago, Lieutenant Muthanna al-Shakir said.
 
On Saturday, 100 decomposed bodies were found buried in a mass grave in the province of Diyala. Human rights groups believe there are hundreds of mass graves in Iraq of people killed during the former regime. Lt. Shakir said troops had arrested four suspected al-Qaeda militants near the area of the latest grave and had found 700 Iranian-made mortar rounds.[>news.com.au ; See related stories:
indianexpress.com: hosted.ap.org, March 11, "Bomb hits Iraqi bus; at least 16 killed." and
metimes.com, March 11, "Clashes kill five in Iraqi Shiite city."]
---
3.11.08 Bombs kill 20 in eastern Pakistan city
(AP) March 11 - Massive suicide bombs ripped through a seven-story police headquarters and a house in Lahore on Tuesday, killing at least 20 people and wounding more than 150, deepening Pakistan's security crisis as a wave of Islamic militancy sweeps the country. The two blasts happened about 15 minutes apart in different districts of this eastern city. The first tore the facade from the Federal Investigation Agency building as staff were beginning their working day. It also damaged scores of homes in the neighborhood.
City police chief Malik Mohammed Iqbal said an explosive-packed car was driven into a parking lot and detonated next to the building - which houses a department of the federal police's anti-terrorism unit - knocking out the walls of several offices and part of a stairwell. Pervez Malik, another city police official, said 17 people were killed and another 165 were wounded. "It is the deadliest attack I ever saw," Iqbal said. [More>>thejakartapost.com ; See also thenews.com.pk, March 11, "Death toll in Lahore twin suicide attacks mounts to 31."]
---
3.11.08 Iran offers Indonesia nuclear cooperation
TEHRAN, March 11 - Iran is ready to share its experience in nuclear engineering with Indonesia, the president of the Islamic Republic said on Tuesday. "Tehran is ready to make available to Jakarta its achievements and its valuable experience in a variety of fields, including in nuclear engineering, nanotechnology and economics," Mahmoud Ahmadinejad said at a joint news conference with Indonesian President Susilo Bambang Yudhoyono, who is on a two-day official visit to Tehran. The Iranian head of state also said the two Islamic countries had similar positions on many current international and regional problems. Indonesia is the world's most populous Muslim-majority country, although it is not an official Islamic state. [More>>rian.ru]
---
3.11.08 The big question: What is carbon trading, and will it help in the battle against climate change?
March 11 - (Article by Michael McCarthy, environmental writer)

Why are we asking this now?
Because the Government seems likely to embark upon the construction of a new series of coal-fired power stations, which emit more carbon dioxide than any other form of energy generation – yet ministers say that Britain's climate targets can still be met through carbon-trading and other policy measures.
What exactly is carbon-trading?
It is a way of offering a financial carrot to big polluting companies to get them to clean up their act, at the same time as threatening them with a financial stick. Heavy plants are allocated permits by the Government to emit a certain amount of carbon dioxide in the course of their operations, one permit being equivalent to a metric tonne of CO2.

Once they reach the end of their allocation, they have to buy more permits, which – in theory – ought to be very expensive. However, if they cut their emissions to below their limit, and have permits left over, they can sell those permits on the "carbon market" to other companies who may be emitting too much – and thus make a profit. So there is a distinct financial incentive to cut emissions, and at the same time a penalty for failing to do so.
What advantages are there to the system?
Its proponents say there are several, and not only the combination of carrot and stick. You could indeed have government regulations which put precise CO2 emissions limits on precise facilities – cement works X, or steel plant Y, say. But that is very much a commercial and industrial straitjacket. Emissions trading gives companies the flexibility to meet carbon reduction targets according to their own strategy, by reducing emissions on site, or by buying allowances from other companies who have excess allowances. At a given moment, one may be more practical to do than the other. Second, the idea is to ensure that reductions take place where the cost of reducing is lowest – so lowering the overall cost of tackling global warming.
And is this actually being done now?
Yes, it is being carried out in the Emissions Trading Scheme (ETS) of the European Union, the world's first, which was set up in 2005, and which takes in all the major industry of Europe, including Britain, which sees it as the cornerstone of its policy to fight climate change. [More>>independent.co.uk]
---
3.11.08 Fuel prices siphoning money from US economy
March 11 - Crude oil prices continued a record-breaking climb today that pushed it past $109 a barrel, while the price of regular unleaded gasoline at the pump came within half a cent of its all-time high. A White House announcement that Vice President Cheney would probably ask Saudi Arabia to boost oil output during a trip to the Middle East next week did nothing to blunt a run-up in prices that yesterday added $3 to the cost of a barrel.
As the rising cost of crude oil trickles down to the gasoline pump, fuel prices are siphoning cash away from other consumer spending, making it harder to revive the flagging U.S. economy and putting pressure on the Bush administration. It also siphoned more money out of the country: [More>>washingtonpost.com ; See related story on affects of korean economy, koreaherald.co.kr, March 11, "Won plummets on worries over economy."]
---
*Visitor statistics on maravot.com from 1&1. com. 46,153 page views in May 2007; 45,000 in Feb. 2008.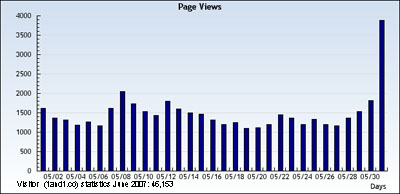 Privacy Policy: We do not store any personal data from you. We have no way of knowing any vital information about you – not even your name. Third-party distribution: We do not distribute information about your site usage to any third party. We are not responsible for the content of links from our site. Usage data: supplied by our Web Hosting service, 1and1.com, which consists of usage reports, such as page views / impressions and web pages visited, visitors' servers and geographical data (ISP's and country of origin).

---
Launched: 10.25.04 / 11.02.04 – —
Updated: 3.11.08; 3.13.08; 3.14.08; 3.15.08; 3.16.08
Copyright © 1981-2008 Maravot. All rights reserved
Copyright © 1981-2008 Mel Copeland. All rights reserved
Background: tile from Cicero's villa (Marcus Tullius Cicero 106 B.C. - 43 B.C.)