News Headlines & Trends
---
2.05.08 The world's rubbish dump: a garbage tip that stretches from Hawaii to Japan
February 5 - A "plastic soup" of waste floating in the Pacific Ocean is growing at an alarming rate and now covers an area twice the size of the continental United States, scientists have said. The vast expanse of debris – in effect the world's largest rubbish dump – is held in place by swirling underwater currents. This drifting "soup" stretches from about 500 nautical miles off the Californian coast, across the northern Pacific, past Hawaii and almost as far as Japan.
Charles Moore, an American oceanographer who discovered the "Great Pacific Garbage Patch" or "trash vortex." believes that about 100 million tons of flotsam are circulating in the region. Marcus Eriksen, a research director of the US-based Algalita Marine Research Foundation, which Mr. Moore founded, said yesterday: "The original idea that people had was that it was an island of plastic garbage that you could almost walk on. It is not quite like that. It is almost like a plastic soup. It is endless for an area that is maybe twice the size as continental United States."

...According to the UN Environment Programme, plastic debris causes the deaths of more than a million seabirds every year, as well as more than 100,000 marine mammals. Syringes, cigarette lighters and toothbrushes have been found inside the stomachs of dead seabirds, which mistake them for food. Plastic is believed to constitute 90 per cent of all rubbish floating in the oceans. The UN Environment Programme estimated in 2006 that every square mile of ocean contains 46,000 pieces of floating plastic,
Dr. Eriksen said the slowly rotating mass of rubbish-laden water poses a risk to human health, too. Hundreds of millions of tiny plastic pellets, or nurdles – the raw materials for the plastic industry – are lost or spilled every year, working their way into the sea. These pollutants act as chemical sponges attracting man-made chemicals such as hydrocarbons and the pesticide DDT. They then enter the food chain. "What goes into the ocean goes into these animals and onto your dinner plate. It's that simple," said Dr. Eriksen. [Full story>>independent.co.uk]
---
2.05.08 Suicide bomber kills eight anti-Qaeda members: Iraq police
TARMIYAH, Iraq (AFP) February 5 - A suicide bomber killed eight members of an anti-Qaeda front as he triggered his explosive vest at a checkpoint outside a Sunni tribal sheikh's house in central Iraq on Tuesday, police said. The attack took place outside the home of Sheikh Shathr al-Obeidi, head of a tribal "Awakening" group ranged against al-Qaeda in Awad village near Taji, 40 kilometres (25 miles) north of Baghdad in Salaheddin province, a police officer said. "Eight members of the Awakening were killed at the checkpoint. Several were wounded," the officer told AFP on condition of anonymity. "The target of the attack was Sheikh Shathr al-Obeidi." [More>>metimes.com ; See related story, khaleejtimes.com, February 5, "Mass grave with 55 bodies discovered in N. Iraq."]
---
2.04.08 Turkish aircraft strike 70 Kurdish rebel targets in northern Iraq
ANKARA (RIA Novosti) February 4 - Turkish warplanes bombed 70 Kurdish guerrilla targets in northern Iraq in a 12-hour operation on Monday, the Turkish General Staff said. The Turkish military said the operation, which began at 3:00am. (1:00am GMT), targeted the Kurdistan Workers Party (PKK). No deaths have yet been reported as a result of the air strikes.
"The operation was conducted against 11 groups of targets that had been detected by intelligence sources. Air strikes were successfully conducted against them, after which [Turkish Air Force] planes returned to their permanent deployment sites," the General Staff said. There has been speculation that these "intelligence sources" may refer to US intelligence reports. [More>>rian.ru]
---
2.04.08 US says it accidentally killed nine Iraqi civilians
BAGHDAD (AFP) February 4 - The US military said on Monday that its forces accidentally killed nine Iraqi civilians, including a child, during weekend raids against al-Qaeda fighters south of Baghdad. The raid, one of a number of incidents in recent months involving the killing of civilians, occurred on Saturday near the town of Iskandariyah in an area known as the Triangle of Death.
Three more civilians including two children were wounded "as coalition forces pursued al-Qaeda," the military said in a statement. Witnesses claimed as many as 20 people, including 17 members of a single family, were killed in a US air strike in the area, which is a stronghold of fiercely anti-American insurgents. [More>>turkishpress.com]
---
2.04.08 IDF nabs suicide bomber's father
February 4 - IDF troops operating in Hebron late Monday arrested the father of one of the suicide bombers who perpetrated the attack in Dimona which killed one woman and wounded 38 others. Following the raid, defense officials told the Jerusalem Post that there was a growing assessment within the security establishment that the Dimona attackers came from Hebron, and not from the Gaza Strip as was earlier claimed by the Palestinian faction, Fatah.
The officials further said that the terrorists were able to easily infiltrate Israeli territory as the security fence south of Hebron Hills has yet to be built, and there are no obstacles preventing such an infiltration from that point to Dimona...Police said the bombing was carried out by two attackers, but only one succeeded in detonating his explosives. The other terrorist was wounded in the explosion and was then killed - seconds before he could detonate his explosives belt - by Kobi Mor, a police officer from an elite unit who happened to be at the scene.
The Aksa Martyrs Brigades claimed responsibility for planning the attack, saying it had been in the works for about a month. In a press conference convened by the terror group, the two bombers were named as Mussa Arafat, from Khan Yunis, a member of the Abu Ali Mustafa Brigades – the armed wing of the Popular Front for the Liberation of Palestine, and Aksa operative Luwi Luwani from the Gaza Strip. [Full story>>jpost.com]
---
2.04.08 Suicide bomb kills 6 in Pakistan
ISLAMABAD, Pakistan (A)) February 4 - A suicide bomber blasted a military bus Monday in the northern city of Rawalpindi, killing six people, and a gunman fired on a political gathering in the south, stoking fears about security ahead of this month's crucial parliamentary elections. A military statement said 38 people were wounded in the blast when a suicide bomber rammed his motorbike into the bus carrying military personnel to work in Rawalpindi, headquarters of the Pakistani army. [More>>indianexpress.com: hosted.ap.org]
---
2.04.08 19 killed in Afghan raids, clashes
KANDAHAR, Afghanistan (AP) February 4 - Afghan and foreign troops conducted two raids on the homes of suspected Taliban militants Monday, leaving 10 people dead, including women and children, police said. A separate clash in southern Uruzgan province left nine suspected militants dead. In the Bakwa district of western Farah province, foreign and Afghan ground forces attacked the home of suspected Taliban member Mullah Manan, killing nine people, including two women and two children, district police Chief Khan Agha said. He said the troops acted on intelligence indicating that insurgents were meeting at Manan's house. Manan escaped the attack.
In southern Helmand province, foreign troops raided the house of another Taliban suspect near the capital of Lashkar Gah, killing him and wounding his 8-year-old daughter, said provincial police Chief Mohammad Hussein Andiwal...ISAF said its troops were not involved in the raid in Farah, and that it was tracking down information on the incident in Helmand. The US-led coalition said it was also looking into the two raids. Meanwhile, police battled Taliban militants on Sunday in the Dihrawud district of southern Uruzgan province, leaving nine militants dead and one officer wounded, said provincial police Chief Juma Gul Himat. Authorities recovered the militants' bodies and their weapons, Himat said. [Full story>>indianexpress.com: hosted.ap.org]
---
2.04.08 China battles 'coldest winter in 100 years'
CHENZHOU, china (Reuters) February 4 - Millions remained stranded in China on Monday ahead of the biggest holiday of the year as parts of the country suffered their coldest winter in a century. Freezing weather has killed scores of people and left travellers stranded before the Lunar New Year, or Spring Festival – the only opportunity many people have for a holiday all year.

...The China Meteorological Administration said the weather was the coldest in 100 years in central Hubei and Hunan provinces, going by the total number of consecutive days of average temperature less than 1 degree Celsius (33.8 degrees Fahrenheit). But it expected brighter weather ahead, though fog could become a problem and temperatures at night would likely still be below freezing, slowing the thaw. [Full story>>thestar.com.my]
---
2.04.08 Bird flu spreads in Bangladesh
DHAKA, Bangladesh (AFP) February 5 - Bird flu has spread to three more districts in Bangladesh, taking the number of affected districts to 37, officials said overnight, as the government pledged to raise compensation to farmers for culled poultry. The latest cases were reported in southern Bagerhat and western Kushtia districts, while the virus has re-emerged in several others, an official in the livestock department said.
Health workers began culling in south-western Jhenaidah district after more than 200 chickens died from the H5N1 bird flu virus, local officials said overnight. More than half Bangladesh's 64 districts are affected by bird flu, which has been able to spread, health experts say, partly due to ignorance among millions of farmers in the poor nation. [More>>news.com.au]
---
2.03.08 Afghan police surround warlord's house
KABUL (Reuters) February 4 - Afghan police briefly surrounded the luxury Kabul villa of former warlord Abdul Rashid Dostum overnight after he entered the house of a one-time ally with about 50 gunmen and beat him up in a drunken rage, officials said. The standoff highlights the problem of powerful warlords who helped tear Afghanistan apart in the 1992-96 civil war and are still waiting in the wings should President Hamid Karzai fail in the fight against the Taliban, or lose his grip on government.
Dostum, a warlord with a reputation for brutality and treachery, forced his way into the house of former aide Akbar Bay with about 50 armed men and two members of parliament. "Last night, at around 12.30, Mr. Dostum, being drunk and abnormal, stormed Akbar Bay's residence with other armed men," Interior Ministry spokesman Zaher Azimy said. One of Mr. Bay's bodyguards was shot and Dostum and his men beat up Mr. Bay and his son and took them to the warlord's house, Kabul police chief Salem Hasaas. The pair were later freed during the night and taken to hospital.

...The burly Dostum rose to command ethnic Uzbek fighters allied to the Soviet Union during the 1979-89 occupation, then switched sides as Soviet troops withdrew. He then formed and broke alliances several times during the civil war, while running much of northern Afghanistan as his personal fiefdom. At the height of his power, the burly, moustached fighter ran a mini-state in the north and his well-equipped army kept even the Taliban at bay until 1997. He printed his own money, set up his own airline, drove an armored Cadillac and vowed never to bow to a government that banned whisky and music. [Full story>>news.com.au]
---
2.03.08 Mullah Omar flays 'spies' slaughtering
KABUL, February 3 - Taliban Supreme Leader Mullah Mohammad Omar Akhund through a decree denounced slaughtering of the alleged spies at the hands of what he called Taliban and Mujahideen engaged in resistance against the US-led allies in the region. "No one is allowed to slaughter any one," Mullah Mohammad Omar Akhund remarked through a decree, made public to media by Taliban commander Maulvi Mohammad Rasool. Maulvi Mohammad Rasool is [the] Taliban commander for southern provinces of Afghanistan.

According to [a] spokesman, Mullah Mohammad Omar Akhund has regretted "slaughtering of the alleged spies in Afghanistan and Pakistan." In the recent past, Taliban operating on both sides of the Durand Line indulged in slaughtering of a large number of the alleged spies.

While opposing slaughtering of the human beings, Mullah Omar reminded that a "War Procedure" (of 40-pages comprising 75 clauses) had already been circulated. There is no space for slaughtering those who are either associated with the US-led allied troops or are associated with the Government.

Mullah Omar made it clear that no commander or individual among the Taliban has the right either to slaughter or execute any person on any charge or in any circumstances. Only an Islamic court has the right to award capital punishment to any accused after his formal trial. Similarly, the executing authorities in accordance with the Islamic court verdict have the power to execute the accused with gun. [More>>thenews.com.pk]
---
2.03.08 New bird flu outbreak reported in Turkey
ANKARA (RIA Novosti) February 3 - A fresh, second outbreak of bird flu has been found in northern Turkey, the country's agriculture ministry said on Sunday. The virus was found in the samples of poultry taken in a small village near the Black Sea city of Samsun. Measures are under way to cull chickens to contain the disease, the ministry said. It was not yet clear whether the virus was the deadly H5N1 strain, which has killed at least 219 people worldwide so far.
In mid-January, Turkish authorities confirmed an H5N1 virus in a village near the Black Sea city of Zonguldak. In January 2006, four people died of bird flu in Turkey and Turkish authorities had to impose quarantine measures in many districts of the country. Although no cases of human-to-human transmission of H5N1 have been reported, scientists fear the virus could mutate into a strain that could pass easily between people, causing a global pandemic. [>rian.ru]
---
2.03.08 US, Iraqi troops kill 11, capture 64 suspects
BAGHDAD (AP) February 3 - US and Iraqi forces killed 11 suspected militants and captured 64 others in two days of raids across central and northern Iraq, officials said Sunday. Iraqi troops killed eight suspects and arrested 28 overnight in Salman Pak, about 25 kilometers (15 miles) south of Baghdad, Iraqi police said. They also seized weapons, explosives and some vehicles in the raid, including a Humvee that was apparently stolen from the Iraqi army, police said.
Meanwhile, US forces killed three suspects and detained 36 others in operations targeting al-Qaeda in Iraq, the military said Sunday in a statement. One of those killed was an al-Qaeda in Iraq leader involved in car bombings in western Baghdad, the military said. He was killed Saturday by US troops who were working in support of Iraqi soldiers, it said. The military did not identify him. [More>>khaleejtimes.com]
---
2.03.08 Pentagon seeks record level in 2009 budget
WASHINGTON, February 3 - As Congress and the public focus on more than $600 billion already approved in supplemental budgets to pay for the wars in Iraq and Afghanistan and for counterterrorism operations, the Bush administration has with little notice reached a landmark in military spending. When the Pentagon on Monday unveils its proposed 2009 budget of $515.4 billion, annual military spending, when adjusted for inflation, will have reached its highest level since World War II.
That new Defense Department budget proposal, which is to pay for the standard operations of the Pentagon and the military but does not include supplemental spending on the war efforts or on nuclear weapons, is an increase in real terms of about 5 percent over last year. [More>>nytimes.com]

---
Editorial note: See our US debt chart in the sidebar of this page. According to the current Budget of the United States $439 billion was requested for Defense. This can be compared to the actual Interest on the US debt for 2007 that was about $430 billion, making interest the second largest outlay in the US budget, which is $9.7 trillion for 2007. The US debt is projected at 10.3 trillion for 2009. Politicians tend to mislead the people when speaking about the US debt, often confusing it with the "deficit." The deficits during the Bush administration tended to be about half of the outlays for interest on the US debt. Unlike the Clinton era which actually paid down the US debt, following a "pay-as-you-go" policy of fiscal responsibility, the Bush administration has followed the precedents set by Reagan and Bush I of increasing indebtedness. We may recall Bush's recent veto of an $11 billion outlay to continue funding a health program for children. Interest on the debt exceeds 1.2 billion per day and it varies according to the interest rate set by the Federal Reserve. For comparative purposes, the $11 billion outlay for children's health that was vetoed by Bush amounts to 11 days worth of interest on the debt. Bush has had no problem paying out interest on the debt but recoils from expenses to promote our common welfare. Unfortunately, all of the interest on the US debt that has been paid out has done little or nothing to improve our public welfare, and worse, the continued borrowing only aggravates our ability to function as a viable, economic nation. See a related story, washingtonpost.com, February 3, "President's spending plan would rival 2004 deficit." Curiously, old Republican voices such as those who advocated the highly publicized program, "Contract with America." went silent during the Bush II administration. The "Contract with America," led by Knewt Gingrich in 1994, condemned deficit spending. Had the fiscal repsonsibility of the Clinton administration continued we would probably not have been as vulnerable to an economic collapse, as being experienced owing to the subprime rate problem. The subprime problem is symptomatic of the general chaos enabled by the unrestrained government and business activities of the Bush administration.

Mel Copeland
---
2.02.08 Bishop in Muslim row faces death threats
February 2 - The Bishop of Rochester, Dr. Michael Nazir-Ali, is under police protection after he and his family received death threats over his claim that parts of Britain had become "no-go areas" for non-Muslims. The Bishop is also facing anger from the most senior members of the Church of England hierarchy for his comments on Islam. The Archbishop of Canterbury, Dr. Rowan Williams, has made Islam a priority of his archiepiscopate and set up a Muslim-Christian forum to promote relations between the faiths in 2006. One senior cleric told The Times yesterday: "The Bishop of Rochester is in effect threatening to undo everything we have done."
The cleric said that some congregations in cities such as Leicester, where interfaith work was a priority, were increasingly wary of donating money towards this work. Church leaders in towns with a large Muslim population were anxious that relations with their neighbors were being undermined.

..The Bishop said in an article in The Sunday Telegraph that Islamic extremists had created no-go areas across Britain where it was too dangerous for nonMuslims to enter. He said that people of a different race or faith faced physical attack if they lived or worked in communities that were dominated by a strict Muslim ideology. [Full story>>timesonline.co.uk ; See also telegraph.co.uk, February 2, "Death threats to the 'no-go' bishop."]
---
2.02.08 US strike exposes entrenched militants
ISLAMABAD (AP) Febriaru 2 - The US missile strike that killed a top al-Qaeda commander just over a mile from a Pakistani military base shows how entrenched Islamic militants are in the lawless tribal regions, where extremists have launched increasingly bold attacks. The targeting of Abu Laith al-Libi also suggests American intelligence is improving and that President Pervez Musharraf is willing to turn a blind eye to attacks along the Afghan border if they avoid civilian casualties.
Pakistan has yet to confirm the death of al-Libi, reported Thursday on Islamic extremist Web sites and confirmed by an American official who said the veteran al-Qaeda leader was hit by a missile from a US Predator drone in a village in North Waziristan late Monday.
...The missile destroyed a house belonging to a local tribal leader, Abdul Sattar, known for his links to extremists in a village just over a mile from a base used by Pakistani security forces near Mir Ali, the second-largest town in North Waziristan. Pakistani intelligence officials say they found the remains of satellite phones and a computer in the wreckage, suggesting the suspects had the ability to communicate outside the remote, rugged region, where land-based phone and Internet links are very limited....Mahmood Shah, former security chief of Pakistan's tribal regions, said there are reportedly four groups of Arab al-Qaeda militants in the region, most located near the main city of Miran Shah, in addition to much larger numbers of Central Asians, mainly from Uzbekistan, in the vicinity of Mir Ali. [Full story>>indianexpress.com: hosted.ap.org ; See related story, khaleejtimes.com, February 2, "Two Pakistan policemen killed in gunbattle with militants."]
---
2.02.08 Islamic terror leader seized in Kyrgyzstan
WASHINGTON (UPI) February 1 - The arrest in Kyrgyzstan of a suspected Central Asian Islamic terror leader has highlighted his movement's close relationships with the Taliban and al-Qaeda. Abdulkhai Yuldashev was detained in the Osh region of southern Kyrgyzstan, according to a statement from the Kyrgyz Interior Ministry in the capital Bishkek reported by the Interfax news agency.
Yuldashev was a leader within the Islamic Movement of Uzbekistan, or IMU, and is accused of involvement in attacks on Kyrgyz and Tajik border posts in May 2006, which killed several police and customs officials, the agency said. Local media said Yuldashev was also known as Artyk, Interfax reported.
The IMU was formed in 1998 to create an Islamic state in Uzbekistan, but in the years since its formation, and under the ideological influence of al-Qaeda, it has broadened its field of combat to include the entire Central Asian region militants refer to as Turkestan: Uzbekistan, Kyrgyzstan, Tajikistan, Kazakhstan, Turkmenistan, and the Xinxiang province of China. [More>>metimes.com]
---
2.02.08 Bird flu contained in India, spreading in Bangladesh
(AFP) February 3 - An Indian state said it has brought the country's worst ever bird flu outbreak under control, just as neighboring Bangladesh reported that the virus was spreading. The deadly H5N1 strain of bird flu has been detected in 13 of 19 districts in the eastern Indian state of West Bengal since the outbreak began in mid-January.
The state's Animal Resource Development Minister Anisur Rahaman said health workers expected to complete the culling of three million poultry within 24 hours. "We have so far culled nearly 2.9 million poultry since January 14," when the outbreak – India's third and worst – was confirmed, Mr. Rahaman said. [More>>news.com.au]
---
2.02.08 Huge gas field found off Iran
February 2 - A gas field with huge reserves has been discovered in the Gulf off the coast of Iran, Gholam Hossein Nozari, the Iranian oil minister has said. "A gas field with an estimated reserve of 11 trillion cubic feet (311 billion cubic metres) was found by an Indian company in the  Persian Gulf," Nozari said on Saturday.

..Iran has the world's second-largest proven gas reserves after Russia and it has ambitions to export gas to a host of countries including Armenia, Pakistan and Syria. However, it has failed to become a major international exporter because of a lack of foreign investment and slow progress in exploiting its fields. Despite its export plans, Iran had recently been forced to import gas from neighboring Turkmenistan because of high domestic consumption. [Full story>>aljazeera.net ; See related story, nytimes.com, February 2, "A frail economy raises pressure on Iran's rulers."]
---
2.01.08 Two bombs at Baghdad pet markets kill 72
BAGHDAD (Reuters) February 1 - Bomb blasts ripped through two popular pet markets in Baghdad on Friday, killing 72 people in the deadliest attacks in the city in six months and dealing a bitter blow to Iraqi hopes that security is getting better. Police said a female suicide bomber killed 45 people and wounded 82 at the Ghazil pet market in central Baghdad.
Another blast shortly after, caused either by a roadside bomb or a second female suicide bomber, killed 27 people and wounded 67 at a bird market in southern Baghdad, they said. While attacks have continued to fall across Iraq in recent months, the latest blasts underscore US military warnings that a return to the violence that took Iraq to the brink of sectarian civil war is still possible. [More>>thestar.com.my]
---
2.01.08 H5N1 bird flu virus confirmed in Gadap poultry farms
KARACHI, Pakistan, February 1 - The Sindh government has confirmed the presence of bird flu virus in poultry farms located in Karachi's Gadap area. Talking to Geo News, Sindh government's Poultry Research department director Dr. Ali Akbar today announced that the deadly H5N-1 strain of bird flu has been identified in Gadap and 5,000 chickens have already been culled. Earlier, the department had sent samples from the poultry farms to the National research lab in Islamabad to confirm the presence of the highly contagious avian influenza. [>thenews.com.pk ; See related stories, khaleejtimes.com, February 1, "india isolates 26 people on bird flu fears." and "Dead swans test positive for bird flu in UK."]
---
2.01.08 Egypt: 12 Palestinians arrested
February 1 - Egypt claimed Friday morning that it arrested twelve armed Palestinians on suspicion that they were planning to attack Israeli tourists vacationing in the Sinai, Israel Radio reported. An Egyptian security official said the group was arrested near the Rafah crossing and the Ahmad Hamdi tunnel, leading to Sinai coastal resorts. According to the report, two of the men were Hamas members and two were Islamic Jihad operatives, and all but two of the detainees arrived at Sinai through the Rafah border crossing. The remaining two came to Egypt via Persian Gulf states. [More>>jpost.com]
---
2.01.08 Suicide blast kills Pakistan troops
February 1 - At least three Pakistani troops have been killed and five wounded after a suicide bomber rammed his explosives-laden vehicle into a military checkpoint in North Waziristan, army officials say. The attack occurred on Friday at the Khajori checkpoint, near the town of Mir Ali on the Afghan border. Mir Ali is also close to where a top al-Qaeda fighter was believed to have been killed earlier this week. [More>>aljazeera.net]
---
2.01.08 Militants attack Israeli embassy in Mauritania
February 1 - Unidentified gunmen opened fire on the Israeli embassy in the Mauritanian capital Nouakchott early on Friday, causing several injuries, including a French national. Israel condemned the attack, calling it an "act of terrorism." An eyewitness told AFP that a group of six men had opened fire with automatic weapons, wounding five people including a "foreign woman."

The attackers exchanged fire with guards at the embassy. A nearby bar in the center of Nouakchott was also hit before the assailants fled. Armed Mauritanian soldiers immediately cordoned off the embassy building...Israel condemned the assault, as the US-based IntelCenter reported that al-Qaeda's Ayman Al-Zawahri had called on Mauritanians to attack the Israeli embassy in Nouakchott a year ago. [Full story>>alarabiya.net]
---
2.01.08 Exxon Mobil profit sets record again
February 1 - Exxon Mobil delivered its strongest performance ever last year, earning a record $40.6 billion in net income because of surging oil prices, the company said Friday. The figure, a 3 percent increase from the previous year, exceeded the company's own record for profits at an American corporation, set in 2006, and is nearly twice what it earned in 2003. Exxon said its fourth-quarter net income rose 14 percent, to $11.7 billion, or $2.13 a share. That also made it the company's most profitable quarter ever. [More>>nytimes.com]
---
1.31.08 Top al-Qaeda leader reported dead
January 31 - A senior al-Qaeda leader in Afghanistan, Abu Laith al-Libi, has been killed, Western counter-terrorism officials have told the BBC. News of his death emerged on a website used by Islamist groups. Ekhlaas.org said he had "fallen as a martyr." There is speculation that he was killed by a US missile strike in the North Waziristan area of Pakistan this week. A dozen militants were reported killed in the attack. US intelligence agencies said they were checking the reports.
A Pakistani daily paper, the News, reported that the suspected US strike was aimed at Libi and another senior figure, Obaidah al-Masri. The Pakistani government said it knew nothing about Libi's death. US Defense Secretary Robert Gates said he did not "have anything definitive" to say about it, the Associated Press reported. Libi has appeared in a number of al-Qaeda videos. In November he appeared alongside al-Qaeda second-in-command Ayman al-Zawahri. [More>>bbc.co.uk; See also cnn.com al-ekhlaas.net and America's most wanted terrorists, rewardsforjustice.net]
---
1.31.08 Hamas wants fuel, electricity from Egypt
January 31 - Hamas wants Egypt to supply fuel and electricity to the Gaza Strip to end Gazans' economic dependence on Israel, Hamas Prime Minister Ismail Haniyeh's adviser announced Thursday. In an interview with the Palestinian news agency Ma'an, Ahmad Youssef said that several Arab sources had expressed willingness to help fund the supply, if Egypt agrees to the arrangement.
He said the issue would be discussed during a meeting of Hamas leaders in Egypt. Youssef also stressed that the move would be the basis for Hamas "cutting off" from Israel and for Gaza's independence. [More>>jpost.com]
---
1.31.08 Sentenced to death: Afghan who dared to read about women's rights
January 31 - A young man, a student of journalism, is sentenced to death by an Islamic court for downloading a report from the internet. The sentence is then upheld by the country's rulers. This is Afghanistan – not in Taliban times but six years after "liberation" and under the democratic rule of the West's ally Hamid Karzai.
The fate of Sayed Pervez Kambaksh has led to domestic and international protests, and deepening concern about erosion of civil liberties in Afghanistan. He was accused of blasphemy after he downloaded a report from a Farsi website which stated that Muslim fundamentalists who claimed the Koran justified the oppression of women had misrepresented the views of the prophet Mohamed.
Mr. Kambaksh, 23, distributed the tract to fellow students and teachers at Balkh University with the aim, he said, of provoking a debate on the matter. But a complaint was made against him and he was arrested, tried by religious judges without – say his friends and family – being allowed legal representation and sentenced to death. The Independent is launching a campaign today to secure justice for Mr. Kambaksh. [More>>independent.co.uk]
---
1.31.08 Suicide bomber kills Afghan official
KANDAHAR, Afghanistan (AP) January 31 - A suicide bomber blew himself up inside a mosque in southern Afghanistan on Thursday, killing Helmand province's deputy governor and five other people, officials said. The bomber struck while people were praying inside the mosque in the provincial capital of Lashkar Gah, provincial police chief Mohammad Hussein Andiwal said.
Helmand's deputy governor, Pir Mohammad, was killed in the blast, said Nisar Ahmad, a provincial health official. The blast killed five other people and wounded 18 others, seven seriously, Andiwal said. Andiwal said Mohammad had just arrived from a meeting at the nearby compound of the Helmand governor. "After finishing his meeting, the deputy governor walked to the mosque for prayer," Andiwal said. "As they were praying, the bomber detonated his explosives." [More>>indianexpress.com: hosted.ap.org]
---
1.31.08 Messenger spacecraft photographs unusual formation on Mercury
January 31 - The Messenger spacecraft that sped past Mercury on Jan. 14 sent back pictures of a geological formation never seen before in the solar system: a central depression with more than 100 narrow troughs radiating out from it. Called "The Spider" by scientists analyzing the trove of images and data coming back from Messenger, the puzzling feature is the kind of surprise that researchers live for. "Messenger has sent back data near perfectly, and some of it confirms earlier understandings, and some of it tells us something brand-new," said principal investigator Sean C. Solomon. "The Spider is definitely in the category of something we never imagined we'd find."
Scientists were also surprised by evidence of ancient volcanoes on many parts of the planet's surface and how different it looks compared with the moon, which is about the same size. Unlike the moon, Mercury has huge cliffs, as well as formations snaking hundreds of miles that indicate patterns of fault activity from Mercury's earliest days, more than 4 billion years ago. [More.>washingtonpost.com ; See also nasa.gov]
---
1.31.08 451 people in 35 prefecturs suffer food poisoning from 'gyoza'
TOKYO, January 31 - The number of people who have complained of illness after eating gyoza dumplings or other products made by a Chinese producer has reached 451 in 35 prefectures in Japan, according to a Kyodo News calculation as of Thursday evening, while the government the same day vowed utmost efforts to deal with the food poisoning. It has not been proved, however, if the claims of illness filed with public health centers or other institutions by more than 400 of the people are related to the pesticide earlier detected in one of the products.

The incident came to light Wednesday when 10 people in two prefectures were reported to have suffered or to be still suffering from symptoms of food poisoning after eating dumplings between December and January. The dumplings were made by Tianyang Food in China's Heibei Province, and imported and sold by JT Foods Co. [More>>japantoday.com]
---
1.31.08 Scientists turn bone marrow into sperm
February 1 - Scientists are ready to turn female bone marrow into sperm, cutting men out of the process of creating life. The breakthrough paves the way for lesbian couples to have children that are biologically their own. Gay men could follow suit by using the technique to make eggs from male bone marrow. Researchers at Newcastle upon Tyne University in England say their technique will help lead to new treatments for infertility.
But critics warn that it sidelines men and raises the prospect of babies being born through entirely artificial means. The research centres around stem cells - the body's "mother" cells, which can turn into any other type of cell. According to New Scientist magazine, the scientists want to take stem cells from a woman donor's bone marrow and transform them into sperm through the use of special chemicals and vitamins. [More>>news.com.au]
---
1.30.08 Scientists discover way to reverse loss of memory
January 30 - Scientists performing experimental brain surgery on a man aged 50 have stumbled across a mechanism that could unlock how memory works. The accidental breakthrough came during an experiment originally intended to suppress the obese man's appetite, using the increasingly successful technique of deep-brain stimulation. Electrodes were pushed into the man's brain and stimulated with an electric current. Instead of losing appetite, the patient instead had an intense experience of déjà vu. He recalled, in intricate detail, a scene from 30 years earlier. More tests showed his ability to learn was dramatically improved when the current was switched on and his brain stimulated.
Scientists are now applying the technique in the first trial of the treatment in patients with Alzheimer's disease. If successful, it could offer hope to sufferers from the degenerative condition, which affects 450,000 people in Britain alone, by providing a "pacemaker" for the brain. Three patients have been treated and initial results are promising, according to Andres Lozano, a professor of neurosurgery at the Toronto Western Hospital, Ontario, who is leading the research. [More>>independent.co.uk]
---
1.30.08 Winograd: Final ground op 'did not achieve military goals'
January 30 - The Winograd Committee released its final report on the Second Lebanon War on Wednesday, saying the decision in principle to launch a major ground offensive in the waning hours of the 2006 war was essential, despite the fact that the offensive failed to achieve any military objectives. The committee called the war, which Israel launched against Hezbollah on July 12, 2006 after the militant group abducted two Israel Defense Forces soldiers and killed three others, a "major missed opportunity."

"Israel embarked on a prolonged war that it initiated, which ended without a clear Israeli victory from a military standpoint," Justice (ret.) Eliyahu Winograd told a press conference in Jerusalem. [More>>haaretz.com]
---
1.30.08 Iraqi television cameraman killed
Mosul (AP) January 30 - An Iraqi television cameraman and his driver were killed in a roadside bombing north of Baghdad, Al-Forat TV reported on Wednesday. The female correspondent and camera assistant traveling with them were wounded. Alaa Abdul-Karim al-Fartoosi, 29, was traveling with the three colleagues Tuesday when a roadside bomb went off next to their car in Balad, 50 miles north of Baghdad, said Haider Kadhum, an Al-Forat news editor. He did not identify the others in the party by name. Al-Fartoosi is survived by his wife and two children.
The top US commanders in northern Iraq, meanwhile, said Tuesday the battle to push al-Qaeda out of its last urban stronghold would be a protracted "campaign for Mosul." The military leaders also discounted statements by Prime Minister Nouri al-Maliki that Iraqi forces headed into Nineveh province would be conducting a "decisive" confrontation in a major attack to begin as soon as all units are in place. [More>>indianexpress.com: hosted.ap.org]
---
1.30.08 Blast in Philippines kills 3, wounds 21
GENERAL SANTOS, Philippines (Reuters) January 30 - A bomb blast at the gate of a tuna canning factory in the southern Philippines on Wednesday killed at least three people and wounded 21, police said. Robert Po, the police chief in General Santos city, said the explosive was a home-made bomb and went off just after dusk when workers were ending a shift. The attack was in General Santos City, a port on the southern tip of the peninsula that is the country's biggest centre for tuna processing. Six of the country's eight tuna canneries are located in the city. No one claimed responsibility for the blast. [More>>khaleejtimes.com]
---
1.30.08 RI's bird flu death toll reaches more than 100
JAKARTA, January 31 - Three people have died over the past three days from bird flu, bringing the country's death toll to more than half of the world's recorded bird flu fatalities. As many as 101 Indonesians have died from the disease. Jakarta has been hardest hit by bird flu, with 25 deaths and 29 reported cases.
The latest case involved a 31-year-old Duren Sawit resident, identified as N, who died in Persahabatan Hospital, East Jakarta, on Tuesday, Jakarta Health Agency said. A man from Cakung, East Jakarta, and a nine-year-old boy from Depok, died earlier Sunday after being treated for three days at the Sulianti Saroso Infectious Disease Hospital in North Jakarta. At least one bird flu patient, a 32-year-old man from Tangerang, was still under intensive care in Persahabatan Hospital on Tuesday.[More>>thejakartapost.com ; See related bird flu story, alarabiya.net, January 30, "Saudi culls 160,000 birds after new bird flu case."]
---
1.29.08 Gang plotted to behead Muslim soldier 'like a pig'
January 29 - An Islamist quartermaster hatched a plot to kidnap a British Muslim soldier on a night out and behead him "like a pig" in a lock-up garage then release footage of the killing to the public, a court heard today. Nigel Rumfitt, QC, prosecuting, told a jury at Leicester Crown Court that Parviz Khan, of Alum Rock, Birmingham, had pleaded guilty to terrorism charges a fortnight ago. Three other men had also admitted a range of terror offences.
Mr. Rumfitt was speaking as the trial opened of two further men, Ahmad Mahmood and Zahoor Iqbal, both from Birmingham, who accused of offences under the Terrorism Act. All six men were arrested on January 31, 2006, in coordinated police raids.
Outlining the plot, Mr. Rumfitt told the jury that Khan had hoped to kidnap a Muslim soldier in the Broad Street entertainment district of Birmingham city centre, with the help of drug dealers. "He would be taken to a lock-up garage and there he would be murdered by having his head cut off like a pig," said Mr. Rumfitt. "This atrocity would be filmed . . . and the film released to cause panic and fear within the British Armed Forces and the wider public." [More>>timesonline.co.uk]
---
1.29.08 Opposition leader is killed in Kenya
NAIROBI, Kenya, January 29 - Mugabe Were, a freshman in Parliament, could have been one of the keys to unlocking Kenya's crisis, but he was shot dead in his driveway on Tuesday. Mr. Were, 39, was an opposition politician who had resisted his party's often belligerent talk. He had married a woman of another ethnic group, built a footbridge in a slum with his own money and sponsored teenage mothers to go to college.

As Kenya slid into chaos this past month after a disputed election, he shuttled between leaders of different ethnic groups and was organizing a peace march the night before he died. "Whoever did this has killed the dreams of many," said Elizabeth Mwangi, a friend. The details of his death are still sketchy, but the killing appears not to have been a robbery but an intended hit. The news of his killing spread quickly and violently, with opposition supporters rioting across Nairobi, the capital, intensifying the clashes of the past weeks.
In the widespread troubles that have erupted in the country since the presidential election in December, Kenyans are now literally ripping their country apart: uprooting miles of railroad tracks, chopping down telephone poles, burning government offices and looting schools. [More>>nytimes.com]
---
1.29.08 Iraqi police find remains of 19 executed men
BALQUBA, Iraq (AFP) January 29 - Iraqi police said they found the remains of 19 executed men in the volatile northeastern province of Diyala on Tuesday, including 10 heads removed from their bodies. And two people were killed and around 20 wounded in a series of bomb blasts in Baghdad, while a suicide bomber targeting a US patrol wounded 10 Iraqis in the northern city of Mosul, where five US soldiers were killed on Monday.
The gruesome discovery in Diyala was made near the town of Moqdadiya, 65 kilometers (40 miles) from Baghdad, provincial police official Lieutenant-Colonel Ismael Al Juburi said. He said the victims had all been killed in the past few days. [More>>khaleejtimes.com]
---
1.29.08 Iran jails members of banned Bahai faith
TEHRAN (AFP) January 29 - Iran's judiciary said on Tuesday it has sentenced 54 members of the Bahai religious community, whose faith is banned in the Islamic republic, for anti-regime propaganda. "Three Bahais have been sentenced to four years in prison for propaganda against the regime," judiciary spokesman Ali Reza Jamshidi told reporters, adding that 51 received suspended one-year jail terms. He said the suspension of the sentence for the 51 Bahais was conditional on their attendance of courses held by state Islamic Propaganda Organization.

The Bahais, who were arrested early last year, were proselytizing in the southern city of Shiraz under the cover of helping the poor, said another judicial official who asked not to be named...Bahais consider Bahaullah, born in 1817, the last prophet sent by God to the earth, while Muslims believe the last messenger of God is the Prophet Mohammed... [Full story>>alarabiya.net]
---
1.29.08 Missile kills 12 militants in Pakistan
MIRAN SHAH, Pakistan (AP) January 29 - A missile destroyed a suspected militant hideout in northwestern Pakistan on Tuesday, killing 12 people inside, officials said, as hundreds of students protested Pakistan's support for the US-led war on terror. In clashes elsewhere in the volatile region, militants killed a government soldier and injured four more.
The air attack occurred after midnight in Khushali Torikhel, a village in North Waziristan, a tribal region bordering Afghanistan, intelligence and government officials in the region said. The two officials spoke on condition of anonymity because they were not authorized to speak to media. The intelligence official described the victims as "local Taliban." [More>>indianexpress.com: hosted.ap.org ; See related story, thenews.com.pk, January 29, "Two police officials, two militants killed in Landhi raid."]
---
EDITORIALS
09.11.05 When a nation lacks a competent leader it invites disaster – the legacy of Bush
08.13.05 "Using force the George W. Bush way – Bush's crusade"
11.25.04 Why the Crusade & Jihad?
---
*Visitor statistics on maravot.com from 1&1. com. 46,153 page views in May 2007; 41,657 in Nov. 2007.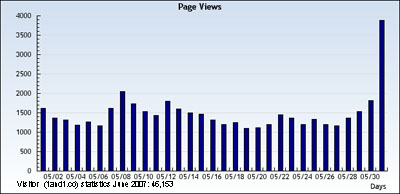 Privacy Policy: We do not store any personal data from you. We have no way of knowing any vital information about you – not even your name. Third-party distribution: We do not distribute information about your site usage to any third party. We are not responsible for the content of links from our site. Usage data: supplied by our Web Hosting service, 1and1.com, which consists of usage reports, such as page views / impressions and web pages visited, visitors' servers and geographical data (ISP's and country of origin).

---
Launched: 10.25.04 / 11.02.04 –
Updated: 1.29.08; 1.30.08; 1.31.08; 2.01.08; 2.02.08; 2.03.08; 2.04.08; 2.05.08
Copyright © 1981-2008 Maravot. All rights reserved
Copyright © 1981-2008 Mel Copeland. All rights reserved
Background: tile from Cicero's villa (Marcus Tullius Cicero 106 B.C. - 43 B.C.)