News Headlines & Trends
---
2.17.08 The spineless menace: Jellyfish overwhelm the sea
February 16 - For years, Mediterranean beaches have been plagued by jellyfish. Now scientists are reporting that the problem is far worse than they had feared – and that a new generation of the poisonous creatures is poised to overwhelm the sea. Perhaps you thought that jellyfish were a summer hazard of Mediterranean beaches, freak invaders that spoil your enjoyment of your favorite southern holiday resorts – but only momentarily, and only if you are unlucky. Well, if so, be warned.
Jellyfish are now active throughout the winter too, building up strength for their annual assault upon the Mediterranean's northern shore. What's more, they won't be going away. Jellyfish, says Spain's top scientist who specializes in these glutinous stinging creatures from the deep, are here to stay.
"We think of jellyfish as a worrying summer problem, particularly here in Spain, where we are so dependent on the tourist industry," says Josep Maria Gili, research professor at Barcelona's Institute of Marine Sciences. "But we have found that they come ashore just as frequently in the winter months, although no one notices. We've established that they proliferate off our shores all year round. It means the situation is much more serious than we thought."

Millions of jellyfish washed up on Spanish beaches last year, and tens of thousands of holidaymakers were treated for painful allergic reactions to their stings. Overfishing is the main cause, the scientist insists. And the only solution is to change the fishing practices of countries that have stripped the world's seas of big fish such as swordfish and red tuna which feast upon jellyfish.
The other traditional predator of jellyfish – the leatherback turtle, Caretta caretta – has been driven to the point of extinction. The beaches where it lays its eggs have been lost to tourism. It's not just a Mediterranean problem. Increases in the populations of jellyfish have been "spectacular" from Japan to Africa, from Alaska to Australia, Professor Gili says. "Every time we are swamped with jellyfish, the sea is sending us the message that it is sick and we are mistreating it. We face a huge problem of ecological imbalance." [Full story>>independent.co.uk; See earlier story, Maravot News 11.24.07, "Northern Ireland return of the killer jellyfish."]
---
2.17.08 Kosovo declares its independence from Serbia
PRISTINA, Kosovo,February 17 - The former Serbian province of Kosovo declared independence on Sunday, sending tens of thousands of ethnic Albanians swarming through the streets to celebrate what they hoped was the end of a long and bloody struggle for national self-determination.
Kosovo's intent to be recognized as Europe's newest country — after a civil war that killed 10,000 people a decade ago and then years of limbo under United Nations rule — marks the final dismemberment of the former Yugoslavia, 17 years after its dissolution began.
It brings to a climax a showdown between the West — which argues that the brutal subjugation of Kosovo's majority ethnic Albanians under the former Serbian president Slobodan Milosevic cost Serbia any rights to rule the territory — and the Serbian government and its allies in the Kremlin, which counter that Kosovo's independence is a reckless breach of international law that will spur other secessionist movements across the world. [More>>nytimes.com ; See also rian.ru, February 17, "Wrap — Kosovo declares independence, protests from Serbia, Russia."]
---
2.17.08 Unpopular at home, Bush basks in African praise
DAR ES SALAAM (Reuters) February 17 - Unpopular at home and in much of the world during the last year of his presidency, George W. Bush is basking in rare adulation on his African tour. Tanzanian President Jakaya Kikwete poured praise on Bush in Dar es Salaam on Sunday, the second day of his five-nation African tour, each compliment applauded warmly by members of the east African country's cabinet. Although around 2,000 Muslim demonstrators protested against Bush on the eve of his visit, many thousands more cheering, waving people lined his road from the airport on Saturday.
Banners across the route, decorated with Bush's image against a backdrop of Tanzania's Mt. Kilimanjaro, read: "We cherish democracy. Karibu (welcome) to President and Mrs. Bush." Others read: "Thank you for helping fight malaria and HIV." Dancers at the airport and at Kikwete's state house to greet Bush on Sunday, wore skirts and shirts decorated with his face. [More>>thestar.com.my]
---
2.17.08 Female bomber strikes Baghdad
February 17 - A female suicide bomber has struck the Karrada district of central Baghdad. The woman detonated her explosives vest on Sunday in an electrical shop after being chased by Iraqi troops who tried to stop her. The US military said that the only death in the explosion was the bomber. [More>>aljazeera.net]
---
2.17.08 Bulgarian mufti's office hit by anti-Islam graffiti
February 17 - Graffiti proclaiming "Turks, die!" was found scrawled outside the building of Bulgaria's grand mufti Saturday, adding to mounting slurs against the country's large Muslim population, his office said. "These acts disturb us. Our anxiety is heightened by the fact that mosques, schools and other buildings related to our religion are desecrated almost every month," the office of Grand Mufti Mustafa Alish Hadzhi said in a statement.

The 45-year-old cleric appealed to the Bulgarian government to take urgent measures to find the culprits of the graffiti, which was apparently sprayed on the facade of the building Friday night, it said. About 12 percent of Bulgaria's population of 7.6 million is Muslim, the latest census conducted in 2001 showed. [More>>alarabiya.net]
---
2.16.08 Suspected Danish cartoon rioters torch cars
February 17 - Gangs of rioters set fire to cars and garbage trucks in northern Copenhagen after demonstrators evicted from a youth centre earlier in the year tried to occupy a new building. Five youths were arrested in the capital after 28 cars and 35 garbage trucks were burned, Copenhagen police duty officer Jakob Kristensen said. Danish media said arrests in other towns brought to 29 the number of people police were holding. Scores of cars and several schools have been vandalized or burned in the past week.

Police could give no reason, but said that unusually mild weather and the closure of schools for a winter break might have contributed. Police arrested two Tunisians and a Dane of Moroccan descent on Tuesday for planning to kill a cartoonist who drew one of the cartoons printed in a Danish newspaper two years ago that roused a storm of protest in Muslim countries. [More>>news.com.au]
---
2.16.08 Bird flu kills 16-year-old boy in Indonesia
JAKAARTA (AP) February 16 - A 16-year-old Indonesian boy from Central Java province has died of bird flu, bringing the nation's death toll from the illness to 104, the Health Ministry said Saturday. The boy became ill on Feb. 3 with a cough and other respiratory symptoms, according to the Health Ministry's Web site. He died a week later in a hospital in the city of Solo, about 450 kilometers (280 miles) southeast of the capital, Jakarta, said Sumardi, a ministry spokesman. Like he many Indonesians, he goes by one name. [More>>thejakartapost.com]
---
2.16.08 F.B.I. received unauthorized E-mail access
WASHINGTON, February 17 - A technical glitch gave the F.B.I. access to the e-mail messages from an entire computer network — perhaps hundreds of accounts or more — instead of simply the lone e-mail address that was approved by a secret intelligence court as part of a national security investigation, according to an internal report of the 2006 episode.
F.B.I. officials blamed an "apparent miscommunication" with the unnamed Internet provider, which mistakenly turned over all the e-mail from a small e-mail domain for which it served as host. The records were ultimately destroyed, officials said. Bureau officials noticed a "surge" in the e-mail activity they were monitoring and realized that the provider had mistakenly set its filtering equipment to trap far more data than a judge had actually authorized. [More>.nytimes.com]
---
2.16.08 Parachinar blast claims 37 lives: Interior Ministry
ISLAMABAD, February 16 - The interior ministry confirmed that at least 37 people were killed in Parachinar suicide blast Saturday outside an election office of an independent candidate backed by PPP. "The death toll is now 37," interior ministry spokesman Brigadier Javed Cheema said after the attack in the northwestern tribal town of Parachinar, bordering Afghanistan. The ministry confirmed that the blast was suicide attack. "Twenty-one people died and 93 were injured. It's a very severe emergency, a lot of the wounded are in a critical condition," a doctor at the main hospital in Parachinar was quoted as saying earlier.

A correspondent of an international news agency present at the hospital said he had counted at least 21 dead bodies. Talking to media, a security official earlier said that a suicide bomber attacked a Pakistan People's Party meeting outside the party office in Parachinar. "A man with long hair drove a car into the crowd and blew himself up," a witness added. Another security official said the blast happened outside the office of local PPP candidate Riaz Hussain in Parachinar, the main town in the Kurram tribal region. In a separate incident in the nearby Bajaur tribal area militants blew up a polling station with a time bomb, police said. [>thenews.com.pk]
---
2.15.08 Bleak new batch of data on economy
February 15 - A fresh batch of data on Friday presented a bleak picture of the economy, with rising prices of imported goods, struggling manufacturing and an erosion in consumer confidence. With the price of oil near record levels, import costs grew in January at the highest annual rate in a quarter century, the Labor Department said. In New York, manufacturing activity fell to its lowest level in five years. And consumers, responding to a national survey, said they felt worse about the economy than any time since the recession era of the early 1990s.

...The price of imports rose 1.7 percent in January and was up 13.7 year over year, the highest annual rate since the Labor Department records began in 1983. Fuel costs led the rise, ballooning by 5.5 percent last month. Imported food and beverages also cost more in January, and the price of Chinese goods ticked up by 0.8 percent. Export prices rose 1.2 percent, and American companies are also charging more for food, industrial supplies, and agricultural products. Sales of imports are lagging even as export sales surge. The trade deficit narrowed in 2007 for the first time in five years, the Commerce Department said on Thursday.
Manufacturers' woes were reflected in the Empire State Manufacturing survey, a measure of business conditions in New York State. The index fell in February to -11.7, its lowest reading since April 2003 and the first negative reading in three years. A sharp drop in orders and payrolls led the decline, according to the Federal Reserve Bank of New York.
Meanwhile, a closely watched measure of consumer confidence, the Reuters/University of Michigan survey, fell to 69.6 in February, the lowest reading since February 1992. It had stood at 78.4 in January. Consumers are likely cowed by a softening labor market — the Labor Department said employers cut 17,000 jobs last month — and rising inflation, which is forcing Americans to cut back on spending. [Full story>>nytimes.com ; See related story, washingtonpost.com, February 15, "Countrywide says foreclosure rate at new record."]
---
2.15.08 Watchdog resigns over accountability
WASHINGTON, February 15 - The head of the audit and investigative arm of the US Congress announced his resignation Friday, citing "real limitations" on what he could do. A respected voice on fiscal matters, David Walker said he was making an early departure from the US Government Accountability Office (GAO) to head a new public interest foundation.

"As Comptroller General of the United States and head of the GAO, there are real limitations on what I can do and say in connection with key public policy issues, especially issues that directly relate to GAO's client - the Congress," Mr. Walker said.

He did not elaborate but Walker last year issued an unusually downbeat assessment of his country's future in a report that drew parallels with the end of the Roman empire. He had warned that the US government was on a "burning platform" of unsustainable policies and practices with fiscal deficits, chronic healthcare underfunding, immigration and overseas military commitments threatening a crisis if action was not taken soon. There were striking similarities between America's current situation and the factors that brought down Rome, he had said. [More>>news.com.au]
---
2.15.08 Danish imams urge calm as cartoon protests mount
COPENHAGEN (Reuters) February 15 - Danish Muslim preachers sought to soothe Muslim anger on Friday after newspapers reprinted a drawing of the Prophet Mohammad which caused outrage in Islamic countries two years ago. Danish papers republished one of the drawings of Mohammad on Wednesday in protest against what they said was a plot to murder the cartoonist who drew it.
Mostafa Chendid, an imam at the Islamic Faith Community, said Danish media had confused freedom of expression with the freedom to insult others. But he called for all Muslims to "cool down" and "turn the other cheek," rather than pursue a violence, saying this would harm Islam the same way the cartoons had...Five leading Danish daily newspapers and more than 10 smaller papers have reprinted Westergaard's cartoon, which shows the Prophet Mohammad with a bomb in his turban. Most Muslims consider any depiction of the Prophet as offensive. [Full story>>thestar.com.my]
---
2.15.08 Scientists find solar system similar to ours
BEIJING (xinhuanet) February 15 - An international team of astronomers has discovered a miniature version of our own solar system nearly 5,000 light years away, according to a report published Friday in the journal Science. "We found a solar system that looks like a scaled-down analog of our solar system," Scott Gaudi of Ohio State University, who led the study, told reporters.

In the newly discovered system, a planet about two-thirds of the mass of Jupiter and another about 90 percent of the mass of Saturn are orbiting a reddish star about half the mass of the sun, at about half the distances that Jupiter and Saturn circle the sun. "So it looks like a scale model of our solar system," Gaudi said. The discovery relied on 11 different ground-based telescopes in places including New Zealand, Tasmania, Israel, Chile, the Canary Islands and the United States, the report said. [>xinhuanet.com]
---
2.15.08 Iraqi Shiite worshippers attacked; 4 die
BAGHDAD (AP) February 15 - Two suicide bombers, one armed with a grenade as well as an explosive vest, killed at least four people and wounded 17 as worshippers left a Shiite mosque after Friday prayers in the northwestern city of Tal Afar. The explosions came on a day when the U.S. military and Iraqis were at odds over who was killed in a raid earlier this week, also in this country's restive north. The Americans and their Iraqi allies are pushing to take control of the region, where insurgent fighters are making a stand with their influence diminished in Baghdad and other areas. The suicide bombers struck the Sheik Juwad mosque in Tal Afar, about 260 miles northwest of Baghdad. [More>>indianexpress.com: hosted.ap.org]
---
2.14.08 Al-Qaeda in Iraq threatens Israel
CAIRO, Egypt (Ap) February 14 - The purported leader of al-Qaeda's affiliate in Iraq called in a new posting on a militant Web site on Thursday for attacks on Israel and proposed that Iraq's territory be a "launching pad" to seize Jerusalem. In the 30-minute audiotape, Abu Omar al-Baghdadi, said to head the Islamic State of Iraq, lashed out at Arab and Palestinian groups — especially the Palestinian Hamas — for failing to liberate the Palestinians.
He also called on Hamas' military wing, the Al-Qassam Brigades, to break away from the group's political leadership and liberate Jerusalem, or Al-Quds as the city is called in Arabic. The new posting came as Israeli security instructed embassies and Jewish institutions around the world to go on alert for fear of revenge attacks for a car bomb that killed a top-wanted terrorist, Imad Mughniyeh, late Tuesday in the Syrian capital. [More>>indianexpress.com: hosted.ap.org]
---
2.14.08 UBS warns of a difficult 2008 as profits dive
February 14 - UBS, Europe's largest bank, confirmed its first loss in a decade today as it fell SwFr 4.4 billion (£2 billion) into the red and wrote off $13.7 billion (£7 billion) on investments related to US sub-prime mortgages. In the fourth quarter UBS reported a loss of SwFr12.5 billion, in line with the bank's forecast at the end of January, compared with a net profit of SwFr3.4 billion in the final quarter of 2006.
UBS's sudden fall from grace happened in the second half of 2007, after a record-breaking first six months of the year when the bank produced a net profit of SwFr8.9 billion. The bank said today that it expected 2008 "to be another difficult year" on top of last year, which Marcel Rohner, the chief executive of UBS, who took on the role after Peter Wuffli resigned last year, described as "one of the most difficult in our history." [More>>timesonline.co.uk]
---
2.14.08 'We'll shoot anyone who crosses border'
February 14 - A top Hamas delegation crossed into Egypt Thursday to meet up with Egyptian officials wanting to make clear that no further breaches of its border with the Gaza Strip will be tolerated, a security official said. The Hamas delegation, led by Mahmoud Zahar, came at the Egyptian request, after they received reports that the Islamist organization was planning to forcibly reopen the borders again at the end of the month, the official said speaking on condition of anonymity because of the sensitivity of the subject. "The Egyptians will tell Hamas bluntly that the old self-restraint manner is over and that Egyptian security guards have been given orders to open fire on any Palestinians trying to cross the border," the official said. [More>>jpost.com]
---
2.14.08 Nasrallah: Mughniyah's blood will lead to elimination of Israel
February 14 - Hezbollah leader Hassan Nasrallah on Thursday threatened to retaliate against Israel for the killing of militant commander Imad Mughniyah Tuesday, saying "his blood will lead to the elimination of Israel." Mughniyah, the deputy secretary general of the Lebanon-based guerilla group, was killed in a bomb blast in a residential neighborhood in Damascus late Tuesday. Israel denied involvement. Nasrallah also vowed to strike Israeli targets abroad after accusing Israel of taking the fight beyond Lebanese borders by killing Mughniyah in Syria.

"You have killed Hajj Imad outside the natural battlefield," Nasrallah said, addressing Israel and referring to Hezbollah's longtime contention it only fights Israel within Lebanon and along their common border. "You have crossed the borders," Nasrallah said in the fiery eulogy at Mughniyah's funeral in south Beirut. "With this murder, its timing, location and method - Zionists, if you want this kind of open war, let the whole world listen: Let this war be open." [More>>haaretz.com]
---
2.14.08 UAE emirate bans manneqins from shops
DUBAI (AFP) February 14 - The emirate of Sharjah, a conservative member of the United Arab Emirates, has banned realistic mannequins from window displays and shops, a newspaper reported on Wednesday.The municipality of Sharjah, neighbor to booming Dubai, imposed the ban in line with a fatwa — religious edict — issued by the local Islamic affairs department, the Arabic-language daily Al-Emarat Al-Yaum said. The fatwa bans the use of female dummies unless "the head is taken away or the features of the face are erased," municipality official Khaled al-Jabri told the paper. [>alarabiya.net]
---
2.14.08 Russia could aim rockets at European missile shield - Putin
MOSCOW (RIA Novosti) February 14 - Russia may have to retarget some of its rockets at the missile defenses that the U.S. is planning to deploy in Central Europe, President Vladimir Putin said on Thursday. "Our experts believe the system threatens our national security," Putin said at his final annual news conference in the Kremlin. "If it appears, we will be forced to respond appropriately - we will have to retarget part of our systems against those missiles." He also said Russia could be forced to redirect its missiles at Ukraine if NATO bases are deployed in the country. [More>>rian.ru ; See related story, independent.co.uk, February 14, "Ukraine set to outlaw NATO bases after Russian threats."]
---
2.14.08 Philippines on alert after plot
MANILA, February 14 - The Philippine authorities went on high alert Thursday after the discovery of what officials said was a plot to assassinate President Gloria Macapagal Arroyo. The supposed plot was made public by the chief of the president's security staff on Thursday, one day before planned demonstrations here by groups accusing her of corruption and demanding her resignation.
According to Brig. Gen. Romeo Prestoza, head of the presidential security group, the plot was hatched by the Abu Sayyaf terrorist group and by Jemaah Islamiyah, the Southeast Asian extremist Islamic network that authorities say has been operating in the southern Philippines. "If they want to launch it, they can do it anytime," General Prestoza told reporters Thursday, adding that the plot had forced Ms. Arroyo to cancel a trip to a northern city, Baguio, set for Friday [More>>nytimes.com ; See also inquirer.net]
---
2.14.08 Microfiber fabric makes its own electricity?
CHICAGO (Reuters) February 14 - US scientists have developed a microfiber fabric that generates its own electricity, making enough current to recharge a cell phone or ensure that a small MP3 music player never runs out of power. If made into a shirt, the fabric could harness power from its wearer simply walking around or even from a slight breeze, they reported Wednesday in the journal Nature. "The fiber-based nanogenerator would be a simple and economical way to harvest energy from the physical movement," Zhong Lin Wang of the Georgia Institute of Technology, who led the study, said in a statement.
The nanogenerator takes advantage of the semiconductive properties of zinc oxide nanowires — tiny wires 1,000 times smaller than the width of a human hair — embedded into the fabric. The wires are formed into pairs of microscopic brush-like structures, shaped like a baby-bottle brush. One of the fibers in each pair is coated with gold and serves as an electrode. As the bristles brush together through a person's body movement, the wires convert the mechanical motion into electricity. [More>>khaleejtimes.com]
---
2.14.08 Korea secures right to develop oil in Iraq
February 14 - A consortium of Korean energy companies secured the rights to develop oil fields in northern Iraq yesterday, giving Asia's fourth-largest economy a firm foothold in the coveted oil-rich region. The consortium of local companies, led by state-run Korea National Oil Corporation, signed a memorandum of understanding with the Kurdistan Regional Government in Seoul allowing the development of 1 billion to 2 billion barrels of untapped crude oil, the KNOC said yesterday.
The "package deal" permits the consortium to tap into the oil fields while calling for it to help in building some of the infrastructure needed by Iraq's autonomous region to prosper and sustain growth, the KNOC said. [More>>koreaherald.co.kr]
---
2.14.08 Ghosts and monsters are now banned in China
February 14 - China has added ghosts, monsters and other things that go bump in the night to its list of banned video and audio content in an intensified crackdown ahead of the Beijing Olympics. Producers have around three weeks to look through their tapes for "horror" and report it to authorities, the General Administration of Press and Publications said.

Offending content included "wronged spirits and violent ghosts, monsters, demons, and other inhuman portrayals, strange and supernatural storytelling for the sole purpose of seeking terror and horror," the administration said. The new guidelines aim to "control and cleanse the negative effect these items have on society, and to prevent horror, violent, cruel publications from entering the market through official channels and to protect adolescents' psychological health." [More>>news.com.au]
---
2.09.08 General: Iran ready to teach US lesson
TEHRAN (Xinhua) February 9 - Iran's Armed Forces Chief of Staff Major General Hassan Firouzabadi has said that his country's armed forces are ready to teach the United States a lesson if it crosses the line, Iran's state-run Press TV channel reported on Saturday. "America's enmity towards Iran stems from the fact that they know Iran's revolutionary ideology is against their quest for domination," Firouzabadi was quoted as saying in the northeastern Iranian city of Mashhad. The senior Iranian general reiterated that Iran's nuclear program is for peaceful purposes and challenged the United States to prove its accusation that Tehran may be using civilian program as a cover to develop atomic weapons. [More>>xinhuanet.com]
---
2.09.08 ANP election rally suicide attack death toll rises to 25
CHARSADDA, Pakistan, February 9 - A suspected suicide blast ripped through an opposition election rally in northwestern Pakistan on Saturday, killing at least 25 people and wounding 35 others, reports said. The attack happened at a rally of the Awami National Party (ANP), an ethnic Pashtun nationalist party, in the town of Charsadda in troubled North West Frontier Province, they said.

The bombing has further raised fears for the security of general elections on February 18, which have already been delayed by the assassination of opposition leader Benazir Bhutto at a rally in December. Interior Minister Hamid Nawaz said the attack was likely carried out by a suicide bomber. "Yes, it was most probably a suicide attack. It was close to the stage but none of the ANP leaders there were hurt," Nawaz said. [More>>thenews.com.pk ; See also news.com.au (AFP), February 9, "Suicide bomber kills 20 at election rally."]
---
2.09.08 31 Shiites detained south of Baghdad
BAGHDAD (AP) February 9 - Iraqi police arrested 31 Shiite activists Saturday in early morning raids south of Baghdad, and five American soldiers were killed in two roadside bombings, officials said. The US troops were killed Friday — four in Baghdad and one in the northern Tamim province, the military said. At least 3,958 members of the US military have died since the beginning of the Iraq war in March 2003, according to an Associated Press count. Saturday marked a third day of US and Iraqi operations in an area that includes several Shiite holy cities — raising tension with some Shiite tribesmen and fighters who have pledged to halt attacks. [More>>indianexpress.com: hosted.ap.org]
---
2.09.08 Turkey's Parliament votes to lift head scarf ban
ISTANBUL, Turkey, February 9 - Turkey's parliament took a major step toward lifting a ban against women's head scarves in universities on Saturday, setting the stage for a final showdown with the country's secular elite over where Islam fits in the building of an open society. Turkish lawmakers voted overwhelmingly in favor of a measure supported by Prime Minister Recep Tayyip Erdogan to change two articles in Turkey's Constitution that they say would guarantee every citizen the right to go to college regardless of how they dress. Turkish authorities imposed the ban in the late 1990's, arguing that the growing numbers of covered women in colleges threatened secularism, one of the founding principles of modern Turkey. [More>>nytimes.com]
---
2.09.08 Christians sue 'Tempo' for blasphemy
JAKARTA, February 10 - A Christian youth alliance has announced it is suing Tempo magazine for blasphemy. The Alliance of Christian Students and Youths (AMPK) said Friday the weekly news magazine's cover depicting a satirical version of Leonardo Da Vinci's masterpiece The Last Supper was a violation of Article 156 of the Criminal Code on public defamation, hostility and hatred against certain communities, including religious groups. A conviction carries a maximum four-year jail sentence.
The lawsuit came despite the magazine apologizing for the controversial cover, which it said had not been intended to offend the Christian community in the country...The cover depicts the late former president Soeharto having dinner with his six children in the same composition as Da Vinci's painting. [Full story>>thejakartapost.com ; See related story, khaleejtimes.com, February 9, "Egypt lets converts revert to Christianity on ID."]
---
2.08.08 Violations of 'Islamic teachings' take deadly toll on Iraqi women
BAGHDAD, February 8 - The images in the Basra police file are nauseating: Page after page of women killed in brutal fashion — some strangled to death, their faces disfigured; others beheaded. All bear signs of torture. The women are killed, police say, because they failed to wear a headscarf or because they ignored other "rules" that secretive fundamentalist groups want to enforce. "Fear, fear is always there," says 30-year-old Safana, an artist and university professor. "We don't know who to be afraid of. Maybe it's a friend or a student you teach. There is no break, no security. I don't know who to be afraid of."
Her fear is justified. Iraq's second-largest city, Basra, is a stronghold of conservative Shia groups. As many as 133 women were killed in Basra last year — 79 for violation of "Islamic teachings" and 47 for so-called honor killings, according to IRIN, the news branch of the UN's Office for the Coordination of Humanitarian Affairs. One glance through the police file is enough to understand the consequences. Basra's police chief, Gen. Abdul Jalil Khalaf, flips through the file, pointing to one unsolved case after another. [More>>cnn.com]
---
2.08.08 US kills 8, detains 26 in Iraq raids
BAGHDAD (AP) February 8 - US troops killed eight suspected insurgents and captured 26, including an alleged Shiite militia leader, in two days of raids across Iraq, the US military said Friday. The eight were killed Thursday and Friday in separate raids targeting al-Qaeda in Iraq across the country's central and northern regions, the military said. At least 22 others were detained in the operations, it said.
The militia leader was detained along with three other suspects late Thursday in the Mashru area south of Baghdad, a US statement said. The military said the man was believed to be a "special groups" leader - language it uses to describe Shiite Muslim militias allegedly backed by Iran. The US says the groups have broken ranks with Muqtada al-Sadr's Mahdi Army. [More>>indianexpress.com: hosted.ap.org ; See related story, metimes.com, February 8, "Iran Qods Force infiltrates Iraq."]
---
2.08.08 Shift in tactics aims to revive struggling insurgency
BAGHDAD, February 8 - Al-Qaeda in Iraq hopes a softer approach will win back Anbar Sunnis. The Sunni insurgent group al-Qaeda in Iraq is telling its followers to soften their tactics in order to regain popular support in the western province of Anbar, where Sunni tribes have turned against the organization and begun working with US forces, according to group leaders and American intelligence officials.
The new approach was outlined last month in an internal communique that orders members to avoid killing Sunni civilians who have not sympathized with the US-backed tribesmen or the government.
From internal documents and interviews with members of al-Qaeda in Iraq, a picture emerges of an organization in disarray but increasingly aware that its harsh policies — such as punishing women who don't cover their heads — have eroded its popular support. Over the past year, the group has been driven out of many of its strongholds. The group's leadership is now jettisoning some of its past tactics to refocus attacks on American troops, Sunnis cooperating closely with U.S. forces, and Iraq's infrastructure.
"Dedicate yourself to fighting the true enemy only, in order to avoid opening up new fronts against the Sunni Arabs," said the Jan. 13 communique, signed by the leader of al-Qaeda in Iraq, Abu Hamza al-Muhajer. "Do not close the door of repentance in the face of those Sunnis who turned against us," said the message, posted in Anbar mosques frequented by the group's followers. [More>>washingtonpost.com; see related story, Maravot News, February 3, "Mullah Omar flays 'spies' slaughtering."]
---
2.08.08 Germany remains top global exporter in 2007
BONN, Germany, February 8 - Germany defended its rank as top global exporter last year. Exports by the biggest European economy came to 969 billion euros (1.4 trillion dollars) last year, an increase of 8.5 percent from 2006, official figures showed. Germany defended its title as world champion in merchandise exports for the fifth year in a row, after overtaking the US in 2003. The World Trade Organization (WTO) had said last year that China would surpass Germany in 2009. [>thenews.com.pk]
---
2.08.08 Biofuels make climate change worse, scientific study concludes
February 8 - Growing crops to make biofuels results in vast amounts of carbon dioxide being released into the atmosphere and does nothing to stop climate change or global warming, according to the first thorough scientific audit of a biofuel's carbon budget.
Scientists have produced damning evidence to suggest that biofuels could be one of the biggest environmental con-tricks because they actually make global warming worse by adding to the man-made emissions of carbon dioxide that they are supposed to curb. Two separate studies published in the journal Science show that a range of biofuel crops now being grown to produce "green" alternatives to oil-based fossil fuels release far more carbon dioxide into the air than can be absorbed by the growing plants.
The scientists found that, in the case of some crops, it would take several centuries of growing them to pay off the "carbon debt" caused by their initial cultivation. Those environmental costs do not take into account any extra destruction to the environment, for instance the loss of biodiversity caused by clearing tracts of pristine rainforest. "All the biofuels we use now cause habitat destruction, either directly or indirectly. Global agriculture is already producing food for six billion people. Producing food-based biofuel, too, will require that still more land be converted to agriculture," said Joe Fargioine of the US Nature Conservancy who was the lead scientist in one of the studies. [More>>independent.co.uk]
---
2.07.08 Abu Hamza: Muslim cleric to be extradited to US
February 7 - Islamic preacher Abu Hamza is to be extradited to the US to face terrorism charges, the Home Office has said. The Muslim cleric was jailed in Britain for seven years in February 2006 for soliciting murder and inciting racial hatred. Home Secretary Jacqui Smith has now signed an extradition order - but Hamza has 14 days to appeal. If he does not lodge an appeal, he will be handed over to US authorities within 28 days. Birmingham Perry Bar MP Khalid Mahmood welcomed the Home Office's move calling it "a victory for British Muslims."
He said: "This sends out a clear message to preachers of hate — you are not welcome. Those who propagate evil, hate and division cannot be a part of British society." Hamza is wanted on 11 charges in America...

— Hamza on jihad: "We ask Muslims to do that, to be capable to do that, to be capable to bleed the enemies of Allah anywhere, by any means. "You can't do it by nuclear weapon, you do it by the kitchen knife, no other solution. You cannot do it by chemical weapons, you have to do it by mice poison."
— Hamza told one audience that when they are killed in the cause of Allah "you are doing the right thing."
— On non-believers: "The person who hinders Allah's rule, this man must be eliminated."

[Full story>>sky.com]
---
2.07.08 Nerve bypass 'could end paralysis'
February 7 - Thousands of people could regain the use of paralysed limbs thanks to a pioneering technique, scientists claim. The technique uses the body's nerves to bypass spinal injuries and US researchers believe the treatment could help thousands of people to regain feeling, and possibly even the use of paralysed limbs. The researchers have shown that nerves can be used to circumvent spinal damage and reconnect the brain to the body, according to a report in New Scientist.
The procedure, successfully used in experiments with rats, worked on similar principles to heart bypass surgery, where veins from a patient's leg are used to get around an artery blockage. It raised the prospect of the first human trials within five years, offering hope to the 40,000-plus people in the UK with spinal cord injuries.
John Martin, a neuroscientist at Columbia University in New York, cut away a nerve in rats, from just above the injury, that normally stretches into the body to control abdominal muscles and reattached it to the spine below the injury. When the team examined the nerve under a microscope two weeks later, they found it had sprouted new extensions which had begun to form connections, or synapses, with the motor nerves in the isolated lower spine. [More>>independent.co.uk]
---
2.07.08 Archbishop of Canterbury calls for Sharia law in the UK
February 7 - The Archbishop of Canterbury has called for the UK to adopt Sharia for Muslims. Dr. Rowan Williams suggested today that it "seems unavoidable" that elements of Islamic law be accepted into the British legal system. The head of the Church of England believes that officially sanctioning Sharia will improve community relations and aid integration. He conceded that his view would be controversial but said that similar concessions to other religions were already allowed in Britain.

...A spokesman for Gordon Brown, the Prime Minister, accepted that there were areas where small concessions had and could be made, but insisted: "Our general position is that Sharia cannot be used as a justification for committing breaches of English law. [Full story>>timesonline.co.uk]
---
2.07.08 Saudi cops grap US woman in Starbucks
February 7 - An American businesswoman was carted off to jail by religious police in Saudi Arabia for sitting with a male colleague at a Starbucks in Riyadh, the Times of London reported. The woman, who spent a day behind bars, was strip-searched and forced to sign a false confession before being released, the newspaper said. The Times declined to publish her name at her request. The 37-year-old businesswoman works for a finance company in Riyadh. Her problem began when her office lost electricity. She and her male colleagues then went to a nearby Starbucks to use the coffee shop's Internet connection. [More>>cbsnews.com ; See related sharia law story, independent.co.uk, February 7, "Set Pervez free: Rice joins calls to save student." : The world's most powerful woman has added her voice to the campaign to save the life of Sayed Pervez Kambaksh, the Afghan student journalist sentenced to death for downloading material on women's rights from the internet...
---
2.07.08 'Anyone who violates our border will get his legs broken'
(AP) February 7 - Egypt's foreign minister said that no further violations of its borders would be tolerated in the wake of a 12-day breach on its frontier with Gaza and said anyone daring to cross would have their legs broken, the state news agency reported. The uncharacteristically assertive remarks by Ahmed Aboul Gheit came during a late night interview on state television, in which he criticized both Israel and Hamas for creating the unstable situation on Egypt's border.
"Anyone who violates Egypt's borders will get his legs broken," Aboul Gheit was quoted as saying. He added that Egypt only allowed the Palestinians to cross the border after Hamas blew up the wall because of fears over the humanitarian situation resulting from Israel's blockade of the Gaza Strip. [More>>jpost.com]
---
2.07.08 Hamas calls suicide bombing in 'self-defence'
JERUSALEM (AP) February 7 - A rocket fired from Gaza wounded two young sisters playing outside their home, and a top Israeli Cabinet Minister declared an all-front war on Hamas, as the escalating conflict threatened to bury US-led Mideast peace efforts. Hamas stepped up its rocket barrages at southern Israel Wednesday for a second day, retaliating for an Israeli strike that killed seven of its police officers.

More than a dozen rockets rained down, one exploding at Kibbutz Beeri, a communal village about 6 kilometers (4 miles) from the border fence, wounding two sisters, ages 12 and 2, as they played in their yard, police said. They were not seriously hurt. Their mother was taken to a hospital for shock. Hamas also claimed responsibility for a Monday suicide bombing in southern Israel, its first such attack in Israel in more than three years, unleashing an intensified Israeli air campaign.

...Hamas official Sami Abu Zuhri defended the suicide bombing, which killed a 73-year-old Israeli woman. "There is no choice, no option for our people, but to resist the occupation and defend themselves by all possible means," he told The Associated Press. Coupled with the suicide bombing and its renewed involvement in rocket attacks, Hamas was showing it could be an effective spoiler in peace efforts. [Full story>>khaleejtimes.com]
---
2.07.08 Four persons including bomber killed in Balochistan blast
NASIRABAD, Pakistan, February 7 - Four people were killed, a bomber among them, in an explosion occurred here in Dera Murad Jamali, Nasirabad on Thursday. The blast took place in a nullah along the National Highway at a time when the bomber was installing explosives there, police sources said. Two people died on the spot while one other succumbed to his injuries later. Twelve persons sustained wounds, five of them critically. [More>>thenews.com.pk ; See related story, xinhuanet.com, "Pakistani police arrest 2 in Bhutto's murder case."]
---
2.07.08 Sadr City raided, 1 Iraqi killed
BAGHDAD (AP) February 7 - US and Iraqi troops raided Baghdad's largest Shiite slum early Thursday and arrested 16 people, American and Iraqi officials and witnesses said. The US military said one of the detainees later died. The military also announced the death of a US soldier killed by a roadside bomb a day earlier in western Baghdad. At least 3,950 members of the US military have died since the beginning of the Iraq war in March 2003, according to an Associated Press count.
In Sadr City, the US said it was targeting "criminal elements" responsible for mortar and EFP attacks on US and Iraqi troops. EFPs, or explosively formed penetrators, are sophisticated roadside bombs that fire a molten slug capable of piercing even the most heavily armored military vehicles. They have been responsible for hundreds of American military deaths. [More>>indianexpess.com: hosted.ap.org ; See related story,khaleejtimes.com, February 7, "Iraq's Sadr tells militia to keep observing freeze."]
---
2.07.08 Big mob sweep nets Gambino hierarchy
February 7 - Federal and state authorities early Thursday began rounding up scores of accused organized crime figures on a series of indictments charging murder, racketeering, construction extortions and other crimes in the largest such sweep in recent memory, law enforcement officials said. About 80 people — among them the entire Gambino family hierarchy and reputed figures from the Genovese and Bonanno families — are named in two indictments, along with union and construction industry officials, the law enforcement officials said.
By about 10am, 52 people were already in custody, including the family's acting underboss, Domenico Cefalu, and consigliere, Joseph Corozzo, the officials said. The acting boss, who prosecutors identified as John D'Amico, known as Jackie the Nose, was not yet in custody and several officials said he was believed to be on vacation. [More>>nytimes.com ; See also washingtonpost.com, February 7, "Dozens sought in mob raids in US, Italy."]
---
2.06.08 Al-Qaeda chief's death spotlights Libyans' terror role
MADRID (Washington Post) February 5 - The death of Abu Laith al Libi, a Libyan al-Qaeda chief, has cast a spotlight on the rise of Libyan militants in a network dominated by Egyptians and Saudis, Western anti-terrorism investigators say. Al Libi was killed last week in an American missile strike on a hide-out in Pakistan near the border with Afghanistan, officials say. In addition to overseeing a paramilitary campaign in Afghanistan, Al Libi had become a top figure in a propaganda barrage on the Internet, according to experts.
The emergence of the Libyans, traditionally a strong but low-profile group, is a result of developments on three fronts: Iraq, Pakistan and Afghanistan. While al-Qaeda has suffered setbacks in Iraq, Libyan militants there have proven resilient and adept at moving fighters into combat, experts say. Libyans have become the second-biggest foreign contingent in Iraq, according to a US military analysis of seized documents.[More>>indianexpress.com ; See related article, cbsnews.com, "US: al-Qaeda in Iraq training children."]
---
2.06.08 Russia concerned over Iran's work to develop long-range missile
MOSCOW (RIA Novosti) February 6 - Russia is concerned over Iran's attempts to develop a long-range ballistic missile following the recent launch of a research rocket into space, a senior Russian diplomat said on Wednesday. "Any progress in the development of this [long-range ballistic missile] weaponry, certainly worries us and others," said Alexander Losyukov, a Russian deputy foreign minister.
Tehran successfully tested on Monday the Explorer-1 research rocket, which is reportedly capable of carrying a satellite into orbit. Iranian media gave no details about the rocket, but some experts believe it could be an advanced variant of the Shahab-3 ballistic missile, which has a range of up to 2,000 kilometers (about 1,200 miles). Losyukov said the test demonstrated the advances the Islamic Republic had made in ballistic missile technology that "raise suspicion towards Iran about its possible desire to create a nuclear weapon." [More>>rian.ru]
---
2.06.08 US urges NATO allies to do more
February 6 - Condoleezza Rice warned today that the military challenge in Afghanistan is sorely testing the NATO alliance and called on all NATO allies to take up their fair share of the burden. The US Secretary of State was in London for talks with David Miliband, the Foreign Secretary, and later with Gordon Brown,about the progress of the fight against the Taleban and al-Qaeda-linked militants. "I do think the alliance is facing a real test here," Ms. Rice said. Speaking at a joint press conference with Mr. Miliband at Lancaster House, Ms. Rice added that "our populations need to understand this is not a peacekeeping mission," but rather a long-term fight against extremists. [More>>timesonline.co.uk]
---
2.06.08 Muslim graves latest target of Austria extremists
February 6 - Vandals damaged or destroyed dozens of graves belonging to Muslims in the Austrian city of Graz, heightening tensions in the southern city where a local politician made disparaging comments about Prophet Muhammad. Police in Graz, about 200 kilometers (120 miles) south of Vienna, said about 60 gravestones belonging to Muslims were found overturned or broken in the central cemetery, but said it was unclear when the vandalism took place.

Officials said they could not rule out the possibility that extreme-right groups active in the city may have been behind the attack. Tensions have risen in Graz since a local female politician from the right-wing Freedom Party disparaged the Prophet Muhammad, calling him a "child molester" who wrote the Quran during "fits of epilepsy."

Many Muslims stayed away from recent protests organized in Graz to support Palestinians suffering under a punishing Israeli blockade, fearing tensions could spill over into violence so soon after the comments by Freedom Party (FP) politician Susanne Winter, Austrian newspaper Wiener Zeitung said on Jan. 26. Mainstream political parties and many prominent Austrians – including President Heinz Fischer – condemned Winter's remarks. The Graz public prosecutor is investigating her by for possible violation of the law in making the comments. [More>>alarabiya.net]
---
2.06.08 Analysis: US cuts critique of Islam film
WASHINGTON (UPI) February 6 - The US military in Afghanistan has removed from its Web site an article criticizing a Dutch lawmaker's controversial plan to make a film condemning the Koran, saying the piece was being misinterpreted as an attack on free speech. The article, titled "Stirring the Hate," said Geert Wilders and his Party for Freedom were "blaming an entire religion for the actions of extremists." It accused them of having benefited politically from previous controversies, like that over the 2005 publication of cartoons of the Prophet Mohammed. It put the phrase "exercise in free speech" in derisive or distancing quotation marks.
"The headlines that resulted from the violence (that followed the cartoons' publication), the fear generated in communities around the world, an increase in 'suicide bomber recruiting,' all further the terrorist's goals," reads the article. "While the Party for Freedom preaches hate and fear to its followers, the terrorists preach hate and vengeance to their own."
Wilders' 10-minute film, which he now plans to release in March, will show how the Muslim holy book "is an inspiration for intolerance, murder and terror," he said recently. Other reports have quoted him as comparing the book to Hitler's "Mein Kampf." [More>>metimes.com]

---
Editorial note: It is true that the Koran advocates violence against unbelievers. A few of the verses that advocate violence against unbelievers includes the following: (See byzantines.net for a church's list of the Koran's threatening verses and its concerns.)
Koran Repentance 9.20 Those that have embraced the faith and fled their homeland and fought for Allah's cause with their wealth and their persons are held in higher regard by Allah. It is they who shall triumph. Their Lord has promised them joy and mercy, and gardens of eternal bliss where they shall dwell forever. Allah's reward is great indeed.
9.116 ...Allah has purchased of the faithful their lives and worldly goods and in return has promised them the Garden. They will fight for His cause, slay, and be slain. Such is the true pledge which he has made them in the Torah, the Gospel, and the Koran. And who is more true to his promise than Allah? Rejoice then in the bargain you have made. That is the supreme triumph.

Koran, Women 4.91 Others you will find who seek security from you as well as from their own people. Whenever they are called back to idol-worship they plunge into it headlong. If these do not keep their distance from you, if they neither offer you peace nor cease their hostilities against you, lay hold of them and kill them wherever you find them. Over such men We give you absolute authority.
4.92 It is unlawful for a believer to kill another believer except by accident.
4.98 He that flies his homeland for the cause of Allah shall find numerous places of refuge in the land and great abundance. He that leaves his dwelling to fight for Allah and His apostle and is then overtaken by death, shall be rewarded by Allah.
4.104 Seek out your enemies relentlessly.
Of interest is the fact that the Koran claims it was written to confirm the Jewish scriptures (Torah and Gospels, i.e., Bible; See Maravot News, "Why the Crusade and Jihad?"). In this sense it cannot lawfully contradict the scriptures (Bible) which it confirms. On the other hand, the Bible advocates a lot of violence against those who reject the Bible. A resolution in the conflict of religions is in the Bible, however, since its advocacy is for peace, justice, and mercy, all of which can be summed up by forgiving those who trespass you (See the Lord's Prayer). A fitting verse in the Bible to read is Isaiah 1.18. Experts on the Koran and the Bible tend to impress their reason upon men, forgetting that the author of the Bible claims to be able to reason for Himself.

Mel Copeland
---
EDITORIALS
09.11.05 When a nation lacks a competent leader it invites disaster – the legacy of Bush
08.13.05 "Using force the George W. Bush way – Bush's crusade"
11.25.04 Why the Crusade & Jihad?
---
*Visitor statistics on maravot.com from 1&1. com. 46,153 page views in May 2007; 43,000 in Jan. 2008.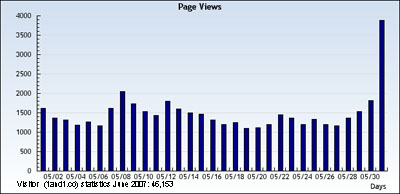 Privacy Policy: We do not store any personal data from you. We have no way of knowing any vital information about you – not even your name. Third-party distribution: We do not distribute information about your site usage to any third party. We are not responsible for the content of links from our site. Usage data: supplied by our Web Hosting service, 1and1.com, which consists of usage reports, such as page views / impressions and web pages visited, visitors' servers and geographical data (ISP's and country of origin).

---
Launched: 10.25.04 / 11.02.04 – —
Updated: 2.06.08; 2.07.08; 2.08.08; 2.09.08; 2.14.08; 2.15.08; 2.16.08; 2.17.08
Copyright © 1981-2008 Maravot. All rights reserved
Copyright © 1981-2008 Mel Copeland. All rights reserved
Background: tile from Cicero's villa (Marcus Tullius Cicero 106 B.C. - 43 B.C.)