News Headlines & Trends
---
2.29.08 US military kills 5 suspected militants in Iraq
BAGHDAD, February 29 - Five suspected militants were killed and 22 detained in raids in central and northern Iraq targeting al-Qaeda in Iraq, the US military said Friday. The five were killed Friday east of Khan Bani Sad, located about 35 kilometers (22 miles) north of Baghdad, during an exchange of fire between troops and the suspects, according to a statement. An Iraqi child was wounded during the incident and was taken to a nearby medical facility. [More>>thenews.com.pk]
---
2.29.08 Taliban blow up phone tower in Afghanistan
KANDAHAR, Afghanistan (AP) February 29 - Taliban militants blew up a telecom tower Friday in southern Afghanistan following a warning to phone companies to shut down the towers at night or face attack. The militants fear US and other foreign troops are using mobile phone signals to track insurgents and launch attacks against them. A Taliban spokesman on Monday said militants would blow up towers across Afghanistan if the companies did not switch off their signals overnight.

...Communications experts say the US military has the ability, using satellites and other means, to pick up cell phone signals without the phone company's help. Cell phones periodically send signals to the network even when they are not making calls. The US has said it has killed more than 50 mid- and top-level Taliban leaders over the last year. [Full story>>khaleejtimes.com]
---
2.29.08 Iraq approves execution for 'Chemical Ali'
BAGHDAD (CBS/AP) February 29 - Iraq's presidential council has endorsed the execution within a month of Saddam Hussein's cousin, known as "Chemical Ali," for his role in the 1980s scorched-earth campaign against Kurds, officials said Friday. But it spared the life of two other officials amid Sunni protests that they were only following orders.

The approval by Iraq's President Jalal Talabani and two vice presidents was the final step clearing the way for Ali Hassan al-Majid's execution by hanging. It could now be carried out at any time, a government adviser and a prosecutor said. Al-Majid was one of three former Saddam officials sentenced to death in June after being convicted by an Iraqi court of genocide, war crimes and crimes against humanity for their part in the Operation Anfal crackdown that killed nearly 200,000 Kurdish civilians and guerrillas. [More>>cbsnews.com]
---
2.28.08 Missile strike kills 12 in Pakistan tribal belt
PESHAWAR, Pakistan (AFP) February 28 - At least 12 people, most of them Arabs, were killed when a missile struck a house early Thursday in a Pakistani tribal region known as a safe haven for al-Qaeda militants, officials and residents said. Residents in Azam Warsak village in South Waziristan told AFP that the home was destroyed by a missile fired from a pilotless drone and the loud blast was heard miles (kilometers) away in the rugged valley.
Security officials said they had received a report that a "guided missile" fired from neighboring Afghanistan had hit a house belonging to a local tribesman. "The death toll is now 12 to 13 people, three of the dead appear to be from Punjab (central Pakistani province where several militant groups are based) while the rest are Arabs," a security official told AFP.
At least five people were also injured in the attack, officials added. There was no immediate confirmation from the military about the attack, but US military drones have carried out previous strikes targeted at key al-Qaeda figures active in the region. [More>>khaleejtimes.com]
---
2.28.08 Turkey tells US its troops will stay in Iraq 'as long as necessary'
ANKARA (AFP) February 28 - Turkey said Thursday its offensive against Kurdish rebels in northern Iraq will continue "as long as necessary," rejecting pressure for a speedy end to the military incursion from US Defence Secretary Robert Gates. As Gates held talks in Ankara, Turkish warplanes bombed separatist Kurdistan Workers' Party (PKK) positions in northern Iraq and intensive fighting was reported on the ground near a major rebel base in the Zap area, Iraqi security sources said. [More>>turkishpress.com]
---
2.28.08 29 militants killed in South Afghanistan
KANDAHAR, Afghanistan (AP) February 28 - Militants ambushed an opium poppy eradication force in southern Afghanistan, sparking clashes that left 25 Taliban fighters and a policeman dead, police said Thursday. Four other militants died when a bomb went off. Insurgents ambushed the drug eradication force Wednesday in Marja district of Helmand province, killing one police officer and wounding two, said Gen. Mohammad Hussein Andiwal, the provincial police chief.
Police attacked the militants afterward, killing 25 Taliban fighters, including a senior regional militant commander, the Interior Ministry said in a statement. Helmand, a front line between militants and foreign forces, is the world's largest opium-producing region. Officials estimate that up to 40 percent of proceeds from Afghanistan's drug trade — an amount worth tens of millions of dollars — is used to fund the insurgency. [More>>indianexpress.com: hosted.ap.org]
---
2.28.08 Britain: House sales down by a fifth
February 28 - The number of houses sold in November last year fell by 22 per cent compared with November 2006. Figures from the Land Registry show that 90,581 properties were sold last November, down from 115,873 in the previous year. This is the lowest level of house sales since February last year, a month when sales are typically lower.
This comes only days after data from the British Bankers' Association (BBA) showed that the number of loans granted for new home purchases in January was one of the lowest figures on record, indicating that home sales figures for the first two months of this year could show new lows when they are released later this year. [More>>timesonline.co.uk]
---
2.28.08 The architect of modern conservatism dies
February 28 - William F. Buckley Jr., who marshaled polysyllabic exuberance, arched eyebrows and a refined, perspicacious mind to elevate conservatism to the center of American political discourse, died on Wednesday at his home in Stamford, Conn. He was 82.
Mr. Buckley suffered from diabetes and emphysema, his son, Christopher, said, although the exact cause of death was not immediately known. He was found at his desk in the study of his home, his son said. "He might have been working on a column," Christopher Buckley said.
William Buckley, with his winningly capricious personality, his use of ten-dollar words and a darting tongue writers loved to compare to an anteater's, was the popular host of one of television's longest-running programs, "Firing Line," and founded and shepherded the influential conservative magazine National Review.

Mr. Buckley's greatest achievement was making conservatism — not just electoral Republicanism, but conservatism as a system of ideas — respectable in liberal postwar America. He mobilized the young enthusiasts who helped nominate Mr. Goldwater in 1964 and saw his dreams fulfilled when Mr. Reagan and the Bushes captured the Oval Office. [Full story>>nytimes.com]
---
2.27.08 Iran agents 'sabotaging' anti-Qaeda groups
BAGHDAD (AFP) February 27 - Iranian secret service agents are working to "sabotage" the operations of groups fighting al-Qaeda in Iraq, Baghdad's intelligence chief said on Wednesday. Mohammed Abdullah Shahwani issued the statement shortly before a landmark visit to Baghdad on Sunday by Iranian President Mahmoud Ahmadinejad. "We have information confirming that Iranian secret services have sent agents to sabotage the Sahwa experience in Iraq," the statement said, referring to mostly Sunni groups fighting al-Qaeda in Iraq alongside the US military.
Shahwani stressed "the need for the Iraqi people to be vigilant in facing these activities." He also urged Iraqis "to consolidate the security gains that have been achieved in Iraq and that all citizens are benefitting from." There are about 90,000 members of the Sahwa, or "Awakening" forces across Iraq, according to the US military which pays them about 300 dollars a month. The bulk of the fighters are Sunni Arabs, but a good 20 percent of them are Shia. [>khaleejtimes.com]
---
2.27.08 Report: Top Iran cleric slams Ahmadinejad's 'coarse' attacks on Israel
February 27 - A top Iranian cleric on Wednesday criticized Iranian President Mahmoud Ahmadinejad for his ongoing "coarse" verbal assaults against Israel, the AFP news agency reported. "Does foreign policy mean expressing coarse slogans and grandstanding?" Hassan Rowhani, a former top nuclear negotiator who still holds influential posts, asked in a speech to a foreign policy conference in Tehran. According to the report, Rowhani said Iran "needs to find an accommodating way to decrease the threats and assure the interests of the country. If the international community thinks that a country wants to play troublemaker and eliminate others, it will not let the country do this and will confront it." [More>>haaretz.com]
---
2.27.08 Microsoft fined record $1.4bn by EU
February 27 -The European Commission fined Microsoft a record €899 million (£673 million, $1.4 billion) today for defying sanctions imposed on the company for abusing its dominant position in the software market. The fine — the largest levied on any business — was imposed in addition to the €497 million penalty Microsoft was forced to pay in 2004 and the €280.5 million it paid in 2006, bringing the total the company has now been forced to pay the Commission to €1.68 billion ($2.5 billion).
The Commission said in a statement that no company had ever ignored the sanctions it had imposed as a result of anticompetitive behavior. "Microsoft was the first company in 50 years of EU competition policy that the Commission has had to fine for failure to comply with an antitrust decision," Neelie Kroes, the Competition Commissioner, said. [More>>timesonline.co.uk]
---
2.27.08 Imam from Va. Mosque now thought to have aided al-Qaeda
February 27 - Even before the 2001 terrorist attacks, American-born imam Anwar al-Aulaqi drew the attention of federal authorities because of his possible connections to al-Qaeda. Their interest grew after 9/11, when it turned out that three of the hijackers had spent time at his mosques in California and Falls Church, but he was allowed to leave the country in 2002.
New information later surfaced about his contacts with extremists while in the United States. Now, U.S. officials are saying for the first time that they believe that Aulaqi worked with al-Qaeda networks in the Persian Gulf after leaving Northern Virginia. In mid-2006, Aulaqi was detained in Yemen at the request of the United States. To the dismay of U.S. authorities, Aulaqi was released in December.
"There is good reason to believe Anwar Aulaqi has been involved in very serious terrorist activities since leaving the United States, including plotting attacks against America and our allies," said a U.S. counterterrorism official who spoke on the condition of anonymity...Aulaqi, 36, was the spiritual leader in 2001 and 2002 of the Dar al-Hijrah mosque in Falls Church, one of the largest in the country. [Full story>>washingtonpost.com]
---
2.27.08 2 Polish soldiers killed in Afghanistan
KABUL (AP) February 27 - A roadside bomb killed two Polish soldiers patrolling in eastern Afghanistan, officials said Wednesday, while NATO announced the seizure of $400 million in opium in the south. The explosion hit the troops in the Sharan district of Paktika province on Tuesday, said NATO's International Security Assistance Force.
The Polish troops were returning from a humanitarian aid meeting in a village when their Humvee drove over a roadside mine, Maj. Dariusz Kacperczyk, spokesman for the Polish army operational command, said in Warsaw. The two soldiers killed were identified as Cpl. Szymon Slowik and Pvt. Hubert Kowalewski. One soldier was also wounded. Poland has about 1,200 troops in Afghanistan.
The latest deaths bring the number of foreign troops killed in Afghanistan to 21 this year, according to an Associated Press tally of figures from ISAF and the US-led coalition. In 2007, insurgency-related violence killed more than 6,500 people, including 222 foreign troops. Last year was the deadliest yet since the US-led invasion in 2001. Paktika borders Pakistan's lawless tribal region, which is used by militants as a base to plan and launch attacks inside Afghanistan. [More>>indianexpress.com: hosted.ap.org]
---
2.26.08 New data show rising inflation and slumping home values
February 26 - Two worrisome trends for the economy — falling house prices and the rising cost of everything else — picked up speed in data reported on Tuesday, putting policy makers in an increasingly tough position. If they move too aggressively to cut interest rates and stimulate the economy, they might stoke inflation at a time when consumers are already squeezed by higher prices for food, energy, clothing and other goods. But if they chose more austere measures, the economy may weaken substantially faster.

...Tuesday's data provided fresh evidence of the housing market's prolonged slump. A leading index of home prices in 20 cities fell by 9.1 percent in December from the same month a year ago. Using a three-month moving average, the index, the Standard & Poor's Case-Shiller, is falling at an annual pace of more than 20 percent. The index tracks repeat sales of single-family homes; it does not include condominiums.

...The Labor Department reported that wholesale prices, which exclude taxes and distribution costs, rose 1 percent in January, up from a drop of 0.3 percent. Compared with a year ago, prices were up 7.4 percent. Excluding volatile food and energy prices, the index was up 2.3 percent from a year ago, up from 2 percent in December.

The latest inflation report appears to corroborate a broader trend of higher prices across the economy. Last week, the Labor Department reported elevated readings for consumer prices. The consumer price index was up 4.3 percent last month from a year ago, up from a 4.1 percent increase in December. [Full story>>nytimes.com]
---
2.26.08 'Osama bin London' gang guilty of terror training
February 26 - A Muslim fanatic who boasted of being "Osama bin London" has been found guilty of organizing terrorist training camps, including one for the 21/7 "bombers." Mohammed Hamid, 50, was also convicted of encouraging others to murder non-believers at the end of a four-month trial at Woolwich Crown Court.
Three of his followers, Kibley da Costa, 25, Mohammed Al-Figari, 45, and Kader Ahmed, 20, were found guilty of attending terror camps in the New Forest and at a Berkshire paintballing centre. Two further members of the gang, Mohammed Kyriacou, 19, and Yassin Mutegombwa, 23, admitted attending terrorist training camps, it can be reported today after restrictions were lifted. The court heard that Hamid led an al-Qaeda-style terrorist cell and aspired to send his recruits to join camps in Afghanistan and East Africa. Among his pupils were five of the July 21 failed bombers, including ringleader Muktar Said Ibrahim, who attended Lake District camps in 2004.

Detectives said although there is no evidence Hamid organized the attacks, he was partly responsible for the state of mind of those that did. He boasted that the July 7 attacks were "not even breakfast for me" and hours afterwards sent a text message to his friend, July 21 conspirator Hussain Osman. It read: "We fear no-one except Allah. We will not change our ways, we are proud to be Muslim and we will not hide." [More>>timesonline.co.uk]
---
2.26.08 Militant linked to Bhutto attack arrested: Pakistan
ISLAMABAD (AFP) February 26 - Pakistani security forces arrested a top militant with links to Osama bin Laden in connection with an October assassination attempt on Benazir Bhutto, the interior minister said Tuesday. Qari Saifullah Akhtar — a top extremist leader accused by Bhutto of plotting against her in a book published after her assassination in December — was seized on Monday, interior minister Hamid Nawaz told AFP.

...Akhtar was the one-time head of Harkat Jihad-e-Islami, the main Pakistan support group for Afghanistan's extremist Taleban movement, and he spent most of his time before 2004 living in Afghanistan, and met bin Laden several times. He was arrested in the United Arab Emirates in August 2004 and later extradited to Pakistan, where he was released under unclear circumstances. [Full story>>khaleejtimes.com]
---
2.26.08 6 killed in Afghan blast
KABUL, Afghanistan (AP) February 26 - A roadside bomb hit a vehicle carrying five policemen and a child in eastern Afghanistan on Tuesday, killing all six, officials said. Taliban militants have increasingly aimed their attacks at police, killing more than 925 officers in 2007 alone. Afghan police often work in small groups in remote and dangerous territory, where they are outnumbered and outgunned by insurgents. The blast happened in the eastern Khost province close to the border with Pakistan, said police chief Gen. Mohammad Ayub. He blamed the attack on Taliban militants. [More>>indianexpress.com: hosted.ap.org]
---
2.25.08 Turkish troops, PKK battle for fifth day in N. Iraq
ANKARA (Reuters) February 25 - Turkish forces battled Kurdish guerrillas at close quarters as they advanced on a key PKK base in northern Iraq on Monday, and Baghdad warned a prolonged incursion could have serious consequences for the region. Backed by warplanes, tanks, artillery and combat helicopters, troops killed 41 rebels on Monday, the Turkish General Staff said in a statement, taking the total PKK death toll since a major offensive began on Thursday to 153. "Close combat with the terrorists is continuing in two separate zones," the Turkish military said in a statement. [More>>khaleejtimes.com]
---
2.25.08 Barak Obama embarrassed by billionaire link to home deal
February 25 - A British-Iraqi billionaire lent millions of dollars to Barack Obama's fund-raiser just weeks before an imprudent land deal that has returned to haunt the presidential contender, an investigation by The Times discloses. The money transfer raises the question of whether funds from Nadhmi Auchi, one of Britain's wealthiest men, helped Mr. Obama buy his mock Georgian mansion in Chicago.
A company related to Mr. Auchi, who has a conviction for corruption in France, registered the loan to Mr. Obama's bagman Antoin "Tony" Rezko on May 23 2005. Mr. Auchi says the loan, through the Panamanian company Fintrade Services SA, was for $3.5 million. Three weeks later, Mr. Obama bought a house on the city's South Side while Mr. Rezko's wife bought the garden plot next door from the same seller on the same day, June 15.
Mr. Obama says he never used Mrs. Rezko's still-empty lot, which could only be accessed through his property. But he admits he paid his gardener to mow the lawn. Mrs. Rezko, whose husband was widely known to be under investigation at the time, went on to sell a 10-foot strip of her property to Mr. Obama seven months later so he could enjoy a bigger garden. Mr. Obama now admits his involvement in this land deal was a "boneheaded mistake." [More>>timesonline.co.uk]
---
2.25.08 Bomber kills Iraqi police officer
February 25 - A suicide bomber in a wheelchair has killed a senior Iraqi police officer and wounded four others inside a police operations centre in Samarra,100km north of Baghdad. The bomber entered the building on Monday and asked to speak to Major-General Abdul-Jabbar Rabee Muttar, the city's assistant police chief, according to an official in his office. [More>>aljazeera.net]
---
2.25.08 Pakistan blocks 'blasphemous' YouTube: source
ISLAMABAD (AFP) February 24 - Pakistan has ordered all Internet service providers to block the YouTube website for containing "blasphemous" content and material considered offensive to Islam, officials said Sunday. An inter-ministerial committee has decided to block YouTube because it contained "blasphemous content, videos and documents," a government official told AFP. "The site will remain blocked till further orders," he said. Other officials said the site had been blocked because it contained controversial sketches of the Prophet Muhammad which were republished by Danish newspapers earlier this month. [More>>alarabiya.net]
---
2.25.08 Blast kills top Pakistan army general, 7 others
ISLAMABAD (Reuters) February 25 - A suicide bomber attacked a Pakistani military vehicle in the city of Rawalpindi on Monday, killing the army's top medical officer and two of his staff and five passers-by, officials said. The blast happened a week after Pakistan held largely peaceful parliamentary elections and was the first bomb attack outside the violence-plagued northwest since the vote.
"Surgeon general Lieutenant-General Mushtaq Ahmed Baig, his driver and a guard were killed in the attack," said a military official who declined to be identified. Five civilians were also killed and 25 people were wounded, he said. The Pakistani military's headquarters is in Rawalpindi and several major attacks on the military and security agencies have taken place in the city since the middle of last year. [More>>khaleejtimes.com ; See also thenews.com.pk, February 25, "Rawalpindi blast: 8 killed including Lt. General Mushtaq Baig."]
---
2.24.08 Suicide bomber kills 40 in Iraq - police
HILLA,Iraq (Reuters) February 24- A suicide bomber targeting pilgrims heading to one of Shi'ite Islam's holiest festivals killed 40 people and wounded 60, including women and children, south of Baghdad on Sunday, police said. The US military said it was trying to confirm reports that 60 people had been killed and 100 wounded in the bombing in the town of Iskandariya, 40 km (25 miles) south of Baghdad. Most of the casualties were hit by metal ball bearings, said a doctor at a hospital in Hilla, 100 km (60 miles) south of the capital. A wounded woman there said the attack happened in a tent where pilgrims were offered refreshments. [More>>thestar.com.my]
---
2.23.08 Erdogan: Sole target is terrorist organization hide-outs
ANKARA, February 22 - Turkish Prime Minister Recep Tayyip Erdogan said, "the sole target of cross-border operations — launched by Turkish Armed Forces (TSK) — is the terrorist organization hide-outs in the north of Iraq."
"We have never been on a negative posture against Iraqi people and we will not be," he added. Erdogan also said that he talked with US President George W. Bush as well as Iraqi Prime Minister Nuri al-Maliki regarding the operation. "TSK will rapidly return (to Turkey) as soon as it reaches its aims. I wish this operation yield positive results both for Turkey, Iraqi people and the regional peace," Erdogan noted. [More>>turkishpress.com ; See also indianexpress.com: hosted.ap.org, February 23, "Iraq government criticizes Turkish incursion."]
---
2.23.08 Nine dead in separate incidents in Afghanistan
ASADABAD, Afghanistan, February 23 - Seven guards were killed in a mine blast Afghanistan on Saturday, while two civilians were killed in separate incidents, officials said. A landmine blew up a vehicle transporting Afghan guards who had been protecting a road construction company in Kunar province, governor Fazullah Wahidi said while talking to an international news agency.

Meanwhile in the western province of Farah, a suicide bomber with explosives strapped to his body blew himself up near a police vehicle. Regional police spokesman Abdul Mutalib Rad said the bomber was the only person killed. In other incidents, a civilian truck driver was killed and a truck supplying Western troops was set ablaze in the volatile southern province of Zabul on Saturday, police said. A Taliban spokesman claimed responsibility. [>thenews.com.pk ; See related story, nytimes.com, February 23, "A bloody stalemate in Afghanistan."]
---
2.23.08 Obama fever is breaking on the web
February 23 - A rash of new sites throws some cold water on the hot candidate. It's the nature of the Web — and, really, of life. What goes up must come down. What's popular becomes too popular. What's seen as hip and hot and cool eventually gets mocked. Even, yes, Barack Obama.
In recent days, sites have popped up indicating that the ongoing online Obamamania has hit a wall. What kind of wall? A snarky, ironic, this-Obama-thing-has-gotten-over-the-top wall. Obama's smiling mug is mashed up on countless faces on SenatorObamas.com. He's Sumobama. He's Pharaohbama. He's Navajobama, complete with a blue-and-white feathered headdress. The blog Is Barack Obama the Messiah? features a photo of the Illinois senator standing on a flight of stairs, Christlike, above an adoring crowd while a ray of light beams from above. [More>>washingtonpost.com]
---
2.22.08 Korea to secure Uzbekistan gas field
February 22 - Korea looks set to explore a large-scale natural gas field in Uzbekistan as the energy-thirsty nation is ramping up its bid to secure a stable supply of resources. A consortium led by Korea Gas Corp. said yesterday that it plans to sign a memorandum of understanding with Uzbekneftegaz National Holding Co. on Monday in Seoul to set up a joint venture for an exploitation project in the Surgil gas field. The terms of the planned deal were not disclosed, but sources said it would be one of the largest gas fields that Korea has ever secured, with gas reserves of about 4.7 trillion cubic feet.

...Korea, which is the world's second-largest overseas LNG buyer and the fourth-biggest oil importer, imported 97 percent of its energy needs as of 2007. Energy imports make up over a quarter of the nation's total imports. By 2012, the next administration aims to own overseas oil and gas fields that would meet 18 percent of local demand, up from 4 percent, according to the Ministry of Commerce, Industry and Energy. [Full story>>koreaherald.co.kr]
---
2.22.08 Iran nearing nuclear weapons capability
February 22 - New revelations on Iran's nuclear ambitions smuggled out of the Islamic republic by a network of the opposition group, the Mujahedin-e Khalq, (MeK), and made available to the Middle East Times, indicates that Iran is very much on the path of becoming a nuclear power. "It is stunning," Alireza Jafarzadeh, author of "The Iran Threat: President Ahmadinejad and the Coming Nuclear Crisis," told the Middle East Times.

"The International Atomic Energy Agency [IAEA] and its director general, Mohammed ElBaradei should immediately send their inspectors to these sites and interview all the named experts of the Iranian regime that are collaborating with the nuclear weapons program of Tehran," said Jafarzadeh.

..The MeK report breaks down Iran's two nuclear sections which had not been exposed yet. First is the command and control center as well as the main center for military nuclear research. The second is the regime's nuclear warhead project. The new information shows that: a) the Iranian regime is undoubtedly developing the nuclear bomb; b) none of the three essential parts required to build a nuclear bomb have been halted; rather, all three have been sped up. [Full story>>metimes.com ; See also nytimes.com, February 22, "Nuclear Agency confronts Iran with evidence on weapons."]
---
2.22.08 Roadside blast kills 13 in NW Pakistan
ISLAMABAD (Reuters) February 22 - A roadside bomb ripped through a vehicle carrying a wedding party in Pakistan's northwestern valley of Swat on Friday, killing 13 people, officials said. The vehicle was passing through Matta town when it was hit by the blast north of Mingora, the main town in Swat valley, where security forces have been battling Islamist militants for months, the officials said.
"Thirteen people have been killed and several others have been wounded, including women and children, in the blast," said security official Major Aurangzeb. More than 450 people have been killed in militant-related violence in Pakistan since the start of the year, which intensified after the army stormed Islamabad's Red Mosque to crush an armed student movement last July. [More>>khaleejtimes.com ; See also thenews.com.pk, February 22, "17 killed in Swat bomb blast."]
---
2.21.08 China confirms second human bird flu fatality in February
BEIJING, February 21 - H5N1 bird flu claimed its second human fatality in China this month when the Ministry of Health confirmed the death of a Guangxi Zhuang Autonomous Region man on Thursday. The 41-year-old surnamed Liang in Nanning City developed fever and headache symptoms on February 12 and died at 5am on February 20 after all rescue measures proved ineffectual.
Tests of the man were H5N1 positive, said China's Center for Disease Control and Prevention. On February 18, the health ministry confirmed a 22-year-old man surnamed Li in the central Hunan Province had tested positive for H5N1. Li died on January 24. [>chinadaily.com]
---
2.21.08 Thirty Taliban killed in joint strikes
KABUL, Afghanistan, February 21 - Thirty Taliban militants were killed in a joint Afghan and foreign special forces operation backed by air support in southern Helmand province. The five-hour coordinated attack on four targets also killed a Taliban commander, Mullah Abdul Bari, according to the Afghan defence ministry. Eleven others were arrested. "Mullah Abdul Barry, a Taliban commander, was wounded in the attacks and later died of his wounds in hospital," it said.
The troops attacked insurgent cells between Musa Qala and Kajaki districts of Helmand province. Musa Qala was a Taliban stronghold for most of last year and the militants still control at least three districts in Helmand province. The forces said they also seized weapons, two trucks full of explosives and 500kg of drugs. They also destroyed a heroin-processing factory. [More>>news.com.au ; See also thenews.com.pk, February 21, "Bomb hits Afghan police, one killed."]
---
2.21.08 Morocco nabs terror cell targeting Jews
February 21 - Morocco said Thursday it has dismantled a terrorist network that raised funds through holdups and jewelry thefts in Europe and was plotting to assassinate Cabinet ministers, army officers and Jews in the North African kingdom. Thirty-two suspected terrorists were arrested in the operation, including Muhammad Mirwani, who heads the unauthorized "Umma Party," and Hizbullah's Al-Manar satellite TV correspondent in Morocco, 'Abd Al-Hafid Sriti.
The official MAP news agency also reported Wednesday night that the North African kingdom banned an Islamist political party, Al Badil Al Hadari (Civilized Alternative), because some members were linked to the network. MAP said authorities discovered a vast stash of weapons while dismantling the network, which they believe is linked to al-Qaeda and local terror groups. Among those arrested was CA General-Secretary Mu'stafa M'uta'sim. The Moroccan police said it had evidence proving a link between the CA and al-Qaeda.
Investigations by the Moroccan security authorities are said to have proved that Belliraj had contacts with al-Qaeda in Afghanistan, Morocco, and Algeria between 2001 and 2005, Interior Minister Chakib Benmoussa said at a news conference on Wednesday.
Benmoussa added that there were attempts in 2002 to arrange for training in Hizbullah training camps in Lebanon. He said some of the network members had been trained to handle weapons and explosives thanks to relations established by 'Abd Al-Qadir Belliraj with international terror organizations. [>jpost.com ; See also alarabiya.net, February 21, "Morocco bans Islamist party over terror links."]
---
2.20.08 Investment pains in China spreading exodus fear
February 20 - About 30 percent of Korean companies operating in China have considered withdrawing from the country, while some say they are already preparing to do so, a survey released yesterday reported. The mid-January survey of 350 listed members of the Korea Chamber of Commerce and Industry's China branch found that 25 percent of them have seriously considered leaving the country, while another 3.1 percent said they are now preparing for liquidation.

The poll was conducted to gauge the current business conditions for Korean firms in Asia's fastest-growing economy amid tightened regulations, especially with stricter labor laws which call for an increase in wages and workers' benefits. Recent official data illustrate the growing trend of Korean companies giving up in China. [More>>koreaherald.co.kr]
---
2.20.08 10 die in suicide bomb and mortar attack in Iraq
February 20 - Ten persons were killed including three children in a suicide bomb and mortar attack in Iraq. A suicide bomber blew himself up in front of a shop in Diyala province killing seven persons and wounding 17 others, police officials said. A mortar attack on a US base in Iraq killed three children playing soccer nearby, the US military said on Wednesday. Seven other youngsters were also hurt in Tuesday's attack on the base near Balad, 80 km (50 miles) north of Baghdad. [>thenews.com.pk]
---
2.19.08 Credit Suisse suspends traders
February 19 - Credit Suisse bank has suspended a "handful" of traders after an internal review showed up errors in its structured credit trading business. The suspensions came as the bank faced accusations of "ineptitude" after revealing nearly $3bn in further writedowns just a week after assuring markets its subprime losses were contained.

The bank, the second-biggest in Switzerland, announced on Tuesday it was writing down a further $2.85bn worth of assets linked to the US housing market owing to adverse conditions in the first quarter. The new writedowns prompted a raft of criticism from analysts and sent the bank's share price plunging 5.99 per cent to 53.35 Swiss francs in early afternoon trading on the Zurich stock exchange. Peter Thorne, an analyst at Helvea, the Swiss broker, said: "This is a disaster. This could be the tip of the iceberg." [More>>aljazeera.net ; See also bbc.co.uk]
---
2.19.08 Opposition demands Musharraf resigns
February 19 - Pakistan opposition leader Nawaz Sharif has demanded that President Pervez Musharraf resign after his party suffered a crushing defeat in the country's parliamentary elections. Mr. Sharif claimed Mr. Musharraf had said he would quit "when people would want him to do so."
"And now the people have given their verdict," he said. He added that he was willing to work with other opposition parties to "rid Pakistan of dictatorship forever." [More>>sky.com ; See also thenews.com.pk, February 19, "26 killed in countrywide poll-related violence."]
---
2.19.08 Castro stepping down as Cuba's leader
HAVANA, February 19 - Fidel Castro announced Tuesday morning that he would step down as the president of Cuba after a long illness. The announcement was made in a letter to the nation under Mr. Castro's name, which was read on radio and television programs that many Cubans heard as they headed to work. There seemed to be little if any outward reaction to the news, which many Cubans had been expecting for months. Schools remained open, garbage continued to be collected, and clusters of ordinary people waiting for buses or trucks to take them to work seemed as large and numerous as ever.
State-owned networks did not interrupt regular schedules, but read the announcement as part of the morning news, then returned to the usual mix of music and children's broadcasting. Radio Rebelde, the radio service started by Mr. Castro in the mountains of the Sierra Maestra during the rebel uprising he led 50 years ago, broadcast popular music and a discussion of the roots of the Afro-Cuban sound, and mentioned his resignation only briefly during regularly scheduled newscasts, along with information about statements from the Venezuelan oil minister. [More>>nytimes.com ; See also miamiherlad.com, February 19, "S. Florida celebrations tempered by reality."]
---
2.19.08 Court rejects ACLU challenge to wiretaps
WASHINGTON (AP) February 19 - The Supreme Court rejected a challenge Tuesday to the Bush administration's domestic spying program. The justices' decision, issued without comment, is the latest setback to legal efforts to force disclosure of details of the warrantless wiretapping that began after the Sept. 11 attacks. The American Civil Liberties Union wanted the court to allow a lawsuit by the group and individuals over the wiretapping program. The 6th US Circuit Court of Appeals dismissed the suit, saying the plaintiffs could not prove their communications had been monitored. [More>>washingtonpost.com]
---
2.19.08 Website that posts leaked material ordered shut
February 19 - In a move that legal experts said could present a major test of First Amendment rights in the Internet era, a federal judge in San Francisco on Friday ordered the disabling of a Web site devoted to disclosing confidential information.
The site, Wikileaks.org, invites people to post leaked materials with the goal of discouraging "unethical behavior" by corporations and governments. It has posted documents concerning the rules of engagement for American troops in Iraq, a military manual concerning the operation of prison at Guantánamo Bay, Cuba, and other evidence of what it has called corporate waste and wrongdoing.
The case in San Francisco was brought by a Cayman Islands bank, Julius Baer Bank and Trust. In court papers, the bank claimed that "a disgruntled ex-employee who has engaged in a harassment and terror campaign" provided stolen documents to Wikileaks in violation of a confidentiality agreement and banking laws. According to Wikileaks, "the documents allegedly reveal secret Julius Baer trust structures used for asset hiding, money laundering and tax evasion." [More>>nytimes.com]
---
2.19.08 Aid workers flee Darfur bombing
February 19 - Some United Nations aid workers are withdrawing from eastern Chad, following bombing across the Sudanese border in Darfur. A camp for displaced Darfuris was hit during the bombing, although it was empty as people had fled an earlier government offensive. The UN humanitarian chief earlier warned of "disastrous consequences" for 20,000 civilians if attacks continued. Aid workers say the bombing could be heard in Chad. At least 200,000 people have died in five years of conflict between rebels, the army and pro-government militias in Darfur. [More>>bbc.co.uk ; See also cbsnews.com, February 19, "Bush urges world to end Darfur crisis."]
---
2.19.08 15 killed, eight injured in Iraqi violence
BAGHDAD (DPA) February 19 - At least 15 people were killed Tuesday, including civilians, and eight wounded in separate attacks across Iraq, media reports said. In Baquba, some 60 kilometers north of Baghdad, four members of the same family were shot and killed by militants while on their way home, sources told Deutsche Presse Agentur dpa. Sources said that militants killed two women and two men belonging to the same family, because membership of some of their sons in the Awakening Council. The Awakening Councils are local police squads located mainly in Sunni Iraqi provinces that fight the al-Qaeda terrorist network. [More>>khaleejtimes.com]
---
2.19.08 Politics & policies: Kosovar Islam unveiled
Fevruary 19 (By Claude Salhani, Editor, Middle East Times) - Those of you who believe that a milder, kinder form of Islam does not exist, allow me to paraphrase former US president John F. Kennedy by saying, "Let them come to Pristina."

...Kosovo has a population of around 2 million people. According to a 2005 survey by the Statistical Office of Kosovo, 92 percent are ethnic Albanians; Serbs (who are Orthodox Christians) count for 4 percent; the remaining include Bosniak Muslims (1.9 percent), Roma (1.7 percent), and Turks 1 percent. The ethnic Albanians in turn can be divided into roughly 93 percent Muslim, with the rest composed of Catholics and a tiny minority of Protestants. Kosovars are ethnic Albanians, not to be confused with Albania, the former Stalinist nation next door, and with whom they share a border, a language, and a religion.

...As a country in the heart of Europe with an overwhelming Muslim majority, Saudi Arabia and a number of Islamic governmental and non-governmental organizations quickly jumped in after the war in the late 1990s to help out. Among them were groups believed to have links to fundamentalist Islamist organizations, as was the case in neighboring Bosnia. Kosovars however, many people in Pristina say, resisted being enticed into following a stricter Islam, despite financial incentives to do so. Unlike Bosnia, another Muslim and former Yugoslav republic, Kosovars have refused offers from Saudis to build madrassas – Islamic Koranic schools – and mosques, demanding instead that the donations be allocated toward building hospitals, secular education facilities, and "more useful institutions."

Kosovars have also strongly resisted offers from Islamic groups to "behave in more Islamic ways," such as their demand that women adopt the traditional Islamic veil and men grow beards, as some Wahhabi groups have tried to impose on Kosovars, according to officials from the Organization for Security and Cooperation in Europe. "We are European Muslims," Fatmire Terdevci, a Kosovar journalist working for Koha Ditore, a daily Albanian language newspaper told this reporter about two years ago. "I am a Muslim, but in my own way," she said. "We belong in Europe, we are not Arabs. But still, I consider myself a Muslim." Terdevci, and other Muslims in Kosovo, stress they want Islam, but on their own terms. [Full story>>metimes.com]
---
2.19.08 3rd bombing hits southern Afghanistan
KANDAHAR, Afghanistan (AP) February 19 - A car bomb exploded near a police compound Tuesday in southern Afghanistan, killing at least one civilian and wounding four, a police official said. It was the third attack in Kandahar province in as many days. The car bomb was apparently triggered remotely, said police officer Jan Mohammad, who was at the bombing scene in Kandahar, southern Afghanistan's largest city and the Taliban's former stronghold. More than 100 people were killed by a suicide bomber just outside Kandahar city Sunday, while 38 died Monday at a market near the border with Pakistan when a suicide car bomb explosion targeted a Canadian military convoy. [More>>indianexpress.com: hosted.ap.org]
---
2.18.08 Abkhazia set to ask Russia to recognize its independence
MOSCOW (RIA Novosti) February 17 - Abkhazia intends to ask Russia to recognize its sovereignty, the president of the de facto independent Georgian republic said on Monday. Asked whether Abkhazia intended to address Russia on the issue of independence in the wake of Kosovo's unilateral declaration of sovereignty on Sunday, Sergei Bagapsh told journalists: "Yes, we do."
Both Abkhazia and South Ossetia, another Georgian breakaway republic, declared their independence from Georgia in the wake of the collapse of the Soviet Union in 1991, and bloody conflicts ensued. Georgia's current leadership has been seeking to recover its influence in the separatist regions and secure international support on the issue.
Both republics have expressed a strong desire to join Russia, and Moscow had hinted even before Kosovo's declaration of independence on Sunday that it may recognize Abkhazia and South Ossetia. "...We have a document on a united Ossetia voluntarily joining the Russian Empire in 1774," he said, adding that there were no documents in existence that confirmed the withdrawal of Ossetia from Russia. [Full story>>rian.ru]
---
2.18.08 China kills two 'terrorists'in Xinjian raid
BEIJING (Reuters) February 18 - Chinese police shot and killed two members of a "terrorist gang" and rounded up 15 others during a raid last month in the restive northwestern Muslim region of Xinjiang, the official Xinhua news agency said on Monday. The arrests came less than seven months before the Beijing Olympics, which open on Aug. 8. Five policemen were wounded in the raid on Jan. 27 when three homemade grenades were hurled at them, Xinhua said.

Police arrested 15 members of the group in the operation in the regional capital Urumqi. Six of the arrested members of the group were wounded in the gunfight, Xinhua said, adding that police had seized 'knives, axes and books about terrorism' from them...Xinjiang is home to 8 million Uighurs, a Turkic, largely Islamic people who share linguistic and cultural bonds with Central Asia. Many resent the growing Han Chinese economic dominance in Xinjiang, as well as government controls on religion and culture. [Full story >>khaleejtimes.com]
---
2.18.08 Jerusalem pullout threatens Israel
February 18 - The current Israeli government is pursuing a "virtual peace" rather than a "genuine peace" and by advocating a withdrawal from east Jerusalem is bringing Israel closer to the possibility of being forced out of the region, Likud Chairman Binyamin Netanyahu said Monday.
..."We shouldn't build a basis for militant Islam at our doorstep. This is what successive Israeli governments have done by quickly withdrawing from Lebanon and from Gaza," the opposition leader said. "The Israeli withdrawal from Gaza has in no way advanced our security or brought us any closer to a real peace."
"If we withdraw from Jerusalem, a possibility that seems to be more of a reality each day, it will just put us one step closer to being forced out of the whole country," he concluded. [Full story>>jpost.com]
---
2.18.08 Suicide attack kills 36 in Afghanistan
KANDAHAR, Afghanistan, February 18 - In the second serious attack in southern Afghanistan in two days, a suicide bomber set off an explosion on Monday as he drove his car near a convoy of Canadian troops on a crowded border town street, killing 36 civilians and wounding 38.
The governor of Kandahar Province, Asadullah Khaled, called the attack a cataclysm for the Afghan people. The blast wounded three or four Canadian soldiers, part of the NATO security force in Afghanistan, but the brunt of the explosion was borne by civilians, mainly street vendors and people selling fruit from pushcarts beside the road, he said. Several shops caught fire in the town, Spinbaldak, which is 60 miles southeast of Kandahar and is the main border crossing to Pakistan, he said. A day before the attack, a suicide bomber blew himself up at a dogfighting festival in a district just north of the city of Kandahar, in the worst suicide bombing in Afghanistan since 2001. [More>>nytimes.com]
---
EDITORIALS
09.11.05 When a nation lacks a competent leader it invites disaster – the legacy of Bush
08.13.05 "Using force the George W. Bush way – Bush's crusade"
11.25.04 Why the Crusade & Jihad?
---
*Visitor statistics on maravot.com from 1&1. com. 46,153 page views in May 2007; 43,000 in Jan. 2008.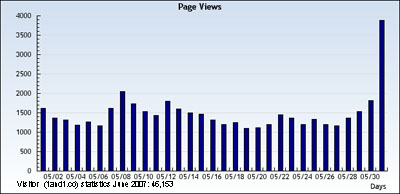 Privacy Policy: We do not store any personal data from you. We have no way of knowing any vital information about you – not even your name. Third-party distribution: We do not distribute information about your site usage to any third party. We are not responsible for the content of links from our site. Usage data: supplied by our Web Hosting service, 1and1.com, which consists of usage reports, such as page views / impressions and web pages visited, visitors' servers and geographical data (ISP's and country of origin).

---
Launched: 10.25.04 / 11.02.04 – —
Updated: 2.18.08; 2.19.08; 2.20.08; 2.21.08; 2.22.08; 2.23.08; 2.24.08; 2.25.08; 2.26.08; 2.27.08: 2.28.08; 2.29.08
Copyright © 1981-2008 Maravot. All rights reserved
Copyright © 1981-2008 Mel Copeland. All rights reserved
Background: tile from Cicero's villa (Marcus Tullius Cicero 106 B.C. - 43 B.C.)