News Headlines & Trends
---
5.26.09 Home prices plunge 19.1 percent in 1Q
NEW YORK, May 26 - Home prices fell at the fastest annual rate ever in the first quarter, but the pace of month-to-month declines continues to slow, a closely watched housing index showed Tuesday. The Standard & Poor's/Case-Shiller National Home Price index reported home prices tumbled by 19.1 percent in the first quarter, the most in its 21-year history. Home prices have fallen 32.2 percent since peaking in the second quarter of 2006 and are at levels not seen since the end of 2002. The 20-city index fell by 18.7 percent in March from the year before and the 10-city index lost 18.6 percent. Those declines were a bit better than February's and marked the second straight month the indexes didn't post record drops. [More>>cbsnews.com]
---
5.26.09 Pakistan forces kill 29 militants in Swat
ISLAMABAD, May 26 - Military spokesman Major General Athar Abbas Tuesday said that the military operation in Swat is in full swing and the listless miscreants are trying to flee the areas. Addressing a press briefing here with Minister of State for Information and Broadcasting, Syed Sumsam Ali Bukhari, he said the operation in Swat valley is making headway successfully. He said at least 29 militants have been killed in the last 24 hours, adding intense fighting is in progress in Kabal and Qambar areas of Swat. The forces got control of at least three villages in the vicinity of Kabal, he added. The military spokesman said that at least six troops were martyred in the operation and 11 others wounded, adding the Mingora streets are witnessing close fighting at the moment; however, more than half of the city is under forces' control. "The claim regarding no resistance from Taliban is baseless," he said. [More>>thenews.com.pk; See related story, indianexpress.com, May 26, "Swat Taliban staring defeat in the face."]
---
5.26.09 Deaths in Afghanistan convoy blast
May 26 - Three civilians and three soldiers serving with NATO-led forces in Afghanistan have been killed in a suicide car bomb attack on a military convoy, officials have said. The bomber drove an explosives-laden vehicle into a military convoy in the eastern Kapisa province on Tuesday, lieutenant commander Christopher Hall, a NATO spokesman, said. Three US troops serving with NATO's International Security Assistance Force (ISAF) were killed in the blast in the Sayat district, technical sergeant Chuck Marsh, a US military spokesman, said. Two other civilians were hurt in the attack, Afghanistan's interior ministry said in a statement. A spokesman for Gulbuddin Hekmatyar, a pro-Taliban leader, said his Hezb-e-Islami group had planned the attack. [More>>aljazeera.net]
---
5.26.09 US says roadside bomb in Iraq kills 3 Americans
BAGHDAD (AP) May 26 - A roadside bomb struck a US convoy in western Iraq, killing three Americans, including a senior State Department official, US officials said Tuesday. The blast killed Terence Barnich, the deputy director of the State Department's Iraq Transition Assistance Office in Baghdad, as well as a US soldier and a civilian contractor as their convoy left a construction site near Fallujah on Monday, military and government officials said. Two others were wounded. [More>>washingtonpost.com]
---
5.25.09 N. Korea nuclear test sparks global condemnation
MOSCOW, May 25 (RIA Novosti) - North Korea's nuclear test explosion has been met by a wave of condemnation from countries around the world, with several leaders calling for sanctions. Pyongyang announced the bomb test earlier on Monday, and South Korean media said three surface-to-air missiles were launched soon afterwards. The tremor from the underground nuclear blast was confirmed in several countries. The United States and France have called for action to be taken against Pyongyang, while Russia and China have urged for a return to dialogue. North Korea pulled out of six-nation talks on its denuclearization last month.

Russia's Foreign Ministry said the nuclear test "is a serious blow to international efforts aimed at strengthening the Nuclear Non-Proliferation Treaty, and undermines the Comprehensive Test Ban Treaty" while threatening "security and stability in the region." Russian presidential spokeswoman Natalia Timakova called the test a direct violation of UN Security Council resolution 1718, and said the location of the blast, near Russia's border, provokes "serious concern." She said those who made the decision to conduct the test should be held responsible to the international community. [More>>en.rian.ru; See also,

xinhuanet.com, May 25, "Chinese government "resolutely opposes" DPRK's nuclear test" : BEIJING, May 25 - China was resolutely opposed to the nuclear test by the Democratic People's Republic of Korea (DPRK), the Foreign Ministry said here in a statement Monday. According to a report by the official Korean Central News Agency (KCNA), the DPRK announced it successfully conducted an underground nuclear test on Monday. "The DPRK ignored universal opposition of the international community and once more conducted the nuclear test. The Chinese government is resolutely opposed to it," the statement said. It has been the firm and consistent stance of the Chinese government to achieve non-nuclearization on the Korean Peninsula and oppose proliferation of nuclear weapons in an effort to maintain peace and stability in northeast Asia, the statement stressed...
---
5.25.09 Pakistan takes control of 'bloody intersection'
ISLAMABAD, May 25 - Pakistani troops battling the Taliban made major advances in the Swat Valley's main town yesterday, taking several key points including a spot nicknamed "bloody intersection" because militants routinely dumped the mutilated bodies of their victims there. A military statement yesterday said forces moving from street to street in Mingora secured eight crossings while encountering at least 12 roadside bombs. Meanwhile, helicopter gunships pounded Taliban hideouts across the north-west, killing at least 18.

Five suspected militants were killed in various parts of Mingora while 14 others were arrested, the army said. Victory in the town, a key commercial hub, is considered critical to the success of the effort to drive the Taliban out. The army has said 10,000 to 20,000 residents are still stranded in the town, which normally has a population of at least 375,000. Between 1,500 and 2,000 Taliban fighters are said to be there. [More>>independent.co.uk]
---
5.25.09 Action on wind farm radar threat to aircraft
May 25 - The body that monitors UK airspace is seeking a solution to the potentially disastrous problem of commercial and military aircraft disappearing in radar blackout zones caused by wind farms. National Air Traffic Services (Nats) has asked Raytheon, the American defence company, to design the world's first system for allowing radar to see through wind farm interference. The cost of the £5 million project is expected to be picked up by the wind energy industry. Wind farm turbines create a Doppler effect as they turn, which shows up on radar screens. As the area and number of these wind farms has increased, the number of radar blackout zones has also risen. Aircraft passing through the area can disappear in the blackout and air traffic controllers can lose their exact position. The Royal Air Force is concerned that enemy bombers or other aircraft could hide behind interference from offshore wind farms and approach Britain undetected. [More>>timesonline.co.uk; See related story,

bbc.co.uk, May 21, "Wind farm 'kills Taiwanese goats' " : A large number of goats in Taiwan may have died of exhaustion because of noise from a wind farm. A farmer on an outlying island told the BBC he had lost more than 400 animals after eight giant wind turbines were installed close to his grazing land. The Council of Agriculture says it suspects that noise may have caused the goats' demise through lack of sleep. The power company, Taipower, has offered to pay for part of the costs of building a new farmhouse elsewhere. A spokesman for the company said the cause of the goats' deaths still needed to be investigated, but that it doubted the goats died from the noise. Before the wind farm was built about four years ago, farmer Kuo Jing-shan had about 700 goats...
---
5.25.09 'Iran sends 6 warships to international waters'
May 25 - Iran has sent six warships to international waters, including the Gulf of Aden, to display its ability to confront any foreign threats, its naval commander was quoted by a local news agency as saying on Monday. Admiral Habibollah Sayyari was quoted by the Iranian Student News Agency (ISNA) as announcing the dispatch of the vessels only five days after Iran test-fired a surface-to-surface missile with a range of 2,000 km.

The Islamic republic said that on May 14 it had sent two warships to the Gulf of Aden to protect oil tankers from the world's fifth-largest crude exporter against pirate attacks. It was not clear whether those two were of the six mentioned by the admiral on Monday. "Iran has dispatched six ... warships to international waters and the Gulf of Aden region in an historically unprecedented move by the Iranian Navy," Sayyari told a gathering of armed forces officials. He added that preserving Iran's territorial integrity in its southern waters called for the "perseverance and firmness" of the navy. [More>>jpost.com]
---
5.25.09 Watch: Palestinian official says two-state solution will destroy Israel
May 25 - The two-state solution will lead to Israel's collapse, the Palestinian Ambassador to Lebanon said in an interview earlier this month. "With the two-state solution, in my opinion, Israel will collapse, because if they get out of Jerusalem, what will become of all the talk about the Promised Land and the Chosen People?" Abbas Zaki told Lebanon's ANB TV on May 7. [More>>haaretz.com]
---
5.25.09 Britons 'March for England' against Islam
DUBAI, May 25 - Rally turns violent as mob chants "terrorists out" of UK. Nine people were arrested Sunday as a peaceful demonstration called "March for England" turned violent after hundreds of masked anti-Muslim protestors clashed with police and attacked an Asian man while chanting "terrorists out" of the United Kingdom. The protest in Luton, 51 kilometers (32 miles) north of London, was supposed to be a peaceful rally in retaliation against a protest at a welcome home parade two months ago in which a group of Muslims branded British soldiers returning from Iraq as "killers."

Chaos broke when around 500 protestors, many hiding their faces behind ski masks, ran away from police, who were escorting the rally, and began chanting "No Sharia Law in the UK." and "Respect our Troops." Some protesters wore masks with the horned face of Sayful Islam, a hardline Muslim activist in Luton. Officers on horseback and police dogs were deployed as well as a helicopter crew. A spokesman for the protesters, Wayne King, said people were angry that the Muslim community in Luton had not taken steps to deal with Sayful Islam's "hate-filled preachings," press reports quoted him as saying. [More>>alarabiya.net]
---
5.25.09 Explosion rocks Upper East Side in New York
NEW YORK, May 25 - An explosion outside a Starbucks on the Upper East Side of Manhattan sent frightened people running into the street early Monday. The explosion blew out the windows of a Starbucks coffeehouse at East 92nd Street and Third Avenue at 3:25 a.m., according to New York City Police Commissioner Ray Kelly. A "low-order improvised explosive device" exploded after being left on a wooden bench in front of the coffeehouse, Kelly said. The blast could be heard many blocks away, according to CNN affiliate WABC-TV of New York.

Seven people were briefly evacuated from the building above the Starbucks, Kelly said, but no one was injured. The interior of the Starbucks sustained no damage. It's too early to tell whether Monday's incident is connected to other minor explosions in New York City in recent years, including ones at the British and Mexican consulates and another in Times Square, Kelly said. He did note one immediate similarity between the detonations: All occurred at roughly the same time of night. He said the police would continue to analyze other similarities. [More>>cnn.com]
---
5.25.09 H1N1 flu spreads to Taiwan, Kuwait, Iceland - WHO
GENEVA (Reuters) May 25 - The World Health Organization said on Monday the H1N1 flu strain has spread to Taiwan, Kuwait, Iceland, Switzerland and Honduras, but with still few deaths outside of Mexico. In its latest tally, which tends to lag national reports but is considered more secure, the United Nations agency said its labs have confirmed 12,515 infections with the newly-discovered strain that has killed 91 people. Mexico remains the epicenter of the disease outbreak with 4,174 cases and 80 deaths. The other fatalities have been in the United States, where 9 people have died, and Costa Rica and Canada which have reported one death each. [More>>thestar.com.my]
---
5.24.09 US: Jerusalem's status subject to negotiation
May 24 - The US State Department said Sunday that the future status of Jerusalem would be determined through peace negotiations, despite Prime Minister Benjamin Netanyahu's declaration last week that the capital would "never again be partitioned and divided." "Jerusalem is a final status issue. Israel and the Palestinians have agreed to resolve its status during negotiations. We will support their efforts to reach agreements on all final status issues," a State Department spokesman said when asked to respond to Netanyahu's proclamation that Jerusalem would always remain under Israeli sovereignty. [More>>haartez.com; See related story, Maravot News 1.30.09, article 01.28.09 'Jerusalem division will lead to Iran base' and editorial note,"Solution in original documents creating Israel."See also "Philistia triumph thou because of me (Quote from Psalm 60.8), an outline of the contractual documents that created Israel and its neighboriing countries.]
---
5.24.09 Trilateral summit of Iranian, Afghan, Pakistani presidents calls for cooperation in region
TEHRAN, May 24 - The declaration issued by trilateral summit of Iranian, Afghan and Pakistani presidents held here Sunday called on the three neighbors to enhance security, political and economic cooperation in the region. Iranian President Mahmoud Ahmadinejad, Pakistani President Asef Ali Zardari and Afghan President Hamid Karzai met Sunday in the Iranian capital of Tehran to discuss regional issues. [More>>xinhuanet.com]
---
5.24.09 NATO soldier, civilian among dozen killed in Afghanistan
KABUL, May 24 - A NATO soldier was killed in a blast in southern Afghanistan, while elsewhere Afghan civilian was killed by a US-led airstrike and ten Taliban militants were killed in a clash with Afghan forces, officials said Sunday. The NATO-led International Security Assistance Force (ISAF) soldier was killed by a roadside bomb blast in southern region, ISAF said in a statement. It did not reveal his nationality, citing the alliance's policy, which does not do so until the national governments have been informed. A civilian died in a hospital in capital Kabul after being wounded by a US-led airstrike which was supporting an ISAF operation in south-eastern Paktia province, ISAF said in a separate statement. [More>>khaleejtimes.com]
---
5.24.09 At least 300 human skeletons found in Aligarh
ALIGARH, Pakistan, May 24 - Panic prevailed at the Aligarh railway colony when at least 300 human skulls, several bones and two skeletons were recovered from a pond near the mortuary. "Children while playing generally come here to get their ball. A child came here and saw a skull. He got scared and ran away. We then came here and saw that behind the jail there is not one but thousands of skulls here. Digging is being done and at least 200-300 skulls have been recovered.

Let's see how many more will be found. I believe the number can even reach 2000-3000," said Amit Shrivastav, a local. The skulls and bones surfaced as the pond dried up due to excessive heat. Police officials are yet to make a final statement as the investigation is still on. "We want all the investigation process to be completed and all the experts to analyze it, then only we can reach some conclusion," said Asim Arun, a police officer. [>thenews.com.pk]
---
5.24.09 Battle for a Taliban town of terror
May 24 - Initially welcomed, the mullahs controlled Mingora with burnings and beheadings. Now the Pakistani army is attempting to expel them. In a darkened room in Peshawar, far from prying eyes, a medical student from the Swat valley opens his laptop and begins a slideshow of terror. Over the past three years, the 22-year-old has secretly catalogued the horrors of life in Swat under the Taliban. The burning down of schools, bodies hanging upside down, public lashings and decapitated heads with dollars stuffed in their nostrils and notes reading, "This is what happens to spies," were all captured on his mobile phone at great personal risk.

"I'm training to be a doctor; our mission is to prolong life and in front of me are these people who care nothing for human life," he explained as, with each click of the mouse, he revealed more bodies in pools of blood. All the images were too gruesome to publish. It was the first detailed account from inside Mingora, the capital of Swat, where fierce fighting went on last night as Pakistani troops tried to drive out Taliban forces. Army spokesman Major-General Athar Abbas warned that the operation could be "painfully slow," because between 10,000 and 20,000 civilians are trapped there. The army's four-week Swat offensive has already sent 1.7m refugees flooding down to the plains. [More>>timesonline.co.uk; See related story,

thenews.com.pk, May 24, "10 more militants killed, 3 security men also martyred in Swat" :MINGORA: At least 10 militants were killed and 14 arrested during last 24 hours in the underway Swat operation. ISPR handout also confirmed the martyrdom of three security personnel wounded six during the operation. Security forces have retrieved several key-locations in the city here, which included Nawakali Chowk, Nishat Chowk, Sarafi Chowk, Gulshan Chowk, Green Chowk, Haji Baba Chowk and Sohrab Chowk.

ISPR said that the militants' bomb and explosive manufacturing factory was also impounded at Peuchar valley, while at Malamjabba in Swat area five militants were killed in clashes with the security forces. Matta and Khawazakhela were allowed curfew break from 9.00am to 4.00pm. Following [the] siege of Swat valley Peuchar, the forces have entered into the Peuchar village. [end]
---
5.24.09 Eight killed in suicide attack on US troops in Iraq
BAGHDAD (DPA) May 24 - Eight people were killed when a suicide bomber drove a car packed with explosives at a US patrol in the northern Iraqi city of Mosul on Sunday, but Iraq's Minister of National Security insisted the country was "90-percent secure." The explosion, which took place in the Mosul neighbourhood of al-Duwasa, also killed the bomber and wounded another 26 people, police told the German Press Agency dpa.

Police in Mosul, some 400 kilometers north of Baghdad, did not provide any further details, and the US military did not immediately make any public statement about the attack or whether any US soldiers had been hurt. Earlier on Sunday, in Hilla, about 100 kilometers south of Baghdad, a gunman shot a militiaman from a Sunni "Sahwa," or "Awakening" militia aligned with the government at a checkpoint he was manning, police there said. [More>>khaleejtimes.com]
---
5.24.09 43 more nations planning to have nuclear power plants
TOKYO, May 24 - Forty-three more nations, including some emerging countries, have plans to launch nuclear power programs in addition to the 31 economies that currently have atomic power plants, according to a recent report by the London-based World Nuclear Association. Nuclear power is drawing renewed attention because it hardly causes any greenhouse gases, while also reducing dependence on crude oil and natural gas, but such proliferation of nuclear power generation could pose challenges in establishing monitoring mechanisms, management of spent nuclear fuel, and nuclear non-proliferation, the group said. [More>>japantoday.com]
---
5.24.09 Spain's judges cross borders in rights cases
MADRID, May 24 - High-Ranking US Officials Among Targets of Inquiries. Spanish judges are boldly declaring their authority to prosecute high-ranking government officials in the United States, China and Israel, among other places, delighting human rights activists but enraging officials in the countries they target and triggering a political backlash in a nation uncomfortable acting as the world's conscience. Judges at Spain's National Court, acting on complaints filed by human rights groups, are pursuing 16 international investigations into suspected cases of torture, genocide and crimes against humanity, according to prosecutors. Among them are two probes of Bush administration officials for allegedly approving the use of torture on terrorism suspects, including prisoners at Guantanamo Bay, Cuba.

The judges have opened the cases by invoking a legal principle known as universal jurisdiction, which under Spanish law gives them the right to investigate serious human rights crimes anywhere in the world, even if there is no Spanish connection. International-law advocates have cheered the developments and called the judges heroes for daring to hold the world's superpowers accountable. But the proliferation of investigations has also prompted a backlash in Spain, where legislators and even some law enforcement officials have criticized the powerful judges for overreaching, as well as souring diplomatic relations with allies. [More>>washingtonpost.com]
---
5.23.09 If India phases out nukes, we're ready to follow suit: Pakistan
WASHINGTON, May 23 - Stating that Pakistan's nuclear weapon is a "deterrent" against India, the country's top diplomat to the US expressed willingness to enter into an agreement with New Delhi to phase out all atomic arms possessed by the two countries. Appearing on CNN to make a public appeal to the Americans to donate USD five each through cell phone for the refugees of Swat Valley, Pakistan Ambassador to the US Hussein Haqqani insisted that the nuclear weapons of his country are safe and there should be no concern about their security.

"Everybody in the US Government who knows anything about nuclear weapons knows that Pakistan has a very secure nuclear programme. It's a very limited nuclear programme to maintain deterrence vis-a-vis our neighbor," Haqqani told CNN in an interview. "At the same time, Pakistan is willing to engage with our neighbor for a comprehensive settlement in which the nuclear weapons can be phased out by both countries," he said. [More>>indianexpress.com]
---
5.23.09 Security forces storm into Mingora: ISPR
ISLAMABAD, Pakistan, May 23 - Security forces stormed into the main town in the Swat valley and fought street battles Saturday in a bid to capture the capital of the northwest district from militant control, the military said. The director general of the Inter Services Public Relations (ISPR), Major General Athar Abbas told a news conference that parts of Mingora had already been cleared and that 17 militants, including an important commander of Matta Usman, were killed during the most recent fighting of Pakistan's northwest offensive. He said another important commander; Khursheed Qasai has been arrested from Watta Kali area. The ground assault on Mingora, a city with an estimated population of around 300,000 — of whom many have fled — marks the most crucial part of the military's blistering offensive against militants in the scenic valley. [More>>thenews.com.pk; See related stories:

thenews.com.pk, May 23, "Suicide attackers among 7 arrested in Charsadda" : CHARSADDA - Police have arrested seven terrorists including three suicide attackers in a raid on a house in Sarwani area of Batgram in Charsadda. According to police, CIA and Peshawar police in a joint action carried out on a tip-off raided a house in Sarwani area and arrested seven persons including three with suicide jackets. Four of the arrested including a man named Qari Ahsan are masterminds of a terrorist network operating in Charsadda, said the police. The arrested have been shifted to an unknown place where they are being interrogated. [end]

independent.co.uk, May 23, "Death toll hits seven in Pakistan blast near cinema" : The death toll in a car bombing near a Pakistani movie theater climbed overnight to seven, police said today, as the military surrounded Taliban strongholds elsewhere in the northwest region bordering Afghanistan. The attack yesterday in the main northwestern city of Peshawar also wounded 80 people, police official Farid Ullah said Entertainment venues have been frequent targets of militants, many of whom deem such places un-Islamic. Less than a week before in Peshawar, two bombs destroyed an Internet cafe and wrecked a bus carrying handicapped children, killing at least 11 people. The attacks came as Taliban in the nearby Swat Valley tried to resist an army operation that has gained praise from the US, which has long pressed the country to eliminate Taliban and al-Qaeda sanctuaries along its northwest...
---
5.23.09 Two Americans killed in Bagthdad's Green Zone
BAGHDAD, May 23 - Two Americans were killed in Baghdad's heavily fortified Green Zone, one in a rocket attack and the other under mysterious circumstances, officials in Iraq said. An American man was found bound, blindfolded and fatally stabbed in a car Friday in the district, formally known as the International Zone, Iraqi security forces said Saturday... Also, an American civilian was killed when a rocket landed in the zone on Friday night, the US military said on Saturday. The civilian was a Defense Department employee, and the rocket landed north of the US Embassy. A witness told CNN the rocket struck a trailer and that the civilian was preparing to leave Iraq next week. In January, the US military handed over security of the International Zone to Iraqi security forces. [Full story>>cnn.com]
---
5.23.09 Seven arrested in connection with Cairo blast
CAIRO (AP) May 24 - The Egyptian Interior Ministry says it has arrested seven people from an al-Qaeda-linked group that carried out an attack in February on a famed Cairo bazaar, killing a French teenager. In a statement released Saturday, the ministry identified the group as the Palestinian Islamic Army. The group is led by two Egyptians who have yet to [be] caught, and they received their orders from the Gaza Strip, added the statement. The arrested include 2 Palestinians, 2 Egyptians, a British-Egyptian, a Belgian-Tunisian and a French-Albanian. The statement says the group was looking to target other tourist sites in Egypt and oil reserves in the Siwa Oasis, 385 miles (610 kilometers) west of Cairo. [>thejakartapost.com; See more details, khaleejtimes.com, May 23, "Egypt arrests Qaeda cell over deadly bombing."]
---
5.23.09 'International tribunal has evidence linking Hariri murder to Hizbullah'
May 23 - A United Nations-backed tribunal has reached a breakthrough in the investigation of the 2005 murder of former Lebanese prime minister Rafik Hariri, according to a report published on the online edition of Der Spiegel on Saturday. According to the report, the special international body put together to investigate the murder has found substantial evidence linking the bomb which killed Hariri and 23 others to Hizbullah.

Der Spiegel quoted unnamed sources close to the investigation as explaining that the case had been "cracked" using technology which sifted through lists of cell phones used in and around the area of Beirut in which Hariri was killed. Six phone numbers, according to the report, were used leading up to the attack, and fell out of usage directly afterwards. The source said that these phones were used by the Hizbullah cell which carried out the attack. According to Der Spiegel's source, the network was uncovered due to a faux pas on the part of one of the terrorists, who used a "hot" phone to call his girlfriend. [More>>jpost.com]
---
5.23.09 Failed bank, ex-managers ordered to pay damages to former shareholders
KANAZAWA, Japan, May 23 - The Kanazawa District Court ordered a failed provincial bank and its 11 former managers Friday to pay nearly 3.9 billion yen in damages as demanded by around 370 former shareholders who argued that they were misled into buying shares when the bank was close to bankruptcy. The 11 former managers include Shigeru Takagi, 73, former president of failed Ishikawa Bank, who was convicted on charges of aggravated breach of trust under the Commercial Code in February 2008 for causing losses to the bank by extending loans to a golf links operator while knowing that they would not be recovered. [More>>japantoday.com]
---
5.23.09 Two islands sink in Bengkulu, Indonesia
JAKARTA, Indonesia, May 23 - Two uninhabited Bangkai and Satu islands of Enggano archipelago of North Bengkulu have sunk due to abrasion, tempointeraktif.com reported Saturday. Enggano's custom head M. Rafli Zen said that illegal logging was a cause for those islands to disappear from the lands. "Many fishermen outside Enggano cut down the trees as they like. They do not realize that the trees provide natural resources for locals as well as prevent the islands from abrasion," M. Rafli said. He said that many fishermen were using artificial bombs to net fishes thereby destroying corals in the islands. [More>>thejakartapost.com]
---
5.21.09 Fake colleges let Pakistani suspects into Britain
LONDON (AFP) May 21 - Pakistani fraudsters set up a network of fake colleges which helped thousands of Pakistani nationals enter Britain on student visas, the Times reported on Thursday. The students at 11 bogus colleges included eight of the 10 suspects arrested last month in a terror probe in northwest England, the newspaper said. It reported that one college sold hundreds of places to men from Pakistan's North West Frontier Province, where fighting is raging between Taliban militants and the Pakistani army. The three Pakistani businessmen operating the scam charged at least 1,000 pounds (1,150 euros, 1,600 dollars) for admission places after creating a fictional university to issue degrees, the Times said.

One of the businessmen has been linked to two murders in Pakistan, it said, adding that the man was arrested on Wednesday, after the Times gave the Home Office a dossier implicating two of the colleges. The Times said the scam exploited lax controls on student visas in Britain which are being tightened in the wake of the Pakistanis' terror probe arrests last month. British Prime Minister Gordon Brown said the arrests were linked to a 'major terrorist plot.' None of the men were eventually charged with a criminal offence, but they face deportation. The newspaper said eight of the suspects enrolled for 11 months at the Manchester College of Professional Studies, which issued hundreds of diplomas and degrees and stated that students had impeccable attendance records.

In reality, the college, set up in 2006, was a "front that provided cover for students to do whatever they wanted in Britain,"  the Times said. Its founders claimed it was linked to 'Greenford University' and 'Blackpool University' in Dublin. Neither university exists. Nevertheless the "universities" accredited the Manchester college with an array of undergraduate and postgraduate honours courses which the small three-classroom college was incapable of teaching, the Times said. At one point, the Manchester college had 1,797 students on its books. Immigration Minister Phil Woolas told the Times that the information it had provided "has been passed on to the UK Border Agency, which is investigating." [>khaleejtimes.com; See also timesonline.co.uk, May 21, "Sham colleges open doors to Pakistani terror suspects."]
---
5.21.09 Police say suspects in NY bomb plot acted alone
May 21 - The four men arrested Wednesday night in what the authorities said was a plot to bomb two synagogues in the Bronx and shoot down military planes at an Air National Guard base in Newburgh, N.Y. were petty criminals who appeared to be acting alone, not in concert with any terrorist organization, the New York City police commissioner said Thursday.

The men were arrested in an elaborate sting operation at around 9 p.m. on Wednesday after planting what they believed to be bombs in cars outside the Riverdale Temple, a Reform synagogue, and the nearby Riverdale Jewish Center, an Orthodox synagogue. Once the explosives were planted, the men planned to detonate them remotely and drive to the National Guard base to shoot down military aircraft with a Stinger surface-to-air guided missile. The men did not know that the bombs, obtained with the help of an informant for the Federal Bureau of Investigation, were fake, and that the missile was incapable of being fired.

In a news conference at the Riverdale Jewish Center, one of the two synagogues said to be the targets of the plot, the commissioner, Raymond W. Kelly, offered new details about the four defendants — James Cromitie, David Williams, Onta Williams and Laguerre Payen — all of whom are to arraigned in Federal District Court in White Plains, N.Y., later Thursday morning....The four men arrested are all Muslim, a law enforcement official said. Mr. Cromitie, whose parents had lived in Afghanistan before his birth, had told the informant that he was upset about the war in Afghanistan and that that he wanted to do "something to America."

...The shadowy figure of the F.B.I. informant is, in many ways, a driving force of the plot laid out by prosecutors. The informant, who has been cooperating with the F.B.I. for the past six years, first met with Mr. Cromitie at the Masjid al-Ikhlas, a mosque in Newburgh, in June 2008. At that time, Mr. Cromitie told the informant that he was interested in returning to Afghanistan. Mr. Cromitie spoke about how, if he were to die a martyr, he would go to paradise, the complaint said.
A month later, the informant lied to Mr. Cromitie, telling him that he was a member of Jaish al-Mohammed, a terrorist organization based in Pakistan. Mr. Cromitie said he would be interested in joining up "to do jihad." The informant, who audio and video taped many of his meetings with the defendants, later told them that the surface-to-air missiles and explosives were provided by the terrorist group. [Full story>>nytimes.com]
---
5.21.09 Obama: No "easy answer" on Gitmo detainees
WASHINGTON, May 21 - President argues he has been forced to deal with "misguided experiment" as Cheney criticizes his policies and defends record. President Barack Obama forcefully defended his decision to close the Guantanamo detention camp Thursday and said some of the terror suspects held there would be brought to top-security prisons in the United States despite fierce opposition in Congress.

He insisted the transfer would not endanger Americans and promised to work with lawmakers to develop a system for holding detainees who can't be tried and can't be turned loose from the Navy-run prison in Cuba. He spoke one day after the Senate voted resoundingly to deny him money to close the prison. "There are no neat or easy answers here," Mr. Obama said in a speech in which he pledged anew to clean up what he said was "quite simply a mess" at Guantanamo that he had inherited from the Bush administration. [More>>cbsnews.com]
---
5.21.09 Pakistanis in Swat town fend off Taliban
PESHAWAR, Pakistan, May 21 - Armed residents confronted a group of Taliban fighters and foiled their attempt to sneak into a town in Pakistan's Swat Valley, the focus of a major military offensive against the insurgency, an official said Thursday. The attempted infiltration in Kalam indicated militants are feeling pinched by the army and are seeking new shelter, while the rare local resistance Wednesday suggested growing public confidence in an anti-Taliban operation supported by the United States. Deputy Mayor Shamshad Haqqai told The Associated Press about 50 Taliban fighters tried to enter his town, but that armed residents quickly gathered to fight them off. They captured eight militants amid a shootout and were expecting another attack, Haqqai said. [More>>japantoday.com]
---
5.21.09 Roadside bomb kills 5, injures 25 in Dera Ismail Khan
DERA ISMAIL KHAN, Pakistan, May 21 - At least five people were killed and 25 others injured when a roadside went off near Jandola Bazaar here on Thursday. According to reports, several shops and vehicles were completely destroyed in the blast. Following the blast, security forces cordoned off the area, while the dead and inured were being shifted to nearby hospitals. [>thenews.com.pk]
---
5.21.09 Violence spikes in Iraq, 60 killed
BAGHDAD (AFP) May 21 - Iraq has been engulfed by a wave of violence, with suicide and bomb attacks killing 23 people after a massive bomb devastated a Baghdad Shiite neighbourhood slaughtering 40 civilians yesterday, The main target of the attacks was Baghdad, where a suicide bomber detonated his explosives in a crowded market in southern Dora neighbourhood, killing at least 12 people and wounding 25, security officials said. The bomber targeted a US patrol that was passing through a popular Assyrian market in the confessionally mixed neighbourhood, officials from the interior and defence ministry said.

The market attack came soon after a bomb exploded in a rubbish bin inside a Baghdad police station, killing three policeman and injuring 20, among then 12 officers and eight civilians, officials said. The day began on a bloody note when a suicide bomber killed eight members of an anti-Qaeda militia in the tense northern city Kirkuk as they were gathering to receive their salaries, police said. The attacks in two of Iraq's largest urban centres come as the US military prepares to decamp from the nation's cities and towns by June 30 and ahead of a complete withdrawal by the end of 2011. [More>>news.com.au; See related story,

khaleejtimes.com (Reuters) May 21, "Iraq bombs kill 22, including 3 US soldiers" : Suicide bombers killed at least 22 people, including three U.S. soldiers, in the Iraqi capital and the northern city of Kirkuk on Thursday, officials said. The soldiers died when a suicide bomber struck at a crowded market in Baghdad's southern district of Doura...
---
5.21.09 Netanyahu vows Jerusalem will never be divided again
May 21 - Prime Minister Benjamin Netanyahu vowed Thursday that all of Jerusalem would always remain under Israeli sovereignty, in comments likely to spark consternation among Palestinians who hope to make the city the capital of a future state. "United Jerusalem is Israel's capital. Jerusalem was always ours and will always be ours. It will never again be partitioned and divided," Netanyahu said at a state ceremony to mark Jerusalem Day.

Netanyahu said he had made the same declaration during his recent visit to Washington, where he met with United States President Barack Obama over the peace process and Iran's nuclear program. Jerusalem Day celebrates the conquest of the city during the 1967 Six Day War, before which Jordan controlled east Jerusalem, while Israel had the western section. Shortly after the war, Israel annexed east Jerusalem.

"Only under Israeli sovereignty will united Jerusalem ensure the freedom of religion and freedom of access for the three religions to the holy places,"Netanyahu added...Peres stressed that Jerusalem was and remained Israel's capital, and spoke of the days before the Six Day war when Jews had limited access to the Old City. "When Jerusalem was in non-Jewish hands, the Jews weren't allowed to pray at the holy sites; but under Jewish control, it is open to all faiths, and all prayers," he said. [More>>haaretz.com]
---
5.21.09 Poland to host Patriot missiles, US troops by yearend
WARSAW (RIA Novosti) May 21 - US Patriot air defense missiles and over 100 US personnel will be deployed in Poland by the end of this year despite Russia's objections, Poland's deputy defense minister has said. Polish Foreign Minister Radoslaw Sikorski said in February that a battery of US-manned Patriot systems would be placed in Poland, regardless of whether plans for a US missile defense base in the country go ahead or not. "This will be the first time US soldiers are stationed on Polish soil, other than those who come under NATO control, on exercises for example. . . This will be symbolic for Poland," Stanislaw Komorowski said in an interview published by the Financial Times on Thursday. [>en.rian.ru]
---
5.20.09 Iran: We successfully fired missile that can hit Israel
May 20 - Iranian President Mahmoud Ahmadinejad announced Wednesday that Iran has successfully test-fired a new advanced missile with a range of about 1,200 miles, far enough to strike Israel and southeastern Europe as well as US bases in the Gulf. US sources later confirmed the test, adding that the administration was looking into its range as well as other data. The solid-fuel Sajil-2 surface-to-surface missile is a new version of the Sajjil missile, which Iran said it had successfully tested late last year with a similar range. [More>>haaretz.com; See also mehrnews.com, May 20, "Iran successfully test-fires Sejil-2 missile."]
---
5.20.09 Pakistan troops capture key Taliban stronghold, 80 militants killed
ISLAMABAD, Pakistan, May 20 - Pakistani troops secured a key Taliban stronghold killing at least 80 militants in fierce fighting as they engaged the insurgents in street battles in towns and villages in the troubled northwestern Swat valley and nearby areas today. Security forces occupied Sultanwas village in Buner district, which had been taken over by the Taliban last month, after ferocious skirmishes last night. At least 80 militants and one soldier were killed in the fighting while nine security personnel were injured. The capture of Sultanwas was significant as the Taliban occupied the village after crushing resistance offered by local residents by mounting a suicide attack, chief military spokesman Maj. Gen. Athar Abbas told a news briefing.

The troops destroyed six vehicles being used by militants and defused improvised explosive devices while advancing into Sultanwas. The Taliban had built concrete bunkers underground and around houses in the village and were also using the uniforms and vehicles of an elite police force, Abbas said. Troops were also engaging militants in several parts of Swat, including the remote Peochar valley where local Taliban commander Maulana Fazlullah and his fighters are believed to be hiding. Security forces are conducting search and destroy operations in Peochar, Abbas said. Army Chief Gen. Ashfaq Parvez Kayani reviewed the progress of the military operation at a high-level meet. [>timesofindia.indiatimes.com; See other details
khaleejtimes.com, May 20, "Pakistani army says captures Taliban stronghold" :...President Asif Ali Zardari told the Sunday Times that Swat was just the beginning and the army would next move against militants in the Waziristan region on the Afghan border.
---
5.20.09 Arms given by US to Afghan forces may be leaking to Taliban
KABUL, Afghanistan, May 20 - Insurgents in Afghanistan, fighting from some of the poorest and most remote regions on earth, have managed for years to maintain an intensive guerrilla war against materially superior American and Afghan forces. Arms and ordnance collected from dead insurgents hint at one possible reason: Of 30 rifle magazines recently taken from insurgents' corpses, at least 17 contained cartridges, or rounds, identical to ammunition the United States had provided to Afghan government forces, according to an examination of ammunition markings by The New York Times and interviews with American officers and arms dealers. The presence of this ammunition among the dead in the Korangal Valley, an area of often fierce fighting near Afghanistan's border with Pakistan, strongly suggests that munitions procured by the Pentagon have leaked from Afghan forces for use against American troops. [More>>nytimes.com]
---
5.20.09 Too much cola 'leads to muscle and heart problems'
May 20 - Experts have issued a warning against drinking large quantities of cola, saying it could lead to muscle problems, an irregular heartbeat and bone weakness. The number of cola-lovers suffering health issues is on the rise, they said, adding there had been a food industry push towards an "increase in portion sizes." As well as tooth decay, diabetes and "softening" of the bones, doctors have seen patients suffering from hypokalaemia — where potassium levels in the blood drop too low. This can increase the risk of muscle problems and heart rhythm abnormalities, which could prove fatal in some cases.

"We are consuming more soft drinks than ever before and a number of health issues have already been identified including tooth problems, bone demineralization and the development of metabolic syndrome and diabetes," said Dr. Moses Elisaf from the University of Ioannina in Greece, who led an academic review of the issue. "Evidence is increasing to suggest that excessive cola consumption can also lead to hypokalaemia, in which the blood potassium levels fall, causing an adverse effect on vital muscle functions." [More>>independent.co.uk]
---
5.19.09 British economy sinks further into deflation
May 19 - Britain sank deeper into deflation this morning as the Retail Prices Index (RPI) measure of inflation shrank to -1.2 per cent in April. The fall in the RPI measure for April, which is used for workers' wage settlements and includes housing costs such as rent and mortgage payments, was larger than expected — down from — 0.4 per cent in March and marks the steepest decline since records began in 1948. Today's figure has raised fears that increasing numbers of workers could be in line for pay freezes or cuts in the coming months.

The sharp fall in mortgage interest payments after the recent cuts in the interest rate, which currently stands at a record low of 05 percent, and declining house price dragged down RPI inflation. Excluding mortgage payments, RPI inflation fell from 2.2 per cent to 1.7 percent, figures from the Office for National Statistics show. The Bank of England's target measure of inflation, the narrower Consumer Prices Index (CPI), fell more steeply than forecast from 2.9 percent in March to 2.3 percent due to declines in household energy bills and the cost of food, but analysts said it is being propped up to some extent by the weakness of sterling. [More>>timesonline.co.uk]
---
5.19.09 Senate passes bill to restrict credit-card practices
WASHINGTON, May 19 - The Senate voted overwhelmingly on Tuesday to put new restrictions on the credit card industry, passing a bill whose backers say will make card-issuers spell out their terms in fewer words, using plain English, and treat customers more fairly. The 90-5 vote, following a 357-to-70 vote in the House on April 30, made it likely that President Obama will have a measure on his desk before the Memorial Day recess. The differences between the House and Senate versions will have to be worked out, but given the political atmosphere it seems likely that the House-Senate negotiations will move quickly.

"This bill cleans up the fine print so consumers can't get blind-sided by their credit card companies," Senator Harry Reid of Nevada, the Democratic majority leader, said recently in urging passage. "This bill will not only level the playing field and keep the rules consistent from beginning to end, and it can also save families thousands of dollars a year." The industry has asserted that the legislation may backfire, forcing banks to issue fewer credit cards at greater cost to the current cardholders and making credit harder to get at a time when many Americans need it. But the tide has been running against the banking and credit card industry, with many consumers mired in debt and the public angered by the bailout of financial firms. [More>>nytimes.com]
---
5.19.09 Obama heralds new fuel, emission standards
WASHINGTON, May 19 - President Announces National 35.5 MPG Efficiency Standard, Pollution Reduction Plan; Vehicles Will Cost $1,300 More. Stating that "the status quo is no longer acceptable," President Barack Obama on Tuesday announced a new fuel and emission standard that he says will, at last, put the United States on the road to a cleaner environment and better fuel efficiency. The plan creates the first-ever national emissions limits for vehicles and sets the overall or industry average fuel efficiency standard at 35.5 miles per gallon, an increase of more than 8 miles per gallon per vehicle.

It is aimed at saving billions of barrels of oil, although it also is expected to cost consumers an additional $1,300 per vehicle by 2016. "We will save 1.8 billion barrels of oil over the lifetime of the vehicles sold in the next five years," the president said. "Just to give you a sense of magnitude, that's more oil than we imported last year from Saudi Arabia, Venezuela, Libya, and Nigeria combined." [More>>cbsnews.com]
---
5.19.09 Baltic Sea dying, coastal states must act: Finnish PM
HELSINKI, Finland (Reuters) May 19 - Pollution is killing the Baltic Sea and coastal states must mount an urgent salvage operation, Finnish Prime Minister Matti Vanhanen said on Tuesday. "The state of the sea is alarming," Vanhanen told a meeting of the 47-nation Council of Europe parliamentary assembly in Helsinki. "It is, in fact, suffering a slow death — unless we do something, fast. There is a vicious circle that we need to break. We must join forces in a joint salvage operation of the Baltic." The Baltic has suffered from decades of pollution, largely from the former Soviet Union. Rivers still bring in chemical pollutants, including from agriculture, that cause blooms of algae that choke marine life. [More>>khaleejtimes.com]
---
5.19.09 Gaza rocket devastates Negev home, lightly wounds man
May 19 - A Qassam rocket fired by Palestinian militants in the Gaza Strip exploded in the yard of a home in the Western Negev town of Sderot on Tuesday, causing extensive damage to the building and lightly wounding one person. The rocket was the first to hit the region more than a week of relative calm. The casualty was taken to hospital with light shrapnel wounds and a number of other people were treated for shock. Two days before the previous rocket on May 10, a Hamas official told reporters that the group was considering declaring a long-term ceasefire with Israel. Another Hamas official later denied the report, though said talks on a cease-fire could resume soon. That report came amid a series of mortar shell and rocket strikes on Israel, despite Hamas' declaration that its militants had ceased to take part in cross-border attacks. [>haaretz.com]
---
5.19.09 Atlantis bids Hubble final farewell
CAPE CANAVERAL, Florida, May 19 - Atlantis' astronauts tenderly dropped the Hubble Space Telescope overboard Tuesday, sending the restored observatory off on a new voyage of discovery and saying good bye on behalf of the planet. Hubble — considered better than new following five days of repairs and upgrades — will never be seen up close by humans again. This was NASA's last service call. Over the course of five back-to-back spacewalks, the Atlantis astronauts equipped Hubble with a powerful new $132 million camera, a new $88 million spectrograph, six new stabilizing gyroscopes, six fresh batteries, a refurbished fine guidance sensor and a new science data computer, reports CBS News space adviser Bill Harwood. The astronauts also pulled off two unprecedented repairs, bringing another camera and an imaging spectrograph back to life after failures in 2004 and 2007. Hubble is now more scientifically powerful than at any point since launch in 1990 and with new gyros and batteries, it should remain operational for at least five more years and possibly more, reports Harwood. [More>>cbsnews.com]
---
5.19.09 Mexico detains 6 assassins allegedly run by police
TUXTLA GUTIERREZ, Mexico, May 19 - Police in southern Mexico said Monday they arrested a gang of at least six drug cartel assassins, including two alleged hit women, who were allegedly commanded by top police officers. The police chief, two commanders and a former public safety director in the city of Tapachula, near the Guatemala border, were also detained on suspicion of leading the hit gang. The suspects allegedly worked for the Zetas, a gang of enforcers linked to the Gulf cartel. Police and soldiers seized dozens of grenades and assault rifles during the weekend raid in which the alleged assassins were captured, state prosecutors said. The arrests came as drug corruption scandals blossomed across Mexico — in states far from the US border region, where the drug battles have long been concentrated.

..The senator accused the Zacatecas government of being completely infiltrated by traffickers, and said he has resigned from the leftist Democratic Revolution Party, which governs the state, to protest what he called a smear campaign against him. Government officials did not immediately respond to requests for comment. Zacatecas is the same state where armed men staged a bold raid on a prison over the weekend that freed 53 suspects, dozens of them linked to the Gulf cartel. Gov. Amalia Garcia said Saturday that prison guards were likely complicit. [Full story>>japantoday.com; See related story,

cnn.com, May 19, "Torture a hallmark of Phoenix's drug kidnappings" : ...After beating and binding Andrade, one of the kidnappers put a gun to Valencia's head. His message: We're taking your husband and SUV. We'll be watching your house. If you call the cops, he's a dead man. Andrade, his wife would later tell police, was a mechanic and freelance human smuggler, or coyote. Police say his 2006 kidnapping was evidence of a growing trend in Phoenix: drug and human traffickers abducting each other for ransoms or retribution.

The trend continues, as police investigated roughly a kidnapping a day in 2007 and 2008 and are on track to shatter those numbers this year. Police are stingy with details of fresh cases navigating the court system, but recently allowed CNN to review the files from Andrade's kidnapping. For two and a half days after Andrade's abduction, the kidnappers — including a man whom Andrade later said had been a friend — deprived their victim of food and water. Through the door of the closet where he was held, Andrade could hear the cries of other victims being tortured in the house, the report said...
---
5.19.09 Three civilians among 10 killed in Afghan violence
KABUL, Afghanistan, May 19 - Militants killed three construction workers in an attack early Tuesday in southwestern Afghanistan, authorities said, as Afghan and US troops said they killed seven insurgents in a Taliban stronghold. The civilians were killed when their office in the remote province of Nimroz was attacked by rebels, the interior ministry said. Two other workers were wounded, it added in a statement. The ministry blamed the attack on "the enemies of peace and stability," a term it uses to refer to Taliban and other militants. Also Tuesday, Afghan commandos helped by their counterparts in the US-led military coalition killed seven militants in the southern province of Helmand, a hub for the rebels, the military announced separately.

The militants were killed in a clash that erupted while troops searched the troubled Nad Ali district, a major opium production centre. The dead included "two would-be suicide bombers," a military statement said. "The bombers, who were wearing suicide vests, were approaching friendly elements during the firefight. The friendly forces shot one of the men, causing his suicide vest to detonate. Both bombers died in the blast," it said. The rest of the fighters were killed in an air strike called in by the soldiers, the statement said. [>thenews.com.pk; See related story, thenews.com.pk, May 19, "Afghan Taliban helping extremists in Pakistan: ISPR."]
---
5.19.09 Lankan army releases image of Prabhakaran's corpse
COLOMBO, Sri Lanka, May 19 - Sri Lankan army recovered the body of slain Tamil Tiger supremo Velupillai Prabhakaran on Tuesday and splashed its images on the national television after LTTE claimed that he was alive and that the group would continue to fight for a separate homeland. "Prabhakaran's body was found near Nandikadal lagoon (in the No Fire Zone)," Army Chief Gen. Sarath Fonseka said in a televised address just an hour after LTTE raised questions over his death with its new international spokesman S Pathmanathan saying Prabhakaran was alive and safe.

The images of the body aired by the television showed Prabhakaran in full battle fatigues with the bullet hole on the temple with his head resting on a newspaper. Prabhakaran's face was intact with eyes wide open and the image bore a close resemblance to the stocky moustached rebel leader. The TV also showed his dog tag and a LTTE identity card bearing his number 0-01. [More>>indianexpress.com]
---
5.18.09 LTTE chief Prabhakaran shot dead by Lankan forces
COLOMBO, May 18 - LTTE Supremo Velupillai Prabhakaran, who led a ruthless movement for a Tamil Eelam in Sri Lanka that decimated a score of Sinhalese and Tamil leaders and former Prime Minister Rajiv Gandhi, was killed on Monday by the army bringing curtains on the 30-year-old war that has claimed over 70,000 lives. Prabhakaran was shot dead by Sri Lankan special forces as he tried to stage a dramatic breakout from the army encirclement, a military spokesman said.

The news of Prabhakaran's death also came along with reports of bodies of his son Charles Anthony and three other top leaders — Pottu Amman, Soosai and Nadesan being found. Prabhakaran and his top aides were driving in an armor-plated van accompanied by a clutch of rebels in a bus and approaching the Special Forces. A two-hour exchange of fire followed and the forces fired a rocket at the van brining an end to the battle, army sources said.

..The killing of Prabhakaran came as officials confirmed that more than 220 frontline rebel cadres, including his elder son Charles Anthony, LTTE political head Balasingham Nadesan and LTTE peace Secretariat chief S Pulidevan had been killed in fierce battles in the last 12 hours. The other top LTTE leaders slain include Black Tigers' chief Ramesh, Tigers' police wing chief Ilango and senior leaders Sundaram and Kapil Amman. [Full story>>indianexpress.com]
---
5.18.09 Secret of Komodo dragon's bite unlocked by scientists
May 18 - The huge carnivorous Komodo dragon isn't just the largest living lizard, it also packs the biggest poisonous punch of any creature. What's more, new research shows that the mega-meat eater probably inherited its "biggest" and "most venomous" mantle from its extinct Australian ancestor, the 7m-long dragon, Megalania, The Australian reports. Adult male Komodo dragons weigh in at about 100kg and exceed 3m in length. A typical meal weighs 30-40kg. Deer are common prey. While humans seldom fall victim to Komodo dragons, earlier this year a dragon stalked a poacher for several days and then, with a companion, waited for the man, caught, killed and ate him.

"They're the cleverest of all lizards. They're very smart," said Melbourne University venom researcher Bryan Fry, head of the international team that reports on the lizard's weaponry today in the US journal Proceedings of the National Academy of Sciences...Dr. Fry's team found the lizard uses sharp, serrated teeth to open gaping wounds in its prey into which the venom easily flows. The wounds naturally bleed profusely while compounds in the venom increase blood flow and reduce blood pressure, inducing shock in the victim. [Full story>>news.com.au]
---
5.18.09 Iraq releases 'al-Baghdadi tape'
May 18 - Iraqi authorities have released a video they says shows the interrogation of Abu Omar al-Baghdadi, the purported leader of al-Qaeda in Iraq. Major General Qasim Atta, the spokesman for Baghdad's security operations, showed at a news conference on Monday the footage of a man explaining to interrogators how al-Qaeda financed its activities in Iraq. Police announced on April 23 that they had arrested al-Baghdadi in the Iraqi capital and several days later released photographs of a middle-aged man with dark skin and a close-cropped beard and moustache. But the Islamic State of Iraq, an umbrella organization of anti-government groups, denied that he had been captured and websites carried an audio message said to be from al-Baghdadi. [More>>aljazeera.net]
---
5.17.09 From Iron Curtain to Green Belt: How new life came to the death strip
May 17 - Thanks to German conservationists, the Cold War dividing line between East and West has become a haven for wildlife. A teenage twitcher and a small buff-coloured songbird called the whinchat were the keys that turned the Iron Curtain's landscape of barbed wire, mined death strips and Kalashnikov-toting border guards into what is probably the most enduring green success story in Europe since the Cold War. Two decades after its fall, the border between East and West Germany has already become Europe's biggest nature reserve: an 858-mile "ecological treasure trove", no longer the Iron Curtain but the Green Belt, and home to more than 600 rare and endangered species of birds, mammals, plants and insects.
But when its creators mark its 20th birthday this year, they will also be celebrating the fact that 23 European countries are currently engaged in a project to make it nearly five times as long. "The aim is to turn the Iron Curtain's entire 4,250-mile length — extending from the Arctic to the Black Sea — into what is already being called the 'Central European Green Belt'," says Dr Kai Frobel, a German ornithologist and conservationist. He was the man who started it all back in 1970s. In those days, it seemed impossible that the Berlin Wall might one day fall or that the Soviet empire could crumble. But that was almost irrelevant to Frobel, now a leading member of the German nature protection group, Bund, but then a teenager from the West German village of Hassenberg, which stood nearly in the Iron Curtain's shadow. [More>>independent.co.uk]
---
5.17.09 Kuwait women enter parliament, Islamists lose ground
KUWAIT (Reuters) May 17 - Women won four seats in Kuwait's parliament, a first for the Gulf Arab state, in an election that also saw liberals and Shi'ites claw five seats away from Sunni Islamists who have long dominated the 50-seat assembly. The gains at the expense of Islamists, who have led parliamentary opposition to the government's economic reform efforts and who are allied to conservative tribal figures who won 25 seats, may not be enough to end the long-running tussle.

"The results of the elections were a surprise for all but many of the 'deadlock' MPs returned, especially from the tribal areas. It remains to be seen how the government will deal with economic reforms," political analyst Shamlan al-Eissa said. Kuwait's ruler, Sheikh Sabah al-Ahmad al-Sabah, called the election after dissolving the assembly two months ago to end the standoff between parliament and the government, which is heavily influenced by the ruling family. [More>>thestar.com.my]
---
5.17.09 Thousands of Turks march in anti-government protest
ANKARA, Turkey, May 17 - Turks rally in support of secular system. Thousands of anti-government protesters marched in Turkey's capital on Sunday, calling on Prime Minister Recep Tayyip Erdogan to resign for what they say are violations of the country's secular principles. Turkish television channels put the number of demonstrators at 100,000. "Turkey is secular and will remain secular," chanted the marchers who gathered in a city center square under the watch of thousands of police officers.

Hardline secularists claiming to be the inheritors of the line laid down by Mustafa Kamal Ataturk (1881-1938), founder of the Turkish republic, and religious conservatives have struggled for power and influence for decades. Sunday's demonstration was organized by the Kamalist Thought Association, a group which defends the founder's legacy of a modern, secular Turkey. [More>>alarabiya.net]
---
5.17.09 Tamil Tigers offer to 'silence our guns' in Sri Lanka conflict
May 17 - The Tamil Tiger rebels in Sri Lanka said Sunday they have "decided to silence our guns" as government forces closed in on their last stronghold. It is not the first time the rebels have called for an end to fighting when backed into a corner by the Sri Lankan military. But should they follow through on their announcement, the decision would potentially end a bloody 25-year civil war in the country. "This battle has reached its bitter end," Selvarasa Pathmanathan, a spokesman for the rebels said in an "urgent statement" posted Sunday on Tamilnet.com, a pro-rebel Web site. [More>>cnn.com; See related stories:
timesofindia.indiatimes.com, May 17, " No sign of Prabhakaran's body, says Sri Lanka" : COLUMBO - Sri Lanka's defense ministry said on Sunday its advancing troops had found no trace of defeated Tamil Tiger leader Velupillai Prabhakaran, although the bodies of two mid-ranking rebels were recovered. Spokesman Lakshman Hulugalle said the military had not found Prabhakaran dead or alive during their offensive and dismissed a flurry of rumors about the fate of the 54-year-old veteran guerrilla leader. "We have no information about Prabhakaran," Hulugalle said.

A military official said the bodies of two mid-level Tiger leaders were identified after a shoot out Sunday while a search for Prabhakaran was under way. Military spokesman Brigadier Udaya Nanayakkara said the security forces were yet to come across Prabhakaran and his top aides, including intelligence chief Pottu Amman and Colonel Soosai, the head of the Sea Tiger unit. "We have still not come across Prabhakaran and his senior leaders," Nanayakkara told reporters here. "We believe they are still in this land. We hope to meet them soon."

Military sources said that Prabhakaran was known to have two body doubles as part of his tight security. The Tiger leader has never been arrested since he jumped bail in neighboring India in the early 1980s. He is known for wearing a cyanide capsule around his neck with which to commit suicide to prevent being taken alive. The cyanide is a standard part of the Tigers' uniform. [end]

news.com.au, May 17, "Fate of Sri Lankan rebel chief Velupillai Prabhakaran a mystery" : Sri Lanka is gripped by rumors about the fate of Tamil Tiger chief Velupillai Prabhakaran, who is said to either have been killed, smuggled abroad, or even be living under the sea in a survival capsule. Without him in a body bag or behind bars, the island's long ethnic war cannot be considered over. But there have been no confirmed sightings for months, even by senior rebel figures or their family members captured by the army in recent fighting. "They say he is still there, leading the fight. But we haven't found anybody, not a single person, who has actually seen him," a Sri Lankan defence official said on condition of anonymity. With intelligence so thin, speculation has been rife.

Defence sources say that on Friday night a huge fireball erupted in the jungle where the once formidable Liberation Tigers of Tamil Eelam (LTTE) have been making their last stand. One theory doing the rounds in Colombo is that Prabhakaran blew himself up along with his top lieutenants — ensuring his body would never be found. The defence ministry has also said the rebels, who are renown for wearing cyanide capsules around their necks so as not to be taken alive, were planning a "mass suicide" as defeat loomed.

But Prabhakaran may also be alive, either hiding or having fled overseas. After all, he has been living underground since 1972, the year he started his bloody campaign for a separate state. Last week, troops said they found a "metal home" built out of iron stripped off a beached container ship and adapted to be submerged underwater off the coast as a survival capsule. The military's advance into rebel territory has also uncovered a basic submarine and an underground multi-storey bunker complete with air conditioning. A more mundane possibility is that he escaped by a speedboat earlier this year and remains at sea after transferring to a bigger vessel. [end]
---
5.17.09 Local al-Qaeda leader arrested in Karachi
KARACHI, Pakistan, May 17 - The CID police arrested a local al-Qaeda leader and his three accomplices, while [they] seized a cache of arms from their possession in Karachi on Sunday. However, four of their associates succeeded to flee from the scene. According to CID officials, the police, on receiving a tip-off, raided a house in Model Colony where a meeting of the banned religious organizations was underway.

The police detained four accused, Muhammad Anwar, Rehan, Azeem and Ghulam Haider. While their four accomplices, Jehangir, Saifullah, Azam and Misbahuddin, ran away. The police also recovered 50-kg explosive material, 22kg sulphur powder, 35 gallon nitric acid, 100 meter detonating role, two kalashinkovs, 2 TT pistols, 25 timer devices and more than 1000 capacitors. The CID officials told that the accused Muhammad Anwar is a local commander of al-Qaeda and also in charge of a banned religious outfit. The accused is believed be the mastermind of Marriot blast. [>thenews.com.pk]
---
5.17.09 21 Afghan migrants detained in Riau
JAKARTA, Indonesia (AP) May 17 - Indonesian police say they have detained 21 illegal migrants from Afghanistan who left their war-torn homeland in search of assistance and work. Col. Rohmad Nur Said, a local police chief in northwestern Riau province, says they were picked up Thursday after their bus had an accident. None of the migrants was injured. He said Sunday the 20 men and one woman told police they were headed to Indonesia's capital, Jakarta, to seek help from the U.N. High Commissioner for Refugees and find employment. Last week Indonesian authorities arrested a group of 28 Afghans who were trying to reach Australia with the help of people smugglers. Indonesia is an increasingly popular transit point for illegal migrants from countries of conflict like Afghanistan and Iraq. [>thejakartapost.com]
---
5.17.09 Clash, blast in Afghanistan kill 7 security forces
KABUL, Afghanistan, May 17 - A roadside bomb explosion and a battle with Taliban fighters killed six policemen and an army soldier in insurgency-hit southern Afghanistan on Sunday, authorities said. The policemen were killed when Taliban-linked militants stormed their post in troubled Helmand province, the interior ministry said in a statement. "In an armed clash between the national police and armed terrorists, six police were martyred," it said, adding that the rebels fled after reinforcements were sent to the area. Hours earlier, a roadside bomb detonated near a convoy of Afghan army soldiers in neighboring Zabul province, killing one soldier and injuring three others, the defence ministry said. [More>>thenews.com.pk]
---
5.17.09 Rumsfeld's Biblical message-laden intelligence briefs
May 17 - ABC News' Jennifer Parker reports: Former Defense Secretary Donald Rumsfeld prepared top-secret military intelligence briefs for former President George W. Bush with cover sheets featuring triumphant images from the Iraq war with "Crusades-like" Bible messages, according to an exclusive report in the latest June issue of GQ magazine. The briefs, known as the Worldwide Intelligence Update, were prepared by Rumsfeld and often hand-delivered to Bush, and only circulated among a handful of Pentagon leaders and the president, according to GQ's Robert Draper. A March 31, 2003 brief cover-sheet depicted a US tank roaring through the desert with a biblical quote from Ephesians: "Therefore put on the full armor of God, so that when the day of evil comes, you may be able to stand your ground, and after you have done everything, to stand." [More>>blogs.abcnews.com]
---
5.16.09 UK: Home repossessions jump as downturn continues to put pressure on borrowers
May 16 - Home repossessions jumped by more than 50 per cent between January and March as the recession continued to take a heavy toll of borrowers. Nearly 66,000 families have lost their homes since the credit crunch began and that could rise to more than 100,000 by the end of the year. The Council of Mortgage Lenders (CML) said yesterday that its forecast that 75,000 homes would be repossessed this year, which would take the total since July 2007 to more than 125,000, now looked pessimistic and would be revised down. But economists gave warning that as house prices fell and unemployment continued to surge, increasing numbers of people would be vulnerable to losing their homes. [More>>timesonline.co.uk]
---
5.16.09 Pakistan bomb hits handicapped kids' bus
ISLAMABAD, Pakistan, May 16 - A car bomb destroyed an Internet cafe and tore through a bus carrying handicapped children in northwestern Pakistan on Saturday, killing at least 11 people and wounding at least 30, police said. Pakistan's interior ministry on Saturday ordered a state of high alert across the capitals of the country's four provinces after the attack in Peshawar, capital of the troubled northwest frontier province (NWFP).

Elsewhere in the troubled region, an apparent US missile strike destroyed a Taliban training camp, killing 25 militants, while Pakistani troops killed dozens of Taliban in their bid to re-conquer the Swat Valley, officials said. Violence is engulfing Pakistani territory along the Afghan border as American and allied forces crank up the pressure on al-Qaeda and Taliban militants entrenched in the forbidding and barely governed mountains and valleys. [More>>cbsnews.com; See also:
khaleejtimes.com, May 16, "Pakistani army closes in on Swat town; bomb kills 11" : PESHAWAR - Pakistani soldiers are closing in on the main town in the Taliban bastion of Swat, the army said on Saturday, in an offensive that has driven more than a million people from their homes...Earlier, a car packed with mortar bombs blew up in the city of Peshawar, killing 11 people. A suspected US drone aircraft fired missiles at militants in another region near the Afghan border, killing 28 of them, government officials said...US officials say the missile strikes are carried out under an agreement with Islamabad that allows Pakistan's political leaders to decry the attacks in public. Pakistan denies that...Pakistani intelligence agents said the militants were preparing to cross into Afghanistan to fight there and among the 28 dead were two Arabs. Their identities were not known...Among the dead in the Peshawar blast were four children passing in a school bus, police said. Peshawar is the main city in northwestern Pakistan, to the southwest of Swat...

thenews.com.pk, May 16, "Khyber Agency: 6 militants arrested in search operation" : PESHAWAR - Security forces arrested 6 militants including 3 Afghans during search operation in Tehsil Jamrod of Khyber Agency. According to sources, the security forces conducted a search operation in Jamrod on a tip-off. Interrogation from the arrested is underway, sources added. The security forces have decided to continue to the search operation against the militants. [end]
---
5.16.09 US drone strike kills 25 in Mir Ali
MIRANSHAH, Pakistan, May 16 - A US missile strike killed at least 25 people in a remote tribal area of Khesoor in Mir Ali sub division on Saturday, security officials said. A suspected drone slammed two missiles into a compound, where militants were staying and where they kept an ammunition dump, a security official said. The official put the death toll at 25, raising the figure from 10 militants who were reported killed earlier on Saturday. [>thenews.com.pk; See also

japantoday.com, may 16, "US missiles kill 12 at Islamic school in northwest Pakistan" : A US missile attack destroyed an Islamic school in an al-Qaeda stronghold of northwestern Pakistan on Saturday, killing 12 people including two suspected foreign militants, officials said...Pakistani officials said several missiles hit the school and a nearby vehicle Saturday morning in Mir Ali, a town in the North Waziristan tribal region...
---
5.16.09 Nigerian military says 200 militants killed in Delta State
WARRI, Nigeria, May 15 - At least 200 militants have been killed in the recent clash with the Nigerian military in the oil rich southeast Delta State, security sources said on Friday. "The militants gave a feeble resistance but cave in to the firepower of our boys, there is no doubt that about 200 of them must have died in the engagement," the sources said. An all-out war broke out on Friday between militants and operatives of the Joint Task Force (JTF) taking a military action code-named Operation Restore Hope. Security sources told Xinhua that the soldiers moved into Camp 5, the major base of militants in Delta State axis of the Niger Delta, by 10am local time and bombarded the place with shells from gunboats. [More>>xinhuanet.com]
---
5.16.09 Sri Lankan army pushes on with final assault on cornered Tamils
DELHI, India, May 16 - Government defies calls for halt to fighting and UN accusations of bloodbath. Sri Lankan armed forces were claiming "total victory" as they launched a final assault on the cornered Tamil Tigers in the north-east of the country, defying international pleas for a halt to the fighting and warnings from the United Nations of a bloodbath. With the army seemingly determined to wipe out the last remnants of the rebels, at least 30,000 civilians — possibly as many as 80,000 — remained trapped and unaccounted for inside the single square mile of territory still held by the Liberation Tigers of Tamil Eelam.

Unconfirmed reports suggested that Tamil leaders were preparing to kill themselves rather than face capture. Some cadres are known to carry a cyanide capsule with them at all times. Tamil sources in the UK said they were unaware of the reports and all contact with those left inside the "no-fire zone," the government-designated haven where non-combatants were supposed to be able to escape the fighting, has now been cut. The Sri Lankan military said intercepted radio communications had revealed the mass suicide plan.

The military also said that the wife of the Sea Tiger leader, Soosai, who commanded the rebels' naval forces, had suggested under questioning that he and other senior figures remained inside the no-fire zone. The Sri Lankan army assault went ahead despite a warning from Gordon Brown, that "there will be consequences for its actions". Downing Street said the prime minister had made several phone calls to the Sri Lankan president, Mahinda Rajapaksa, urging the need for an end to violence and aid for civilians. [More>>guardian.co.uk]
---
5.16.09 US soldier killed, 4 wounded in Iraq combat
BAGHDAD (AP) May 15 - The US military says an American soldier has been killed in combat with enemy forces north of Baghdad. Four other US soldiers were wounded during the operation in the predominantly Sunni town of Duluiyah, some 80 kilometers north of the Iraqi capital. The statement says the operation on Wednesday targeted a "facilitator and a suicide vest cell" known to be operating in the area. [>gulfnews.com]
---
---
*Visitor statistics on maravot.com from 1&1. com. 46,153 page views in May 2007; monthly visitors in 2008 range between 40,000-45,0000..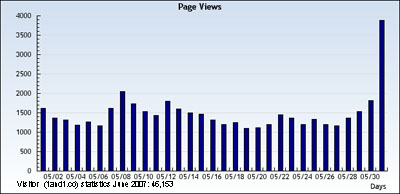 Privacy Policy: We do not store any personal data from you. We have no way of knowing any vital information about you — not even your name. Third-party distribution: We do not distribute information about your site usage to any third party. We are not responsible for the content of links from our site. Usage data: supplied by our Web Hosting service, 1and1.com, which consists of usage reports, such as page views / impressions and web pages visited, visitors' servers and geographical data (ISP's and country of origin).

---
Launched: 10.25.04 / 11.02.04 – | — |
Updated: 5.16.09; 5.17.09; 5.18.09; 5.19.08; 5.20.09; 5.21.09; 5.23.09; 5.24.09; 5.25.09; 5.26.09
Copyright © 1981-2009 Maravot. All rights reserved
Copyright © 1981-2009 Mel Copeland. All rights reserved
Background: tile from Cicero's villa (Marcus Tullius Cicero 106 B.C. - 43 B.C.)