News Headlines & Trends
---
6.05.09 US job losses slow; unemployemt at 9.4%
June 5 - The American economy shed another 345,000 jobs in May as the unemployment rate spiked to 9.4 percent, but the losses were far smaller than economists expected, amplifying hopes of recovery. "It supports the idea that before the end of the year and maybe even by late summer we could be at flat employment," meaning no more net job losses, said Alan D. Levenson, chief economist at T. Rowe Price in Baltimore. "During the course of next year, we'll probably start to feel better."

Wall Street saw some fresh signs of potential revival in the better-than-expected report from the Labor Department on Friday, and stocks moved moderately higher after some hesitation. But many analysts emphasized that the marked slowdown in the pace of job market deterioration — while positive — did not alter the reality that the economy remained very weak, with grave challenges still bearing down on millions of households and businesses. [More>>nytimes.com]
---
6.05.09 OIC chief says Obama speech marks 'new beginning'
DUBAI (AFP) June 5 - The head of the Organisation of the Islamic Conference hailed on Friday President Barack Obama's speech to the Muslim world as a new beginning in US-Muslim relations. "The speech clearly confirmed the desire of the US administration to make a new beginning in the relations between the US and the Muslim world," OIC Secretary General Ekmeleddin Ihsanoglu said in a statement. He also said Obama "gave signals of a more balanced approach on the part of the US administration to the Middle East conflict, where an active US contribution as an honest broker is more vital than ever."

Ihsanoglu said the speech "provided a constructive and positive context for the US and the OIC... to develop their cooperation" and urged Washington to "take concrete steps in order not to let the president's speech become weakened in weight and significance." He stressed that the OIC would now look to see how Washington follows up on this "declaration of good will" with policies and action. [More>>khaleejtimes.com; See also oic-oci.org, June 5, "OIC Secretary Genral welcomes President Obama's Cairo speech." and

aljazeera.net, June 5, "Merkel backs Obama on Middle East" : Barack Obama, the US president, has called for a redoubling of efforts towards a two-state solution to the Israel-Palestinian conflict, saying he is confident progress can be made this year. Speaking alongside Obama, during a visit to Dresden, Angela Merkel, the German chancellor, praised the president's Cairo speech, saying it could be a point of departure for Middle East peace efforts...
---
6.05.09 Suicide bomber kills 38 in Dir Bala mosque
DIR, Pakistan, June 5 - A suicide bomb ripped through a mosque packed with worshippers here on Friday, killing 38 people and wounding dozens more in the deadliest such attack in more than two months. The bomb exploded at the mosque in the remote, mountainous village of Hayagai Sharqai in Upper Dir, which borders the district of Swat, where the military has focused its blistering air and ground assault against the militants. Malik Naveed Khan, police chief of North West Frontier Province, said 38 people were killed and 50 wounded in the explosion. "We fear the death toll may rise to 45 because people are still trapped under the debris. Rescue work is under way," the government officials in Upper Dir said. [>thenews.com.pk; See also

timesofindia.indiatimes.com, June 5, "Blast in Pakistan mosque kills 40" : ...Dir's blast is the ninth bomb attack in the country since the offensive began, and the Taliban has threatened more revenge. The powerful blast occurred when over 200 people were present in the mosque at Hayagai Sherqi in Dir, North West Frontier Province, for Friday prayers, witnesses were quoted as saying by TV news channels...
---
6.04.09 Obama cites Quran to reach Muslims from Egypt
DUBAI, June 4 - President's speech touches on Islam, Israel and Iran. American President Barack Hussein Obama ended his Middle East tour and headed to Germany Thursday after he addressed the Muslim world from a tightly secured Cairo where he quoted from Islam's Holy Book and stressed the United States was not in competition with Islam in a bid to heal the rift that has developed between the two. "I have come here to seek a new beginning between the United States and Muslims around the world; one based upon mutual interest and mutual respect; and one based upon the truth that America and Islam are not exclusive, and need not be in competition," Obama told the packed university hall.

Before continuing Obama bid the room "assalaamu alaykum," or peace be upon you, to the delight of the crowd, which cheered and applauded. Obama addressed several issues from women's rights to economic development but not before he talked about his personal links with Islam and the role of Islam in American history and stressed that America was not at war with Islam. "Islam is a part of America," he said as he called on Muslims to help the United States fight extremism because "we do not want to keep our troops in Afghanistan" but we need to be confident that there were no more violent extremists determined to kill Americans.

..Likely to stir the emotions of Muslims everywhere, the president started his speech by greeting the room the Islamic way and went on to repeatedly quote from the Quran much to the delight of his audience who constantly interrupted him with applause. "There must be a sustained effort to listen to each other; to learn from each other; to respect one another; and to seek common ground. As the Holy Quran tells us, 'Be conscious of God and speak always the truth,' " he said. After making a couple of references to Islam's Holy Book, the president went on to quote the Ayat, or verse, and said the "Holy Quran teaches that whoever kills an innocent, it is as if he has killed all mankind; and whoever saves a person, it is as if he has saved all mankind." [Full story>>alarabiya.net; See other understandings of the speech,

aljazeera.net, June 4, "Obama seeks new start with Muslims.": "I've come here to Cairo to seek a new beginning, one based on mutual interest and mutual respect and based on the truth that America and Islam are not exclusive and need not be in competition," Obama told a crowd of invited guests at the Cairo University. "Instead, they overlap, and share common principles, principles of justice and progress, tolerance and the dignity of all human beings."

But Obama, who is on a visit to the Middle East and reached Cairo from Saudi Arabia, cautioned against expecting immediate change. "No single speech can eradicate years of mistrust, nor can I answer in the time that I have all the complex questions that brought us to this point," he said. "But I am convinced that in order to move forward, we must say openly the things we hold in our hearts, and that too often are said only behind closed doors."...

mehrnews.com, June 4, "Obama admits US overtherw Mosaddeq govet in 1953" : President Barack Obama acknowledged on Thursday that the United States was directly involved in overthrowing the democratically-elected government of Mohammad Mosaddeq in Iran in 1953. Obama made the remarks as he was speaking in Cairo delivering a speech to the Muslim world. Obama said it will be difficult to "overcome decades of mistrust" between Iran and the US. Obama also said Iran had the right to peaceful nuclear power. "Any nation — including Iran — should have the right to access peaceful nuclear power if it complies with its responsibilities under the nuclear Non-Proliferation Treaty," Obama explained...

nytimes.com, June 4, "Addressing Muslim world, Obama calls for new start" : President Obama pledged on Thursday to "seek a new beginning between the United States and Muslims around the world," imploring America and the Islamic world to drop their suspicions of one another and forge new alliances to confront violent extremism and heal religious divides. "We have a responsibility to join together on behalf of the world we seek," he said. "A world where extremists no longer threaten our people, and American troops have come home; a world where Israelis and Palestinians are each secure in a state of their own, and nuclear energy is used for peaceful purposes; a world where governments serve their citizens, and the rights of all God's children are respected."
He dwelled on Iran, Iraq, and Afghanistan but reserved some of his sharpest words for the Israeli-Palestinian conflict. He offered no major initiatives on the Middle East peace process although he put Israelis and Palestinians on notice that he intends to deal directly with what he sees as intransigence on key issues, evoking the concerns of both parties but asking both to shift ground significantly...
Full Text of Barack Obama's Cairo address, (from jpost.com, June 4.)
---
6.04.09 Al-Qaeda commanders in Pakistan to target top dignitaries
ISLAMABAD, June 4 - Seven al-Qaeda commanders, who earlier masterminded attacks in Iraq, have entered Pakistan to carry out strikes to target top dignitaries like President Asif Ali Zardari and provincial chief ministers, a media report said today. Intelligence agencies have circulated a communique to major provinces and major cities, warning about a meeting of senior representatives of al-Qaeda and Tehrik-e-Taliban Pakistan that was held in Paktia province of Afghanistan on May 3, an unnamed official told the Daily Times newspaper. The operatives of the two groups decided at the meeting to carry out terrorist strikes across Pakistan to create unrest in the country. Such attacks would target Pakistan President Zardari and four provincial chief ministers, the report said.

The terrorist leaders who participants in the meeting included Amanullah Afghani, Shahidullah Khan, Maulvi Khalid Shah, Rehmatullah Khan, Abdul Latif Afghani, Muhammad Saeed Bin Talha, Muhammad Shaheen Kawrai and Ahmed Ali Tanwancy. The seven al-Qaeda commanders who have come to Pakistan to carry out strikes in coordination with the Taliban, had earlier masterminded attacks in Iraq, the report said. [>timesofindia.indiatimes.com]
---
6.04.09 Militants blow up girls' school in Pakistan: police
PESHAWAR (AFP) June 4 - Militants blew up a girls' school on the outskirts of Pakistan's northwestern city of Peshawar on Thursday as the military pressed on with an offensive against the Taliban, police said. The school was detonated in the Budaber area about 10 kilometres (six miles) south of Peshawar, local police chief Abdul Ghafoor Afridi said...Police suspected the bombing was part of an intimidation campaign because the government has used schools to shelter some of the 2.4 million people displaced by the military operation since late April. [Full story>>arabtimesonline.com]
---
6.04.09 Nine killed, 30 wounded in attack on a cafe in Baghdad
BAGHDAD (DPA) June 4 - Nine people were killed and at least 30 wounded in a bomb attack in a cafe in the Iraqi capital on Wednesday night, al-Jazeera satellite channel reported on Thursday. The explosion took place in a mostly Shiite Muslim district of south-western Baghdad. Despite a recent wave of bombings in Baghdad during recent months, Iraqi officials insist that Iraq remains safer than it was three years ago. An earlier bombing took place Monday in a vegetable market in the southern Baghdad neighbourhood of al-Dura, killing four people and wounding 13 others. [>khaleejtimes.com]
---
6.04.09 Is the new Silk Road a road to peace?
June 4 - Despite depressing news from North Korea, one seemingly unexciting initiative is literally building a long-term road to peace. And this can provide visionary ways to think about the response to recent events. When the signing of the UNESCAP Asian Highway Agreement was reported in the press on July 4, 2005, there was little international interest. The plan was simple: by encouraging 32 Asian countries to extend existing roads toward and across borders, a 141,000 kilometer long trans-Asia network of roads would be created. Kofi Annan called it "The new Silk Road." A parallel rail network was dubbed the "Iron Silk Road" at an agreement signed in Busan in 2006.
Since then progress has been steady, but interest has been mainly from the construction companies profiting from the venture, and the road haulage companies likely to profit. Yet politically, the idea is probably one of the most exciting moves towards peace and security since the United Nations was founded. The initial significance lies in the fact that the idea was first proposed in 1959, but stalled because of the Cold War. The reappearance of the plan is a sign of a more peaceful world. Just think at how impossible this would have seemed in the 1960s. China was to be joined to India, and the Soviet bloc. Japan would have a bridge to Korea. The whole network would mean that it would be possible to drive from Tokyo to Tehran, and that meant that South and North Korea would be reconnected. Impossible, yet by 2006 China and India had reopened the Nathula Pass across the Himalayas, rejoining the two countries.

Despite the seeming problems, there was an example to follow. One of the main strategies for healing the divides across war-torn Europe last century was a network of e-roads...When President Roh walked across a yellow painted line into North Korea in October 2007, he was walking along a part of the Asian Highway that many predicted would never be built. His judgment to make this gesture, rather than flying to Pyongyang surrounded by security guards, was an inspired example of visionary leadership. [Full story>>koreaherald.co.kr]
---
6.04.09 Air France Flight 447 'may have stalled at 35,000 ft.'
June 4 - The Air France jet that crashed into the Atlantic killing 228 may have stalled after pilots slowed down too much as they encountered turbulence, new information suggests. Airbus is to send advice on flying in storms to operators of its A330 jets, Le Monde reported today. It would remind crews of the need to maintain adequate thrust from the engines and the correct altitude, or angle of flight, when entering heavy turbulence.

Pilots slow down aircraft when entering stormy zones of the type encountered by Air France Flight 447 early on Monday as it was flying from Rio to Paris. The fact that the manufacturer of the aircraft is issuing new advice indicates that investigators have evidence that the aircraft slowed down too much, causing a high-altitude aerodynamic stall. This would explain why the aircraft apparently broke up at altitude over the Atlantic. [More>>timesonline.co.uk]
---
6.03.09 Bernanke says US must focus on cutting deficit
June 3 - The nation needs to "begin planning now" to reduce the budget deficit, Federal Reserve Chairman Ben S. Bernanke said today, arguing that even as the government acts to bolster the economy in the short run it must ensure that spending and revenue will come into line in the longer term. "Congress and the administration face formidable near-term challenges that must be addressed," Bernanke told the House Budget Committee this morning, according to prepared testimony. But he warned that the economy will suffer "unless we demonstrate a strong commitment to fiscal sustainability in the longer term."

Bernanke even connected recent swings in the market for US Treasury bonds to worries about the nation's long-term deficits. The interest rate that government must pay to borrow money for 10 years or more has risen sharply in the past two weeks, as investors in the United States and around the world have become more wary of the nation's growing debt load...The ratio of federal debt to the nation's annual economic output looks set to rise from 40 percent before the onset of the financial crisis to about 70 percent in 2011, Bernanke said, which would leave that ratio at its highest level since the 1950s.
The Fed chairman has a particular incentive to encourage Congress to move toward long term fiscal balance. If bond market investors perceive that the US government will manage its finances well in the long run, long-term interest rates would be expected to stay low — helping encourage an economic recovery. The Fed is itself buying Treasury bonds to have just that impact. By contrast, if investors around the world conclude that the US government will be borrowing vast sums of money for as far as the eye can see, they will require higher interest rates in exchange for lending that money, potentially choking off the economy further. [Full story>>washingtonpost.com]

---
Editorial note: Although this article discusses the threat of increasing interest rates, it does not point out the relevance of interest on the debt to increases in the budget deficit. For instance, in FY 2008 interest on the US debt was $451.1 billion. Interest paid in the first six months of FY 2009 (Oct. 2008-April 2009) is $193.4 billion. The current Public Debt (See treasurydirect.gov "Debt to the penny" is $11.379 trillion. 193.4 billion / $11.379 trillion represents an interest rate ~1.7%. Interest paid on the Public Debt during previous years tended to be ~5%. (See treasurydirect.gov and Maravot News report "National_Debt..html")

If interest on the Public Debt of $11.379 trillion were to move, in the last half of 2009, to the past 5% level we would expect a three-fold increase ~ $580 billion. Interest on the Public Debt will then be the second highest outlay in the US Budget, next to Defense (~$700 billion).

Mel Copeland
---
6.03.09 US looks for Saudi help in Afghanistan, Pakistan
KABUL, Afghanistan (AP) June 3 - The United States, grappling with how to counter the spread of Taliban militants on both sides of the Afghanistan-Pakistan border, is turning to Saudi Arabia for help. But so far the kingdom seems wary of diving into the thorny conflict. President Barack Obama met with Saudi King Abdullah on Wednesday in Riyadh, where he stressed the need for the two countries to cooperate. "I am confident that working together that the United States and Saudi Arabia can make progress on a whole host of issues of mutual interest," said Obama. Pakistan was expected to be on the agenda when the two leaders met, according to Mark Lippert, deputy national security adviser. Obama's defense secretary, Robert Gates, has already asked the Saudis for help in staving off the spread of militants in Pakistan and encouraging Pakistani officials to work together in countering the terrorist threat.

..Steve Coll, an expert on Afghanistan and Pakistan who heads the New America Foundation, pointed out that the Saudis were unable to convince the Taliban to turn over Osama bin Laden in the late 1990s. "The Saudis have attempted over the years a number of mediations of this character because of their religious prestige," said Coll. "But the agreements in Mecca tend not to stick when the parties get back home, and the Taliban in particular have proved intractable in Saudi mediation." The Saudis could be better help in policing the large sums of money that flow into the countries, especially Pakistan, from wealthy donors and Islamic charities in the kingdom, said Daniel Markey, an Afghanistan and Pakistan expert at the Council on Foreign Relations. [Full story>>khaleejtimes.com; See related story,

aljaseera.net, June 3, "Bin Laden attacks Obama policies.": ...He said: "Obama and his administration have sowed new seeds of hatred against America. "He has followed the steps of his predecessor in antagonizing Muslims ... and laying the foundation for long wars." Richard Holbrooke, the US special envoy to Afghanistan and Pakistan, described bin Laden's claims about the fighting in Swat, which has led to the displacement of 2.4 million people, as "ludicrous." Holbrooke, who is visiting Pakistan, said: "The idea that anyone is responsible for the refugee crisis other than al-Qaeda and the Taliban and the other people that have caused such tragedy in Pakistan is ludicrous...
---
6.03.09 Al-Qaeda kills British hostage Edwin Dyer, kidnapped in Mali after music festival
June 3 - A British man being held hostage in Mali has been executed, his captors said today, prompting strong condemnation from Britain of a "barbaric" act. Edwin Dyer, who was in his early 60s, was one of four European tourists kidnapped on January 22 as they returned from a music festival. Messages posted on Islamic websites indicated that they were being held by al-Qaeda in the Islamic Maghreb (AQIM), a 300-strong Islamist terror group that operates in the desert borderlands of Algeria, Mali, Niger and Mauritania...the hostage-takers issued an ultimatum, warning they would kill Mr. Dyer unless the UK freed the radical cleric Abu Qatada within 20 days. He is being held in Long Lartin prison in Worcestershire while he fights extradition to Jordan, where he faces terrorism charges. [Full story>>timesonline.co.uk]
---
6.03.09 More debris found from Air France plane crash
RIO DE JANEIRO, Brazil, June 3 - Searchers found four more debris fields Wednesday from an Air France jet that plunged into the Atlantic Ocean early Monday with 228 people on board, the Brazilian Air Force said. Searchers had found two debris fields Tuesday and identified the wreckage as coming from Flight 447. The Airbus A330 went down about three hours after beginning what was to have been an 11-hour flight from Rio de Janeiro to Paris, France. Investigators have not determined what caused the plane to crash. The flight data recorders have not been recovered and the plane's crew did not send any messages indicating problems before the plane disappeared.

The aircraft's computer system did send about four minutes of automated messages indicating a loss of cabin pressure and an electrical failure, officials have said. Some investigators have noted that the plane flew through a severe lightning storm. Foul play has not been ruled out.

Air France had received a bomb threat May 27 for a flight from Buenos Aires, Argentina, to Paris, sources in the Argentine military and police told CNN on Wednesday. According to the officials, who had been briefed on the incident and declined to be identified because of the ongoing investigation, the Air France office in Buenos Aires received the threat from a man speaking Spanish. Authorities checked the Boeing 777 and did not find anything. Security was tightened during check-in for Flight 415, which left on time and without incident, the officials said. [More>>cnn.com]
---
6.03.09 Revealed: the bid to corner the world's bluefin tuna market
June 3 - Mitsubishi freezing fish to sell later as stock numbers plummet toward extinction. Japan's sprawling Mitsubishi conglomerate has cornered a 40 per cent share of the world market in bluefin tuna, one of the world's most endangered fish. A corporation within the £170bn Mitsubishi empire is importing thousands of tones of the fish from Europe into Tokyo's premium fish markets, despite stocks plummeting towards extinction in the Mediterranean. Bluefin tuna frozen at -60C now could be sold in several years' time for astronomical sums if Atlantic bluefin becomes commercially extinct as forecast, a result of the near free-for-all enjoyed by the tuna fleet. [More>>independent.co.uk]
---
6.02.09 GM sales: Much better than expected
NEW YORK, June 2 - Bankrupt automaker says vehicle sales tumble 29% in May, its best results of the year. Ford's were its best in ten months. A day after filing for bankruptcy, General Motors Corp. said its light vehicle sales in May fell much less than anticipated. GM said total car and light truck sales fell 29% compared to a year earlier. That was a much narrower decline than the Edmunds.com analysts' forecast of a 36.9% drop and better than the 33% retreat in April.
"May results really do reflect consumer confidence about GM's long term viability across the globe," said Mike DiGiovanni, head of market research at GM. "May was a good sign, because of all the press we've had to deal with, and the positive sales results give us a good foundation to build on as we reinvent the company." Its four brands which will be dropped in a restructuring of the company - Pontiac, Saturn, Saab and Hummer - each reported much bigger sales declines than GM's overall drop, the worst being a 63.5% plunge in Saab sales. GM announced Tuesday it sold its Hummer line to an undisclosed company. A person with knowledge of the deal told CNNMoney.com GM will sell Hummer to Sichuan Tengzhong Heavy Industrial Machinery Company Ltd. in China...Ford Motor Co. reported Tuesday its US auto sales were the highest since July 2008, even as sales fell 24.3% from last year.[Full story>>cnn.com]
---
6.02.09 Youngest son said to be Kim Jong-il crown prince
June 2 - The National Intelligence Service, South Korea's top intelligence body, says that North Korean leader Kim Jong-il has picked his third and youngest son, Kim Jong-un, to be his successor. Democratic Party lawmaker Park Jie-won said in a radio interview yesterday that he heard about the move in the North on Monday. "I was notified by the government that there is some movement on the succession issue, and that [North Koreans] are making pledges of loyalty to Kim Jong-un," Park said. Park serves on the Intelligence Committee at the National Assembly.

Another member of the committee, speaking on the condition of anonymity, said the National Intelligence Service told him that North Korea apparently sent an official document to its overseas embassies to inform them of the leadership change and that "this is a credible piece of information." A third committee member said he received a phone call from the intelligence agency Monday afternoon. The member said that "it was very unusual for the National Intelligence Service to call us about North Korean intelligence."

The news of Kim Jong-un's selection comes on the heels of months of speculation over who would succeed Kim Jong-il. Earlier in the year, local media reports said Jong-un, 26, had been tapped as the heir and that Kim Jong-il sent a directive to the ruling Workers' Party and other key organs, such as the Korean People's Army. The issue of succession came to the forefront after the senior Kim, 67, reportedly suffered a stroke last summer. [More>>joogangdaily.joins.com]
---
6.02.09 21 militants killed, 3 soldiers martyred in Swat operation
ISLAMABAD, June 2 - Security forces killed 21 more militants in the past 24 hours in pockets of the northwest, while three soldiers were martyred. According to the ISPR, in the last 24 hours, 21 miscreants-terrorists were killed and 18 apprehended in various areas of Swat, whereas three soldiers embraced shahadat (martyrdom). Most of the suspected militants were killed on the outskirts of Charbagh, a Taliban stronghold about 20 kilometers (12 miles) from Swat's main town Mingora, which the government has said it has already cleared of militants.

"Security forces have successfully secured Alam Gunj, Waliabad and Gulibagh (north of Charbagh). Fourteen miscreants-terrorists were killed and 18 apprehended in Charbagh and Alam Gunj areas," the statement said. One soldier was killed near Charbagh, while the other military and insurgent deaths occurred in other areas of Swat and nearby districts. Up to 2.4 million people have fled their homes since the offensive began in the districts of Lower Dir on April 26, Buner on April 28 and Swat on May 8. [>thenews.com.pk; See related stories:

japantoday.com, June 2, "Pakistan army rescues dozens abducted by Taliban" : ISLAMABAD - Troops manning a checkpoint Tuesday rescued dozens of students, teachers and staff from a boys school who had been taken captive by militants in the northwest, the Pakistani military said. The brazen abduction in North Waziristan on Monday was part of a string of militant actions in Pakistan's tribal belt, some of which the army says is aimed at distracting it from its offensive against the Taliban in the Swat Valley. In brief comments Tuesday morning, Maj. Gen. Athar Abbas said 80 people, 71 of them students, were found by forces manning a checkpoint in the Goryam area as their small convoy of vehicles, escorted by militants, were heading toward South Waziristan...

khaleejtimes.com, June 2, "India 'unhappy' over release of Pakistan terror suspect" : NEW DELHI - The Indian government voiced its unhappiness Tuesday over a decision by a court in Pakistan to release the head of an Islamic charity India says was linked to last year's Mumbai siege. The court Tuesday declared the detention of Jamaat-ud-Dawa chief Hafiz Mohammad Saeed and three other members of his party was unlawful. "We are unhappy that Pakistan has not shown the degree of seriousness and commitment it should have to bring to justice the perpetrators of the Mumbai attacks," Indian Home Minister P. Chidambaram told reporters.

India says the Jamaat-ud-Dawa charity is a front for Lashkar-e-Taiba (LeT), blamed for a 2001 raid on the Indian parliament and last November's Mumbai attacks, in which 166 people were killed. "Terror has to be fought, terror has to be contained. To that extent, it is regrettable that Pakistan has resorted to this. It shows Pakistan is not serious about fighting terror," Foreign Minister S.M. Krishna told reporters. Separately, an Indian foreign ministry statement said New Delhi was "disappointed" at the order to free Saeed as his charity and the LeT were listed as "affiliates of the al-Qaeda and the Taliban" by the United Nations...
---
6.02.09 Civilians killed in Afghan blast
June 2 - Six Afghan civilians, including two children, have been killed in a blast near a major US military base in eastern Afghanistan, officials have said. The blast ripped through a civilian vehicle near Bagram airfield, the main base for US-led military troops in Afghanistan, on Tuesday. Afghanistan's interior ministry blamed the incident on a suicide bomber. "Two men, two women and two children are killed. The car is totally destroyed," Zemarai Bashary, an interior ministry spokesman, was quoted the AFP news agency as saying. At least one other child was injured in the blast. There was no immediate claim of responsibility, but Bashary said the explosion was "an act of insurgents." "This is the worst of brutality of the enemy," he said. [More>>aljazeera.net;

independent.co.uk, June 2, "British troops kill 'leader of Taliban bombers" : LONDON - British troops killed "one of the most dangerous Taliban leaders", believed to be responsible for the deaths of two British servicemen in Afghanistan, the Ministry of Defence (MoD) said today. Mullah Mansur is believed to be behind a number of suicide bomber attacks that have targeted and killed British and Afghan forces in and around Lashkar Gah, the capital of Helmand Province, the MoD said. These include the suicide attacks that killed Sergeant Ben Ross of the Royal Military Police and Gurkha Corporal Kumar Pun in Gereshk on 7 May.

Mansur was killed by UK Apache helicopters in the early hours yesterday in an isolated area near Nahr e Saraj, north east of Lashkar Gah, the MoD said. Defence Secretary John Hutton said: "Mullah Mansur was the heart of the insurgents' attempts to kill and injure British and NATO troops in Afghanistan and his presence brought misery to innocent Afghan civilians. This is a significant blow to the Taliban. British forces will continue to work with international partners to improve security across Helmand to prevent the export of terror from Afghanistan to the UK." ...
---
6.01.09 Iraqi Kurdistan begins first-time oil exports
ARBIL, Iraq, June 1 - Oil disputes with Baghdad remain unresolved. Iraq's self-ruled Kurdish region began exporting oil for the first time on Monday, shipping crude through a pipeline to Turkey, in a major step forward for economic ties between the neighbors. Kurdish President Massud Barzani and Iraqi President Jalal Talabani opened a ceremonial valve at the event while a live broadcast showed workers at the Taq Taq oil field in Arbil province turning on the pumps. "It is a historic date, a giant step," said Barzani at a lavish ceremony in Arbil. "We are proud of this success, and this achievement will serve the interests of all Iraqis, especially the Kurds."

No representatives of Iraq's Shiiite Arab-led central government were apparent at the ceremony, underscoring Baghdad's still frosty relationship with Kurdistan's leaders, although Iraqi President Jalal Talabani, a Kurd, showed up....Initial exports will be around 40,000 bpd Taq Taq and another 50,000 bpd from the Tawke field in Dohuk, with maximum combined output projected to reach 250,000 bpd sometime next year. Disagreements over oil rights, especially between Baghdad and Arbil, have hamstrung exploitation of much of Iraq's massive proven reserves and long-delayed hydrocarbons law, prompting fierce criticism by the Kurds.

Baghdad has repeatedly said that it is opposed to Arbil signing its own contracts, a position which Kurdish officials have thumbed their nose at by signing dozens of agreements with foreign firms. Regional Natural Resources Minister Ashti Hawrami railed at Baghdad's obstructionism and vowed Kurdistan will continue seeking its own partners without the approval of the central government. "Iraq has had a revenue shortfall of $10 billion due to the incompetence of Iraq's ministry oil," Hawrami said in a speech.

"We signed 30 contracts and Baghdad said at the beginning that we would not be able to sign any because no foreign company would develop our oil,," he said, adding that the oil ministry only "put up obstacles" to developing Iraq's crude. Hawrami noted that investment in Taq Taq was $500 million on expected production of 180,000 bpd, far less than the $2-billion price tag of the Chinese-run al-Ahdab field in central Iraq that will produce 120,200 barrels. The Taq Taq project is being run by Turkey's Genel Enerji in partnership with Calgary-based Addax Petroleum. The Tawke project to the northwest is operated by Norwegian oil firm DNO. Exports from Tawke will link with the Iraq-Turkey main export pipeline at the border town of Fishkhabur, while crude from Taq Taq will be trucked from Arbil before connecting with the Iraq-Turkey pipeline...Earlier this month Kurd officials announced an $8 billion plan to develop Kurdish gas fields with four European and two United Arab Emirates partners that could later supply the EU's flagship Nabucco pipeline. [Full story>>alarabiya.net]

---
Editorial note: The Nabucco pipeline was designed to supply fuel to Europe by avoiding Russian territory. Russian supplies through Ukraine have been so unreliable — with the shutoff of fuel through Ukraine during the height of winter — the EU concluded that a new route avoiding Russia needed to be developed.

Mel Copeland
---
6.01.09 Obama sees 'painful' birth of new G.M.
June 1 - General Motors filed for bankruptcy on Monday morning, submitting its reorganization papers to a federal clerk in Lower Manhattan in a move that President Obama said marked "the end of an old General Motors and the beginning of a new General Motors." The bankruptcy of a once-proud auto giant that helped to define the nation's car culture and played a part in creating the American middle class immediately rippled across the country, part of a process that the president said would take "a painful toll on many Americans" but [will] lead ultimately to a strong company ready to compete in the 21st century. But for the moment, auto workers braced for news about their jobs as G.M. said it would shutter plants in Michigan, Indiana, Ohio and Delaware, and plants in Tennessee and elsewhere in Michigan were put on standby. In financial markets, shares of foreign automakers and Ford surged ahead. [More>>nytimes.com; See related stories, cbsnews.com, June 1, "List of GM plant closings." and

cnn.com, June 1, "Stocks soar on signs of life in manufacturing" : NEW YORK - Wall Street rallies on upbeat economic news. Unfazed by GM's bankruptcy, the Dow nearly erases 2009 losses. Stocks rallied Monday, sending the Dow near the break even point for the year, as better-than-expected readings on manufacturing activity raised hopes that a global economic recovery is brewing. The Dow Jones industrial average (INDU) surged 221 points, or 2.6%, with about 2 hours left in the session. At roughly 8,736 points, the bluechip average is within 40 points of breaking even for the year. The broader S&P 500 (SPX) rose 27 points, or 2.8%, to about 945 points - it's highest level of the year. The Nasdaq composite (COMP) jumped 55 points, or 3.1%.
Investors largely looked past the bankruptcy of General Motors, which comes after a months-long restructuring effort fell short. "Today's data were better than expected, both here and abroad," said Phil Orlando, chief equity market strategist at Federated Investors. The recession has "reached its nadir" and the improved economic outlook has helped "draw some cash off the sidelines," he said. Meanwhile, two Dow components, General Motors and Citigroup (C, Fortune 500), will be officially removed from the average on June 8, Dow Jones announced Monday. Travelers Companies (TRV, Fortune 500) will take the place of Citi; Cisco Systems (CSCO, Fortune 500) will fill GM's slot...
---
6.01.09 Taliban abduct hundreds in Pakistani tribal region
ISLAMABAD (AP) June 1 - Taliban militants armed with rockets, grenades and automatic weapons abducted at least 400 students, staff and relatives driving away from a boy's school in a northwest Pakistani tribal region on Monday, police and a witness said. The brazen abduction came amid rising militant violence in Pakistan's tribal belt, actions the military says are partly aimed at distracting it from its offensive against the Taliban in the nearby Swat Valley. Police were negotiating with the Taliban via tribal elders to release of the captives taken in North Waziristan, said Mirza Mohammad Jihadi, an adviser to the prime minister. He said around 500 people were taken and that they were being held in the Bakka Khel area. Details were still emerging late Monday about what happened, and much was murky.

Police official Meer Sardar said the abduction occurred about 20 miles (30 kilometers) from Razmak Cadet College in North Waziristan. The people were leaving the school area after they were warned to get out in a phone call from a man they believed to be a political official, Sardar said, citing accounts from a group of 17 who managed to get away. Local media, however, reported that the group was leaving because their vacation had started. Around 30 buses, cars and other vehicles were carrying the students, staff and others when they were stopped along the road by a large group of alleged militants in their own vehicles, according to a staff member at the school who was among those who escaped. The vehicle he was traveling in happened to be behind a truck on the road, and it was less visible, so the driver slipped away. [More>>timesofindia.indiatimes.com]
---
6.01.09 Pakistan launches hunt for top Taliban militants; encircle Charbagh
ISLAMABAD, June 1 - Speeding up their campaign to flush out Taliban from the Swat valley, Pakistani troops on Monday encircled the key town of Charbagh and mounted a hunt for top militants in the mountains as 18 rebels and two soldiers were killed in fighting in the country's unruly northwest. Days after capturing Mingora, the main city in Swat district, security forces continued their push into nearby areas controlled by the Taliban and have surrounded Charbagh town, 20 kms north of Swat's capital, where some top Taliban commanders are holed up. "Eighteen militants and two soldiers were killed in fighting in the past 24 hours in various areas of Swat and South Waziristan tribal region," an Army statement said. Thirteen militants were apprehended and four soldiers and as many civilians were injured in the fighting, it added. But the security forces are reported to be facing "stiff resistance" in operations to link up troops in Kabal and Sirsanai, the other main towns in Swat. [More>>indianexpress.com]
---
6.01.09 Middle East wants tangible change from Obama
CAIRO (AP) June 1 - Respect for Islam, a prescription for Palestinian statehood and assurances of a speedy US pullout from Iraq — that's what Muslims from Morocco to Malaysia say they want to hear from President Barack Obama this week when he addresses them from Cairo. His speech on Thursday from Cairo University will try to soften the fury toward the United States among so many of the world's 1.5 billion Muslims, ignited by the U.S. occupation of Iraq and the hands-off attitude toward the Israeli-Palestinian conflict of his predecessor George W. Bush. Obama's offer of a new beginning is seen as an attempt to stem the growing influence of extremists — particularly Iran, with its regional and nuclear ambitions — and to bolster moderate Muslim allies. It comes just days ahead of crucial elections in Lebanon and Iran — where the appeal of militancy will be put to the test — and amid worsening violence in Iraq, Afghanistan and Pakistan. [More>>khaleejtimes.com]
---
5.31.09 Chinese economists deem huge holding of US bonds 'risky,' split on way out
BEIJING, May 31 - On the first day of US treasury secretary Timothy Geithner's visit to China, the Beijing-based Global Times published a survey of 23 famous Chinese economists on Sunday, saying that the majority of them deemed the vast holding of US bonds "risky." Among the 23 experts polled, 17 said they believed that US equities pose great risks to China's economy. Geithner will begin his first visit to Beijing as US treasury secretary in an attempt to assure the US' biggest creditor that its large holding of purchased US bonds is safe.

The visit also highlights Geithner's comments made earlier this year alleging that China has manipulated its currency. Li Wei, an expert with the Institute of Ministry of Commerce, and Tian Yun, a scholar at the China Macro Economics Institute, expressed concerns over the risks, saying that the United States may export its deepening crisis to China "by printing US dollar notes uncontrollably." [More>>xinhuanet.com]
---
5.31.09 'Obama's decrees are like Pharaoh's'
May 31 - "The American demand to prevent natural growth is unreasonable, and brings to mind Pharaoh who said: Every son that is born ye shall cast into the river," Science Minister and Habayit Hayehudi head Daniel Herschkowitz said Sunday, referring to US President Barack Obama's demand to freeze all settlement activity, even that ensuing from natural growth. Speaking ahead of the weekly cabinet meeting, mathematician Herschkowitz furthered his point with a simple equation.

"If there is a family that expands from one child to four or five, what should we tell them — to ship the children off to Petah Tikva? This is an unacceptable demand, even if it comes from the Americans, and Israel should reject it decisively," he affirmed. Interior Minister Eli Yishai said, "The American demand to freeze construction means expulsion for young people living in large locales. I hope the US administration understands that. If not, I don't want to be an apocalyptic prophet saying we're facing struggle and confrontation. The concessions they're demanding of us are a security impediment we cannot withstand." [More>>jpost.com]
---
5.31.09 Six dead as Hamas-Fatah tension speads to West Bank
JERUSALEM, May 31 - Six men were killed when police loyal to Fatah clashed with Hamas members in the West Bank town of Qalqilya in the worst inter-Palestinian fighting outside Gaza in years. The incident happened when Palestinian security forces controlled by the unelected Fatah government that rules the West Bank tried to arrest senior Hamas members. The outbreak of internecine violence in the West Bank revived memories of similar fighting on the Gaza Strip before June 2007 when Hamas effectively wiped Fatah out as a fighting force.

Tension between the two sides in the West Bank has worsened in recent months as Fatah security forces, trained by America and Britain, have carried out a clamp down on the Islamist movement. Three members of the security forces, two Hamas members and a man who is believed to have been the Hamas men's landlord, were killed in the firefight. The identity of the dead Hamas operatives was not known although there were unconfirmed reports at least one of them was a military commander. [More>>telegraph.co.uk]
---
5.31.09 War without borders - in heartland death, traces of heroin's spread
GROVE CITY, Ohio, May 30 - For five hours, Dana Smith huddled stunned and bewildered in her suburban living room while the body of her son Arthur Eisel IV, 31, lay slumped in an upstairs bathroom, next to a hypodermic needle. Family and friends streamed in. Detectives scurried about. For Mrs. Smith, the cold realization set in that her oldest son Artie — quiet, shy, car enthusiast, football and softball fanatic — was dead of a heroin overdose. The death was the end of a particular horror for Mrs. Smith, whose two other children, Mr. Eisel's younger brothers, also fell into heroin addiction "like dominoes," she said, and still struggle with it.

To the federal government, which prosecuted the heroin dealers for Mr. Eisel's death, it was a stark illustration of how Mexican drug cartels have pushed heroin sales beyond major cities into America's suburban and rural byways, some of which had seen little heroin before. In Ohio, for instance, heroin-related deaths spread into 18 new counties from 2004 to 2007, the latest year for which statistics are available. Their numbers rose to 546 in that period, from 376 for 2000 to 2003. Federal officials now consider the cartels the greatest organized crime threat to the United States. Officials say the groups are taking over heroin distribution from Colombians and Dominicans and making new inroads across the country, pushing a powerful form of heroin grown and processed in Mexico known as "black tar" for its dark color and sticky texture.

Their operations often piggyback on a growing and struggling Mexican immigrant population. In a case that provides a window into how this works, two illegal immigrant dealers pleaded guilty to manslaughter last year in Mr. Eisel's death, in a rare federal manslaughter prosecution from a drug overdose. Investigators determined that the two immigrants, Jose Manuel Cazeras-Contreras, 30, and Victor Delgadillo Parra, 23, began distributing heroin when they were unable to find jobs. Mr. Parra, in an interview from prison, where he was sentenced to spend 16 ½ years, said he was afraid of being arrested at first, but took the job to support his wife and son, as well as relatives in Mexico. [More>>nytimes.com]
---
5.31.09 Convicted killer beheaded, put on display in Saudi Arabia
May 30 - Saudi Arabian officials beheaded and then publicly displayed the body of a convicted killer in Riyadh on Friday, an act that prompted a stiff denunciation by a leading human rights monitor. The Saudi Interior Ministry said Ahmed Al-Shamlani Al-Anzi was sentenced to death and then "crucifixion" — having his body displayed in public — for the kidnapping and killing of an 11-year-old boy and for the killing of the boy's father, according to the official Saudi Press Agency.

Amnesty International issued a statement deploring the punishment, with the group's Hassiba Hadj Sahraoui saying in a statement it is "horrific" that beheadings and crucifixions "still happen." ...Police later discovered that Al-Anzi had been previously convicted of other crimes, including possession of pornographic videos and sodomy, the Interior Ministry said...those crucified are beheaded first and then their heads are sewn back on their bodies. Then, the corpse is mounted on a pole or a tree. [Full story>>cnn.com]
---
5.31.09 Tough justice: On the trail of Philippine death squads
May 31 - They came to kill her children one by one. First was Richard in 2001, then his brother Christopher. Bobby was taken from her the following year, and Fernando in 2007. Now Clarita Alia lives in fear that Arnold, her remaining son, is next. And far from protecting her shattered family, it is the police who are behind the killings, she says. "The police said, 'We will take your sons one by one,' " recalls the 54-year-old grandmother at the graveside of her murdered brood in the southern Philippine city of Davao. "They may kill me too, but I am not afraid to die. I'm already old."

Insects hum in the humid tranquillity of this pauper's graveyard. Below, the city of 1.3 million people, a tourist hub for some of the most spectacular scenery in south-east Asia, sprawls toward the Pacific Ocean. Mayor Rodrigo Duterte boasts that he has made this the safest urban zone in the country, but Davao's motto, "love, peace and progress", is belied by a killing spree that has claimed nearly 900 lives, including dozens of children.

The mayor of the country's second-biggest city says they all deserved to die. "What I want to do it so instil fear," he told reporters earlier this year. "If you are doing an illegal activity in my city, if you are a criminal or part of a syndicate that preys on the innocent people of the city, for as long as I am the mayor, you are a legitimate target of assassination." [More>>independent.co.uk]
---
5.31.09 Pakistan troops kill 50 Taliban; Mingora in 'full control'
ISLAMABAD, May 31 - Pakistani troops on Sunday tightened their grip on the just-recaptured main town of troubled Swat Valley, where the military said the operation could end within days, as at least 50 Taliban militants and nine soldiers were killed in fighting in the northwest and the tribal areas...Troops were conducting cordon and search operations in Kalam, the military said in a statement. Security forces also secured a key village 14 km north-east of Bahrain, another Taliban stronghold in Swat, and began consolidating their positions in the area. [Full story>>timesofindia.indiatimes.com; See related stories, thenews.com.pk, May 31, "27 more militants killed in Swat, S. Waziristan operation." and

independent.co.uk, May 31, "In Pakistan, an exodus that is beyond biblical" : Locals sell all they have to help millions displaced by battles with the Taliban. The language was already biblical; now the scale of what is happening matches it. The exodus of people forced from their homes in Pakistan's Swat Valley and elsewhere in the country's north-west may be as high as 2.4 million, aid officials say. Around the world, only a handful of war-spoiled countries — Sudan, Iraq, Colombia — have larger numbers of internal refugees. The speed of the displacement at its height — up to 85,000 people a day — was matched only during the 1994 genocide in Rwanda. This is now one of the biggest sudden refugee crises the world has ever seen.

Until now, the worst of the problem has been kept largely out of sight. Of the total displaced by the military's operations against the Taliban — the army yesterday claimed a crucial breakthrough, taking control of the Swat Valley's main town, Mingora — just 200,000 people have been forced to live in the makeshift tent camps dotted around the southern fringe of the conflict zone. The vast majority were taken in by relatives, extended family members and local people wanting to help.
But this grassroots sense of charity is slowly starting to show real strain. In a week when the relentless danger of the militants was underlined by a massive car bomb in the city of Lahore that killed at least 30 people and injured hundreds more, aid groups have warned that the communities taking people in — already some of the planet's poorest people — could themselves be displaced as they desperately sell their few assets to help the homeless...

bbc.com, May 31, (with video) "Pakistan city center 'destroyed' : The scale of the war damage to the main city in the Swat valley has become clear, as fears are expressed about the humanitarian situation in the region...Rifatullah Orakzai, reporting for the BBC's Urdu Service, said that all the buildings and shops in the town square had been completely destroyed. However, local people have now been able to seek supplies in the town's market after the lifting of a curfew...

timesofindia.indiatimes.com, May 31, "Taliban grooming teens as suicide bombers: Report" : LONDON - After the Pakistani army launched an operation to clear them from the Swat Valley, Taliban went from house to house demanding a boy or young man from each family for grooming the mas suicide bombers, a media reported on Sunday. Propaganda films obtained by The Sunday Telegraph in Peshawar show boys of 14 or 15 recording farewell messages before climbing into vehicles filled with explosives. The report said suicide bombings were extremely rare in Pakistan but have increased dramatically since the Taliban took control of Swat in the aftermath of a bungled government offensive against extremists in 2007.

One film that Pakistanis have been watching with horrified fascination showed a boy of about 15, named in the video as Arshad Ali from Swat, who attacked a polling station after the Taliban banned voting last year. Sitting with an AK-47 cradled in his lap and fiddling with prayer beads, he said the people of Swat are living in evil times and that sacrifice is called for. "Some hypocrites say that we are doing this for money -- or because of brainwashing – but we are told by Allah to target these pagans," he was quoted as saying. Films also show gruesome "trials" and beheadings of alleged spies and captured policemen, whippings of criminals, the aftermath of attacks by guerrillas, and scenes of young jihadis in training camps. [end]
---
5.31.09 Afghan governor wounded in blasts
(AFP) May 31 - Four people were killed and a provincial governor wounded in Afghan unrest, authorities said, a day after dozens died in fierce battles between Taliban rebels and troops. The four civilians, including a child and a woman, were killed when a roadside bomb, similar to those used by Taliban insurgents, struck their vehicle in the southern province of Kandahar, police said. [More>>news.com.au]
---
5.31.09 Deadly protests rock Yemen's south
May 31 - At least four Yemenis, including a policeman, have been killed in two days of clashes between police and anti-government protesters. Another 13 people were wounded in the exchanges of fire on Saturday and Sunday, which followed demonstrations in the south of the nation against the Sanaa government, medics and police said. In one clash on Sunday in the village of Labouss, in Lahij province, a policeman and demonstrator were killed. Another protester was killed in Dali, north of the port of Aden, in south Yemen, when police used firearms to disperse the crowd...Aden is the former capital of South Yemen, which was united with the north of the country in 1990. [More>>aljazeera.net; See more details,

alarabiya.net, May 31, "Yemen wants Saudi to block cash for separatists" : SANAA - Yemeni President Ali Abdullah Saleh will ask King Abdullah of Saudi Arabia to block the flow of funds from Yemeni expatriates to separatists in the south, a Yemeni government source said on Sunday. Yemen, which is trying to shake off an image of violence to promote its tourism sector, has witnessed frequent clashes between government forces and protesters in the south, where secessionist sentiment is strong...

related story:

cbsnews.com, May 31, "9/11 families angered as US backs Saudis" : Relatives of Sept. 11 victims say they're angry that the Justice Department is supporting the Saudi royal family's bid to be removed from a 9/11 lawsuit. The families of some victims have accused the royal family of financially backing terror groups that carried out the 2001 attack. Their complaint alleges that the Kingdom of Saudi Arabia, the Saudi High Commission for Relief to Bosnia and Herzegovina (SHC), and four Saudi Princes (acting in both official and personal capacities) made donations to charitable organizations with the knowledge that those organizations were diverting funds to al-Qaeda, and that a fifth Saudi prince knowingly provided banking and financial services to Osama bin Laden and al-Qaeda...
---
5.30.09 North Korea preparing to launch long-range missile
MOSCOW (RIA Novosti) May 30 - North Korea is preparing to launch a long-range missile in the middle of June despite international condemnation and threats of further sanctions, Yonhap cited on Saturday an intelligence source as saying. The source told the news agency that an object, which resembled an intercontinental ballistic missile, had been observed at an "artillery research center" near the North Korean capital of Pyongyang. Yonhap quoted the official as saying "We believe that the object is certainly an ICBM," adding that North Korea is thought to be moving the missile to its Musudan-ri launch site on the east coast. [More>>en.rian.ru]
---
5.30.09 The new boom: price of oil posts largest rise for a decade
May 30 - Brent crude jumped by $1 yesterday to pass $66 for the first time since October. London Brent Crude jumped by more than $1 yesterday, passing the $66-per-barrel mark for the first time since October and completing a mini-boom for May, which saw the fastest monthly oil price rise in nearly a decade. Oil has already nearly doubled its price so far this year, after plummeting to below $35 per barrel in December from its all-time $147 high last July. It could yet rise higher. Abdalla el-Badri, the secretary general of the OPEC oil producers' cartel, predicted this week that prices could reach $75 by the end of the year. Ali al-Naimi, the Saudi Arabian oil minister, predicted as much as $80 thanks to rising economic optimism and concomitant demand growth, particularly in Asia. [More>>independent.co.uk]
---
5.30.09 Iran calls in Pakistan envoy over mosque bomb
TEHRAN (AFP) May 30 - Iran summoned Pakistan's ambassador over the deadly bombing of a mosque in the southeast after Sunni rebels reportedly claimed responsibility, the official IRNA news agency reported on Saturday. Mohammad Bakhsh Abbasi was summoned after Iran's state television quoted the pan-Arab channel Al-Arabiya as saying that the Jandullah (Soldiers of God) group said it was behind Thursday's mosque attack which killed 25 people. According to state television, the chief of the Iranian armed forces, General Hassan Firouzabadi, said on Saturday that Iran "has located the base of the group's head and informed Pakistan's government of his arrest."

The Iranian authorities said they immediately arrested three men involved in the bombing. The trio were executed on Saturday morning near the mosque in Zahedan city, the capital of Sistan-Baluchestan province. In recent years, the restive province has been the scene of a deadly insurgency by Jundallah, which is strongly opposed to the government of predominantly Shiite Iran. The province has a substantial Sunni minority and lies on a major narcotics-smuggling route from Afghanistan and Pakistan. [>khaleejtimes.com]
---
5.30.09 Pakistan military retakes Mingora from Taliban
ISLAMABAD, May 30 - Pakistani troops have retaken the largest town in the Swat Valley from the Taliban as the army presses its offensive against militants in the country's northwest, the army spokesman said on Saturday. ( Watch ) Government forces had full control of Mingora, though they were still meeting pockets of resistance from fighters on the outskirts of the town, Maj. Gen. Athar Abbas said. [More>>timesofindia.indiatimes.com; See other details,

thenews.com.pk, May 30, "25 militants killed in last 24 hours: ISPR" : ISLAMABAD - Twenty-five terrorists including miscreants commander, Abu Saeed Misbah ud Din and Sultan Khan, were killed and 3 were apprehended in various areas of operation in the last 24 hours, Director General ISPR Maj. Gen. Athar Abbas said here on Saturday...The stronghold (training centre) of known miscreants commanders including commander Lal Din, Said Jalil, Mian Said Liaq (training center) were searched and destroyed in Peochar, including training base of MFU and 5 tunnels...
---
5.30.09 56 die in Afghan violence; bomb targets Afghan government
KABUL, May 30 - A battle in a militant-controlled region of western Afghanistan killed 30 insurgents and nine Afghan soldiers, while a roadside bomb in the country's north wounded an Afghan governor, officials said Saturday. Violence elsewhere in the country killed 17 others, part of a spate of attacks that killed 56 people over all. The battle in Badghis province began Friday and continued into Saturday. Afghan troops supported by international forces killed 30 militants in the Bala Murghab district, a region where the Afghan government has little control. Nine Afghan soldiers died in the battle, and four "disappeared," the Ministry of Defense said. The ministry did not elaborate. The roadside bomb detonated on the main highway in Kunduz province, and shattered glass slightly wounded Gov. Mohammad Omar, said his spokesman, Ahmad Sami Yawar. He blamed the "enemies of peace and security," a phrase that commonly refers to militants. [More>>khaleejtimes.com]
---
5.28.09 Giant undersea volcano found in Sunda Trench
JAKARTA, May 29 - Scientists conducting oceanic survey intended to better understand the mechanics of tsunami generation has got more than they bargained for after a discovery of a previously unknown underwater volcano off the coast of Bengkulu. The team of scientists from the Agency For the Assessment and Application Technology (BPPT), The Indonesian Institute of Science (LIPI), The Energy and Mineral Resources Ministry, and France-based CGGVeritas and Institut de Physique du Globe (IPG) located the volcano under the Sunda Trench, west of Sumatra. The volcano rises about 4,600 meters, with the rim 1,280 meters below the sea surface. The base ring of the volcano spans approximately 50 kilometers.

"The volcano is huge and tall. No mountain in Indonesia is this high except the Jayawijaya mountain in Papua," a BPPT Director, Yusuf Surachman, said as quoted by Antara state news agency on Thursday. He did not, however, get into detail regarding the volcano's activity level. "Nevertheless, an underwater volcano is very dangerous if it erupts," he said. The seismic survey was conducted in the Indian Ocean off Sumatra as part of a TIDES (Tsunami Investigation — Deep Evaluation Seismic) project. Scientists from many parts of the world have been conducting researches following the 2004 Tsunami disaster in Aceh and other major earthquakes that plague the country. [>thejakartapost.com; See also map and article earthobservatory.nasa.gov, March 28, 2005, "Massive earthquake along the Sunda Trench."]
---
5.28.09 Report: GM set for June 1 Bankruptcy
DETROIT, May 28 - General Motors Corp. plans to file for bankruptcy protection June 1, despite reaching a deal with bondholders to swap debt for stock, sources told Bloomberg Thursday. Earlier Thursday, GM said a committee of bondholders had agreed to a sweetened deal proposed by the US government to erase the automaker's unsecured debt in exchange for company stock. The news came in a regulatory filing that spells out the Obama administration's game plan for what it hopes will be a speedy Chapter 11 bankruptcy reorganization that will leave the US government as the dominant GM shareholder with a much smaller debt load. But people familiar with GM's plans said the automaker would still file for bankruptcy protection on Monday. [More>>cbsnews.com; See related story, japantoday.com, May 28, "102 Japanese parts firms will suffer if GM goes bust"]
---
5.28.09 Hamas gives fighters total freedom to avenge death of militant
May 28 - After Israeli commandos killed a senior Hamas militant in the West Bank on Thursday, Hamas' military wing spokesman said that "fighters in the West Bank have total freedom to retaliate for this heinous crime." Abu Obeida, the spokesman of the Iz al-Din al-Qassam Brigades, said that the Hamas military wing was considering its options in regard to retaliation within the West Bank, asserting that "the blood of the dead will not have spilled for nothing."

"Any target on Palestinian soil is a legitimate one," he said, having also accused the Palestinian Authority in contributing to the killing, according to channel 10 news. Abed al-Majid Dudin, 45, who was killed earlier Thursday, was the head of the Palestinian Islamist group's armed wing in the area around the West Bank city of Hebron.

The Israeli troops, from a joint contingent of Israel Defense Forces and Israel Police special forces, found Dudin in a village southeast of Hebron. They surrounded a house in which he had barricaded himself and called on him to come out. Dudin opened fire on the troops, after which they shot and killed him. The soldiers also arrested one of the militant's subordinates, Ahmad a-Fatah Hasin, a 45-year-old Hamas operative. [Full story>>haaretz.com]
---
5.28.09 Two die after attacks in Afghanistan
May 28 - Two British servicemen died within hours of each other after being wounded in separate incidents in Afghanistan, the Ministry of Defence said today. A Royal Marine died at Selly Oak Hospital in Birmingham late last night from injuries he sustained near Lashkar Gah in Helmand Province last Friday. And a soldier from 2nd Battalion The Mercian Regiment was killed in an explosion near Garmsir in Helmand this morning. [More>>independent.co.uk; See related story,

nytimes.com, May 28, "29 militants killed in Afghanistan" : KABUL, Afghanistan - American and Afghan forces backed by airstrikes engaged in a "fierce firefight" with Taliban insurgents in a remote and mountainous region of eastern Afghanistan on Thursday, killing at least 29 militants in an effort to capture one of their leaders, according to a joint military statement. American military officials said the leader in question, known as Mullah Sangeen, is a "fairly significant" commander of the Haqqani network, a radical group headed by Taliban commander Maulavi Jalaluddin Haqqani that is believed to be behind some of the largest attacks in recent years. Unconfirmed reports surfaced in 2007 and in 2008 that Mullah Sangeen was killed, but both proved untrue.

The battle was part of a widening effort by the Obama administration to crush Taliban and al-Qaeda insurgents in Afghanistan and Pakistan. The intensifying conflict has led to Afghan claims that civilian casualties caused by American airstrikes are undermining public support for the war. The joint statement on Thursday insisted that "no noncombatants were injured during this operation" and said that the 29 dead were all militants. They included six insurgents who blew themselves up with suicide vests without causing coalition fatalities, the statement said. In the battle, coalition forces advanced under a hail of fire from militants on higher ground, the statement said...
---
5.28.09 Twin blasts rock Peshawar; 5 killed, 100 injured
ISLAMABAD, May 28 - At least five people were killed and 100 injured when a twin bombing rocked two crowded markets in Pakistan's northwestern Peshawar city, a day after the Taliban targeted ISI detonating an explosives-laden car near its regional office in Lahore that claimed 35 lives. The two bombs went off within minutes of each other in Qisa Khawani and nearby Kabari Bazar, destroying shops at a time when the markets were crowded with people, TV channels reported quoting police.

The first blast occurred in Kabari Bazar which sparked off a big fire in the market located in a narrow lane and at least eight vehicles were burnt, channels said. Minutes later a second bomb went off in Qisa Khawani market across the road which also caused a fire destroying a large number of shops, they added. The private Geo TV reported that five people were killed and 100 injured in the blasts, which came a day after a suicide attack by the Taliban militants near the ISI headquarters in Punjab's capital Lahore left 35 people dead. [>timesofindia.indiatimes.com; See other details, thenews.com.pk, May 28, "Six killed in Peshawar twin blasts; 2 terrorists killed in operation." and related story,
japantoday.com, May 28, "Pakistan offers rewards for Swat Taliban leaders" : LAHORE - The government announced bounties Thursday for 21 leaders of Taliban militants in northwestern Pakistan, after saying that a massive gun and bomb attack that killed about 30 people in the east was likely linked to the insurgency...The government took out ads in several newspapers Thursday listing 21 Taliban leaders — 18 of them with pictures — and offering varying rewards for each, the lowest being around $12,400. The top bounty was $62,000 for top Swat Taliban leader Maulana Fazlullah...
---
5.28.09 Pakistan has 60 nuke bombs and building more: Report
WASHINGTON, May 28 - Pakistan with about 60 nuclear warheads, primarily targeted towards India, is continuing production of fissile material for weapons and adding to its weapons production facilities and delivery vehicles, a US Congressional report has said. The latest report by Congressional Research Service (CRS) — a research wing of the US Congress which prepares reports for Congressmen — has confirmed the recent statements and media reports that Pakistan was expanding its nuclear arsenal. "Pakistan's nuclear arsenal consists of approximately 60 nuclear warheads.

It continues fissile material production for weapons, and is adding to its weapons production facilities and delivery vehicles," said the report "Pakistan's Nuclear Weapons: Proliferation and Security issues," which was issued today for media. Admiral Mike Mullen, Chairman of the US Joint Chiefs of Staff, at a Congressional hearing on May 14 had confirmed that the US has "evidence" that Pakistan is expanding its nuclear arsenal. Also, a similar report was published in 'The New York Times' early this month. Pakistan stores its warheads unassembled with the fissile core separate from non-nuclear explosives, and these are stored separately from their delivery vehicles, it said. [More>>indianexpress.com]
---
5.28.09 Fifteen killed, 50 wounded in Iran mosque blast
TEHRAN (AFP) May 28 - A blast at a mosque in the city of Zahedan, near the borders with Pakistan and Afghanistan, killed 15 people and wounded 50 others on Thursday, the official IRNA agency reported. IRNA said the evening explosion struck the Amir al-Momenin mosque in Zahedan, the restive capital of Sistan-Baluchestan province, and that the toll was only preliminary...The province has a large ethnic Baluch minority. In recent years, the province has been the scene of a deadly insurgency by Sunni Muslim rebels of the Jundullah (Soldiers of God), group which is strongly opposed to the government of predominantly Shiite Iran. The province also lies on a major narcotics-smuggling route from Afghanistan and Pakistan. [Full story>>khaleejtimes.com]
---
5.28.09 Malaysia court refuses to let Church use "Allah"
May 28 - A Malaysian court on Thursday refused to give permission to the Roman Catholic Church to use the word "Allah," thus upholding a government ban that has caused controversial religious tensions in the country. The Malaysian government has banned the non-Muslims from using the word "Allah" as a translation of God in their publications, saying it would confuse Muslims in this multiethnic, Muslim-majority country. The High Court rejected an appeal by the church's main publication in Malaysia, the Herald, to have the ban suspended while waiting for a court decision on the ban's legality on July 7. The Herald serves a nationwide readership, but is focused mainly on the tribal communities in Sabah and Sarawak on Borneo Island who had converted to Christianity more than a century ago. Christian groups say the ban is unconstitutional, arguing that the word "Allah" predates Islam. [More>>alarabiya.net; See background and editorial note,

Maravot News 4.30.09 article 4.26.09 Malaysia Catholics oppose non-'Allah' Bible There is much confusion among Moslems and Christians over the Koran. The Koran bases its foundation on the Bible and one may wonder how the God of the Bible is not the same god, Allah, of the Koran.
---
5.27.09 Stem cells on contact lens help to heal eyes, Australian scientists find
May 28 - Coating a common contact lens with stem cells could help restore a person's sight, Australian scientists have found. University of New South Wales medical researchers used the technique to treat the damaged corneas of three patients, all of whose vision improved within weeks of the ground-breaking procedure. The results are published in the journal Transplant, indicating a further unique element of the world-first trial. Stem cells were harvested from the eyes of each patient and then cultured inside a contact lens, which was then stuck onto a damaged cornea in a "transplant'" of regenerative cells. "The procedure is totally simple and cheap," said the university's Dr. Nick Di Girolamo. "Unlike other techniques ... there's no suturing, there is no major operation, all that's involved is harvesting a minute amount — less than a millimeter — of tissue from the ocular surface." The lens stayed on for 10 days allowing stem cells to change their form, colonise and repair the cornea. [More>>news.com.au]
---
5.27.09 North Korea says not bound to armistice
SEOUL, South Korea, May 27 - North Korea said yesterday it would conduct military strikes and would no longer be bound to the armistice agreement in response to Seoul's recent decision to fully join the Proliferation Security Initiative. "Our revolutionary forces will consider the full participation in the Proliferation Security Initiative as a declaration of war against us and will immediately and effectively respond with military strikes against any attempts — including inspections and crackdowns — to inspect our ships," said the North's permanent military mission to the joint security area of the inter-Korean truce village of Panmunjeom.

Pyongyang's statement also said since it will no longer abide by the armistice, it could no longer guarantee the safety of South Korean and US military ships and private vessels moving along the western sea border. The South Korean Joint Chiefs of Staff issued a statement pledging a "stern response to any provocation by the North." The military tightened security on the West Sea. The Navy forward-deployed a 3,500 ton-class KDX-I destroyer and readied additional artillery and missiles near the maritime border, military officials said. Seoul also activated an exclusive task force to keep North Korea's nuclear activities in check. President Lee Myung-bak ordered the government to respond calmly to the North's threat while he met his foreign affairs advisers. [More>>koeaherald.co.kr]
---
5.27.09 Blast rocks Lahore; 35 dead, 250 injured
LAHORE, Pakistan, May 27 - Suspected Taliban militants on Wednesday brazenly targeted Pakistan ISI's provincial headquarters here, detonating an explosive-laden car leaving at least 35 people including seven ISI personnel dead and over 250 wounded. (Watch) Though heavily armed militants, believed to be two to four in number, failed to reach the main premises housing the ISI office, they detonated the explosives which damaged the building and totally flattened the nearby city police rescue office.

The terrorist hit squad headed their vehicle towards the two buildings located just off the Mall Road, but as heavily armed guards prevented them, they came out and exchanged fire and then set off a massive blast. District coordination officer (DCO) Lahore Sajjad Ahmed Bhutta said a car loaded with huge explosives rammed into the barriers on the road leading to the buildings housing ISI and Lahore police rescue offices. Interior minister Rehman Malik suggested the attack could be retaliation for the government's military offensive to rout Taliban militants from the northwestern Swat Valley. [More>>timesofindia.indiatimes.com; See also indianexpress.com, May 27, "Taliban strike ISI headquarters in Lahore, 35 killed."]
---
5.27.09 Afghan official, three sons killed in Taliban ambush
KHOST, Afghanistan, May 27 - An Afghan district governor and his three sons were killed in eastern Afghanistan on Wednesday in an ambush blamed on Taliban rebels, authorities said. Mohammad Nader, the governor of Paktika province's Omna district, was travelling with his family to his district near the Pakistan border when the armed insurgents attacked, the interior ministry said. "Police reinforcements have been dispatched to the area and an operation is underway," the ministry said in a statement. The governor exchanged fire with his attackers but it was not clear if the assailants suffered any casualties, it added. [More>>thenews.com.pk]
---
5.27.09 Afghan government destroys books it says insult Sunnis
KABUL, Afghanistan (AP) May 27 - The Afghan government dumped more than 1,000 books from Iran into a river in western Afghanistan because of content allegedly offensive to Sunni Muslims, officials said Wednesday. But booksellers who ordered the books for shops in Kabul said there was nothing offensive about the content and said they were destroyed last month because of prejudice by government officials against the Shiite minority — who make up about 20 percent of the population. The controversy highlights the continuing tension between Afghanistan's Sunni majority and its Shiite minority despite efforts by the volatile country's government to preach tolerance across the sectarian divide.

Shiites were persecuted under the largely Sunni Taliban regime, but the two groups have settled into an uneasy coexistence since the 2001 overthrow of the hard-line Islamists. The country's post-Taliban constitution gave the Shiites the right to create some laws that apply only to them — an acknowledgment of ideological rifts between the sects. The book episode started when a container full of books arrived in Nimroz province from neighboring Iran about six months ago, said the governor's spokesman, Haaji Nazir. Nestled among boxes of computer and English instruction manuals were more than 1,000 history and religious books promoting Shiite Islam, Nazir said. "Books like these are more dangerous than Taliban bullets," Gov. Ghulam Dastagir Azad told The Associated Press. [More>>khaleejtimes.com]
---
5.27.09 Jordan arrests four on suspicion of plotting attacks on Israel
May 27 - Four Jordanians arrested in Jordan in April had planned to perpetrate terror attacks in Israel in retaliation for Operation Cast Lead, DPA reported on Wednesday. According to the report, judicial sources told the news organization that the four were expected to be charged with illegal possession of arms. The suspects were named as Sakhr Abu Zaid, Hassan Talaq, Mohammad Abu Ourah and Osama Abu Kabir, the report continued, adding that Abu Kabir had been incarcerated at Guantanamo Bay prison for several years. [More>>jpost.com]
---
5.27.09 Deaths in Iraq car-bomb attack
May 27 - At least four civilians and an American soldier have been killed and 15 injured after a car bomb exploded in Abu Gharib, a western district of Baghdad, the Iraqi capital. US military officials said the soldier died after suffering wounds as a result of Wednesday's explosion. The attack, which happened near a medical compound, occurred two days after a bomb hit a US convoy in Baghdad, killing three US soldiers and two civilians. At least 20 US soldiers have died in May, making this month the deadliest for the US military compared to the death toll in September 2008 when 25 soldiers were killed. April had at least 19 US soldier deaths, which is more than double than soldiers killed in March, the lowest since the war began in March 2003. [More>>aljazeera.net]
---
5.27.09 US banks turn $7.6b profit in 1Q
WASHINGTON, May 27 - Revenue Jumps After Industry Reported Record $36.9B Loss At End Of 2008; Troubled Banks Number 305. The nation's banks turned a profit in the first quarter, but the number of problem banks jumped to more than 300, the government said Wednesday. The Federal Deposit Insurance Corp. said higher trading revenues at big banks helped the industry earn a $7.6 billion profit in the January-March period, compared with a record loss of $36.9 billion in the fourth quarter. The profit was 61 percent below the $19.3 billion earned in the year-ago period and followed the first quarterly loss in 18 years. The news comes as 74 percent of economists in a recent survey said the economy will start to grow in the third quarter after suffering further contraction in the current one. [More>>cbsnews.com]
---
*Visitor statistics on maravot.com from 1&1. com. 46,153 page views in May 2007; monthly visitors in 2008 range between 40,000-45,0000..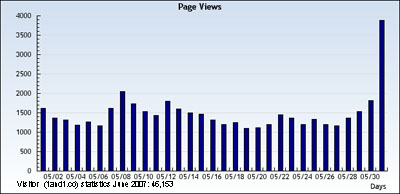 Privacy Policy: We do not store any personal data from you. We have no way of knowing any vital information about you — not even your name. Third-party distribution: We do not distribute information about your site usage to any third party. We are not responsible for the content of links from our site. Usage data: supplied by our Web Hosting service, 1and1.com, which consists of usage reports, such as page views / impressions and web pages visited, visitors' servers and geographical data (ISP's and country of origin).

---
Launched: 10.25.04 / 11.02.04 – | — | —
Updated: 5.27.09; 5.28.09; 5.30.09; 5.31.09; 6.01.09; 6.02.09; 6.03.09; 6.04.09; 6.05.09
Copyright © 1981-2009 Maravot. All rights reserved
Copyright © 1981-2009 Mel Copeland. All rights reserved
Background: tile from Cicero's villa (Marcus Tullius Cicero 106 B.C. - 43 B.C.)