7.24.05 Strong earthquake hits Nicobar Islands, India
PORT BLAIR (PTI) July 24 – A strong earthquake measuring 7.2 on the Richter Scale struck the Nicobar Islands on Sunday night but there was no immediate report of death or destruction, Met Department sources said. The epicenter of the quake, experienced at 9.12 pm, was Nicobar, the sources said. The quake was experienced as far as Chennai and some other places in South India but there is no tsunami warning yet, Met sources added. The earthquake occurred at 9.12 pm and it lasted for three seconds, police control room sources said. Tremors were felt in Car Nicobar islands also. Lt. Governor Prof Ram Kapse said there was no report of any loss of life or damage from any part of Andaman and Nicobar Islands. An alert was sounded in the entire Island range and defence forces had been alerted, he said. People were being advised to stay away from seashores, Kapse said. [hindustantimes.com]
---
7.24.05 Deadly truck bomb hits Baghdad police
BAGHDAD (AFP) July 24 – Twenty-two people were killed and 25 wounded when a suicide bomber blew up a truck full of explosives outside a police station in Baghdad on Sunday, an interior ministry official said. ³The number of dead could rise further as we are still looking for bodies,² the official said. He said bodies of the victims, many of whom were policemen, were completely burnt by the blast. The incident occurred at around 3 pm outside the Al-Rashid police station in the Al-Mashtel neighborhood in the southeast of the capital. Around 22 civilian cars and one residential building were set ablaze in the massive explosion, he added. [khaleejtimes.com]
---
7.24.05 Egypt detains 70 in resort bombings
SHARM EL-SHEIK (AP) July 24 – Egyptian police searched for clues Sunday and struggled to identify bodies from the 88 people killed in three bomb blasts that rocked this Red Sea resort, sending foreign tourists scrambling to catch flights home.

More than 70 people have been detained in Sharm el-Sheik and elsewhere on the Sinai Peninsula for questioning over the bombings early Saturday. But none has been accused of involvement in Egypt's deadliest-ever terror attack, said security officials, who declined to be identified because of the sensitivity of the inquiry. The roundups appeared similar to police operations after last October's attacks at the Sinai resorts of Tab and Ras Shitan, when 3,000 people were detained and many complained of torture, according to locals and human rights groups. Some 200 of those are believed to still be in custody, including two Egyptian suspects whose trial is set to resume Sunday.

Egypt's interior minister has said investigators are looking into whether there were links between the Taba and Sharm blasts on the Sinai, a strategically important area bordering Israel and the Gaza Strip.

Local investigators are also examining the possibility that foreigners carried out the latest attacks that leveled the reception area of the luxury Ghazala Garden Hotel in Sharm el-Sheik's popular Naama Bay district and ripped apart a coffee house crowded with Egyptians in the nearby Old Market. Those blasts, plus a third smaller bomb apparently concealed in a bag that exploded along a Naama Bay boardwalk, have sent shock waves through this country's vital tourism industry. [More>>foxnews.com; See jerusalem post, "Egypt arrests 70 in hunt for attackers," and bbc.co.uk, "Arrests after Egyptian bombings": Egyptian security forces have arrested 35 people following Saturday's bomb attacks in Sharm al-Sheikh, which killed at least 88 people.The arrests came after Egyptian President Hosni Mubarak vowed to hunt down those behind the bombings. In the worst attacks in decades in Egypt, three explosions - including two apparent car bombings - devastated a hotel, a car park, and a market. Most of the dead are Egyptians, but foreigners are among the victims too.]
---
7.23.05 Revealed: London bomber's links to Briton in suicide attack on Tel Aviv
July 24 – Leeds man who blew up train at Edgware Road was associate of conspirators who murdered three in Israel bar in 2003. One of the London suicide bombers in the attack on 7 July had links to a British man who planned a suicide attack on Tel Aviv two years ago, raising fears that the network of Islamist hardliners is wider than first thought. The Independent on Sunday has learnt that Mohammed Sidique Khan, 30, who carried out the Edgware Road bombing, was friendly with Omar Sharif, one of two Britons who plotted a joint suicide attack in Israel in April 2003.

The disclosure comes as police continued their investigation yesterday into possible links between the four suicide bomb attacks on 7 July and the devices used in the botched attacks last Thursday. One theory is that the explosives used last week were either part of the same batch as those used on 7 July or made to the same formula - using commonly available chemicals to create the home-made explosive acetone peroxide.

Security experts believe Thursday's devices may have failed to explode because the explosives had degraded. Acetone peroxide is known to deteriorate quickly. Police now have samples from last Thursday's attacks to compare to unused explosives found in Leeds 12 days ago.

Police attempts to uncover the 7 July bombers' network of terrorist contacts are focusing on Khan's relationship with Sharif. Despite pre-recording a "suicide bombers" video in advance, Sharif failed to detonate his device; but his coconspirator Asif Hanif carried out his attack, claiming three lives at Mike's Place in Tel Aviv. Sharif ran off, but his body was later washed up on a nearby coast. [More>>independent.co.uk]
---
7.23.05 Tokyo hit by strongest quake in 13 years; at least 27 injured
TOKYO, July 24 – Tokyo was struck by the strongest earthquake to rattle the capital in 13 years Saturday afternoon when a magnitude 6.0 temblor shook eastern Japan, injuring at least 27 people and prompting the prime minister's office and police to set up crisis management task forces.

The 4:35 p.m. quake measured upper 5 on the Japanese seismic intensity scale of 7 in Tokyo's Adachi Ward, the Japan Meteorological Agency said. It is the first time since February 1992 that the capital, excluding its tiny islands in the Pacific Ocean, has been hit by a temblor of that grade, which the agency defines as being strong enough to make unreinforced concrete-block walls collapse and most dishes in a cupboard fall. [More>>japantoday.com]
---
7.23.05 North Korea wants Japan excluded from 6-nation talks
BEIJING (Kyodo News) July 24 – North Korea on Saturday called for the exclusion of Japan from the six-party talks on the North's nuclear programs and urged sincerity from the United States, as delegates continued arriving in Beijing for the negotiations set to resume early next week.

"Japan is busy with its moves to disturb the six-party talks to be resumed soon, in a bid to totally block the denuclearization of the Korean Peninsula," a commentary by the Minju Joson daily was quoted as saying by the North's official Korean Central News Agency. "If the parties concerned are to bring into bloom a beautiful flower called the denuclearization of the Korean Peninsula, they should root out the poisonous plant harmful to it," the government newspaper said, in an allusion to Japan. [japantoday.com]
---
7.23.05 Stockwell shooting was mistake, says Met
July 23 – The man shot dead by police at Stockwell Underground station yesterday morning had nothing to do with Thursdayıs abortive London bomb attacks, Scotland Yard said tonight. According to witnesses, the man was shot five times at close range after being chased onto a Northern Line train at the South London station at around 10am. Sir Ian Blair, the Metropolitan Police Commissioner, said later that the man was directly connected to the bungled bombings of three Tube trains and a London bus the day before. The Met said in a statement this afternoon: ³We believe we now know the identity of the man shot at Stockwell Underground station by police on Friday 22nd July 2005, although he is still subject to formal identification.

²We are now satisfied that he was not connected with the incidents of Thursday 21st July 2005. For somebody to lose their life in such circumstances is a tragedy and one that the Metropolitan Police Service regrets.

²The man emerged from a block of flats in the Stockwell area that were under police surveillance as part of the investigation into the incidents on Thursday 21st July. He was then followed by surveillance officers to the Underground station. His clothing and behavior added to their suspicions.

²The circumstances that led to the man's death are being investigated by officers from the MPS [Metropolitan Police Service] Directorate of Professional Standards, and will be referred to the IPCC [Independent Police Complaints Commission] in due course.² [More>>timesonline.co.uk; See later story, thestar.com.my, " Man mistakenly shot dead was Brazilian."
---
7.23.05 Two suspects held after police kill man in Tube
July 23 – Police today said they have arrested a second man in connection with the attempted attacks in London on Thursday. He was also arrested in Stockwell, where the other man was held yesterday – and where an Asian man was earlier shot dead by police as he tried to board a London Underground train. Armed police pursued that man in Stockwell, south London, as part of an undercover operation, and he is believed to have links to the four men. He ran off when challenged, and they shot him, fearing he was about to detonate a bomb. Later, a man believed to be the Shoreditch bus bomber was arrested in the same area. He was led away wearing a white boiler suit.

The disclosure came as Scotland Yard released photographs of the four suspects, taken from closed-circuit television cameras at the three Underground stations and on a bus where the bombing attempts were made. All the images showed young men of Asian appearance, and police warned people not to approach any of the men, who are now the targets of the most intense anti-terrorism investigation seen in Britain.

Security sources confirmed that the man who was pursued and killed in the morning during an undercover police operation at Stockwell Tube station was thought to be linked to the failed bombers. The man, whose identity has not been released and who was not believed to be armed or carrying a bomb, was shot five times in the head on the floor of an Underground train. The extent of his connections with the alleged bombers is unclear and his death is expected to renew controversies about killings by police firearms officers. The Metropolitan Police has 31,000 officers and 3,000 are licensed to carry firearms. [More>>independent.co.uk]
---
7.23.05 American questioned in London probe
July 23 – An American accused of conspiring to build a terror training camp in Oregon has been questioned as part of the probe into the London terrorist attacks, a government official has confirmed to CNN. The government official would not say if James Ujaama provided any useful information. It was with Haroon Rashid Aswat, the man British police are seeking in their terrorism investigation, that Ujaama conspired in the 1999 plot to establish a "jihad training camp" in Bly, Oregon, U.S. officials have told CNN. Aswat was an unindicted co-conspirator in the case, U.S. officials have told CNN.

British police are seeking Pakistan's help in locating Aswat. They want to question him about possible ties to the four bombers who attacked London's transport system on July 7, according to officials familiar with the investigation. [More>>cnn.com; See foxnews.com for more details: An American once accused of trying to set up a terror training camp in Oregon is being questioned about a man sought in the London bombings, US officials said Friday. James Ujaama, a Muslim convert from Seattle, was charged in 2002 with trying to set up a terrorist training camp for Muslim cleric Abu Hamza al-Masri. He pleaded guilty to lesser charges in exchange for cooperating with terrorism investigations until 2013.

Three federal law enforcement officials said Ujaama is being questioned about Haroon Rashid Aswat, who also was implicated in the 1999 plan to establish a training camp in Bly, Ore. The officials spoke on condition of anonymity because of the sensitivity of the investigation. British authorities are looking into whether Aswat had been in close contact with the bombers just before the July 7 attacks. They have asked Pakistan to search for Aswat. The officials did not say whether Ujaama has provided any useful information on Aswat, and Ujaama's lawyer, Peter Offenbecher, declined to comment.

Federal officials have said Ujaama's help was crucial in last year's indictment of al-Masri on charges that included trying to establish the Oregon camp. Al-Masri, formerly the head preacher at London's Finsbury Park mosque, also faces British charges of incitement to murder. He is being held in England...; See also pbs.org Frontline interview of Al-Masri August 14, 2002, which addresses the issue of the dispersion of al-Qaeda and relationships to predicted unrest inYemen.]
---
7.23.05 Blasts kill 83 in Egyptian Red Sea resort
SHARM EL-SHEIKH, Egypt (Reuters) July 23 – At least 83 people were killed and 200 injured when car bombs ripped through markets and hotels in the Red Sea resort of Sharm el-Sheikh on Saturday in the worst attack in Egypt since 1981. Shaken European tourists spoke of mass panic and hysteria as people fled the carnage in the early hours, with bodies strewn across the roads, people screaming and sirens wailing.

The regional governor said two car bombs and possibly a suitcase bomb had rocked the resort, popular with divers and European holiday makers, as well as diplomats who have convened summits of world leaders at Sharm el-Sheikh. One blast tore the front off the Ghazala Gardens Hotel in Naama Bay, the site of most of the resortıs luxury hotels. People were feared trapped in the rubble of the lobby. A car broke into the hotel compound and exploded in front of the building, South Sinai Governor Mustafa Afifi said.

A senior security source in Sharm el-Sheikh said 83 people were killed and 23 people were in critical condition, from among 35 casualties taken to Cairo for treatment. Most of the victims were Egyptians but the Tourism Ministry spokeswoman said seven non-Egyptians were dead, including a Czech and an Italian, and 20 were injured. The injured foreigners were nine Italians, five Saudis, three Britons, a Russian, a Ukrainian and an Israeli Arab, spokesman Hala el-Khatib told reporters. But the British Foreign Office in London said that eight Britons were injured.

A group claiming links to the Al Qaeda organisation said it carried out the bombings in retaliation for ³crimes committed against Muslims², according to an Internet statement. [More>>khaleejtimes.com; See update, haaretzdaily.com, "At least 88 dead, 200 wounded in attacks on Egyptian resort" and more details, khaleejtimes.com, "At least 88 killed in Egypt Red Sea resort bombings."
---
7.23.05 Imams held in Pakistan crackdown
July 23 – Police in the Pakistani province of Punjab have briefly detained over 100 prayer leaders for breaking a law on broadcasting sermons over loudspeakers. The arrests came amid a crackdown on suspected religious extremists in Pakistan, following bombings in London. Police said the government had ordered strict observance of a law which says loudspeakers must be used only for the call to prayers, and not for sermons. Sermons broadcast on loudspeakers are accused of helping fan sectarian hate. [More>>bbc.co.uk]
---
7.23.05 Kurdish fighters killed in clashes
July 23 – Five Kurdish fighters, including a woman, have been killed in a battle with Turkish security forces in the country's troubled southeast. "Ten dead terrorists were seized with their guns in the same region on July 16. As a result, the number of dead terrorists seized in the last 10 days rose to 15," said a statement from the governor of Sirnak province on Saturday. Operations against the separatist Kurdistan Workers' Party (PKK) were continuing in the region where the five were killed, the statement said. The clashes come after increasing violence blamed on Kurdish fighters, who are believed to have also attacked tourist resorts in recent weeks in addition to traditional military targets in mostly-Kurdish southeastern Turkey. [More>>aljazeera.net]
---
7.23.05 Israel under fire in Security Council over separation barrier
UNITED NATIONS (AFP) July 23 – Israel came under fire in the UN Security Council over its West Bank separation barrier, but many countries voiced hope the upcoming Israeli withdrawal from Gaza would pave the way for a just peace between Israelis and Palestinians. The council wrapped up a day-long debate on rising tensions in the Middle East as Israel said its Gaza pullout, due to begin in mid-August, could be moved forward in a bid to avoid further protests by opponents.

The council heard a briefing from UN special coordinator for the Middle East Alvaro de Soto at the start of a debate which had initially been scheduled to center on "the situation in the Middle East, including the Palestinian question." But the session was overshadowed by a clash over Israel's July 10 decision to approve a revised route for the West Bank separation barrier around East Jerusalem that is to be completed by September 1.

Somaia Barghouti, the representative of the Palestinians' UN observer mission, called the move "a grave development and a flagrant challenge to the international community." [More>>dailystar.com.lb]

Editorial note: To see an image of the barrier and read more about it scroll down the sidebar of this page. The wall can be compared to the Berlin Wall and does nothing less than keep the Palestinians confined like animals in a zoo. While the need to stop suicide bombers is real – and the barrier has helped in that regard – it can only add to the grief of Israel as time goes by.
Mel Copeland
---
7.23.05 Authorities to destroy pigs near home of three Indonesian bird flu victims
JAKARTA (AP) July 23 – Health authorities will kill pigs near the home of three family members who died from bird flu - Indonesia's first fatalities from the deadly disease racing through Asia. About 100 pigs were to be killed at two farms in Tangerang on the outskirts of the capital, Jakarta, Ministry of Agriculture official Turni Rusli said on Saturday. The farms are about 15 kilometers (nine miles) from the home of a 38-year-old finance ministry worker and his two young daughters, who died earlier this month from the H5N1 strain of bird flu.

The source of infection has not been confirmed, but authorities say the farms are suspected because chickens and pigs there tested positive for the disease earlier this year. The chickens have already been killed. The virus has swept through poultry populations in large swaths of Asia since 2003, killing tens of millions of birds - and at least 57 people, most of them in Vietnam and Thailand.

In May, an Indonesian scientist also found H5N1 in pigs, which are genetically similar to people and often carry the human influenza virus. Experts worry that pigs infected with both bird flu and its human equivalent could act as a "mixing bowl," resulting in a more dangerous, mutant virus that might spread to people more easily - and then from person to person. [More>>thejakartapost.com]
---
7.23.05 North Korea would welcome visit by Bush, Rice – Kyodo
TOKYO (Reuters) July 23 – North Korea has told the United States it would welcome a visit by US President George W. Bush or Secretary of State Condoleezza Rice to help normalize ties, Japan's Kyodo news agency said on Saturday. Kyodo, quoting diplomatic sources in Beijing, said the message had been conveyed through contacts between the negotiators of the two countries in talks in New York from late June to early July. Those meetings were attended by Joseph DeTrani, the US special envoy for North Korean negotiations, and Ri Gun, chief of the North Korean Foreign Ministry's US Affairs Department. The report comes ahead of six-party talks on North Korea's nuclear programme next week. [More>>thestar.com.my]
---
7.23.05 China seeks Spanish help on meeting energy needs
BEIJING, July 23 – China's top economic planner on Saturday urged the visiting Spanish prime minister to seek ways to help the Asian powerhouse meet its mounting fuel demand through new renewable energy sources, foreign media said. Prime Minister Jose Luis Rodriguez Zapatero, on the final day of a three-day visit, attended an energy conference with Chinese Vice Premier Zeng Peiyan and was told China plans to increase its renewable energy use from 7.0 percent to 13 percent by 2020, the media reported.

... Spain's growth in wind power capacity is one of the fastest in the world and the country now ranks second in wind power use ahead of the United States and after Germany.. [Full story>>jang.com.pk]

---
7.22.05 Police issue bomb suspect images
July 22 – Police have issued CCTV images of four men they believe tried to detonate bombs on three London Tube trains and a bus on Thursday. Met Assistant Commissioner Andy Hayman said anyone who knew who or where the men were should contact police. The bom bers fled after detonators went off but failed to set off explosives.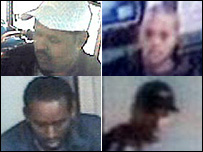 London bomber suspects from CCTV images from bbc.co.uk
The fatal police shooting of a man at Stockwell Tube station on Friday was linked to anti-terrorist operations, Met Police chief Sir Ian Blair said. Scotland Yard urged anyone who knew where the men captured by CCTV were to call 999, or if they could identify any of them to call the anti-terrorist hotline on 0800 789 321.
Officers raided three addresses across the capital on Friday as part of anti-terrorist operations. That included a search of an address in Harrow Road, west London, where area resident Patricia Osbourne said she heard six shots fired. [More.>>
bbc.co.uk
]
---
7.22.05 Police shoot man dead after Tube chase
July 22 – A man shot dead by police at a Tube station this morning is believed to be one of the bombers who escaped after yesterday's failed quadruple attack across London, police sources have told The Times. Specialist armed police shot the man five times after he vaulted a ticket barrier at Stockwell station and boarded a stationary Tube train at just after 10am. Passengers described how an Asian man in a black baseball cap and blue padded coat leapt the barrier and scrambled down escalators onto the platform, stumbling through the open doors. One witness said that the man had wires trailing from his jacket and what appeared to be a bomb belt. Police in flak jackets screamed at other passengers on the Victoria Line train to get down before a marksman fired five shots at the suspect, who had fallen or tripped to the ground. He was killed instantly.

Hours later, in another incident linked to yesterday's attempted bombings, armed police, plain clothes officers and an ambulance descended on Harrow Road in West Kilburn, sealing off a section of the road near Portnall Road and searched a property.

At Stockwell Tube this morning there were scenes of confusion as passengers, many in tears from what they had seen, were rapidly evacuated from the station. The Northern and Victoria lines, which both pass through the station, were immediately closed, as were bridges across the Thames.

There are unconfirmed suggestions that the man had earlier been followed through the streets by undercover police officers acting on intelligence following yesterday's failed bombings. Scotland Yard said: "We can confirm that just after 10am armed officers entered Stockwell Tube station. A man was challenged by officers and subsequently shot. He was pronounced dead at the scene." [More>>timesonline.co.uk]
---
7.22.05 North Korea calls for peace treaty with US to replace armistice
SEOUL, July 22 – North Korea called Friday for a peace treaty with the United States to replace an armistice signed at the end of the Korean War in 1953. [jang.com.pk; a separate report from Beijing (jang.com.pk): North Korea's delegation to a fourth round of talks on its nuclear weapons drive arrived in Beijing Friday ahead of the negotiations resuming next week, sources reported.]
---
7.22.05 China's internet users reach 103 million
July 22 – China is now home to the second largest population of Internet users of any country on the planet, according to a survey released Thursday. The number of Internet users in China has reached 103 million, second only to the United States.

About 9 million Chinese became netizens in the first half of this year, an increase of 18.4 per cent over the same period last year, the survey issued by the quasi-governmental China Internet Network Information Centre (CNNIC) revealed. However, while more than 67 per cent of the US population, about 135 million people, have access to the Internet, in China, the percentage is only about 7.9 per cent. [More>>CRI online]
---
7.22.05 Chirac: Iran's nuclear plan may lead to sanctions
July 22 – French President Jacques Chirac has told Haaretz that if European negotiations with Iran fail to eliminate the threat of nuclear proliferation, then the issue will have to be moved to the UN Security Council. Chirac's statements regarding the possibility of imposing sanctions on Iran, which, according to observers, is the first time he has taken such a firm position in the matter, came in an interview with Haaretz on the eve of Prime Minister Ariel Sharon's state visit to France Wednesday.

"I hope that [the European negotiations with Iran] will succeed and eliminate the danger of the proliferation of nuclear weapons," Chirac said. "If this does not prove to be the case, it will, of course, be necessary to transfer the handling [of the Iranian problem] to the UN Security Council."

...Officials in Jerusalem were highly gratified by Chirac's warm and unusual statements. A Prime Minister's Bureau source said that "Sharon intends to respond to Chirac in kind," and that the visit – Sharon's first state visit to Paris since 2001 – is expected to be "a visit of agreement" that will reflect the substantial warming of bilateral relations over the past two years.

In the same vein, Chirac said that "nothing can justify terror... We understand well [Israel's contention with Palestinian terrorism], and we have always condemned the acts of terror of which Israelis are the victims." Asked specifically about Israel's "targeted assassinations" in the territories, Chirac opted to avoid addressing the question and not to repeat previous condemnations.

Chirac also took a categorical and surprising stance against Hamas in the interview. "Hamas is a terrorist organization that cannot be an interlocutor of the international community, as long as it does not renounce violence and does not recognize Israel's right to exist. This is the unambiguous position of the EU and it will not change."

However, like British Prime Minister Tony Blair, Chirac believes that when it comes to terrorism, "We must deal with all the factors that nourish the hatred and the frustrations: the unresolved conflicts, the religious intolerance, the rejection of the other, and the economic instability." [Full story>>haaretzdailycom]
---
7.22.05 Iraqi police killed in drive-by shootings
July 22 – Five people, three of them policemen, have been killed and one policeman seriously wounded in two drive-by shootings in Baghdad, police say. Armed men in a car drove up alongside a police patrol car in the al-Baladayat district of western Baghdad and sprayed it with bullets, killing two policemen and wounding one. Half an hour later, armed men in a car shot dead another policeman in a police car in the same district of the capital. Two civilians nearby were also killed, police said. On Thursday armed men fired on a car carrying Czech police officers deployed in the Iraqi capital to provide security for Czech diplomats, an official said on Friday. [More>>aljazeera.net]
---
7.22.05 Looting of Iraq's ancient sites threatens 'heritage of mankind'
BOSTON (AFP) July 22 – Despite protection efforts, Iraq's archeological sites are so ravaged by looters that the pillaging has landed the entire embattled nation on a list of the world's 100 most endangered cultural sites. Two years after the U.S.-led invasion of Iraq and a widely publicized break-in at the Baghdad Museum, the country is a hotbed of antiquities plundering that threatens to put huge gaps in the understanding of its rich history, experts say. Once called Mesopotamia, Iraq is regarded as the cradle of civilization and the birthplace of cities. This year's World Monuments Fund list of the world's 100 most-endangered sites named Iraq, the first time an entire country was listed as at risk.

"It's devastating. It's obliterating the country's heritage, and we might never know the full story of Iraq," said Clemens Reichel, an archaeologist at the University of Chicago. "Archeological sites now look like lunar landscapes."

The ancient Assyrian capital of Nineveh, the ziggurat at Ur, the temple precinct of Babylon and the 9th century spiral minaret at Samarra have been "scarred by violence," the World Monuments Fund said, while adding that looting has damaged other equally significant sites, especially in the South.

Touring Iraqi sites from a U.S. military helicopter, McGuire Gibson, a professor at the Oriental Institute at the University of Chicago, said he could see between 250 and 300 men digging at the site of the ancient city Adab. "The damage was unbelievable," he wrote in a paper. The pillaging could hurt a wider understanding of human history, said Donny George, director of the Iraq Museum. [More>>dailystar.com.lb]
---
7.22.05 Egypt's natural gas luring foreign investment
BEIRUT, July 22 – British Petroleum and Shell set sites on larger-than-expected LNG reserves: Just a few years ago pessimists laughed off Egypt's ambition to become a credible liquefied natural gas (LNG) exporter, arguing the country did not have the gas reserves potential to lure foreign players to costly deep-water exploration acreage in the Mediterranean Sea. That perception has, of course, changed rapidly with super majors such as British Petroleum (BP) and Shell setting their sights on adding new liquefaction trains to the country's two existing LNG plants.

Executives say it is only a matter of time before more export trains are built along Egypt's Mediterranean coast as a new wave of exploration drilling gets under way in a bid to unearth the gas treasures of the area. "Remember that exploration in the Nile Delta started only a few years ago. There is a lot of upside potential," explained BG Egypt president Oscar Prieto. "It is a matter of time before we all prove more reserves. The gas industry has a bright future in Egypt." Prieto, though, cautioned: "On the other hand, Egypt is not Qatar, which has almost infinite reserves."

Egypt's proven gas reserves are now estimated at about 65 trillion cubic feet (Tcf). Cairo is hoping to double that figure through exploration and new licensing rounds based on the prolific Nile Delta.

Shell has high hopes for its promising North East Mediterranean Deepwater (Nemed) concession where it is embarking on a fresh drilling campaign aimed at finding commercial quantities of gas. Shell has sounded out the Egyptian government on building its own LNG plant. [More>>dailystar.com.lb]
---
7.21.05 London hit by four bomb attempts, two weeks on
July 21 – Exactly two weeks after four suicide bombers wreaked havoc in the London rush hour, parts of the capital were brought to a standstill today by a spate of apparent copycat attacks on three Tube trains and a London bus. Emergency services were called out to incidents at three stations, including a reported nail bomb attack at Warren Street station. A British Transport Police spokeswoman said Warren Street, Shepherd's Bush and Oval stations had all been evacuated. An explosion was also reported on a No 26 bus at Hackney in East London, blowing out the windows but not causing any injuries. Only one person is so far reported to have been injured, at Shepherd's Bush.

Large parts of London were cordoned off after the bombs, including University College Hospital, near Warren Street, where armed police reportedly chased a man – thought to be a bomber – into the building. Soon afterwards, an internal memo was circulated among hospital staff asking them to be on the alert for a black or Asian man, 6ft 2ins in height, wearing a blue top with a hole in the back with wires protruding from it. A press spokesman for the hospital confirmed that armed officers were inside. The incident is continuing. Meanwhile a man was arrested by armed police at the gates of Downing Street, and led away at gunpoint.

Tony Blair cancelled his afternoon appointments on news of the incidents, although Scotland Yard said it was not immediately treating the incidents as of the same magnitude as the bombings on July 7. Appearing outside New Scotland Yard, Sir Ian Blair, the Metropolitan Police Commissioner, said the incidents were "clearly very serious" involving "four explosions - four attempts at explosions."

He added: "At the moment the casualty numbers appear to be very low in the explosions, the bombs appear to be smaller than on the last occasions, but we don't know the implications of this yet and we'll have to examine the scene very closely." [More>>timesonline.co.uk; See also guardian.co.uk, "Map of the London bombings."
---
7.21.05 Chinese currency set free
July 22 – China last night bowed to escalating pressure from world leaders, revaluing its currency for the first time in a decade in a move that will boost Australian exports. China, which stood accused of massively undervaluing its currency to foster economic growth, said it would no longer peg the yuan to the US dollar but to a "basket" of global currencies. The move changes the greenback peg from 8.28 yuan to 8.11 yuan, effectively making Australian exports to China cheaper. This will provide a significant boost to the nation's biggest mining companies, which are feeding the rampant economy with iron ore, coal, steel and copper.

UBS resources analyst in Sydney Glyn Lawcock said the size of the revaluation was a "mild positive" for the resources sector. "It means that imports will be cheaper for (China), so that is a positive for the mining companies in that it will reduce the costs of raw materials," he told The Australian. Chinese goods imported into Australia will also become more expensive, with economists forecasting a modest rise in inflation as the peg takes effect. The decision, which takes effect immediately, is likely to ease tensions between China and countries including the US and Australia, which have been agitating for a removal of the peg. [More>>theaustralian.news.com.au; See also chinadaily.com.cn article, "China abolishes yuan-dollar peg, adopts floating rate."
---
7.21.05 Gunmen kidnap Algerian envoys in Baghdad
BAGHDAD (Reuters) July 21 – Gunmen kidnapped two Algerian envoys in Baghdad on Thursday, the latest in a series of attacks that have driven diplomats from the Iraqi capital and hurt the U.S.-backed government's bid for better ties with Arab states. Police sources said gunmen in two cars snatched Algerian mission chief Ali Billaroussi off the street outside a restaurant along with diplomatic attache Azzedine bin Fadi. "Two Algerian attaches were kidnapped in Baghdad. We have set up an emergency cell and we are following closely the situation," Algerian foreign ministry spokesman Abdelhamid Chebchoub told Reuters.

Egypt's envoy was kidnapped earlier this month by al Qaeda's Iraq wing, which later said it had killed him and vowed more attacks on diplomats in the Iraqi capital. Pakistani and Bahraini diplomats were also ambushed. [More>>thestar.com.my]
BEIJING, July 21 – A hospital in southern China has hung a sign outside its entrance forbidding Japanese people from entering unless they apologize for the Japanese army's World War II-era use of "comfort women," two of whom were treated there, a local paper reported Thursday.

The Hainan Eastern-Western Medicine United Hospital, located in the central district of Haikou, capital of the island province of Hainan, posted the sign in Chinese and Japanese on Wednesday afternoon, according to the South Country Metropolitan News. The sign reads: "Japanese people first apologize, then enter. Japanese people who 'decide not to admit to their crimes' are prohibited from entering." The sign drew a crowd of local people Wednesday, the paper said. The article did not say how often Japanese people visit the hospital.

The paper, quoting an unnamed official at the hospital, said the hospital staff's treatment of two former World War II-era "comfort women," Chen Jinyu and Lin Yajin, made staff members think of how the women might have been treated in sexual slavery during Japan's 1931-1945 occupation of Chinese territory. [More>>japantoday.com]
WASHINGTON (PTI) July 21 – Observing that the proposed multi-billion dollar Indo-Iran gas pipeline via Pakistan is fraught with risks, Prime Minister Manmohan Singh has said he did not know if any international consortium of bankers would underwrite the project.

"Only preliminary discussions have taken place (on the pipeline). We are terribly short of our energy supply and we desperately need new sources of energy. And that's why with Pakistan we have agreed to explore the possibility of the pipeline," he told The Washington Post on Wednesday when asked about the discussions on building a gas pipeline with Iran. "But I am realistic enough to realize that there are many risks because considering all the uncertainties of the situation there in Iran. I don't know if any international consortium of bankers would probably underwrite this. But we are in a spate of preliminary negotiations, and the background of this is we desperately need the supply of gas that Iran has," the Prime Minister said.

...Singh, however, expressed hope that India could act as a bridge between US and Iran. "We have strong civilizational links with Iran. Also, I would say that Iran is the largest Shia Muslim country in the world. We have the second largest Shia Muslim population in our country...And I do believe (with) that part of our unique history, we can be a bridge," he said. [Full story>>hindustantimes.com
SANAA (AFP) July 21 – Twelve people were killed during clashes on Thursday between security forces and armed demonstrators in a second day of deadly protests against a government decision to hike fuel prices, witnesses said.

At least 50 protestors were also wounded in the capital and at least six towns in the south and north, with government forces, backed by army tanks and armored vehicles, deployed along main roads. In Sanaa, an intelligence officer and an anti-riot policeman were killed and 10 protestors injured in an exchange of fire during attempts to disperse a demonstration in the Tahez neighborhood, witnesses said. Four protestors were killed and 10 others wounded in the town of Al-Dali, 250 kilometers (155 miles) south of the capital. One protestor was killed in the southern town of Demneh. Three protestors were killed and seven wounded in riots in the western city of Al-Hadida, located on the Red Sea, and 15 more protestors were wounded in the southern town of Ibb.

And two protestors were killed and eight others wounded in the northern city of Saada when angry protestors tried to storm the headquarters of the ruling General Popular Congress Party, the government oil company and a state bank. A police car was burnt by protestors in the center of the city. An exchange of fire also occurred during demonstrations in which protestors damaged vehicles and shops in the town of Loder, in the southern province of Abyan, they said. There were no reports of casualties.

Yemeni army and security forces have been heavily deployed in Sanaa and other major towns in the south where similar clashes broke out on Wednesday during demonstrations that left at least 10 dead and scores wounded. Tanks and armored vehicles took up positions on main crossroads in the capital and other towns as patrols roamed main streets, witnesses said.

...Petrol prices in the impoverished republic nearly doubled from 35 riyals (32 cents) per litre to 65 riyals (60 cents). Diesel jumped from 17 riyals (16 cents) to 45 riyals (42 cents). ³The cabinet has reached a conclusion ...To continue subsidizing fuel products consumed locally would lead eventually to an increase in budget deficit ... and put pressure on exchange rate and prices,² a cabinet statement said. [Full story>>khaleejtimes.com]
EL-FASHER, Sudan (AFP) July 21 – US Secretary of State Condoleezza Rice demanded and received an apology from Sudan after officials and press accompanying her were "manhandled" by security staff at President Omar al-Beshir's residence. "They had no right to manhandle my staff and the press," Rice told reporters after the incident on Thursday, in which US officials and reporters were violently barred from entering the meeting and security staff tried to confiscate press tapes. "It makes me very angry to be sitting there with their president and have this happen," said Rice, who was in Sudan to urge Khartoum to step up efforts to end what she calls genocide in its battered western Darfur region. [More>>turkishpress.com]