8.01.05 Afghan troops unearth weapons cache as Tashkent tells US to leave airfield
August 1 – Afghan security forces have seized thousands of missiles, mortar rounds and artillery shells in their biggest weapons haul in months, the Defense Ministry said. The suspected Taliban ammunition cache was found in the Khogyani district of central Ghazni Province, said Defense Ministry spokesman General Mohammad Zahir Azimi. The weapons dump included 2,000 surface-to-surface missiles, 3,000 mortar rounds, 500 artillery shells and 150 boxes of anti-aircraft ammunition, he said. "We suspect that the weapons were stored to be used during the elections," he said. On September 18 voters are set to elect a Parliament and provincial councils.

The Taliban, who were ousted in a US-led invasion in late 2001, continue to stage frequent attacks on officials and on the 19,000-strong coalition force, mostly in the south and east of Afghanistan. As American-led forces continued a hunt for Taliban insurgents in Afghanistan, the US State Department confirmed neighboring Uzbekistan formally served the United States an eviction notice, asking it to leave a military base that has served as a hub for its combat operations in Afghanistan. [More.>dailystar.com.lb]
---
8.01.05 Sharm al-Shaikh suspect shot dead
August 1 – One of the main suspects in Egypt's Sharm al-Shaikh resort attacks has been killed in a shootout with security forces, a police official says. Mohammed Saleh Flayfil, already wanted for his alleged role in last year's bomb attacks at the Taba resorts in the Sinai peninsula, was killed in the shootout in Ataqaa mountains, near Suez, said the police official on Monday. Flayfil's wife was injured in the shooting, the official, speaking on condition of anonymity because he was not authorised to give information to the press, said.

Flayfil is being tried in absentia for the Taba bombings that killed 34 people and was one of the authorities' main suspects out of a list of 15 wanted in relation to the 23 July explosions that rocked Sharm al-Shaikh, killing scores of Egyptians and tourists. Flayfil is a brother Suleiman Flayfil, one of the Taba attackers, who reportedly died in one of the explosions when he purportedly detonated his charges prematurely. [More>>aljazeera.net]
---
8.01.05 London faces lockdown to thwart third terror strike
August 1 – Thousands of police marksmen will be on Londonıs streets and rooftops again today after warnings that another team of suicide bombers is plotting a third attack on the capital. The new group is believed to be made up of British Muslims who were understood to be close to staging an attack on the Underground network last week. According to security sources the men are thought to be of Pakistani origin but born and brought up in this country. They have links with the Leeds-based terrorist cell that staged the July 7 attacks, in which 52 innocent people died.

Even with the transport system so heavily guarded, police and intelligence sources believe that the bombers are intent on once more attacking Londonıs bus and Underground network. Another multiple suicide strike is also intended to demonstrate how the network can call on more recruits. The men are said to have access to explosives.

US security sources said yesterday that this third group of would-be bombers met at Finsbury Park mosque in North London, where some of the July 7 terrorists are also known to have stayed. There are reports that this team originally planned to strike last Thursday, which is why more than 6,000 police, half of them armed, were present at Underground stations. Scotland Yard said at the time that this exercise, the biggest since the Second World War, was to test their resources and reassure a nervous public. [More>>timesonline.co.uk]
---
7.31.05 Russia's foreign ministry does not intend to revoke ABC's accreditation
MOSCOW (RIA Novosti) July 31 – Russia's foreign ministry does not intend to revoke ABC accreditation for airing an interview with Chechen terrorist leader Shamil Basayev, the ministry officials said commenting on a statement made earlier by Defense Minister Sergei Ivanov that his ministry breaks up all contacts with the ABC TV network. "It [the ABC] is a persona non grata, it is a rogue TV station as far as the defense ministry is concerned," Ivanov told a news conference in Vladivostok Sunday.

"The statement made by the defense minister does not mean that the foreign ministry will also revoke ABC's accreditation," foreign ministry officials said. They also said they respected the feelings of the military who are directly involved in the fight against terrorism. "We will not be surprised if after the airing of Basayev's interview, which provoked a wave of sharp criticism in the Russian society, some other organizations or state bodies refuse to have contacts with ABC representatives, as well," foreign ministry officials added. [rian.ru; See bbc.co.uk article, "Russia freezes out ABC on Basayev" : Russia's defence chief has barred the ministry from contact with ABC TV after the US network's interview with Chechen rebel leader Shamil Basayev. Sergei Ivanov said the ministry considered ABC "persona non grata" following Thursday's broadcast.

The warlord has claimed the 2004 raid on a school in Beslan. In the interview he admitted he was a terrorist, but said the Russians were terrorists too. Russia's most wanted man also said he was plotting more attacks. "Today I have given the order to the head of the press service that not one serviceman of the defence ministry should have contact with the American television channel ABC," Mr Ivanov said in televised comments. "We will continue to act openly with the press, but this channel will not be invited to the defence ministry and no interviews will ever be given to it," he said. "This channel is now persona non grata for the defence ministry and is an outcast."]

Editorial note: It is this writer's opinion that there is very little difference between the publication of terrorist leaders' programs, whether they be by Al-Jazeera or ABC. This problem of giving airtime to terrorist's agendas was judged by the Nuremberg Court after WWII in the case of Julius Streicher, who ran a newspaper that justified the killing of the Jews. Streicher was hanged for his publishing indiscretions.
Mel Copeland
---
7.31.05 Extraordinary admission to interrogators by London bomb suspect
July 31 – A suspected member of the 21 July bomb cell has told investigators he was motivated by the Iraq war, not religion. Osman Hussain, suspected of attempting to blow up commuters in Shepherd's Bush, west London, has given an extraordinary account of a plot hatched in a basement gym in Notting Hill, according to leaks from his interrogation by Italian investigating magistrates.

...The propaganda helped to foster the group's "political conviction that it is necessary to give a signal, to do something", Hussain was quoted by La Repubblica as saying. "We never had contacts with the Bin Laden organisation. We knew that they existed. We had access to their platforms through the internet, but nothing direct."

He told investigators the cell was surprised by the 7 July bombs. "We have no link with the Pakistanis," he said. However, his group took the 7 July carnage as a signal that it should also act.

According to another report, from the Ansa Italian news agency, Hussain said: "We had to do something. We had to react to the climate of hatred and hostility that was created after the 7 July bombs. We were not supposed to kill anyone. That bomb would not have been able to cause victims."

The Italian Interior Ministry confirmed that the quotes from Hussain's interrogation in La Repubblica and the Corriere della Serawere authentic but declined to comment on the source of the leaks. [Full story>>independent.co.uk]
---
7.31.05 Guard killed in Chalabi convoy attack
July 31 – An attempt has been made on the life of Iraq's Deputy Prime Minister Ahmad Chalabi. Gunmen opened fire on his convoy in a town south of Baghdad, Latifiya, killing one of his guards, police in the capital said. Two cars were destroyed during the attack. However, initial reports indicated Chalabi was not in the convoy when it was hit. His aides were not immediately available for comment. Chalabi, a former ally of the United States who lobbied strongly in Washington for the invasion of Iraq, also plays a key role in setting oil policy in the country.

Earlier on Sunday a car bomb has exploded near an Iraqi police checkpoint south of Baghdad, killing seven people, police said, while the US military announced that five soldiers had been killed in two bomb attacks a day earlier. The car bomb attack occurred about 50km south of Baghdad near the town of Haswa, the police department in nearby Hilla said. [More>>aljazeera.net]
---
7.30.05 Third terror cell on loose
July 31 – A third Islamist terror cell is planning multiple suicide bomb attacks against Tube trains and other ³soft² targets in central London, security sources have revealed. Intelligence about a cell with access to explosives and plans to unleash a ³third wave² of attacks was the trigger for last Thursdayıs unprecedented security exercise. The operation saw 6,000 police, many armed, patrolling across London.

Senior police officers say that there was ³specific² intelligence from several sources that an attack was planned for that day. The disclosure contradicts official statements by Scotland Yard that Thursdayıs security exercise – the biggest since the second world war – was simply a precaution aimed at reassuring the public.

The disclosures come as a suspected bomber detained in Italy apparently admitted to involvement in the attacks on July 21. According to Italian reports, Hussain Osman has alleged to investigators that the leader of the July 21 attacks was Muktar Said-Ibrahim, who was detained in London on Friday. Details of a ³third wave² terror plot to carry out multiple suicide attacks were disclosed to senior police commanders at an emergency Special Branch conference held at Scotland Yard last Wednesday. All police leave was cancelled and hundreds of officers were instructed to book into central London hotel rooms.

Members of the third cell are said to be independent of the July 7 and July 21 terrorists but have ³associations² with some of the suspects who have been arrested in connection with the July 21 attacks. Deputy Assistant Commissioner Peter Clarke, head of the anti-terrorist branch, said that despite capturing the four suspected bombers and a fifth man linked to the cell ³the threat remains and is very real." [More>>timesonline.co.uk]
---
7.30.05 Dramatic warm spot over pole of Saturn moon Enceladus
July 29 – This image shows the surprise that startled Cassini scientists on the composite infrared spectrometer team when they got their first look at the infrared (heat) radiation from the south pole of Saturn's moon Enceladus.

There is a dramatic warm spot centered on the pole that is probably a sign of internal heat leaking out of the icy moon. The data were taken during the spacecraft's third flyby of this intriguing moon on July 14, 2005.
Based on data from previous flybys, which did not show the south pole well, team members expected that the south pole would be very cold, as shown in the left panel. Enceladus is one of the coldest places in the Saturn system because its extremely bright surface reflects 80 percent of the sunlight that hits it, so only 20 percent is available to heat the surface. As on Earth, the poles should be even colder than the equator because the sun shines at such an oblique angle there.
The right hand panel shows a global temperature image made from measurements of Enceladus' heat radiation at wavelengths between 9 and 16.5 microns. Cassini made the observation from a distance of 84,000 kilometers (52,000 miles) on the approach to Enceladus, and the image shows details as small as 25 kilometers (16 miles). Equatorial temperatures are much as expected, topping out at about 80 degrees Kelvin (-315 degrees Fahrenheit), but the south pole is occupied by a well-defined warm region reaching 85 Kelvin (-305 degrees Fahrenheit). That is 15 degrees Kelvin (27 degrees Fahrenheit) warmer than expected. The composite infrared spectrometer data further suggest that small areas of the pole are at even higher temperatures, well over 110 degrees Kelvin (-261 degrees Fahrenheit). Evaporation of this relatively warm ice probably generates the cloud of water vapor detected above Enceladus' south pole by several other Cassini instruments.
The south polar temperatures are very difficult to explain if sunlight is the only energy source heating the surface, though exotic sunlight-trapping mechanisms have not yet been completely ruled out. It therefore seems likely that portions of the polar region are warmed by heat escaping from the interior of the moon. This would make Enceladus only the third solid body in the solar system, after Earth and Jupiter's volcanic moon Io, where hot spots powered by internal heat have been detected. [More>>
saturn.jpl.nasa.gov
]
---
7.30.05 Bomb kills British guards near Basra
July 30 – A British consulate vehicle has been hit by a roadside bomb near the southern Iraqi city of Basra, killing two Britons working for a private security firm, according to the UK consulate and the company. Karen McLuskie with the consulate in Basra said the attack occurred at 9.30am (0530GMT) on Saturday as the convoy was passing on the southwestern edge of the port city. The two killed were security contractors employed by Control Risks Group and both were British citizens, said Peter Stevenson, a spokesman for the London-based security company. No further details were available. The British embassy in Baghdad said an investigation had been launched into the incident. [More>>aljazeera.net]
---
7.30.05 Pig disease found in five more cities
July 30 – The deadly Streptococcus suis disease was found in five more cities across Southwest China's Sichuan Province on Friday. Also on Friday, one more person was killed by the bacteria, which is carried by pigs, bringing the total death toll to 32. The five new sites where infections have been found are: provincial capital Chengdu, Zigong, Suining, Luzhou, and Mianyang. Twenty-five cases were identified in the five cities in the past three days.

Since the outbreak started on June 24, official reports have previously only identified Ziyang and Neijiang as the affected places. The Ministry of Health said the new cases were discovered as a result of the local health authorities' strengthened publicity efforts and were not necessarily new infections. [More>>chinadaily.com.cn]
---
7.30.05 Uzbekistan evicts United States from air base
WASHINGTON, July 30 – Uzbekistan formally evicted the United States yesterday from a military base that has served as a hub for combat and humanitarian missions to Afghanistan since shortly after the attacks of Sept. 11, 2001, Pentagon and State Department officials said yesterday.

In a highly unusual move, the notice of eviction from Karshi-Khanabad air base, known as K2, was delivered by a courier from the Uzbek Foreign Ministry to the U.S. Embassy in Tashkent, said a senior US administration official involved in Central Asia policy. The message did not give a reason. Uzbekistan will give the United States 180 days to move aircraft, personnel and equipment, U.S. officials said.

If Uzbekistan follows through, as Washington expects, the United States will face several logistical problems for its operations in Afghanistan. Scores of flights have used K2 monthly. It has been a landing base to transfer humanitarian goods that then are taken by road into northern Afghanistan, particularly to Mazar-e Sharif – with no alternative for a region difficult to reach in the winter. K2 is also a refueling base with a runway long enough for large military aircraft. The alternative is much costlier midair refueling.

Defense Secretary Donald H. Rumsfeld returned this week from Central Asia, where he won assurances from Kyrgyzstan and Tajikistan that the United States can use their bases for operations in Afghanistan. US forces use Tajikistan for emergency landings and occasional refueling, but it lacks good roads into Afghanistan. Kyrgyzstan does not border Afghanistan. [More>washingtonpost.com via thestar.com.my]
---
7.30.05 Standard & Poor lists top 100 companies in China
July 30 – To help investors gain a better understanding of the corporate sector in China, Standard & Poor's has conducted a statistical survey of the Top 100 listed corporations in the country. This is the third year that Standard & Poor's has reviewed these leading corporations. The selection criteria are based on the latest available revenue size.

(See "Sizing Up China's Corporate Elite" for the top outfits' growth outlooks. And check out BW Online's in-depth coverage of the yuan revaluation and its implications.)

Ranking Company Annual Sales (Mil. Yuan)

1 China Petroleum & Chemical 590,632
2 PetroChina 388,633
3 China Mobile 192,381
4 China Telecom 161,212
5 China United Telecommunications 79,332
6 China Netcom Group 64,922
7 Minmetals Development 64,593
8 Baoshan Iron & Steel 58,638
9 Cnooc 55,222
10 China Resources Enterprises 50,105

More>>chinadaily.com.cn]
---
7.30.05 Update, 7.29.05 Musharraf orders foreigners out of Islamic schools
ISLAMABAD (AFP) July 30 – Pakistani President Pervez Musharraf moved last night to evict all the estimated 1400 foreign nationals studying in the country's Islamic seminaries. Pakistan has come under intense pressure from its allies Britain and the US to crack down hard on Islamic militants since the London bombings and subsequent attacks in the British capital, the Egyptian port of Sharm el-Sheikh and elsewhere. General Musharraf said last night that "all foreigners" would be removed from Pakistan's more than 10,000 madrassas. No new visas would be issued to non-Pakistanis wishing to study in the seminaries and Islamic prayer schools. [More>>theaustralian.news.com.au; See khaleejtimes.com, "About 1,400 foreign students face expulsion from Pakistan."
---
7.30.05 Defense team says Saddam attacked; US denies it
AMMAN (Reuters) July 30 – Lawyers for Saddam Hussein said on Saturday their client was attacked by an unidentified man during a court appearance in Baghdad this week, but US forces guarding him denied any such incident took place. A statement issued by Saddamıs legal team, which has an office in Amman, Jordan, said the former president was attacked and exchanged blows with another person during a hearing attended by his main lawyer, Khalil Dulaimi, on Thursday. ³As the president (Saddam) stood to leave the courtroom one of those present attacked him and there was an exchange of blows between the man and the president,² the statement said, adding that the head of the tribunal did nothing to stop the assault.

...The team, retained by Saddamıs family, said it held the US military responsible for any harm to the former Iraqi leader and demanded safeguards for his protection. The statement said the legal team refused ³to recognise the authority of the court and all the bodies that were interrogating Saddam as it had no legal authority².

An official in Baghdad who is familiar with the workings of the tribunal also denied that any scuffle took place between Saddam and another individual. He suggested it may be a defence team tactic. [Full story>>khaleejtimes.com]
---
7.30.05 Death toll of Western India flood hits 850
(Reuters) July 30 – The death toll from western India's worst flooding in nearly a century rose close to 850 on Saturday as rescue workers pulled out more dead bodies from landslides triggered by heavy monsoon rains, officials said. Authorities braced for further floods as the weather office forecast more rains in the next two days in the western state of Maharashtra and its capital, Bombay. India's financial hub ground to a near-halt earlier in the week after two days of torrential downpours. "The situation is improving in Bombay. But increased rainfall activity from this morning is worrying us," a relief official said. [More>>chinadaily.com.cn]
---
7.30.05 Italy: Bombing suspect talking
Rome, July 30 – A suspect in the attempted bombings of July 21 in London was reportedly cooperating with investigators on Saturday. According to Italy's interior minister, the Ethopian-born British citizen was providing information that led police to search the country for his contacts and was to be interrogated further at Rome's Regina Coeli prison later in the day. "We are facing a grave threat which must be dealt with all means of prevention and crackdown that we have," Interior Minister Giuseppe Pisanu told the Chamber of Deputies while giving the first details of Friday's arrest of Osman Hussain following a manhunt from England to Italy.

"Important investigations" were underway in Venice, Salerno and other cities from north to south, and paramilitary police in Milan raided a place producing false documents for illegal immigrants, seizing papers that were being examined by authorities, he said.

...Italian SKY TG 24 reported that Hussain used fake Somali documents to claim political asylum in Britain and obtain British citizenship. The British Home Office declined to comment on the report. Pisanu said Osman was a Briton with Ethiopian citizenship. Earlier, Italian officials said he was born in Somalia. He said the suspect escaped from London by taking a train on July 26 from Waterloo Station. At Waterloo, travelers can board the train that travels through the English Channel tunnel to Paris.

Investigators were keen on learning whether the suspect was simply fleeing when he turned up on Rome's outskirts at an apartment reportedly belonging to his brother or whether he planned attacks on Italian cities.

...The Milan daily newspaper Corriere della Sera reported that two maps of the Paris metro system were found in the apartment, but it was unclear how the suspect might have used them. Newspapers said investigators suspected Hussain's real name was Hamdi Isaac. His brother in Rome is Remzi Isaac, Corriere said. [Full story>>foxnews.com; See also bbc.co.uk article, "Italy raids 'UK bomber contacts'" : ...Police were searching "at least 15" addresses in various provinces in Italy in connection with the investigation, he said; La Repubblica.It article, " Interrogato Hamdi vuol restare in Italia decreto sicurezza verso il si definitivo."]
---
7.30.05 Update, 7.29.05 'All four' July 21 suspects held
July 29 – All four failed London bomb suspects are reported to be in custody following armed raids in the UK capital and Rome. Two London arrests are thought to be the men wanted for the 21 July Oval Tube and No 26 bus attacks. A third bomb suspect was already being held.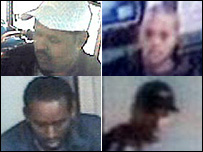 London bomber suspects from CCTV images from bbc.co.uk
The fourth suspect, wanted for the attempted Shepherd's Bush Tube attack, has been arrested in Rome and named as Somali-born UK citizen Osman Hussain. [More>>
bbc.co.uk
; See update,
timesonline.co.uk
, "Captured – all five 21/7 bomb suspects."
---
7.29.05 Two failed bombers arrested in West London raids
July 29 – Two of the failed July 21 bombers have been arrested by armed police after dramatic raids in West London today. Mukhtar Said-Ibrahim, suspected of trying to blow up a number 26 bus in Hackney, East London, was arrested at an address near Tavistock Crescent, Notting Hill, after armed police and a bomb disposal unit surrounded the house, police sources told The Times. It is understood that he did not put up a struggle. Two hours later, a man suspected of trying to bomb a Tube train at Oval station was seized after a siege at a flat in Dalgarno Gardens, North Kensington.

The only one of the failed July 21 bombing suspects still at large is the man suspected of trying to blow up a Tube train at Shepherd's Bush, West London.
The Metropolitan Police issued a statement confirming that they had "conducted operations at two residential addresses in west London" in connection with the failed July 21 London bombings. The statement said: "Officers are now in the process of securing those two premises which are now being treated as crime scenes. Police have arrested two men at one address and a third man has been arrested at the second address. They are being taken to a Central London police station for further questioning." [More>>
timesonline.co.uk
; See also
timesonline.co.uk
article, "Bombs suspect 'arrested in Africa'": Britain's biggest manhunt spread to southern Africa yesterday after claims that a Yorkshire-born militant linked to the London bombings had been captured in Zambia.
Haroon Rashid Aswat has been on the run since 1999 when he allegedly tried to set up training camps for al-Qaeda in the United States. His name emerged within days of the July 7 attacks, as a possible orchestrator of the synchronised suicide bombings that killed 52 people.
The 30-year-old activist from Dewsbury was reported to have slipped into Britain a fortnight before the attacks and flew out hours before the four bombers struck. Senior security sources in Islamabad told The Times that they had been asked by Britain within days of the first wave of attacks for help in tracking down Aswat. British police are checking claims that he was in phone contact with at least one of the bombers who died in the July 7 attack.]
BAGHDAD, July 29 – At least 25 men were killed and 35 wounded on Friday in a suicide bomb blast outside an army recruitment centre, police in Mosul confirmed. The suicide bomber, wearing an explosives belt, had mingled with crowds queuing outside the centre in al-Rabia near the Syrian border before detonating his bomb. Many of the injured are said to be in a serious condition. Most suicide bomb attacks in Iraq target security force members or volunteers waiting outside recruitment centres. In Fallujah Friday insurgents bombed a police station. The building was destroyed but there were no reports of casualties.

Meanwhile Friday an air strike by the US military in western Iraq killed four Iraqis and five Syrians, a statement by the military said. The US army said that an Iraqi-US patrol in the village of Cykla, which is about 200 Kilometers west of Baghdad, came under attack by insurgents armed with rocket propelled grenades. The soldiers called in air support which destroyed three buildings in which the insurgents were hiding. Two insurgents were arrested.

Also in Cykla two US marines were killed Thursday when their unit came under attack by small arms fire and rocket propelled grenades, the US military said.

US and Iraqi forces captured an al-Qaeda terror cell leader during a cordon and search operation in a neighborhood in northern Mosul, the US military said Friday. Ammar Abu Bara, a.k.a. Amar Hussein Hasan was captured Wednesday. The military said Bara replaced Abu Talha, former terror cell leader for the Mosul area, following his capture in early June. [More>>khaleejtimes.com]
SINGAPORE, July 29 – Iraq has replaced Afghanistan as the "epicenter" of international terrorism and escalated the threat of Islamic extremist violence around the globe, security expert Rohan Gunaratna said Friday. "The epicenter of international terrorism... has shifted from Afghanistan in Asia to the Middle East, that is to Iraq," Gunaratna, regarded as one of the world's authorities on Al-Qaeda, told a financial security conference here. "Like Afghanistan produced the last generation of terrorists, Iraq will produce the next generation."

Al-Qaeda chief Osama bin Laden and thousands of other Islamic militants gained their combat experience and military training while fighting to end the 1979-89 Soviet occupation of Afghanistan, and many stayed there afterwards. Similarly Gunaratna, who is the head of the International Centre for Political Violence and Terrorism Research at Singapore's Institute of Defence and Strategic Studies, said Islamic militants from more than 30 nations had fought in Iraq since the US-led invasion in March 2003. [jang.com.pk]

July 29 – Iraq's foreign minister complained yesterday that some neighboring countries are not cooperating to stop foreign religious extremists from crossing into Iraq and said border tensions with Kuwait should be solved through dialogue. On the ground, a suspected bomb on a railway line hit a train carrying oil products near Baghdad, causing a huge fire, Iraqi police said, adding one person was killed and four wounded in the blaze.

In a joint news conference, with U.S. Ambassador to Iraq Zalmay Khalilzad, Foreign Minister Hoshyar Zebari said that unspecified "neighboring countries" were not cooperating to control their border and prevent infiltrators from entering Iraq. "Iraq's security is part of the security of these countries," Zebari said. Zebari's remarks were made one day after U.S. Defense Secretary Donald H. Rumsfeld urged the Iraqis to be more aggressive in complaining to their neighbors about infiltration by foreign fighters.

Khalilzad told reporters he had discussed the issue with Zebari, adding he believed a new constitution "will help Iraq's success" in dealing with its neighbors. [More>>dailystar.com.lb]
UNITED NATIONS (Reuters) July 29 – The UN Security Council on Friday expanded its global effort to deprive Al Qaeda and Afghanistanıs Taleban of the resources needed to carry out ³criminal terrorist acts.² A US-drafted resolution, adopted unanimously by the 15-nation council, expanded and better defined the groups covered by a council initiative put in place after the Sept. 11, 2001, attacks on the United States.

Cosponsored by Denmark, France, Greece, Japan and Russia, the measure also sets out more steps governments must take to try to prevent individuals and groups tied to Al Qaeda or the Taleban from sponsoring, organizing or carrying out attacks.

³What the council is looking at is to pursue any act of terrorism from wherever they are coming,² said Greek Ambassador Adamantios Vassilakis, the council president for July.

Under the existing program, a Security Council committee maintains a list of more than 300 individuals, businesses and organizations suspected of links to Al Qaeda and the Taleban. All 191 UN member nations are obliged to freeze their funds and other assets, block their travel and keep them from obtaining arms and other resources.

The newly passed resolution expands the initiativeıs reach to any individual or entity ³participating in the financing, planning, facilitating, preparing or perpetrating of acts or activities by, in conjunction with, under the name of, on behalf of, or in support of² Al Qaeda or the Taleban. Also covered is ³any cell, affiliate, splinter group or derivative² of them as well as any group or individual recruiting for them or supplying them with arms. The text also clarifies how names are added to the list -- or removed if later found to be added in error. It asks Interpol to add the councilıs listings to its own databases and calls on world governments to promptly invalidate all stolen or lost passports.

UN counter-terrorism experts, in a report issued in February, said governments should work more closely with Interpol to identify lost and stolen passports to thwart terrorist attacks. [Khaleejtimes.com]

July 29 – In a dust-choked sewage-strewn wadi on the southeastern rim of Jerusalem, a storm is brewing over the government's plan to route the security barrier around Jerusalem through an Arab village that lies just beyond the municipal border. At issue is the proposed routing of the barrier on the outskirts of the east Jerusalem neighborhood, Jebl Mukaber, which is part of a series of legal challenges over the route in Jerusalem. The battle has united hundreds of Arab and Jewish residents in the locality who sympathize with them to give their support against the move.

The plan of the barrier will cut off the neighborhood of 12,000 residents that borders east Talpiot from its "sister village" of Sheikh Sa'ad, in the West Bank and behind municipal lines. Families will be separated and the route will prevent residents from getting to work, school, or medical facilities in Jerusalem.

According to the maps, Sheikh Sa'ad is located in the West Bank, and, as such, the fact that the village falls on the Palestinian side of the fence is ostensibly not surprising since it falls behind municipal lines.

But the closely knit and inter-related residents see the village as an extension of Jebl Mukaber, with about 50 percent of its 2,000 inhabitants holding blue Israeli ID cards, permitting them access into Jerusalem. "Our whole life is Jerusalem," said resident Daoud Awasaf, 39, in an interview on the dirt road that leads out of Sheikh Sa'ad right up to Jebl Mukaber, where the barrier is slated for construction. Awasaf does not hold a blue ID card, a complication that could keep him out of Jerusalem and out of a job if the barrier goes up as planned. "If the wall goes up here, it will become one big prison," he lamented. [More>>Jerusalem Post; Scroll down the sidebar and click on the image of the barrier to read more about it.]
HOUSTON (Reuters) July 29 – Shuttle Discovery commander Eileen Collins said on Friday she was surprised the flying debris problem that brought down Columbia in 2003 re-emerged on their flight and said shuttles should not return to space until it was fixed. She and astronaut Andy Thomas said in press interviews from space they were not worried about damage the debris may have caused Discovery, saying the orbiter looked "very clean" despite a few nicks to its protective tile. "What I'd like to say is this is something that has to be fixed," Collins said. "I don't think we should fly again unless we do something to prevent this from happening again."

Videos showed loose insulation foam from Discovery's external fuel tank appearing to strike the orbiter wing as it took off on Tuesday, but the U.S. space agency said it believed the shuttle was in good condition. The astronauts were to use lasers and television cameras on Friday to inspect Discovery's wings and belly for damage for a second time in the mission. [More>>thestar.com.my]

ITURP ISLAND, Kuril Islands (RIA Novosti) July 29 – Russia does not intend to make any territorial concessions on the four South Kuril Islands, Russian Defense Minister Sergei Ivanov said here today. "We do not intend to make any territorial concessions or withdraw from the islands," Ivanov said. "This problem is old and known to all. We are ready to hold diplomatic negotiations, which we have been conducting for 50 or 60 years, and we are ready to continue them in a specific and respectful spirit." The minister said Russia was interested in further cooperation with Japan.

"I think Japan is also seeking the development of relations with Russia, but resorting to ultimatums and making tough conditions is a fruitless way," Ivanov said. "We must create acceptable and favorable conditions."

The defense minister said Russia was not planning to slash or increase its military contingent on the South Kurils. "The current number is optimal," he said. He also spoke in favor of improving the quality of the contingent, implying re-equipment and modernization.

Japan demands that Russia return the four South Kuril Islands (Iturup, Kunashir, Shikotan, and Habomai) known as the Northern Territories in Japan, which were allegedly captured by the Soviet Union in 1945 as a result of World War II. Russia acknowledges that the territorial problem exists but has turned down Japan's ultimatums on the transfer of the islands, suggesting that the dispute be solved on the basis of the 1956 Declaration. According to the declaration, Russia would hand two South Kuril Islands over to Japan as a goodwill gesture after signing a peace treaty. [rian.ru]