---
10.06.05
Bush stresses terror threat and urges support for Iraq War
WASHINGTON (AP) October 6 – President Bush, trying to reverse a slide in public support for the war in Iraq, said Thursday that Islamic radicals are seeking to ''enslave whole nations and intimidate the world,'' and called that a prime reason not to cut and run in Iraq. ''There's always a temptation in the middle of a long struggle to seek the quiet life, to escape the duties and problems of the world and to hope the enemy grows weary of fanaticism and tired of murder,'' he said, seeking to address calls from anti-war activists for a U.S. troop withdrawal.

In a speech before the National Endowment for Democracy, Bush said Islamic militants have made Iraq their main front in a war against civilized society. "The militants believe that controlling one country will rally the Muslim masses, enabling them to overthrow all moderate governments in the region and establish a radical Islamic empire that spans from Spain to Indonesia,'' Bush said. [More>>nytimes.com; See also Jerusalem Post, "Bush accuses Islamists of trying to intimidate the world." and washingtonpost.com story, "Bush: US has disrupted 10 Al Qaeda attacks."]
---
10.06.05 Several killed in Baghdad bomb attack
October 6 – A car bomb has exploded near the Oil Ministry in Baghdad, killing 10 people and injuring another eight, an Interior Ministry official said. Earlier on Thursday, another car driven by a bomber targeted a convoy of three armored vehicles in the centre of the capital, killing one person and wounding at least eight Iraqi civilians. Eight civilians were also wounded when an unidentified driver rammed his explosives-laden car into the three-vehicle convoy. [More>>aljazeera.net]
---
10.06.05 US to host international conference on bird flu
WASHINGTON (AFP) October 6 – The US government will host an international conference this week, bringing together over 65 countries, on the bird flu virus in a bid to streamline an international response to a possible global pandemic, a government spokesman said on Wednesday. Seven people have died of bird flu, or the H5N1 strain of avian flu, in Indonesia, while 43 have been killed in Vietnam, 12 in Thailand and four in Cambodia. The World Health Organization fears the H5N1 strain will mutate, acquiring genes from the human influenza virus that would make it highly infectious and lethal to millions in a global pandemic. [More>>thejakartapost.com]; See related story, timesonline.co.uk, "Bird flu reminds scientists of virus that killed 50m people" : It is mutating in the same way as the germ that cause the 1918 pandemic. FEARS that avian flu will trigger a global pandemic that could kill up to 150 million people intensified yesterday after research revealed similarities between the virus and possibly the deadliest germ in history. Scientists have re-created the ³Spanish flu² virus that killed up to 50 million people in 1918-19 and shown that it shared traits with the H5N1 strain of avian flu. An analysis of the re-created pathogen has shown that, like its modern cousin, it began as a bird virus and jumped species into humans with mutations that made it peculiarly virulent and lethal.]
---
10.06.05 Militants try talks to save Saddam's life: president
CAIRO (Reuters) October 6 – Supporters of Saddam Hussain are trying to negotiate with the United States a halt to attacks in return for a pledge that the former Iraqi leader will not be executed, Iraq¹s president was on Thursday quoted as saying. Jalal Talabani said in an interview with Egypt¹s al-Ahram newspaper that supporters of Saddam, ousted by US-led forces in 2003, were among those behind insurgent attacks in Iraq. ³Despite that, the Saddamists are trying now to negotiate with the Americans on stopping the operations in exchange for not executing Saddam in the trial which is about to start,² Talabani said. [khaleejtimes.com; More>>thestar.com.my : ...Iraq's special tribunal, the court set up to try Saddam, confirmed on Monday that the former president would be tried on Oct. 19 for crimes against humanity, but said it had the right to delay the trial. In a statement, the tribunal said Saddam and six others, including his former vice-president and his half-brother, would be tried in connection with the deaths of 143 Shi'ite men from the village of Dujail following an 1982 assassination attempt. Saddam faces execution if found guilty.]
---
10.06.05 Twin blasts near Thai leader
(AFP) THAILAND, October 7 – Thailand Prime Minister Thaksin Shinawatra's high-profile visit to Thailand's insurgency-plagued south was rattled overnight by twin blasts just an hour's drive from where he was staying. Eight people were wounded, one seriously, in a double bombing targeting two karaoke restaurants in the border town of Sungai Kolok, about 30km from Thaksin's overnight stop at Narathiwat's Cho-I-Rong district.

"There are about seven or eight people injured by the bomb blasts at two karaoke restaurants in Sungai Kolok town," police colonel Surasak Romyanon said. "The bombs were put in front of the restaurants before they exploded." Another police officer said the bombs were hidden in plant pots and were probably triggered by mobile phones. The restaurants were about 100m apart and the wounded included an eight-year-old girl and a soldier. More than 960 people have died in an explosion of violence in Thailand's Muslim-majority southern provinces since last January. [theaustralian.news.com.au; See more details, nationmultimedia.com, " Five rangers killed, Thaksin delays visit." : Suspected insurgents shot dead five rangers and severely injured another in Narathiwat yesterday, while militants in nearby Yala beheaded a villager in what appeared to be a revenge attack aimed at authorities. The six rangers were setting up a checkpoint in pouring rain on a road linking Pattani¹s Yaring district and Narathiwat¹s Joh I Rong district when a number of gunmen riding in a pick-up truck pulled alongside and opened fire at them with automatic rifles, said Pol Major Geneal Thani Thawidsri, deputy commissioner for the Ninth Police Region. The assailants then fled the scene, but not before sowing the road with spikes to delay pursuing officers, Thani added.]
---
10.05.05 Police name Bali suspects
October 6 – Bali bomb investigators are searching for five men linked to the 2002 attack on the Indonesian holiday island and who are now missing from their homes in Banten, west Java. The five, who have been under police surveillance, could not be located as part of a routine operation launched after the Saturday attacks. Banten police would not confirm the men's names yesterday, but the Jakarta-based newspaper Kompas noted that three Banten men, Pujata, 37, Supriyanto, 27, and Iwan, 20, had been jailed for storing 8kg of explosives belonging to 2002 Bali bomber Imam Samudra.

Police sources said a further two suspects were wanted: Ihin, also known as Roisihin, and Kang Jaja, the founder of the militant Banten Ring, who is thought to be in hiding in the Sulawesi district of Poso. A member of the investigations team confirmed to The Australian that police from the elite squad had been sent to Banten to find the men and question them over the attacks in Kuta and Jimbaran Bay. Banten, south of Jakarta, is where Samudra – now on death row in Denpasar for his role in the 2002 attacks, which killed 202 people – was tracked down and captured. "Our inquiries indicated (the five) were no longer in their houses," Banten police chief Badrodin Haiti said yesterday. [More>>theaustralian.news.com.au]
---
10.05.05 Espionage case breaches the White House
October 5 – Both the FBI and CIA are calling it the first case of espionage in the White House in modern history. Officials tell ABC News the alleged spy worked undetected at the White House for almost three years. Leandro Aragoncillo, 46, was a U.S. Marine most recently assigned to the staff of Vice President Dick Cheney. "I don't know of a case where the vetting broke down before and resulted in a spy being in the White House," said Richard Clarke, a former White House advisor who is now an ABC News consultant.

Federal investigators say Aragoncillo, a naturalized citizen from the Philippines, used his top secret clearance to steal classified intelligence documents from White House computers. In 2000, Aragoncillo worked on the staff of then-Vice President Al Gore. When interviewed by Philippine television, he remarked how valued Philippine employees were at the White House. "I think what they like most is our integrity and loyalty," Aragoncillo said.

Officials say the classified material, which Aragoncillo stole from the vice president's office, included damaging dossiers on the president of the Philippines. He then passed those on to opposition politicians planning a coup in the Pacific nation. [More>>abcnews.go.com]
---
10.04.05 Panhandle company denies it contributed to levee break
SOUTHPORT, Florida, October 4 – A construction company based in the Florida Panhandle has denied allegations in a federal lawsuit that it was partly to blame for the failure of a New Orleans levee after Hurricane Katrina.

Daniel Becnel Jr., a Reserve, La., lawyer, sued Gulf Group Inc. of Southport, a Panama City suburb, in New Orleans last week. He claims vehicles and heavy equipment the company left on the 17th Street Canal levee contributed to its failure. Gulf Group was building a bridge near the levee...He said the levee's base material was not sunk deeply enough when it was built and recent dredging weakened it...[Full story>>wwltv.com]
---
10.04.05 US troops mount second big attack on Al Qaeda in Iraq
BAGHDAD (Reuters) October 4 – US Marines launched their biggest offensive so far this year against Al Qaeda guerrillas in western Iraq when the military said 2,500 troops moved on Tuesday against militants around Haditha. Two months after a previous bid to push Islamist fighters out of the area, Operation River Gate aims to stop Al Qaeda operating in the city and two nearby towns, Haqlaniya and Barwana, a military statement said. The operation is also intended to ³free the local citizens from the terrorists¹ campaign of murder and intimidation².

In Baghdad, two Iraqi soldiers and a civilian were killed and six security men wounded when a suicide car bomb exploded after entering the city¹s heavily fortified Green Zone, home to the Iraqi government and the US and other embassies.

In the south of the capital, Iraqi and US forces fought a battle in broad daylight with more than 40 guerrillas, the US military said, adding that ³more than three dozen terrorists were ... killed, wounded ... or detained." Three soldiers were killed in bomb attacks near Haqlaniya on Monday, the military said. A fourth, a Marine killed on the Syrian border, took the death toll among American forces in Iraq to at least 1,936 since they invaded in 2003. [More>>khaleejtimes.com]
---
10.04.05 Bali hunt linked to Philippines
October 5 – Intelligence officials investigating last weekend's Bali suicide bombings believe the bombers may have been "cleanskins" schooled at the Abu Sayyaf Group training grounds on the Philippines island of Mindanao. Jemaah Islamiah has been using The Philippines to train terrorists because Indonesia has made it hard for them to plan operations at bases such as Maluku and Sulawesi.

A study published this week by US terrorism expert Zachary Abuza exposes close links between Indonesian terror groups including JI and Laskar Jundullah and the Philippines-based ASG and the Moro Islamic Liberation Front. Dr. Abuza says the technical bomb-making capacity of the Abu Sayyaf Group has increased dramatically in the past year. "The ASG has emerged as a serious security threat to Philippine and arguably regional security," Dr. Abuza says.

Philippines Interior Secretary Angelo Reyes said government intelligence units were working to verify reports that the perpetrators of the Bali bombings could have trained in the southern Philippines. [More>>theaustralian.news.au]
---
10.04.05 Pakistan arrests Taliban spokesman
ISLAMABAD (AP) October 4 – A prominent Taliban spokesman who has often claimed responsibility for attacks on US-led coalition forces was tracked down and arrested Tuesday after using a Pakistani mobile telephone, Pakistan said.

Mullah Hakim Latifi was caught in southwestern Baluchistan province, Information Minister Sheikh Rashid Ahmed said. Baluchistan borders Afghanistan, and members of the Taliban are believed to have sought refuge in the area after Afghanistan's ruling militia was ousted in a US-led invasion in 2001. "It is a big success. We were looking for him for a long time," Ahmed said. [More>>Jerusalem Post]
---
10.03.05 DeLay faces new charges in Texas
AUSTIN, Texas, October 3, 7:57pm – A Texas grand jury on Monday re-indicted Rep. Tom DeLay on charges of conspiring to launder money and money laundering after the former majority leader attacked last week's indictment on technical grounds.

The new indictment, handed up by a grand jury seated Monday, contains two counts: conspiring to launder money and money laundering. The latter charge carries a penalty of up to life in prison. Last week, DeLay was charged with conspiracy to violate campaign finance laws. Defense lawyers asked a judge Monday to throw out the first indictment, arguing that the charge of conspiring to violate campaign finance laws was based on a statute that didn't take effect until 2003 -- a year after the alleged acts. The new indictment from District Attorney Ronnie Earle, coming just hours after the new grand jurors were sworn in, outraged DeLay. [More>>washingtonpost.com via theaustralian.news.com.au]
---
10.03.05 Iraq war delayed Katrina relief effort, inquiry finds
October 3 – Relief efforts to combat Hurricane Katrina suffered near catastrophic failures due to endemic corruption, divisions within the military and troop shortages caused by the Iraq war, an official American inquiry into the disaster has revealed. The confidential report, which has been seen by The Independent, details how funds for flood control were diverted to other projects, desperately needed National Guards were stuck in Iraq and how military personnel had to "sneak off post" to help with relief efforts because their commander had refused permission.

The shortcomings in dealing with Katrina have rocked George Bush's administration. Michael Brown, director of the Federal Emergency Management Agency, has resigned from his post and polls show that a majority of Americans feel the President showed inadequate leadership.

The report was commissioned by the Office of Secretary of Defence as an "independent and critical review" of what went so wrong. In a hard-hitting analysis, it says: "The US military has long planned for war on two fronts. This is as close as we have come to [that] reality since the Second World War; the results have been disastrous." [More>>independent.co.uk]
---
10.03.05 Longtime confidante of Bush has never been a judge
October 3 – President Bush nominated Harriet E. Miers, the White House counsel, as his choice to replace Justice Sandra Day O'Connor this morning, his second nominee for the Supreme Court in the past two and half months. Ms. Miers, 60, a longtime confidante of the president's, has never been a judge, and therefore lacks a long history of judicial rulings that could reveal ideological tendencies. Her positions on such ideologically charged issues as abortion and affirmative action are unclear.

Many of President Bush's allies had lobbied the president to choose a conservative justice to replace Justice O'Connor, a key swing vote on the court, in order to place a conservative stamp on the court for years to come. Democrats in the Senate however, have warned that a conservative pick to replace a moderate justice would lead to a drawn-out partisan battle. [More>>nytimes.com]
---
10.03.05 Iraqi minister lashes out at Saudi Arabia over rumors
October 3 – Iraq's interior minister lashed out angrily at Saudi Arabia, rejecting its accusations that Iran now dominates his country, and accusing the Saudis of discriminating against their own Shiites. Interior Minister Bayan Jabr went as far as saying Iraq will not accept "a Bedouin on a camel teaching us about human rights and democracy. In Iraq, we are proud of our civilization."

The scathing attack – the latest in a series of squabbles between Shiite-controlled Iraq and its Sunni Arab neighbors – were certain to increase tensions as foreign ministers of eight Arab countries met in the Saudi port city of Jeddah to discuss plans to help Iraq restore its security. Last week, the Saudi Foreign Minister Prince Saud al-Faisal said US policy had deepened sectarian tensions in Iraq to the extent that the country was effectively being handed over to Iran.

Jabr rejected the Saudi claim during a visit to Jordan, saying: "Saudi Arabia has other motives to launch such accusations."

"Saudi Arabia has its own problems. There are four million Shiites who are treated as third-class citizens," he said. "Let them give the right to their women to at least drive cars. Their women are deprived of their rights while the women in our country are equal to men." He also called the Saudis "tyrants who think they are king and God, and they name their countries after their families."

Iran has also rejected the Saudi charges, accusing the Saudi foreign minister of "meddling" in Iraqi affairs.

On Saturday, Iraq's Foreign Minister Hoshyar Zebari, also criticized some Arab neighbors, saying they should help Iraq to crush its insurgency if they want to stop Iran from interfering in the country. He also called on Arab newspapers to stop describing the insurgents as "resistance fighters," saying such terms amounted to incitement. [More>>dailystar.com.lb]
---
10.03.05 Opium farmers sell daughters to cover debts to traffickers
October 3 – Afghan farmers prevented from growing poppies under a British-led eradication programme have been forced to hand over their daughters to drug traffickers to settle their debts, according to reports from Afghanistan. The claim is the latest in a series to dog the British effort to curb Afghanistan's opium industry.

Opium dominates Afghanistan's economy, accounting for 60 per cent of its income. Critics say the country is turning into a narco-state under the noses of Nato peacekeeping forces, and of the Western governments involved in reconstruction. The latest claims come from Nangahar province, which has been held up by the British, put in charge of the fight against opium in Afghanistan, as their biggest success. Opium cultivation fell by 96 per cent there this year, part of a 21 per cent fall nationwide.

But farmers are now coming forward to say that the forced loss of their poppy crop has left them unable to repay debts to drug traffickers who lent them money to buy the seeds.

In desperation, they have had to turn to a traditional Afghan practice in which a family can pay off its debt by handing over a daughter to a relative of the creditor. Usually, there is a marriage ceremony for the sake of propriety - but the woman is treated as property. [More>>independent.co.uk]
---
10.03.05 Lady Thatcher embroiled in US corruption probe
October 3 – The US Justice Department is seeking to question Baroness Thatcher as part of a high-level inquiry into allegations of a "flights-for-favours" corruption scandal at Congress. Officials have asked the Metropolitan Police to question the former Tory Prime Minister over a meeting she held with leading Republican Tom DeLay in the UK in 2000.

The request, revealed in a leaked Home Office document, forms part of a probe into allegations that congressmen received free foreign holidays from lobby groups in return for influencing legislation.

A spokesman for Lady Thatcher today confirmed that police had contacted her office in order to "clarify" details of a meeting with Mr. DeLay in Britain in May 2000. The spokesman said that the substance of the questions was "merely factual", adding: "There was no indication at all that there was anything at all other than that." He described Mr. DeLay's visit as a "courtesy call", typical of those paid by visiting Republicans. He said that Lady Thatcher had not received any payment for the meeting.

However, details of the confidential inquiry, revealed in a leaked Whitehall document published in the Daily Mirror today, could cause embarrassment among delegates meeting for the Tory conference in Blackpool today, where Lady Thatcher's legacy still looms large...It says: "US officials are investigating whether Abramoff was involved in obtaining legislative assistance from public officials in exchange for arranging and underwriting trips to the UK. [Full story>>timesonline.co.uk]
---
10.03.05 Bali police swoop
October 4 – Indonesian police believe a man they arrested trying to flee Bali within hours of Saturday night's terror attacks helped plan the bombings that killed 22 people, including four Australians. The man, named as Abdullah, was seized on a public bus after Bali police issued a watch list following the attacks.

He had arrived in Bali only two days earlier and claimed on his capture that although he had regular work in the Balinese capital, Denpasar, he was returning to east Java because he was "homesick." The man is being held in Bali police headquarters.

The perpetrators of the 2002 Bali bombings – Amrozi, Imam Samudra, Ali Imron and Mukhlas – were shown photographs of the three suicide bombers' severed heads, but they claimed not to recognise them. Australian embassy bomber Iwan Dharmawan, in jail in Jakarta after being sentenced to death last month for his part in that attack, also claimed no knowledge of the bombers. The grisly images showed the heads largely intact although their torsos were completely destroyed by their bomb packs. [More>>theaustralian.news.com.au; See more details, timesonline.co.uk, "Pictures of bombers heads shown in hunt for Bali attackers" and thejakartapost.com, "Malaysia says Bali blasts highlight need for closer ASEAN cooperation."]
---
10.01.05 At least 22 dead in Bali blasts
BALI (AP) October 1 – Bombs exploded almost simultaneously on Saturday in two tourist areas of resort island of Bali, killing at least 22 people and wounding close to 50 others, police and hospital officials said. The victims included foreign tourists. President Susilo Bambang Yudhoyono said terrorists were to blame and warned that more attacks were possible. "We will hunt down the perpetrators and bring them to justice," he said after being briefed by top security officials, urging everyone "to be on alert."

The blasts at a crowded seafood restaurant on Jimbaran beach and a three-story noodle and steak house in downtown Kuta came nearly three years to the day after twin bombings on the resort island claimed 202 lives, many of them foreign tourists. The al-Qaeda linked militant group Jamaah Islamiyah has been blamed in the Oct. 12, 2002 attack and was suspected in Saturday night's bombings as well. [More>>thejakartakpost.com; See cnn.com, "24 killed in Bali blasts."]
---
10.01.05 US launches Iraq offensive near Syria
October 1 – About 1000 US troops have launched an offensive in western Iraq near the Syrian border, targeting fighters from al-Qaida, the US military said. The operation - Operation Kabda Bil Hadid or Operation Iron Fist - against "a known terrorist sanctuary" began early on Saturday in the town of al-Sada in the western province of al-Anbar, about 12km from the Iraq-Syrian border, the US military said in a statement. A doctor in the main hospital in the border town of al-Qaim, Amir al-Obedi, said 10 people had been killed and 15 wounded since fighting began. He said relatives of the wounded told him they had been attacked by US helicopters in al-Sada. The US military had no information about US or Iraqi casualties. [More>>aljazeera.net]
---
09.30.05 Cassini flys by Hyperion
September 30 – If you have time, click on the larger gif movie of Cassini flying by Hyperion. According to jpl.nasa.gov: This movie sequence shows highlights of Cassini's Sept. 26, 2005, flyby of the odd, icy moon Hyperion, which is 266 kilometers (165 miles) across.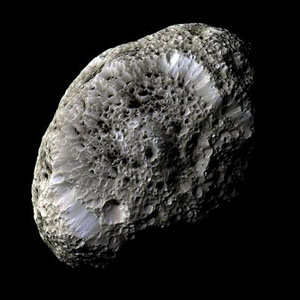 Cassini's view of icy Hyperion as it begins its flyby. Photo: jpl.nasa.org
The sequence begins with Cassini at a distance of 244,000 kilometers (152,000 miles) from Hyperion, with the irregularly-shaped moon not yet filling the frame. From this distance, Cassini can see that strange, dark-floored craters dot this little world.
As Cassini continues toward Hyperion, it becomes apparent that the steep sides of the giant impact feature at the center have a "fluted" appearance. The walls of this feature appear to have experienced landslides that have partly covered the craters lining it.
With Cassini at an altitude of 18,000 kilometers (11,000 miles) above Hyperion, the movie then zooms in on the large crater called Meri, which itself contains several smaller craters. The rim of Meri possesses icy outcrops, while its floor is filled with landslide debris and some of the strange, dark material. The image scale at this point is about 215 meters (700 feet) per pixel.
Cassini pans across a landscape shaped by eons of impacts, revealing the dark-floored craters at high resolution. The trip to Hyperion ends as the movie pans away from the battered moon's darkened limb. [More>>
jpl.nasa.gov
]
---
09.30.05 Walter Wolfgang: 'We have been lied to about the war. I dared to speak the truth'
September 30 – Walter Wolfgang was thrown out of Parliament for heckling. In this article he says he uttered one word: 'nonsense': My case is not important. But what happened to me when I was ejected from the Labour conference - simply for a one-word protest during Jack Straw's speech this week - tells us there is something deeply wrong with the culture of our Government under Tony Blair. We have been lied to about the war. But not only that. The party has been manipulated so that it has not been allowed to discuss the issue properly.

Indeed, the Labour leaders have got so nervous of criticism that when I shouted the single word "nonsense"- when the Foreign Secretary sought to paper over the issue with smooth words - party officials sent the bouncers in. Even one word of criticism, it seems, was too much.

I had not intended to heckle, much less to make myself the centre of national attention and a debate about whether free speech still exists in the modern Labour Party. But Jack Straw spoke such nonsense – about Iraq, and about Kosovo – that it pushed me over the edge.

I could have said a lot more than that one word. I could have said that we should not have marched into Iraq at all. I could have said we were lied to about the war. But one word was enough. Even so I could not believe that stewards were bearing down on me just because I dared to speak the truth.

...There was no justification for the conflict in Iraq. It isn't only that there were no weapons of mass destruction. The war was simply unnecessary. It was done in support of the United States. It has brought us to a turning point in history. When I was a child living in Germany in the late 1930s, with relatives who died in the concentration camps, things were very frightening. But the policy of the American government today frightens me too. And so does the attitude of the British Government.

Power corrupts, it is said, and absolute power tends to corrupt absolutely. This is increasingly clear in our post-Cold War era. There is today only one superpower and therefore that superpower has to be restrained by the good advice of its allies. [Full story>>independent.co.uk]
---
09.30.05 Expert predicts 'Perfect Set Up' for Avian Flu pandemic
September 30 – Amid growing concern about whether the United States is prepared for a large-scale medical emergency, medical experts say a worldwide avian flu pandemic is inevitable.

"Pandemics are like hurricanes, tsunamis and earthquakes," Michael Osterholm, director of the Center for Disease Research and Policy explained on "Good Morning America" today. "We had 10 of them in the last 300 years, and we're due for another one sometime soon."

The World Health Organization said today that between 2 million and 7.4 million people could die from a global flu pandemic. WHO spokesman Dick Thompson told reporters in Geneva that countries have been warned to be ready to deal with up to 7.4 million deaths, but conceded there was no way to determine the deadliness of the avian flu "until the pandemic begins."

The estimate was a stark contrast to the range given Thursday by Dr. David Nabarro, the U.N. coordinator for global readiness against an outbreak. He said that the world response to warnings would determine whether an avian flu virus ends up killing 5 million or as many as 150 million. [More>>abcnews.go.com]
---
09.30.05 N.Y. Times reporter testifies in CIA leak case
September 30, 10:48am – New York Times reporter Judith Miller appeared before a federal grand jury today to testify on the leak of a CIA agent's identity after spending nearly three months in jail for refusing to cooperate with the investigation.

Miller showed up at the federal courthouse in Washington this morning, accompanied by her lawyer and Times colleagues, following her release from detention in Northern Virginia yesterday. She had spent 85 days in jail for civil contempt of court for disobeying a judge's order to testify before the grand jury, which is investigating whether any government officials illegally leaked the identity of CIA operative Valerie Plame to the media. "It's good to be free," Miller said in a statement last night. "I went to jail to preserve the time-honored principle that a journalist must respect a promise not to reveal the identity of a confidential source. . . . I am leaving jail today because my source has now voluntarily and personally released me from my promise of confidentiality regarding our conversations relating to the Wilson-Plame matter."

New York Times Executive Editor Bill Keller said in a statement: "Judy refused to testify in this case because she gave her professional word that she would keep her interview with her source confidential. In recent days, several important things have changed that convinced Judy that she was released from her obligation." [More>>washingtonpost.com]
---
09.30.05 Car bombs in Iraq kill more than 110 people
BALAD, Iraq (Reuters) September 30 – Car bombs have killed more than 110 people, 25 of them children, in a surge of violence in Iraq ahead of an Oct. 15 referendum on a new constitution. One of the four car bombs ripped through a crowded market in the southern town of Hilla killing at least 12 people and wounding 47 on Friday, police and health officials said. In the mainly Shi'ite town of Balad, north of Baghdad, the death toll from three huge car bombs on Thursday rose to 98 on Friday, hospital director Kassim Aboud said.

Furious residents in Balad blamed the attacks on "foreign fighters", long accused by the U.S. military of infiltrating Iraq from Syria to carry out attacks across the country. "What have those Jordanians and Palestinians and Saudis got to do with us? Shame on them!" Abu Waleed, a hotel owner in Balad who said seven people staying in his hotel died in the blasts, shouted angrily.

"Why is this happening? This is a criminal act and the constitution is going to succeed in spite of them," he cried. [More>>thestar.com.my]
---
09.30.05 Four US soldiers wounded in Afghan blast
KABUL, September 30 – our US soldiers were wounded Friday when a roadside bomb planted by insurgents hit their armored vehicle in northeastern Afghanistan, the US military said. The troops were attacked as they returned from a mission to defuse a similar bomb in near Asadabad, the main town in insurgency-hit Kunar province, the military said in a statement...Similar attacks in the past have been blamed on the remnants of the Taliban regime, who were ousted by a US-led invasion in late 2001. On Wednesday nine people including eight Afghan soldiers were killed by a suspected Taliban suicide bomber outside a base in Kabul. [Full story>>jang.com.pk]
---
09.30.05 Arctic ice cap melting away
September 30 – The Arctic ice cap could disappear completely, well before the end of the century as a result of global warming, US scientists have warned. The Arctic ice shelf has melted for the fourth straight year to its smallest area in a century, driven by rising temperatures that appear linked to a build-up of greenhouse gases. If the shrinking trend continues at its present rate of 8 per cent a year, there could be no ice at all at the pole as early as the summer of 2060.

The extent of Arctic sea ice varies naturally, but researchers from the US National Snow and Ice Data Centre and NASA, which produced the new data, said there were strong indications that human-induced global warming was at least partially responsible. "It's still a controversial issue, and there's always going to be some uncertainty because the climate system does have a lot of natural variability, especially in the Arctic," said Mark Serreze of NSIDC, who led the research, "but I think the evidence is growing very, very strong that part of what we're seeing now is the increased greenhouse effect."

Sea ice cover in the Arctic, which does not boast a continental land mass like Antarctica, always shrinks to its lowest point in September, at the end of the northern hemisphere summer. For each of the past four years, satellite data has shown a substantial reduction in ice extent during this period. [More>>theaustralian.news.com.au; See related story, Maravot News, "'This is Global Warming' says environmental chief."]
---
09.30.05 Abbas' Fatah party wins 54% of votes in West Bank elections
September 30 – Final results of municipal elections held Thursday in Palestinian towns and villages in the West Bank on Friday showed the ruling Fatah party winning 54 percent of the vote in local Palestinian elections, compared to 26 percent for the rival Hamas group. Fatah's showing was better than expected, as the party had been losing ground to Hamas in other recent votes. Analysts said many Palestinian voters are returning to Fatah following Israel's recent pullout from the Gaza Strip.

The Fatah party of Palestinian Authority Chairman Mahmoud Abbas will now be in control of 61 councils out of 104, with Hamas running 28. [More>>haaretzdaily.com]
---
09.30.05 British Home Secretary intervenes in lottery rapist row
September 30 – Charles Clarke today ordered a review of the protection of ex-offenders after a newspaper exposed the publicly-funded lifestyle of a rapist who won £7 million on the lottery. Iorworth Hoare, 52, has been provided by the Home Office with a multi-agency team of police, probation officers and psychiatrists to protect him and keep him from re-offending – costing around £10,000 a month – since his release on licence from a life sentence in March. The cost provoked anger among politicians and the public, who were horrified that Mr. Hoare paid nothing towards his care despite earning an estimated £30,000 a month in interest since the lottery jackpot in August last year.

...Mr. Hoare has spent 33 years in prison with sex offence convictions dating back to 1973. A judge who jailed him for life at Leeds Crown Court in 1989 for the attempted rape of a 59-year-old former teacher told him: "For every second you are at liberty a woman is at risk." He won the lottery jackpot last year while being held in Shepton Mallet open prison, having bought a ticket during weekend leave at a hostel in Middlesbrough. His victims are unable to sue him because a six-year deadline for beginning legal action has passed. One victim, who was attacked in 1982 and is now in her sixties, received £3,000 for her trauma and injuries, which left her disabled. [Full story>>timesonline.co.uk]