News Headlines & Trends
---
9.30.08 'US to blame for financial crisis'
September 30 - The head of the European Commission has said America has only got itself to blame for the financial crisis in which it finds itself. Jose Manuel Barroso said the crisis was largely the result of the US failing to balance its budget. He said Europe had every reason to keep "solid and reasonable rules" to keep its budgets stable. Mr. Barroso was speaking after George Bush urged US lawmakers to pass the $700bn economic bail-out plan as a matter of urgency.
In a TV address the US president said decisive action was needed after the package was rejected in a shock vote yesterday. Mr. Bush said: "The dramatic drop in the stock market that we saw yesterday will have a direct impact on the retirement accounts, pension funds and personal savings of millions of our citizens. If our nation continues on this course, the economic damage will be painful and lasting." Earlier German Chancellor Angela Merkel called on Congress to approve the measures this week, saying they were needed to help create "new confidence on the markets." [More>>news.sky.com; See related stories,

cnn.com, September 30, "Stocks bounce after battering" Stocks bounced Tuesday morning, one day after Congress's failure to pass a $700 billion bank rescue plan triggered a massive selloff that sent the Dow down nearly 778 points, in its biggest single-day point drop ever. The Dow Jones industrial average (INDU) added 260 points or 2.5% over an hour into the session. The Standard & Poor's 500 (SPX) index rose 3.3% and the Nasdaq composite (COMP) gained 2.8%. Stocks plunged Monday after the House of Representatives shot down the proposed $700 billion bank rescue plan, surprising investors who had thought that a bipartisan compromise on the deal had been reached over the weekend...

thejakartapost.com, September 30, "Asian governments act to prop up stocks, currencies" : Asian governments from South Korea to Indonesia stepped in swiftly on Tuesday to try to prop up markets reeling from an overnight plunge in the United States after US lawmakers rejected a $700 billion plan rescue plan for the financial industry. Throughout the region, finance authorities and central banks spoke up to defend the soundness of their economies and acted by tightening stock-selling rules and buying tumbling currencies hurt by the flight of money from emerging markets. In Taiwan, the president, vice premier, central bank and financial regulator made moves and comments to ease jittery markets.

..India's finance minister, Palaniappan Chidambaram, stepped in to assure investors that market regulations would be tightened if needed...Malaysian Deputy Prime Minister Najib Razak said the government was maintaining its growth forecast of 5.5-5.8 percent for the year, adding the country was on track with opening its markets despite the Wall Street collapse.
Among Asia's financial market watchdogs, Taiwan's top financial regulator placed tighter limits on the short-selling of stocks, while Hong Kong's Securities and Futures Commission warned it would not tolerate abusive practices and could impose market-wide controls. Indonesia's stock exchange said it would prohibit shortselling of stocks in October, and South Korea said it would do so for the time being while at the same time increasing the amount of shares firms are allowed to buy back...
---
9.30.08 Shaky French-Belgian bank gets $9 billion injection
PARIS, September 30 - Dexia, a French-Belgian lender, received a capital injection of more than $9 billion from public shareholders on Tuesday as the credit crisis continued to shake European banks, while Irish authorities backed all deposits in the country's banks.
After all-night negotiations, the Belgian government announced that it and other Belgian stakeholders would invest $4.26 billion in Dexia, the French government would add $1.42 billion, the French state-controlled Caisse des Dépôts $2.84 billion and the Luxembourg government would add $518.82 million, according to a statement from the Belgian prime minister's office. Shares in Dexia, which had been suspended at the open, vaulted 18.1 percent.
"The market is encouraged, this restores confidence" said Georg Krijgh, an analyst at Rabo Securities in Amsterdam. "It shows the government is supporting the banks and makes Dexia one of most solvent in the region, with Fortis and KBC." Shares in Fortis, bailed out Sunday, also gained, 9.4 percent. [More>>nytimes.com]
---
9.30.08 197 dead in temple stampede in Jodhpur
JODHPUR, September 30 - In one of worst tragedies of its kind in India, 197 people died, mostly men, and several people were injured in a stampede that took place when thousands of devotees gathered at a 15th century temple in Jodhpur on the occasion of Navaratri festival on Tuesday. ( Watch ) The worshippers had gathered at the Chamunda Devi Temple situated on a hill top in the precincts of Mehrangarh Fort when the tragedy struck at around 5.30 am after some devotees slipped on a slope causing the stampede. [More>>timesofindia.indiatimes.com]
---
9.30.08 Mullah Omar to be provided security in Afghanistan: Karzai
KABUL, Afghanistan, September 30 - Afghan President Hamid Karzai said Tuesday he had asked the king of Saudi Arabia to help engage the Taliban militia in peace talks, though the discussions have not yet started. The US-backed Karzai said Afghan envoys had made repeated trips to the Gulf kingdom and to neighboring Pakistan to facilitate the negotiations. "Since two years I have been sending letters and messages to the Saudi Arabian king and requested him, as a world Muslim leader, to help us bring peace in Afghanistan," Karzai told a news conference. [More>>thenews.com.pk]
---
9.30.08 Mexican police find 12 mutilated bodies next to school
TIJUANA, Mexico, September 30 - The bodies of 11 men and one woman, some with their tongues cut out, were found dumped in an empty lot next to a Tijuana elementary school Monday morning, an hour before children were scheduled to arrive. City officials suspended classes after finding the victims, most of whom had been bound and tortured. Some were only partially clothed, said Prisna Perez, state police spokeswoman in Tijuana...Minutes after the grisly discovery, four other bodies were found in another empty lot in Tijuana, and two other bodies were discovered late Sunday in a lot next to a factory. Investigators believe 16 of the victims were killed by warring drug gangs. The other two were victims of street crime, Yepiz said. [Full story>>japantoday.com]
---
9.29.08 House narrowly defeats bailout legislation
September 29 - In a narrow vote, the House today rejected the most sweeping government intervention into the nation's financial markets since the Great Depression, refusing to grant the Treasury Department the power to purchase up to $700 billion in the troubled assets that are at the heart of the US financial crisis.
The 228-205 vote amounted to a stinging rebuke to the Bush administration and Treasury Secretary Henry M. Paulson Jr., and was sure to sow massive anxiety in world markets. Even during the Just 11 days ago, Paulson urged congressional leaders to urgently approve the bailout. He warned that inaction would lead to a seizure of credit markets and a virtual halt to the lending that allows Americans to acquire mortgages and other types of loans.
As it became apparent that the measure was heading to defeat, stock markets took a steep dive. The Dow Jones industrial average fell more than 600 points but then rebounded a bit. After a week of intense debate in both party caucuses, House members opposed the bill just five weeks before they face voters in an election that is shaping up as a referendum on the economy. [More>>washingtonpost.com; See also:

cbsnews.com, September 29, "Dow takes nosedive as bailout flounders": ...Stocks began plummeting even before the House voted 228-205 to reject the bill. The Dow fell 705 points, then regained some ground to trade down 462 at 10,681. Within the first hour of trading Monday, the Dow dropped more than 300 points..

nytimes.com, September 29, "Oil falls sharply on renewed economic fears": Oil prices dropped sharply on Monday as the House voted down a $700 billion American bailout plan for the financial markets, depressing demand for petroleum products. Crude oil futures fell $9.13 to $97.76 a barrel on the New York Mercantile Exchange. They have lost more than $20 since last Monday, falling sharply as the House voting began...
---
9.29.08 Blue chip stocks hit by £64 billion wipeout
September 29 - More than £64 billion was wiped off the value of blue chip stocks in London today in another traumatic session sparked by fears of further bank failures across Europe. America's agreement over a 700 billion US dollar bank bail-out did little to calm investor nerves, rattled by news of Bradford & Bingley's nationalization and similar government rescues on the continent. The FTSE 100 Index closed at its lowest for nearly three-and-a-half-years, plunging 269.7 points to 4818.8 — a 5.3 per cent fall and its lowest close since April 2005.
And the pound saw its biggest one-day loss in 15 years today amid the stock market turmoil. Even news that the Bank of England is ready to pump up to 40 billion US dollars (£22bn) extra into the financial system, to tackle "continued strains" in short-term money markets, failed to calm nerves. The action was coordinated with nine other central banks worldwide, including the US Federal Reserve and European Central Bank. Meanwhile, news of the coordinated European governmental rescue of Belgium's Fortis bank fuelled concerns of contagion across Europe. [More>>independent.co.uk]
---
9.29.08 Citigroup buys bank operations of Wachovia
September 29 - Citigroup reached an agreement early Monday morning to acquire the banking operations of the Wachovia Corporation after making a daring bid that pulled the deeply troubled company from the brink of collapse. Citigroup will pay $1 a share, or about $2.2 billion, according to people briefed on the deal...It is similar to the deal that the Federal Reserve established with JPMorgan Chase's emergency takeover of Bear Stearns. [Full story>>nytimes.com]
---
9.29.08 NASA Mars Lander sees falling snow, soil data suggest liquid past
PASADENA, Calif., September 29 - NASA's Phoenix Mars Lander has detected snow falling from Martian clouds. Spacecraft soil experiments also have provided evidence of past interaction between minerals and liquid water, processes that occur on Earth. A laser instrument designed to gather knowledge of how the atmosphere and surface interact on Mars has detected snow from clouds about 4 kilometers (2.5 miles) above the spacecraft's landing site. Data show the snow vaporizing before reaching the ground. "Nothing like this view has ever been seen on Mars," said Jim Whiteway, of York University, Toronto, lead scientist for the Canadian-supplied Meteorological Station on Phoenix. "We'll be looking for signs that the snow may even reach the ground." [More>>nasa.gov]
---
9.29.08 Take a bow: How the jumping bug breaks world record
PARIS (AFP) September 29 - Scientists in Britain said Monday they could explain how the froghopper, an insect that size for size is the world's champion jumper, achieves its extraordinary spring. Philaenus spumarius can leap as high as 70 centimeters (28 inches), or more than 100 times its body length — the equivalent of a human jumping over the Great Pyramid from a standing start. To do this, the creature attains an initial acceleration of 4,000 metres (13,000 feet) per second per second. The gravitational force on its body at this point of 400 G, or 80 times that exerted on an astronaut being launched into orbit.
How the froghopper does this trick has been something of a mystery. Fleas can also jump extremely high but they are 60 times lighter, which means that a froghopper must have something extra-special. The answer, says University of Cambridge zoologist Malcolm Burrows, lies in a bow-like structure in the insect's internal skeleton, located between its hind legs and wings.
Like an archer tensing his weapon, the bug contracts its muscles to draw back this so-called pleural arch and then releases the stored energy in one go, like a catapult. The pleural arch is a composite structure, comprising layers of hard cuticle and a rubbery protein called resilin with extraordinary elastic powers that scientists are trying to synthesise for commercial use. [More>>khaleejtimes.com]
---
9.29.08 Algeria al-Qaeda suicide bombing kills three
September 29 - A suicide car bombing killed three people and wounded six east of Algiers on Sunday evening, official media reported on Monday, the first such attack in the OPEC member country in more than a month. The attack at Takdemt district near the coastal town of Dellys, 100 km (62 miles) east of the capital, was the first suicide bombing since a spate of violence in August in which at least 125 people were killed. al-Qaeda's north African offshoot, al-Qaeda in the Islamic Maghreb (AQIM), claimed the attacks, saying they were in retaliation for the army's killing of 12 of its members in early October. [More>>alarabiya.net]
---
9.29.08 Abducted Afghan envoy released
KHYBER AGENCY, Pakistan, September 29 - The abducted Afghan ambassador designate to Pakistan, Abdul Khaliq Farahi Monday reached Peshawar after being released, official sources said. Earlier, the Afghan Embassy had also confirmed his release. The Afghan envoy was kidnapped on September 22 from Hayatabad area in Peshawar. His driver was killed by the kidnappers. [>thenews.com.pk]
---
9.29.08 Low intensity blast in Gujarat; two killed
NEW DELHI, India, September 29 - A low intensity blast rocked Modasa in Gujarat on Monday night, killing two persons and leaving 13 injured. ( Watch ) The blast has occurred ahead of the nine-day Navratari celebrations starting from Tuesday. Earlier in the day, seventeen crude bombs were found near the Kalupur Darvaza of Ahmedabad. The bombs found were not sophisticated devices but crude explosives.

Barely two days ago, a low intensity bomb rocked Mehrauli in Delhi, killing two persons and leaving several injured. The same comes two weeks after the coordinated bombings in the capital on September 13 that killed 24 people and injured over a 100. On July 26, serial bombings in Ahmedabad killed 56 people. In the days following the bombings, 23 low-intensity bombs were recovered from Surat and defused. [>timesofindia.indiatimes.com]
---
9.29.08 Blast hits Lebanese city of Tripoli
September 29 - Four Lebanese soldiers and a civilian have been killed after a car bomb exploded in the northern Lebanese city of Tripoli. Lebanese military officials said 26 soldiers and two civilians were also wounded on Monday in what was the second deadly attack to target the army in two months. Officials said the explosion in the Bahsas region was caused by a parked car, packed with explosives, which was detonated by remote control as a military bus travelling towards the capital Beirut, drove past.

"Once again the hand of treachery targets the military ... in a terrorist attack," the military said in a statement...The attack is the second bombing to target Lebanese troops in less than two months. On August 13, at least 18 soldiers and civilians were killed by a roadside bomb packed with nuts and bolts when it exploded near a bus carrying troops on a busy street in Tripoli..."Northern Lebanon has turned into a hotbed for radical terrorists - new Salafist, new Jihadist groups," Ahmad Mousalli, a professor in political studies at the American Univeristy in Beirut, told Al Jazeera. [Full story>>aljazeera.net; See a related story, metimes.com, September 29, "Syria targeted by possible al-Qaeda suicide bomber."]
---
9.29.08 Abducted Western tourists freed
September 29 - A group of Western tourists and their Egyptian guides, who were kidnapped 10 days ago by gunmen, have been freed. The 11 hostages — five Italians, five Germans and a Romanian — and some eight guides are said to be in good health. The group, abducted in a remote border region of Egypt, have now arrived at a military base in the capital, Cairo. Egyptian officials said they were freed in a mission near Sudan's border with Chad, and that half of the kidnappers were killed. No ransom was paid. [More>>bbc.co.uk]
---
9.28.08 Belgian bank regulators in talks with Fortis
BRUSSELS, Belgium (AP) September 28 - Belgian banking authorities held talks with Fortis NV officials Saturday to try to restore confidence in the embattled bank after its shares slumped amid fears of insolvency. The Dutch-Belgian bank and regulators were trying before markets reopened Monday to find a way to stop it from falling victim to the credit crisis, said Veerle De Schrijver, a spokeswoman at the Belgian Banking Finance and Insurance Commission.
"We are working and looking at various initiatives to restore confidence in Fortis," De Schrijver told VTM television, but declined to comment on the options under discussion. Media reports said the group could be taken over by other European banks like French banking giant BNP Paribas or HSBC Holdings PLC, Europe's largest bank by market value...Fortis has been in difficulty since it took part in a three-bank consortium last year that acquired ABN Amro, a euro70 billion (US$111 billion) deal that was the largest takeover in the banking industry. [Full story>>thestar.com.my; See related stories:

koreaherald.co.kr, September 28, "Korea: Economists warn of hard times ahead" : The international economic contraction stemming from the US subprime mortgage crisis is likely to send the Korean economy into a tailspin in 2009, as the financial debacle is quickly spilling over into the real economy, experts said yesterday. Sluggish demand from the United States and other industrialized markets will take a heavy toll on many developing economies and natural resources-rich nations that have sustained global economic growth. Korea's economic growth, which heavily relies on exports, is likely to fall to the 3 percent range next year, private economists said yesterday...

xinhuanet.com, September 27, "China's economy in good shape despite global financial chaos" : TAINJIN, China - China's economy was in good shape and capable of maintaining financial stability despite global chaos, Liu Mingkang, chairman of the China Banking Regulatory Commission (CBRC), said on Saturday. Liu made the remarks at the ongoing 2008 Summer Davos forum, also known as the Annual Meeting of the New Champions 2008, which kicked off on Saturday in the north China metropolis of Tianjin. Though feeling gloomy about the outlook of the world economy, most attendees were confident about China's economic prospects.

"China has full confidence and capabilities to ensure sound and fast economic growth for a long period of time," Premier Wen Jiabao said at the opening ceremony. Klaus Schwab, founder and executive chairman of the World Economic Forum, said China is still a fast growing economy and may lead the world economy in the future. But for now, as the financial market globalizes, no country could escape the financial crisis, Liu said. He forecast the annual economic growth would slow to between 9 percent or 9.5 percent, as falling consumer spending in Europe and the United States cut export demands. China's economy expanded 11.9 percent last year...
---
9.28.08 Hundreds of methane 'plumes' discovered
September 25 - British scientists have discovered hundreds more methane "plumes" bubbling up from the Arctic seabed, in an area to the west of the Norwegian island of Svalbard. It is the second time in a week that scientists have reported methane emissions from the Arctic. Methane is 20 times more potent than carbon dioxide as a greenhouse gas and the latest findings from two separate teams of scientists suggest it is being released in significant amounts from within the Arctic Circle.
On Tuesday, The Independent revealed that scientists on board a Russian research ship had detected vast quantities of methane breaking through the melting permafrost under the seabed of the shallow continental shelf off the Siberian coast.
Yesterday, researchers on board the British research ship the James Clark Ross said they had counted about 250 methane plumes bubbling from the seabed in an area of about 30 square miles in water less than 400 metres (1,300 feet) deep off the west coast of Svalbard. They have also discovered a set of deeper plumes at depths of about 1,200 metres at a second site near by. Analysis of sediments and seawater has confirmed the rising gas is methane, said Professor Graham Westbrook of Birmingham University, the study's principal investigator. "The discovery of this system is important as its presence provides evidence that methane, which is a greenhouse gas, has been released in this climactically sensitive region since the last ice age," Professor Westbrook said. [More>>independent.co.uk]
---
9.28.08 Battle of Bajaur a crucial test for Pakistan
TANG KHATA, Pakistan (AFP) September 28 - A massive battle with Islamist militants in an obscure Pakistani tribal region is proving to be pivotal to the country's fight against al-Qaeda and the Taliban, officials say. The six-week army operation in the remote region of Bajaur on the Afghan border is suspected to have sparked furious extremists into bombing the Marriott Hotel in Islamabad just over a week ago, they say. While Waziristan has captured most of the headlines about Pakistan's tribal belt in recent years, the military says Bajaur is where it faces the stiffest resistance since joining the US-led "war on terror" in 2001.
...The nuclear-armed nation's new civilian government launched the Bajaur offensive in August, largely in response to US pressure to stop militants attacking foreign troops in Afghanistan. The Pakistani military says that since then 1,000 extremists have been killed, including al-Qaeda's operational commander in Bajaur, Egyptian Abu Saeed Al-Masri. At least 27 troops have also died...There, followers of Osama bin Laden's deputy, Ayman al-Zawahiri, who escaped an air strike in Bajaur in 2006, joined forces with the Tehreek-e-Taliban Pakistan group of South Waziristan-based Baitullah Mehsud, officials say. [Full story>>khaleejtimes.com]
---
9.28.08 Iconic Afghan policewoman shot dead
September 28 - A woman regarded as Afghanistan's most prominent female police officer has been shot dead in the southern city of Kandahar, a government official has said. Malalai Kakar, the head of the city's department on crimes against women, was attacked by armed men on Sunday as she left her home, Zalmay Ayoobi, a Kandahar government spokesman, said.
"Today between 7am [0230 GMT] and 8am when she was [in her car] outside her house and going to her job, some gunmen attacked," Ayoobi said. "Malalai Kakar died in front of her house. Her son was wounded." Kandahar is a traditional stronghold of the Taliban, which is fighting an armed campaign against the Afghan government and US and NATO forces in the country...A spokesman for the Taliban said that the assassins were from his group...The head of Kandahar province's women's affairs department was killed in a similar way two years ago. [Full story>>aljazeera.net]
---
9.28.08 10 killed in twin car bombing in Iraq
BAGHDAD, September 28 - Iraqi officials say 10 people have been killed in a double car bombing in western Baghdad. Police and hospital officials say the bombs struck within minutes of each other in two mainly Shiite neighborhoods. The officials, who spoke on condition of anonymity because they weren't authorized to release the information, said 12 people also were wounded in the attacks. The explosions occurred Sunday just before the start of Iftar, the meal that breaks the daily dawn-to-dusk fast during the Islamic holy month of Ramadan. [>thenews.com.pk; See more details, nytimes.com, September 28, "Twin car blasts kill 11 in Baghdad."]
---
9.28.08 Saudi detained on suspicion of funding Indian Mujahideen
NEW DELHI, September 28 - A man from Saudi Arabia was on Sunday detained by police at the Indira Gandhi International Airport here on suspicion of funding the terror outfit Indian Mujahideen suspected to be behind serial blasts in Delhi and other cities. The person was taken into custody by the sleuths of Delhi Police and Intelligence Bureau at around 8:30am as soon as he reached here from Jeddah, sources said. The suspect is being questioned at an undisclosed location and investigators are trying to ascertain if he has any role in the funding of the terror outfit, they said.

The Indian Mujahideen has been accused of carrying out several serial blasts in Delhi, Ahmedabad, Jaipur and Uttar Pradesh. Police and the Intelligence Bureau are trying to ascertain the funding channel of Indian Mujahideen, a module of which has been cracked following the September 19 gunbattle in south Delhi's Jamia Nagar. The outfit's alleged chief Atif Amin and another member Mohd Sajid were killed in the encounter with Delhi police while five others were arrested in connection with their alleged role in the serial blasts. [>timesofindia.indiatimes.com]
---
9.28.08 Sudan forces kill six kidnappers, arrest two
KHARTOUM, September 28 - Sudanese forces have killed six kidnappers who had abducted 19 tourists and Egyptians in a remote desert nine days ago, and arrested two, Sudanese presidential advisor Mahjoub Fadl Badri told reporters on Sunday. "Sudanese forces followed the tracks of the kidnappers from Jebel Oweinat, a range on the Sudan-Libya-Egypt border, and found them on the Chad border," he said..."What the (captured) kidnappers say is that the hostages are still in Chad, they put them in a hideout and are still negotiating about them, but we have no details whether the Chadian army has moved in," he said. The hostages are 11 tourists — five Italians, five Germans, and one Romanian, plus eight Egyptians: two guides, four drivers, a guard and the organizer of the tour group. [Full story>>alarabiya.net]
---
9.28.08 Chinese astronauts return to earth
BEIJING (AP) September 28 - Chinese astronauts returned to earth and emerged triumphant from their capsule Sunday after successfully completing the country's first-ever spacewalk mission. State broadcaster CCTV showed their Shenzhou 7 spaceship landing under clear skies in the grasslands of China's northern Inner Mongolia region at 5:37pm local time. Premier Wen Jiabao applauded at mission control in Beijing. [More>>cbsnews.com; See also xinhuanet.com]
---
9.27.08 China: President Hu says spacewalk a major breakthrough
BEIJING, September 27 - The spacewalk performed by Chinese taikonauts Zhai Zhigang Saturday afternoon marks a major breakthrough in China's space program, Chinese President Hu Jintao said. Hu talked with the trio taikonauts at the Beijing Aerospace Control Center for the Shenzhou-7 mission at 6:35 p.m. Saturday, when he inquired the physical conditions of the three taikonauts.
"Your country and your fellow citizens thank you for your devotion to the space program," he said. He congratulated the trio over the success of the spacewalk, and encouraged them to continue the efforts for a "complete success. Zhai Zhigang was assisted during the spacewalk by Liu Boming in the orbit module. China is the third country in the world to accomplish the feat after the United States and Russia. [More>>xinhuanet.com]
---
9.27.08 Blast in Mehrauli area in Delhi
NEW DELHI, India, September 27 - It was Black Saturday all over again. Exactly two weeks after serial blasts ripped through the capital, it was hit by a low-intensity crude bomb, which went off on Saturday afternoon in the crowded Sarai Market, near Aulia Masjid in south Delhi's Mehrauli area. A nine-year-old boy, who innocently picked up a black polyethylene bag containing a tiffin box bomb, was killed on the spot as it exploded in his face. Twenty-five people were injured. ( Watch ) Police have ruled out the involvement of the Indian Mujahideen (IM). Six people were detained in connection with the blast as security was stepped up in the capital. Delhi Police was not willing to confirm that it had received warning of a strike from an anonymous caller in Faridabad or that it had received an email to that effect on September 24.

According to eyewitnesses, the electronic goods market was packed with shoppers when a black Pulsar motorbike went through the narrow lane intent on its deadly business. It had two helmeted riders, who dropped the polyethylene bag with its deadly payload in the middle of the road, in front of a shop, Anisha Electronics. Out on an errand, the nine-year-old boy, Santosh, thought the men had unknowingly dropped the bag. In a heartbreaking act of kindness to strangers, Santosh rushed to pick it up, running after them as he shouted for them to stop. It was then that white smoke began to pour out of the bag. The little boy dropped it, but too late to save his own life. ( Watch ) [More>>timesofindia.indiatimes.com]
---
9.27.08 Car bomb near Syrian security base kills 17
DAMASCUS, Syria (Reuters) September 27 - A powerful car bomb exploded near a security complex in the Syrian capital Damascus on Saturday, killing 17 civilians in what the interior minister described as a terrorist attack. The bombing, on the road to the city's main airport, was the third major attack in the tightly-controlled country this year. State television said the car was rigged with 200 kgs (440 pounds) of explosives, making it one of the biggest attacks in Damascus since a series of bombings in the early 1980s by Islamist militants.
No group claimed responsibility for the attack, in which a suicide bomber has not been ruled out, but the interior minister's remarks appeared to indicate that Syrian investigators suspect Muslim militants were involved. "This is definitely a terrorism attack that occurred in a crowded area. This is a cowardly attack," Interior Minister General Bassam Abdel Majeed told state television. He said 14 people were wounded in the attack, although witnesses said the number was much higher. The blast in southern Damascus occurred at a crowded intersection leading to the Sit Zeinab shrine, popular with Shi'ite pilgrims from Iran, Iraq and Lebanon. [More>>thestar.com.my]
---
9.27.08 Nationalization looms for Bradford & Bingley
LONDON, September 27 - Alistair Darling is close to ordering the nationalization of Bradford & Bingley as a search for a private sector buyer for the stricken lender becomes increasingly desperate. Seven months after Northern Rock was taken over, the Chancellor has ordered officials to prepare to take a second financial institution into public ownership, although Treasury officials last night stressed no decisions had been taken. Last ditch talks to find a buyer are set to continue through the weekend but officials did not deny that Mr. Darling was considering using new powers to nationalism banks passed after the run on Northern Rock. [More>.timesonline.co.uk; See related article:

independent.co.uk, September 27, "Be in no doubt, Britain too is in the centre of this storm" : It seems likely there will, in the end, be an agreement between the United States administration and Congress on the grand plan to bail out Wall Street and kick-start the US financial system. The stakes — the survival of the American financial system — are simply too high for some form of deal not to be reached. No party involved in these talks, when it comes down to the crunch, will want to be held responsible for precipitating a repeat of the Great Depression of the 1930s. The collapse of Washington Mutual yesterday, the largest US bank failure yet, will surely serve to concentrate minds.
But while the haggling continues, it is worth looking at what the crisis means for the UK. First of all: finance. We should not underestimate the extent to which the City is suffering from the same contagion as Wall Street. There was stupid lending and greed-driven recklessness in London, just as there was in New York. Our banks might not have been involved in the disgraceful business of selling sub-prime mortgages to poor Americans who could not afford them, but they were more than happy to buy up the high-yielding financial instruments that were linked to the value of these bad loans. And our larger investment banks still have a lot of this financial toxic waste on their balance sheets.
Even smaller British banks, which did not buy into US sub-prime-linked assets, have pursued business plans that have made themselves recklessly reliant on funding from the international money markets, rather than their traditional customer deposit bases. That is what destroyed Northern Rock. And while the wholesale money markets remain locked up, the spectre of bankruptcy will continue to haunt the British high-street banking sector...
---
9.27.08 Wachovia mulls sale amid banking turmoil
September 27 - Wachovia, one of the biggest retail banks in the US, put itself up for sale last night after a tumultuous day for banking shares across the world. Unprecedented central bank intervention failed to prevent further distress in the markets, with credit spreads rising to previously unseen levels and equity prices tumbling. In the wake of the political wrangle over the $700bn (£380bn) Paulson plan, and the collapse of Washington Mutual, the markets seemed to be on the hunt for their next victims. Fears in the UK have focused on the fate of Bradford & Bingley, but the anxiety has been global. Wachovia and the Belgian-Dutch Fortis group were hit hardest.
In the US, the failure of Washington Mutual on Thursday night was the largest banking collapse in the country's history, triggering a new wave of concern over other tottering groups. Wachovia, which only a few days ago had been negotiating the takeover of the mighty Wall Street investment bank Morgan Stanley, slumped 27 per cent on concern it too is burdened by delinquent mortgages that have undermined its balance sheet. Last night, it was said to be seeking to be rescued by Citigroup, the world's largest bank, although takeover talks are at a preliminary stage. It has also reached out to Wells Fargo and Banco Santander. [More>>independent.co.uk]
---
9.27.08 iReport outrage over the bailout
September 27 - Congress and the White House are trying to hammer out a $700 billion plan to bail out Wall Street and prevent an economic collapse, but iReporter Margaret Lopez thinks she has a better idea. "They can take this $700 billion and use it to save the homes in default. They will have enough money to save 2 million homes averaging $350,000 each," the San Bernadino, California, mortgage broker wrote. [More>>cnn.com]
---
9.27.08 Three arrested over Mexico blasts
September 27 - The authorities in Mexico have arrested three people suspected of throwing grenades that killed eight people and wounded more than 100 last week. The grenades exploded during independence day celebrations in the city of Morelia, in western Mexico. Investigators say the three men are members of a unit of the Gulf drug cartel, known as the Zetas. The attacks shocked Mexico, because they appeared to target civilians, not security forces or other criminals.

The explosions went off in the main square of Morelia as the crowds celebrated the independence day on 16 September. Police say the three arrests came as a result of an anonymous tip-off. The city is the capital of Michoacan, a state hit by a wave of drug gang violence in recent years. Drug-related violence in Mexico has claimed the lives of more than 2,700 people so far this year. [>bbc.co.uk; See also banderasnews.com]
---
9.27.08 Kidnappers release 118 Afghan workers, 32 still held
KABUL, Afghanistan (DPA) September 27 - Afghan officials said on Saturday they were trying to secure the release of 32 construction workers after their kidnappers released 118 labourers in western Afghanistan. The militants who identified themselves as members of Taliban insurgents abducted 153 workers on their way to a construction site in Bala Bulok district of western Farah province on Sunday. Three other workers were released earlier in the week.
The workers were hired by a US-funded Afghan firm building an army base in the region. The base, which will house up to 2,000 soldiers once complete, is one of several that the US military is building in the country. "The abductors released 118 kidnapped workers on Friday after the tribal elders convinced them that they were innocent labourers," provincial governor Roh-ul-Amin said. [More>>khaleejtimes.com]
---
9.27.08 Peshawar: 30 militants arrested in Matni operation
PESHAWAR, Pakistan, September 27 - Security forces arrested 30 militants including a commander after destroying more than 10 hideouts of extremists in Matni, an area lying in the outskirts of Peshawar. According to sources, security forces pounded militants' hideouts with rockets in Kala Khel area of Peshawar and destroyed over 10 of them. Thirty militants including a local commander Ahsanullah were arrested. Heavy contingents of security forces, frontier constabulary and police are deployed in different areas of Peshawar including Badh Bir where curfew also remains imposed. The curfew may be lifted by this evening. Meanwhile, Indus Highway has been closed for vehicular traffic. [>thenews.com.pk]
---
9.26.08 Government seizes WaMu and sells some assets
September 26 - Washington Mutual, the giant lender that came to symbolize the excesses of the mortgage boom, was seized by federal regulators on Thursday night, in what is by far the largest bank failure in American history. Regulators simultaneously brokered an emergency sale of virtually all of Washington Mutual, the nation's largest savings and loan, to JPMorgan Chase for $1.9 billion, averting another potentially huge taxpayer bill for the rescue of a failing institution. The move came as lawmakers reached a stalemate over the passage of a $700 billion bailout fund designed to help ailing banks, and removed one of America's most troubled banks from the financial landscape.
Customers of WaMu, based in Seattle, are unlikely to be affected, although shareholders and some bondholders will be wiped out. WaMu account holders are guaranteed by the Federal Deposit Insurance Corporation up to $100,000, and additional deposits will be backed by JPMorgan Chase. Many WaMu employees came to work Friday wondering about their jobs. JPMorgan executives said that it was too early to know how many employees might be laid off, but industry analysts said the number could be as high as 5,000. Analysts expect the bank to close about 540 branch sites, many that overlap with JPMorgan offices.
By taking on all of WaMu's troubled mortgages and credit card loans, JPMorgan Chase will absorb at least $31 billion in losses that would normally have fallen to the F.D.I.C. JPMorgan Chase, which acquired Bear Stearns only six months ago in another shotgun deal brokered by the government, is to take control Friday of all of WaMu's deposits and bank branches, creating a nationwide retail franchise that rivals only Bank of America. [More>>nytimes.com]

---
Editorial note: See fdic.gov to determine whether your account is fully insured. For more information on the financial status of banks see also lacefinancial.com. LACE Financial maintains a financial "Watch List," a quarterly update on the banks and savings & loans which LACE Financial believes has a higher than normal probability of failure. The "Watch List" is available only in printed form, available in most libraries as well as from LACE Financial.

Mel Copeland 
---
9.26.08 Welcome to chaos: Arab nations hit hard as world markets crash
September 26 - ...The Egyptian stock market plummeted 10 percent in two days, and foreign investors withdrew hundreds of millions of dollars. "The state's roulette table is collapsing," a small investor was quoted as saying in the newspaper Al-Masri al-Yum. "This is the end of capitalism. Welcome to chaos." The Egyptian pound has also fallen to its lowest level in half a year, and inflation has soared to 26.5 percent. The economic development minister's forecast of diminished poverty levels receded further into the distance, and the plan to privatize government companies, as a measure to improve the economy, has become a fantasy.

...This week, the Al-Arabiya network reported that indictments had been filed against 46 Jordanian companies traded on the stock market..Now it turns out that these companies provided potential clients with false profit forecasts, and also broadcast fake presentations on TV screens about the stocks they recommended...Less concerned about the global market plunge are the Gulf states, which raked in a fortune from the rise in oil prices and created vast monetary reserves that allowed their governments to inject funds into their financial markets to stabilize them.

..However, beyond the stability of the banks in the Gulf states and the inhabitants' certain knowledge that the state will not allow the banks to collapse - mainly because most of them are owned by the ruling families and their cronies - people in the Gulf are starting to worry that the big bubble is liable to burst in their faces. Their concern is specifically for the real-estate bubble, which attracted big investors primarily to the UAE, and more recently to Qatar and Kuwait. [Full story>>haaretz.com]
---
9.26.08 Pakistan bombers die in police raid
September 26 - At least two suicide bombers have been killed after police launched a raid on their hideout in the Pakistani city of Karachi, police have said. The bombers set off their explosives during a shootout with police in Karachi's Baldia neighbourhood on Friday, Babar Khattak, the provincial police chief, said. A third bomber is believed to be buried in the rubble of the house, he said. "We have saved Karachi from death and destruction. We know who they were and what was their target in Karachi, but we cannot disclose it immediately." The incident occurred a few hours before Yousuf Raza Gilani, Pakistan's prime minister, was due to arrive in Karachi, Pakistan's largest city. [More>>aljazeera.net]
---
9.26.08 Kidnapped Afghan ambassador taken to Waziristan: Police
PESHAWAR, Pakistan, September 26 - The kidnapers of Afghan ambassador designate, Abdul Khaliq Farahi have shifted him to Waziristan, said officials of Peshawar police here on Friday. The ambassador was abducted by unknown people from Phase- 3 of Hayatabad area some days back while his driver was gunned down. IG NWFP Mallik Naveed Khan has formed a 6-member committee, headed by Dr. Suleman Khan to launch an investigation into the kidnapping of Abdul Khaliq Farahi. Meanwhile, a high official of Peshawar police told Geo News that the hostage has been shifted to an area of Waziristan. [>thenews.com.pk]
---
9.26.08 German terror suspects had left behind farewell letters
September 26 - German police arrested two men on board a Dutch airliner Friday, minutes before it was due to take off from Cologne airport for Amsterdam. Some reports suggest they were on their way to a militant training camp. A police spokesman said a Somali man aged 23 and a 24-year-old German born in Mogadishu were escorted off the KLM Flight 1804 at 6:55 am CET. The two men had been under observation for several months. A search of their apartment had turned up farewell letters in which they declared their readiness to die in a jihad or holy war, the police spokeswoman said. She added that there was no indication that they had been planning to hijack the plane.
The police have not disclosed their planned destination. The German Tagesspiegel newspaper said security sources had revealed to them that the men were planning to fly to Pakistan via Amsterdam and Uganda. Terrorist expert Rolf Tophoven told the AP news agency that the two arrested men could have been on their way to a training camp...
The arrests came a day after police appealed to the public to help track down two missing Islamists, one of them a German convert, who were suspected of membership in a terrorist group called "The Islamic Jihad Union (IJU)," often described as a successor to al-Qaeda. Police said they were pursuing about 20 leads related to Eric Breininger, a 21-year-old German, and Houssain al-Malla, a 23-year-old Lebanese, were last seen in the zone along the Pakistan-Afghan border. [Full story>>dw-world.de via aljazeera.net]
---
9.26.08 Turkish warplanes target Kurdish rebel sites in N. Iraq
CAIRO, September 26 - Turkish warplanes crossed the border into northern Iraqi airspace to bomb 16 Kurdish rebel sites, a spokesman for Turkey's military said Friday. There were no reports of any deaths in the air attacks, which occurred late Thursday night. The airstrikes targeted Kurdish rebel positions on Qandil mountain, at Iraq's border with Iran, Brig. Gen. Metin Gurak told reporters in Ankara, Turkey's capital.
Ahmed Deniz, a spokesman for Kurdish rebels in northern Iraq, told wire services the airstrikes targeted areas that already were largely abandoned, owing to earlier attacks from neighboring Iran. The raids injured one rebel and two civilians, Deniz said. Turkey has been battling Kurdish separatists in Turkey's east since 1984. Clashes Thursday inside Turkey killed six Kurdish rebels and one soldier, Gurak said. [More>>washingtonpost.com; See also aljazeera.net]
---
9.26.08 China posts fake rocket launch story
September 26 - China's leading Xinhua news agency reported the successful flight of the Shenzhou VII — complete with detailed dialogue between the astronauts —  hours before the nation's third-ever manned space mission had even lifted off. On Thursday morning, Xinhua posted a story on its website saying the Shenzhou capsule had been successfully tracked flying over the Pacific Ocean even though the rocket and its three astronauts had not yet been launched. The article, dated September 27, described the rocket in flight, complete with a sharply detailed dialogue between the three astronauts. [More>>news.com.au]
---
9.26.08 China pulls top candy off shelves as melamine scandal deepens
September 26 - BEIJING (AFP) September 26 - China's toxic milk scandal escalated Friday as one of the nation's famous candy brands was pulled off shelves and four more people outside the mainland were thought to have fallen ill from tainted milk. The industrial chemical melamine has also been found in Heinz baby cereal and in potato crackers in the southern Chinese territory of Hong Kong, officials said late Friday, as they ordered a recall of the products. In China, the maker of White Rabbit candy, given to US president Richard Nixon on a landmark 1972 trip, said it was halting domestic sales after its products were found to contain melamine, normally used to make plastic.
The move came as a hospital in Taiwan said three young children who frequently visited China had developed kidney stones after drinking tainted Chinese milk formula. The mother of one of the children had also developed kidney stones, the National Yang-Ming University Hospital said. The only other five cases of children falling ill from drinking tainted milk outside the mainland have so far been reported in Hong Kong, where authorities said late Friday they had ordered a recall of two more tainted products. [More>>khaleejtimes.com]
---
9.26.08 Somalia's pirates seize 33 tanks
September 26 - A Ukrainian ship seized by pirates off the coast of Somalia was carrying 33 tanks and other weapons, the Ukrainian defence minister has confirmed. Earlier, the country's foreign ministry said the ship had a crew of 21 and was sailing under a Belize flag to the Kenyan port of Mombasa. There has been a recent surge in piracy off the coast of Somalia. Russia announced on Friday it would start carrying out regular anti-piracy patrols in the waters off Somalia.
A navy spokesman said a warship had been sent to the area earlier this week to protect Russian citizens and ships. Somalia has not had an effective national government for 17 years, leading to a collapse of law and order both on land and at sea. Somali pirates are currently holding more than a dozen hijacked ships in Eyl, a town in the semi-autonomous region of Puntland. Senior UN officials estimate the ransoms pirates earn from hijacking ships exceed $100m (£54m) a year. [More>>bbc.co.uk]
---
9.26.08 Morocco slams cleric for 'legalizing pedophilia'
RABAT, Morocco (AFP) September 26 - Authorities in Morocco have shut down around 60 Quranic schools belonging to a Muslim cleric who argues that girls as young as nine can marry, officials said Thursday. The authorities also plan to close down the Internet site on which Sheikh Mohamed Ben Abderrahman al-Maghraoui decreed earlier this month that the marriage of nine-year-old girls is allowed by Islam.

The sheikh said his decree was based on the fact that the Prophet Mohammed consummated his marriage to his wife Aisha when she was that age. Lawyers, the media, and finally Muslim scholars rounded on Maghraoui for effectively seeking to legalize pedophilia. The authorities finally took action on Wednesday, shutting down his headquarters in Marrakesh and dozens of his small Quranic schools dotted around the country. [More>>alarabiya.net]
---
9.26.08 Cleric reignites age-old Sunni-Shiite disputes
AMMAN, Jordan, September 26 - A leading Muslim Arab cleric has raised a political and religious storm across the region by speaking out audaciously on a subject that many Islamic scholars refuse to discuss because of political considerations - the "Shiite invasion" of Muslim societies. Prominent Egyptian-born scholar, Sheikh Yusuf al-Qaradawi, told Egypt's independent Al-Masry al-Youm daily on Sept. 10 there existed Shiite "attempts to invade the Sunni community with their money and cadres trained to do missionary work in the Sunni world."
Qaradawi's bold words unleashed days of counter-attacks among religious, political and sectarian leaders over the very foundations that have underlined the Sunni-Shiite politico-religious schism dating back centuries. The seeds of such strife, however, were revived in the aftermath of the US-led invasion of Iraq that toppled Saddam Hussein's secular regime, leading to sectarian strife...The 82-year-old Qaradawi, often described as moderate but staunchly anti-Israeli and against U.S. policies, is the Doha-based Al-Jazeera channel's star preacher and appears regularly on a weekly religious talk show...Ironically, Qaradawi is known to be a firm supporter of Hezbollah and resistance against Israel, and has been barred entry into the United States and Britain for his views.

...Qaradawi, nonetheless, raised a centuries-old ideological dispute by referring to the Shiites as "heretics," because they believe the study of Islamic scriptures is a continual process necessary for identifying God's laws and that the door to "ijtihad," or interpretation of the Koran, and the "hadith" (Prophet's sayings) was never closed. The Sunnis claim they cannot be interpreted with the same authority as their predecessors. The Sunni-Shiite split dates back as far as Prophet Mohammed's death, following disagreement on who was qualified to lead as the Prophet's successors. Those who later became Shiites believed only members of Mohammed's clan, specifically the descendants of his daughter Fatima and her husband Ali, were the legitimate successors. For hundreds of years, wars and invasions spawned from the Sunni-Shiite conflict. [Full story>>metimes.com]
---
9.26.08 Russia to build missile defence shield and renew nuclear deterrence
September 26 - Russia is to build new space and missile defence shields and put its armed forces on permanent combat alert, President Medvedev announced today. In a sharp escalation of military rhetoric, Mr. Medvedev ordered a wholesale renovation of Russia's nuclear deterrence and told military chiefs to draw up plans to reorganize the armed forces by December. He said that Russia must modernise its nuclear defences within eight years, including the creation of a "system of air and space defence." The announcement puts Russia in a new arms race with the United States, which has infuriated the Kremlin by seeking to establish an anti-missile shield in eastern Europe. The US argues that the shield is aimed at rogue states such as Iran, but Russia is convinced that its own security is threatened. [More>>timesonline.co.uk]
---
9.25.08 Lawmakers agree on outline of bailout
WASHINGTON, September 25 - House and Senate negotiators from both parties said Thursday that they had reached general agreement to move forward with the Bush administration's proposed $700 billion rescue effort of the nation's financial system. Emerging from a nearly three-hour meeting in the Capitol, Republicans and Democrats said they would continue working through the day to complete the legislative language and would begin final negotiations with the Treasury.
It was unclear if a final draft would be ready by 3:55pm when Congressional leaders are scheduled to meet at the White House with President Bush and the two presidential candidates, Senator John McCain, Republican of Arizona, and Senator Barack Obama, Democrat of Illinois. But lawmakers in both parties said that few substantive differences and no major obstacles remained. They said the bill would authorize the full $700 billion requested by President Bush, but that Congress was intent on disbursing the money in installments.
They also said that there would be limits on pay packages for executives whose firms seek assistance from the government and a mechanism for the government to be given an equity stake in some firms so that taxpayers have a chance to profit if the companies prosper in the months and years ahead. [More>>nytimes.com; See related stories:

msnbc.msn.com, September 24, "Bush: 'Our entire economy is in danger' (text and video): WASHINGTON - President Bush on Wednesday warned Americans and lawmakers reluctant to pass a $700 billion financial rescue plan that failing to act fast risks wiping out retirement savings, rising foreclosures, lost jobs, closed businesses and even "a long and painful recession." His dire warning came not long after the president issued extraordinary invitations to presidential candidates Barack Obama and John McCain, one of whom will inherit the mess in four months, as well as key congressional leaders to a White House meeting on Thursday to work on a compromise.
"Without immediate action by Congress, America could slip into a financial panic and a distressing scenario would unfold," Bush said in a 12-minute prime-time address from the White House East Room that he hoped would help rescue his tough-sell bailout package.

foxbusiness.com (AP) September 25, "Home sales plunge by 11.5% in August" : Government data show sales of new homes dropped sharply in August, falling to the slowest pace in 17 years. The average sales price fell by the largest amount on record, too. The Commerce Department said Thursday that new homes sales fell by 11.5% in August to a seasonally adjusted annual sales rate of 460,000 units, the slowest sales pace since January 1991. It was a much bigger sales decline than the small 1% drop that economists had been expecting. The average price of a new home sold in August dropped by a record amount of 11.8% to $263,900, compared to the July average of $299,100. The median price was also down, falling 5.5% to $221,900. (end)

timesonline.co.uk, September 25, "B&B slashes hundreds of mortgage jobs, throwing future into doubt" : LONDON - Embattled mortgage bank Bradford & Bingley (B&B) announced plans to sack 370 people today as its future as an independent business was thrown into fresh doubt. Shares in the bank, which is grappling with a flood of buy-to-let mortgages turning sour, slumped to a new all-time low today as it also revealed it was selling off more toxic assets for a bottom-line loss of £134 million...

metimes.com, September 25, "The Arabs and the US financial crunch": AMMAN, Jordan - When a financial earthquake hits the United States, its tremors are bound to be felt across the world, including throughout the Middle East, where politics often takes precedence over economics, and financial developments are almost always seen with a political eye. Thanks to globalization, the collapsing US financial system has sent Arab stock markets plunging in panic since the first domino fell on Sept. 15 with the bankruptcy of US investment bank Lehman Brothers and the government rescue of insurance giant AIG. Some of the oil-rich Gulf Arab central banks on Wednesday sought to calm market fears by pledging to inject cash to ease the liquidity problem in the banking sector that had spread from the Wall Street meltdown.

The assurances came after the United Arab Emirates' central bank on Monday decided to pump 50 billion dirhams ($13.6 billion) in emergency lending, in apparent reaction to a regional cash shortage. Amid a global economic slowdown, the US crisis has only exacerbated the receding economies of the Arab world, both rich and poor, analysts say, namely because these countries have linked their financial interests with those of the United States...
The ripple effects of the Wall Street meltdown reaching the region have led many Arab and analysts to demand detaching their countries' economic (and political) policies from the United States. "We in Egypt are paying an exorbitant price today," said an editorial in the Egyptian Al-Ahram weekly. "It is time to free ourselves from the shackles of American economic imperialism..."

middle-east-online.com, September 25, "Saudi inflation around 11 percent in August" : RIYADH - Governor of Saudi central bank says inflation represents biggest challenge of kingdom. The governor of the Saudi central bank said on Wednesday that inflation hovered around 11 percent in August and represents the biggest challenge of the oil-rich kingdom. "The Saudi economy is confronted with many fundamental challenges but the biggest challenge is the rate of inflation," Hamad al-Sayari told reporters.
"In July the rate of inflation stood at 11.1 percent. It fell to 10.9 percent in August," Sayari said, according to the official SPA news agency. He blamed inflation on an increase in shipping costs and insurance premiums around the world. "The cost of shipping and insurance have risen 100 percent ... (and) represent more than half of the cost of imports for the kingdom," which buys most of its consumer needs abroad, he said. Sayari said, however, that the financial crisis facing the United States has a "limited" impact on Saudi Arabia, where "local banks are busy trying to develop" themselves...

---
Editorial note: "On Saudi inflation" - Although the "financial crisis" in the US is related to bad loans in the mortgage industry, we cannot forget that this year OPEC has hit the world with doubling price increases on oil, where we have seen prices surge from $60 per barrel to $135 per barrel. One of the major sectors hit by the surge in oil prices is transportation. We may wonder whether the Saudi government has realized the cause and effect in the price of oil and the price of food and products transported and made using oil. We were shocked to discover that the leaders of the UAE had not made such a connection last April, since they had no idea that their high prices of oil affect food and consumer goods prices:

Maravot News 5.03.08 recorded an article 4.29.08 "UAE ministry signs latest food price-fixing deal" The United Arab Emirates said on Tuesday a supermarket chain had agreed to fix the price of 56 basic food items at 2007 levels, the latest in a string of similar deals with retailers designed to curb inflation...

The Arabs are complaining about inflation? They ask the nations they have been robbing, through inflationary oil price increases, to roll back the prices of food and necessities to solve their inflation problems? How about another solution? Let's get the Arabs to roll back the price of oil. Short of that, what if those exporting products (food, clothing, etc.) to the Saudis and UAE were to place an "Oil tax" on all goods sent to them?

Mel Copeland
---
9.25.08 Russia to lend Venezuela $1 billion to buy Russian arms
MOSCOW (RIA Novosti) September 25 - Russia will provide Venezuela with a $1 billion loan to buy Russian weapons, a Kremlin source said Thursday. "The Russian side has made the decision to extend to Venezuela a $1 billion loan for a military cooperation program," the source said ahead of a meeting between Russian President Dmitry Medvedev and his Venezuelan counterpart, Hugo Chavez, who starts a two-day visit to Russia on Thursday. Between 2005 and 2007 Russia signed 12 contracts worth more than $4.4 billion to supply arms including fighter jets, helicopters and Kalashnikov assault rifles to Venezuela. [More>>en.rian.ru; See related story:

hrw.org, September 18, "Venezuela: Rights suffer under Chávez" : In its efforts to counter political opposition and consolidate power, the government of President Hugo Chávez has weakened democratic institutions and human rights guarantees in Venezuela, Human Rights Watch said in a report released today...
---
9.25.08 Tribesmen torch Taliban headquarters in Khyber Agency
KHYBER AGENCY, September 25 - Malagori tribesmen have torched the main Taliban headquarters in Khyber Agency and captured a second area, arresting five militants. This follows a Jirga decision to rid the agency of Taliban. The militants then retaliated — shelling the tribesme0n for about an hour before fleeing. No casualties were reported in the incident. Elders from the Malagori tribe in Khyber Agency earlier decided to launch raids to destroy Taliban hideouts in Khyber Agency. They said anyone caught harbouring militants will be expelled from Khyber agency and have their houses destroyed. On Wednesday many Taliban fled their bases and headed to the mountains. Tribal elders also announced they will form a tribal Lashkar to stop the entry of militants into the area in the future. [>thenews.com.pk]
---
9.25.08 Pakistan troops kill 16 militants, two civilians
KHAR, Pakistan (AFP) September 25 - At least 16 al-Qaeda linked militants and two civilians were killed when Pakistani helicopter gunships shelled rebel hideouts in a tribal region near the Afghan border, officials said. The casualties occurred on Thursday in the Bajaur region, where Pakistani troops launched a major offensive against Islamic militants last month which killed some 900 people, mostly militants, and displaced 260,000. "Helicopter gunships pounded positions of militants in Damadola, Shinkot areas from morning till evening Thursday, killing 16 rebels and wounding 20 others, most of them civilians," a security official told AFP.
Two civilians were also killed in the shelling, he said. The casualty figure could not be independently verified. Pakistan's tribal regions have been wracked by violence since thousands of Taliban and al-Qaeda rebels sneaked into the country after the US-led invasion of Afghanistan in late 2001. Violence linked to Pakistan's role in the 'war on terror' has claimed the lives of nearly 1,300 people in suicide and bomb attacks across the country in the past year. [>khaleejtimes.com]
---
9.25.08 When Zardari met Palin: Pakistan president tries to woo US Veep hopeful
WASHINGTON, September 25 - When John McCain and Sarah Palin attended a campaign rally in a small town called Vienna in Ohio last week, the joke was they went to Vienna (also the name of Austria's capital) so that the former Alaskan beauty queen, political lightweight, and vice-presidential nominee could get some foreign policy experience. On Wednesday, McCain threw her to the wolves, keeping himself busy with the economic crisis while sending Palin to meet with various world leaders attending the UN Session in New York, including India Prime Minister Manmohan Singh and Pakistan President Asif Ali Zardari. All in an effort, it seemed, to get her some heavyweight foreign policy exposure. According to media accounts from the photo-op, Pakistan's information minister Sherry Rehman, who greeted Palin as she entered, tried softening her first. ''And how does one keep looking that good when one is that busy?'' Rehman gushed, drawing friendly laughter from the room. "Oh, thank you," Palin said.

When Zardari walked in, he turned it up a few notches, telling Palin that she was "even more gorgeous" than he had expected. "You are so nice. Thank you," Palin responded, seeming to change the subject, but Zardari continued. '"Now I know why the whole of America is crazy about you." It didn't end there. When a cameraman asked them to shake hands again so that he could get the right shots, Zardari really turned it on: "If he's insisting, I might hug." Evidently, Zardari hadn't heard of the episode regarding former Pakistan Prime Minister Shaukat Aziz, who is said to have famously boasted that there wasn't a woman he could not seduce. When he tried to impress US Secretary of State Condoleezza Rice, he came to grief. [Full story>>timesofindia.indiatimes.com]
---
9.25.08 HRW: 130 children on death row in Iran
September 25 - There are 130 juvenile offenders on death row in Iran, according to Human Rights Watch (HRW). The organization also reported that five countries in the Middle East and North Africa were responsible for all executions of juvenile offenders since January 2005, and that it had documented 32 such executions. Twenty-six of them took place in Iran, two in Saudi Arabia, two in Sudan, one in Pakistan and one in Yemen, said HRW. "The numbers are shockingly high," Clarissa Bencomo, a children's rights researcher for HRW in the Middle East and North Africa region told The Media Line. [More>>jpost.com; See also:

hrw.org, September 18, "UN: Hold Ahmadinejad accountable for Iran rights crisis.": Under the administration of President Mahmoud Ahmadinejad, basic human rights protection in Iran has deteriorated to new lows, Human Rights Watch and the International Campaign for Human Rights in Iran said in a briefing paper released today. The new paper, "Iran Rights Crisis Escalates: Faces and Cases from Ahmadinejad's Crackdown," documents the dire situation for human rights defenders and key dimensions of the human rights crisis in Iran today. Released ahead of Ahmadinejad's arrival at the opening ceremonies of the UN General Assembly, the paper highlights Iran's status as the world leader in juvenile executions. Iran is known to have executed six juvenile offenders so far in 2008, and more than 130 other juvenile offenders have been sentenced to death and are awaiting execution.

..Iranian authorities have systematically thwarted peaceful and legal civil society efforts to advocate for women's rights. Women's rights advocates have been beaten, harassed, persecuted, and prosecuted. "Despite harsh government repression, Iranian women are increasingly demanding their rights," said Mehrangiz Kar, a prominent Iranian lawyer and women's rights scholar. Ahmadinejad's Intelligence Ministry has targeted Iranians who have active professional ties abroad, accusing them of being agents of Western efforts to instigate a "velvet revolution" in Iran. Three Iranians with academic ties to US institutions are currently being held and interrogated...

---
Editorial note: Among the political prisoners in Iran is Ayatollah Boroujerdi, who is viewed as a moderate. wikipedia.org says, "Ayatollah Seyyed Hossein Kazemeyni Boroujerdi is an Iranian Muslim cleric who advocates the separation of religion and government." Supporters of the Ayatollah sent Maravot News this email which we have edited:

September 22 - "In spite of concerns of Human Rights organizations on [the] critical state of Ayatollah Boroujerdi..on his immediate need for [medical] treatment, [the] Ministry of Information informed Ayatollah Boroujerdi that his exile [prison] sentence will be executed promptly...He and four numbers of his followers will be [sent] to specified places: Mr. Boroujerdi will [go] to Yazd for 10 years, Masoud Samavatiyan to Khoramabad prison for 5 years, Alireza Montazer-Saheb to Kermanshah prison for 4 years, Habib Quvati to Hamedan prison for 4 years, Majid Alasti to Zanjan prison for 4 years...Security forces among threat Ayatollah Boroujerdi to kill, has violated their words containing "stopping his exile sentence" and have informed Ayatollah Boroujerdi that"
Mel Copeland
---
9.25.08 Dubai police chief threatens sleeper cells in Iran
DUBAI, September 25 - Dubai's chief of police has threatened to create sleeper cells in Iran if it is proven that it is involved in any attempts to destabilize the Gulf region. Lieutenant General Dahi Khalfan said that Gulf countries have the financial ability to infiltrate Iranian ranks since Iran has 15 million citizens of Arab origins that potentially could be recruited, especially given that they live in dire conditions, the London-based Asharq al-Awsat reported Wednesday...Khalfan's statements came in the wake of allegations by a senior Iranian defector that Iran runs a network of agents in the six Arab monarchies of the Gulf that could be used to destabilize the region. [Full story>>alarabiya.net]
---
9.25.08 Bandits transfer Egypt tourist hostages to Libya
CAIRO and KHARTOUM, September 25 - The group of 19 hostages including 11 European tourists were transferred to Libya and the Sahara kidnappers holding them may be from one of the many rebel groups in Sudan's war-torn Darfur area, a Sudanese government spokesman said on Thursday. "There are indications that they may have been one of the rebel factions from Darfur," said Ali Youssef Ahmed, head of protocol in the Sudanese Foreign Ministry. The bandits have asked for Germany to be responsible for paying a ransom of six million euros, an Egyptian security official said on Thursday. [More>>alarabiya.net]  
---
EDITORIALS
09.11.05 When a nation lacks a competent leader it invites disaster – the legacy of Bush
08.13.05 "Using force the George W. Bush way – Bush's crusade"
11.25.04 Why the Crusade & Jihad?
---
*Visitor statistics on maravot.com from 1&1. com. 46,153 page views in May 2007; monthly visitors in 2008 range between 40,000-45,0000..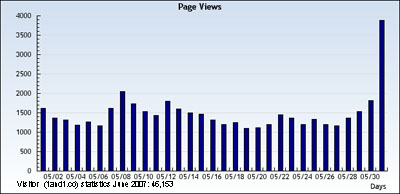 Privacy Policy: We do not store any personal data from you. We have no way of knowing any vital information about you – not even your name. Third-party distribution: We do not distribute information about your site usage to any third party. We are not responsible for the content of links from our site. Usage data: supplied by our Web Hosting service, 1and1.com, which consists of usage reports, such as page views / impressions and web pages visited, visitors' servers and geographical data (ISP's and country of origin).

---
Launched: 10.25.04 / 11.02.04 – | — |
Updated: 9.25.08; 9.26.08; 9.27.08; 9.28.09; 9.29.09; 9.30.09
Copyright © 1981-2008 Maravot. All rights reserved
Copyright © 1981-2008 Mel Copeland. All rights reserved
Background: tile from Cicero's villa (Marcus Tullius Cicero 106 B.C. - 43 B.C.)