2.10.09 Iranian mob attacks moderate ex-president Mohamed Khatami on anniversary
February 10 - Iran's former president was set upon by an angry stick-wielding mob today amid celebrations of the 30th anniversary of the Islamic Revolution on the streets of Tehran. The attack on Mohammed Khatami came just two days after the reformist cleric announced he would be running against the hardline incumbent Mahmoud Ahmadinejad in June's presidential elections. Mr. Khatami, then a little known cleric, came to global attention when he was elected to the presidency in 1997, capturing almost 70 percent of the vote. Succeeded in 2005 by Mr. Ahmadinejad, he blamed hardline elements in the clerical establishment for obstructing his reformist agenda. During the revolutionary celebrations, attackers waving sticks approached the cleric, shouting "Death to Khatami. We do not want American government."

According to Mr. Khatami's Baran Foundation, the attackers were repelled by his own supporters, who chanted, "Khatami, Khatami, we support you." ...The attack emerged as Mr. Ahmadinejad led Iran in its celebrations by hinting at a softening of relations towards the US. The President — internationally isolated because of his country's nuclear ambitions, sponsorship of Hezbollah and Hamas and threats towards Israel — said that he was ready for talks, but only if US policy changes dramatically. "It is clear that the change [by Obama] must be fundamental and not tactical," the Iranian leader said, in a speech in Tehran. "The Iranian nation will welcome true changes and is ready for dialogue in a climate of equality and mutual respect." [Full story>>timesonline.co.uk]
---
2.10.09 Geithner sets out sweeping overhaul to bank bailout
WASHINGTON, February 10 - Acknowledging that Americans have "lost faith" in the government's effort thus far to rescue the banking system, the Treasury secretary, Timothy F. Geithner, outlined a sweeping overhaul and expansion of the program on Tuesday. The new program will attempt to marshal as much as $2 trillion from the Treasury, private investors and the Federal Reserve. Hoping to address the bitter unpopularity of the program among voters and lawmakers in Congress, Mr. Geithner vowed that the Treasury will greatly increase the program's openness to the public and demand much stricter accountability from financial institutions that receive government help.

"The spectacle of huge amounts of taxpayer money being provided to the same institutions that helped cause the crisis, with limited transparency and oversight, added to the public distrust," the Treasury secretary said... Mr. Geithner laid out a multi-pronged program that will include several major components:
— A Public Private Investment Fund, jointly run by the Treasury and the Federal Reserve, with financing from private investors, to buy up hard-to-sell assets that have bogged down banks and financial institutions for the past year. Mr. Geithner said the new fund, often described as a "bad bank" for holding toxic assets, would start with $500 billion with a goal of eventually buying up to $1 trillion in assets.
— Direct capital injections into banks, which would come out of the remaining $350 billion in the Treasury's rescue program.
— A vast expansion of lending program that the Treasury and Federal Reserve had already announced, which is aimed at financing consumer loans. The two agencies had originally announced their intention to finance as much as $200 billion in loans for student loans, car loans and credit card debt. Instead the program will be expanded to as much as $1 trillion.
In a separate announcement elaborating on the lending program, the Federal Reserve said it "could broaden" the plan to include both commercial and residential mortgage-backed securities. But the Fed made it clear that no decisions had been made and said any subsequent expansion would "draw on initial experience in administering the program." [Full story>>nytimes.com; See related stories,

cbsnews.com, (AP) February 10, "Senate passes $838B stimulus bill" : The Senate has approved the $838 billion stimulus bill, which has solid Democratic support but is backed by only three Senate Republicans. "That's good news," President Obama said of passage when told about it during a town hall meeting in Fort Myers, Fla. But he also noted: "We've still got a little more work to do." The bill now faces what could be contentious negotiations with the House, which passed a different version of the legislation, one that includes fewer taxes and more spending than the Senate version.

Just three Republicans helped pass the plan on a 61-37 vote and they're already signaling they'll play hardball to preserve more than $108 billion in spending cuts made last week in Senate dealmaking. Mr. Obama wants to restore cuts in funds for school construction jobs and help for cash-starved states. Those cuts are among the major differences between the $819 billion House version of Mr. Obama's plan and a Senate bill costing $838 billion. Mr. Obama has warned of a deepening economic crisis if Congress fails to act. He wants a bill completed by the weekend...

cnn.com, February 10, "Wall Street: Thumbs down on bailout" : Stocks slump as administration's new version of the bank bailout plan fails to soothe jittery investors. NEW YORK - Stocks slumped Tuesday afternoon after the Obama administration's overhaul of the bank bailout plan failed to reassure investors unnerved by the ongoing fallout in the financial sector. Treasury prices rallied, lowering the corresponding yields, and the dollar slipped versus other major currencies. The Dow Jones industrial average (INDU) lost 340 points with under 2 hours left in the session after losing as much as 367 points earlier in the afternoon. The Standard & Poor's 500 (SPX) index lost 37 points, or 4.3%. The Nasdaq composite (COMP) lost 56 points, or 3.5%. The TARP announcement "was a huge disappointment," said Stephen Stanley, chief economist at RBS Greenwich Capital. "There's been an incredible build up for weeks and then they release a plan that has little in the way of details."...

cbsnews.com (AP) February 10, "GM cuts 10,000 jobs in bid to stay viable" : General Motors Corp. said Tuesday it will cut 10,000 salaried jobs, citing the need to restructure itself with a government deadline looming and amid some of the worst sales in the US auto industry's history. The Detroit-based automaker said it will reduce its total number of salaried workers to 63,000 from 73,000 this year. About 3,400 of GM's 29,500 salaried US jobs are expected to be eliminated. The company's statement said that the separations would be done through GM's severance plan, so there would be no buyout or early retirement packages as GM had offered in the past. In its plan to Congress submitted late last year, GM said work force reductions would be necessary in order for it to be viable for the long term. Most of the cuts are expected to take place by May 1.

nytimes.com, February 9, "Obama's prime-time press briefing" (Transcript, extract from nytimes.com) : Following is a transcript of President Obama's first press prime-press conference, as provided by Federal News Service...In one year, the unemployment rate went from 4.7 percent to 15.3 percent. Companies that have sustained this community for years are shedding jobs at an alarming speed, and the people who've lost them have no idea what to do or who to turn to. They can't pay their bill and they've stopped spending money. And because they've stopped spending money, more businesses have been forced to lay off more workers. In fact, local TV stations have started running public service announcements that tell people where to find food banks, even as the food banks don't have enough to meet the demand.

As we speak, similar scenes are playing out in cities and towns across America. Last Monday, more than a thousand men and women stood in line for 35 firefighter jobs in Miami. Last month, our economy lost 598,000 jobs, which is nearly the equivalent of losing every single job in the state of Maine. And if there's anyone out there who still doesn't believe this constitutes a full-blown crisis, I suggest speaking to one of the millions of Americans whose lives have been turned upside down because they don't know where their next paycheck is coming from.

And that is why the single most important part of this Economic Recovery and Reinvestment Plan is the fact that it will save or create up to 4 million jobs, because that's what America needs most right now...Now despite all of this, the plan's not perfect. No plan is. I can't tell you for sure that everything in this plan will work exactly as we hope, but I can tell you with complete confidence that a failure to act will only deepen this crisis, as well as the pain felt by millions of Americans.

My administration inherited a deficit of over $1 trillion, but because we also inherited the most profound economic emergency since the Great Depression, doing little or nothing at all will result in ever — even greater deficits, even greater job loss, even greater loss of income and even greater loss of confidence. Those are deficits that could turn a crisis into a catastrophe, and I refuse to let that happen. As long as I hold this office, I will do whatever it takes to put this economy back on track and put this country back to work...We are going through the worst economic crisis since the Great Depression. We've lost now 3.6 million jobs. But what's perhaps even more disturbing is that almost half of that job loss has taken place over the last three months, which means that the problems are accelerating instead of getting better.

...But what I — what I've been concerned about is some of the language that's been used suggesting that this is full of pork and this is wasteful government spending, so on and so forth. First of all, when I hear that from folks who presided over a doubling of the national debt, then, you know, I just want them to not engage in some revisionist history. I inherited the deficit that we have right now and the economic crisis that we have right now. Number two is that, although there are some programs in there that I think are good policy, some of them aren't job creators. I think it's perfectly legitimate to say that those programs should be out of this particular recovery package, and we can deal with them later....

---
Editorial note: Our extract from the Obama News Conference emphasizes the size of the " one trillion dollar deficit" inherited by Obama from the "fiscally irresponsible Bush administration." As noted in the National Debt chart in our sidebar the deficit for 2008, ~ September 2008, at the time the Financial Crisis broke, was $451 billion. At the time the Public Debt (National Debt) was ~$10.8 trillion and interest on the Public Debt was reported at $431.27 billion. (See Maravot News 9.13.08 article 9.09.08 Federal deficit estimated at near-record $407 billion)

The Reagan, Bush I and Bush II administrations introduced a culture of running the US government without paying for it, leaving the "debt to our children" (which places a question on their sense of right and wrong, living high and in excess at the expense of their children). The Obama generation are their children and have a right to complain about the debt with which they have been saddled

The other part of the issue has to do with the Reagan-Bush mob making the country economically vulnerable because of the enormous debt they created (now depending ever more for foreign central banks to continue lending to us). In the course of the Public Debt increases the Public Debt accrues interest debt and if we add $2 trillion to the previous debt ~ $11 trillion, we may soon be looking at an interest payment against $13 trillion. At the 5% rate — as experienced over the years — interest on the Public Debt for 2009 could be $650 billion. Going back through the debt history of the Reagan, Bush I and Bush II administrations one will find that their deficits generally matched the amount of interest on the Public Debt.

Mel Copeland
---
2.10.09 New terror scare in Saudi Arabia
February 10 - Alert for 85 al-Qaeda Suspects. In what is being described as an "unprecedented global alert," the International Criminal Police Organization today issued its largest-ever most wanted list for 85 terrorist suspects, who are sought by Saudi Arabia for allegedly plotting attacks against the country and for suspected links to al-Qaeda. "Never before has INTERPOL been asked to alert the world about so many dangerous fugitives at one time," said Secretary General Ronald K. Noble in a statement. "We know that we are approaching the 16th anniversary of the first World Trade Center bombing on Feb. 26, 2009 and therefore must be especially vigilant of fugitive al-Qaeda terrorists." Many terrorism experts are concerned that al-Qaeda will strike again shortly, said former FBI Agent Brad Garrett, an ABC News consultant. He speculated that the record alert — which was requested by Saudi Arabia — is a possible effort by the country to look like a team player on the terrorist-fighting front, after long being criticized for its lax security and funding of extremist groups...INTERPOL says there are more than 13,000 individuals in its database of terrorists suspects. [Full story>>abcnews.go.com]
---
2.10.09 US senator wants probe of Bush-era abuses
WASHINGTON, February 10 - Chair of Judiciary Comm. proposes "truth commission." A top United States senator called Monday for the creation of a "truth commission" to probe alleged abuses under former President George W. Bush, including the promotion of war in Iraq, detainee treatment, and wiretapping without a warrant. Democratic Senator Patrick Leahy, chairman of the Judiciary Committee, said he wanted to heal what he called sharp political divides under Bush and to prevent future abuses. "I'm doing this not to humiliate people or punish people but to get the truth out," he said. Obama said at the first press conference of his young presidency that he had not seen the proposal from Leahy and would have a look at it — "but my general orientation is to say let's get it right moving forward."

"If there are clear instances of wrongdoing…people should be prosecuted just like any ordinary citizen," said the president. Leahy compared his proposed panel to South Africa's post-apartheid Truth and Reconciliation Commission, and stressed, "We need to come to a shared understanding of the failures of the recent past. Rather than vengeance, we need a fair-minded pursuit of what actually happened. Sometimes the best way to move forward is getting to the truth, finding out what happened, so we can make sure it does not happen again," said Leahy in a speech at Georgetown University on restoring trust in the justice system. [More>>alarabiya.net]
---
2.10.09 Elements in India helped carry out 26/11: Pakistan
ISLAMABAD, February 10 - Giving a new twist to probe into Mumbai attacks, Pakistan is now alleging that there were "elements in India" who helped in carrying out the strikes and wants its investigators to be provided access to them. "There is a strong realisation in Pakistani security agencies that without the help of elements in India, the Mumbai crime could have not been committed," official sources were quoted as saying by the Dawn newspaper on Tuesday. [More>>indianexpress.com]
---
2.10.09 UK: Woman uses new forced marriage laws against father
February 10 - A 22-year-old woman has used new legislation to protect herself from being married against her will in Pakistan. Lancashire Police obtained its first ever Forced Marriage Protection Order against the unnamed woman's father. The woman approached police after her father informed her in a "bolt out of the blue" that she was to be married last month. She became engaged to a relative of her father's three years ago during a trip to Pakistan. A Lancashire Police spokeswoman said: "She went on a family holiday and was betrothed but didn't think anything would come of it and she went through with the ceremony. It was put to her that at the end of the month 'you are going to Pakistan to get married.' It came as a bolt out of the blue that all of a sudden she would have to go to Pakistan."

The woman approached police and officers applied for an order on her behalf. On Thursday, a judge at Blackburn County Court granted the order against her father. If he breaks the terms of the order he faces immediate arrest. A police spokeswoman said that such orders could include a requirement to hand over passports, to stop intimidation and violence, to reveal the whereabouts of a person and to stop someone from being taken abroad. It is believed to be the seventh order issued in the UK since the law came into force three months ago. [More>>independent.co.uk]
---
2.10.09 European cities sign climate change agreement
BRUSSELS (AP) February 10 - More than 350 cities across Europe have signed an EU climate change agreement pledging to cut carbon dioxide emissions by more than 20 percent by 2020. The commitment covers urban areas across 23 EU countries and includes cities like London, Paris and Madrid. Cities in Switzerland, Norway, Ukraine and Turkey are also signing, and New York City is showing support for the measures. EU Energy Commissioner Andris Piebalgs says the plan will affect 80 million people and will save around euro8 billion ($10.4 billion) in energy costs. Under the pact, signed by mayors Tuesday, cities commit to "go beyond" EU obligations of 20 percent cuts, and to shift toward renewable energy sources for their municipalities. [>thejakartapost.com]
---
2.09.09 Al-Qaeda warns India of more Mumbai-style attacks
LONDON, February 10 - A top al-Qaeda commander, who was reported killed in a US drone strike last year, has appeared in a video warning India of more Mumbai-style terror attacks if it tried to attack Pakistan. "India should know that it will have to pay a heavy price if it attacks Pakistan," Mustafa Abu al-Yazid, believed to be al-Qaeda's military commander in Afghanistan and ranked behind No 2 Ayman al-Zawahiri, said in a 20-minute video in Arabic received by BBC. Yazid, who the Pakistani military said may have been killed in fighting last August in the Bajaur tribal region, said: "The Mujahideen will sunder your armies into the ground, like they did to the Russians in Afghanistan. "They will target your economic centres and raze them to the ground."

Yazid denounced the ban on militant groups in Pakistan following the Mumbai attacks and asked the people of Pakistan to rise up and overthrow the government and President Asif Ali Zardari, the BBC reported. The al-Qaeda leader is said to have been involved in a number of terror attacks, including last year's Danish embassy bombings, in Pakistan and had claimed the responsibility of assassinating former Prime Minister Benazir Bhutto. He was last heard in August 2008 when he confirmed the death of al-Qaeda chemical-weapons expert Midhat Mursi al-Sayid Umar. [>timesofindia.indiatimes.com; See also bbc.co.uk, February 9, "Al-Qaeda video belies death claim."]
---
02.09.09 166 people dead in Victoria fires - worst bushfires in Australia's history
February 9 - Premier John Brumby has pledged to rebuild the fire-ravaged communities of Victoria. Twenty-four fires are still burning as the death toll in Australia's worst ever bushfires climbed to 166, with 35 people alone killed in the small hamlet of Kinglake, northeast of Melbourne. The death toll from the bushfires is certain to rise further as more remains are found in more than 700 burnt-out homes strewn through the 330,000ha so far razed in Australia's worst bushfire disaster. Most of the latest people confirmed dead were killed in the small towns of Strathewen and St. Andrews, on Melbourne's bushy northeastern fringe.

There are now 22 people confirmed dead at St. Andrews, a town with a population of about 1500 people. Strathewen, with only 450 people prior to the bushfires, lost 26 residents to the inferno that swept through on Saturday. Whole towns have been declared crime scenes, with fears many of the fires that broke out on Saturday and claimed so many lives were deliberately lit. But police say they are closing in on an arsonist thought responsible for the deadly Churchill-Jeeralang fire in Gippsland and recent fires at nearby Boolarra. Fire authorities fear the worst of the fires could take weeks to contain. [More>>news.com.au]
---
02.09.09 United against Islamists?
February 9 - (By Olivier Guitta, Middle-East Times) On Jan. 22, four European tourists — two Swiss, one Briton and one German — were kidnapped at the border of Mali and Niger. The major terrorist group in the region, al-Qaeda in the Islamic Maghreb (AQIM), is very likely behind this operation. This should not come as a surprise. In an article for this publication in March 2008 ("AQIM's new kidnapping strategy"), I had warned about this worrisome new strategy. In fact, North Africa has become in the past two years a major front in the war against radical Islam.

While Algeria has witnessed regular attacks and has been in the news a lot, its neighbors have also not been spared by Islamist terrorism. Indeed, Morocco, Tunisia and more recently Mauritania have suffered terror attacks. AQIM's original intention was to federate all the Islamist terror groups of the region. In fact by putting together resources and attacking what they call "infidel" regimes, AQIM thinks it can recreate a portion of the Caliphate.

..cooperation between the countries of that region is at best poor. The animosity between most countries makes it sometimes difficult to sustain a real cooperative relationship...none of the countries in the region want to recognize they have a terrorism problem, because of the impact such a perception could have on both tourism and foreign investment. So, for example when the two Austrian tourists were kidnapped in February in Tunisia by AQIM, the Tunisian authorities claimed that they had been abducted in Algeria and not in their "very safe" country. National interest is still the priority for each nation, notwithstanding the war against common enemies. As long as this will last, terror groups such as AQIM will thrive. [Full article, metimes.com (Olivier Guitta is an Adjunct Fellow at the Foundation for the Defense of Democracies and a foreign affairs and counterterrorism consultant.]
---
02.09.09 British diplomat arrested over 'anti-Semitic' rant
February 9 - Allegations that a senior British diplomat launched into an anti-Semitic rant in a London gym while watching TV footage from Gaza will not upset the "treadmill of diplomacy," the Israeli Ambassador to London said today. In a curiously tongue-in-cheek response to a case that has provoked concern within the Jewish community in Britain, Ron Prosor added that the tirade did not reflect "the health and fitness of our relations."

The diplomat, 47-year-old Rowan Laxton, allegedly shouted "f***ing Israelis, f***ing Jews" while watching television reports of the Israeli attack on Gaza last month. He is also alleged to have said that Israeli soldiers should be "wiped off the face of the Earth" during the rant at the London Business School gym near Regents Park on January 27. The tirade reportedly continued even after other gym users asked him to stop.

After a complaint from a member of the public, Mr. Laxton was arrested for inciting religious hatred — which can carry a seven-year prison term — and bailed to reappear at a central London police station at the end of March. In the meantime, he continues to work as usual as head of the Foreign and Commonwealth Office's South Asian group, in charge of UK diplomatic policy in the region. In that job he would be expected directly to brief the Foreign Secretary David Miliband, who is himself Jewish.

...Mark Gardner, deputy director of the Community Security Trust which monitors anti-Semitism, said: "There were an unprecedented number of anti-Semitic incidents during the Gaza conflict..We must not allow an overseas conflict to cause racism here in Britain and especially not among civil servants... [Full story>>timesonline.co.uk; See related story,

alarabiya.net, February 9, "Australian Jews threaten to cut ties with Muslims" : Tension rises after Muslim leaders slam Israel's assault on Gaza. Australia's Jewish community leaders threatened on Monday to cut ties with Muslim groups in an escalating battle of words after Muslim leaders criticized Israel's recent assault on the Gaza Strip and compared it to the Holocaust. Tensions rose after the Imam of the country's biggest mosque, Sheik Taj Din al-Hilali, called Israeli leaders "butchers" and said "Zionist racism" was creating another Holocaust, prompting some Jewish leaders to call him an "ignoramus."

"When we remember the atrocities of the Holocaust — it seems that what we are seeing is another Holocaust…It is not just about numbers of people killed — thousands as opposed to millions — but the atrocity itself, and here we have similar atrocities," the paper Sheik al-Hilali [words missing?] as saying. The comment was backed up by the chairman of the Australian Federation of Islamic Councils, Ikebal Patel, who further irritated Jewish groups by saying he thought the Palestinians living in the impoverished strip had it worse than many Holocaust victims. He said the "victims of the Holocaust [are] now perpetrating much worse atrocities against the Palestinians," the Australian newspaper reported...
---
02.09.09 Four US soldiers die in suicide bombing in Mosul
BAGHDAD, February 9 - Four American soldiers and an interpreter were killed Monday in a suicide bombing in the restive city of Mosul in northern Iraq, the deadliest attack on US troops in Iraq since May. The military said three service members were killed shortly after a person in a vehicle set off explosives. The fourth soldier and the interpreter working with the unit died later from wounds suffered in the blast, according to the military. An Iraqi official in Nineveh Province said a person driving a KIA pickup truck loaded with explosives rammed into a US armored vehicle at approximately 11am in the Jadid district in western Mosul.

The official, who was not authorized to speak on the record, said the attack also wounded two Iraqi policemen and a civilian. Mosul, Iraq's third largest city, remains among the country's most dangerous. Although attacks in Nineveh province have decreased substantially, al-Qaeda in Iraq and other insurgent groups remain active in Mosul and some outlying areas. [More>>washingtonpost.com]
---
02.09.09 Five militants among nine die in Swat
SWAT, Pakistan, February 9 - At least nine people were killed, including five militants, in different violent acts in restive Swat valley on Monday. The militants blew up yet another girls' school and basic healthcare center situated in Matta tehsil. According to sources, security forces backed by helicopter gunships and artillery shelled suspected hideouts of militants in Oogro, Takht Band and Angro Dherai areas, on the outskirts of Mingora, killing five militants and a civilian. Meanwhile, militants blew up a bridge with remote-controlled bomb in Takht Band area.

According to reports, security forces pounded militants' positions in Shakar Darra and Koza Bandai areas in Matta and Kabbal tehsils. However, no loss of life was reported. On the other hand, a mortar shell fired by militants hit a house of tribesman, Fazalullah, killing his two children and wife and severely injuring his other child, while five more persons were injured in different acts of violence. [>thenews.com.pk; See related story,

khaleejtimes.com (Reuters) February 9, "Nine children among 13 killed in Pakistan fighting" : ISLAMABAD - At least 13 people, nine of them children, were killed in northwestern Pakistan on Monday when two mortar bombs hit a house during a battle between security forces and Taliban militants, the military and residents said. The clash erupted when militants attacked two security posts in the Darra Adam Khel region, killing one soldier and wounding another."During the attack, the miscreants also fired two mortar bombs which hit a house in the bazaar of Darra Adam Kheil and there have been some civilian casualties," said Lieutenant-Colonel Nadeem Anwar, a Peshawar military spokesman...
---
02.09.09 4 ex-Gitmo prisoners transferred to Iraqi custody
BAGHDAD (AP) February 9 - Four Iraqi prisoners have been transferred from the US military detention center in Guantanamo Bay to Iraqi custody, two senior Iraqi security officials said Monday. The officials said the men had been arrested in Afghanistan, then transferred to Guantanamo, before being released to the Iraqis for questioning. The officials, who spoke on condition of anonymity because they were not authorized to speak to the media, did not give a timeframe for their arrests or release. "We have interrogated four Iraqi men who are now in our custody," one of the officials said, adding the detainees included a Shiite from Basra. He said one more Iraqi citizen remains at the US naval base in Cuba and was seeking refugee status in the United States. [More>>khaleejtimes.com; See related story,
cnn.com, February 9, "Teenage terrorist or confused kid" : Omar Khadr begged them to do it. "Kill me," he said. "Please, kill me." The men looming over the bullet-riddled 15-year-old were stunned. How was he still alive? The Special Forces unit had fired several rounds into him, shooting where a grenade had been thrown that mortally wounded their medic, Sgt. 1st Class Christopher Speer. The air in the Afghan compound, which had been blown to bits, was a thick fog of dust. Hearts pumped from the adrenaline of a firefight. Speer was immediately choppered away. The 28-year-old father of two would die 10 days later.

The wounded teen, whose parents once lived with Osama bin Laden, was patched up and flown away too, headed for questioning at Bagram Air Base in Afghanistan. He would become one of Guantanamo Bay's most controversial detainees. Khadr, now 22, is the youngest inmate and, as a Canadian citizen, the only Westerner still held at Gitmo. He is accused of receiving one-on-one training from al-Qaeda and was allegedly caught on a surveillance video making and planting roadside bombs where US troops traveled -- video the Pentagon will not release.

Due to go to trial last month, Khadr is charged with war crimes including murder, spying, conspiracy and providing support to terrorism. But President Obama's order to close the detention facility at Gitmo has postponed the trial, and left the case in limbo. Like the other remaining 245 Gitmo detainees, Khadr could be tried in the United States and face a life sentence. Or he might be sent back to Canada, where he could avoid trial and be set free...
---
02.09.09 Cuba's Castro says Obama unable to solve economic problems
HAVANA (RIA Novosti) February 9 - Former Cuban leader Fidel Castro has said that US President Barack Obama is incapable of solving the US's problems. In his Monday newspaper column, Reflections, Castro also suggested that other countries would be the real victims of the US financial crisis. "Neither [Barack] Obama, nor [Rahm] Emanuel, or any of the other brilliant politicians and economists that he has gathered together can solve the growing problems of the capitalist North American society," Castro wrote. "Even if Kant, Plato and Aristotle were all resurrected, along with the late brilliant economist John Kenneth Galbraith, they still couldn't overcome the contradictions of the [US] system, which have become larger and larger and deeper and deeper."
"The rest of the world will have to pay for the [US's] colossal squandering," Castro wrote, noting that the Americans would have to "guarantee workplaces for Americans" and "profits for the large multinational corporations in the country." Last week, in an article entitled Contradictions between Obama's Policies and Ethics, Castro demanded that the United States unconditionally return the Guantanamo Bay military base to Cuba. Castro said after Obama's inauguration that he was "an honest man with good intentions" and that he hoped the new US president would not repeat the "mistakes" of his predecessors. [>en.rian.ru]
---
02.09.09 China launches investigation into death of 1,000 pigs
BEIJING, February 9 - More than 1,000 pigs have been found dead in the northern China province, necessitating an official investigation into the matter. Around 1,056 pigs with 80 per cent of them less then a month old were found dead in 10 villages in Hongdong province, Xinhua News Agency reported. Samples have been sent to animal disease control and prevention centre in Shanxi to carry out further investigation, officials said. Till now 637 pigs have been buried and 25 burned to prevent the spread of the disease, said Wang Zhijian, Vice Director Hongdong security Bureau. No contaminated pork has been found in stores or restaurants till now, they added. [>timesofindia.indiatimes.com]
---
02.09.09 Cannabis linked to testicular cancer
February 7 - Scientists find heavy use of marijuana can double risk of tumors among men. The soaring rate of testicular cancer in the UK and other Western countries is linked today to the increased popularity of cannabis. Testicular cancer has more than doubled over the past 30 years and its rise parallels that of the use of cannabis, Britain's most popular illegal drug. Researchers in the US have found that men who regularly smoke cannabis have a 70 per cent increased risk of testicular cancer.

The risk was highest — twice that of those who never used the drug — in those who smoked it at least once a week or had a long history of use, beginning in adolescence. The study is based on findings from 369 men with testicular cancer who were questioned about their history of cannabis use. The results were compared with 979 men who did not have cancer. Cannabis was linked with testicular cancer independently of smoking, drinking and family history. [More>>independent.co.uk]
---
02.08.09 RBS 'toxic' loans chief paid £40m
NEW YORK, February 8 - A ROYAL BANK OF SCOTLAND executive who led its investments into "toxic" sub-prime loans was paid close to £40m in just three years, The Sunday Times can reveal. Jay Levine, 47, was the bank's highest-paid employee, earning almost four times more than former chief executive Sir Fred Goodwin. Levine, who ran the group's American investment bank RBS Greenwich Capital, received the bumper pay deals over 2005, 2006 and 2007, according to sources close to the bank. His pay has never been disclosed since he was not a main-board director. The pay deals came as the bank ramped up its exposures to sub-prime mortgages, asset-backed securities and collateralized debt obligations (CDOs).

Levine, who lives in well-heeled Riverside, Connecticut, became co-head of Greenwich in 2000 after RBS acquired the business as part of its takeover of NatWest. In 2004 he was promoted to a larger role that also saw him head up corporate banking for the group across North America. RBS has unveiled about £12 billion of write-downs since the credit crunch began and is poised to unveil full-year losses of up to £28 billion – the biggest loss in UK corporate history. There are now six class-action lawsuits that have been filed against the group in the Southern District Court of New York, alleging that RBS misled investors on the true state of its accounts in a series of filings with the US Securities and Exchange Commission (SEC). [More>>timesonline.co.uk]
---
02.08.09 Karzai urges Taliban reconciliation
February 8 - Hamid Karzai, the Afghan president, has called for a process of reconciliation with Taliban fighters who are not linked with al-Qaeda. "We will invite all those Taliban who are not part of al-Qaeda, who are not part of terrorist networks, who want to return to their country ... to come back to their country," he said at a security conference in the German city of Munich on Sunday. "I would request the international community to back us in this, fully, and be of one view on this, not of divided views," he said. "There is no way that we can succeed in the way we want to, in the right time, without some form of reconciliation."

The Afghan president called on world leaders attending the conference, including Joe Biden, the US vice-president; Nicholas Sarkozy, the French president; Angela Merkel, the German chancellor, and Nato members, to support his proposal. Mark Seddon, Al Jazeera's correspondent in Munich, said: "There will be people here who say that the Taliban are engaged in terrorism, how can you talk to them? .." [More>>aljazeera.net' See related story:

Maravot News 1.20.09 article 01.18.09 Al-Qaeda threatens German soldiers in web video: Al-Qaeda issued an Internet threat against German soldiers at the weekend, citing their involvement in fighting the Taliban in Afghanistan...Whoever tried to make a distinction between al-Qaeda and the Taliban had not understood his enemy, he added.
---
02.08.09 Afghan leader finds himself hero no more
KABUL, Afghanistan, February 8 - A foretaste of what would be in store for President Hamid Karzai after the election of a new American administration came last February, when Joseph R. Biden Jr., then a senator, sat down to a formal dinner at the palace during a visit here. Between platters of lamb and rice, Mr. Biden and two other American senators questioned Mr. Karzai about corruption in his government, which, by many estimates, is among the worst in the world. Mr. Karzai assured Mr. Biden and the other senators that there was no corruption at all and that, in any case, it was not his fault. The senators gaped in astonishment. After 45 minutes, Mr. Biden threw down his napkin and stood up. "This dinner is over," Mr. Biden announced, according to one of the people in the room at the time. And the three senators walked out, long before the appointed time. Today, of course, Mr. Biden is the vice president.

The world has changed for Mr. Karzai, and for Afghanistan, too. A White House favorite — a celebrity in flowing cape and dark gray fez — in each of the seven years that he has led this country since the fall of the Taliban, Mr. Karzai now finds himself not so favored at all. Not by Washington, and not by his own. In the White House, President Obama said he regarded Mr. Karzai as unreliable and ineffective. Secretary of State Hillary Rodham Clinton said he presided over a "narco-state." The Americans making Afghan policy, worried that the war is being lost, are vowing to bypass Mr. Karzai and deal directly with the governors in the countryside.

At home, Mr. Karzai faces a widening insurgency and a population that blames him for the manifest lack of economic progress and the corrupt officials that seem to stand at every doorway of his government. His face, which once adorned the walls of tea shops across the country, is today much less visible. Now, perhaps crucially, an election looms. Mr. Karzai says he will ask the voters to return him to the palace for another five-year term. The election is set for Aug. 20, after what promises to be a violent and eventful summer. In a poll commissioned by a group of private Afghans, 85 percent of those surveyed said they intended to vote for someone other than Mr. Karzai. [More>>nytimes.com; See related stories:

washintonpost.com, February 8, "US officials offer dismal review of war in Afghanistan" : MUNICH - President Obama's national security team gave a dire assessment Sunday of the war in Afghanistan, with one member calling it a challenge "much tougher than Iraq" and others hinting that it could take years to turn around. US officials said more troops were urgently needed, both from the United States and its NATO allies, to counter the increasing strength of the Taliban and other warlords opposed to the central government in Kabul. But they also said new approaches were needed to untangle an inefficient and conflicting array of civilian-aid programs that have wasted billions of dollars.

"NATO's future is on the line here," Richard Holbrooke, the State Department's special envoy for Afghanistan and Pakistan, told an international security conference here. "It's going to be a long, difficult struggle. In my view, it's going to be much tougher than Iraq." Gen. David H. Petraeus, head of the US Central Command, said the war in Afghanistan "has deteriorated markedly in the past two years" and warned of a "downward spiral of security."

In addition to more combat troops, Petraeus called for "a surge in civilian capacity" to help rebuild villages, train local police forces, tackle corruption in the Afghan government and reduce the country's thriving opium trade. He also suggested that the odds of success were low, given that foreign military powers have historically met with defeat in Afghanistan. "Afghanistan has been known over the years as the graveyard of empires," he said. "We cannot take that history lightly." ..

cfr.org article "Afghanistan's role in Iran's drug problem.".
---
02.08.09 LeT as dangerous as al-Qaeda for US, UK: CIA
LONDON, February 8 - Terror outfit Lashkar-e-Taliba, accused of masterminding the Mumbai massacre, is as dangerous a threat to Britain and the United States as Osama bin Laden's al-Qaeda, according to a former top-ranking CIA officer. "In the aftermath of the Mumbai attack, the US and the UK intelligence services now have to regard Lashkar-e-Taiba as just as serious a threat to both of our countries as al-Qaeda. They have a much more extensive base among Pakistani diaspora communities in the UK than al-Qaeda," Bruce Riedel told "The Sunday Telegraph" newspaper. Meanwhile, in a bid to prevent a Mumbai-like mayhem on American soil, the CIA is said to have launched a massive spying operation in Britain and it has recruited a number of informants in the Pakistani community for the purpose.

According to the newspaper, the CIA believes that a British extremist of Pakistani origin entering the US is the most likely source of a terror attack on America. Riedel, who served three US Presidents as a Middle East expert on the White House National Security Council, said not only LeT, the British Pakistani community is recognized as al-Qaeda's best mechanism for launching an attack on America. "The American security establishment believes that danger continues and there's very intimate cooperation between our security services to monitor that. The Americans run their own assets in Pakistani community they get their intelligence.

"There is close cooperation with MI5 but they don't tell us the names of all their sources. Around 40 percent of CIA activity on homeland threats is now in the UK. This is quite unprecedented," he was quoted as saying. [>timesofindia.indiatimes.com]
---
02.08.09 Mumbai probe report to be filed to defence committee tomorrow
ISLAMABAD, February 8 - The final report into Mumbai attacks' investigation will be submitted to the Defence Coordination Committee on Monday. Sources told Geo news that Mumbai attacks were neither planned in Pakistan nor India. The 26/11 attacks on Mumbai were planned in a European country while the contacts established in this connection were made through Internet, report said. Sources further said that Ajmal Kasab, lone surviving gunman captured during Mumbai attacks and five other Pakistanis involved in the planning would be tried in Pakistani court according to the law of the land. While custody of Amjal Kasab would also be sought from New Delhi to unmask his Indian accomplices involved in the attacks, sources said. [>thenews.com.pk]
---
02.08.09 Saudi suspects seeking to revive al-Qaeda
RIYADH, Saudi Arabia, February 8 - One of the men on the Saudi Arabia's new most-wanted list is married to Osama bin Laden's daughter while another was involved in a plot to kill the US ambassador in Yemen. A third smuggled militants into Iraq from Syria. Documents profiling the 85 wanted men — 83 Saudis and two Yemenis — reveal that many of them either took part in planning attacks targeting oil, security and other installations in the kingdom or provided al-Qaeda members with weapons, safe haven, false documents and money. The documents illuminate the extent of Saudi participation in the shadowy extremist networks struggling to rebuild in the Arabian peninsula after a series of harsh crackdowns in past years. All the men on the list are hiding abroad, many in neighboring Yemen.

...Documents were available for six of those men, all of whom left Saudi Arabia in 2000 before eventually making their way to Afghanistan where they were captured and then taken Guantanamo. After being released to the Saudis and going through rehabilitation, the men slipped across the border into Yemen. Another man on the list, Mohammed Aboul-Kheir, 34, is married to the daughter of al-Qaeda leader bin Laden and worked as his bodyguard. He had links to Ramzi Binalshibh, one of five codefendants facing murder and war crimes charges for alleged roles in the Sept. 11 attacks. The documents put his whereabouts in either Afghanistan, Pakistan or Iran.

Another wanted Saudi, Saleh al-Qaraawi, has been dubbed by the local media as one of the most dangerous men on the list. The documents say that al-Qaraawi, 27, provided money and recruits for Abu Musab al-Zarqawi, the head of al-Qaeda in Iraq who was killed in June 2006. "He received intensive training in Iran in the use of electronics in explosions," said the documents. [Full story>>japantoday.com; See related story,
abcnews.go.com (AP) February 8, "Official: Yemen releases 170 al-Qaeda suspects" : Yemen releases 170 al-Qaeda suspects after they sign pledges to refrain from terrorism. SAN'A, Yemen - Yemen released 170 men it had arrested on suspicion of having ties to al-Qaeda, security officials said Sunday, two weeks after the terror group announced that Yemen had become the base of its activities for the whole Arabian peninsula. The announcement also comes as government forces say they are poised to sweep through the northern city of Marib to combat an entrenched al-Qaeda presence that includes both Yemenis and Saudis.

The officials who announced the release spoke on condition of anonymity because they are not allowed to speak to the press. The men were freed Friday and Saturday after signing pledges not to engage in terrorism — a strategy the Yemeni government has often used with those suspected of fighting in militant causes abroad. Local tribal leaders are also expected to guarantee the good behavior of the released...
---
02.08.09 22 militants killed in Inayat Kilay
BAJAUR, Pakistan, February 8 - Security forces backed by gunship helicopter killed 22 militants in Inayat Kilay area of Bajuar Agency, FC sources said Sunday. The security forces targeted the militants' hideouts using army aviation's gunship cobra helicopters on a tip-off. [>thenews.com.pk]
---
02.08.09 Grad rocket lands near Ashkelon as cabinet discusses truce
February 8 - A Grad-type rocket fire by Palestinian terrorists landed in the environs of Ashkelon Sunday afternoon, Army Radio reported. There were no initial reports of casualties or damage but police were still looking for the rocket's impact site. Early Sunday morning, two cars were destroyed by fire and several others were damaged by shrapnel when a Kassam rocket fired by Palestinians in the Gaza Strip hit a parking lot on a Sha'ar Hanegev kibbutz. There were no casualties in the attack, which came only shortly before children were set to leave their houses for school, but several people were treated for shock.

The rockets landed as the cabinet convened to discuss an Egyptian draft for a long-term cease-fire between Israel and Hamas. The agreement reportedly includes the release of IDF soldier Gilad Schalit, who has been held by Hamas in the Gaza Strip for over two years. Olmert toned down expectations early on in the meeting, saying media reports were "exaggerated in their assessment of progress towards a Schalit deal." [More>>jpost.com]
---
02.08.09 Afghan blast kills two US-led soldiers
(AFP) February 8 - A bomb killed four people including two US-led soldiers in Afghanistan's southern province of Helmand, in an attack claimed by Taliban rebels. The explosion was in the dangerous Nad Ali district, one of Afghanistan's main opium-growing areas where Taliban insurgents are said to earn money by protecting the lucrative crop from US-backed efforts to eliminate it. It came as the United States warned its allies at a security conference in Germany that fighting the insurgency could prove tougher than stabilizing Iraq and appealed, along with Britain, for more troops and equipment. [More>>news.com.au]
---
02.08.09 Three consecutive blasts rock Baghdad
BAGHDAD (DPA) February 8 - Three consecutive explosions rocked Baghdad on Sunday, leaving at least one person dead and at least 20 people wounded, local media reported. Early Sunday morning, police sources told the Voices of Iraq (VOI) news agency, a bomb blast injured two civilians on a main thoroughfare in Baghdad's al-Karada district. Later in the day, a second explosion killed an Iraqi man and wounded at least 14 other civilians in the western Baghdad district of al-Qahira, the news agency reported. Soon after, a car bomb exploded in the Mansour district of western Baghdad, injuring at least four people. [More>>khaleejtimes.com]
---
02.08.09 Religon lessons in Bosnia schools cause uproar
SARAJEVO, Bosina, February 8 - Critics fear children will grow up with deeper ethnic divides. A decision by the Muslim-led county council to allow religious instruction in kindergartens across Bosnia's capital of Sarajevo has been met with a chorus of outrage from critics who fear it may deepen the country's ethnic divide and spill over into a religious conflict. For the classes, the Muslim children are taken to a seperate classroom where the "bula" — an intermediary between an imam and the family — teaches a basic Islamic studies class and explains how the Prophet Muhammad travelled from Mecca to Medina.

The start of the classes in October ratcheted up tensions across the country, still split among rival ethnic groups Muslims, Serbs and Croats — who shed each other's blood in the 1992-95 conflict. Muslims, Serbs and Croats — who shed each other's blood in the 1992-95 conflict...Each faith has been invited to prepare a curriculum, but so far only Islamic classes have been organized in Sarajevo, where the weekly 30-minute lessons are funded by the city's Muslim government. [Full story>>alarabiya.net]
---
02.07.09 Hefty payout deals draw public anger in China
BEIJING, February 7 - While America's "Gilded Age" is ending with US President Barack Obama's announcement of compensation caps on financial companies being bailed out by public funds, some Chinese State-owned financial firms are still testing public tolerance with astronomical executive packages. The main target of a public outcry is Guotai Jun'an Securities Co, one of the largest brokerages in China, which is reportedly ready to give its executives hefty pay rises for 2008, when the financial services industry suffered major losses and the company itself saw a 24.24 percent decline in net profit, according to the Securities Association of China. Guotai Jun'an announced it would earmark 3.2 billion yuan ($470 million) for "compensation and welfare expenses" for the past year, 57 percent higher than its compensation budget at the beginning of the year. [More>>xinhuanet.com]
---
02.07.09 Biden vows break with Bush era foreign policy
MUNICH (Reuters) February 7 - US Vice President Joe Biden promised a sharp break from the go-it-alone policies of the Bush era in a major speech on Saturday, saying it was time to "reset" Washington's ties with Russia and talk to Iran. Speaking at the Munich Security Conference in Germany, an annual gathering of leaders and defence experts, Biden said the new US administration of President Barack Obama was determined to "set a new tone" in Washington and with its allies.

In the wide-ranging 25-minute address, Biden focused on relations with Moscow, badly strained by Russia's brief war last year with Georgia and US plans to put a missile shield in central Europe. "The last few years have seen a dangerous drift in relations between Russia and the members of our Alliance," Biden said in the first major foreign policy speech by the new administration. "It's time, to paraphrase President Obama, to press the reset button and to revisit the many areas where we can and should work together," he said. [More>>thestar.com.my]
---
02.07.09 Pakistan Taliban 'behead hostage'
February 7 - Taliban fighters in Pakistan have beheaded a Polish geologist captured in the northwest of the country four months ago, the movement has said. A spokesman, identified only as Mohammed, told several news organizations that Piotr Stancza was killed after authorities failed to meet a deadline set for the release of some of the group's fighters. "We have killed the man after authorities refused to release our colleagues," he told the Reuters news agency.

"We will now only hand over his body after our demands are met." Donald Tusk, Poland's prime minister, said his government had received "unofficial confirmation" that Stancza had been killed...The Taliban spokesman said Stanza was executed in the South Waziristan tribal region. Attacks on foreign aid workers, company employees and diplomats have increased in Pakistan over the past year, especially in areas near the border with Afghanistan, where pro-Taliban fighters are battling government forces.[Full story>>aljazeera.net]
---
02.07.09 Militant camps in Pakistan still 'active' : Army chief
NEW DELHI, February 7 - Terror infrastructure in Pakistan is "existing and active," according to Army Chief Gen. Deepak Kapoor, who puts the number of terror camps there in between 30 and 50. Pakistan seeks to convey an impression that it is taking action against terrorists and their infrastructure but the infrastructure was still active, Kapoor said. The number of camps "on the other side" can "safely" be placed between 30 and 50, he said, adding that there had been a significant increase in such camps from 32 in 2005 to 53 last year. Kapoor, who has served as chief of the Northern Command which include Jammu and Kashmir, said by and large most of these camps are located parallel along the Line of Control (LoC) and between 10 and 50 km away from the LoC. The numbers of these camps have been varying at times. [More>>timesofindia.indiatimes.com]
---
02.07.09 Five militants killed in Swat
MINGORA, Pakistan, June 7 - Security forces have killed 5 militants in Swat while as many people were killed when a shell landed on a house. Bodies of six people have also been recovered from different areas, sources said. The security forces targeted militants' hideouts in Ali Grama area of Tehsil Kabal with gunship helicopters, killing 5 militants, sources said. [>thenews.com.pk; See related stories:

xinhuanet.com, February 7, "7 Pakistani policemen killed in ambush" : At least seven policemen were killed early Saturday in an ambush attack by militants on a checkpoint in the eastern Pakistani province of Punjab. Armed militants opened fire on the policemen standing on the checkpoint following an explosion there, in which the checkpoint collapsed with a loud blast, according to the private Geo TV. Rescue efforts are underway but police officer Jamat Ali Bukhari said that he feared all deployed police officials had died. On Friday, Pakistani security forces killed 52 Taliban when they targeted hideouts in Chapri and Feroz Khel areas along the border of Pakistan and Afghanistan...

cbsnews.com, February 6, "US military goods for sale in Pakistan" : US equipment, coveted by the Taliban, is now openly for sale in the Pakistani border town of Peshawar, CBS News correspondent Sheila MacVicar reports. Among the goods: boots, camouflage, even high-power binoculars and sophisticated night-vision gear. A CBS News camera took these exclusive pictures of looted US military supplies. CBS News has been told there are US weapons for sale there, too, improving Taliban capabilities and posing a growing risk to US and coalition forces.

"This is state-of-the-art military equipment. If you're going to fight a war these days, you're much better off fighting at night," said defense analyst Paul Beaver. "If you've got the equipment, sniper scopes and night-vision equipment, you can put the enemy off balance." All this brand new equipment ends up there after Taliban attacks hit and loot NATO convoys...
---
02.07.09 Cyprus: Ship won't be returned to Iran
NICOSIA, Cyprus (AP) February 7 - A ship suspected of carrying arms to Gaza will not be returned to Iran, Cypriot officials said Saturday, but they refused to say what exactly was found onboard the boat or whether the cargo contravened UN resolutions. Cyprus inspected the Monchegorsk twice after it arrived January 29 under suspicion of ferrying weapons from Iran to Hamas in Gaza. The US military stopped the ship last month in the Red Sea, and said it found artillery shells and other arms aboard. But it could not legally detain the ship, which continued to Port Said, Egypt, and then to Cyprus.

Authorities will decide what to do with the cargo once they have finished searching the ship, Cyprus' President Dimitris Christofias said, without saying how long that could take. One option could be to confiscate the cargo, the president said. But Cyprus has ruled out sending the shipment back to Iran, Christofias' adviser George Iacovou said Saturday, according to state-run CyBC radio.

Christofias said Cyprus had received clear guidance from the UN Security Council Sanctions Committee on whether the cargo breached sanctions barring Iran from sending arms abroad, but he refused to give any details or say what was advised. The Cyprus-flagged ship is now anchored off the port of Limassol under tight security. Cyprus is also consulting with the UN Security Council on the issue, government spokesman Stefanos Stefanou said "The Cyprus Republic will do what it must do and will decide very soon," Stefanou told a news briefing. [>jpost.com; See related story,

Maravot News 5.19.08 article 5.19.08 Sea, not Egypt, top Gaza arms route...In 2002, Israel seized a ship in the Red Sea that it said was delivering 50 tones of arms to the Palestinians. According to Israel, the arms were funded by Iran and were to have been loaded onto fishing boats which would have dumped them off Gaza in submersible tubs that Palestinian divers could then recover.
---
02.07.09 Morocco rape law oppresses women: Activists
RABAT, Morocco, February 7 - Says forcing a victim to marry rapist is a crime. Female rights associations in Morocco have called for the annulment of a law that acquits a rapist for raping a minor if he marries her, and argued it is like rewarding the rapist for the crime. Rape is a crime and its perpetrator has to be penalized by law, said Fouzia Assouli, head of the Moroccan Democratic League for Women's Rights. Marriage following rape is an equally serious crime, she added. "How can a girl be made to marry a man who raped her?" she told AlArabiya.net. "This is like rewarding him for his crime."...The rapist usually offers to marry the girl to escape the blame then months later she ends up divorced and even more abused, activist Bushra Abdou said. [Full story>>alarabiya.net; See Maravot News trend story,

Maravot News 7.02.05, article 7.01.05 Update, 6.29.05, 6.28.05 'Woman's marriage dissolves if raped by husband's blood relative' – Islamic Court The All India Muslim Personal Law Board (AIMPLB) on Monday ordered a woman raped by a relative to separate from her husband and marry the rapist. The victim, Imrana, 28, wife of Noor Ilahi, was allegedly raped by her father-in-law, Ali Muhammad in Muzaffarnagar district of Uttar Pradesh.
---
02.07.09 Senators reach deal on stimulus plan as jobs vanish
WASHINGTON, February 6 - Senate Democrats reached an agreement with Republican moderates on Friday to pare a huge economic recovery measure, clearing the way for approval of a package that President Obama said was urgently needed in light of mounting job losses. The deal, announced on the Senate floor, was a result of two days of tense negotiations and political theater. Mr. Obama dispatched his chief of staff to Capitol Hill to help conclude the talks and reassure senators in his own party, and he called three key Republicans to applaud them for their patriotism.

Earlier, when it looked as if a vote might take place Friday night, officials said, a government plane was dispatched to Florida to bring back Senator Edward M. Kennedy, a Massachusetts Democrat who has brain cancer. The fine print was not immediately available, and the numbers were shifting. But in essence, the Democratic leadership and two centrist Republicans announced they had struck a deal on about $110 billion in cuts to the roughly $900 billion legislation — a deal expected to provide at least the 60 votes needed to send the bill out of the Senate and into negotiations with the House, which has passed its own version. The pact, which is expected to be approved in the next few days, was concluded just hours after the Labor Department announced that 598,000 jobs were lost in January. [More>>nytimes.com]
---
02.06.09 Sea Shepherd protesters ram Japanese whalers in intense clash
February 6 - A protest ship in the Southern Ocean has rammed a Japanese whaling vessel in what protesters say is the most intense clash the two groups have ever had. Captain Paul Watson, from the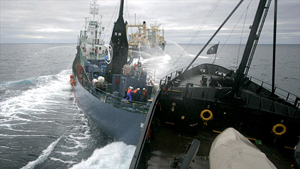 Sea Shepherd Conservation Society, said his ship, the Steve Irwin, was forced to hit the Japanese ship Yushin Maru No. 2 about 8:30am (AEDT). Mr. Watson said his protest ship was trying to stop the Japanese from pulling a whale onto a ship when the clash happened. "The Yushin Maru No. 1 was transferring the whale up the slipway and we were trying to block that transfer and the Yushin Maru No. 2 just shot right in front of us," Mr Watson said, speaking via satellite phone. "I couldn't move to starboard without hitting the vessel and I couldn't move to port without hitting them. I tried to back off, but it was too sudden and we ran right into their stern ... they threw themselves right in front of us. There wasn't anything we could do." Mr. Watson said he crushed a railing at the back of the Japanese ship but was unaware of anyone being injured. [More>>news.com.au (Image: seasheperd.org) See also:
japantoday.com, February 6, "Sea Shepherd ship collides with Japanese whaler in Antarctic" : ...There have been no reports of injuries from the Friday incident, but Minoru Morimoto, director general of the Tokyo-based ICR, said that Sea Shepherd crew members on Thursday used specially designed propeller entangling devices to attempt to disable whaling vessels before throwing bottles of acid at the Japanese fleet. Morimoto described the attacks as "criminal" and called on the members of the International Whaling Commission to condemn "these acts of violence."...Watson said the "increasingly aggressive Japanese" fleet was endangering the lives of his crew members, but he also confirmed the group had attempted to disable whalers' propellers. He also said they threw rancid butter, which is "less acidic than beer," at the whaling fleet...

seashepherd.org, February 6, "Steve Irwin suffers second collision with the Japanese fleet."
---
02.06.09 Economy shed 598,000 jobs in January
WASHINGTON, February 6 - The United States lost almost 600,000 jobs last month and the unemployment rate rose to 7.6 percent, its highest level in more than 16 years, the Labor Department said Friday. It was the biggest monthly job loss since the economy tipped into a recession more than a year ago, and it was even worse than most forecasters had been predicting. In addition, the government revised the estimates for previous months to include another 400,000 job losses. For December, the government revised the job loss to 577,000 compared with an initial reading of 524,000. Over all, it said, the nation has lost 3.6 million jobs since it slipped into a recession in December 2007.

"Businesses are panicked and fighting for survival and slashing their payrolls," said Mark Zandi, chief economist at Moody's Economy.com. "I think we're trapped in a very adverse, self-reinforcing cycle. The downturn is intensifying, and likely to intensify further unless policy makers respond aggressively." Despite the jobless number, Wall Street was higher; all three major exchanges were up about 2 percent at noon. [More>>nytims.com;See related stories,
timesonline.co.uk February 6, "UK company collapses up 124% in three months" : The number of companies filing for administration jumped by nearly 125 per cent in the final three months of last year as the financial crisis and the sharp economic downturn took its toll. Consumers also felt the pain as the number of bankruptcies last year soared to the highest level since records began in 1960. Over 350 people a day are now becoming insolvent. The total number of businesses going bust, which covers administrations and liquidations, rose by more than 50 percent as increasing numbers of companies struggled to access finance or secure insurance. Some 2,018 businesses entered into administration — the insolvency scheme usually used by larger companies — between October and December last year, up from 575 in the final quarter of 2007, figures from the Insolvency Service show. This is an increase of 251 percent...

japantoday.com, February 6, "Toyota sinks into quarterly loss"

washingtontimes.com (AP) February 6, "Bush overpaid banks, watchdog says" : WASHINGTON - The Bush administration overpaid tens of billions of dollars for stocks and other assets in its massive bailout last year of Wall Street banks and financial institutions, a new study by a government watchdog says. The Congressional Oversight Panel, in a report released Friday, said last year's overpayments amounted to a taxpayer-financed $78 billion subsidy of the firms. The findings added to the frustrations of lawmakers already wary of the $700 billion rescue plan, known as the Troubled Asset Relief Program. Congress approved the plan last fall, but members of both parties criticized spending decisions by the Bush administration and former Treasury Secretary Henry Paulson. Financially ailing insurance giant American International Group, deemed by the Treasury Department to be too big to be allowed to fail, received $40 billion from the Treasury for assets valued at $14.8 billion, the oversight panel found...

cbsnews.com, February 6, "Facing crunch, NYC's Middle Class flees" : Start spreading the news - New York City's middle class is leaving. And not just today either. Sky-high rents, long commutes and other exorbitant living costs are just some of the reasons the nation's most expensive city has been steadily losing its middle class in recent years, according to a study released by the Center for an Urban Future. New York City suffered a net loss of over 150,000 middle income residents in 2006 — a greater flight than 1993, when the city was in much worse shape economically — according to the study. With New York more than twice as expensive as the national average, many former residents have opted for cheaper alternatives in Philadelphia, Charlotte and the Atlanta suburbs. Looking at the numbers, it's not hard to understand why: Monthly rents average $2,801, which is 53 percent higher than the next most expensive city, San Francisco. The national average is $995....
---
02.06.09 Charges dropped in Gitmo terror trial
(AP) February 6 - The Pentagon's senior judge overseeing terror trials at Guantanamo Bay dropped charges Thursday against an al-Qaeda suspect in the 2000 USS Cole bombing, upholding President Barack Obama's order to freeze military tribunals there. The charges against suspected al-Qaeda bomber Abd al-Rahim al-Nashiri marked the last active Guantanamo war crimes case. The legal move by Susan J. Crawford, the top legal authority for military trials at Guantanamo, brings all cases into compliance with Obama's Jan. 22 executive order to halt terrorist court proceedings at the US Navy base in Cuba. Pentagon spokesman Geoff Morrell said Crawford withdrew the charges against al-Nashiri. However, new charges be brought again later, and al-Nashiri will remain in prison for the time being. [More>>thejakartapost.com]
---
02.06.09 Russia ready for transit of non-lethal US goods to Afghanistan
MOSCOW (RIA Novosti) February 6 - Russia will allow transit of non-lethal supplies for US troops in Afghanistan as soon as Washington provides Moscow with detailed information on the cargo, Foreign Minister Sergei Lavrov said on Friday. Several NATO nations, including France, Germany and Canada, already transport non-lethal supplies to their contingents in Afghanistan via Russia under bilateral agreements. Washington is expected to follow suit after striking a similar deal with Moscow in mid-January. "We are waiting for our American partners to send us an official request listing the amount and the nature of the supplies. We will issue the relevant order as soon as this happens," Lavrov said on Russia's Vesti-24 television. [More>>en.rian.ru]
---
02.06.09 UNRWA suspends Gaza aid after Hamas steals supplies
February 6 - UNRWA informed the IDF on Friday that it is suspending its humanitarian aid deliveries to the Gaza Strip after Hamas stole supplies the United Nations organization had transferred to the Palestinian territory. The seizure of the 200 tons of supplies took place Thursday night and in response, UNRWA officials informed the Gaza Coordination and Liaison Administration that it was suspending its deliveries to the Gaza Strip until further notice. The supplies confiscated included flour and other basic commodities. The transfer of 40 truckloads of humanitarian supplies — some 800 tons — planned for Sunday has already been canceled. Officials in Jerusalem said the announcement by UNRWA constituted a UN approval and confirmation of Israel's position, that Hamas is using the Palestinian population in Gaza "cruelly and cynically" and is solely responsible for hardship there. [More>>jpost.com]
---
02.06.09 2 Gaza rockets hit Israel hours after IDF kills militant near Gaza
February 6 - Palestinian militants on Friday fired a rocket from the Hamas-run Gaza Strip into the Sha'ar Hanegev regional council, which lies in the western Negev, the Israel Defense Forces said. There were no casualties or damage, the IDF said. Three hours later, a rocket hit near the coastal city of Ashkelon. No injuries were reported in the attack. An IDF spokesman said the first rocket was fired from the northern Gazan town of Beit Lahiya. IDF soldiers on Thursday evening killed a Palestinian militant who approached the Gaza-Israel border and drew a grenade. [More>>haaretz.com]
---
02.06.09 US officials: Hezbollah gaining in Latin America
February 6 - The United States is stepping up scrutiny of Iranian security and military personnel in the Lebanese communities of Latin America, even as its proxy, Hezbollah, gains new momentum and strength there, US officials said. Part of Hezbollah's alarming expansion is being fueled by narco-dollars coming from Latin American drug cartels, and American concern stems from the possibility that al-Qaeda and Hezbollah, both of which have contacts with wealthy and powerful Latin American drug organizations, could use the area to stage attacks on US interests in the region or at home, these officials said. US officials said that in addition to boosting rates of recruitment, Hezbollah agents, supported by Iran, are using very effective routes to smuggle drug profits to the Middle East to aid anti-US counterparts, thanks to cooperation with Cuban intelligence which has effective operations in southern Florida.

Last fall, Charles Allen, undersecretary of Intelligence and Analysis in the Department of Homeland Security said, "The threat of ties between criminal and drug smuggling networks and Islamic terrorism may be less pressing than the Middle East, but the threats in this hemisphere are genuine, insidious and not always limited to recruiting and finance." Only last October, US and Colombian law enforcement agencies broke up a Hezbollah drug trafficking ring that was funneling profits to markets in Europe, the United States and militias in Lebanon, according to Department of Justice reports. The ring's director was Shukri Mahmoud Harb, a money launderer, who was arrested with 130 Hezbollah colleagues. [More>>metimes.com]
---
02.06.09 Beware of spam mail in your inbox
NEW DELHI, February 6 - Watch out! The spam mail that just hit your inbox could be an encrypted information from a terrorist to his companions. With terrorists using internet and other communication technologies to plan, plot and carry out their subversive activities, intelligence agencies reckon that some of the millions of spam mails that are sent out daily, could be the handiwork of these groups. "Numerous softwares and websites are now available through which one can easily send spam to numerous e-mail account holders. Terrorists, who are now more tech savvy than before are sending out encrypted messages to millions including the one actually it is meant for," a senior Home Ministry official said.

Explaining the rationale behind sending out a secret message to millions to avoid any risks, the official said, "99 percent of the people don't even bother to check spam mails which usually get delivered in the spam box because of strong firewall of e-mail service providers. Usually people just delete them. Moreover, the message is in encrypted form and hence any ordinary person would not be able to decipher it." Adding to spam mails, multimedia files like pictures, audio and video files are another source of sending coded information. [>timsofindia.indiatimes.com]
---
02.06.09 More turning to Web to watch TV, movies
February 6 - As more Americans get used to watching video on their computers, more Web sites are popping up to offer free movies and TV shows. Consumers are taking advantage of this to eliminate cable or satellite TV and integrate their home entertainment with the Web. And online video viewership is skyrocketing.

How to watch TV on the Internet » [Full story>>cnn.com]
---
02.06.09 S. Arabia urged to halt floggings, give women rights
GENEVA (Reuters) February 6 - Western countries called on Saudi Arabia on Friday to halt floggings and amputations, allow religious freedom and abolish a system of male guardianship sharply limiting women's rights. Britain, Canada, Switzerland and Israel challenged Riyadh on issues including its high number of executions. Saudi Arabia executes murderers, rapists and drug traffickers, usually by public beheading, and judges sometimes give the death sentence to armed robbers and those convicted of "sorcery" or desecrating the Koran.

A Saudi delegation defended its record at the United Nations Human Rights Council, saying the country was cracking down on domestic violence by men who abused their roles as guardians and beat their wives and children. Zaid Al-Hussein, vice president of the state-affiliated Saudi Human Rights Commission, told the forum much remained to be done to ensure that individual followers of Islam uphold human rights standards, as required by sharia law. [>khaleejtimes.com]
---
02.06.09 52 militants killed in FC shelling in Khyber Agency
PESHAWAR, February 6 - At least 52 militants were killed and several others injured after security forces backed by gunship helicopters bombed militants' key positions along border areas of Khyber and Orakzai Agencies on Friday. According to Geo news, Frontier Corps personnel, after receiving a tip-off, fired shells at militants' hideouts in Cherai Feroz area. Militants' five hideouts and eight vehicles were destroyed in shelling. Earlier, cache of arms, a center and four vehicles were destroyed in the attack. [>thenews.com.pk]
---
02.06.09 Mob fury after Pakistan mosque bomb
February 6 - Hundreds of people have set fire to a police station in Pakistan after at least 27 people were killed in a bomb blast near a Shia mosque in Punjab province. Maqsood Ahmed, the city police chief, said on Friday that the attackers were demanding the arrest of those behind the blast, which took place in Dera Ghazi Khan. He said that the protesters also damaged some shops and disrupted traffic in various parts of the city as they set fire to tires in the streets...Al Jazeera's Kamal Hyder, reporting from Islamabad, said: "The attack angered a lot of people, they vented their anger on the police station this morning. [Police] were unable to provide security to these people in the procession. So there was considerable anger at police." [Full story>>aljazeera.net]
---
02.06.09 Iran ready to cooperate with US on global issues - Ahmadinejad
TEHRAN (RIA Novosti) February 6 - Iran is ready to cooperate with the new US administration in tackling global issues on the basis of "mutual respect," the Iranian president said on Friday. "Iran announces its readiness to welcome genuine and correct changes in polices conducted by the new US administration, and to cooperate with Washington on the resolution of urgent global problems in an atmosphere of mutual respect and fairness," Mahmoud Ahmadinejad said at a meeting with the newly appointed Swiss ambassador to Iran. [More>>en.rian.ru]