News Headlines & Trends
---

03.13.10 Abbas blames Iran for thwarting Palestinian reconciliation
(DPA) March 13 - Palestinian President Mahmoud Abbas, winding up a visit to Tunisia, on Saturday blamed Iran for blocking reconciliation between his Fatah organization and rival Islamist faction Hamas. Tehran's leadership did not want Hamas to sign the Egyptian-brokered reconciliation plan, Abbas charged. After Hamas had initially agreed to the plan, it was now citing a number of objections for not signing it. Abbas said the Palestinians should be freed from Iranian tutelage. [More>>haaretz.com]
---
03.13.10 US 'concerned' at Bahai persecution in Iran: Official
WASHINGTON (AFP) March 12 - The United States is "increasingly concerned" over the persecution of the Bahai and other religious minorities in Iran, a State Department spokesman said Friday. "The United States is increasingly concerned about the Iran's ongoing persecution of Bahais and other religious minority communities," spokesman Philip Crowley said in a statement. He added that Washington was also concerned about the ongoing espionage trial in Iran of seven Bahai leaders, who have been denied access to their lawyers. [More>>arabtimesonline.com]
---
03.13.10 US researchers discover how electricity moves through cells
WASHINGTON (Xinhua) March 12 - Researchers at the University of Minnesota in the United States have created a molecular image of a system that moves electrons between proteins in cells, according to a news release from the university. The achievement is believed to be a breakthrough for biology and could provide insights to minimize energy loss in other systems, from nanoscale devices to moving electricity around the country. The research, led by Carrie Wilmot, an associate professor in the College of Biological Sciences, is published in the March 12 issue of Science. [More>>xinhuanet.com]
---
03.13.10 MIT researchers discover new energy source
March 13 - It's so tiny, you can't see it with the naked eye. Scientists at the Massachusetts Institute of Technology have discovered an energy source that you can see only through a microscope. The researchers devised a process for generating electricity using nanotechnology. They plan to refine the process in hopes of creating a new environmentally friendly battery, among other products. It works like this: Researchers used tiny wires, known as carbon nanotubes, to create a powerful wave of energy, according to Michael Strano, and MIT associate professor of chemical engineering. He is also the senior author of a paper on this new phenomenon, published in this week's Nature Materials journal.

After coating these tiny wires with a layer of fuel, Strano said his team generated a so-called thermopower wave and stumbled across a reaction that may eventually be used to power electronics, computers and cell phones. "This could lead to batteries that are up to 10 times smaller and still have the same power output. In the portable energy and energy conservation arena, we're trying to find power sources that have a smaller profile but hold more energy," Strano told CNN Radio. To build a power source, such as a battery, it's necessary to move electrons in a material from one end of the battery to the other, creating an electrical current. This thermopower wave MIT researchers discovered, using the class of molecules know as carbon nanotubes, does just that. [More>>cnn.com]
---
03.13.10 Obama NASA plans 'catastrophic' say Moon astronauts
March 13 - Former NASA astronauts who went to the Moon have told the BBC of their dismay at President Barack Obama's decision to push back further Moon missions. Jim Lovell, commander of the ill-fated Apollo 13 mission, said Mr. Obama's decision would have "catastrophic consequences" for US space exploration. The last man on the Moon, Eugene Cernan, said it was "disappointing." Last month Mr. Obama cancelled NASA's Constellation Moon landings programme, approved by ex-President George W. Bush.

...The astronauts spoke to the BBC at a private event at the Royal Society in London on Friday organized by the Foundation for Science and Technology. They were joined there by the first man on the Moon, Neil Armstrong. As the last astronaut to return to the Apollo 17 lunar module in 1972, Cernan was the last man to set foot on the Moon. "I'm quite disappointed that I'm still the last man on the Moon," he said. "I thought we'd have gone back long before now." So why does he believe Americans should go back to the Moon? "I think America has a responsibility to maintain its leadership in technology and its moral leadership... to seek knowledge. Curiosity's the essence of human existence." It is a view shared by fellow Apollo Astronaut Jim Lovell, the heroic commander of Apollo 13. "Personally I think it will have catastrophic consequences in our ability to explore space and the spin-offs we get from space technology," he said. "They haven't thought through the consequences." [More>>bbc.co.uk]
---
03.13.10 Saudi ex-Gitmo prisoners get suspended jail time
RIYADH (AP) Ten former detainees completed rehabilitation program. A Saudi court gave suspended prison sentences to 10 former Saudi Guantanamo detainees who had completed a rehabilitation program, Al-Hayat newspaper reported on Saturday. The men, who were returned to Saudi Arabia in 2008 and 2009 after serving time at the US military detention centre at Guantanamo Bay in Cuba, received sentences of three to 13 years in a ruling on Thursday, the paper said. They were also ordered to remain inside the country for five years, the report said. Returnees from Guantanamo are routinely tried and given prison sentences by Saudi courts which are then suspended based on their already having passed time in US custody, and also on successfully passing through the Saudi "Care" rehabilitation program.

Launched in 2006 by the Deputy Interior Minister Prince Mohammed bin Nayef, the Care program aims at wooing the former militants away from radical and violent Islamist ideology. Out of 123 Saudis returned from Guantanamo, 111 have passed through the program, nine came before it was created, and three are currently in it, according to the interior ministry. Thirteen of those who passed through the program returned to militant activities, according to the ministry. Riyadh is seeking the return of another nine Saudi citizens who remain in the Guantanamo facility.[>alarabiya.net]
---
03.13.10 2nd American woman held in terror probe
March 13 - Colo. woman detained in Ireland in probe of cartoonist murder plot; investigators look for links between her and "Jihad Jane." Law enforcement officials in the US have confirmed to CBS News that a Colorado woman has been detained in Ireland in connection with an alleged plot to assassinate a Swedish cartoonist whose sketch offended many Muslims. Jamie Paulin-Ramirez, 31, was among seven people arrested in Ireland this week as authorities investigate an alleged plot to kill the cartoonist over a 2007 sketch depicting the head of the Muslim prophet Mohammed on a dog's body. Irish authorities this week announced the arrest of seven Muslims in the alleged plot, only identifying them as three Algerians, a Libyan, a Palestinian, a Croatian and an American woman married to one of the Algerians.

...Law enforcement is looking at whether "Jihad Jane" and Paulin-Ramirez spent time together in Ireland or the United States, and the FBI is still in the process of locating and interviewing friends and family of Paulin-Ramirez. Paulin-Ramirez fits the pattern of LaRose in that she spent an enormous amount of time on the Internet where she met Muslim men and traveled overseas. [Full story>>cbsnews.com]
---
03.13.10 Pak army may be paying compensation to terrorists' families killed in 26/11: US lawmaker
WASHINGTON, March 13 - In a remark that further implicates Pakistan's domineering military in charges of supporting terrorism against India, a US lawmaker has alleged that it may be paying compensation to families of terrorists who attacked Mumbai on 26/11. The stunning charge came from Congressman Gary Ackerman in course of a hearing he convened on the Lashkar-e-Taiba in his capacity if chairman of a House sub-panel on South Asia on Thursday. "There is, in fact, no reason to doubt that Pakistan's military is likely paying compensation to the families of the terrorists killed in the Mumbai attacks," Ackerman said in his prepared remarks at the start of the hearing.

The lawmaker did not elaborate on the charge against the Pakistani military, which if true would be extremely provocative for India at a time New Delhi is pressing Pakistan to take action against masterminds of 9/11. His office had not returned calls at the time of writing. Nine of the ten Pakistani fidayeen (suicidal) terrorists who attacked Mumbai landmarks eventually died after killing 173 people. A lone captured survivor Ajmal Kasab, is now on trial in Mumbai, largely disowned by Pakistan...Broadly expressing dismay over the Obama administration's lackadaisical approach to the Pakistani military's use of terrorism, the hearing also challenged the notion that the Kashmir issue was the root cause of the problem between India and Pakistan, a proposition advanced only by Congressman Dan Burton, a long-time supporter of Pakistan. Congressman Ackerman described the idea that resolving the Kashmir issue will end terrorism as "dangerous nonsense." [Full story>>timesofindia.indiatimes.com]
---
03.13.10 Christian-Muslim clash in Egypt injures 24
CAIRO (Reuters) March 13 - At least 24 people were injured in northern Egypt in fighting between Christians and Muslims over land, officials told state media on Saturday. Fires were started during the fighting between Coptic Christians and Muslims in Marsa Matrouh governorate after Christian villagers built a fence around land next to a church-run building, the state news agency MENA reported...Hussein Fekry, head of security at the governorate, said Muslim residents of the village objected to the fence which blocked a main road, MENA reported. [Full story>>khaleejtimes.com]
---
03.13.10 13 killed, 52 injured in suicide attack in Pak's Swat valley
PESHAWAR, March 13 - At least 13 people were killed and 52 others injured on Saturday when a suicide bomber blew himself up outside a heavily-guarded court complex in the restive Swat valley in northwest Pakistan, a day after multiple blasts in Lahore claimed 45 lives. Witnesses and police officials said the bomber came to the court complex in Mingora, the main city of Swat district, in a rickshaw. As he walked towards the complex, he was spotted and challenged by security personnel manning a check post. "The bomber blew himself up when the security personnel fired at him," district police chief Qazi Ghulam Farooq said. The check post was manned jointly by army soldiers and policemen. Many of the 13 people killed in the attack were security personnel, officials said. Fifty-two others were wounded. The powerful blast also destroyed five cars. Footage on television showed some cars on fire as passers-by carried the injured away from the site of the blast. [>indianexpress.com]
---
03.13.10 Deadly blasts rock Afghan city
March 13 - At least 35 people have been killed after a series of explosions rocked the centre of the southern Afghan city of Kandahar, an interior ministry spokesman has said. Saturday's attacks also left 45 people, including policemen and civilians, injured. Al Jazeera's Hoda Abdel-Hamid, reporting from Kabul, the Afghan capital, said: "We spoke to the spokesman of the governor to the city of Kandahar [and] it appears to be a coordinated attack. In the city, an explosion happened near the police headquarters, the second one was heard near the provincial guest house in an area where also president Karzai's half brother [Ahmad Wali Karzai] lives. [More>>aljazeera.net]

---
03.12.10 Suicide blasts kill 45 in Pakistan's Lahore
LAHORE (Reuters) March 12 - Two suicide bombers targeting the Pakistani military killed at least 45 people in Lahore on Friday, officials said, in a challenge to government assertions that crackdowns have weakened Taliban insurgents. A third bomb exploded near a police station in Lahore later on Friday, police said, wounding up to four people and further rattling nerves in the eastern city near the border with India. Militants have renewed pressure on the US-backed Pakistani government, with five bomb attacks this week alone. "Two suicide bombers attacked within the span of 15 to 20 seconds and they were on foot," provincial police chief Tariq Saleem Dogar told reporters after the earlier attack. Those killed in that attack, the bloodiest this year, in a military neighbourhood included nine soldiers, military officials said. Almost 100 people were wounded. [More>>timesofindia.indiatimes.com; See related story,

thenews.com.pk, March 12, "Back-to-back, five blasts hit Iqbal Town" :LAHORE - Five back-to-back blasts of low intensity happened in Iqbal Town of Lahore within the last 45 minutes, triggering panic and fear among the citizens, Geo News reported Friday. The blasts were caused by hand grenades hurled in different locations of Iqbal Town by a suspected person riding a motor bike, police sources said. According to details, the first blast occurred in an empty plot near crowded Moon Market in Kashmir Block; the second blast hit a car parked outside a house; the third blast occurred near Edhi Center in Kashmir Block located in Iqbal Town; the fourth blast struck outside the residence of a serving DSP again in Iqbal Town and; the fifth and the last blast ripped through Karim Block.

No causalities were reported in these attacks. However, four people were injured. It may be reminded here that dozens of people were killed in two blasts at Moon Market on December 7 last year. Earlier, at least 39 people were killed when two suicide bombers blew themselves up in R A Market near security forces' convoy. Overall seven blasts have taken place in Lahore within 10 hours, killing at least 40 people, including security men, and injuring about 100 others. [end]
---
03.12.10 Thai protesters start bid to topple government
BANGKOK (Reuters) March 12 - Anti-government protesters began gathering in Bangkok on Friday for what they promise will be a non-violent "million-man march" in coming days to paralyse Thailand's capital and force the government to call elections. About 50,000 security personnel were mobilized as several thousand supporters of deposed premier Thaksin Shinawatra began gathering at five key areas in Bangkok in one of the biggest challenges yet to Prime Minister Abhisit Vejjajiva. Protesters listened to speeches and music over loud-speakers while waiting for leaders to arrive in trucks which would be turned into makeshift stages. More plan to arrive over the weekend with hundreds of thousands expected on Sunday — a scale almost unprecedented in recent years. [More>>indianexpress.com]
---
03.12.10 Al-Qaeda suspect, Sharif Mobley, worked at US nuclear plants
March 12 - An American citizen who is being held in Yemen accused of being an al-Qaeda militant worked for six years at a series of US nuclear power plants, it emerged today. Sharif Mobley, 26, who started a gun battle as he tried to escape from a hospital in Yemen last week, killing one person and wounding several others, worked at three nuclear reactors in his native New Jersey between 2002 and 2008. Mr. Mobley was among 11 al-Qaeda suspects arrested during a series of raids in the Yemeni capital Sanaa in this month, and is believed to have links to Umar Farouk Abdulmutallab, the Nigerian radical who tried to blow up a US aircraft on Christmas Day. Before moving to Yemen in 2008, supposedly to learn Arabic and study Islam, Mr. Mobley worked at Salem and Hope Creek nuclear power stations and at another plant on Artificial Island in Lower Alloways Creek...His case is the latest example of a radicalized American traveling overseas to join al-Qaeda — a growing trend that has US authorities deeply worried — and the fact that he worked at nuclear plants makes his case all the more troubling. [Full story>>timesonline.co.uk]
---
03.12.10 IAF bombs Gaza tunnel, arms factory
March 12 - Air raid comes in response to Kassam attack; Palestinians say several hurt. Following a Kassam rocket attack on southern Israel, the IAF bombed targets in the Gaza Strip overnight Thursday, hitting an arms smuggling tunnel in Rafah and a weapons factory in Khan Yunis. The military said the attack was conducted by the air force in cooperation with the Shin Bet (Israel Security Agency), and that the aircraft returned to their bases unharmed. Palestinian sources reported several casualties, although their conditions were unclear. The sources claimed a medicine factory was damaged in the attack.

The IDF said the attack came in response to a Kassam rocket attack on the Eshkol region earlier Thursday. The rocket damaged a building but caused no casualties. "The IDF will continue to respond harshly to any any attempt to disrupt the calm in southern Israel," a statement issued by the IDF Spokesperson said. Meanwhile, following a security assessment, Defense Minister Ehud Barak decided to impose a general closure on the West Bank, beginning at midnight Thursday and continuing until midnight Saturday. The decision comes amid concerns of more Arab rioting over Israel's decision to include Hebron's Cave of the Patriarchs and Bethlehem's Rachel's Tomb on its national heritage list. However, travel to and from the territories will be permitted for humanitarian purposes. [>jpost.com; See other details,

thestar.com.my, March 12, "Confrontations, anger in Jerusalem over building": ...Israel barred Palestinians from crossing from the West Bank into Israel and Jerusalem, and barred men under 50 from al-Aqsa mosque, the flashpoint holy site in the walled Old City. As hundreds of youths streamed away from noon prayers at a mosque in the district of Ras al-Amud, a Reuters journalist saw men hurl stones at a car carrying Orthodox Jewish children. One rock smashed a side window, but there were no obvious injuries. Islamists in the blockaded Gaza Strip rallied supporters to protest at Israel's policies in Jerusalem:

"We will redeem al-Aqsa mosque with our souls and our blood," the crowd chanted. As demonstrators burned US and Israeli flags, Khalil al-Hayya, a leader of the Hamas movement which rules Gaza, urged Hamas's rival, West Bank-based Palestinian President Mahmoud Abbas, to reverse his decision to engage in "proximity talks" with Israel through US mediators after a hiatus of 15 months. "These direct and indirect negotiations provide a cover to the Zionist aggression against our people and our lands," Hayya told the crowd. "Our angry people now are calling on the Palestinian negotiator to back off from these negotiations which encourage more settlements and the Judaization of Jerusalem."

...US officials said Mitchell and diplomats were working to maintain the Arab League support that has helped Abbas fend off criticism from Hamas and others that by resuming talks he has given in to U.S. and Israeli pressure. They still hope Mitchell can shuttle between Jerusalem and Ramallah for talks next week. Even if he does, however, the two sides remain far apart even on the scope of a planned four-month negotiating window. Israel rejects Palestinian demands that issues at the core of the 60-year-old conflict, including the status of refugees and the sharing of Jerusalem, should be discussed from the outset...
---
03.12.10 Brazil leader talks Mideast peace, how to be friends with both Israel and Iran
SAO PAULO, Brazil, March 12 - In exclusive interview, Luiz Inacio Lula da Silva tells Haaretz it's time for more serious Israel-Palestinian talks. President Lula of Brazil, who in October will conclude his second term in office (and his last permitted by the state's constitution), is the most popular head of state in the country's history...Lula was one of the first leaders to host President Mahmoud Ahmadinejad after Iran's blood-stained election of June 2009. Brazil was also one of only five countries to abstain from an International Atomic Energy Agency vote last November on a condemnation of Iran. He is set to visit the Islamic Republic in May, where his hosts will repay him in kind for the red carpet he laid out for them in Brasilia last November.

When asked how he'll be able to win over the Israelis, whose vantage point is related to the trauma of the Holocaust, Lula replies: "I spoke with the president of Iran and made it clear to him that he cannot go on saying that he wants Israel's liquidation, just as it is untenable for him to deny the Holocaust, which is a legacy of all humanity. I added that the fact that he has differences with Israel does not allow him to deny or ignore history." In a way that will undoubtedly disturb those who will host him in Israel next week, Lula draws a direct association between the failure to advance Israeli-Palestinian peace and his planned visit to Tehran; between the need to ensure that Iran will not manufacture nuclear weapons and the need to resolve the Middle East conflict; and between the failed attempts at mediation led by international players, first and foremost the United States, and the need to bring in fresh new players — Brazilians, in all likelihood.

"I talked about Iran with many leaders, and particularly with those whose countries have a seat on the Security Council," he explains. "The Americans, the French, the British, the Russians and the Chinese all want to advance the Middle East peace process. But I also feel that the parties to the conflict and the people involved in the process have long since grown tired of it. So, the time has come to bring into the arena players who will be able to put forward new ideas. Those players must have access to all levels of the conflict: in Israel, in Palestine, in Iran, in Syria, in Jordan and in many other countries that are associated with this conflict. This is the only way we will be able to advance Israeli-Palestinian peace, and at the same time be able to say clearly to Iran that we are against the manufacture of nuclear weapons."

Lula does not overlook any of the elements in this comprehensive linkage when asked about the fact that Israeli patience regarding Iran seems to have worn thin. "The leaders I spoke to believe that we must act quickly, otherwise Israel will attack Iran. I do not want Israel to attack Iran, just as I do not want Iran to attack Israel. In an orderly world, people have to learn to talk to one another." Here he seems to be alluding critically to the "proximity talks" about to get underway between Israel and the Palestinian Authority. "The appropriate partners from each country have to be found, and more serious talks conducted," he continues...[Full story>>haaretz.com]
---
03.12.10 A Christian overture to Muslims has its critics
March 12 - January was an ugly month in Malaysia. At least 10 churches were firebombed or vandalized, as was a Sikh temple. Severed boars' heads — particularly offensive to Muslims, who are not supposed to eat pork — were found on the grounds of two mosques. The cause of this inter-religious strife was a court battle over whether non-Muslims may use the Arabic word "Allah" to refer to God. The reports from Kuala Lumpur, Malaysia's capital, described events that we imagine could never happen in the United States, where the First Amendment is supposed to guard against such conflict. But we have fights over religious language, too, even if the violence rarely rises above name-calling.

On Feb. 3, Ergun Caner, the president of Liberty Baptist Theological Seminary, in Lynchburg, Va., focused attention on a Southern Baptist controversy when he called Jerry Rankin, the president of the denomination's International Mission Board, a liar. Dr. Caner has since apologized for his language, but he still maintains that the "Camel Method," a strategy Dr. Rankin endorses for preaching Christianity to Muslims, is deceitful. Instead of talking about the Jesus of the New Testament, missionaries using the Camel Method point Muslims to the Koran, where in the third chapter, or sura, an infant named Isa — Arabic for Jesus — is born. Missionaries have found that by starting with the Koran's Jesus story, they can make inroads with Muslims who reject the Bible out of hand. But according to Dr. Caner, whose attack on Dr. Rankin came in a weekly Southern Baptist podcast, the idea that the Koran can contain the seeds of Christian faith is "an absolute, fundamental deception.".

...The danger, critics of the Camel Method say, is twofold: exploitation of Muslim culture and infidelity to the Christian message. According to Dr. Caner, missionaries who say the Koran can be a "bridge" to Christianity risk obscuring real differences between the two traditions. For example, the missionary board recommends that in some cases missionaries use "Allah" to refer to God. As Dr. Garrison explains it, "there is only one God, the God who created the heavens and earth," so talking about the Christian God as "Allah" is not misleading. But Allah is also the specific god of the Koran, who says things the New Testament God would not. And the Isa of the Koran, while based on the Jesus of the New Testament, is quite different. "You can ask any Muslim," said Dr. Caner, a Turkish-American from a Muslim family who became a Christian in high school. " 'Do you think that the Allah of the Koran had a son?' The most important sura in the entire Koran, sura 112, the pre-eminent chapter of the Koran, says explicitly, 'Allah does not beget, nor is he begotten.' " [Full story>>nytimes.com; For a background on the "Allah" arguments see:

♦ Maravot News 1.11.10, article 01.08.10 3 Malaysian churches firebombed in 'Allah' dispute;
♦ Maravot News 1.11.10, article 01.06.10 Malaysia court reinstates Allah ban pending appeal;
♦ Maravot News 1.05.10 article 01.01.10 Use of word 'Allah' not exclusive to Muslims: Malaysian court and Editorial note,
♦ Maravot News 4.09.09 Editiorial note, "Confusion in Islam" :For those of you who may be nonplussed at this lawsuit, it gets down to the major confusion that is in Islam. The assumption that "Allah" is a word for God exclusive to Islam shows the ignorance of those who profess to be experts on the Koran. For the Koran repeatedly declares that it was written to confirm the Bible : Jewish Scriptures and Gospel; and it also declares Jesus as the Messiah (Christ). The Bible claims itself to be authored by God, which according to the prophets is known by as many as 70 names, from El, Elohim to YHVH, Jehovah...Confusion over the teachings of the Koran." (reprinted from Maravot News 12.04.08);:...The problem appears to begin with the Koran itself whose verses advocate the following:
Koran's Confirmation of the Bible
(The Torah, Prophets and Gospel; Jesus as the Messiah):
(from The Koran, by N.J. Dawood, Penguin Books, Great Britain, published 1956-1984)
The Book of Jonah: This Koran could not have been composed by any but Allah. It confirms what was revealed before it and fully explains the scriptures. It is beyond doubt from the Lord of the Creation.
This is no invented tale, but a confirmation of precious scriptures...

The Cow: And now that a book confirming their own [the Jewish scriptures] has come to them from Allah, they deny it, although they know it to be the truth and have long prayed for help against the unbelievers. May Allah's curse be on the infidels! ..When it is said to them: "Believe in what Allah has revealed," they reply, "We believe in what was revealed to us.' But they deny what has since been revealed, although it is the truth, corroborating their own scriptures.

Adoration 13.21 We gave the scriptures to Moses (Never doubt that you will meet him!) and made it a guide for the Israelites...We appointed leaders from among them who gave guidance at our bidding...

The Creator 35:25...What we have revealed to you in the Book is the truth confirming previous scriptures..

Counsel 42.13 He has ordained for men the faith He has revealed to you and formerly enjoined on Noah and Abraham, on Moses and Jesus, saying: "Observe this faith and be united in it."

Kneeling 45: 16 We have the Scriptures to the Israelites and bestowed on them wisdom and prophethood.

AL-AHQAF 46:12 Yet, before it the Book of Moses was revealed, a guide and a blessing to all men. This book confirms it.

Women 4:47 You to whom the Scriptures were given! Believe in that which we have revealed, confirming your own scriptures, before we obliterate your faces and turn them backward, or lay our curse on you as we laid it on the Sabbath-breakers.

The Cow 2:81 The Apostle [Mohammed] believes in what has been revealed to him by his Lord, and so do the faithful. They all believe in Allah and His angels, His scriptures, and His apostles: We discriminate against none of His apostles.

The Table 5:44 There is guidance, and there is light, in the Torah which we have revealed...After these prophets we sent forth Jesus, the son of Mary, confirming the Torah already revealed, and gave him the Gospel, in which there is guidance and light, corroborating that which was revealed before it in the Torah...And to you we have revealed the Book with the truth. It confirms the Scriptures which came before it and stands as a guardian over them.

The Table 5:64 If the People of the Book [Jews} accept the true faith and keep from evil, we will pardon them their sins and admit them to the gardens of delight. If they observe the Torah and the Gospel and what is revealed to them from Allah, they shall be given abundance from above and from beneath.

The IMRANS 3:45 The angels said to Mary: "Allah bids you rejoice in a Word from Him. His name is the Messiah, Jesus the son of Mary

Editorial note: "Ideas leading to the peace of Jerusalem" : People tend to see and hear only things they want to see. In the argument posed by Brazil's President Lula discussed above, his discussion is based upon the plurality of Brazil, of hosting many different religions and races and how Brazilians are united as one people. His argument suggest that such a unity as experienced in Brazil between Jews and Arabs can be drawn out in the discussions involving the status of Jerusalem and peace in the Middle East. His position is not much different than an American citizen living in Bethlehem, Pennsylvania asking why it is that Jews and Palestinians live peacefully together there but not in Bethlehem, West Bank. (This question was first posed over 10 years ago by the mayor of Bethlehem, West Bank.)

When we examine the issue of people able to live peacefully together in one place but not another, as in Israel, the argument leads to the issue of land: Who owns the land? In Israel and the West Bank ownership of the land is influenced by promises in the Bible that are made to the Jewish people, that the land from the Egyptian River to the Euphrates River is theirs by right of inheritance from their patriarch Abraham. In addition, the greatest king of Israel, David, reigned over such an inheritance from his capital city, Jerusalem. Enter then, the Old Testament prophesies that describe the scattering of the children of Israel to all the nations of the world and the redemption of the children of Israel back to the Holy Land of Israel. (Israel is another name for Abraham's son, Jacob, in whom Abraham placed his Holy inheritance.) Many things are identified in relation to the promised redemption, including a change in the ownership of the Holy Land (Isaiah says it, renamed Beulah, will be married to God).

Also, in respect to Jerusalem, the remnant living on the land shall be called holy, even everyone that is living in Jerusalem. Examination of the "Latter Day" prophesies reveals that the intention of the Old Testament prophets is to produce peace in the Holy Land and fulfillment of David's prayer, "Pray for the peace of Jerusalem" for when Jerusalem is at peace all the world will be at peace. The Rabbis took up this point before the restoration of the children of Israel to the Holy Land and establishment of the state of Israel in 1948. They concluded that when the Jewish people are redeemed to the Holy Land all people will be redeemed.

It is clear that the restoration of Israel described by the prophets did not include the persecution and dispossession of the Palestinians and others who occupied the land at the time of the restoration. Thus, if the Peace of Jerusalem is to be realized a reconciliation among the peoples who claim the city must be facilitated. As President Lula pointed out, the whole world has an interest in the status of Jerusalem and [sic] peace in the Middle East.

In the conversation involving "Allah" the issues become confused over the status of Jesus as the "son of God" and the Biblical precept that there is but one God (as professed by the Koran as well). The status of Jesus, whether he was the son of God and therefore equal to God, was controversial in the early Church, until the Council of Nicea held by the Emperor Constantine in 325 A.D. Wikipedia.org says:
[wikipedia.org, Council of Nicea] "...The purpose of the council was to resolve disagreements arising from within the Church of Alexandria over the nature of Jesus in relationship to the Father; in particular, whether Jesus was the literal son of God or was he a figurative son, like the other "sons of God" in the Bible. St. Alexander of Alexandria and Athanasius took the first position; the popular presbyter Arius, from whom the term Arianism comes, took the second. The council decided against the Arians overwhelmingly (of the estimated 250–318 attendees, all but two voted against Arius[7])."

[wikipedia.org, "Arianism"] "...:it is sometimes said that Arians believe that Jesus is or was a "creature"; in the sense of "created being". That doctrine that Arius wrote was based on Scriptures such as John 14:28 where Jesus says that the father is "greater than I", to John 17:20-26, where Jesus asks that the Apostles become "one as we are one" so that all of them, including Jesus, and God become one. This is interpreted as indicating that the oneness refers to a unity of divine thought and will, and not a unity in a co-eternal Trinity."[
The conclusion that Jesus is [therefore] God in the flesh ultimately is related to the definition of the Messiah of the Bible — and his times — described by the Old Testament prophets. Preparing a complete list of all the Messianic references in the Bible would take some doing. They essentially break down into two events: the scattering of Israel and the gathering (redemption) of Israel. (These events are discussed in our work, "Hidden Pavilions."; we discuss the Arian point, "my father is greater than I," at "Father is greater.html.") Based upon our research, the only way to define the relationship between Jesus and God is to review the scriptures that Jesus thought he fulfilled and the sayings he uttered. Such a review will reveal that he fulfilled scriptures relating to the scattering of Israel and, using his testimony in the Gospels, there is more to come. That is to say, in Luke 21 for instance, he spoke of a "Second Coming." We cannot pin down exactly who Jesus is, because his epiphany is incomplete, though, based upon the complete list of scriptures relating to the Messiah (Gr. Christ) we can argue that he claims that he is a representative of God described by the prophets, who taught rules of conduct leading to peace among all men and a prayer that a kingdom of God on earth will come as it is in Heaven. This, of course, is the intent of the Old Testament scriptures: to bring a kingdom of God on earth as it is in Heaven and Heaven is a place described as "peace."

Based upon the scriptures of the Koran listed above we should have no argument that Mohammed believed that the Koran (meaning recital) he had written — from the recital of the leading angels listed in the Bible — was to confirm the Old Testament scriptures (aka Jewish Scriptures) and the Gospel. As a confirmation of those scriptures the Koran therefore derives its authority from them, it acknowledges that the angels who recited the book are from the God of the Jewish Scriptures, and its confirmation of God's Word (aka the Bible - Jewish Scriptures and Gospel, aka the Bible) comes from the God of the Bible. As such it cannot contradict that which it confirms.

The argument that the Koran confirms the Bible and therefore cannot contradict it leads to the conclusion that the Koran does not hold the answer to the status of Jerusalem [sic] and peace in the world. The key is in the Bible. The terms and prophesied events of the Bible promise to produce peace in the world, with the Messiah — a son of David — sitting atop God's throne in Jerusalem, and it is a time when the children of Israel are restored to the Holy Land. Furthermore, we know that the Messiah upon the throne of David in Jerusalem would think consistent with the scriptures that created him. That is to say he cannot contradict the Word that created him. Thus, we would argue taking a direction we know the Messiah should advocate, following the advice Jesus gave to the pharisees: "Search the scriptures, for they speak of me."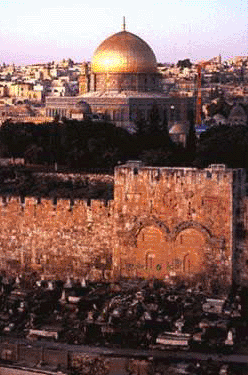 After reviewing the legal arguments affecting the Temple Mount and status of Jerusalem, the Messiah might be expected to discuss the walls that divide the people and among them is the Golden Gate, which is the sealed main entrance to the Temple Mount. It was sealed by Suliman I (1541 A.D.) to prevent the Jewish Messiah from entering the mount. Moslems believe that the Messiah will enter the mount to restore the Temple (first build by David's son, Solomon) and doing so will destroy the Dome of the Rock mosque. Orthodox Jews also believe that the mosque must be torn down to make room for the Temple (built after the order of King Herod's temple, which was the Temple of Solomon "squared.") In order to remove the stones that obstruct entry through the Golden Gate, the issue of whether the Temple, prophesied by Isaiah as "a house of prayer for all people," should be restored and where it should be placed would have to be resolved by the Messiah.

It is our opinion that since the Dome of the Rock sits atop, and preserves, the highest peak of the Temple Mount, it is unlikely that the Temple of Solomon was ever placed above that point. (Builders would have leveled the mountain peak to set the Temple over it; the peak was not leveled, therefore the Temple was located alongside the peak. For this reason alone, the the restored Temple would be set alongside the Dome of the Rock. Over the ages the Dome of the Rock has been a house of prayer where all people have been received; therefore, the restored Temple — being a house of prayer for all people — would fit appropriately along side it, perhaps joined together as one house of prayer for all people.

These things, the removal of the stones that seal the Golden Gate and placement of another house of prayer for all people on the Temple Mount beside the Dome of the Rock, with the Temple door aligned to the rising sun shinning through the Golden Gate, can lead to a new day of promise. But these things alone will not resolve the differences causing bloodshed in Jerusalem and the world. Differences between the Koran and the Bible must be resolved. And equally important, land disputes must be settled. The first part of the settlement would necessarily involve conveying the title of the Holy Land to God. That is to say, the land of Israel and the West Bank would be given a new name, signifying that they are not owned by man but by God. There would be a nation called "Beulah," for instance. All of the people living on the land would be equal citizens and "holy to God."

As it turns out, the Declaration of Independence of Israel might be a feasible document to use for this new land also known as Beulah. One might be able to cross out the name, "Israel," and insert in its place "Beulah." These are some ideas to consider as to some of the Messianic expectations of the Old Testament prophets.

Mel Copeland
---
03.11.10 Iran sentences professor to 6 years
TEHRAN (AP) March 11 - An Iranian appeals court sentenced a university professor to six years in prison for suspected involvement in the country's postelection turmoil, local media reported Thursday. Several pro-reform newspapers, including the Bahar daily, quoted Mahmoud Alizadeh Tabatabaei, a lawyer for Saeed Leilaz, as saying the appeals court sentenced his client to a six-year jail term. He did not say when the court ruling took place. Leilaz, an economics professor at Shahid Beheshti University, was convicted of insulting the country's supreme leader, violating public order and participating in a plan to disturb the country's security, Tabatabaei said. [More>>khaleejtimes.com]
---
03.11.10 'Hated Israel will be annihilated'
March 11 - Ahmadinejad warns aggression won't save "most criminal regime in the world." The Palestinians and the nations of the Middle East will be rid of a "bad omen" once Israel is annihilated, Iranian President Mahmoud Ahmadinejad said in a speech communicated by Press TV. Speaking to supporters in southern Iran, Ahmadinejad charged that Israel, a foreign presence and a "Western prodigy" in the region, had "reached the end of its road." The Iranian president further stated that Israel was not as useful for "its masters" — apparently a reference to the United States and Europe — as it was at its inception.

Calling Jews who immigrated to Israel before or after 1948 "the most criminal people in the world," he stated that it was now clear that there was no regime more hated than Israel. "They think in their underdeveloped minds that if they launch another war against Lebanon or Syria it might help them survive a little longer. I am telling them that you are in a situation now that more aggressions or wars will not save you," Press TV quoted Ahmadinejad as saying. Echoing a Wednesday speech in which he accused the US of creating the terrorist movement it now seeks to defeat in Afghanistan, Ahmadinejad said NATO forces were deploying troops to the region intending to "seize the oil in Iraq and the Persian Gulf." "I must tell you that the young generation of the Middle East will cut your hands off from the oil reserves of the Persian Gulf," the Iranian president cautioned. [>jpost.com]
---
03.11.10 Saudi, UAE to press China on Iran sanctions: US
ABU DHABI (AFP) March 11 - Iran's Ahmadinejad accuses US of destabilizing the Gulf. Saudi Arabia and the United Arab Emirates have signaled a "willingness" to press China to support tough new sanctions on Iran, United States Defense Secretary Robert Gates said here Thursday. "I have the sense that there's a willingness" by the Saudis and UAE leaders to use their leverage as oil-rich states to persuade China to endorse fresh sanctions on Tehran over its nuclear program, Gates told in reporters in Abu Dhabi after two days talks in the Gulf. [More>>alarabiya.net]
---
03.11.10 US-Israel row highlights quandary over settlements
RAMALLAH, West Bank, March 11 - An open diplomatic row during the visit of Vice President Joe Biden has shined a spotlight on the US failure to rein in Israeli settlement ambitions and deepened Palestinian suspicions that the United States is too weak to broker a deal. Biden's handshakes and embraces gave way to one of the strongest rebukes of Israel by a senior US official in years after Israel's announcement during his visit that it plans to build 1,600 homes in disputed east Jerusalem. Israel apologized for the poor timing but is sticking to its plan to build the homes, enlarging one of the settlements that have impeded negotiations with Palestinians.

The vice president on Wednesday assured Palestinians the US is squarely behind their bid for statehood and urged the sides to refrain from actions "that inflame tensions or prejudice the outcome of talks." "It's incumbent on both parties to build an atmosphere of support for negotiations, and not to complicate them," Biden said, standing alongside Palestinian President Mahmoud Abbas. Israel's announcement was widely seen as a slap in the face to its all-important US ally. [More>>japantoday.com; See related story,

nytimes.com, March 11, "Unease hangs over Mideast as Biden ends Israel trip" : TEL AVIV - Vice President Joseph R. Biden Jr. came to Israel early this week to promote new Israeli-Palestinian peace talks and tighten the bonds between Israel and the United States. He leaves on Thursday amid increased uncertainty over the nature and timing of those talks and with a sense of unease hanging over the American-Israeli relationship. The cause of both was the unexpected announcement in the middle of his visit that Israel would construct 1,600 new housing units for Jews in East Jerusalem , where the Palestinians hope to build the capital of their future state. That news produced an angry condemnation from Mr. Biden as well as signals of distress from the Palestinian leadership, asking for American help to get the project stopped...
---
03.11.10 Jailed Jordanian cleric is a poster boy for al-Qaeda recruiters
March 11 - A jailed Jordanian cleric who is behind bars for promoting terrorist attacks appears to be the face of al-Qaedae's newest recruitment campaign. Shaykh Abu Muhammad al-Tahawi, who is influential in Jordan but little known elsewhere, has been the subject of recent widespread praise from suicide bombers and jihadist leaders. Experts say the attention he's getting from his fellow terrorists suggests an attempt by al-Qaeda to recruit his followers and turn his imprisonment into a flashpoint that can be channeled to open a new front in Jordan. Al-Tahawi, also known as Abed Shihadeh al-Tahawi, is an influential local leader of Salafi Jihadism, an extremist, militant sect of Islam that prizes martyrdom, seeks jihad and provides the ideological basis for al-Qaeda.

He is a close associate of Jordan's most important Salafi Jihadist leader, Abu Muhammad al-Maqdisi, who served as a mentor to the future al-Qaeda in Iraq leader Abu-Mus'ab al-Zarqawi when the two were imprisoned together in Jordan. Al-Tahawi's most notable fan was Himam al-Bilawi, the Jordanian physician turned triple agent who blew himself up in Khost, Afghanistan, on Dec. 30, killing seven CIA officers. Near the end of a 44-minute video interview that he taped in anticipation of his homicide attack, al-Bilawi addressed al-Tahawi: [More>>foxnews.com]
---
03.11.10 Net posse tracked 'Jihad Jane' for three years
March 11 - Civilian monitors warn of others like 'Jane' on the net who are more dangerous. While the rest of America was stunned to hear that a suburban Pennsylvania woman allegedly used the Internet identity of Jihad Jane and tried to join militant jihadists, for a group of 'Net vigilantes it was old news. In fact, at least one of the Web sleuths claims to have alerted the feds to Colleen LaRose's alleged efforts to raise money and recruit fighters for Islamic terrorists and to carry out her own jihad. Groups like JawaReport, Quoth the Raven and the YouTube Smackdown Corps claim they had been monitoring LaRose's growing militancy for three years, and watched as the Internet — particularly YouTube — fed her fervor. They also said "Jihad Jane" is not the only one on the Internet that the groups are monitoring..."There are certainly many others out there who are more eloquent and appear to be more dangerous from the way they talk," a man calling himself Rusty Shackleford told ABC News.

..."I'm a blogger, but also an activist against violent Islamism. One of the things we do is try and pressure Webhosts to remove Websites that belong to terrorist organizations. An example of this would be the dozen or so times we've successfully had the Taliban's website removed. The websites sometimes pop back up, sometimes not," Shackleford said. Shackleford and other contributors to JawaReport and sites like it noticed YouTube had become a hub for videos and comments in support of violent extremism and attacks against the West and its allies, leading to the creation of the YouTube Smackdown. Shackleford said the groups identify videos in support of violent Islamism and pressure the Web site to take them down, "as they would child pornography or other obscene material." [Full story>>abcnews.go.com]
---
03.11.10 Hadron Collider to be closed amid fears of a very big bang
March 11 - 12-month shutdown to repair design flaw that could break apart world's most expensive scientific experiment. The world's single most complicated and expensive scientific experiment, designed to discover the "God particle" and recreate the conditions that existed at the dawn of creation, will be switched off for a year to correct a design problem that could break it apart if it ran on full power. Scientists in charge of the Large Hadron Collider (LHC) in Geneva announced yesterday that the machine will only be able to run on half energy before it is temporarily shut down in two years' time. Its full operating capacity designed to probe the frontiers of science will not be achieved until at least 2013 — several years later than planned. However, the European Centre for Nuclear Research (Cern), which operates the £2.6bn atom-smasher on the Franco-Swiss border, said that the additional costs of correcting the problem in the machine's copper sheaths or "stabilizers" would come out of its existing budget and it would not be asking for any additional funding from contributing countries, including Britain. [More>>independent.co.uk]
---
03.11.10 Bara blast kills 2 civilians, 2 terrorists
March 11 - BARA: Two persons including a child were killed and 23 others injured in a bomb blast occurred at the junction of Khyber Agency's tehsil Bara Qadeem and Peshawar district while two terrorists were also killed. According to police sources, the blast took place near a check post from where a convoy of Frontier Constabulary was to pass. The blast occurred when 3 terrorists were planting a land mine. Two of them were killed instantly at the scene while the third one managed to escape. Two passersby including a child were also killed in the incident while 23 others were injured. The injured were rushed to three main hospitals of Peshawar — Hayatabad Medical Complex, Lady Reading Hospital and Khyber Teaching Hospital — where four of the injured are said to be in critical condition. [>thenews.com.pk]
---
03.11.10 Suspected militant arrested in Central Java
SURAKARTA, Central Java, March 11 - Police in Central Java have arrested another man believed to be linked to slain terror suspect Dulmatin, as the police watchdog called on the force to capture the terror suspects alive. The unidentified man was seized in Solo, Central Java, on Wednesday night. "This is connected to the raids in Aceh and [Pamulang]," police chief investigator Comr. Gen. Ito Sumardi said Thursday. The police carried out a massive crackdown on suspected terrorist training activities in Nanggroe Aceh Darussalam last month and arrested 22 suspected militants. On Tuesday, antiterror troops launched raids in Pamulang, Tangerang, Banten, in which Dulmatin and his two bodyguards were killed. National Police chief Bambang Hendarso Danuri declined to disclose the identity of the man arrested in Solo. "We will publicize his identity in time," he said Thursday. [>thejakartapost.com]
---
03.10.10 A Q Khan network offered to build nuclear bomb for Saddam: Book
WASHINGTON, March 10 - An agent linked to disgraced Pakistani scientist A Q Khan had offered Iraqi dictator Saddam Hussein in 1990 that they could build an atomic bomb for him in three years under a $150 million "nuclear package deal," according to a new book. The "package" deal included not only weapon designs but also details of production plants and foreign experts to supervise the building of a nuclear bomb, David Albright, a former UN weapons inspector, said in his book to be released next week, 'The Washington Post' reported. Reporting on the book entitled 'Peddling Peril' — 'How the Secret Nuclear Trade Arms America's Enemies,' the paper said the newly uncovered documents suggest that Khan's offer of nuclear assistance to Saddam was more comprehensive than previously known. "A 1990 letter attributed to a Khan business associate offered Iraq a chance to leap past technical hurdles to acquire weapons capability," it said. "Pakistan had to spend a period of 10 years and an amount of 300 million US dollars to get it," begins one of the memos, the daily said reporting from the book. "Now, with the practical experience and worldwide contacts Pakistan has developed, you could have 'A.B.' in about three years' time and by spending about USD 150 million. [More>>timesofindia.indiatimes.com]
---
03.10.10 Royal Dutch Shell halts gasonine sales to Iran
NEW YORK, March 10 - Royal Dutch Shell has stopped selling gasoline to Iran, the company confirmed Wednesday, adding to a list of oil giants that have stopped sales after a threat of future US sanctions. Royal Dutch Shell (RDS) said it had no official announcement beyond the confirmation, but according to someone with knowledge of the situation the company ceased gas sales to Iran sometime in 2009. "Shell is currently not selling gasoline to Iran," a Shell spokesman said, but he would not comment on whether the decision was related to talk of possible US sanctions on Iranian gasoline imports. Concerns have grown over Iran's nuclear program, and last month the Senate passed a bill that would allow President Obama to expand sanctions against Iran to pressure the republic into dropping its plans. [More>>cnn.com]
---
03.10.10 Contractors divert Somalia aid, UN report says
March 10 - Up to half the food aid in Somalia is diverted to corrupt contractors, local UN workers and Islamist militants, a leaked UN report says. The report, by the UN monitoring group in Somalia, is particularly critical of the UN's own World Food Programme and recommends an independent inquiry. It says WFP contracts are awarded to a few powerful individuals who operate cartels that sell the food illegally. The report has not been made public yet, but its contents have been leaked. [More>>bbc.co.uk]
---
03.10.10 Biden: Palestinians deserve 'viable' state
RAMALLAH, West Bank (AP) March 10 - VP chastises Israel again for East Jerusalem settlement Plan; says both sides shouldn't "Inflame Tensions." Vice President Joe Biden's displeasure over an Israeli plan to enlarge an east Jerusalem settlement was on display Wednesday as he warned against actions that "inflame tensions" and reassured his Palestinian hosts that they deserve a sustainable, independent state. The Israeli plans have overshadowed Biden's visit, meant to promote a new round of US-led negotiations, and drew Palestinian accusations that Israel is not serious about peace. Israel apologized for embarrassing Biden with the timing of its announcement, but made clear it had no intention of reversing its plan.

Capping a day of meetings with Palestinian leaders, Biden declared that Washington is committed to brokering a final peace deal — something that has eluded US leaders for nearly two decades. "The United States pledges to play an active as well as a sustainable role in these talks," Biden said. He stressed the Palestinians deserve an independent state that is "viable and contiguous," a clear message to Israel that the US expects a broad withdrawal from the West Bank as part of a settlement. Palestinians contend that Jewish enclaves dotted across the West Bank would make it impossible for them to sustain a state. [More>>cbsnews.com; See related story,

alarabiya.net, March 10, "UN, Biden condemn Israeli settlement plans" : UNITED NATIONS - United Nations Secretary-General Ban Ki-moon on Wednesday condemned Israeli plans to build 1,600 more homes on occupied land where Palestinians seek their own state, echoing comments made earlier by US Vice President Joe Biden. "The secretary-general condemns the approval of plans for the building of 1,600 new housing units in East Jerusalem by the Israeli Ministry of Interior earlier today," UN spokesman Martin Nesirky said in a statement...
---
03.10.10 Show of solidarity for Lars Vilks cartoon
March 11 - Leading papers have published a cartoon of Prophet Mohammed with the body of a dog by a caricaturist who was the target of an assassination plot. The Dagens Nyheter newspaper said it was publishing the cartoon of Muslims arrested in Ireland as a sign of solidarity with the artist Lars Vilks. "Lars Vilks is not alone in this conflict. A threat against him is, in the end, a threat against all Swedish people," Dagens Nyheter said in an editorial which reproduced the controversial cartoon. Irish police arrested seven Muslims suspected of conspiracy to murder Vilks because of his cartoon. The four men and three women were arrested yesterday in the towns of Cork and Waterford in an operation coordinated with US and European security agencies. Police said there was a plot to assassinate Vilks, who has a $100,000 bounty on his head from an al-Qaeda-linked group. [More>>news.com.au; See related stories,

cnn.com, March 10, "Jihad Jane, American who lived on Main Street" : The Pennsylvania woman who dubbed herself Jihad Jane is an American who lived literally on Main Street in an apartment where she spent much time online, posting messages saying she was "desperate to do something" to help Muslims. Colleen LaRose, a 46-year-old who converted to Islam, has been indicted, accused of conspiracy to provide material support to terrorists and kill a person in a foreign country, the Justice Department announced Tuesday. She was not well known in her neighborhood in Pennsburg, an hour north of Philadelphia. One of her neighbors reacted to the news by saying, "It scares the hell out of me." LaRose was arrested October 15, officials say, but that was kept under wraps to protect another ongoing investigation. She's in custody in Philadelphia and faces arraignment in a week. The Justice Department has said LaRose and five alleged co-conspirators recruited men on the Internet "to wage violent jihad in South Asia and Europe, and recruited women on the Internet who had passports and the ability to travel to and around Europe in support of violent jihad."...

Maravot News article 03.09.10 "Seven held in Republic over cartoonist assassination plot"
Maravot News article 03.09.10 "Muslims outraged at UK screening of 'Fitna' film"
---
03.10.10 Tajikistan jails 56 Muslim activists for extremist activities
DUSHANBE, Tajikistan (RIA Novosti) March 10 - Tajikistan's top court on Wednesday sentenced 56 followers of Tablighi Jamaat (TJ), a radical Muslim group, for extremist activities in the Central Asian state. "Twenty-three defendants were given jail terms of between 3 and 6 years, while the remaining 33 individuals were fined between [$8,000 and $16,000]," a court spokesman said. The members of the group were arrested in a mosque in Dushanbe in December 2009. The trial began several weeks later. It was held behind closed doors at a Dushanbe pretrial center. Tajik authorities often jail and sentence members from TJ, as well as from Hizb-ut-Tahrir, both of which are banned in the country.

TJ is a transnational movement whose official aim is a spiritual revival of Muslims. Members of the group say they inspire people to refrain from sin and follow the true path of Islam. TJ was founded in 1926 as an independent movement in India. The group began its expansion in 1946, and within two decades has spread its activities to Southwest and Southeast Asia, Africa, Europe, and North America. Concerns about TJ role have risen after 9/11 attacks on the United States. TJ was outlawed as an extremist group in Tajikistan in 2006. TJ gained international media attention when it announced plans of building the largest mosque in Europe in Dewsbury, Britain. [>en.rian.ru]
---
03.10.10 US missile strikes kill dozen in NWA
MIRANSHAH, March 10 - Seven back to back missiles fired by US drone aircraft killed at least 12 people in North Waziristan tribal region near the Afghan border on Wednesday. Five unmanned planes fired seven missiles at a militant compound and a vehicle, killing 12 people onboard, according to sources. It was not immediately clear whether any "high value target" was present in the area at the time of the attack. US drone attacks routinely target Taliban and al-Qaeda commanders in tribal belt and it was the 18th such attack, in which more than 100 people have been killed. [>thenews.com.pk]
---
03.10.10 US aid group attacked in NW Pakistan; 6 dead
ISLAMABAD (AP) March 10 - Suspected militants armed with assault rifles and a homemade bomb attacked the offices of a US-based Christian aid group helping earthquake survivors in northwestern Pakistan on Wednesday, killing six Pakistani employees, police and the organization said. The attack prompted World Vision, a major international humanitarian group, to suspend its operations in Pakistan. Other aid organizations condemned the violence but said it would not lead them to curtail their own activities. The assault took place in Ogi, a small town in Mansehra district that was badly hit by the 2005 Kashmir earthquake, which killed about 80,000 people and left 3 million people homeless. "It was a brutal and senseless attack," said Dean Owen, World Vision spokesman in Seattle, Washington. "It was completely unexpected, unannounced and unprovoked." Extremists have killed other foreign aid group employees in Pakistan and accused such organizations of working against Islam, greatly hampering efforts to raise living standards in the desperately poor region. Many groups have already scaled down operations in the northwest or pulled out altogether. [More>>khaleejtimes.com]
---
03.10.10 Iran and US trade barbs in Kabul visit
KABUL, Afghanistan, March 10 - The Iranian president visited Kabul on Wednesday and shot back at American allegations that Iran was providing support to Afghan insurgents, accusing the United States of playing its own "double game." The Iranian visit came on the heels of a trip by Defense Secretary Robert M. Gates, who was still in Afghanistan on Wednesday even as President Mahmoud Ahmadinejad predicted that the occupation would fail. Later in the day President Hamid Karzai of Afghanistan was to fly to Pakistan for a visit with the leadership there.

The cluster of diplomacy, while ostensibly coincidental, nevertheless indicated the intensifying dialogue as the United States, Afghanistan and its neighbors begin trying to put the pieces in place for an eventual resolution to the war and angle to protect their interests in whatever regional order prevails. The distrust among the parties and the opposing tugs on Afghanistan were evident as the Iranian president and the American defense secretary traded jabs in remarks to reporters during the visits that were awkwardly juxtaposed. Appearing at a news conference at the presidential palace with Mr. Karzai, Mr. Ahmadinejad said the United States uses the excuse of fighting "terrorists that they themselves created, supported and financed" to maintain its occupation of Afghanistan. [More>>nytimes.com]
---
03.09.10 Chile quake moves city 3 meters
BEIJING (Xinhuanet) March 9 - Preliminary measurements show the 8.8-magnitude quake which struck Chile last month shifted the entire city of Concepcion more than three meters to the west, and some other cities of South America were also displaced more or less, according to media reports Tuesday. Researchers from four universities and several agencies gathered readings at 25 GPS locator stations set up prior to the major quake and then compared them to readings taken 10 days later to come up with their preliminary numbers. "By reoccupying the existing GPS stations, CAP can determine the displacements, or 'jumps,' that occurred during the earthquake," said Mike Bevis, professor of earth sciences at Ohio State University. "By building new stations, the project can monitor the postseismic deformations that are expected to occur for many years, giving us new insights into the physics of the earthquake process," he added.

The results show the Chilean city of Concepcion shifted 3 meters (10 feet) to the west. Chile's capital Santiago was displaced about 27.7 centimeters (11 inches) to the west-southwest. And Buenos Aires, the capital of Argentina, moved about 4 centimeters (1.5 inches) to the west. And significant displacements were recorded as far away as the Falkland Islands and Fortaleza. [>xinhuanet.com]
---
03.09.10 Nanometer 'fuses' for high-performance batteries
March 9 - Minuscule tubes coated with a chemical fuel can act as a power source with 100 times more electrical power by weight than conventional batteries. As these nano-scale "fuses" burn, they drive an electrical current along their length at staggering speeds. The never-before-seen phenomenon could lead to a raft of energy applications. Researchers reporting in Nature Materials say that unlike normal batteries, the nanotubes never lose their stored energy if left to sit. The team, led by Michael Strano of the Massachusetts Institute of Technology, coated their nanotubes — cylinders just billionths of a metre across — with a chemical fuel known as cyclotrimethylene trinitramine.

"One property that nanotubes have is that they conduct heat very, very well along their length, up to a hundred times faster than in metals," Dr. Strano told BBC News. "We asked what would happen if you perform a chemical reaction near one of these, and the first thing we found is the nanotube will guide the reaction, accelerating it up to 10,000 times." The team used a laser or an electric spark to set off the reaction in a bundle of coated carbon nanotubes, filming the results using a high-speed camera. But they also found that, through a mechanism that is still poorly understood, the process creates a useful voltage - a phenomenon they have dubbed "thermopower waves." Their nanotube bundles carry, gram for gram, up to 100 times as much energy as a standard lithium-ion battery. [More>>bbc.co.uk; See a related story, Maravot News 2.17.08 article 2.14.08 Microfiber fabric makes its own electricity?]
---
03.09.10 Top Jemaah Islamiyah militant Dulmatin believed killed in Indonesia - police
March 9 - Police think they've shot dead Dulmatin, a mastermind of the 2002 Bali nightclub bombings which killed 88 Australians. Police say they are waiting on DNA results but believe a man shot dead in a South Jakarta internet cafe yesterday was Dulmatin, who had a $10 million reward on his head from the US Government. It is believed Dulmatin spent years hiding in the southern Philippines after the 2002 bombings. His re-emergence in Indonesia led to a massive upgrade in the country's fight against militants and terrorism. Indonesia's anti-terror squad head Tito Karnavian did not confirm the dead man was Dulmatin, but said he was "an old player and a big one." Police over the past two weeks have arrested 19 people involved in Dulmatin's new Aceh cell and uncovered weapons, training manuals and videos of the Bali bombings, in which 200 people were killed, including 88 Australians. Two suspects and three police officers have been killed in the operation. Police confirmed the group was training for an attack but did not reveal the target. Dulmatin has been one of South-East Asia's most wanted men since the Bali bombings, for which he helped assemble the bombs and set one off with a mobile phone. [>news.com.au] ; See other details,

thejakartapost.com, March 9, "Pamulang terrorist identified" : JAKARTA - National Police spokesman Insp. Gen. Edward Aritonang said his team had identified one of the three  terrorist suspects killed in raids Tuesday, but declined to release information on the suspect. Edward said his team was not 100 percent positive about the identification as the suspect may have used a fake ID card. A source close to the police revealed that the suspect had been identified as Yahya Ibrahim, kompas.com reported. The suspects, one of them a woman, were gunned down during raids on Jl. Siliwangi and Jl. Setiabudi in Pamulang in South Tangerang. "They supplied weapons and financial aid to the terrorist group in Aceh," Edward told a press conference in Jakarta. Another suspect killed in the raids is believed to be the country's most wanted terrorist, Dulmatin, also known as Joko Pitono or Umar Patek, who was involved in the 2002 Bali bombing. [end]

timesonline.co.uk, March 9, "Bali bomber mastermind Dulmatin 'killed in shoot-out' " : The alleged mastermind behind the 2002 Bali bombings is believed to have been killed in a shoot-out with Indonesian police on the outskirts of Jakarta today. Dulmatin, nicknamed "the Genius," was an explosives expert who was believed to have set off one of the Bali bombs with a mobile phone, as well as helping to assemble the massive car bomb used in the attacks, which killed 202 people. The shoot-out happened during a morning raid on a house in Pamulang city, west of the Indonesian capital. Police said the raid, which comes two weeks before a visit by President Obama, targeted Dulmatin and two other senior members of the militant Islamist organization Jemaah Islamiyah.

Indonesia's counter-terrorism unit, Detachment 88, has launched a series of raids across the archipelago following the discovery of a militant Islamic training camp in Aceh, on the island of Sumatra, last month. Police have detained 21 suspected members of the group in Aceh and Java, while two have been killed...A television news station quoted witnesses as saying that a man and woman arrived by motorbike at a complex made up of shops and houses. The man, aged between 30 and 40, went into an internet café while the woman went into a salon next door. About ten minutes later members of Detachment 88 raided the internet café, shots were heard and a body bag was taken out. The woman was taken into custody along with a manager of the complex...
---
03.09.10 Seven held in Republic over cartoonist assassination plot
March 9 - Seven Muslims were arrested in the Republic today over an alleged plot to assassinate a Swedish cartoonist who depicted the Prophet Mohammed with the body of a dog, police said. Al-Qaeda put a $100,000-dollar bounty on the head of cartoonist Lars Vilks after a newspaper published his cartoon. The four men and three women were detained after an investigation involving European security agencies and the United States' CIA and FBI. Mr. Vilks, who lives in an isolated area of Sweden, was put under police protection after threats were made against his life. When al-Qaeda put the bounty on the cartoonist's head in 2007 it offered a 50% bonus if Mr. Vilks was "slaughtered like a lamb" by having his throat cut, while another 50,000 dollars was put on the life of Ulf Johansson, editor-in-chief of Nerikes Allehanda, the local newspaper which printed the cartoon.

However those arrested are not believed to be members of the terrorist group. It understood some have converted to the Muslim faith. The arrests were made at around 10am as officers conducted a number of raids. Gardai said the operation was supported by members from National Support Services and the Republic's anti-terrorist Special Detective Unit. A Garda spokesman added: "Throughout the investigation An Garda Siochana has been working closely with law enforcement agencies in the United States and in a number of European countries." [>belfasttelegraph.co.uk]
---
03.09.10 Al-Qaeda came within days of terror attack on Britain last year, court hears
March 9 - An alleged al-Qaeda terrorist cell arrested in the North West was within days of launching an attack on Britain a senior officer in MI5 has told a tribunal. The men, who were arrested in Manchester and Liverpool in April last year, were said to be in direct contact with al-Qaeda in Pakistan, using coded email messages that talked about cars and girls. They were said to be "operating in a similar manner" to those planning the mass casualty attacks of July 7 2005 and the trans-Atlantic airline plot of 2006. Sources at the time said the gang was targeting Easter shoppers but police found no sign of bomb-making equipment and they were never charged.

The operation had to be brought forward after Assistant Commissioner Bob Quick, then Britain's most senior counter-terrorism officer, was photographed entering Downing Street with details of the operation visible. Four of the men, who had all arrived from Pakistan on student visas, are now appealing against a government decision to deport them on national security grounds. An MI5 officer, referred to only as "ZR" gave evidence behind a curtain at the beginning of a three-week hearing at the Special Immigration and Appeals Commission. The officer, who refused to answer a large number of questions in open court, told the commission that the plot centred on a man called Abid Naseer, 23, and his associates.

He said they were "planning a terrorist attack on the UK, directed and orchestrated by al-Qaeda and part of that direction was by coded email passages and the attack was most likely to take place between 15 and 20 April 2009 on which basis the arrests came days before the attacks were due to take place. There is a recognition that at the time of the arrests, the appellants on that day were not ready to launch an attack but that doesn't preclude doing it at the time," they said. [More>>telegraph.co.uk; See other details, independent.co.uk, March 9, "Five 'arrested days before launching UK terror attack' "]
---
03.09.10 Muslims outraged at UK screening of 'Fitna' film
March 9 - British organization labels Dutch MP Wilders a "fascist." DUBAI - The screening of Geert Wilders' controversial anti-Islam film in the UK Sunday outraged Muslims and rights organizations earning the far-right Dutch MP the labels "fascist" and "racist." The film, called Fitna, was screened at the House of Lords in response to an invitation Wilders got on March 5 from Lord Malcolm Pearson, leader of the United Kingdom Independence Party (UKIP) and member of the House of Lords, and Baroness Caroline Anne Cox, cross-bench member of the House of Lords.

Wilders' trip to the UK is part of the Stop Islamization Of Europe (SIOE) campaign. SIOE is an organization whose goal is to prevent Islam from becoming a substantial political force in Europe. Wilders' visit is supported by the far-right English Defense League (EDL). The film, which declares Islam is incompatible with democracy and calls the Quran a fascist book, was scheduled for screening in the UK in 2009. However, Wilders was denied entry to the country. He was accused of inciting hatred and designated a persona non grata. The ban was overturned in October 2009, a moved that Wilders called a "victory for freedom." [More>>alarabiya.net; See related stories,

♦ Maravot News 3.02.09, article 2.26.09 US senator screens anti-Islam film 'Fitna' and link with Editorial note, "Confusion over the teachings of the Koran" ;
♦ Maravot News 4.16.09 article 4.16.09 Dutch anti-Islam politician Wilders plans new film
♦ Maravot News 4.06.08 article 4.02.08 Egypt bans German mag for 'insulting Islam' related story, spiegel.de, April 1, "Geert Wilders is no right-wing populist" :;
♦ Maravot News 4.06.08, article 3.29.08 Website withdraws Dutch anti-Islam film'
♦ Maravot News 4.06.08 article 3.28.08 Online: a violent view of Islam;
♦ Maravot News 2.17.08 article 2.06.08 Analysis: US cuts critique of Islam filmx
---
03.09.10 Grandmother defends home and is buried alive
BEIJING, March 9 - A 70-year-old grandmother in China has been beaten and buried alive by property developers trying to take possession of her land. Wang Cuyun from Hubei Province was struggling with workmen trying to tear down her house and was allegedly beaten by a worker wielding a wooden stick. She was dumped in a drainage ditch that ringed her property and a bulldozer covered her with earth, burying her alive. Witnesses said three policemen were present to supervise the eviction but did nothing to intervene or protect her. Her son joined other relatives trying to rescue her. It took more than half an hour to pull her free from the ditch, by which time she was dead. Mrs. Wang's son moved her body to the side of a main road and was joined by thousands of local residents protesting at her death. One man told Hubei Television that policemen had "stood around acting like it was none of their business." The death of Mrs. Wang is the latest in a long series of assaults, intimidation and violence carried out by property developers in their efforts to obtain valuable land for development. [More>>news.sky.com]
---
NOTES

*Visitor statistics on maravot.com from 1&1. com. monthly visitors between 37,000-45,0000.
Privacy Policy: We do not store any personal data from you. We have no way of knowing any vital information about you — not even your name. Third-party distribution: We do not distribute information about your site usage to any third party. We are not responsible for the content of links from our site. Usage data: supplied by our Web Hosting service, 1and1.com, which consists of usage reports, such as page views / impressions and web pages visited, visitors' servers and geographical data (ISP's and country of origin).



Maravot's Homepage




Launched: 10.25.04 / 11.02.04 – | — | ♦
Updated: 3.09.10; 3.10.10; 3.11.10; 3.12.10; 3.13.10