---
10.14.05
Saudi King: Terror is work of the devil
October 14 – Islamic terrorism is "the work of the devil," and Saudi Arabia will fight it "until we eliminate this scourge," King Abdullah said in an interview broadcast Friday. In the interview with ABC-TV's Barbara Walters, he also said the kingdom will expand the rights of women and eventually allow them to drive. The king denied assertions that his government finances schools that teach a fundamentalist philosophy of Islam that can lead to militancy.

Saudi Arabia "will fight the terrorists, and those who support them or condone their actions, for 10, 20 or 30 years if we have to, until we eliminate this scourge," the king said.

When asked why groups such as al-Qaida, the terror network led by the Saudi-born Osama bin Laden, had taken root in the kingdom, he replied: "Madness and evil. It is the work of the devil." Foreign observers and liberal Saudis have long contended that the way Islam is taught in Saudi schools encourages attitudes that may lead students to become terrorists later. "For those who level these charges against us, I say provide us with the evidence that this is happening and we will deal with it," the king said. "It is not logical or rational for us to be supporting it..." [More>>chinadaily.com.cn]
---
10.14.05 Thatcher reveals her doubts over basis for Iraq war
October 14 – Baroness Thatcher has criticized Tony Blair for taking Britain to war in Iraq on the basis of flawed evidence about Saddam Hussein's weapons. The former prime minister's embarrassing criticism emerged as Mr. Blair was among the 670 guests who attended a party to mark her 80th birthday.

Although Lady Thatcher remains a strong supporter of the decision to topple Saddam by invading Iraq, it is the first time she has questioned the basis for the war. Yesterday's Washington Post reported that when asked whether she would have invaded Iraq given the intelligence at the time, Lady Thatcher replied: "I was a scientist before I was a politician. And as a scientist I know you need facts, evidence and proof - and then you check, recheck and check again."

She added: "The fact was that there were no facts, there was no evidence, and there was no proof. As a politician the most serious decision you can take is to commit your armed services to war from which they may not return." [More>>independent.co.uk]
---
10.14.05 Scandals take toll on Bush's 2nd term
October 14 – A series of scandals involving some of the most powerful Republicans in Washington have converged to disrupt President Bush's agenda, distract aides and allies, and exacerbate political problems for an already weakened administration, according to party strategists and White House advisers.

With Deputy White House Chief of Staff Karl Rove returning to a grand jury as early as today, associates said the architect of Bush's presidency has been preoccupied with his legal troubles, a diversion that some say contributed to the troubled handling of Harriet Miers's nomination to the Supreme Court. White House officials are privately bracing for the possibility that Rove or other officials could be indicted in the next two weeks. Bush's main partners on Capitol Hill likewise are spending time defending themselves as the president's legislative initiatives founder. The indictment of House Majority Leader Tom DeLay (R-Tex.) for alleged campaign funding illegalities has thrown Republicans into one of the most tumultuous periods of their 11-year reign and created the prospect of a leadership battle. And while Senate Majority Leader Bill Frist (R-Tenn.) deals with a subpoena in an insider-trading investigation, a bipartisan majority rebuked Bush over torture policies. [More>>washingtonpost.com]
---
10.13.05 Cheney's stock options are outta sight. So are he, a key staffer, and Rove
October 12 – Ward Harkavy filed an intriguing report in the Village Voice: Dick Cheney's Halliburton stock options have flown to an absurd level. In the meantime, he, Karl Rove, and other Plamegate figures are also flying — either under the radar or simply out of the country.

All this travel is of course the result of various crises. Take the stock options: The Raw Story reports that New Jersey senator Frank Lautenberg has done the math on those and has determined that, just in the past year, the Bush regime's CEO's stock options in the oilfield-services firm that also still pays him a salary have risen 3,281 percent in value — from $241,498 to more than $8 million.

Halliburton continues to rake in billions from its shoddy work in Iraq and now from new contracts in our own gulf.

And Raw Story, via Lautenberg, points out:

Cheney continues to received a deferred salary from the company. According to financial disclosure forms, he was paid $205,298 in 2001; $162,392 in 2002; $178,437 in 2003; and $194,852 in 2004.

As to the finagling of stock options and deferred salary, there's no reason to question the analysis of a pol from Tony Soprano's home state.

Lautenberg noted that Cheney holds options on 433,333 shares of Halliburton stock. The head Dick has already vowed to donate the after-tax profits to charity.

So what? The vice president has notoriously lied about his financial ties to Halliburton. On September 14, 2003, he told Meet the Press's Tim Russert:

Since I left Halliburton to become George Bushıs vice president, I've severed all my ties with the company, gotten rid of all my financial interests. I have no financial interest in Halliburton of any kind and havenıt had now for over three years.

Liar.

The Congressional Research Service, hardly a biased outfit, shined a light into Cheney's barrel of funds. After that fib, Lautenberg asked for an opinion on the matter, and the CRS replied on September 22, 2003:

Unexercised stock options in a private corporation, as well as deferred salary currently received, are... among those benefits described by the Office of Government Ethics as "retained ties" or "linkages" to one's former employer...

Two years later, good luck finding anything out from Cheney. His chief spokesman, Steve Schmidt, has left on a jet plane, and I don't know when he'll be back again. Actually, I do, thanks again to Raw Story: Schmidt left October 3 for Iraq and won't return until October 26, just two days before special prosecutor Patrick Fitzgerald's time expires for the investigation of Plamegate. [More>>villagevoice.com]

Editorial note: I don't know of any time in American history where it's highest offices have been plagued by so many liars. That the American people today accept lying by their leaders so easily is disconcerting. In a conversation I had with Wm. F. Buckley Jr. (Re: Against Leviathan and Duty and Profit) I expressed this concern, how deadly it is to a nation. I quoted to Buckley my dear friend, Cicero, who said long ago that leaders have a duty to tell the people what they have a right to know. That truth is ever more important today, but there are so few people who demonstrate on behalf of the truth. It may be that, as in Rome, the plutarchy have a stranglehold on the people. It is a curious embarrassment in American history.
Mel Copeland
---
10.13.05 Turkey braces for bird flu battle as tests confirm lethal strain
ANKARA, October 13 – Turkey braced Thursday for a possibly prolonged battle against bird flu after tests confirmed that the virus found in a northwestern village was caused by a lethal strain that has killed more than 60 people in Asia. The news of the test result was broken in Brussels by the European Union's health and consumer protection commissioner Markos Kyprianou, who said that the tests indicated "a direct relationship with viruses recently found in Russia, Mongolia, and China." He said the virus was likely to have also spread into Romania.

In Ankara, government officials confirmed the virus was the highly dangerous H5N1 strain, but stressed that Turkey had already enacted "worst-case scenario" measures since the disease was first detected in a farm in the northwestern province of Balikesir last week. [More>>turkishpress.com]
---
10.13.05 Chechens attack Caucasus town, Putin talks tough
NALCHIK, Russia (Reuters) October 13 – Chechen fighters attacked police and army buildings in a southern Russia town on Thursday in a brazen operation that killed dozens and challenged Kremlin assertions it had the turbulent Caucasus under control. Russian President Vladimir Putin, who came to power in 2000 by talking tough on Chechnya, stepped into the crisis, ordering his security forces to throw a ring of steel round the town of Nalchik and kill any gunman who put up resistance.

"The president gave an instruction that not one gunman should be allowed to leave the town, and those who are armed and putting up resistance must be wiped out," Deputy Interior Minister Alexander Chekalin said after meeting Putin, Interfax news agency reported.

Justice officials said in a morning of mayhem in which up to 100 rebels attacked key security points in Nalchik, main city of the Muslim Kabardino-Balkaria region near rebel Chechnya, 12 local residents were killed as well as 12 police. Deputy state prosecutor Vladimir Kolesnikov said 20 fighters were killed and 12 of their number seized by security forces.

Footage broadcast by Russia's NTV television station showed several corpses lying in the streets in pools of blood and covered over with blankets during the attack launched around 9 a.m. and winding down around midday.

The Kremlin envoy to southern Russia, Dmitry Kozak, said on state television the gunmen had stormed one police station and taken hostages. But officials quoted by Itar-Tass news agency said they were later freed, though there were no details. Kozak said that overall the town was under control. [More>>reuters.com; See also article posted by RIA Novosti 18:54pm, rian.ru, "Roundup: 24 civilians and police dead in Nalchik attack."]
---
10.13.05 Thousands stranded as Amazon dries up
October 13 – A severe drought which has dried out the Amazon River has stranded thousands of families. The drought is the worst in 63 years to hit the basin and has made travel through the jungle impossible. More than 350,000 emergency workers have been sent to deliver food, medicine and fuel to 32,000 stranded families. They can now only be reached by helicopters.

Brazilian authorities have declared part of the Amazon River a disaster area. Spokesman Hiel Levy said: "All these communities are having difficulty finding supplies. We're working to make sure they don't run out." More than 40 schools have been closed because of the lack of food, transport and drinking water. The rainforest is also being plagued by wildfires and dying fish stocks as the tributaries dry up. [More>>sky.com]
---
10.12.05 China astronauts blast confidently into space
October 12 – China's second manned spacecraft blasted off from a remote northwestern launch site on Wednesday, two years after the country joined an elite club of space powers. An elated Premier Wen Jiabao and other leaders were in Jiuquan to witness the launch, which has raised China's astronautic profile alongside new-found diplomatic and economic clout.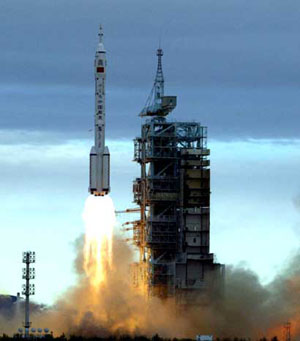 China's second manned spacecraft Shenzhou VI blasts off Wednesday morning, October 12, 2005 (Xinhua)
"You will once again show that the Chinese people have the will, confidence and capability to mount scientific peaks ceaselessly," Xinhua news agency quoted Wen as telling the astronauts.
Fei Junlong, 40, and Nie Haisheng, 41, colonels in the People's Liberation Army, were handpicked from 14 fighter pilots and had been in the running for China's first manned space launch in 2003. "There is nothing to worry about," state television quoted the pair as saying before Shenzhou VI lifted off as light snow fell. "We will accomplish the mission resolutely. See you in Beijing."
"I feel good," Fei, a native of China's richest city, Kunshan, said minutes after the blast-off from the Jiuquan Satellite Launch Center, deep in the desert of the northwestern province of Gansu.
State television broadcast the lift-off live and showed the pair inside the Shenzhou capsule waving at the camera after the spacecraft entered orbit. They later showed the pair flipping through flight manuals and pushing buttons by computer screens. The capsule, based on the Russian Soyuz spacecraft developed in the late 1960s and still in service, is due to touch down in the remote northern region of Inner Mongolia on Monday. [More>>
chinadaily.com.cn
]
---
10.12.05 Seoul seeks talks to regain wartime control of troops
Seoul, South Korea, October 12 – Seoul has called for formal talks with Washington to regain wartime control over its military late September and is still waiting for a U.S. response, Cheong Wae Dae spokesman Kim Man-soo said yesterday...South Korea regained peacetime control of its troops in 1994, but the United States takes back command in a war under a mutual defense agreement dating back to 1953...President Roh Moo-hyun has signaled that he plans to end the U.S. right to control his country's armed forced in case of war. In his Armed Forces Day speech earlier this month, he said the country's forces will be developed into a "self-reliant military that has its own operational control."

Since Roh came to power in 2003, he has repeatedly talked about the importance of Seoul holding wartime command of its forces.

Last year, the United States agreed with South Korea to downsize its forces here by one third to 25,000 by 2008 and to reduce Seoul's payments in support of the U.S. military presence. [Full story>>koreaherald.co.kr]
---
10.12.05 Quake death toll may exceed 200,000
ISLAMABAD, Pakistan, October 12 – As more reports of cities and villages being totally reduced to rubble in NWFP and AJK pour in, the confirmed death toll currently put at 20,000 by the government is likely to go beyond 200,000.
According to estimates the death toll in Hazara division alone may rise close to 100,000. This includes the death of 60,000 or more in Balakot, 1,000 in Battagram, and hundreds more in Mansehra, and Abbottabad districts.

Dozens of villages have turned into mounds of earth; the number of their dead will take a long time coming.

The situation in Azad Kashmir is horrifying, with dozens of towns, villages, and hamlets turned into huge graveyards. Muzaffarabad alone is feared to account for more than 20,000 dead. The beautiful city of Bagh (Garden) in Azad Kashmir has been wiped out completely. It is feared that more than 70,000 are dead in that unfortunate city. The death toll in areas beyond Balakot and Karlot has not been confirmed yet as there is no access to Kaghan Valley by road from Balakot. According to some estimates thousands of casualties are expected in these areas too once a road link is established and rescuers can go in.

The relief efforts have been marred by the lack of heavy machinery and landslides on the roads that have severed the affected areas from the entire country. As the hundreds of critically injured succumb to their injured, the death toll is rising in hospitals and relief camps.

News of heavy loss of life from far flung areas of remote Kohistan has also started coming in. It will take another week or so at the very least before some estimations of the loss of life there could be determined. [More>>nation.com.pk]
---
10.12.05 Britain accuses Iran of running training camps for bombers
October 12 – Iran is running international "training camps" for bombers who carry out attacks on British troops in Iraq, according to senior British officials. Last week Britain accused Iran of direct complicity in the killings of British soldiers through the use of sophisticated explosive devices. Yesterday's claims went much further by accusing the Revolutionary Guard, which has close links to the Tehran government, of teaching Shia fighters to make the bombs in Iran.

The charges came after British and Iraqi forces found two unexploded devices for the first time. A forensic examination of the bombs was being made in Baghdad which officials believe will help them devise counter measures and may also yield evidence of an "Iranian signature." The armour-piercing, infra-red bombs have killed eight British soldiers since March.

British officials had claimed that the alleged Iranian involvement in Iraq was in response to what Tehran perceives as "bullying" over the nuclear issue by the West, and also to keep US and British forces tied down in Iraq to avert a possible attack on Iran. Iran has vehemently denied the accusations and has claimed instead that Britain is pressuring Iran over its nuclear programme by publicizing the bombing claims.

The account of the alleged Iranian involvement made by defence and diplomatic sources in Iraq yesterday was extraordinarily detailed. One source said: "We are trying to counter the bomb threat by training the trainers and they are doing the same. People are being trained abroad and then slip back into Iraq, 10 at a time, to train others maybe 50 at a time." [More>>independent.co.uk]
---
10.12.05 Iran seeks to help Iraq solve its problems
TEHRAN (MNA, Iranian news report) October 11 – Despite the plots of the enemies, Iran is determined to help Iraq solve its problems, Iranian President Mahmud Ahmadinejad said here on Tuesday in a meeting with Iraqi Transportation Minister Salam al-Maliki, who is visiting Iran as the special envoy of the Iraqi prime minister.

Ahmadinejad said that Iran wants to see the establishment of a democratic government and total security in Iraq. He also expressed hope that the country's problems would be promptly resolved so that reconstruction efforts could begin. Ahmadinejad told al-Maliki that the Iranian nation and government are concerned about the current situation in Iraq and stated that the Islamic Republic of Iran would always support the Iraqi nation and government.

Much of the insecurity in Iraq is due to the occupiers and enemies of Iraq, who are actually trying to create divisions between Iraq and its neighbors in order to prolong the occupation, he observed. "All the ethnic and religious groups in Iraq should act intelligently and in harmony, and they should also be aware of the conspiracies of the enemies in order to hold a successful referendum on the constitution," Ahmadinejad said. He went on to say that the Iraqi people are noble and have a great civilization and culture, adding that the fact that young Iraqis have been given high-ranking government posts shows the Iraqi nationıs talent and ability and their determination to tackle the country's problems.

In conclusion, Ahmadinejad said, "The holy shrines of Imams (AS) and other sacred places are very influential factors in boosting friendly and brotherly bilateral ties, and we hope that, with the implementation of the agreements, peopleıs visits to these places will be facilitated." [mehrnews.ir]
---
10.12.05 Bird flu quarantine remains in one Russian region, 21 more suspected
MOSCOW (RIA Novosti) October 12 – As of October 12, bird flu quarantine was in force in one town and 21 were being monitored for a possible outbreak, the Russian Agriculture Ministry said Wednesday. According to the Federal Service for Veterinary and Phytosanitary Oversight, the disease has been registered in 50 towns in six regions since the outbreak was first registered in the summer. The service said 19 of the suspected towns were in the Novosibirsk region and two were in the Altai territory, which are both in Siberia. In the Chelyabinsk, Omsk, and Tymen regions, the ministry said all the quarantine restrictions had been lifted. [rian.ru]
---
10.12.05 Al-Qaida No. 2: US 'ran from Vietnam'
(AP) October 12 – In a letter to his top deputy in Iraq, al-Qaida's No. 2 leader said the United States "ran and left their agents" in Vietnam and the jihadists must have a plan ready to fill the void if the Americans suddenly leave Iraq.

"Things may develop faster than we imagine," Ayman al-Zawahri wrote in a letter to his top deputy in Iraq, Abu Musab al-Zarqawi. "The aftermath of the collapse of American power in Vietnam — and how they ran and left their agents — is noteworthy. ... We must be ready starting now."

Senior US military commanders have said that Iraqi security forces are improving significantly and some US forces could return home early next year. Yet skeptics have raised concerns about whether such statements simply let the insurgency know how long they must wait for the US to leave.

In a letter taking up 13 typed pages in its English translation, al-Zawahri also recommended a four-stage expansion of the war that would take the fighting to neighboring Muslim countries.

"It has always been my belief that the victory of Islam will never take place until a Muslim state is established ... in the heart of the Islamic world," al-Zawahri wrote.

The letter laid out his long-term plan: expel the Americans from Iraq, establish an Islamic authority and take the war to Iraq's secular neighbors, including Lebanon, Jordan and Syria. The final stage, al-Zawahri wrote, would be a clash with Israel, which he said was established to challenge "any new Islamic entity." The letter is dated July 9, and was acquired during US operations in Iraq. It was written in Arabic and translated by the U.S. government. The Pentagon briefed reporters last week on portions of the document, but the full text was not available until Tuesday. [More>>chinadaily.com.cn]
---
10.12.05 Iraq suicide bomber kills at least 30 – police
MOSUL, Iraq (Reuters) October 12 – At least 30 people were killed on Wednesday when a suicide bomber strapped with explosives blew himself up in a crowd of Iraqi military recruits at an army base in the northern town of Tal Afar, police said. Police chief Najim Abdullah said at least 35 people were wounded in Wednesday's explosion, which occurred one day after a suicide car bomb blew up in a crowded Tal Afar market, killing at least 24 people and wounding 36.

Sunni Arab insurgents have waged a campaign of car bombings, suicide attacks and kidnappings in recent months in an attempt to destabilize the Shi'ite-and Kurdish-led government and derail the US-backed peace process. [More>>thestar.com.my]
---
10.12.05 FEMA restricts evacuee data, citing privacy
SAN ANTONIO, October 11 – The Federal Emergency Management Agency is restricting the release of information on Hurricane Katrina evacuees, complicating efforts by families to find loved ones and by law enforcement officials searching for parolees and convicted sex offenders.

Citing privacy concerns, FEMA has rejected a request by Texas officials for access to its database of the more than 100,000 evacuees who have registered for state aid, according to the governor's office. FEMA has also declined requests from five states to cross-check a database of convicted sex offenders and parolees against a list of evacuees requesting federal assistance, law enforcement officials said.

FEMA officials have started prohibiting workers at a large shelter here from sharing information about evacuees even with family members unless the evacuees had signed release forms. In many cases, relief workers said, such forms were lost or never presented in the chaos of the exodus. FEMA authorities made similar restrictions last week when they took over management of shelters in Beaumont, Tex.

"If we find someone, we've been instructed to tell family members, 'He or she is alive and well in San Antonio,' and that's it," said Rene Gauna, a San Antonio city employee working at a FEMA-managed shelter at the old Kelly Air Force Base. "We're no longer allowed to release new addresses or telephone numbers or tell people where their loved ones have moved." [More>>washingtonpost.com]
---
10.12.05 Syrian interior minister commits suicide
DAMASCUS, Syria (AFP) October 12 – Syria's former strongman in Lebanon, who was questioned over the assassination of former Lebanese premier Rafiq Hariri, committed suicide in his Damascus office Wednesday, the government announced.

"The cabinet announces the suicide of Interior Minister Ghazi Kanaan in his office at the beginning of the afternoon," according to a statement published by the state news agency SANA.

"The relevant authorities are investigating," the agency added, without giving the cause of death.

Kanaan, who served for two decades as Syria's powerful military intelligence chief and virtual viceroy in Lebanon, spoke to Voice of Lebanon radio earlier Wednesday and said it would be his "final declaration."

The suicide comes after a UN team investigating the assassination in Beirut of Hariri interviewed Kanaan and a number of other top Syrian figures in connection with the case last month. The death of Kanaan, 63, comes just two weeks before the UN commission of inquiry is due to release a report on its findings. In the radio interview, Kanaan defended the presence of Syrian troops in Lebanon, saying they had "done their utmost to preserve the unity of Lebanon" during their 29-year deployment. The deployment came to an end in April amid local and international outrage over the Hariri killing. [More>>dailystar.com.lb]
---
10.11.05 Coalition forces capture 98 terror suspects
WASHINGTON, October 11 – Iraqi and coalition forces netted 98 terror suspects and several weapons caches in separate operations Oct. 9, 10 and today in Baghdad, military officials reported. More than 600 Iraqi and US forces responded to reports of terrorists operating in southern Baghdad and conducted multiple cordon-and-search operations in the early morning hours today.

US soldiers from 3rd Squadron, 3rd Armored Cavalry Regiment, linked up with Iraqi special police commandos to take the terrorists by surprise. AH-64 Apache helicopters soon arrived to engage in the firefight. The forces acted on a report that two men were on a roof overseeing a group of terrorists emplacing improvised explosive devices. Troops detained 57 terror suspects and killed two others.

On Oct. 10, Iraqi soldiers conducted two pre-dawn cordon-and-search operations against known terror organizations in central and western Baghdad, capturing four men believed to be active members in the cells. Two of the suspects taken into custody were known for their activities in terror cells. [More>>defenselink.mil]
---
10.11.05 Terror camps in PoK hit by quake: Army
NEW DELHI (PTI) October 11 – Army Chief General J J Singh has said the terrorist training and recruitment camps operating in Pakistan occupied Kashmir might have been Œaffectedı in Saturday's killer earthquake. "The worst affected areas is the one that had terrorist camps in Muzaffarabad and nearby areas. When the entire villages have been wiped out, it is possible that these terrorist camps have also been affected," Singh told reporters.

Muzaffarabad was the epicentre of the earthquake that struck last weekend killing thousands of people in PoK and Pakistan.

This town as well as the adjoining areas falling in North West Frontier Province (NWFP) of Pakistan had training camps of militant outfits like Jaish-e-Mohammed, Lashker-e-Taiba, Tehrek-ul-Mujahideen (TuM), Hizbul Mujahideen and al-Badar. [More>>expressindia.com]
---
10.11.05 'Indian plate has become seismically active'
NEW DELHI (PTI) October 11 – 'Close monitoring' of faults neighbouring the one that ruptured under the Himalayas on Saturday in the 7.6 magnitude earthquake is required as the Indian plate boundary has become seismically 'very active,' according to top Indian seismologists here. The wave of strong earthquakes since the Sumatran quake last December that triggered the tsunami suggest that the Indian plate boundary has become Œseismically very activeı and needs watching, they warned.

The Indian plate is one of the 14 major plates that are locked on to the surface of the earth like a jigsaw puzzle. Strain built up along the boundaries due to motion of the rigid plates, when released, manifest as earthquakes.

"The 9.3 magnitude Sumatara quake in December 2004, followed within three months by an 8.6 magnitude quake near the same place and now this one in Pakistan suggest the Indian plate boundary has become very highly active," says Janardhan Negi, a well known seismologist with Madhya Pradesh government. "This high frequency of strong quakes is unusual," he said...American geologists Roger Bilham and Kali Wallace of the University of Colorado had told a conference in India six months ago, "the Kangra region, like other parts of the Himalayas, must now be considered vulnerable to a future large earthquake, despite having experienced one 100 years ago."

...According to the US scientists, the western Himalayas may be in a stress state somewhat similar to the Andaman plate boundary prior to 2004. [More>>expressindia.com; See related story, jang.com.pk, "Moderate quake jolts Andaman, Nicobar" : A moderate intensity earthquake jolted the Andaman and Nicobar islands on Tuesday morning, the Indian Meteorological Department said. The quake measuring 5.5 on the Richter scale.Its epicenter lay in the South Andaman Islands, the Met office said.]
---
10.11.05 Update Blocked roads, hail hamper Pakistan relief effort
MUZAFFARABAD, Pakistan (Reuters) October 11 – Three days after the deadly Kashmir earthquake, relief efforts remained chaotic on Tuesday and UN officials said scores more helicopters were needed to get food, medicine and shelter to millions of survivors. Pledges of aid for the victims of Saturdayıs earthquake have poured in from around the world but little assistance has yet reached desperate survivors on the ground due to blocked roads and a shortage of aircraft, particularly helicopters.

Heavy rain and hailstorms in northern Pakistan further hampered efforts on Tuesday, grounding rescue flights and a planned aerial tour of stricken areas by the prime minister.

Officials in the worst-hit areas of Pakistani Kashmir and the North West Frontier Province said may have claimed up to 40,000 lives. Another 2,000 people are feared to have been killed across the border in Indian Kashmir. But the official death toll from the quake -- at 7.6 magnitude the biggest to hit the region in a century -- remained at 21,000 in Pakistan and slightly over 1,200 in India.

UN officials estimated the quake had left up to a million people homeless and threatened by disease in northern Pakistan, while perhaps three million more were in need of assistance, many of them children. ³At moment, Iım afraid itıs so chaotic, I canıt give you a clear picture,² said a senior UN official involved in coordinating the relief effort.

Trucks carrying emergency supplies had finally started moving towards the badly hit and remote mountain towns of Muzaffarabad in Pakistani Kashmir and Balakot in Northwest Frontier Province, he said. But the roads beyond remained blocked by landslides.

Reuters reporters flying over stricken areas have seen villages and towns flattened. Nearly every building in Muzaffarabad, a once-pretty river town that is the capital of Pakistani Kashmir, was destroyed or damaged. [More>>khaleejtimes.com]
10.10.05 Frantic search as Pakistan quake toll tops 20,000 – may reach 40,000
MUZAFFARABAD, Pakistan (Reuters) October 10 – (The following provides a detailed account of the situation in Pakistan's quake-devestated area) Rescuers searched frantically for survivors of Pakistanıs massive earthquake on Monday as the death toll climbed over 20,000 and officials said thousands more could be dead in the rubble. Another 2,000 people may have died in neighbouring India and the fate of about 10,000 people living in remote villages on the border with Pakistan was not known, Indian officials said.

In Pakistanıs capital Islamabad, European, Arab and Japanese nationals were among an estimated 45 people missing two days after Saturdayıs quake destroyed two apartment blocks.

Donors announced tens of millions of dollars of emergency aid for Pakistan and were rushing in doctors, helicopters, food, tents and sniffer dogs, but there was frustration among victims at the lack of any visible help on the ground.

Looting broke out in Pakistani Kashmirıs capital Muzaffarabad, where the old district was almost totally destroyed by Saturdayıs 7.6 magnitude earthquake and survivors were desperately short of food, medicine and water. "Theyıve lost everything, they have no clothes, no food, nothing," said resident Asim Butt. "People have started looting things from shops."

The US military in neighbouring Afghanistan said it was diverting eight helicopters being used in the war against Islamic militants to assist with emergency operations. Aid agencies said more than 120,000 people were in urgent need of shelter and up to four million could be left homeless by what was South Asiaıs strongest quake in 100 years.

"We know that every hour counts in an earthquake of this magnitude," U.N. Emergency Relief Coordinator Jan Egeland said.

Pakistani Information Minister Sheikh Rashid Ahmed said more than 20,000 people had been confirmed dead in Pakistan, but he said the number could rise. Officials in North West Frontier Province and Pakistani Kashmir say the final death toll could be close to 40,000. [More>>khaleejtimes.com]
---
10.11.05 Rebel attacks kill dozens as Iraq vote looms
MOSUL, Iraq (AFP) October 11 – Thirty people were killed when a suicide car bomb ripped through a crowded market in the volatile Iraqi town of Tal Afar on Tuesday, just four days before a referendum on the new constitution that insurgents have vowed to disrupt. Another 16 people were killed in a rash of bombings and shootings in Baghdad and other parts of the country, starkly underlining the battle facing Iraqi forces in their efforts to secure the country for Saturdayıs constitution vote.

Tal Afar police chief Najm Abdallah said 30 people were killed and 45 more wounded in the attack in the town, where less than a month ago US and Iraqi forces wrapped up an operation against insurgents.

At the end of September, five people were killed when a woman suicide bomber blew herself up among police recruits in Tal Afar, which lies between the main northern city of Mosul and the Syrian border. In Baghdad, five soldiers and two civilians were killed in a suicide car bombing in the western neighborhood of Al-Amariyah, a defence ministry source said. [More>>khaleejtimes.com]
---
10.11.05 'Police make first arrest in Bali blast probe
DEPENSAR, Bali (Agencies) October 11 – Police have made their first arrest over this month's suicide bombings on the resort island of Bali, picking up a man in East Java suspected of links to the attacks, police said on Tuesday. Three suicide bombers killed 20 people when they strolled into separate restaurants on Oct. 1 and detonated backpacks laden with explosives. Around 150 people were wounded.

"This person is strongly suspected of having links with the Bali blasts," deputy national police spokesman Soenarko Ardanto told a news conference on the island. Ardanto said the man, a construction worker identified only by his initials HS, was arrested in the East Java provincial town of Jember on Sunday. He was brought to Bali on Monday. [More>>thejakartapost.com]
---
10.11.05 International media: Fourth estate or hostage?
October 11 – (This article by Bouthaina Shaaban recounts the suppression of the media covering 'assasinations' of Palestinian children) On October 2, 2000, shortly after the breakout of the second intifada, television footage showing the assassination of Palestinian child Mohammad al-Durra shocked the world and tainted the memory of humanity. Durra became a symbol for innocent childhood deprived of life viciously and deliberately. His bloodstained shoes toured the world along with the possessions of the first 100 martyrs of the intifada, a testimony to the cruelty and criminality of the Israeli occupation.

Ever since that day, the Israeli occupation forces, in their suppression of Palestinian demands for freedom and independence, have assassinated hundreds of Palestinian children in Gaza and the West Bank. Assassination, expulsion and oppression were described by Israeli leaders as policies that reduce the "threat" of the Palestinian demographic increase. Durra remains the child martyr in the conscience of the world, however, not the rightfully first name in a long list of martyrs. This is not due to any change in Israel's occupation policies; it is the result of prudent Israeli media strategies. Ever since the world media witnessed the assassination of Durra, Israel has made sure that no similar testimony to its crimes of ethnic cleansing ever enjoys similar coverage. This has been realized through two policies: first terrorizing peace activists to prevent them from coming to Palestine, and second, deliberately targeting some international journalists to raise the risks of coverage.

As a casualty of these two policies, American peace activist Rachel Corrie was mercilessly and intentionally crushed by Israeli bulldozers in full view of the world. Later, British journalist Thomas Hurrndall was shot dead by Israeli soldiers while he was trying to shield with his body a couple of Palestinian children. Then there was James Miller, who was shooting a film on the suffering and killing of Palestinian children under occupation. The film was lost with the journalist's life. Along with these blatant murders, there were oppressive legal restrictions that have made access to the scene very difficult for journalists – as was done in Jenin, and as the Americans did with Fallujah. Many journalists were killed in Iraq; several surviving witnesses have confirmed that these deaths were a pre-determined policy and no accident.

Reminiscent of the time of Joseph Stalin, media policies such as "embedded journalism" have evolved to prevent a free coverage of events and reshape reality with a predefined perspective. Unarmed civilians have become easy targets, with no preventive or opposing world opinion mobilized by objective coverage of war crimes.

...Since the killing of Durra, more than 660 Palestinian children have been killed, among whom is Iman al-Hams, deliberately killed by an Israeli officer in public, and more than 295 Palestinian schools have been destroyed, with others turned into military barricades. [Full story>>dailystar.com.lb]