News Headlines & Trends
---
11.20.08 Asian stocks fall, extending global rout
November 20 - Asian stocks fell yesterday, extending a global rout, as Japan's exports declined the most in almost seven years and US consumer prices sank by a record. The MSCI Asia Pacific Index slumped 4.9 percent to 75.35 at 2:58 p.m. in Tokyo, extending this week's decline to 9.3 percent. Thirteen stocks fell for each that rose on the measure. MSCI's Asian index is less than a point away from its five-year low of 75.19, last reached on Oct. 27, as recessions in Japan and Hong Kong and lower profit forecasts wiped out a 25 percent rally sparked by global interest rate cuts and Barack Obama's presidential victory in the US.

Japan's Nikkei 225 Stock Average lost 5.9 percent to 7,789.08. Isuzu Motors Ltd. and Mazda Motor Corp. dropped after saying they will slash at least 2,700 temporary jobs in Japan as the companies reduce output on falling demand. Hong Kong's Hang Seng Index retreated 5.5 percent, led by developers including Hang Lung Properties Ltd., on concern the city's recession will cut demand for housing. Nintendo, the world's biggest maker of handheld video-game consoles, declined 6.9 percent to 27,290 yen in Osaka. Sony slumped 5.8 percent to 1,837 yen. Exports, the main engine of Japan's economic growth in the past six years, fell 7.7 percent from a year earlier, the Finance Ministry said. The nation's corporate-bond risk rose to a record after the report, according to the Markit iTraxx Japan index. [More>>koreaherald.co.kr; See update:

thestar.com.my, November 20, "HK, Japan worst hit among Asian markets" : KUALA LUMPUR: Hong Kong and Japan's equities markets skidded in the morning session on Thursday, with their benchmark indices falling more than 5% on fears of a global recession. At midday, Hong Kong's Hang Seng Index tumbled 5.5% or 704 points to 12,111.51 while Japan's Nikkei 225 skidded 5.66% to 7,805.25. Singapore's Straits Times Index fell 3.71% to 1,603.72 and Shanghai's A Share Index 1.21% lower to 2,093.68. At Bursa Malaysia, the KL Composite Index was relatively more resilient compared with the major Asian markets, ending the morning session down 1.95% or 17.11 points to 860.54...

Related stories:

nytimes.com, November 20, "Oil price falls below $50 on weak consumption."

washingtonpost.com, November 20, "Key economic indicators suggest a deep recession" : Businesses cut prices at a record rate last month, builders started fewer new homes than anytime on record, and last week more people filed for new unemployment benefits than in any week since 1992, according to government data, as the outlook for the economy continues to dim. The Labor Department announced this morning that new applications for jobless benefits rose to a seasonally adjusted 542,000 last week. It also revised the figure from the previous week down to 515,000.
That follows announcements yesterday that new-home starts in October were the lowest since at least 1959, when the government began keeping data. The consumer price index plummeted by the most since that series of monthly data was started in 1947, as the economy slowed so abruptly that companies had to slash prices to sell products...
---
11.20.08 Judge orders five detainees freed from Guantánamo
November 20 - In the first hearing on the government's justification for holding detainees at the Guantánamo Bay detention camp, a federal judge ruled Thursday that five Algerian men were held unlawfully for nearly seven years and ordered their release. The judge, Richard J. Leon of Federal District Court in Washington, also ruled that a sixth Algerian man was being lawfully detained because he had provided support to the terrorist group al-Qaeda. The case was an important test of the Bush administration's detention policies, which critics have long argued swept up innocent men and low-level foot soldiers along with high-level and hardened terrorists. [More>>nytimes.com]
---
11.20.08 Egypt hosts Arab piracy meeting
November 20 - Egypt has held a meeting of six Arab countries in an attempt to forge a joint strategy against piracy in the Gulf of Aden, which threatens the international trade route through Egypt's Suez Canal. The countries represented in the meeting on Thursday were those who share the Red Sea with Egypt - Yemen, Saudi Arabia, Sudan and Jordan. A representative from Somalia's transitional government also attended the meeting, held behind closed doors in Cairo. Wafaa Bassem, an Egyptian diplomat, said ahead of the talks that the meeting would examine several options to tackle piracy, which threatens the Suez Canal trade and as such Egypt's key source of revenue.

Egypt is concerned that the recent surge in piracy, highlighted by the hijacking of the Saudi supertanker Sirius Star loaded with $100m worth of crude oil last week, will prompt shipping companies to opt for safer routes that avoid the Canal. That would mean longer, costlier trips around the southern tip of Africa but Odfjell SE, a big Norwegian shipping group, took that step on Tuesday, ordering its more than 90 tankers to take the longer route. [More>>aljazeera.net; See related story:

aljazeera.net, October 11, " 'Toxic waste' behind Somali piracy" : Somali pirates have accused European firms of dumping toxic waste off the Somali coast and are demanding an $8m ransom for the return of a Ukranian ship they captured, saying the money will go towards cleaning up the waste. The ransom demand is a means of "reacting to the toxic waste that has been continually dumped on the shores of our country for nearly 20 years," Januna Ali Jama, a spokesman for the pirates, based in the semi-autonomous region of Puntland, said. "The Somali coastline has been destroyed, and we believe this money is nothing compared to the devastation that we have seen on the seas."

The pirates are holding the MV Faina, a Ukrainian ship carrying tanks and military hardware, off Somalia's northern coast...evidence of such practices literally appeared on the beaches of northern Somalia when the tsunami of 2004 hit the country. The UN Environment Programme (UNEP) reported the tsunami had washed up rusting containers of toxic waste on the shores of Puntland. Nick Nuttall, a UNEP spokesman, told Al Jazeera that when the barrels were smashed open by the force of the waves, the containers exposed a "frightening activity" that has been going on for more than decade. "Somalia has been used as a dumping ground for hazardous waste starting in the early 1990s, and continuing through the civil war there," he said...
---
11.20.08 Warplanes, troops kill 40 militants in NW Pakistan
ISLAMABAD (Reuters) November 20 - Pakistani forces killed 40 Islamist fighters on Thursday as artillery and jet fighters backed ground troops fighting in the Bajaur tribal region, and an air strike hit militants in Swat valley, officials said. Pakistani troops launched an offensive in Bajaur last August, and the military says more than 1,500 militants have been killed while 73 soldiers have also died, though no independent verification of casualties is available. NATO forces launched "Operation Lionheart" recently to put pressure along the Afghan side of the border across from Bajaur and squeeze the Taliban and al-Qaeda militants into areas where they can be attacked more easily.

The latest clashes erupted in parts of Mamond and Nawagai districts of Bajaur overnight. "Twenty-four militants, including 11 foreign fighters, probably Uzbeks, and a local commander have been killed in exchanges of fire with security forces in the last 24 hours," a spokesman for the paramilitary Frontier Corps said. A suicide blast in Mamond on Thursday evening killed at least nine people, including the leader of a pro-government tribal 'lashkar' or force, an administration official, Mohammad Jameel, said. [More>>khaleejtimes.com; See also thenews.com.pk, November 20, "Fighter jets kill 16 militants in Swat."]
---
11.20.08 Medvedev's Venezuela, Cuba trips set to rile US
MOSCOW (Reuters) November 20 - Russian President Dmitry Medvedev's visits to Venezuela and Cuba during a week-long trip to Latin America look set to irk Washington, highlighting a foreign policy challenge facing President-elect Barack Obama. His trip to Venezuela, a key buyer of Russian arms, coincides with the two countries' first joint naval exercise in the Caribbean — traditionally viewed by the United States as its backyard. During his stay in Cuba, the Russian leader is likely to demonstrate Moscow's commitment to renew a Cold War-era alliance with Havana, abandoned after the collapse of the Soviet Union. Russia has stepped up ties with Venezuela and Cuba as its relations with the West and particularly the United States soured in the past few years amid a series of rows ranging from Kosovo to US missile defence plans in Eastern Europe. [More>>khaleejtimes.com]
---
11.20.08 Egypt minister says no to face veil
CAIRO (AFP) November 20 - The Egyptian ministry for religious endowments has weighed into the debate on whether a Muslim woman should wear a face veil with a book arguing that it is not Islamic, a newspaper reported on Thursday. The independent daily Al-Masry al-Yom published extracts of the book, entitled "The veil is a custom, not worship" by Religious Endowments Minister Mahmud Hamdi Zaqzuq, which the ministry will distribute to mosques. "I will absolutely not allow the spread of the niqab (the face veil) culture in Egypt," the newspaper quoted the minister as saying. [More>>timesofindia.indiatimes.com]

---
11.20.08 The medical miracle
November 19 - Mother-of-two becomes first transplant patient to receive an organ grown to order in a laboratory. A 30-year-old Spanish woman has made medical history by becoming the first patient to receive a whole organ transplant grown using her own cells. Experts said the development opened a new era in surgery in which the repair of worn-out body parts would be carried out with personally customized replacements. Claudia Castillo, who lives in Barcelona, underwent the operation to replace her windpipe after tuberculosis had left her with a collapsed lung and unable to breathe. The bioengineered organ was transplanted into her chest last June at the Hospital Clinic in Barcelona.

Four months later she was able to climb two flights of stairs, go dancing and look after her children — activities that had been impossible before the surgery. Ms. Castillo has also crossed a second medical frontier by becoming the first person to receive a whole organ transplant without the need for powerful immunosuppressant drugs. Doctors overcame the problem of rejection by taking her own stem cells to grow the replacement organ, using a donor trachea (lower windpipe) to provide the mechanical framework. Blood tests have shown no sign of rejection months after the surgery was complete. [More>>independent.co.uk]
---
11.19.08 Dow plunges below 8,000 - 1st time since '03
NEW YORK, November 19 - Stocks fell hard on Wednesday, with the Dow closing below 8,000 for the first time since March 2003, as ongoing anxiety about the economy and uncertainty about the future of the auto industry weighed on the market. The Dow Jones industrial average (INDU) shed more than 400 points to close 5% lower. All 30 Dow components lost ground. The Standard & Poor's 500 (SPX) index slid 6% to its lowest level since March 2003. And the Nasdaq composite (COMP) lost 6.5% to settle at its lowest point since April 2003. Stocks languished for most of the day, with the sell-off accelerating near the close of trade. Wednesday's dramatic retreat erases gains made in the previous session. [More>>cnn.com]
---
11.19.08 Big Three auto CEOs flew private jets to ask for taxpayer money
November 19 - Some lawmakers lashed out at the CEOs of the Big Three auto companies Wednesday for flying private jets to Washington to request taxpayer bailout money. "There is a delicious irony in seeing private luxury jets flying into Washington, D.C., and people coming off of them with tin cups in their hand, saying that they're going to be trimming down and streamlining their businesses," Rep. Gary Ackerman, D-New York, told the chief executive officers of Ford, Chrysler and General Motors at a hearing of the House Financial Services Committee.

"It's almost like seeing a guy show up at the soup kitchen in high hat and tuxedo. It kind of makes you a little bit suspicious." He added, "couldn't you all have downgraded to first class or jet-pooled or something to get here? It would have at least sent a message that you do get it." Rep. Brad Sherman, D-California, asked the three CEOs to "raise their hand if they flew here commercial. Let the record show, no hands went up. Second, I'm going to ask you to raise your hand if you are planning to sell your jet in place now and fly back commercial. Let the record show, no hands went up." The executives — Alan Mulally of Ford, Robert Nardelli of Chrysler and Richard Wagoner of GM — did not specifically respond to those remarks. In their testimony, they said they are streamlining business operations in general. [More>>cnn.com; See related story, abcnews.go.com, November 19, "Finger-pointing begins as Senate nixes auto vote."]
---
11.19.08 Al-Qaeda warns 'house negro' Obama against sending more troops to Afghanistan
DUBAI, November 19 - Calling US President-elect Barack Obama a "house negro", al-Qaeda number two Ayman Zawahiri has warned him against sending more troops to Afghanistan, in an internet audio message released on Wednesday. ( Watch ) Zawahiri insulted Obama and other black Americans who have held high office in the US administration with the term used by the late black militant leader Malcolm X. "It is true about you and people like you ... what Malcolm X said about the house negroes," he said, naming former secretary of state Colin Powell and the current secretary, Condoleezza Rice.

An English transcript of the speech purportedly by the al-Qaeda number two was provided by Al-Qaeda's media arm As-Sahab. The tape features an old speech by Malcolm X in which he used the two terms, referring to house slaves who were considered more docile and on better terms with their masters than the field slaves.

On the political front, Zawahiri said: "What you have announced before ... that you will withdraw (US) troops from Iraq (and send them) to Afghanistan is a policy that is doomed to failure ... If you still want to be stubborn about America's failure in Afghanistan, then remember the fate of (US President George W.) Bush and (Pakistan's former president) Pervez Musharraf, and the fate of the Soviets and British before them." In the message made available by SITE Intelligence Group in the United States, Zawahiri warned Obama of a "heavy legacy of failure" awaiting him in office. [>timesofindia.indiatimes.com; See also:

independent.co.uk, November 19, "Al-Qaeda urges attack on US":...The Egyptian militant also criticized Obama, born to a Muslim Kenyan father, for what he described as turning his back on his Muslim roots. Zawahri attacked Obama as a "house slave," contrasting him with 1960s black American Muslim leader Malcolm X. "You represent the direct opposite of honourable black Americans like ... Malcolm X," Zawahri said on the tape, which included video footage of Malcom X. The Muslim nation received with extreme bitterness your hypocritical...stance towards Israel," he said. "You were born to a Muslim father, but you chose to stand with the enemies of Muslims."...
---
11.19.08 Suspected US strike kills 5 militants in Pakistan
PESHAWAR, Pakistan (Reuters) November 19 - A suspected US drone aircraft fired two missiles at a house in northwestern Pakistan on Wednesday, killing five suspected militants, possibly including an Arab al-Qaeda operative, intelligence officials said. The al-Qaeda fighter was identified as Abdullah Azam al-Saudi by an intelligence official based in Dera Ismail Khan, hours after the missile attack in Janikhel tribal area of neighbouring Bannu district in North West Frontier Province.
"He used to coordinate between al-Qaeda and Taliban in Pakistan, and had also been responsible for recruiting people," the official told Reuters on condition of anonymity because he is not authorised to speak to the media. There was no other corroboration that the Arab al-Qaeda fighter had been killed. Janikhel is not part of one of Pakistan's seven semi-autonomous tribal regions, but borders Waziristan — a militant hotbed where suspected US drone aircraft have launched a series of missile strikes in recent months. [More>>Kahleejtimes.com; See also alarabiya.net, November 19, "Top al-Qaeda leader killed in US missile strike" :
---
11.19.08 Iraq arrests senior Iranian commando at airport
BAGHDAD (AFP) November 19 - Iraqi security forces have arrested an alleged "senior" Iranian commando from the elite Revolutionary Guard's Quds Force at Baghdad International Airport, the US military said Wednesday. The military said they suspected the man of "involvement in facilitating Iranian weapons shipments into Iraq" under the cover of working for an organization involved in the restoration of Iraqi religious sites. The man is alleged to have used the organization as a front in order to bring weapons into Iraq concealed in shipments of building materials, the military said in a statement released late Tuesday.

The US military has long accused Iran's Quds Force of arming, training, and funding Iraqi militiamen to stoke the sectarian violence that has convulsed the country since the 2003 US-led invasion, charges Tehran has denied. The statement also said the man was carrying an "unspecified amount" of cocaine. The arrest came as Iraq's parliament was mulling a wide-ranging security pact with the United States that would require all US troops to leave Iraq by the end of 2011, a pact that Iran has vehemently opposed. [>alarabiya.net]
---
11.19.08 Iraq discoversd remains of 150 Kurds in south Iraq
NAJAF, Iraq (Reuters) November 19 - Iraqi officials flew the remains of 150 Kurds found in a mass grave home to Kurdistan on Wednesday, after a moving ceremony that paid tribute to victims of repression under ousted dictator Saddam Hussein. The mass grave was first discovered by a farmer in an area near the southern city of Najaf three months ago, containing the remains of men, women and children. Officials identified them as Kurds by documents on some of the bodies. [More>>khaleejtimes.com]
---
11.19.08 Consumer price decline prompts fear of deflation
NEW YORK, November 19 - In another sign that the struggling economy continues to slow, consumer prices tumbled by a record amount in October, carried lower by skidding energy and transportation prices, raising the specter of deflation. The Consumer Price Index, a key measure of how much Americans spend on groceries, clothing, entertainment and other goods and services, fell by 1 percent in October compared with prices in the previous month, the Labor Department reported Wednesday morning.
It was the steepest single-month drop in the 61-year history of the pricing survey and raised concerns about deflation as the economy contracts and demand for goods and services plunge. Another report released Wednesday indicated that new home construction continued to fall. "This month it's more than slowing, it's outright contraction," said James O'Sullivan, United States economist at UBS. "And yes, if you extrapolate that, it's deflation." A continued decline in prices could worsen the economic slowdown by making it harder to pay off debts and would negate the impact of interest-rate cuts by the Federal Reserve. [More>>nytimes.com]
---
11.19.08 Indonesian government to detain blogger for defamation
November 19 - Communication and Information Minister Muhammad Nuh on Wednesday pledged that his office would arrest a blogger for creating a site that defaming the Prophet Muhammad. Muhammad Nuh said his office had a tool to detect the blogger's whereabouts. "We will penalize anyone or any group responsible for making such blogs," he told tempointeraktif.com. Nuh said the blogger had violated the 2008 law on information and electronic transactions, by disseminating information which could create rivalry among religious communities.

City Police special crimes director Commissioner Raja Erizman said police had traced the website and found it was created outside Indonesia. The blog, which uses the wordpress.com facility, presents cartoons of the Prophet and has been visited by 91,597 people. It also cites misleading translations of Koranic verses and the prophet deeds and sayings stated in the hadiths. [>thejakartapost.com]
---
11.19.08 Indian navy fights off Somali pirates, destroys vessel
NEW DELHI, November 19 - An Indian naval frigate sunk a pirate vessel after repulsing an attack in the Gulf of Aden in a significant blow to the sea brigands at the heart of their operations in a third successive strike in as many weeks. The success for INS Tabar to neutralise rising sea piracy off Somalia came in the first major offensive from among dozens of warships from several countries protecting shipping lanes in the area when it destroyed the 'mother ship' of a group of pirates after a fierce battle on Tuesday. The pro-active operation from the Indian Navy comes a week after it saved two merchant vessels — one from India and other from Saudi Arabia — from being hijacked by sea pirates on Nov. 11 in the Gulf of Aden near the Horn of Africa. [More>>indianexpress.com; See related story:

cnn.com, November 19, "Pirates' luxury lifestyles on lawless coast" : MOGADISHU, Somalia (AP) -Somalia's increasingly brazen pirates are building sprawling stone houses, cruising in luxury cars, marrying beautiful women — even hiring caterers to prepare Western-style food for their hostages. And in an impoverished country where every public institution has crumbled, they have become heroes in the steamy coastal dens they operate from because they are the only real business in town.
"The pirates depend on us, and we benefit from them," said Sahra Sheik Dahir, a shop owner in Haradhere, the nearest village to where a hijacked Saudi Arabian supertanker carrying $100 million in crude was anchored Wednesday. These boomtowns are all the more shocking in light of Somalia's violence and poverty: Radical Islamists control most of the country's south, meting out lashings and stonings for accused criminals. There has been no effective central government in nearly 20 years, plunging this arid African country into chaos...
---
11.18.08 How can so much spam come from one place?
November 18 - At roughly 4:30pm Eastern time last Tuesday, the volume of junk e-mail arriving at inboxes around the world suddenly plummeted by at least 65 percent, an unprecedented drop caused by what is believed to be a single, simple act. According to security experts, one Silicon Valley based computer firm was playing host to computers of various organizations that controlled the distribution of much of the world's spam. Confronted with evidence tracing the spam activity back to the hosting firm, McColo Corp., Internet service providers pulled the plug, severing McColo's online connections.
By nearly all accounts, spam volumes have remained at far diminished levels, though experts interviewed for this story expect spam to soon bounce back or even exceed previous levels. But the question remains: How could such a massive concentration of spam activity be hosted for so long from the servers at a single US-based facility, in the belly of the security and tech community in Silicon Valley? The answer exemplifies how complex the battle against spam has become. Like other Internet hosting firms, McColo -- which has not been charged with any crime and has been unavailable for comment -- assigns certain Internet addresses for its clients' computers to use. In effect, that's how those firms operate on the Web.
But the spam often does not come directly from those computers, according to security experts who have documented the activity. Rather, McColo appears to have been home to a number of key Internet servers — computers that control networks of computers — that were used by their respective owners to coordinate the actions of hundreds of thousands of PCs that may be compromised with malicious software designed to turn them into spam-spewing zombies. According to research by several in the computer security community, some of the largest collections of hacked PCs, known as robot networks or "botnets," may have had their master control servers hosted at McColo. [More>>washingtonpost.com]
---
11.18.08 Canadian mosque accuses paper of 'extremism'
DUBAI, November 18 - Denies report it posted Jewish, Western slurs. A Canadian mosque that came under fire last week for publishing slurs and advocating a conservative lifestyle for Muslims is fighting back against what it said was distortion and discrimination. Mohamed Abou-Bakr, an official at the administration of the Khalid Bin al-Walid Mosque in Toronto told AlArabiya.net that the mosque had sent a complaint to the Canadian newspaper the Toronto Star after an article alleging it publicized slurs against Jews and western societies on its website and warned members against integration. The complaint accused the paper of "distorting" the content of the mosque's website in an attempt to "turn society against the mosque by charging it and the entire Muslim community in Canada of terrorism."

"The administration will seek legal advice if we don't get a response to the complaint," said Bakr in an interview. The official accused the paper of "discrimination, extremism, and terrorism." The paper reported Thursday that the website's Questions and Answer section featured racist, anti-Jewish and anti-Western responses that were supposedly reviewed by the mosque's imam.

"Is it permissible for women to wear high heeled-shoes?" one reader asked, to which the reply was no. "It involves resembling the Disbelieving Women or the wicked women. It has its origin among the Jewish women," read the explanation The site reportedly went on to say that once (a Muslim woman) becomes introduced to the wickedness of Western ideology and concepts ... (she) becomes fixated on trying to appear and act like her "role models" of corruption. [More>>alarabiya.net; See related stories:

thestar.com, November 17, "Mosque in hot water again" : Web comments about women, Jews decried by Muslim moderates. The Toronto mosque that once warned its members to avoid wishing others "Merry Christmas," equating it with murder, is once again pitted in controversy. And now the Muslim Canadian Congress is calling on Ottawa to strip the charitable status of the Somali Islamic Society of Canada, which owns the Khalid Bin Al-Walid mosque in Etobicoke, founded in 1990 and serving more than 10,000 worshippers.Congress president Farzana Hassan said postings on the mosque's website are "in contravention of what a moderate Muslim should stand for."

Asked for specifics, Hassan cited the site's "statements about women." For example, she said, "they say female circumcision is honourable and yet they find piercing your ears reprehensible, wearing high heels reprehensible, laughing objectionable. It's very disconcerting that their priorities are where they are." But the mosque defends its postings, arguing in a statement posted on its website that "different scholars of Islam may have differing opinions on the same subject."
The statement, signed "Khalid Bin Al-Walid Mosque Management and the Board of Directors," continues: "We try our best to enrich Islamic knowledge for anyone who visits our web site and show to them the differing views of Islamic scholars on a particular subject." And, it adds: "We make it clear to all readers of our web site that unless the answers are provided by the Khalid mosque, the answers do not necessarily reflect the views of Khalidmosque.org."

...Len Rudner, the Canadian Jewish Congress's Ontario director, contacted the mosque's board Friday to ask that they remove "material that we deem offensive," The mosque's statement, Rudner said, "in essence ... says there are points of religion where scholars are going to disagree. And that's fair. But what really draws my attention on the website ... is one particular section where they talk about, for want of a better way of putting it, the ongoing historical efforts of Jews to destroy Muslim society."

Rudner said he's already heard back from the mosque and a meeting is planned to resolve issues. And, late Friday, the mosque emailed Rudner to "apologize without reservation to the CJC and the Jewish community at large for any and all comments that they have found offensive on our web site, which we never intended in the first place. "All of the writings to which offence has been taken have been or will be removed from our site immediately," added the email, signed by Said Omar, acting chair of the Khalid mosque's board...

worldfocus.org, November 17, "Turkish immigrants cement Islam in Germany" : Turkish immigrants began to enter Germany 50 years ago under a guest worker program, and brought Islam with them. Today, the country is home to 2.6 million Turks, who face challenges integrating with German society.This year, for example, a fire in the German town of Ludwigshafen killed nine Turkish people and led to accusations of racially motivated violence. But Germany's 3.2 million Muslims — most of them Turks — are becoming more visible and vocal. On Oct. 25, the largest mosque in Germany opened in Duisburg. And there are plans to build more like it — sparking fierce debate in the country...

spiegel.de, October 15, "Confrontational architecture: Europe's mosques move from back alleys to boulevards" : ...Immigration to Germany already has a 50-year history, and the time has now come for German society to finally integrate its Muslims, whose religion continues to be foreign to the average German. At the same time, Germany must not weaken its own values by practicing misguided tolerance or putting up with ideological attacks against the West's fundamental order in the name of encouraging religious freedom. Still, harboring prejudices is equally unacceptable. The situation is only getting touchier, and there is a lot at stake. Mosques are symbols of this, too."""

Since architects are the ones doing most of the talking, the discussion in the gallery is primarily focused on architectural and aesthetic issues. But, in the current debate in Germany, few actually care what the mosques look like. Instead, the enormous challenge to urban planning posed by building mosques in Europe isn't their appearance — it's their sheer existence. The mosque dispute raging in Cologne illustrates the extent to which they are the concrete expression of a change in society that Germans are still having great difficulty coming to terms with.

The word "mosque" derives from a word meaning "place of prostration." But the many foes of the new mosques see them more as places of pure presumptuousness. They find having an unobstructed view of the nearest filling station much more bearable than that of a minaret. The same holds true for Italy, Norway, Switzerland and even Britain, where more than 270,000 people have signed a petition against what are merely vague plans for a mega-mosque. But it's especially true for Germany, where the largest number of mosques — almost 200 — is expected to be built. And Germany also has no shortage of citizen action committees voicing their opposition to the building of new mosques.
The numerous attempts to block construction illustrate how a smoldering conflict that otherwise remains hidden from view is being openly waged in the field of architecture. Wherever you go, the pattern is almost identical: First there are complaints about encroachments on the urban environment and haggling over possible locations and the height of domes and minarets — whether they can be 15, 20 or 55 meters. Or, as is the case in Munich, it might just be about aesthetic competition with a nearby church. And, then, the debate moves to the underlying issue: the locals' fear of preachers of hate, terrorist attacks, jihad and the accusation that, with every minaret it builds, Europe is prostrating itself further to the power of Mecca...

---
Editorial note: "The clash of religions and placing limitations on God." The integration of Islamic cultures into Western society involves complex issues relating to traditions and religions and the misunderstandings that may be propagated through sacred teachings, teachers and politicians. Declamations against the Jews have a long history, for instance, from the time Rome invaded Palestine (Rome called it Palestine). To the pagan Romans Jews did not worship the gods, and after Titus sacked Jerusalem in 70 A.D., Jews were rounded up and sent to all parts of the empire as slaves, and many others found themselves being devoured in the empire's arenas and coliseums. Later Rome added Christians to the list of those who would be persecuted and fed to the beasts. The persecution of those who were "godless" continued, and as the West converted to Christianity, the Jews became persecuted more. "They killed Christ," was and continues to be a perception passed through the generations. The teachings played down the fact that Jesus Christ was a Jew and fully obeyed the Law of Moses, required of all Jews. Beginning with the Apostle Paul, however, the early Christian followers began to accept a new teaching, that the "Law of Moses" (commonly referred to as the Jewish Scriptures or Old Testament) is old and now obsolete, being only "shadows" of the New Testament. The teachings continue to this day among Christian ministers that the New Testament replaced the Old Testament, and Jews are criticized for not accepting Christ as "god and savior (Messiah)."

With this in the background, in the seventh century A.D. Mohammed produced a book called the "Recital," known as the Koran. In the body of the Koran an argument is made that Mohammed is "the last prophet of God," and the Koran confirms the Jewish Scriptures and the Gospel of Christ. It even identifies Jesus as the Messiah of God. In examining this argument, one may wonder at the outset why God — who is regarded as infinite and immutable, unmeasurable — would place a limitation on himself by saying that Mohammed is the "last prophet." What if God deems it necessary to send another prophet? There is a contradiction here, of course, since the teachings of Jesus (called the Gospel in the Koran) talk about Jesus' Second Coming. The Koran also acknowledges Jesus as a prophet of God, along with the other Old Testament prophets. In the Second Coming Jesus will not be able to prophesy?

When one examines the arguments, one is confronted with both Christian (Pauline) beliefs and the Koran that the next thing we must watch for is the Day of Judgment (the Koran calls it the Day of Resurrection). If one were to go by Jesus' teachings on the subject — in light of the Lord's Prayer "for a kingdom on earth as it is in heaven" — the Second Coming is not a day when the earth will be destroyed and the wicked condemned to hell, the "saved" returned to heaven "to rule with Christ in heaven ever after," but rather a day when peace will come to the earth.

Jesus simplified that event in the Lord's Prayer as "a kingdom on earth as it is in Heaven." By implication, Heaven is occupied only by "good angels." (Satan, an angel that thought to be equal to God, was thrown out of Heaven, according to the story; in like manner must we view teachers who would place limits on God as presuming to be "equal to God.")

What Christians and Jews have been taught to pray for — in light of the Lord's Prayer — is a day of peace on earth, when all people will be as the angels of Heaven. Since Heaven is believed to be a place for only good people, it follows that the Second Coming must involve the appearance of the Messiah mentioned in the Old Testament (in which the Jews are taught to believe) and certainly the same Messiah as that mentioned in the Koran:

Koran, The Imrans, 3.45, 47 The angels said to Mary: 'Allah bids you rejoice in a Word from Him. His name is the Messiah, Jesus the son of Mary. He shall be noble in this world and in the next, and shall be favoured by Allah. He shall preach to men in his cradle and in the prime of manhood, and shall lead a righteous life."

To understand what is meant by the term Messiah we must first discern what the Old Testament says of him and his times and then balance the New Testament against those scriptures. In reconciling such teachings one prophesy seems to come to mind:

Isaiah 7.14, Therefore the Lord himself shall give you a sign; Behold, a virgin shall conceive, and bear a son, and shall call his name Immanuel.

7.24 And it shall come to pass in that day, that every place shall be where there were a thousand vines at a thousand silverlings, it shall even be for briers and thorns.
7.24 With arrows and with bows shall men come thither; because all the land shall become briers and thorns.

The Gospels and Christian tradition claim that Jesus was that son of the virgin (The Hebrew word used meant "unmarried girl.") of Isaiah 7.14. If this is true, then the passages that speak of "that time," in Isaiah 7.24 and other prophesies, identify the coming of the Messiah with the dispersion of the Children of Israel to all the nations of the world. This seems to have been fulfilled in 70 A.D.,in the events that followed in rounding up the Jews and casting them to the four corners of the world. One might think that if this were true the promise of the "Redemption of the Jews and mankind" would be a characteristic of the Second Coming (See Luke 21 et al.). In simple terms it is a time of peace much spoken about and on the lips of all of the faithful who have ever recited the Psalmist's words, "Pray for the peace of Jerusalem."

Perhaps one way of looking towards a day of peace would be through a better understanding of the teachings how peace can come upon the earth. A good place to start may be in understanding that the Koran fully endorsed the Old and New Testaments (See Maravot News "Why the Crusade and Jihad?) and, thus, cannot contradict that which it claims it confirms. The argument, it seems to me, thus points us back to the source of the teachings: the Old Testament and the Gospels. The Gospels — resting on the Old Testament — advocated being tolerant of others: 'forgiving one another," "turning the other cheek," and "not condemning others." The reality measured by many teachings, of pastors, priests and imams as well as politicians, seems to be the opposite, more often than not, placing limitations on God.

Mel Copeland
---
11.18.08 Pirates strike off Africa again as new cargo ship is hijacked
November 18 - Pirates operating off the east coast of Africa struck again today when a cargo ship with an international crew was seized in the Gulf of Aden. The latest act of piracy in the dangerous waters of the Arabian Sea came as a hijacked supertanker carrying $100 million of crude oil remained anchored off the lawless Somali coast. Chinese state media has reported that the Hong Kong registered ship named Delight was seized this afternoon as it headed towards the Bandar Abbas port in Iran carrying 36,000 tones of wheat. Jane Campbell, US Navy Commander of the Bahrain-based 5th Fleet, says the ship is likely to be heading toward an anchorage site off the coast of Somalia. The nationalities of the 25 crew members are unknown but it is not thought they are from Hong Kong or mainland China. [More>>timesonline.co.uk]
---
11.18.08 US military launches joint border operation with Pakistan
WASHINGTON, November 18 - The US military has launched a coordinated operation with Pakistani forces to put pressure on insurgents on both sides of Afghanistan's wild eastern frontier, a US military commander said Tuesday. Dubbed "Operation Lionheart," the operation takes cooperation between US, Afghan and Pakistani forces to "the next level" in terms of intelligence sharing and coordination, said Colonel John Spiszer. "We are in coordination on a daily basis with the Frontier Corps," said Spiszer, who commands the 1st Infantry Division's 3rd Brigade.

The US military has long complained about the Pakistani military's failure to act against insurgent sanctuaries in its border tribal areas. But Pakistan's Frontier Corps has been engaged over the past two months in fighting in Bajaur, which borders Afghanistan's Kunar province. Admiral Michael Mullen, the chairman of the Joint Chiefs of Staff, said Monday that the Pakistani operations in Bajaur have had a "significant impact." Spiszer said his troops were working along the Kunar River valley and up into the mountain passes along the border to intercept and ambush insurgents trying to escape from Pakistani operations in its Bajaur Agency. "What we have done is worked very hard to refocus our ISR assets, intelligence, surveillance, reconnaissance assets to do everything we can to identify transiting across the border," he said. [>thenews.com.pk]
---
11.18.08 Iran opens fourth navy base in Gulf
November 18 - The Islamic Revolutionary Guards Corps (IRGC) announced the opening of its fourth navy base on the shores of the Persian Gulf, opposite the United States Navy Base in Bahrain. "The [IRGC Navy] forces' preparedness to confront any sort of threat posed by enemies in the Persian Gulf has increased," Rear Admiral Murteza Saffari told reporters on Monday. Saffari explained that the location of the new navy base near the port town of Asalouya, was chosen because it showed the "highest level of foreign naval movements" and because of its strategic position opposite the US Navy Base in Bahrain.

The IRGC's navy commander added it was now necessary to raise the combat readiness of the new Tharallah Navy Base in order to face "the insecure atmosphere created by foreigners in the Persian Gulf." The Tharallah navy base is located approximately 260 miles west of the Hormuz Strait. Strategically located in the Gulf between Iran and the UAE, the Hormuz Strait is the only sea passage to the open ocean for oil-rich exporters such as Iran, Iraq, Kuwait and the UAE. In recent months, Iran has warned it would close down the Strait in case of a military attack against the country. [More>>jpost.com]
---
11.18.08 Iran kills drug smugglers, seizes a ton of opium
November 18 - State television says police have killed four drug smugglers and have confiscated more than a ton of opium. Tuesday's report says the clash with smugglers took place near the town of Mirjaveh, about 950 miles (1,500 kilometers) southeast of the capital, Tehran, near the borders with Afghanistan and Pakistan. State television says the police seized about 1.6 metric tons (1.8 tons) of opium. The area has been the scene of frequent clashes between police and drug smugglers. Iran lies on a major drug route between Afghanistan and Europe, as well as the Persian Gulf states. Every year, Iran burns more than 60 tons of seized narcotics as a symbol of its determination to fight drugs. [>thejakartapost.com]
---
11.17.08 Wall Street slides on Japan recession jitters
NEW YORK (AFP) November 17 - US stocks opened weaker today as investors shrugged off the Group of 20 weekend economic summit and reacted to news that Japan had joined the Eurozone in recession. In opening trades, the Dow Jones Industrial Average dropped 108.80 points (1.28 per cent) to 8,388.51 and the Nasdaq fell 15.17 points (1.00 per cent) to 1,501.68. The broad Standard & Poor's 500 index declined 11.72 points (1.34 per cent) to 861.57.

The overall market suffered heavy losses last week although some analysts said they saw signs Wall Street may have found a bottom from which a new rally could begin. The market, however, found little to cheer about from the G20 summit statement in which the economic powers pledged to work together to steady markets and the economy. "Investors viewed the result of the summit as mere hollow pledges by world leaders to stimulate growth," said Chris Lafakis at Economy.com. Significantly, Japan said its economy, the second largest in the world, contracted 0.1 per cent in the third quarter after shrinking 0.9 per cent in the second, joining what is expected to be a worldwide recession. [>news.com.au; See update and related links:

cnn.com, November 17, "Stocks dip in rough session" : NEW YORK - Stocks slipped in a volatile session Monday, as investors eyed Citigroup's massive job losses and a weak manufacturing report, while awaiting the fate of a potential bailout for the automakers. The Dow Jones industrial average (INDU) lost 223 points, or 2.6%. The Standard & Poor's 500 (SPX) index fell 2.6%. The Nasdaq composite (COMP) lost 2.3% and ended at a fresh 5-1/2 year low. Stocks tumbled through the morning but turned higher near midday before retreating again in the afternoon. Trading volume was light, with investors holding back ahead of some key economic reports due later in the week and the hearings on the future of the automakers...

xinhuanet.com, November 17, "US in recession, jobless to peak at 7.5%: survey" : BEIJING - The US economy is in recession and will contract at a faster pace in the fourth quarter, extending the decline into early 2009 as high unemployment crimps consumer spending, a survey showed. The National Association of Business Economists' poll of 50 professional forecasters released on Monday found that real gross domestic product was expected to fall 2.6 percent in the fourth quarter and slump 1.3 percent in the first three months of 2009. Preliminary government estimates showed GDP contracted 0.3 percent in the third quarter. The results of the survey, which was conducted between October 28 and November 7 indicated growing pessimism among forecasters.

...About 96 percent of the NABE forecasters believed that the world's economic power house was already in recession. Half of them estimated the downturn started in the fourth quarter of 2007 or in the first quarter of 2008. More than a third reckoned the recession began in the third quarter of 2008, and nearly three-quarters believed it could persist beyond the first quarter of 2009. Over 60 percent expected the depth of the recession to be contained, with the decline in GDP bottoming below 1.5 percent...
---
11.17.08 Bank of America to exercise option, buy in 19.6 billion CCB shares
BEIJING, November 17 - Bank of America said here on Monday it would exercise its option and purchase 19.58 billion H shares of China Construction Bank from central Huijin. The exercise price per share will be 1.2 times of the audited net assets value per share on Sept. 30, 2008. The transaction is scheduled to be completed by Nov. 30, 2008. [>xinhuanet.com]
---
11.17.08 Citi plans asset sales and job cuts
November 17 - The banking giant Citigroup, which a decade ago set out to rewrite the rules of American finance, announced Monday morning that it would cut 50,000 jobs in the coming quarters, largely by selling assets. In a meeting with employees, the bank's executives also said that Citigroup was seeking to shore up its capital base and cut risky positions. In addition, the bank would trim expenses by 16 percent to 19 percent, to about $50 billion in 2009. The job cuts would be in addition to about 23,000 layoffs already this year. Most of the job reductions would come through attrition or the sale of units, the bank said, meaning the actual number of layoffs could be less at the bank. The cuts would leave the bank with about 300,000 employees, down from its peak of about 375,000 in the fourth quarter of last year. [More>>nytimes.com]
---
11.17.08 Hijacked Saudi oil tanker in Arabian Sea freed: TV
DUBAI, November 17 - A Saudi crude tanker hijacked by pirates in the Arabian Sea on Monday has been freed, AlArabiya TV reported citing an unnamed official Saudi source. The US Navy, which earlier reported the hijacking, said the Saudi-owned super tanker seized by pirates off the coast of Africa is approaching the Somali coast. Saudi Aramco, which owns the supertanker, said it had no knowledge of any release. The US Navy earlier said that pirates have taken control of a Saudi oil supertanker off east Africa. The Sirius Star was the first oil tanker to have been seized by pirates in the area. The huge vessel can hold up to two million barrels of crude oil. [More>>alarabiya.net;See update:

independent.co.uk, November 18, "Pirates seize giant oil tanker" : Somali pirates pulled off their most audacious hijack to date yesterday, venturing outside their usual waters to seize a Saudi Arabian supertanker laden with two million barrels of crude, in an attack that sent oil prices higher. The vessel – three times the size of a US aircraft carrier – was taken 450 miles off the coast of Kenya and well beyond the Gulf of Aden where the pirates have been stalking international shipping. Its seizure marked a "fundamental change" in tactics, the US Navy said.
There were no reports of damage to the ship or injury to the 25 crew aboard, which includes two Britons. But the capture of $100m worth of oil represents a dramatic show of strength from the Somali pirates who traditionally operate from speedboats, using automatic weapons and rocket launchers. News of the hijacking pushed up the price of crude by 2 per cent yesterday afternoon...
---
11.17.08 Taliban reject Karzai's offer for talks
KABUL, November 17 - Taliban rejected an offer of peace talks with Afghan President Hamid Karzai, saying Monday there would be no negotiations until foreign troops leave Afghanistan. Karzai offered Sunday to provide security for reclusive Taliban leader Mullah Omar if he enters negotiations and said the US and other Western nations could leave Afghanistan or oust him if they disagree. But Zabiullah Mujahid, a Taliban spokesman, said there could be no talks while foreign troops are in the country. "The Taliban's (leadership) decided they will not take part in any peace talks with Karzai or Karzai's administration until such a day when foreign forces leave Afghanistan," Mujahid said. [>thenews.com.pk]
---
11.17.08 Five Pakistani soldiers killed in suicide bombing
ISLAMABAD (DPA) November 17 - Five soldiers were killed on Monday in a suicide bombing at an army check post in Pakistan's restive Swat valley, security officials said. "A suicide bomber riding a red colored Mazda Datsun (mini truck) hit the post this morning near Gashkor village. Five soldiers were killed while five more troops and three civilians were injured in the attack," district police chief Dilawar Bangash said. Colonel Nadeem Ahmad, local army spokesman in the district, confirmed the incident and said the blast completely destroyed the security post.

According to Ahmad, helicopter gunships were separately targeting militant positions in the Kabal area of Swat, where government forces have been battling the followers of a radical cleric Maulana Fazlullah for more than a year. "We have some reports of casualties on the militants' side in the strikes but the numbers are yet to be ascertained." Fazlullah waged an armed struggle late 2007 to enforce Taliban rule in Swat valley, which used to be a popular tourist destination. Islamabad dispatched troops to quell the rebellion. That triggered clashes killing hundreds of people dead and displacing thousands. [>khaleejtimes.com]
---
11.17.08 Ex-Soviet bloc leads rises in CO2 emissions: UN
OSLO, Norway (Reuters) November 17 - Greenhouse gas emissions in many industrialized nations are still rising, especially in the former Soviet bloc, despite agreements to cut back, the UN Climate Change Secretariat said on Monday. Emissions by 40 industrialized nations grew by 2.3 percent to the equivalent of 18.0 billion tones of carbon dioxide in 2006 from 17.6 billion in 2000, it said. They dipped 0.1 percent in 2006 compared with 2005 but underlying trends were still up.

...It said the biggest recent gains were by nations of the former Soviet bloc, whose emissions had risen 7.4 percent since 2000 to 3.7 billion tones after crashing in the early 1990s with the collapse of former smokestack industries. It said the rising trends showed the need for the world's environment ministers to make progress on a new UN climate treaty, due to be agreed by the end of next year, at talks in Poznan, Poland, from Dec. 1 to 12. [Full story>>thestar.com.my]
---
11.16.08 Gulf stocks plunge further as G20 fails to halt panic
KUWAIT CITY (AFP) November 16 - Stock markets in the Gulf states plunged on the week's opener Sunday as panic from the fallout of the global economic crisis continued to dampen investor sentiment. The slump came despite the approval by leaders of the G20 nations of an action plan on Saturday to restore global growth and prevent future financial upheaval while promising new spending plans and a set of reforms. Markets of Dubai, Muscat and Doha were the biggest losers, while the Saudi market, the largest Arab bourse, fluctuated sharply at the opening after diving 7.4 percent on Saturday to its lowest level since March 2004.
In the United Arab Emirates, the two bourses of Dubai and Abu Dhabi continued to reel under the woes of the flagging real estate sector amid reports of a sharp drop in the prices of units. Turnover was sharply down from this year's average, an indication that many investors are staying away amid a huge sell-off that included blue chip stocks. Traders said the sell-off came mainly from investors who were forced to liquidate stocks in order to raise cash to meet debt commitments. The Dubai Financial Market closed down 5.9 percent 1,981.44 points, the first time in more than four years it has dropped below the 2000-point barrier. [More>>khaleejtimes.com]
---
11.16.08 Tsunami alert lifted after quakes
November 16 - A tsunami warning issued after two strong earthquakes struck in the area of northern Sulawesi has been lifted, Indonesia's meteorological agency has said. A magnitude 7.7 quake struck in the Gorontalo area of Sulawesi island at a shallow depth of 10 km (6.2 miles), the agency said. It said a second 6.0 magnitude quake struck shortly afterwards in northern Sulawesi. The US Geological Survey said the second quake, at 5.34pm GMT, was 5.6 magnitude at a depth of 9.9 km (6.2 miles), 83 miles northwest of Gorontalo. Indonesia launched a new hi-tech system on Tuesday aimed at detecting a potential tsunami. It is also intended to provide faster alerts in a region battered by frequent earthquakes. The sprawling archipelago of some 17,000 islands lies in the seismically-active 'Pacific Ring of Fire.' It was hit by a devastating tsunami four years ago that left an estimated 170,000 people dead or missing in Aceh province. [news.sky.com; For a large part of the stories relating to the December 25, 2004 Tsunami see:

Maravot News Trends October 8, 2006, including 12.27.04 Massive 9.0 Richter Scale earthquake in Sumatra.
---
11.16.08 Stem cell 'living bandage' heals injury
LONDON, November 16 - Scientists at Bristol university have managed to grow a "living bandage" from a patient's own stem cells in a bid to heal a common sporting knee injury. Every year, many people suffer tears to the meniscal cartilage, which acts as a shock absorbing cushion between the bones of the upper and lower leg. Many are men and women in their twenties and thirties and the tears are frequently the result of twisting the leg during jogging, football, rugby, horse riding or skiing. Attempts made to sew together ripped meniscal cartilage today are often unsuccessful and can result in sportsmen spending a long time off the pitch undergoing rehabilitation.

Many sportsmen opt to have the tissue removed. Removal of the loose cartilage allows the athletes to recover but it leaves bones in the knees exposed and osteoarthritis may develop. Now, in the latest study, boffins have shown that they can heal cartilage tissue in a laboratory with stem cells taken from a patient's own bone marrow. To make their claims happen, the research team used the cells to coat a sponge-like scaffold, made from collagen (a fibrous protein) and placed it inside the tear in the cartilage. The stem cells pulled the two pieces of torn cartilage together. The team, led by Anthony Hollander, professor of rheumatology and tissue engineering, will now test out the treatment on their first patients. "The stem cells knit across the two sides of the lesion and cause a reuniting of the two sides. We hope that in the patient we can reunite the cartilage in a strong enough way to heal the wound completely," Times Online quoted the expert, as saying. [>timesofindia.indiatimes.com]
---
11.16.08 'Iranians train Syrians to fight Sunnis'
November 16 - Iranian officers affiliated with the Islamic Revolutionary Guards Corps (IRGC) have in the past four months established intelligence cells in Lebanon, comprised of Syrian agents and Hizbullah members, whose aim is to track down and annihilate extreme Sunni armed cells, the Kuwaiti-based daily A-Siyasa reported. The paper quoted a diplomatic source from the Gulf, who revealed the content of a report compiled by European intelligence agencies.
"Approximately 200 IRGC agents, who were based in Iraq, Bahrain and the United Arab Emirates, have arrived in Lebanon via Syria since late July, and began forming cells comprising members of [the Lebanese Shi'ite movements] Hizbullah and Amal, as well as Syrian intelligence officers," the diplomatic source told A-Siyasa. The cells included between 10-20 people each, and were residing in apartments belonging to pro-Syrian parties and individuals, including former Lebanese legislators and ministers.
The intelligence report stated that the IRGC-trained cells' prime target was to track down members of Sunni terror cells and to reveal their sources of weapons and money. Another aim was to assassinate or arrest Sunnis affiliated with terror in Lebanon. This, the report maintained, would serve to prove Syrian Bashar Al-Assad's claims that Lebanon has turned into a terror hub. [More>>jpost.com; See related stories:

naharnet.com, November 16, "Saudi Arabia affirms its commitment in fighting terrorism delivers three extemists to Lebanon" : Under tight security measures Lebanese police received three Saudi citizens Saturday, that were transported via a special flight from Riyadh to Beirut. The three Saudis were earlier delivered to Saudi authorities by Lebanon, allowing the Saudis to interrogate them for their link to terror groups. They were escorted back to Lebanon by a Saudi security team of 17. The three Saudis are: Fahd Ben Abdel Aziz al Mughamis, Abdullah Ben Muhammad Bishi and Muhammad Ben Saleh al-Suwaiyed.

A security spokesman at the Saudi Ministry of Interior General Mansour al-Turki stated to the pan-Arab as-Sharq al-Awsat newspaper the three were delivered to Lebanon under the Arab agreement for counter-terrorism. All three men were allowed to meet their families while in Saudi Arabia prior to their departure on Saturday, Saudi security source said. A Lebanese security sources told Ashraq al-Awsat Lebanese authorities will resume questioning the three detainees considering they were in Iraq prior to moving to Syria for a month, later entering Lebanon illegally. He added that Bishi was instructed to act as a spiritual leader at the Nahr al-Bared Palestinian refugee camp in north Lebanon while the other two individuals, Mughamis and al-Suwaiyed, rented a house in the Bekka and worked on rigging vehicles with explosives. [end]

alarabiya.net, November 16, "Islamists claim Syria backed Lebanon attack" : BEIRUT, Lebanon - A Lebanese newspaper on Saturday published statements purporting to be by members of Fatah al-Islam showing the radical group had links with Syria and that Damascus had backed an attack in Lebanon. The publication of the "evidence" in al-Mustaqbal newspaper, owned by anti-Syrian majority parliamentary leader Saad Hariri, comes barely a week after Syrian television broadcast alleged "admissions" by Fatah al-Islam members that the group was financed by Hariri's Future Movement. Al-Mustaqbal published undated and unsigned "copies" of statements by men held by Lebanese security services and prosecuting judges.

One of them, Ahmad Merhi, said a Syrian general with whom he had "excellent" relations" told him in 2007 that there was coordination on information between Syria and Fatah al-Islam, which battled the Lebanese army in summer 2007. The 15-week struggle in the Palestinian refugee camp of Nahr al-Bared near Tripoli left 400 people dead, including 168 soldiers. Merhi said General Jawdat al-Hassan, head of the fight against terrorism and fundamentalist groups within the Syrian army's information service, "asked me to help Shaker al-Abssi," the Fatah al-Islam leader who fled the camp. Thanks to his links with the general, he was able to allow "dozens of Fatah al-Islam fighters" to escape to Lebanon, he said...

Maravot News 5.10.08, article 5.05.08 US: Hizbullah training Iraqi Shi'ite extremists in Iran (AP) May 5 - Iraqi Shi'ite extremists are being trained by members of the Lebanese terror group Hizbullah in camps near Teheran, a US military spokesman said Monday. Iraqis are receiving the training at camps operated by the Quds Force, an elite unit of Iran's Revolutionary Guard Corps that has been accused of training and funneling weapons to Shi'ite extremists in Iraq. The group is also known as the Iranian Revolutionary Guards Corps-Quds Force, or IRGC-QF. Al-Quds is the Arabic name for Jerusalem...

---
11.16.08 Troops kill 30 insurgents in Afghanistan: US military
KABUL, Afghanistan, November 16 - Afghan and international troops killed 30 militants in southern Afghanistan's Helmand province, the US military said Sunday. The soldiers had been on patrol in the volatile province late Saturday when they spotted militants in the Nahr Surkh district, US Forces Afghanistan said in a statement. "The combined forces engaged the militants with small-arms fire, mounted weapons and supporting fire, killing 30 militants and destroying two militant vehicles," it said. No casualties were reported to the soldiers or civilians, it said. The force did not identify the militants it said it had killed. However Taliban militants and their allies are active in Helmand which is also the main producer of Afghanistan's illegal opium. [>thenews.com.pk; See also:

xinhuanet.com, November 16, "10 rebels killed, 18 others arrested in Afghanistan" : ...The combined forces of Afghan National Police (ANP) and Coalition forces on Saturday targeted the Al-Qaeda and Haqqani foreign fighter networks in Zurmat district of eastern Afghan province of Paktiya, the statement said. "During the operation, one significant al-Qaeda associated militant, known to finance militant operations and to assist Taliban leaders with the movement, was arrested along with other seven insurgents," it said, adding "[the] clash also left five insurgents dead on the spot." ...  In another incident in the south region, Afghan National Security Forces (ANSF) and Coalition forces on Friday killed five militants in Shaheed District of Uruzgan province in southern Afghanistan...one soldier with the NATO-led International Security Assistance Force was killed by roadside bombing Saturday...

khaleejtimes.com (AFP) November 16, "Two civilians, 52 'rebels' die in Afghan unrest" : KABUL, Suicide bombs Sunday against foreign troops in Afghanistan left two civilians dead, as the military said it killed 52 insurgents and President Hamid Karzai again called the Taliban to peace talks. Two German soldiers and two US soldiers were also wounded in the suicide bombings, while the British military announced that one of its troops had been killed in a blast in the southern province of Helmand on Saturday.

One of Sunday's suicide bombs hit a convoy of troops in the northern province of Baghlan. Two Afghans were killed and a dozen wounded, the interior ministry said. Two German soldiers were also hurt, one of them seriously, the German military said. The other suicide car bomb on Sunday was on the outskirts of the western city of Herat and wounded two US soldiers, the US military said. The insurgent Taliban claimed responsibility for the attack...

aljazeera.net, November 16, "Karzai ready to meet Taliban chief" : Hamid Karzai, the Afghan president, has said he will go to "any length" to protect Mullah Omar, the fugitive leader of the anti-government Taliban, in exchange for peace. Karzai said in Kabul on Sunday he would offer the protection even if it meant defying Afghanistan's international partners, who could remove him from his job or leave the country in disagreement. His comments come as international political and military leaders are considering whether negotiating with the Taliban is necessary as the group gains sway in large areas of Afghanistan. The Taliban, which ruled Afghanistan with Omar at the helm from 1996 to 2001, was driven from government in a US-led invasion for sheltering al-Qaeda after the September 11, 2001, attacks in New York and Washington. Omar is wanted by the US and has a $10 million reward on his head...
---
11.16.08 Iran' VP under new fire over 'insulting the Koran'
TEHRAN, November 16 - An aide to Iran's president Mahmoud Ahmadinejad has come under fire for attending a ceremony that involved actions deemed insulting to the Koran, a row that has given fuel to the Iranian president's opponents before next year's election. Esfandyar Rahim Mashaie, who survived criticism this summer for asserting that Iran is "a friend of the Israeli people", came under renewed fire from conservatives and from religious leaders for "insulting the Koran." At a ceremony in Tehran on Nov. 8 on foreign investment in Iran's tourism industry, a dozen dancing girls clad in traditional clothes brought the Islamic holy book to the narrator on a tray. Official ceremonies in the Islamic republic often begin with a recitation of excerpts from the Koran, but the fact that the book was carried to the narrator by dancing girls went down badly with many influential figures. [More>>alarabiya.net]
---
11.16.08 Kuwaiti MPs to question premier over Iran cleric
KUWAIT, November 16 - Three Kuwaiti MPs said on Sunday they would seek to question the prime minister over a visit by an Iranian Shiite cleric, seen as controversial by local media, reviving a standoff between parliament and government. Waleed al-Tabtabai, Mohammad al-Mutair and Mohammad Hayef, all Sunni Muslim lawmakers, said in a joint statement that they will file the request on Monday. The three Sunni Islamist deputies said they will present a motion to question Sheikh Nasser al-Mohammad al-Sabah over possible violation of "security restrictions and religious rules" by allowing the cleric to visit although he had been banned from entering the country.

Shiite cleric Mohammad Baqer al-Fali arrived in Kuwait from Tehran on Thursday and was detained briefly before he was released and allowed to stay in the country. The MPs claim that al-Fali is banned from entering the Gulf country after a Kuwait court convicted him of insulting some of the Prophet Mohammad's companions who are revered by Sunni Muslims but not by Shiites. [More>>alarabiya.net]
---
11.16.08 Dalai Lama to take a back seat in Tibet's struggle for freedom
DELHI, November 16 - Half a century after he fled from the Chinese invasion of Tibet and began campaigning for its freedom, the Dalai Lama is ready to stand down from his role as the movement's political leader, amid mounting personal frustration with the lack of progress. Hundreds of Tibetans are gathering this week in Dharamsala, India, his base in exile, for a six-day crisis meeting that many believe is the most important for a generation. At issue will be how to proceed in the face of Chinese intransigence. Central to the debate will be the Dalai Lama's offer to take a back-seat role.
"His Holiness has said that China is trying to make this into an issue about him," said Tenzin Taklha, the Dalai Lama's spokesman. "He does not want to be a hindrance. He is taking a back seat at the present time because of a lack of [progress]. This is a very important event for the Tibetan movement. This will be deciding the direction we follow." The Dalai Lama retains the respect of the Tibetan movement, but there are some who have disagreed with his tactics over the years. While he has garnered worldwide support — including the backing of celebrities such as Richard Gere and Goldie Hawn — not all have supported his promotion of a conciliatory "middle way." In contrast to his call for "meaningful autonomy," a younger, more frustrated generation of Tibetans is demanding full independence. [More>>independent.co.uk; For background see:

Maravot News5.10.08 article 5.04.08 China's central government officials meet with Dalai Lama's private representatives ...it was the hope of the central government that to create conditions for the next round of contact and consultation, the Dalai side would be as good as their words and take credible moves to stop activities aimed at splitting China, stop plotting and inciting violence and stop disrupting and sabotaging the Beijing Olympic Games...
---
11.16.08 Car bomb kills 15
BAQUBA, Iraq (AFP) November 16 - A car bomb has exploded at a police checkpoint in Iraq's volatile Diyala province today, killing at least 15 people, including seven policemen. Police Major Hassan al-Kurawi said another 20 people were wounded in the attack, which took place east of the provincial capital Baquba hours after Iraq's cabinet approved a wide-ranging military pact that would have all US troops withdraw by the end of 2011.

Firas al-Dulaimi, a doctor at Baquba General Hospital, said his hospital was still receiving victims but declined to give a specific number of casualties. Diyala province northeast of Baghdad is one of the most dangerous parts of the country and still sees near-daily attacks despite improvements in security elsewhere in the war-torn country.

Yesterday, a roadside bomb at a police checkpoint in Baghdad killed three people and wounded another seven, a security official said. Two of those killed on Sunday were members of an Awakening Council, one of several Sunni militias largely made up of former insurgents who have allied with US forces over the past two years to battle al-Qaeda in Iraq. The militias have played a key role in the dramatic improvement in security in the country, but have been frequently targeted by insurgents. [>news.com.au; See related story,

nytimes.com, November 16, "Iraqi cabinet approves security pact with US" : The Iraqi cabinet voted overwhelmingly Sunday to approve the security agreement that sets the conditions for the Americans' continued presence in Iraq from Jan. 1 until the end of 2011...
---
11.16.08 Bangladesh raids Islamist den, seizes explosives
DHAKA, Bangladesh (Reuters) November 16 - Bangladesh security forces raided a hideout of an outlawed Islamist group, arrested a top leader and seized 70 kg (155 lbs) of explosives, officials said on Sunday. "On intelligence tips we raided a hideout and arrested a top commander of the outlawed Jamaat-ul-Mujahideen group, and seized the explosives and 150 grenade shells," Colonel Gulzaruddin Ahmed of the Rapid Action Battalion elite force told reporters. He said another group leader and suspected mastermind of its operations, Moulana Sayed, managed to escape during the raid in a Dhaka suburb.

The arrested militant, Hanif Kamal, confessed during interrogation that the group was planning to carry out sabotage in the capital ahead of Bangladesh's Dec. 18 parliamentary election, in pursuit of the group's aim of making mostly Muslim Bangladesh into an Islamic country based on sharia law. The group was blamed for a series of bombings across the country between August and December 2005, killing at least 30 people including judges, police and journalists. More than 150 people were wounded in the attacks.

Its activities were weakened after security forces arrested hundreds of activists of the Jamaat-ul-Mujahideen and an allied group, Jagrata Muslim Janata Bagladesh, throughout 2006. The militants suffered a big blow after their top six commanders were hanged in March 2007, two months after an army-backed interim government took charge of the country. Police said the remnants of the two Islamist groups were now regrouping, trying to launch fresh attacks ahead of the election. Security forces say they have increased their vigilance. [>khaleejtimes.com]
---
11.16.08 Gunmen seize cargo ship with 23 crew off Somalia
SEOUL, South Korea, November 16 - Armed gunmen have hijacked a cargo ship carrying 23 crew off the coast of Somalia, the latest attack near the lawless African country, a South Korean official said Sunday. The 20,000-ton-class ship, owned by a Japanese shipping company and registered in Panama, was seized by gunmen Saturday evening in waters 155 kilometers east of Somalia's Aden port, a South Korean Foreign Ministry official said, on condition of anonymity because he was not authorized to speak on the record. The condition and safety of the crew were not immediately known. The official said he has no information on whether the gunmen were asking for ransom for the sailors' release. The official said the 23 abducted sailors include South Koreans and Filipinos. Somalia, which has had no functioning government since 1991, is the world's top piracy hotspot. [More>>japantoday.com; See related story,

en.rian.ru, November 16, "Russian frigate prevents foreign vessel seizure by pirates: : MOSCOW - The Russian Neustrashimy (Fearless) frigate prevented the seizure of a foreign vessel flying the Saudi flag by pirates off Somalia's coast on Sunday, Russian Navy spokesman Igor Dygalo said. "The Rabikh vessel, sailing some 30 miles from the Neustrashimy, was attacked by several high-speed pirate boats," Dygalo said. The Neustrashimy entered waters off the Somali coast in late October. Somali pirates have attacked around 60 ships so far this year, resulting in the seizure of around 30 vessels. The East African nation has been without a functioning government since 1991 and has no navy to police its coastline...In early June, the UN Security Council passed a resolution permitting countries to enter Somalia's territorial waters to combat "acts of piracy and armed robbery at sea."

---
Editorial note: The UN Security Council resolution "permitting countries to enter Somalia's territorial waters to combat 'acts of piracy and armed robbery..' " appears to set a precedent that could be applied to other countries who fail to police terrorist activities against other states that are launched from within their borders.

Mel Copeland
---
*Visitor statistics on maravot.com from 1&1. com. 46,153 page views in May 2007; monthly visitors in 2008 range between 40,000-45,0000..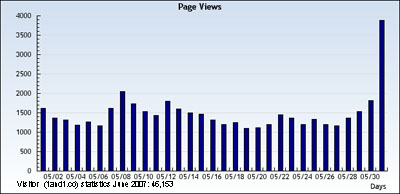 Privacy Policy: We do not store any personal data from you. We have no way of knowing any vital information about you — not even your name. Third-party distribution: We do not distribute information about your site usage to any third party. We are not responsible for the content of links from our site. Usage data: supplied by our Web Hosting service, 1and1.com, which consists of usage reports, such as page views / impressions and web pages visited, visitors' servers and geographical data (ISP's and country of origin).

---
Launched: 10.25.04 / 11.02.04 – | — |
Updated: 11.16.08; 11.17.08; 11.18.08; 11.19.08; 11.20.08
Copyright © 1981-2008 Maravot. All rights reserved
Copyright © 1981-2008 Mel Copeland. All rights reserved
Background: tile from Cicero's villa (Marcus Tullius Cicero 106 B.C. - 43 B.C.)