---
3.16.06 Update, 3.11.06 Police battle Sorbonne protestors
March 11 – French riot police have grappled with protesters at the Sorbonne in Paris in unrest over a new labour law, making it easier to sack young employees. Police stormed the university early on Saturday to drive out at least 150 people, mainly students, some of whom had been inside for three days. They used tear gas and batons to clear the main building in under 10 minutes, correspondents report.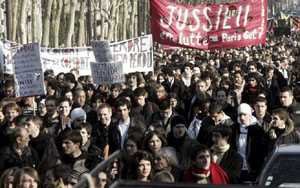 41,000 students continue protest across France. Photo: demonstration in Paris, Tuesday (Reuters,
liberation.fr
)
At least two people were injured and some arrests were made. About 40 of France's 84 universities saw student occupations to varying degrees on Friday in protest at the new law, according to French news agency AFP.
Interior Minister Nicolas Sarkozy has cut short a visit to France's Caribbean Antilles Islands because of the student unrest, his entourage said. The First Employment Contract (CPE) passed by parliament on Thursday is a two-year contract for under-26-year-olds which employers can break off at any time without explanation. [More>>
bbc.co.uk
; See also
liberation.fr, "Le ton se durcit après l'évacuation de la Sorbonne."
]
---
See Updates:

spiegel.de, March 13, "Protests in France: Students take on Villepin over job law."]

lefigaro.fr (AFP) March 14, "Students and schools do not relax the pressure" – The mobilization of young people against the CPE still widened Tuesday with two-thirds of the disturbed universities and the entry into the scene of high-school pupils, without causing Jacques Chirac and nor Dominique de Villepin to bend...There were 41,000 students from the universites and high-schools on Tuesday, according to police.

thestar.com.my (Reuters) March 16, "Violence erupts in French student protest" : PARIS – French police used teargas and water cannon when violence erupted as students turned up the heat on Prime Minister Dominique de Villepin over a jobs law on Thursday, while his government struggled to defuse the crisis. Stone-throwing protesters clashed with police at the end of a march by several thousand university and high school students in Paris and later outside the Sorbonne university. A kiosk and a car were set ablaze and several windows in shops and cafes were smashed during the violence, which went on late into the evening with scattered groups clashing with police in the Latin Quarter popular with students.

Protests across France have gathered in momentum since hundreds of thousands of protesters turned out on March 7 against the law, which critics say reduces job protection for young people. The protests have been largely peaceful so far. Student leaders said 300,000 to 600,000 marched across France and that 64 of the country's 84 universities were hit by the protests. Officials reported 247,500 protesters nationwide. "CRS = SS!" chanted protesters at the Sorbonne, comparing the riot police to the leading Nazi troops. At least eight riot police were injured in the unrest and several dozen youths, many of them hooded or masked, were hauled away by police...
---
3.16.07 US says launches biggest air assault in Iraq
BAGHDAD (Reuters) March 16 – The US military said on Thursday it launched its biggest air offensive in Iraq since the 2003 invasion to root out insurgents near a town where recent violence raised fears of civil war. A military statement said the operation involving more than 50 aircraft and 1,500 Iraqi and US troops as well as 200 tactical vehicles targeted suspected insurgents operating near the town of Samarra, 100 km (60 miles) north of Baghdad.

The statement said "Operation Swarmer" was launched on Thursday morning and is "expected to continue for several days as a thorough search of the objective area is conducted." Samarra was the site of a bombing attack last month on a Shia shrine that set off sectarian reprisals and pushed Iraq to the brink of civil war.

"Initial reports from the objective area indicate that a number of enemy weapons caches have been captured, containing artillery shells, explosives, IED-(bomb) making materials, and military uniforms," said the statement. The US military has launched several major offensives against Sunni Arab insurgents, including one that captured the former rebel stronghold of Falluja, and a series of assaults in the rebel heartland in western Iraqıs Anbar province. But the crackdowns have failed to ease a raging guerrilla campaign that has killed thousands of US soldiers, Iraqi security forces and civilians.[khaleejtimes.com ; See related article, dailystar.com.lb, "Iraqi family killed in 'perfect US crime'" : Eleven members of an Iraqi family, including five children, were killed in a U.S. raid on Wednesday, police and witnesses said. The U.S. military said two women and a child died during the bid to seize an Al-Qaeda militant from a house. A senior Iraqi police officer said autopsies on the bodies showed each had been shot in the head...Associated Press photographs showed the bodies of two men, five children and four other covered figures arriving at Tikrit General Hospital accompanied by grief-stricken relatives.

The US military said in a statement its troops had attacked a house in Ishaqi, the town 100 kilometers north of Baghdad, to capture a "foreign fighter facilitator for the Al-Qaeda in Iraq network."

"There was one enemy killed. Two women and one child were also killed in the fire fight. The building ... [was] destroyed," the military said, adding the Al-Qaeda suspect had been captured and was being questioned. Major Ali Ahmad of the Iraqi police said US forces had landed on the roof of the house in the early hours and shot the 11 occupants, including the five children. "After they left the house they blew it up," he said. Another policeman, Colonel Farouk Hussein, said autopsies had been carried out at Tikrit hospital and found that "all the victims had gunshot wounds to the head"...
---
3.16.07 Jordan king warns strike on Iran catastrophic for region
AMMAN (AFP) March 16 – Jordan's King Abdullah II warned on Wednesday that a strike on Iran would cause the region "to explode" and deplored Israel's raid on a Palestinian prison. "A strike against Iran would cause the whole region to explode," the Jordanian monarch told AFP in comments on the crisis between the West and Tehran over its nuclear activities. "The threat to regional security and stability will be grave if force is utilized to resolve this problem. Dialogue, patience and diplomacy are the only solution," he added.

He likewise deplored Israel's raid Tuesday on a Jericho prison to seize prominent Palestinian prisoners wanted over the 2001 murder of Israeli Tourism Minister Rehavam Zeevi. "What happened ... is a threat to the future of the peace process and to security in the region. It is an unfortunate escalation," he said. "It would have been better for the parties concerned to find another formula to deal with this issue. They created tensions and lessened the chances for an adequate climate to forge ahead with the peace process." [More>>dailystar.com.lb ; See related story, turkishpress.com, "US restates strike-first policy, warns Iran." : WASHINGTON (AFP) March 16 – Making no apologies for the war in Iraq, the United States reaffirmed its strike-first policy of preemption and warned that Iran may pose the biggest threat to US national security.

"We may face no greater challenge from a single country than from Iran," the White House said in a 49-page blueprint called "The National Security Strategy of the United States of America." The report drew up a balance sheet of what it called US President George W. Bush's foreign policy successes and remaining "challenges" like bloody violence in Iraq and tense standoffs over nuclear programs in Iran and North Korea"...
---
3.16.07 Taliban chief warns suicide attacks will set Afghanistan aflame
KANDAHAR, Afghanistan (AFP) March 16 – The fugitive leader of Afghanistan's ousted Taliban regime warned on Thursday that the movement would step up its campaign of suicide attacks and turn the country into a "flaming oven." The Taliban, toppled from government in a US-led offensive four years ago, had lists of "impassioned" people ready to carry out suicide attacks against Afghan and foreign forces, a statement attributed to Mullah Mohammad Omar said.

The statement also accused the West of trying to use democracy to destroy the leaders of Islamic nations such as Iran and the Palestinian territories, and of fomenting religious violence in Iraq. "We will intensify suicide attacks to the extent that we will make the land beneath their feet like a flaming oven," said the statement read to AFP by purported Taliban spokesman Mohammad Hanif. "People are so impassioned that they have filled lists with their names for suicide attacks." [More>>metimes.com]
---
3.16.07 Belarus officials claim US, Georgia backing coup attempt
MINSK (RIA Novosti) March 16 – Senior Belarusian officials said Thursday they had evidence of an American-backed plot to overthrow the country's current regime during Sunday's presidential elections, and said any attempts at disruption would be classified as terrorism. Security service head Stepan Sukhorenko showed a press conference in the capital, Minsk, a video of an interview with a man he said was one of those involved in the plot. The man said he had been at a training camp in Georgia at which training was provided by "four Arabs [and] officers of the former Soviet army."

The man also said a colonel from the Georgian security services and American instructors had conducted examinations, and that the Americans had told them to bomb four polling stations at schools in Minsk during voting Sunday. "The Americans told us to organize four explosions at schools. The place and time [of the attacks] were to be told [to us] later. Concrete locations were not indicated," the man said. [More>>rian.ru]
---
3.16.07 Update, 3.15.06 Stray dog dies of bird flu type A in Azerbaijan – Dead poultry in Israel
BAKU (RIA Novosti) March 15 – Azerbaijan's government commission for preventing a bird flu epidemic said Wednesday that a type A strain of the avian flu virus had been detected in a stray dog found dead in the country's capital Baku a week ago. The commission also reported a substantial decline in the number of bird flu cases in poultry and fowl due to the departure of migratory birds from Azerbaijan. Earlier this month, the republic's Health Ministry reported three human victims of the lethal H5N1 sub-strain. [rian.ru ; See related bird flu story, khaleejtimes.com, "India battles bird flu; virus spreads in Europe" : MUMBAI – Health workers went door-to-door looking for people with bird flu symptoms in western India on Wednesday, while the virus pushed deeper into Scandinavia. Indian officials said they were checking if the latest outbreak – which occurred in backyard poultry in Jalgaon district of Maharashtra state – was the deadly H5N1 strain that has killed about 100 people, most of them in Asia.

Denmark became the latest European country to report a case of highly pathogenic bird flu in wild fowl, although it has yet to confirm it is the feared H5N1. Neighboring Sweden said on Wednesday that tests had identified H5N1 in two wild ducks found on its east coast, confirming its first outbreak..

March 16 Update, jang.com.pk, "Hundreds of dead poultry raise bird flu fears in Israel" : JERUSALEM: Hundreds of dead poultry were found dead in a kibbutz in southern Israel Thursday raising fears of the first outbreak of deadly bird flu in the Jewish state, agriculture ministry officials said; See more details haaretzdaily.com, "Bird flu feared in Israel, fowl found dead in south."]
---
3.15.06 In Iran, dissenting voices rise on its leader's nuclear strategy
TEHRAN, March 15 – Just weeks ago, the Iranian government's combative approach toward building a nuclear program produced rare public displays of unity here. Now, while the top leaders remain resolute in their course, cracks are opening both inside and outside the circles of power over the issue. Some people in powerful positions have begun to insist that the confrontational tactics of President Mahmoud Ahmadinejad have been backfiring, making it harder instead of easier for Iran to develop a nuclear program

...One senior Iranian official, who asked to remain anonymous because of the delicate nature of the issue, said: "I tell you, if what they were doing was working, we would say, 'Good.' " But, he added: "For 27 years after the revolution, America wanted to get Iran to the Security Council and America failed. In less than six months, Ahmadinejad did that." [Full story>>nytimes.com] ; See related story, iranfocus.com, "Iran's Ahmadinejad: West opposes our nukes to let Israel live on" : TEHRAN, March 15 – Iranıs radical President Mahmoud Ahmadinejad said on Wednesday that the circumstances were ripe for the "collapse of the Zionist regime" and that the West was highlighting the Islamic Republicıs nuclear program in the world arena in order to "divert attention away from the issue of Palestine."

"The regime occupying Qods (Jerusalem) was set up to create insecurity and confrontation in our region. If one day tranquillity came about, it would mean the death of this regime," Ahmadinejad said in the northern town of Ramyan during a speech broadcast live on state television. "Our enemies on the one hand oppose our nationıs acquisition of nuclear energy and on the other hand want to divert the attention of other nations from the key issue of Palestine to give an opportunity to the Zionist regime to prolong its existence," he said...

---
3.15.06 Saddam Hussein calls on Iraqis to rise up
March 15 – Saddam Hussein testified for the first time at his trial today but his calls for Iraqis to stop their sectarian violence and turn their guns on the "American invaders" instead prompted the chief judge to close the courtroom to press and public. Even as judge Raouf Abdel-Rahman yelled at him to stop making political speeches, Saddam read from a prepared text and insisted that he was still Iraq's president. "Let the people unite and resist the invaders and their backers. Donıt fight among yourselves," he said. Praising the insurgency, he added: "In my eyes, you are the resistance to the American invasion." [More>>timesonline.co.uk]
---
3.14.06 Scientists develop 3-nanometer transistors
March 14 – Korean scientists succeeded in developing a 3-nanometer-wide transistor, the smallest of its kind in the world. Dr. Choi Yang-kyu's team and the National Nano Feb Center at the Korea Advanced Institute of Science and Technology said yesterday that they co-developed a tiny, three-dimensional transistor measuring 3 nanometers in width, scientifically dubbed a "fin field effect transistor (FinFET)." The FinFET is one of the key technologies for producing terabyte-scale next-generation semiconductor devices, KAIST said. Three nanometers amounts to 1/40,000 of the width of a single hair of an adult.

...The new transistor is expected to be embedded within processors, terabyte-level dynamic random access memory, static random access memory and flash memory, as well as being used for portable internet platforms, video conferences and wearable computers, KAIST said. Also, if applied to microprocessors, the nano device will enhance their processing speed 25 times, well above 100GHz... [Full story>>koreaherald.co.kr]
---
3.14.06 Climate change 'irreversible' as Arctic sea ice fails to re-form
March 14 – Sea ice in the Arctic has failed to re-form for the second consecutive winter, raising fears that global warming may have tipped the polar regions in to irreversible climate change far sooner than predicted. Satellite measurements of the area of the Arctic covered by sea ice show that for every month this winter, the ice failed to return even to its long-term average rate of decline. It is the second consecutive winter that the sea ice has not managed to re-form enough to compensate for the unprecedented melting seen during the past few summers.

Scientists are now convinced that Arctic sea ice is showing signs of both a winter and a summer decline that could indicate a major acceleration in its long-term rate of disappearance. The greatest fear is that an environmental "positive feedback" has kicked in, where global warming melts ice which in itself causes the seas to warm still further as more sunlight is absorbed by a dark ocean rather than being reflected by white ice. [More>>independent.co.uk ; See related story, thestar.com.my, "Vanishing toads could portend extinction crisis."]
---
3.14.06 Iraqis find 87 bodies within 24 hours
BAGHDAD (AP) March 14 – Police in the past 24 hours have found the bodies of at least 87 men killed by execution style shootings in a gruesome wave of apparent sectarian killing, the Interior Ministry said Tuesday. They include at least 29 bodies stacked in a mass grave in an eastern Shiite neighborhood. Much of the bloodshed the second wave of mass killings in Iraq since bombers destroyed an important Shiite shrine last month followed deadly weekend explosions in a teeming Shiite slum in which 58 people died and more than 200 were wounded.

North of the capital, a roadside bomb exploded Tuesday among Shiite pilgrims headed on foot to the holy city Karbala, killing one person and injuring seven near Baqouba, police said. With sectarian tension mounting, Iraq's Interior Ministry announced a ban on driving in Baghdad to coincide with the first meeting of Iraq's new parliament Thursday. The ban takes effect at 8 p.m. Wednesday and lasts until 4 p.m. Thursday. [More>>abcnews.go.com]
---
3.14.06 Urgent: Martial law imposed in volatile Iran cities
LONDON, March 14 – Iranian authorities have imposed a de facto martial law in several volatile cities in the north-western province of Kurdistan as restive youths used the occasion of Iranıs traditional ³fire festival² to hold anti-government protests, residents told Iran Focus by telephone on Tuesday. Agents of the paramilitary police, the Revolutionary Guards, and plainclothes agents of the secret police, the Ministry of Intelligence and Security, moved in to take control of the cities to limit unrest as people took to the streets. There is a heavy police presence at every major junction, square, and highway in and around the cities of Sanandaj, Piranshahr, and Mahabad and security forces are attempting to arrest any individual seeking to take part in protests.

During the festival, known as 'chaharshanbeh souri' – literally, Feast of Wednesday – people jump over bonfires to "drive away evil." Since the 1979 Islamic Revolution, however, Iranıs theocratic leaders have made strenuous efforts to stamp out the festivities, but to no avail. In recent years, there have been extensive clashes between festive crowds and the security forces deployed to prevent street celebrations. This year the event falls on March 14. In Piranshahr, banks, police cars, and government buildings were set on fire as violent clashes erupted on Saturday between security forces and angry residents. [More>>iranfocus.com]
---
3.14.06 Pakistanis accused of aiding Taliban with missile parts
March 14 – American and Nato forces are following up reports that the Taliban have received vital components for shoulder-fired Stinger missiles from Pakistani officials enabling them to be used against helicopters in Afghanistan. It is claimed that the missiles have been fitted with new battery packs allegedly provided by the Pakistani intelligence service, ISI, in the past four months. Western sources say they are not sure whether the supplies, needed to make the US-made missiles operational, were provided by rogue elements within the Pakistani secret service, or approved at a high level. However, the effect of re-arming the Stingers could be to make Nato aircraft vulnerable while Britain is deploying almost 6,000 soldiers in southern Afghanistan. [More>>independent.co.uk ; See related stories, metimes.com, "Ten killed in new violence in Afghanistan." and khaleejtimes.com (AFP) "Biggest-ever weapons cache surrendered in Afghanistan."]
---
3.14.06 Osama's deputy lived in Lodi? Informant says al-Zawahiri visited Lodi in late '90s
March 14 – An FBI informant testified Monday in a federal terrorism trial that Osama bin Laden's chief deputy, Ayman al-Zawahiri, spent time in Lodi in 1998 and 1999 and frequented the community's mosque, a claim that a defense attorney described as outlandish. The Chronicle has reported that al-Zawahiri, who is suspected of involvement in a number of crimes including the attacks of Sept. 11, 2001, appears to have visited Bay Area mosques in the late 1980s or 1990s, raising money while traveling under a fake name. But he has not been linked to Lodi or to such recent visits.

The FBI informant, Naseem Khan, 32, is the key witness against Hamid Hayat, a 23-year-old Lodi man accused of supporting terrorism by attending a training camp in Pakistan in 2003. Hayat is on trial in the US District Court in Sacramento along with his father, who is charged with lying about his son's alleged camp attendance.

Khan, a fast-food worker and a native of Pakistan, was approached by the FBI soon after the attacks of Sept. 11, 2001, to investigate alleged terrorist activity in Lod – where Khan lived in the late 1990s before moving to Oregon. After taking the paid job, Khan befriended Hayat in the summer of 2002 and began to secretly record their conversations. [More>>sfgate.com (SF Chronicle)]
---
3.14.06 Gunmen ired over siege take 9 hostages, burn Gaza UK office
March 14 – Palestinian gunmen, responding to the nine-hour Israel Defense Forces siege of the Jericho prison, abducted nine foreign nationals in the Gaza Strip and West Bank on Tuesday and set fire to the British Council offices in Gaza. The abductions came in the midst of the raid of a West Bank prison, in which troops demanded the surrender of the leader of the Popular Front for the Liberation of Palestine, a radical PLO faction. The kidnappers in Gaza are from the PFLP, police said.

Palestinian leaders held the U.S. and Britain responsible for the IDF operation, in which tanks and bulldozers were deployed close to the prison walls, which held five Palestinians militants, among them the two men Israel has cited as having been behind the 2001 assassination of cabinet minister Rehavam Ze'evi. In one case, two South Korean journalists and two other people were abducted from a Gaza City hotel frequented by foreigners, security officials and witnesses said. The gunmen raided the hotel Tuesday afternoon, abducting the two South Korean reporters, their Palestinian fixer and a fourth person, witnesses said. The Palestinian fixer was quickly released. [More>>haaretzdaily.com ; See afp.com, "Militants surrender after Israeli jail siege."]
---
3.14.06 First Afghan bird flu cases feared deadly
KABUL, March 14 – Afghanistan has detected its first known cases of bird flu and there is a high risk it is the deadly H5N1 strain, United Nations and Afghan officials said Monday. Three cases of H5 bird flu were detected in poultry farms in the capital Kabul and two in the eastern province of Nangarhar, said Azizullah Osmani, spokesman for the Agriculture and Animal Husbandry Ministry. "Some samples we tested yesterday are positive for H5 but to determine the sub-type the samples have been sent to Italy," Osmani told a news conference. [More>>dailystar.com.lb] ; See related bird flu story, expressindia.com, "New bird flu cases reported in Maharashtra."]
---
3.14.06 Iran to review oil contracts in event of UN sanctions – minister
TEHRAN (RIA Novosti) March 14 – Iran will review oil contracts with other countries if the UN Security Council imposes sanctions, the country's oil minister said Tuesday. Kazem Vaziri-Hamaneh said Tehran could make the move if sanctions were imposed over the country's controversial nuclear program. He also said talks with Japan on Japanese companies' involvement in developing the Azadegan oil fields in southern Iran were continuing, and dismissed the possibility of the contract being transferred to another country, such as China.

"Japan has not rejected the contract to develop the Azadegan oil fields, so we have no basis for signing contracts with another country," he said. Japan's Chief Cabinet Secretary had previously said that Japan would not enforce sanctions against Iran, but would push for Tehran to find a diplomatic solution to the international standoff surrounding its nuclear program. [More>>rian.ru ; See related stories:

dailystar.com.lb, "Iran 'absolutely no help,' Russia says" : Russia's foreign minister said Monday the Iranians were fouling up Moscow's diplomatic efforts to resolve the row over Tehran's nuclear enrichment activities, while the Islamic Republic dismissed threats of economic sanctions. "We are extremely disappointed with the way Iran is behaving in the course of these talks," Russia's RIA news agency quoted Foreign Minister Sergei Lavrov as saying. "Iran is absolutely no help to those who want to find peaceful ways to solve this problem"...

iiranfocus.com, "Iran warns it may review oil deals if UN takes action" : LONDON, March 14 – Iran threatened on Tuesday that it would revise its international oil contracts if the United Nations Security Council took action against it for violating its international obligations regarding its nuclear program...Radical Shiite cleric Mostafa Pour-Mohammadi announced that Iran would cut off its oil exports to the West if the Security Council ordered sanctions to be imposed on the Islamic Republic. "If sanctions are imposed, we will definitely use the oil tool and other tools and we will stop at nothing," he said...
---
3.14.06 Indian Muslim seminary issues fatwa against attacks on all religious shrines
LUCKNOW, India (AP) March 14 – A prominent Muslim seminary has issued an edict declaring terrorist attacks on all religious sites and the killing of innocent people to be anti-Islamic, a cleric said on Tuesday. The fatwa, or religious order, was issued after a series of bomb blasts rocked the Hindu holy town of Varanasi last week, killing 20 people. It was announced Monday by the Darul-Ifta Firangi Mahal in Lucknow, a well-known Muslim seminary.

No matter the faith, attacks on religious shrines are forbidden by Islam, according to the fatwa, which called such attacks "one of the biggest crimes against humanity."

"The Prophet Mohammed has given clear directions that proper protection should be given to the religious places of other communities," said Maulana Khalid Rashid, the seminaryıs head cleric. "The people who attack (Hindu) temples in the name of religion are doing a disservice to Islam. This is an anti-Islamic act." [More>>khaleejtimes.com]
---
3.13.06 Iranian pact with Venezuela stokes fears of uranium sales
BUENOS AIRES, March 13 – A recent deal between Iran and Venezuela provides for the exploitation of Venezuela's strategic minerals, prompting opposition figures to warn that President Hugo Chavez's government could be planning to provide Tehran with uranium for its nuclear program. The deal was part of a package of agreements, most of which were announced during a visit last month to Caracas and Cuba by Iranian parliament Speaker Gholam Ali Haddad-Adel. The two countries also established a joint $200 million development fund and signed bilateral deals to build homes and factories, and exploit petroleum.

Public details are vague, but Venezuelan opposition figures and press reports have said the deal on minerals could involve the production and transfer to Iran have said the deal on minerals could involve the production and transfer to Iran of Venezuelan uranium taken from known deposits located in the dense jungle states of Amazonas and Bolivar. Mr. Chavez last week ridiculed such speculation as being part of an "imperialist plan" propagated by international news media.

"Now they say I am sending uranium to make atomic bombs from here, from the Venezuelan Amazon to send directly to the Persian Gulf," Mr. Chavez said during a meeting at a military club on Tuesday. "This shows they have no limit in their capacity to invent lies." [More>>washtimes.com]
---
3.13.06 The war dividend: The British companies making a fortune out of conflict-riven Iraq
March 13 – British businesses have profited by at least £1.1bn since coalition forces toppled Saddam Hussein three years ago, the first comprehensive investigation into UK corporate investment in Iraq has found. The company roll-call of post-war profiteers includes some of the best known names in Britain's boardrooms as well many who would prefer to remain anonymous. They come from private security services, banks, PR consultancies, urban planning consortiums, oil companies, architects offices and energy advisory bodies.

Among the top earners is the construction firm Amec, which has made an estimated £500m from a series of contracts restoring electrical systems and maintaining power generation facilities during the past two years. Aegis, which provides private security has earned more than £246m from a three-year contract with the Pentagon to coordinate military and security companies in Iraq. Erinys, which specializes in the same area, has made more than £86m, a substantial portion from the protection of oil fields. The evidence of massive investments and the promise of more multimillion-pound profits to come was discovered in a joint investigation by Corporate Watch, an independent watchdog, and The Independent. [More>>independent.co.uk ; See corporatewatch.org, "UK companies in Iraq" : ...The real UK total is certain to be far behind the US corporate Iraq profits; the latest Haliburton/KBR military contract alone is worth about £2.85bn.[1]...]
---
3.13.06 Taliban chief orders captives killed
March 13 – Mullah Mohammad Omar, the Taliban leader, has ordered the murder of four foreigners kidnapped in Afghanistan on Saturday. The men, said to be three Albanians and a German, were captured in southern Afghanistan, a Taliban spokesman said. Mullah Omar's order was read by telephone late on Sunday to a Reuters reporter at the border town of Spin Boldak, in Kandahar province. Qari Mohammad Yousuf, a Taliban spokesman, quoted the order as saying: "These people had come to Afghanistan at America's behest, therefore they should be sentenced to death." Earlier on Sunday, Yousuf had said four Albanians and four Afghans were being held. [More>>aljazeera.net]
---
3.13.06 Afghans ordered out of Waziristan
March 13 – The authorities in a Pakistani tribal region are repeating calls for thousands of Afghan refugees to return home. The North Waziristan tribal area bordering Afghanistan has been the scene of military attacks this month in which officials say nearly 200 pro-Taliban fighters have been killed. Officials have blamed unrest in the region on Afghans, thought to number several thousand, who first moved there when the Soviet Union occupied their country in the 1980s.

On Monday, local state radio broadcast messages saying the Afghans must go. Zaheerul Islam, a leading government official in North Waziristan, said Afghans had been given deadlines to leave two or three times last year but had not done so. [More>>aljazeera.net]
---
3.13.06 Executing Saddam plotters was legal, says defendant
BAGHDAD (AFP) March 13 – A former Iraqi judge on trial for crimes against humanity said on Monday that he had sentenced 148 Shia villagers to death after they "confessed" to trying to kill Saddam Hussein under orders from Iran. Awad Ahmed Al Bander Al Saadun, the former head of Iraq's revolutionary tribunal, who is on trial with Saddam and six other defendants over the killing of the 148 inhabitants of Dujail in the 1980s, said that he was acting within the law.

Monday's hearing, the 16th since the trial started in October, came amid new fears of sectarian violence after six car bombs ripped through four market places in Baghdad's Shia district of Sadr City on Sunday, killing at least 46 people and wounding over 200 in Iraq's worst blood-letting so far this year. Another seven people were killed and some 50 wounded in further attacks on Monday.

Testifying before the Iraqi High Tribunal, Bander said that the 148 villagers "attacked the president of the republic who was also chief of staff at the time of the Iran-Iraq war [from 1980-88." [More>>metimes.com]
---
3.13.06 Pakistani Qaeda suspect held in Afghanistan
JALALABAD (AFP) March 13 – Afghan security forces have captured a Pakistani national suspected of links with Al-Qaeda and Taliban militants in eastern Afghanistan, an official said on Sunday. The man, identified as Haji Nader was captured on Thursday after authorities received intelligence that the man was crossing the border into the eastern province of Kunar, said Mohammad Hassan Farahi, local security director. He said there was ³strong and trusted intelligence² that the man was involved in several anti-government operations and that he was entering Afghanistan to train militants. According to intelligence sources in the capital Kabul, the suspect is from Dir district of NWFP. [dailytimes.com.pk]
---
3.13.06 Arabs lag behind in digital revolution
DOHA, March 10 – The Arab world is lagging behind in the digital revolution, with Internet users making up less than 4 percent of its population, according to participants in a telecommunications development conference in Doha. "The Arab presence on the Internet is almost zilch ... not more than a few Websites providing information or personal sites," said Syrian telecommunications and technology minister Amr Salem.

This is due to technical factors, notably "the absence of an Arab portal, which means connections on the network have to go through Europe or the United States, pushing up costs," he said. Salem said that other reasons were "the lack of a juridical framework covering the Arab region and investors' hesitation" to put their money in the telecommunications sector, which is booming in industrialized countries.

According to statistics compiled by the UN's International Telecommunications Union (ITU), a co-organizer of the week long Doha conference ending on March 15, the 22 Arab League members had only 11.7 million Internet users out of a total population of 316 million in 2004. This amounts to a 3.7 percent penetration rate in the region, whose combined Gross Domestic Product totals $813 billion and per capita income reaches $2,571. In contrast, the use of mobile phones is expanding in Arab states, with 45.9 million subscribers in 2004 – a penetration rate of 14.51 percent – compared to 27.1 million land line subscribers, which amounts to an 8.59 percent penetration rate. [More>>metimes.com]

Editorial note: A Google search revealed the following: dm.net.lb for Arab world sites and ISPs on the World Wide Web; an interesting site is herbison.com, "International International Internet Access Providers meta-list,"

arab.net is a major ISP for the Middle East ; ISPs for Iraq can be found at this link at herbison.com ; arab.net is listed as an ISP for Iraq. Ownership of an ISP can be found by going to "Whois" at Network Solutions. Ownership of arab.net is listed at this link on Whois. This is public information easily obtained, as one can see by the example listed. By law owners of all internet domains must keep their contact information current.
I was surprised to learn that all the "Arab world" websites were served through Europe and the US. Since al-Qaeda – particularly Al-Qaeda Iraq – has communicated its hostage taking and murders and bombings through websites and the number of "Arab world" users are so few, it is astonishing that such sites that publish Al-Qaeda's monstrous postings are permitted to aid the terrorists; and it is more alarming that the US has not been able to track down the whereabouts of major Al-Qaeda leaders by following ISP addresses! That Mullah Omar, Abu Musab al-Zarqawi, and Osama bin Laden have not been located is, in light of this report, quite absurd. Every post and E-mail on the internet can be traced to an ISP. ISP owners that harbor terrorist's posts should be well known by the Bush administration, one should think.

Mel Copeland
---
3.12.06 Scores killed in Baghdad attacks
March 12 – Scores of Iraqis have been killed and many wounded in attacks in and around Baghdad. Police said that eight people were killed and 10 wounded when a car bomb exploded in the Shia-dominated Sadr City district of Baghdad on Sunday. A policeman at the scene said the car bomb had exploded near a market, while a mortar bomb had landed on another market in Sadr City a few minutes later. It was not immediately clear if there were any casualties in that incident. Elsewhere in Baghdad, US forces were fighting a fierce battle with Iraqi fighters in a western neighborhood. [More>>aljazeera.net ; See also bbc.co.uk, "Triple Baghdad bombing kills 36."]
---
3.12.06 Dash to Baghdad left top US generals divided
March 13 – The war was barely a week old when Gen. Tommy R. Franks threatened to fire the Army's field commander. From the first days of the invasion in March 2003, American forces had tangled with fanatical Saddam Fedayeen paramilitary fighters. Lt. Gen. William S. Wallace, who was leading the Army's V Corps toward Baghdad, had told two reporters that his soldiers needed to delay their advance on the Iraqi capital to suppress the Fedayeen threat in the rear.

Soon after, General Franks phoned Lt. Gen. David D. McKiernan, the commander of allied land forces, to warn that he might relieve General Wallace. The firing was averted after General McKiernan flew to meet General Franks. But the episode revealed the deep disagreements within the United States high command about the Iraqi military threat and what would be required to defeat it. [More>>nytimes.com]
---
3.13.06 Al-Hariri murder: Woman held in Brazil
March 13 – Brazilian police have arrested a Lebanese woman wanted for bank fraud and suspected of links to the assassination of former Lebanese Prime Minister Rafiq al-Hariri, officials said. Acting on an anonymous tip, police arrested Rana Abdel Rahim Koleilat, 39, on Sunday at the Parthenon Accor Hotel in Brazil's Sao Paulo city, police inspector Nicanor Nogueira Branco said in an official statement.

Koleilat, who was carrying a false passport identifying her as Rana Klailat of Northern Ireland, offered police up to 200,000 Brazilian reals ($94,000) to release her and was arrested for attempted bribery, the police statement said. The Lebanese consul general in Sao Paulo, Joseph Sayah, said Koleilat was wanted in Lebanon for bank fraud and for questioning by the Independent International Investigation Commission in relation to the truck bombing that killed al-Hariri and 20 other people in central Beirut in February 2005, according to police. [More>>aljazeera.net]
---
3.12.06 Several killed in suicide attack on senior Afghan politician
KABUL (AFP) March 12 – At least four people, including two attackers, were killed on Sunday in the Afghan capital in a suicide car bombing targeting the head of the country's senate, who escaped unharmed, the interior ministry said. "There was a suicide attack this morning. Four people have died. The attack targeted Sebghatullah Mujadidi, who was not hurt," interior ministry spokesman Yousuf Stanizai said. The dead included two attackers and two passers-by, one a young girl and the other an old man, Stanizai said. Mujadidi, a former Afghan president, now heads the upper house of parliament. [More>>metimes.com]
---
3.12.06 Afghanistan fast losing its treasures to looters
March 13 – Up to four tones of ancient Afghan artefacts have been seized in Britain after an unprecedented wave of looting from archeological sites in Afghanistan that has exceeded the plundering of treasures in post-invasion Iraq. "All the attention has been on Iraq but this is a far, far bigger problem," said Detective Sergeant Vernon Rapley, who heads the art and antiques unit of London's Metropolitan Police.

"Afghanistan is the main source of unprovenanced antiquities into Britain. It's coming in by air freight, sea freight, DHL, you name it," he said. "It's so widespread that I'm getting reports of people being murdered and clubbed to death on the planes in disputes about who should have the antiquities."

As the crossroads of Asia – crisscrossed by invaders from Alexander the Great to Babur, the first Mogul emperor – Afghanistan has acquired a rich cultural heritage. The three to four tones of plundered items seized by British Customs officials and police in the past two years include ceramics, stone sculptures, Buddhist Gandharan statues, bronze weapons and coins dating back to the third century BC.

Much of this has been stored at the British Museum in London while discussions take place between the Foreign Office and the Afghan Government over what to do with it. Afghan and British officials fear Afghanistan does not yet have the capacity to keep the stash secure. "Afghanistan is a place so extraordinarily rich in culture that almost anywhere you start digging you find things, but it is being ravaged," said Robert Knox, keeper of the museum's Asia collection, who has been trying to identify looted items. "The Afghan Government has other priorities such as feeding people, but if they don't protect these sites and things this history will be lost forever." [More>>theaustralian.news.au]
---
3.11.06 Pakistan troops kill 30 militants in raid on hideout
PESHAWAR, Pakistan, March 11 – Pakistani security forces backed by helicopter gunships attacked a hideout of militants in a tribal region near the Afghan border, killing up to 30 guerrillas, the military said on Saturday. Military spokesman Major-General Shaukat Sultan said the overnight attack in the North Waziristan tribal region was ordered after intelligence reports suggested that militants were gathered in a compound along with a huge cache of arms, ammunition and explosives. "According to initial information, around 25 to 30 miscreants, including foreigners, have been killed," he told Reuters. He did not give the nationality of the slain foreigners. [More>>khaleejtimes.com]
---
3.11.06 Russia says deal "impossible" if Iran ignores IAEA demands
LONDON, March 11 – Russia has said that a deal with Iran over the Islamic Republicıs nuclear program is "impossible" unless Tehran suspended its uranium enrichment activities, a request that has been outright rejected by Iranian officials, the Russian News & Information Agency quoted a Russian negotiator as having said on Saturday.

"Russia considers a joint uranium enrichment venture with Iran impossible if the Iranian side fails to comply with IAEA demands," RIA Novosti reported. "The IAEA demands include Iran's resumption of moratorium on uranium enrichment and ratification of an additional protocol to the Non-Proliferation Treaty," it quoted the unnamed official as having said. "Since Iran has failed to reach agreement with the IAEA, Russia considers the creation of a joint venture impossible." [More>>iranfocus.com ; See also rian.ru]
---
3.11.06 Religious leaders urge West, Islam to repair ties
March 11 – Muslim and Christian scholars and clerics agreed at a conference in Copenhagen Friday that the West and Islam must use dialogue to repair ties frayed by the crisis over the Prophet Mohammad cartoons. In London, The leader of the world's largest Muslim body criticized the European Union for what he described as an unsatisfactory response to the furor over cartoons. Ekmeleddine Ihsanoglu, Secretary General of the Organization of the Islamic Conference, said that by simply regretting that Muslims found the cartoons offensive, EU foreign ministers had not gone far enough at a meeting in Brussels last week.

"We expected the EU to address the issue of cartoons in a more fair way," Ihsanoglu told a news conference in London. " must say that we are not satisfied with the result of last week's meeting in Brussels. The conclusion published by the European Union fell short of our expectations."

Adopting a similar position, Muslim panelists at the Copenhagen seminar aimed at fostering religious dialogue accused the Danish government of mishandling the crisis and said it must apologize to the Muslim world. "We request an official apology from your government to the Muslim nation and to the Muslims in Denmark," said Tariq al-Suweidan, an Islamic scholar from Kuwait. He also demanded that the European Union enact a law "that forbids the insult to religious figures." [More>>dailystar.com.lb]

Editorial note: The comments from this conference reflect the great divide between the Islamic view of governing and the Western, democratic view. The Western view acknowledges a separation between church and state, seen from the US, EU to Turkey. Islamic scholars are the leaders of their faith and they don't seem to understand some basic elements of democracy.

If Islam and Democracies are to live together, the leaders of the Islamic faith need to reevaluate the position Islam has fallen into throughout the world. Al-Qaeda has demonstrated a face of Islam whose only objective is to terrorize Western governments. While we can acknowledge that there are bad elements in all facets of society – whether they be Christian, Moslem, etc., or atheist – when the bad elements threaten international peace an international solution needs to be addressed. The concept of suicide bombers seeking to destroy innocent citizens, on behalf of a god or a prophet is unsettling to those who fear such and rely upon civilized systems of justice. Bombings around the world have sent a very strong signal to nonMuslims that Islam is a brutal, murderous faith. You are known by your works.

By the illustration of Iran we can see that Islam is being used by people to foment hatred towards others and worse to encourage and participate in the murder of innocent people. This is an international problem that needs to be resolved. The United Nations Charter actually dealt with this, following the experience of World Wars I and II, and one of the prerequisites to membership in the UN was to agree not to unilaterally invade another country and rather enjoin UN mediation in the matter of disputes between nations.

Today there is a new dispute among nations and recognize it as a replay of the conflict between Islam and the West from the 12th -14th centuries. While the conflict has been recessive, like a Cancer in remission, the festering boil broke when President Bush expressed the infamous word "Crusade" as he unilaterally invaded Iraq without UN consent.

Islamists use an expression, "The nation of Islam" to describe their faith. Although from a Baathist viewpoint it may involve the resurrection of the Arab Caliphates, even world dominion, it may recall the Christian concept of a universal brotherhood, living in the world but yet apart from the world, in peace. Faith in God is compromised, however, by Christians and Moslems proselytizing the nations to gain economic, political and religious dominance over the world. What we have experienced from this is brutish, intolerance, leaving Bush's Crusade and the Islamic Suicide Bombers in the same Cocytus.

Let's stop the draining Crusade and leave the issues involving belief in God to each individual between himself / herself and God, and keep governments out of the Faith conversation. Let's encourage once again the practice of the Golden Rule : Do not to others what you would not want done to you. It is the cornerstone of all the great teachings: of Judaism, Christianity, Islam, Hinduism (Upanishads), Buddhism, Taoism, Greco-Roman philosophers and Confucius.

Mel Copeland
Copyright © 1981-2006 Maravot. All rights reserved
Copyright © 1981-2006 Mel Copeland. All rights reserved
Painting of Apple by Mel Copeland, early 70's
Background: tile from Cicero's villa (Marcus Tullius Cicero 106 B.C. - 43 B.C.)