---
11.12.05
Bird flu virus in Vietnam mutates – report
November 12 – Vietnam's Ho Chi Minh City Pasteur Institute has found that the bird flu virus strain H5N1 in the country has mutated to make it more dangerous, local newspaper Youth reported Saturday. There are some changes in gene segments of surface antigens HA and NA and some other gene segments of bird flu virus type A subtype H5N1 in Vietnam in early 2005, which indicates that the virus has been mutating to reproduce effectively in cells of mammals, and increase its attacking capability, according to results of the institute's research on 24 virus samples from infected poultry and people in the southern region between December 2003 and March 2005. Besides, all the viruses researched by the institute in southern Ho Chi Minh City are resistant to the two antiviral medicine agents of Amantadine and Rimantadine. Therefore, it is necessary to keep close surveillance on H5N1's resistance to Oseltamivir (the active agent contained in the bird flu medicine Tamiflu), the report stated, warning that people will likely have to face the human-to-human transmission of H5N1. [More>>chinadaily.com.cn]

Editorial note: Tamiflu is the drug governments are stockpiling in the event of bird flu infestation in humans.
---
11.12.05 Al-Qaeda calls Queen an 'enemy of Islam'
November 13 – Al-Qaeda has threatened the Queen by naming her as ³one of the severest enemies of Islam² in a video message to justify the July bombings in London. The warning has been passed by MI5 to the Queen¹s protection team after it obtained the unexpurgated version of a video issued by Al-Qaeda after the 7/7 attacks. Parts of it were broadcast on Al-Jazeera, the Arabic satellite channel. In the video, Ayman al- Zawahiri, second-in-command to Osama Bin Laden, targets the Queen as ultimately responsible for Britain¹s "crusader laws" and denounces her as an enemy of Muslims.

A senior Whitehall official said: "MI5 is aware that there are some pieces of that video that have not been aired. They are aware of the bit of al- Zawahiri talking about the Queen and they have notified the relevant authorities."

The Sunday Times has obtained the full 27-minute video, which is circulating on secure jihadist websites in the Middle East used to recruit and inflame prospective terrorists. In Britain it has been posted by Muhammad al-Massari, the London-based Saudi extremist, on his website Tajdeed. It also contains inflammatory material from Mohammad Sidique Khan, ringleader of the London bombings which killed 52 commuters. He is urging Muslims to take part in jihad and seek martyrdom. [More>>timesonline.co.uk]
---
11.12.05 Asterisks dot White House's Iraq argument
November 12 – Dana Milbank and Walter Pincus, Washington Post Staff Writers, rebut Bush's complaint about attempts to rewrite history : President Bush and his national security adviser have answered critics of the Iraq war in recent days with a two-pronged argument: that Congress saw the same intelligence the administration did before the war, and that independent commissions have determined that the administration did not misrepresent the intelligence.

Neither assertion is wholly accurate.

The administration's overarching point is true: Intelligence agencies overwhelmingly believed that Saddam Hussein had weapons of mass destruction, and very few members of Congress from either party were skeptical about this belief before the war began in 2003. Indeed, top lawmakers in both parties were emphatic and certain in their public statements.

But Bush and his aides had access to much more voluminous intelligence information than did lawmakers, who were dependent on the administration to provide the material. And the commissions cited by officials, though concluding that the administration did not pressure intelligence analysts to change their conclusions, were not authorized to determine whether the administration exaggerated or distorted those conclusions. [More>>washingtonpost.com and sfgate.com (San Francisco Chronicle), "Inaccuracies in Bush's defense of lead-up to war" ; See also abcnews.go.com article, "Bush forcefully attacks Iraq critics" : ...Bush's speech was part of a coordinated White House effort to bolster the president's waning credibility and dwindling support for the war, in which more than 2,000 U.S. troops have died. As casualties have climbed, Bush's popularity has dropped. His approval rating now is at 37 percent in the latest AP-Ipsos poll, an all-time low point for his presidency.

"When I made the decision to remove Saddam Hussein from power, Congress approved it with strong bipartisan support," Bush said in a Veterans Day speech at Tobyhanna Army Depot. "While it's perfectly legitimate to criticize my decision or the conduct of the war, it is deeply irresponsible to rewrite the history of how that war began."

Bush's remarks brought a few jabs from fellow Republicans as well as a sharp counterattack from Democrats.]

---
Editorial note: Perhaps no event in US history has been as well documented as Bush's decision to invade Iraq. Bush apparently believes that historians do not turn over the rocks, as it were, to ascertain the truth. And the first place historians will begin in the accounting of this matter is with UN Secretary General Kofi Annan's comment, "The Iraqi War is illegal." George W. Bush misled the American people and the United Nations in his reasons for attacking Iraq and he made fun of the main reason, "Saddam had Weapons of Mass Destruction threatening the US," in a televised search in the Oval Office of the White House, saying as he looked in the nooks and crannies of his office, "They're not here." (See guardian.co.uk, "Bush jokes about search for WMD, but it's no laughing matter for critics.")

Bush's comment against those questioning him, noted above, is an obstruction of justice with regard to a national inquiry into the truth behind the invasion of Iraq. Congress persons had requested that the administration turn over certain documents pertaining to the WHIG (White House Iraq Group) task force and attempted through "H. Res. 505" on September 14, 2005 to pass a resolution of inquiry into the matter (that failed to pass). The majority of the people in the US believe Bush lied to the American people (the latest poles show ~57% of the people believe he lied) ; that certain members of Congress desire to obtain more information relating to this cause is clear. The request in H. Res. 505, authored by Congressman Dennis J. Kucinich (D-OH), though it was defeated September 14, is still valid. It requested :

(1) all documents from 2003 pertaining to the taskforce organized by Andrew Card, consisting of Karl Rove, Karen Hughes, Mary Matalin, Nicholas E. Calio, James R. Wilkinson, Condoleezza Rice, Stephen Hadley and I. Lewis Libby, known as the White House Iraq Group;

(2) all drafts of all white papers on the topic of Iraq's nuclear threat assembled in 2003 by the White House Iraq Group; and

(3) all documents, including notes from meetings, memos, telephone and electronic mail records, logs and calendars, and records of internal discussions in the possession of the President or the Secretary of State relating to the White House Iraq Group.

On September 14, the International Relations Committee defeated by one vote a Resolution of Inquiry (H. Res. 505) into White House and State Department communications with the United Kingdom involving Iraq war plans. Every Democrat present voted "Yea," as did one Republican. A second Republican voted "Present."

It may be that historians will find that certain members of Congress assisted the Bush administration in the administration's attempt to obstruct justice with regard to the suspected lies perpetrated upon the American people and the UN. The foundation of the inquiry is in the Downing Street memos. Maravot News archives record events relating to this inquiry and more details may be found at afterdowningstreet.org.

Mel Copeland
---
11.12.05 Bill O'Reilly encourages terrorist attack on San Francisco
SAN FRANCISCO (Maravot News, Mel Copeland) November 12 – Bill O'Reilly may be guilty of aiding terrorists. Fox News November 8 broadcasted, "The Radio Factor with Bill O'Reilly Factor" :

O'REILLY: Hey, you know, if you want to ban military recruiting, fine, but I'm not going to give you another nickel of federal money. You know, if I'm the president of the United States, I walk right into Union Square, I set up my little presidential podium, and I say, "Listen, citizens of San Francisco, if you vote against military recruiting, you're not going to get another nickel in federal funds. Fine. You want to be your own country? Go right ahead."

And if Al Qaeda comes in here and blows you up, we're not going to do anything about it. We're going to say, look, every other place in America is off limits to you, except San Francisco. You want to blow up the Coit Tower? Go ahead.
O'Reilly's comments were broadcasted on other networks, most of whom were shocked that such comments were supported by Fox News. A copy of the audio was recorded by mediamatters.org.

The 210-foot Coit Tower was dedicated in 1933 and contains a museum and murals that depict working life in 1930s California. The tower resembles a fire hose and was dedicated to the firemen of San Francisco. San Franciscans, of course, are furious over o'Reilly's comments. A man who expressed similar opinions in a different era, Julius Streicher, was hung by the Nuremberg Court. That court set criteria as to what constitutes crimes against humanity, which in Streicher's case, were punishable by death. O'Reilly called upon terrorists to destroy San Francisco; Streicher called upon the Nazi terrorists to destroy Jews. Recently (See Maravot News October 26) President Ahmadinejad called for Israel to be "wiped off the earth." These people all come from the same mold, of an acrid temperament encouraging the annihilation of other peoples.

Joe Garofoli, Chronicle Staff Writer, reports: Not everybody took Fox News host Bill O'Reilly's on-air comments this week about terrorists bombing Coit Tower as the hyperbole that fills the talk-radio ether. One of the ticked off was San Francisco Supervisor Chris Daly, who Friday called for O'Reilly to be fired.

"For an anchor on a major station, Fox News, to be saying those kinds of things, it's just not OK," Daly said Friday. "It was just over the top." Agreeing with Daly was San Francisco firefighters union president John Hanley, and not just because the hose-shaped tower is a tribute to firefighters.

"Who is this guy, O'Reilly?" said Hanley, who identified himself as both a third-generation San Franciscan and military veteran. "I've got guys fighting in Iraq and Afghanistan. I'm a veteran myself. What's he talking about?"

A spokesman for Westwood One, which carries O'Reilly's program in 400 markets, declined to comment Friday. Fox News could not be reached for comment.

...Daly, who sponsored the handgun measure, could not dismiss the statements as hyperbole. "When you have the privilege of being on the airwaves, there comes with that a certain amount of responsibility," Daly said. "If you want to disagree, fine, that's your right. But don't talk about blowing stuff up. There are people who live there and work there." [Full story>>sfgate.com]
---
11.12.05 Riot erupts in French city center
November 12 – Police in the French city of Lyon have fired tear gas to break up groups of youths who hurled stones and bins hours before a curfew was due to begin. Police on the city's famous Place Bellecour square made two arrests in what state news agency AFP says is the first rioting in a major city centre. Lyon has imposed a curfew for the first time in two weeks of nationwide unrest. Thousands of police are patrolling Paris to enforce a ban on all public meetings likely to provoke rioting.

Trouble began at about 1700 (1600 GMT) on Place Bellecour where a large number of riot police were on duty as a preventative measure. Around 50 youths attacked stalls and damaged vehicles, witnesses were quoted as saying by Reuters news agency. [More>>bbc.co.uk]
---
11.12.05 Annan urges reconciliation on first Iraq visit
BAGHDAD (Reuters) November 12 – UN Secretary-General Kofi Annan, on his first visit to Iraq since the March 2003 US-led invasion, on Saturday urged Iraqis to embrace a process aiming to reconcile all the country¹s ethnic and religious groups. Annan condemned the "brutal behaviour" of those responsible for attacks such as a car bomb that ripped through a Baghdad market, killing at least five people and wounding 20, within hours of his arrival in the fortress-like "Green Zone" where most government business is conducted.

Annan came from Amman where he discussed Wednesday¹s deadly bombings in three hotels in the Jordanian capital, which Al Qaeda in Iraq said was carried out by four Iraqis, including a married couple. Jordan said Al Qaeda was behind the attack, but said it was carried out by three "non-Jordanian males."

"This region and particularly Iraq has suffered too much from terrorist attacks," Annan said. "Even those of us at a distance feel the pain that has been inflicted on the families." [More>>khaleejtimes.com]
---
11.12.05 Crowds in Pakistan burn churches
LAHORE, Pakistan (AP) November 12 – A crowd of about 1,500 Muslims attacked and burned two churches in eastern Pakistan on Saturday following reports that a Christian man had desecrated Islam's holy book, the Quran, police said. A school, student hostel and the home of a priest were also torched in the incident near the town of Sangla Hill, about 80 miles northeast of the major eastern city of Lahore, said area police official Ali Asghar Dogar.

The attacks came a day after a local Muslim resident accused Yousaf Masih, a Christian, of burning a one-room Islamic school along with copies of the Quran. Dogar said no one was injured in the attacks, which were being investigated. About two dozen people had been arrested over the incident, he said. Protesters also burned tires on village roads and blocked traffic for several hours. [More>>cbsnews. com]
---
11.11.05 Saturn's satellite trio viewed by Cassini
November 10 – This excellent grouping of three moons – Dione, Tethys and Pandora – near the rings provides a sampling of the diversity of worlds that exists in Saturn's realm. A 330-kilometer-wide (205 mile) impact basin can be seen near the bottom right on Dione (at left).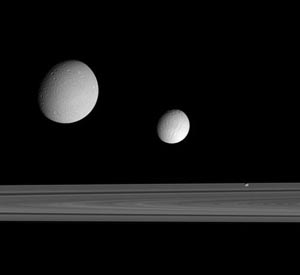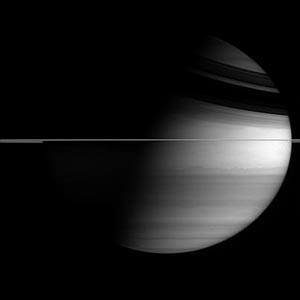 Two shots from Cassini. Bottom image views Saturn within the ring plane with the sun shining from the lower right, casting ring shadows on the planet.
Saturn.jpl.nasa.gov
Ithaca Chasma and the region imaged during the Cassini spacecraft's Sept. 24, 2005, flyby can be seen on Tethys (middle). Little Pandora makes a good showing here as well, displaying a hint of surface detail. Tethys is on the far side of the rings in this view; Dione and Pandora are much nearer to the Cassini spacecraft. Dione is 1,126 kilometers (700 miles) across. Tethys is 1,071 kilometers (665 miles) across and Pandora is 84 kilometers (52 miles) across. [More>>
saturn.jpl.nasa.gov
]
---
11.11.05 Freed Iran hostages tell of 'mental torture'
November 11 – A British couple held without charge for 13 days by Iranian authorities said today they were subjected to "mental torture." Rupert and Linda Wise have now been released after being stopped and detained at gunpoint by the Iranian navy as they sailed towards the disputed island of Abu Musa from their home in Dubai. Mr. Wise said their ordeal began on October 28 when two gunboats came " roaring out" towards them and slammed into both sides of their boat as they headed for the island - a territory that is being claimed by both Iran and the United Arab Emirates. [More>>independent.co.uk]
---
11.11.05 Poll: Most Americans doubt Bush's honesty
WASHINGTON (AP) November 11 – Most Americans say they aren't impressed by the ethics and honesty of the Bush administration, already under scrutiny for its justifications for an unpopular war in Iraq and its role in the leak of a covert CIA officer's identity. Almost six in 10 - 57 percent - said they do not think the Bush administration has high ethical standards and the same portion says President Bush is not honest, an AP-Ipsos poll found. Just over four in 10 say the administration has high ethical standards and that Bush is honest. Whites, Southerners and white evangelicals were most likely to believe Bush is honest. Bush, who promised in the 2000 campaign to uphold "honor and integrity" in the White House, last week ordered White House workers, from presidential advisers to low-ranking aides, to attend ethics classes. [More>>ap.org via chinadaily.com.cn]
---
11.11.05 Al-Qaida in Iraq threatens to attack Israel
November 11 – A Web statement Friday in the name of al-Qaida in Iraq, claiming the deadly hotel bombings in Amman, Jordan, included a threat to Israel, Jordan's western neighbor. The statement noted that Jordan, which it described as Israel's "buffer zone," was now "within range" and "it will not be long before raids by the mujahedeen come" to Israel itself. The statement said that the attacks in Amman were carried out by four Iraqis, including a husband and wife "who chose to accompany her husband to his martyrdom." [More>>haaretzdaily.com]
---
11.11.05 China reports new bird flu outbreak
BEIJING, November 11 – Agriculture authorities on Friday reported a new bird flu outbreak in central China, with 2,500 birds dead and more than 31,000 destroyed, a government news agency reported. The report brought the number of outbreaks reported in China over the past three weeks to eight. The latest outbreak began Nov. 2 in Jingshan County in Hubei province and was confirmed on Friday by the Agriculture Ministry. The report didn't specify what kind of birds were involved, but most domestic fowl in central China are chickens or ducks, both of which have suffered bird flu outbreaks in recent weeks. [More>>jang.com.pk; a separate report: "Thailand confirms new bird flu case" : A one-year-old boy in Bangkok has been diagnosed with the deadly H5N1 strain of the bird flu virus, but he is expected to make a full recovery, Thailand's disease control chief said Friday.]
---
11.11.05 Bin Laden silent as Zarqawi widens battle front
BERLIN (Reuters) November 11 – While his lieutenant in Iraq, Abu Musab al-Zarqawi, has not only stepped up the insurgency there but also claimed responsibility for three suicide bombs in Jordan this week, the al Qaeda leader has released no audio message since last December and has not been seen on video for over a year. Bin Laden's longest public silence since the Sept. 11 attacks on the United States in 2001 is unlikely to be because he has suddenly gone shy, US Defense Secretary Donald Rumsfeld remarked ironically to German magazine Der Spiegel last month.

Intelligence officials and security analysts see two explanations – that bin Laden is so tightly holed up that he cannot smuggle out messages, or that he is biding his time and preparing a major announcement.

"Some of the means he had to communicate have dried up," said a US counter-terrorism official, who declined to elaborate. "He's isolated, and has difficulty communicating."

...While Zarqawi is the movement's top operational figure, Alani said bin Laden had long since assumed a mainly symbolic role as the original al Qaeda has become more fragmented and diffuse, with scattered groups and cells looking to him as a spiritual mentor.

"The question of whether he is in the public eye or not apparently has minimal impact on operations," he said. "Al Qaeda has passed this stage. Al Qaeda can really operate without a bin Laden, without Afghanistan as a base and without a headquarters, command and control ... Now we have al Qaedas, rather than al Qaeda." [More>>thestar.com.my]
---
11.11.05 Iraq halts trade over AWB deals
November 12 – The Iraqi Government has suspended all future orders for Australian wheat – deals worth up to $800 million a year – until the monopoly wheat exporter repays the hundreds of millions of dollars of its money used as kickbacks to prop up the regime of Saddam Hussein. Controversial Iraqi Deputy Prime Minister Ahmed Chalabi told The Weekend Australian yesterday that he expected AWB, the former Australian Wheat Board, to pay the new Iraqi Government compensation for the $290million AWB sent to a Jordanian trucking group, Alia, that later turned out to be a front company for the dictator.

Mr. Chalabi also said he and the new Government believed that AWB must have known that money it paid to Alia under the corrupt oil-for-food program was, in fact, being funnelled to Saddam's regime. "The justifications they make are lame. The excuses they are making are lame."

Iraq's decision to halt purchases of Australian wheat – which Mr. Chalabi said was made by the Iraqi Grains Board – has enormous ramifications for the Howard Government. The wheat contracts are among Australia's most important export deals, and it was the Department of Foreign Affairs and Trade that gave AWB permission to start making payments to Alia. [More>>theaustralian.news.com.au]
---
11.10.05 Iran starts to lose faith in its hardline President
TEHRAN, November 10 – Iran's President Mahmoud Ahmadinejad is facing a crisis of public confidence after his nominee for oil minister was forced to withdraw in the face of accusations of corruption..."This is the weakest president we have had since the revolution," said Saeed Laylaz, an Iranian political and economic analyst. "The gap between him and parliament is getting bigger." [Full story>>theindependent.co.uk]
---
11.10.05 Arrests made as Zarqawi warns of more Jordan attacks
AMMAN (AFP) November 10 – Jordan said on Thursday it arrested several suspects over hotel bombings that killed 56 people in the deadliest attacks in the kingdom¹s history, claimed by homegrown extremist Abu Musab Al Zarqawi¹s militants. The suicide attacks late on Wednesday on one of the closest US allies in the Middle East targeted three hotels in the Jordanian capital that are favourite haunts of Amman¹s expatriate community and Western travellers. The strikes shattered the relative calm of one of the region¹s most stable states that was previously considered a safe haven from the turmoil of neighboring Iraq.

"A number of suspects were arrested and a number of cars were seized in connection with the terrorist attacks," a security source said in a statement carried by state-run Petra news agency.

The group of Zarqawi, who heads Al Qaeda¹s Iraq operations, claimed the coordinated attacks in an Internet statement, saying "our good lions launched ... a new raid ... in Amman," and warned of more to come. The hotels ³were turned by the dictator of Jordan as a back garden for the enemies of (our) religion, the Jews and the Crusaders," the Al Qaeda Organization in the Land of Two Rivers said, in reference to King Abdullah II.

³The protection wall for the Jews ... and the military backbase of the Crusader armies and the (Iraqi) government of the (Shias) ... are now in the line of fire of the mujahedeen (fighters) and their raids," it said. [More>>khaleejtimes.com]
---
11.10.05 Iraq restaurant bomb kills dozens
November 10 – More than 30 people have been killed and at least 20 others wounded in a suicide bomb attack on a restaurant in Baghdad, Iraqi officials have said. Witnesses said the explosion in the city centre could be heard from several miles away. The restaurant is popular with Iraqi police officers and security guards. In a separate incident, at least six people were killed and 13 injured by a suicide car bomb in Saddam Hussein's home town of Tikrit. [More>>bbc.co.uk ; See thestar.com.my (Reuters), "Suicide bombs in Baghdad restaurant kill 35."]
---
11.10.05 Two hundred rebels killed in Syrian border sweep
BAGHDAD, November 10 – Iraqi Defence Minister Saadun al-Dulaimi said Thursday that 200 rebels had been killed in Operation Steel Curtain, the latest US-led anti-insurgent sweep near the Syrian border. "Military operations around Husaybah, near the Syrian border, ended on Wednesday with 200 terrorists killed," Dulaimi told journalists in the capital. Some 1,000 Iraqi and 2,500 US troops launched Operation Steel Curtain early Saturday, focusing on Husaybah, a Euphrates valley town in the restive Sunni Arab province of Al-Anbar. [More>>jang.com.pk]
---
11.10.05 Kuwait reports first cases of bird flu
KUWAIT CITY (AFP) November 10 – A top Kuwaiti official announced on Thursday the discovery of two birds infected with avian flu, the first cases to be reported in the Gulf region. Shaikh Fahd Salem Al Sabah, head of the public agriculture authority, told a press conference the two cases were discovered last week. The first case was discovered at Kuwait Airport while examining a shipment of imported birds, while the second was found at a seaside chalet. Sabah did not give the date that the imported bird was brought into the country. On October 26, Kuwait announced a worldwide ban on the import of all types of birds and also banned the import of chicken and its products from 18 countries where cases of bird flu have been reported. [More>>khaleejtimes.com; See another report, theaustralian.news.com.au, "Bird flu found in Italy." : The Italian health ministry says it has detected the country's first case of the deadly H5N1 bird flu, saying in a statement that a wild duck trapped near the northern city of Padua was carrying that strain of the virus.]
---
11.10.05 update; 11.09.05 Bali bomber Azahari dead
November 10 – The most feared terrorist in Asia, Azahari bin Husin, the man responsible for the two Bali bombings and an attack on the Australian embassy in Jakarta, has blown himself up after being cornered by police in East Java. Police said it appeared Azahari, Indonesia's most wanted man, had died during a police raid in the city of Malang yesterday afternoon. Indonesia's elite anti-terror squad Detachment 88 tracked Azahari down after months of surveillance. It is understood one of the master bomb-maker's acolytes inadvertently led police to the hideout. Police have hunted the elusive Malaysian militant since the 2002 Bali blasts, which killed 202 people, including 88 Australians.

Azahari and his Malaysian colleague Noordin Mohammed Top have been among the most wanted men in Asia, with Australian Federal Police assisting the Indonesian police in tracking them down.

...Two of his companions also appeared to have blown themselves up, possibly using backpack bombs similar to those used last month in the latest Bali attacks, which killed 23 people, including the three suicide bombers. A journalist at the site told Indonesian television that he had seen the dismembered body of Azahari. "The body was in pieces but his face could still be recognised by two members of the anti-terrorist unit from Jakarta," he said. "He blew himself up together with the house." Several other people were reportedly arrested.

Azahari, who went to school and university in Adelaide, was wanted in connection with a string of attacks on Western targets that killed hundreds of people. These included the two Bali attacks, the bombing of the Marriott hotel in Jakarta in 2003 and the bombing of the Australian embassy in Jakarta last year. [Full story>>theaustralian.news.com.au ; See update, thejakartapost.com, "Identifying Bali suicide bomber led to Azahari's hideout." : The identification of one of the three suicide bombers in October's Bali restaurant blasts led authorities to the hideout of one of Asia's most wanted terrorist suspects, the Australian police commissioner said Thursday. Mick Keelty said Indonesian police identified the suicide bomber from East Java province about 10 days ago, and that led them to Azahari bin Husin, alleged to have been the chief bomb maker for al-Qaeda-linked regional terrorist group Jamaah Islamiyah. Keelty said evidence gathered about how the suicide bomber was recruited "led to other leads that led to a suspicion where Azahari was." Keelty said authorities have been using "sophisticated technology" to track terrorists in Indonesia, including the capture of suspects in previous bomb attacks on Bali in 2002, and "it appears that it has been quite successful here."]
---
11.10.05 update, 11.09.05 New outbreaks reported, 'situation serious'
November 10 – Two outbreaks of bird flu have been reported in Fuxin and Jinzhou, both in Northeast China's Liaoning Province, where the previous case was also detected. The new outbreaks bring the total number of confirmed bird-flu cases to six since last month. About 1,100 chickens were killed in the latest outbreaks, which were reported to the provincial health authorities on November 6. The National Avian Influenza Reference Laboratory confirmed yesterday that the latest cases involved the deadly H5N1 strain of bird flu. Local governments have culled about 500,000 poultry within a 3-kilometre radius of the outbreak sites to prevent the spread of the deadly virus. On Tuesday, Premier Wen Jiabao called for intensified efforts to fight bird flu as the country faces a "very serious situation." [More>>chinadaily.com.cn ; See update, jang.com.pk, "China reports new bird flu outbreak," : Another outbreak of bird flu has been detected in China's northeastern Liaoning province, the Ministry of Agriculture said late Thursday, on the same day that two other outbreaks were reported in the province.]
---
11.10.05 update, French interior minister plans to deport foreign rioters
November 10 – Nikolas Sarkozy, the French Interior Minister, today risked fanning the embers of suburban unrest by ordering immigrants convicted of rioting to be deported without delay. M. Sarkozy, whose fiery rhetoric has been widely blamed for heightening tensions, told prefets - France's regional governors - to expel all convicted foreigners, including those who have residency visas. He told parliament that 120 non-French teenagers – "not all of whom are here illegally"– had been convicted of involvement in the nightly rampages since October 27. He said: "I have asked the prefets to deport them from our national territory without delay, including those who have a residency visa." [More>>timesonline.co.uk]
11.09.05 Violences : Sarkozy veut expulser les étrangers condamnés
PARIS (avec AFP) November 9 – Le ministre de l'Intérieur Nicolas Sarkozy a demandé aux préfets d'expulser tous les étrangers condamnés dans le cadre des violences urbaines des treize dernières nuits, «y compris» les titulaires d'un titre de séjour, a-t-il annoncé aujourd'hui à l'Assemblée nationale.

«120 étrangers, pas tous en situation irrégulière, ont été condamnés» pour avoir participé aux dernières nuits d'émeutes urbaines, a indiqué le ministre de l'Intérieur lors de la séance des questions d'actualité.

«J'ai demandé aux préfets qu'ils soient expulsés sans délai de notre territoire national, y compris ceux qui ont un titre de séjour», a précisé Nicolas Sarkozy. [More>>lefigaro.fr.; See also cnn.com, "French riots erupt despite curfew" : PARIS, France (CNN) – Violence flared in parts of France for a 13th night despite emergency measures aimed at restoring calm as the country faces its worst civil unrest in decades. But the rioting seemed to have tapered off from previous nights, following government moves to bolster police powers and allow local authorities to impose curfews. About 600 vehicles were burned overnight Tuesday to Wednesday, French state radio reported -- a marked decrease from Saturday, when more than 1,400 were torched. There also were fewer clashes between police and rioters. However, there were widespread reports of looting and commercial properties being set on fire..]
---
11.09.05 At least 5 dead in blasts at Jordanian hotels
AMMAN, Jordan, November 9 – At least five people were killed and more than 12 others were wounded on Wednesday in two blasts international hotels in the Jordanian capital of Amman. One of the hotels is known to be popular with Israeli tourists. One of the blasts, at the Radisson hotel, was caused by a bomb placed in a false ceiling, police sources at the scene told Reuters. A Jordanian police official reported a second hotel explosion at the Radisson SAS Hotel in downtown Amman and said there are casualties. Several wounded people were seen in the lobby, witnesses said. One police official said scores of people were believed killed.

The explosion ripped through a banqueting room where about
250 people were attending a wedding reception. Smoke was seen rising from the building. There were conflicting reports on the name of the hotel. [More>>haaretzdaily.com; See update,

---
11.09.05 New bird flu death feared as World Bank seeks $1 billion
GENEVA (Reuters) November 9 – An Indonesian teenager is feared to have become the 65th person killed by bird flu as the World Bank called on Wednesday for up to $1 billion to prevent the virus spawning a pandemic in which millions could die. The news of another death blamed on bird flu came as health experts in Geneva put the finishing touches to a strategy to halt the spread of the deadly H5N1 bird flu virus. An initial test showed a 16-year-old girl who died this week had bird flu, an Indonesian health ministry official said.

"The test result showed positive, but we're still waiting for confirmation from Hong Kong," Hariadi Wibisono, a senior official at the health ministry, told Reuters. The victim lived in an East Jakarta suburb near a bird market and had chickens and pet birds in her house. However, no evidence of contact with an infected bird has been established. [More>>thejakartapost.com; See also related article, chinadaily.com.cn, "Agriculture minister: Bird flu outbreak [in China's Liaoning Provice] a potential disaster."] : "A senior China government official has warned a bird flu outbreak in its northeastern Liaoning Province had not yet been controlled and could escalate into a disaster...More than 6 million chickens, ducks and geese have been culled in the province since the outbreak, which was officially reported to the World Health Organization on November 3..."; for background see Maravot News 11.08.05]
---
11.09.05 US Beijing, China embassy warns of possible Islamic extremist attack
November 9 – The Embassy has learned that Chinese police advised hotels that Islamic extremist elements could be planning to attack four and five star hotels in China sometime over the course of the next week. Chinese authorities have assured the Embassy that they are taking appropriate security measures and investigating the possible threat thoroughly. American citizens visiting Chinese four and five star hotels should review their plans carefully, remain vigilant with regard to their personal security, and exercise caution. Reports should be made to local police if one notices unusual activities in or around these areas.

Americans living or traveling in China are encouraged to register with the U.S. Embassy in Beijing through the State Department's travel registration website, https://travelregistration.state.gov. Americans without Internet access may register directly with the U.S. Embassy by calling (86)(10) 6532-3431 x5344. By registering, American citizens make it easier for the Embassy or Consulate to contact them in case of emergency. [beijing.usembassy-china.org.cn via jang.com.pk]
---
11.09.05 Kashmiri militant confesses to New Delhi bombing: army
JAMMU, India (AFP) November 9 – A Kashmiri militant has confessed in detention to planting one of three bombs that exploded in New Delhi and killed 62 people last month before a Hindu festival, the Indian army said on Wednesday.

³The army has picked up Ghulam Mohiuddin Lone of Banihal area in Doda district of Kashmir, who has confessed that he was involved in the Paharganj bomb blast in New Delhi,² said Colonel D.K. Badola, spokesman for the Indian army in Jammu. Paharganj was one of two markets that were hit by blasts on October 29, days ahead of Diwali, the Hindu festival of lights. Another blast occurred on a bus. Badola said Lone had been handed over to police in Jammu, winter capital of Indian-administered Kashmir.

A military intelligence source told AFP that Lone had said he was paid 23,000 rupees (500 dollars) by a commander of the pan-Islamic militant group Lashkar-e-Taiba. ³He was first paid 3,000 rupees (65 dollars) before the blast, then 20,000 rupees (435 dollars) after the blast,² said the source. [More>>khaleejtimes.com]
---
11.09.05 Iraq blast kills seven policemen
November 9 – Seven Iraqi police officers have been killed and nine people wounded, including three civilians, after a car bomber hit a police patrol north of Baghdad, medical and army sources said. The attack took place on Wednesday in the city of Baquba, 65km north of the capital. Aljazeera learned that the blast occurred after US forces said they had arrested 390 people in two areas north of Baquba.

Baquba is the capital of Diyala province, which has seen considerable violence linked to sectarian tensions in the run-up to 15 December elections. At the end of October, 30 people were killed and dozens wounded by a bomber who lured customers to a truck laden with dates before detonating a massive charge in a small Shia town near Baquba. [More>>aljazeera.net]
---
11.09.05 Senators question oil industry executives
WASHINGTON, November 9 – For the nation's top oilmen, it is a new and uncomfortable reality. They were summoned by the Republican leadership of the Senate and appeared this morning before two congressional panels to explain why prices climbed as high as they did and what they intend to do with their companies' soaring profits. The executives hope to persuade legislators not to take tough punitive action.

The hearing is an indication that big oil companies, which have received billions of dollars in tax breaks from Congress, are facing an increasingly hostile audience in Washington. Even some Republican lawmakers, whose party has long been sympathetic to the requests of the industry, are considering a windfall-profit tax for oil companies. Concerns mounted after oil companies recently reported record quarterly profits, including Exxon Mobil's $9.92 billion, up 75 percent from the third quarter last year. [More>>washingtonpost.com]
---
11.09.05 Congress members write to Chalabi
Deputy Prime Minister Ahmed Chalabi
Iraqi National Congress
c/o The Ritz-Carlton Georgetown
3100 South Street, NW
Washington, DC 20007

Dear Mr. Deputy Prime Minister:

In the months leading up to the present conflict in Iraq, information from your close circle of associates was a key element in the Bush Administration's effort to convince the public of the need to go to war. As one of the leading Members of the Iraqi National Congress, you were responsible for providing a major portion of the information the Bush Administration used to persuade Members of Congress and the American people that a war with Iraq was neccessary.

Most notably, an "Iraqi chemical engineer" designated "Curveball" supplied hundreds of pages "firsthand" descriptions of mobile biological and chemical weapons facilities to the United States Defense Intelligence Agency. Secretary of State Colin Powell later used this information in his February 2003 address to the United Nations detailing the state of Iraq's weapons programs.

Since then, the Congress and the American public have determined that these "firsthand" accounts were entirely fabricated. Moreover, we have learned that "Curveball" is, in fact, the brother of one of your top lieutenants within the Iraqi National Congress. Secretary Powell has since apologized for the use of such "intelligence" in making his case for the invasion of Iraq. However, neither you nor your associatees have ever fully accounted for the role you played in the buildup to this war, or for the $340,000 you and your associates received every month from the United States intelligence community for your efforts in gathering "evidence."

We respectfully request that you make yourself available to us to explain the details and reasons for your involvement in the manipulation of intelligence as the Bush Administration pushed for war. It is vital to the integrity of both our democracies that the truth behind these terribly destructive events be known.....(signed) John Conyers, Jr., Maurice Hinchey, George Miller, Raul M. Grijalva, Chris Van Hollen, Susan Davis, Michael McNulty, Grace Napolitano, Lloyd Doggett, Ted Strickland, Ellen Tauscher, Jim McDermott, Jay Inslee, Marci Kaptur, Jan Schakowsky, Donald Payne, Cynthia McKinney, Hilda Solis [More>>afterdowningstreet.org]

---
11.09.05 Archeologists discover base of ancient lighthouse in Alexandria
CAIRO (RIA Novosti) November 7 – French diving archeologists have discovered the foundation of the ancient lighthouse of Pharos in Alexandria, the seventh wonder of the world. The director of the Alexandria national museum, Ibrahim Darwish, said Sunday that the lighthouse, which was destroyed by two earthquakes in the 11th and 14th centuries, had occupied an area of 800 sq m north of the city's eastern harbor.

The lighthouse consisted of three towers stacked one on top of the other largest to smallest and reached 120-137 meters (390-450 feet) in height. On top of the lighthouse, there was a bronze chalice holding smoldering coal. A complicated system of mirrors made it possible for travelers to see the smoldering coal from a distance of tens of kilometers (up to 60 miles). The lighthouse was built by Greek architect Sostratus for King Ptolemy II (284-246 BC). It was erected on the eastern side of the island of Pharos at the entrance to the harbor of Alexandria. Earthquakes scattered the remains of the lighthouse all over the harbor, and only now have archeologists established its exact location. In July, Governor Salam El Mahgoub called on Egyptian and international organizations to restore the lighthouse, a project that will cost $100 million. [rian.ru]
---