02.07.06 Israel kills jihad leader in onslaught against militants
February 7 – Israeli troops shot dead an Islamic Jihad commander in the West Bank and bombed a bridge in Gaza today as the weekend spree of raids and targeted killings against Palestinian militants continued.

Ahmad Radad, reportedly a senior figure in the al-Quds Brigade, the paramilitary wing of Islamic Jihad, was shot in a gun battle in a house in Nablus. Another Islamic Jihad member, described by the Israeli army as the group's master rocket maker, was killed on Sunday. [More>>timesonline.co.uk]
---
02.07.06 Muslim cleric Abu Hamza sentenced to 7 years jail
LONDON (Reuters) February 7 – The British Muslim cleric whose North London mosque figured in some of the most important terrorism cases of the last decade was sentenced to seven years on Tuesday for charges including inciting murder. Egyptian-born Abu Hamza al-Masri was convicted on 11 counts, also including stirring up racial hatred in his sermons and possessing a handbook "of use to terrorists". The judge sentenced him to serve all 11 sentences concurrently, the longest of which was seven years. He could have faced life. [thestar.com.my ; See more details at haaretzdaily.com and timesonline.co.uk ; See related story, thestar.com.my, "Terrorist training camps might exist in UK – police" : LONDON (Reuters) - Police say they uncovered evidence of terrorist training camps in Britain after raiding Muslim cleric Abu Hamza al-Masri's north London mosque, which they believe was a global magnet for Islamic militants. Police said they have had evidence of the camps for years, but it could not be disclosed until Tuesday after the end of a trial at which the cleric was convicted of 11 charges, including soliciting murder and possessing a terrorist training manual.

In January 2003, about 150 British police staged a dramatic raid on Finsbury Park Mosque as part of their investigation into a plot to make the deadly poison ricin at a nearby north London apartment. Inside the mosque they discovered gas masks, chemical, biological and nuclear protective suits, blank passports, hunting knives, and blank-firing weapons...]
---
02.07.06 Drawing a line under hypocrisy
February 7 – Tom Gross, Jerusalem Post, editorial : There is a strong case for saying that the Danish cartoons of Muhammad, which have caused so much uproar, are fair comment. Certainly those who haven't seen them can rest assured that they are relatively tame in comparison with many cartoons on other subjects which regularly appear in the European press. Even so, non-Muslims might have more sympathy with Muslims who find them offensive if it weren't for the astonishing double standards and hypocrisy of the Muslim world when it comes to accepting and applauding truly vicious slanders against Jews and, to a lesser extent, Christians.

The arguments from Muslims - though not the fanatical, violent manner of many of their protests - would no doubt be taken more seriously if they had also objected to the depiction on Syrian television of rabbis as cannibals. Or if, last Saturday, Britain's Muslim Weekly had not published a caricature of a hooked-nosed Ehud Olmert.

Or if, last Friday, Valley of the Wolves, the most expensive movie ever made in Turkey, had not opened to great local acclaim. In the film American soldiers in Iraq crash a wedding and pump a little boy full of lead in front of his mother. They kill dozens of innocent people with random machine-gunfire, shoot the groom in the head and drag those left alive to prison, where a Jewish doctor cuts out their organs and sells them to rich people in New York, London and Tel Aviv. Or if a Belgian and Dutch Muslim group hadn't, last week, posted on its Web site pictures of Anne Frank in bed with Hitler. Or if the mere display of a cross or a Star of David in Saudi Arabia wasn't illegal.

And when it comes to newspaper cartoons - the subject of the present unrest - Muslim countries are world leaders in stirring up hate, without a peep of protest elsewhere, let alone the torching of buildings, threats to behead European tourists, and the burning of the Danish flag (which incidentally bears a Christian symbol, the cross). [Full story>>Jerusalem Post ; See earlier articles, February 5, Beirut ablaze.."]
---
02.07.06 Bird flu fears spread to southern Iraq
AMARA, Iraq (AFP) February 7 – The death in southern Iraq of a man with bird flu-like symptoms who owned pigeons with the deadly H5N1 strain has spurred fears the disease is spreading from the Kurdish north. The man who died in the city of Amara owned two pigeons, which tested positive for the H5N1 strain, making him the first suspected human case of bird flu outside Kurdistan where two people have died of the disease. On Monday, Ibtisam Aziz, head of a committee set up to fight the virus, said the virus was still confined to a village in the Raniya area of Sulaimaniyah province where the first case involving a teenage girl was confirmed. Four people are currently under observation in Kurdistan as suspected bird flu patients, officials said Tuesday. [More>>khaleejtimes.com]
---
02.07.06 Scientists hail discovery of hundreds of new species in remote New Guinea
February 7 – An astonishing mist-shrouded "lost world" of previously unknown and rare animals and plants high in the mountain rainforests of New Guinea has been uncovered by an international team of scientists. Among the new species of birds, frogs, butterflies and palms discovered in the expedition through this pristine environment, untouched by man, was the spectacular Berlepsch's six-wired bird of paradise. The scientists are the first outsiders to see it. They could only reach the remote mountainous area by helicopter, which they described it as akin to finding a "Garden of Eden". In a jungle camp site, surrounded by giant flowers and unknown plants, the researchers watched rare bowerbirds perform elaborate courtship rituals. The surrounding forest was full of strange mammals, such as tree kangaroos and spiny anteaters, which appeared totally unafraid, suggesting no previous contact with humans. [More>>independent.co.uk]
---
02.06.06 Rumsfeld: Force against Iran possible
February 6 – Donald Rumsfeld, the US defence secretary, has said his country does not rule out using military force against Iran to prevent it from obtaining nuclear weapons. "All options, including the military one, are on the table," Rumsfeld said in an interview with Monday's edition of German financial newspaper Handelsblatt.

"Today, biological, chemical and radiological weapons are available which could kill tens of thousands of people," Rumsfeld said, in comments in German. The Iranian nuclear crisis escalated on Saturday when the UN's International Atomic Energy Agency voted to report the Islamic republic to the UN Security Council over its atomic programme. Iran said on Monday that large-scale uranium enrichment work, which is the focus of fears that it is seeking nuclear weapons, would begin in "due course" in response to the IAEA decision. [More>>aljazeera.net]
---
02.06.06 Bush's $2.77 trillion budget plan calls for Medicare cuts
February 6 – President Bush submitted a $2.77 trillion budget plan to Congress today that calls for cutting the growth of Medicare and putting tight limits on most spending not related to national security. Mr. Bush also repeated his call for Congress to make tax cuts passed earlier in his administration permanent. "My administration has focused the nation's resources on our highest priority: protecting our citizens and our homeland," Mr. Bush said in his budget message. "Working with Congress, we have given our men and women on the frontlines in the war on terror the funding they need to defeat the enemy and detect, disrupt and dismantle terrorist plots and operations."

The plan calls for eliminating or making deep cuts in 141 programs for a savings of almost $15 billion, but would provide more money for defense, homeland security, preparations for a possible outbreak of bird flu and promotion of the physical sciences. [More>>nytimes.com]
---
02.06.06 French transplant woman says: 'Now I have a face'
February 6 – A Frenchwoman who had the world's first partial face transplant appeared in public today for the first time since her operation to tell a press conference: "I now have a face like everyone else." Although Isabelle Dinoire, a 38-year-old mother of two, is still unable to move her lips properly and her speech is slurred and hard to understand, she thanked the doctors who undertook the operation and the family of the donor who gave her new lips, a chin and a nose. [More>>timesonline.co.uk]
---
02.06.06 Iraq has seven suspected bird flu cases: WHO official
ARBIL, Iraq (AFP) February 6 – Iraq¹s Kurdistan region has seven suspected human cases of the deadly bird flu, a World Health Organisation official said on Monday. ³Apart from the girl who died there are seven suspected cases of bird flu and we have taken their blood samples and sent them to Cairo for further investigation,² Naeema Al Gasseer, the WHO representative in Iraq, told reporters. The seven people are undergoing treatment. Last month a teenage girl from Kurdistan succumbed to the deadly H5N1 virus. [khaleejtimes.com]
---
02.06.06 Global protests over cartoons spread; 4 killed in Afghanistan
(AP) February 6 – Protests, some violent, swirled through the Muslim world Monday while politicians sought diplomatic solutions to the growing and increasingly violent crisis surrounding published caricatures of Islam's Prophet Muhammad. Lebanon apologized to Denmark after thousands of rampaging Muslim demonstrators set fire to the building housing the Danish mission in Beirut.

The European Union issued stern reminders to 18 Arab and other Muslim countries worldwide that they are obliged under the Vienna Convention on Diplomatic Relations to protect foreign embassies, and Austria - which now holds the EU Council presidency, reported calling in a top representative of the Organization of the Islamic Conference to express concerns for the safety of diplomatic missions. The prime ministers of Spain and Turkey issued a Christian-Muslim appeal for calm, saying "we shall all be the losers if we fail to immediately defuse this situation." But Turkey's foreign minister said media freedoms cannot be limitless and that hostility against Muslims was replacing anti-Semitism in the West.

...Lebanese Information Minister Ghazi Aridi said early Monday that the government had unanimously "rejected and condemned the ... riots," saying they had "harmed Lebanon's reputation and its civilized image and the noble aim of the demonstration."

"The Cabinet apologizes to Denmark," Aridi said.

...Turkish Prime Minister Recep Tayyip Erdogan and Spanish Prime Minister Jose Luis Rodriguez Zapatero published a column in the Paris-based International Herald Tribune saying the dispute "can only leave a trail of mistrust and misunderstanding between both sides."

"Therefore, it is necessary to make an appeal for respect and calm, and let the voice of reason be heard," Erdogan and Zapatero wrote. Last year, their governments presided over the launch of the UN-sponsored Alliance of Civilizations.

...Grand Mufti Mohammed Rashid Kabbani, spiritual leader of Lebanon's Sunni Muslims, suggested that Islamic radicals had fanned the anger to "distort the image of Islam."[Full story>>Jerusalem Post ; See also dailystar.com.lb, "Anti-European violence mars image of Islam."]
---
02.05.06 Beirut ablaze – and cartooning religion with political aims, as in the Nazi era
BEIRUT (Reuters) February 5 – Angry demonstrators set the Danish consulate in Beirut ablaze on Sunday and the violent turn in protests over publication of cartoons of Prophet Mohammad drew condemnation from European capitals and moderate Muslims. Syrians set fire to the Danish and Norwegian embassies in Damascus on Saturday. They damaged the Swedish embassy and tried to storm the French mission but were held off by riot police. Denmark is the focus for Muslim ire as images that Muslims find offensive, including one of the Prophet with a turban resembling a bomb, first appeared in a Danish daily in what has become a face-off between press freedom and religious respect. The Danish Foreign Ministry urged Danes on Sunday to leave Lebanon and advised its citizens not to travel there. [More>>thestar.com.my ; See also (AFP) dailystar.com.lb ; See related stories:

iran-daily.com, "Insult to Islam, a kind of Crusade" : ...TEHRAN, February 4 – Culture Minister Mohammad Hossein Saffar-Harandi said the insult to Prophet Muhammad (PBUH) by a Danish publication and its repetition in six other European publications appears to be a kind of crusade against Muslims. According to Iran Daily¹s Sadeq Dehqan, Saffar-Harandi made the remark while addressing the gathering of his ministry¹s Basij (volunteer) personnel on Saturday. "The disgraceful move of these countries is somehow related to the developments that take place in the Islamic world and the new spirit of dynamism (pursued by Muslims). This move is not something new, but rather a passive move (launched by foreigners),³ he said. Stressing that Muslims never insult the sanctities of other religions, the culture minister said, ³Muslims respect Jesus Christ (PBUH) more than some Christians and this respect stems from the Qu¹ranic verses. The same approach holds in the case of Prophet Moses (PBUH) and other prophets." Also on Saturday, Saffar-Harandi referred to restrictions over Iranian journalists in foreign countries, especially the US, and said Iran should deal with foreign correspondents in a similar manner...

Jerusalem Post, February 5, "Jews dragged into cartoon controversy" : Non-Jews slander non-Jewish prophets and then come to hang the Jews, one could say of the latest, ugly twist in the Danish cartoon controversy, paraphrasing one of Menachem Begin's most famous lines. A Belgian-Dutch Islamic political organization, the Arab European League, posted anti-Jewish cartoons on its Web site in response to the cartoons of the prophet Mohammed that appeared in Danish papers last year and offended many Moslems, unleashing violent demonstrations around the Islamic world. One of the AEL cartoons reportedly displayed an image of Anne Frank in bed with Hitler, and another questioned whether the Holocaust actually occurred...]

Editorial note: The Nazis used both cartoons and words to paint a picture of the Jews, putting them on the same level as vermin to be eradicated. After the Holocaust the Nuremberg Court judged that certain publishing – such as that by Julius Streicher – was worthy of being hanged. Streicher's publications helped spread the hate propaganda against the Jews, facilitating the Holocaust. Today President Mahmoud Ahmadinejad of Iran has stepped into the same level in Purgatory as Hitler and his cronies.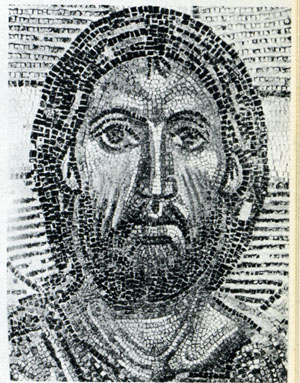 One of the earliest images of Christ,
Christ Enthroned
mosaic, narthex of Hagia Sophia, Istanbul, 10th century A.D. Believed to be copied from the image on the Shroud of Turin. For a colorized view by Maravot of the face on the Shroud of Turin see
"My father is greater than I".
For those interested with regard to the religious ban on images of prophets or God, the concept is rooted in the Old Testament (Torah). The ban against images was recognized by Jesus and the early Christian community until the time of
Constantine
. The Roman emperor Constantine converted to Christianity and relocated his capitol from Rome to a new city called Constantinople (now Istanbul). He founded the Hagia Sophia which is now a mosque. In the 1980's images on tiles were found under a plaster covering over the images in the Hagia Sophia. Since then the Turkish government has permitted showing the Christian images in the monument. The earliest images of Christ and the prophets date to the 10th century, including the Christ Enthroned mosaic . Some of the images are believed to have been copied from the
Shroud of Turin
(See "The Shroud of Turin – The burial cloth of Jesus Christ?" Ian Wilson, 1979, Doubleday & Co.).
Both the Old Testament and teachings of Christ (New Testament) are endorsed in the Koran, which is iconoclastic. Iconoclasm, the ban against, and destruction of, images came to a head under Pope Leo III circa. 726 A.D., when he ordered an image of Christ to be removed from the main gate of Constantinople. (
wikipedia.org
) By the 10th century religious images were found again in the Church.
The Koran testifies that it was written to confirm the Jewish Scriptures and, besides acknowledging Jesus as a prophet, also calls Jesus the Messiah (Greek, Christ). It follows that Islamic scholars need to reconcile a bit more to the teachings of Christ (Messiah). If the radical Islamists continue to be intolerant of images of the prophets, Christ, or God – i.e., as in the
Sistine Chapel
– the conflict between Islam and Christianity would revert to the Medaevil level.
The conflict between Islam and the Judeo-Christian world reflects also on Islamist murders of Buddhists (Moslems have been killing Buddhists in the South of Thailand, also conflicting with the Catholic majority in the Philippines). Islamists and Hindus have had a continuing conflict, since Hindu temples recognize multiple gods and are adorned with their images. Those who understand the teachings of Hinduism, particularly the "Upanishads" (See Maravot's
"Tapestry of One"
) will discern that in spite of the multiple gods in Hindu beliefs, the final argument in the Hindu tradition is that God is all in all and ineffable, that the many images are only man-made impressions of God's infinite manifestations.
Buddhism was founded upon Hindu teachings, much in the same manner as Christianity was founded upon Jewish teachings. Buddha protested the caste system in Hindu culture, and Jesus protested the practices of priests who were violating the Torah. The well-known story of Jesus throwing over the tables of the money changers in the Temple (another version of the story refers to the event taking place in a synogogue) illustrates his conservative view of the scriptures. Money changing by priests in the Temple was prohibited by the Torah. They were to obtain their living through a set tithe and not permitted to raise extra money, as was the case in money changing. Tolerance – we recall the Golden Rule – was the cornerstone of Jesus' teaching.
The Koran which was founded upon the Judeo-Christian scriptures is regarded by Moslem scholars as an "umbrella religion" incorporating Judaism and Christianity. One of the early acts of Mohammed in implementing the new teachings was to clear the Kaaba in Mecca of its many idols. As an aside, idolatry was so fiercely opposed by Jews that a Roman attempt to place the Roman Eagle over the Golden Gate to the Temple in Jerusalem caused armed protests. Caesar
Caligula
in one of his many acts of madness attempted to put his own image in the Temple of Jerusalem. Rioting among the Jews was quelled by the Syrian governor and Herod Agrippa.
Islamists may now be protesting over a few cartoons, but the fact is the faith today has been at war with all faiths, perhaps to the same degree as during the Crusades. Their objective to restore the Caliphates, establishing one unified Islamic nation, (expressed by the Baathist ideology founded in Syria in the 20th century, later adopted by Saddam Hussein) would not address the actual terrorism in Islam, where its terrorists have been attacking and killing those who honor and worship God through other faiths. The conflict between Palestine and Israel, and the strife between the Moslems and Hindus in Kashmir, are similar, claimed President Pervez Musharraf of Pakistan; if you can resolve one you can resolve the other, he asserts. To a certain degree he is correct in his claim.
To review actual references in the Koran to the Jewish Scriptures and Christ see Maravot News editorial,
"Why the Crusade & Jihad."
It seems to me that a discussion among the masters of the three religions would do Peace a favor by having some serious discussions as to what their divine books actually say, rather than deferring to the tempest that is now searing our world with its message of intolerance.
Mel Copeland
---
02.05.03 Update, 02.03.06 Al-Qaeda suspects escape Yemen prison – USS Cole attack planner escapes
SANNA, February 3 – Twenty-three suspected members of Al-Qaeda escaped from prison in the Yemeni capital Sanaa Friday, the website of the armed forces' official newspaper reported. The suspects broke out of the prison run by the political security service around midday (0900 GMT), the internet edition of the newspaper said without elaborating on the circumstances. A security official who requested anonymity confirmed the breakout. [jang.com.pk ; See via nytimes.com update February 5, "U.S.S. Cole attack planner escapes, Interpol says" : LYON, France (AP) – A man considered a mastermind of the USS Cole bombing that killed 17 sailors in a Yemeni port in 2000 was among 23 people who escaped from a Yemen prison last week, Interpol said Sunday. The international police agency issued an ''urgent global security alert'' for those who escaped Friday from the prison via a tunnel. It called the escapees ''dangerous individuals.''...]
---
02.05.06 Thousands of Tiger, Leopard skins, etc. poached via Tibet, Nepal links
NEW DELHI, JAIPUR – February 5 – On Friday, Rajasthan police arrested a Tibetan, Neema Kampa, from Delhi¹s Azad Market. Police say every animal pelt that goes out of India passes through the hands of his gang. Poacher Sansar Chand, too, had told the Rajasthan Police and the CBI that the skins he sold to international dealers, mostly from Nepal, passed through Tibet...The four Nepalese buyers who figure in his admissions include:

€ Tsering Tamang: Allegedly bought 300 tiger skins, 2,000 leopard skins, 6,000 fox skins and 4,000 cat skins from Chand... [Full story>>expressindia.com]
---
02.05.06 Exclusive: Can the President order a killing on US soil?
Newsweek February 13 issue – In the latest twist in the debate over presidential powers, a Justice Department official suggested that in certain circumstances, the president might have the power to order the killing of terrorist suspects inside the United States. Steven Bradbury, acting head of the department's Office of Legal Counsel, went to a closed-door Senate intelligence committee meeting last week to defend President George W. Bush's surveillance program. During the briefing, said administration and Capitol Hill officials (who declined to be identified because the session was private), California Democratic Sen. Dianne Feinstein asked Bradbury questions about the extent of presidential powers to fight Al Qaeda; could Bush, for instance, order the killing of a Qaeda suspect known to be on U.S. soil? Bradbury replied that he believed Bush could indeed do this, at least in certain circumstances.
[More>>msnbc.msn.com/newsweek]
---
02.05.06 Ibn Warraq: The Islamisation of Europe must be vigorously opposed
February 6 – Muslim dissident Ibn Warraq, in Germany's Der Spiegel, on why the West must stand firmly with the Danish. The great British philosopher John Stuart Mill wrote in On Liberty: "Strange it is that men should admit the validity of the arguments for free discussion, but object to their being 'pushed to an extreme'; not seeing that unless the reasons are good for an extreme case, they are not good for any case."

The cartoons in the Danish newspaper Jyllands-Posten raise the most important question of our times: freedom of expression. Are we in the West going to cave in to pressure from societies with a medieval mindset, or are we going to defend our most precious freedom: freedom of expression, a freedom for which thousands of people sacrificed their lives?

A democracy cannot survive long without freedom of expression, the freedom to argue, to dissent, even to insult and offend. It is a freedom sorely lacking in the Islamic world, and without it Islam will remain unassailed in its dogmatic, fanatical, medieval fortress; ossified, totalitarian and intolerant. Without this fundamental freedom, Islam will continue to stifle thought, human rights, individuality, originality and truth. [More>>theaustralian.news.com.au]
---
02.05.06 Merkel, Rumsfeld urge world to act on Iran threat
February 5 – German Chancellor Angela Merkel and US Defense Secretary Donald Rumsfeld urged the world to prevent the Islamic republic from developing a nuclear weapon. Merkel told the Munich Conference on Security Policy that Iran had "overstepped the mark" with its nuclear program, while Rumsfeld said the world "does not want a nuclear Iran."

"We want to prevent and we must prevent Iran from developing nuclear weapons," Merkel said in her speech. "The concerns and fears over Iran's nuclear program are legitimate."

...Merkel said Iran still had a chance to avoid the sanctions by accepting a Russian proposal to allow Iranian uranium enrichment to take place in Russia, which would prevent Tehran from mastering sensitive nuclear technology...She called on Iran to consider the compromise as a "window of opportunity." The German leader had strong words for Iranian President Mahmoud Ahmadinejad, who has called for Israel to be "wiped off the map" and has branded the Holocaust a "myth."

"A president who denies the existence of Israel and the Holocaust cannot expect to receive any tolerance from Germany," Merkel said. She compared Ahmadinejad's statements to when Adolf Hitler came to power and began threatening to exterminate European Jews. "Remember that in 1933 many people said it was just rhetoric," Merkel said. [Full story>>dw-world.de via theaustralian.news.com.au ; See related story, chinadaily.com.cn, "Iran says negotiations on nuke program still possible."]
---
02.04.06 Chavez makes call to arms
CARACUS, Venezuela, February 5 – Venezuelan President Hugo Chavez says he is considering buying enough rifles to arm one million people ready to repel a possible US invasion. Mr. Chavez also threatened to close down his government's US-based refineries if Washington decided to cut diplomatic ties. During a speech warning his supporters that Washington was considering an invasion of Venezuela, Mr. Chavez said that 100,000 Russian-built Kalashnikov assault rifles would not be enough to defend the country.

"We still need a higher number of rifles. The 100,000 Russian rifles are not enough, Venezuela needs to have one million well-equipped and well-armed men and women," he said. "I've started making contacts with some countries" that would be able to supply the rifles, Mr. Chavez told the crowd of supporters to rousing applause. [More>>theaustralian.news.com.au ; See also bbc.co.uk]
---
02.04.06 Update, 02.03.06 Captain and crew abandon ferry; confiscate lifejackets before leaving
SAFGA, Egypt (Reuters, "Red Sea ferry survivors say captain abandoned them") February 4 – Survivors of the Red Sea ferry disaster said its captain fled the burning ship by lifeboat and abandoned them to their fate, as hopes faded on Saturday of finding some 800 missing. Some passengers plucked alive from the sea or from boats after the ferry sank early on Friday said crew had told them not to worry about a fire below deck and even ordered them to take off lifejackets...Rescue workers have recovered 195 bodies from the Red Sea and saved 389 people but about 800 more, most of them Egyptian workers returning from Saudi Arabia, are missing.

The survivors said a fire broke out below deck shortly after the 35-year-old vessel left the Saudi port of Duba on Thursday evening with 1,272 passengers and a crew of about 100. The ship began to list but the crew continued to sail out into the Red Sea rather than turn back to the Saudi port, they told reporters in the Egyptian port of Safaga, where the ferry should have landed early on Friday. Egyptian survivor Shahata Ali said the passengers had told the captain about the fire but he told them not to worry. "We were wearing lifejackets but they told us there was nothing wrong, told us to take them off and they took away the lifejackets. Then the boat started to sink and the captain took a boat and left," he added, speaking to Reuters Television. [Full story>>thestar.com.my]


---
02.04.06 Nuclear panel votes to report Tehran to UN – Adds clause for WMD free Middle East
VIENNA, February 4 – The 35-nation board of the International Atomic Energy Agency voted here on Saturday to report Iran's nuclear case to the United Nations Security Council, a move that could change the course of international diplomacy toward Iran and open the door to international punishment of the country. [More>>nytimes.com ; See also haaretz.com, "IAEA refers Iran nuclear issue; calls for a Middle East free of WMD; Iran says will immediately resume enriching uranium" : ...In a bid to win the support of non-aligned member states in the UN and thus muster a large majority for the resolution against Iran, several European states expressed support for the initiative to include in the resolution a call to create a nuclear-free zone in the Middle East. Inclusion of the clause marks the first time which the UN Security Council will debate a resolution whose language explicitly calls for cleansing the region of nuclear weapons. The IAEA resolution states that reporting Iran to the Security Council is necessary in "recognition] that a solution to the Iranian issue would contribute to global nonproliferation efforts and to realizing the objective of a Middle East free of weapons of mass destruction, including their means of delivery."

Jerusalem opposes diplomatic efforts, principally spearheaded by Egypt, to link the matter of Iran's alleged nuclear ambitions with its own suspected arsenal. The final wording of the resolution does not refer directly to Israel but rather speaks of a general need to demilitarize the region from nuclear weapons...]
---
02.04.06 Syria protestors set Danish embassy ablaze over cartoon
DAMASCUS (Reuters) February 4 – Hundreds of Syrian demonstrators set the Danish embassy on fire on Saturday to protest the printing by a Danish newspaper of cartoons of the Prophet Mohammad (PBUH), a Reuters witness said. The fire badly damaged the embassy¹s building and fire engines went to the scene. Protestors also threw stones at the building shattering its windows. Chanting "God is Great," they stormed the embassy, burned the Danish flag and replaced it with another flag reading "No God but Allah, Mohammad (PBUH) is His Prophet." [More>>khaleejtimes.com ; See related stories, independent.co.uk, "From london to Jakarta, fury at Mohamed cartoons grow," and jang.com.pk, "Press freedom never meant to offend religious belief, says Vatican."]
---
02.04.06 Thirty-eight killed in fierce Afghan battles
February 4 – Militants launched a series of attacks against government offices and a police convoy across southern Afghanistan on Saturday, leaving a district chief and 15 others dead - and bringing the death toll from two days of battles to 38, officials said. The officials said more than 200 rebels were fighting 250 police and Afghan soldiers, as well as US troops - making it the biggest and deadliest battle in months. The bloodshed underscores the massive challenge that will face thousands of British and Canadian troops in the next few months as they gradually relieve American forces in southern Afghanistan, a hotbed of anti-government insurgency and the drug trade. [More>>aljazeera.net]
---
02.03.06 Osama, Zawahiri calling shots from Pakistan: Report
NEW DELHI (PTI) February 3 – Al-Qaeda leadership is headquartered in two districts of Pakistan's North West Frontier Province given the confluence of certain "unique ground conditions" in these tribal areas, a US strategic think tank has claimed. "Both (Ayman) al-Zawahiri and Osama bin Laden are in the rural western areas of the NWFP and frequently attend tribal gatherings there, indicating that they feel secure with – and have influence over – the local Pashtuns, whose support they need if they are to remain secure," the Strategic Forecasting Inc. (Stratford) claimed in its latest report. It said the al-Qaeda leadership was headquartered in Dirand swat districts, and possibly, the Malakand area of NWFP.

Observing that global attention had been focussed on North and South Waziristan areas of the province due to the ongoing unrest there, it said Dir bordered the Bajaur agency of Pakistan, which in turn was close to Afghanistan's Kunar province, "a hotbed of Taliban and al-Qaeda activity." [More>>expressindia.com]
---
02.03.06 Baghdad car bombs cause carnage
February 3 – Two bombs have exploded about 20 minutes apart in eastern Baghdad, killing at least 11 Iraqis and wounding dozens, officials say. The American military also said five US troops died in separate attacks. The first blast occurred at 5pm on Thursday, when a car bomb detonated near a gas station, killing at least two people and wounding 13, police Major Falah al-Mohammedawi said. The second, believed to be driven by a suicide bomber, went off 20 minutes later in a bustling outdoor market, killing nine people and wounding 57, said al-Mohammedawi. [More>>aljazeera.net ; See also aljazeera.net, "Taliban attack police convoys."]
---
02.03.06 Bush 'tried to lure Saddam into war using UN aircraft'
February 3 – President Bush had plans to lure Saddam Hussein into war by flying an aircraft over Iraq painted in UN colors in the hope he would shoot it down, a book reveals. Mr. Bush told Tony Blair of the extraordinary plan during a meeting in the White House on January 31, 2003, six weeks before the war started, according to an updated version of Lawless World by Philippe Sands, a human rights lawyer. He says the President made it clear that he had already decided to go to war, despite still pressing for a UN resolution. ³The US was thinking of flying U2 reconnaissance aircraft with fighter cover over Iraq, painted in UN colors. If Saddam fired on them, he would be in breach,² the book reports Mr. Bush telling Mr. Blair at the meeting. [More>>timesonnline.co.uk ; See also turkishpress.com, "Iraq: Blair and Bush were ready for war from January 2003."]
---
02.03.06 NASA's Inspector General probed
February 3 – An FBI-led watchdog agency has opened an investigation into multiple complaints accusing NASA Inspector General Robert W. Cobb of failing to investigate safety violations and retaliating against whistle-blowers. Most of the complaints were filed by current and former employees of his own office. Written complaints and supporting documents from at least 16 people have been given to investigators. They allege that Cobb, appointed by President Bush in 2002, suppressed investigations of wrongdoing within NASA, and abused and penalized his own investigators when they persisted in raising concerns. [More>>washingtonpost.com]
---
02.03.06 Georgia quits Council of CIS Defense Ministers – president's order
TIBLISI, Georgia (RIA Novosti) February 3 – Georgian President Mikheil Saakashvili signed a decree Thursday ending the country's participation in the Council of CIS Defense Ministers, news agency Novosti-Georgia said Friday. The Georgian Foreign Ministry said the country aimed to join NATO and could not be a member of two military blocs simultaneously. The ministry said the CIS Executive Committee had already been informed about Saakashvili's decision. The decree, which was made public on the Georgian president's Web site Friday, is dated January 25. [rian.ru]
---
02.03.06 Bulgaria reports first case of H5 avian flu in swan
SOFIA (Reuters) February 3 – Bulgaria has discovered its first case of H5 bird flu in a sick swan on its border with Romania, authorities said on Friday, and samples will be sent to Britain to discern whether it is the highly pathogenic H5N1 strain. "Our teams found a wild swan in the Danube river near the town of Vidin. The tests on the swan showed it was infected with H5," Agriculture Minister Nihat Kabil told journalists. [More>>thestar.com.my ; See related bird flu story, timesonline.co.uk, "Bird flu strain 'endemic' in Hong Kong."]
---
02.03.06 Koreas to hold military talks
February 3 – South and North Korea agreed yesterday to resume high-level defense talks for the first time in nearly two years to ease tension along their border. The third round of talks between the countries' generals will be held at the border village of Panmunjeom sometime between late this month and early next month, the Defense Ministry said. The last round of high-level military talks were held in June 2004. [More>>koreaherald.co.kr]
---
02.02.06 Oil tanker runs aground in Alaska inlet
NIKISi, Alaska, February 2 – A fully loaded oil tanker broke free of its dock in the Cook Inlet port of Nikiski and ran aground on silt, the U.S. Coast Guard said Thursday. There were no immediate reports that the ship was leaking. The 575-foot Seabulk Pride was moored in Nikiski, southwest of Anchorage, when it broke free overnight, said Petty Officer Steve Harrison. Harrison said the Coast Guard received the report about 6 a.m. It was not immediately known how long the tanker drifted before running aground. Tug boats were headed to the area, he said. [More>>abcnews.go.com via bbc.co.uk (story with map)]
---
02.02.06 Saudi Arabia, Iran denounce Bush's new appeal for democracy
Thursday, February 2 – Saudi Arabia and Iran denounced President George W. Bush's new appeal for greater democracy in the Middle East calling on the US leader to stop acting as if he were the "sole agent for reform" in the world. Bush devoted much of his annual State of the Union speech on Tuesday night to Middle East politics, saying the United States cannot hastily withdraw from Iraq, that Egypt and Saudi Arabia must step up democracy efforts and making a direct appeal to the Iranian people. He also called a 75 percent cut in Middle East oil imports over the next 20 years.

Deep in a nuclear dispute with Iran, Bush vowed that Tehran will not get atomic weapons. He also said Iran was "held hostage" by clerical leaders who repress their people. "The Iranian government is defying the world with its nuclear ambitions – and the nations of the world must not permit the Iranian regime to gain nuclear weapons," Bush said. "America will continue to rally the world to confront these threats," he said. [More>>dailystar.com.lb]
---
02.02.06 Nablus gunmen threaten Europeans
February 2 – Palestinian gunmen took up positions outside the EU Commission's office Thursday morning and said they were closing it in protest over a newspaper cartoon featuring the prophet Muhammad that has riled the Muslim world. The workers in the offices had already abandoned the building before the gunmen arrived. In the West Bank city of Nablus, gunmen said they were searching apartments for foreigners from several European countries to try to abduct them. According to a Channel 2 report, West Bank gunmen gave an 8:00 p.m. (Israel time) deadline for European governments to apologize for the publications. Otherwise, they warned, European doctors and other European nationals would be targeted.

In a phone call to The Associated Press, a member of the Al Aksa Martyrs' Brigades, said members of his group are also asking hotel owners in the city not to host citizens of five European countries, including France and Denmark. "Any citizens of these countries, who are present in Gaza, will put themselves in danger," a Fatah-affiliated gunman said Thursday, as he stood outside the EU Commission's office in Gaza. He was flanked by two masked men holding up their rifles. [More>>Jerusalem Post]
---
02.02.06 Greece could start transiting Russian gas – Gazprom chief
ATHENS (RIA Novosti) February 2 – Greece could begin transiting Russian natural gas, the head of Russian energy giant Gazprom said Thursday. "We spoke about gas deliveries to Greece, and that Greece could become a transit country for Russian natural gas," Alexei Miller told journalists after a meeting with the Greek development minister and prime minister. [More>>rian.ru ; See also rian.ru story, "Ukraine, Romania to jointly produce oil, gas on Black Sea shelf." ; See related Gazprom story, timesonline.co.uk, "Gazprom eyes British gas takeover."]
---
02.02.06 $13billion: Amount wiped off Google shares
February 2 – Google shares plummet in one day amid growing fury over censorship and plagiarism. Google's reputation as the internet phenomenon that can do no wrong took a new and unprecedented severe battering yesterday as investors, stunned by a quarterly earnings report falling far short of expectations, wiped more than 12 per cent off the value of the search engine company's stock. It was the second time in a week that Google shares – the hottest, most talked about company stock in the world – were plunged unexpectedly into a frigid bath. And although the latest disappointment was more about market expectations than profitability, which remains extremely robust, the shine has come off a company regarded not only as a business powerhouse but a thrilling key promising to unlock the secrets of the digital future.

The past few days have been an unrelenting stream of bad news for Google, from its controversial agreement to submit to Chinese government censorship, which prompted the first stock plunge a week ago, to new complaints and legal action from book and newspaper publishers accusing Google of " kleptomania" as it seeks to make more and more material freely available online. [More>>independent.co.uk]
---
02.02.06 Five killed in new Afghanistan suicide attack
KABUL, February 2 – A suicide car bombing carried out by a man dressed as a woman killed three soldiers and up to two road workers in insurgency-hit Afghanistan, police said on Thursday. The attack against Afghan soldiers guarding a road construction site in southeastern Khost province late Wednesday was the latest in a spate of around 25 suicide blasts around the country in the past four months. The explosives-filled car blew up after it was stopped at an army checkpoint in the province's Bak district, a provincial police official said on condition of anonymity. "As soon as the car was stopped, the person dressed as a woman started shouting to attract attention," he said. "When the soldiers and road workers came close to the car, the explosion took place." [More>>jang.com.pk ; See related article, (via yemendaily.com) cnews.canoe.ca, "Al-Qaida militants are coming from Iraq to fight in the Afghan insurgency" : KABUL (AP) February 2 – Several al-Qaida militants are coming from Iraq to take part in the insurgency in Afghanistan, a provincial governor said Thursday after interrogating an Iraqi caught sneaking into the country illegally. "There is a big group coming from Iraq," Nimroz provincial Gov. Ghulam Dusthaqir Azad said. "They're linked to al-Qaida and fought against US forces in Iraq. They have been ordered to come here. Many are suicide attackers." It was not immediately possible to confirm the governor's comments with officials in Kabul. The Defence Minister and a spokesman for the Interior Ministry did not answer their telephones...]
---
02.02.06 Coal mine blast kills 23 in north China
(AFP) February 2 – A gas explosion has killed 23 workers in a state-owned coal mine in northern China and more than 50 miners suffered carbon monoxide poisoning. The powerful blast ripped through the Sihe Coal Mine in Shanxi province at about 7:00pm (1100 GMT) Wednesday, the Xinhua news agency reported, citing local coal mine authorities. "Twenty-three were killed," Fan Yongming, an official at state-run Jincheng Mining Group, which runs the mine, told AFP.

At the time of the blast, nearly 700 miners were working underground, and 53 of them were hospitalized with carbon monoxide poisoning, according to Xinhua, which said one was in serious condition. Eight remained hospitalized Thursday, Xue Junzheng, an official at the mine, told AFP...China's national safety administration reported last month that 5,986 workers died in the nation's coal mines in 2005. [Full story>>chinadaily.com.cn]
---
02.02.06 West Virginia governor urges mining moratorium
February 2 – Just weeks after the death of 14 West Virginia miners, two more mine workers were killed yesterday in separate accidents, prompting Gov. Joe Manchin III to urge all coal companies in the state to cease operations until safety could be reviewed. "Today has once again been a difficult day for our state's miners, their families and our mining industry," Mr. Manchin said, confirming that there were accidents at three coal mines, two underground mines and one surface mine that resulted in two deaths. "I am calling on the industry to cease production activities immediately and go into a mine safety stand down." Hours later, the nation's top mine safety regulator, David G. Dye, quickly followed suit, asking for all mines nationally to take an hour next Monday to review their safety procedures. [More>>nytimes.com]
---
02.02.06 Bird flu cases found in Saudi Arabia
RIYADH, Saudi Arabia, January 29 – Saudi Arabia has culled 37 falcons after some of them tested positive to the H5 virus of the avian flu, the Agriculture Ministry said yesterday. A ministry team inspecting falcons kept in a veterinary center in Riyadh, which takes care of the birds that are usually used for hunting, discovered the cases, Saudi Press Agency quoted the ministry statement as saying. The ministry said the 37 falcons, including the five positive cases ³were killed and burned.² Laboratory tests are being conducted to establish if the cases also test positive for the N virus — ³the other component of the (bird flu) virus,² it added.

In November the Kingdom banned all bird imports from neighboring countries. That decision came a day after Kuwait announced a bird stricken with avian flu in the country carried the deadly H5N1 strain, in the first case of its kind in the Gulf. Another bird was found to have the milder H5N2 strain. [More>>arabnews.com]
---
02.02.06 Blasts hits Baghdad
BAGHDAD (Reuters) February 2 – Two car bombs killed at least five people and wounded 45 others in Baghdad on Thursday, police sources said. The sources said one car bomb exploded in a market and the other in a petrol station. Hospital sources said they expected the number of casualties to rise. Sunni insurgents are waging a campaign of suicide and car bombings, shootings and assassinations in a bid to topple the Shi'ite-led government. [thestar.com.my ; See also aljazeera.net, February 1, Blasts hit Baghdad."Two car bombs explode in Baghdad. A bomb explosion in eastern Baghdad has killed at least eight people and wounded a further 50, police officials have said. The blast occurred at around 7am on Wednesday alongside a group of Iraqi men waiting for work near the Sunni Muslim al-Samaraai mosque in the New Baghdad area of the city. Ahmad Abbud, chief of police in the area, said witnesses apparently saw a man place a bag full of explosives near a cart that sold tea to men waiting near a crowded intersection for a day's work. He said: "The people did not suspect him when he first came with the bag because all workers carry their food in such bags."
---