---


4.30.06 Malaysia experts : More stormy days for next few months
PETALING JAYA, Malaysia, April 30 – The recent violent storms and killer lightning are linked to the country's rising temperature that has increased by 0.8°C in the last 35 years, experts said.
As the mercury rises, more moisture gets into the atmosphere and this feeds the normal storm clouds that gather in a tropical country like Malaysia. Environmentalist Gurmit Singh said indications shown by the climatic changes resulting in weather extremes were also related to the La Nina period.
"These are the chain reaction resulting from the changes in the weather as it is all part of rising temperature or global warming. As we can see, the extreme weather, like flash floods, is causing disruptions to traffic, inconvenience to the public and damage to premises and homes," said Gurmit Singh who is also executive director of the Centre of Environment, Technology and Development Malaysia. [More>>
thestar.com.my
]
---
4.30.06 South Korean prosecutors indict officials of three domain providers
April 30 – The prosecution yesterday indicted officials from three software companies for distributing programs that delete links to rivals' internet pages from client's computers. Ten staff members from Netpia Inc., Digital Names and Ieasysoft, three leading providers of domain service, were prosecuted without detention on charges of interfering with business and causing damage to internet users.

For one year since March 2004, the market leader Netpia embedded a secret program in its clients' computers, designed to destroy Digital Names' software and block the clients from reversing the changes, according to the prosecution. Netpia included the program in its internet search engine. The other two firms are also suspected of committing the same crime, the prosecution said. The companies are also alleged to have distributed antivirus programs that delete competitors' plug-in programs by classifying them as harmful. [More>>koreaherald.co.kr]


---
4.30.06 Woman has total feeling in new face
(AP) April 30 – The French woman who received the world's first partial face transplant has complete feeling in the new tissue five months after the operation, she told a Sunday newspaper. Isabelle Dinoire, 38, also told the newspaper Le Journal du Dimanche that the hardest part of her recovery appears to be getting to know herself again. When asked if she has accepted her new face, she responded: "It's too difficult to explain."

She takes out old photos and, shocked at the difference between her former face and her new one, tells herself that she simply has aged, she said. Dinoire said her speech has improved as she has gained more facial mobility. "The scars have considerably healed. The doctors are confident. In addition, I have recovered total feeling," Dinoire said. [More>>chinadaily.com.cn]
---
4.30.06 Powell says he urged more troops for Iraq
LONDON (AP) April 30 – Colin Powell Tells British TV That He Urged Bush Before the War to Send More Troops to Iraq. Former Secretary of State Colin Powell advised President Bush before the Iraq war to send more troops to the country, but the administration did not follow his recommendation, Powell said in an interview broadcast Sunday.

Critics accuse Bush and Defense Secretary Donald H. Rumsfeld of failing to send enough soldiers to secure the peace in Iraq after the invasion three years ago. Powell said he gave the advice to now retired Gen. Tommy Franks, who developed and executed the Iraq invasion plan, and Rumsfeld while the president was present.

"I made the case to Gen. Franks and Secretary Rumsfeld before the president that I was not sure we had enough troops," Powell said in an interview on Britain's ITV television, according to a transcript released by the network. "The case was made, it was listened to, it was considered. Š A judgment was made by those responsible that the troop strength was adequate." [More>>abcnews.go.com]
---
4.30.06 Bush violates hundreds of laws
April 30 post, afterdowningstreet.org, by Charlie Savage, The Boston Globe: WASHINGTON – President Bush has quietly claimed the authority to disobey more than 750 laws enacted since he took office, asserting that he has the power to set aside any statute passed by Congress when it conflicts with his interpretation of the Constitution.

Among the laws Bush said he can ignore are military rules and regulations, affirmative-action provisions, requirements that Congress be told about immigration services problems, "whistle-blower" protections for nuclear regulatory officials, and safeguards against political interference in federally funded research.

Legal scholars say the scope and aggression of Bush's assertions that he can bypass laws represent a concerted effort to expand his power at the expense of Congress, upsetting the balance between the branches of government. The Constitution is clear in assigning to Congress the power to write the laws and to the president a duty "to take care that the laws be faithfully executed." Bush, however, has repeatedly declared that he does not need to "execute" a law he believes is unconstitutional...
---
4.30.06 March in New York drew 350,000 protestors against Iraq War
April 29 – Blog post by Jarrett Murphy to Village Voice "Powerplays" : Organizers of today's peace march are saying they had 350,000 in the streets, and who's to say otherwise? We called the NYPD on a lark, knowing they haven't done these estimates in about ten years. "We haven't done crowd estimates for 10 years," the guy who picked up said.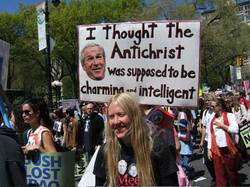 Image from villagevoice.com, "Powerplays"
What can be said definitely is that the grassroots festival that greeted marchers at the end was a big hit, defeating that awkward let-down that usually occurs at a march's end when everybody stops shouting, tosses their placards in a waste bin, and takes the subway home. The cops, who seemed to go out of their way to be polite all day, kept their distance. The marchers got to hear folk singers, purchase all manner of antiwar merchandise, and rest their weary dogs. And the organizing groups—from Iraq Veterans Against the War to the Communist Party—were able to distribute their lit and sign up interested parties, a crafty way of trying to build the energy of a march into a more lasting organization. And what a day for the local hot dog vendors (despite the presence of a small faction of vegans for peace)! [More stories on the march>>
villagevoice.com
]
Editorial note: The Antichrist sign is interesting, since there is a correlation in the book of Daniel which refers to the Antichrist's reign of terror of 1,290 days (Daniel12.11). Bush's reign is now ~1,000 days. There is another comparison from Daniel, where the Muses may play:
Daniel 11.37 Neither shall he regard the God of his fathers, nor the desire of women, nor regard any god: for he shall magnify himself above all.
11.38 But in his estate shall he honour the God of forces.
11.42 He shall stretch forth his hand also upon the countries: and the land of Egypt shall not escape.
11.43 But he shall have power over the treasures of gold and of silver.

I am not one that muses much over such correlations to prophesy, but Bush's manipulation of the truth, and lies, his claim to be "a War President," his manifestation of invading Iraq for oil and connection to power players, such as Halliburton and the Carlyle Group – who could capitalize on the war effort – ; his expressed desire to resolve differences through force, rather than diplomacy, and sheer disrespect for international and US laws and accords shows the world's most powerful leader in a perspective more akin to Daniel's list than any other before him. Bush certainly has magnified himself above God (though he claims to have launched the war, which he called a "crusade" on behalf of God). But the sign in the image above, "I thought the Antichrist was supposed to be charming and intelligent," recalls an ethics discussion in my correspondence with Wm. F. Buckley Jr. in the early 1990's that enticed this response from him (See "Rooting out his faith" for full context):
June 29, 1993

That lots of tyrants have been complete
idiots is one of your less comforting thoughts;
it belongs on every columnist's shaving mirror.
We are all too likely to think of the devil as a dashing, witty fellow.

Yours cordially,
Wm. F. Buckley Jr.

The conversation I had with Mr. Buckley involved my concerns over the policies of the Reagan-Bush Estate in financing their governments by borrowing money – called Reaganomics – leaving us then with a $5 trillion national debt, that George W. Bush has doubled (now approaching $9 trillion). The consequences of the Reagan-Bush Estate involved a greater shift of the wealth of this country to fewer hands and spawning hordes of homeless people (The homeless began to flood our streets in 1985).We had a temporary respite from Reaganomics when the Clinton administration attempted to pay down the national debt, following the lead of the "Contract with America" pushed by Newt Gingrich in 1994.

Mel Copeland
---
4.30.06 Kidnapped Indian found beheaded
KANDAHAR (Reuters) April 30 – The kidnapped Indian telecommunications worker K. Suryanarayan was found beheaded in southern Afghanistan on Sunday and the Taliban said they had killed him. The man and his Afghan driver were kidnapped on Friday. Taliban insurgents said on Saturday they had taken both men and vowed to kill the Indian unless New Delhi withdrew all its workers from Afghanistan within 24 hours.

"We found the body, beheaded, in a ditch by a road, about 10 km from where he was kidnapped," said Mohammad Mir, a district police chief in Zabul province. Taliban spokesman Qari Mohammad Yousuf said by telephone Suryanarayan had been shot dead on Saturday evening while trying to escape. [More>>expressindia.com ; See related story, thenews.com.pk, April 30, "Three Afghan soldiers killed in explosion" : KANDAHAR – Three Afghan soldiers were killed and three others wounded Sunday when a roadside bomb ripped through their vehicle in troubled southern Afghanistan, the military said. The vehicle was attacked in Girishk district of Helmand province, said General Rahmatullah Raufi, the southern region military corps commander. In southern Ghazni province two Taliban were killed in an attack early Sunday, said provincial police chief Abdul Rehman Sarjang. He said the Taliban attacked the police headquarters in Giro district but fled after a two-hour fire fight, leaving two bodies behind. Police also seized some light weapons, Sarjang said.

A purported Taliban spokesman, Yousuf Ahmadi, claimed four police were killed in the attack. Ahmadi also said the militants set ablaze a fuel tanker and a truck suppling goods to US forces in Kandahar province.
---
4.30.06 Iranian forces enter Iraq, shell Kurdish guerrillas
BAGHDAD (AFP) April 30 – Baghdad on Sunday accused Iranian forces of having over the last 24 hours entered Iraqi territory and shelled Kurdish PKK guerrillas in the northern Arbil province.

"Iranian forces hit a border area called Haj Umran and then entered five kilometers into Iraqi territory and hit the area of Lollan with heavy artillery with 180 shells targeting PKK positions," it said. No casualty figures were immediately available. The attack is the second Iranian offensive against the Kurdistan Workers' Party guerilla group (PKK) in 10 days. The group is fighting for the creation of an independent Kurdish state in southeastern Turkey. The initial April 20 shelling killed at least two people and injured 10 others, the PKK said.

Iran is bound by treaty with Turkey to fight the outlawed PKK, which has waged a 15-year insurgency against Ankara for self rule in Turkey's mainly Kurdish southeast. [More>>khaleejtimes.com]

Editorial note: See kurdistanobserver.com, for the Kurdish perspective, including this April 29 post: "The American-backed terrorist state of Turkey has charged 175 Kurds with involvement in last month's uprising against the Turkish regime. Charges include violating repressive decrees against freedom of expression and demonstration. Possible sentences range from three years to a maximum life imprisonment. The latest charges bring the number of Kurds targeted thus far to 265, including 80 minors who could face up to 24 years imprisonment."

Related story, dailystar.com.lb, April 29, "Prosecutors lay charges against 175 Turkish Kurds."

The Kurds are related to the Persians (Iranians) and Pushtans of Afghanistan and occupy a region involving southwestern Turkey, western Iran, northern Iraq and northeastern Syria. The Kurds view this homeland as "Kurdistan" and refer to southwestern Turkey as "Northern Kurdistan." See map, akakurdistan.com.
---
4.30.06 Rebels hold out on Darfur peace
April 30 – Rebels from Sudan's Darfur region are under increasing pressure to sign a peace agreement after the government said it will accept the terms. The African Union-brokered plan calls for pro-government Arab militias to be disarmed, and rebels fighters to be merged into Sudan's forces. Mediators in Abuja, Nigeria, gave both sides until the end of Sunday to agree.

About 200,000 people have died and some two million have been left homeless in fighting in the province since 2003. As negotiators sought to secure a deal, campaigners prepared to hold a series of mass rallies across the United States calling for an end to the conflict. [More>>bbc.co.uk ; See also nytimes.com (Reuters) April 30, "Sudanese government accepts Darfur peace deal" : The Sudanese government on Sunday accepted a peace plan for the Darfur region that requires it to disarm Janjaweed militias before rebels lay down their weapons in what diplomats said was a major breakthrough. But the rebels, under intense international pressure to also accept the 85-page settlement drafted by African Union (AU) mediators, struggled to extract last-minute concessions and had yet to give a clear signal on whether they would sign...
---
4.30.06 Israel to speed building of barrier
April 30 – Israel is moving to speed up the building of its controversial West Bank barrier after the government approved amendments to its route. Ehud Olmert, the Israeli prime minister-designate, said at a cabinet meeting on Sunday: "We must go forward as quickly as possible. The decisions which we are taking will enable us to complete the security barrier as quickly as possible so that we can best prevent terrorist attacks." Tel Aviv was rocked by a suicide bombing two weeks ago. [More>>aljazeera.net]
---
4.29.06 Latin American leftists sign trade pact
April 29 – The presidents of Cuba, Venezuela and Bolivia have signed the People's Trade Treaty to counter a US-led drive to forge a Pan-American free trade area. Presidents Evo Morales of Bolivia, Hugo Chavez of Venezuela, and Fidel Castro of Cuba signed the pact in Havana on Saturday to streamline commercial ties among the three governments. They are all opposed to US trade policies that they say overwhelmingly favour the United States. Castro described the accord as "an extraordinary document with profound humanitarian, social and economic content."

"Now, for the first time, there are three of us," Castro said. "I believe that, one day, all [Latin American] countries can be here." [More>>aljazeera.net]
---
4.29.06 100,000 families are fleeing violence, Iraq official says
BAGHDAD, April 29 – A new estimate by one of Iraq's vice presidents has put the number of Iraqi families fleeing sectarian violence at 100,000, far outstripping previous projections and raising the possibility that a total of a half-million people could be displaced. The estimate, made Friday by Adel Abdul Mahdi, a Shiite leader selected as one of two vice presidents, is much higher than other recent estimates. For example, the national security adviser, Mowaffak al-Rubaie, said in an interview last week that 13,750 families had been displaced, which could mean about 70,000 people. Yet both statements go far beyond estimates by American military leaders, who have said there is no "widespread movement" of Iraqis fleeing from sectarian fighting. [More>>nytimes.com ; See another story, washingtonpost.com, April 29, "In Iraqi town, trainees are also suspects" : ..."There's two kinds of Iraqis here, the ones who help us and the ones who shoot us, and there's an awful lot of 'em doing both," said Hoover, 26, of Newark, Ohio. "Is it frustrating? Yes, it's frustrating. But we can't just stop working with them."...
---
4.29.06 Olmert: Ahmadinejad is 'psychopath' who 'speaks like Hitler'
April 29 – Interim Prime Minister Ehud Olmert launched an unprecedented attack on Iranian President Mahmoud Ahmadinejad in an interview with a German newspaper published Saturday, labelling him an anti-Semitic "psychopath" who "speaks like Hitler."

Olmert told Bild newspaper that the Iranian president "is a psychopath of the worst kind. He speaks like Hitler did of the extermination of the entire Jewish nation."

"I hope that he will never become so dangerous and destructive, like Adolf Hitler was," Olmert goes on. "I hope he never gets the chance to transfer his threats into the deeds, but if one wants to judge a statesman based on his words, I can say Ahmadinejad speaks today as Hitler spoke before the seizure of power." The prime minister said that it was the duty of the entire world to work together to prevent Iran from obtaining nuclear weapons.

"So you see, we are dealing with a psychopath of the worst kind, with an anti-Semite," Olmert said. "God forbid that this man ever gets his hands on nuclear weapons, to carry out his threats."

Olmert also touched on the possibility of a military strike to deter Iran's nuclear aspirations. Tehran said Saturday that it would allow the United Nations to resume snap inspections of its nuclear sites as long as the country was not referred to the UN Security Council. [More>>haaretzdaily.com]
---
4.29.06 Update Iran denies US terror report
TEHRAN (AFP) April 29 – Iran rejected as "worthless" on Saturday a US State Department report labelling it the worldšs foremost state sponsor of terrorism. "Teheran regards this report as worthless and unimportant," foreign ministry spokesman Hamid Reza Asefi told the official IRNA news agency. "The US labels the governments which are against its policies and those of Israelšs as terrorist nations. The United States is the biggest supporter of the Zionist regime, and is not a credible judge because it is responsible for the Zionist regimešs crimes," Asefi said. [More>>khaleejtimes.com]
---
4.28.06 US says Iran top terror sponsor
April 28 – Iran is "the most active state sponsor of terrorism," according to the US state department's annual report on world terrorism. It finds that Iran's Revolutionary Guards and intelligence ministry are directly involved in planning and supporting terrorist acts. There was no immediate response from Tehran which is locked in a row with the US over its nuclear programme. The report also argues that al-Qaeda had been weakened.

The US report says other state sponsors of terrorism include Libya, North Korea, Sudan, Syria and Cuba. Cuba, for example, is accused of harbouring members of Spain's Eta militant group and Colombian leftist rebel groups. Iraq, the report adds, is "not currently a terrorist safe haven" although Islamist militant groups view it "as a potential safe haven and are attempting to make it a reality." [More>>bbc.co.uk ; See bloomberg.com, April 25, "Rumsfeld says success of War in Iraq key to 'containing Iran." (Sounds like the same drumbeat preceeding the Iraq War. A video, "Let's Bomb Iran!" against invading Iran was recently posted on internet sites, such as bushflash.com via madeinbushfreezone.com, a European site, listing many anti-Bush causes. While the international community certainly has no doubts Iran poses a threat to world peace, whether to attempt to remove the threat through diplomacy or war seems to be the question of the hour – Mel Copeland)
---
4.28.06 Mission accomplished, May 1, three years on
April 28 – David Swanson of afterdowningstreet.org posted this reminder: May 1 marks three years since George W. Bush staged his "Mission Accomplished" aircraft landing in San Diego Harbor and "delivered good news to the men and women who fought in the cause of freedom: their mission is complete and major combat operations in Iraq have ended."

As of April 27, at 3:15 p.m. EST - 2,393 US soldiers have been killed in Iraq according to Iraq Coalition Casualty Count. The count of US wounded is around seven times that number, and Iraqi civilian deaths are officially between 34,000 and 39,000, and actually between 200,000 and 300,000.
---
4.28.06 Iraq war to be more expensive than Vietnam
April 28 – The Iraq war has already cost the United States $320bn (£180bn), according to an authoritative new report, and even if a troop withdrawal begins this year, the conflict is set to be more expensive in real terms than the Vietnam War, a generation ago. The estimate, circulated this week by the non-partisan Congressional Research Service (CRS), can only increase unease over the US presence in Iraq, whose direct costs now run at some $6bn a month, or $200m a day, with no end in sight.

The Bush administration has refused to provide any specific overall figure for the war's cost. But the Senate is set to approve another emergency spending bill in May, meaning that Iraq will have consumed $101bn in fiscal 2006 alone, almost double the $51bn of 2003, the year of the invasion itself – and all at a time when the federal budget deficit is running at near record levels.

But these figures pale beside what lies in store, the CRS says in its analysis. The Bush administration is desperate to announce a reduction in the 130,000-strong US force before November's mid-term elections, where public disillusion with the war threatens disaster for the Republicans. [More>>independent.co.uk]

Editorial note: Most people, including the media and US Congress, have trouble recognizing that the federal budget deficit has a cumulative affect: the National Debt, which is near $9 trillion. Using 7% interest as a long-term interest rate for US bonds and financial borrowings for the Budget Deficit / National Debt, one can roughly ascertain that the yearly interest on the Deficit / Debt is about $630 billion or $1.7 billion per day. Interest outlays for 2005 were $352,350,252,507.90 ($352 billion; 2004, $321,566,323,971.29 ($321 billion – See publicdebt.treas.gov) Historical information and relative links on the debt can be ascertained by clicking on the US National Debt Chart in our sidebar. Servicing the debt (paying off the interest) is one of the major components of US outlays relative to US Income Tax Revenues, and it has significant impact on individual mortgage rates and other loans. Recent news reports showed a significant increase in US mortgage defaults because of the rise in interest rates, particularly affecting adjustable rate mortgages (ARMs). Those of you who have lost your job, home or other possessions because of the rise in interest rates can thank first the Reagan-Bush administration for initiating the practice of funding a government without having to pay for it (through deficit spending – called Reaganomics). President Clinton attempted to reduce the National Debt during his term of office, as can be seen in the US National Debt Chart, having been spurred to that cause through the House of Representative's proclamation in 1994 via Newt Gingrich : "no more borrowing on the debt" and "Contract with America."

Since leaving office, Gingrich has followed other causes and seems silent on the current president's doubling of the US National Debt (and interest outlays). President George W. Bush learned that one can promise the people anything without having to pay for it, while the media and Congress complained, "We're passing the debt on to our children." In actuality, to service the debt the Treasury Department prints bonds and lures prospects – mainly Central Banks, such as China's – to buy the bonds. To encourage the sale of bonds the Treasury Department often has to raise the "prime rate." We predicted the continuing rise in interest rates by the Feds which will continue until there is an honest effort to stop Bush's deficit spending. Pending this action Bush's "Compassionate Conservatism" will continue to elicit tears of despair from the victims of his policies, ranging from Iraq to Katrina. At the moment even the countries that own the US debt are also wiping their eyes, as the dollar loses its value and they watch their investment in the US erode. It's a frightening time for the money-changers who are calculating the cost of not shifting their investments from dollars to Euros. Russia has already made the shift, to euros, that is.

Mel Copeland
---
4.28.06 China raises bank lending rate to slow investment
April 28 – China, the emerging economic powerhouse, raised benchmark bank lending rates for the first time in 18 months on Thursday, prompting sky-high world oil and commodity prices and some major stock markets to take a U-turn. The People's Bank of China raised one-year lending rates to 5.85 percent from 5.58 percent. The rate rise, effective from Friday, is seen as an attempt to slow rapid lending growth and skyrocketing investment.

The move taken by the People's Bank of China, the central bank, is seen as an attempt by Beijing to prevent the fastest growing economy in the world from overheating. It grew by a spectacular 10.2 per cent in the first three months this year, China's official statistics said. The National Bureau of Statistics reported last week that China's fixed-asset investment, a closely watched economic indicator, jumped by 27.7 per cent in the first quarter, up from the previous year's 25.7 per cent. Much of the bank lending is pouring into new factories, buildings and other fixed asset projects.

Meanwhile, China's banks released 1.26 trillion yuan in new loans in the first quarter – more than half the central bank's target for the whole year. The world financial and raw material market jitters came amid concerns the move may cool China's annual 10-percent-plus economic boom – a growth driving the fastest world expansion in the past three decades and seemingly endless growth in China's demand for raw materials and investment. [More>>chinadaily.com.cn]
---
4.28.06 Hyundai Motor chief arrested
April 28 – Hyundai Automotive Group Chairman Chung Mong-koo was put behind bars yesterday after a court issued an arrest warrant on charges of embezzling and misusing more than 130 billion won ($137.2 million) of company funds. Executives of the nation's second largest conglomerate called an emergency meeting to cope with a management vacuum and possible damage to the car maker's domestic and global operations. Hyundai Motor Co., the group's flagship, said Vice Chairman and CEO Kim Dong-jin will assume full responsibility and operational control of the company. The prosecution on Thursday called for an arrest warrant against the 68-year-old chairman for the misappropriation of about 130 billion won to set up a slush fund, and for causing 390 billion won worth of damage to Hyundai companies through breach of trust. [More>>koreaherald.co.kr]
---
4.28.06 Bush approves Dubai's Doncasters purchase
WASHINGTON (Reuters) April 28 – President George W. Bush approved Dubaišs $1.24 billion takeover of Doncasters, a British engineering company with US plants that supply the Pentagon, the White House said on Friday. The interagency Committee on Foreign Investments in the United States sent its confidential recommendation on the Dubai takeover of Doncasters to Bush on April 13. "The president this morning accepted the committeešs recommendation," McClellan said. "The committee recommended approval of the transaction after closely scrutinizing it and concluding that it would not compromise our national security." [More>>khaleejtimes.com ; See doncasters.com for more information about the company]
---
4.28.06 Online archive lets French wallow in the past
April 28 – France has embarked on a collective nostalgia trip via a new internet archive that has allowed millions to travel back in time and call up television and radio favorites from their youth. The revolt of May 1968, newsreel of General de Gaulle, the confessions of Serge Gainsbourg and cult television shows of the 1960s are among the hits that have been flooding screens in offices and homes since yesterday, when the Institut National de lšAudiovisuel (INA) put online 100,000 broadcasts dating back as far as the 1940s, most of it free of charge.

The state agency, guardian of Francešs broadcast and film heritage, holds a unique trove of about five million hours of programming that includes most broadcasts on air or cable since television opened in 1948, pre-war newsreels and seven decades of radio. All of it will eventually go online. [More>>timesonline.co.uk ; The archive is at ina.fr. Institut National de l'Audiovisuel]
---
4.28.06 Women preachers: Morocco's new weapon against Islamic extremism
RABAT, Morocco (AFP) April 28 – In a project unknown in Islam, Morocco has just graduated its first team of women preachers to be deployed as a vanguard in the kingdom's fight against any slide toward Islamic extremism. "This is a rare experiment in the Muslim world," proudly stated Mohamed Mahfoud, director of the center attached to the Islamic affairs ministry that trained this first class of 50 women. Ministry spokesman Hamid Rono said that it was the "first [of its kind] in the Islamic world."
This pioneer group of Morchidat, or guides, who finished a 12-month course in early April, were trained to "accompany and orient" Muslim faithful, notably in prisons, hospitals and schools, said Mahfoud. [More>>metimes.com]
---
4.28.06 Twenty-one rebels killed, forty-three captured in restive Iraqi province
BAGHDAD (AFP) April 28 – The US military announced that 21 rebels were killed and another 43 captured in Iraq's eastern province of Diyala after a series of attacks on military and police checkpoints the day before. The governor of the province, Rad Rasheed al-Mulla, also imposed a curfew in the province following the brutal attacks that left 16 people dead, including six Iraqi army soldiers. On Thursday, rebels carried out a number of attacks in and around the provincial capital of Baquba, largely on military and police checkpoints. [More>>turkishpress.com]
---
4.27.06 Italians grieve over 3 deaths in Iraq
ROME (AP) April 27 – A bomb blast rocked an Italian convoy at a base in southern Iraq on Thursday, killing three Italian soldiers and a Romanian, the Defense Ministry said. The roadside bomb targeted a four-vehicle convoy on its way to relieve troops at an Iraqi police station in the city of Nasiriyah, the ministry said in a statement. One of the vehicles was destroyed, killing the four soldiers and seriously injuring at least one more passenger.

Premier Silvio Berlusconi said he was ''profoundly grieved'' by the deaths. Center-left leader Romano Prodi, who will head the next Italian government, said in a statement that ''this tragedy strikes at all of Italy'' and he shared the pain of the victims' families. Lawmakers from the extremist parties of the center-left coalition seized on the news to criticize Italy's decision to send troops to Iraq and demand that the government quicken the withdrawal of its military contingent there. [More>>nytimes.com ; See related story, aljazeera.net, April 27, "Iraq vice-president's sister shot dead."]
---
4.27.06 IAF missile strike kills senior Islamic Jihad militant in Gaza Strip
April 27 – Israel Air Force aircraft fired three missiles at targets in the central Gaza Strip on Thursday, critically wounding two Palestinian militants, Palestinian health officials said. One of the militants later died in hospital. The Israel Defense Forces said the airstrikes were aimed at a cell en route to carrying out an attack. It did not identify the targets. It said two vehicles were targeted and one carrying rockets or explosives was hit. Pillars of smoke billowed from the destroyed vehicle as burned and dismembered bodies were removed. The Islamic Jihad militant group identified the men as Wael Akka Nasser , 27, and Ahmad Abu Najam, 23 – senior field operatives in its military wing. [More>>haaretzdaily.com]
---
4.27.06 Secret flights investigation raises the veil
April 27 – Europe wants answers, and an ongoing investigation into secret CIA flights provided some on Wednesday. Fully 1,000 clandestine flights crisscrossed the continent a new report says. In response, EU parliamentarians headed are off to Macedonia.
The uproar took Europe by storm last autumn. Suddenly, everyone wanted to know just how the CIA was using European airstrips and airspace. The suspicion was that Europe had become an unwitting accomplice to the US practice of "extraordinary rendition" – ferrying terror suspects to third countries for torture.

Now, the first fruits of a comprehensive European Union investigation into the flights have been borne. On Thursday, members of the European Parliament flew to Macedonia to learn more about a German citizen's claim that he was abducted there by the CIA in early 2004 – one day after EU lawmaker Claudio Fava presented an interim report on the EU investigation. More than 1,000 CIA flights, he said, have crisscrossed Europe since 2001. [More>>spiegel.de]
---
4.27.06 Danish reporters indicted for revealing secret report on Iraq
COPENHAGEN, April 27 – Two Danish reporters who cited a secret government report casting doubt on the existence of weapons of mass destruction in Iraq before the US-led invasion have been indicted for violating national security, the state prosecutor said Thursday. It is the first time in the history of modern Denmark -- an ardent champion of freedom of expression -- that journalists have been charged with divulging state secrets.

Nichael Bjerre and Jesper Larsen, reporters at the conservative Berlingske Tidende daily, face up to two years in jail for a series of articles published in 2004 drawing from and quoting the internal analysis of a Danish intelligence operative, Frank Grevil. Grevil's report, written before the United States toppled the regime of Saddam Hussein in March 2003 – an invasion which Denmark joined – concluded that "there (exists) no certain information on operational weapons of mass destruction" in Iraq.

Grevil was condemned to four months in prison following the publication of the articles and excerpts from his report in February and March, 2004. The internal analysis and newspaper articles cast, in hindsight, a doubt on the credibility of the conservative government's justification for joining US and British forces in the invasion. Prime Minister Anders Fogh Rasmussen justified his government's support of the US position before parliament by asserting the opposite of the conclusions reached in Grevil's report. [thenews.com.pk ; See also
---
4.27.06 Egypt blames same bedouin group for all Sinai attacks
CAIRO (AFP) April 27 – Egypt blamed suicide attacks in the Sinai Peninsula this week on local bedouins linked to an Islamic radical group also responsible for other bloody bombings in Red Sea resorts in the past 18 months. "The information indicates that the perpetrators of the terrorist attacks that occurred in Dahab and Al Gura are Sinai bedouins," interior minister Habib Al Adly told state television late on Wednesday. "They also have connections to previous incidents in Taba and Sharm El Sheikh," the minister said after five suicide bombers struck within 48 hours in the Peninsula.

Three suicide bombers struck almost simultaneously in the heart of the popular Red Sea resort of Dahab on Monday, killing at least 18 people and wounding up to 80. On Wednesday two suicide bombers targeted security personnel from the Multinational Force and Observers (MFO) and Egyptian police further north in the Sinai, causing no injuries. Security officials and state-owned newspapers had said that investigators believed that the attacks were perpetrated by bedouins from northern Sinai, which is where the MFO is stationed, close to 400 kilometers (250 miles) north of Dahab. [More>>metimes.com]
---
4.27.06 35,000 chickens slaughtered after Norfolk, England bird flu outbreak
April 27 – Workers were slaughtering 35,000 chickens on a Norfolk poultry farm today after some tested positive for bird flu. Police officers stood guard at the entrance to Witford Lodge Farm at Hockering, near Dereham, where a strain of bird flu was found in samples from chickens that had been found dead. Preliminary test results showed that the virus was likely to be the H7 strain, and not H5N1, which is a more virulent strain and a bigger threat to human beings. Further tests would be carried out today at the farm, which produces breeding stock for chicken farmers. [More>>timesonline.co.uk]
Copyright © 1981-2006 Maravot. All rights reserved
Copyright © 1981-2006 Mel Copeland. All rights reserved
Painting of Apple by Mel Copeland, early 70's
Background: tile from Cicero's villa (Marcus Tullius Cicero 106 B.C. - 43 B.C.)