---
10.26.05
Shalom: Téhéran constitue un "danger évident et actuel"
(avec AFP, en Francais) October 26 – Israël considère l'Iran comme un danger "évident et actuel," a affirmé aujourd'hui le ministre Israélien des Affaires étrangères, Sylvan Shalom, en réaction aux propos iraniens sur l'éradication de l'Etat d'Israë. "Nous pensons que l'Iran essaie de gagner du temps (...) afin de pouvoir développer une bombe atomique," a affirmé M. Shalom en affirmant que Téhéran constitue un "danger évident et actuel." [lefigaro.fr]
---
10.26.05 Iran sheltering bin Laden sons and Al Qaeda members: report
BERLIN, October 26 – Iran is providing refuge to around 25 leading members of the Al Qaeda terror group including three of Osama bin Ladenıs sons, a German magazine reported on Wednesday. Cicero magazine said Saad, Mohammed and Othman bin Laden as well as other Al Qaeda members from Egypt, Saudi Arabia, Uzbekistan, north Africa and Europe were living in and around Tehran under the protection of Iranıs Republican Guard. The magazine quoted a "top-ranking Western secret service agent" as saying the Al Qaeda members were free to move around.

"They are not under arrest or house arrest," the unnamed source told the respected monthly Cicero. "They can do what they like." Saad bin Laden, who is around 25, is thought to have played a key financial and logistical role in several Al Qaeda attacks and is on a US most-wanted list. [khaleejtimes.com]
---
10.26.05 Iran's Ahmadinejad says Israel will be wiped off the earth
TEHRAN, October 26 – Iranıs hard-line President Mahmoud Ahmadinejad charted his governmentıs unyielding course vis-à-vis the state of Israel while totally rejecting the Middle East roadmap to peace as a diversion from the crusader wars between the Islamic world and World Arrogance, or the United States. Speaking at a seminar entitled "World without Zionism," Ahmadinejad said that Israel was the product of an ideological war between the "Arrogant World Order" and the "Islamic rule," adding that the Jewish state had to be wiped off the face of the earth.

³The creation of the occupying regime in Qods [Israel] is a strong action by the ruling arrogant (imperialist) world order against the world of Islam. There continues a historic war between the World Arrogance and the Islamic world, the roots of which go back "hundreds of years ago," Ahmadinejad said. "Over the past 100 years, the last bastions of the Islamic world have collapsed. The World Arrogance turned the Zionist regime occupying Jerusalem into a staging-ground to dominate the Islamic world."

"This occupying country is in reality the staging-ground of the World Arrogance in the heart of the Islamic world. They have created a base, from where they can expand their rule over the entire Islamic world; it has no other purpose other than this."

Inciting that the battle for Qods, or Jerusalem, went back to the crusader wars, the outcome of which would ultimately determine the new world order, Ahmadinejad said, "The war that is presently going on in Palestine is the frontline of the war of destiny between the Islamic world and the World Arrogance, which will determine the outcome of hundreds of years [of war] in Palestine."

"Many sow the seeds of defeat and despair in this intense war between the Islamic world and the blasphemous front and hope to empty the hearts of the world of Islam," Ahmadinejad, who was previously a top commander of the Islamic Revolutionary Guards Corps (IRGC), said, adding that such people wonder whether there would come a day when one would see a world without the United States and Zionism. This slogan and goal is one which is attainable and could definitely be realised."

"Our dear Imam [Ruhollah Khomeini] ordered that the occupying regime in Jerusalem be wiped off the face of the earth. This was a very wise statement. The issue of Palestine is not one which we could compromise on. Š This would mean the defeat of the Islamic world," he insisted. [More>>iranfocus.com; See also haaretzdaily.com, "France condemns Iran's call for Israel 'to be wiped off map." : ...Ahmadinejad said a new wave of Palestinian attacks would destroy the Jewish state, and he denounced attempts to recognize Israel or normalize relations with it, the media reports said. He also repeated the words of the founder of Iran's Islamic revolution, Ayatollah Ruhollah Khomeini, who called for the destruction of Israel.

"As the Imam said, Israel must be wiped off the map," Ahmadinejad was reported as saying.

Ahmadinejad came to power in August and replaced Mohammad Khatami, a reformist who advocated inter-civilization dialogue and tried to improve Iran's relations with the West. Ahmadinejad referred to Israel's recent withdrawal from the Gaza Strip as a "trick," saying Gaza is part of the Palestinian territories and the withdrawal was meant to make Islamic states acknowledge Israel.]

---
10.26.05 Bird flu deaths are being reported from more places
October 26 – "Indonesia investigates possible bird flu deaths on Bali Island," reported today in thejakartapost.com; "Fresh bird flu outbreak in China, with India on alert," is in today's thestar.com.my; see also chinadaily.com.cn; "Lethal H5N1 virus confirmed in Croatia bird flu case," is also in today's thestar.com.my; and today theaustralian.news.com.au reports, "Suspected bird flu on Reunion Island."
---
10.26.05 Florida still suffers electrical shutdown from Wilma
October 26 – Maravot News has been shutdown since hurricane Wilma wiped out the electrical grid in Florida. Our web server, Verio, located in Florida, momentarily restored service Tuesday morning, and finally restored service Wednesday Morning. Millions of Floridians are still believed to lack electricity.
---
10.25.05 Cheney drawn into CIA spy leak investigation
October 25 – A senior White House aide at the centre of a CIA leak investigation learnt the identity of an undercover agent from his boss, Dick Cheney, it was claimed today. Lewis "Scooter" Libby, the Vice-President's chief of staff, gave evidence to a grand jury that he first heard the name of covert agent Valerie Wilson, nee Plame, from journalists at around the time that her name was printed in a newspaper column. But according to The New York Times today, lawyers involved in the case say that notes in Mr Libby's own handwriting show that in fact he first heard of Mrs Wilson from Mr Cheney.

Patrick Fitzgerald, a special prosecutor who is leading the investigation, has heard allegations that Mrs Wilson's name was leaked to the press by the White House as revenge against her husband, a retired diplomat, for a scathing article he wrote about the lack of evidence for weapons of mass destruction in Iraq.

There is nothing illegal in Mr Cheney and his chief of staff, discussing a CIA agent. Publicising the name of a covert CIA agent is a criminal offence only if the person who reveals it knows that that the spy is an undercover agent. [More>>timesonline.co.uk; See also nytimes.com : Lewis Libby Jr., Vice President Dick Cheney's chief of staff, first learned about the C.I.A. officer at the heart of the leak investigation in a conversation with Mr. Cheney weeks before her identity became public in 2003, lawyers involved in the case said Monday. Notes of the previously undisclosed conversation between Mr. Libby and Mr. Cheney on June 12, 2003, appear to differ from Mr. Libby's testimony to a federal grand jury that he initially learned about the C.I.A. officer, Valerie Wilson, from journalists, the lawyers said. The notes, taken by Mr. Libby during the conversation, for the first time place Mr. Cheney in the middle of an effort by the White House to learn about Ms. Wilson's husband.]
---
10.25.05 The return of the Bush Quiz
by Paul Slansky
October 24 – Paul Slansky's Quiz posted in newyorker.com begins:


1. Who is Ben Marble?

(a) The Pentagon official who said that George W. Bushıs staged videoconference with U.S. troops in Iraq made him ³livid.²

(b) The Texas liquor-authority agent who arrested George W. Bushıs intoxicated nephew John for resisting arrest.

(c) The former White House speechwriter who said that Harriet Miers, the Supreme Court nominee, told him that George W. Bush was the most brilliant man sheıd ever met.

(d) The Gulfport, Mississippi, onlooker who twice interrupted Dick Cheneyıs conversation with reporters to tell Cheney, ³Go fuck yourself.²

2. True or false: During Sky News Irelandıs coverage of George W. Bushıs reaction to Hurricane Katrina, the network paraphrased his comments with the caption ³BUSH: ONE OF THE WORST DISASTERS TO HIT THE US²

[More>>newyorker.com]
---
10.25.05 Wilma slams both Florida coasts
MARCO ISLAND, Florida, October 24 – Hurricane Wilma roared across Florida on Monday, its 125-mph winds leaving at least six dead and a swath of downed trees, power outages and blown-out windows that stretched from the tony beachfront neighborhoods of Naples, through the state's rural middle to the downtown buildings of Miami and Fort Lauderdale.

Wilma made landfall about 6:30 a.m. on Monday just a few miles from this island of suburban homes and waterfront high-rises before defying expectations on both sides of the state. Although damage was less than officials anticipated on the Gulf Coast, Wilma remained unexpectedly potent as it moved eastward, wrecking mobile homes, shattering windows and cutting electricity from Miami to Daytona Beach.

...About 3.5 million customers in Florida were without power on Monday evening, the authorities said. The insurance industry said losses could be anywhere from $2 billion to $9 billion. Large parts of Key West were underwater from a storm surge that cut the city off from the rest of the state by flooding US.

Meanwhile, the full extent of Wilma's devastation became clearer in Central America and the Caribbean. The death toll reached 13 in Haiti and Jamaica, and six in Mexico, the authorities reported.

In Cuba, nearly 250 people had to be rescued with inflatable rafts and amphibious trucks after Wilma set off waves that swamped Havana neighborhoods four blocks inland. In Mexico, troops and federal police were called out to control looting in Cancun, and officials struggled to evacuate an estimated 30,000 stranded tourists. [More>>washingtonpost.com]
---
10.25.05 Fourth bird flu victim in Indonesia, disease spreads
JAKARTA (Reuters) October 25 – Indonesia confirmed on Tuesday a fourth person in the country had succumbed to bird flu while China said hundreds of farm geese had died, the latest outbreak of a disease that seems to defy efforts to halt its spread. The deadly H5N1 virus first surfaced in Asia but appears to be spreading quickly to the West. Russia confirmed more bird flu cases in poultry on Monday, further raising fears the disease could spread across Europe on the wings of migratory birds. The European Union was poised on Tuesday to ban all imports of captive wild birds after a parrot died of the H5N1 strain in Britain. More dead birds were found and taken for tests in Germany, Croatia, Hungary and Portugal as suspect cases multiplied. Some experts believe the first human-to-human mutation of H5N1 is likely to occur in Asia. [More>>thestar.com.my; See thejakartapost.com for more details on the fourth Indonesian death; chinadaily.com.cn, "Major Chinese cities on high alert of bird flu." : The recent H5N1 bird flu outbreak in Liangying Village of east China's Anhui Province has been brought under control. A total of 550 poultry died in the outbreak. Experts from the Ministry of Agriculture have been sent to help disease control in the village. So far, the affected area has been sterilized. No human infections or no new poultry bird flu deaths were reported in the province. The provincial animal disease control center has taken a series of measures to demand mandatory immunity in all poultry farms

...The Beijing Entry-Exit Inspection and Quarantine Bureau has setup sterilization stations in 27 highway and road entrances to the Chinese capital, making quarantine inspections on trucks for transporting poultry. Animal quarantine at airports, railway stations have also been enhanced.

Lei Decai, director of the Municipal Agricultural Bureau, said his bureau has seen to bird flu immunity on 98 percent of poultry in stock and 80 percent of birds in zoos, safari parks and bird markets.
---
10.25.05 Bird flu experts continue hunt for UK source of virus
October 25 – Veterinary officers in Europe are expected to announce a temporary ban on live bird imports later today, as efforts continued to trace the source of Britain's first case of bird flu. Talks are continuing in Brussels to agree the one-month ban, which will prohibit all commercial imports of exotic and domestic birds in the wake of the bird flu crisis. Britain has led the calls for the ban after the death of an imported parrot, diagnosed with the potentially-lethal H5N1 strain of the virus at a quarantine centre in Essex. The Belgian Environment Minister, Bruno Tobback, said that the UK had been the only EU country to oppose a ban on importing birds at a meeting in March and accused Britain of performing a U-turn.

...It has emerged that the exotic pet dealer at the centre of Britainıs first bird flu case is a convicted fraudster. Brett Hammond, 43, director of Pegasus Birds and licensed to run the quarantine where the parrot fell ill, has refused to answer questions about the case. Staff at his shop premises in Little Warley, Essex, said that the parrot had died "miles" from the retail outlet, at a separate quarantine premises. A second parrot also died, although tests for bird flu have so far been inconclusive. [More>>timesonline.co.uk; See also independent.co.uk, "Scientists still searching for source of Britain's first deadly bird flu case" : Government scientists are still trying to discover the source of a deadly bird-flu outbreak that has struck a quarantine facility for exotic birds in Essex. Tissue samples from two consignments of birds destined for the pet trade are being tested for the lethal H5N1 strain of flu virus by the Veterinary Laboratories Agency in Weybridge, Surrey. In Asia, the same strain has infected millions of birds and more than 120 people, of which 61 have died .

A parrot imported from Surinam has already tested positive for the virus but scientists believe that it almost certainly caught the infection from another group of birds imported from Taiwan and kept in the same quarantine facility. The former Dutch colony of Surinam in South America has not reported any cases of H5N1, unlike Taiwan, where thousands of domestic poultry have had to be culled because of outbreaks. Both sets of birds shared the same "air space" at the Essex quarantine facility and it is likely that the virus spread from one group to the other, according to Debby Reynolds, the Government's chief veterinary officer. Dr. Reynolds said that further investigations are taking place to work out what happened in the Essex quarantine facility, which has not been named.

"We are closer to reaching a conclusion on this investigation. Our working hypothesis is that any infection in the birds from Surinam is likely to have arisen in the quarantine system," Dr. Reynolds said...]
---
10.25.05 Deadly blasts hit Kurdish Iraq city
October 25 – Two explosions have struck the Iraqi Kurdish city of Sulaymaniya, killing at least nine people. The first explosion on Tuesday targeted the convoy of Mulla Bekhtyar, a member of the Patriotic Union of Kurdistan (PUK), in the western Sarjnar area. PUK sources confirmed that a car bomb hit Bekhtyar's convoy, but he survived the assassination attempt, Iraqi journalist Muhammad Faiq told Aljazeera. Two of Bekhtyar's guards were injured.

Another car bomb exploded about 10 to 15 minutes later in front of the peshmerga ministry, Aljazeera reported quoting officials who deal with Kurdish militia forces. It was not clear how many people were wounded. [More>>aljazeera.net]
---
10.25.05 BBC squares up to Al Jazeera
October 25 – The BBC World Service is to go head-to-head with Al Jazeera when it launches a new Arabic-language television channel. The BBC's Arabic channel, due to launch in 2007, forms part of a £30 million package of new initiatives unveiled by the broadcaster today. The move follows a request from the Foreign Office, which funds the World Service.

Money for the new channel will be made available in part through the closure of several of the BBC's eastern European radio channels. The decision signals the way the geopolitical landscape has shifted since the end of the Cold War, the World Service said. The radio closures will involve more than 200 job losses. The Arabic channel will be the first publicly-funded international TV service from the BBC and marks a departure for the World Service, which has traditionally been known for radio services. [More>>timesonline.co.uk; See also
---
10.25.05 Iraq constitution approved
BAGHDAD (AFP) October 25 – Iraq's first post-Saddam Hussein constitution has been approved, the independent electoral commission said, as it announced the final results of this month's landmark referendum. The new charter passed by a simple majority after opponents failed to muster the two-thirds majority in three of Iraq's 18 provinces necessary to block ratification, commission spokesman Farid Ayyar said Tuesday.

The outcome of the October 15 referendum finally hinged on the results of the mainly Sunni northern province of Nineveh which was among the last provinces to declare its results. Two other Sunni majority provinces had already voted against the charter by the necessary two-thirds majority but in the event Nineveh voters only rejected the text by 55 percent to 45, insufficient to block its adoption. [More>>turkishpress.com]
---
10.25.05 US pushes for further sanctions on Syria
BEIRUT / NEW YORK, October 25 – On the eve of a critical UN Security Council meeting expected to demand immediate cooperation from Syria in the probe into the murder of former Lebanese Prime Minister Rafik Hariri, thousands of Syrians in Damascus protested accusations of Syria's involvement. While the United States said it would discuss possible action against Syria with members of the Security Council, France said it wanted to await full conclusions from the UN team before deciding whether to support sanctions.

"This is true confession time now for the government of Syria," U.S. ambassador to the UN John Bolton said Monday. "No more obstruction. No more half-measures. We want substantive cooperation, and we want it immediately."

Calling for a "very serious response" to the report, British Prime Minister Tony Blair's spokesman said: "Syria needs to live up to its international obligations."

According to a diplomatic source within the Security Council, members are discussing the possibility of drafting a resolution according to Chapter 7 of the UN Charter, which involves action taken with respect to threats to peace, breaches of peace and acts of aggression. When a resolution is adopted, it is usually a precursor to sanctions...[More>>dailystar.com.lb; See also aljazeera.net story, "Syrians protest against Mehlis report."]
---
10.25.05 'Pakistan quake: God's wrath for Afghan invasion'
ISLAMABAD (PTI) October 25 – Cashing in on the devastation inflicted by the October 8 earthquake, Islamists in Pakistan have termed the temblor as ŒGod's wrathı on the country for the decision to desert Taliban and back the American Œinvasionı of Afghanistan. Riaz Hussain Pirzada, a treasury member belonging to the ruling Pakistan Muslim League-Q, but considered close to Islamist alliance Muthahida Majlis Amal (MMA), told the National Assembly yesterday that the quake was ŒGod's wrathı for Pakistan's support of the US campaign.

God was also Œangryı with Pakistan because "we welcomed the holy month of Ramzan by rigging the last phase of the local government elections," Pirzada said. After the earthquake, the refrain of many of the Islamist parties is that it is the Œpunishmentı for the country's decision to withdraw backing for Taliban and al-Qaeda and support US Œinvasionı of Afghanistan. [More>>expressindia.com]
---
10.25.05 Three bombers strike at Baghdad Hotels
BAGHDAD, October 24 – A suicide bomber on Monday drove a cement mixer packed with explosives into the front courtyard of two prominent Baghdad hotels popular with foreigners, but failed to destroy his apparent targets when the vehicle became snagged in barbed wire as it headed for the main entrances. The huge explosion that followed was the last in a sequence of three vehicle bombs in the late afternoon that detonated in the area within minutes, killing at least five Iraqi police officers and an Iraqi civilian and wounding scores of others.

Though the death toll was far lower than in many recent suicide attacks, the significance of the assault went beyond casualty statistics. The two high-rise hotels, the Palestine and the Sheraton, have been symbols of the foreign presence in Iraq and have been the bases for Western news organizations and foreign security contractors since the American-led invasion 30 months ago. [More>>nytimes.com]
---
10.23.05 Mars rover "Opportunity" dodges drifts in Erebus Crater
NASA, October 21 – This image taken by NASA's Mars Exploration Rover Opportunity is a portion of a mosaic acquired by the panoramic camera.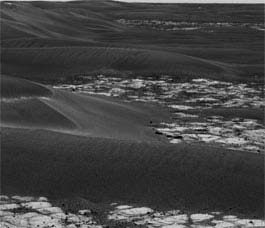 View from Mars rover Opportunity inside Erebus Crater. Photo jpl.nasa.gov. Note the dust plumes blowing across the top of the dunes.
The picture highlights the light-toned outcrop on the rim of "Erebus Crater" and large, dark, wind-deposited drifts that have filled the center of the crater. Opportunity took this image on the rover's 608th sol (Oct. 9, 2005). The rover is driving west, avoiding the large drifts and crossing the low ripples and outcrop to the right. After traversing to the north of the large drift on the horizon (near the center of the image), Opportunity will drive south to the western rim of the crater. [
jpl.nasa.gov
]
---
10.23.05 Croatia kills thousands of birds
AGREB, Croatia, October 23 – Croatian authorities continued today to kill thousands of domesticated birds in an area where dead swans infected by bird flu were found, national radio reported. Special veterinary teams were carrying out the cull, begun Saturday, in a three-kilometre radius around a lake in eastern Croatia where the swans were found. "All teams are on the spot and we expect to finish this laborious work today or Monday at the latest," said Mate Brstilo, head of the government's crisis panel monitoring the disease. "Euthanised poultry will be buried on the spot within the quarantined area," he added. It is expected that more than 10,000 chickens and other poultry will be killed in the quarantined area around the eastern village of Zdenci. The farmers will be paid compensation for their culled poultry. [theaustralian.news.com]

Editorial note: The bird flu has crossed Asia into Europe in a matter of months, carried by migrating birds. Nations affected so far by the bird flu include Indonesia, Thailand, Malaysia, China, Western Siberia and Russia, Turkey, Greece, Romania and now Croatia, and a parrot caught in quarintine in Britain. A dead duck was found west of Stockholm but it did not carry the fatal form of the bird flu. The dead duck had a mild, low pathogenic type of the H5 virus. Up to 30 per cent of wild ducks carry a mild form of the influenza virus at this time of year, according to Sweden's Board of Agriculture.

For possible affects of the bird flu on the US domestic bird population see Maravot News10.20.05, articles, "Threat to rare birds as avian flu spreads," and subsequent articles on the page: "Poultry production in the US – the domestic birds that could be struck with bird flu," and "Thinking about the bird flu flyways with refueling stops in wetlands."

About 61 people have died as a result of contacting the bird flu from infected poultry. Countries have been culling flocks within ~3 kilometers of the discovery of a dead bird. The culling affects not only domestic fowl but wild fowl as well, drawing concerns that protected, rare birds are vulnerable. Another aspect of its affects involves birds associated with the pet market. A South American parrot died at Heathrow airport. According to timesonline.co.uk, "Parrot tested for deadly flu in UK" :
...It is known that the bird in Britain, which died last Thursday, was carrying a type of H5 flu, although it is not yet known whether this was the N1 variant. It is also unclear how the bird, which was in quarantine after being imported from Suriname, could have caught the virus. The authorities there said last night that the bird had tested negative for avian flu before it was exported.

At Heathrow the parrot was isolated but kept in a room close to birds from Taiwan. Investigators believe the virus could have been passed through the air conditioning system.]

See today's report, khaleejtimes.com, "Flu fear as migrating birds drop dead in Iran" : ...The student news agency ISNA said some 5,000 birds have been found dead in West Azerbaijan province which borders Turkey, Iraq and Azerbaijan.]

Mel Copeland
---
10.23.05 Wilma to accelerate toward Florida
CANCUN, Mexico (CNN) October 23 – Hurricane Wilma moved away from Mexico's Yucatan on Sunday and was expected to gain speed toward southern Florida, where hurricane warnings were in effect. The Category 2 storm is expected to reach Florida on Monday as a strong Category 2 or possibly 3 hurricane, said Ed Rappaport of the National Hurricane Center in Miami, Florida. The Florida landfall should be about daybreak Monday, Rappaport said.

Storm-weary Florida residents were preparing for what would be the seventh hurricane to hit the state in 14 months. Rappaport cautioned that the storm's right side, always the stronger side of a hurricane, will damage a larger area than Hurricane Charley, which hit southwest Florida in August 2004. "This is going to be a much more significant event, more widespread for Florida even than Charley was," he said, also warning of a storm surge stronger than the earlier hurricane. In the coming hours, Wilma is expected to take off across the Gulf of Mexico with high hurricane speeds.

"We think it'll be moving about 20 to 25 mph by the time it hits Florida," Rappaport said.

...Wilma forced more than 35,000 people, mostly tourists, to spend two days holed up in hotels and shelters in Cancun. Felix Gonzalez Canto, governor of Quintana Roo state, reported two deaths in Mexico's Playa del Carmen after a gas tank exploded as well as "a lot of destruction" in Cozumel, Isla Mujeres and Cancun. No deaths have been reported in Cancun or Cozumel, both in Quintana Roo, the governor said. [Full story>>cnn.com]
---
10.23.05 'Dust people' starve in Zimbabwe ruins
October 23 – Some all them the ³dust people², others the ³people with no address². President Robert Mugabeıs government has a more graphic term: ³Sniff out the rats who have sneaked back in² is the name of the latest campaign by police and soldiers against the city dwellers whose homes they demolished earlier this year but who have refused to flee. Thousands of Zimbabweans are now living like animals in the midst of rubble, crawling in and out of hovels less than 3ft high, fashioned from cardboard boxes and broken asbestos.

With no means of earning a living — and with aid agencies banned by the government from helping them — they are forced to forage in rubbish for rotten vegetables or prostitute themselves for the equivalent of 10p to feed their children. A doctor who managed to get in said tuberculosis was rife. These are the victims of Operation Murambatsvina (drive out the filth), Mugabeıs so-called urban beautification campaign which, according to a damning report by the United Nations, left more than 700,000 homeless or without an income.

Yet last week the United Nations flew Zimbabweıs president on an all-expenses-paid trip to Rome to celebrate World Food Day in defiance of European Union travel sanctions. Flanked by bodyguards, he proclaimed that there was no hunger in his country and blamed its problems on George W. Bush and Tony Blair, branding them international terrorists and likening them to Hitler and Mussolini. Such hypocrisy comes as no surprise to the people squatting amid piles of debris in southern Harare, who feel abandoned by the outside world. [More>>timesonline.co.uk]
---
10.23.05 Nanocar: World's smallest car produced
NEW DELHI (PTI) October 23 – American scientists at Rice University in Houston have constructed the worldıs smallest car – a single molecule ŒNanocarı that contains a chassis, axles and four buckyball wheels. The Nanocar is described in a research paper that is available online and due to appear in an upcoming issue of the journal Nano Letters.

Researchers say they would eventually like to use the Nanocars for moving objects and doing work in a controlled fashion on the molecular scale. The Nanocar consists of a chassis and axles made of well-defined organic groups with pivoting suspension and freely rotating axles. The wheels are buckyballs, spheres of pure carbon containing 60 atoms apiece. [More>>expressindia.com]
---
10.23.05 Iraqis back attacks on UK, US forces: Poll
(AP) October 23 – Forty-five percent of Iraqis believe attacks on US and British troops are justified, according to a secret poll said to have been commissioned by British defense leaders and cited by The Sunday Telegraph. Less than 1 percent of those polled believed that the forces were responsible for any improvement in security, according to poll figures. Eighty-two percent of those polled said they were "strongly opposed" to the presence of the troops. The paper said the poll, conducted in August by an Iraqi university research team, was commissioned by the Ministry of Defense. Britain has more than 8,000 troops stationed in the south of Iraq, and has had 97 soldiers killed, the most recent the victim of a roadside bomb on Tuesday night. [chinadaily.com.cn; See also aljazeera.net and cnn.com, "Ten killed in latest Iraq attacks."]
---
10.23.05 UK police arrest man in connection with July 7 bombs
LONDON (Reuters) October 23 – British police have arrested a man from northern England over alleged comments he made to a Sunday newspaper about the July 7 bombings in London, the capital's police force said on Sunday. The 27-year-old man from West Yorkshire was arrested late on Saturday on suspicion of the commission, preparation or instigation of terrorism, a police spokesman said, without giving details. "The arrest is made in connection with the ongoing investigation into the four bomb attacks in London on July 7 and comments alleged to have been made to a national newspaper," London's Metropolitan Police said in statement. [More>>thestar.com.my; See more details, sky.com : ... Police have arrested a man who was reportedly asked to join the London suicide bombers.]
---
10.23.05 Hariri probe arrests suspect linked to president
BEIRUT (AFP) October 23 – Lebanese authorities have arrested a Sunni Muslim who according to a UN report telephoned President Emile Lahoud minutes before the murder of former premier Rafiq Hariri, officials said on Sunday. Mahmoud Abdel-Al, who is also member of the Islamic charity Al-Ahbache that is believed to have strong links with Syria, was arrested on Saturday on the order of the Lebanonıs top prosecutor Said Mirza, judicial sources told AFP. His detention is sure to wrench up the pressure even more on the embattled pro-Syrian Lahoud, who has faced impassioned calls from opponents to step down ever since the murder of the five-time premier in a February Beirut bomb blast.

The arrest is the first to be made over the murder since the reportıs publication on Thursday. However four other suspects, all seen as close to Lahoud, were arrested in August and are still held in custody. The move is the latest twist in a dramatic sequence of events after UN investigators probing the assassination implicated security officials in both Lebanon and Syria over the crime in their report.

Lahoud, a Maronite Christian, on Friday was forced to deny the claims in the UN report that he received a call on his mobile phone from Mahmoud Abdel-Al minutes before the bomb blast.

According to the UN report, Abdel-Al phoned Lahoud at 12:47 local time from his own mobile, just minutes before the blast, and followed this call up at 12:49 with one to Raymound Azar, the then head of Lebanese military intelligence. Azar was arrested over the murder in August along with three other close aides of Lahoud: presidential guard head, Mustafa Hamdan, former general security chief Jamil al-Sayed, ex-internal security head Ali al-Hage. Mahmoud Abdel-Al is also the brother of another key suspect in the assassination, Ahmad Abdel-Al, who is a leading member of the Al-Ahbache group. A third brother works for the presidential guard. [More>>khaleejtimes.com; See dailystar.com.lb for a special pdf. download edition containing the full "Mehlis Report."]
---
10.23.05 Palestinian, Lebanese groups clash
(Reuters) October 23 – At least four people have been wounded in clashes between Palestinian fighters and Lebanese armed men just outside Lebanon's largest Palestinian refugee camp, witnesses said. They said several cars were set ablaze on Sunday in the skirmishes between Jund al-Sham, one of several Palestinian Islamist groups in the southern Ain el-Hilweh camp, and the Lebanese Popular Nasserist Group. It was not clear what sparked the clashes in a poor Neighborhood between the camp and Sidon proper, but armed groups sporadically clash over authority inside the tense camp, which the Lebanese army does not enter. A Reuters reporter saw masked Jund al-Sham fighters emerge from Ain al-Hilweh and occupy rooftops in the neighbourhood. Several residents fled the area, fearing the clashes might worsen. [aljazeera.net]

---
10.23.05 Iran's supreme leader insists US seeking world domination
TEHRAN (AFP) October 22 – Iran's supreme leader accused the U.S. on Friday of seeking global domination and vowed his country would not give into demands to abandon its disputed nuclear program. Ayatollah Ali Khamenei also alleged that Washington was stirring Sunni-Shiite violence in Iraq, and criticized Muslim countries who commit the "bad deed" of recognizing Israel.

"Our main opponent in the nuclear issue is the U.S. government," Khamenei said in a Friday sermon to thousands of worshippers at Tehran University. "The Americans claim Iran is seeking nuclear weapons. We know they are lying and the audience know they are lying too. This hard-line war-seeking government in the U.S. is seeking an empire and world domination." Khamenei said the U.S. "will not stop in the Middle East."

"Its European partners know that when the U.S. dominates the Middle East and Asia, it won't leave Europe alone." [More>>dailystar.com.lb]
---
10.23.05 Afghan magazine editor sentenced to two years for blasphemy
KABUL (AFP) October 23 – A court in Afghanistan has convicted the editor of a womenıs magazine of blasphemy after complaints his articles questioned Islam, and sentenced him to two years in jail, a media rights group said on Sunday. The Afghanistan Independent Journalists Association said it would complain to President Hamid Karzai about the sentencing of editor Ali Mohaqiq Nasab, who has been in jail since his arrest two weeks ago. ³This trial was against the law, the arrest was against the law since the beginning,² the associationıs president, Rahimullah Samander, told AFP.

³We told the court he didnıt make any mistake. He wrote what he had the right to write according to Afghan law and press freedom and freedom of expression,² he said. Nasab, editor of the monthly magazine Haqoq-e-Zan (Womenıs Rights), was arrested after complaints about his articles, including one, which questioned the severity of Islamic punishments for crimes such as adultery. [More>>khaleejtimes.com; See also nytimes.com article.]
---